You have come to the right place if you are looking for the best and easiest Halloween crafts!
With the help of supplies you already have or could get for almost no money from the Dollar store, you can make a Halloween centerpiece that will increase the spooky atmosphere and the fun mood at home.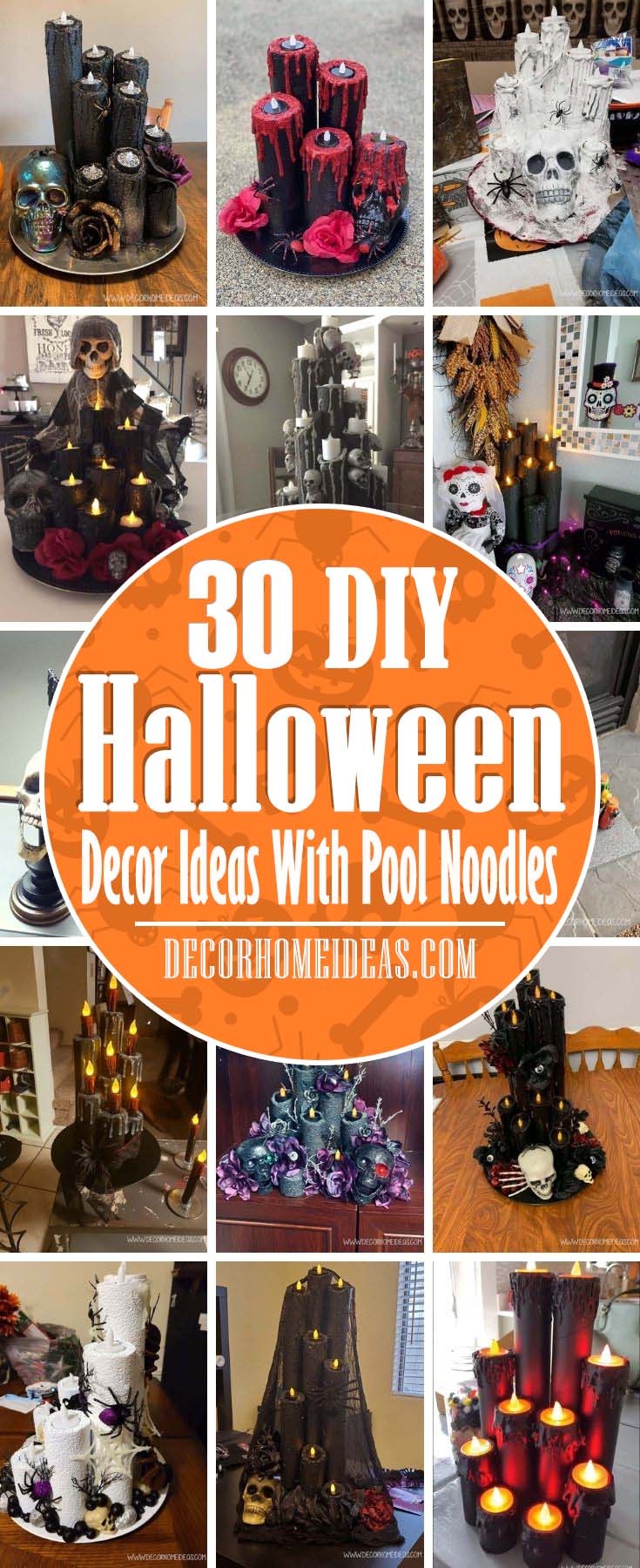 The supplies you need to prepare are pool noodles, spray paint, glue gun, LED candles, some skulls and spider decorations, veil or similar netlike fabric.
1. Black and Purple Candle Centerpiece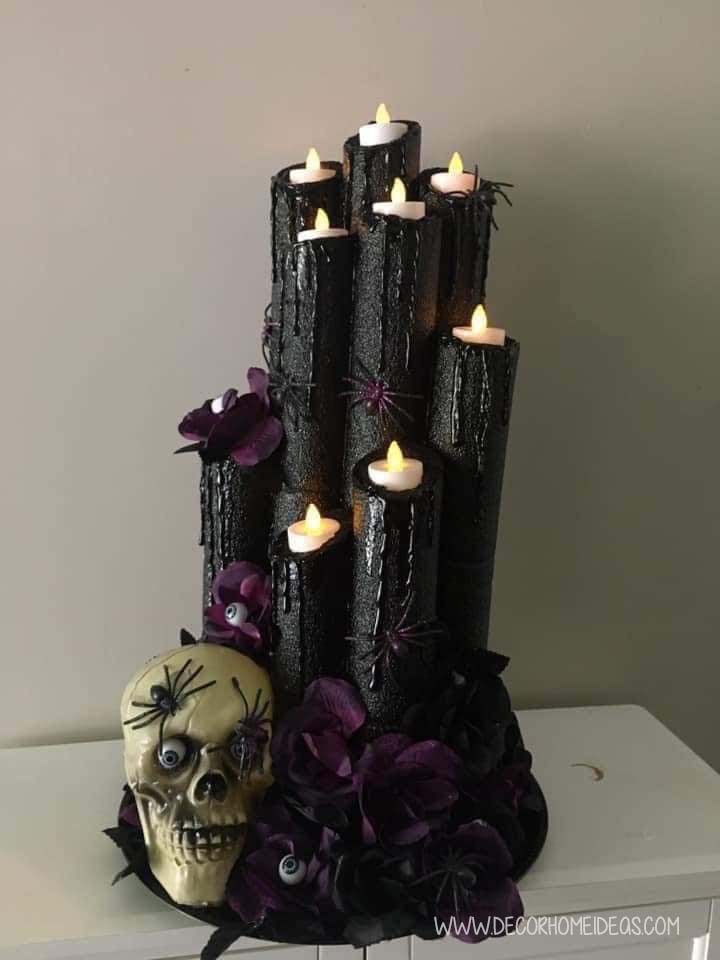 Use a tray as a basis to set the noodle arrangement. Cut pieces in different lengths and widen the hole on the top of each noodle piece to make a place for the LED candles.
To achieve the melted wax effect, use a well-heated black stick. Glue each noodle's bottom to the tray to ensure they are fixed.
As decoration, use a skull mask, some eyeballs, spiders and dark-colored faux flowers.
2. Noodles With Glossy Paper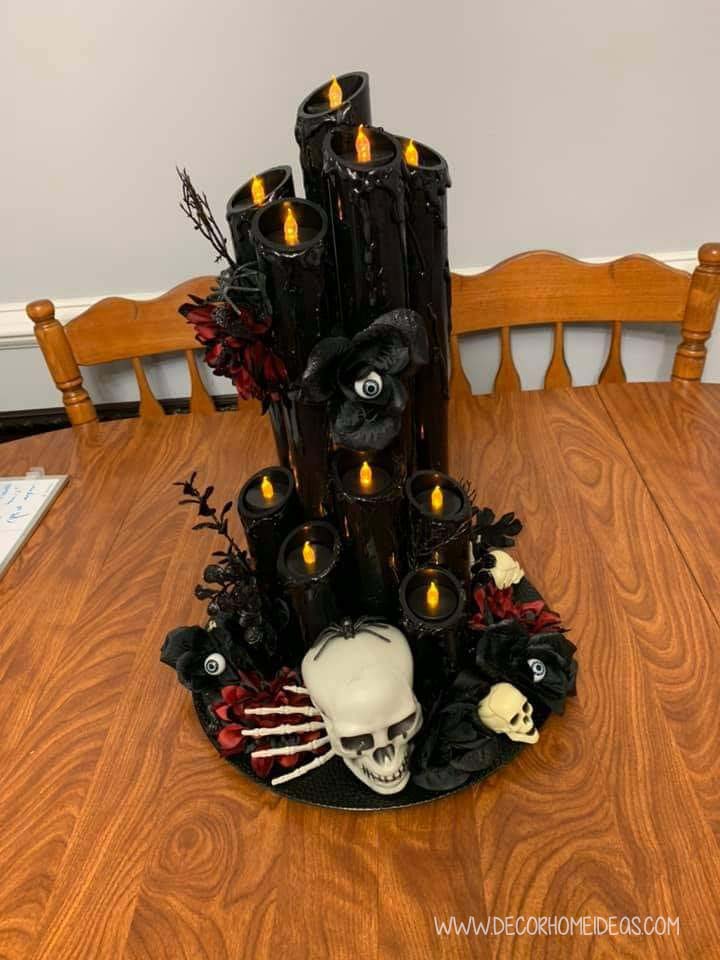 You can wrap your noodles in glossy paper prior to making the melted wax effect.
The arrangement includes two levels of faux candles. The candles are surrounded by black and red faux flowers and spooky figures of skulls, hands and eyeballs.
3. Large Skull And Black Noodles Centerpiece Idea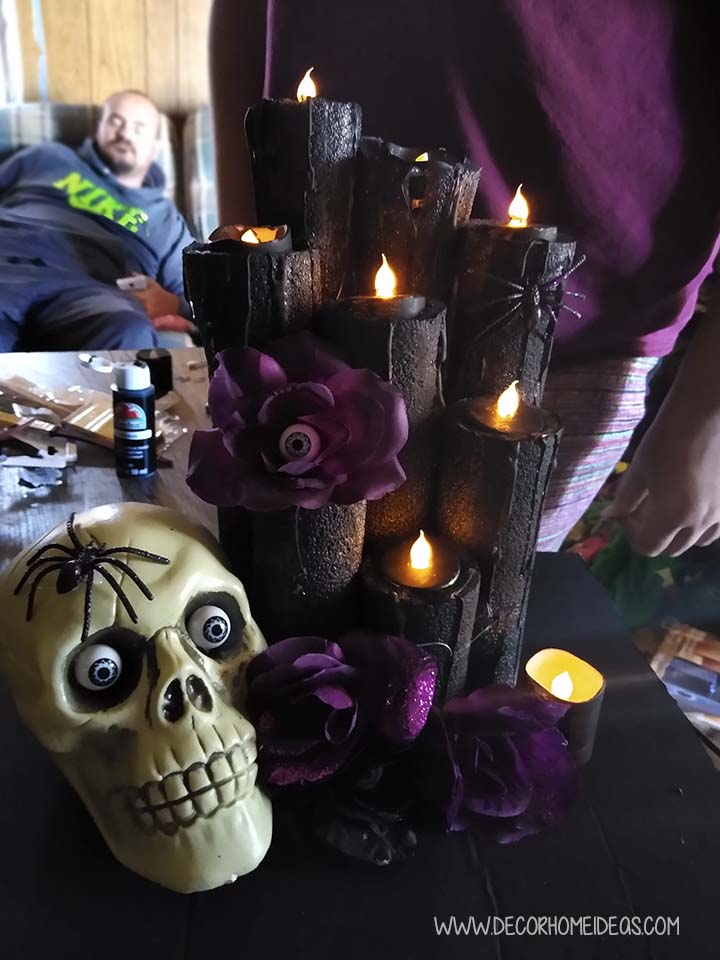 If you want to increase the spooky feeling, include a larger skull in your pool noodle Halloween craft.
The basis of your arrangement can be a carboard piece, painted or wrapped in black paper. Replace the stamen of the faux flowers with eyeballs.
4. Large Skulls Surrounding A Noodle Candle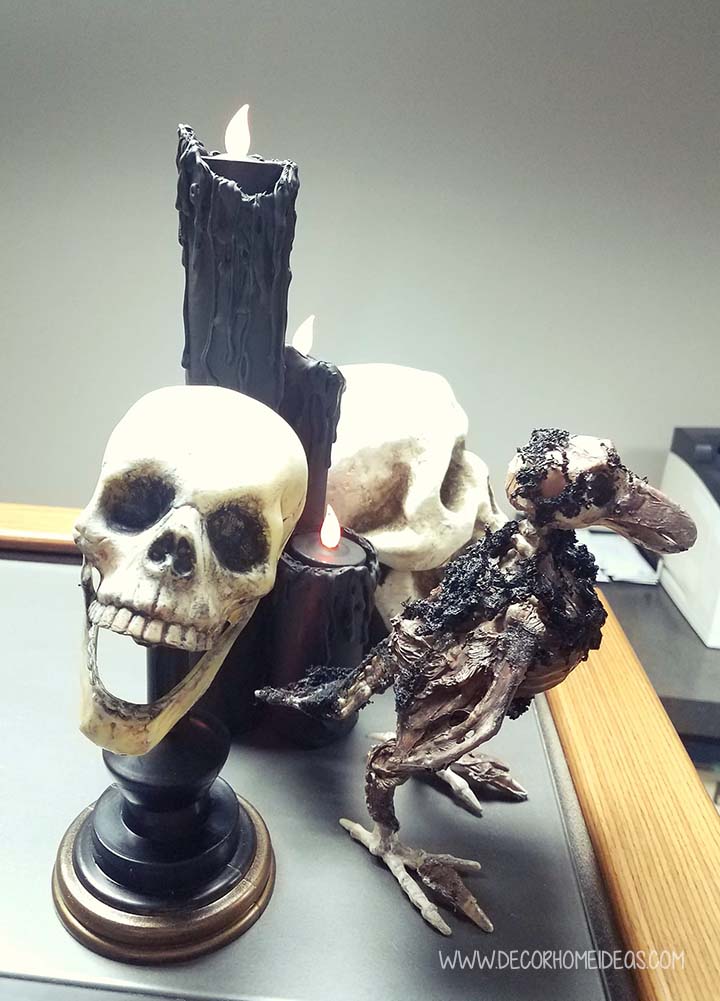 Any scary creatures and figures are more than welcome for the Halloween pool noodle centerpiece.
If you have two larger skulls, you should let them pop out, putting them on candle pedestals.
Make a smaller candle arrangement and place the skulls on both sides of it.
5. Noodle Candles Wrapped With Stain Strips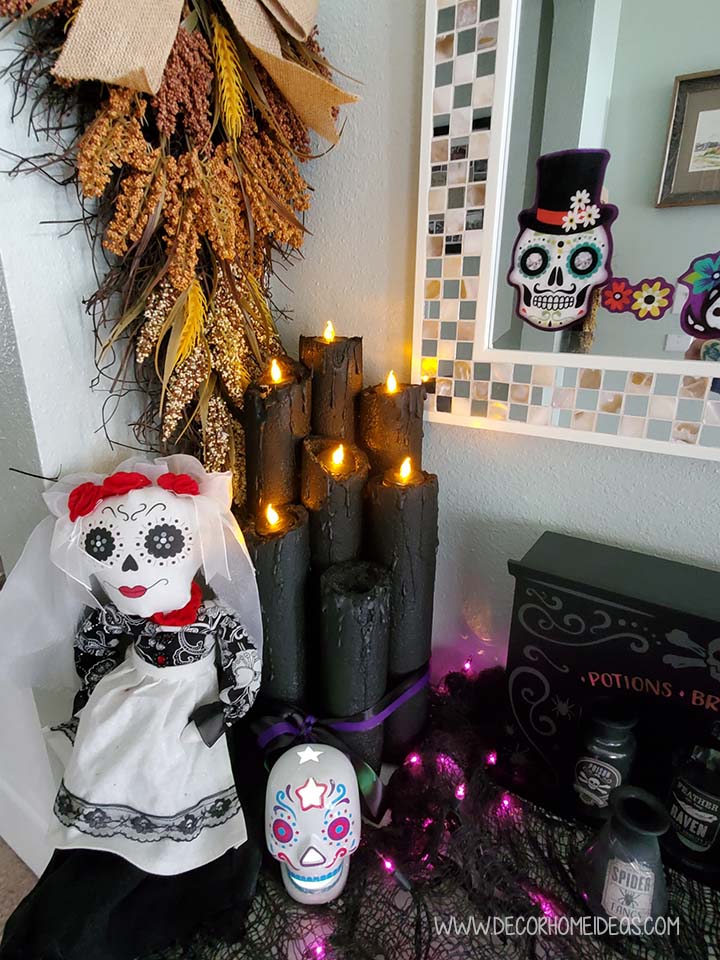 You can decorate the candle arrangement with rope or satin strips in black and purple.
Place them in the corner of a table dedicated to Halloween decorations.
Lay fairy light, a netlike fabric in black to replace the tablecloth and surround with spooky figures and symbols.
6. Black Halloween Centerpiece With Purple Accents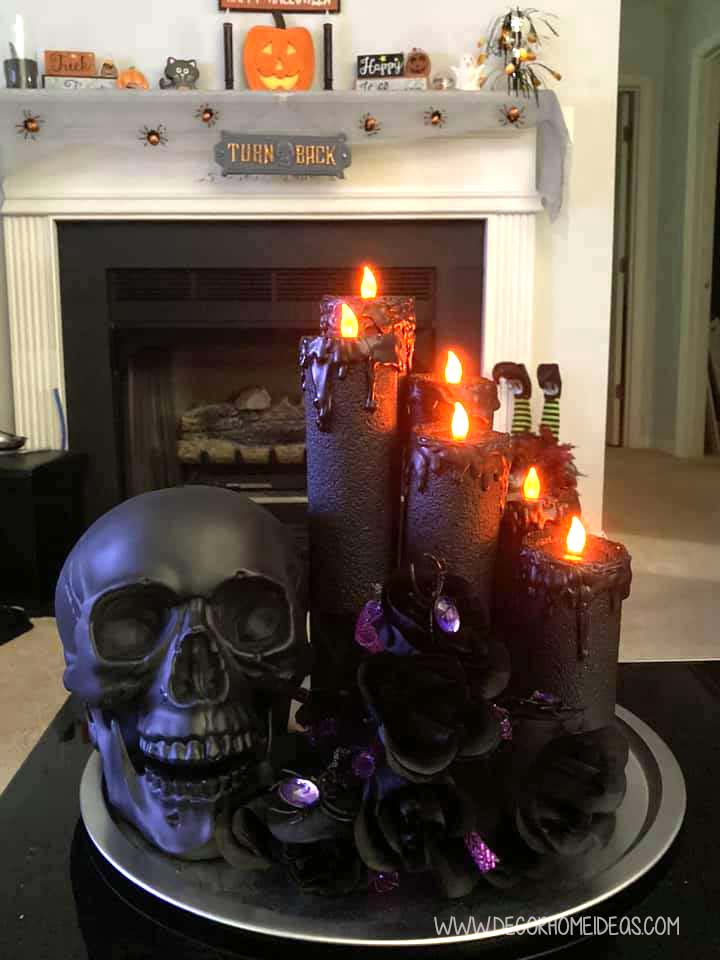 The pool noodle Halloween centerpiece can be entirely in black with a few purple accents.
Paint the noodle pieces already covered with melted hot glue gun stick in black. Use spray paint and let it dry. Apply a coat of black paint on the skull as well.
Attach some crawling spiders with purple gems on the black flowers and tie a purple ribbon around the candles or around the flowers.
7. Noodle Centerpiece Wrapped With Faux Spider Net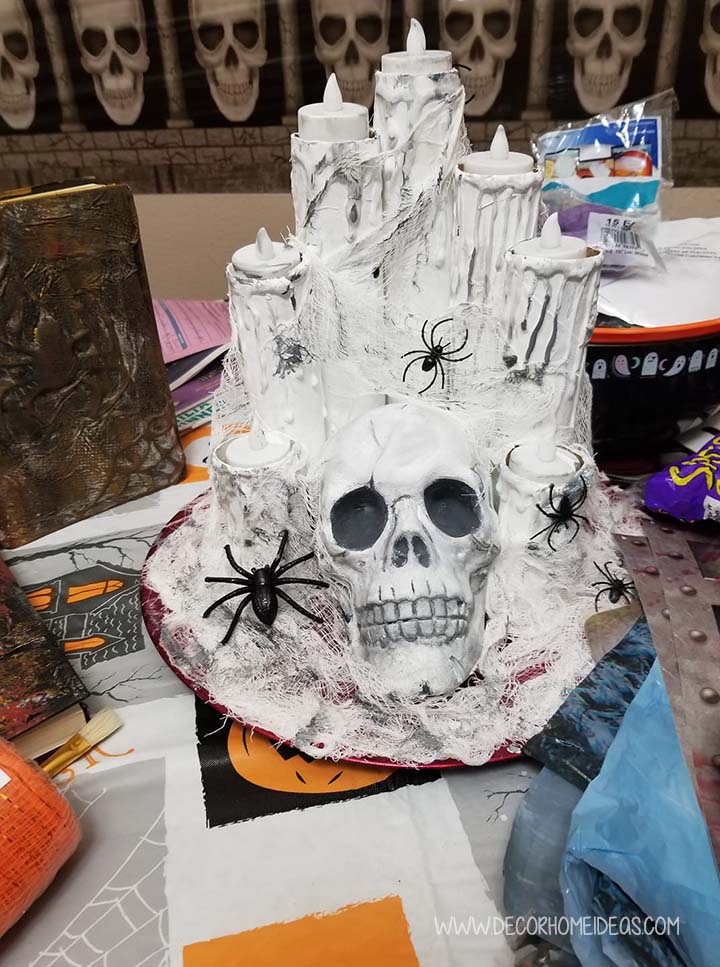 This creative noodle Halloween craft impresses with its distinction from all the rest. The white color is predominant to create the feeling of a spider net wrapping the complete arrangement.
The technique for achieving the candle effect is the same- layer well heated hot glue stick around the noodle top and let it drop.
Then spray paint each candle. You can give each some realistic touch by adding a few strokes of black.
Cover the candles with cheesecloth. Then place a skull in the center and some black spiders on each side of the centerpiece.
8. Noodle Centerpiece On A Tile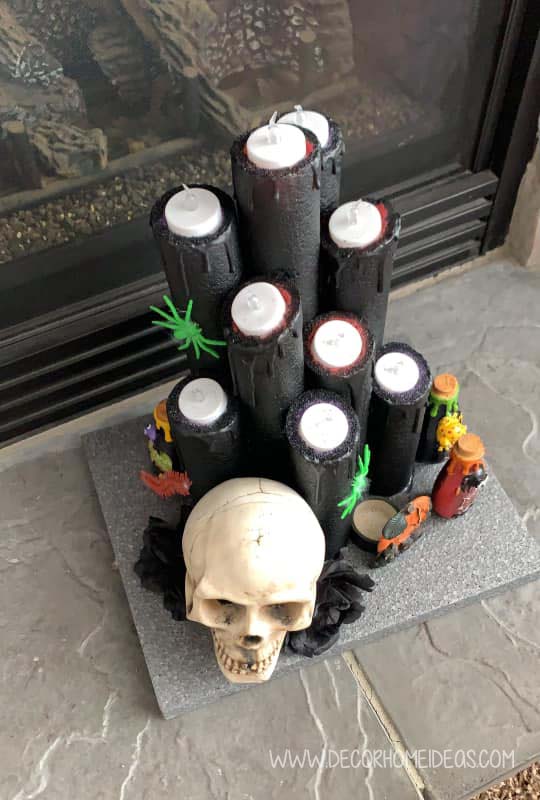 Any piece of material can be used as a basis to glue on your noodle Halloween craft.
A piece of styrofoam or a tile provides a wide enough surface to arrange the noodle candles and the skull figures.
Since the black color is predominant in this craft, spiders and other Halloween figures in bright colors will look well.
9. Halloween Noodle Centerpiece In A Tray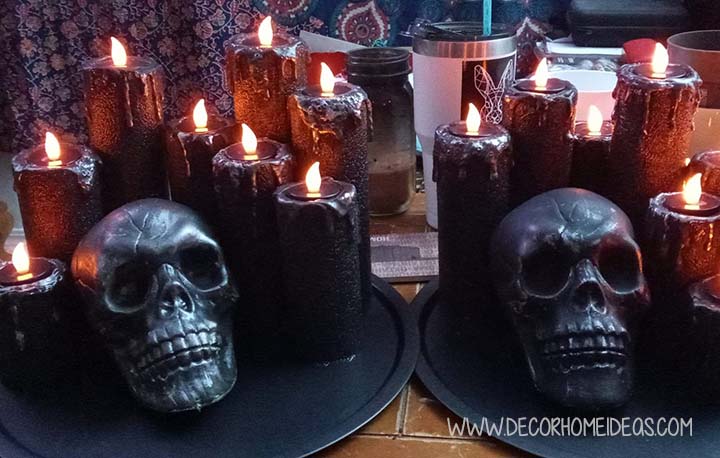 If your table is long, make two or even three trays with Halloween pool noodle arrangements to place at each end and in the center.
Since the centerpieces will be more, you can leave the arrangement plainer and not include too much figures.
10. Halloween Noodle Centerpiece With Faux Petals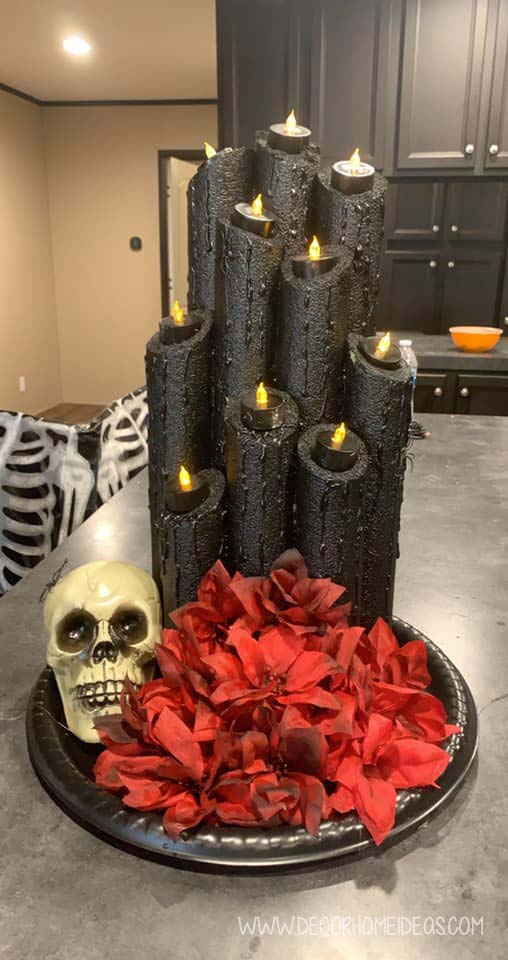 Red, purple, orange and black are the colors that are mostly related to the Halloween crafts.
If you are wondering how to fill in the space between the rim of the tray and the pool noddles, make a rich bouquet of faux red flowers.
11. Halloween Centerpiece From Supplies From The Dollar Tree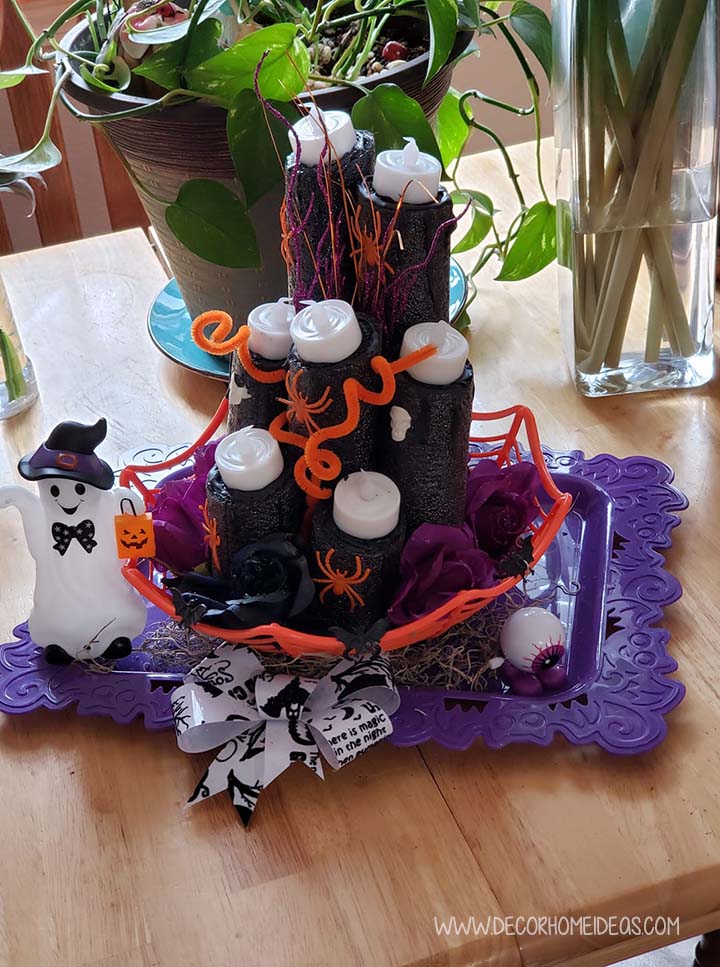 The orange accents in this Halloween centerpiece make it cuter and let them pop out against the black pool noodle candles.
They match well with other accents in purple and white.
12. Halloween Noodle Art With Glitter Hot Glue Decorations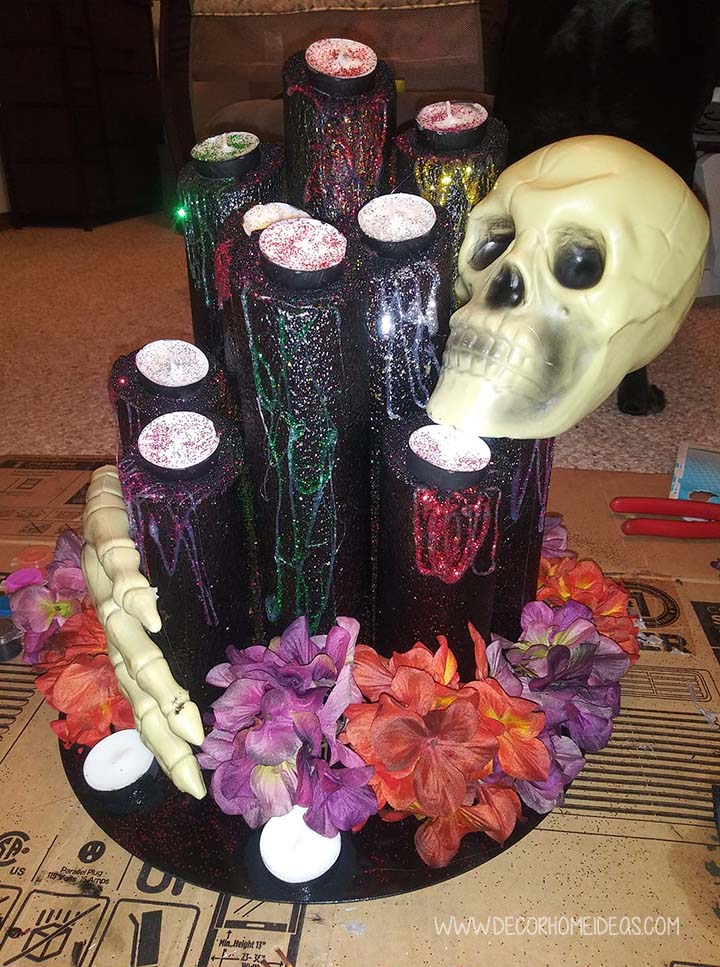 You can give your Halloween piece a touch of glitter by applying glittering hot glue gun sticks instead of the standard ones.
Spray paint your noodles first and then melt the sticks. The colorful melted wax effect lets you use faux colorful faux flowers.
13. Noodle Centerpiece On The Top Of A Witch's Hat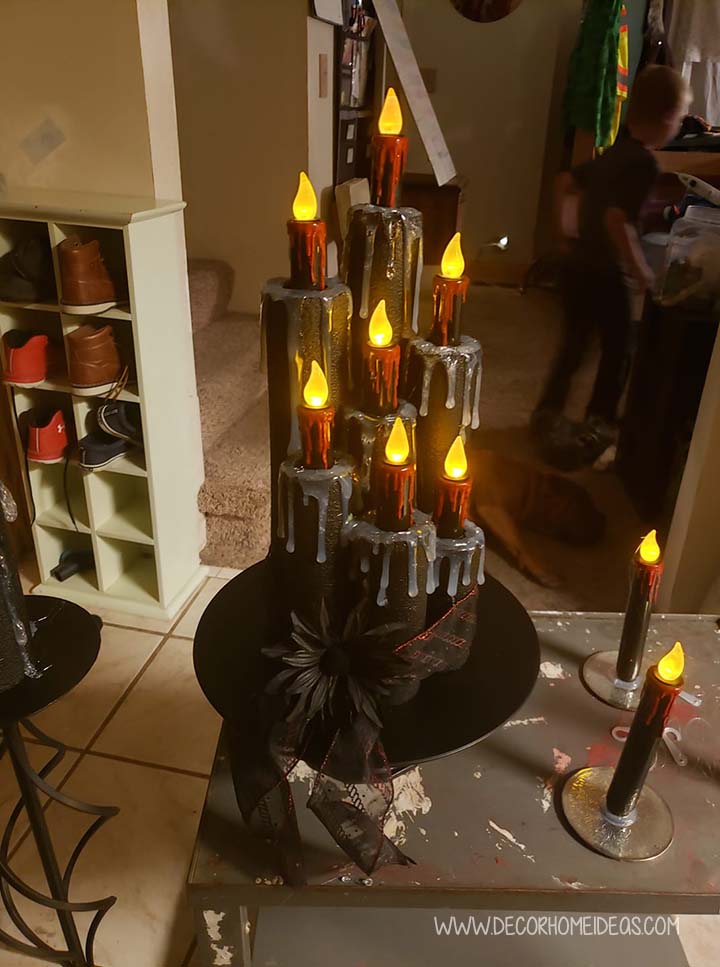 Use a round piece like cardboard or a flat tray to create a centerpiece looking like a witch hat.
The pool noodle pieces form the conical part of it, while a wide black ribbon with a faux black flower decorates the bottom.
14. Frankenstein Halloween Centerpiece From Green Noodles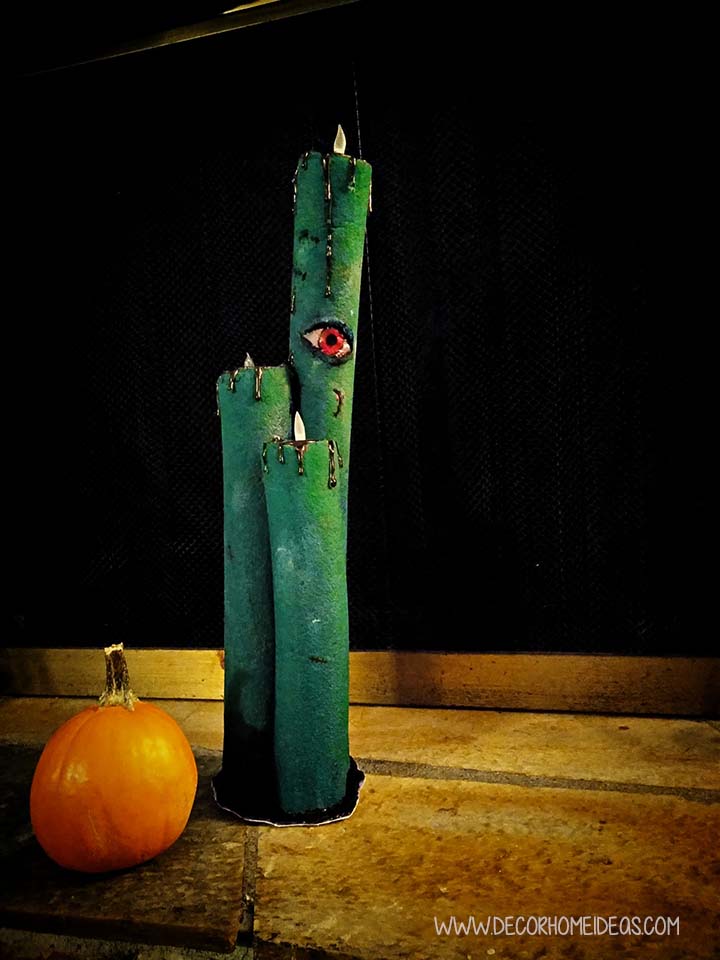 Make a Frankenstein Halloween centerpiece in few easy steps. Cut a pool noodle in three different lengths.
Paint them in green with watercolor paints to achieve the shade effect. The peeking eye can be either drawn or cut from paper and glued.
15. Ghost Statue And Black Noodle Candles Idea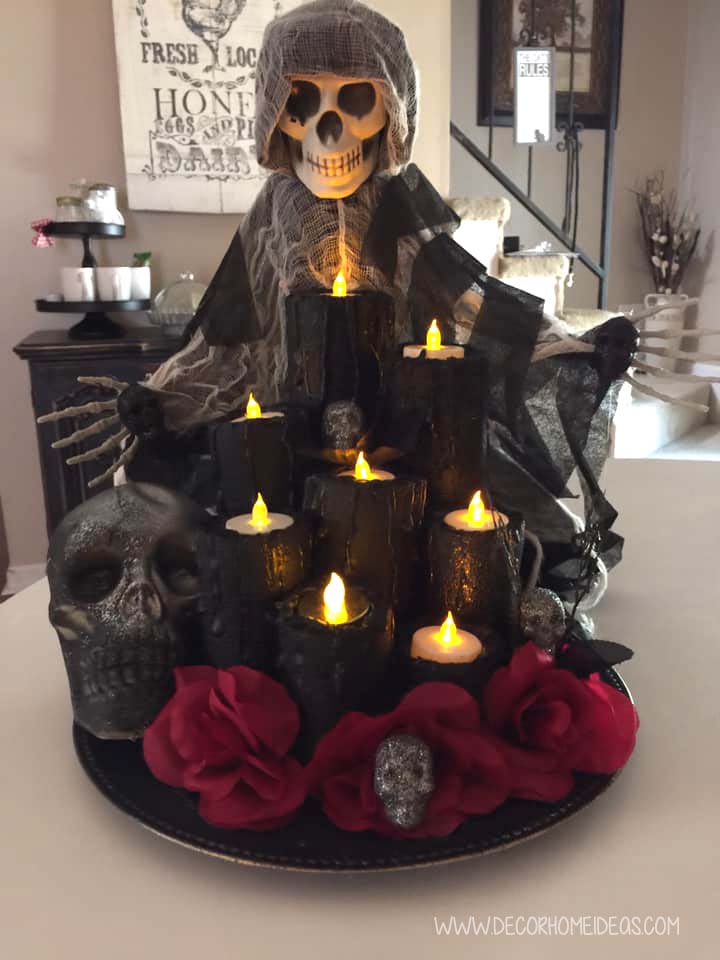 Do you have a large ghost statue? Use it as the focus of a pool noddle Halloween craft. Place it at the most rear end of a tray. The noodle arrangement should be in front of it.
16. Noodle Halloween Centerpiece Idea With Glitter Accents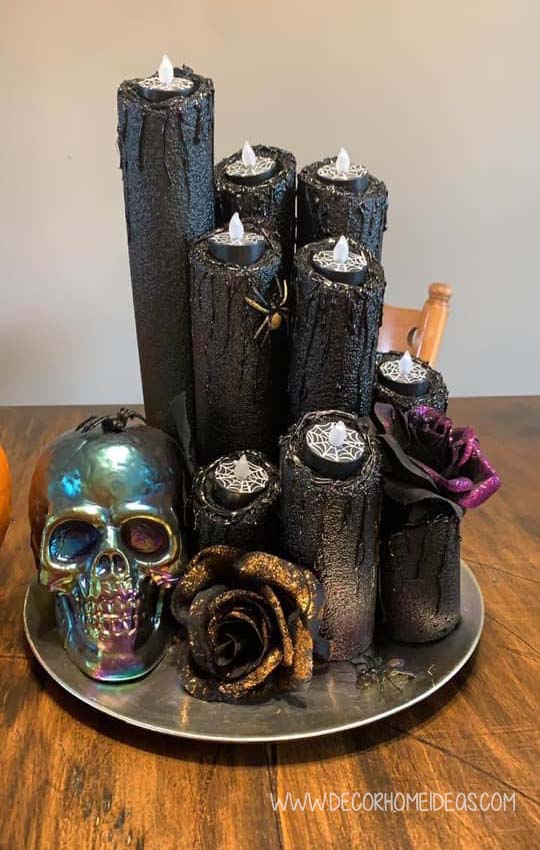 Give your pool noodle Halloween centerpiece some glam with glitter accents and a hologram skull.
To achieve this effect, cover the chosen parts of the flowers with paper glue and then dip them into glitter.
You can make the LED lights more Halloween-themed, by outlining a net around the flame with puffy paint.
17. Layered Noodle Candle Centerpiece Idea For Halloween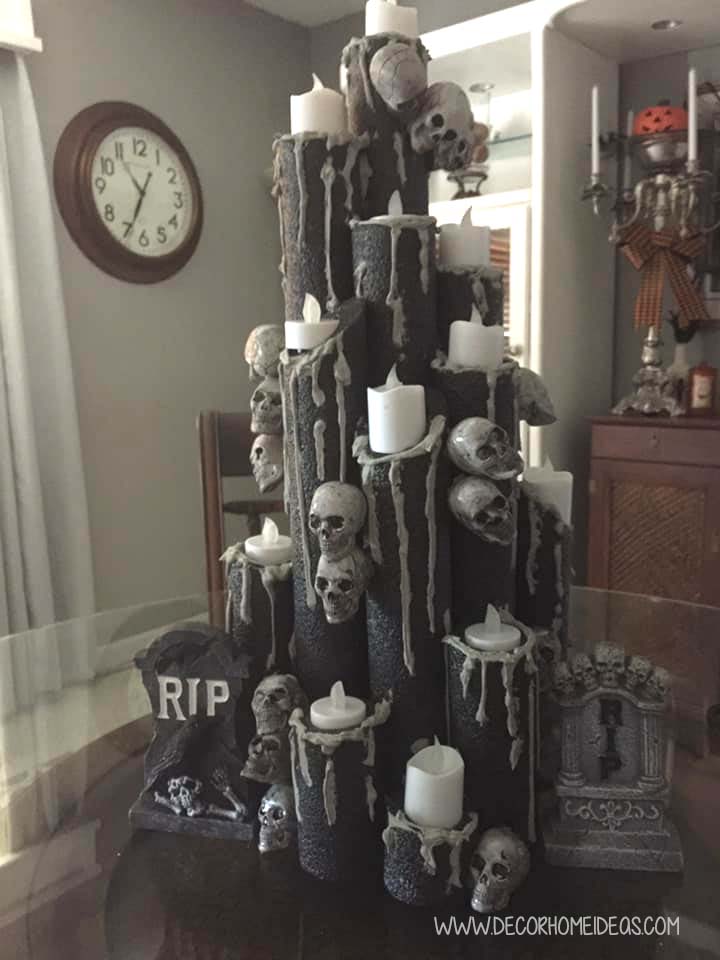 This large craft requires more supplies and time to be made but the end result is fascinating.
Create the layered candle look by using various lengths cut from a pool noodle. After spray painting of each candle, recreate the melted wax effect with white silicone sealant.
Finish the decor with Halloween symbols like skulls, spiders, skeletons, gravestones.
18. Noodle Halloween Centerpiece With Stretchable Cotton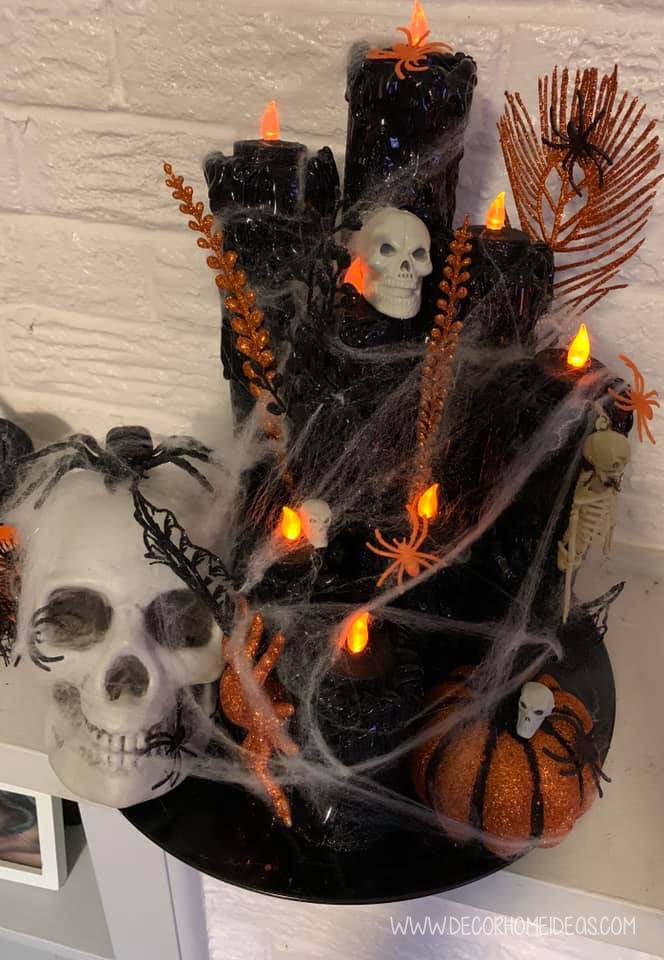 The net effect of this Halloween centerpiece is achieved by twining around stretchable cotton.
Use glitter accents in orange to make the decor easily noticed.
19. Ghost and Spiders On Noodle Candle Arrangement
Small white skulls pop out against the black candle arrangement decorated with big spiders.
The pool noodles cover the entire round surface used as a basis to create the look of a spooky mountain.
20. Noodle Centerpiece For Halloween With Black Faux Leaves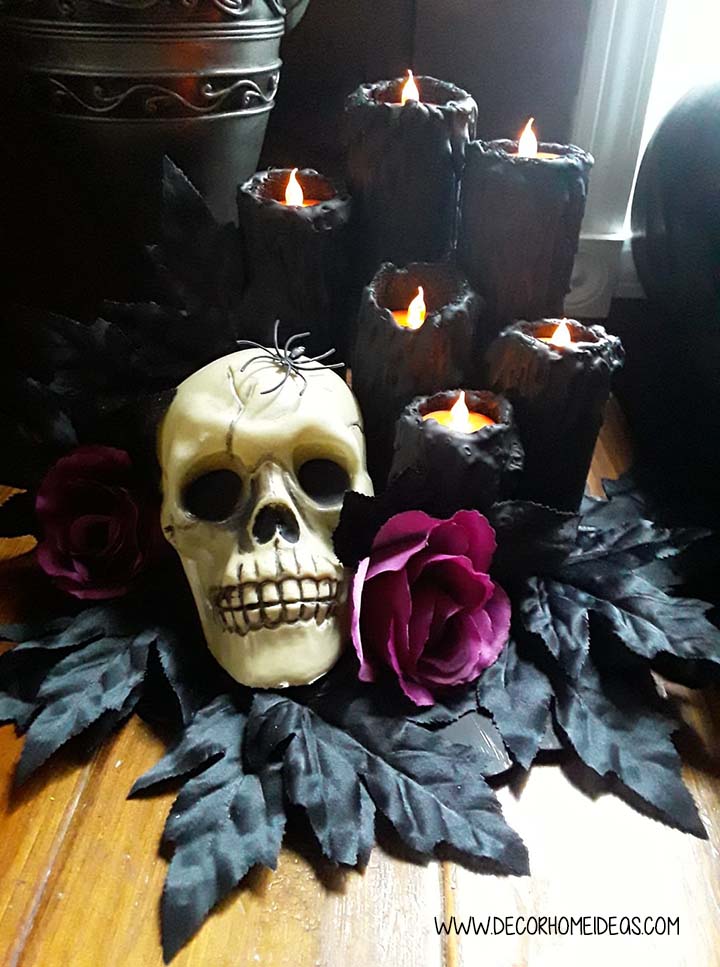 The pool noodle candles don't have to be glued to a tray, they can be just grouped on a table. To hide their bottoms and make the decor look finished, lay some faux greenery in front of them.
Use Halloween accents like a skull to make the decor be easily recognized.
21. Metallic Noodles For A Great Halloween Centerpiece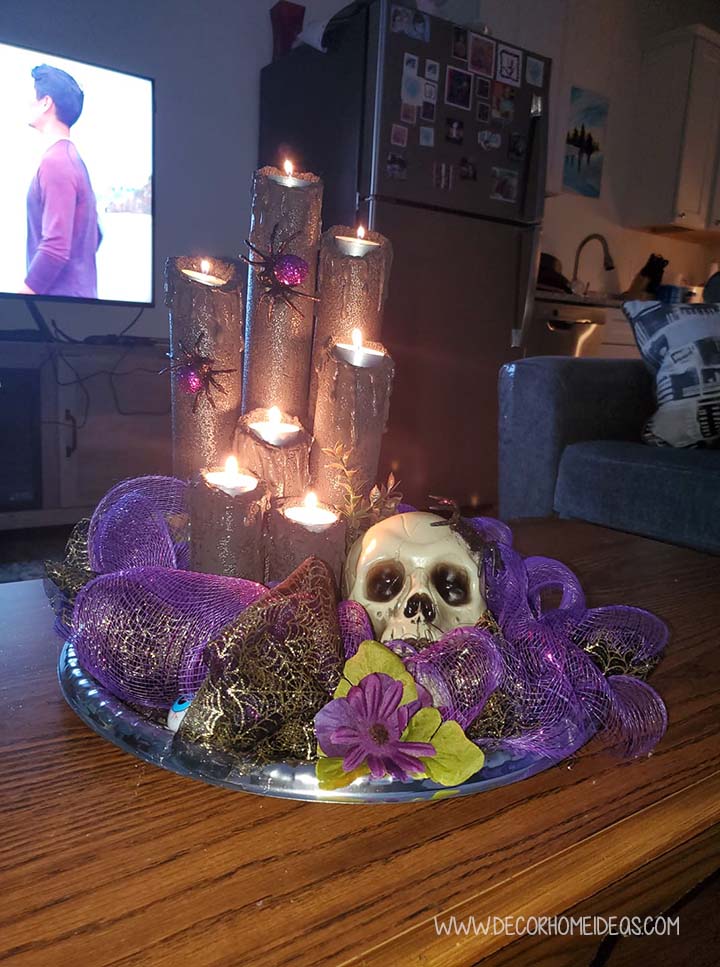 Painting the pool noodles in metallic color will let them reflect the LED light and will also give the otherwise creepy decor a stylish touch.
The same color can be seen on the net motif of the layered mesh at the bottom and on the spiders.
22. Painted White Noodles With Black Spiders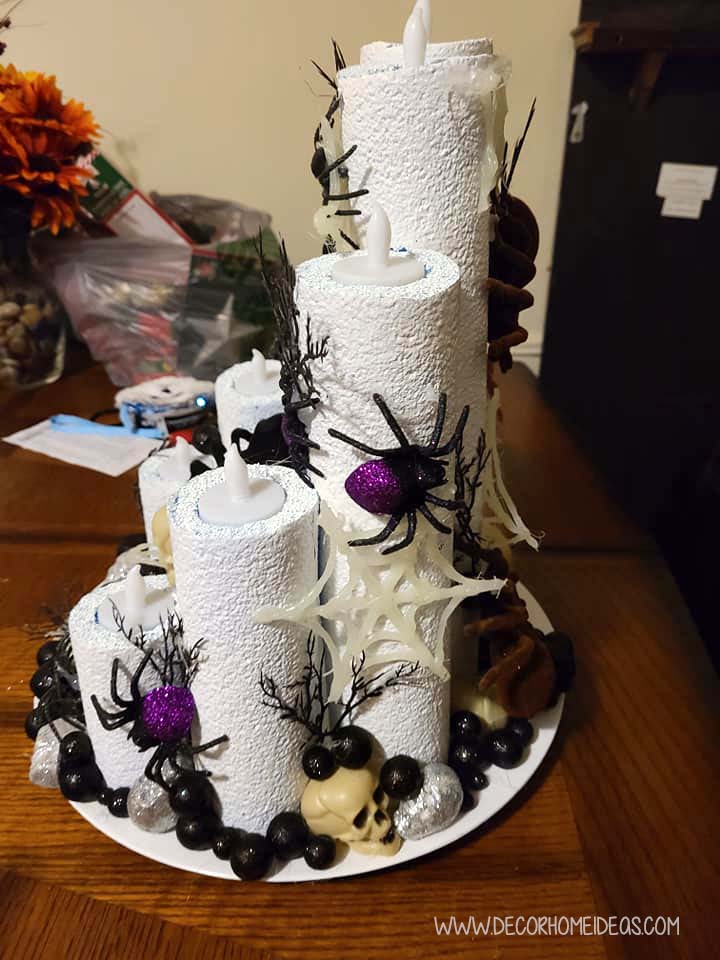 Painting the noodles in white will make the finished candles look like a ready item. This color also allows various possibilities for the accents.
If you don't have enough Halloween decorations, make yourself spider net shapes using a hot glue gun stick.
23. Halloween Centerpiece With Silver Painted Noodles And Purple Decorations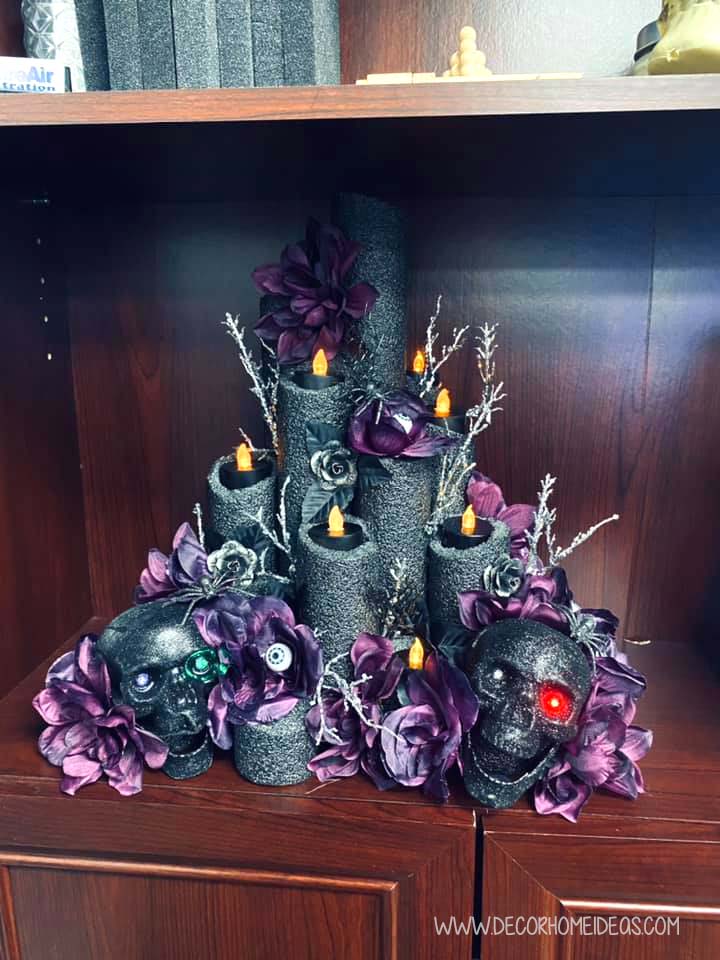 This fabulous Halloween craft strictly follows one color combo- silver and purple. The noodles and the skulls are preliminary spray-painted in a metallic shade.
Purple faux flowers fill in the gaps between the candles and outline the triangular shape of the candle arrangement.
The silver flowers and twigs give the craft a beautiful touch regardless of its theme.
24. Noodle Candles With Black Cheesecloth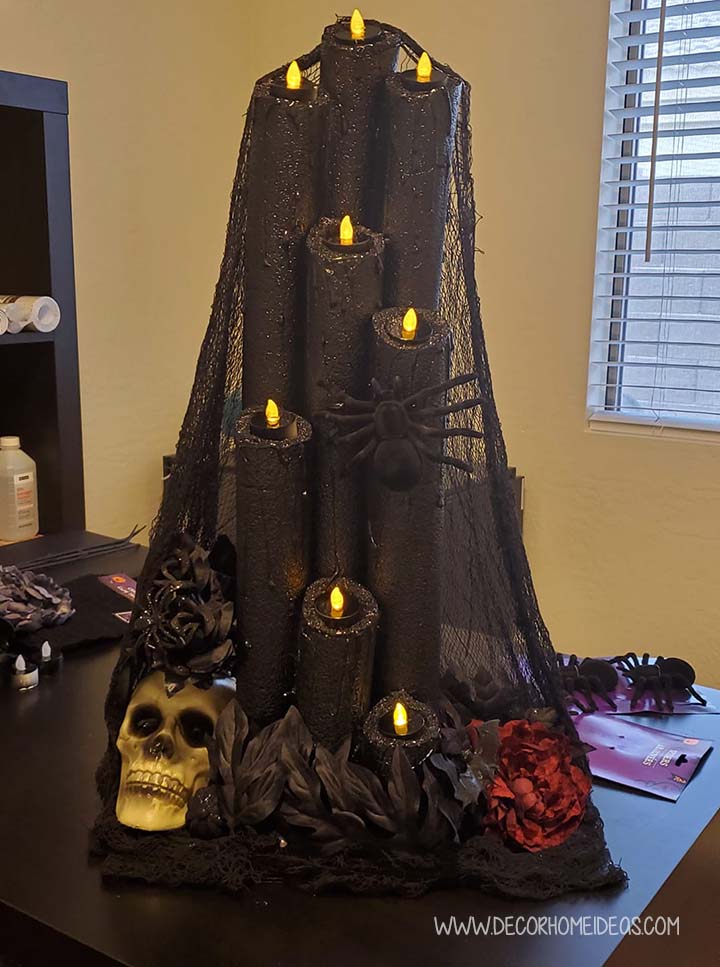 Throw on your candle group a piece of black netting. Decorate the draperied bottom of the netting with faux flowers in black, red or purple, skulls and spiders.
25. Noodle Candles Surrounded By Spooky Flowers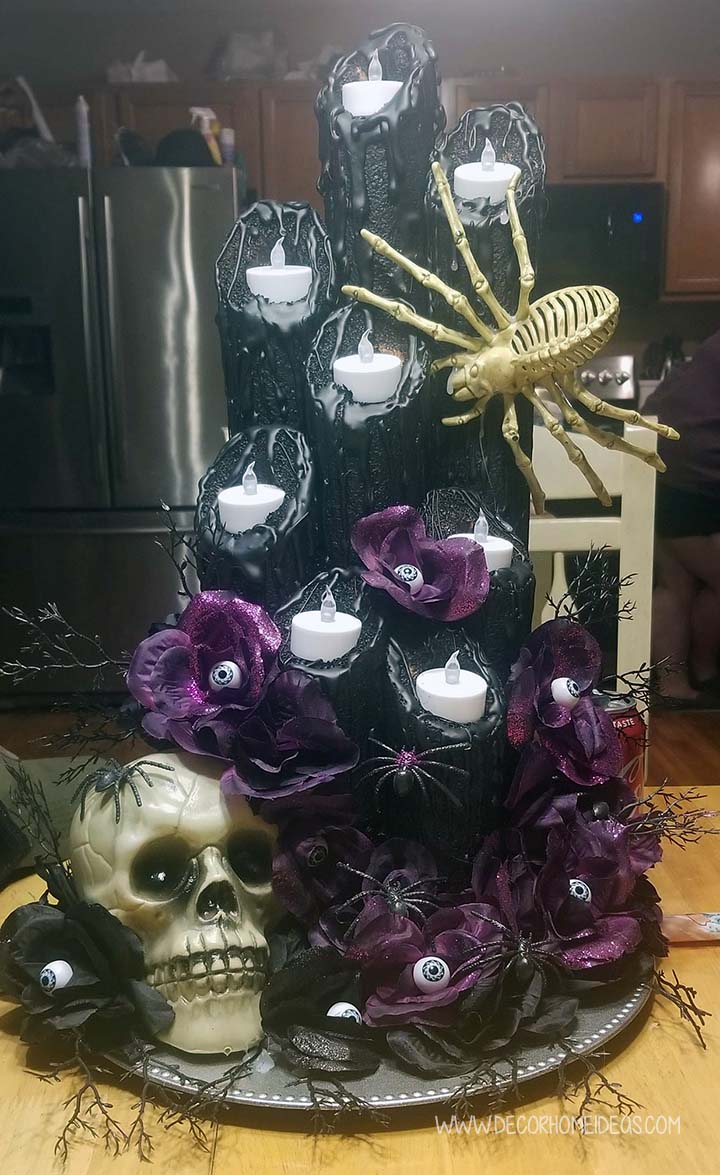 Spiders remind of Halloween because they are scary and creepy to most people. Make your pool noodle candle centerpiece scarier by giving a large faux spider a special place.
Decorate with faux flowers in black and purple which stamens are replaced with eyeballs.
26. Melted Wax With Glitter Hot Glue Idea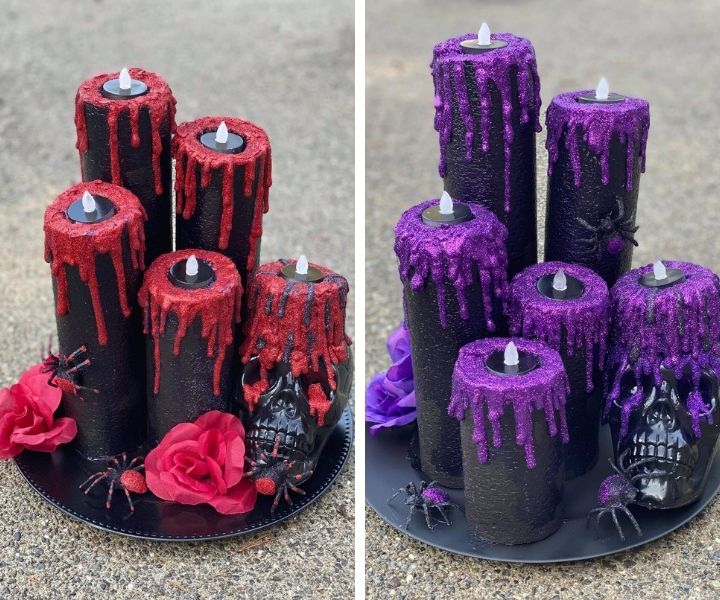 This simple Halloween craft will have a great impact although it is of smaller size.
Using a black plate as a basis, glue on the preliminary painted pool noodle pieces. Use glitter sticks to create the melted wax effect.
Give the centerpiece a creepy effect with a black skull decorated with a small candle which melted wax reaches the eyes of the skull.