There's something special about rustic Christmas ornaments — the relaxed style and casual textures give your home a homey, inviting feeling that's perfect for the holidays.
By making the ornaments yourself, you add a handmade charm that's impossible to replicate with a mass-produced version.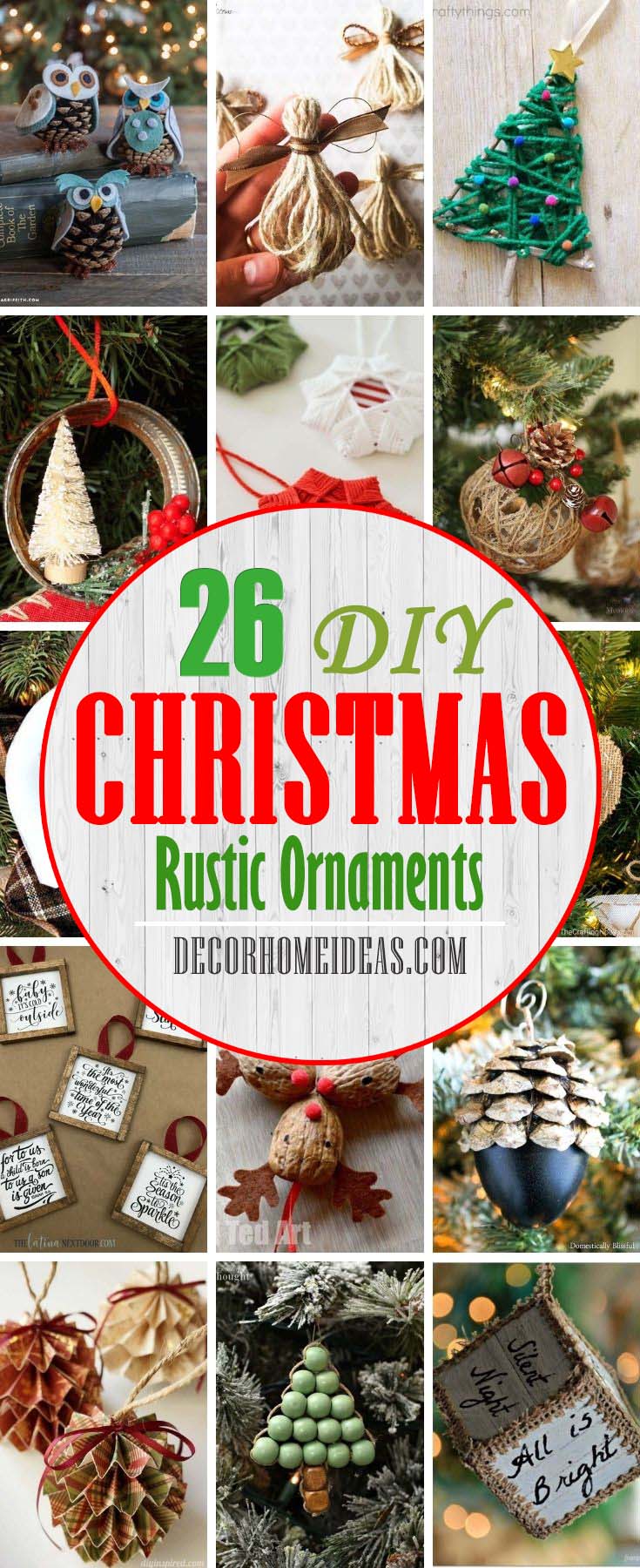 If you are not experienced in DIY activities you can get some Adorable Rustic Christmas Ornaments HERE
No matter what your artistic talent and skill level, these lovely DIY ornaments are a great place to start your Christmas craft adventures.
1. Bottle Brush Mason Jar Ring Ornament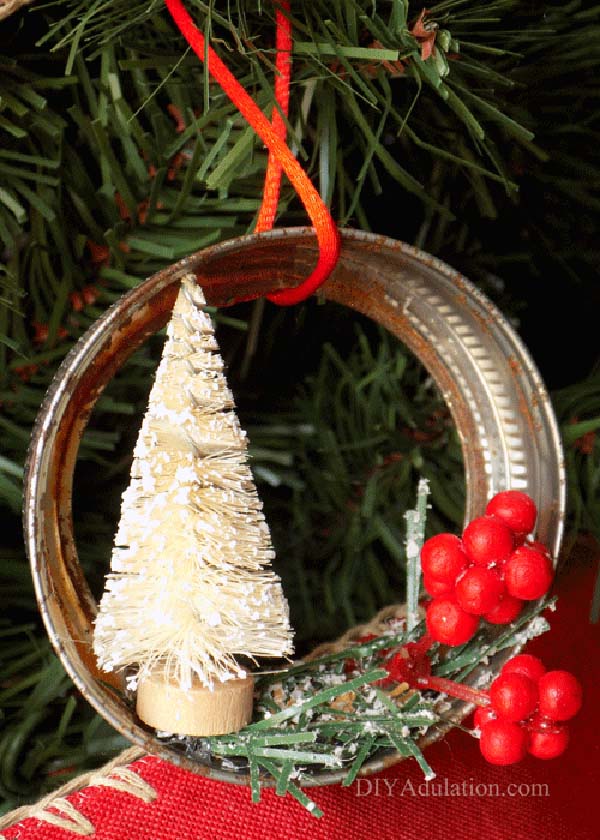 Turn an old Mason jar ring into a rustic ornament with the addition of a bottle-brush Christmas tree.
Green paper grass and faux red berries add a festive pop of color.
We love how the metal ring shows signs of corrosion — it amps up the laid-back charm.
via DIY Adulation
2. Cube Decoration Adorned with Personalized Quotes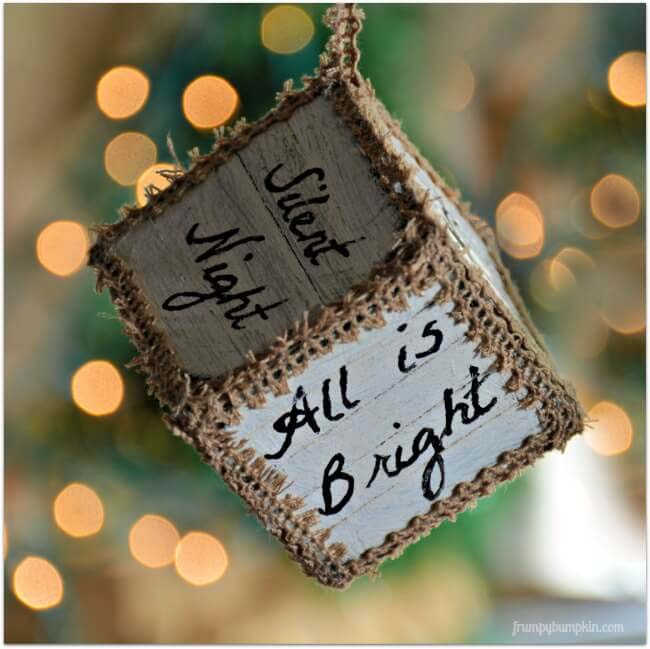 Looking for an easy, fast DIY ornament?
This adorable rustic cube is a great option. Simply write Christmas-themed quotes or words on each side of the cube and glue on some burlap trim.
You can even use the same trim to create a hanging loop.
3. DIY Farmhouse Christmas Ornament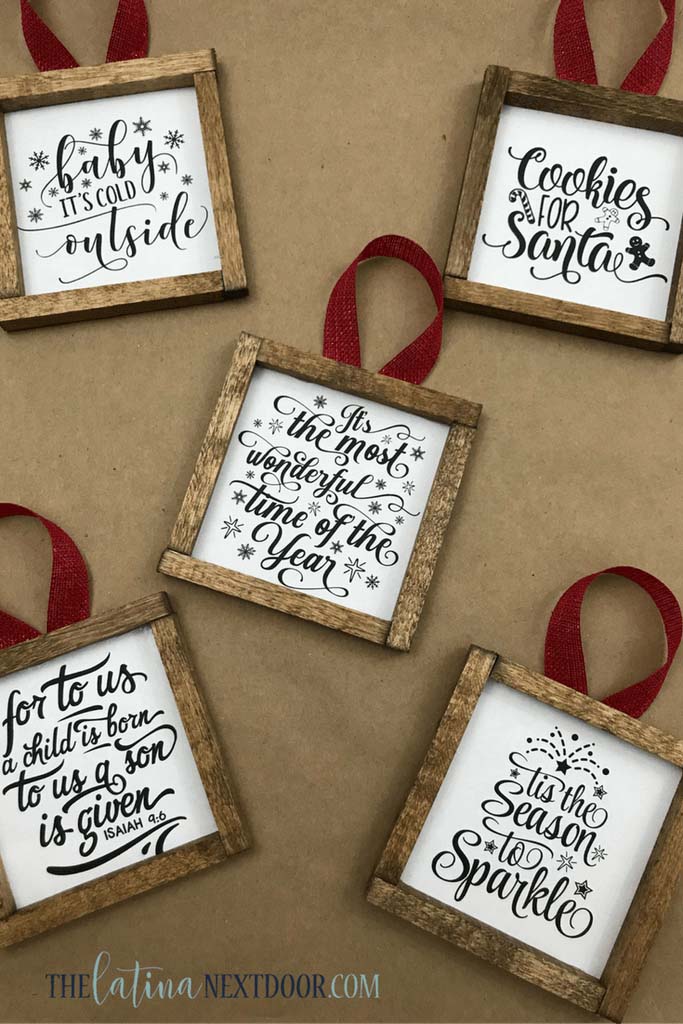 The next time you're at the dollar store, pick up a few miniature wooden picture frames.
Glue in a festive or inspirational quote, and you have an instant ornament.
A lovely red or green ribbon keeps things colorful.
4. DIY Knit Christmas Ornaments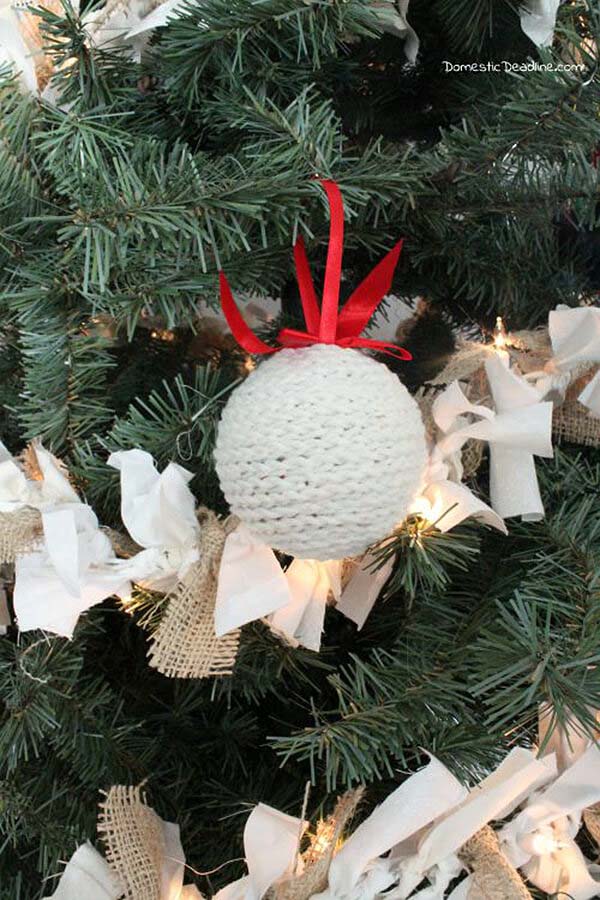 Don't worry if you don't know how to knit — this gorgeous ornament will make all of your loved ones think you're an old pro.
All you need to do is figure out how to crochet a single chain; glue it over an old Christmas ball for a beautiful knit texture.
5. DIY Mason Jar Rustic Ornament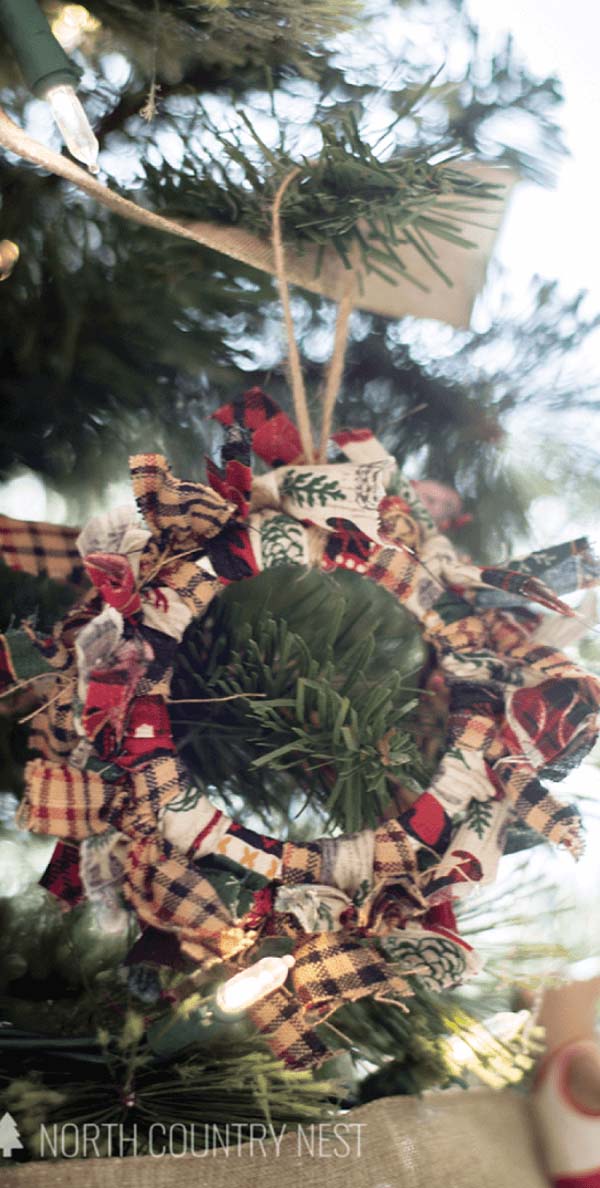 Everyone has a few extra Mason jar rings rattling around in a drawer.
Free up space and make a colorful ornament with this fun project.
As long as you can tie the fabric into a knot, you can get it done in less than an hour.
6. DIY Ornament Wooden Bead Christmas Tree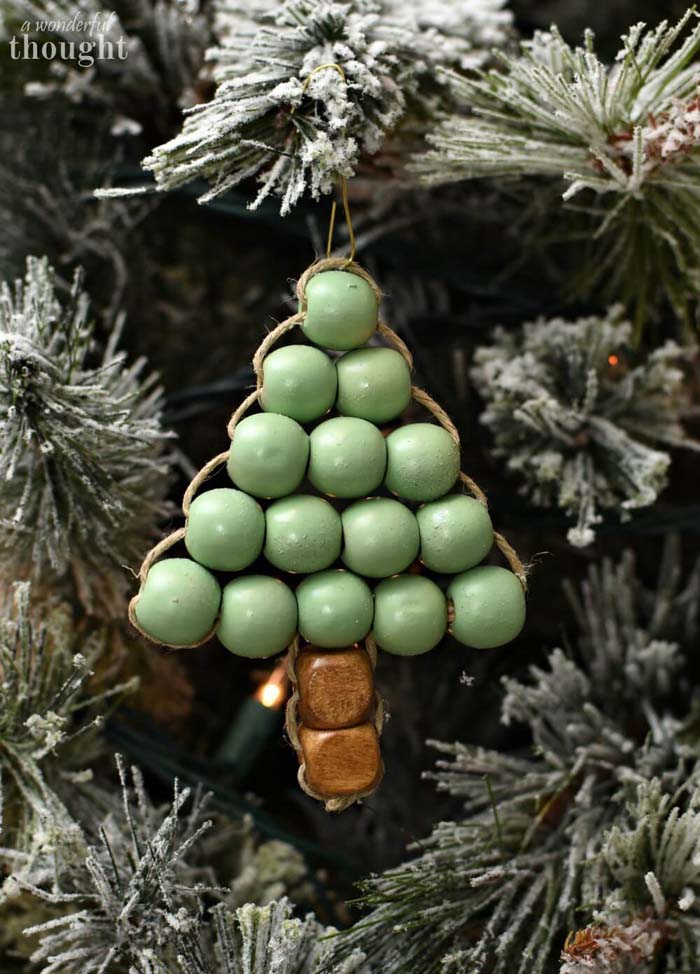 This DIY tree exudes rustic charm.
With a few wooden beads, a bit of paint, and some twine, you can create a custom, no-sew ornament.
The slightly irregular surface of the twine adds the perfect finishing touch.
7. DIY Rustic Burlap Christmas Ornaments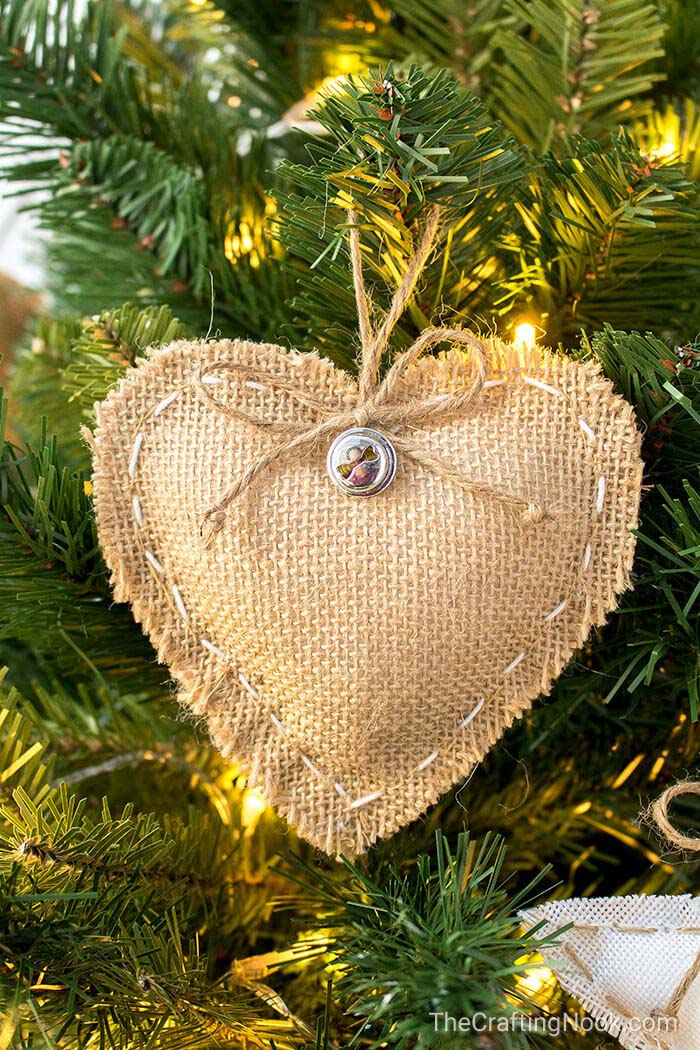 Who knew humble burlap fabric could be so beautiful?
This is a fun craft project to do with kids.
Customize the ornaments with your favorite shapes, and add colorful ribbon, jingle bells, or pieces of trim for a personalized look.
8. DIY Wood Slice Christmas Ornaments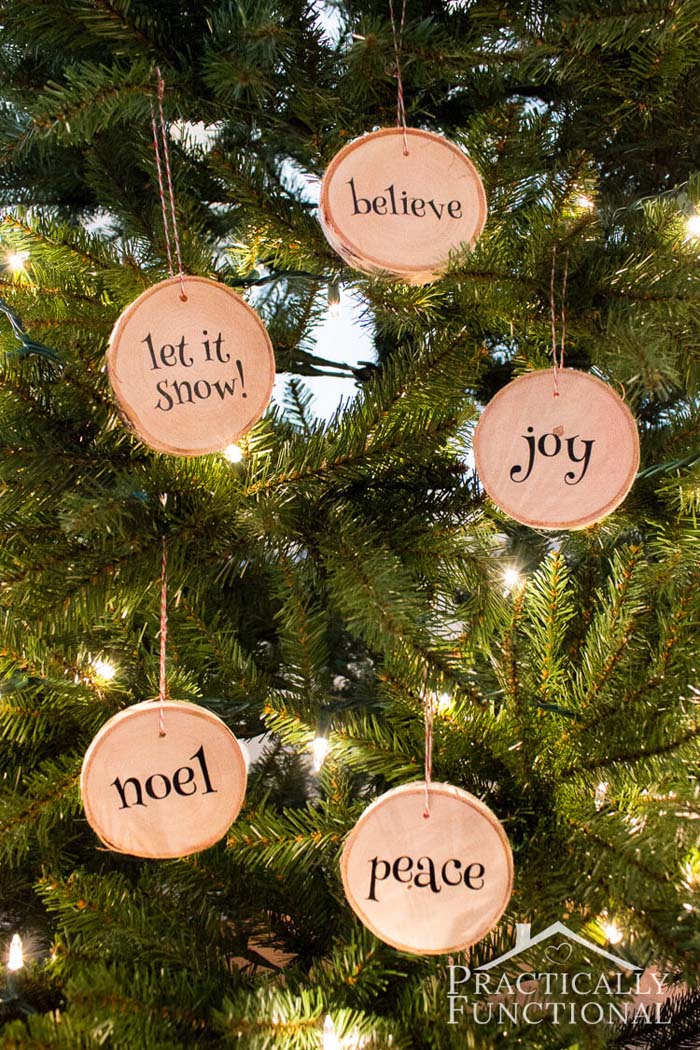 Do you have access to a saw?
Grab a downed branch and cut thin slices to create these cute rustic ornaments.
If you don't have a saw, you can find pre-cut wood slices at the local craft store.
For picture-perfect text, use stickers, a stencil, or a cutting machine.
9. Embroidered Pennant Christmas Ornament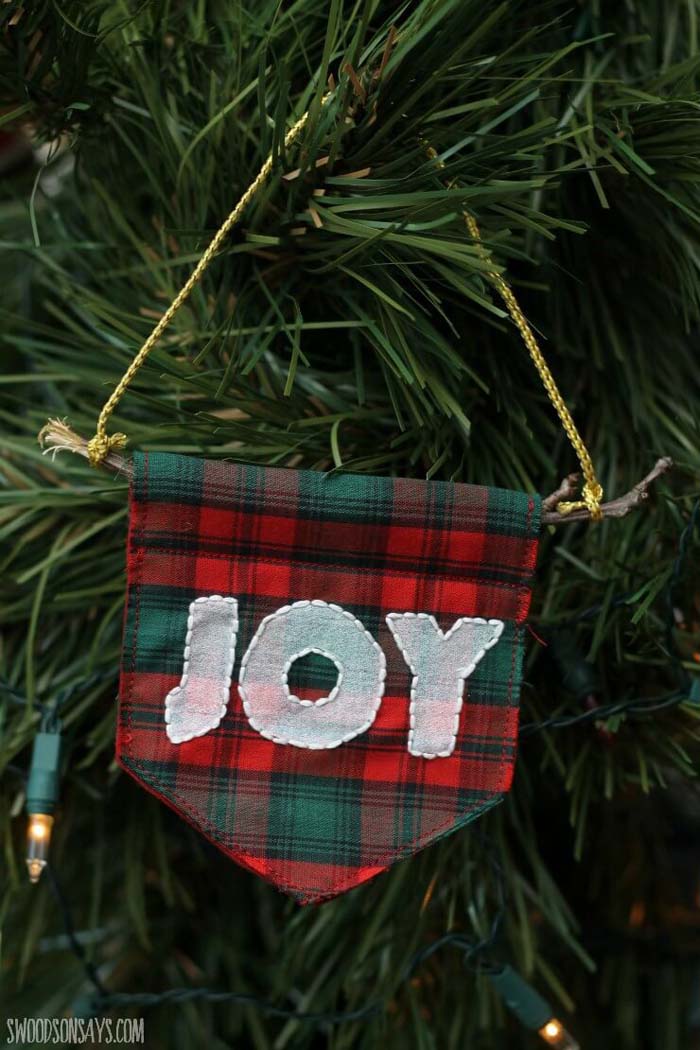 Red and green plaid takes center stage in this traditional Christmas ornament.
It's a great way to use up scraps of fabric — just cut the pennant shape and hem.
You can leave the fabric blank or add a word for a polished look.
via Swoodson Says
10. Fabric Christmas Ornaments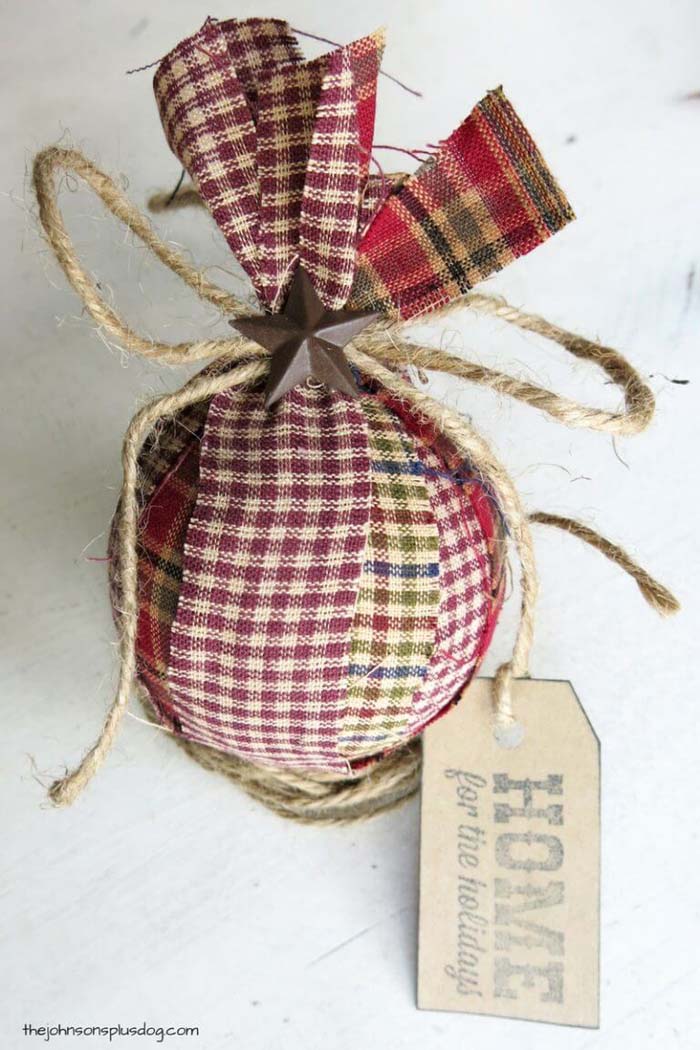 Love the look of fabric ornaments but hate to sew?
Make a stunning rustic ornament with overlapping strips of material tied with twine.
The trick is to choose classic prints in rich, traditional colors. Loose-weave fabric completes the rustic vibe.
via Making Manzanita
11. Faux Acorn Christmas Ornaments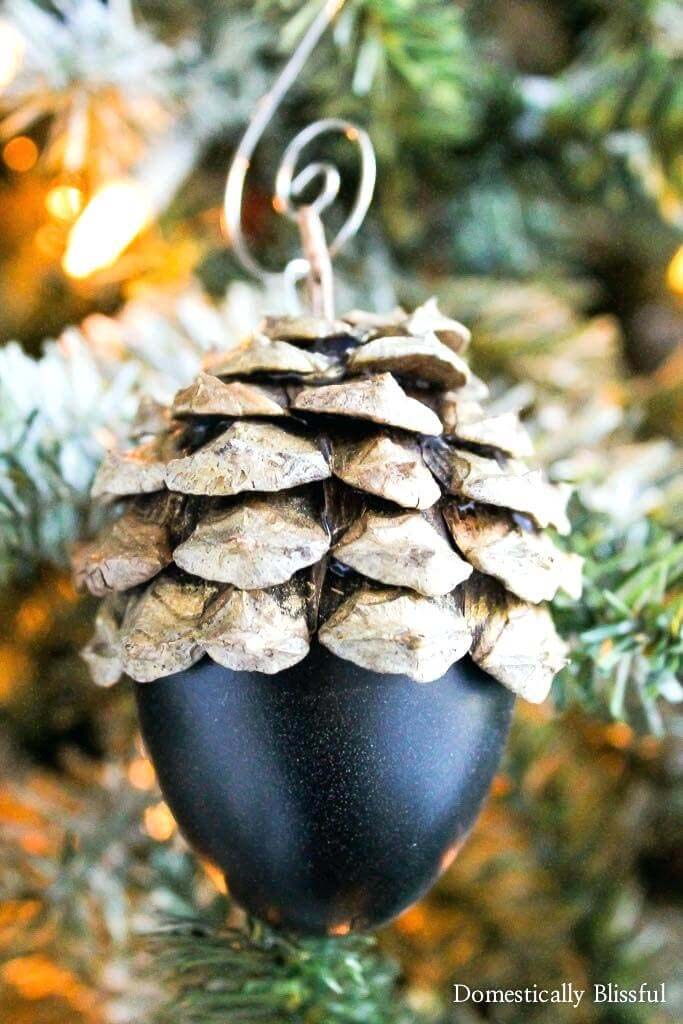 Natural elements are a key part of rustic style, and this ornament has it all.
To look at it, you'd never guess that the bottom of the "acorn" is a plastic Easter egg.
A cute curlicue hanger keeps this piece looking fun and festive.
12. Faux Cross Stitch Hoop Ornaments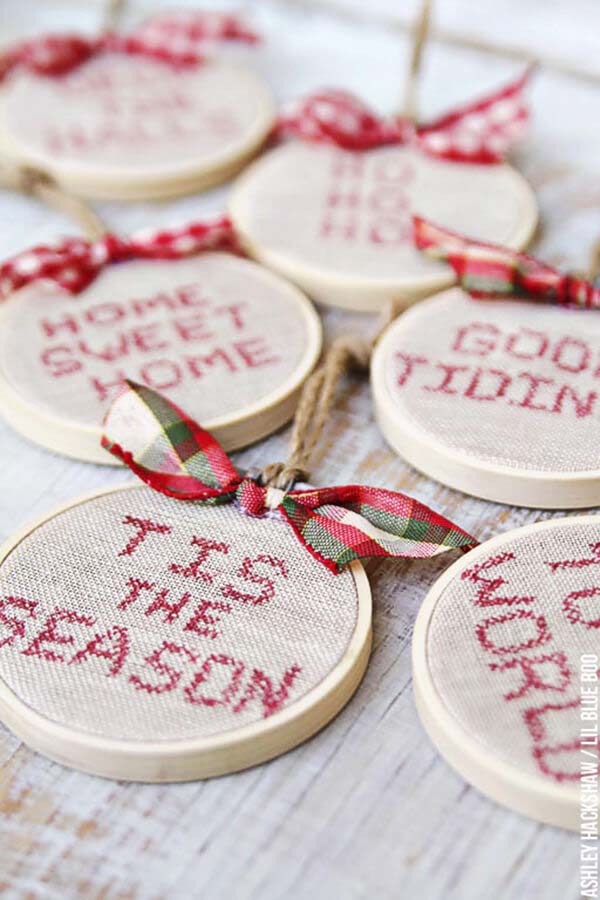 Don't have time to learn how to cross-stitch?
No problem — these ornaments look hand-stitched, but you can make them using a marker.
The tiny embroidery hoops are available at any craft store, and you can top each one off with any beautiful Christmas ribbon that appeals to you.
via Ashley Hackshaw
13. Felt And Pine Cone Owl Ornaments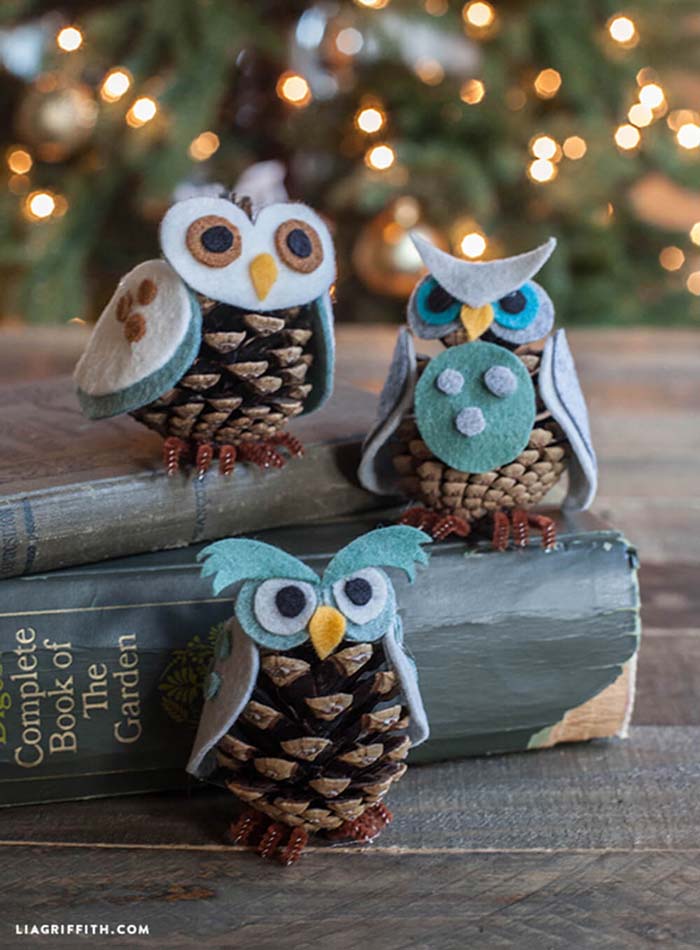 How cute are these pinecone owls?
They might look like something you'd buy at an expensive home-goods store, but in reality, they're an affordable DIY project.
Just cut out wings and a face and glue it in place. The sweet pipe-cleaner feet seal the deal.
via Lia Griffith
14. Felt Coffee Cup Ornaments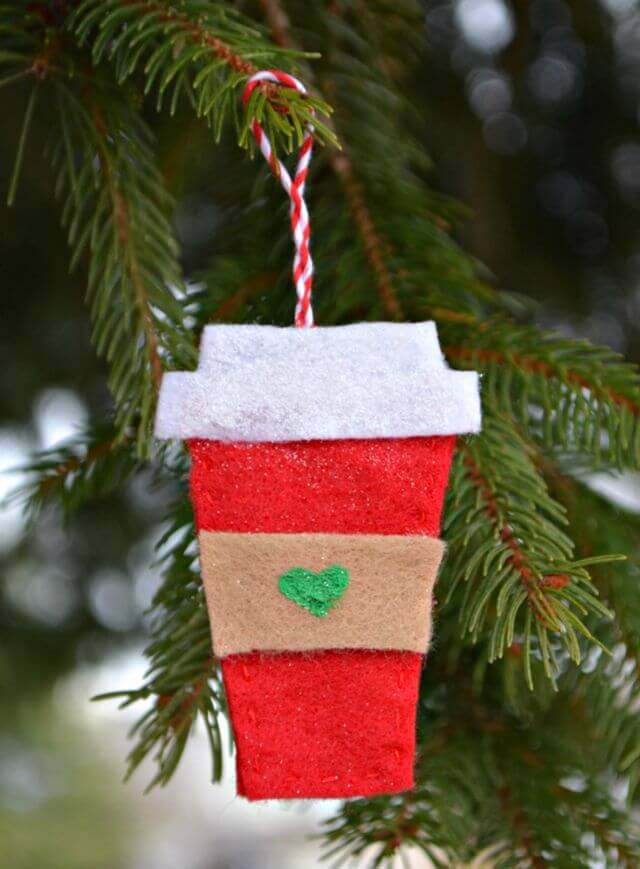 Celebrate your love of coffee this Christmas with a DIY cup ornament.
Making the tiny felt cups is so easy that you'll be tempted to create an entire set.
Add your own artwork to the sleeve for a personalized look.
15. Gold Glitter Ornaments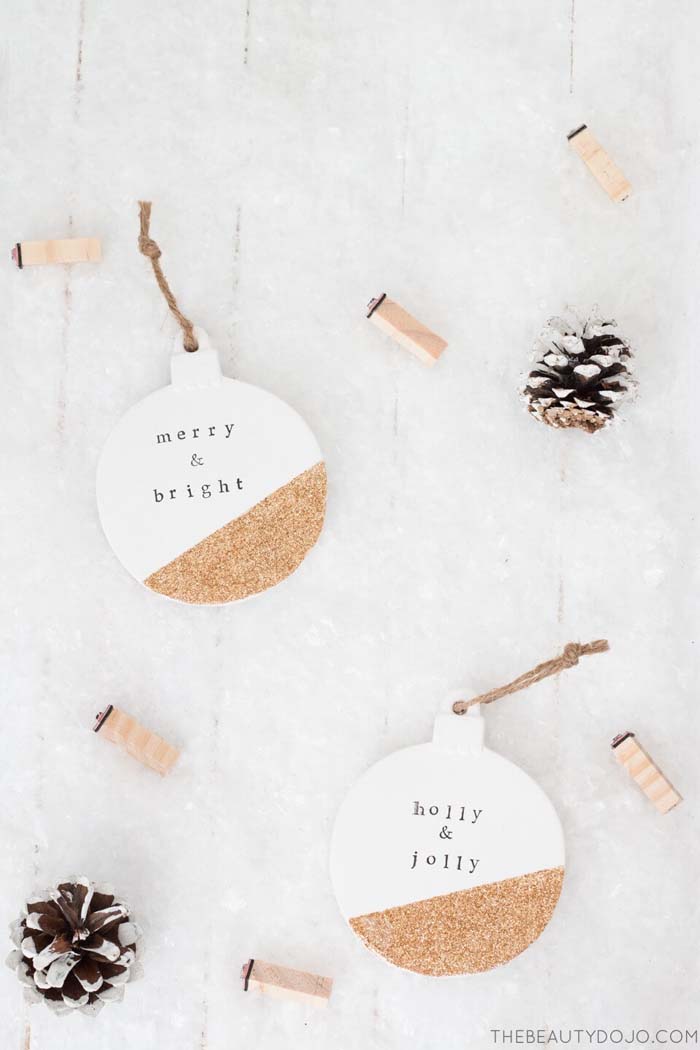 Rustic and glam styles combine in these glittering ornaments.
This is a fun way to repurpose old ornaments — add a coat of white paint to create a blank canvas.
A layer of glitter and a hand-stamped quote add a trendy, upscale vibe.
via The Beauty Dojo
16. Homemade Christmas Tree Star Ornaments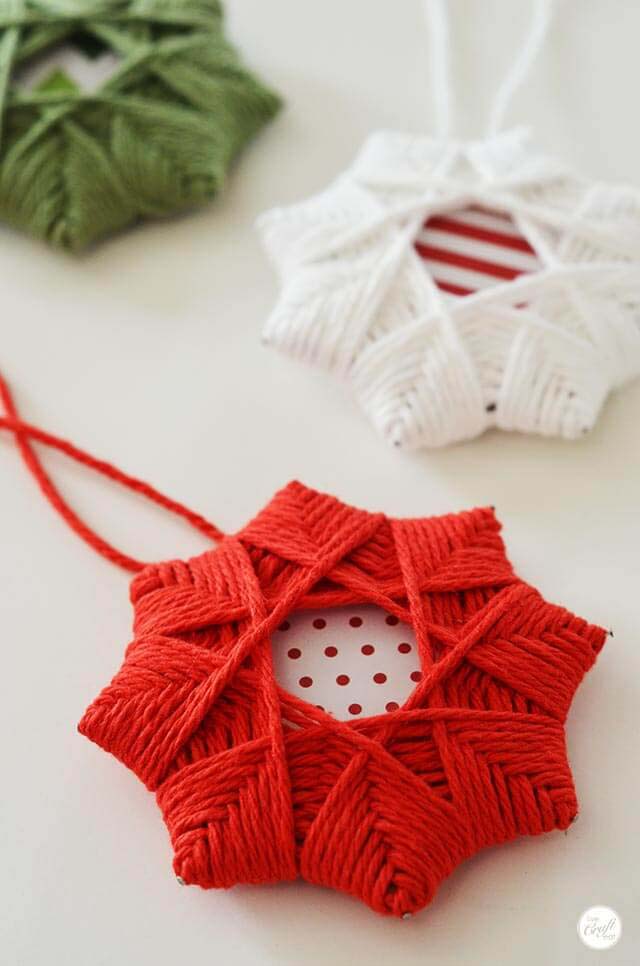 Turn an inexpensive skein of yarn into a rustic Christmas star ornament that will impress all of your guests.
As soon as you master the simple wrapping technique, you can complete these stars quickly.
Use contrasting paper for the center, or go with a similar color for a chic look.
via Live Craft Eat
17. How To Make DIY Wine Cork Ornaments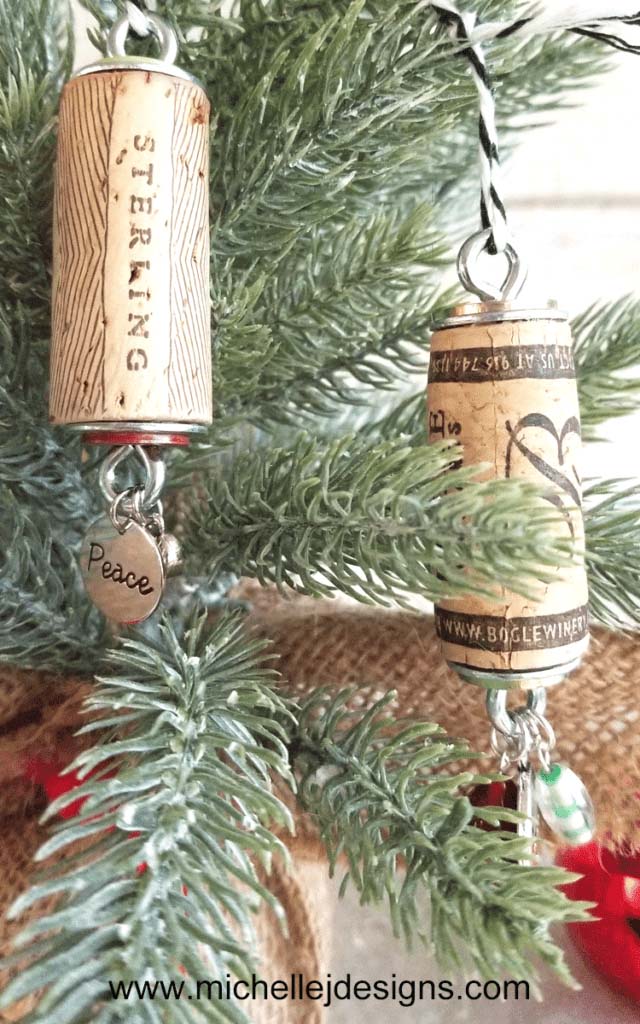 Do you have a collection of wine corks?
Get them out of the drawer and onto your tree by turning them into rustic wine-themed ornaments.
The natural texture and materials complement a country Christmas — if the corks are printed, it's a fun bonus.
via MJ Designs
18. Make Your Own Paper Christmas Ornaments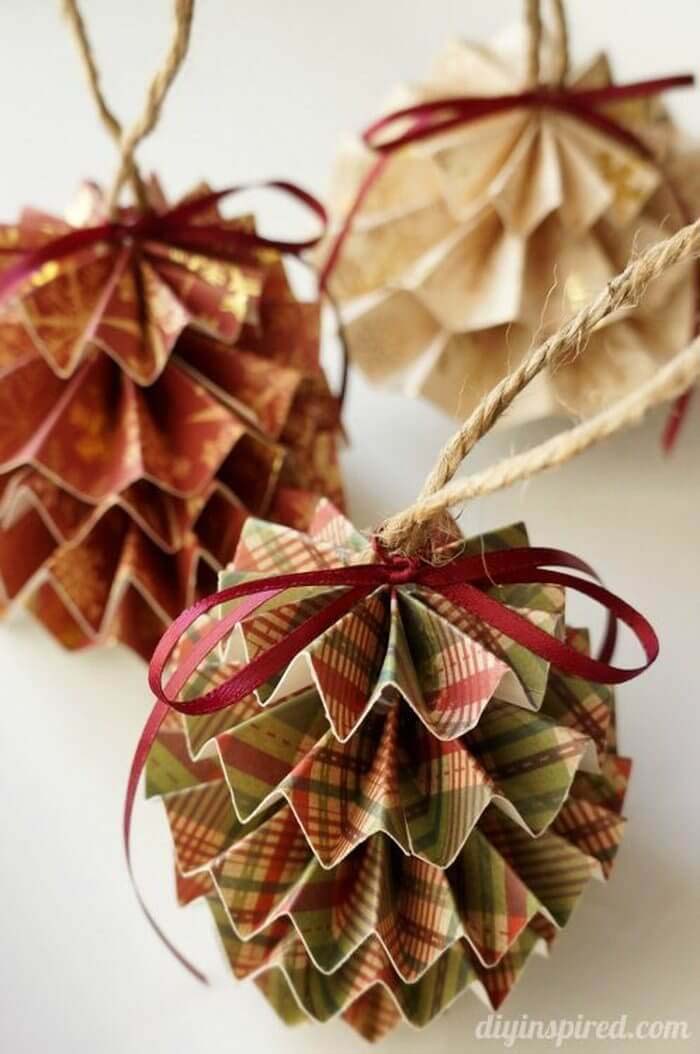 If you're looking to save money this Christmas, craft paper is the perfect medium for ornament making.
A series of fan-folds turns a single sheet of paper into an intricate ball.
Use pre-printed designs, or paint your own for a truly custom piece.
via DIY Inspired
19. Rustic Twig Arrows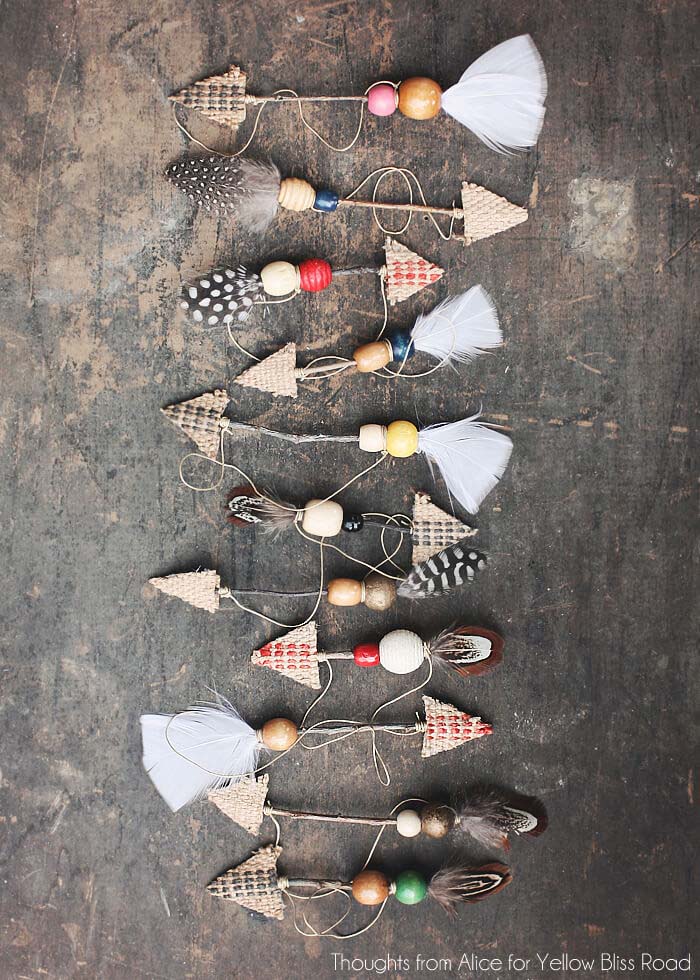 Nothing says "rustic" like natural wood; these ornaments take things a step further by turning twigs into charming handmade ornaments.
The best part? You can add beads, features, faux fur, or fabric to match the theme of your Christmas tree.
20. Rustic Twine Candy Cane Ornaments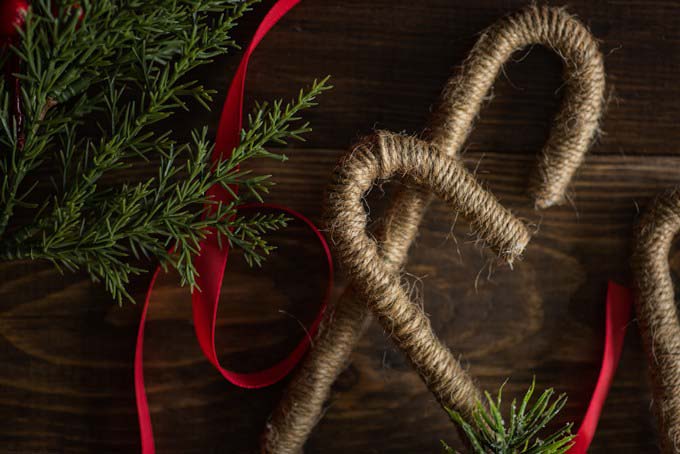 Go all in on gorgeous rustic textures with these ultra-simple candy cane ornaments.
All you need is a length of twine and a candy cane; the construction process involves a simple wrapping process.
Wind a brightly colored ribbon for an extra pop of color, or allow the twine to shine.
via The Artisan Life
21. S'mores Christmas Ornaments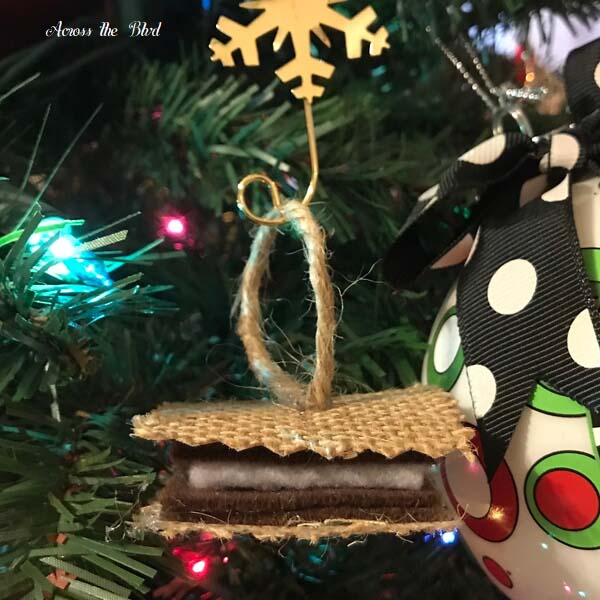 Bring your favorite summer treat to the Christmas tree with a rustic take on s'mores.
Burlap and felt make the perfect materials for this sweet decoration; they replicate the texture and color of the snack, all while complementing your down-home decor.
22. Twine Adornment with Pinecone and Bells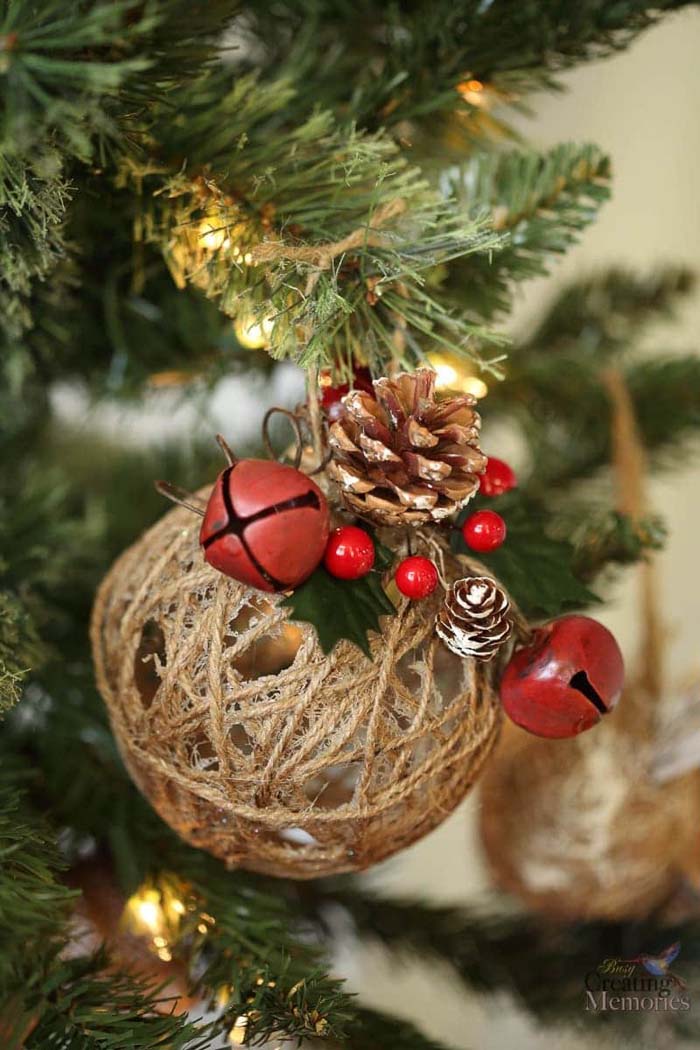 Part decoration, part artistic illusion, these spectacular ornaments are a sight to behold.
The ethereal twine spheres are a breeze to make — then, you can add any type of trim that catches your fancy. Jingle bells, ribbons, berries, pinecones, and green leaves all pair beautifully with the natural brown twine.
23. Twine Angel Ornament with Ribbon and Wings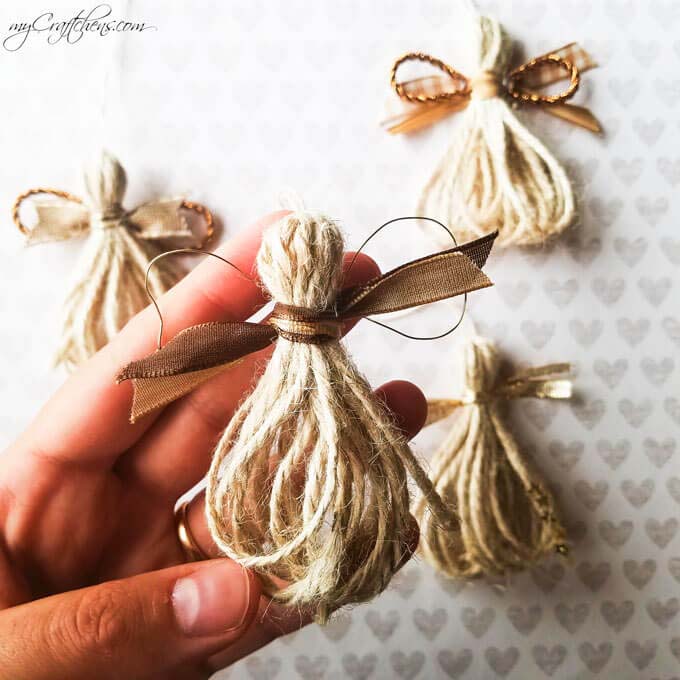 It doesn't get much sweeter than this rustic twine angel.
The beauty is in the simplicity: the soft colors, the airy wire wings, and the natural-toned ribbon combine to create a truly lovely piece.
Make them for yourself or give these adorable angels as gifts.
via My Craft Chens
24. Walnut Crafts – Reindeer Ornament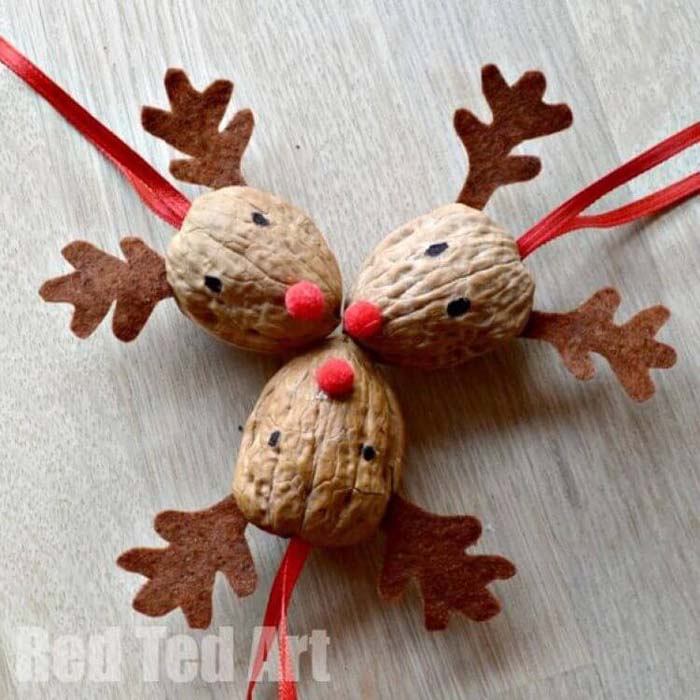 At the holidays, bins of whole walnuts begin to appear at your local supermarket.
Grab a few and turn them into these super-cute reindeer.
This is the perfect DIY project for days when you're pressed for time — all it requires is a bit of glue and a small amount of cutting.
The natural colors and textures do the rest of the work for you.
via Red Ted Art
25. White Polar Bear Animal Decoration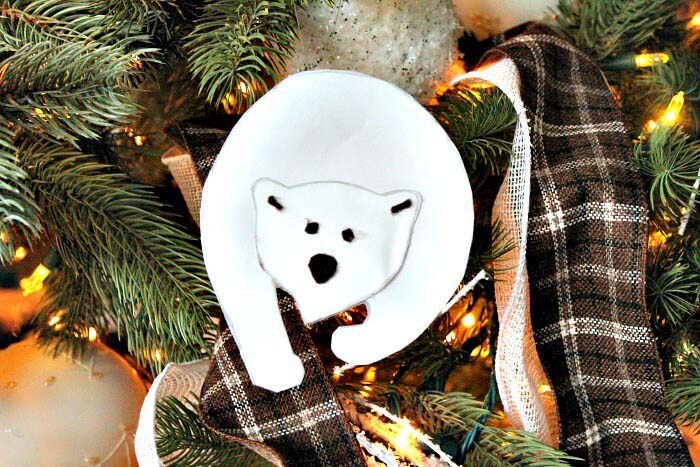 Bring a subtle pop of glitter to your rustic Christmas tree with a simple polar bear ornament.
The clean white surface and simple shape look stunning with natural textures and green boughs, and a fun layer of glitter evokes the imagery of sparkling snow.
26. Yarn Wrapped Christmas Tree Twig Ornament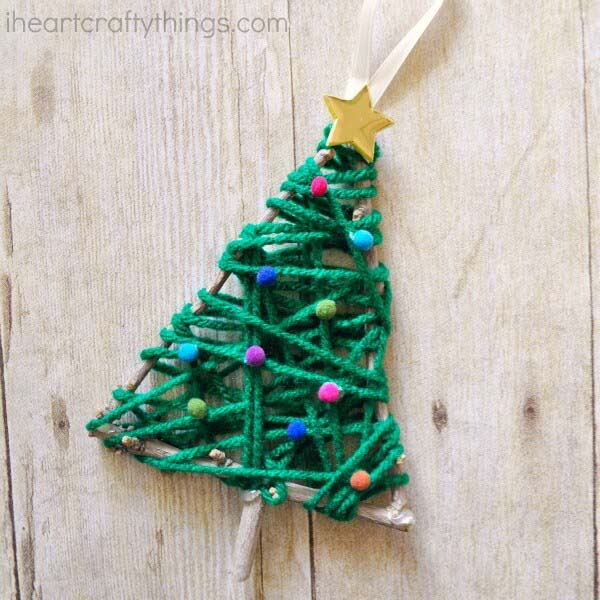 Get your little ones together for a craft afternoon to make this adorable twig tree.
The simple twig frame leaves plenty of room for experimentation. Glue on tiny pom-poms, gemstones, or cutout stars to serve as ornaments.