Red and green are perennial Christmas favorites, but when you're looking to change things up, blue is a perfect choice.
Whether you want to add a few royal-blue accents into your usual decor or you're going with an icy blue and white theme, this versatile color has plenty of potential.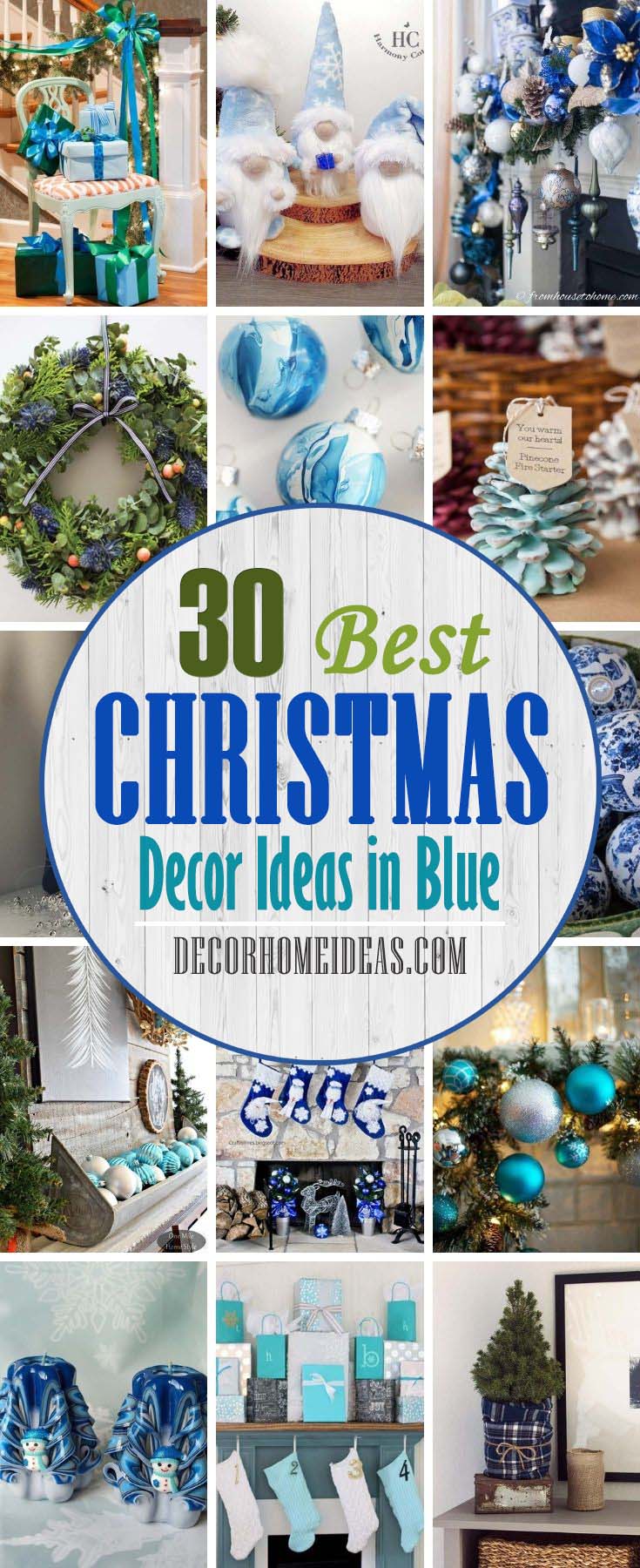 These stunning blue Christmas decor ideas are just the thing to get you excited for the holidays.
1. Christmas Wreath with Blue Ornaments and a Ribbon Accent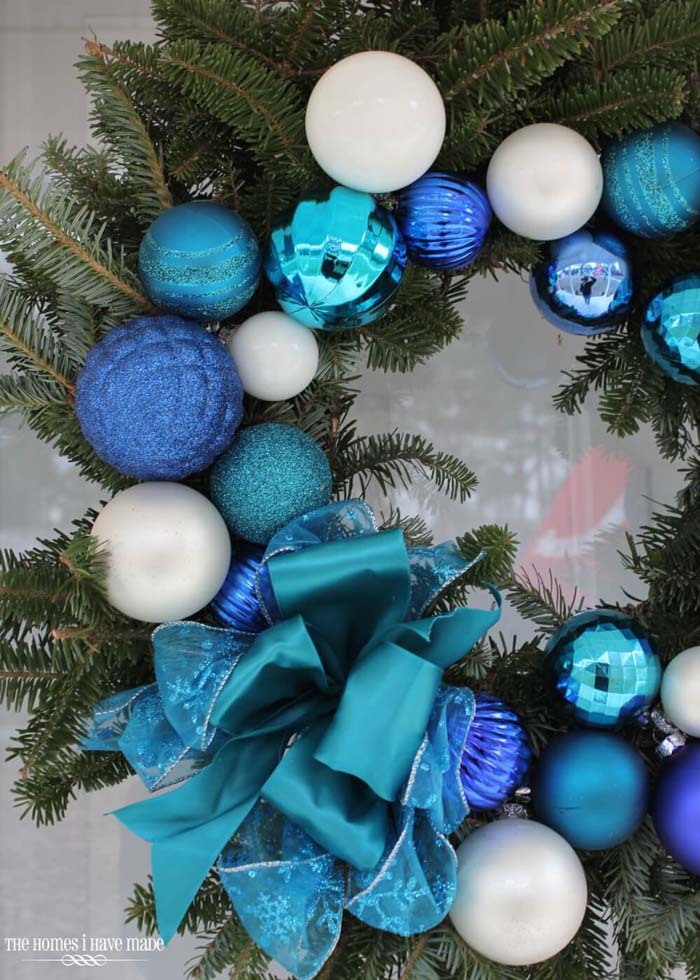 Looking for a DIY project that doesn't take much time?
With a few packs of beautiful blue Christmas ornaments and a plain wreath, you can create this spectacular wreath for your front door.
A massive ribbon ties the whole thing together.
2. Stunning Silver & White Trees to Add Glitter Charm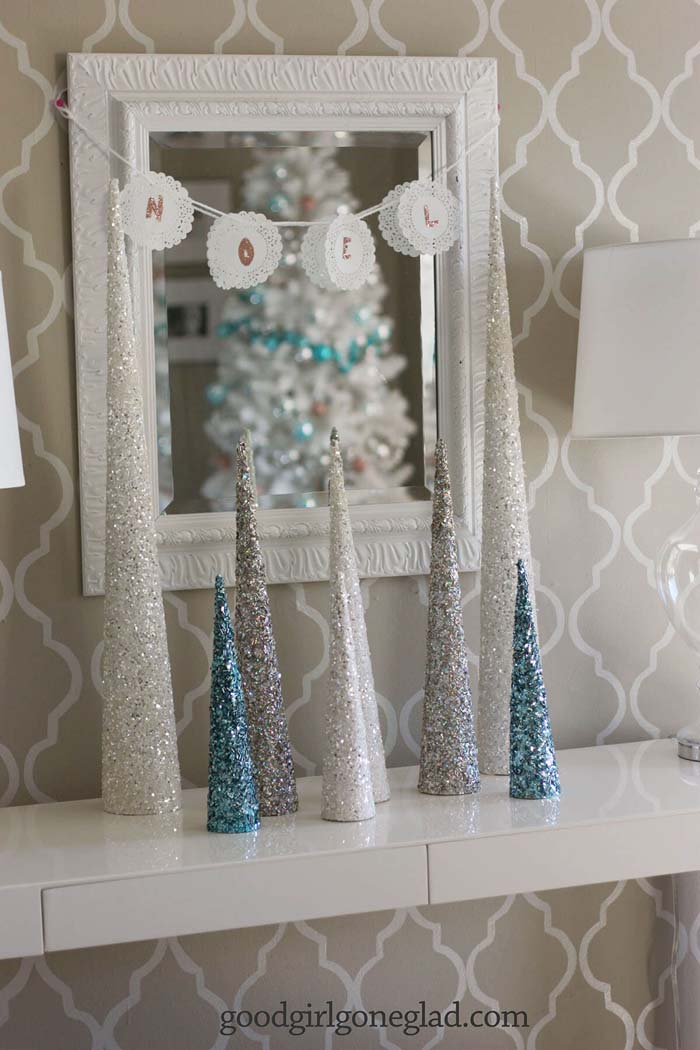 Slim trees sparkle in the glow from your Christmas lights with this display, which is the perfect addition to a mantel or a side table.
It's incredibly easy to make — you might even have the supplies on hand already.
We love how the silver and white trees keep these sweet trees looking sophisticated.
3. Grey-Green and Blue Wreath to Enhance Any Home Décor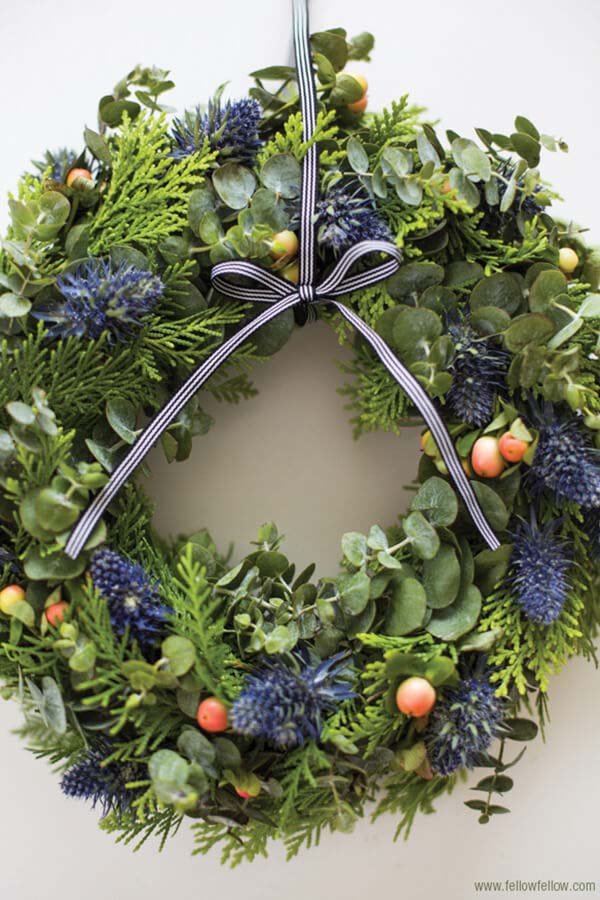 With its grey-green leaves and blue flowers, this stunning wreath looks beautiful at Christmas and beyond.
The subtle addition of traditional holiday boughs adds subtle texture, and the blue striped ribbon makes a lovely hanger.
4. Create a Festive Porch Display With Aqua Decorations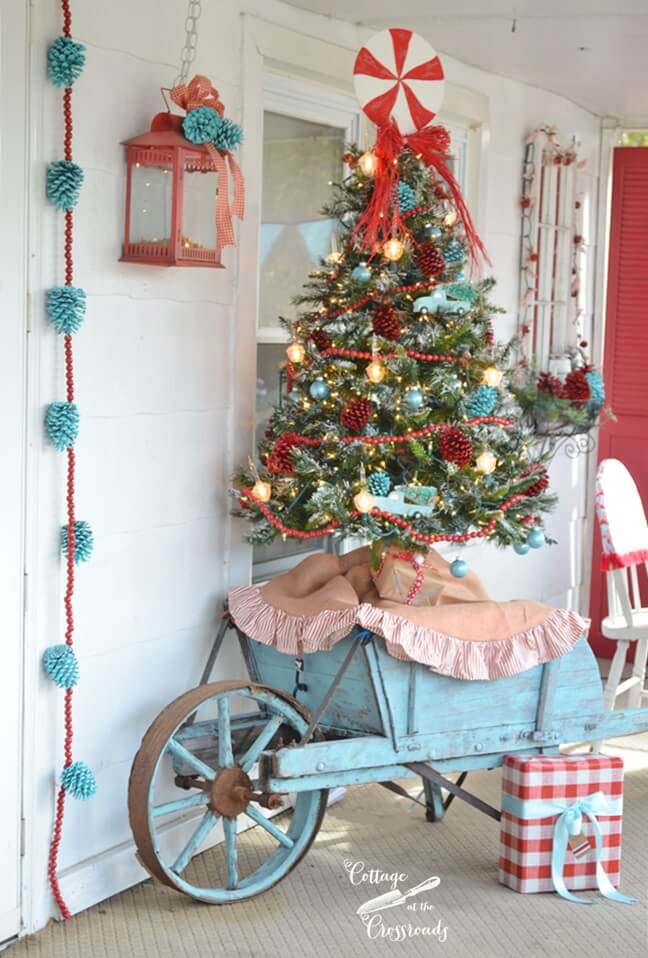 Replace your traditional green decorations with aqua versions to create this unexpected porch display.
The combination of aqua and red looks fun and fresh, while still maintaining a festive charm. The best part?
You can make the painted pinecones yourself for a bit of affordable decor.
5. Welcome a Newborn with a Blue and Christmas White Stocking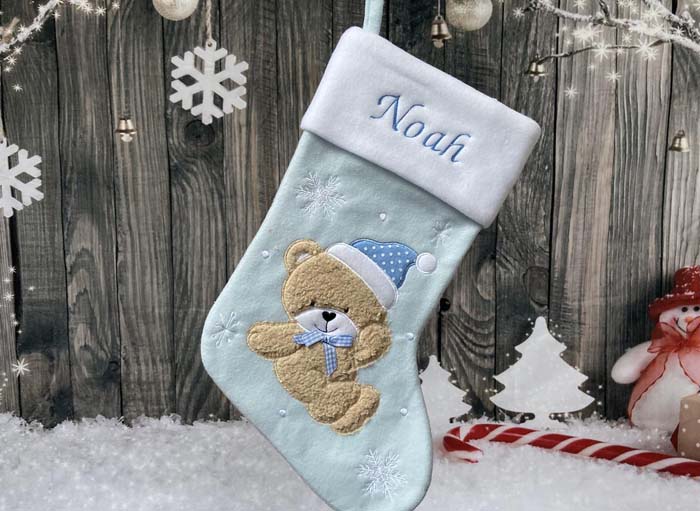 Are you welcoming a new baby to the family this Christmas?
Surprise the little one with a special blue and white stocking.
The wintry shades suit the new arrival and complement your blue Christmas decorating theme.

6. Enhance Your Tree Decorations with Blue Glass Icicles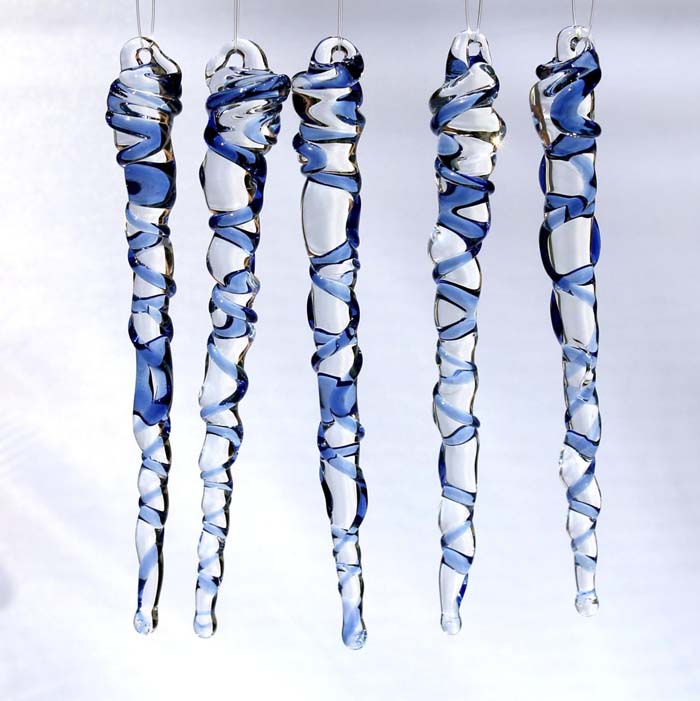 Have you ever seen Christmas ornaments as breathtaking as these blue glass icicles?
Imagine them draped across a snow-flocked Christmas tree — or for even more impact, a pure white tree.
Paired with white lights, these ornaments will sparkle and shine.

7. Unique Peacock-Inspired Poinsettia Centerpiece for Christmas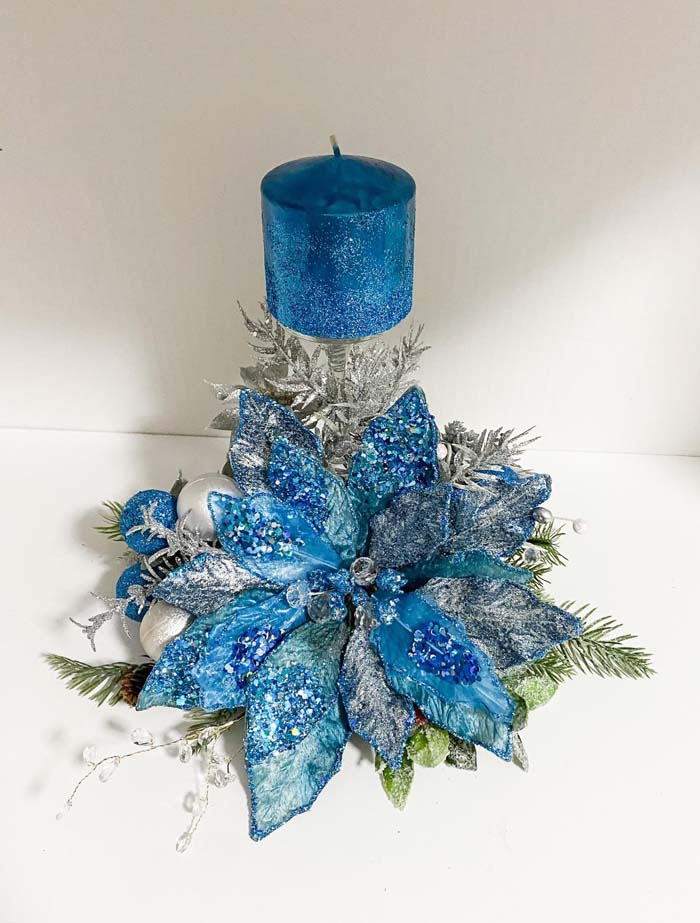 Who says poinsettias have to be red?
This fun Christmas centerpiece flips the script, creating a peacock-inspired version of the classic holiday flower.
The greenery is dusted with silver glitter, tying together the entire display.

8. Adorn Your Home with Elegant Chinoiserie Ornaments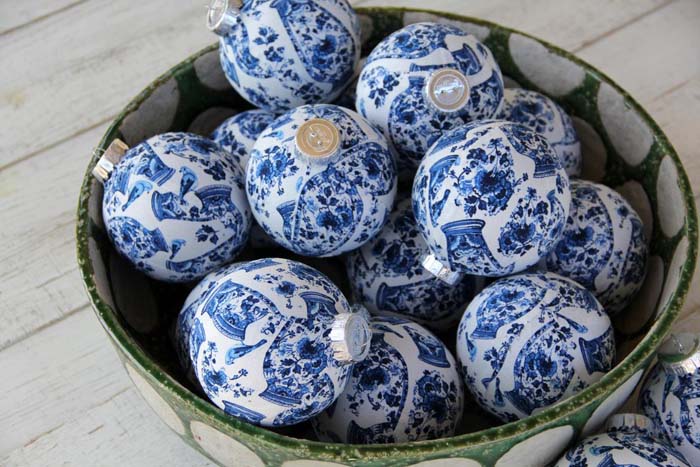 There's nothing quite so chic as Chinoiserie, the classic blue and white print that appears on everything from linens to pottery.
Here, it dresses up a bowl of simple ball ornaments, turning them into keepsakes that your whole family will treasure for years to come.

9. Deck Out Your Fireplace with a Stunning Blue Holiday Theme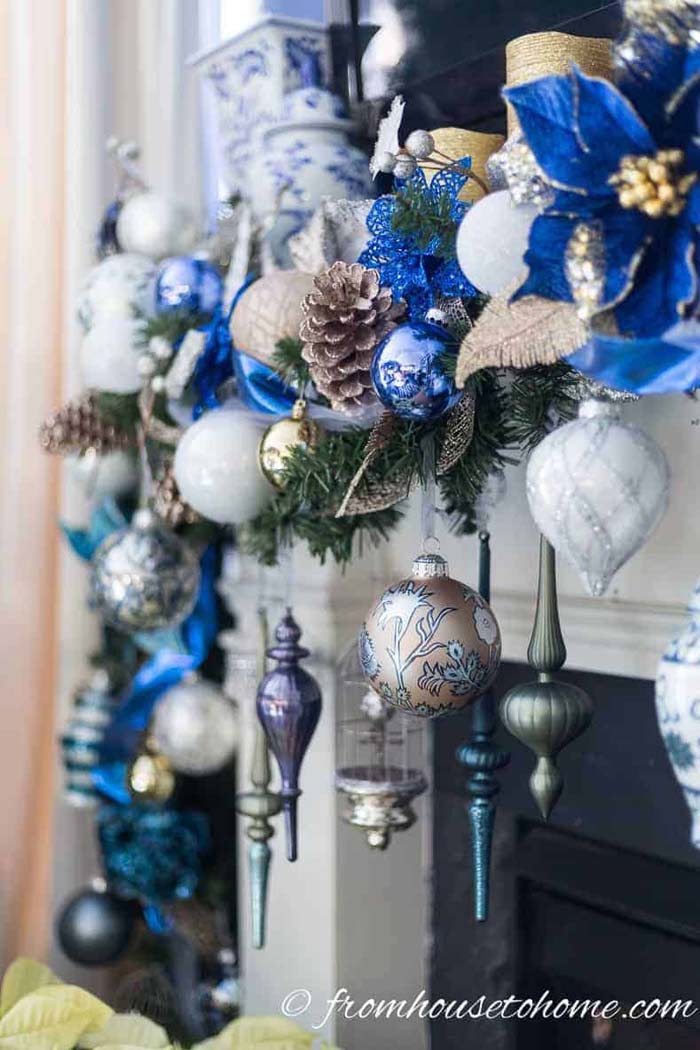 If you want to make a big statement, the fireplace mantel is the perfect canvas.
Dress up your usual Christmas garland with a selection of blue accents.
Artificial flowers, balls, and small ornaments add an icy vibe to this year's celebrations.
10. Festive Holiday Gnomes with a Rustic Twist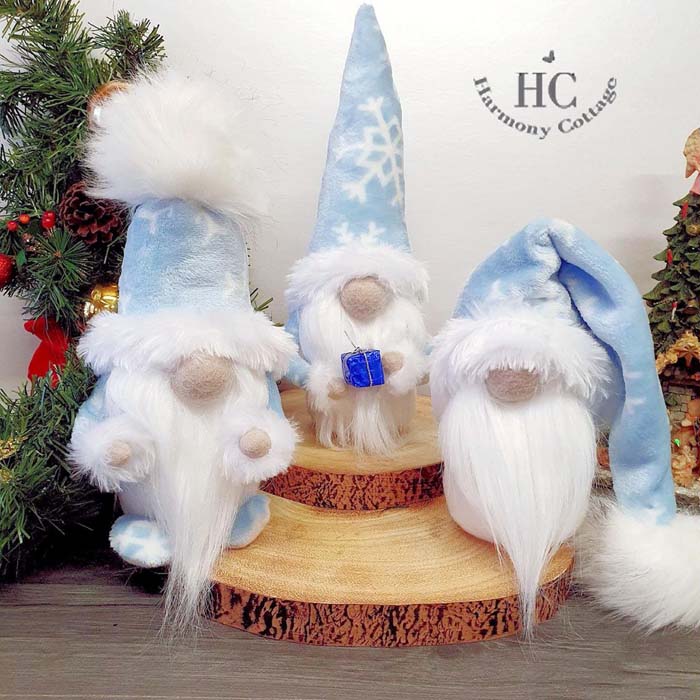 These sweet little gnomes are all dressed up for the winter holidays.
Their icy blue and white outfits fit right into your Christmas decorations — you can even leave them up for months afterward.
Here, they're adorably perched on simple wood slices for a rustic twist.

11. Add Luxury to Your Flocked Garland With Opulent Turquoise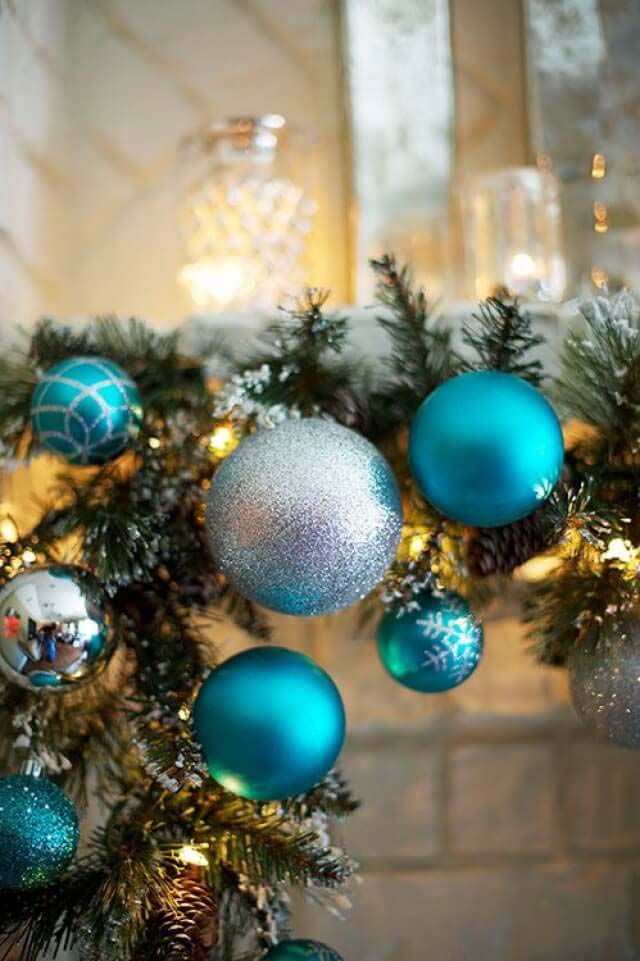 Opulent shades of turquoise and silver make the perfect addition to a flocked garland in this simple display.
For best results, combine ornaments in a variety of matt, polished, and glittering finishes.
The mix adds depth when you turn on the Christmas lights.
12. Craft Unique Christmas Décor with a Vintage Toy-Truck Trailer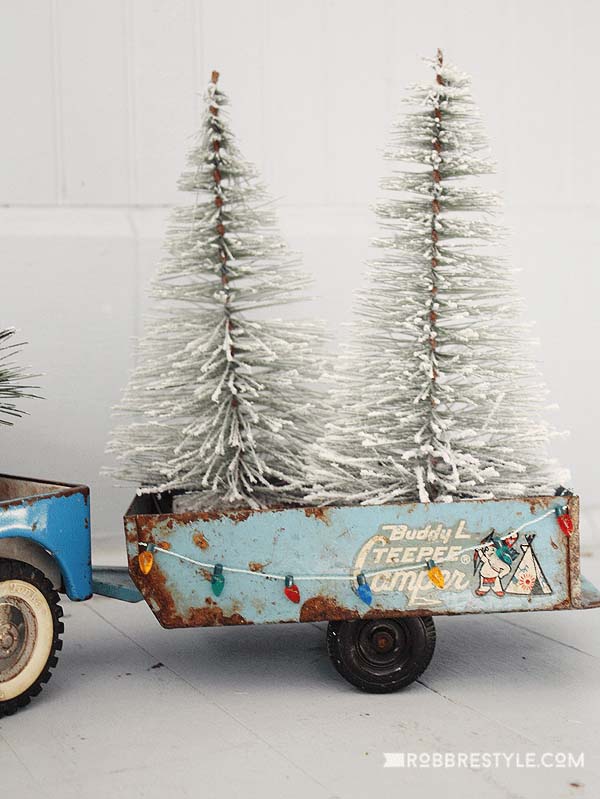 There's nothing cuter than a vintage toy truck — unless it's a vintage toy truck hauling a tree-filled trailer.
All you need is to find a truck and trailer in shades of blue.
Then, add tiny trees and a strand of dollhouse Christmas lights for a one-of-a-kind decoration.
via Robb ReStyle
13. Cheery Wreath with Textured Greenery and Blue Accents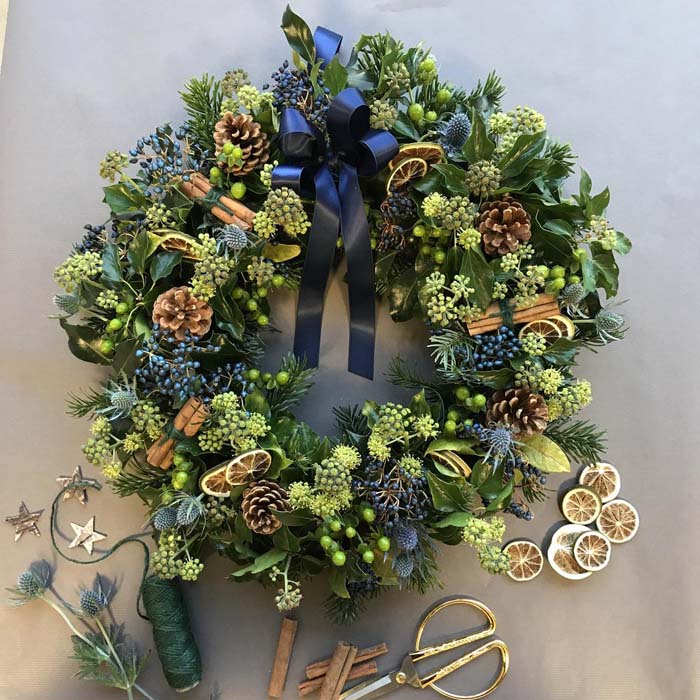 Expand your wreath horizons with this textured version, which uses a range of unexpected greenery to add a contemporary texture and depth.
Cinnamon sticks and dried orange slices hint at the holidays, and a single blue ribbon brings out the cool tones in the leaves and berries.

14. Glam Up Your Home with Blue Sequined Décor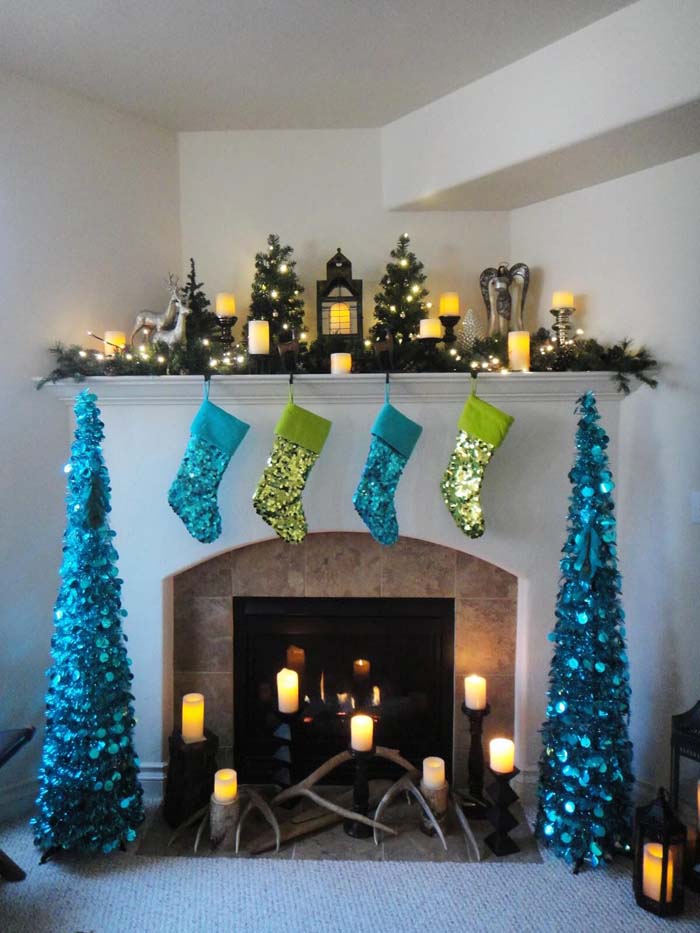 Go glam this year with blue sequined decorations.
Tall tinsel Christmas trees add sparkle when they flank the fireplace or the front door.
Our favorite part is the shimmering sequin stockings that dangle from the mantel.
15. Make Cocoa-Inspired Christmas Ornaments with DIY Crafts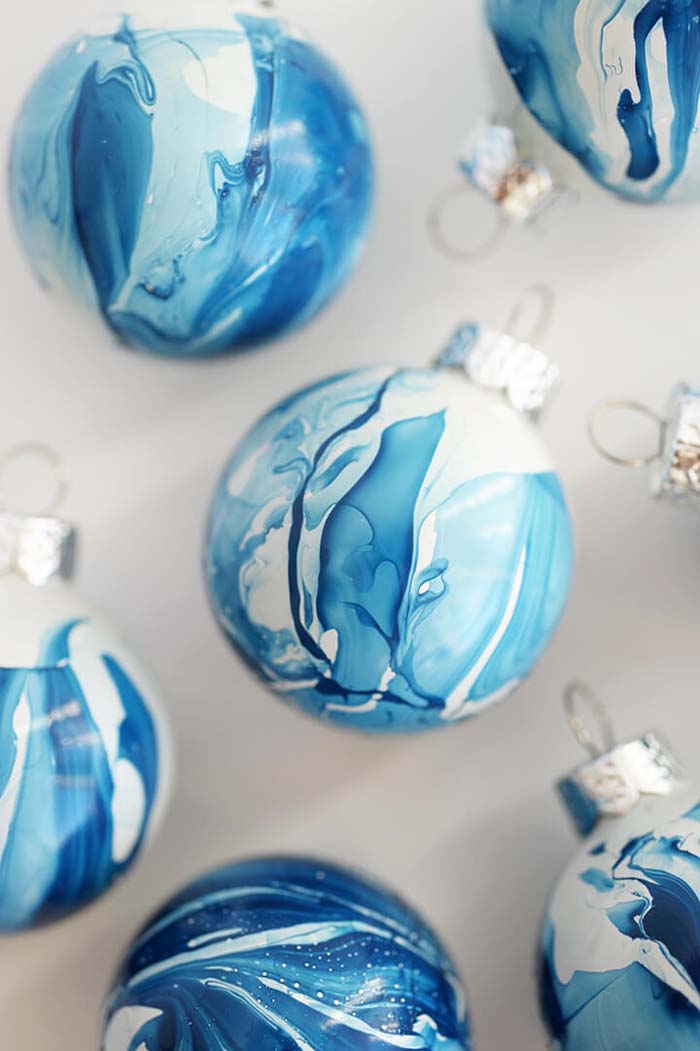 When you're in the mood for cocoa and crafting, these fun DIY Christmas ornaments should be high on your list of projects.
They look intricate, but they're deceptively simple to make.
A bit of paint, a few swirls, and you're ready to decorate.
16. Create Blue Christmas Topiaries with Inexpensive Supplies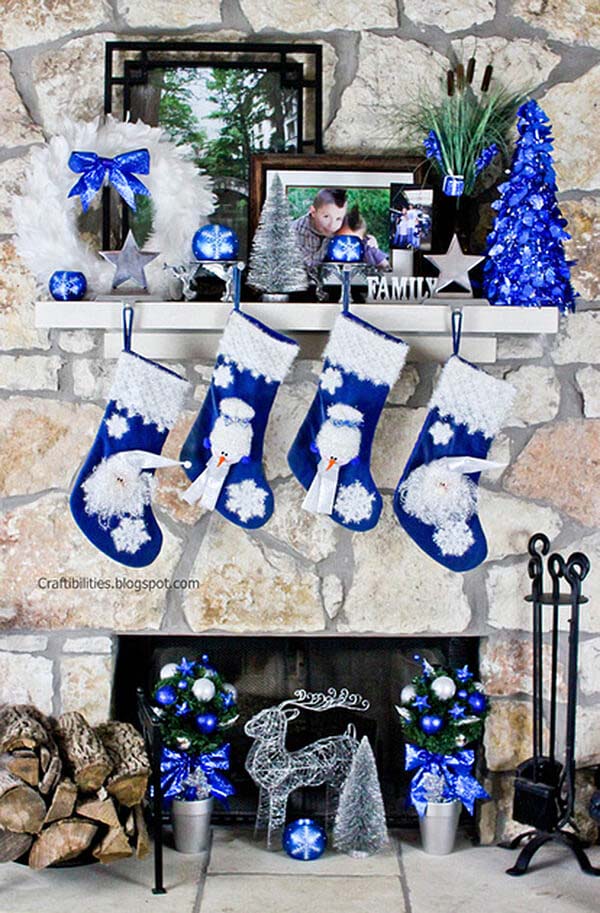 Grab a few inexpensive potted topiaries for this project, or make your own using inexpensive supplies from any craft store.
The design gives you total freedom — add blue and silver Christmas balls, bows, jingle bells, or anything that catches your eye.
via Craftibilities
17. DIY Paint-Dipped Ornaments for a Trendy Look on a Budget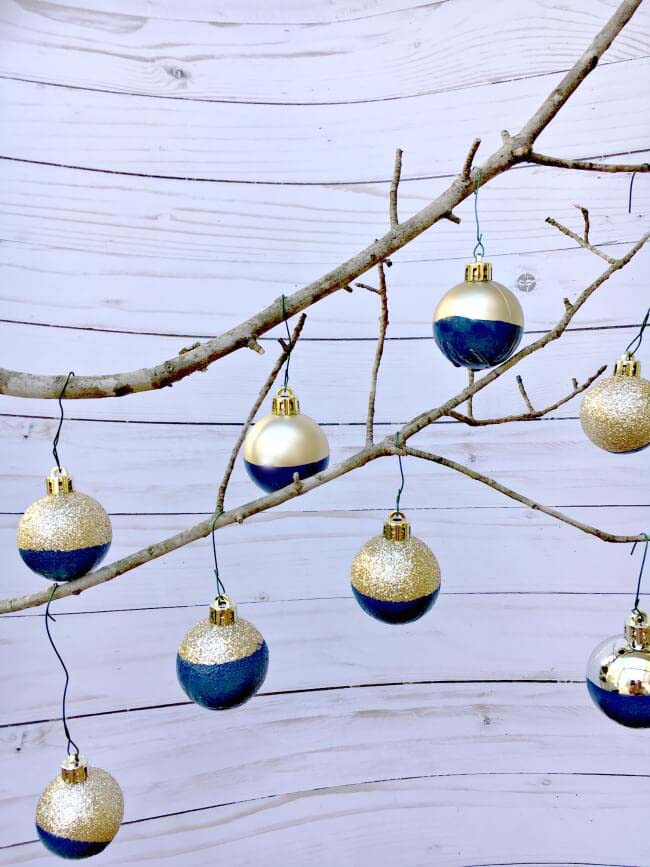 The paint-dip look is super trendy, but it doesn't have to be expensive.
These cute ornaments take a few minutes to make, and you can buy all of the supplies at the dollar store. The trick?
Choose balls in a color that coordinates with blue, such as gold or silver.
18. Send Your Guests Home with Pinecone Fire Starters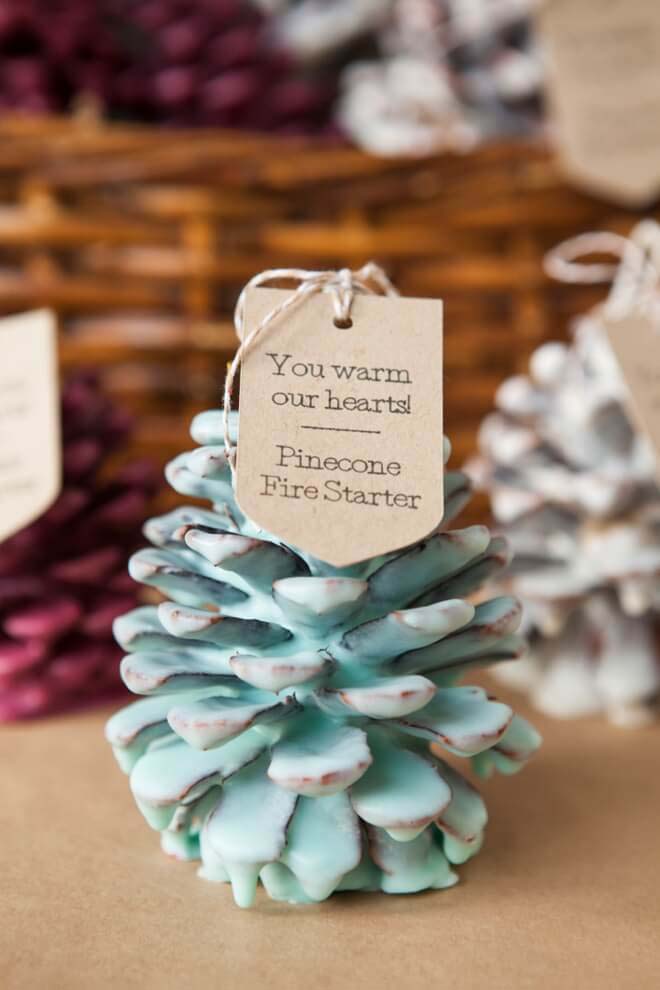 Send your Christmas-party guests home with something special this season — these pinecone fire starters are sure to be a hit.
They look and smell fantastic, and the sweet handmade tags are the perfect finishing touch.
Don't be surprised if your guests keep them on display in their own homes!
19. Enjoy Your First Christmas at Home with a Custom Ornament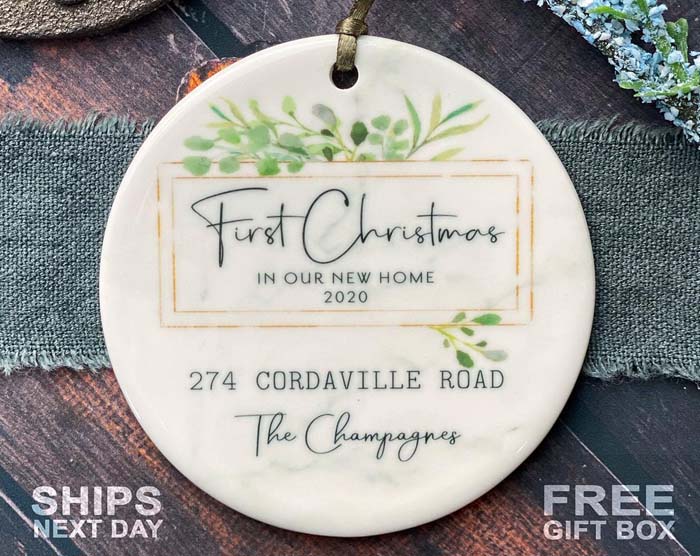 There's something magical about the first Christmas in a new home.
Celebrate it in your house or that of a loved one with this special ornament.
It's completely customized to include the address and the year, so it's sure to be a treasured decoration for years to come.

20. Glittering Blue Exterior and Scented to Warm the Home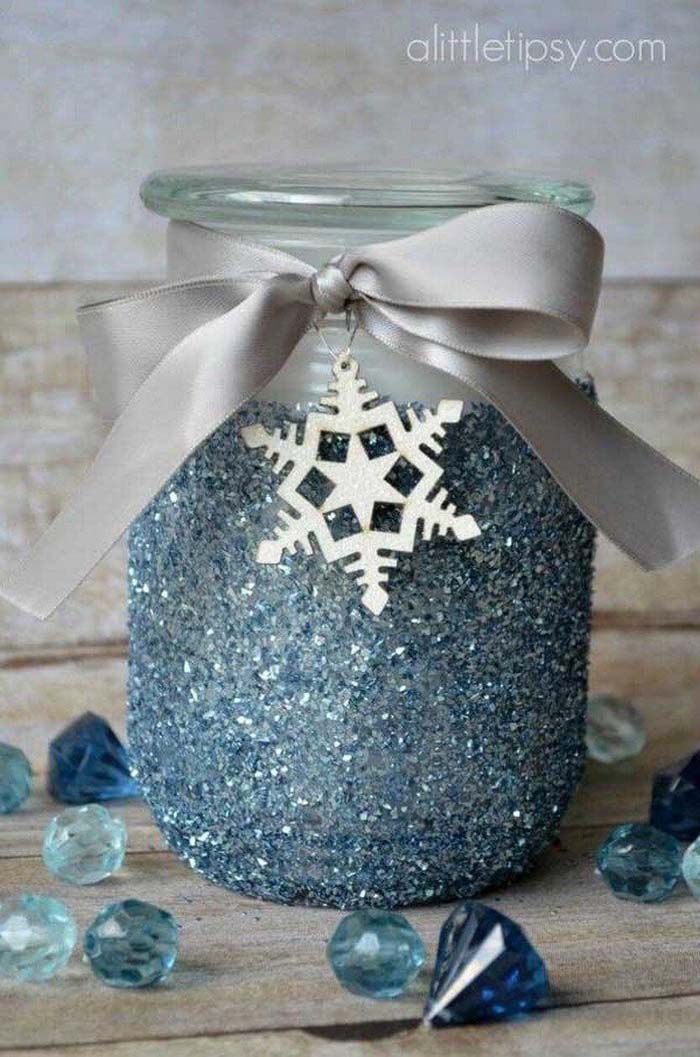 If you're searching for a thoughtful gift for someone who has everything, this DIY gift candle is a perfect choice.
The glittering blue exterior is impossibly beautiful, and the scented candle will warm the recipient's home all winter long.
You could even make your own candles for a true artisan touch.
via A Little Tipsy
21. Add Elegant Blue and White Christmas Candles to Your Décor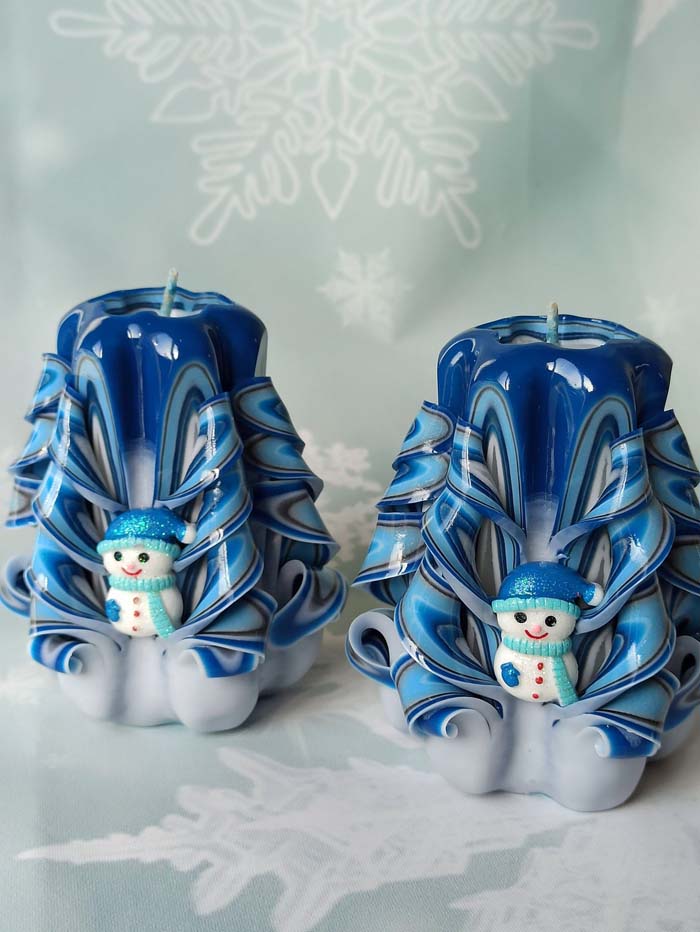 We've never seen anything quite like these blue and white Christmas candles.
They're so beautiful that you won't want to burn them.
Don't worry; they make lovely additions to a shelf or side table, and you can bring them out every year for a special touch.

22. Decorate on a Budget with Gift-Wrapping Supplies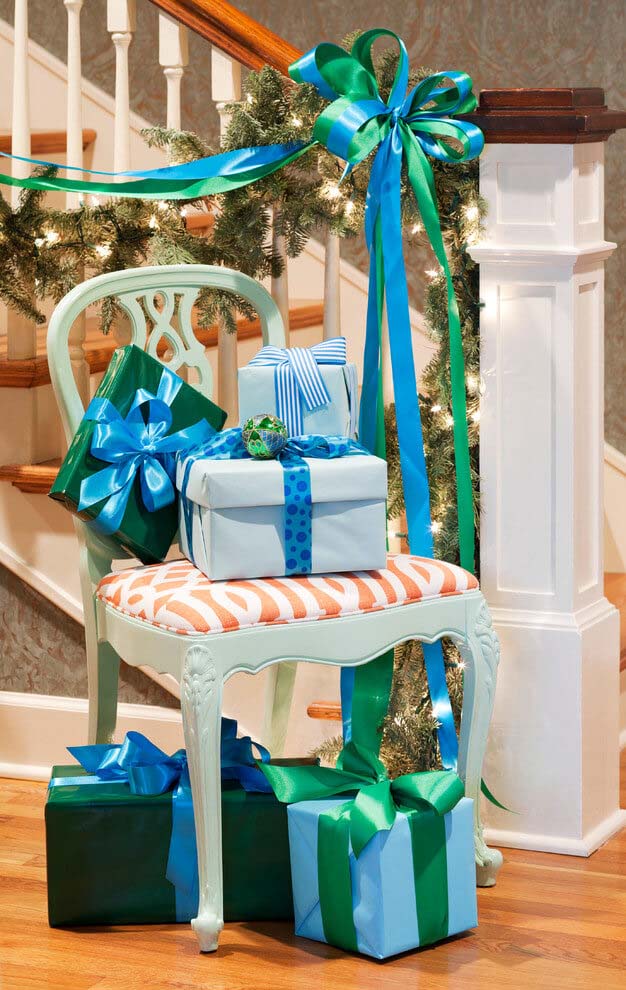 When you're decorating on a budget, gift-wrapping supplies are a fantastic option.
Wrap a few empty boxes in beautiful icy blue paper to display in the front entryway or under the tree.
Here, matching ribbons adorn the Christmas garland, tying the whole house together.
23. Celebrate Christmas with a Decorative 'O, Holy Night' Plaque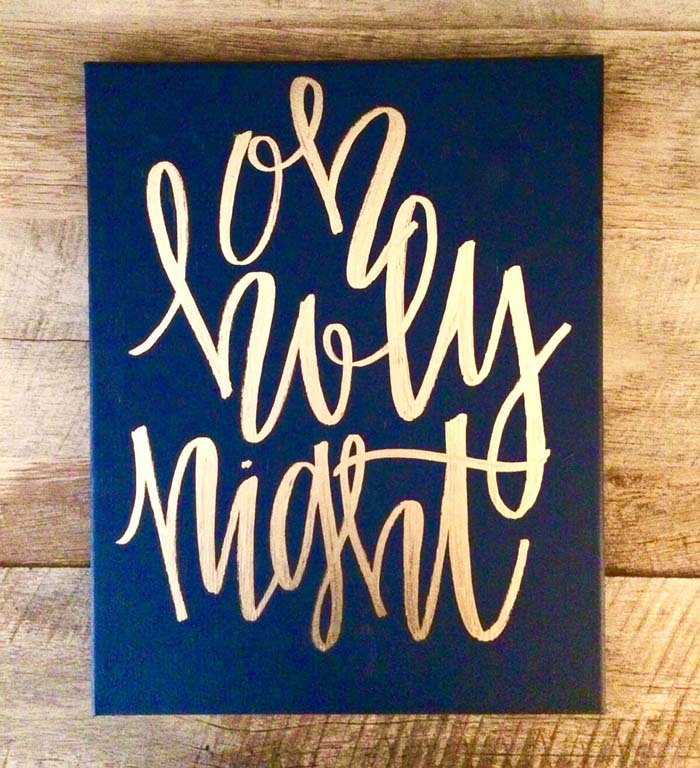 "O, Holy Night" is a favorite Christmas carol for many people.
Here, the iconic title is transformed into a decorative plaque.
Lean it on the fireplace mantel, hang it on the wall, or tuck it into a Christmas vignette for a pop of blue and gold.

24. Create a Rustic Christmas Tree with Blue Flannel and Twine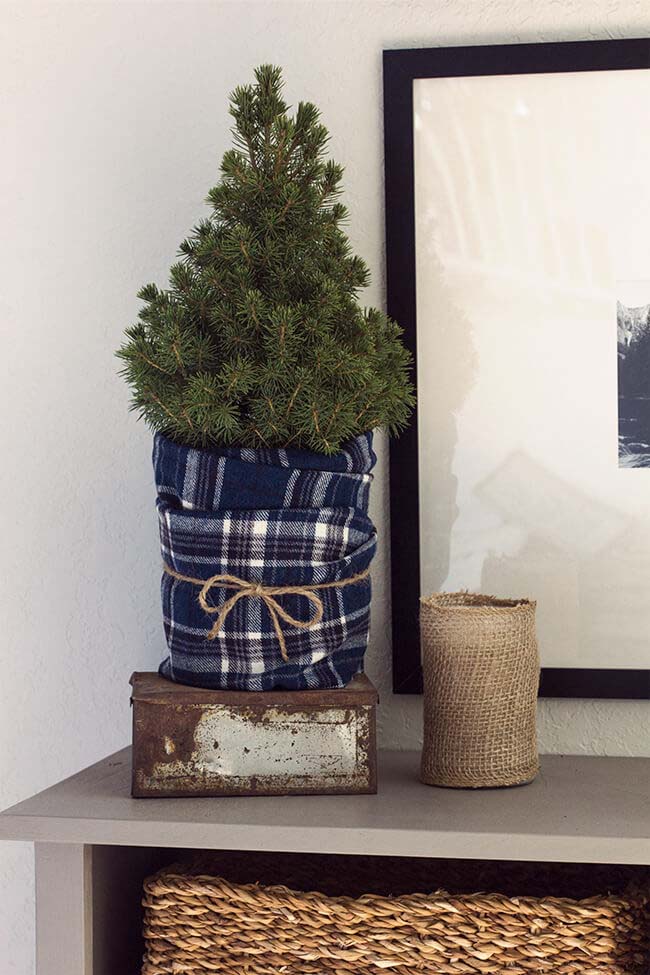 When it comes to craft projects, it doesn't get much easier than this — just wrap the base of a miniature Christmas tree with blue flannel, tie with twine, and display.
The intricacy of the plaid and the relaxed texture of the flannel sets off the simple beauty of the bare tree branches for a rustic look.
via Jenna Sue Design
25. Add Cheerful Blue and White Ornaments to Your Holiday Décor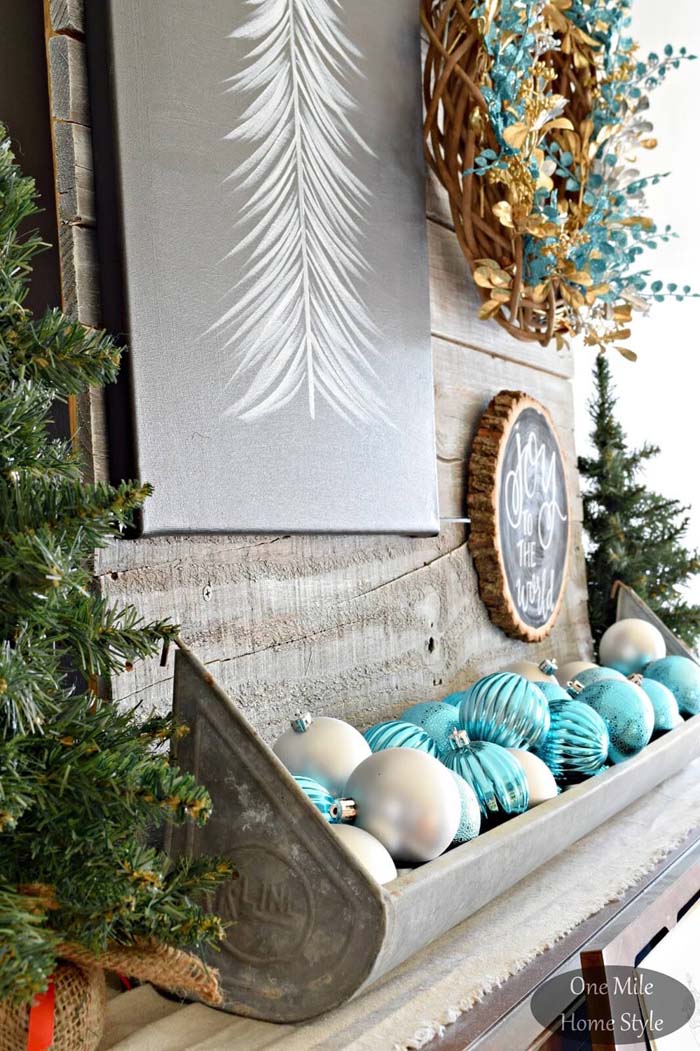 You can never have too many Christmas ornaments.
Add a few more to your blue and white decor by filling a tin tray.
If you don't have a tray, this is a great excuse to bring out your best serving bowl or crystal platter.
Display it on the mantel, coffee table, or dining table for a festive feeling.
26. Showcase Subtle Details with Periwinkle Blue Ribbon Accent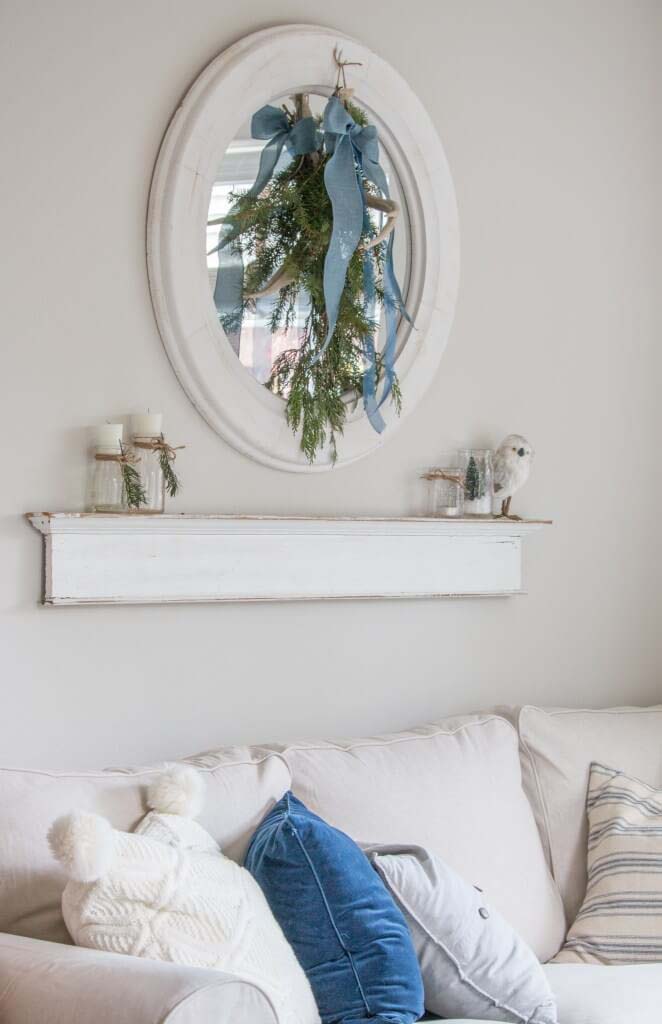 When you're aiming for a sophisticated holiday home, restraint is key.
Here, the homeowner dresses up a sprig of greenery with a single periwinkle blue ribbon.
The blue pops against the white and brings out the matching tones in the throw pillows.
27. Adorn Your Door with a Coastal-Inspired Pinecone Wreath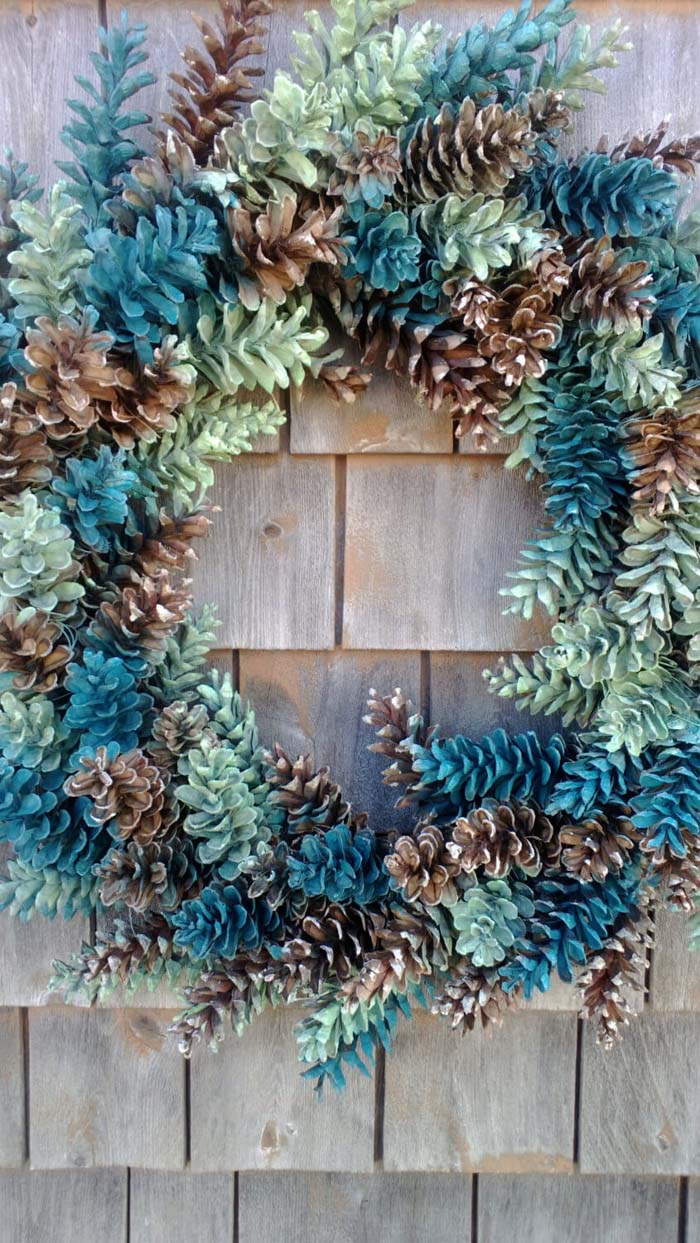 Coastal style meets Christmas decor in this gorgeous pinecone wreath.
It's all about the color — specifically, ocean blue and soft mint green.
Hang this wreath on your front door whether you live by the sea or you want to make a snowy porch more festive.

28. Surprise Your Family with a Playful Christmas Gift Display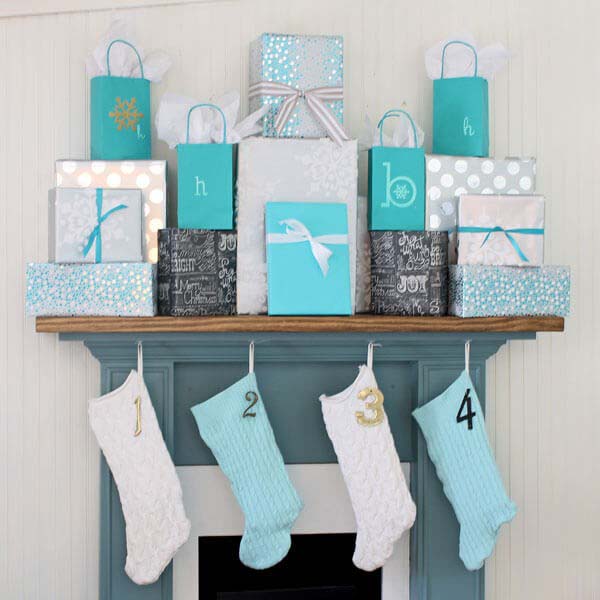 Subvert expectations with this playful display, which features piles of gifts tucked on top of the mantle instead of under the tree.
Wrap real gifts to surprise your family on Christmas morning, or go with empty boxes for the weeks leading up to the holiday.
29. Elevate Your Holiday Décor with Velvet Christmas Trees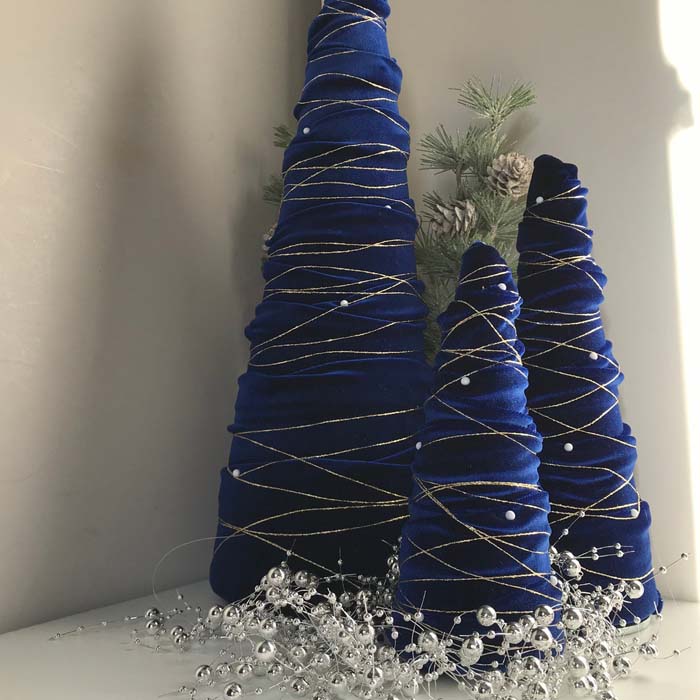 Rich and sumptuous, these velvet Christmas trees elevate your everyday holiday decorations.
The deep tones of the blue velvet appear to glow in any type of light, and the minimalist wire garland adds just the right touch of shine.

30. Craft Vintage Christmas Ornaments from Paper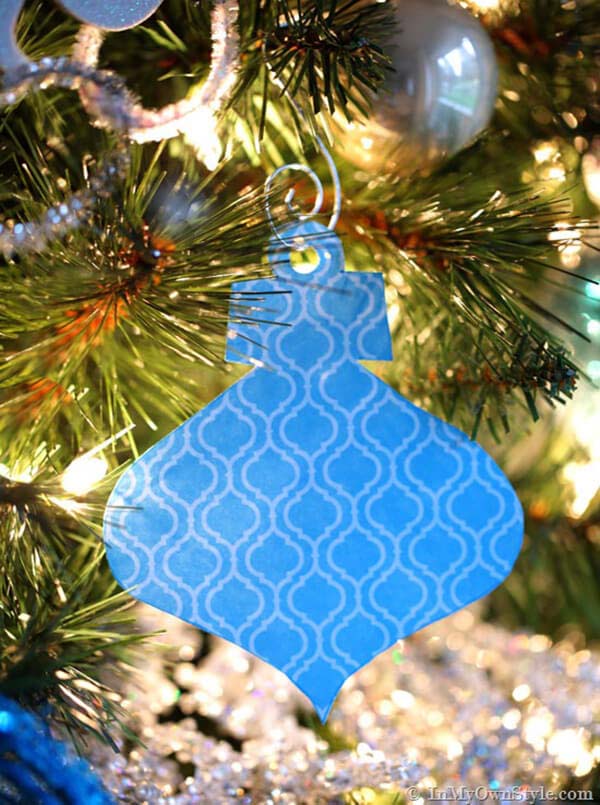 Recreate the intricate shapes of vintage Christmas ornaments with this easy craft project.
Grab some pretty blue and white craft paper to serve as the base; a quick hole punch makes room for a ribbon loop.
via In My Own Style
31. Illuminate Your Tree with a Blue Stained-Glass Christmas Star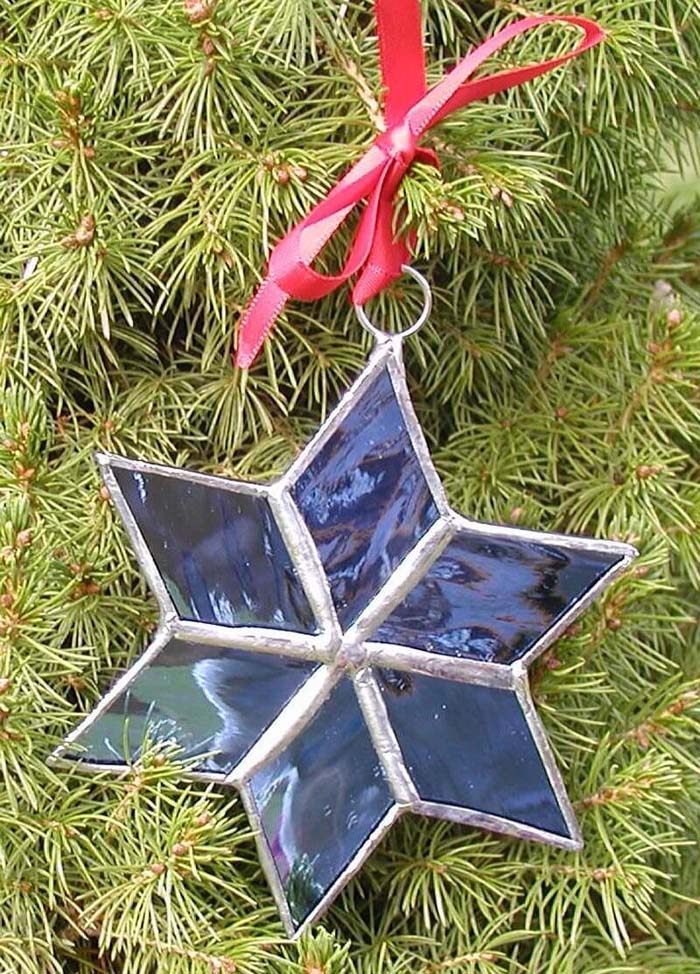 Hang this blue stained-glass Christmas star on your tree and turn on the string lights — the soft glow will shine through the panels, highlighting the different tones and making the star shine.
As a bonus, this is the perfect option for a gift exchange.