When it's time to deck the halls for Christmas, your windows are a hidden treasure — bright and high-visibility, they're the perfect spot to put up decorations that look gorgeous from inside and outside.
Whether you're creating a magical holiday for little ones or aiming for a more sophisticated vibe, these charming window designs are sure to give you plenty of ideas.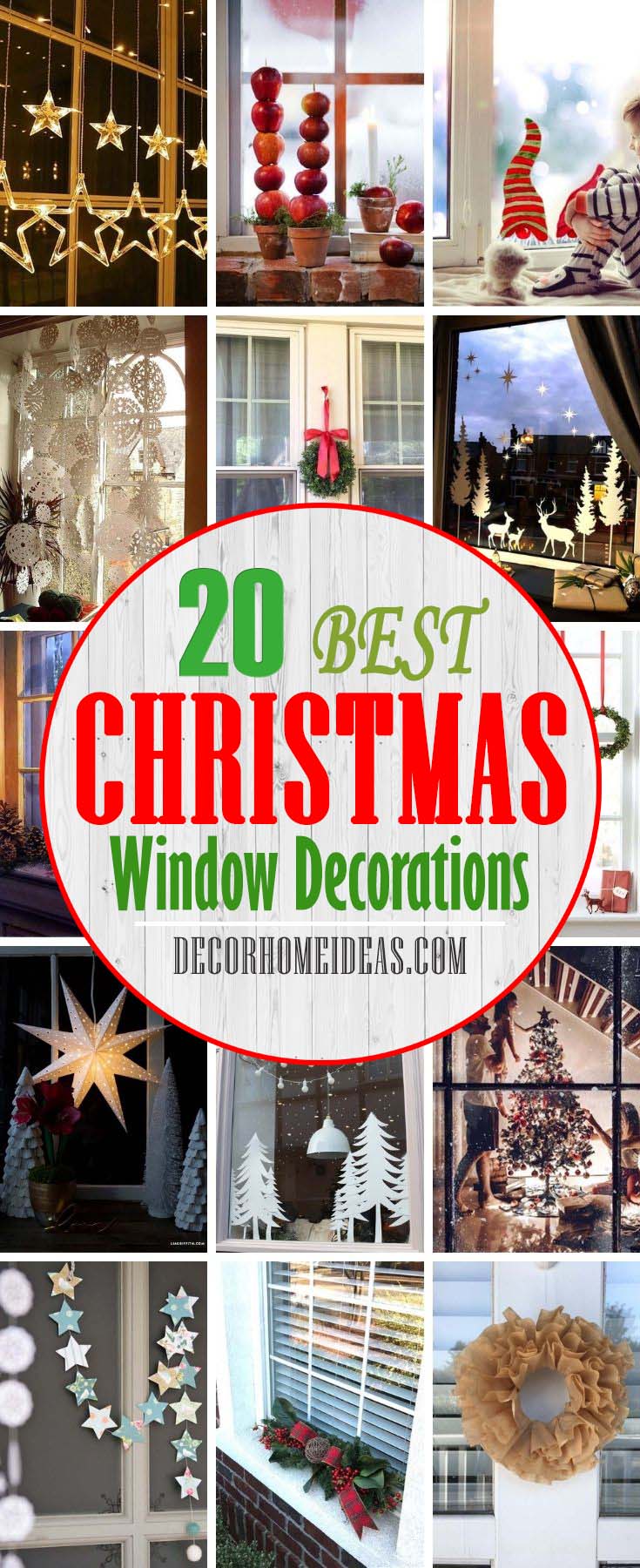 1. Create a Frosty Wonderland with Snowflake Window Clings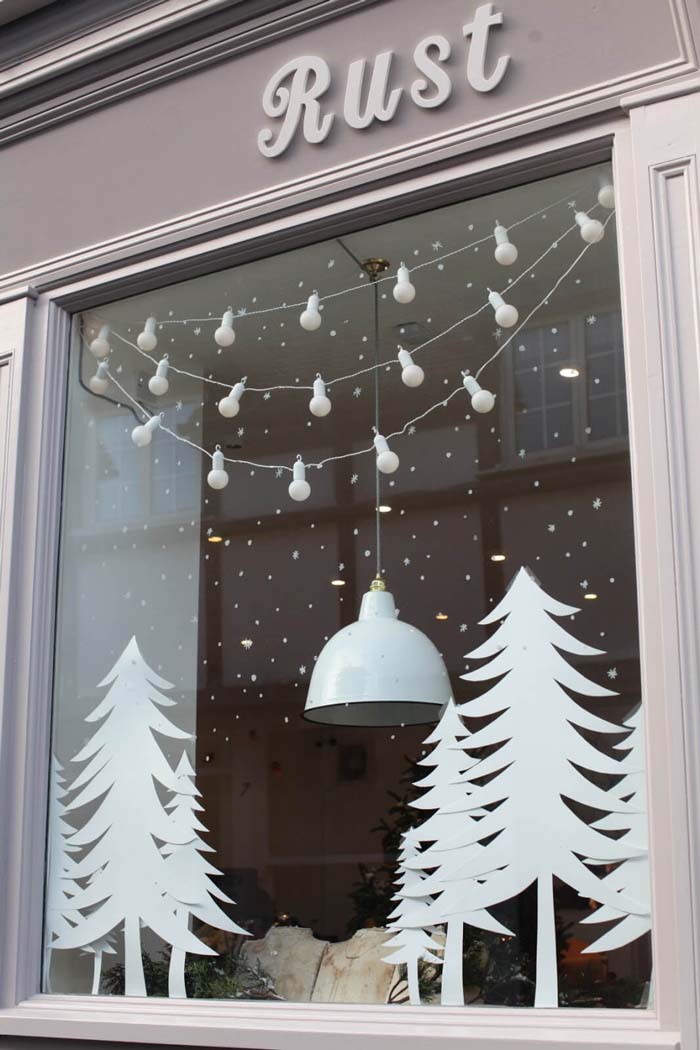 Longing for snow?
A sophisticated winter-themed wonderland window display can create a frosty feeling, no matter what the weather's like outside.
It's chic and remarkably simple to make — all you need is a white paper.
For extra sparkle, create a delicate snowstorm with a cloud of snowflake window clings.
via Artemis Rusell
2. Bring a Touch of Scandinavian Style to Your Holiday Décor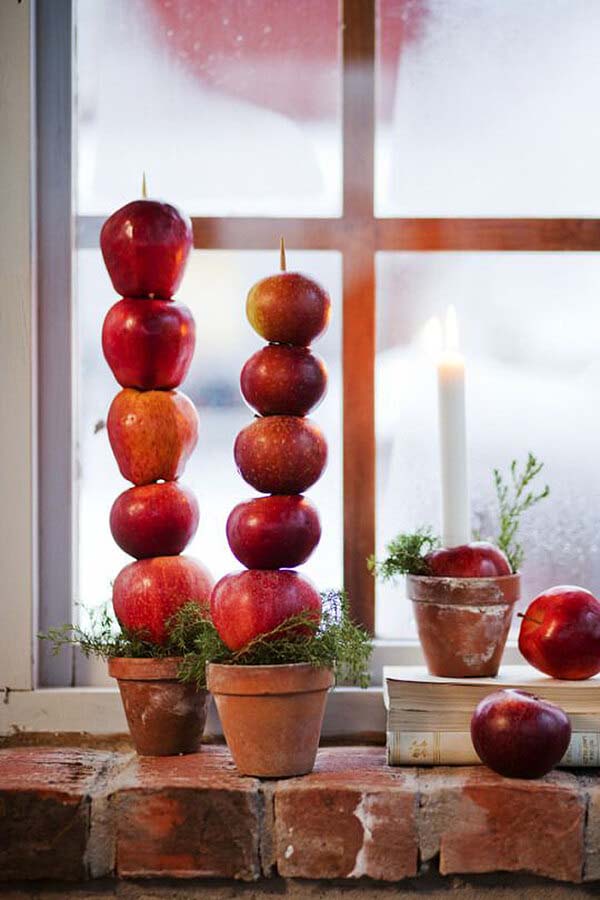 Rustic and impossibly stylish, Scandinavian design translates beautifully to the holidays.
This fun stack of apples is the perfect example; it uses natural materials in an unexpected way.
Add a bit of fresh greenery to each pot for the classic red and green Christmas effect.
via The Global Villa
3. Elevate Your Outdoors with a Decorative Boxwood Wreath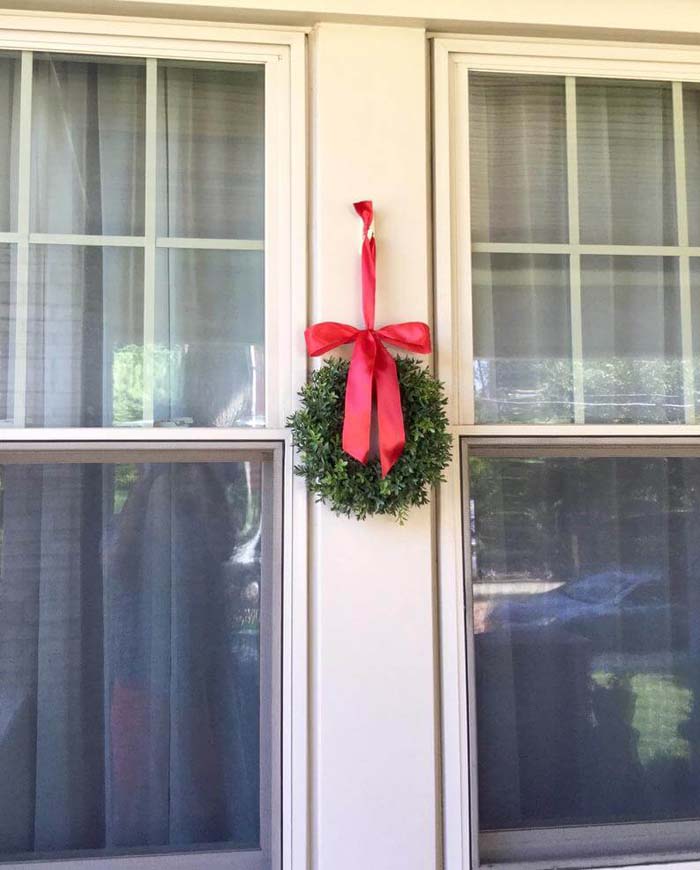 Everyone expects a wreath on the front door, but why stop there?
Dress up the exterior of your home by hanging a Boxwood wreath between two windows.
The pop of color sets the tone for the season and makes the window trim pop.
For extra impact, do the same between all of the windows on the front of the house.

4. Adorable Christmas Dwarf Decals for Your Windows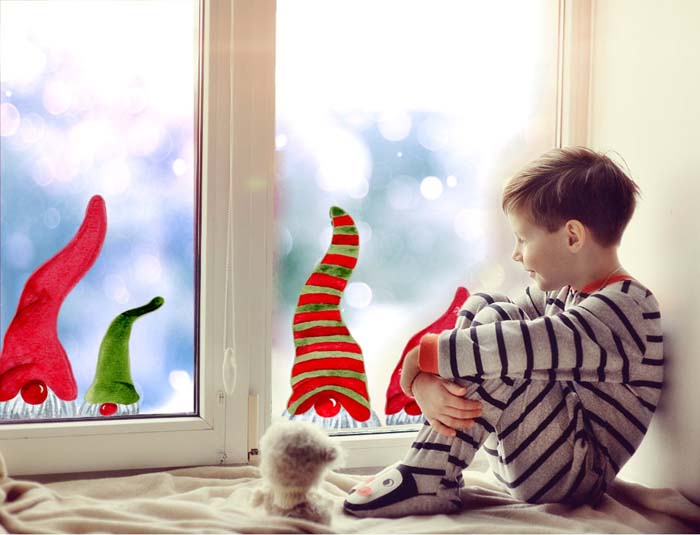 Your little ones will adore these tiny Christmas dwarves.
These sweet decals make it look like a crew of dwarves are peeking in the windows, waiting to see what Santa brings in his sleigh.
Since they're designed to sit near the bottom of the glass, you still get plenty of sunlight.

5. Accessorize Your Home with a Window-Edge Village Decal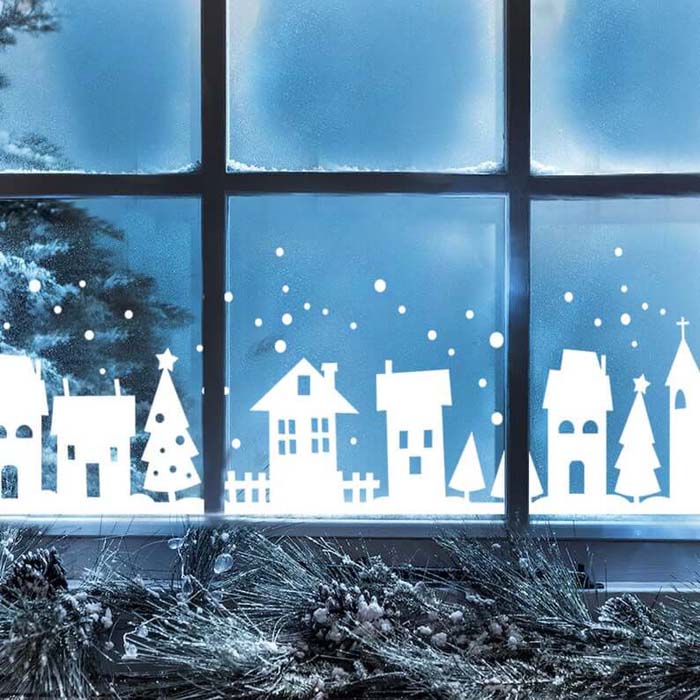 Love the traditional look of a Christmas village but don't have room for a full set?
These sweet window decals are the perfect solution.
They turn the bottom edge of your window into a charming silhouetted village that looks lovely from every angle, both in the house and out on the lawn.

6. Add a Festive Touch with an Illuminated Window Frame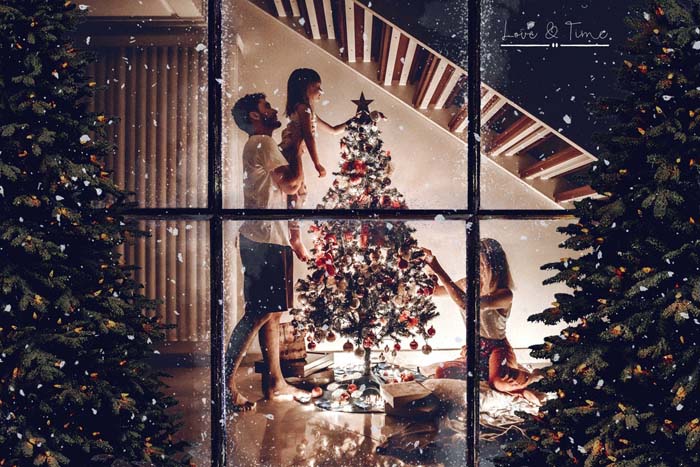 You'll feel like you're cozied up in a forest cabin with this clever window frame.
It makes it look like lighted Christmas trees are standing just outside the window.
Whether you're going for a classic or contemporary holiday, this frame is a lovely choice.

7. Create a Unique Décor Piece with a Coffee Filter Wreath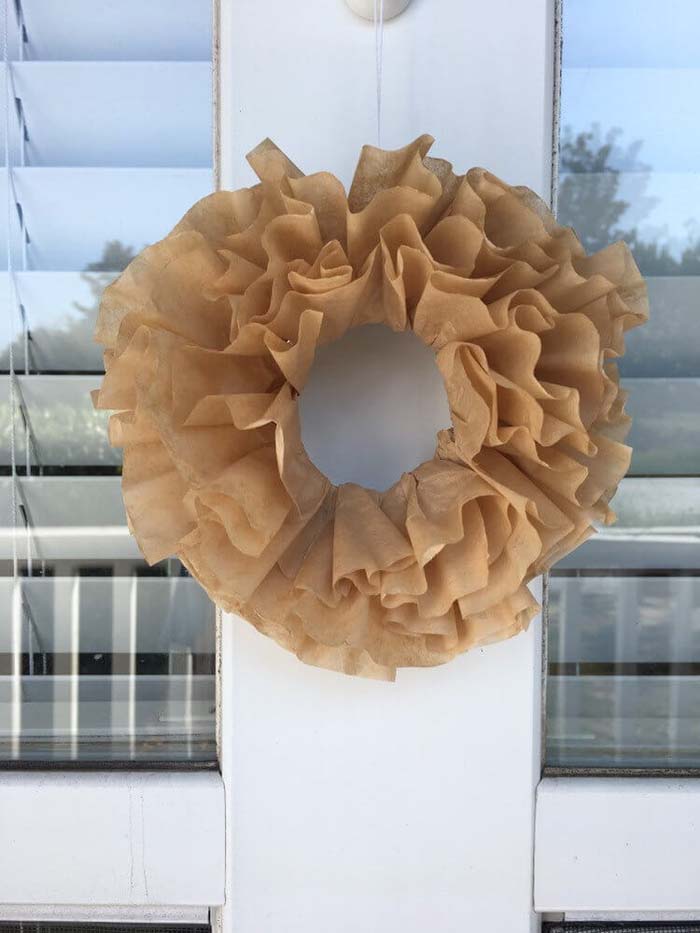 In the mood for a quick DIY project?
Try your hand at this wreath — it's made from coffee filters, so it's an affordable craft.
Hang the ruffled wreath between two panes of glass for a subtle and sophisticated decoration; no one else in the neighborhood will have anything like it.

8. Brighten Up Your Home with a Sparkling Paper Star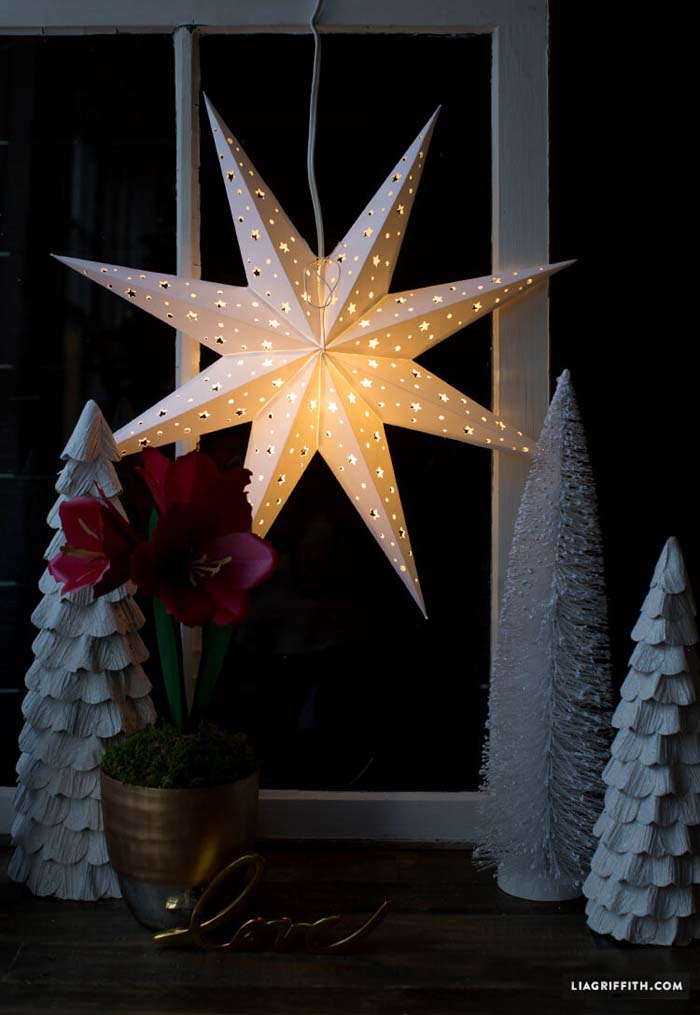 There's nothing quite so magical as sparkling Christmas lights in your window — unless those lights are illuminating a paper star.
This spectacular decoration takes advantage of the white paper, which makes the star appear to glow from the inside out.
It's just as beautiful during the day, and you can even leave it up after the holidays are over.
via Lia Griffith
9. Create a Magical Winter Scene with Hanging Star Decals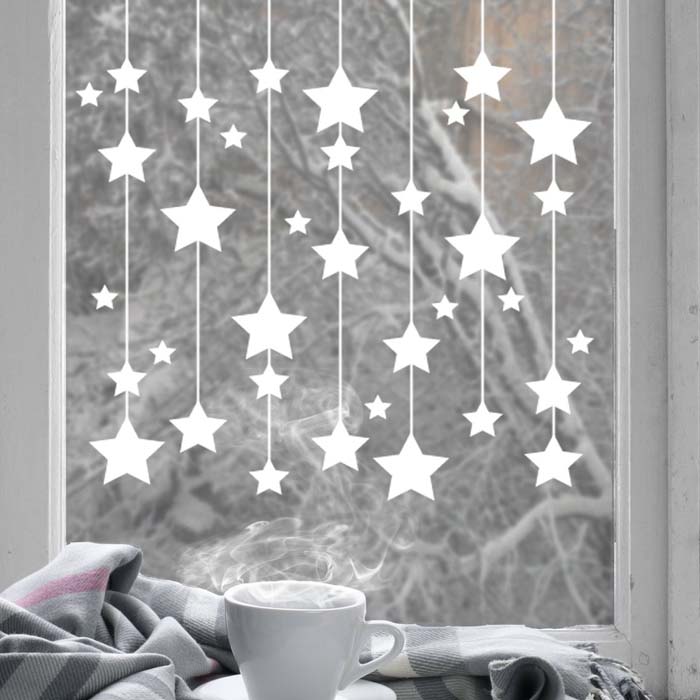 Capture the wonder of a starry night with this creative hanging-star window decal.
Made from cut vinyl, it sticks to any type of window glass and peels off for reuse next year.
The white material looks bright and wintry, creating a charming effect whether you live in a warm or cold climate.

10. Get a Sophisticated Look with White Window Decorations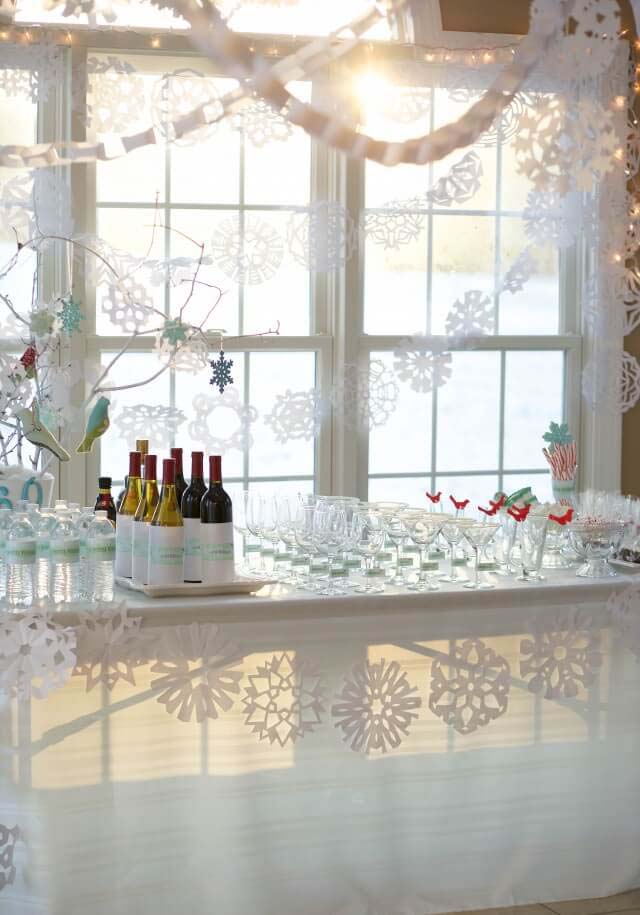 These window decorations are all about white; they use layers of bright snowflake garlands to create a super-sophisticated and festive design.
You can make the snowflakes yourself or buy them pre-cut.
The trick is to layer the garlands for a lush look. When the sun shines through the window, the effect is spectacular.
via Anders Ruff
11. Window-Sill Swags for a Traditional Christmas Cheer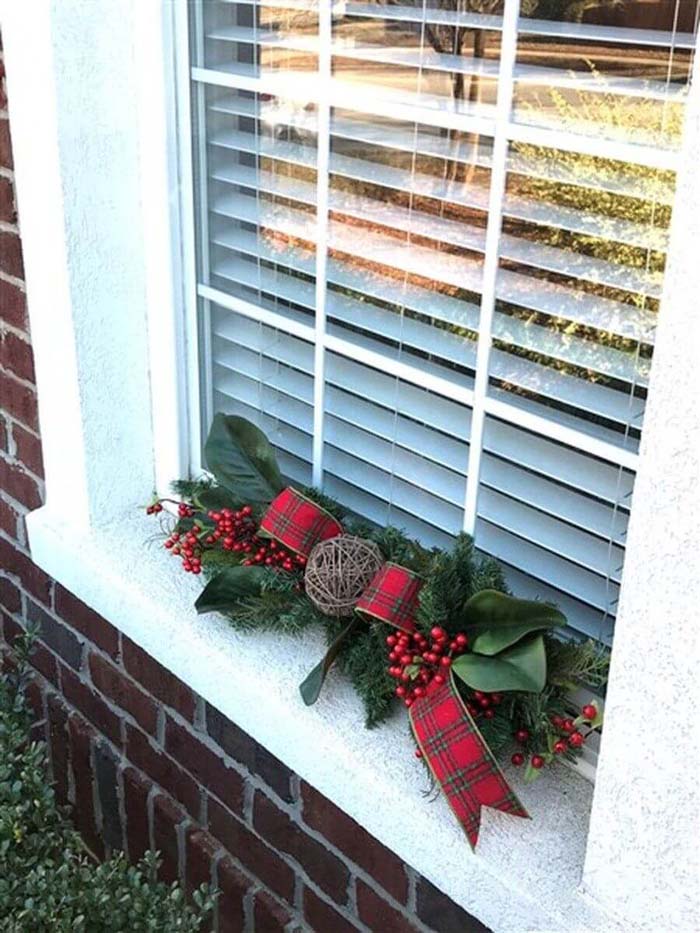 Your house will be the prettiest one on the block when you break out these festive window-sill swags.
Made from gorgeous greenery and accented with red plaid ribbon and cheerful berries, they're perfect for a classic Christmas theme.
For an unexpected touch, add in a fun twine ball for a bit of rustic charm.
12. Welcome Guests with a Candlelit Window Display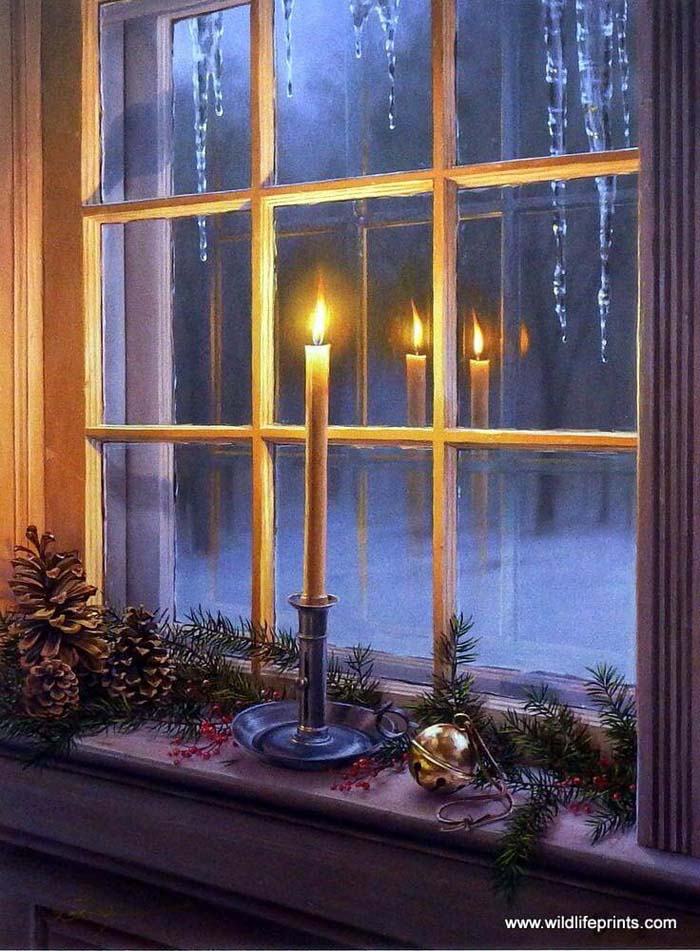 Your family members will smile every time they drive up to the house when there's a single candle glowing in the window.
Once you get inside, you can appreciate the beauty of the vintage candle holder and a wealth of Christmas greenery.
Add an antique ornament or two for the full Old-World effect.
via Wild Life Prints
13. Add Extra Flair to Your Windows with Miniature Wreaths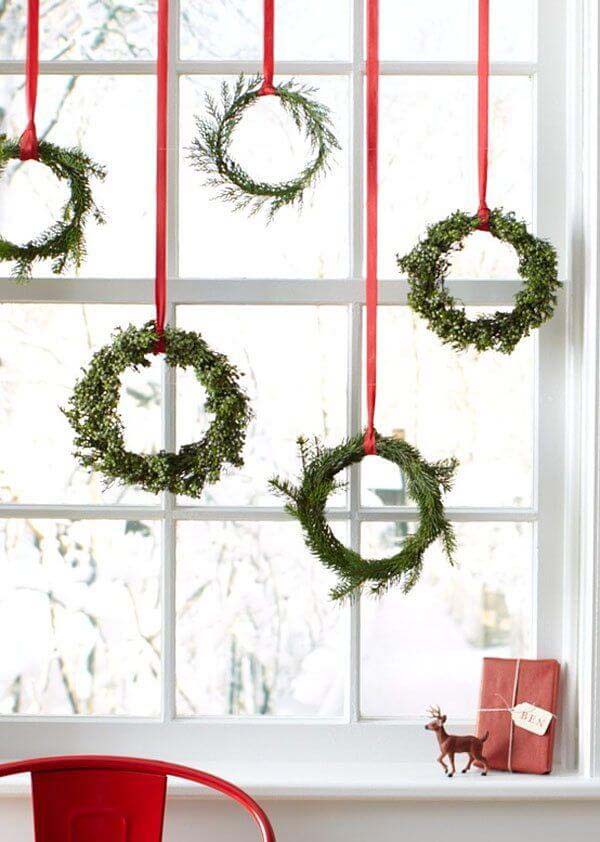 These miniature wreaths are so simple — and so beautiful.
There's power in numbers; by adorning your window with multiple hanging wreaths, you can make a big statement.
Use a bright red ribbon for a classic look, or go with white for a wintry finish.
A few red berries, a spray of glitter, or a ribbon bow would take this display to the next level.

14. Add a Festive Touch to Your Home with Pastel Star Garland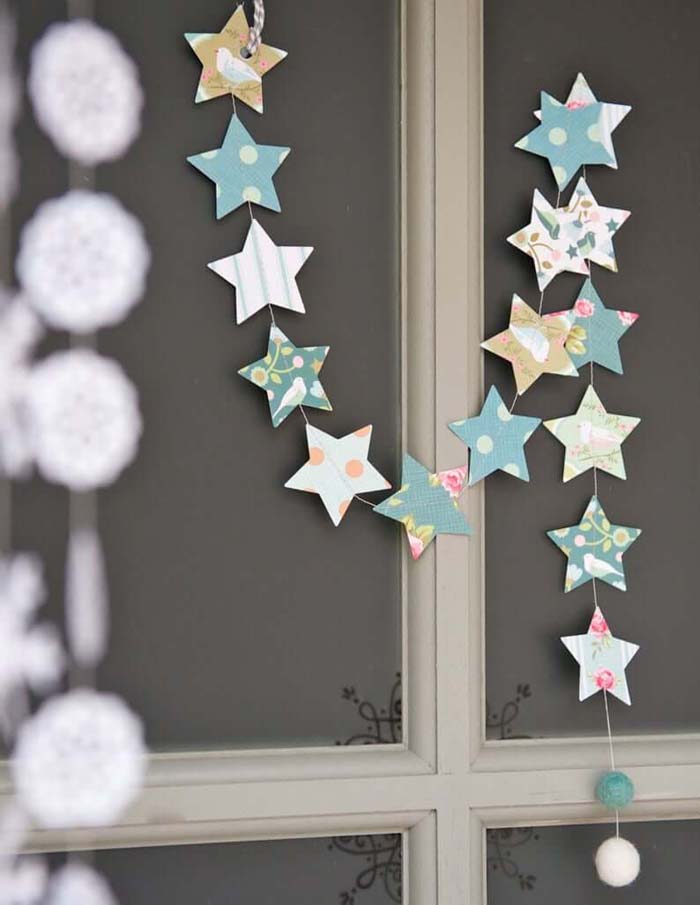 If your Christmas decorations are all white or a mix of cool colors, this pastel star garland will fit right in.
The traditional star shape matches the tone of the holidays, but the unexpected colors and prints keep your home feeling modern.
After Christmas, move this lovely garland to a bedroom or playroom.

15. Cheerful Reindeer Stickers for Spreading Christmas Joy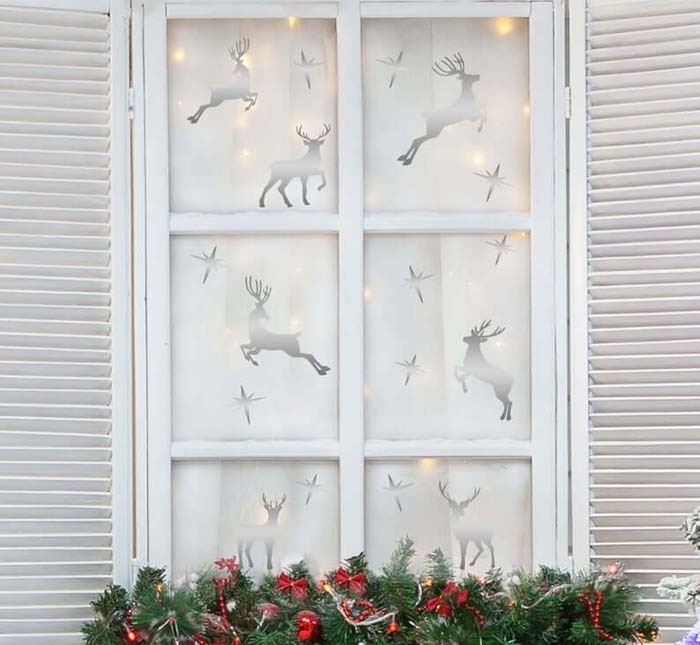 Spread Christmas cheer to everyone who passes by with reindeer stickers.
Bounding reindeer frolic among a field of stars, creating a look that's fun and festive.
Since these stickers are silver, they have a stunning ethereal vibe.

16. Handcrafted Vintage French Book Snowflake Garland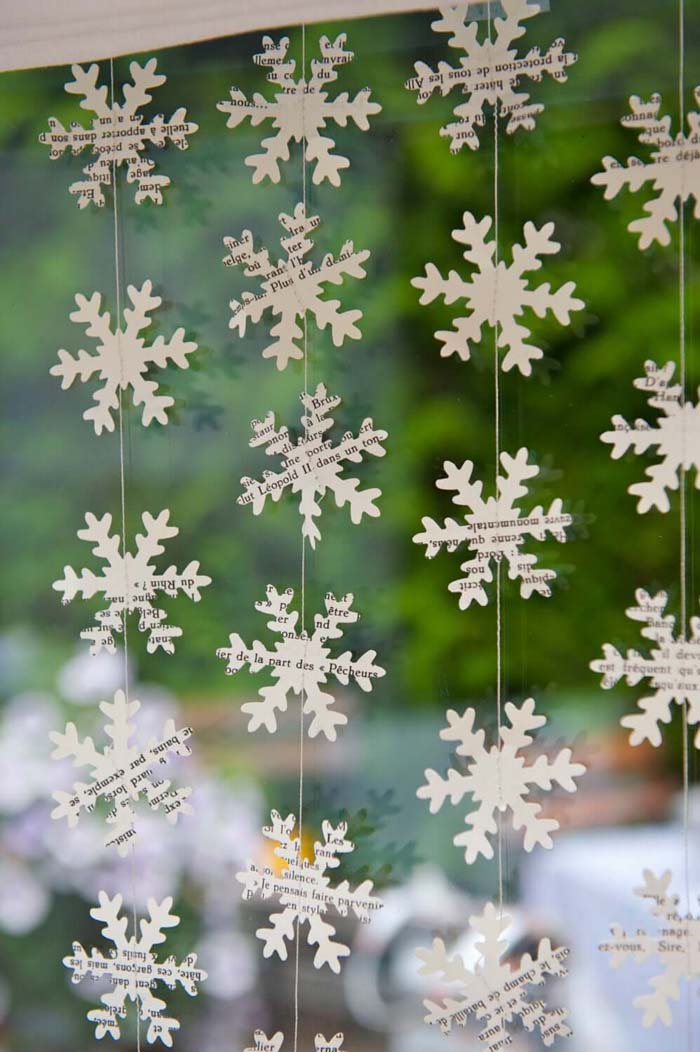 Made from vintage French books, this simple Christmas garland combines your love of literature, snow, and travel.
The uniform shapes are carefully handmade, creating an attractive repeating pattern across your window glass.
Your family members can admire the snowflakes or do their best to translate the words.

17. Make Holiday Decorations with DIY Paper Snowflakes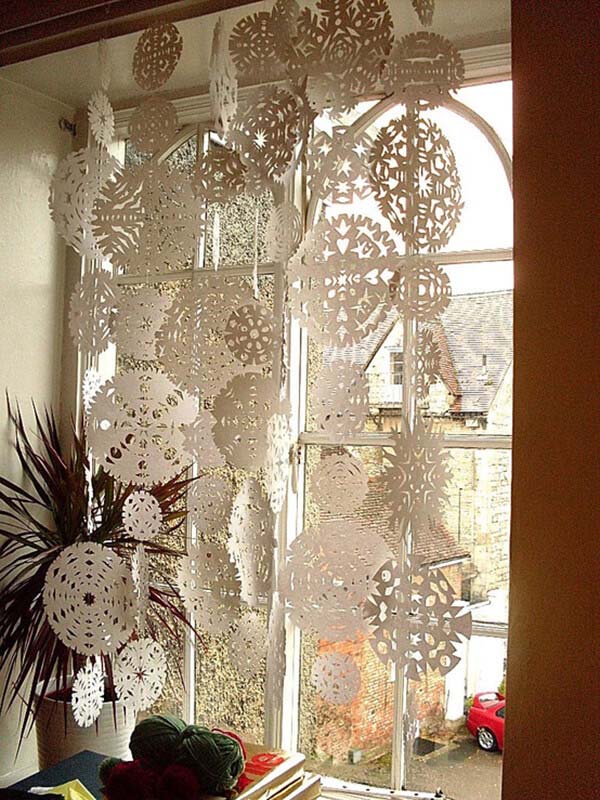 Cascading paper snowflakes inspire holiday joy in this DIY project, which you can complete on your own or as a family craft.
All you need is a collection of snowflakes made from white paper.
String them on some fishing line and hang for an instant holiday showpiece.
They offer a bit of privacy and still allow the sunlight to show through.
via Paper and Stitch
18. Enjoy a Rustic Winter Scene with a Forest Window Decal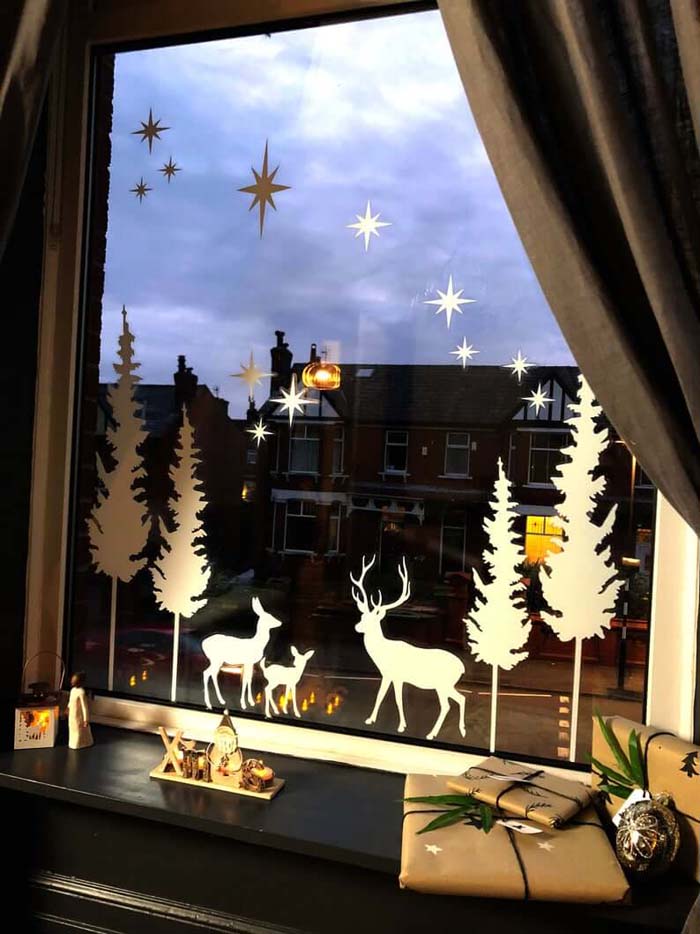 Whether you live in a mountain lodge or a city apartment, this forest window decal will have you dreaming of a remote retreat.
A sweet family of deer wanders through the pines as stars twinkle above, creating a serene, relaxing feeling this Christmas.
Put it up after Thanksgiving and keep it up all winter long.

19. Brighten Your Holidays with Spectacular Glass Star Lights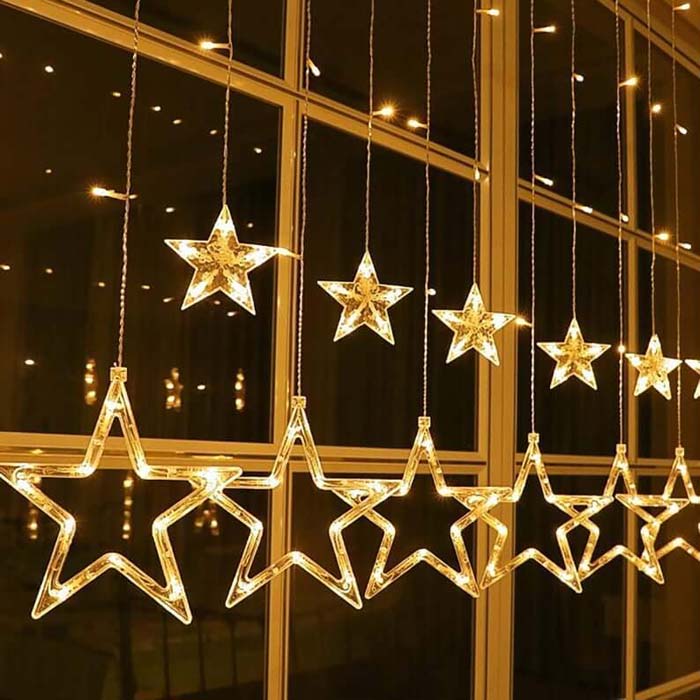 If you love a bit of sparkle, these spectacular lights are sure to brighten your holidays.
Big and small stars glow beautifully, reflecting on the glass for a multi-dimensional effect.
Turn them on as soon as it starts to get dark for a warm, cozy feeling.

20. Bring Festive Charm with a Plywood Christmas Village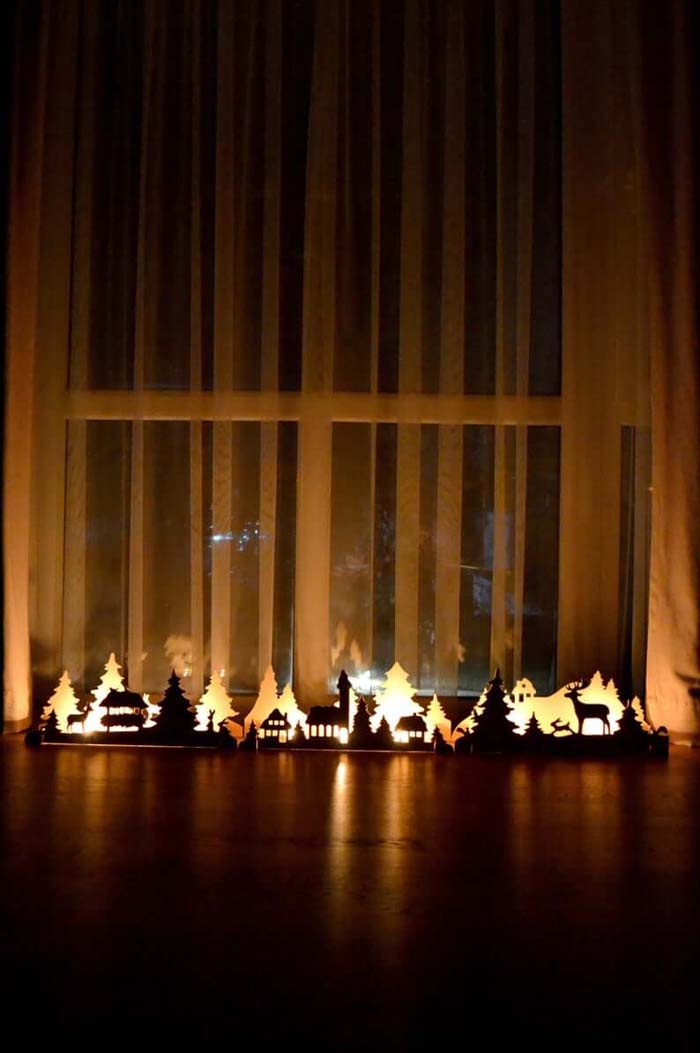 Made from thin plywood, this stunning Christmas village turns your window into a three-dimensional wonderland.
The magic is in the two-layer design, which creates an impressive sense of depth.
Add lights for a charming glow.