Vintage decorations have a sense of simplicity and tradition, making your home feel cozy and welcoming at the holidays.
Whether you're going for a rustic country Christmas or a Victorian celebration, vintage pieces can bring your theme to life.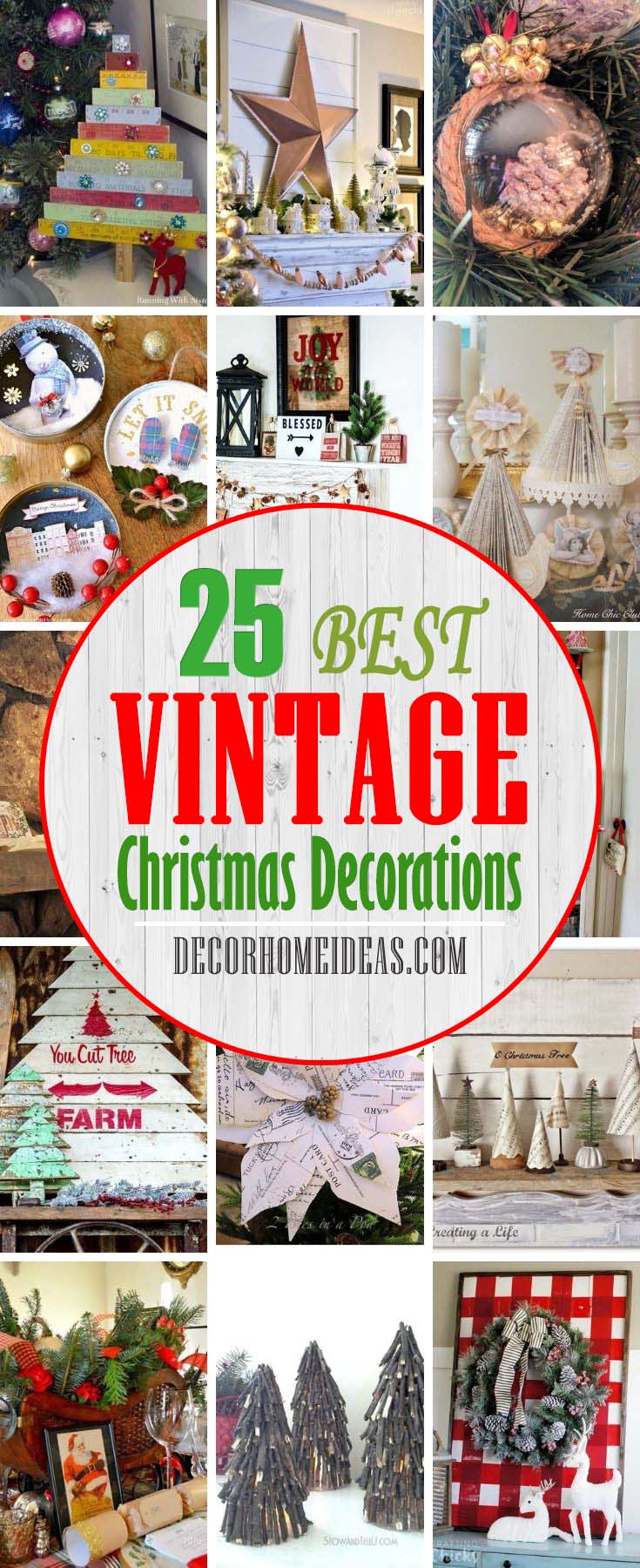 As you plan this year's decorating, use these 25+ beautiful examples for ideas and inspiration.
1. Add Rustic Charm with DIY Star Bunting Christmas Decoration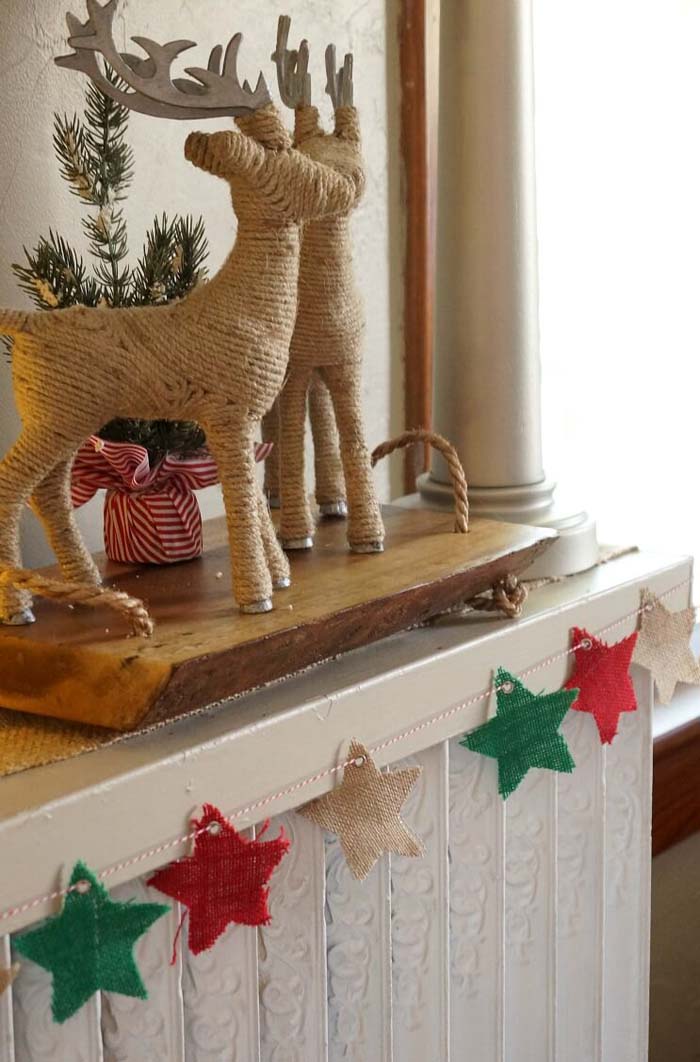 If you're looking for an affordable and easy DIY Christmas decoration, this sweet star bunting is a great place to start.
Each star is cut out of colorful burlap and strung on twine or ribbon for a rustic, homespun look.
Add your bunting to the mantle, a window frame, or even the tree.
2. Celebrate the Holidays with Classic Nutcracker Decorations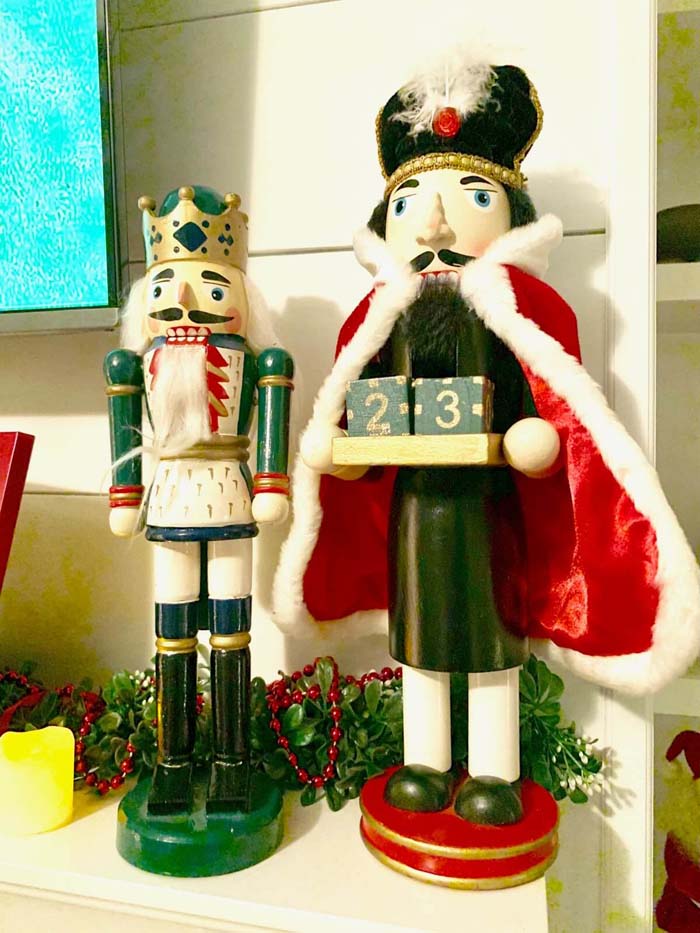 Evoke a classic Christmas tradition from centuries past with adorable nutcrackers.
The bright colors enliven your home, and the vintage outfits bring a sense of history.
Display nutcrackers in pairs or individually throughout the house for a festive look.
You can even find miniature nutcracker ornaments for extra impact.
3. Distressed Wood for a Charming Country Theme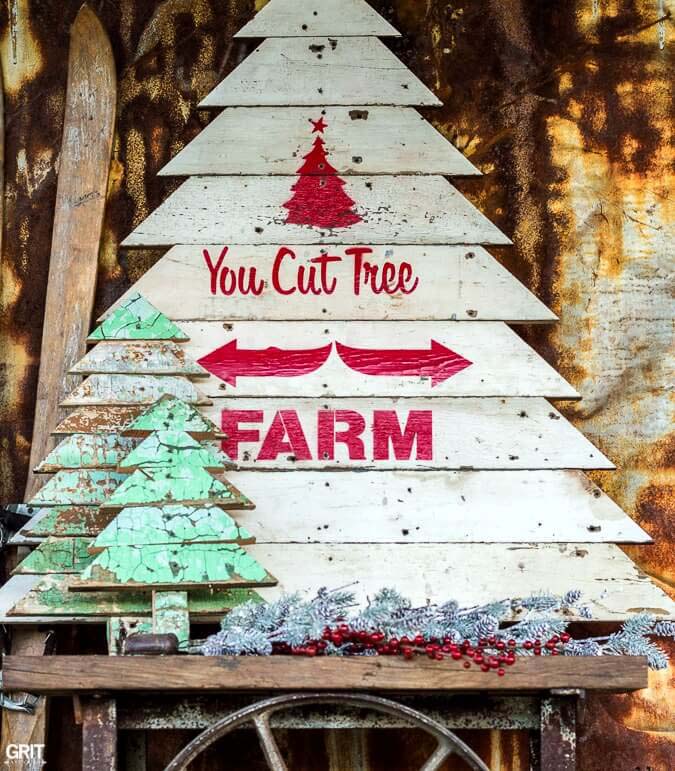 Enhance your charming country Christmas theme with these DIY Christmas trees.
You can make them yourself using power tools and scrap wood.
Since the beauty of these sweet trees is in the distressed finish, make sure to spend time with sandpaper, crackle finish, or a hammer to make the boards look aged.
via Grit Antiques
4. Build a Quaint Christmas Sign from an Old Drawer Front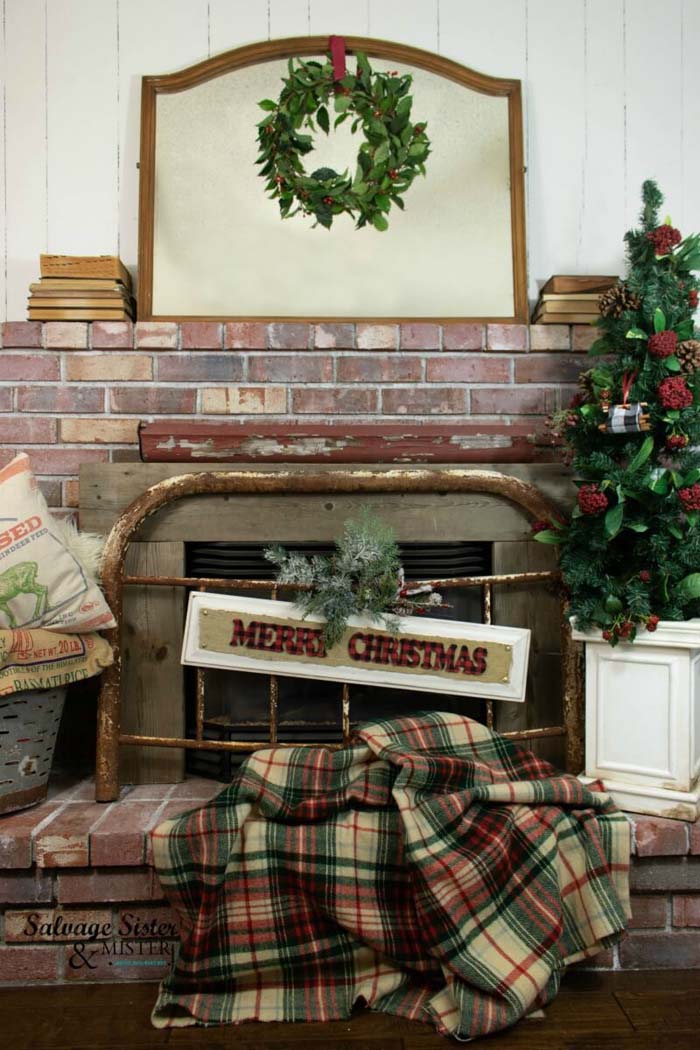 Turn an old drawer front into a vintage Christmas sign with this fun project.
The materials are simple — burlap and buffalo-check plaid letters communicate the perfect laid-back vibe.
We love how the burlap ribbon is tacked in place for a handmade look.
5. Create Unique DIY Christmas Ornaments with Tiny Tins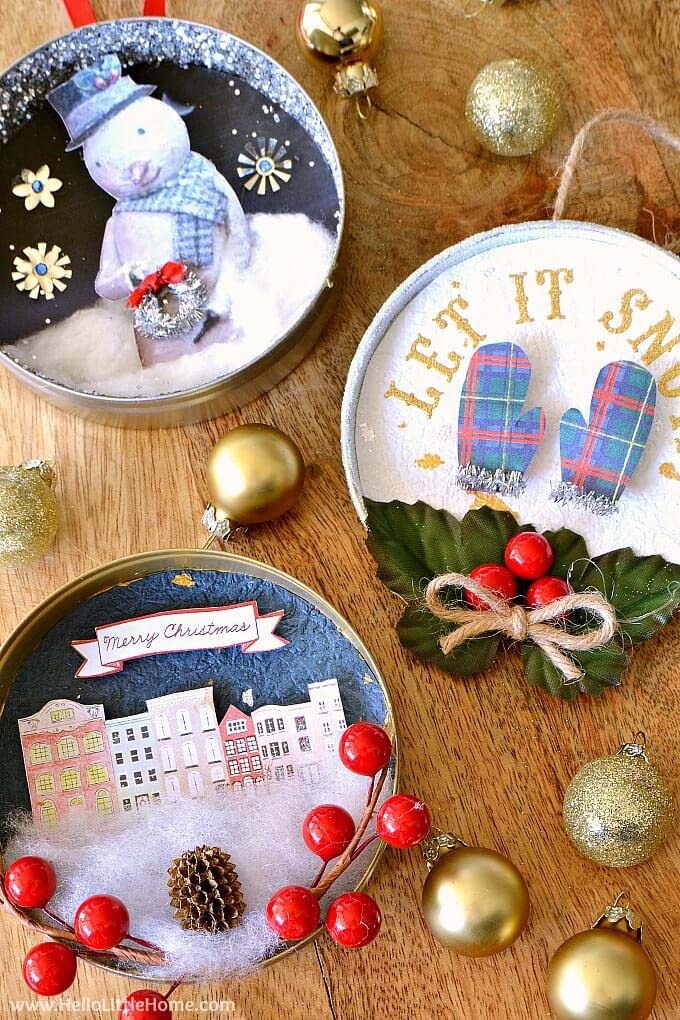 Tiny tins create the base for these DIY Christmas ornaments.
Inside, you have total freedom to create tiny winter scenes using paper, faux snow, artificial flowers, or any other materials you have around the house.
Break out the glitter and tinsel for a sparkling effect, or keep it simple with classic colors. Add a ribbon loop, and you have a sweet vintage piece for the tree.
6. Make a Vintage-Inspired Postcard Poinsettia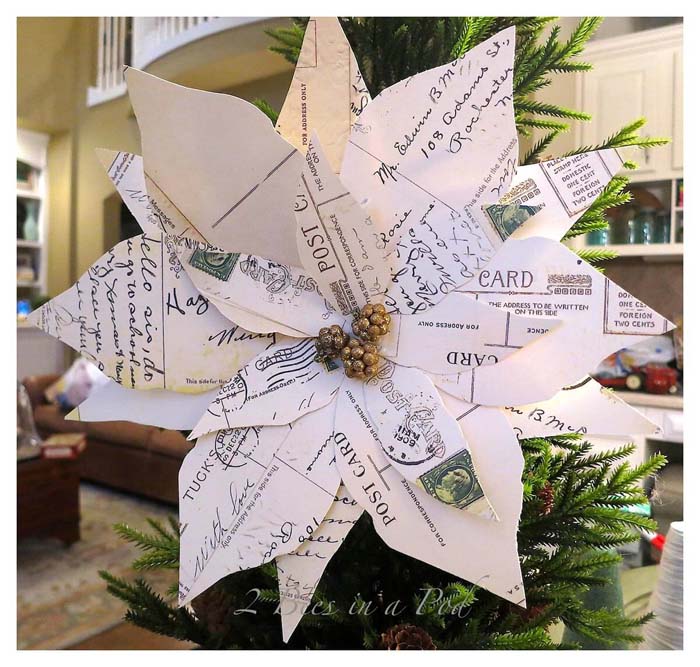 Do you love the look of vintage typefaces and postal stamps?
Bring them to your Christmas decorations with a postcard poinsettia.
This simple DIY project allows plenty of room for creativity — you can add a decorative center, paint accents, or use glitter for a dramatic look.
via 2 Bees In a Pod
7. Create Instant Vintage Decor with DIY Paper Trees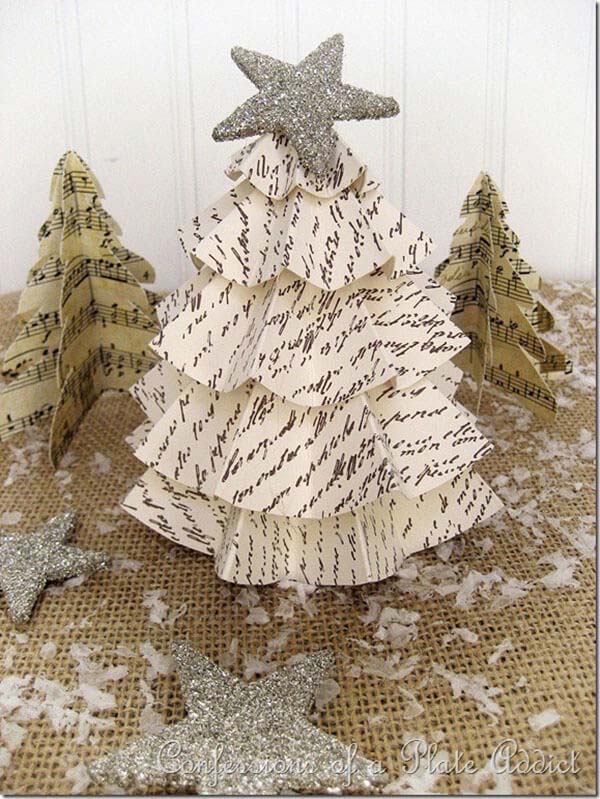 If your mantel or shelf is looking a little bare, these cute vintage trees are an affordable solution.
All you need is paper that looks historic: sheet music, handwritten script, or aged coloring.
Best of all, you can make the trees yourself in less than an hour with supplies you probably already have on hand.
via Confessions of a Plate Addict
8. Make Your Mantel Magical with Farmhouse-Glam Decor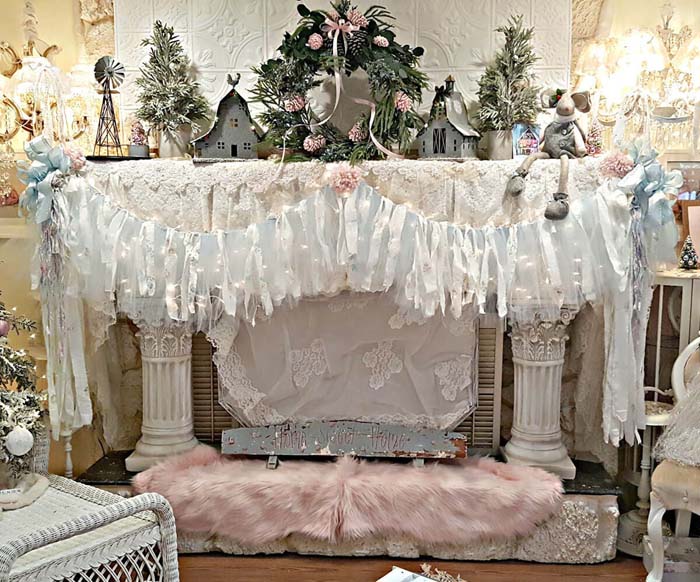 Go all out this Christmas with an over-the-top farmhouse-glam mantel decoration.
A tiny farm is decked out with a wreath, miniature Christmas trees, and even a sweet stuffed animal.
The thing that takes this mantel to the next level is the fabric backing and lush garland.
9. Upcycle Ripped Books into Christmas Trees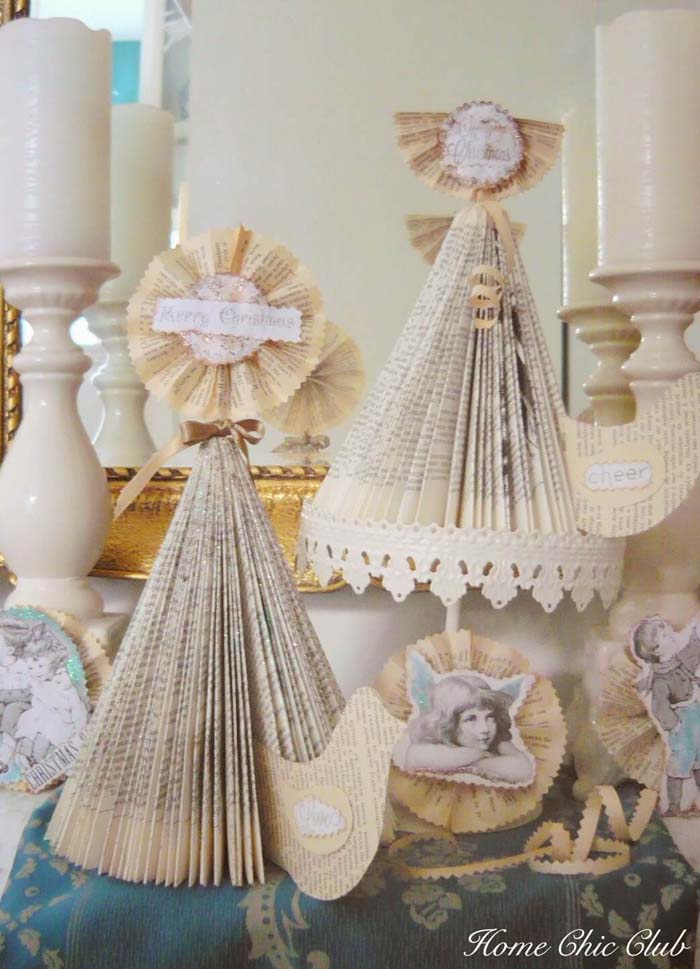 Don't throw out your books with ripped covers and torn-out pages — turn them into these beautiful Christmas trees.
The printed words create an interesting texture after the pages are accordion-folded into tree shapes.
Create a yellowed look by dyeing the paper with tea.
10. Lodge-Inspired Mantel with Modern and Vintage Accents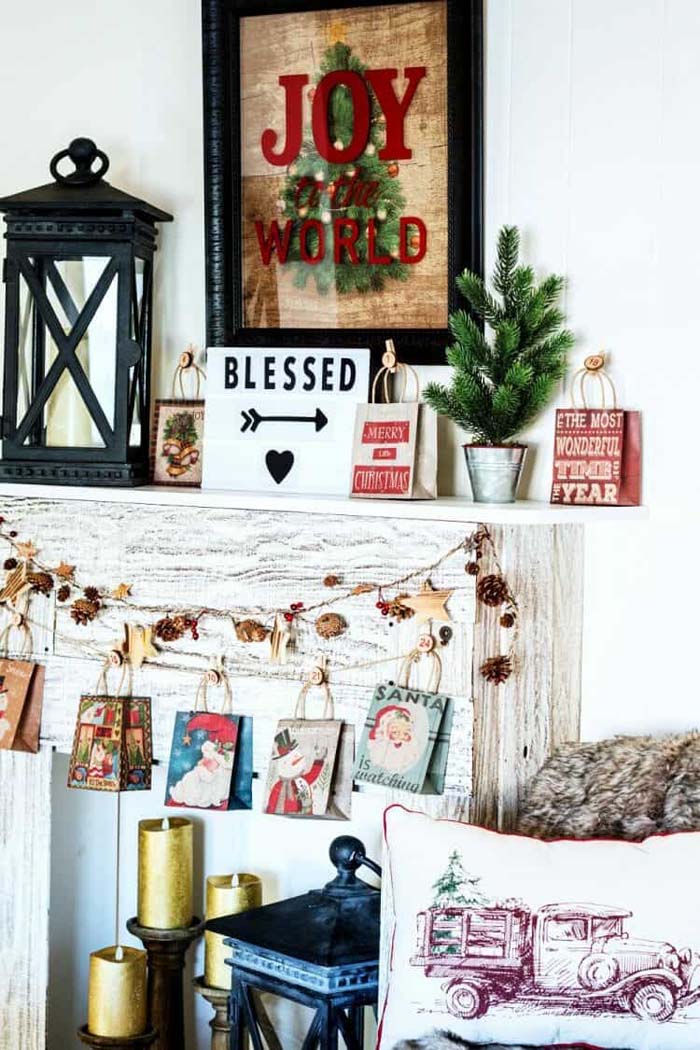 A little modern and a little vintage, this lodge-inspired mantel brings life to your home.
Vintage elements such as a lantern, rustic sign, and paper gift bags add soft, neutral colors.
The addition of a stark black and white sign keeps this vignette looking fresh and contemporary.
via The How To Home
11. Transform Apothecary Bottles into Stylish Vintage Vases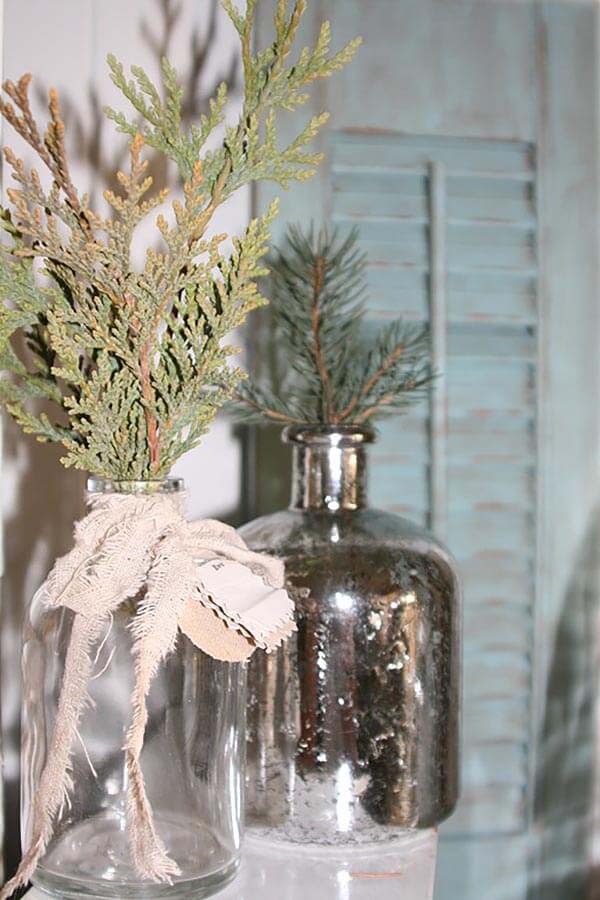 Apothecary bottles become vintage vases in this gorgeous Christmas craft.
Leave the glass bottles plain to show off the natural textures, or coat them with paint to create the look of mercury glass.
A burlap ribbon adds just a hint of casual charm.
via Mrs Olson Blog
12. Make Tiny Christmas Trees to Enhance Vintage Décor Theme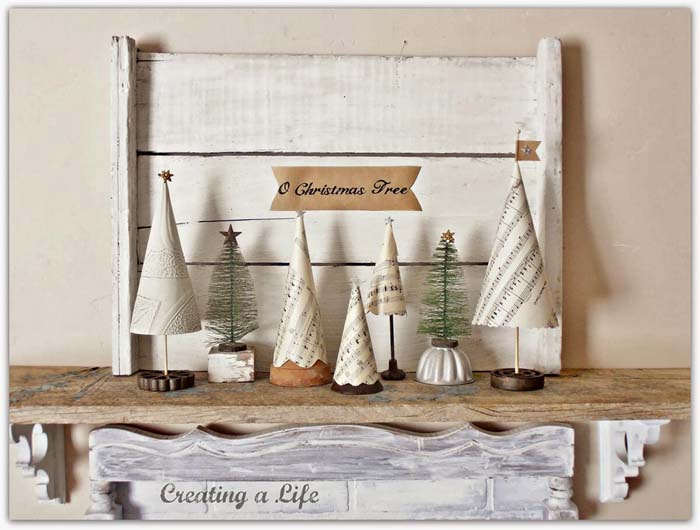 Here's another fun way to make tiny Christmas trees to enhance your vintage decor theme.
These trees couldn't be easier — all you need to do is roll paper into a cone and mount it on a slim wooden dowel.
Create trees in varying sizes and heights to create an adorable forest.
13. Craft a Custom Ornament with Clear Glass and Plastic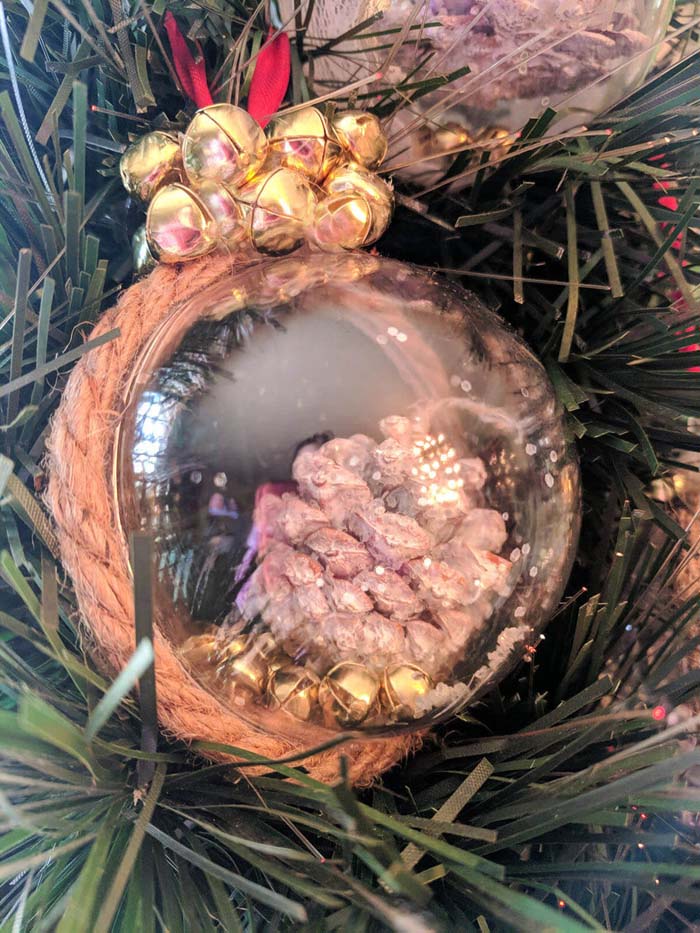 Have you ever seen the clear glass and plastic ornaments that you can fill for a custom look?
This ornament adds a vintage spin on the clear material.
Tuck a pinecone and a few jingle bells inside and conceal the seam with a length of textural twine.
14. Bring Timeless Charm with a Buffalo Check Print Panel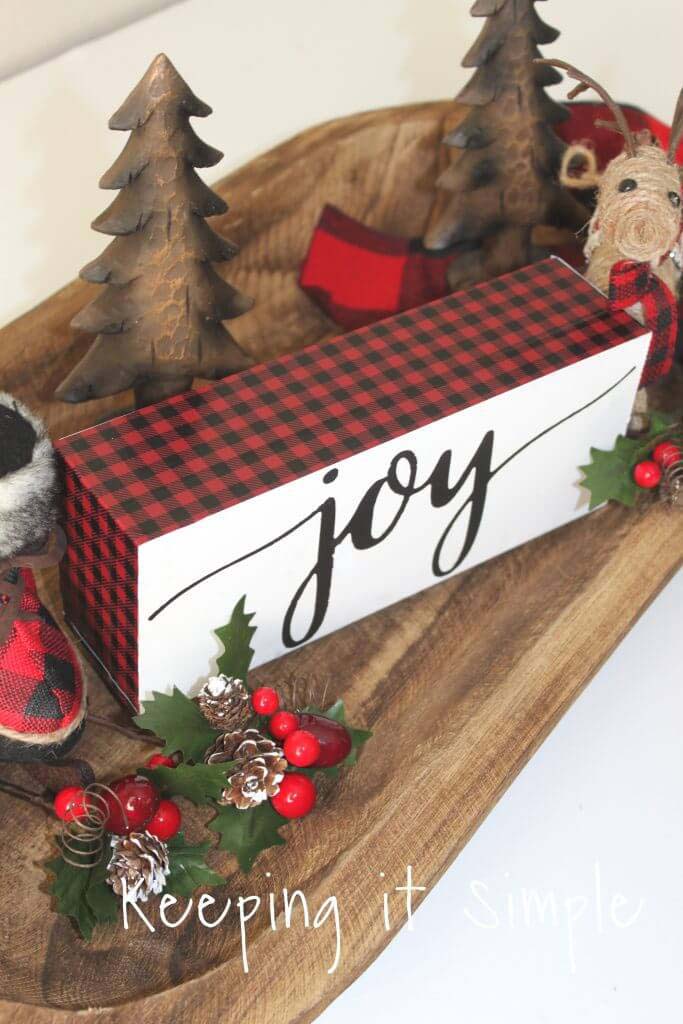 What says classic country charm more than a buffalo check print?
This gorgeous lodge-inspired block uses a red and black version of the pattern to bring color to your Christmas display.
Paint a holiday-themed word on the front panel in a script font to complete the historic vibe.
15. Create a Vintage Look with a DIY Stick Tree Craft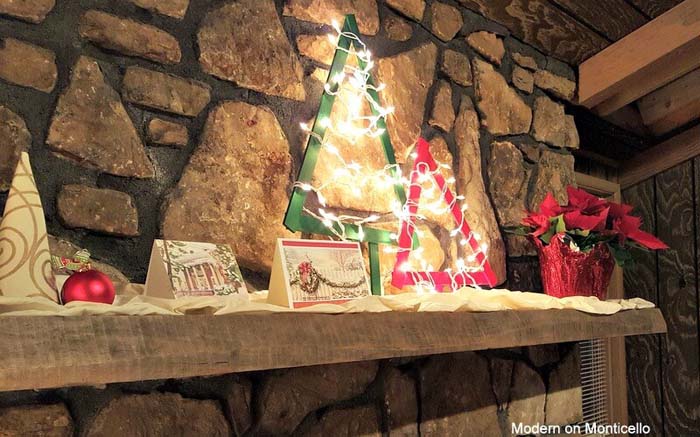 When you want a quick but lovely vintage craft, these stick trees fit the bill.
You can use any type of stick — even a slim tree branch will do. When the glue dries, paint the trees and wrap them in lights to illuminate your home.
16. Create a Cozy Ambiance with DIY Twig Luminaries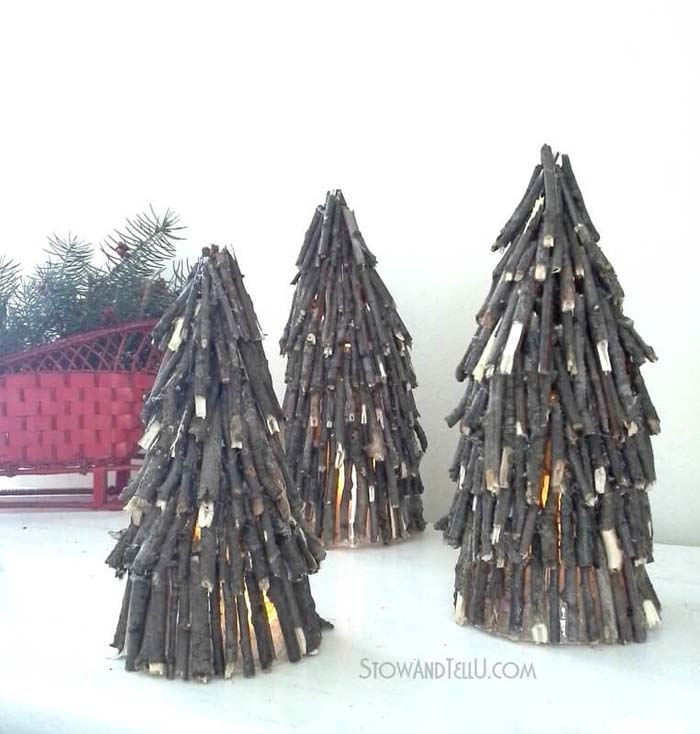 Nothing warms the atmosphere in your home like the beautiful twinkling glow of a candle.
These cute luminaries look like trees; they're made with simple twigs that you can find outside your home.
Add a battery-operated candle to create a soft light that peeks out from between the branches.
via Stow and Tell U
17. Get a Rustic Christmas Look with a Vintage Wooden Crate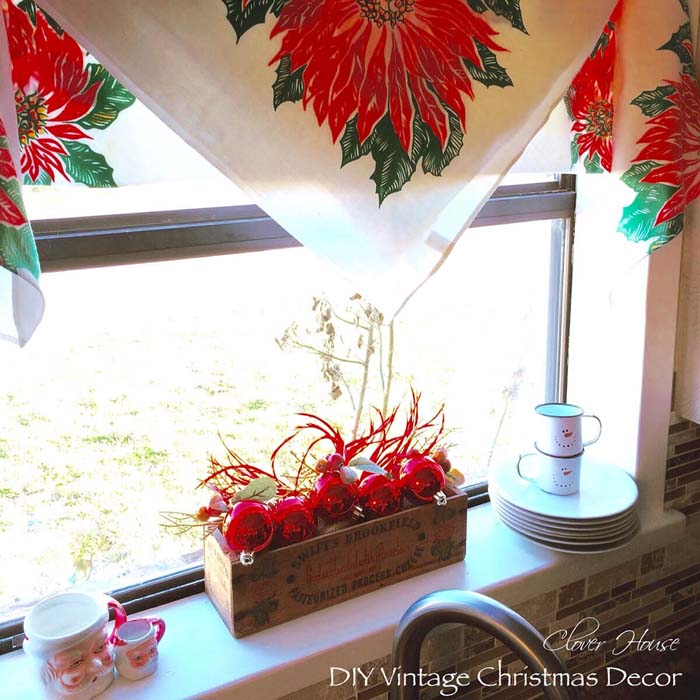 Vintage wooden crates bring an instant sense of history to your home.
If you have one, fill it with Christmas elements to create a stunning window box or centerpiece.
Christmas balls, feathers, greenery, and beaded garlands can fill the space and add color to any area.
via Our Clover House
18. Perfect Victorian Christmas Centerpiece for a Festive Dinner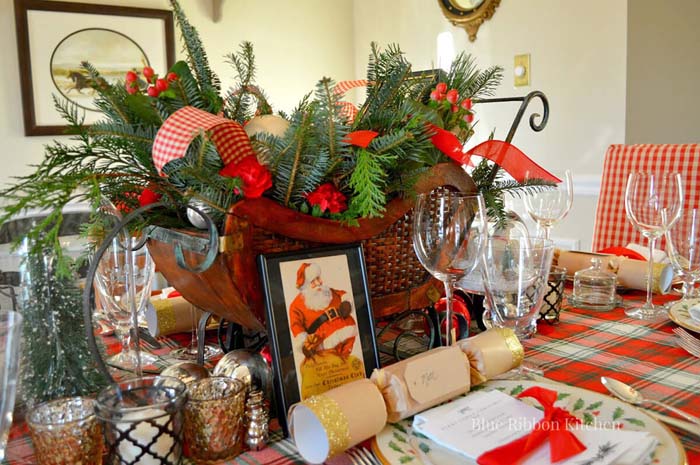 Create the feeling of a Victorian Christmas with a lush centerpiece for your holiday dinner.
The trick is to choose a base that has a vintage vibe: a basket, a tiny stroller, or an elegant carved box.
Stuff it with boughs from a pine or cedar tree, add a few ribbon loops, and tuck in some artificial berries for a pop of color.
19. Bring Christmas Cheer to the Kitchen with a Miniature Tree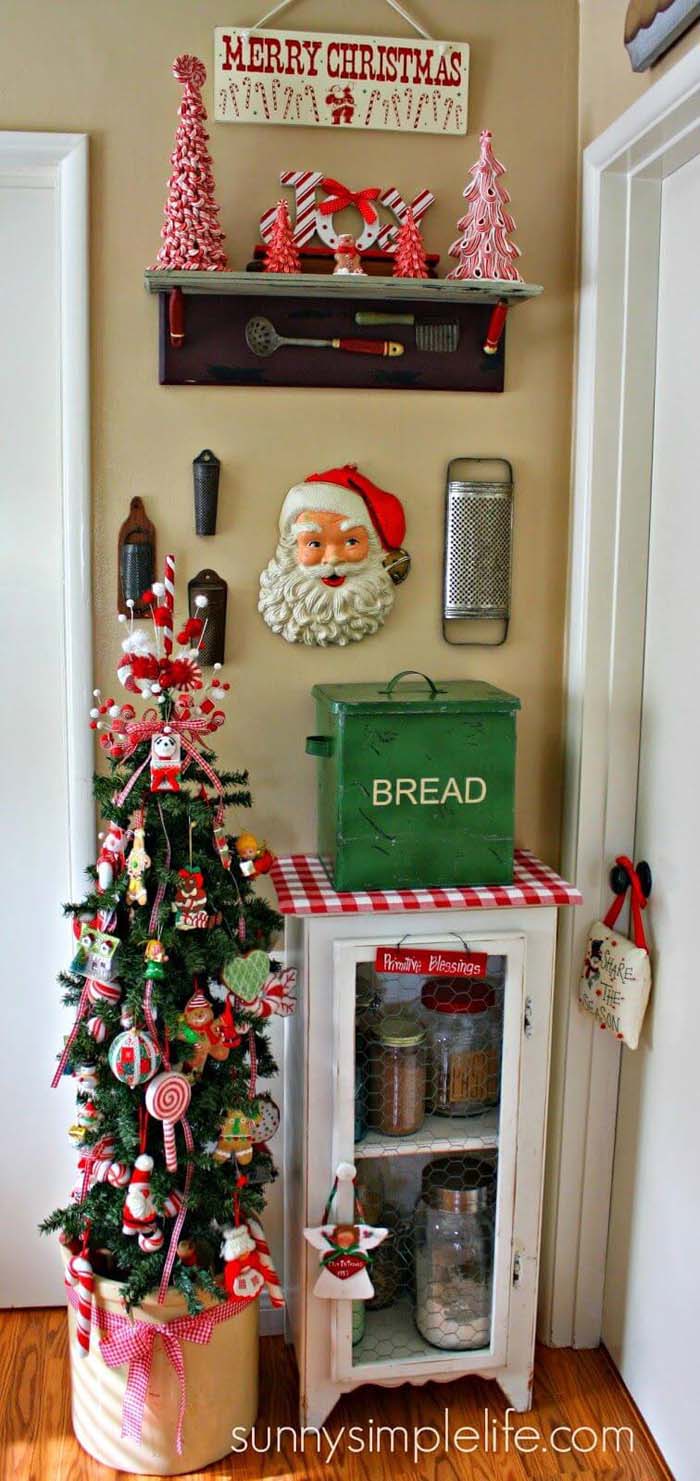 Why use a Christmas tree in just one room of the house?
Extend the festive cheer to the kitchen with a miniature tree decked out in vintage ornaments.
This is a great way to showcase a themed collection of decorations or an eclectic assortment that doesn't fit on your primary tree.
20. Add Character to Your Decor with Vintage-Inspired Wall Signs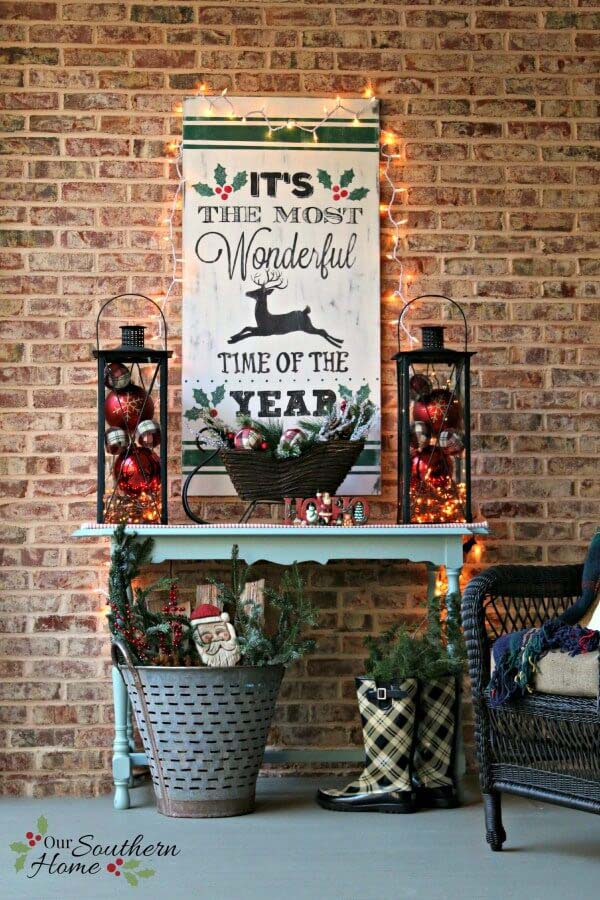 Fill an empty spot on the wall with a vintage-inspired wall sign.
Look for signs that use a variety of traditional fonts, particularly those that resemble newsprint.
If you're crafty, you can even make your own with inexpensive paint and a few stencils.
21. Vintage Cane Decoration with a Santa Twist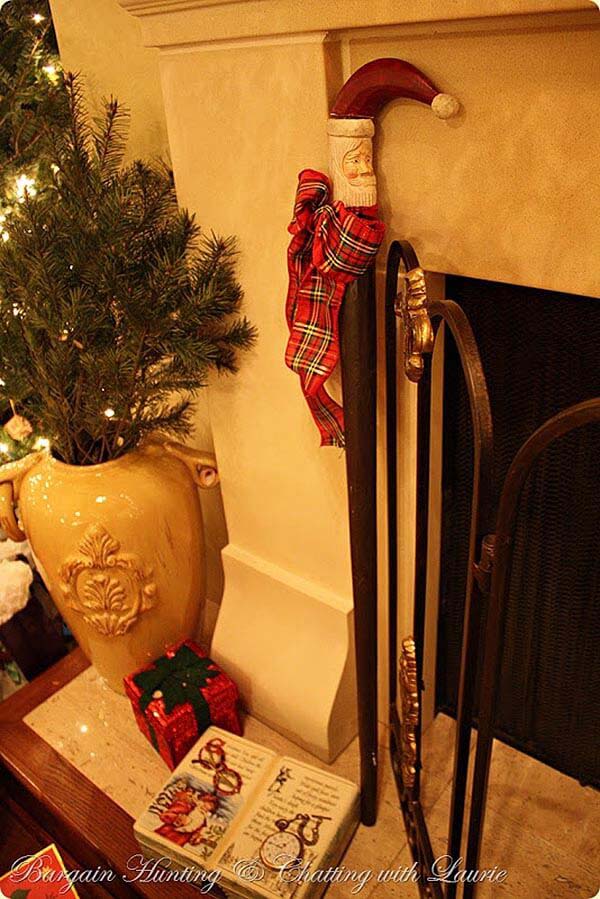 A cane has a traditional look, particularly when it's made from wood.
This beautiful Christmas decoration uses an old cane as the base for a clever decoration; Santa's face and hat are carved into the curved top, and a classic tartan ribbon completes the vintage vibe.
via Bargain Decorating With Laurie
22. Craft a Rustic Cottage Tree With Wooden Spindles and Dowel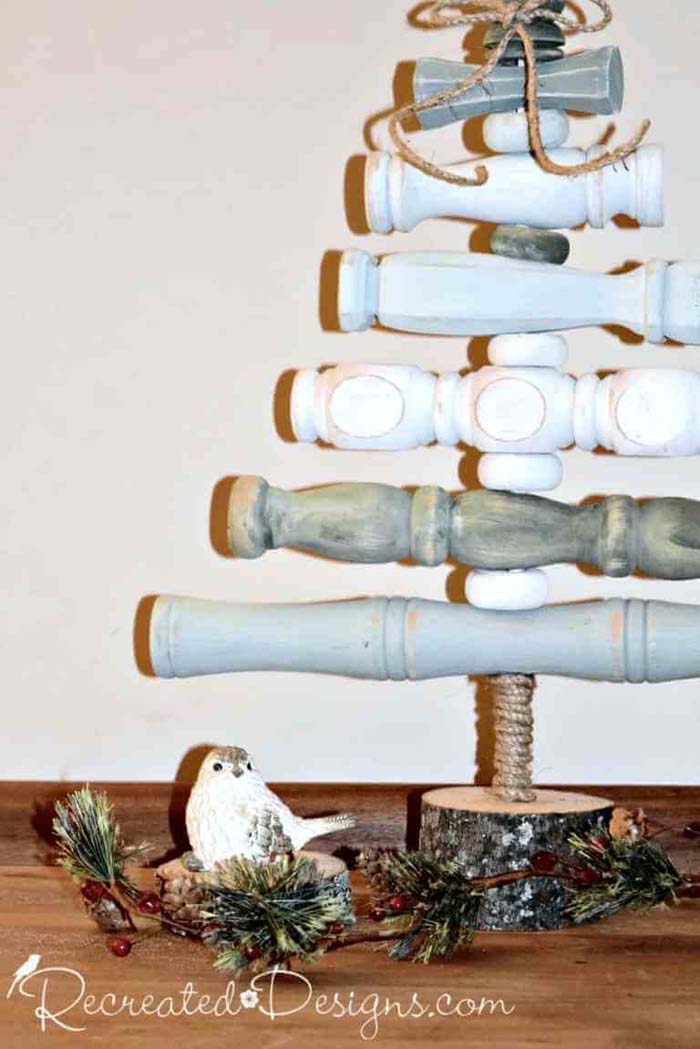 Beautiful turned wooden spindles create a cottage-inspired Christmas tree in this unusual project.
All you need is spindles in varying lengths and styles and a wooden dowel.
This freestanding piece looks great on a shelf or side table.
23. Upcycle Yardsticks into a Gorgeous Christmas Tree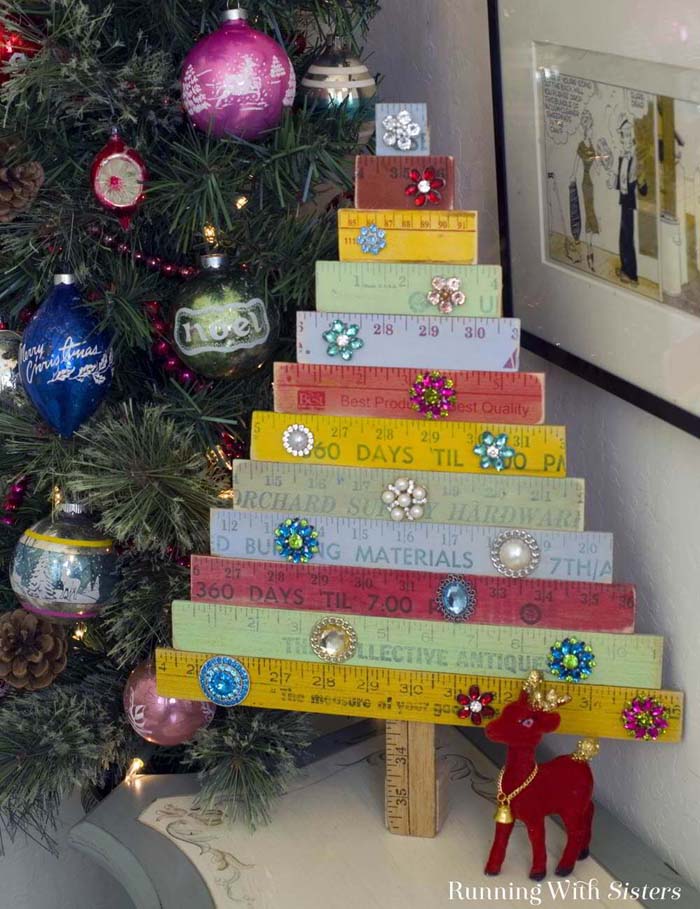 Cheerful and unexpected, this gorgeous Christmas tree is crafted from vintage yardsticks in varying colors.
The visible measurements and letters add a soft pattern; we love the contrast between the rustic wood and the glam jeweled ornaments.
24. Create a Nostalgic Christmas Village on Your Mantel or Shelf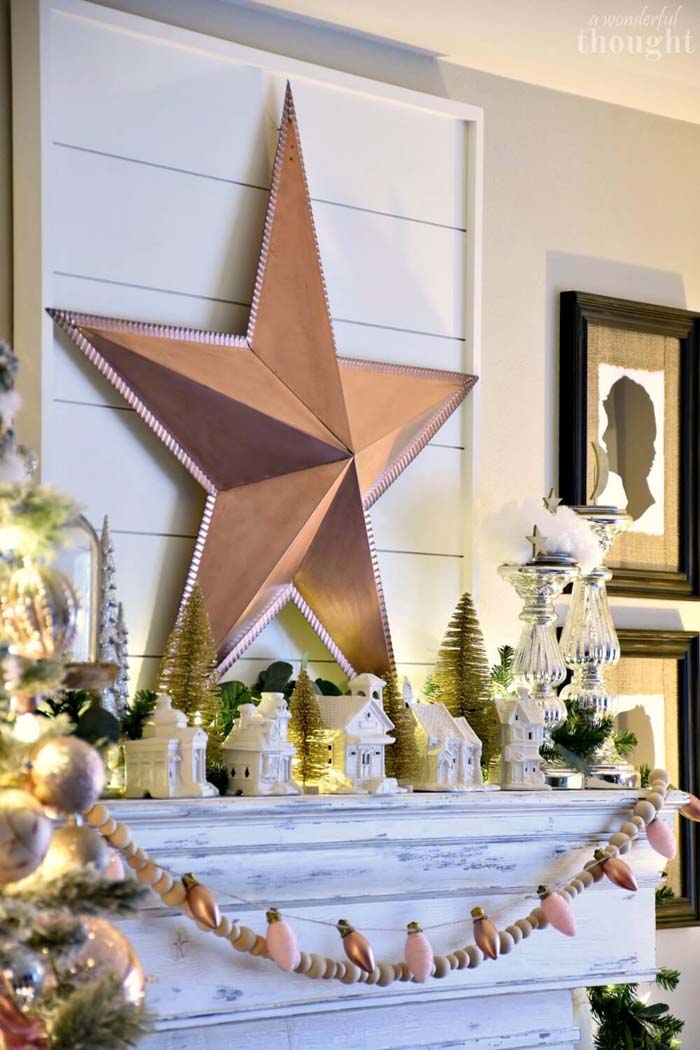 Highlight a stunning mantel or a long shelf by making it the setting for a Christmas village.
Don't worry if your village looks a bit modern — a coat of white spray paint will give it a vintage twist.
25. Rustic Christmas Wreath with Plaid and Pine Cones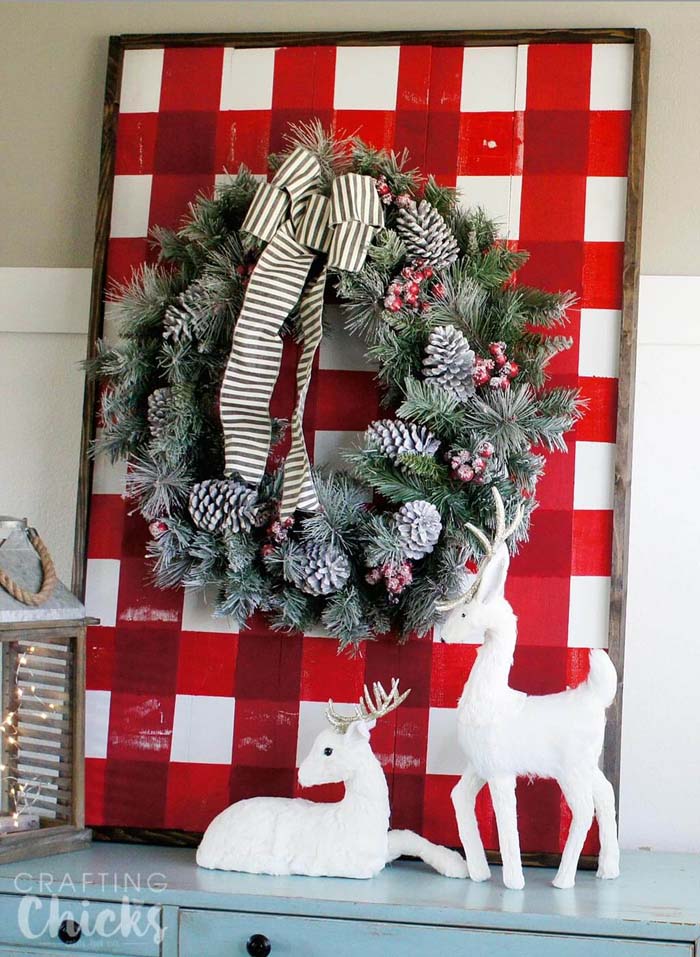 This spectacular Christmas piece has it all: planks, rustic wood, plaid, and a traditional wreath.
It's a breeze to make, no matter what your skill level.
Make your own wreath or decorate a premade version with vintage ribbons and snow-dusted pine cones.
26. Christmas Village