Do you have leftovers from the last renovation of your home? Surely, the wood scrap is already piled up in your garage.
If you have ever wondered why you have kept it, we are going to tell you why.
There are endless DIY wood projects that will make your home more comfortable and appealing. All of them can be done even by a beginner with the help of some supplies and suitable tools.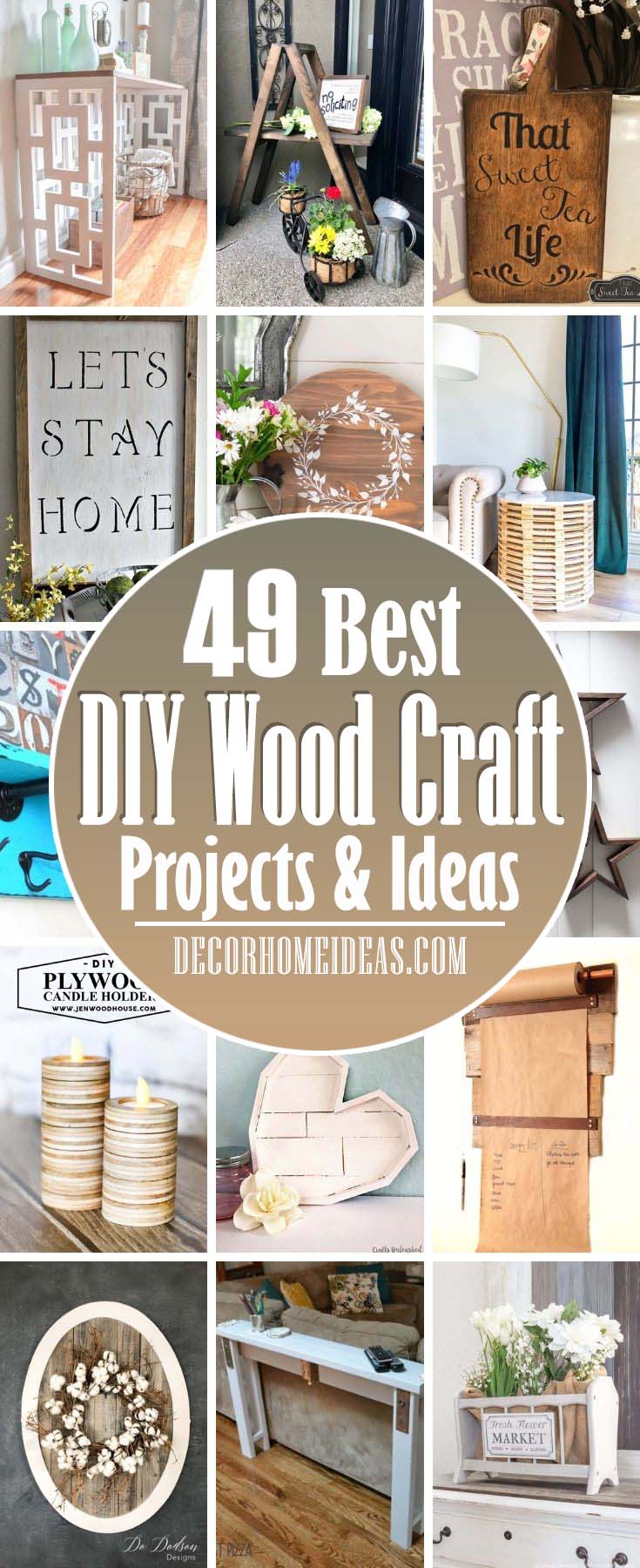 From signs, wall art and decorations to auxiliary furniture that will help you organize your home.
Are you curious to find your next wood project? Don't wait anymore and check the DIY wood project ideas we have gathered for you!
1. Add Privacy to Your Bathroom with Reclaimed Wood Slats

If you are thinking of a way to add more privacy to your master bathroom, do it in a budget-friendly and attractive way.
Get two reclaimed wood slats, fix simple hooks to them and attach the curtains you have chosen.
via Olive and Love
2. Make a One-of-a-Kind Sign with Spray Paint and a Beam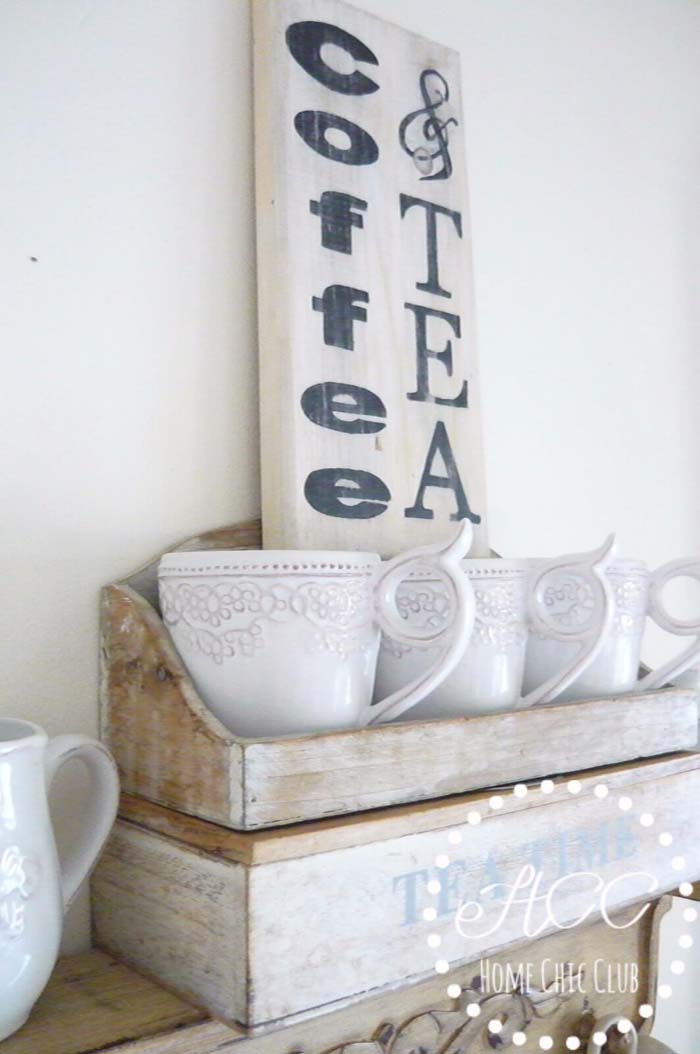 Making of a sign is an easy task. Depending on the effect you would like to get, pick up a sanded slat or a weathered beam.
Prepare in advance your stencils and spray paint into their cuts.
3. Craft Trendy Arrow Signs with Pre-Cut Wood Pieces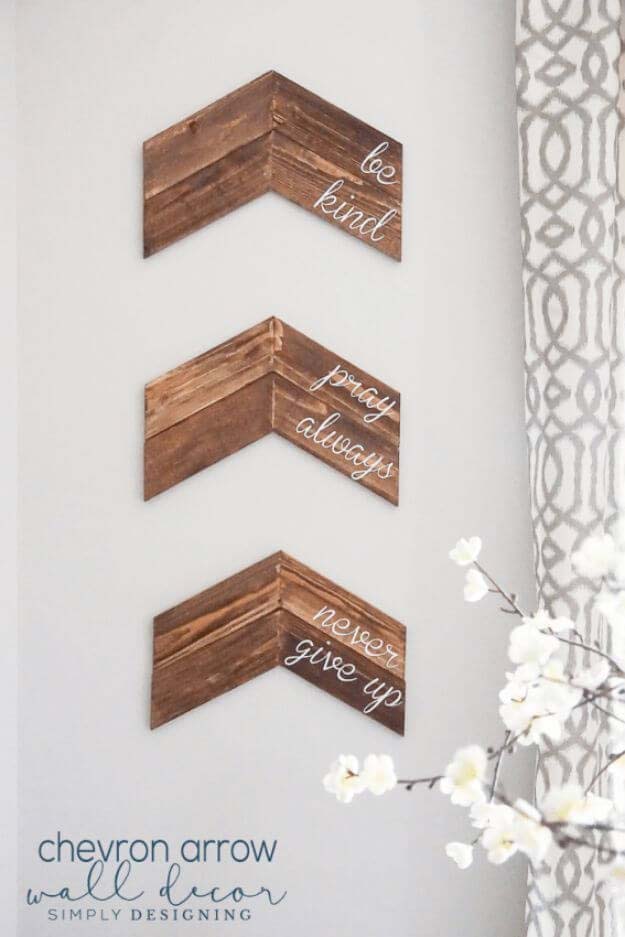 Make yourself a few trendy arrow signs with pre-cut wood pieces or from any slats you have left. Cut them in the shown shape and glue them together.
If you want to change the wood color, use a stain. After curing, write your favorite inspirations on each.
via Ashley Phipps
4. Make a Stylish and Versatile Address Planter for Your Porch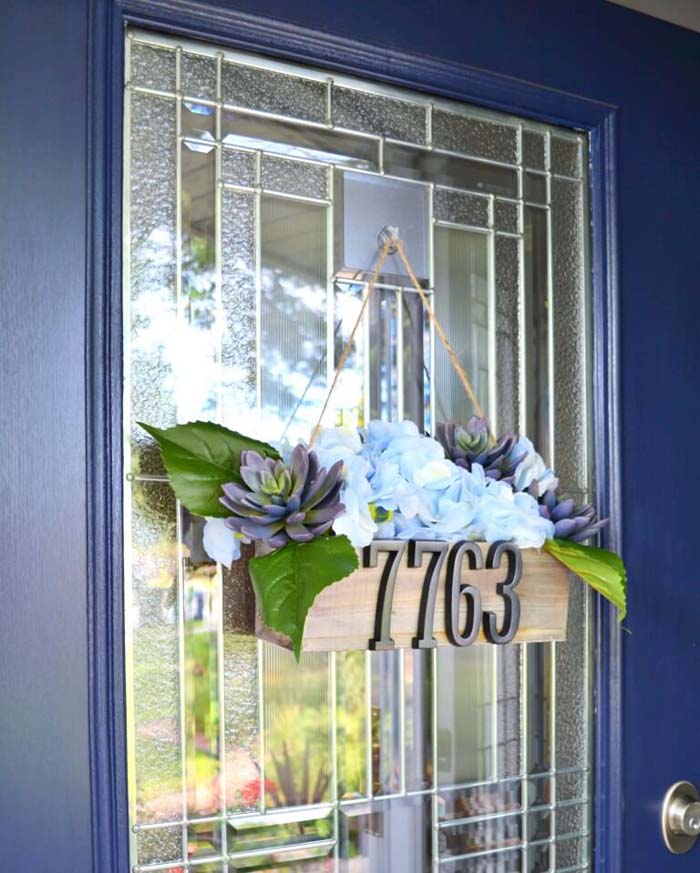 Have you always admired the address planters of your neighbors? Then make yourself one without damaging any part from your front door.
This idea is of a removable handmade planter which allows you to change the flowers as you may need or replace with another decoration from time to time.
via The Cofran Home
5. Create Vertical Storage with a Ladder

If you are looking for a way to store the throws in the living room but you don't have any floor space left to place a few ottomans or baskets, here is a great idea for you.
Make a vertical ladder that will store all of the throws without covering much from your floor.
6. Make a Personalized Wood Block Calendar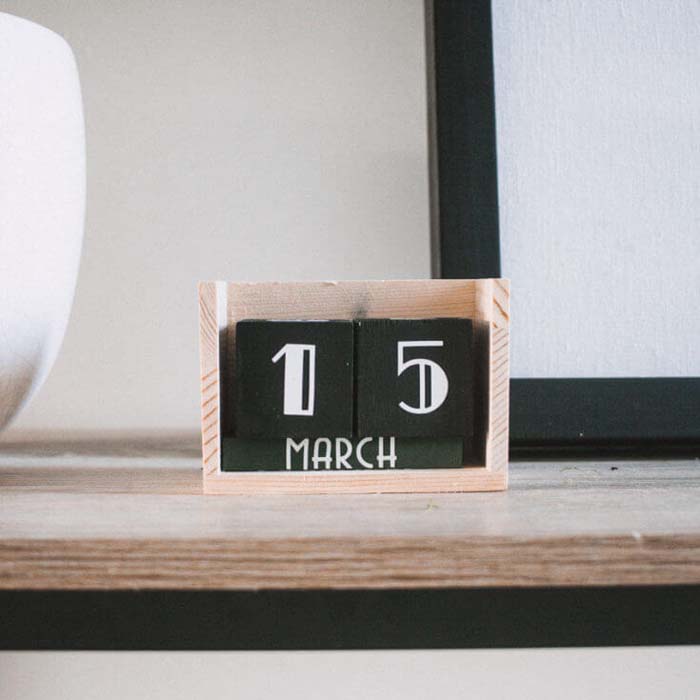 Do you like the wood block calendars? They are great not only for personal use but also as a gift idea.
If you want to know how to make one of these, check the instructions below.
7. Create a Lasting Crayon Organizer for Your Kids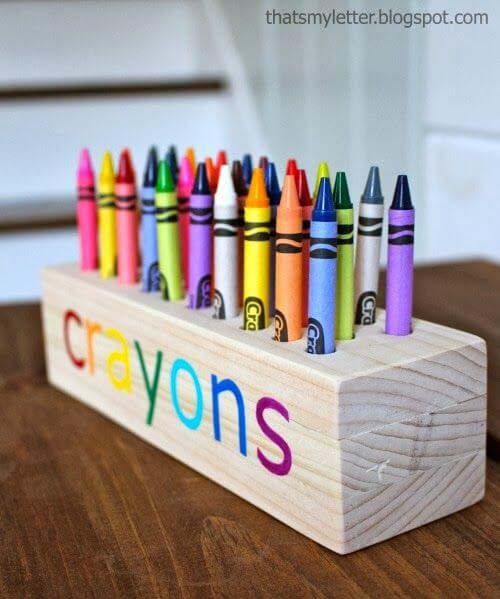 If you have kids, then you realize how useful a crayon organizer would be.
It is a very simple project requiring some wood, a drill and glue.
via Jaime Costiglio
8. Make a DIY Shelf with a Wooden Beam and Rope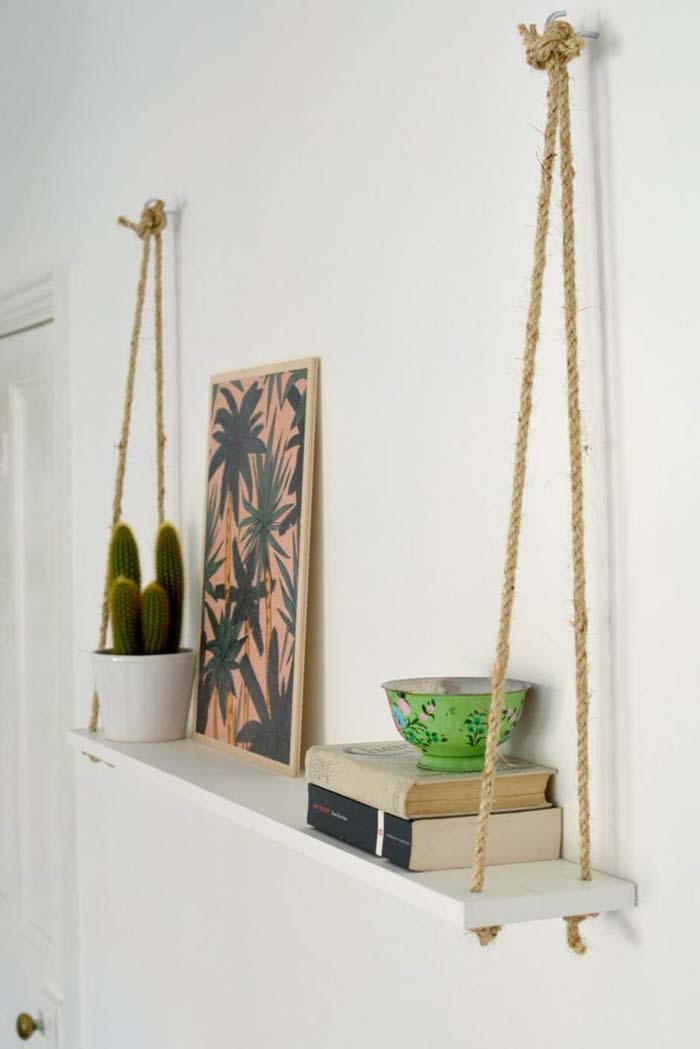 Are you looking for a more interesting and customized shelf for your living room? Making it yourself will ensure both of these.
Get a wooden beam, droll two holes at the end of each side and put thick rope into each hole. Tie a knot to secure the beam at the bottom surface.
You can suspend the top rope parts on screw hooks, placed at the desired height.
via Burkatron
9. Contemporary Farmhouse-Inspired Entryway Rack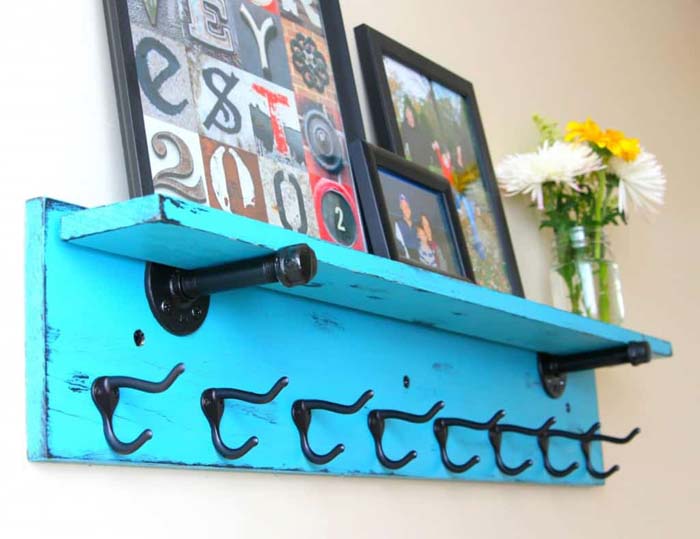 Do you like both the farmhouse and industrial styles? Well, combine them in one and make a unique rack for your entryway.
It will function both as a coat rack and as a decoration display.
via Happy Go Lucky
10. Handcrafted Candle Holder for an Ideal Table Centerpiece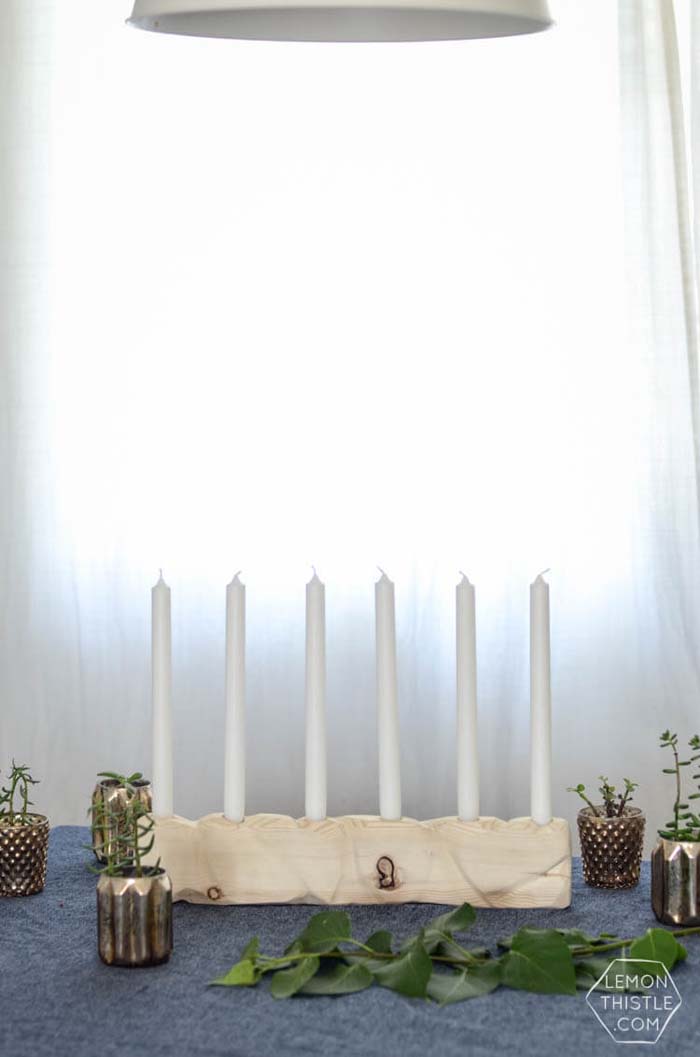 This artistic candle holder will surely become an appealing table centerpiece.
Entirely handmade, the project starts from a 2×4 piece of wood. Even a scrapped piece of this size will be suitable. A few sanding tools do the desired geometric shape, the candles are then inserted on nails.
via Lemon Thistle
11. Add Nature to Your Home with a Handcrafted Wood Table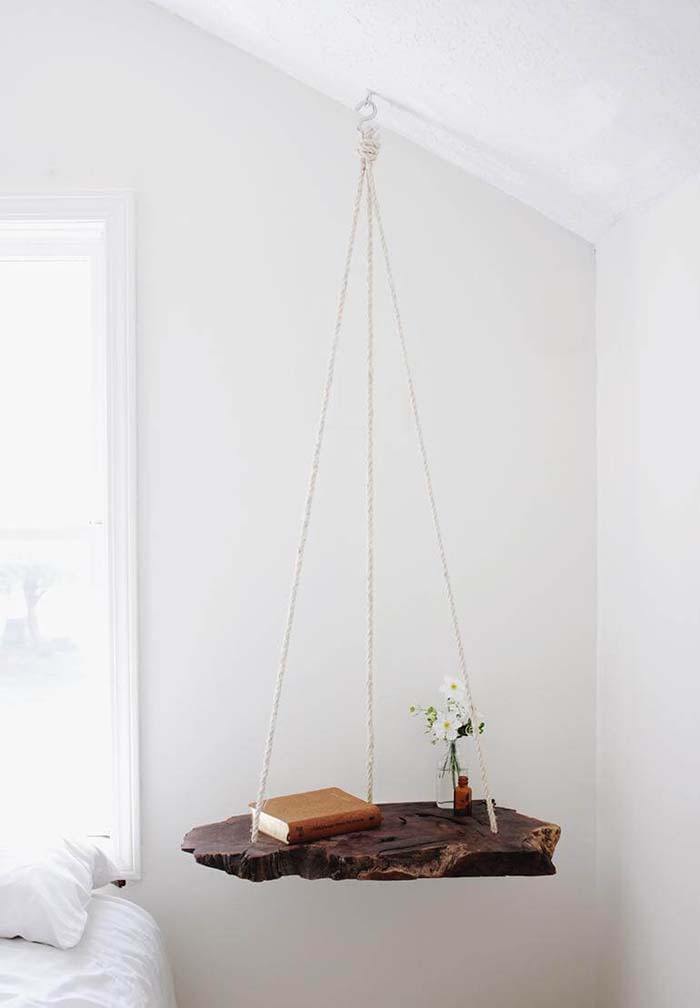 Are you in love with nature? Then bring it to your home with this gorgeous handmade table.
Made of a cross-section of wood, it can be adjusted at the desired height via ropes. You can either leave the slice uncoated or stain it in dark color.
12. Hexagonal Planters with Endless Design Possibilities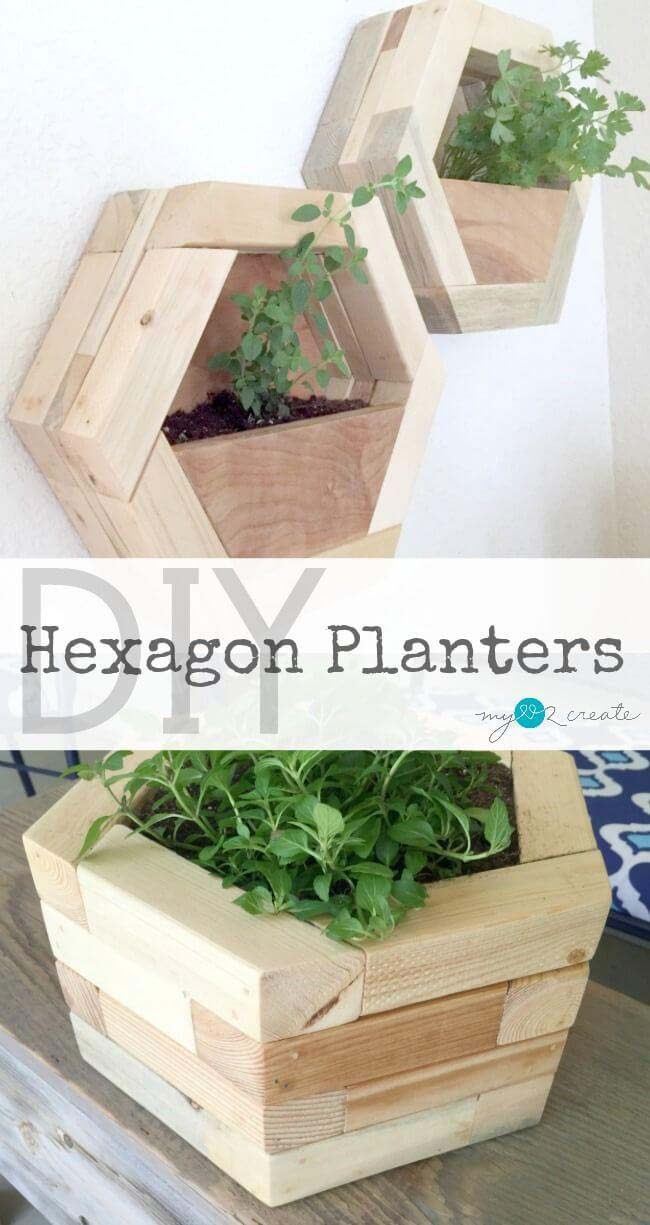 These hexagon planters will be the focal point of the place you put them as they impress not only with their shape but also with the alignment possibilities.
You can make them suitable for wall hanging or for floor placement.
via My Love 2 Create
13. Build a Professional-Looking Wood Table at Home

If you like the massive wood tables, then you know how expensive they are. Being most of the time customized, makes their price even higher.
Luckily, there are ways to make yourself one that looks professionally made.
Get the full tutorial on the link below.
14. Maximize Your Storage Space Using Ladder Shelves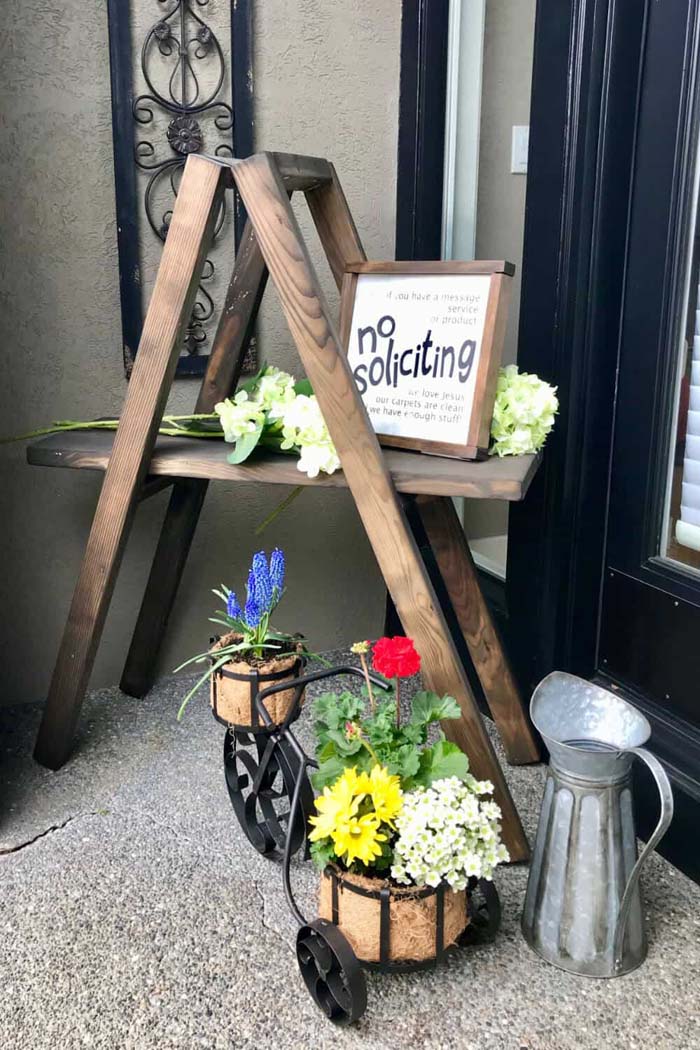 Such ladder shelves can easily find its application indoors and outdoors.
You can customize it per your need and space limits and add more levels for storage.
15. Make a Rustic Accent with a DIY Runner Tray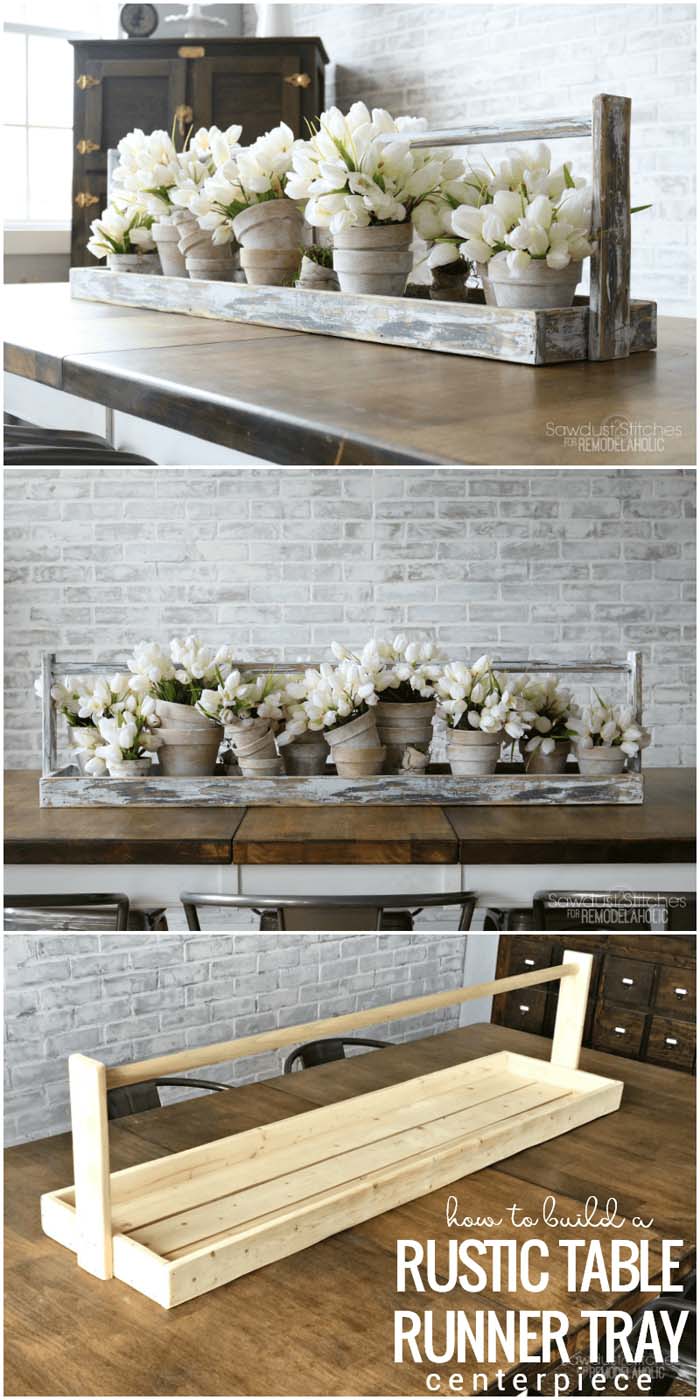 This runner tray could be called a universal decoration as the things placed in it can be replaced as the season's changes.
The other lovely thing about it is that it is quite easy to make. Stained in dark and giving it a whitewash distressing will turn the new-made piece into an aged rustic accent.
via Remodelaholic
16. Free Up Countertop Space with a Stylish Spice Rack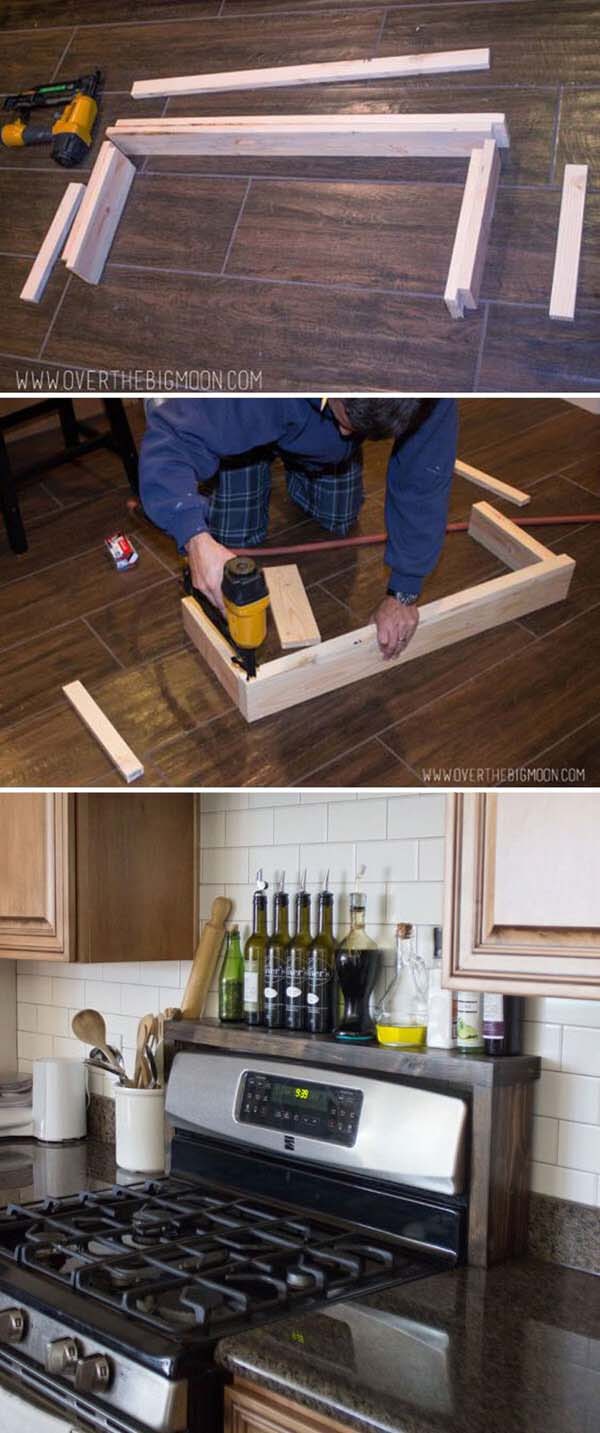 If you want to free some of the space on the countertop, think vertically. Make a shelf supported on legs so that it fits tightly over the oven.
Displaying the spices and oils there will ease the cooking and will contribute to a clutter-free kitchen countertop.
17. Create Unique Wall Art Using Repurposed Pallet Slats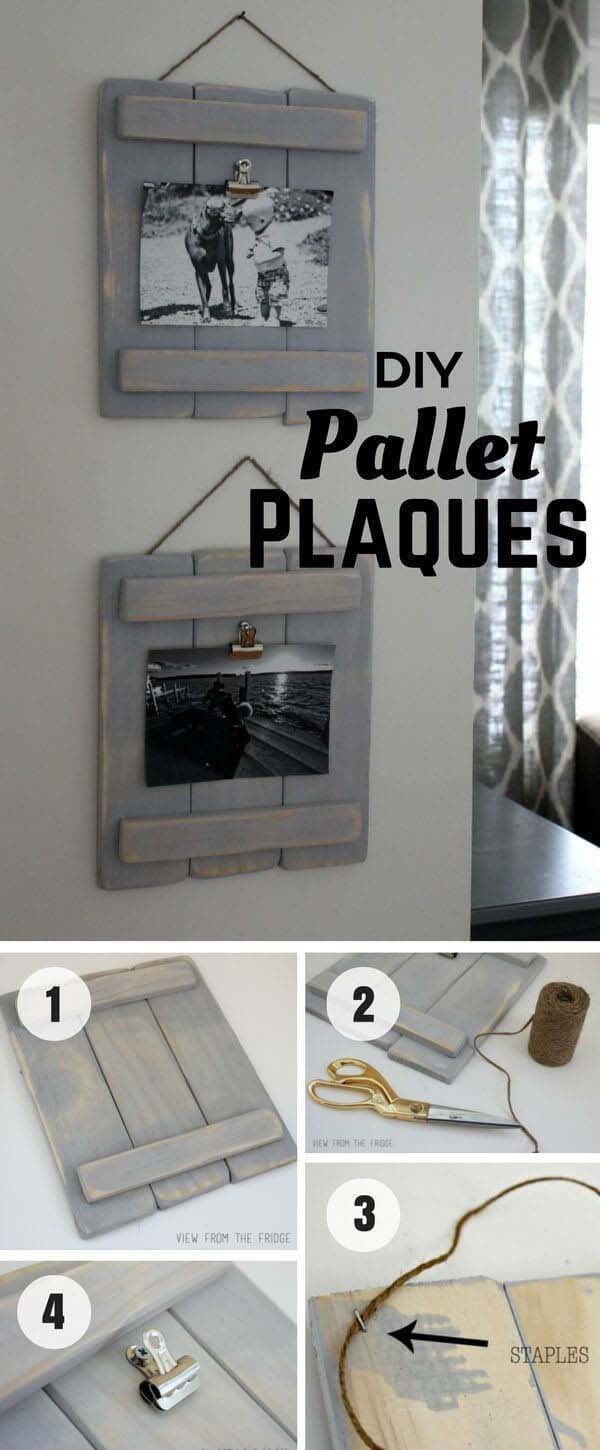 Make your own unique wall art from pallet slats. The shape of the frame this tutorial suggests looks like a small crate side.
Paint in a color that suits your interior and then attach your personal photographs. Such frames will be attractive wall art for the living room, the entryway and the bedroom.
via Oh My Creative
18. Make Artistic Candle Scones with an Old Pallet

You need only a few slats and blocks from an old pallet to make these artistic candle scones.
Start by cutting the pieces at the shown dimensions and then assemble them with glue.
Coating them with dark stain will hide the signs from the wood source and will make them look like antique decoration.
via Amanda Katherine
19. Create a Memo Board from Upcycled Pallet Slats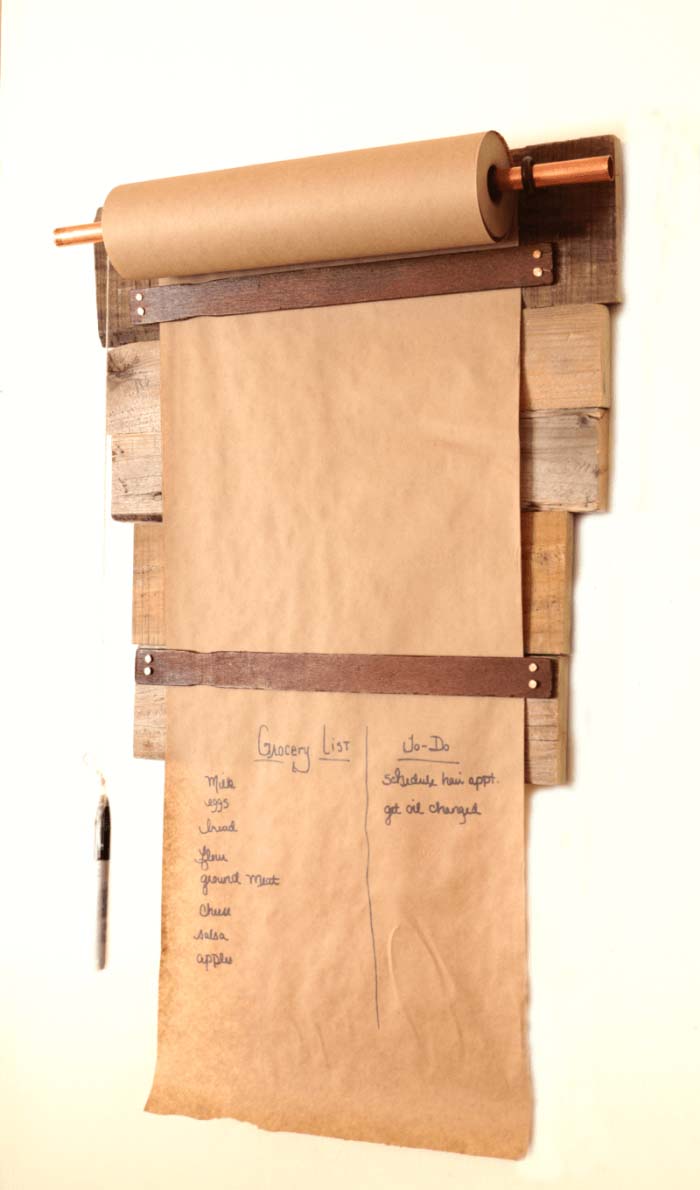 Five slats from a pallet, two cut tacks, a copper pipe and some hardware for fixing are all you need to make this unique memo board.
You don't have to do any rework on the wood surfaces. Leaving them raw and differently stained will make the board background more interesting.
via The How To Home
20. Create a Stylish Wall Art Piece with a DIY Wood Wreath Sign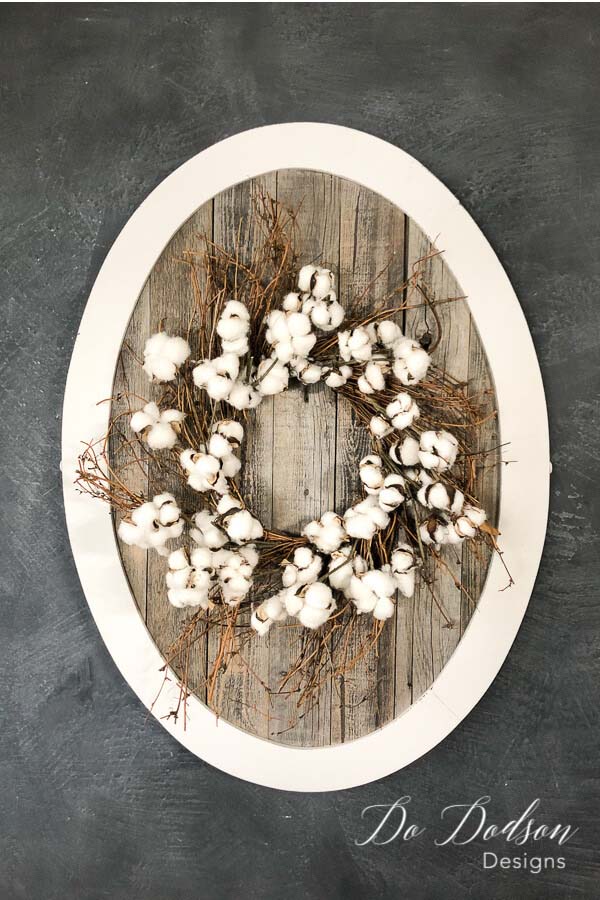 If you have a wood frame, use it to make this wood wreath sign.
Align the reclaimed wood slats over the frame and mark the internal diameter of the frame on them.
You can paint the frame in white to let the wall art pop out.
21. Welcome Guests with a Customized Wooden Sign

Signs are the easiest way to make the indoors or outdoors of your home more welcoming.
One of the easiest projects we found for you was this one, made from a slice of wood. The painted surface on one of the sides let you write and change the inscription any time you want.
via 17 Apart
22. Enhance Your Décor with a Narrow Sofa Table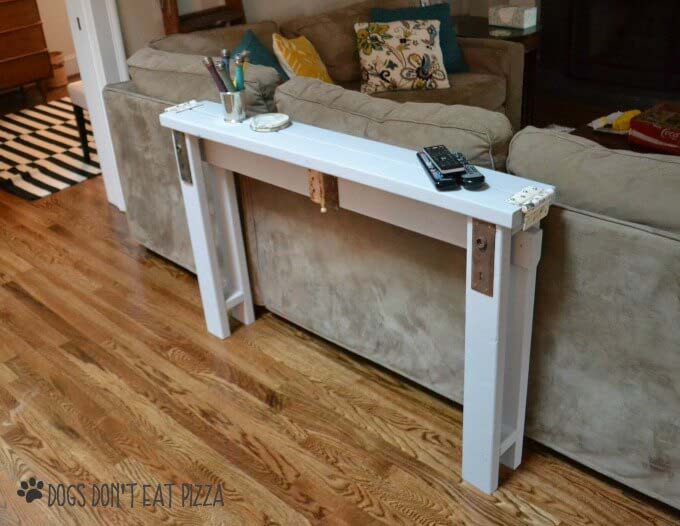 This sofa table is high but narrow which makes it a must for every living room. It can be used as a side table, as a remotes organizer or as a decoration display.
All you need to make it is 2×4 wood and hardware.
23. Create a Stacked Table Using a CNC Machine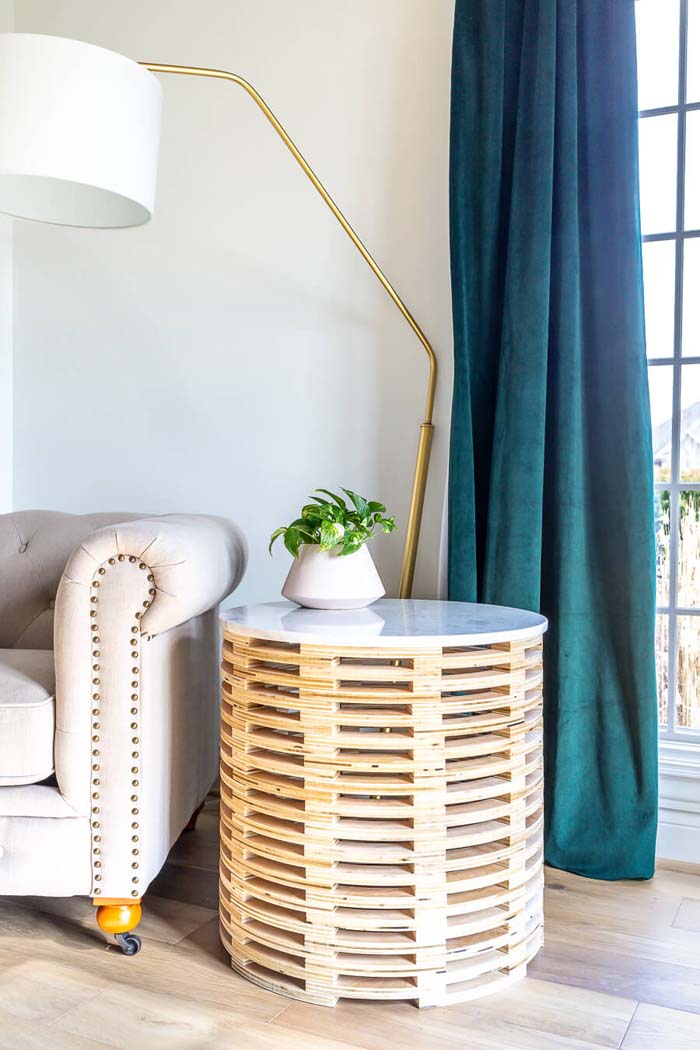 Making this stacked table doesn't require any special skills. The shapes you see are cut on a CNC machine.
The stacked base of the table is achieved by gluing the pieces in a pattern. The table top can be made out of the following materials- wood, metal, marble etc.
via Jen Woodhouse
24. Create a Rustic DIY Wood Tray for Your Home Décor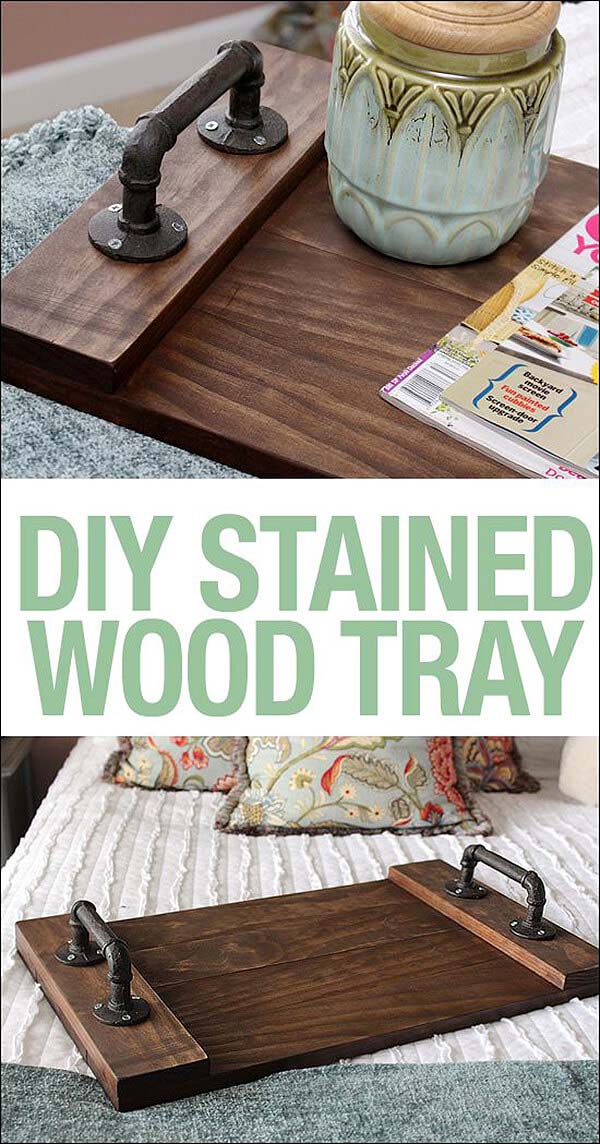 Some boards, screws, handles and stain make this DIY wood tray that every home must have!
Because of its amazing rustic effect, this tray can easily be repurposed and used as a table centerpiece.
25. Build a Farmhouse-Inspired X-Brace Bench for Your Bedroom

The free plans in the link below will let you easily build a fashionable bench for your bedroom.
The X-braces give it a modern twist while the finish of the wood reminds more of the farmhouse style.
via Anika's DIY Life
26. Create a Rustic Centerpiece with Repurposed Wood Beam

If you haven't found your rustic centerpiece at the thrift shop, make a brand new one that will look like a repurposed antique.
Cut a wood beam into sections that form the box. To achieve the weathered look, stain the wood in a dark color. Then apply a coat of white chalk paint. Once it has cured, start distressing random areas.
The finishing touch of this project is the handles. Get a pair of iron handles that will increase the aged look of the box.
via Love Grows Wild
27. Illuminate Your Porch with Wooden LED Lanterns

We always need to take care of the porch because it gives the first impressions for our homes and for ourselves to our guests.
These lanterns with LED candles will illuminate the porch and will make it very appealing.
via 100 Things 2 Do
28. Create an Inexpensive Sign Using Pine Wood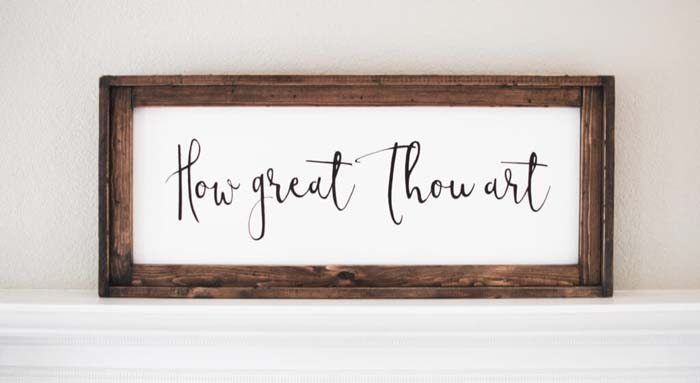 This sign is easy to make and very cheap. Firstly you need to decide what will be the inscription you want to show. Write it on a preliminary painted hardboard.
The rest of the work is to assemble the frame from pine wood cuts.
29. Create a Rustic Table with a Log Base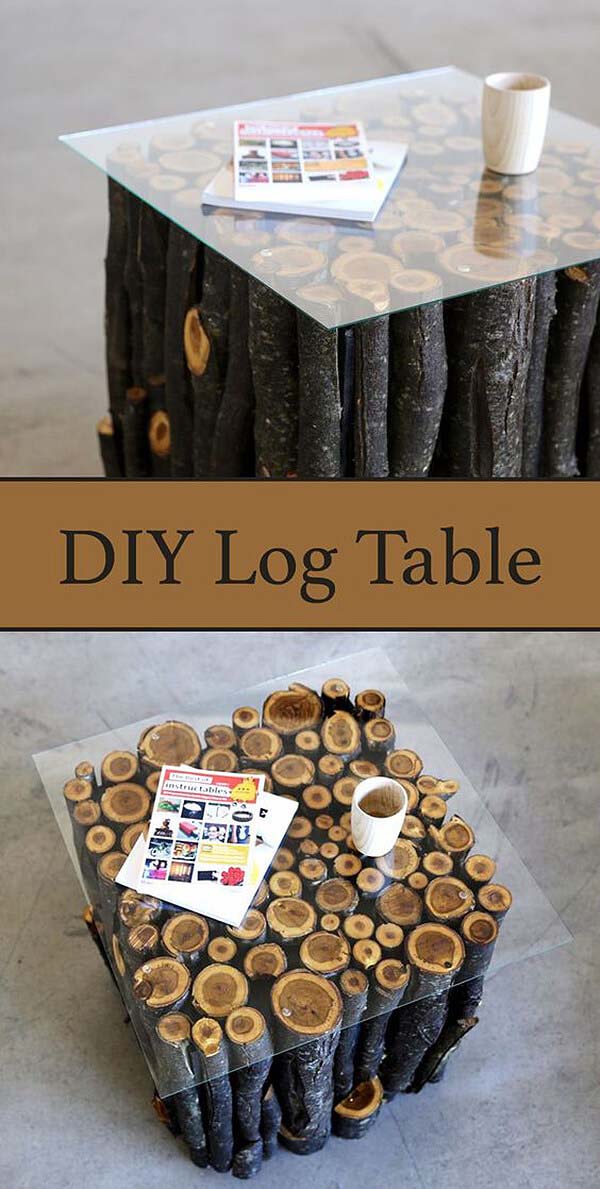 This amazing rustic table is made with everyday power tools so don't get mislead by its look. It is not a complicated project at all!
All the logs you see make it look like the entire base is made of them. This illusion is created by covering the sides of a wooden box with sticks and slices.
via Instructables
30. Transform Your Kid's Room with a Wooden Pumpkin Sign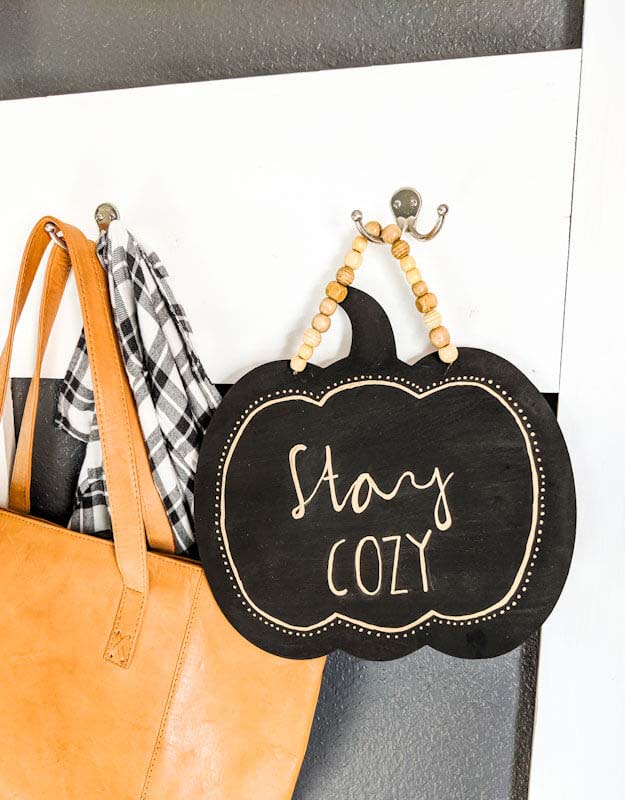 Halloween is just around the corner. If you need inspiration for your kid's room, find it here.
If you need an idea for an easy and affordable decoration for the rest of your home, make this pumpkin sign. Actually, it has been bought from the Dollar Store.
A small update has been made with chalkboard paint to let it be customizable.
31. Repurposed Crib-Shaped Basket Adds Charm to Home Décor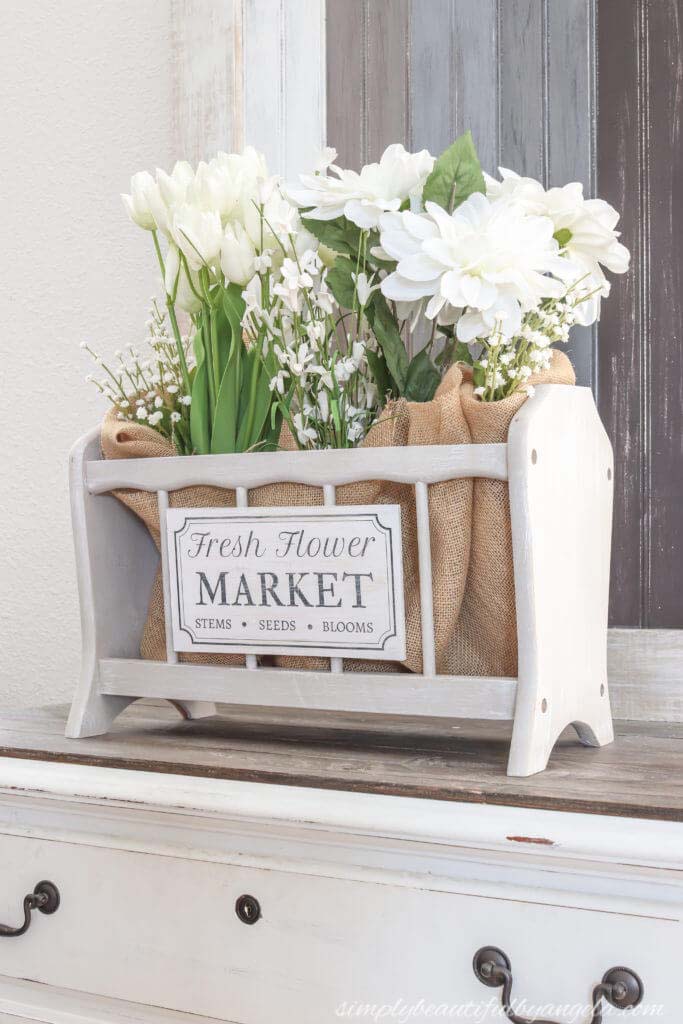 This small crib-shaped basket has been found at a thrift shop. That was a jackpot, wasn't it?
To make it look more attractive and useable as decoration, it has been repainted and designated with a sign.
via Simply Beautiful By Angela
32. Handmade Console Table with Exceptional Design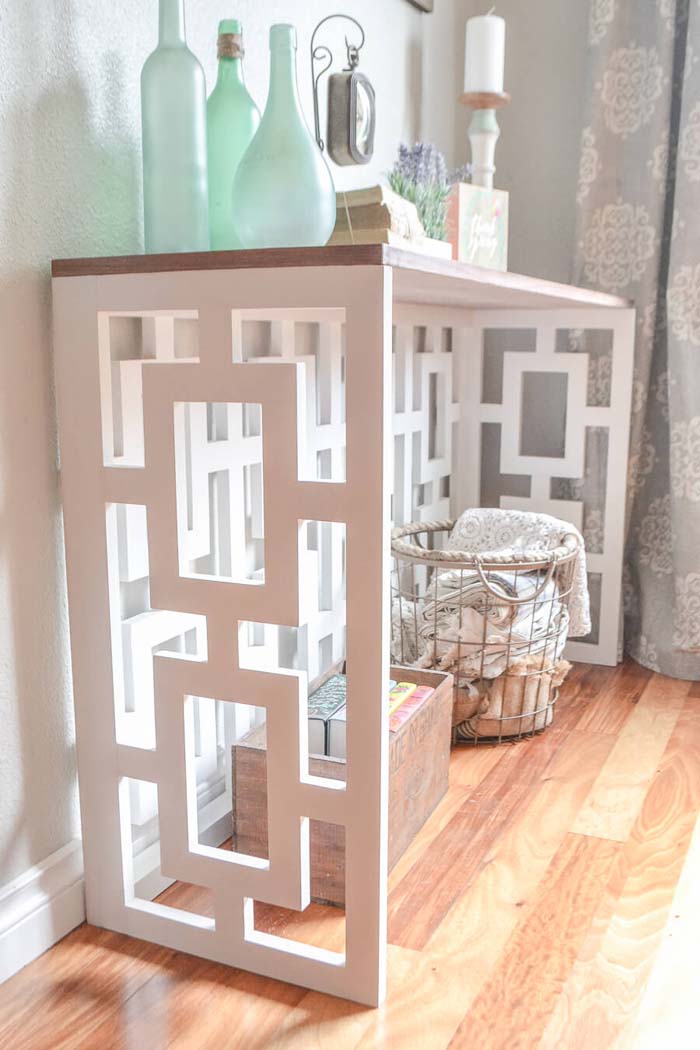 If we had such a console table, then it would have deserved a special place. Looking like specially built furniture from a high-end store, it is actually entirely handmade.
Leaving its design aside, it is also a very functional piece as there is plenty of space beneath for storage and also a rigid top.
via The Created Home
33. Construct an Elegant Mid-Century Wooden Pot Stand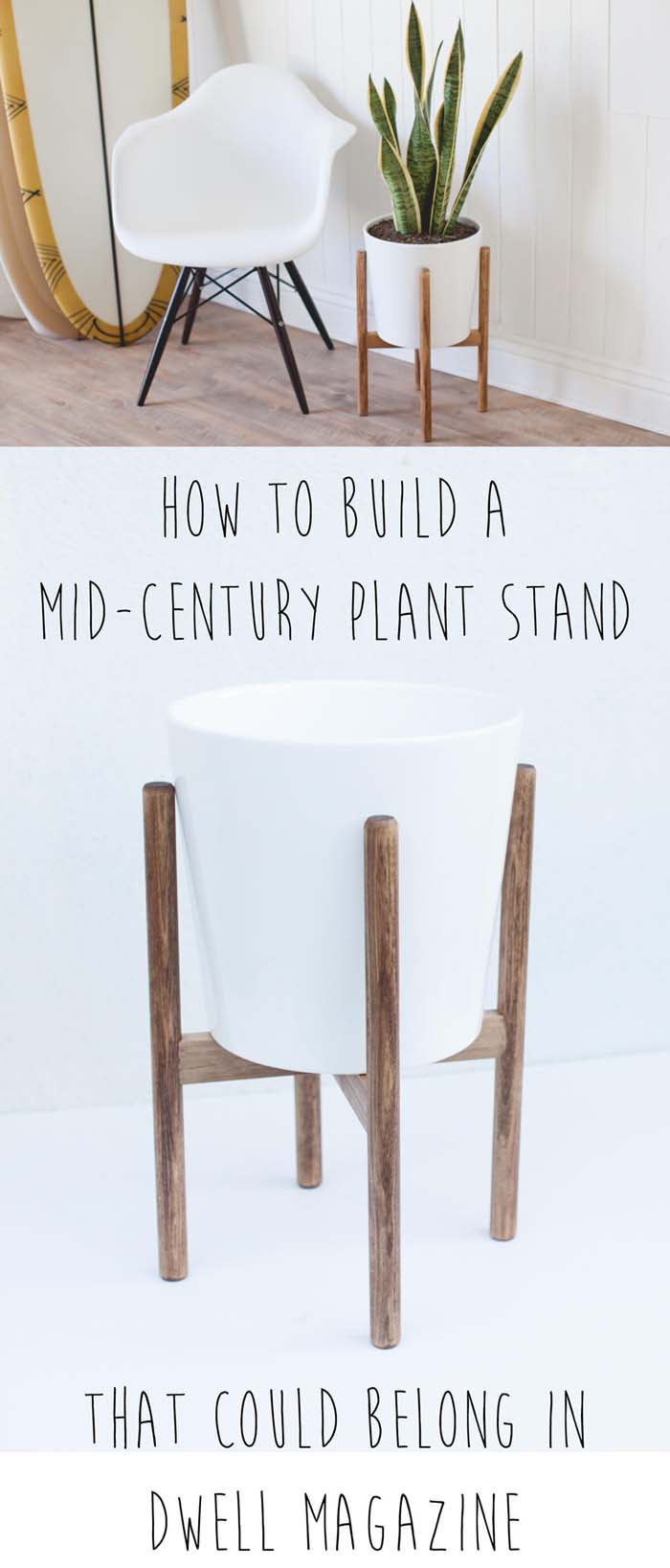 Placing your pots on a stand will let them become a more important part of the decor.
This handmade stand is suitable for one large pot only as it embraces it at four places in a very stylish way.
If you want to make it, prepare a wooden dowel, a pine board and tools to cut, drill and attach the parts.
via Ehow
34. Add Farmhouse Charm with a DIY Wooden Tray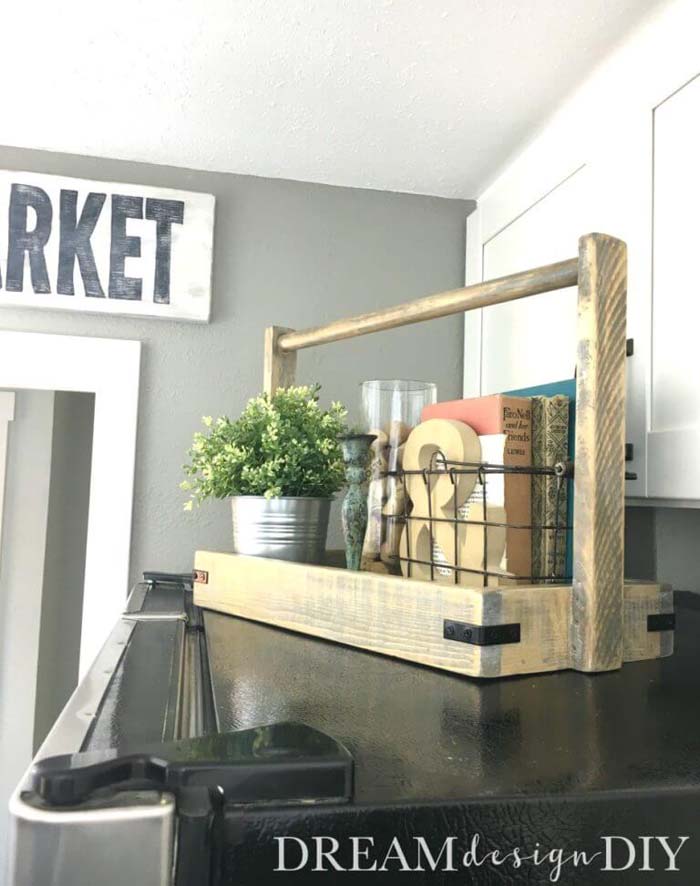 Whether used as a shelf decoration, as a table centerpiece or as a kitchen organizer, this DIY wood tray will add farmhouse charm to every space.
Made of wood boards, it looks like an aged container because of the layers of a few stains.
via Dream Design DIY
35. Create a Custom Sign with Paint and Plywood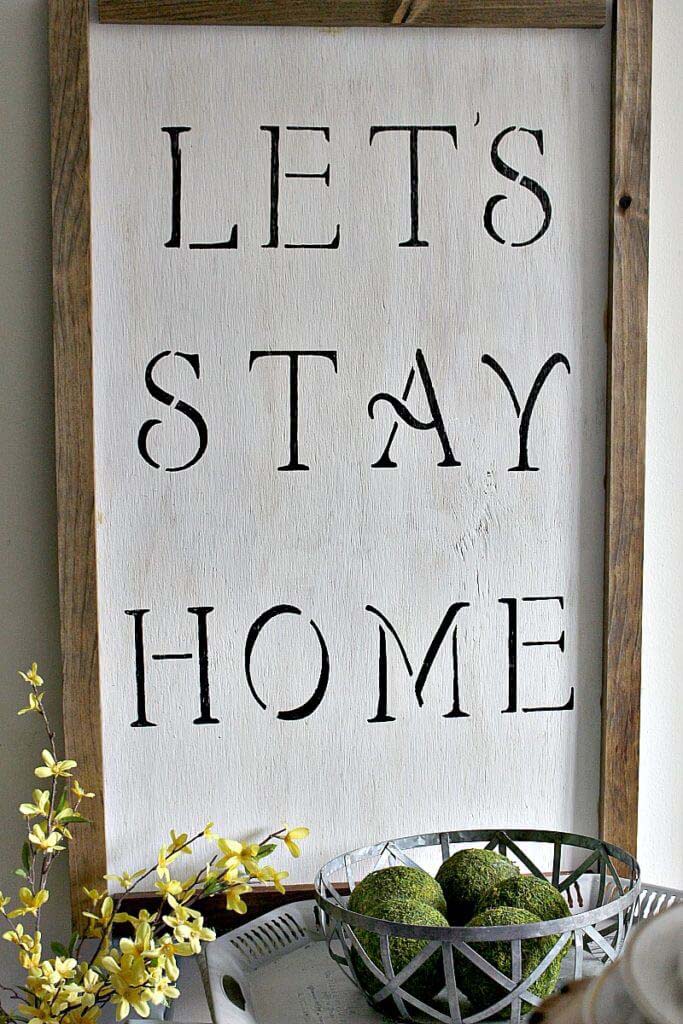 The plywood surface is very smooth and therefore suitable for DIY signs. Paint it in white to imitate canvas and to ensure contrasting background for the inscription.
The letters can be spray painted with a stencil. If you don't have such, use sharpies.
via Our Crafty Mom
36. Create a Cozy Bedroom with a Customized Headboard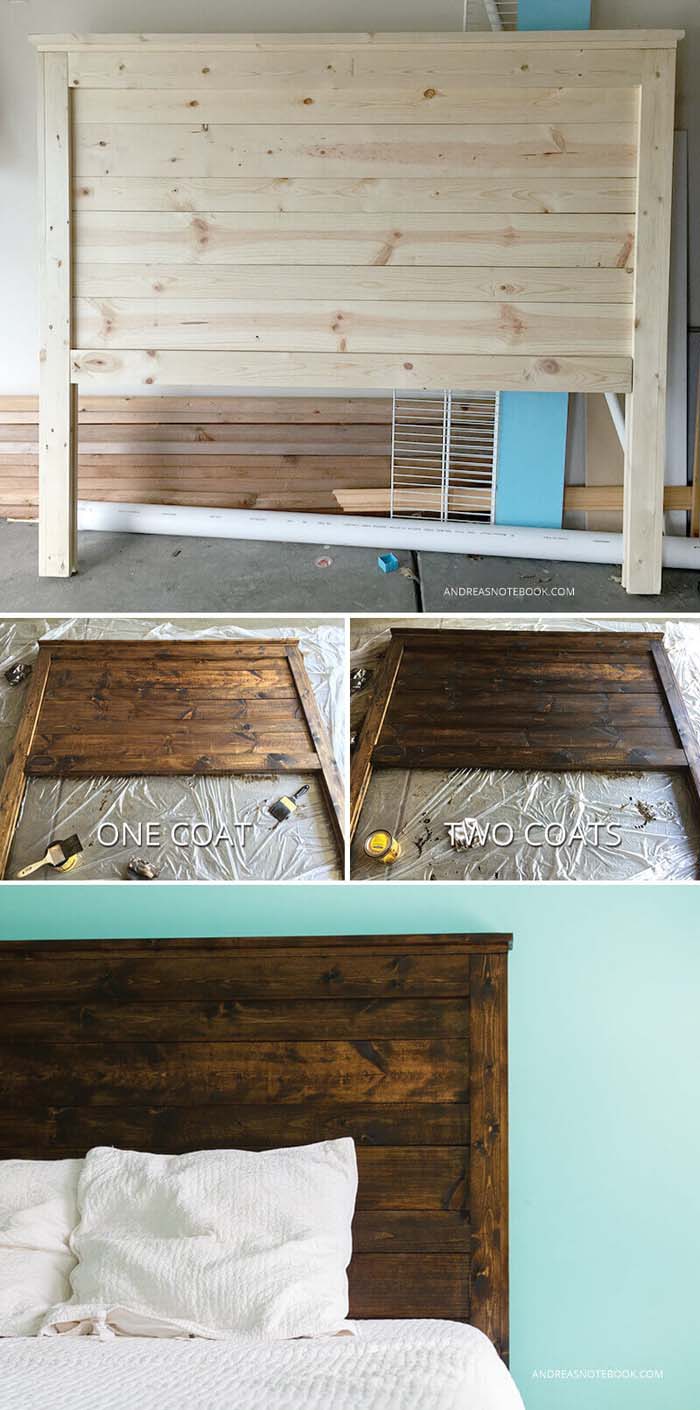 Make this headboard to create a relaxing and cozy atmosphere in your bedroom. It can be modified according to your bed's size.
Painting it in a dark stain will instantly give it a rustic effect. If at some time you need a change, just paint it in white or another color.
37. Unique Wood Slice Lamp with Yellow LED Lighting

Such a lamp can become an outstanding lighting feature for your living room inside or for your porch outside.
Made of wood slices and yellow LED light, it is supported by a post inserted through the center of each slice.
via ID Lights
38. Create a Wall Art with a Scrabble-Inspired Family Project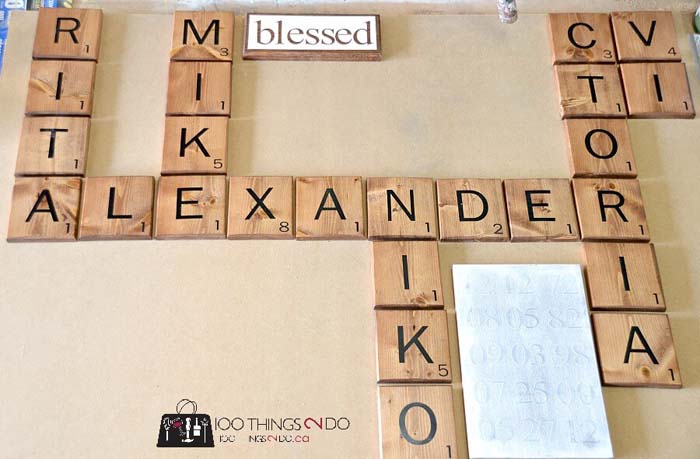 Use a game as an inspiration for wall art. The scrabble-based project gives you the opportunity to write the names of the family members or another word combination.
Cut the tiles from a wood board and then do some sanding and staining. When the surface is dry, paint the letters.
If you are wondering how to hang the tiles on the wall, there is a tip in the comments of the tutorial.
via 100 Things 2 Do
39. Create a Beautiful Clock from an Upcycled Wire Wheel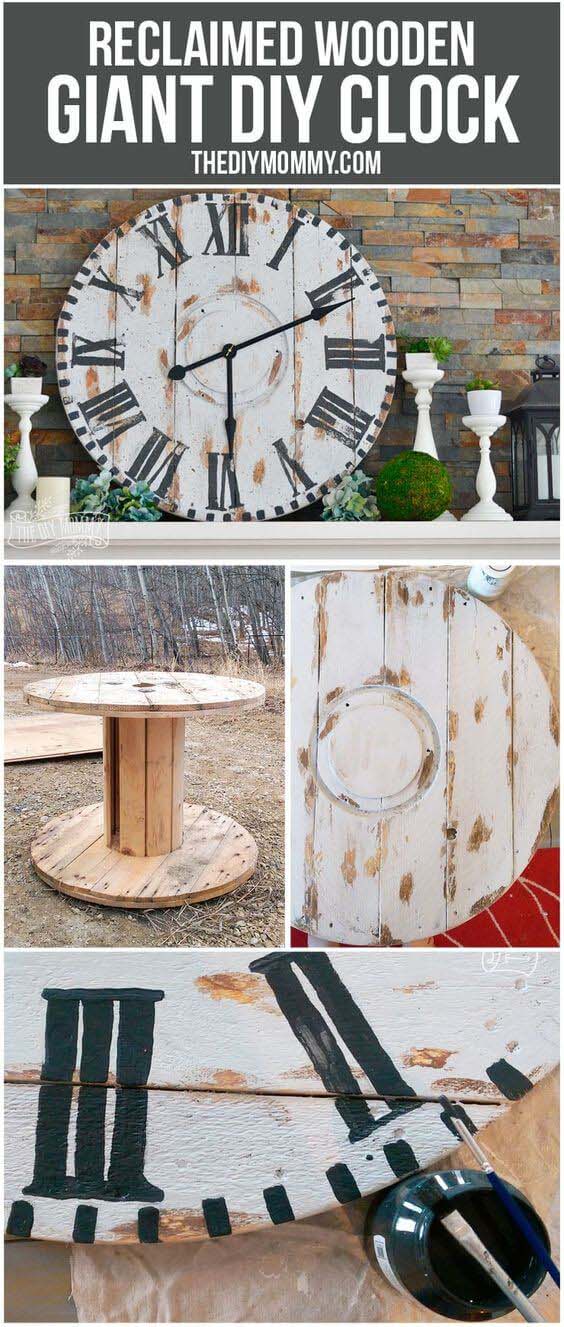 This is another creative project which upcycles the top of a wire wheel. All steps, including the painting and the clock mechanism installment, will take you only a few days.
It is totally worth it dedicating some time to this clock as you would otherwise spend hundreds on buying a similar product.
via The DIY Mommy
40. Capture Your Adventure Memories with a Special Display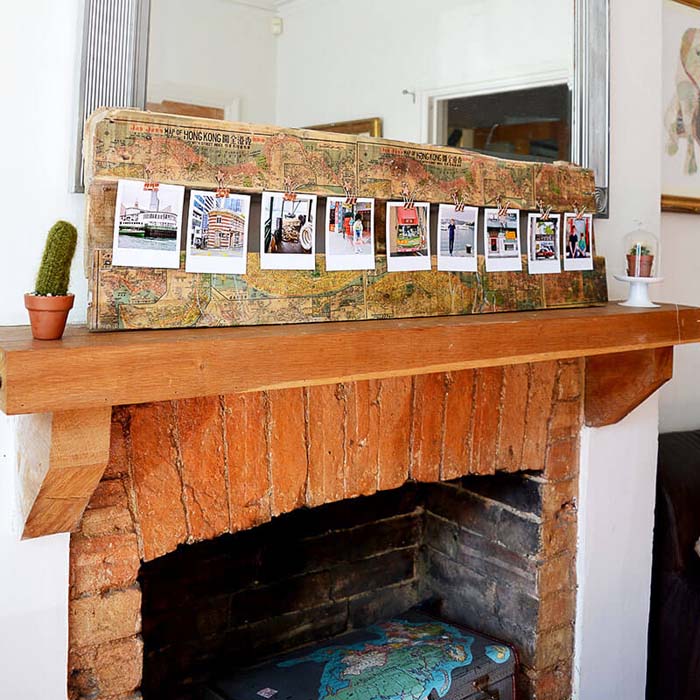 Are you an adventurer? Then you must have a lot of photos of the trips made. They deserve their special place in your home.
Make a special display for them at an old map background.
via Pillar Box Blue
41. Make a Trendy Wood Slice Table with Hairpin Legs

If you don't want to spend a fortune on the trendy wood slice tables, make yourself one.
You need to buy three hairpin legs and cut a wood slice. The finished table looks fantastic- a mix between rustic and modern which makes it suitable for all types of interior.
via Tattered Style
42. Craft a Rose-Adorned Heart Decoration with Wooden Slats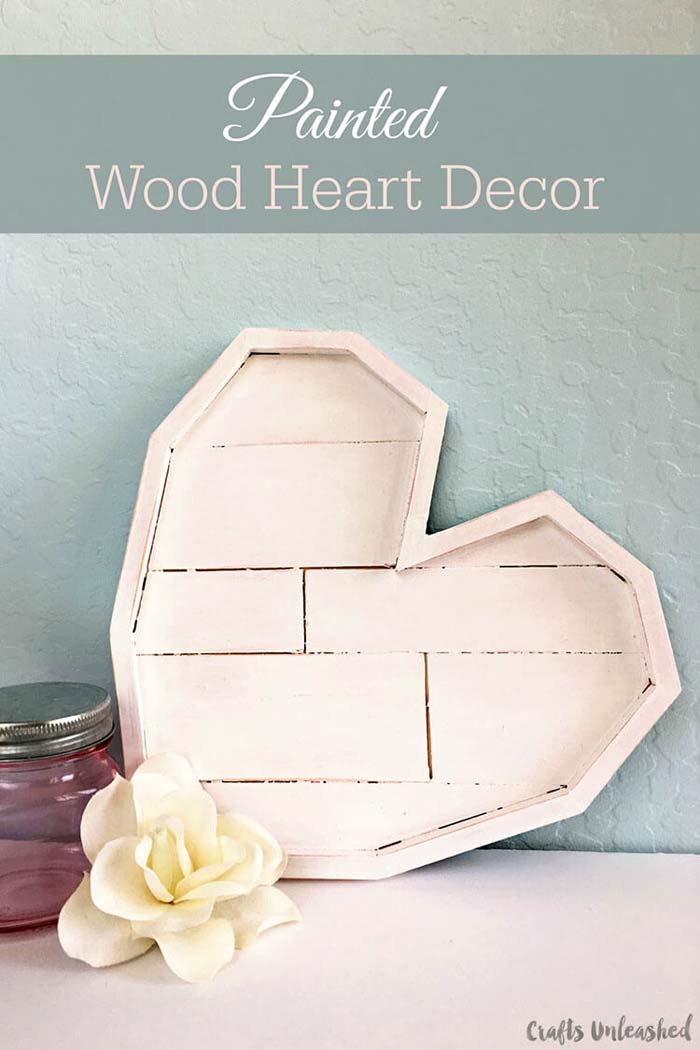 A few wooden slats or a board will be sufficient material to make such gentle heart decoration.
Cut them in pieces to form the shape of a heart and also to fill the inside of the frame.
To achieve the light rose accents, apply pink paint as the first coat and then a thick layer of white color. Sand at different places to let the shy pink show.
via Crafts Unleashed
43. Handcrafted Plywood Candles with Tea Light Centers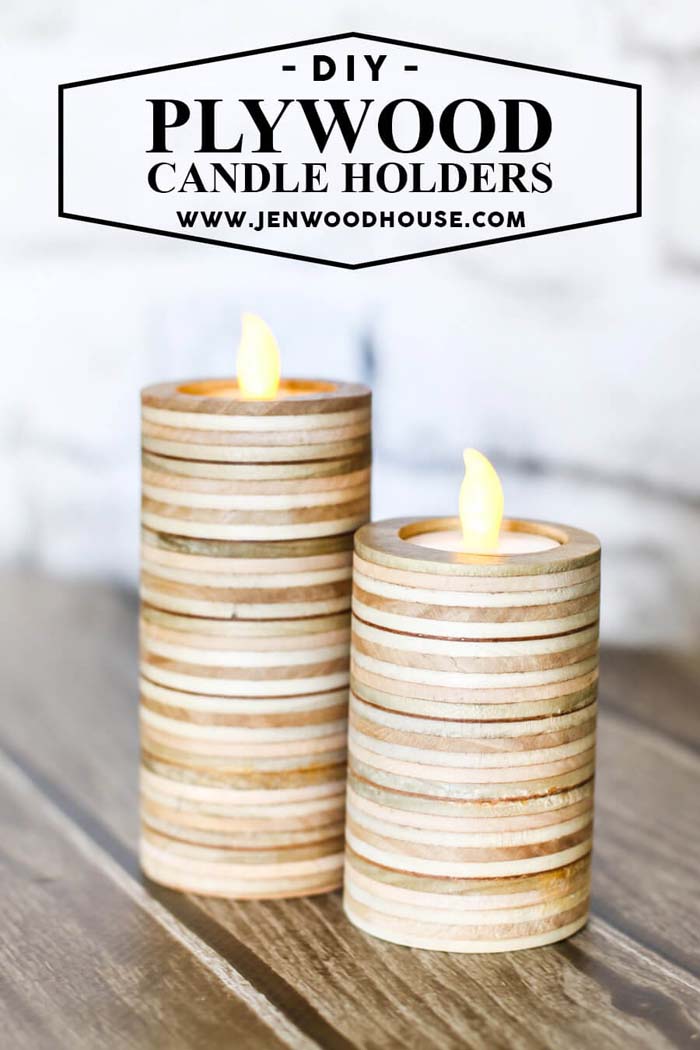 These beautiful candles are made of scrap plywood cut with a hole saw.
Each slice is stacked over another with glue until the desired height is achieved. To make a large hole in the center and make a place for the tea candle, drill with a Forstner bit.
via Jen Woodhouse
44. Build a Rustic Farmhouse Sign with a Cutting Board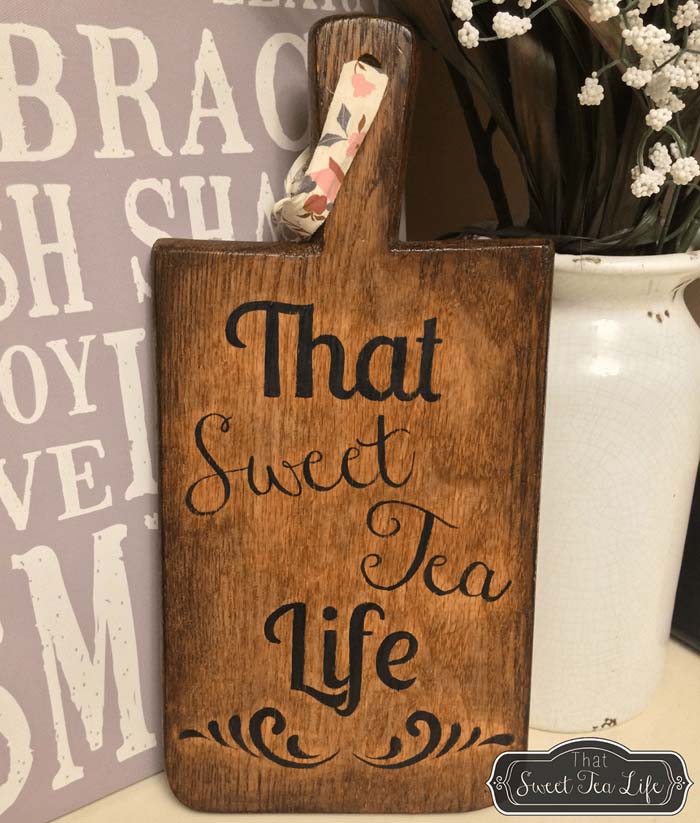 Use a cutting board as a background for inspiring thought. Bu repurposing this kitchen accessory, you will make a fantastic farmhouse sign that can be either hung or aligned against a corner.
Use the described transfer technique to mark the positions of each letter. Then trace them with paint.
45. Transfer Photos onto Wood Plaques for Personalized Artwork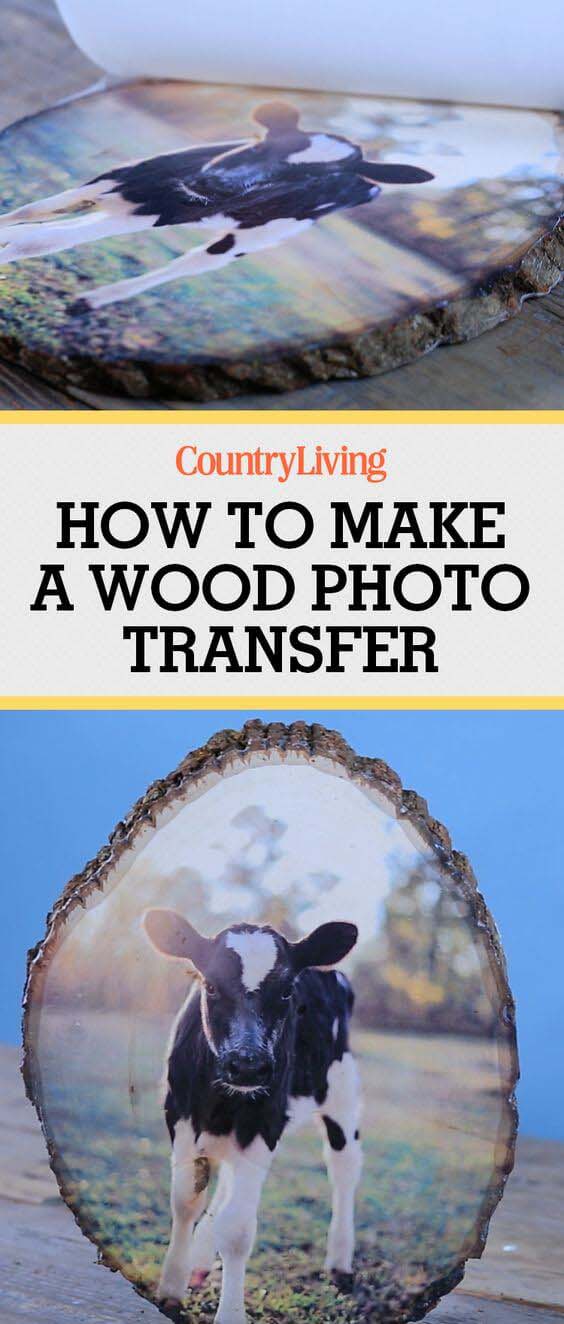 Any wooden surface could be turned into artistic and personalized art.
Pick up a photo and transfer it nicely and tidy onto the wood surface following the technique and tips below.
via Country Living
46. Zigzag Shelf for Utilizing Unused Corners and Defining Space

This handmade zigzag shelf could be called a piece of multifunctional storage furniture. Due to its shape, it is perfect for utilizing a corner that would otherwise be useless.
Because of its protruding shelves, it serves also as a definer of the space.
47. Make Your Own Set of Festive Wooden Christmas Stars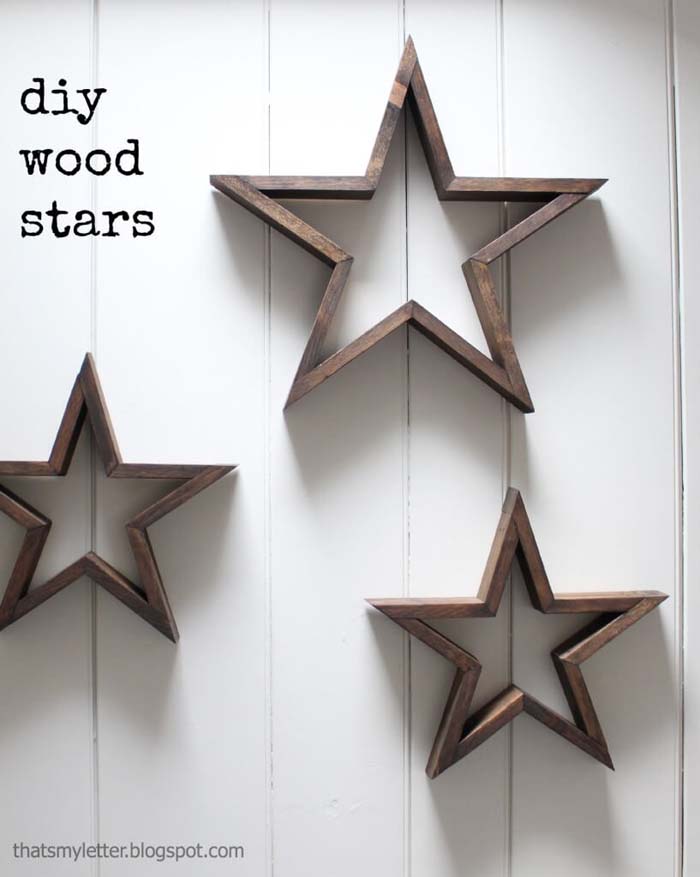 These stars are suitable for a nursery room wall decor or for a Christmas-themed decoration in the living room.
Take advantage of the free cutting pattern and instructions on how to easily make a set of stars for your home below.
via Rogue Engineer
48. Create a Farmhouse Look with Reclaimed Wood Valances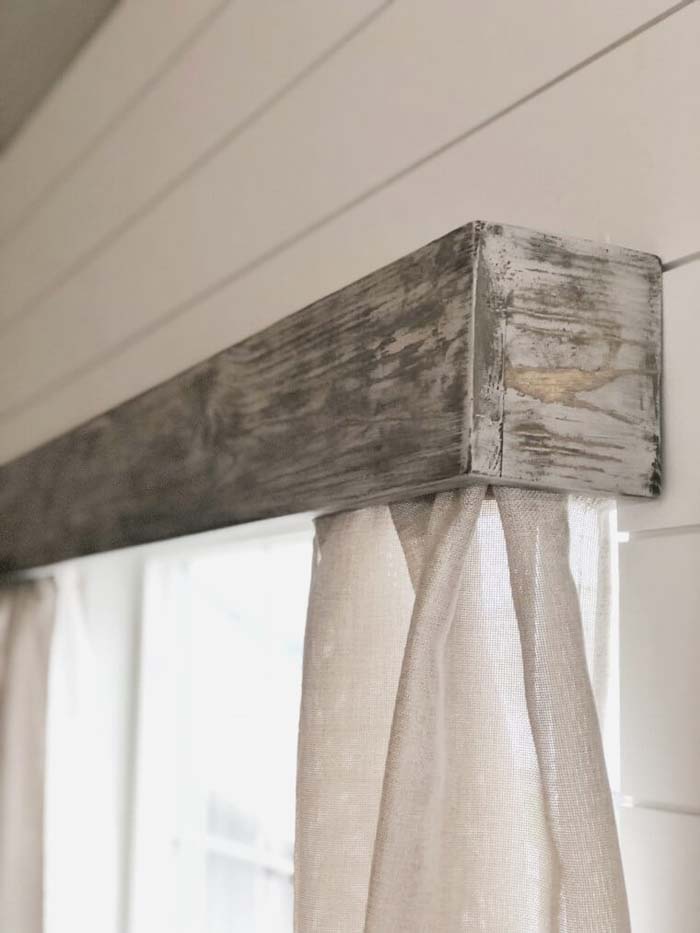 These valances are an easy way to add a farmhouse charm to your living room.
You can make them from reclaimed wood or from new beams. In the latter case, you would have to do some painting and distressing to achieve the weathered look.
49. Make an Impactful Decoration with Wood Rounds and Stencils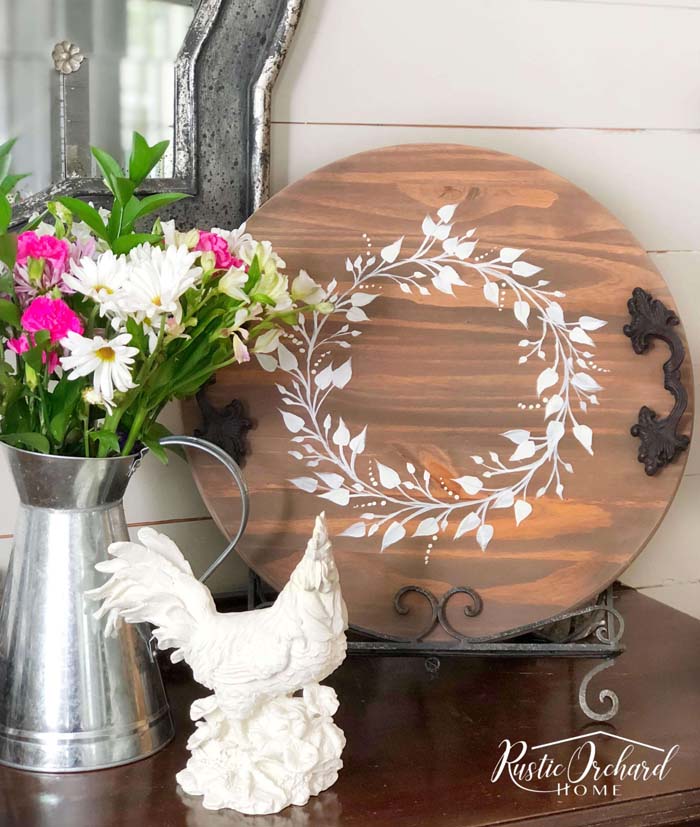 Do you like the simple but impacting decoration? Well, this one is just this!
Get a wood round from a hardware shop and get prepared for the harder part- the hand painting.
If you don't feel ready for this or if you are not that good at drawing, use a stencil.
50. Craft Wooden Boxes to Enhance Mason Jar Light Fixtures

One of the most attractive usages of Mason jars is turning them into light fixtures. To hide the cable tracing, make a box structure from a wooden board.
This structure will enhance the uniqueness of the lights and will give a rustic vibe to the room.