22 Best Christmas Living Room Ideas
Fortunately, when it comes to decorating your living room, there is no shortage of inspiration—the creative Christmas living room decor ideas here will be all you need.
To help you celebrate the holidays in style, we've gathered more than 20 fashionably festive living rooms—from marvelous mantels to cheerful coffee tables and everything in between, the following ideas are sure to keep your space merry and bright.
1. A Wintry Mix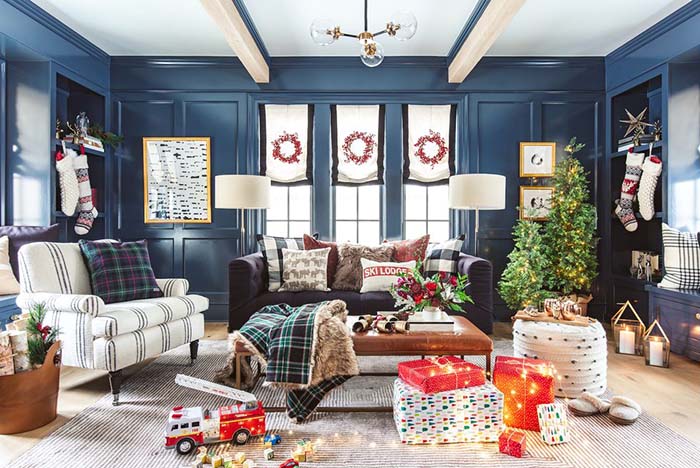 Contrary to popular belief, you don't have to cover your home in snowflakes and mini-Santas for it to feel festive.
Havenly strikes a balance between stylish and seasonal with a mix of buffalo check and Fair Isle patterns.
via Elle Decor
2. Neutral Colors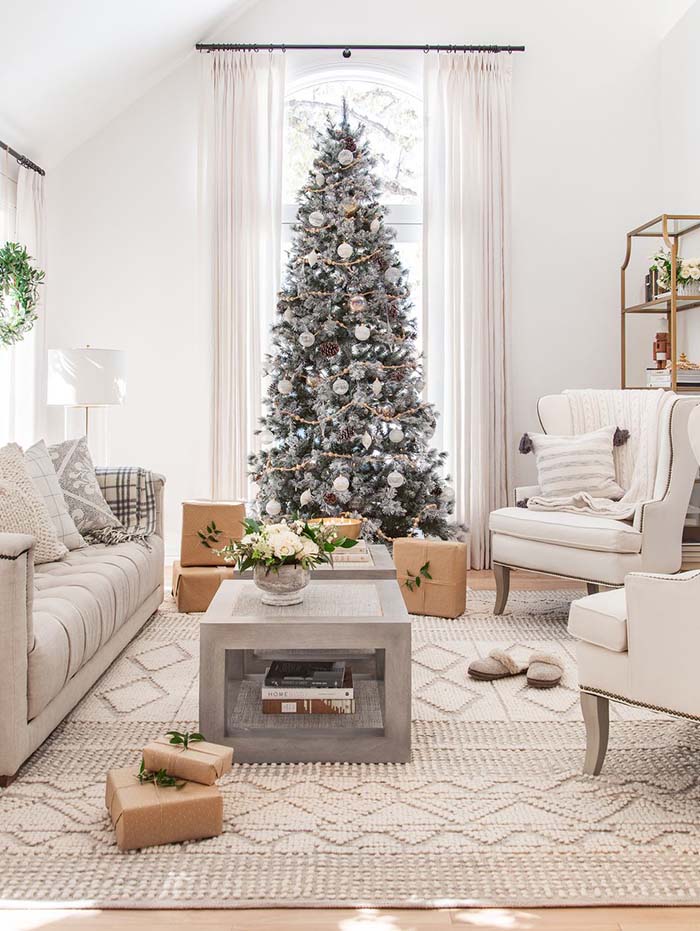 Want to bring the winter wonderland indoors?
Take a cue from Havenly and add natural elements to your tree like pinecones and snow dust.
This is one setup that deserves Mother Nature's seal of approval.
via Havenly
3. Blue Christmas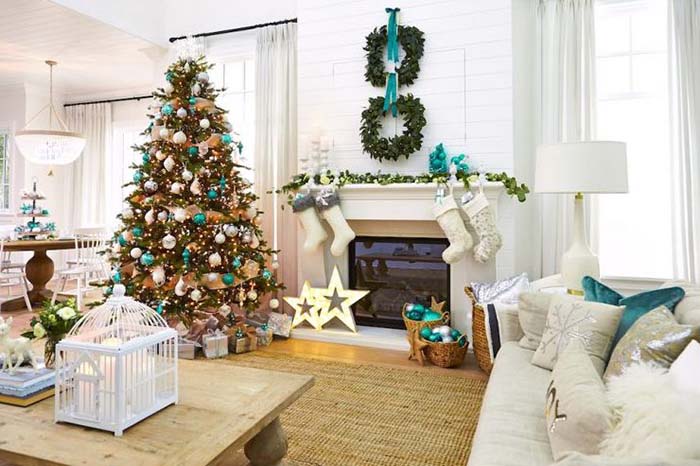 Or if you prefer to make a statement with one color, try cooler blues.
As this room from Monika Hibbs proves, a touch of teal can be a refreshing alternative to the traditional Christmas palette.
4. Dark Green Accent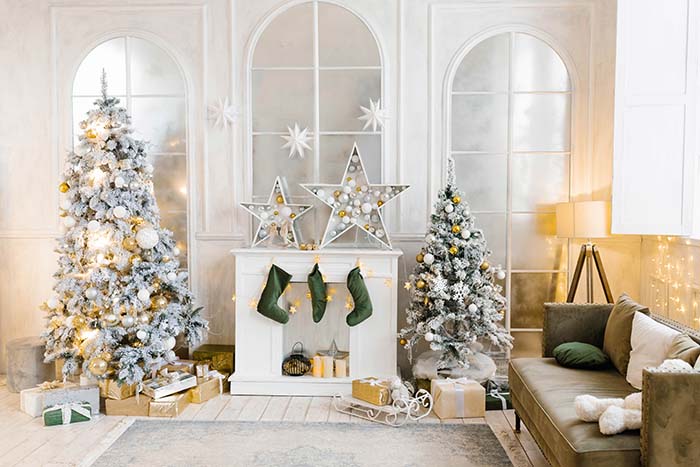 Use accent colors and ornaments like dark green, gold and silver. They will add more texture and will create an original Christmas theme.
5. Ornament Overload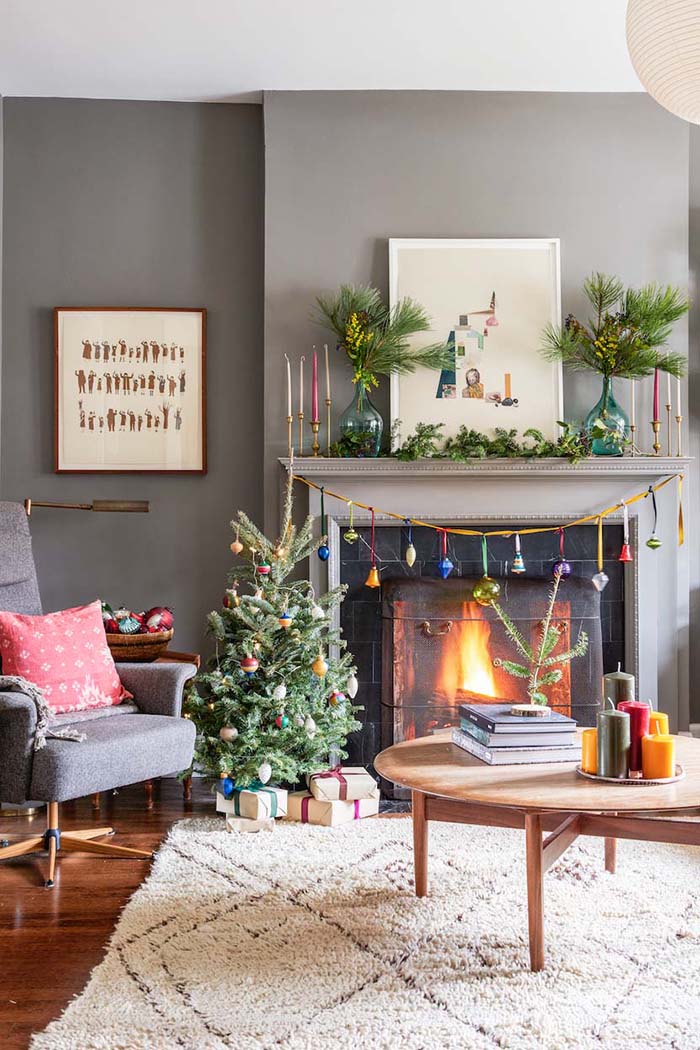 String any extra Christmas tree ornaments along the mantel for an unexpected garland.
You can also place them in bowls on end tables around the room.
6. Cheerful Christmas Setting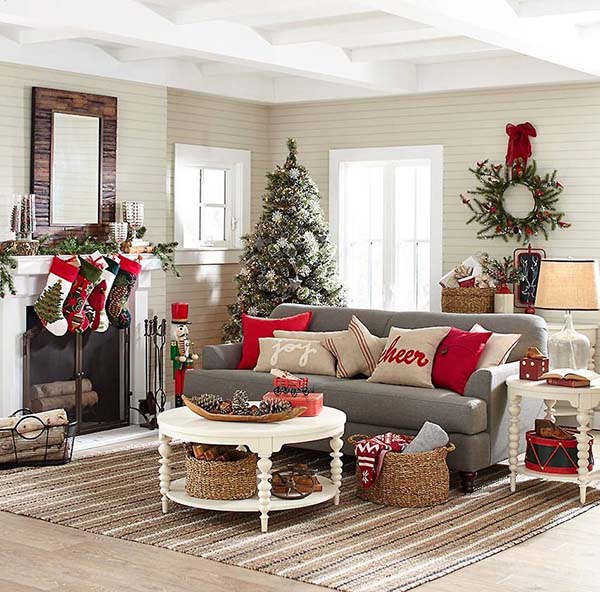 Photo:Credit
I'd like to wrap my collection of cozy Christmas living rooms with this decor design inspired by the timeless red-and-green combination.
Crafty evergreens on the fireplace mantel and birch logs in the fireplace set a whimsical stage for joyful red stockings and chic accent pillows.
7. Fairy-tale Living Room Space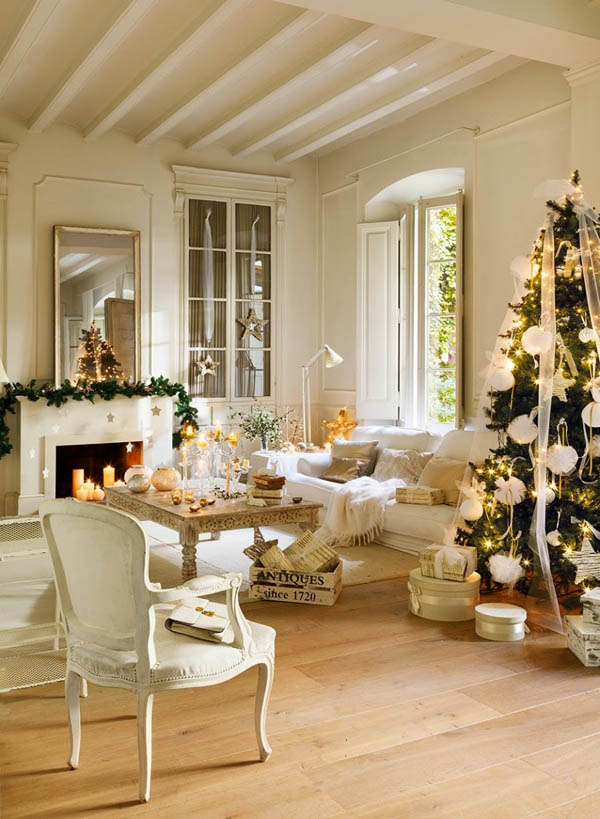 Photo: Credit
Here, the abundance of golden accents, candles and evergreen branches are a perfect complement to this fairy-tale Christmas living room.
This subdued interior is been inspired by Scandinavian interior design.
8. Sophisticated Christmas Design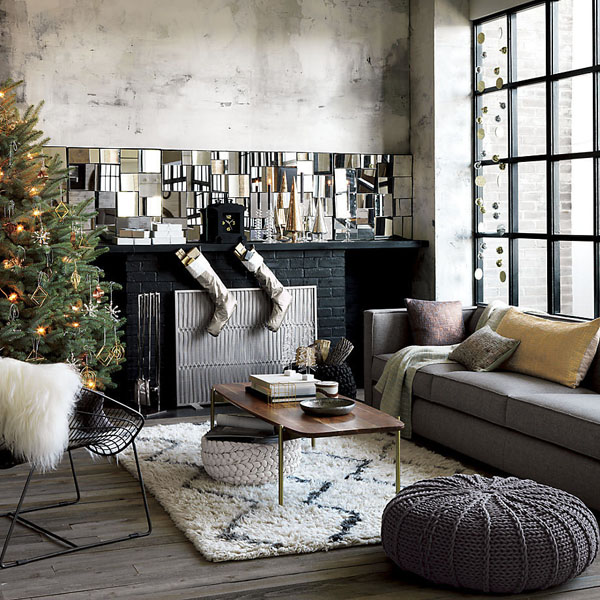 Photo: Credit
For a more formal sitting room space, it's a good idea to keep things simple with low-key Christmas decorations.
Here, for instance, the gracious Christmas tree becomes the room's focal point, bearing a delicate assortment of vintage ornaments.
9. Go for Traditional Colors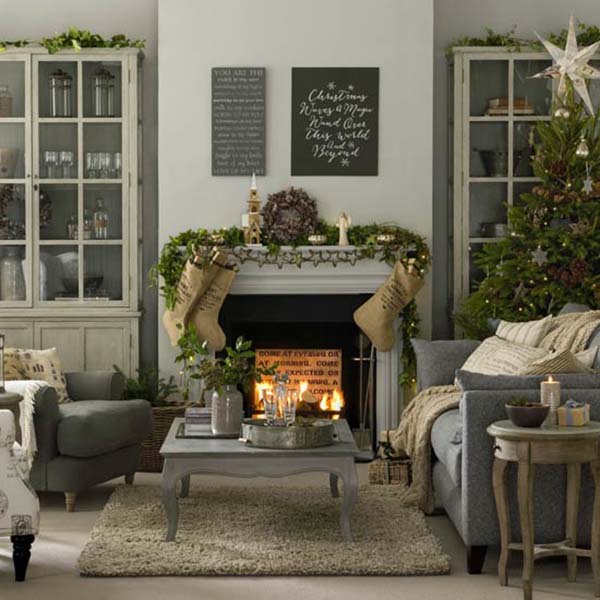 Photo: Credit
The crisp chocolate-and-soft-grey color scheme of this vintage Christmas living room will keep all guests' eyes, while fun touches like the evergreen garland and rustic wall signs add hints of Christmas playfulness.
It's surely one of my most favorite Christmas living rooms ideas!  😉 It's more on the natural Christmas side, though.
10. Christmas Stockings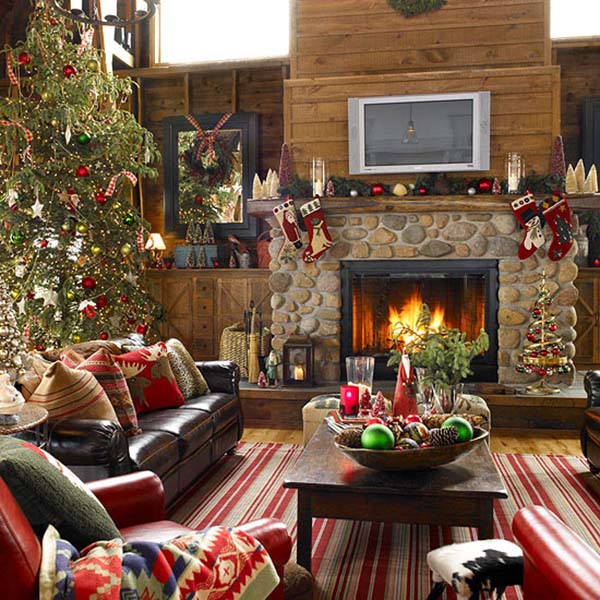 Photo: Credit
Here is a typical design idea for country Christmas living rooms!
Christmas stockings hung by the fireplace are an essential part of the traditional Christmas living rooms.
Gladly, today the stockings are available in all fabrics, colors, and designs to suit your personal likings.
11. Tall Mirror Above the Fireplace Mantel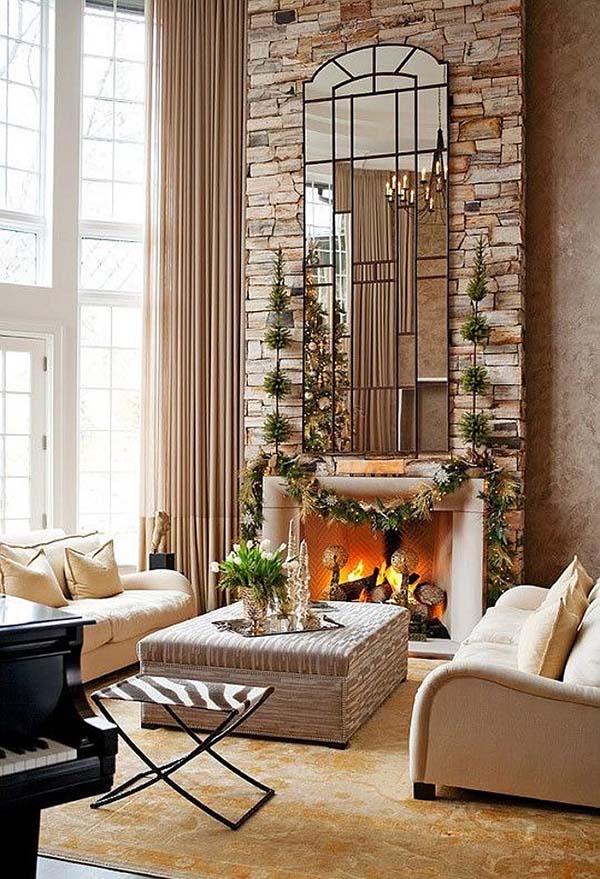 Photo: Credit
If you are desperately looking for some cool Christmas decorating ideas for small living rooms, take a look at the picture above!
Installing a tall mirror above the fireplace mantel will make the entire place looks more spacious. Plus, it adds some sparkle.
Aside from its pure drama, I just love how the mirror appropriated its linear pattern from the lines formed by the stacked stones of the fireplace.
12. Magical Christmas Living Room Decoration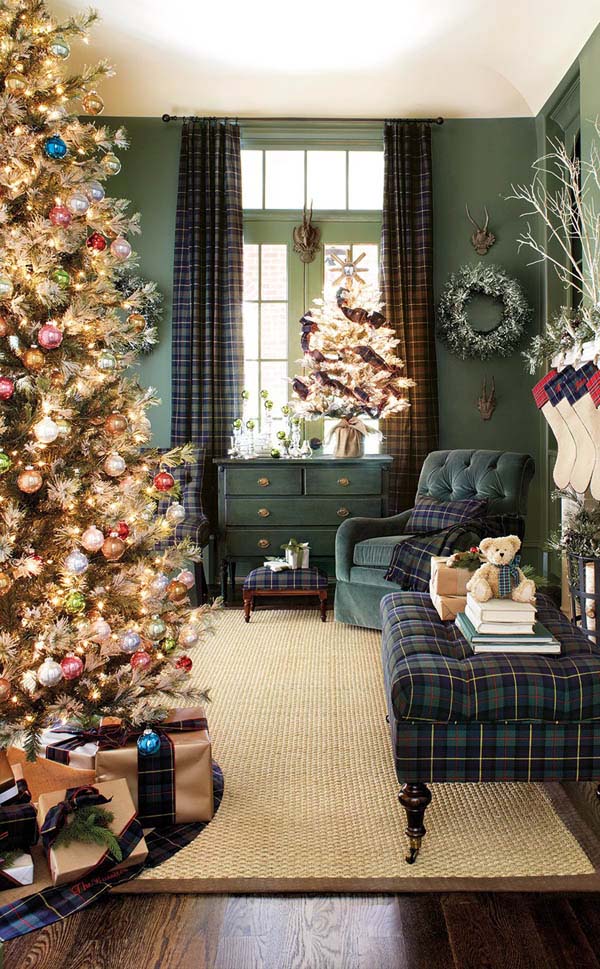 Photo: Credit
The internet is full of beautiful Christmas living rooms ideas, however, it is also important to re-create a decor that gives additional warmth and coziness to our sitting room space.
What else is better than wrapping the holidays in cheery tartan plaid and topping it all with some gold shimmering ornaments.
13. Scandinavian Style Xmas Decor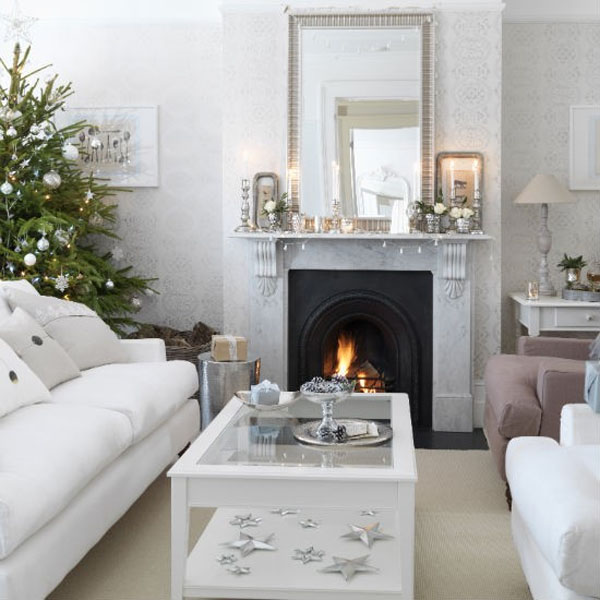 Photo: Credit
The simple colors palette recalls the snow-topped forests of Norway, pairing well with the dirty white sofa and evergreens.
A bunch of metallic decorative stars and candleholders finish the sophisticated look while retaining a laid-back feel.
14. Make Use of Every Space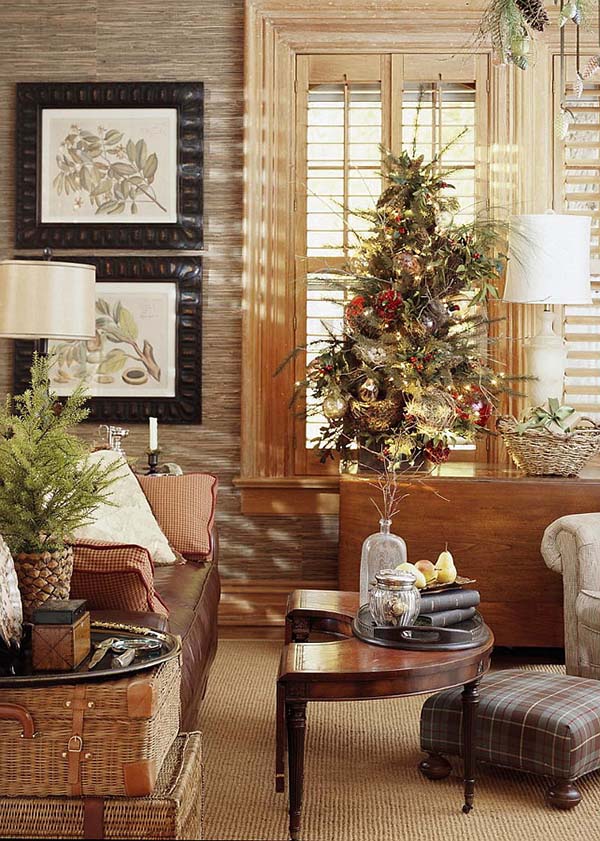 Photo: Credit
A simple cozy arrangement can set the stage for your entire living room space, and it's a great way to enhance your vintage home decor.
For instance, why don't you display a teeny tiny faux Christmas tree with a bunch of old-fashioned large glass Christmas balls?
15. Festive Decoration for a Rustic Living Room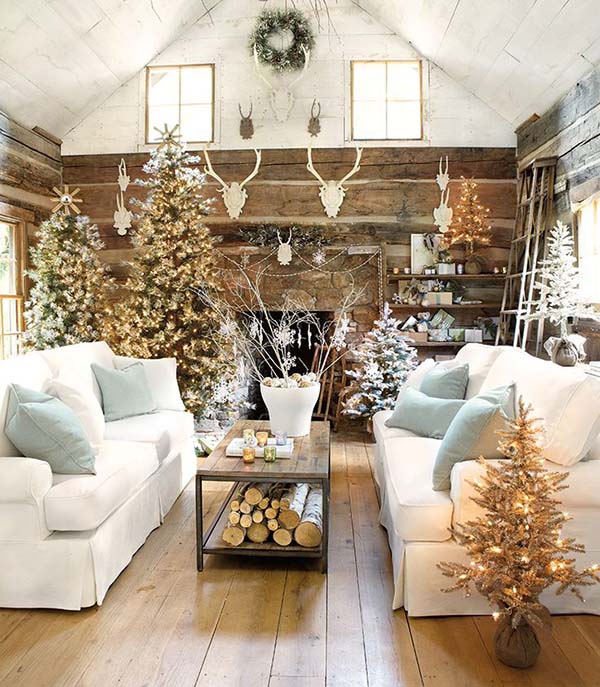 Photo: Credit
Even though the traditional red-and-green scheme has led the Christmas living rooms, this rustic style sitting room proves that your existing interior design and color palette can inspire the most charming of holiday themes.
Wood, white, gold, and gray combine together in both ornamental and everyday vignettes for a design that feels both unpretentious and stylish.
16. Additional Shine with Metallics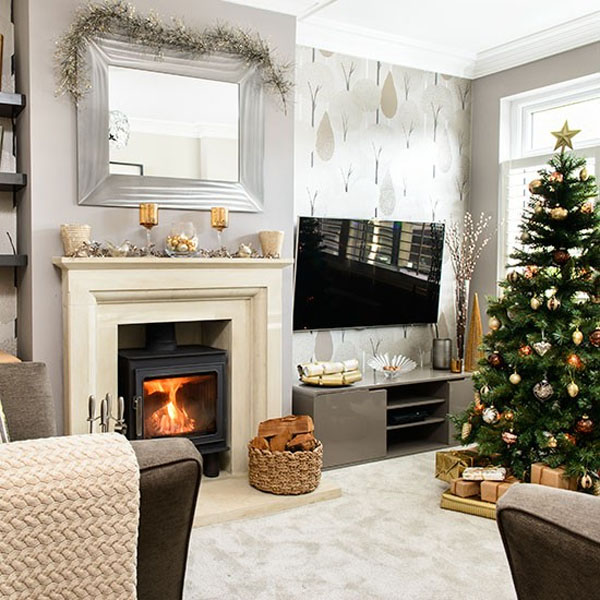 Photo: Credit
Most of the design ideas for elegant Christmas living rooms have some metallic decorations for a look that is both festive and smooth.
Besides, the metallic wallpaper in the alcoves is an ideal option for neutral homes—the all-year-round decor will look like it was made especially for your Christmas living room.
17. Christmas Decor around the Fireplace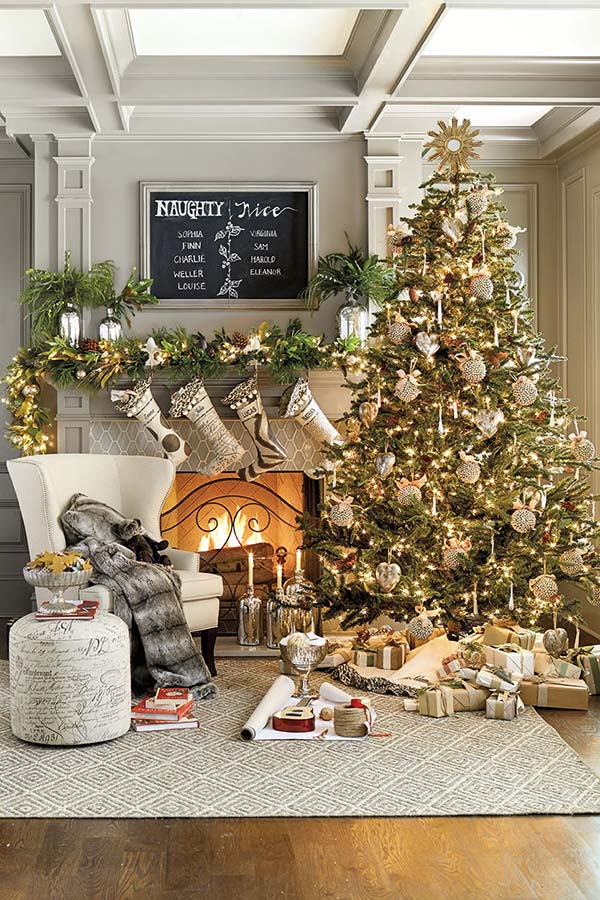 Photo: Credit
Often the best place to begin decorating your dream Christmas living room is the natural centerpiece of the living room area.
In this case, the fireplace acts as a natural base and is brought to the forefront thanks to a beautifully decorated Christmas tree, shimmery elements, festive greenery and a pinecones-accented garland across the mantel.
18. Let the Bold Accents Rule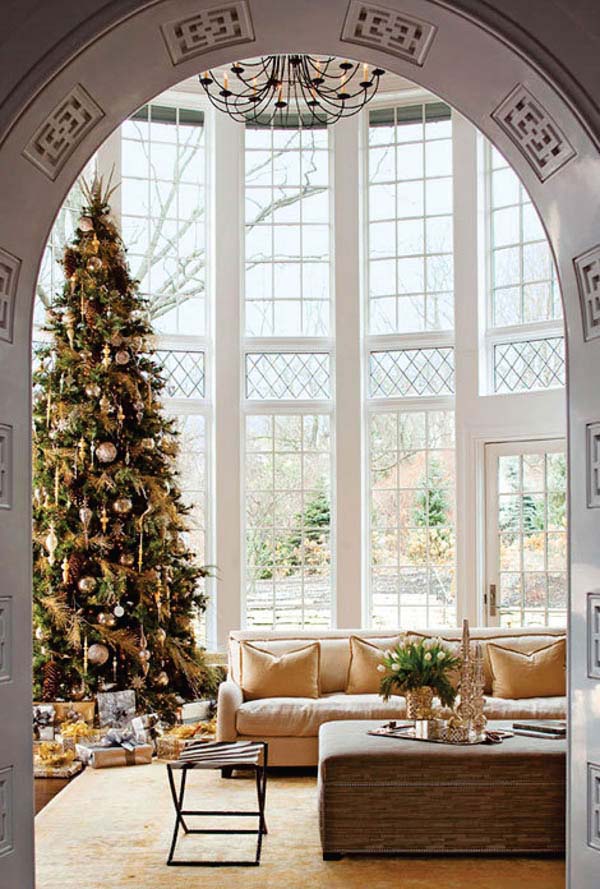 Photo: Credit
I've seen tons of pictures of living rooms decorated for Christmas and the ones that I really liked have some bold accents.
For instance, the large golden color festive tree serves as the perfect starting point for a fun and festive Christmas living room.
19. Neutral Colored Living Room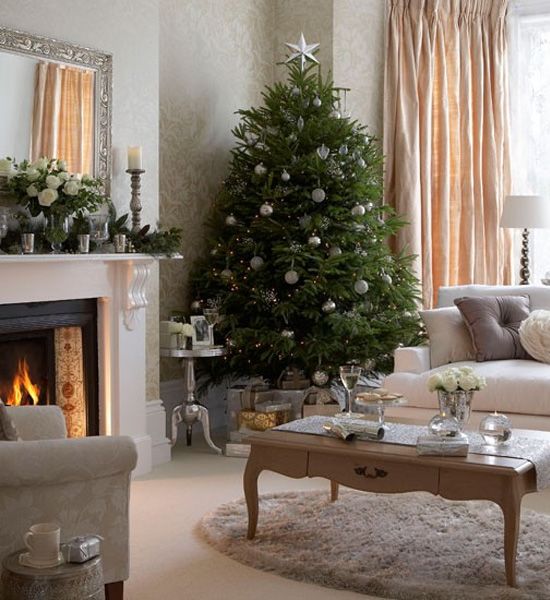 Photo: Credit
A delightful Christmas tree complemented by eye-grabbing mantel décor lends a festive look to this adorable living room.
An area rug, throw pillows, a side table, and accessories add texture, visual interest, sparkle, and elegance. Definitely a space with dashes of the magical Christmas spirit.
20. Coastal Decor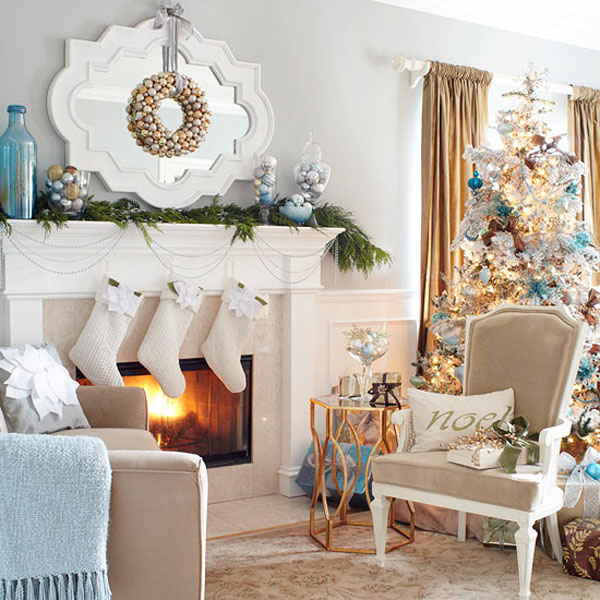 Photo: Credit
A mind-blowing Christmas tree immediately grabs the eye in this charming living room with coastal-inspired Christmas décor in blue, silver and gold.
Furniture and accessories lend the space an elegant, sophisticated look. Greenery adds color and freshness.
21. Red Accented Living Room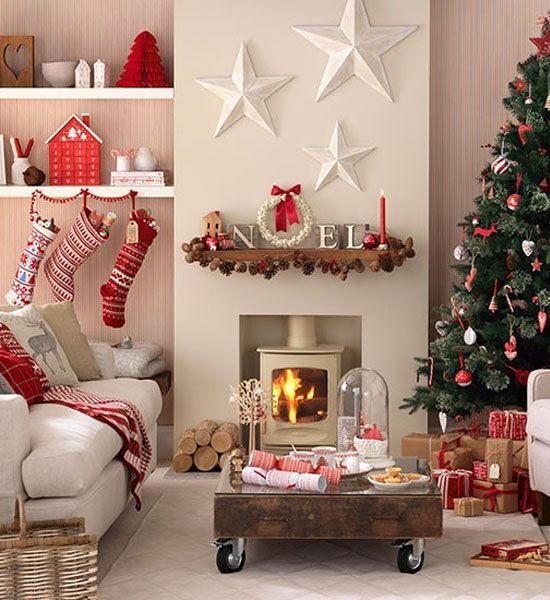 Photo: Credit
Budget-friendly décor in the traditional red and white lends the space a festive look. An arrangement of stars over the mantel creates a lovely focal point.
A portable low-level coffee table adds to the functionality of the space. What's not to love in this living room with a distinctive organic feel!
Checking out my 16 gorgeous Christmas living rooms ideas is a smart way to get inspired and consider how to decorate your halls this year. Because when it comes to Christmas decor, there shouldn't be undesired surprises risking to destroy your festive spirit!  😉