23 Beautiful Christmas Kitchen Decor Ideas
When it comes time to layer in Christmas decor throughout the rest of your home, make sure to add an extra dash of holiday cheer to the hub of the house—the kitchen.
There's so many ways you can add some awesome Christmas Kitchen decor to your home. You can hang wreaths on the cabinets, fill glass jars with candy canes, or decorate a tiered stand with your favorite holiday treats.
Those are just a few of the festive kitchen decor ideas we're sharing today!
1. Bright and Cheery Christmas Kitchen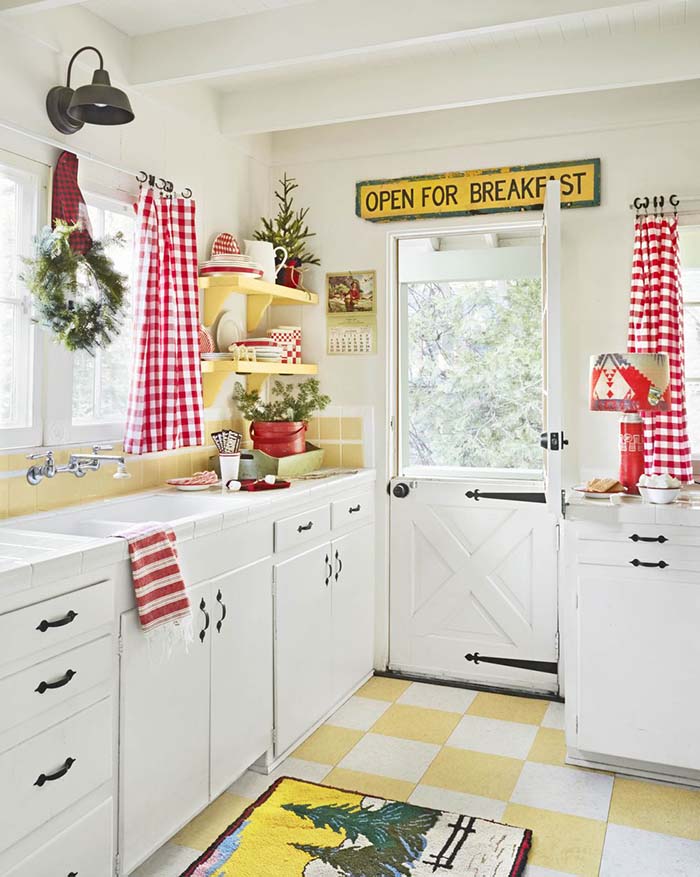 This cheerful, retro yellow-and-white kitchen gets the Christmas treatment with curtains made with repurposed gingham tablecloths, fresh greenery, and a seasonal rug.
via Country Living
2. Red Poinsettias in the Kitchen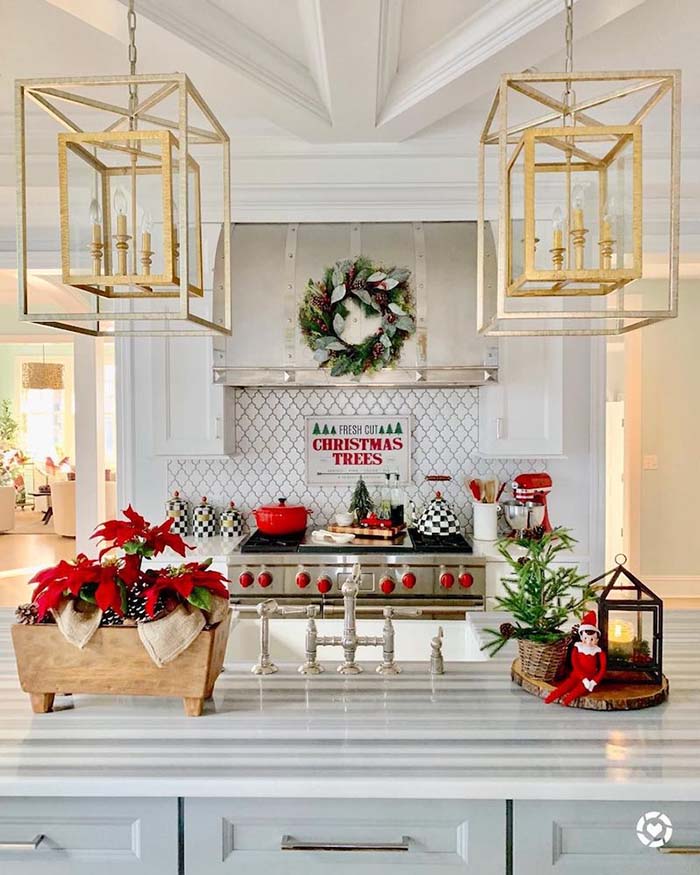 The best way to add a red accent to your Christmas kitchen decor is by adding a bunch of red poinsettias and arrange them around.
via 6 Thirty Decor
3. Calm and Bright Christmas Kitchen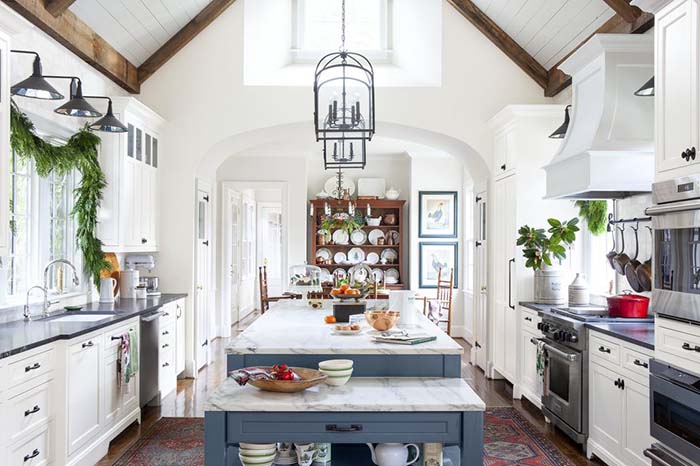 A pair of runners with muted reds and classic swags of greenery make for understated and sophisticated holiday touches in this open and airy space.
via Country Living
4. Minty Green Christmas Kitchen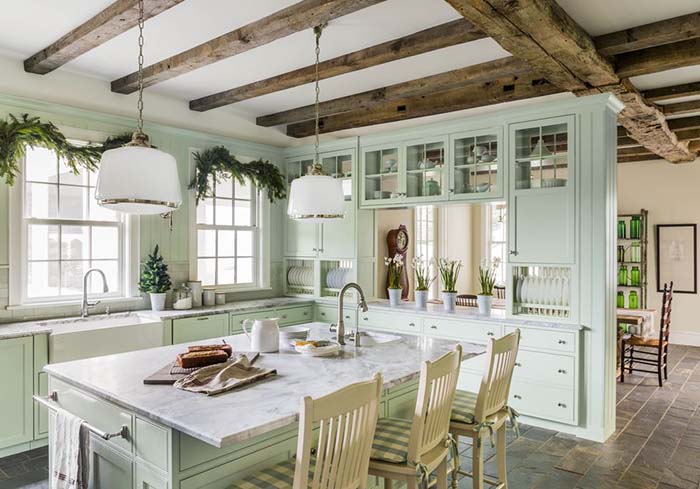 The homeowners paired a mint-hued paint (a mix of Mint Chocolate Chip and Hancock Green, both by Benjamin Moore) with neutral accents to keep the kitchen looking sophisticated.
Simple garlands and potted paperwhites add to the seasonal feel without competing with the kitchen's beauty.
via Country Living
5. Hunter Green Christmas Kitchen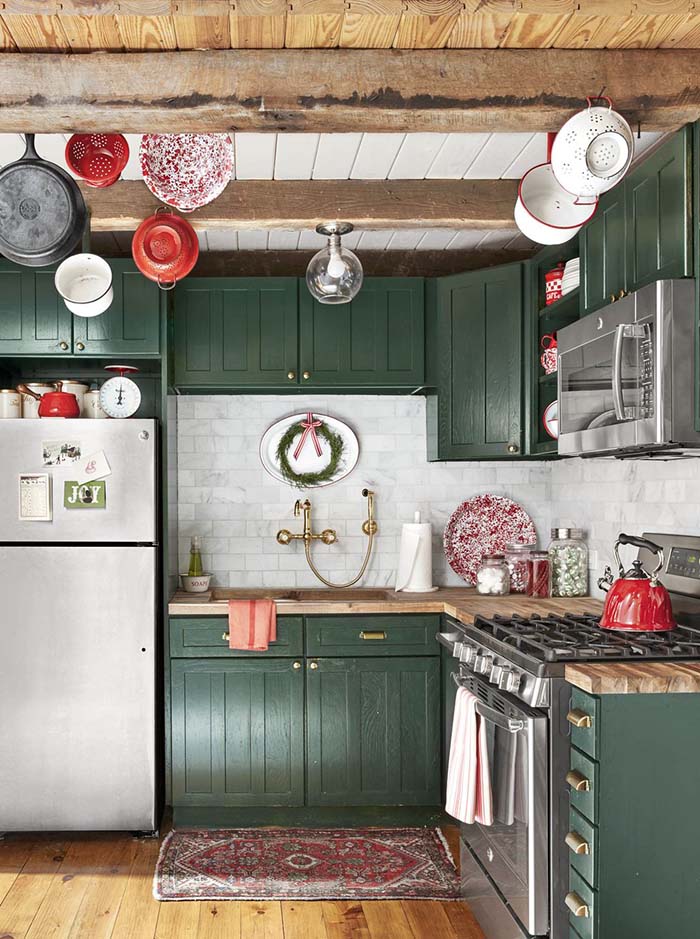 This kitchen's hunter green cabinets (Jasper by Sherwin-Williams) are Christmas-ready with the addition of red skillets and pots hung from ceiling beams, red spatterware, and a cherry-red tea kettle.
A sweet and simple wreath hangs atop a platter above the sink.
via Country Living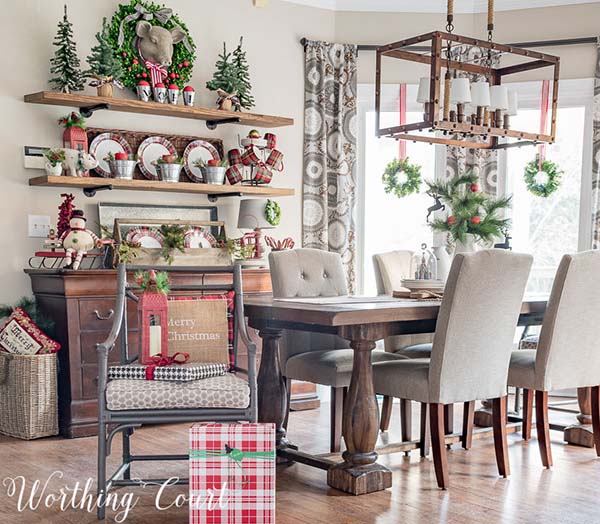 Photo:Credit
This pastoral kitchen can inspire you with lots of Christmas kitchen decorating ideas.
For instance, have a look at the rustic shelves which surely become the centerpiece of this area. There are Christmas plaid mugs, cute small faux trees, red lantern, and many other fun festive elements!
7. All-Green Wreaths on the Kitchen Cupboard Doors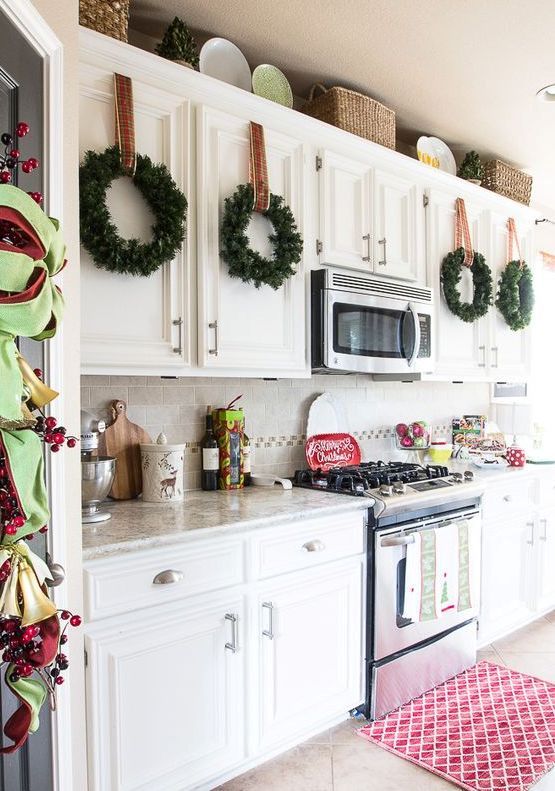 These mini wreaths symmetrically hung on the all-white kitchen cabinet doors are a real-time-saver!  😉
Basically, this Christmas kitchen decor can be added a couple of hours before your dinner party!
8. Christmas Kitchen Wall Decor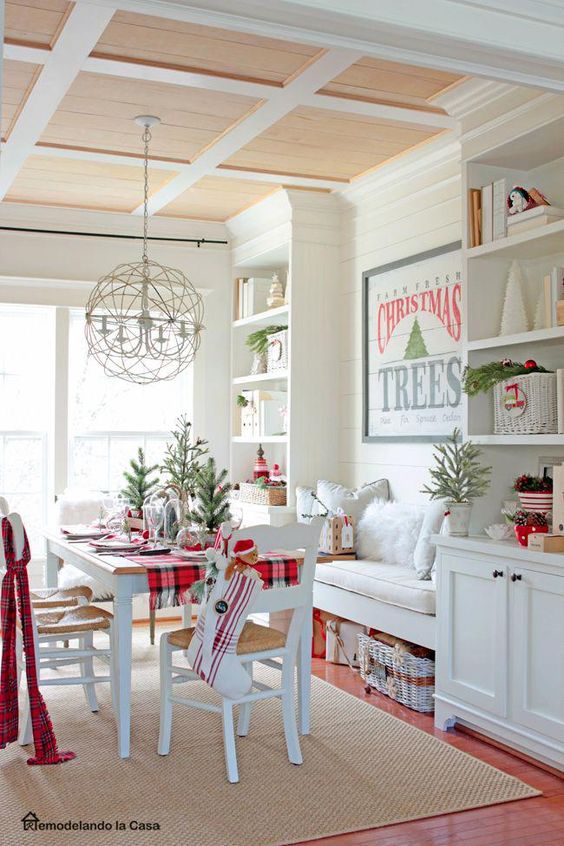 No holiday home is complete without a few stunning personalized decorative accents such as this wooden wall canvas in the typical Christmas-y colors.
If you are still struggling to find the best decor ideas for your Christmas kitchen, this one might save you lots of time, money, and nerves!  😉
9. White and Red Decor Pieces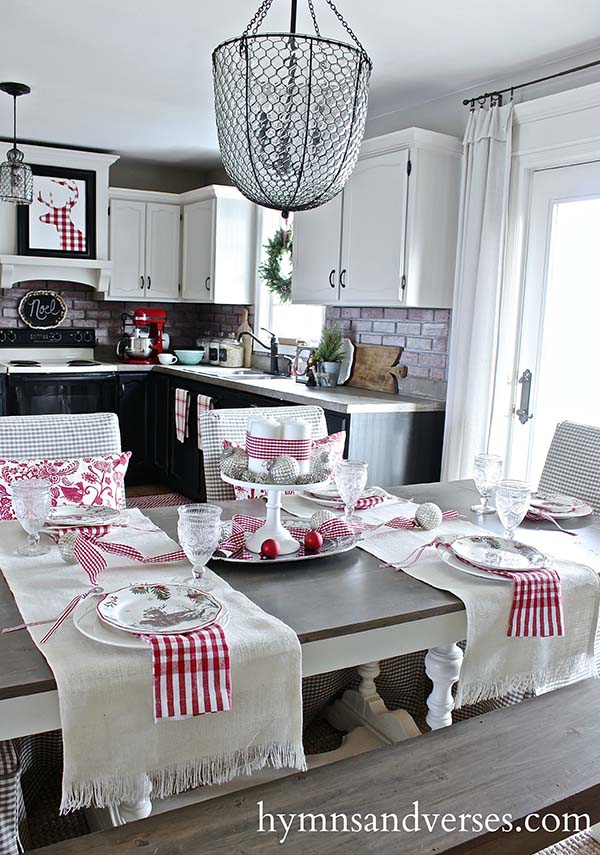 Photo:Credit
If you want to play it safe while planning the decoration for your Christmas kitchen, try to keep it simple with the traditional white and red decor pieces.
Choosing all white holiday decor with red accents, like small tree cutouts, ornaments, and candles are festive without overcoming your space with too many colors.
10. More Wreaths, Please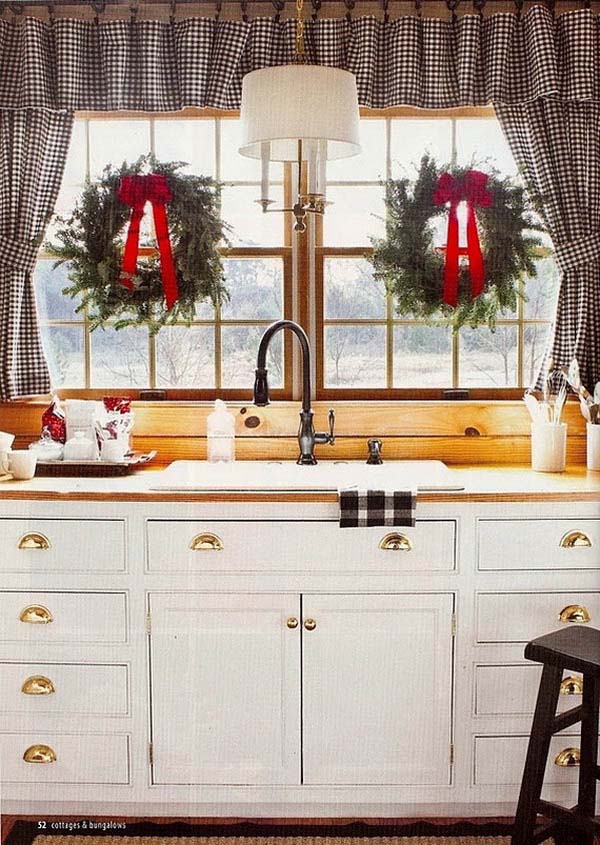 Photo: Credit
I love the idea of having Christmas wreaths symmetrically hang from the kitchen window – they embellish the house from both inside and outside.
Besides, the timeless combination of evergreens and red ribbon always brings a strong holiday vibe.
11. Christmas Tree in the Kitchen Space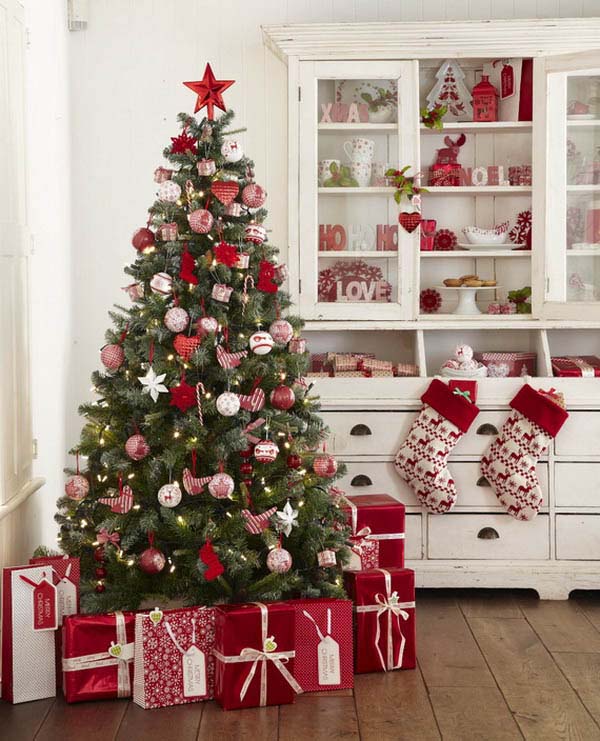 Photo: Credit
In case you are suffering from lack of space at home, you can place the big Christmas tree sit in the kitchen.
Just a hint – to complete the Christmas kitchen decor, why don't you display more cute holiday ornaments and wooden festive slogans in the kitchen cupboard?
12. Traditional Custom-Made Kitchen Ornaments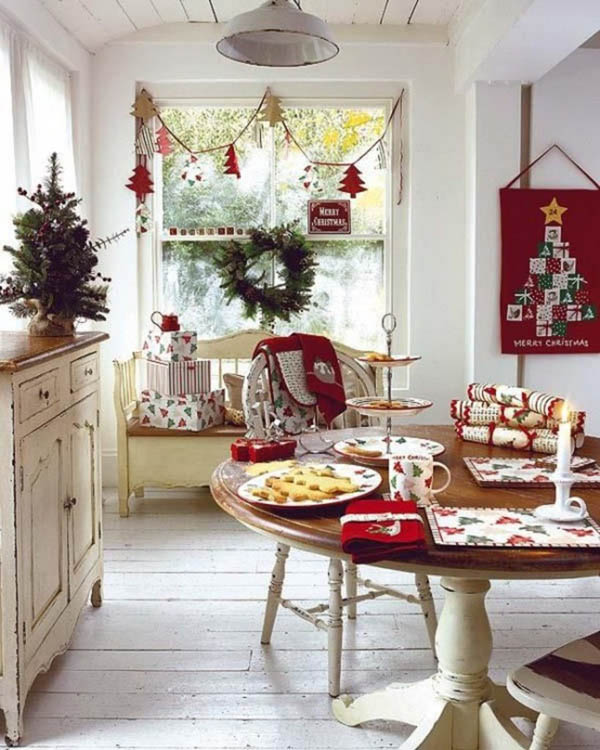 If you are not on a tight budget, you can buy (or even do them yourself) some custom-made elements (such as tea towels, coffee mugs, and handmade garlands) that look notably appealing in the kitchen setup and are specifically crafted for space.
13. Shiny Christmas Dinner Table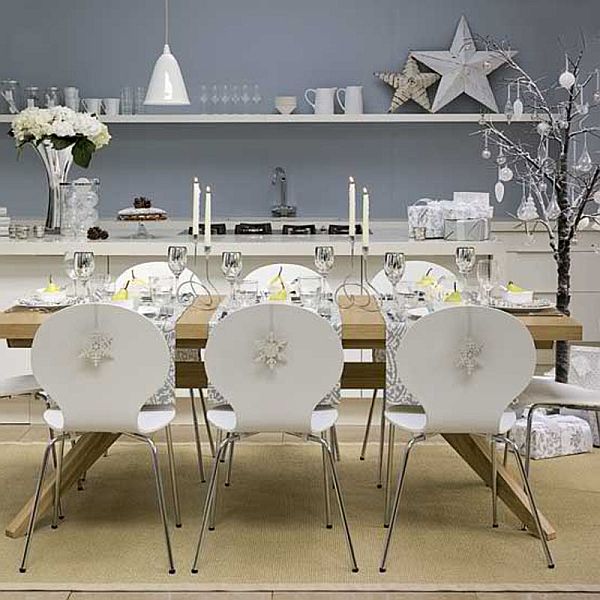 Photo: Credit
Styling your festive dinner table with an assortment of shimmering ornaments is another cool kitchen Christmas decorating idea.
In case you have run out of ornament space on your Xmas tree, why don't you place the leftovers in bowls or glass vases?
14. Fun Christmas Kitchen Decoration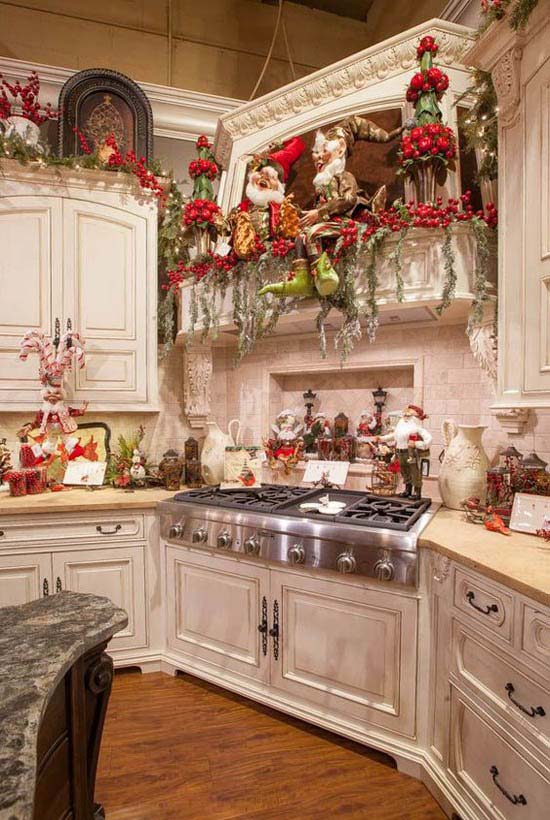 However some of you might think this decor is a bit too much, I think it is very well defined by its intriguing details adding character and charm to the Christmas kitchen.
It is so cheery and fun that it will surely definitely make all of your guests smile.
15. Scandinavian Style Kitchen Decor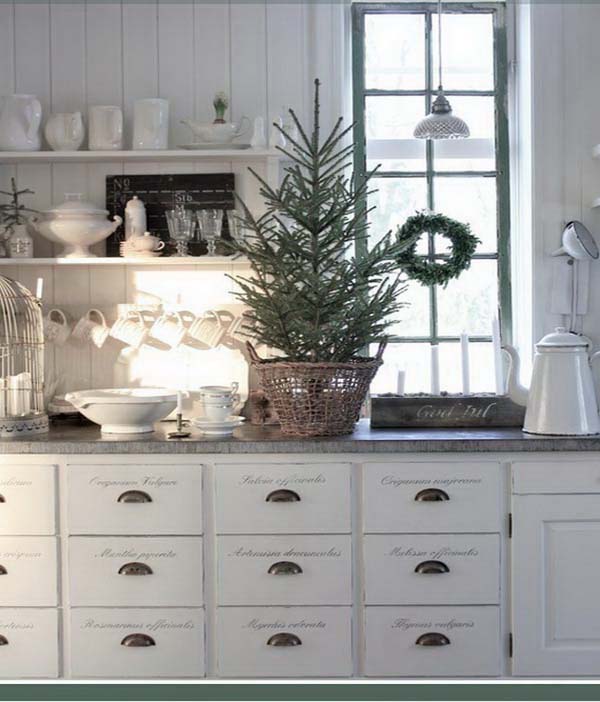 Photo: Credit
Speaking of kitchen Christmas decorations, the Scandinavian-style festive decor sticks to the concept of simplicity and togetherness.
However, the typical colors for the holiday are missing (such as red, green and gold), I love how stylish and warm is this kitchen decoration.
16. Another Christmas Wreath Idea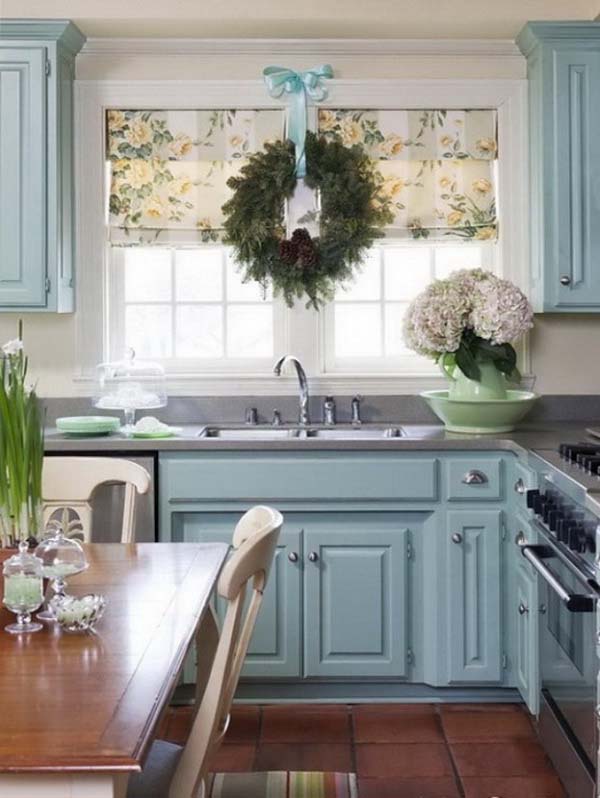 Photo: Credit
A kitchen Christmas tree won't be needed if you display a large all-green wreath above the kitchen sink.
It will give an unsophisticated, organic look to the room and will easily fit the rest of the decoration. It can be adapted mostly anywhere. Decoration and kitchen furniture are aligned in turquoise color.
17. Christmas Wreath in the Kitchen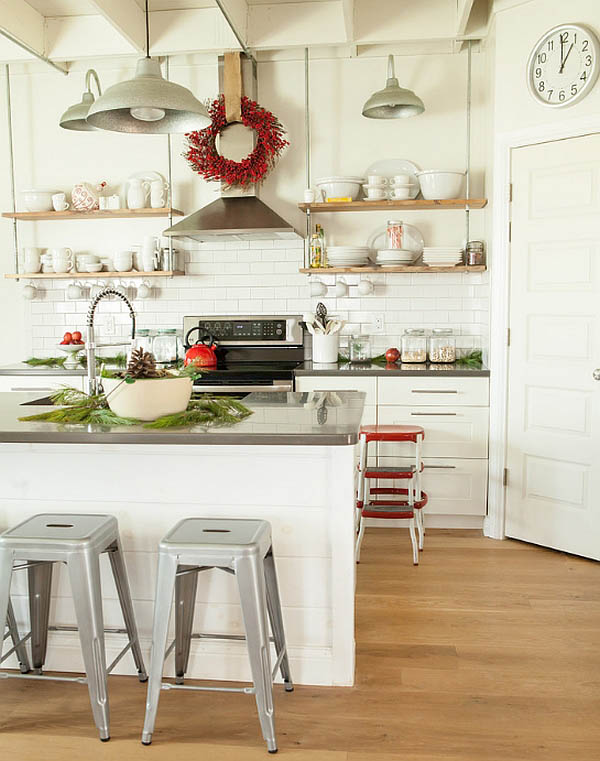 Photo: Credit
Displaying a Christmas wreath made of faux red berries is surely one of the best Christmas kitchen decorating ideas. Why?
Because of the red color which makes an elegant contrast with the white walls and immediately transforms into the focal point in the room.  😉
18. No-Fuss Christmas Tree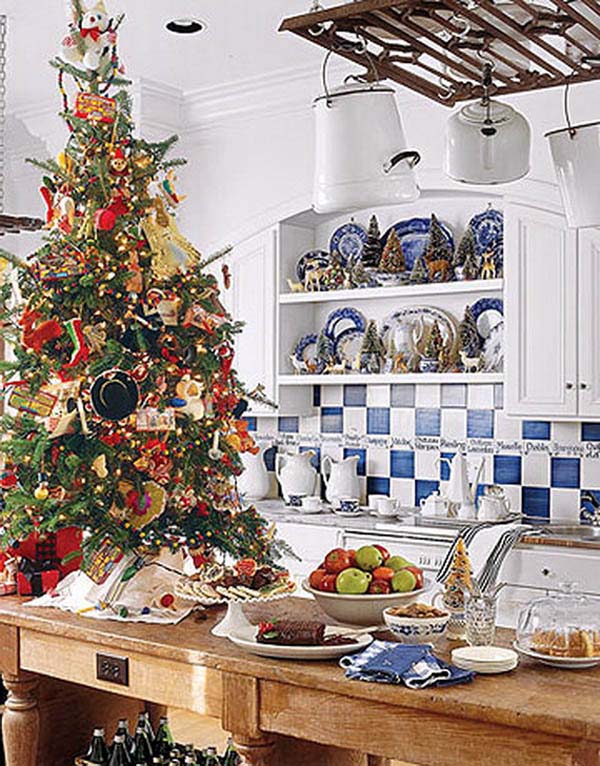 Photo: Credit
I guess for most of you the Christmas tree is supposed to be displayed in the living room space.
But it doesn't mean you can't have one smaller, no-fuss tree (and a bunch of tiny festive trees) in the kitchen as well!  😉
Tip: Go for a faux tree for easier assembly and tidy up.
19. Joyful Sink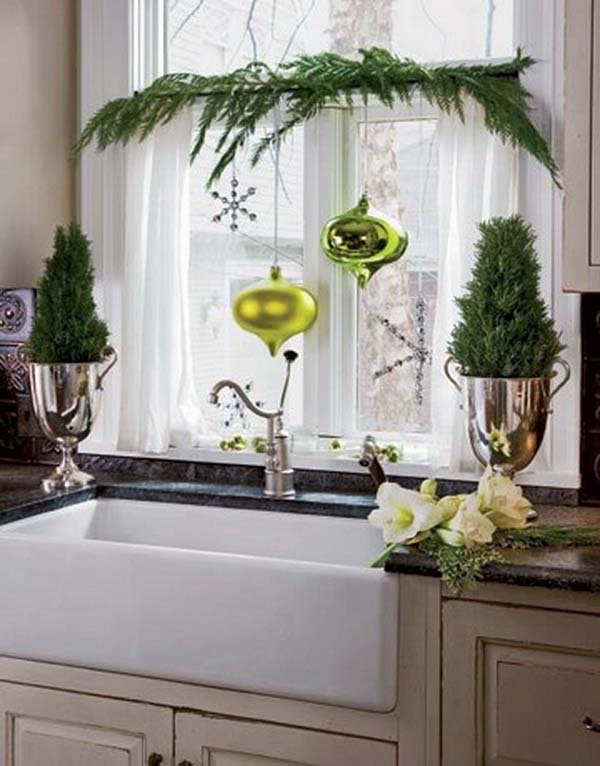 Photo: Credit
To bring the spirit of Christmas in the kitchen, the sink is enclosed by a few rosemary plants, styled as topiary; an evergreen branch and elegant shimmering ornaments make for a holiday scene. If you love natural Christmas decoration it's a perfect choice.
20. Traditional Kitchen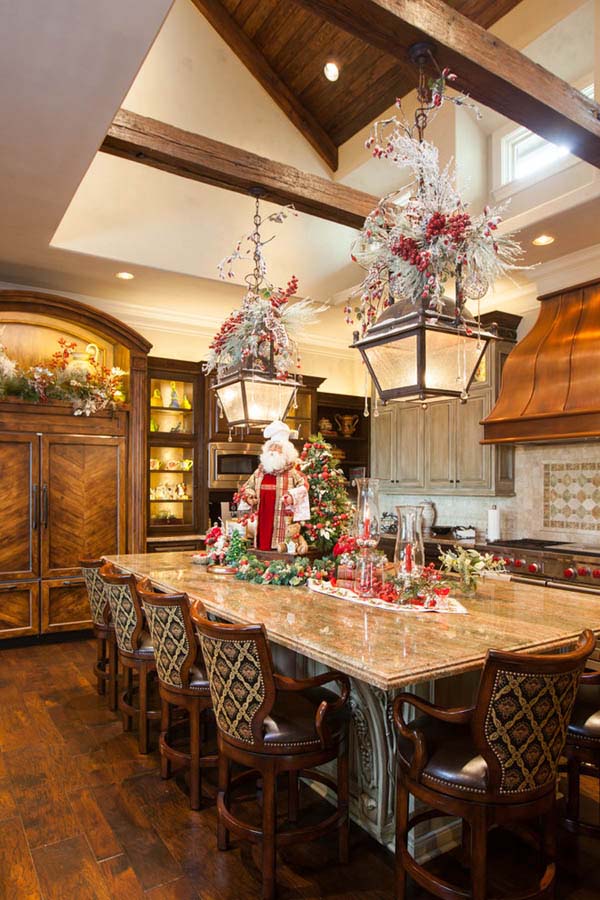 Photo: Credit
Gorgeously embellished farmhouse pendant lights dropping over the dining table complemented by a traditional table and cabinetry décor…
Exposed wood adds so much warmth to this mind-blowing eat-in kitchen! A stunning ceiling and hood add tons of personality to the space.
21. Simple Is Better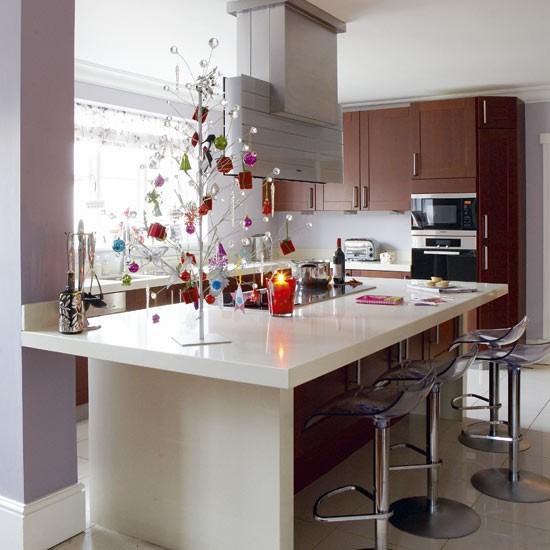 Photo: Credit
An absolutely gorgeous contemporary kitchen with adequate natural light. Pops of color, furniture, and appliances add visual interest, appeal, and personality.
A small non-traditional Christmas tree beautifies the space for the holiday season.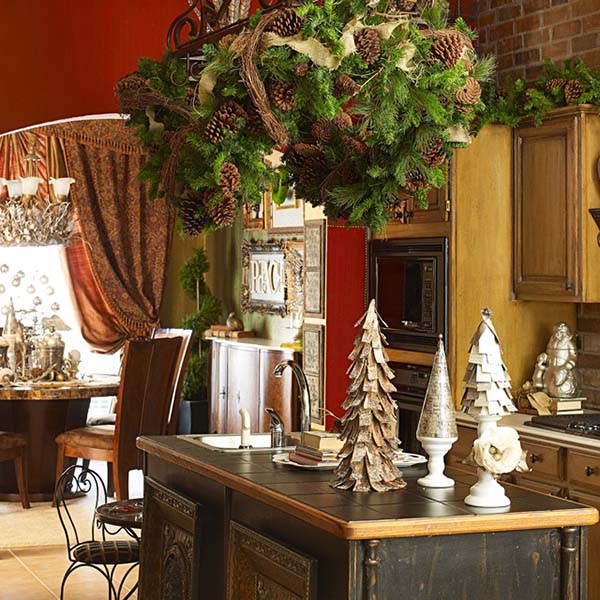 Photo: Credit
A pot rack lavishly decorated with burlap and pinecones adds festive charm and an organic feel to this stunning traditional space with a distinctive architectural character.
Mini Christmas tree-like décor items positioned on the kitchen island add extra glam.
Definitely an enchanting space!
While we focus our attention on other seasonal spots, such as trimming the Christmas tree and hanging festive wreaths, do not forget that the kitchen is the soul of every home.  😉 
Hopefully, my collection of Christmas kitchen decorating ideas will help you make the heart of your home 100% holiday-ready.