24 Fantastic Christmas Decorations In Blue, Silver and Turquoise
Playful Mantle Piece Gift Display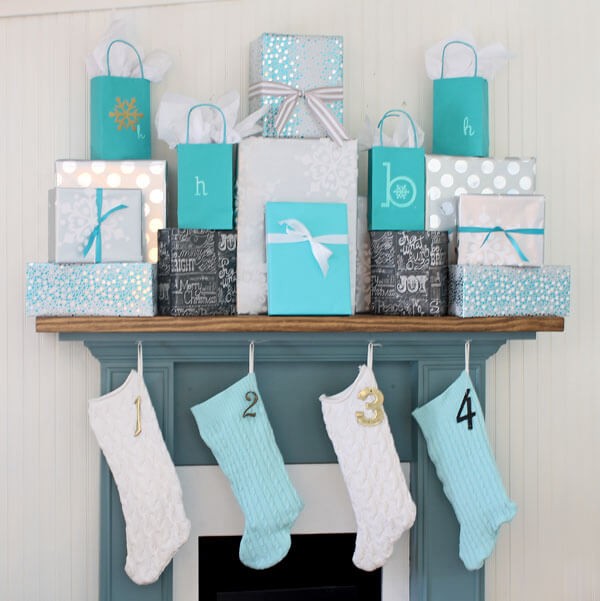 Sometimes it is hard to fully capture the impact of flawlessly styled and wrapped gifts when they are spread out under the tree.
With this approach, however, stacking the presents for all to see shows off your crafty work and creates a beautiful piece of art. The multiple colors and textures of the blue and silver paperwork together to create a lovely Christmas collage.
Blue And White Christmas Bedroom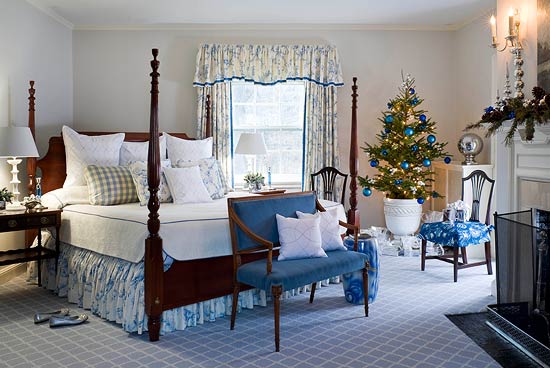 A variety of textures and patterns are bringing this bedroom to it.
You can even place a small Christmas tree in the corner with white and blue glass ornaments.
Blue, Silver With A Hint Of Green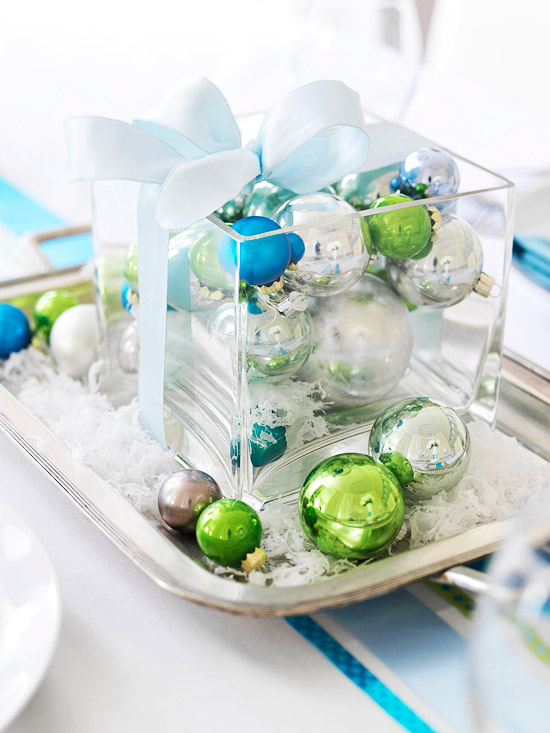 A platter or jar filled with Christmas ornaments is a great way to dress up your side table.
The blogger here has added hints of green along with silver and blue.
via BHG
Blue And White Mantelpiece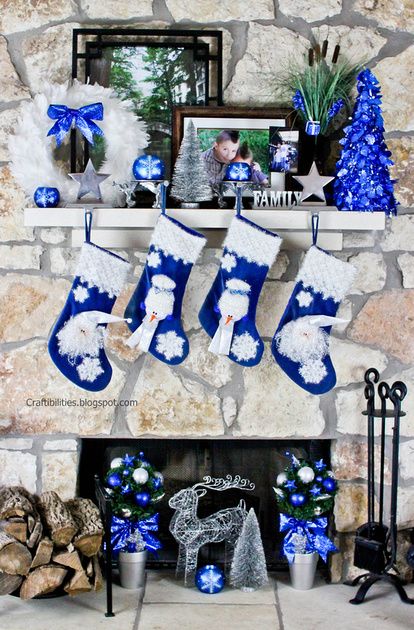 This mantelpiece is lined with a white wreath, ornaments, and tiny Christmas tree.
Try to place a wintry painting to reinforce the palette.
via Craftibilities
For The Coastal Decor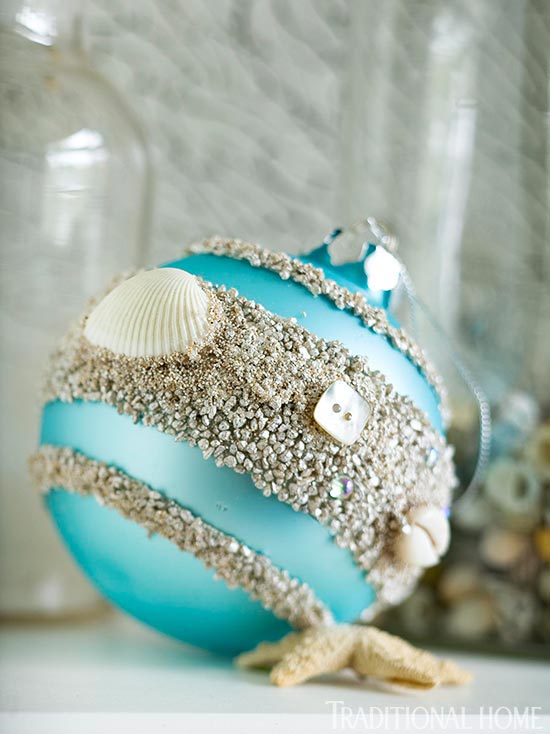 This idea would suit your coastal décor very well. The ornament is striped with tiny seashells and sand.
via Traditional Home
Christmas Tree Decorated With Flowers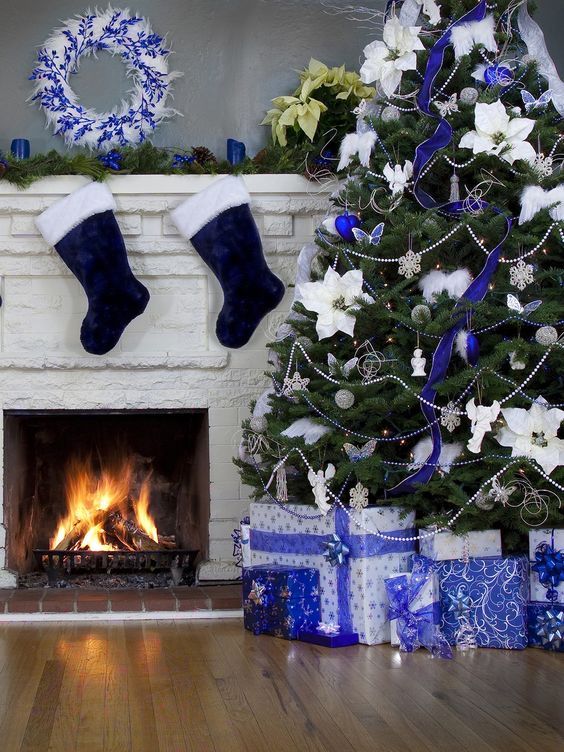 I am surely following this idea for the next Christmas. I never thought that the flowers would make such a bold statement.
Stunning Candle Holders With Various Glass Ball Ornaments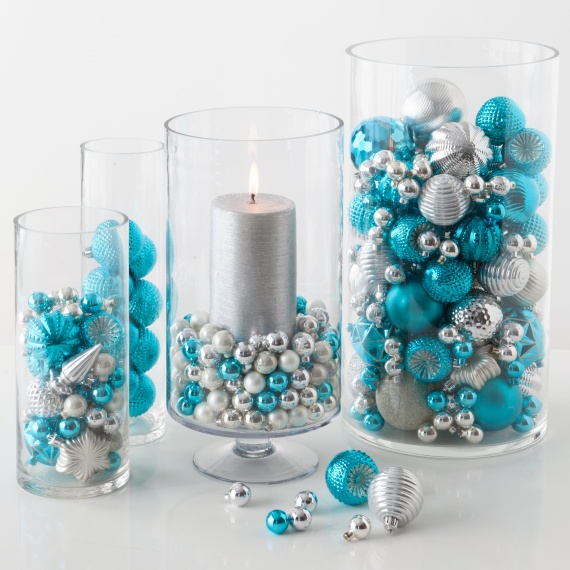 Photo: Credit
Fill in clear glass hurricane candle holders with assorted glass ball ornaments to create an easy, simple yet definitely eye-grabbing Christmas centerpiece.
Use containers of different shape and height for extra visual interest and appeal. Add candles for touches of romance.
Blue and Silver Spray Painted Pinecones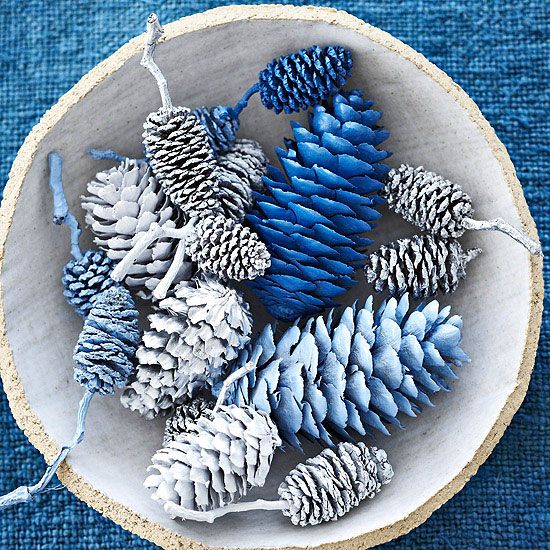 Photo:Credit
Spray paint pinecones in silver and blue and arrange them in a wooden bowl to create this simple, Christmas budget-friendly yet so stylish piece of décor.
A stunning way to add texture, visual interest, and an organic feel to your seasonal décor!
Christmas Dining Table Decor in Silver and Blue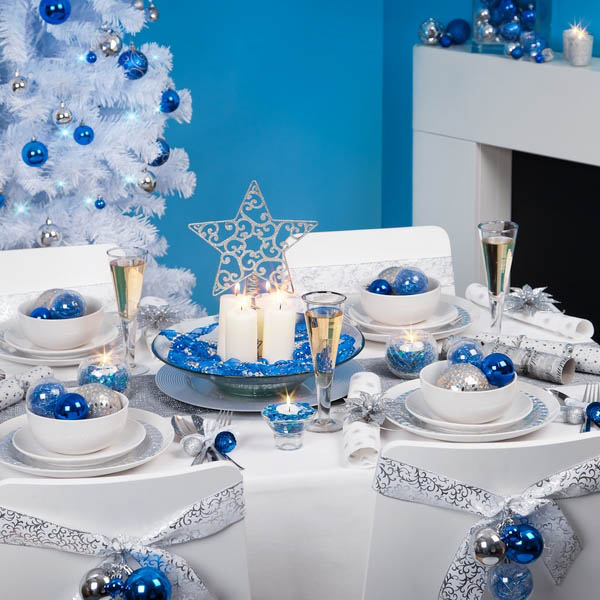 Photo: Credit
Delicate dining chairs décor complements a festive table in silver and blue…A graceful mantel display and a Christmas tree in the same color scheme complete the look of the space.
Candles add charm and romance. This Christmas set is definitely the epitome of elegance and sophistication!
Turquoise Christmas Stars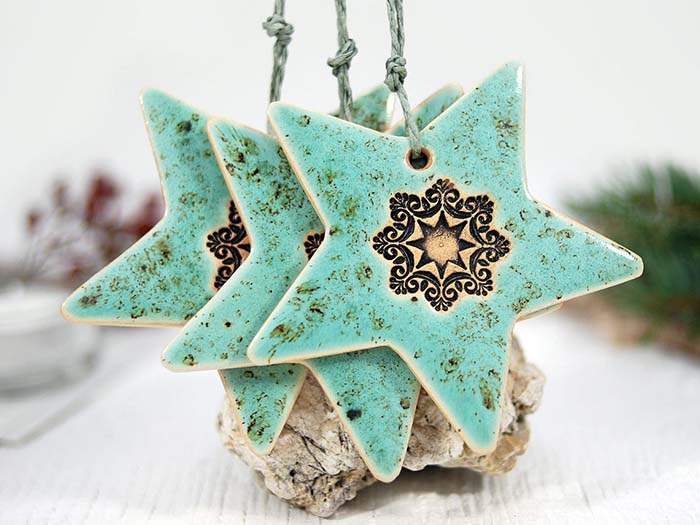 This hand-formed and hand-glazed ceramic ornaments will decorate every place in your home or garden regardless of whether you hang it on the on the Christmas tree, door, wall or in the window.
They will bring Christmas atmosphere and plenty of positive Christmas energy to your home.
Ceramic decorations are also lovely gift for a Christmas, housewarming or moving.

DIY Christmas Stockings in Blue and White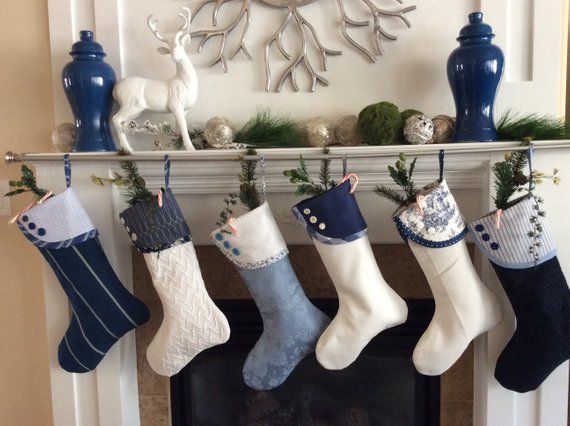 These handmade themed Christmas themed stocking in navy blue are surely one of the most mesmerizing and fun blue Christmas decorations.
Moreover, they are bringing additional warmth to your home. The design with buttons gives it a modernized, tailored look.
Learn More: Here
Decorative Ribbon Wreath in Blue and Silver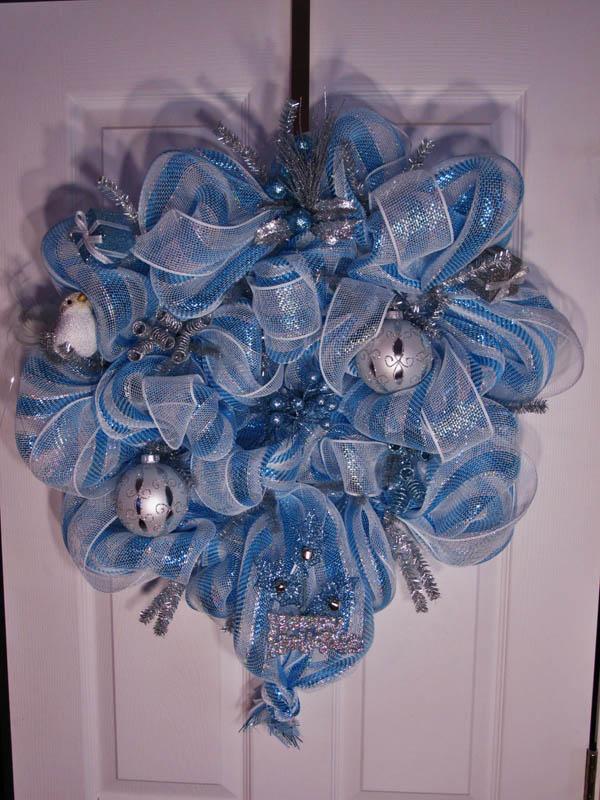 Photo: Credit
While you are looking for some blue and silver Christmas tree decorations ideas, take into consideration this beautiful handmade ribbon door wreath as it will surely be a quirky addition to your festive home decor.
The turquoise and silver ribbon gives the wreath a glossy luxurious look.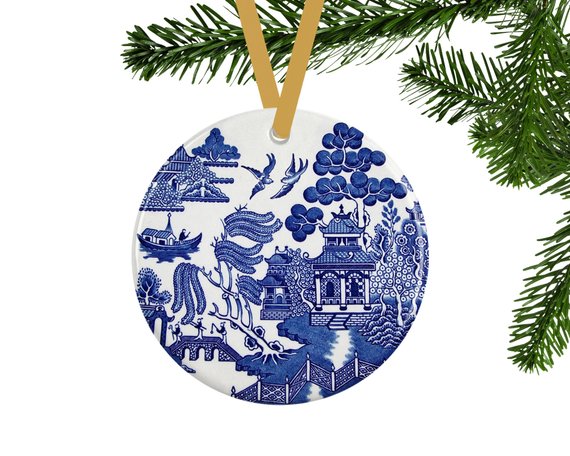 This charming blue Christmas ornament is sure to give your festive tree that wanted vintage style. The ornaments in these colors look particularly lovely in a farmhouse space.
All in all, it is one of the prettiest blue Christmas decorations ideas I have ever seen. What do you think?
Learn More: Here
Crystal Gloss with Silver Glass Chandeliers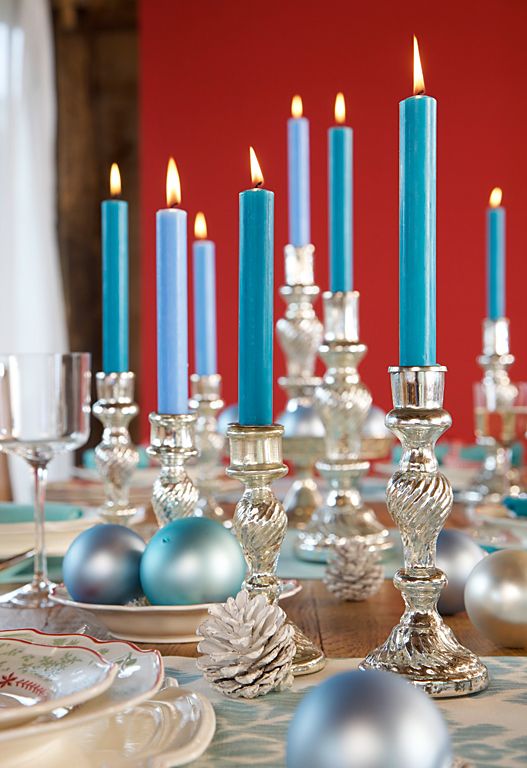 Photo: Credit
Candles unquestionably spread a very special mood.
To put their soft light into a scene, they are displayed in candlesticks made of silver glass and decorated with Christmas tree balls in shades of blue. I just love it!
Cute Stockings in Blue and White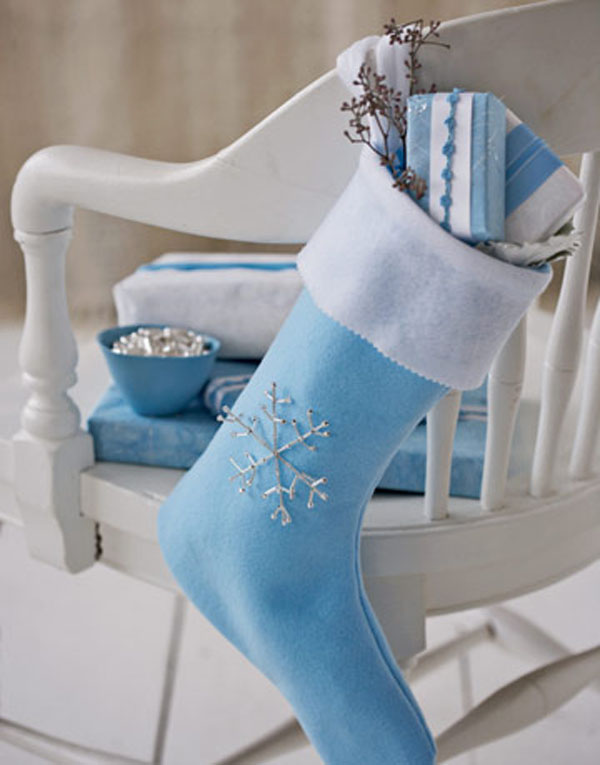 Photo: Credit
These light blue stockings are very fun and will create a total excitement on Christmas morning.
You simply need to cut two stocking silhouettes from felt. Then sew together and turn inside out. Hook up contrasting cuff at the top. Create a cute decorative snowflake with a wire form. Slip-stitch to attach, and then fill the stockings with gifts!
Christmas Candies in Blue and White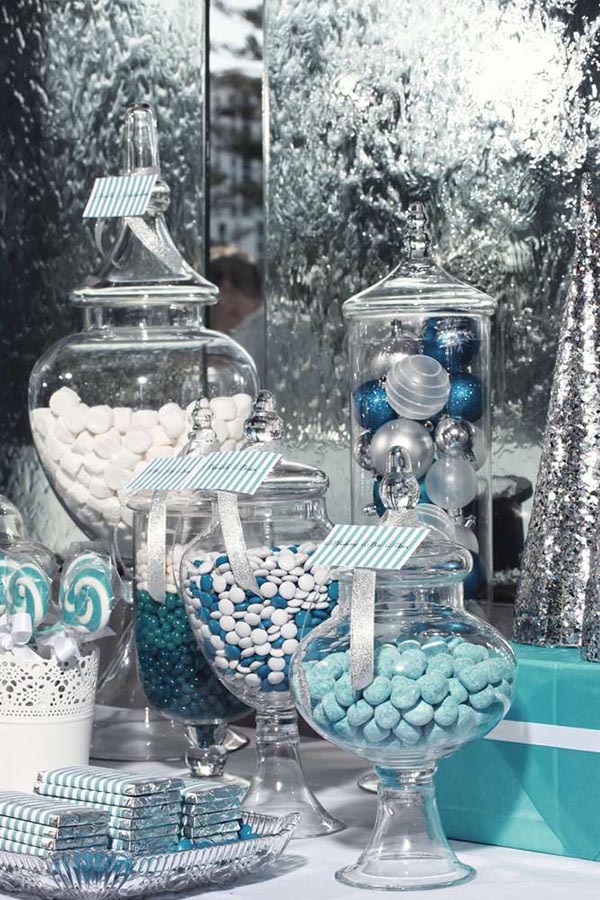 Photo: Credit
Having glass jars full of colorful candies is a fantastic blue and silver Christmas decorations idea in case you are hosting a Christmas party.
Use your imagination and create something beautiful that will be a real show-stopper at your festive dinner table!
Classy Blue and White Christmas Tree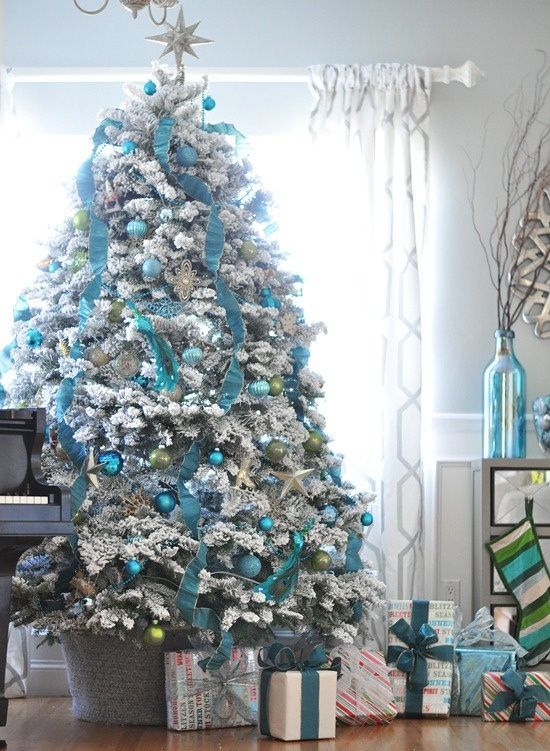 Photo: Credit
When I first saw this photo, it instantly made me think YES!  😎 Perhaps this year I will be brave enough to try it.
I just love the combination of turquoise and snowy white ornaments. This will perfectly fit dark furniture and dramatic Christmas lighting.
Handmade Watercolor Baubles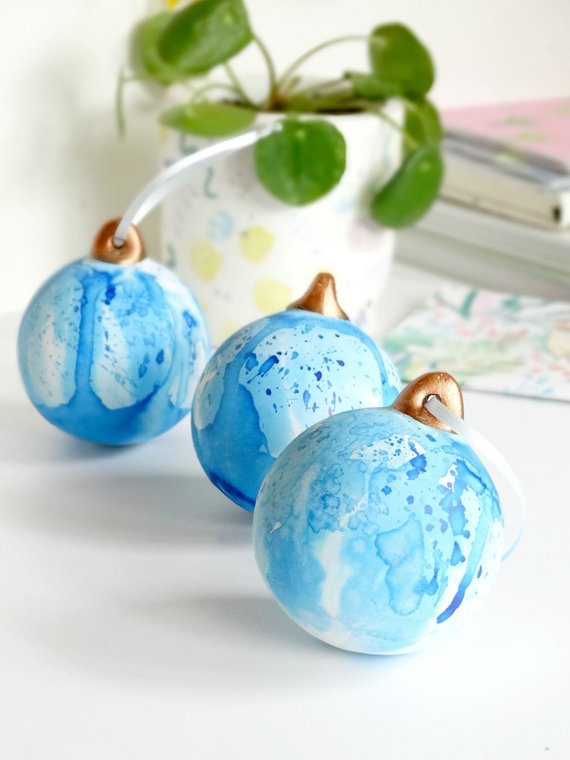 These hand-painted (with acrylic paint) Christmas tree ornaments are very delicate and stylish. They fit various interior designs, from rustic themed home to luxurious contemporary design.
In fact, my little princess told me this is one of the best blue Christmas tree decorations she has ever seen.
Learn More: Here
Silver Christmas Table Centerpiece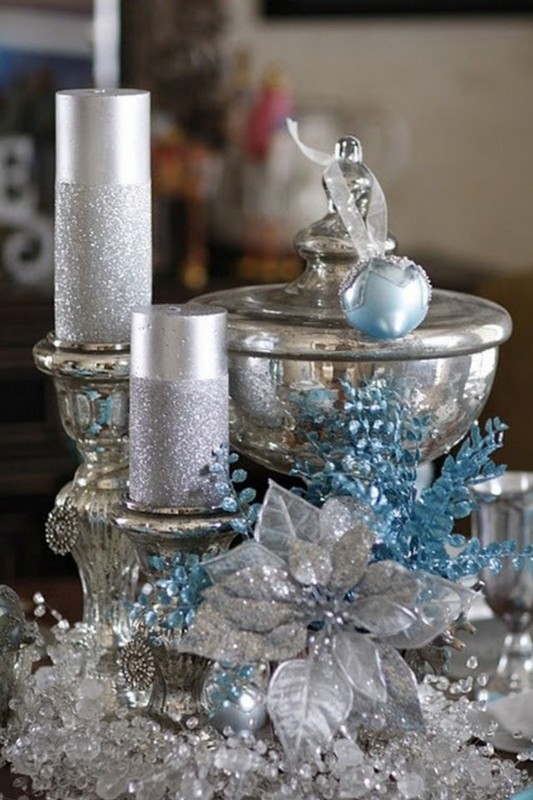 Photo: Credit
Looking for some delightful turquoise and silver Christmas tree decorations? If so, then take a look at these mesmerizing festive candlesticks!
Turquoise, aqua or teal complements glittery silver fully and upgrades the look of any Christmas dining table from ordinary to outstanding.
Turquoise Vases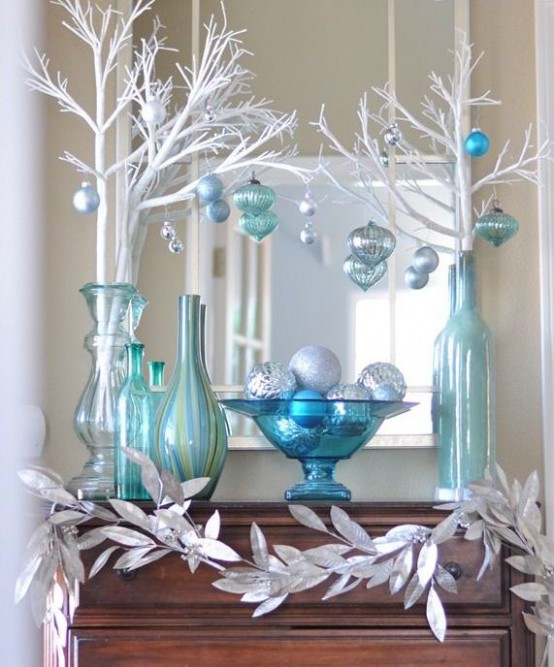 Photo: Credit
As I have a bunch of charming blue glass vases that are hanging around the house all year round, I decided to re-create a blue and silver Christmas decorations idea I've seen on the internet.
The result is simple but stunning at the same time. Shop your own house, that is my brand new motto!
A Festive Wreath Made of Blue and Silver Baubles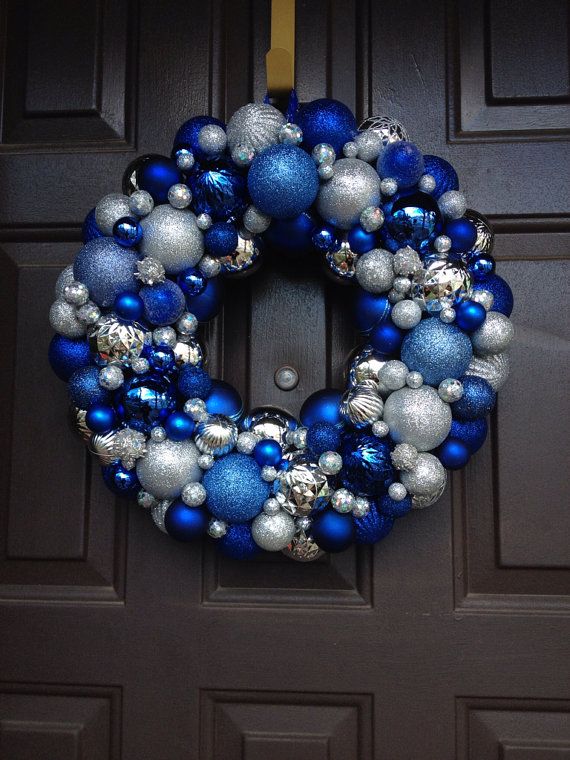 Photo: Credit
Some of the blue and white Christmas decorations you will probably see on the internet are ideal for those of you who are often in a crafting mood.
For instance, you can try re-creating this Christmas wreath made of baubles on the picture.  😉
Snowy Pillar Candle Display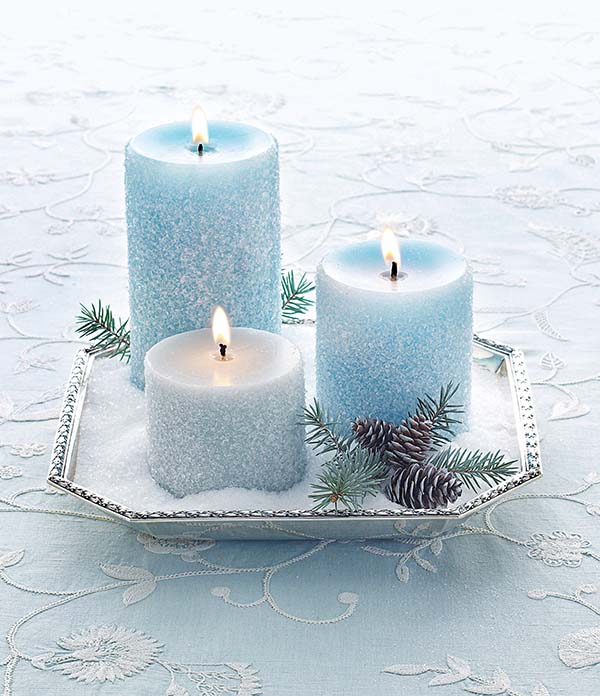 Photo:Credit
When we are speaking of blue Christmas table decorations, we should always stick to the glittery accent!
The glitter makes the holiday decoration brighter and more inviting without a doubt. Also, a bit of greenery won't hurt anyone, don't you think?  😆
Photo: Credit
I know that some of you might look to buy some affordable blue and silver Christmas tree decorations – you can use an old picture frame.
But why don't you just repurpose the old Christmas tree ornaments and transform them into an eye-catching festive mantel decor (as shown on the photo above)?  🙄
DIY Silver Sprayed Wreath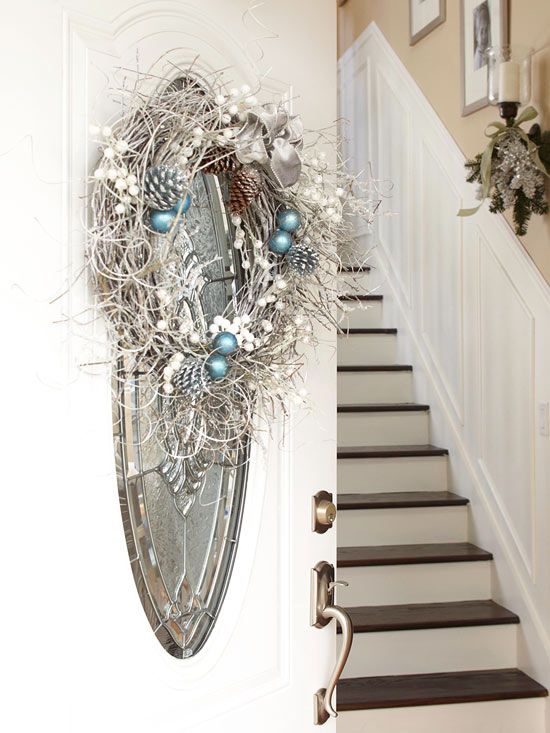 Photo:Credit
Let me ask what would you get when you combine a cheap can of silver spray paint, a grapevine wreath, and a couple of glossy accents?
The answer: a front-door centerpiece that will make the entire neighborhood envy you.  😉
Glass Turquoise Swan Ornament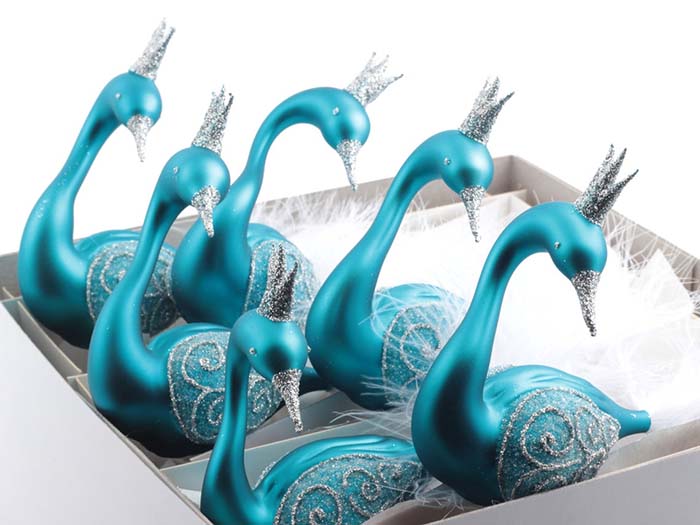 Absolutely lovely. There are swirls on it that look like swans down.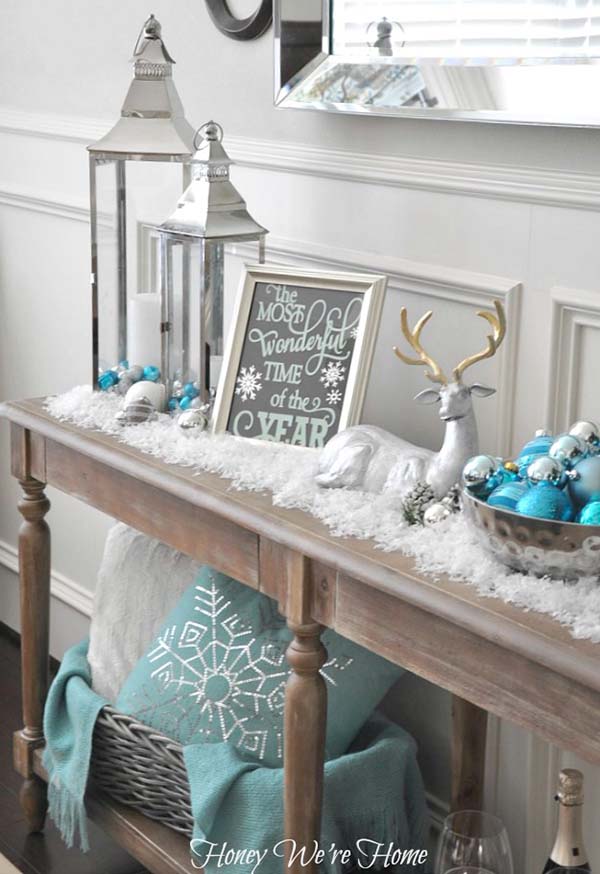 For those of you who will host a Christmas party this year, why don't you settle on silver Christmas decorations?
As the foyer is a key space to decorate, there are some important aspects to consider before you welcome guests through your Christmas decorated front door.
Take a detailed look at the photo above to get some inspiration.  😉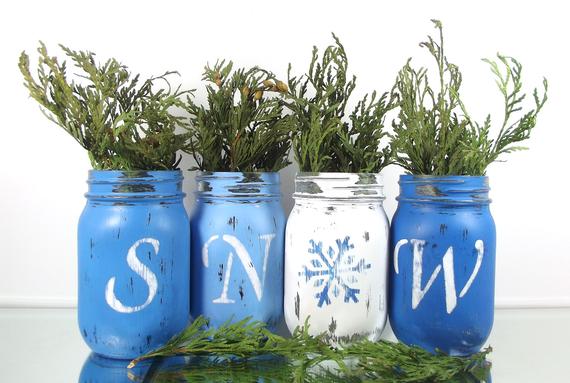 This set of four hand-painted blue and white Mason jars will surely make a great addition to your home blue Christmas decorations, party decor or even as a symbolical gift for a special friend.
The letters painted on the jars spell out the word S- N- O- W…with a cute snowflake that replaces the letter "O".
Learn More: Here
Turquoise Chair Decor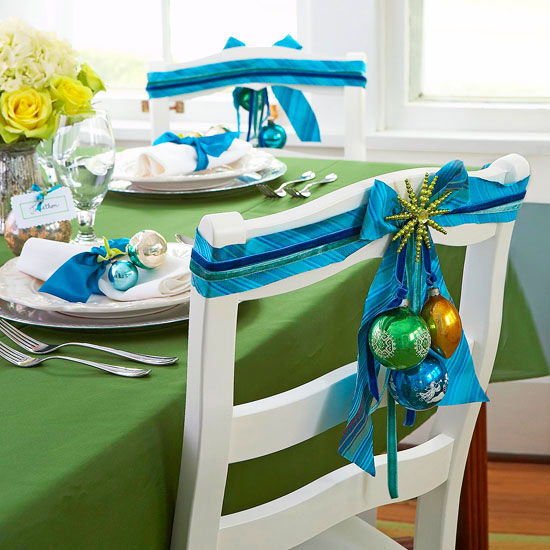 Photo:Credit
What about turquoise chair decoration? These ribbons are fabulous. It looks like turquoise goes well with green and orange.
Christmas Rhinestones Ornaments In Aqua Blue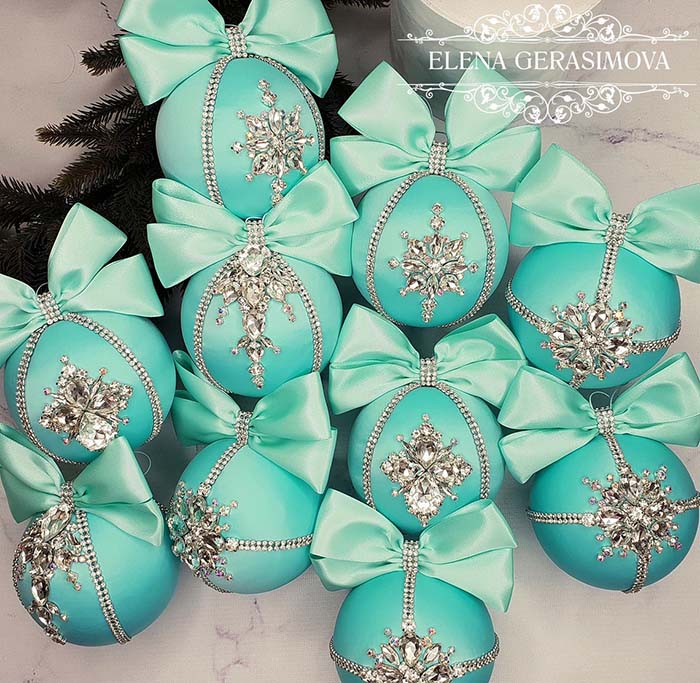 This elegant Aqua blue ornaments are hand-made, with a unique rhinestones design, perfect for your home decor!

This year, I suggest you put aside the traditional color combination for Christmas decoration and try some of the lovely blue and silver Christmas tree decorations ideas I just showed you. Did you feel the low-key and relaxed vibes they exude even on a picture?  😉 
Hope you truly liked the DIY projects just showed! I am dying to know your silver and blue Christmas decorations ideas!