48 Elegant Stylish Christmas Decoration Ideas For Delightful Winter Holidays
Many are the people that aim to simplify their way of living and the fiurnishing of their homes.
The Christmas decoration can be a real challange for the followers of the minimalistic and the Scandinavian styles and the designs similar to these.
The truth is that Christmas decor doesn't mean a place overcroweded with fairy lights, wreaths, ornaments, figures of Santa. The festive spirit can be imprinted by elegant and simple decorations.
It will lighten the interior and turn it into a beautiful fairy tale without overloading or overcrowding it.
We welcome you to see the collection of elegant and stylish ideas for Christmas decoration that will make your home ready for the holiday.
Accessorize Candleholders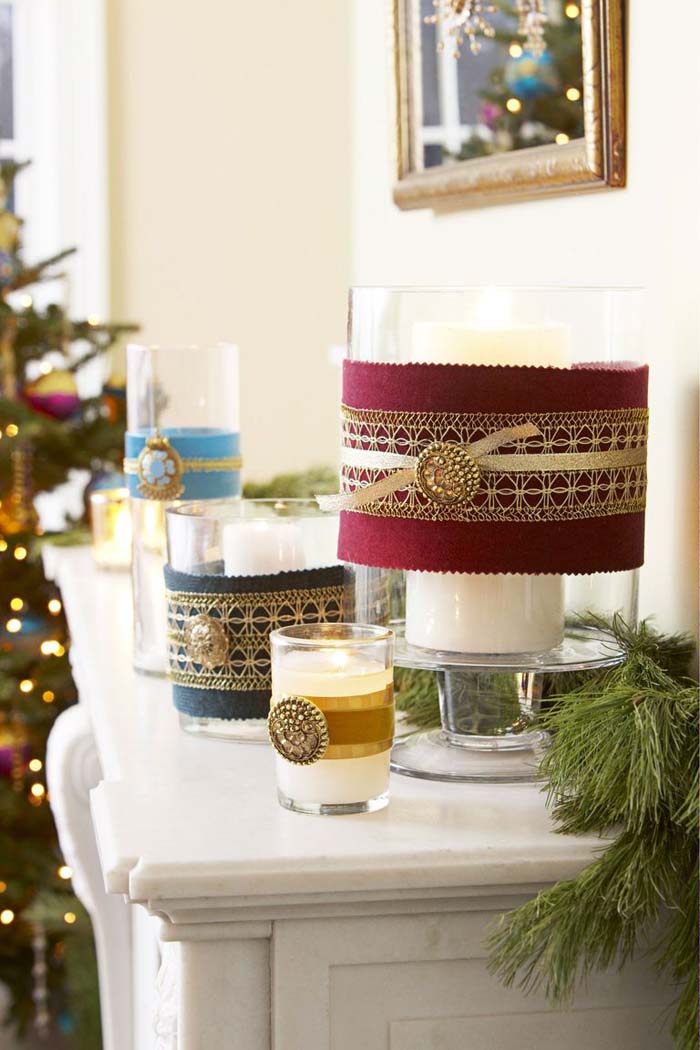 Upgrate the glass candle holders and tune them to the christmas holiday with a simple and easy trick.
Wrap each with a wide ribbon and glue an attractive button, brooch or gem.
via Michael Partenio
Add a Subtle Vignette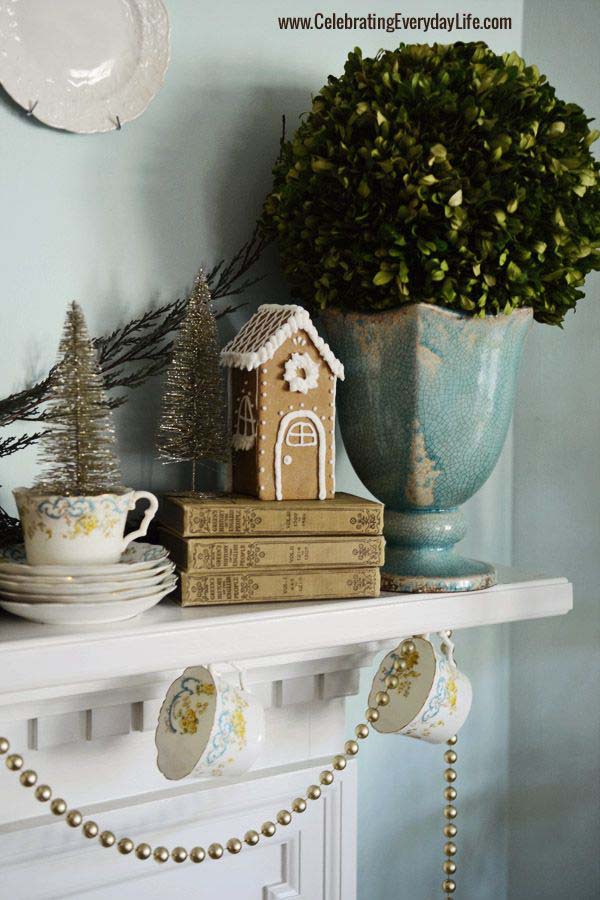 Elegance is a synonym of tradition so including traditional winter symbols in your Christmas decor will make the interior stylish and sophisticated.
Repurpose vintage teapots and a gingerbread house into decoration. To make them feel right into the decor, combine with traditional ornaments like tiny trees and bead garlands.
Add Cheer to a Banister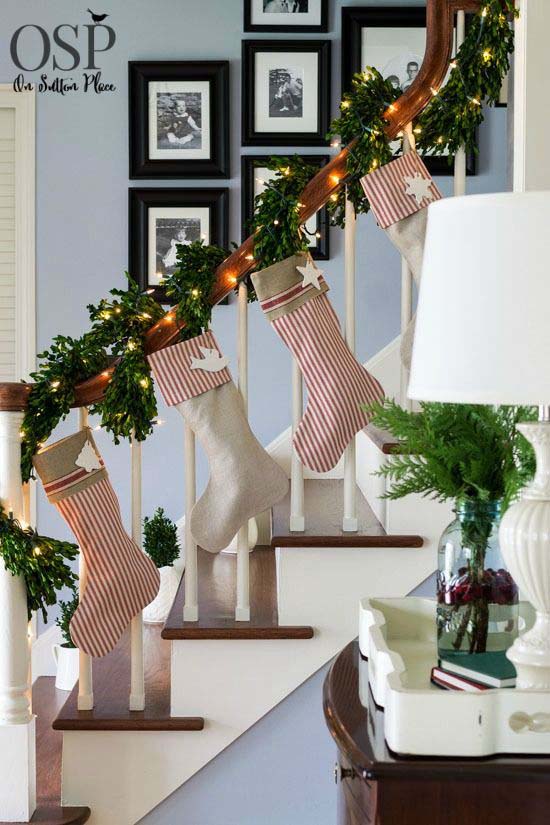 Stockings are traditional Christmas ornament for the mantel. Change their application and make this traditional motif more attractive by using them as an accent on your banister decor.
You can get ready made stockings from the Dollar Store or make your own in Christmas-themed fabric patterns.
via On Sutton Place
Add Eucalyptus Accents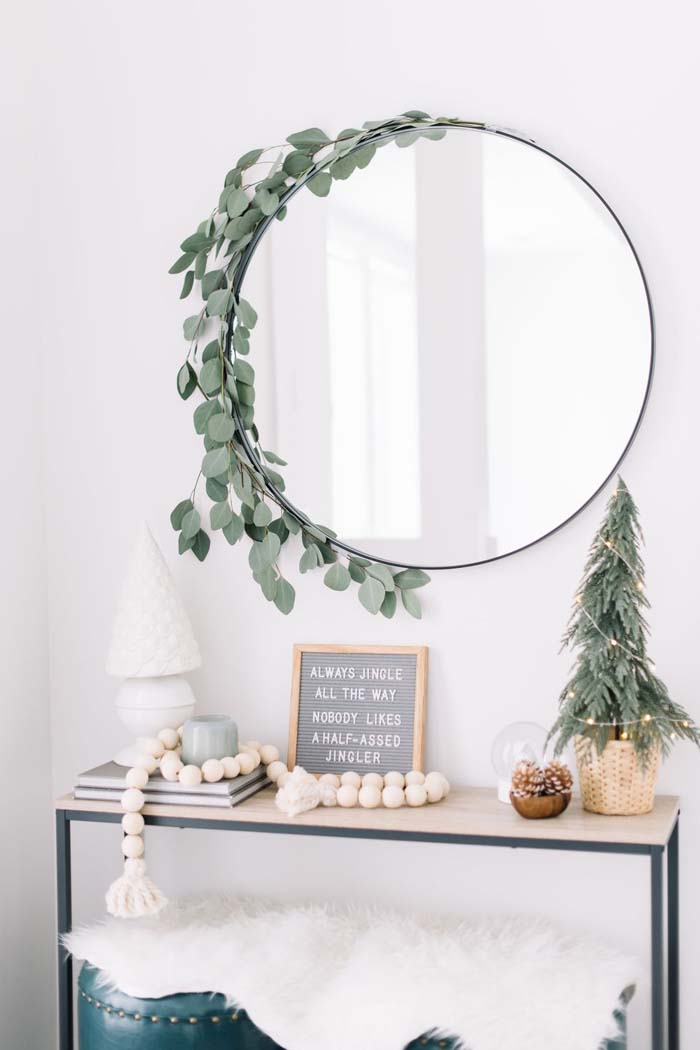 If you have a round mirror in the entryway or in the bedroom, you can take advantage of its shape to make an alternative wreath.
Simply attach an eucalyptus branch around the side of it to recreate the typical evergreen pine wreath.
via 204 Park
Adorn the Windows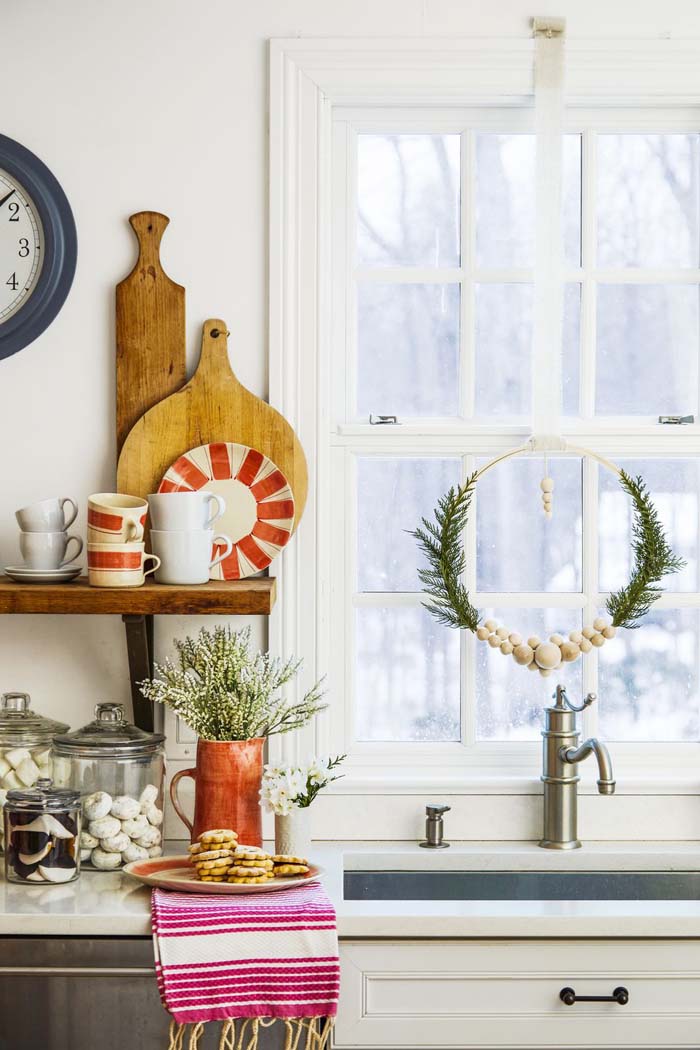 Decorate the windows with a wreath affected by the Scandinavian style. You can make it yourself by dressing a wire or wooden wreath with fresh pine twigs on either side.
The top and the bottom are left for the Scandinavian accents- woven twine and wooden balls.
via Mike Garten
Bring Joy Indoors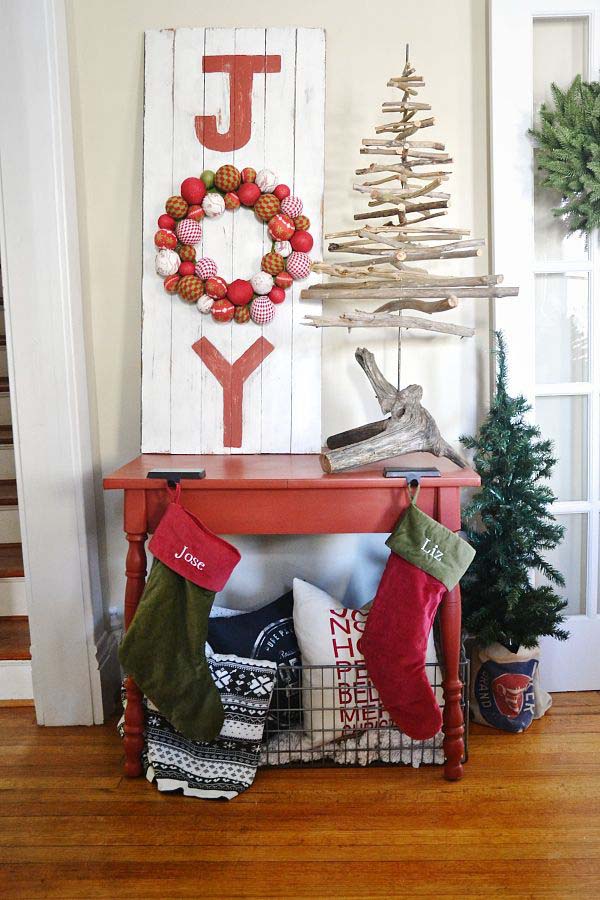 There are many variations of the handmade JOY signs. One particular thing connects them all- the rustic vibe.
The choice for the backdrop on which the word pop outs is reasonable- natural and aged. Joy is an essential value that dates from old times and will have an evergreen importance.
via Liz Marie Blog
Bring On the Glitter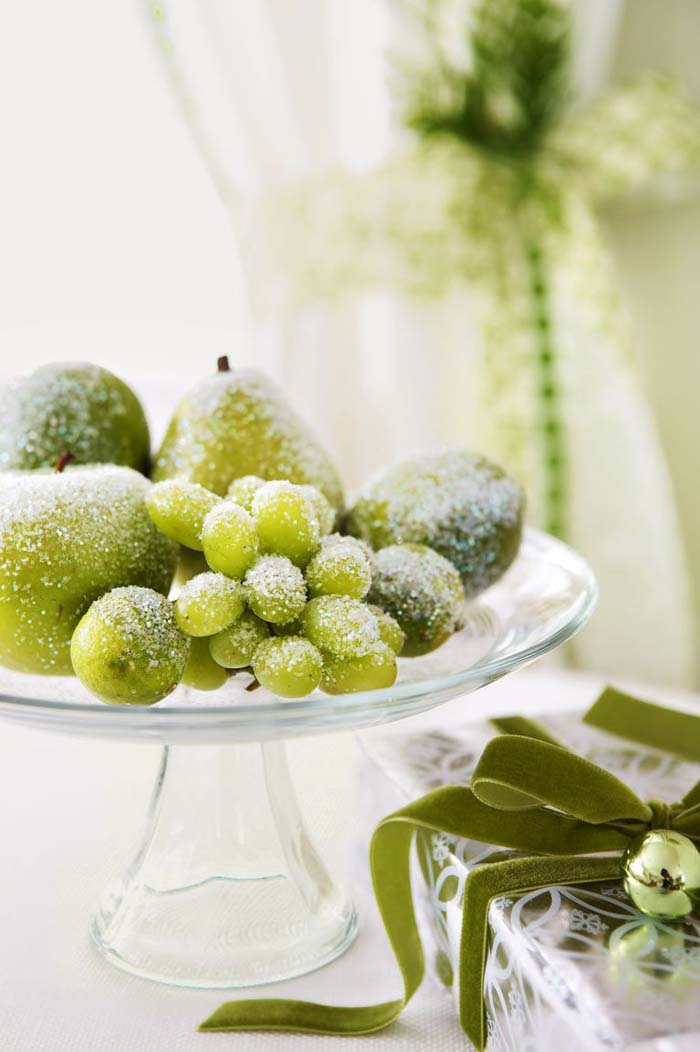 Do something inexpected with the traditional food on the Christmas table- give it a frosty look.
To achieve this glittery effect, sprinkle sugar onto the wetted surface of the fruits. Use this magical effect in the Christmas decor by placing them onto a glass stand where they will be more visible.
via Michael Partenio
Bring the Outside In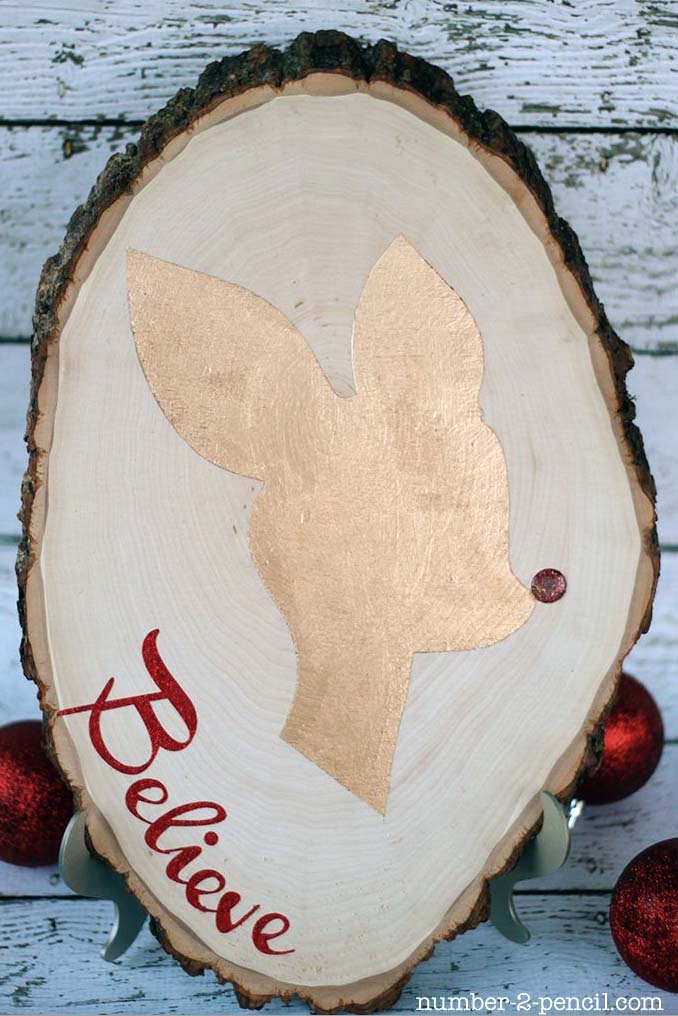 Signs don't need words to be impacting. An image of the red nosed reindeer will be easily recognized and enjoyed.
The word below simply inspires that everyone should believe in miracles, especially at Christmas.
via No2 Pencil
Celebrate Nature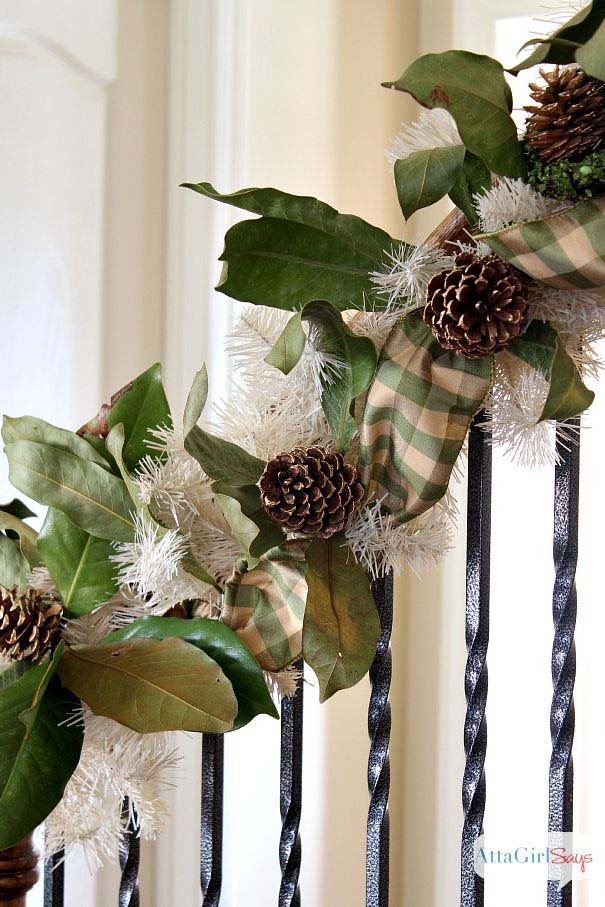 Choosing Christmas decor made of nature gifts is an eco-friendly and affordable idea.
A garland for the banister made of holy leaves, pinecones and a few wide ribbons and pieces of white garland will bring nature indoors and will anchor the Christmas mood at that transitional part of our homes.
via Atta Girl Says
Cherish the Reason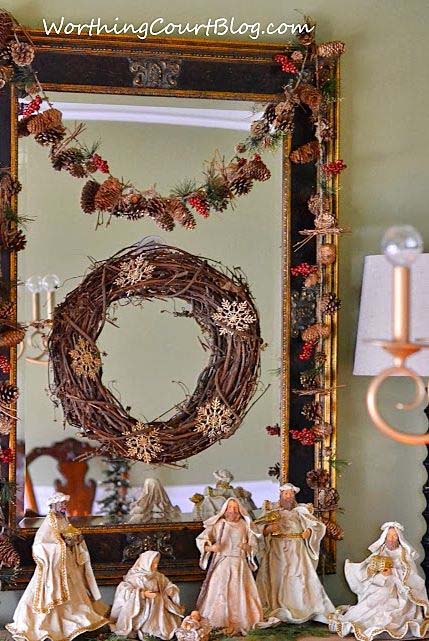 Speaking about traditions, a representation of the birth of Jesus is an evergreen decor arrangement from old times.
It has a great sentimental value and increases the feeling of sanity at home.
via Worthing Court
Christmas-ify the Front Porch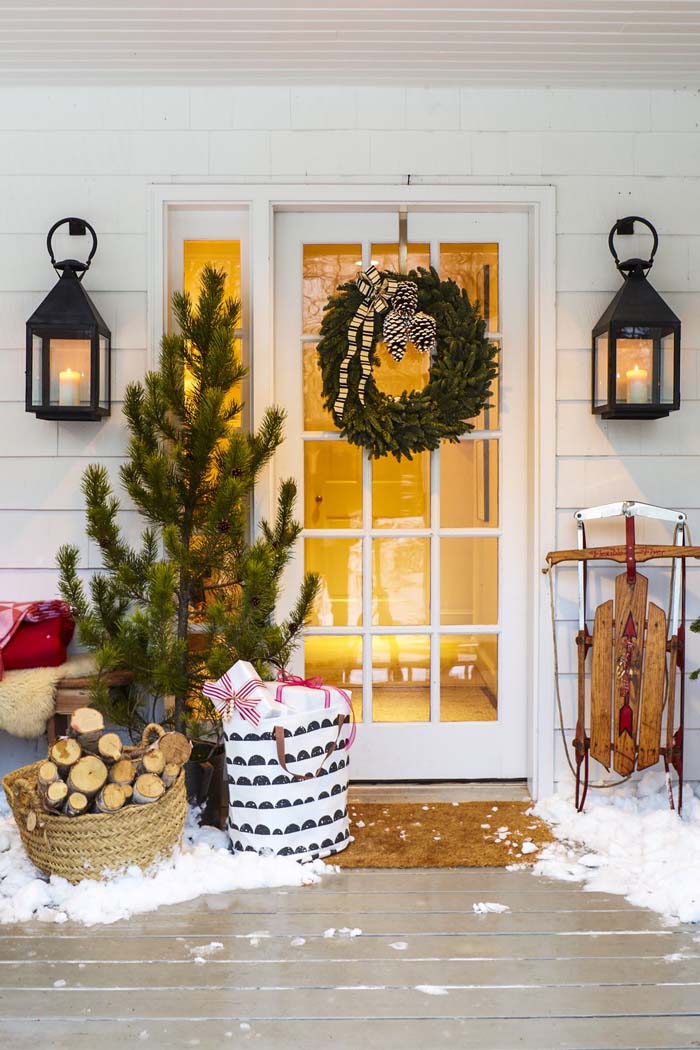 Dress the front porch like a Christmas scene to make it more welcoming for visitors.
Use indoor motifs like a pine tree, a bag of gifts, a basket of logs to warm it up.
via Mike Garten
Coast With Snowflakes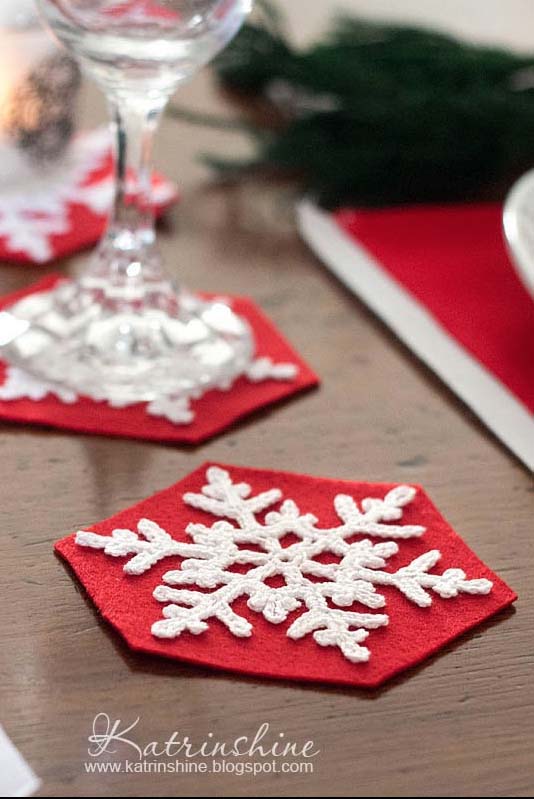 Make the dining table very special for Christmas by dedicating a coaster with a winter motif to every person sitting on it.
The snowflakes have been crochetted, the red background has been cut from felt sheet. If you don't have any knitting skills, you may find snoflakes from felt or other material at the Dollar Store.
via Katrinshine
Cozy Up Your Fireplace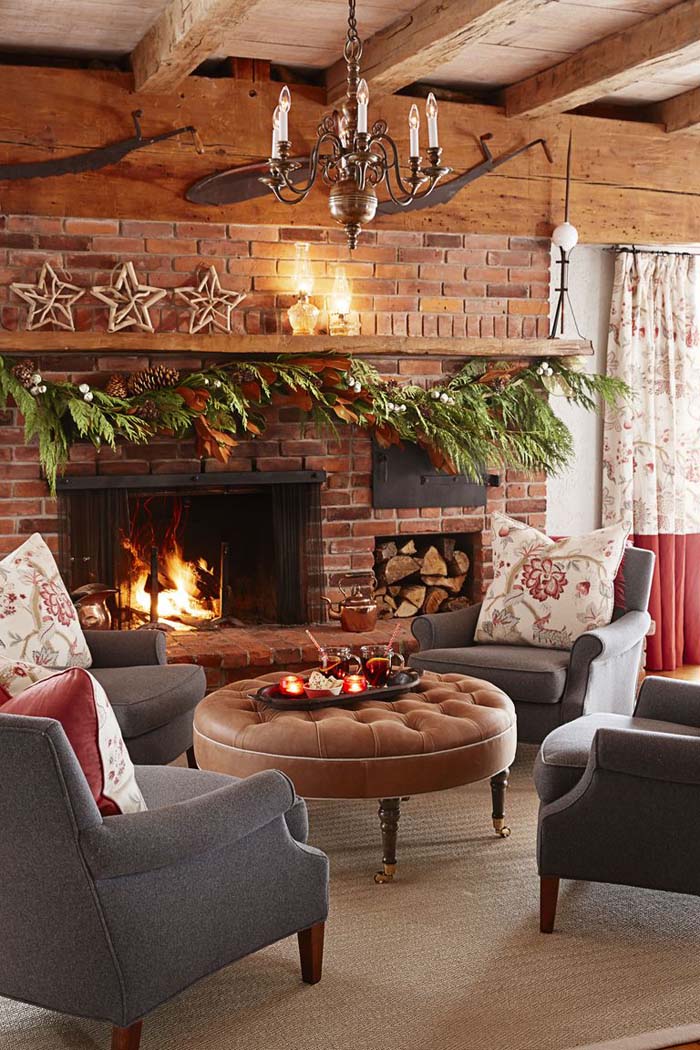 Christmas means coziness and harmony so when decorating your home for Christmas consider elements that enhance these.
Elements from nature have this function plus they will cost you no money. Pine twigs, pinecones, twigs shaped into stars or trees, a basket full of logs are among the elements that will make the home cozier for the holiday.
via Stacey Brandford
Craft a Cheery Welcome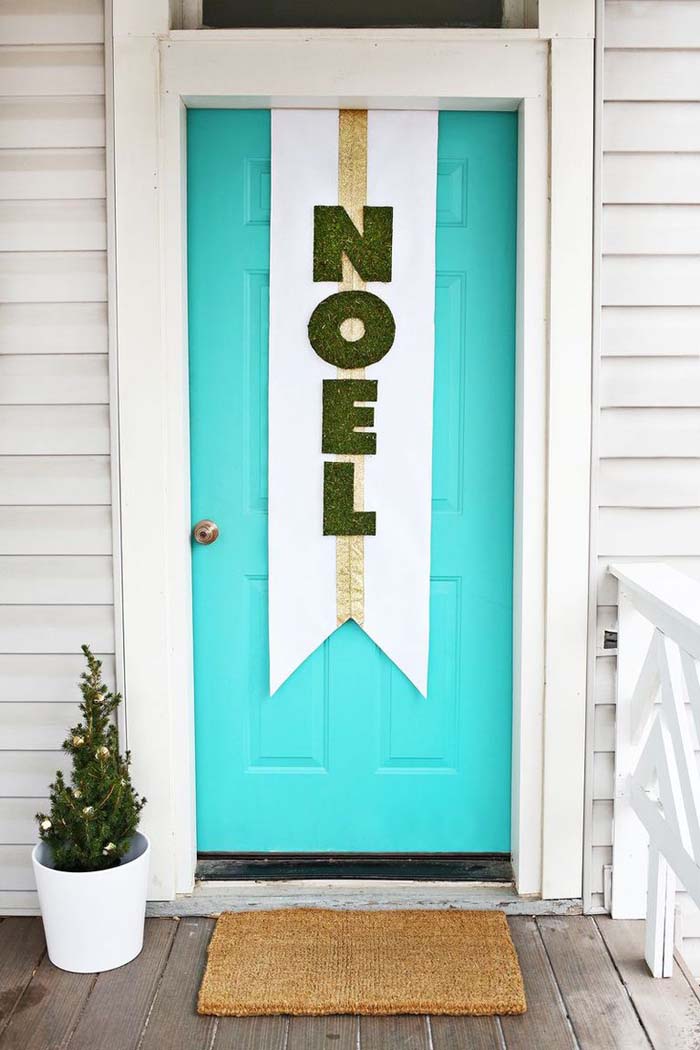 Make yourself a banner that will welcome the visitors of your home for Christmas.
Including elements in the traditional Christmas colors, this is an easy DIY project.
via A Beautiful Mess
Craft Your Own "Tree"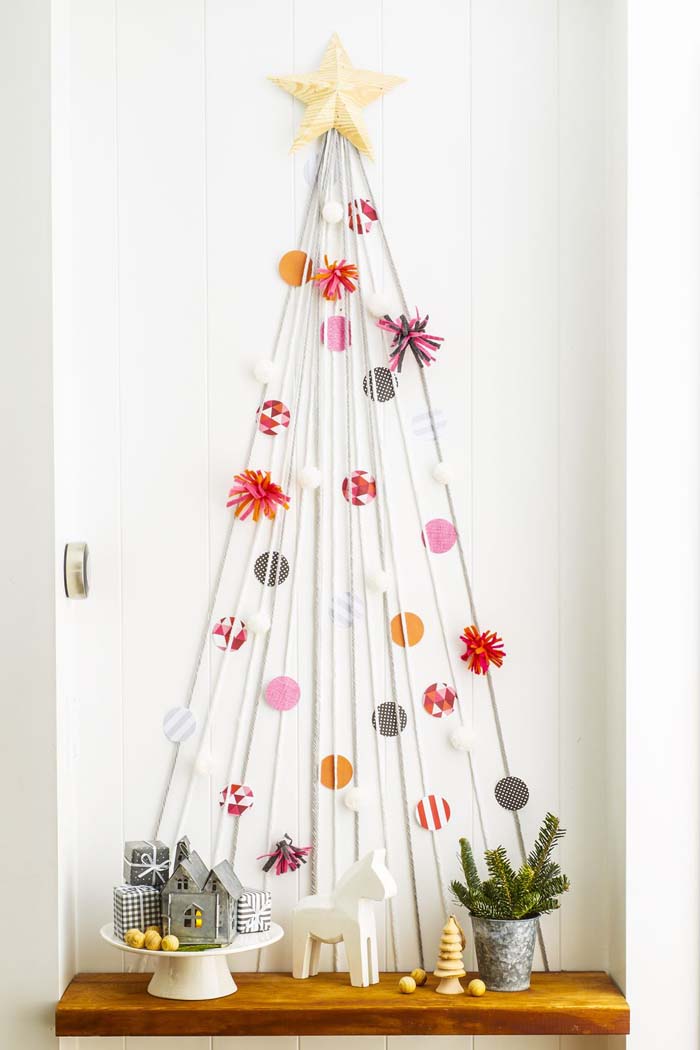 If you want to go beyond the traditional Christmas tree but yet don't want to be too extravagant and stick to the stylish look, you can use this idea.
The tree is vertical and can be made on any empty wall. First decidewhere the top of the tree will be and fix a nail there. Mark with nails the bottom of the tree where the twine will end forming the pyramidal shape.
The ornaments for this non-standard tree are paper circles, pom poms and felt balls. The star beautifying the top is made of wood sticks.
via Mike Garten
Create a Snowy Display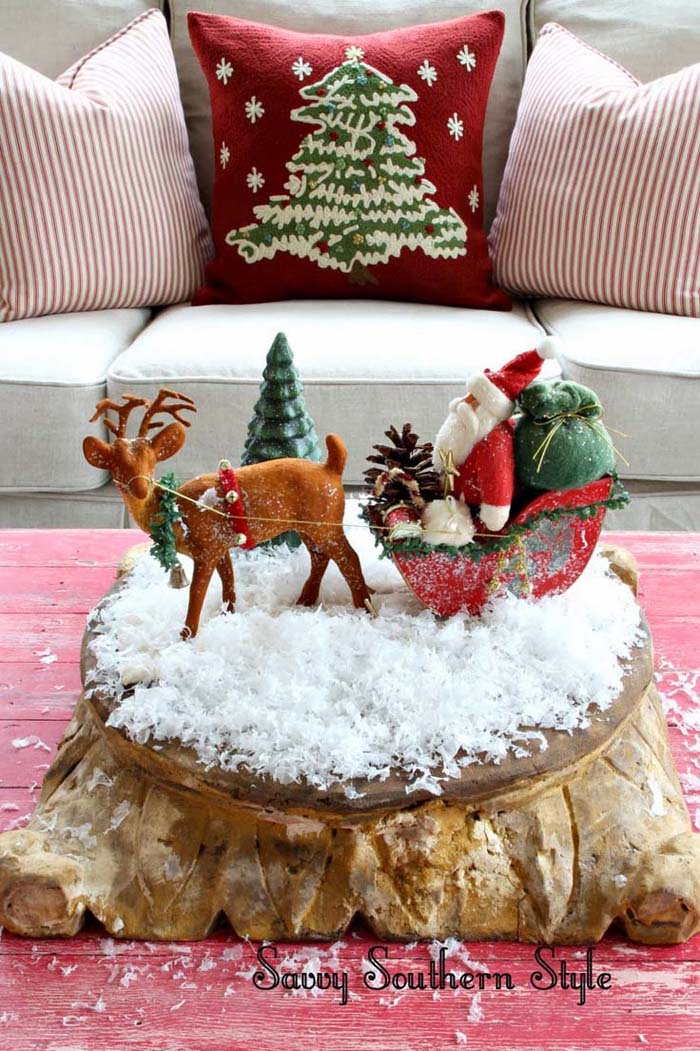 The Christmas expectation will be increased with figures of Santa and reindeer placed around the home.
Creating a holiday scene like this one will be even more impacting and will add a lot of charm.
Cut Out a Tree Skirt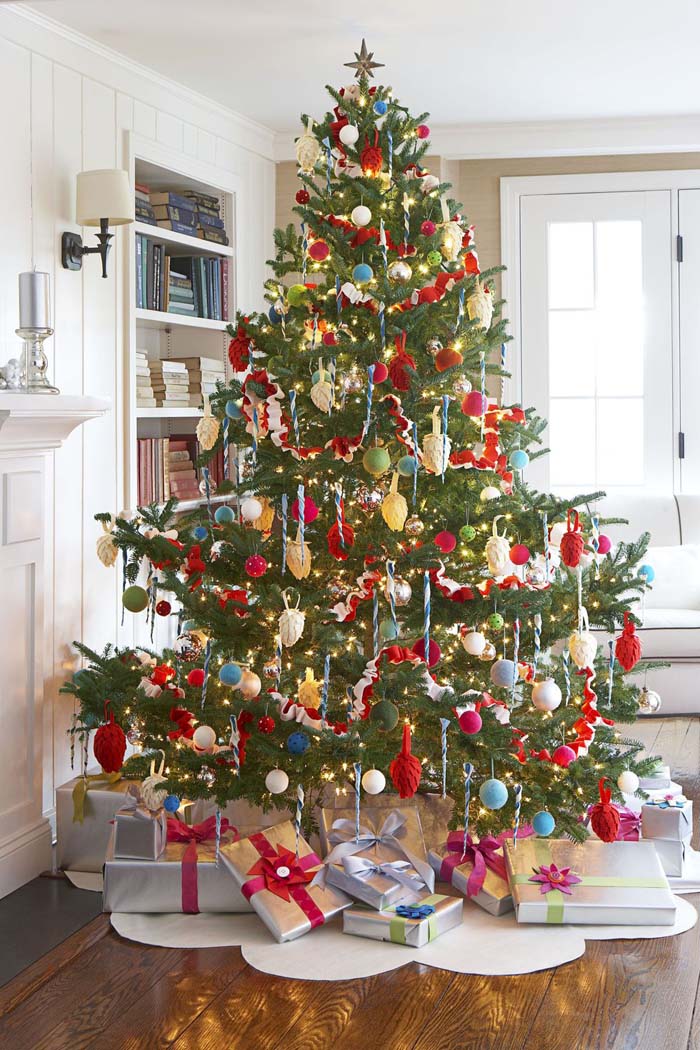 The tree skirt shows attention to every detail and anchors the tree in a very elegant way.
The post bellow gives the steps to cutting your own skirt from felt.
Dangle Shiny Ornaments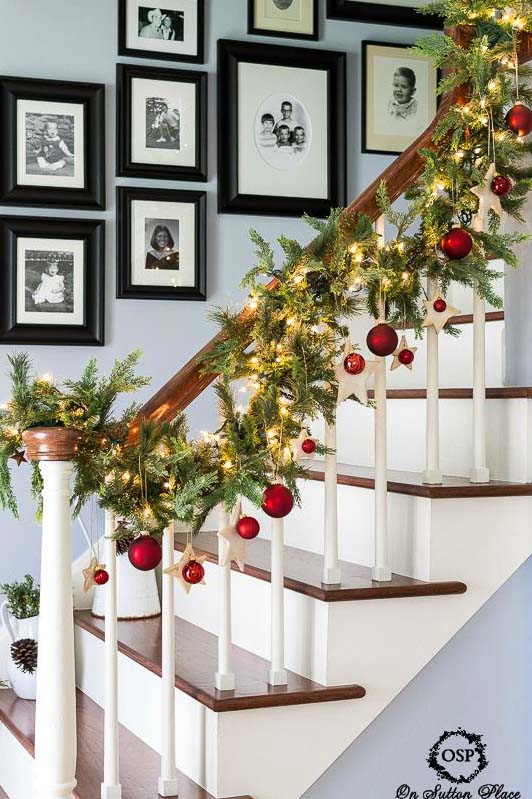 Make the banister of your staircase an inclined representation of the Christmas tree. You need pine garlands woven around the railings to create a basis for the ornaments.
Leaving them dangling will increase the size of the decoration and will create interest.
via On Sutton Place
Dangle Treats from Windows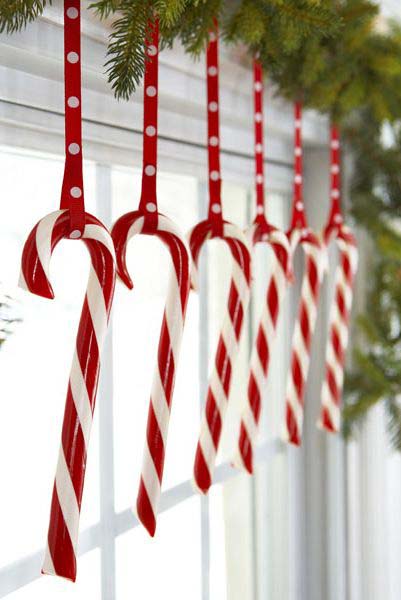 Another type of ornaments you can use for your garland decoration is the candy canes.
Their playful red and white spiral pattern instantly increases the cheerful mood and creates a point of interest because of the non-standard application.
via Michael Partenio
Display Christmas Cards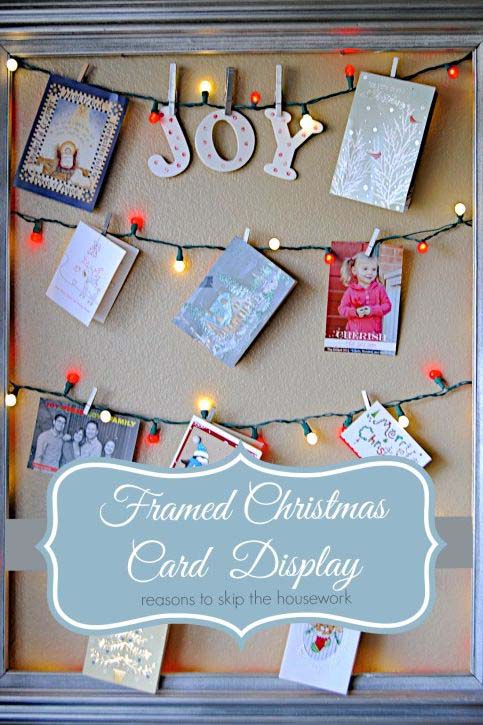 This creative post card display will expose the dearest Christmas cards collected through the years.
Make it on a framed plywood board and use string of lights to attach the cards to.
DIY a Rope Tree Collar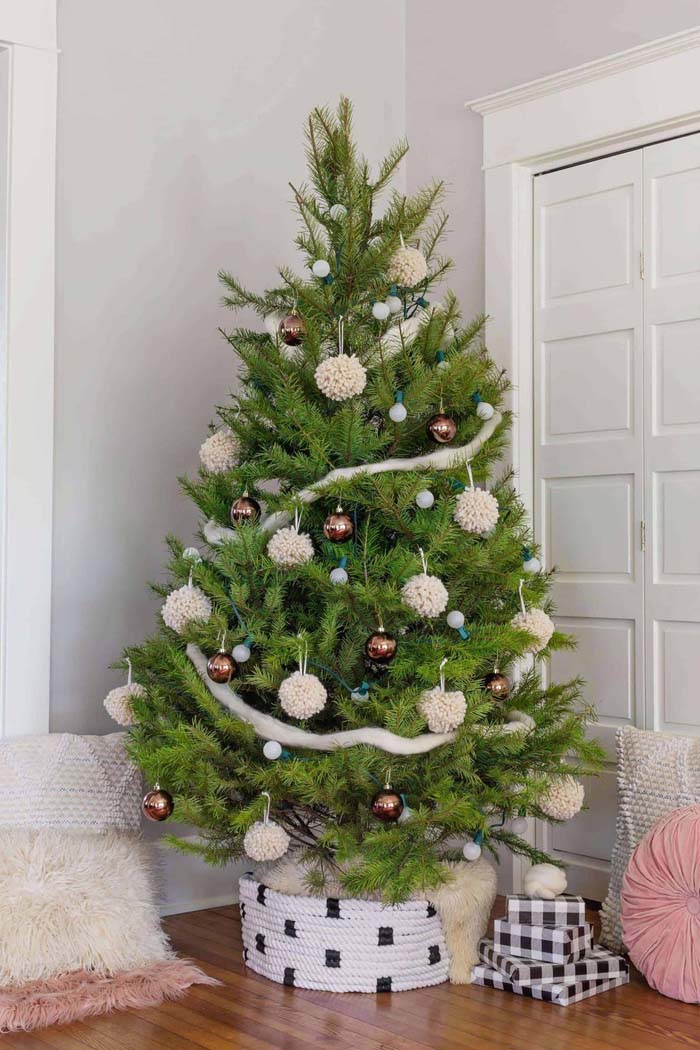 An alternative of the Christmas tree skirt is a collar which gives it an illusion for additional height and makes the setting more homely.
This is an easy project that requires cardboard and rope only.
via A Beautiful Mess
Dress the Front Stoop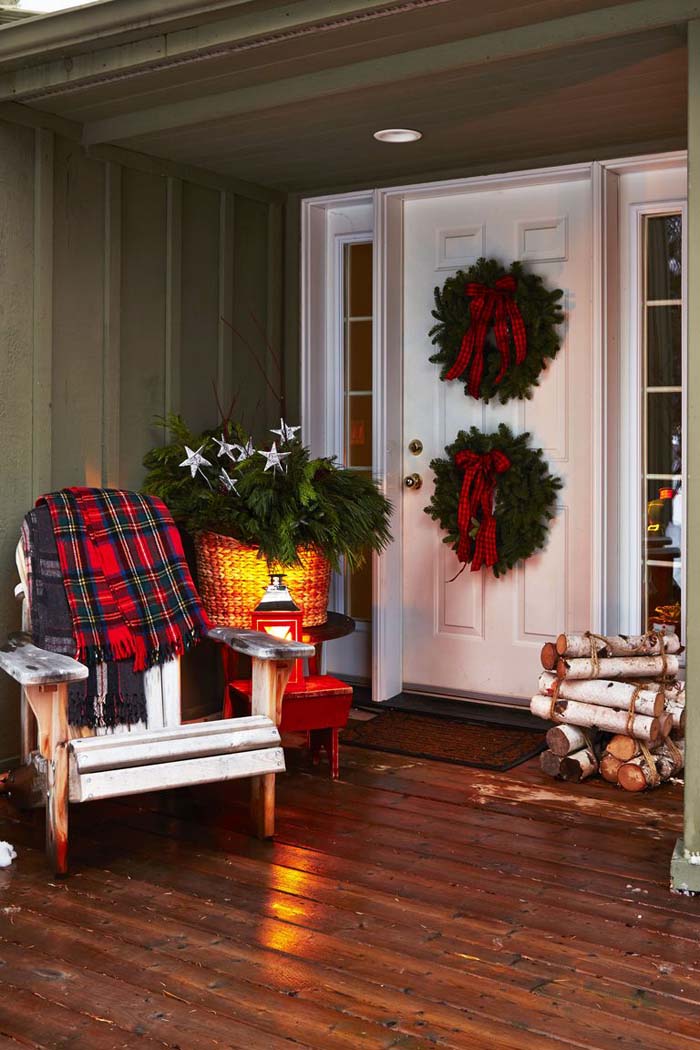 Make the front porch part of the holiday celebration by making it festive looking and welcoming.
Instead of a pine tree, place a basket with pine twigs decorated with metallic star ornaments. Decorate the door with one or two wreaths and place red colored accents around for a pop of Christmas color.
via Stacey Brandford
Fake a Fire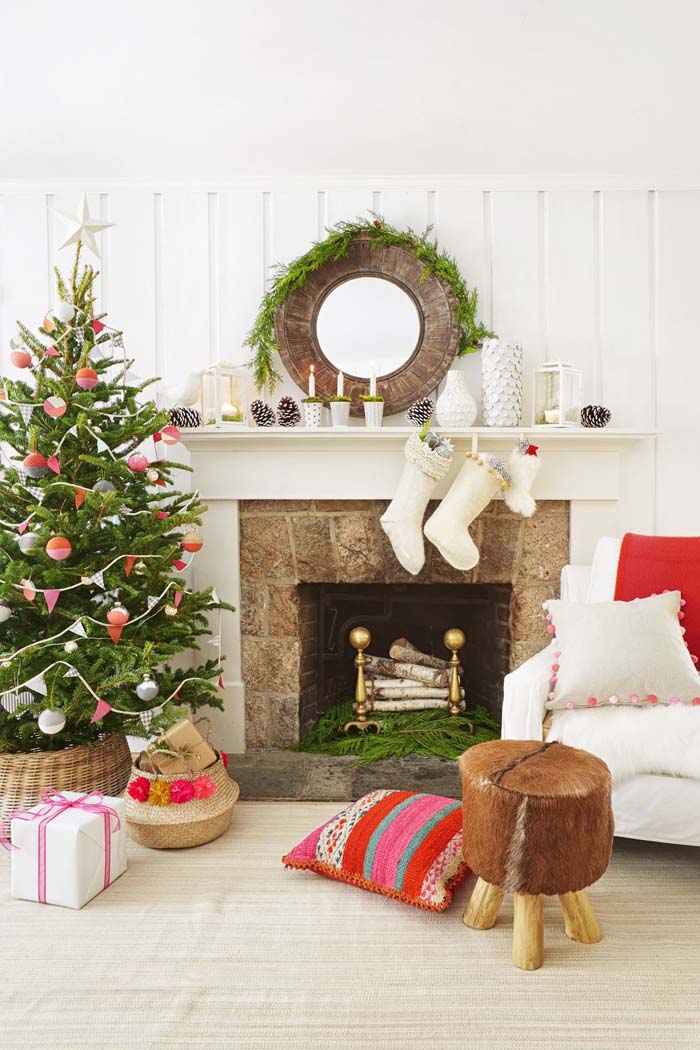 Spice up the holiday decor with a pile of logs that will keep the fireplace attractive when the fire is not lit.
Since the logs will be only decorative, you can surround them with pine twigs and gold elements.
via Mike Garten
Get a Mini Tree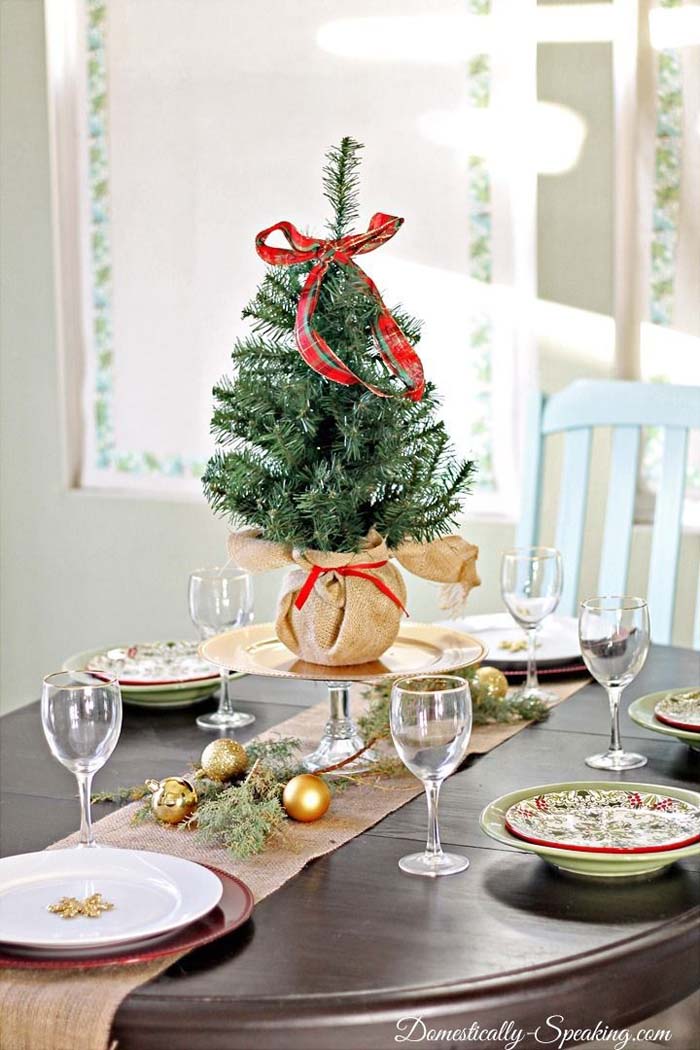 Use a mini pine tree as a centerpiece for your holiday table. Give it height by placing it on a cake stand.
Wrap the bottom with burlap to dress the tree and make it more attractive. You can leave it undecorated or place small ornaments onto it to replicate the other tree.
Get the Kids Involved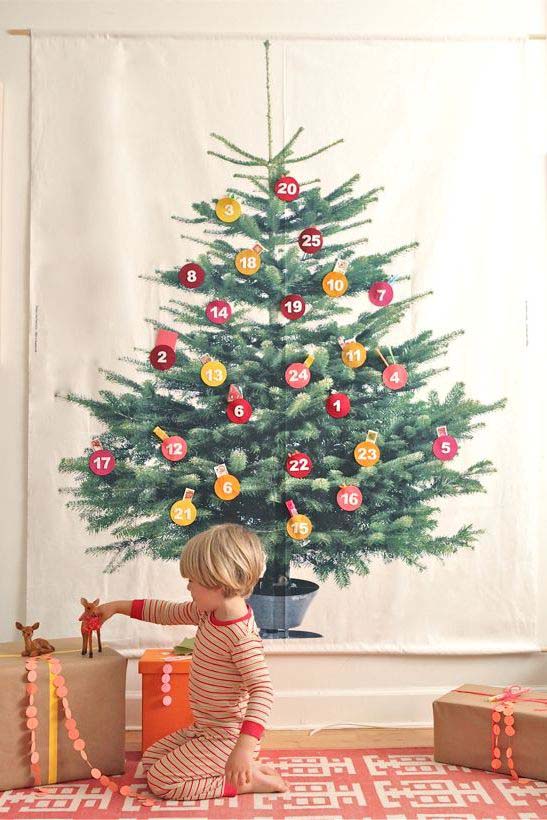 This idea for an advent calendar will become an interesting decor and a fun game for your kids.
The DIY part of it is making the date ornaments from felt. The tree printout has been bought from Ikea.
via Oh Happy Day
Give Ornaments a Different Use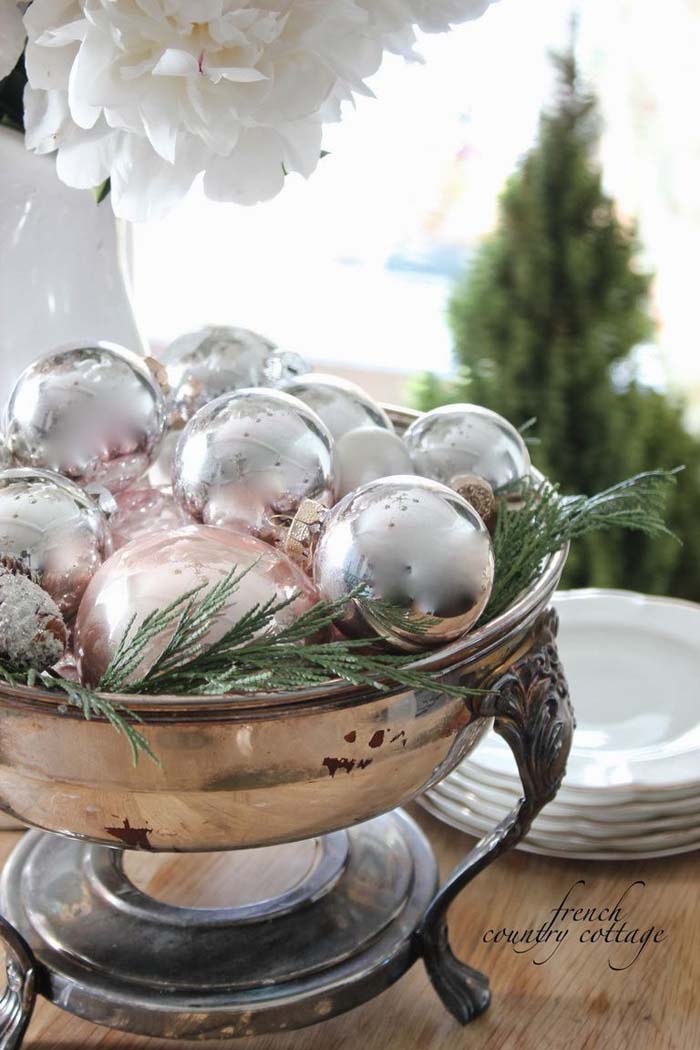 The easiest and very elegant decor idea is to place the Christmas balls into a container like a bowl, a plate or a tray and use the arrangement as a centerpiece or addition to a nook.
Changing their application will instantly attract the attention.
Go Jolly With Decorations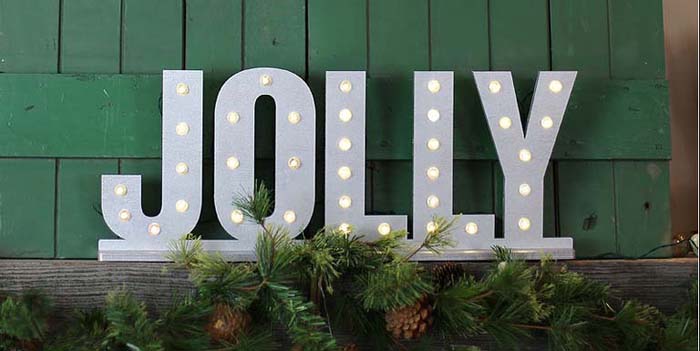 The LED light signs are very cute, however most of them go out of the concept for stylish or elegant style because of the plastic material they are made of.
You will be surprised how easily that look changes by replacing the plastic with wood. It becomes a meaningful sign with a vintage design, the perfect addition to an elegant mantel decoration.
via Craft Cuts
Hang an Indoor Wreath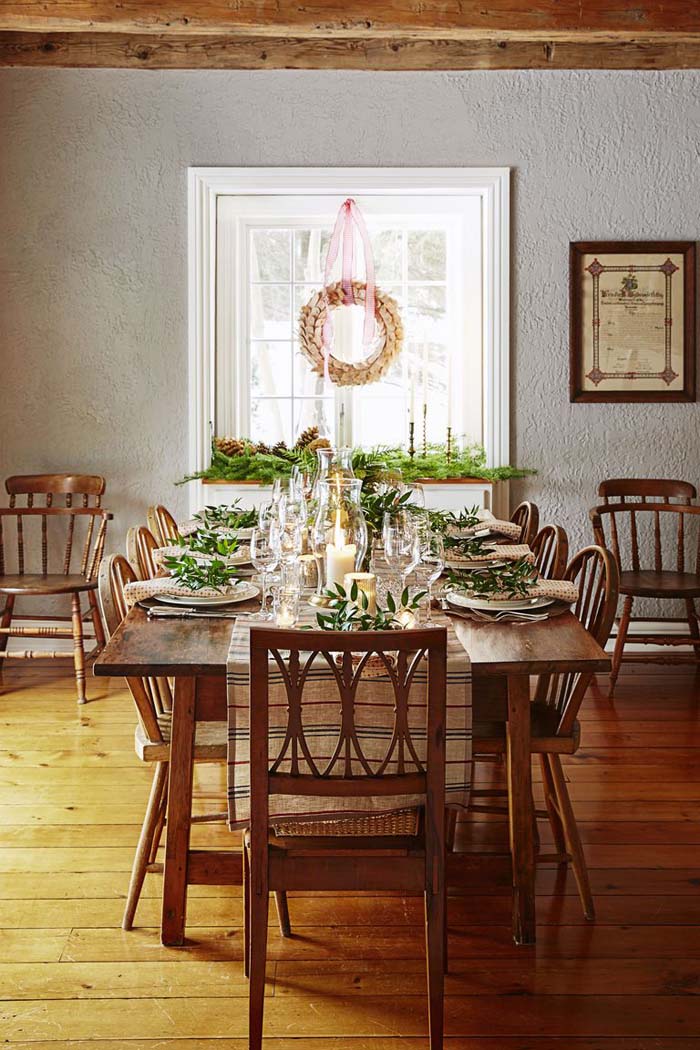 Hang a wreath in a charming and attractive way. Instead of hindinghow it is attached to the surface, make this an effect by exposing it.
Tie a piece of ribbon around the wreath and tleave the ends dangle.
via Stacey Brandford
Hang Stockings With Care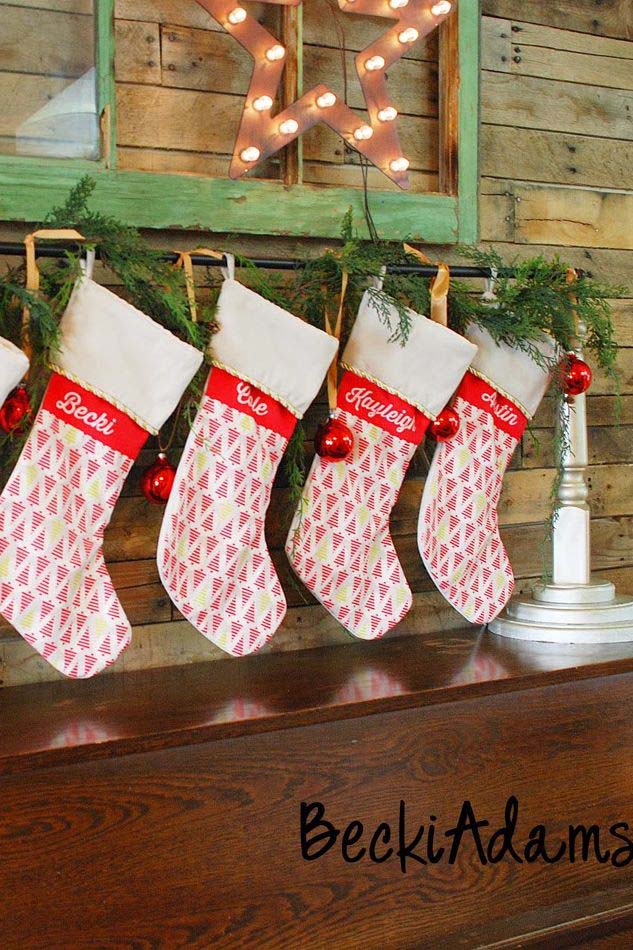 If you don't have a mantel or you don't want to damage its surface, hang the stockings another way.
Make a stand out of two legs crafted from upcycled furniture to hold a curtain rod. String each stocking on the rod and voila!
via Becki Adams
Keep Track of Time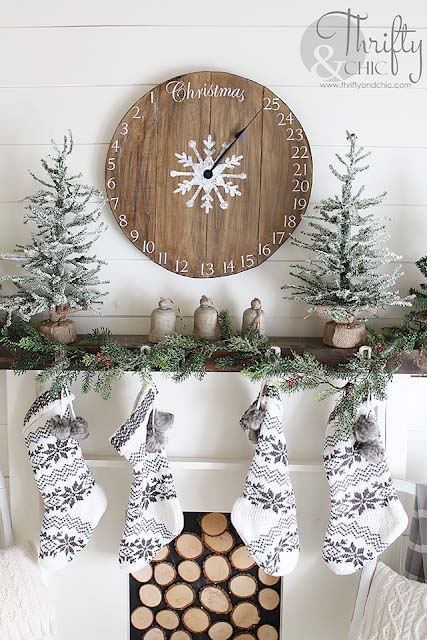 This creative advent calendar idea must be part of your Christmas decor! It is very interesting modification to the standard way to count the days till Christmas.
This stylish rustic clock has a hidden feature- there is a pocket behind each number that can hold a paper with activity or challenge so it promises a fun family time!
via Thrifty and Chic
Let Ribbons Hang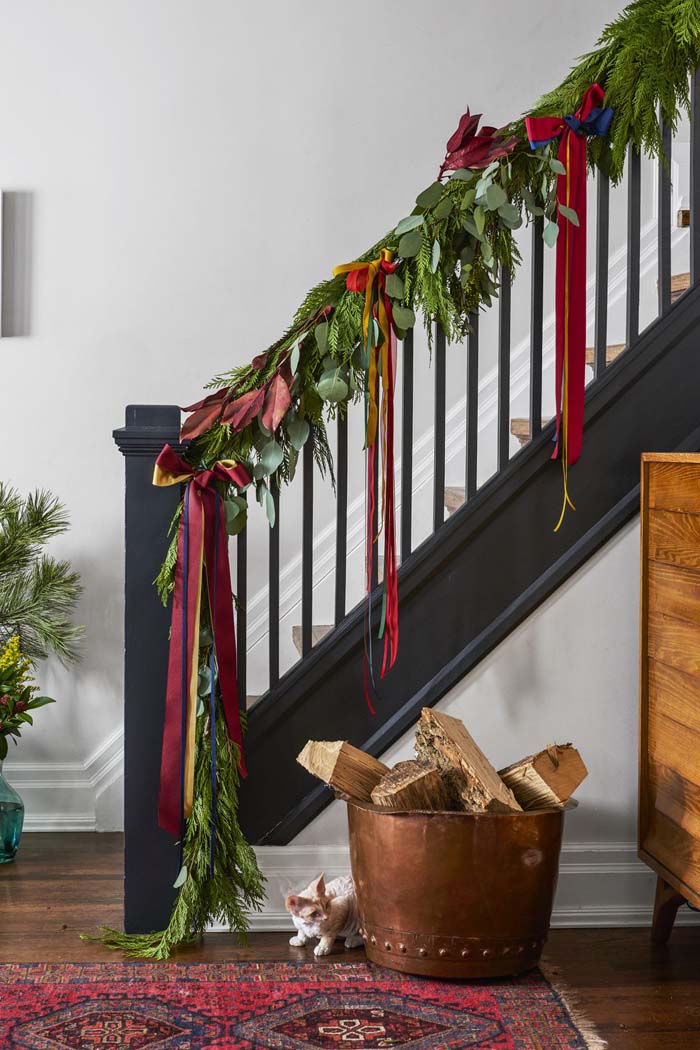 Give the banister a festive look by dressing it with a garland of fresh pine twigs. Attach them with crimson bows and leave their ends hang for more interest.
Add shaded holy leaves to give the garland depth and a traditional Christmas accent.
via Sian Richards
Light Up the Mantel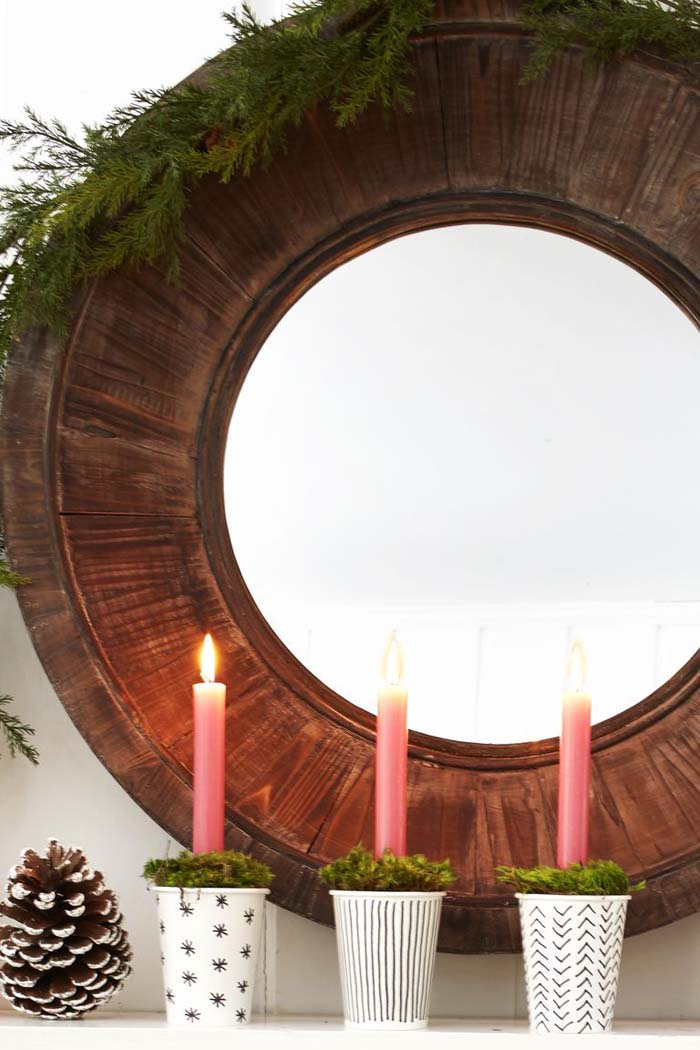 If you don't have two or three or even more identical candle holders, here is an idea how to make inexpensive and very charming ones.
Get plain paper cups and draw winter patterns onto them with black or gold marker. Fill each with moss to keep stable the inserted candle.
via Mike Garten
Make a Candy-coated Centerpiece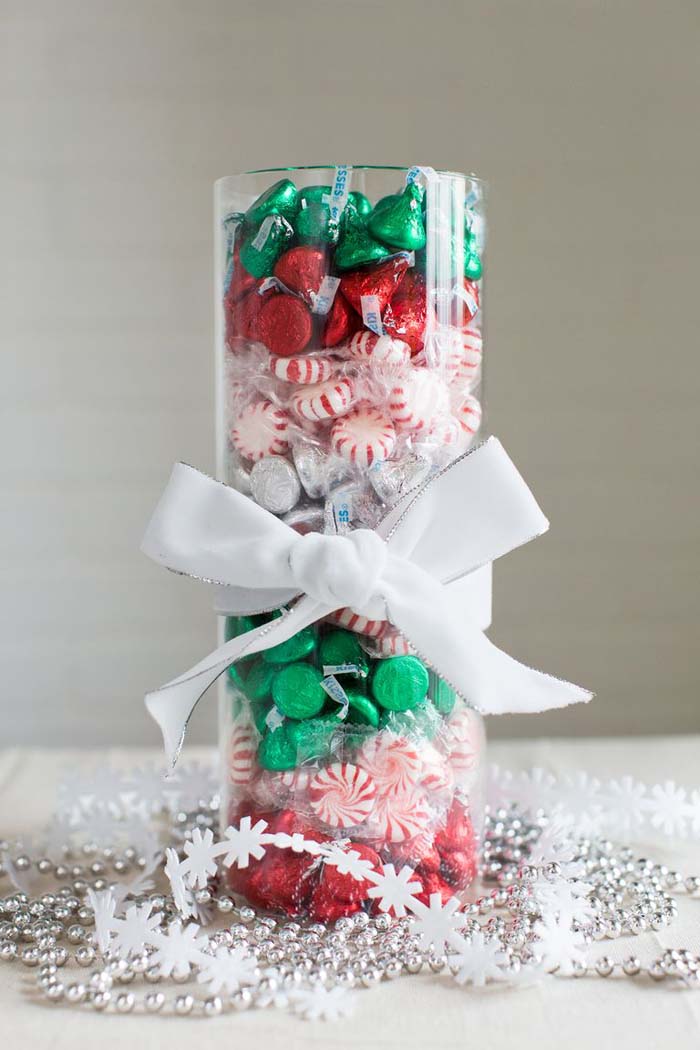 This is a 5-minute centerpiece craft that looks very festive and very sweet.
Just grab a tall transparent glass vase and fill it in with candles- red, greem white red-and-whit. To make the arrangement more attractive don't just randomly place them in- make them look layered.
Make a Cocoa Station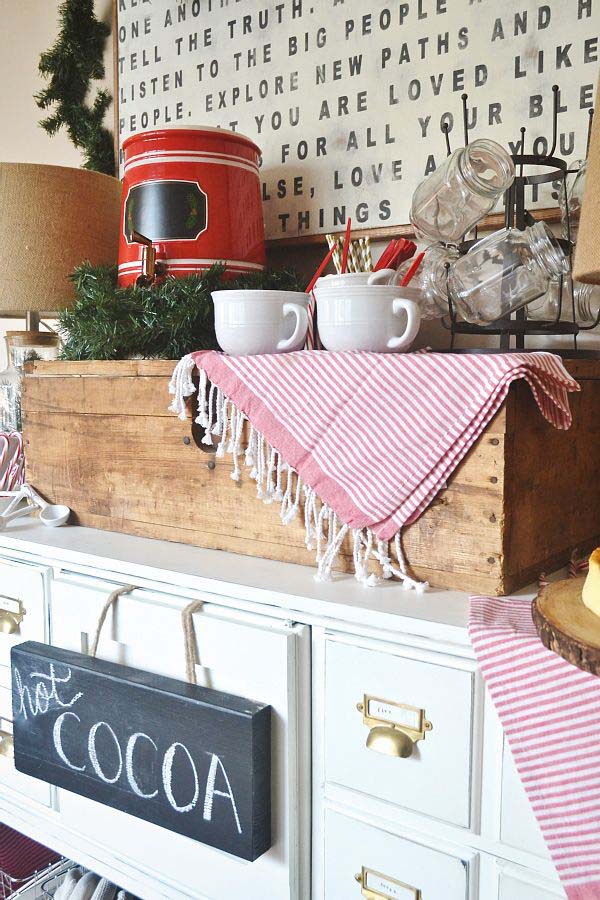 We all know what Santa loves- hot cocoa and buiscuits. Use these two as a theme for your Christmas decoration.
Make a small cocoa station that includes a cute set of mugs and a fun chalkboard sign.
via Liz Marie Blog
Plant a Row of Trees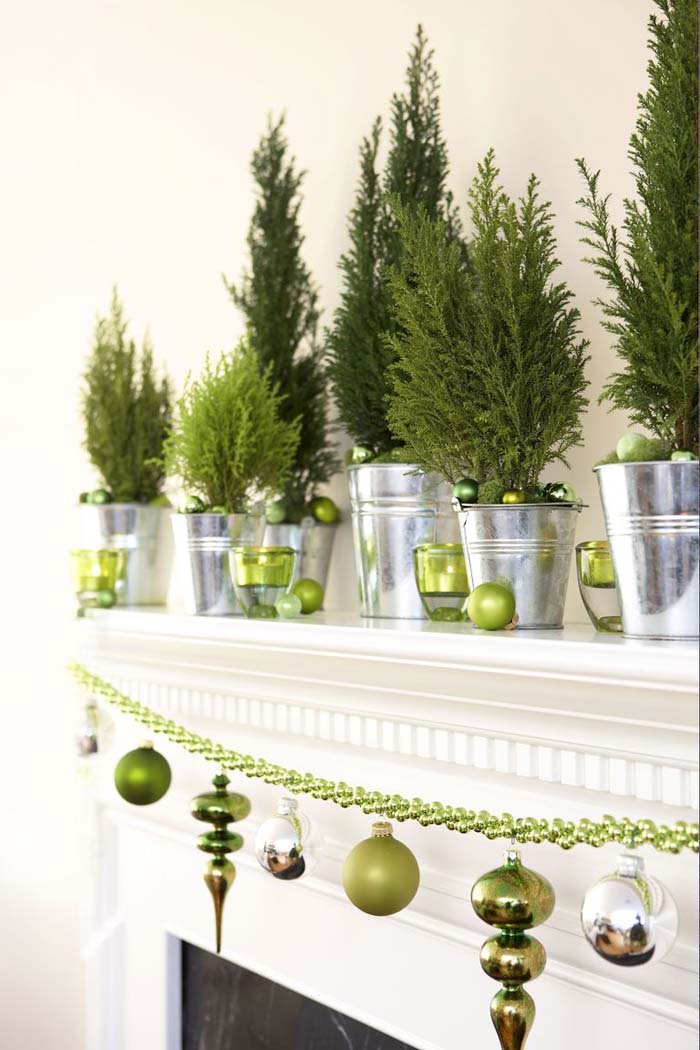 Decorate the mantel with small evergreen trees planted into galvanized buckets. Fill the space between the plants with Christmas balls of the same color.
Complete the decor with a bead garland and ornaments in the same color pattern as the accents on the mantel.
via Michael Partenio
Plant With Santa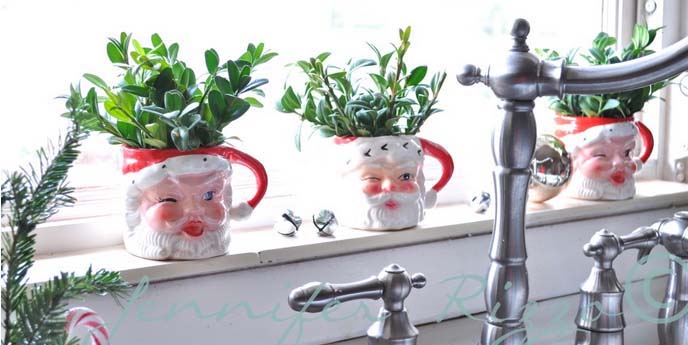 Another low-cost and cute decoration for a mantel or a windowsil is this set of Santa pots.
Fill them with evergreen twigs and put Christmas motif like jingle bells inbetween.
via Jennifer Rizzo
Play With Chalk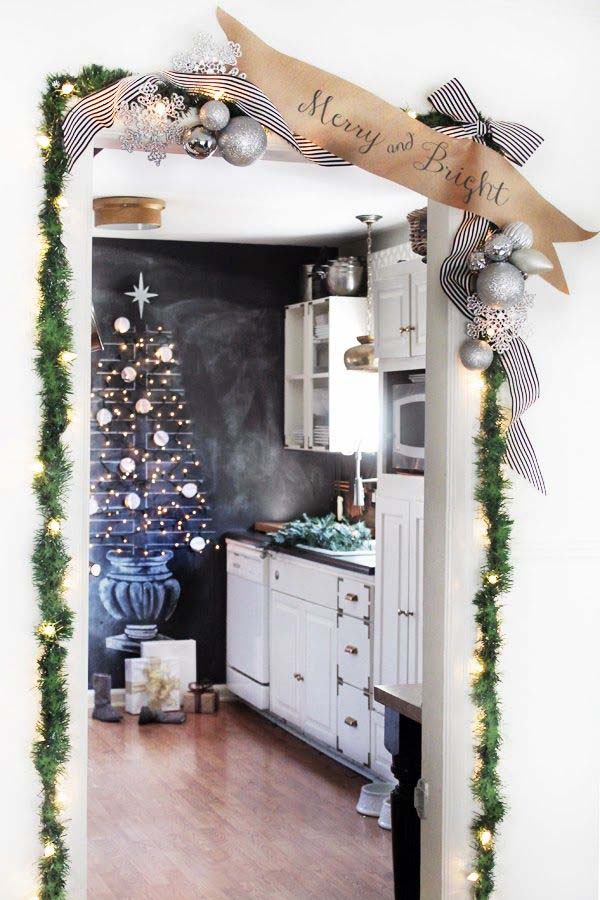 Christmas can be anywhere in our homes. If you are lucky to have a chalkboard wall in the kitchen, simply draw a pine tree.
Decorate it elegantly with strings of lights attached with clear command strip. You can also add paper ornaments.
The final visual result is amazing!
via Hunted Interior
Pot Flowering Bulbs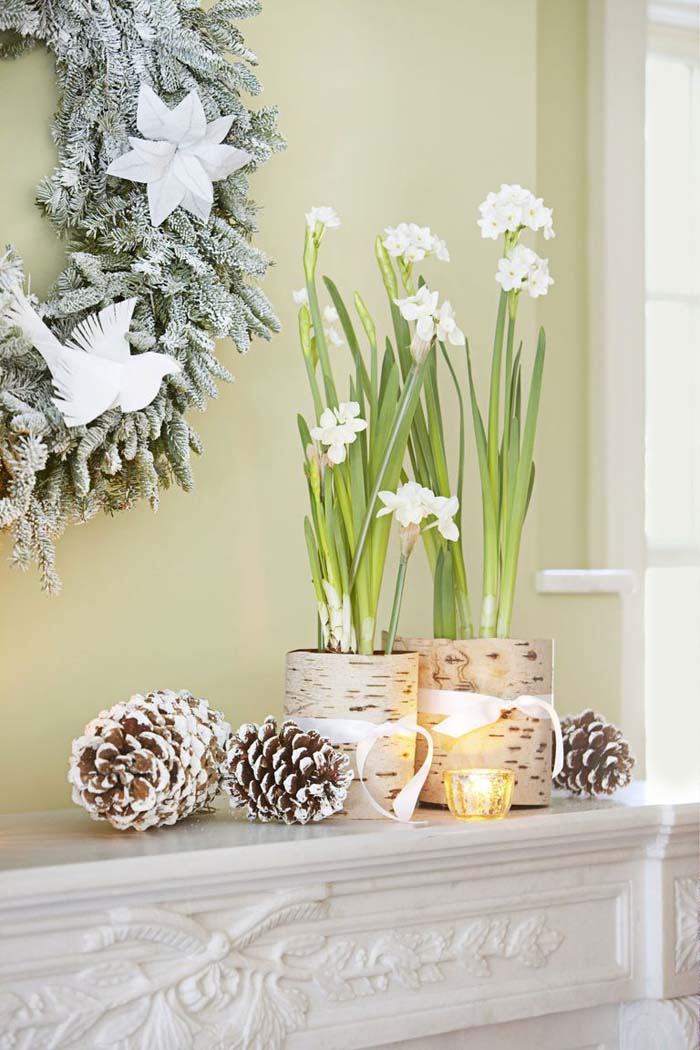 Any flowers can become part of the Christmas decor by wrapping the pots with ribbon and surrounding them with thematic motifs like the pinecones.
To make the blending easier, use birch bark to cover the surface of the pots and give them a natural look.
via Michael Partenio
Repurpose Wine Bottles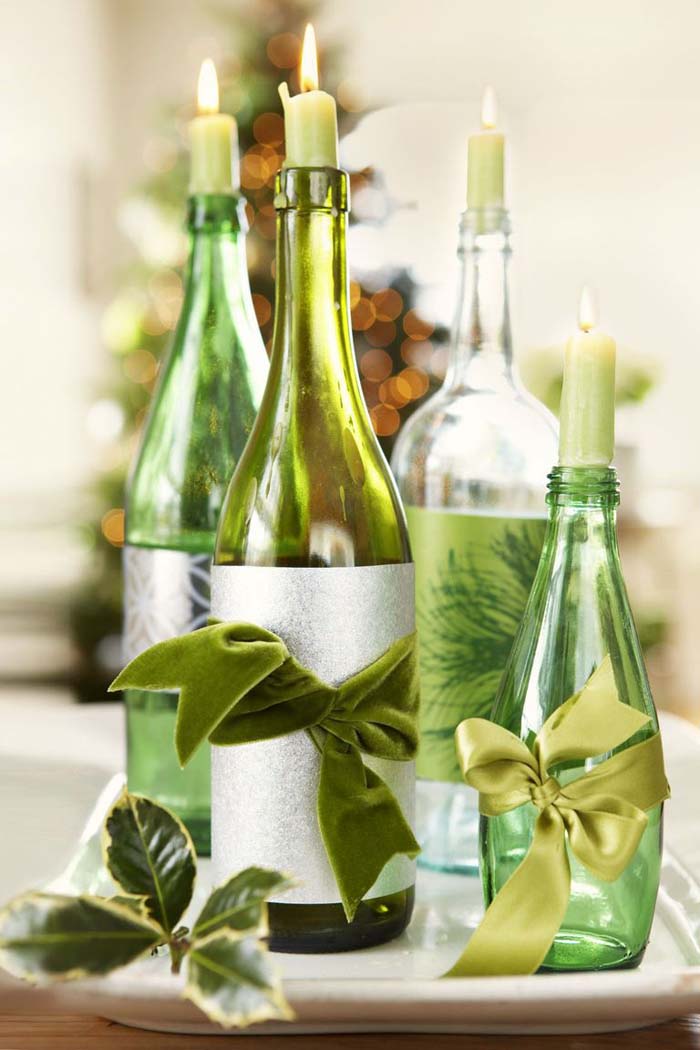 Empty glass bottles are the perfect repurposed candle holder. But how can you make them look more festive?
Glue a glittery paper on the glass and tie a wide ribbon onto them to give them a cheerful gift look.
via Michael Partenio
Revamp the Coffee Table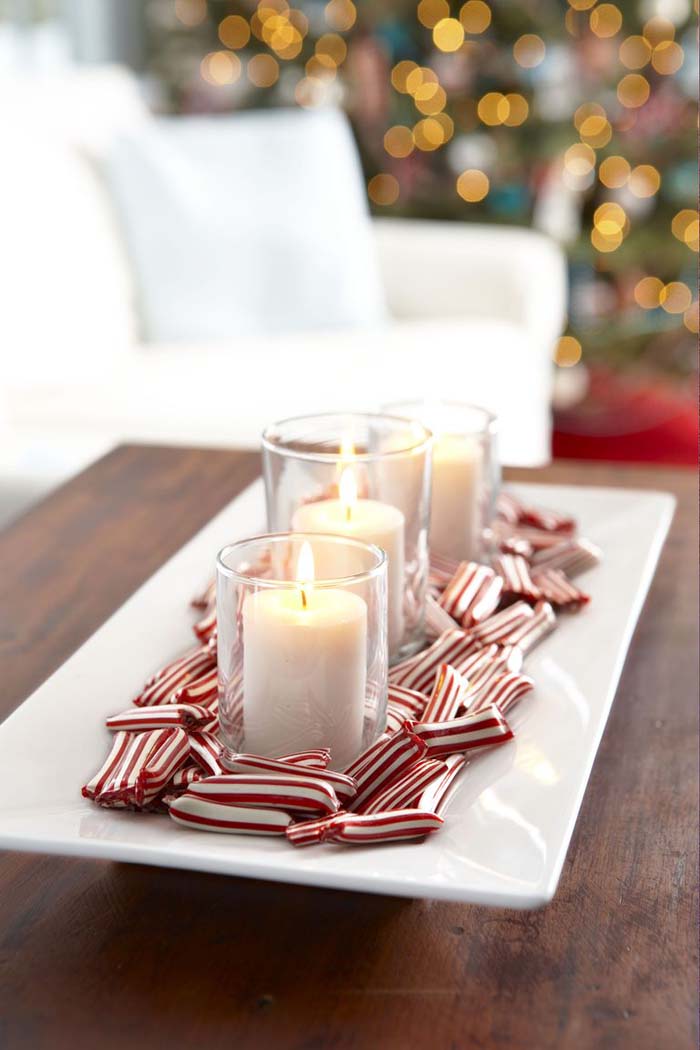 You can make the centerpiece of your table Christmas-themed only by adding candy cane puffs to the existing decoration.
Very elegant and very easy trick to spruce up the holiday feeling.
via Michael Partenio
Spruce Up the Entry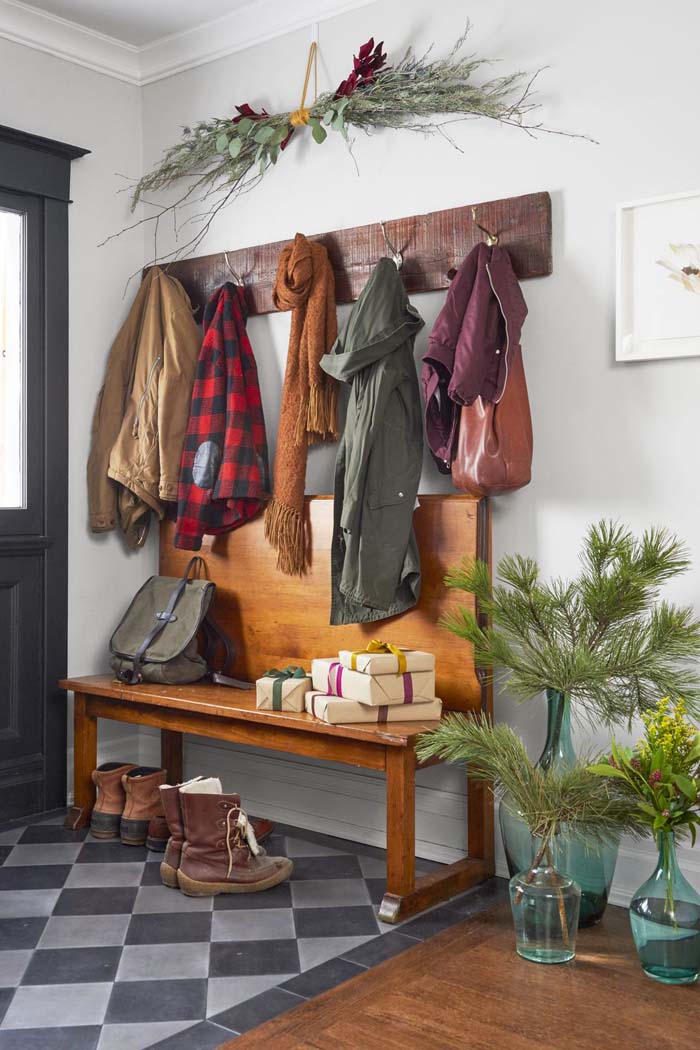 Whether you have much room or no room at all, the entryway can become part of your Christmas indoor decoration.
Bring the Christmas tree in the beginning of your home with pine twigs dipped in glass bottles.
You don't have to decorate them, leave the natural for a more rustic welcoming look.
via Sian Richards
Step Up the Entryway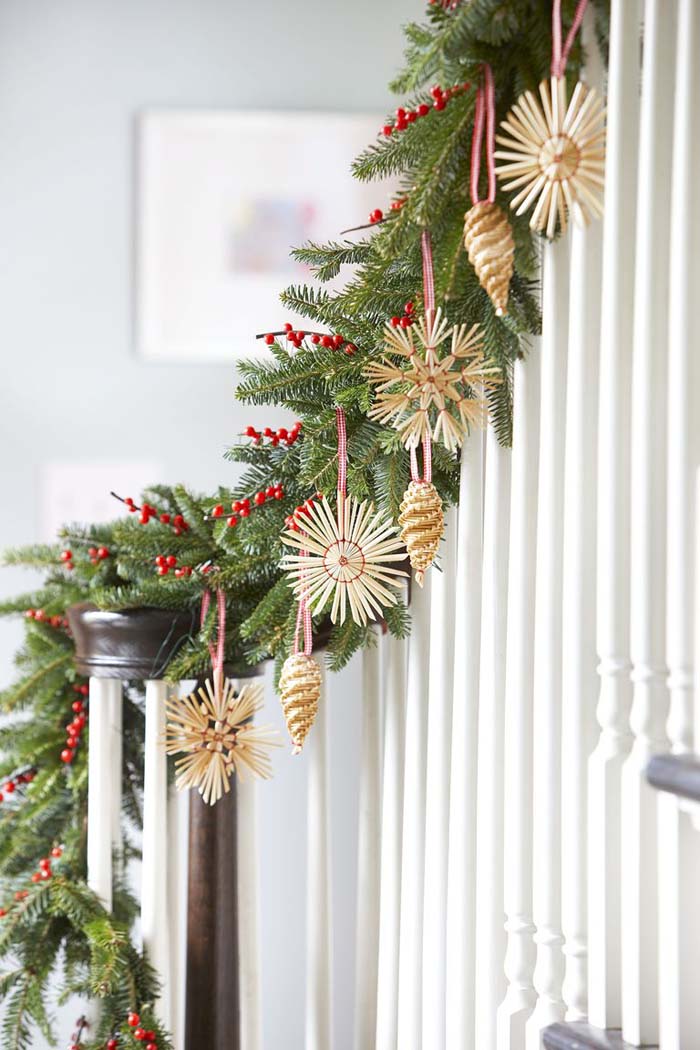 If part of your Christmas decoration collection hasn't find its place on the tree or on the mantel, don't worry- use it to make a festive staircase accent.
Weave faux or real pine twigs around the banister and attach the ornaments.
via Michael Partenio
String Up Christmas Cookies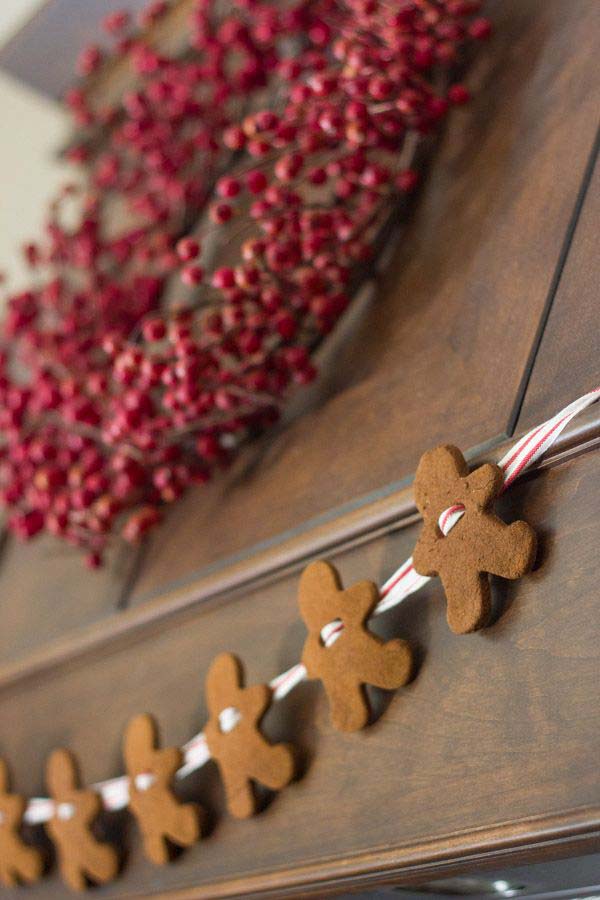 This garland is very simple and natural and that makes it an adored elegant decoration for Christmas.
The gingerbread people strung on ribbon can be an addition to the Christmas tree or to a mantel.
Style Some Stockings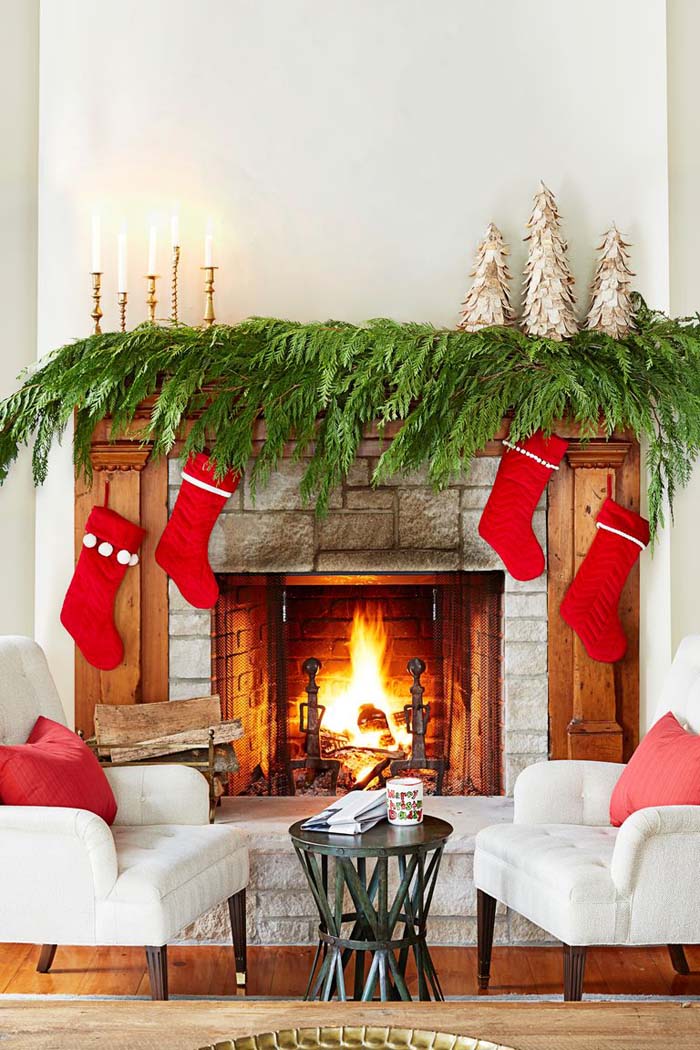 Stick to the traditional colors but let them independently pop out. To achieve this, make sure to layer the colors instead of mixing them.
Mixing them will create a more overwhelming look.
via Stacey Brandford