Miniature gardens have taken the workplace by storm. Some look like scenes from a storybook.
Other gardens bring a sense of calm and thoughtfulness to our desks. We've picked out the cutest DIY mini Zen gardens for desk areas. You can create almost every project listed in an afternoon.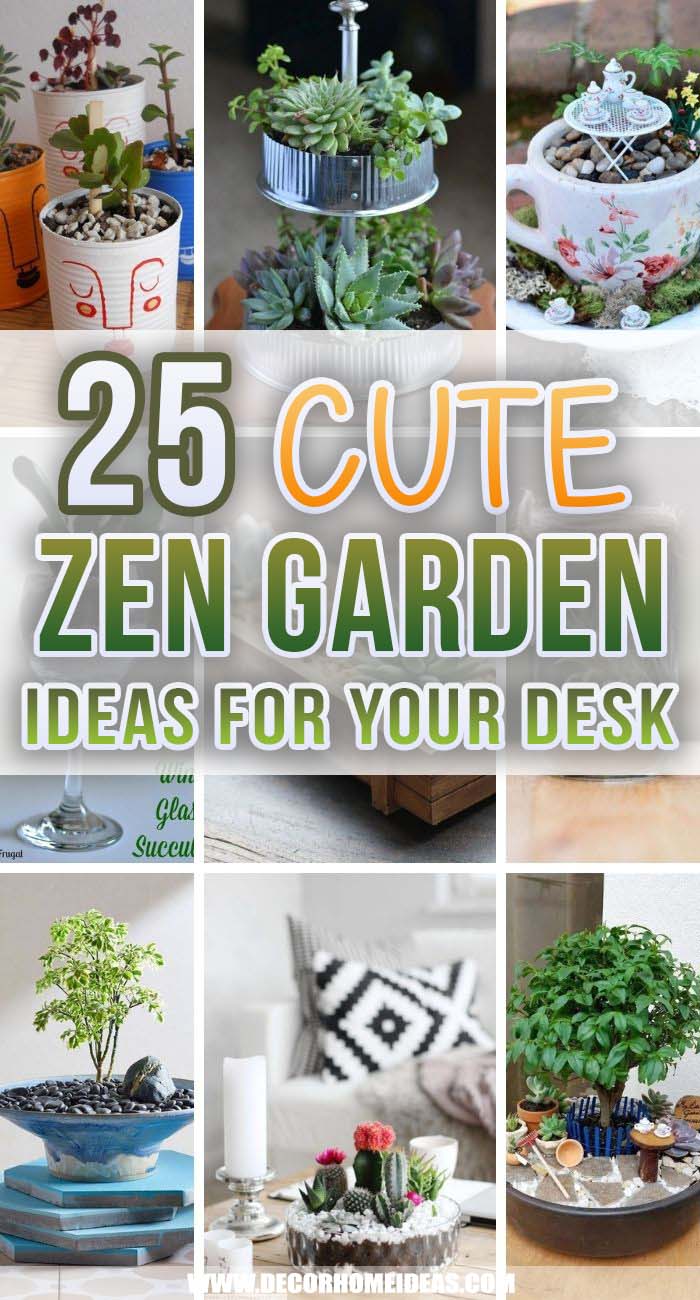 The original Zen gardens found in Japanese monasteries have key elements.
Many of the gardens here also include these elements. Plants, sand, and pebbles are the main features. Stones often represent other elements, such as bridges and islands. Sand often serves a dual function and will represent water and itself.
The point of this is to inspire you and calm your mind. Focus on your garden a few times every day. You'll find it releases tension and sparks creativity.
1. Bring Tranquility with an Intricate Herb Garden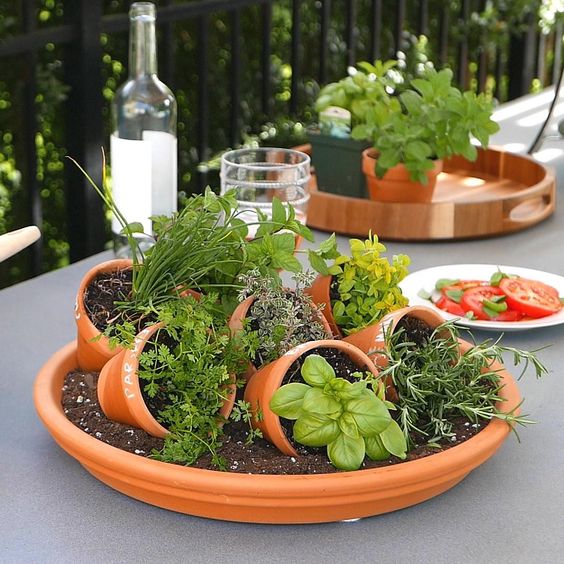 We admit this is less about Zen and more about being a garden. It does have a cascading look to it, which reminds us of the waterfall element found in Zen gardens.
This also works as a table centerpiece. Having a few herbs to snip off and add to your meal is an irresistible idea.
2. Add Splendour with an Adorable Mini Zen Garden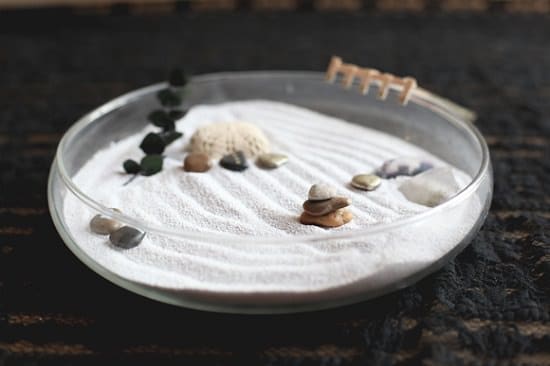 This cute and unconventional garden was inspired by the lobby at a clothing store's headquarters.
The idea is to make the garden unique to your personality. Pick up the bowl at IKEA. Paint small pebbles with nail polish. A crochet doily adorns the large stone.
via Blog 25
3. Get a Contemporary Vibe with an Air Plant Display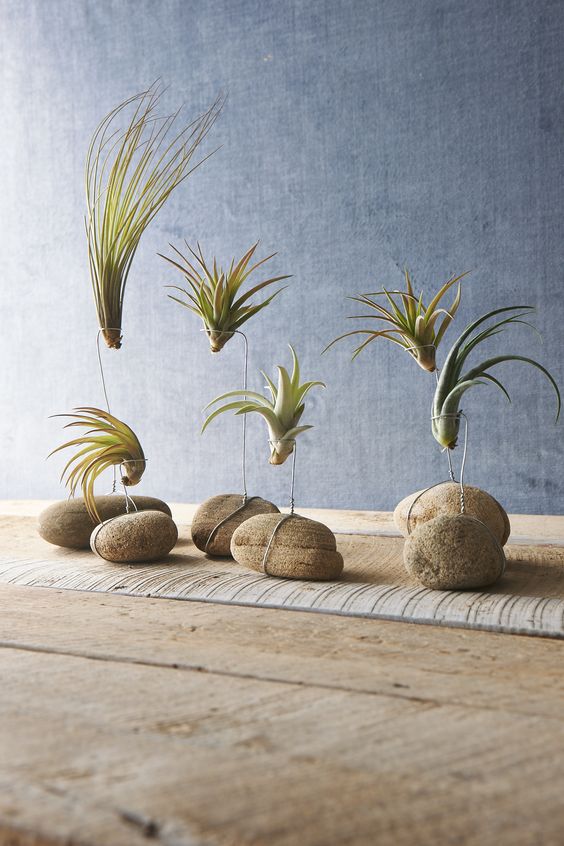 Yes, air plants really can survive in air. Create a wire hoop to fit around the base of any variety of Tillandsia.
The wire shouldn't touch the roots themselves and the plant should rest in the hoop. Anchor them to stones that have a flat side.
Air plants do need watering. How often to do so depends on how humid the room is. When watering air plants, don't use chlorinated water. Chlorine will turn the leaves brown.
Soak them in a shallow dish for about ten minutes. Rest them on towels to dry them out thoroughly before returning them to their hoops.
4. Showcase Your Style with a Mason Jar Air Plant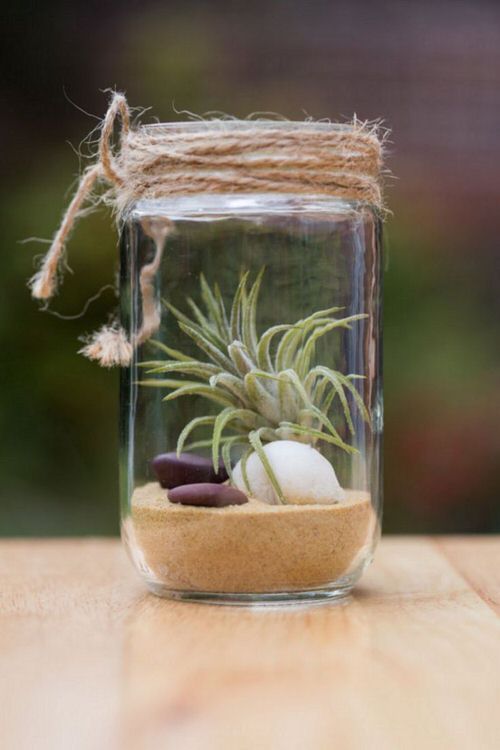 The best way to care for an air plant is to ignore it. That's hard to do when they look so pretty.
Create a little space for your plant by putting it in a glass jar. Be sure to include some sand and a few smooth stones. Hide the jar's lid ridges by wrapping it with jute.
5. Unlock the Beauty of Grafting with Colorful Cacti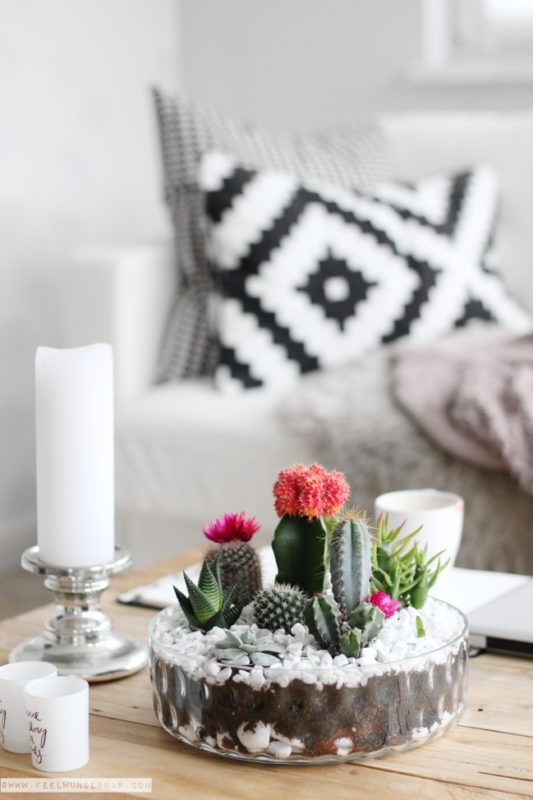 Another species of plants that do well when they're ignored are cacti. Just drop them in some sandy soil and enjoy.
The colorful cacti are the result of grafting. You can learn to do this yourself or buy them at any nursery.
6. Spruce Up Workspace with Miniature Succulent Planters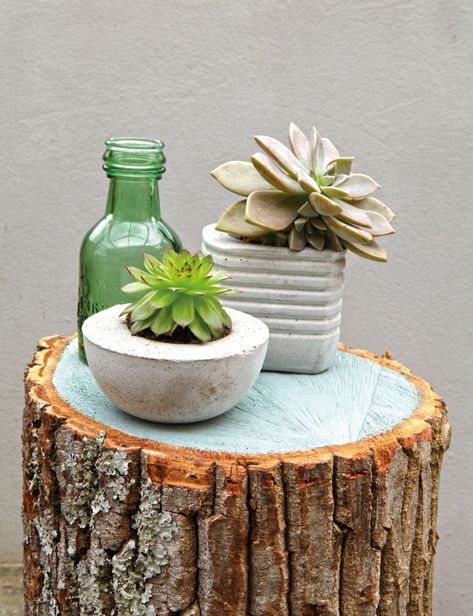 The size of the succulents hints that this is a miniature display. Plastic bottles and quick setting cement are the only things you'll need to make sturdy pots.
Sitting on a slice of wood, the collection will bring an organic vibe to your desk.
7. Get Creative with a Rustic Brick Succulent Planter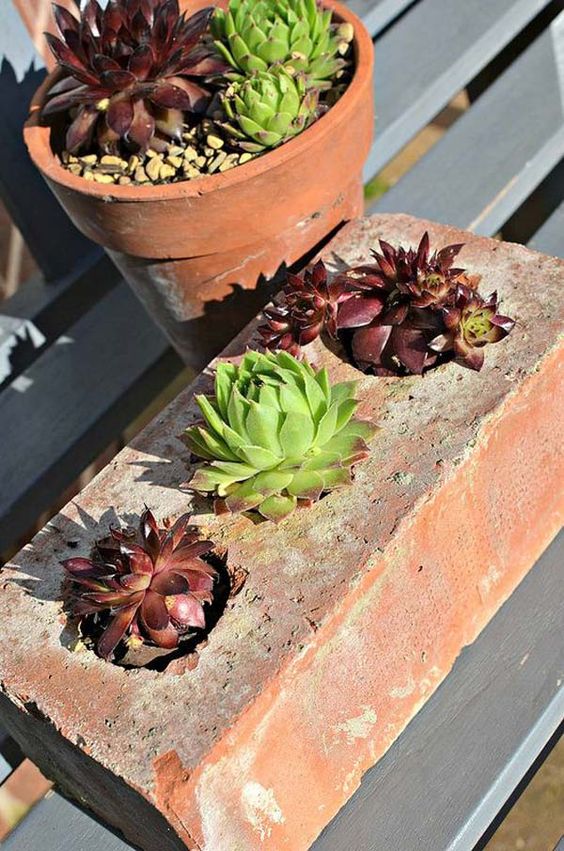 This is a great way to repurpose old bricks.
It's another way to bring warm organic elements into an uneventful setting. If it's been sitting outdoors, bake it in the oven for a few minutes to clean out any bugs.
8. Modernize a Space with an Easy Container Water Garden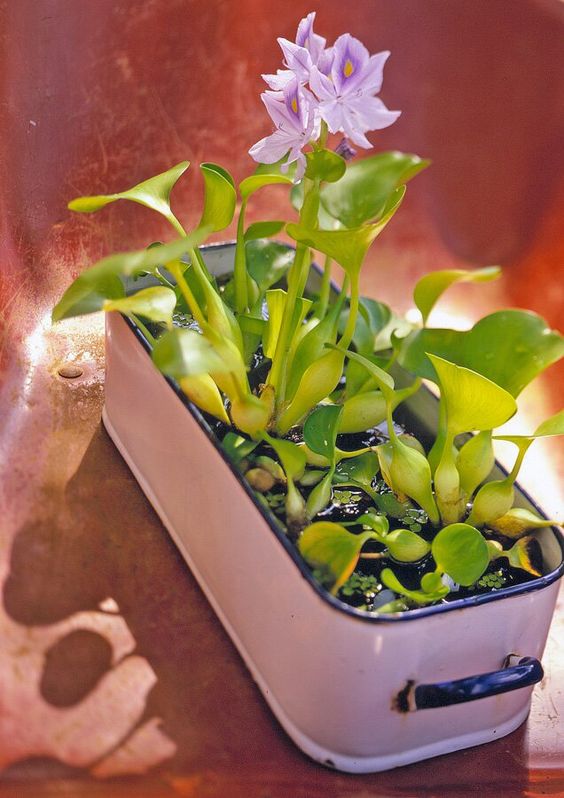 Reuse an old enameled piece of iron cookware. The water hyacinth adds wonderful color while the floating fern creates the coverage.
You'll find the water hyacinth multiplies at a fast rate. Give them away as gifts or compost them.
9. Get Unmatched Aesthetic with a Small Fairy Garden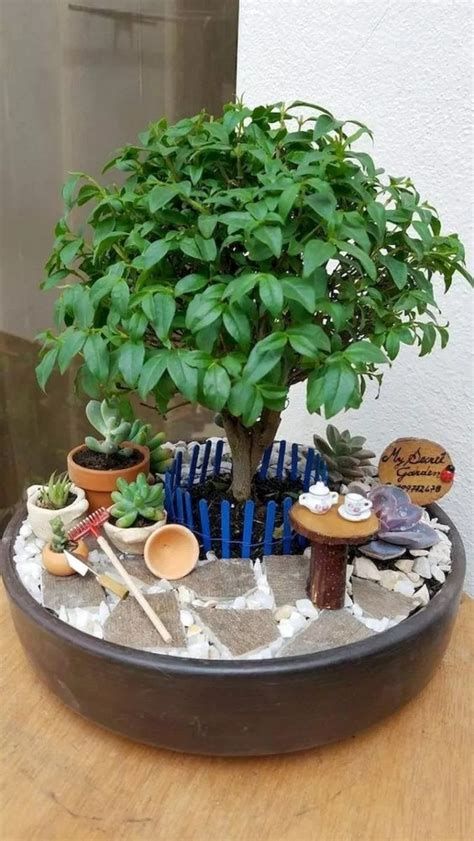 There's something wondrous about a miniature garden. Nurture this garden by paying attention to the details.
The heart of this design is a bonsai tree. If you're more interested in the look than discovering bonsai, a fake tree will work, too.
Create a lovely display where your imagination can play. It's a fun way to keep your inner child alive.
10. Turn Your Home into a Bonsai Oasis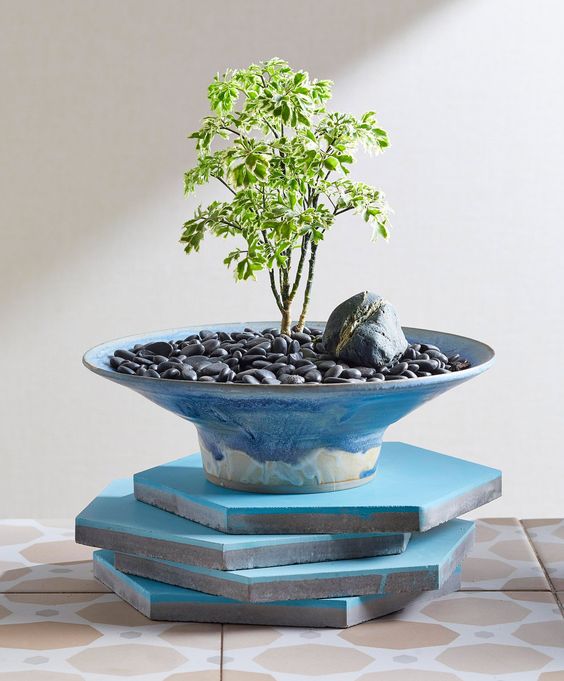 Growing a Zen bonsai tree is a simple practice that yields stunning results.
This Variegated Ming aralia is in a shallow bowl. It's resting on a stack of cement coasters. This species grows well in diffused or medium light.
11. Add a Hint of Nature with Log Succulents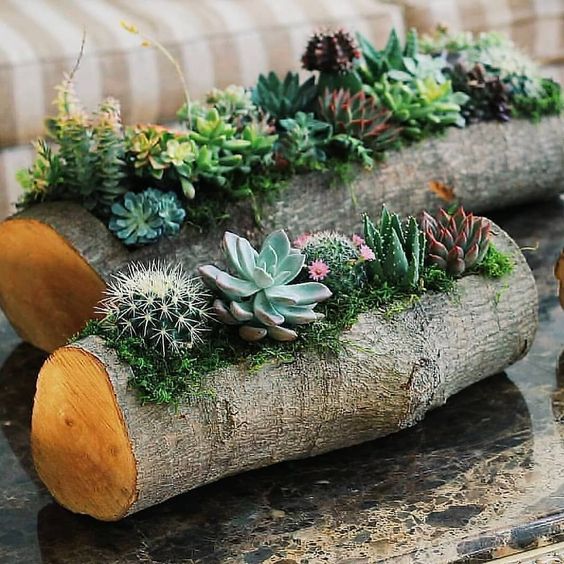 Succulents shown here are planted in a hollowed-out log. Vegetation tucked around the cacti provides moisture.
A lining inside the log provides a moisture barrier. This prevents the log from deteriorating too fast.
12. Repurpose Glass Coffee Cup into Elegant Water Garden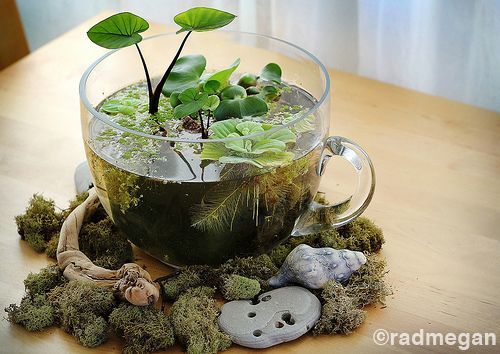 Tiny plants are anchored or float in a glass coffee cup. Moss and other organic matter rest around the base.
The result is beautiful and a little mysterious.
13. Lasting Charm with Tiered Tabletop Succulent Garden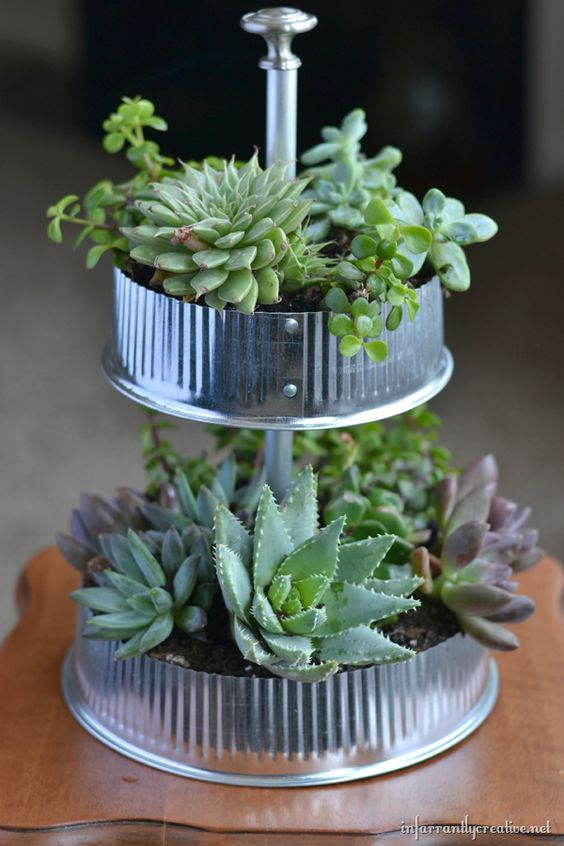 If you want the look of a Zen garden without compromising your industrial décor, try this project.
Galvanized vent caps provide the foundation. You can get all the materials at a local hardware store.
14. Add a Pop of Color with Lovely Painted Tin Can Planters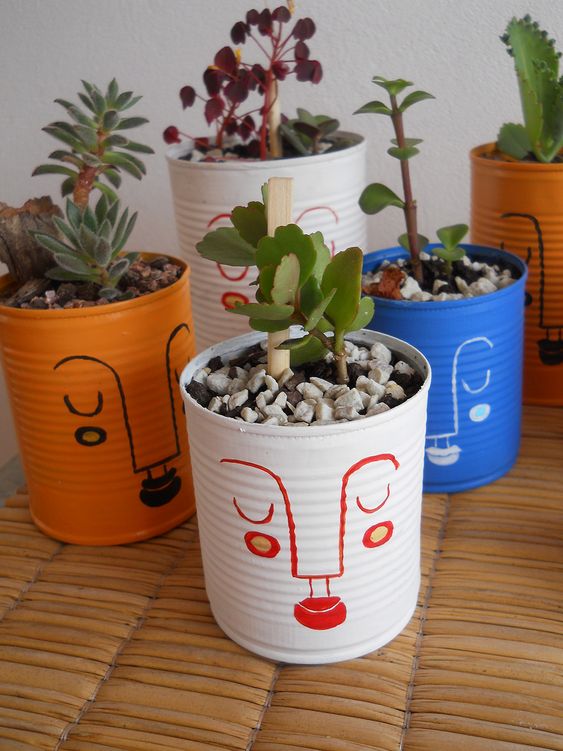 Tin can planters work well as a collection such as those shown here.
A simple facial motif painted on all the cans legitimizes the idea.
15. Discover Timeless Beauty with a Mini Zen Garden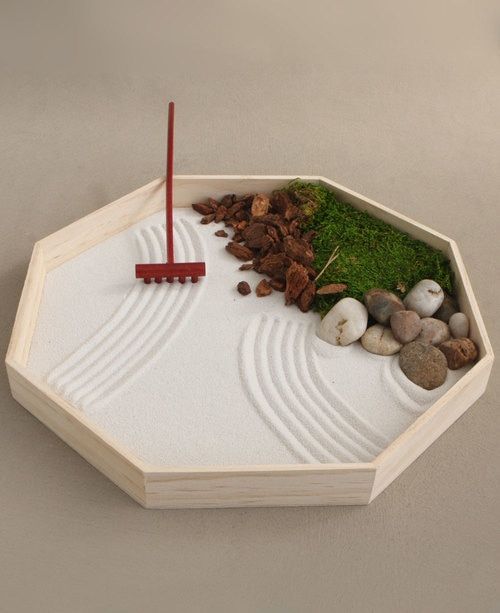 If your desk features geometric patterns, this kit will fit right in. The moss is flanked by wood chips and pebbles. If the kit is unavailable, the box can be made from scrap wood.
Colorful sand is readily available from pet stores or any reptile store. Make your own rake from dowels and craft sticks.
16. Embrace Minimalism with a Simple Zen Garden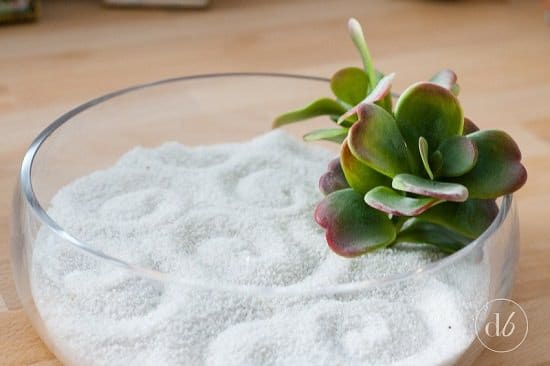 The beauty of Zen is that it transports us to a place of tranquility. This is simply sand, an unadorned glass bowl, and a tiny succulent.
Many people like to trace water ripples in the sand using a single chopstick. It's minimalism at its finest.
via Dwell Beautiful
17. Get Rustic Elegance with Mini Box Succulent Planter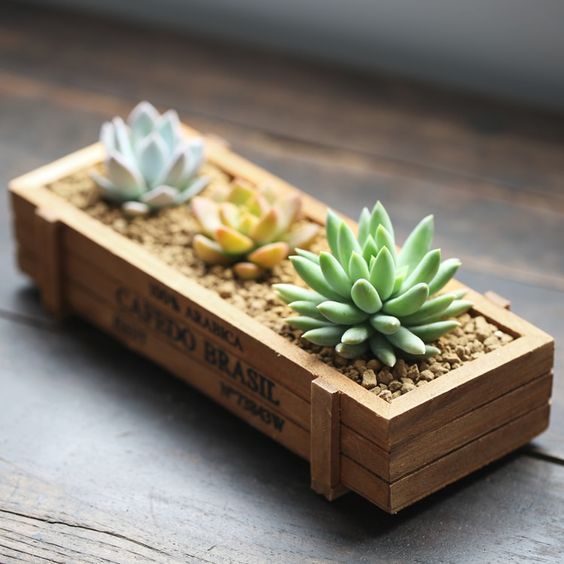 A trio of succulents in a miniature crate box. You can choose from a variety of colors to match your décor.
Stamp your own message on the side of a plain box sold at craft stores.
18. Indulge in the Lavish Look of a Succulent Terrarium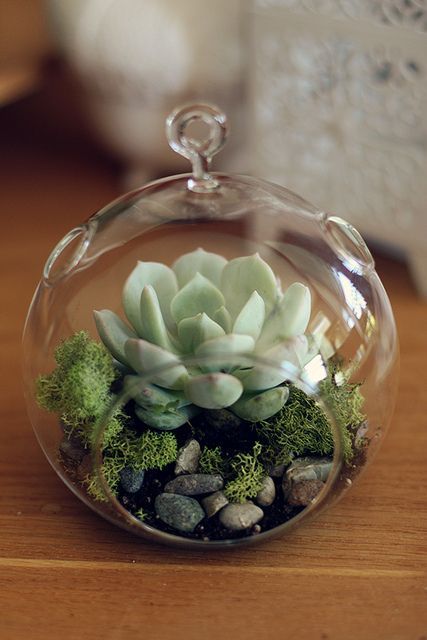 A quick search for hanging glass candle globes will bring up some votive candle holders.
A single Moonglow plant is about all that fits into these delicate wonders.
via Flickr
19. Showcase a Home's Beauty with a Succulent Zen Garden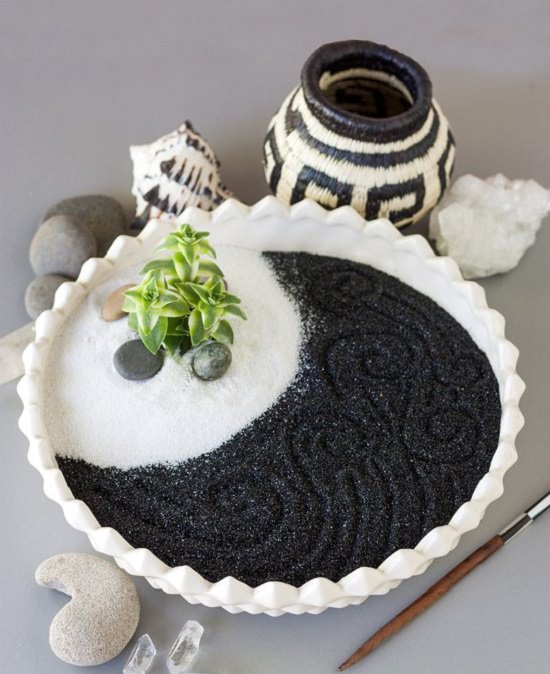 Tuck tiny succulent into a paper cup. Hide the cup's edges with tiny polished rocks.
Two contrasting colors of sand are used in the same container. Zen gardens usually contain one color of sand. This is so lovely, it gets a pass.
via Garden Therapy
20. Be Bold with a Coconut Shell Succulent Planter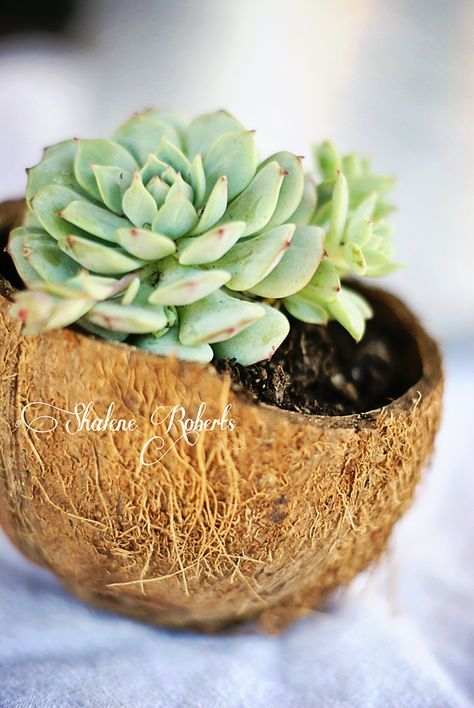 If you can't get a coconut shell in the grocery store, try your local garden center.
It's worth it to bring this organic look onto your desk.
21. Transform Your Tabletop into a Chic Zen Garden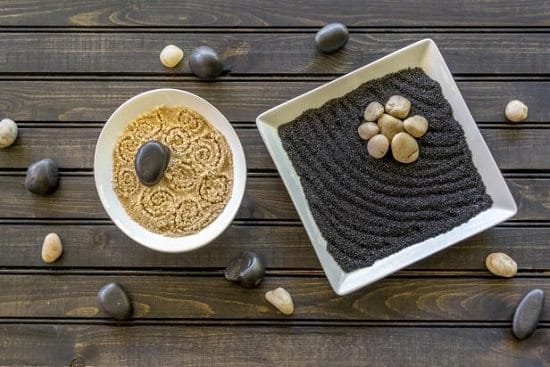 We can all learn from this Zen garden. It's a yin and yang exercise. There's a round and square plate holding black and white sand and rocks. In a Japanese garden, angular rocks represent fire.
The small cluster of rocks in the black sand would then represent fire in water.
via DIY Network
22. Upcycle Tea Cups into Beautiful Mini Gardens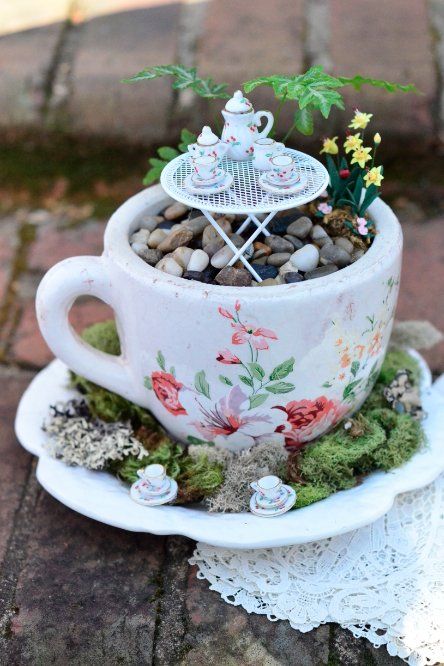 Mini gardens in teacups are a great way to bring a little imagination to a desk.
The miniature tea set isn't about Zen. It's about creating a calm space for your imagination to grow.
23. Add Modern Flair to a Home with Wine Glass Succulents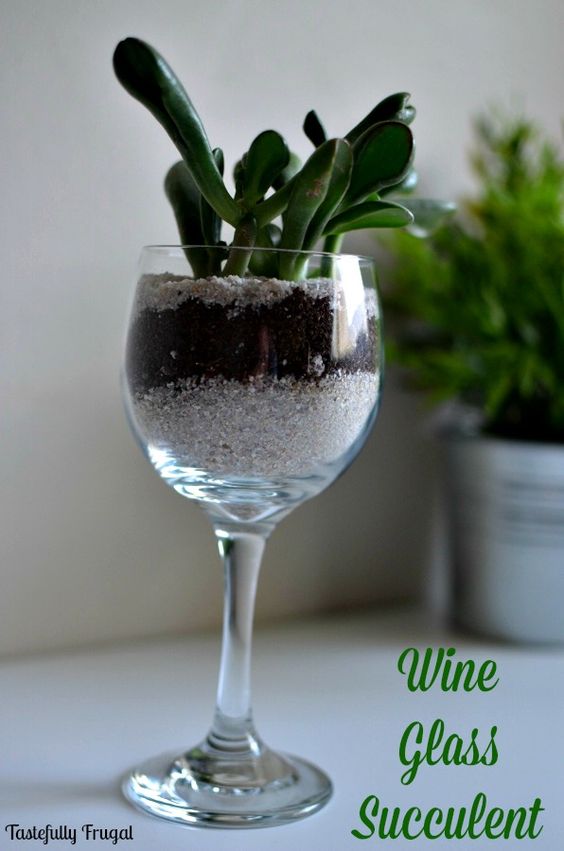 If you have an incomplete set of wine glasses, here's an upcycling solution.
Beach sand, potting soil and a jade plant create the perfect terrarium in a glass.
24. Bring Color and Texture with a Zen Garden Centerpiece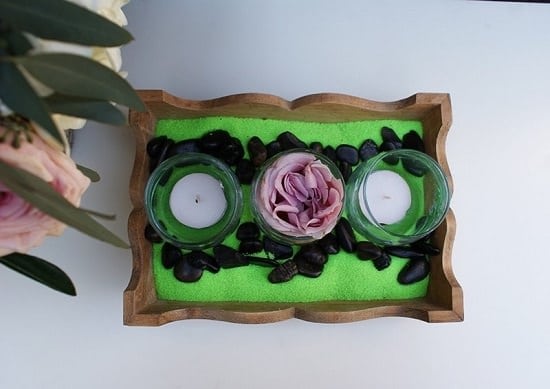 A small box sets the stage for colorful sand, votive candles, flowers and stones. Create patterns in the sand.
The size works as a dining table centerpiece or on a coffee table.
via Cut Out Keep
25. Add Glamour and Personality with Desktop Zen Garden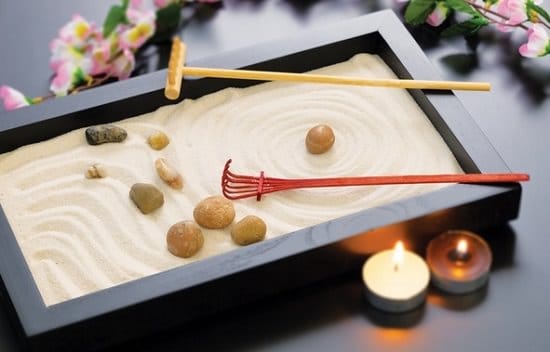 The Zen desktop garden comes complete as a kit. That makes it a great gift for just about everyone. If you're lucky enough to receive one, learn about raking patterns. This is a very calming and meditative exercise.