Adding a small corner rock garden to your yard is a creative way to add depth and dimension to a flat or mundane space, or to introduce an element of surprise.
Moreover, corner gardens are considered difficult to work with because of the limited space and surrounding areas which in most cases are walls or fences.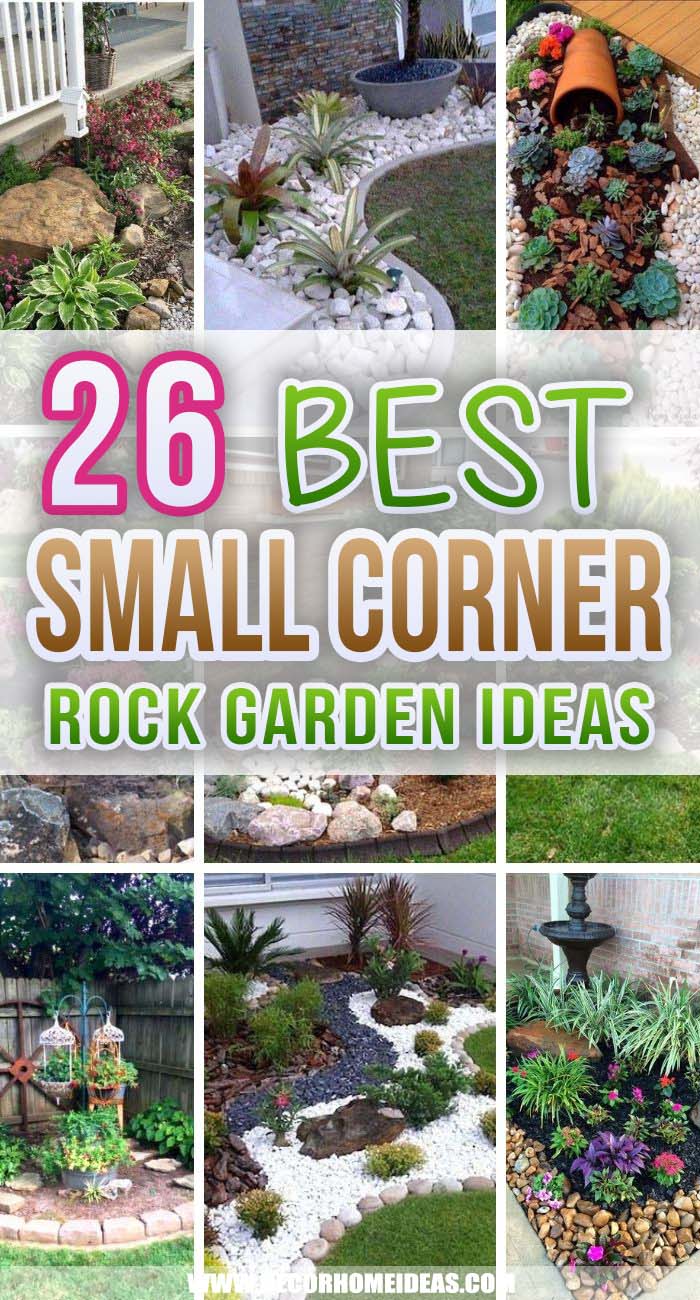 Small rock gardens are low-maintenance and lend a year-round structure to the landscape. In addition to native plants and drought-tolerant flowers, it could thrive on its own all year round.
Rocks, boulders and native plants will be enough to give the area some texture and create a beautiful small garden.
1. Add a Fountain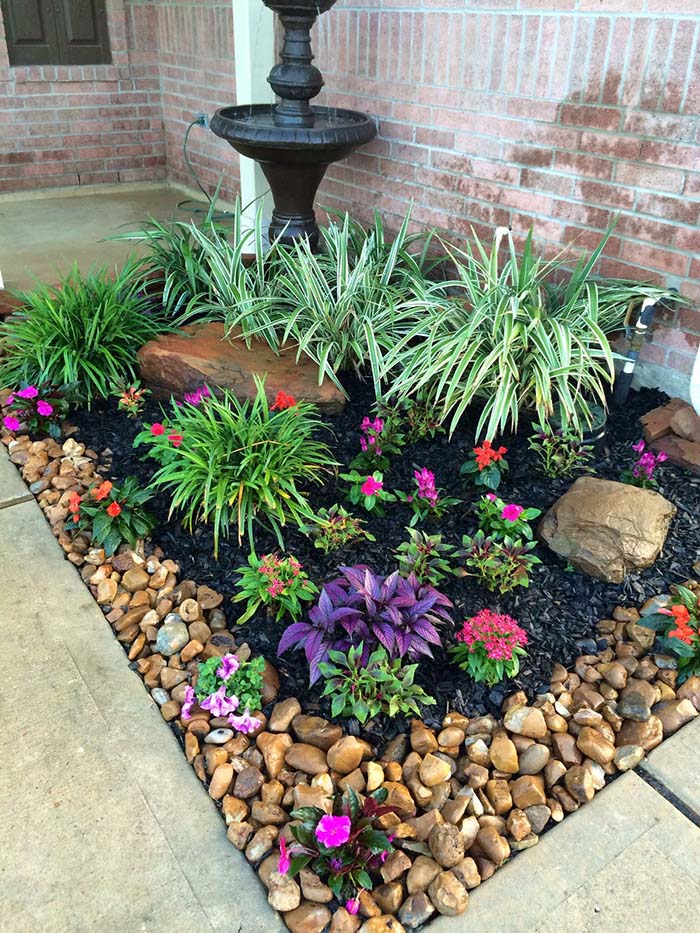 The fountain in the corner of this garden adds calming white noise.
Brown river rocks add to the flowing water effect. Tall plants and grasses hide the pipes.
2. Add a Real Stream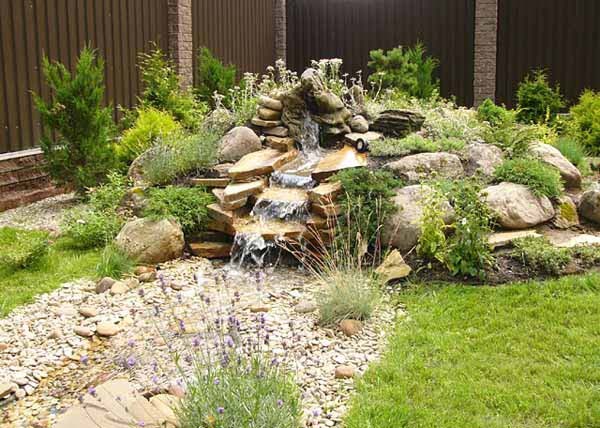 The boulders on this hill would've been expensive to move.
Moving just a few boulders and replacing them with stepped flagstone created enough height for a water feature. The water pump is disguised with strategically placed flagstones and river rocks.
3. Add a Sample Garden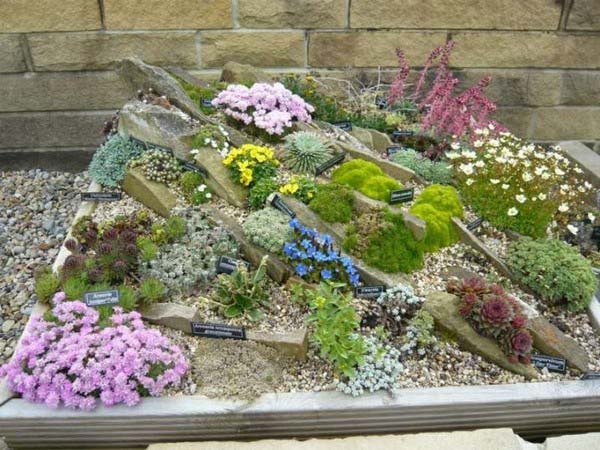 If you have a beautifully landscaped yard, chances are, you get lots of questions about the plants used in your rock garden design.
Why not create a sample garden composed of all the plants used in your yard?
This mini garden is contained on the side of the house. You can create multiple vignettes to break up a simple crushed gravel border.
4. Add Antiques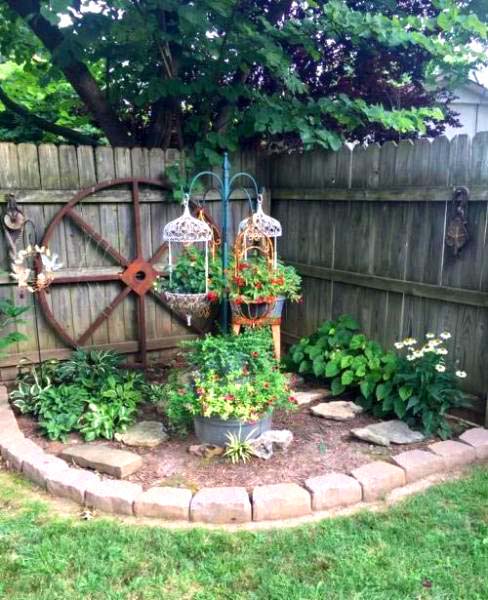 You can find rock garden ideas by looking back through history. The wheel leaning against the fence is probably from an industrial mill.
There's also an antique pulley hanging off the fence. Victorian-style hanging baskets and metal washbasins filled with flowers complete the look.
5. Add Color with Flowers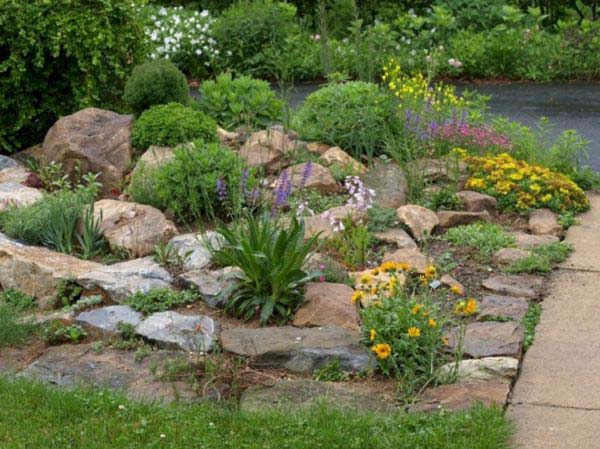 Tall flowers and plants not only add interest, they also act as a natural deterrent to people who would want to climb on the rocks.
26 Beautiful Small Corner Rock Garden Ideas video:
Black-Eyed Susan and lupine work well in this setting.
6. Add Edging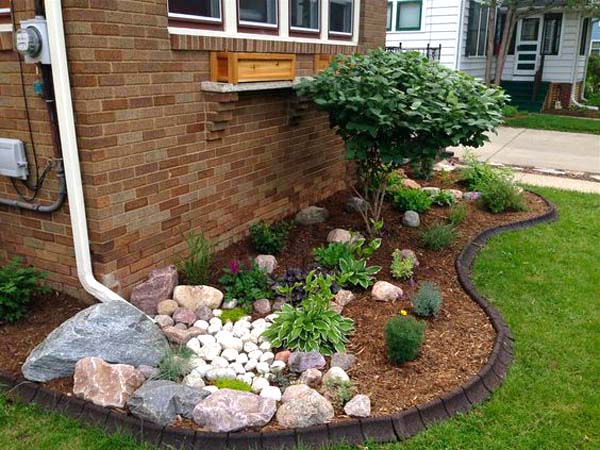 You can find precast cement blocks at your local home improvement store. They'll keep your edge clean by preventing mulch from drifting onto your grass.
They come in a variety of colors, so you can find one that will work in your garden. Large rocks are added here to protect the rain downspout.
7. Add Taller Plants in the Back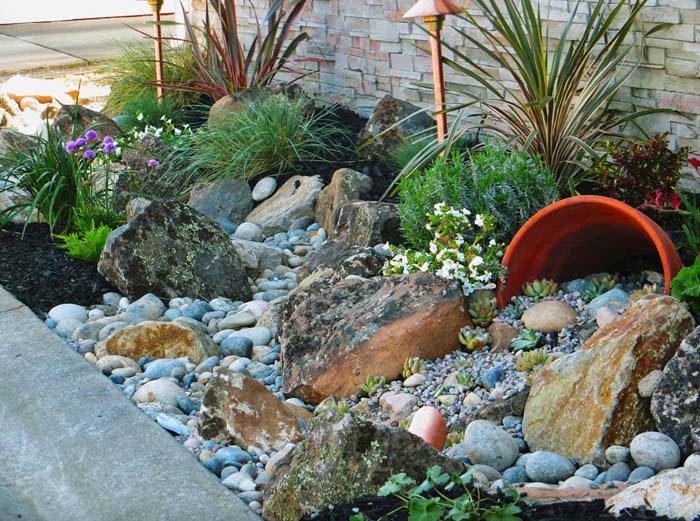 If the area is larger, try adding taller elements in the back to raise the focal point.
Pretty lighting, palms, and a large planter keep the back from looking dark and dreary.
8. Add Vines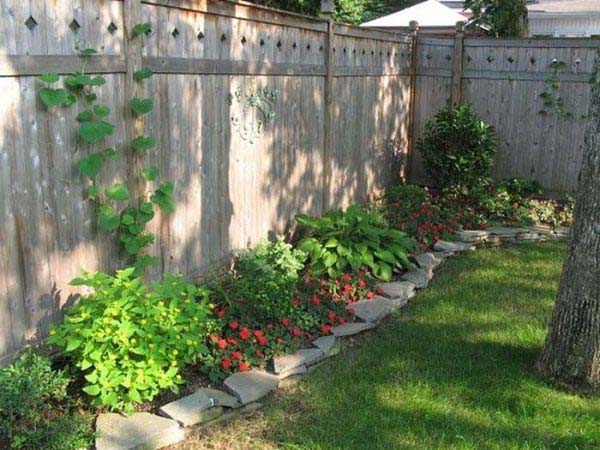 When you have a fence behind your corner garden, you can add climbing vines to build interest. The small slate flagstone edging nearly matches the fence.
This defines the garden bed. Flowering ground cover in between the plants provides bright color in this shaded area.
9. Bouquet on a Hill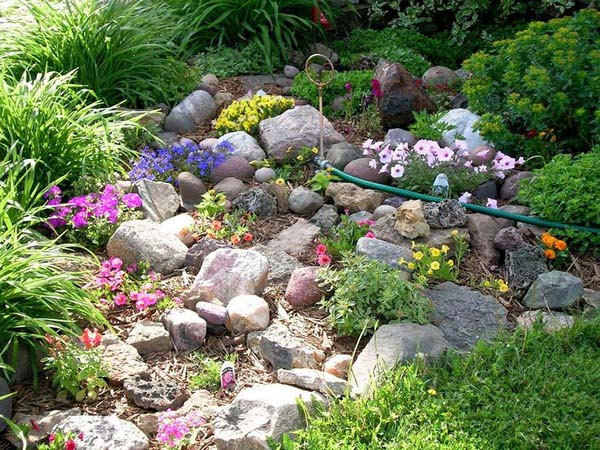 If you have a hill in a corner, here's an idea that can save you a lot of time and money. Instead of excavating, the boulders were left pretty much in place.
Flowers were planted in the dirt in between the rocks. The resulting blanket of color is almost magical.
10. Build a Wall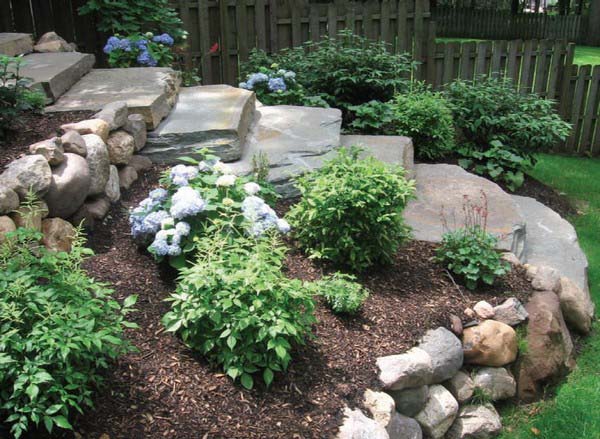 The corner here would have become a place where debris collected and animals burrowed, eventually compromising the integrity of the stone slab steps.
This was avoided by extending the bed with a retaining wall at the foot of the stairs. Plants and flowers will take root, holding the soil in place.
11. Build Your Own Rock Bed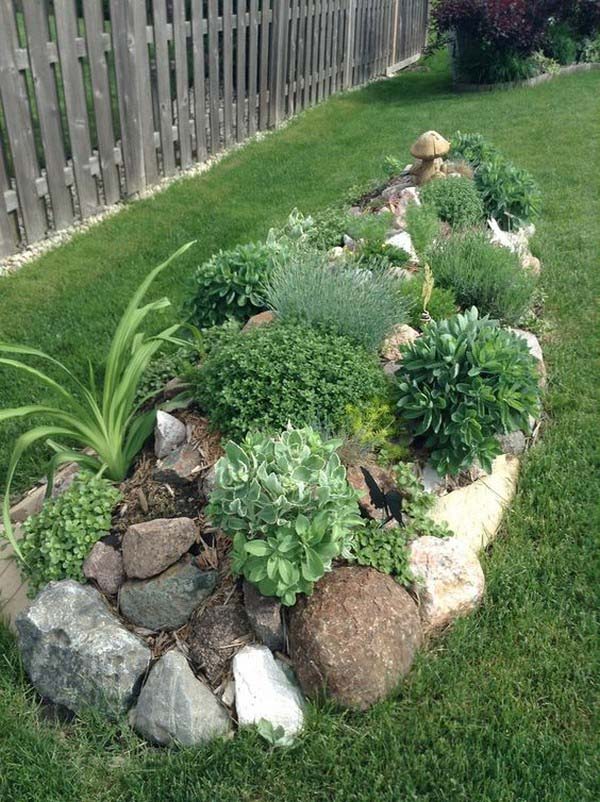 If there's a patch of grass in your yard that just doesn't do well, dig it up and turn it into a rock garden. Larger rocks create the border.
The middle is filled with shrubs and ground cover. Notice the butterfly and mushroom decorations.
Including yard decorations is another to add your personal touch to a garden.
12. Cornucopia of Succulents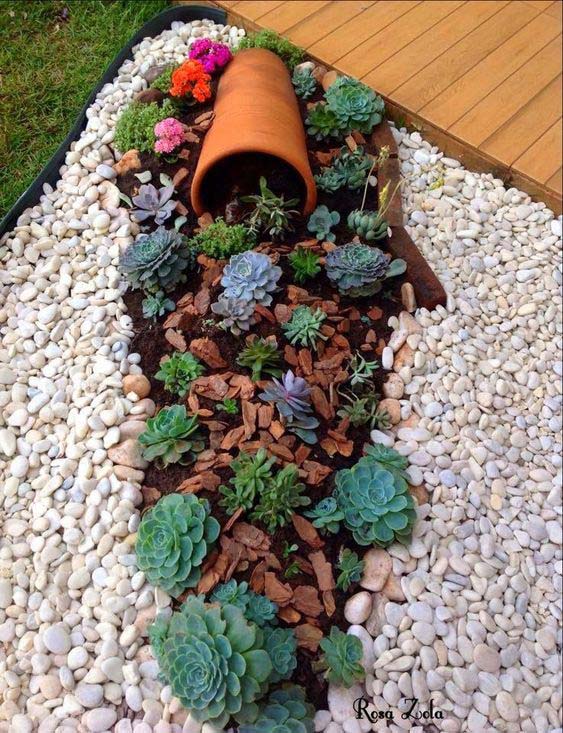 Rock garden design doesn't have to be complicated. This little corner was created by cutting a patch of sandy soil through smooth, cream-colored pebbles.
Choosing mostly succulents eliminates making decisions. Adding a terra cotta pot at one end tells a little garden story.
13. Dark Boulders Adds Contrast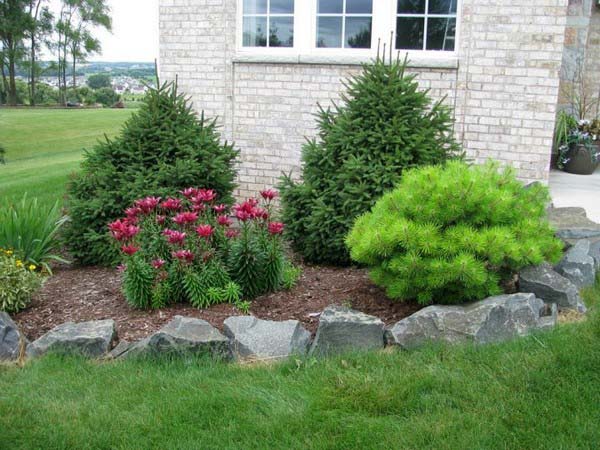 Welsh quartz boulders are a striking contrast to the soft bushes and cream-colored brick home in the background.
You can add even more interest by choosing plants with different shades of green. Clumps of tall, colorful flowers create their own island of interest.
14. Flower Beds Made From Rocks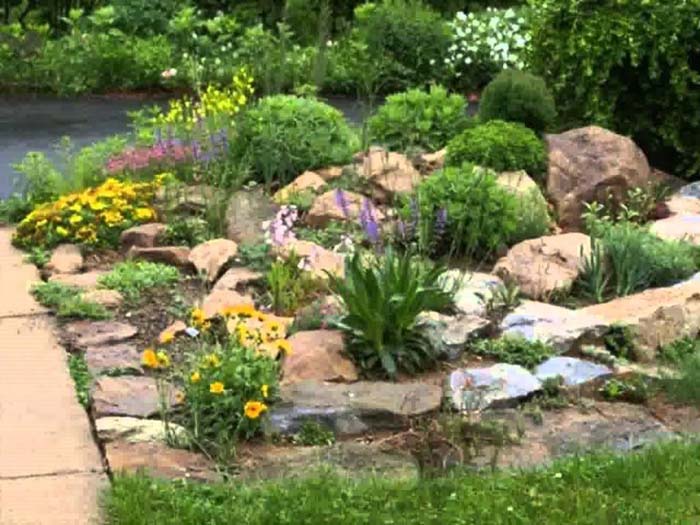 You don't need wood or retaining walls for simple flower beds. Position larger boulders in the back with larger bushes.
The rocks get smaller as they get closer to the walkway. Tall flowers and vegetation fill the area with color without a lot of maintenance.
15. Large Rocks and Props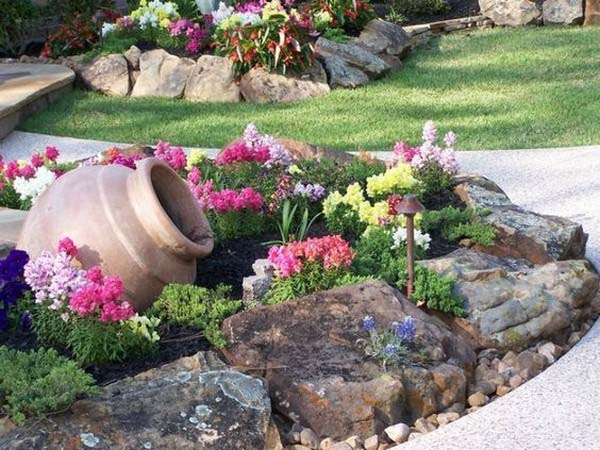 Large rocks along the perimeter of the space. It's a great way to keep pedestrians from trying to cut across your yard.
A large planter works as a focal point for the corner. The flowers and pitcher add height, which is another way to discourage foot traffic.
16. Mix and Match Colors and Texture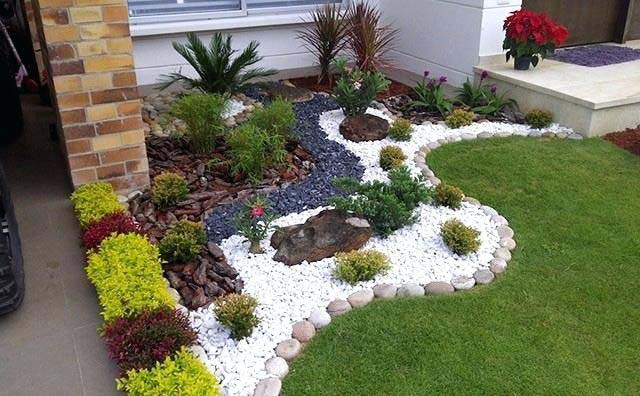 A curved pattern was laid out using smooth river rocks. White and black rocks create the next layers.
These were followed by brown stones and then more river rocks in the corner. The color was changed up by using different colors of the same plants.
17. Plant on Boulders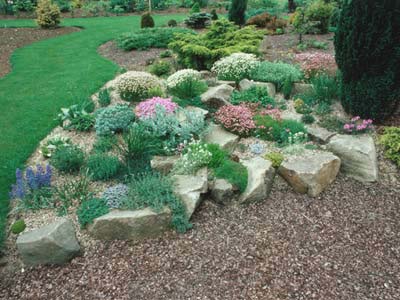 A large collection of boulders sits in the middle of a bed of crushed gravel.
When you're adding plants, experiment with color and texture. Adding a wide variety of plants here gives a natural look to the vignette.
18. River Rock Idea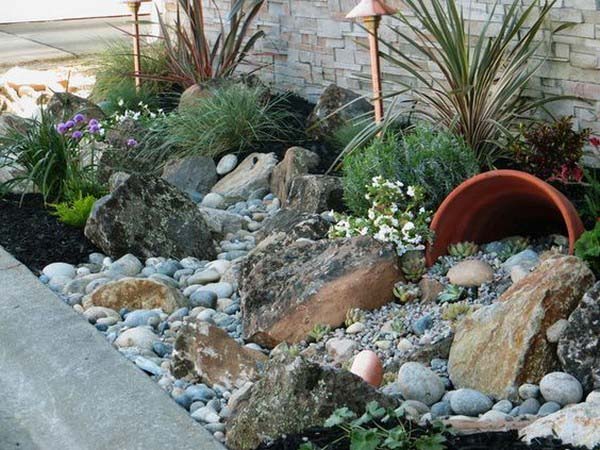 This is the kind of rock formation you would come across during a walk in the forest. Larger boulders are on the outside, river rocks are in the middle, and the smallest rocks are in a tributary.
If you live in a desert area, succulents such as hens and chicks will thrive in the rocky terrain. The rest of the garden is filled with drought-tolerant flowers and ornamental grasses.
19. River Rock Path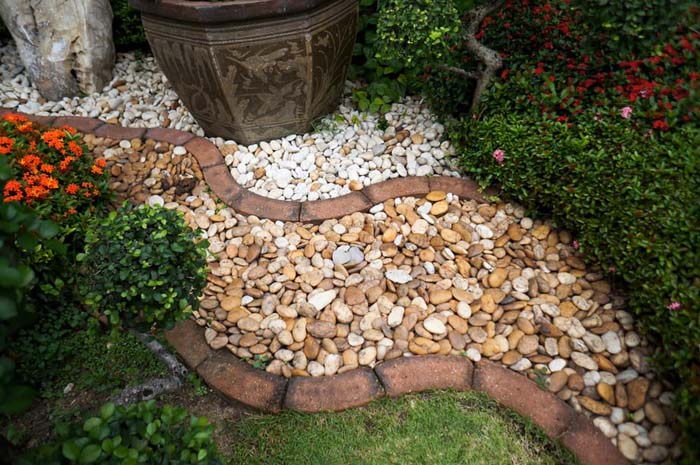 Brown river rocks flow between edging made from red bricks.
White rocks and large planters rest near the path.
20. Stream of Glass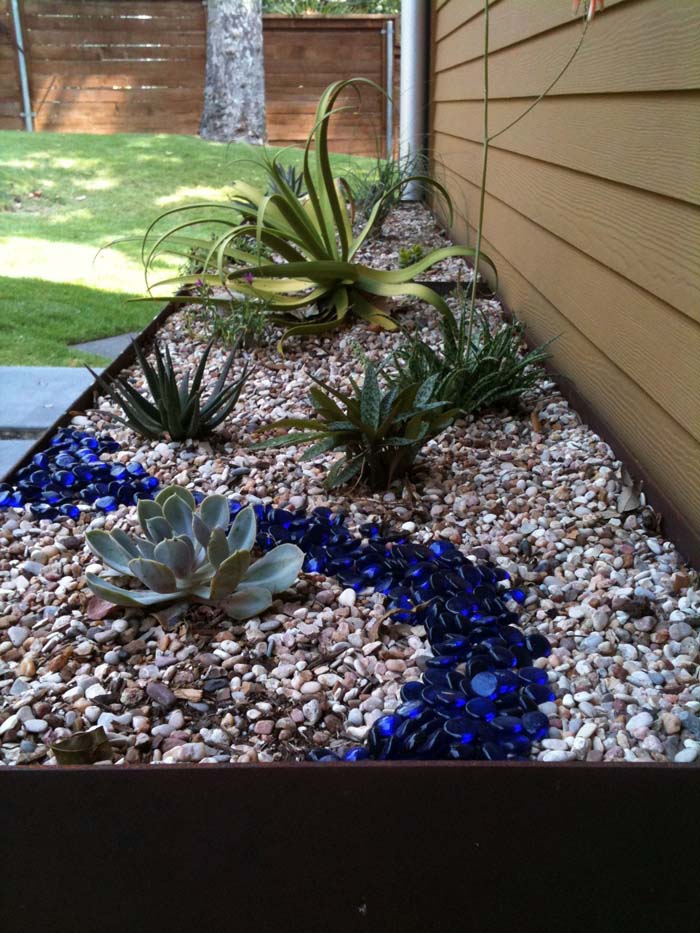 This raised garden with agave and Sansevieria plants gets a shock of color by the blue glass that mimics a stream. You can find smooth glass at your local pet shop.
If you're more interested in the color than its rounded texture, you can get irregularly shaped garden glass at your home improvement store.
21. Tell a Story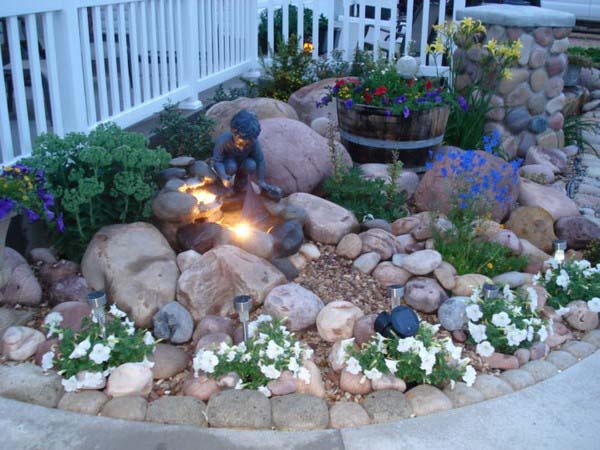 Small corner rock garden ideas can be whimsical. Here, a boy launches his toy sailboat into the water. The smooth pebbles underneath the larger rocks complete the waterway.
A spotlight creates a campfire effect. A barrel full of flowers adds color and height.
22. Use Feathery Plants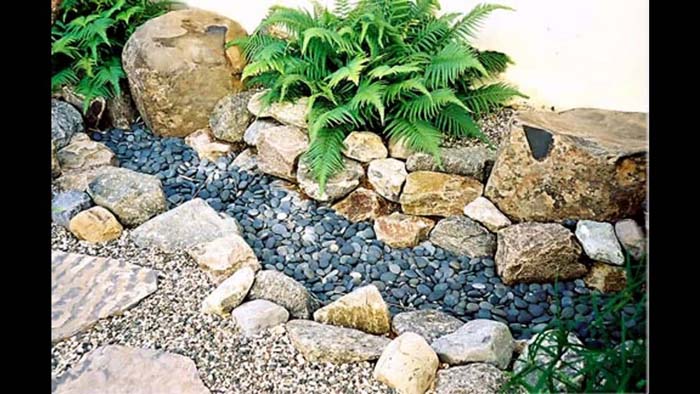 Plants like palms and ferns are great additions. They soften the look of rock gardens.
The stream in this bed is distinct because of its dark color, which mimics deeper water rolling in a brook.
23. Use Hosta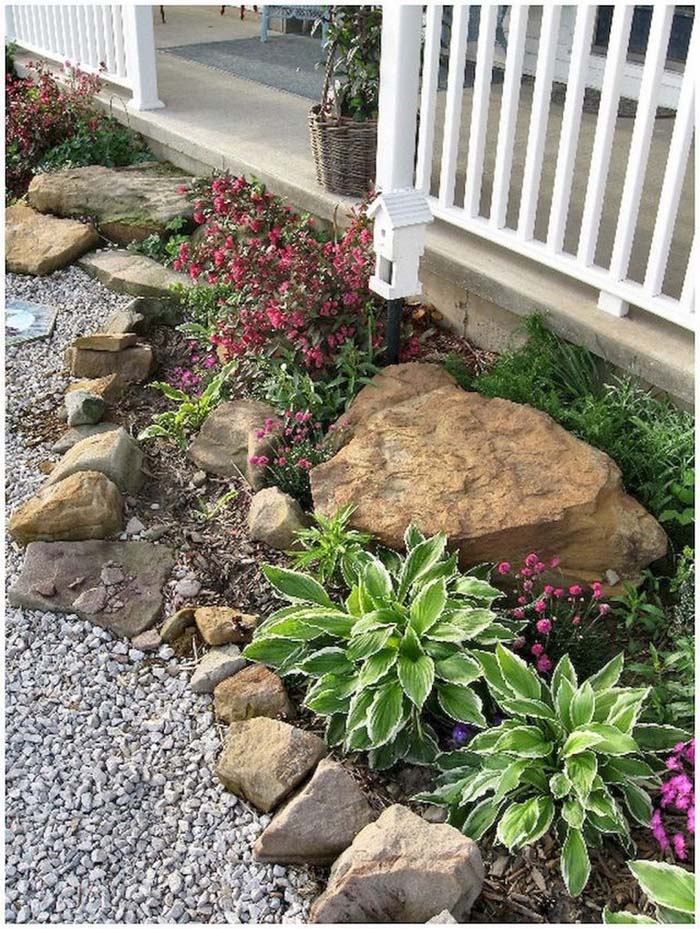 Hosta is a low-maintenance ground cover that thrives in most zones.
These plants will eventually fill in most of the bare spots in the soil.
24. Use Larger Shrubs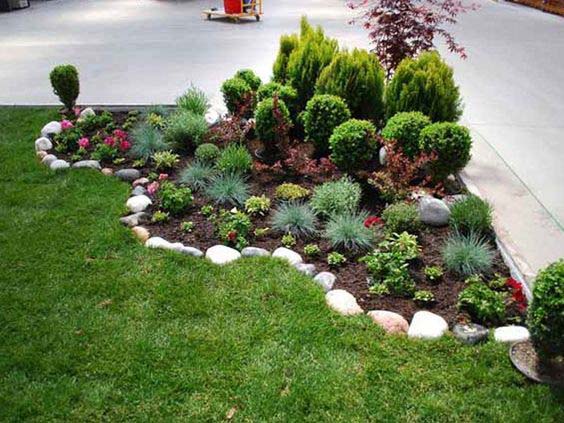 A maple and several large bushes guard against foot traffic ruining the lawn.
Talk to the people at your garden center to find out which small plants and grass coverings work in your area.
25. White Rock Garden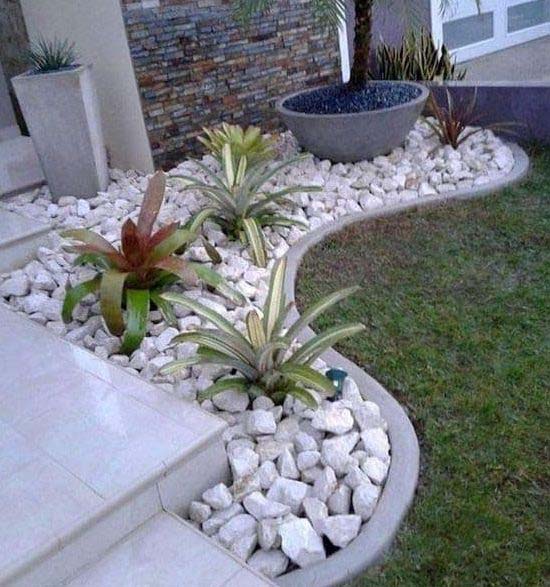 Larger white rocks were added to a corner garden bed.
The edging is poured cement. A few long leaf plants add color.
26. Work Around Large Rocks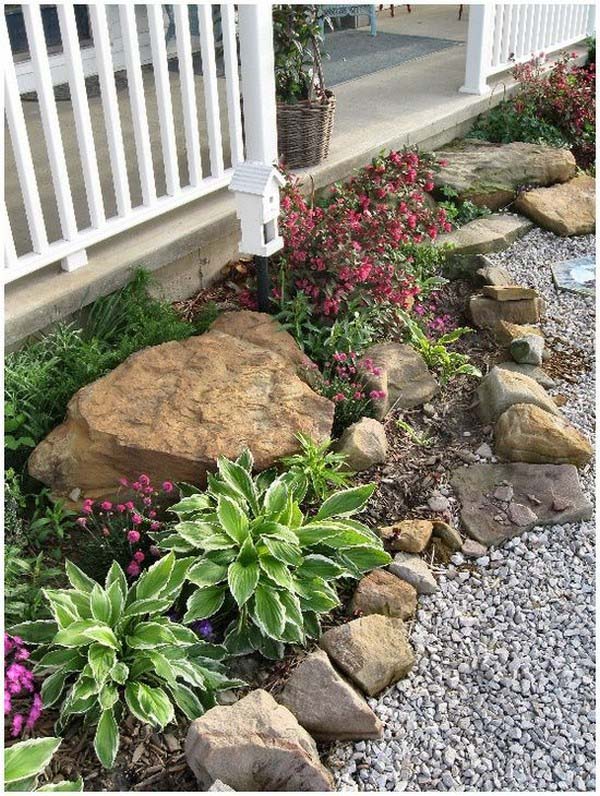 Plant flowers and creeping plants around large boulders.
The owners used large rocks as edging and crushed gravel on the walkway.