Are you looking for affordable ways to add curb appeal to your garden? You have stopped at the right place where you can find inspiration and ideas for incredible cement projects that will enhance the beauty of your backdoors in a unique way.
All of the projects are very simple and require molds you already have on hand. You will be surprised to see how kitchen tableware, kid's toys and plastic bottles become the base of these concrete projects.
Add them to the patio table or among the thick greenery in the garden. Some of them are perfect to edge a garden bed, while others are so delicate that they deserve special care. Let's get to the point and show you the best one-day DIY Garden Cement Project Ideas!
1. Beautiful DIY Cement Planter Stand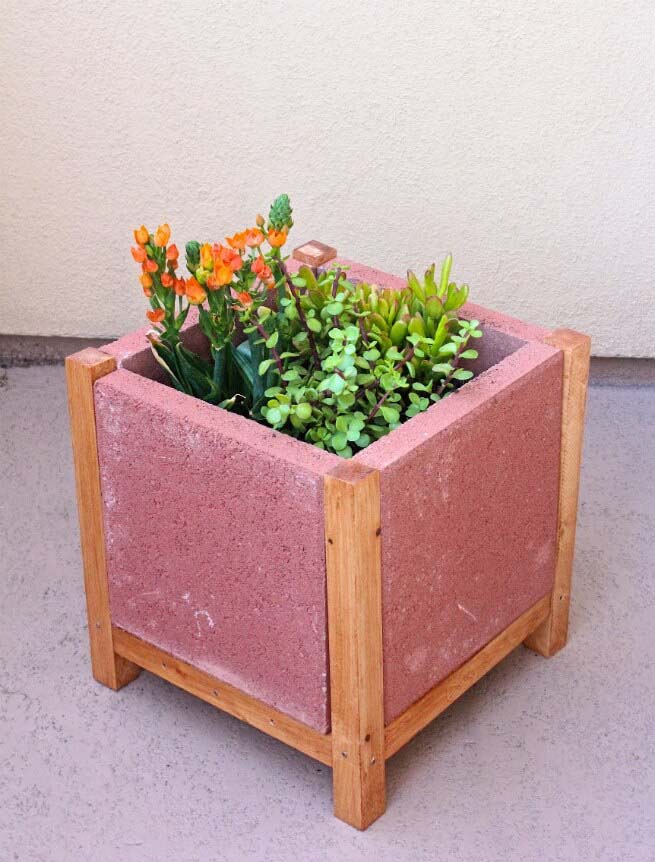 The box-shaped large planters are a trendy addition to the indoors and outdoors. They add visual interest to the minimalist decor with their clean geometric shape and sensible size. This one has been made out of wooden laths and cement pavers.
The DIY is an easy one that also features the possibility to customize the color. The concrete flower pot is perfect to hold a mini garden or a large plant.
via Brite and Bubbly
2. Build Your Own Outdoor Tables with Concrete Pavers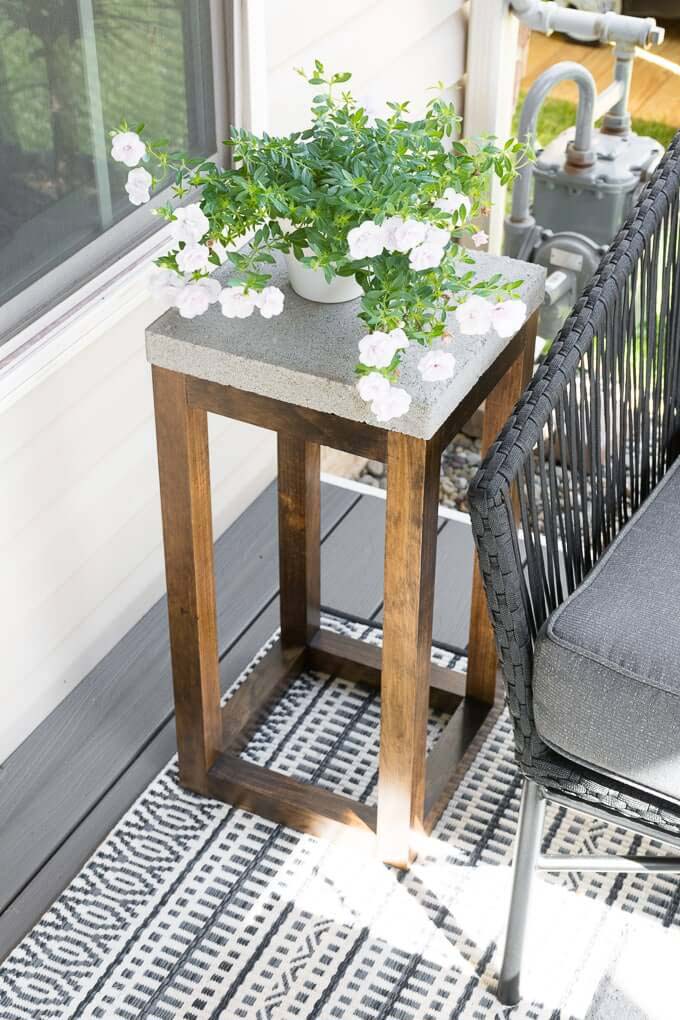 This adorable DIY features the steps to make an attractive outdoor furniture addition in a budget-friendly way. And that is so welcome knowing the prices of the tables for outdoor exposure.
This beautiful piece combines a dark stained wooden structure and a cement paver that can be used in many ways. Place a large flower pot on it, to add nature to the patio or place a tray with the lemonade set to make the outdoor time more entertaining.
3. Cement Gnome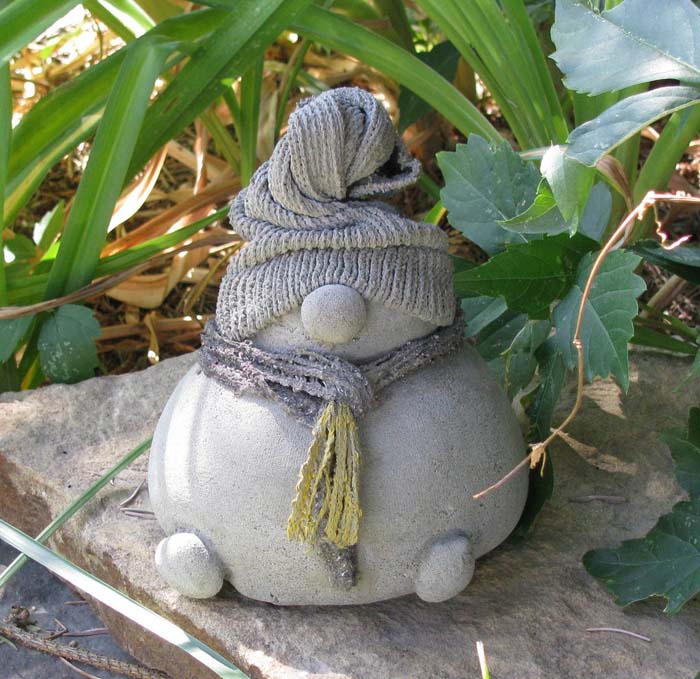 Adding statues to the garden decor always adds color, interest and a personal touch. Since they could be quite expensive, we have found this amazing DIY that reveals a tutorial about how to make cute gnomes from cement.
You can make as many as you wish and in the size you desire- just prepare an old pair of elastic stockings to use as a mold.
via Instructables
4. Chevron Inspired Cement Garden Bench Project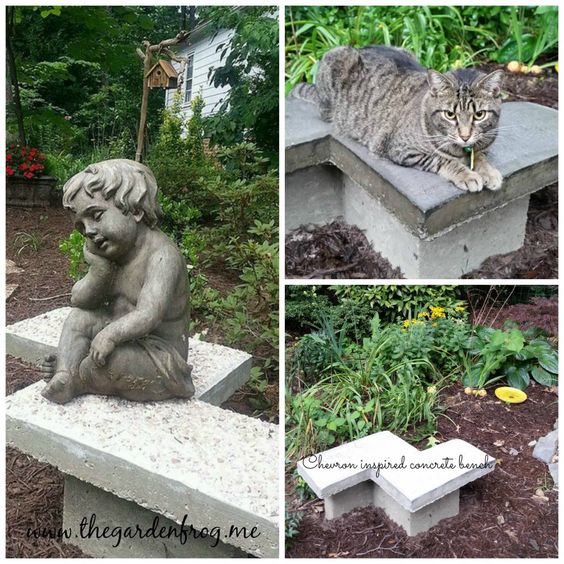 The concrete benches are related to the aristocratic homes. When you picture such a home, you instantly see a landscape where rich green tufts and aromatic roses embrace cement benches to sit quietly and admire nature.
Nowadays, you can have this piece in your own garden and enjoy not only the durable design but also the elegance it adds.
The chevron design featured here is versatile and will ensure that the bench fits your outdoor landscape for many years.
5. Concrete Beverage Cooler for Hot Summer Days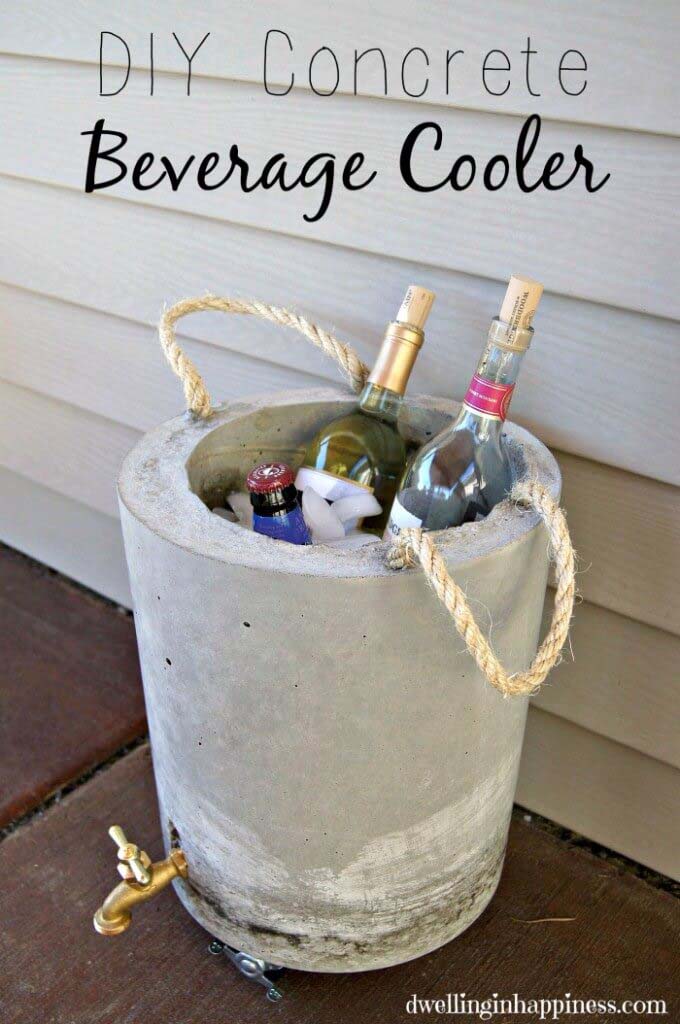 Improve the entertainment level of your outdoors with this customized beverage cooler! During the hot summer days, the cement bucket holds ice to cool the drinks. There is a tap at the bottom that will facilitate the drainage when the ice melts.
The industrial style of this cement bucket cooler is smoothened by the rope handles which add a pinch of the warmth of the farmhouse style.
Once summer is over, the bucket gets a new application as a planter or container for seasonal decoration.
6. Concrete Fountain or Bird Bath with Leaf Imprints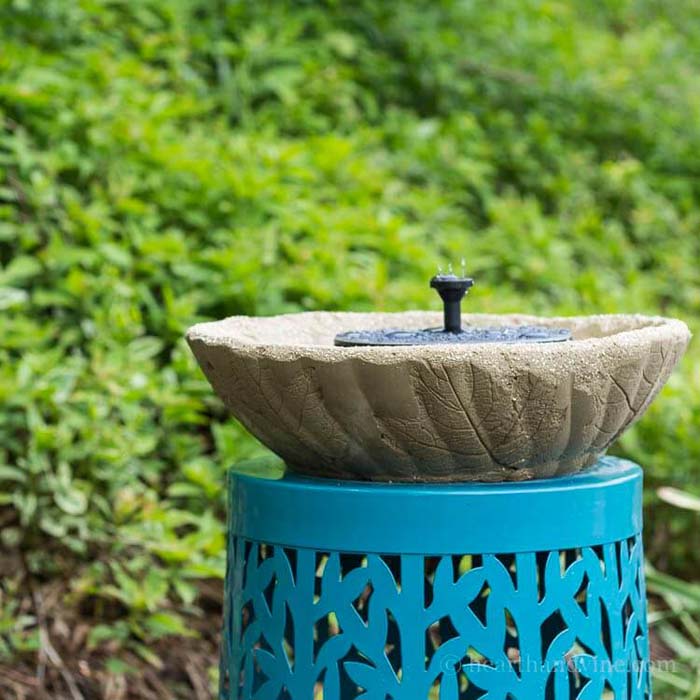 Adding a water feature to your backyard will instantly improve the curb appeal of your property. Plus, the relaxing atmosphere it will create with the bubbling sounds is incomparable.
This water feature is upgraded to a birdbath thanks to the wide tub design. If you take a closer look, you will see the leaf imprints on the cement which make a wonderful relation with the natural landscape of the garden.
via Heart and Vine
7. Concrete Garden Fountain Perfect for a Patio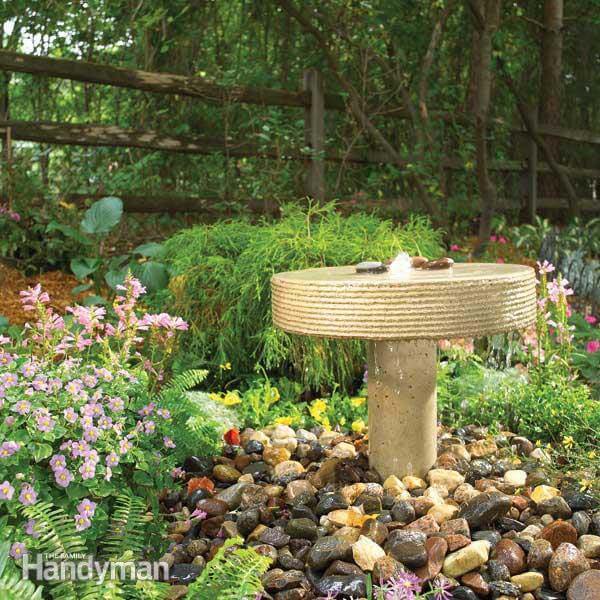 This cute fountain is made of cement parts that create a stool-like fountain. The rock surrounding creates an illusion of the base emerging out of the ground.
The stones added to the top of the fountain aim to add the same natural element and also spread the pouring water into streams.
via Family Handyman
8. Concrete Garden Globes to Enhance Your Outdoor Space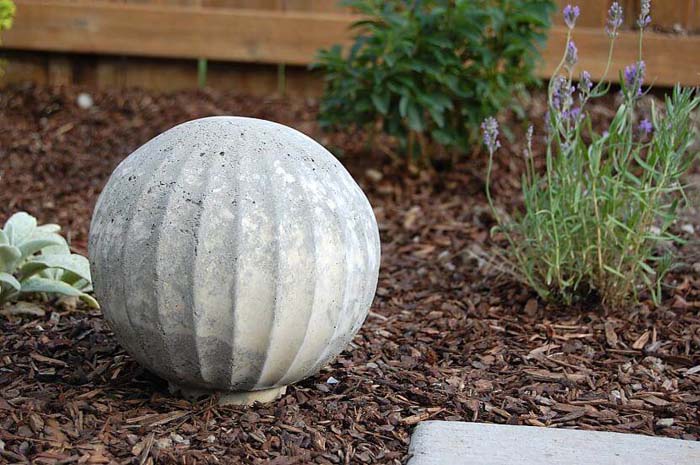 Adding this concrete globe to your garden will enhance the elegance of your backyard. The size and the texture of the globes entirely depend on the mold you are going to use.
Depending on the number and size of globes you make, you can use them to emphasize various parts of your garden. For example, the smaller ones can edge a walkway leading to your front door. The bigger ones can be placed next to beautiful rose bushes to let the delicacy of the blooms stand out.
You can place them next to a bench or why not even on the porch to add some antique visual interest?
9. Concrete Pumpkin for Fall Decor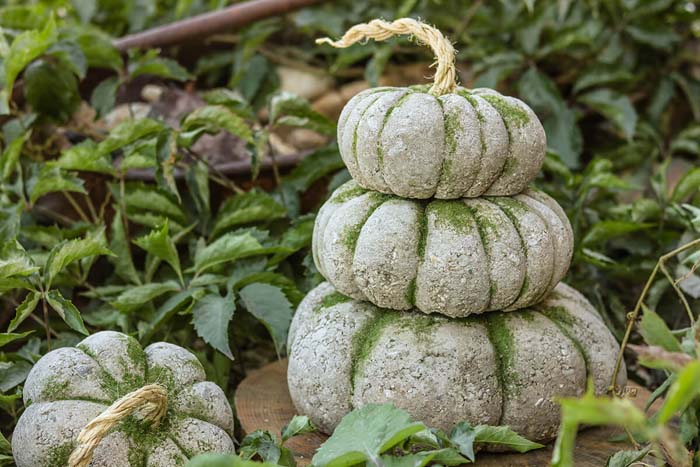 The cement mixture can be used to mold seasonal decor. These cute pumpkins are an evergreen solution for the autumn garden decor.
Stacked in size, they look almost like real thanks to the moss that has started to develop in the cravings.
via Lily Ardor
10. Create a Cobble Stone Pathway with Concrete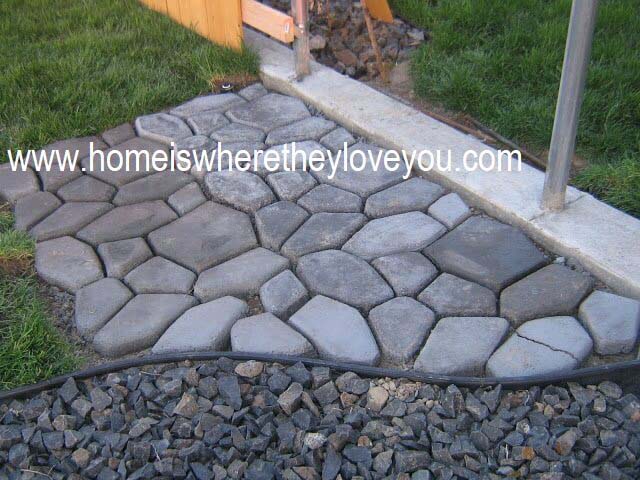 Do you like the cobblestone paths? You can have your own in the garden with this DIY tutorial. The concrete stones are aligned next to each other to minimize lawn maintenance and improve the landscape.
This idea is also perfect to outline a garden bed or a raised bed or to affordably cover the surface of the patio area.
via Home Is Where They Love You
11. Creative Concrete Yard Word Art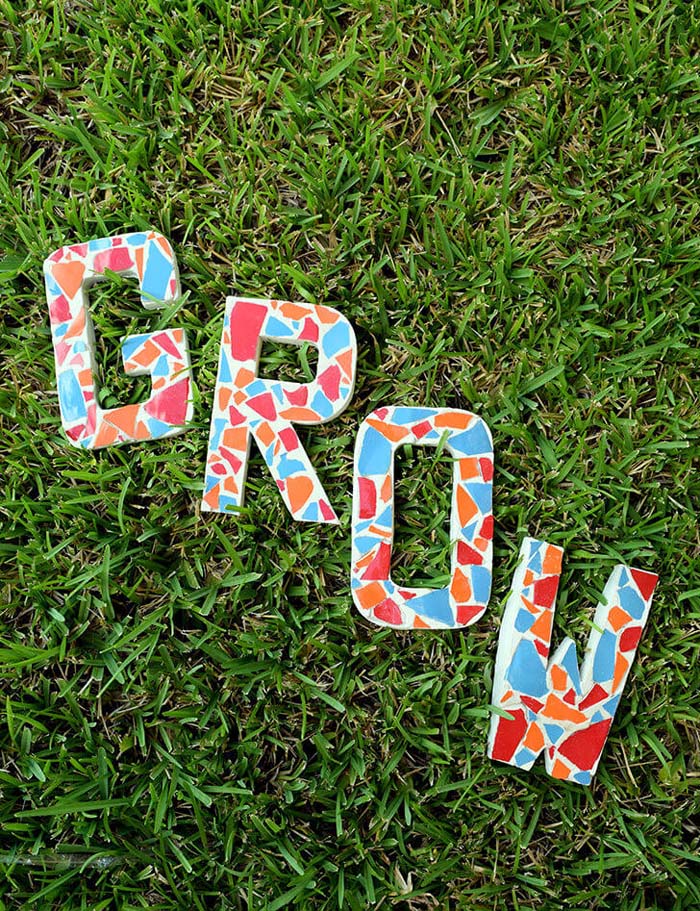 Looking for personalized garden decor? Or a meaningful statement for a garden party? Do it with this creative word art made of concrete!
You can make as many letters as you need and then decorate them beautifully. The concrete letters can be embellished with mosaics. A quicker and easier idea is to mimic the mosaic finish is by craving the pieces on the top surface before it completely dries out. Paint the sections in different colors and enjoy the colorful and cheerful decor.
12. DIY Concrete Bird Bath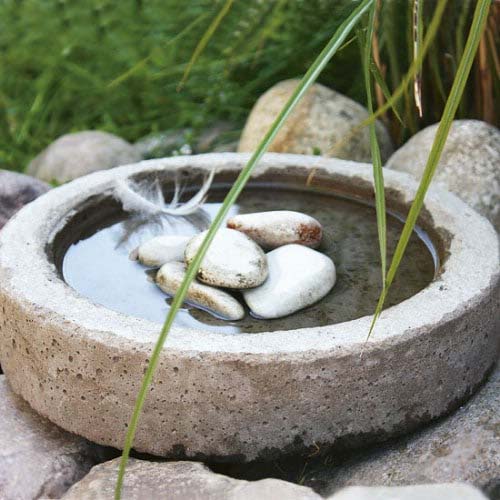 Another idea for a concrete birdbath features a wide round cement container that can be placed directly on the ground or over an elevated base. For a zen look, stack large stones in a pile and make a nest for the container to sit on.
Fill it in with river stones and then with water. This idea can be upgraded to a fountain with a pump set.
via BHG
13. DIY Concrete Planter Vase for Outdoor Decor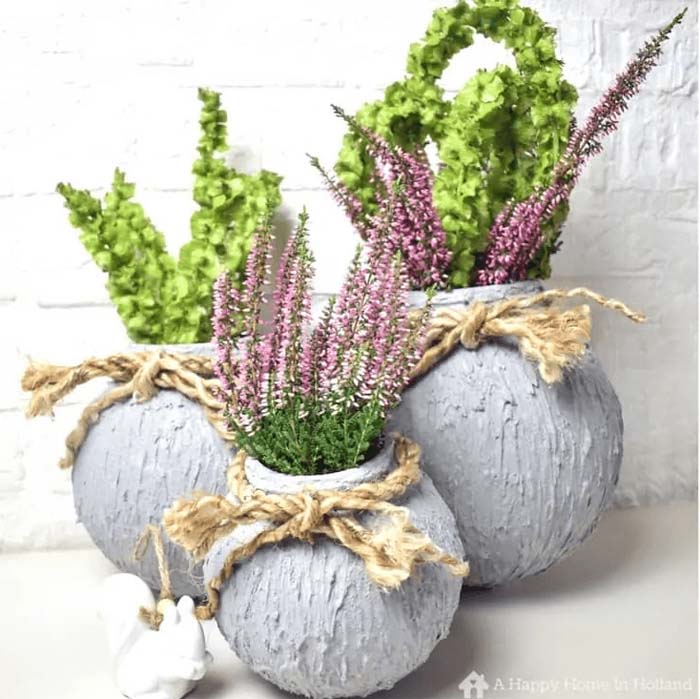 Do you need a new centerpiece for the living room? These gorgeous vases are of descending size but of identical texture to make an appealing set with an industrial look.
The rough finish of the concrete is smoothened by the rope embellishment on the neck and the delicacy of the inserted flowers.
via Kenarry
14. DIY Concrete Slab Garden Bench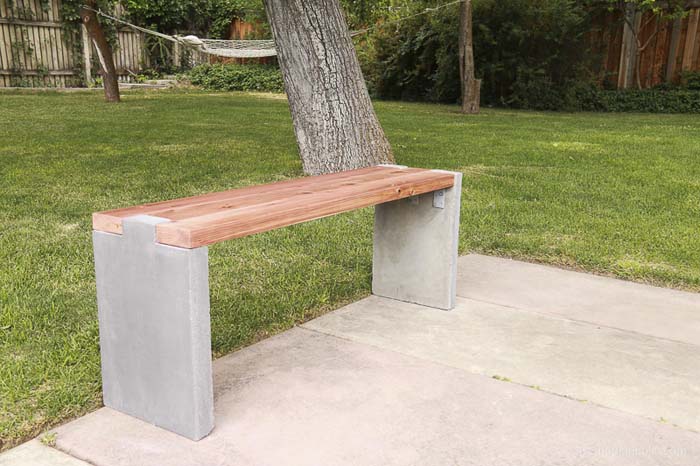 This concrete bench is the perfect way to quickly form a relaxing corner under the shade of a large tree in your backyard.
Concrete and wood look so fabulous together and make a durable piece that will withstand the outer conditions for long years.
via Remodelaholic
15. DIY Concrete Topped Planter Side Table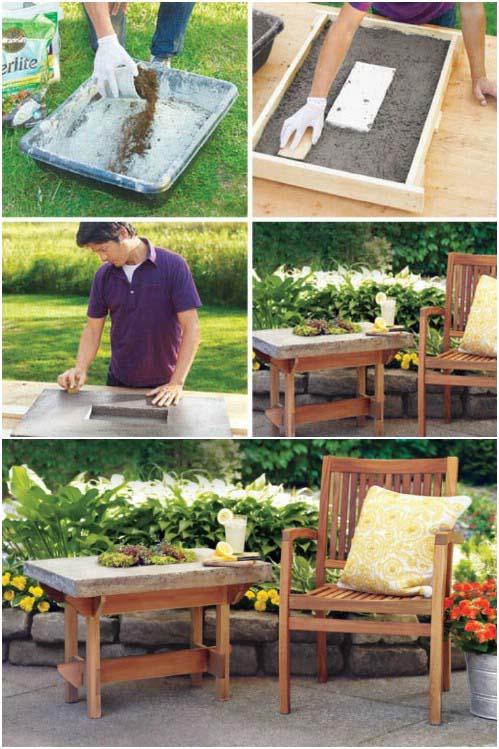 This side table is a functional masterpiece you would like to treat your porch with! Standing on a wooden base, the concrete countertop has a hole in the center which acts as a planter.
The rim around the hole is wide enough to accommodate a cold drink and a favorite book. Once summer is over you can still enjoy the side table, changing it into a small firepit.
via This Old House
16. DIY Sand Cast Leaf Bird Bath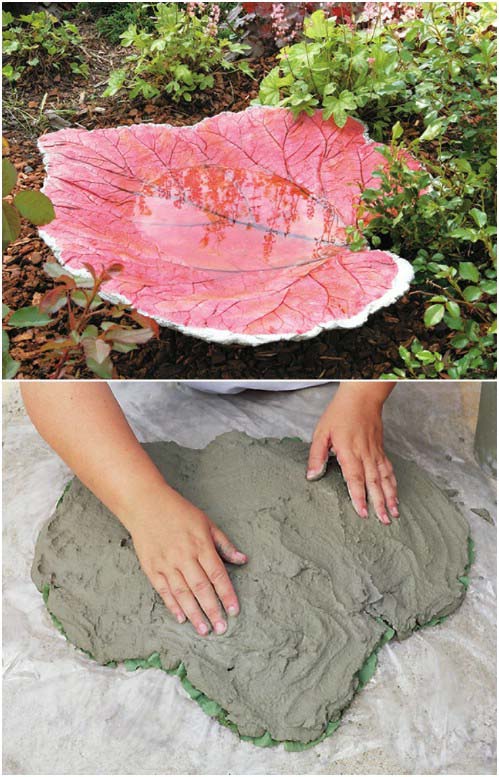 Make your own birdbath inspired by the amazing shapes of nature! The mold is for free- take a giant leaf and cover it with cement. Press the concrete layer well so that the veins of the leaf imprint on the cement. Make sure that you curve the molded set at the rim so that it can hold water after it dries out.
Wait at least 48 hours to take out the plastic sheet that has protected the casting. Then you can customize the unique birdbath by painting it in a color you like.
17. Fun and Easy DIY Concrete Planter Vases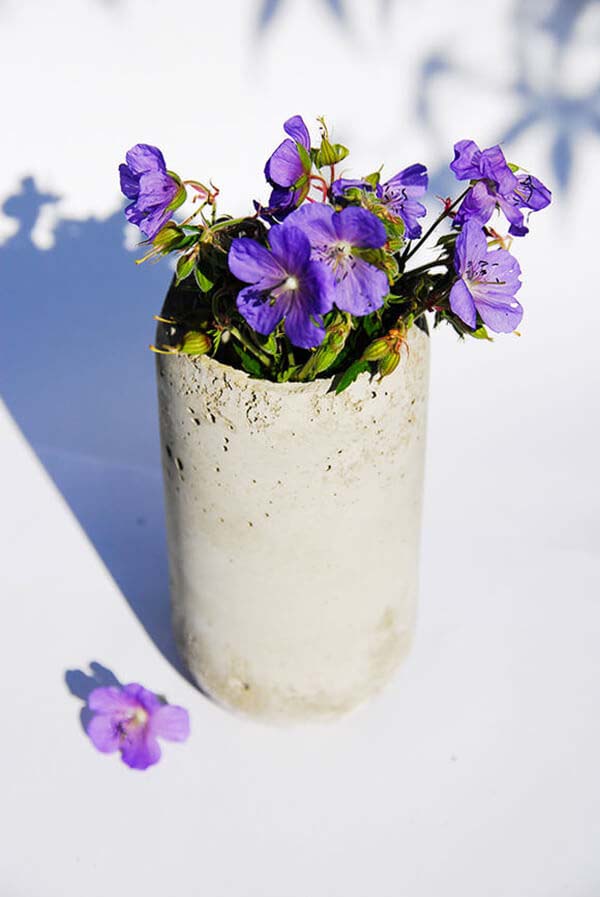 This easy idea lets you have a brand new vase in 30 minutes! Take a mold you like the shape of and a concrete mix and get started!
This cement vase project is perfect for those moments when you need a quick refreshment of the interior! Place it on the table or on the mantel and enjoy the unique industrial vibe it spreads.
18. Garden Ladybug Made Of Cement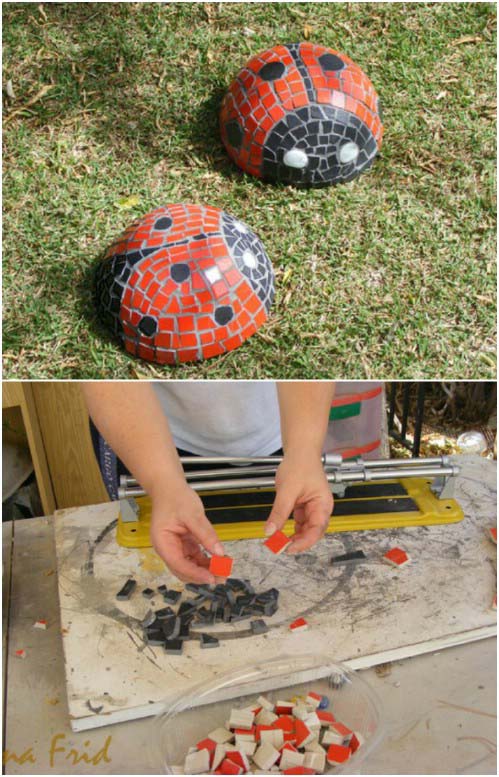 These ladybugs are so cute! Added to the garden they cheer up the atmosphere with the vivid red and black color pattern created with leftover tile pieces.
The base of these ladybugs is made of recycled materials- an old soccer ball. If you don't have such, you can replace it with any item that has a half-spherical shape.
via Handmade Idea
19. How To Make a Concrete Fountain Orb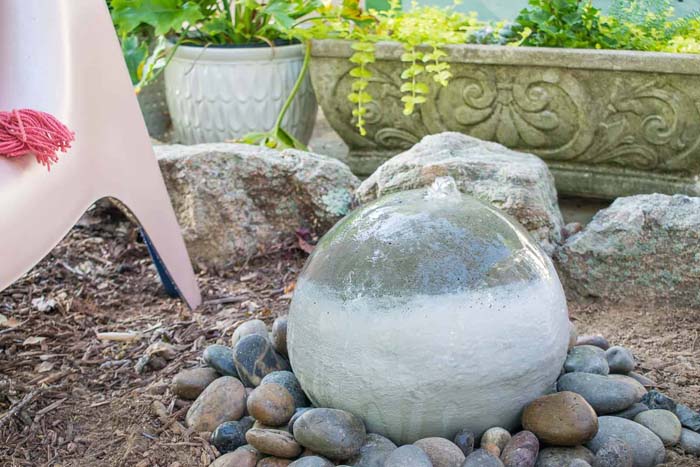 We bet you are anxious to understand how to make such a whimsical fountain that will add so much zen to your outdoors!
Two concrete half circles are glued together with Quikrete patch mix which acts as a sealer. When put together they create an amazing glazed orb that sprinkles water out.
Around the sphere, there are rocks to blend the fountain with the garden and to hide the set collecting water hidden in the ground.
20. How To Make Decorative Cement Spheres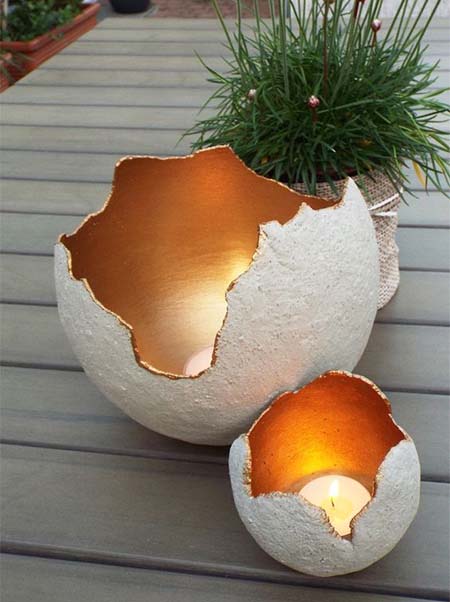 These cement shapes look so delicate! The otherwise rough cement material is so thinly laid that the final shape looks like a bent leaf.
This effect comes by laying a thin film of poly clay over a balloon that acts as a mold. The copper finishes inside and covering the curved edges is achieved with Rustoleum spray paint.
These cute spherical containers could work as planters for succulents, as candle holders, as jewelry sorters, or simply as a unique decor pieces.
via Home Dzine
21. Make Your Own Garden Millstones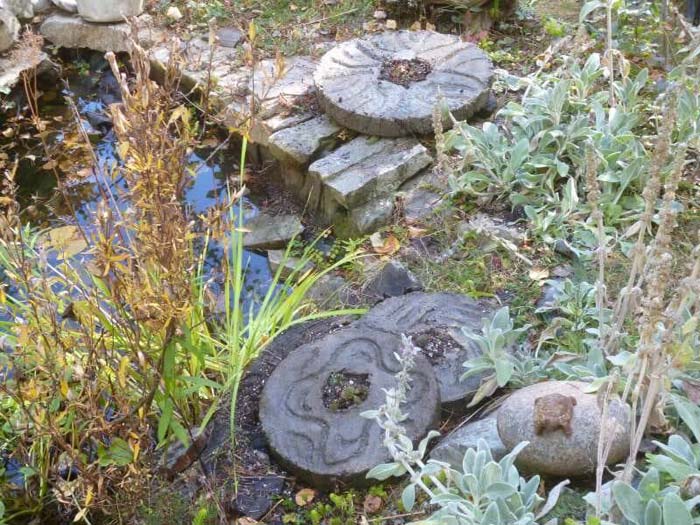 The millstones have such an antique charm! Use them as an inspiration to make cement duplicates to add to your garden.
And if you wonder what to do with them, here are two ideas- use them as stepping stones to create a whimsical vintage walkway or as flower emphasizing accent! Place them over a plant and watch it grow through the hole in the center. For a bolder look, you can stack different in size millstones and create a cascading rock garden.
via Blue Fox Farm
22. Super Clever DIY Cement Project with Hands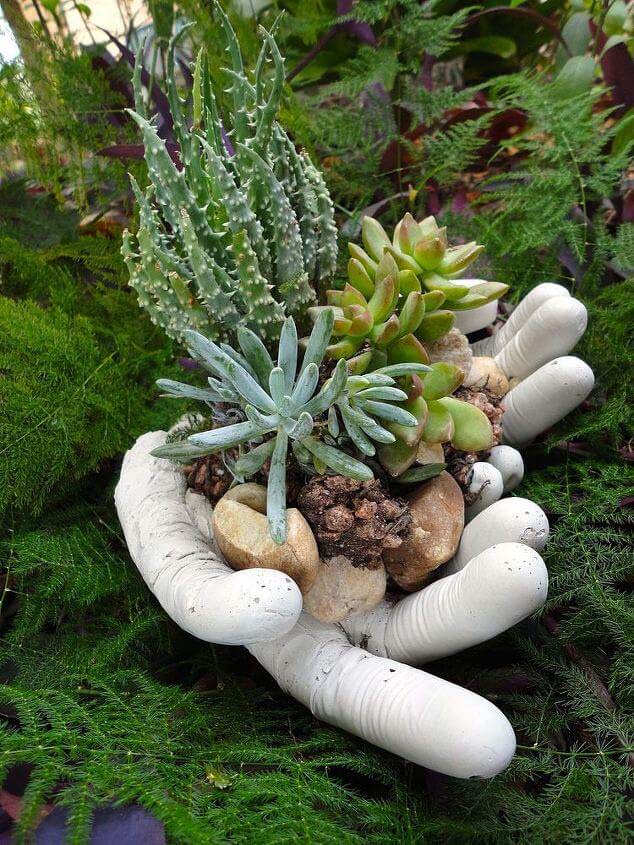 This palm is so impressive and will surely become the centerpiece of your garden! It is not that big but because of the arrangement and the contrasting color of the cement against the greenery, it will surely be a feature to be enjoyed.
The palm shape is easily made when the concrete mix is poured into a plastic glove. After it dries out, place gravel, some soil and succulents to use as a planter.
via DIY Fun Ideas
23. Trendy Concrete Garden Orb Decor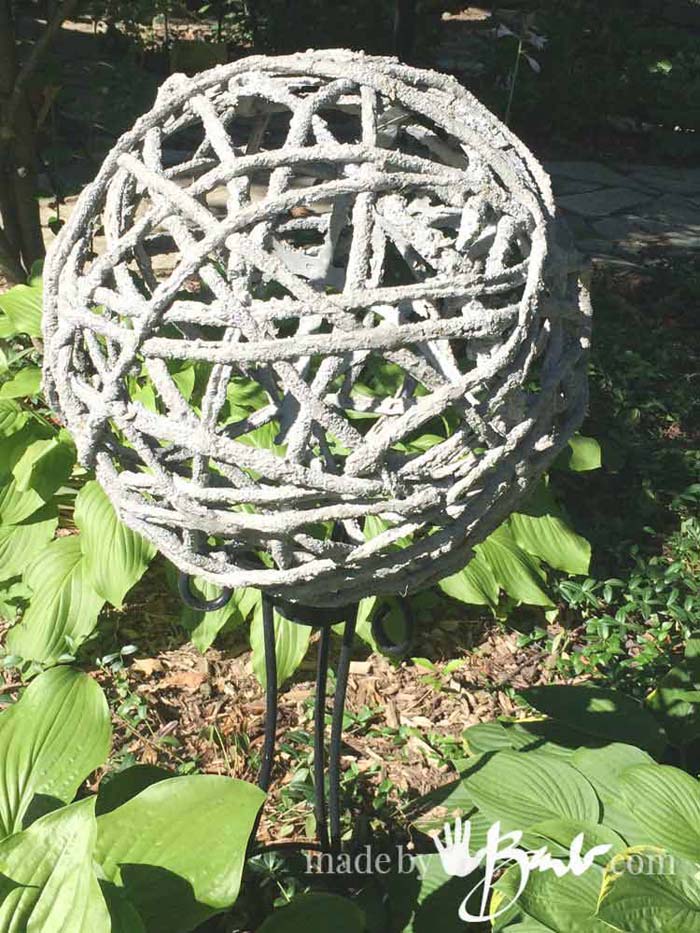 This garden accessory reminds me of the grapevine globes but it is far more durable because it is made of concrete. This evergreen orb is cost-effective and trendy.
Weave a string of lights around the orb and attach it to a tree branch to enjoy the smooth light at night.
via Mady By Barb
24. Unique Rhubarb Leaf Casting with Concrete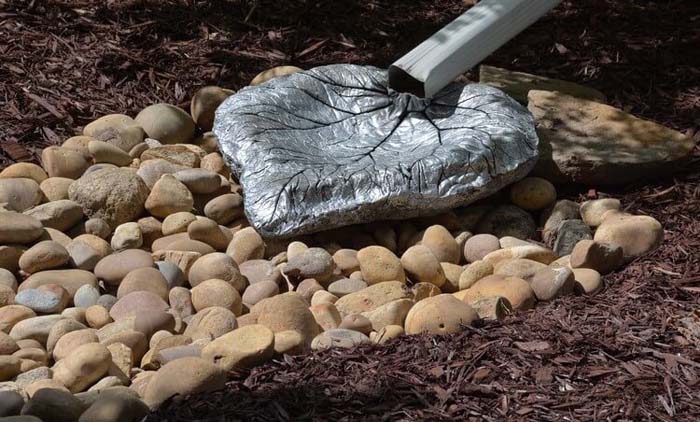 This is an inspiring idea about how to make an evergreen rhubarb leaf with cement. Take the most giant leaf you can find and cast over the concrete mixture. After it has dried out, you can customize its look with paint.
Use as an addition to a garden landscape or as a stepping stone inspired by nature.
25. Upcycle a Rubber Doormat into a Concrete Masterpiece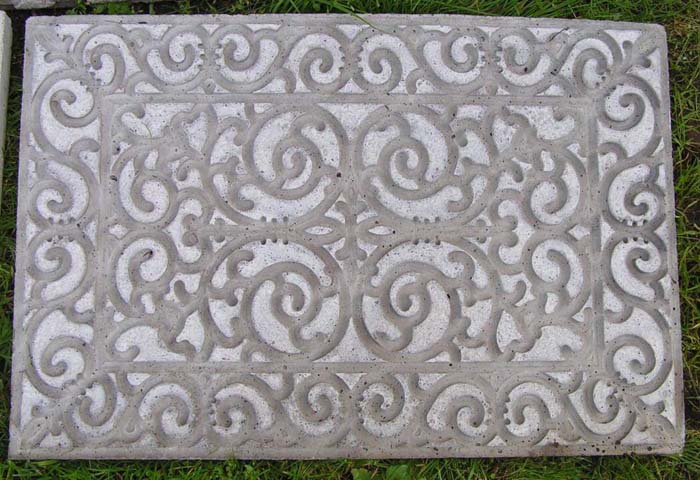 Use an old rubber mat as a mold for your unique stepping stones. The curves of the rubber imprint on the concrete and once it has dried out, the masterpiece is ready to be used.
Make as many as you wish and arrange them in a walkway pattern to enjoy stepping onto a vintage and elegant road to your front door.