There is one thing that can turn even the ugliest garden bed into a beautiful one.
I'm not talking about the flowers ( you need flowers for your garden, right ), but the garden bed edging.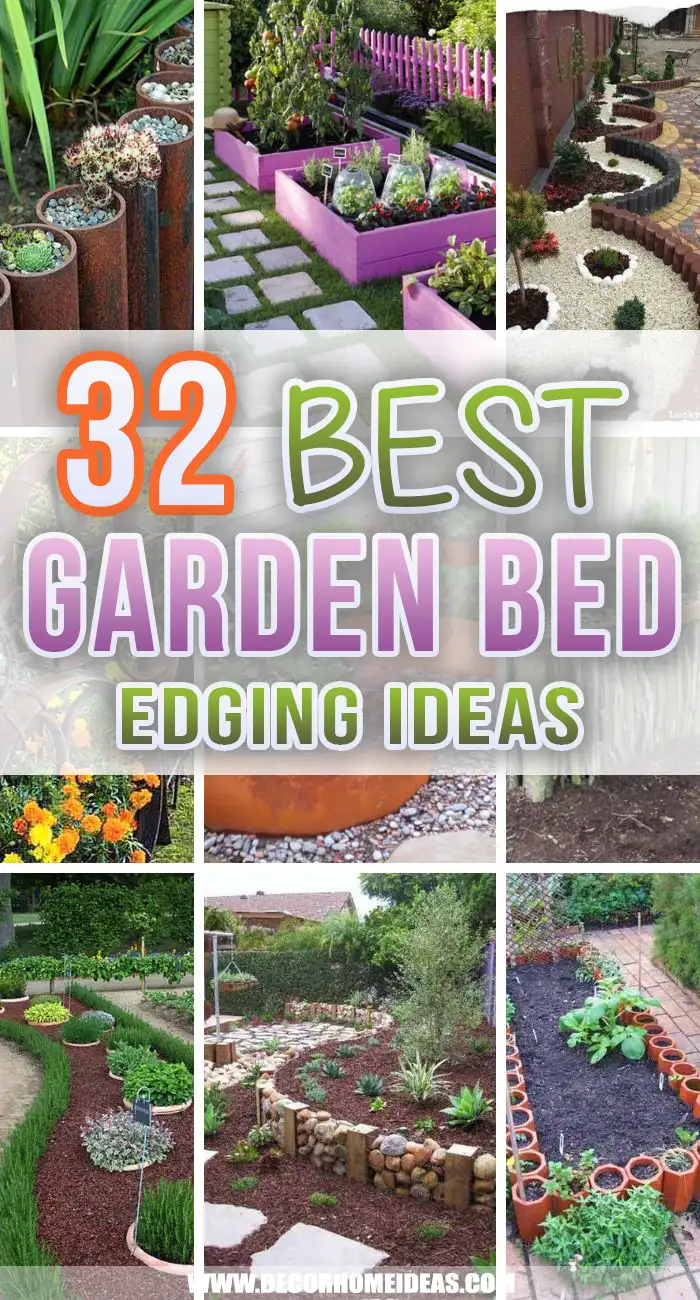 The best part is you can DIY and it's not going to cost you much. You can go wild and be very creative, but if you ran out of ideas, take a look at this selection and choose your next project.
1. Enhance Your Garden with Symmetrical Wood Border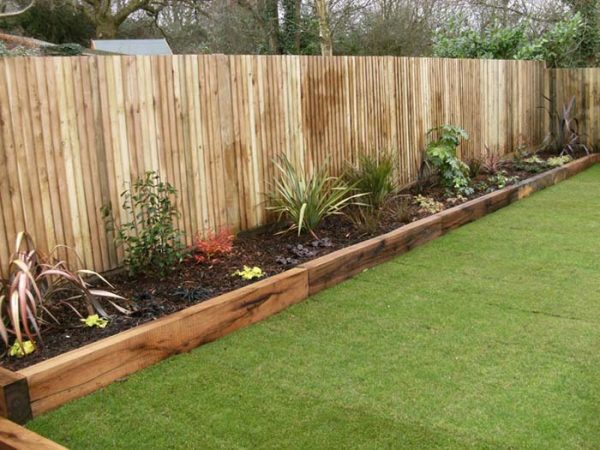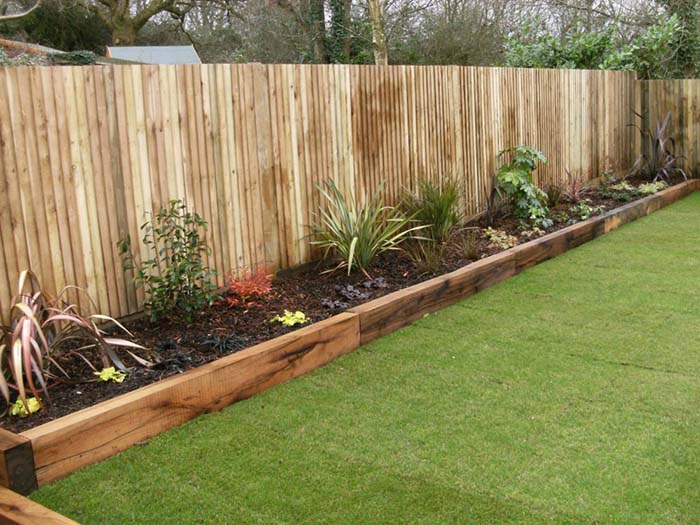 If you like symmetry as I do, then you gonna like this one very much.
Make wooden rectangles along the fence and put them on the ground. Use thick beams as wood will degrade with time.
It's one of the easiest bed border you can create.
2. Bring Rustic Charm with Wood Beams Edging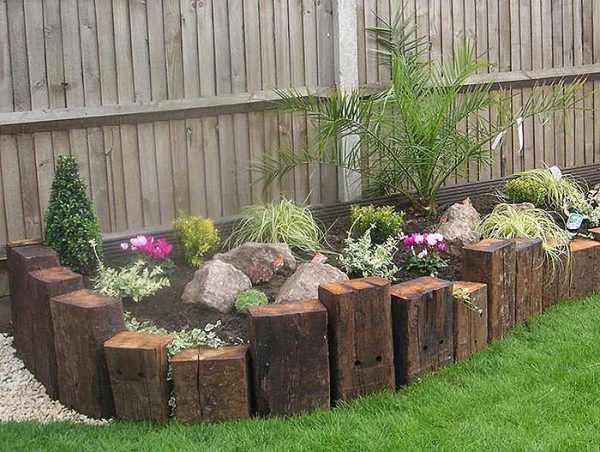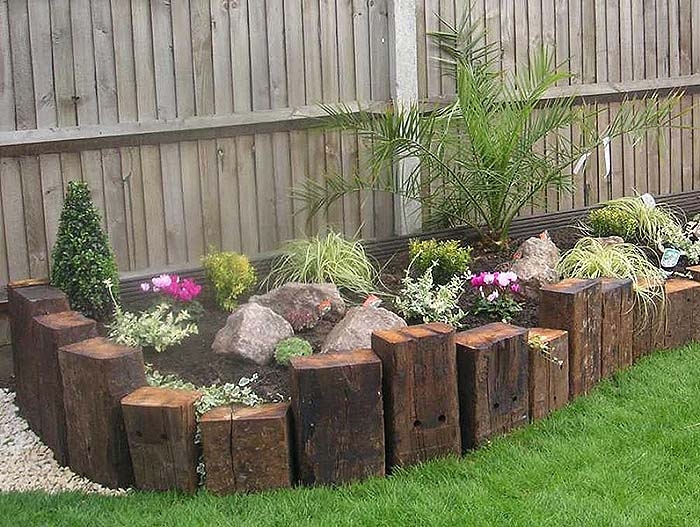 Photo: Credit
The varying height of vertically placed railway sleepers adds a unique look to this raised flower bed. Simple and lovely, this is another decoration to adore.
You can see that the wooden elements are different in height this time, which makes for an interesting look.
Decorating your garden is all about the play; it is not about the perfection. I love it when I see people doing things differently.
3. Create a Rustic Garden Edging with Metal Wheels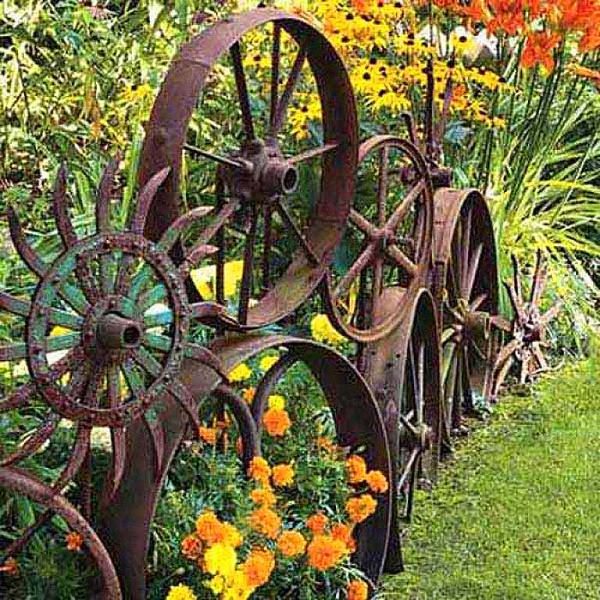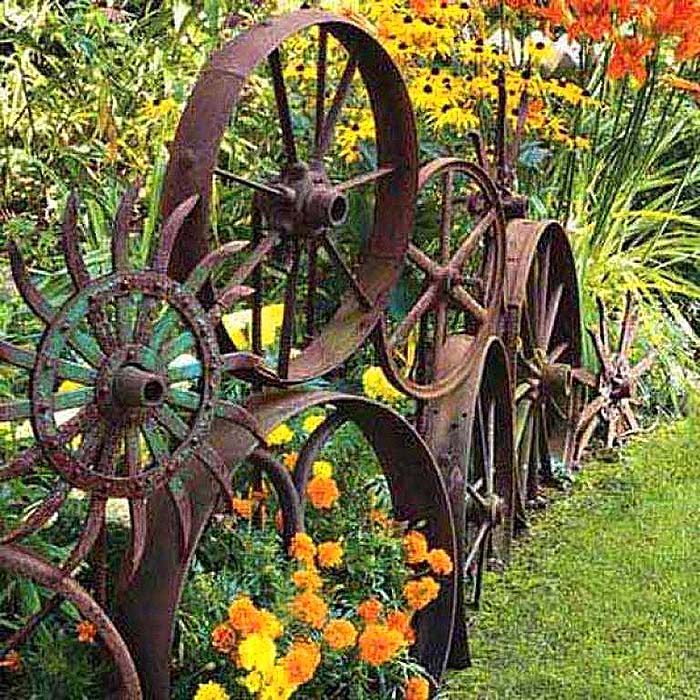 Flower beds around wheels?
Yes, it is possible and it works! Using wired together antique metal wheels to make a bed edging is unquestionably a surefire way to create a unique garden! Unleash your creativity!
A unique DIY bed edging can add tons of visual interest, charm, and personality to any garden. Plus, an eye-catching border will definitely highlight the beauty of your plants!
4. Repurpose Pipe Planters into a Rustic Garden Border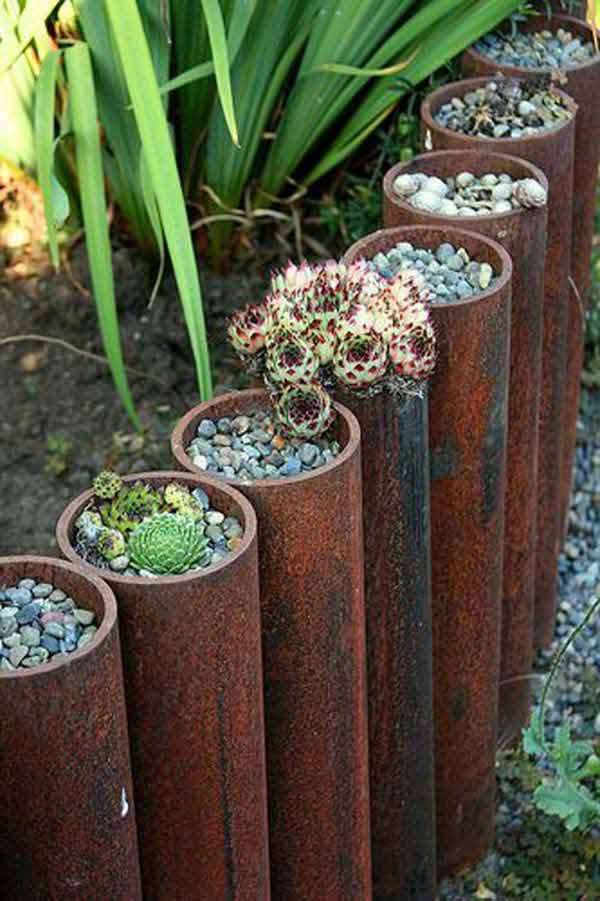 Number 4 on our list are these old tubes that are filled in with stones, sand, and plants.
They look amazing and they have truly been given a new cycle of life.
Rather than throwing the old unusable objects away, think about how they can fit in your garden or yards. Sometimes a good cleaning, some paint and imagination can do wonders for them.
You probably will not feel like getting rid of them any time soon.
Lined cylindrical metal pipes inserted into the ground  make an appealing bed edging. What a way to repurpose steel pipes!
This edging lends an Industrial-inspired look to the space. For even extra touches of visual interest, each pipe is filled with soil and pebbles and some of the pipes are topped with succulents.
Definitely a creative use of the inner pipes space!
5. Get a Classic Look with Brick Edging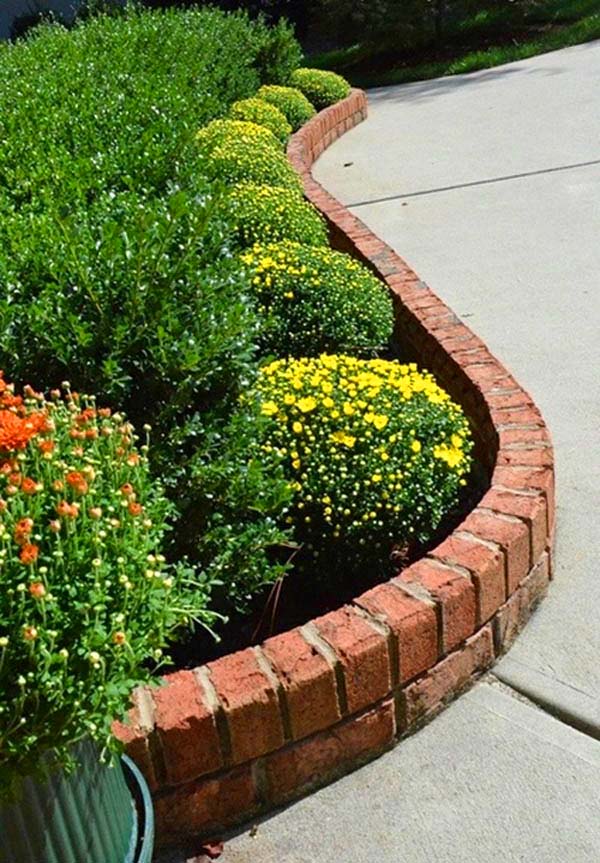 There is a perfect sleek edging that makes the beauty of the plants and flowers stand out.
As you can see, the line nicely follows the inner form of the garden in a wavy form. This is also inexpensive and easy to do, even with your own two handy hands.
If it seems like a daunting task, however, leave it in the right professional hands and you will not be sorry.
Most likely, they will give you some out-of-the-box ideas, too. A common, classic landscape choice, this curved horizontal brick edging is an affordable and widely available option.
Note that a flowing, curved edge lends a relaxed and loose look and adds softness to the garden.
Unquestionably, a brick edge provides an opportunity to beautify any flower bed and add extra charm and personality to your garden.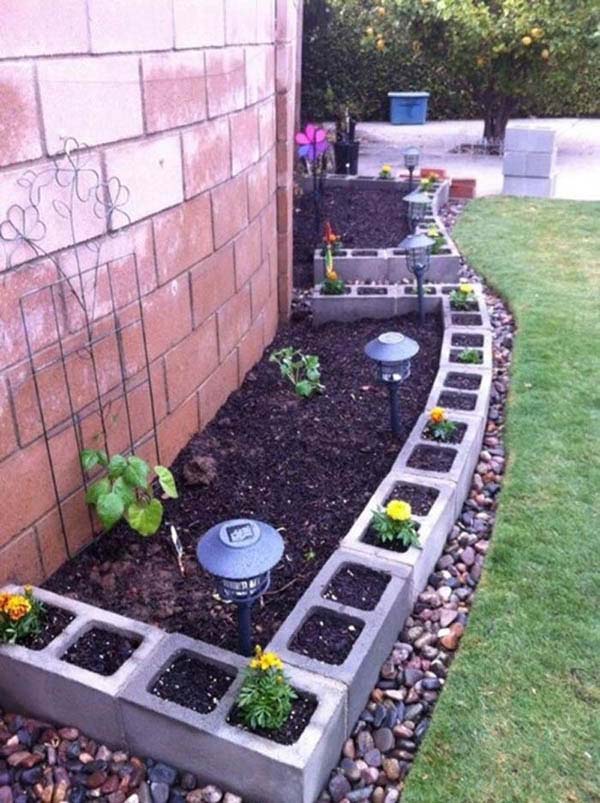 Photo: Credit
Next, we can see how nicely the owner has used the free space along the wall of his house.
It doesn't require endless amounts of work. You can use bricks or other concrete forms to root green plants and flowers inside.
As a matter of fact, bricks have been used for a long time for this particular purpose. Simple, clean and fantastic for filling the blank spaces around your home.
7. Retain Garden Soil with a Gabion-Style Edging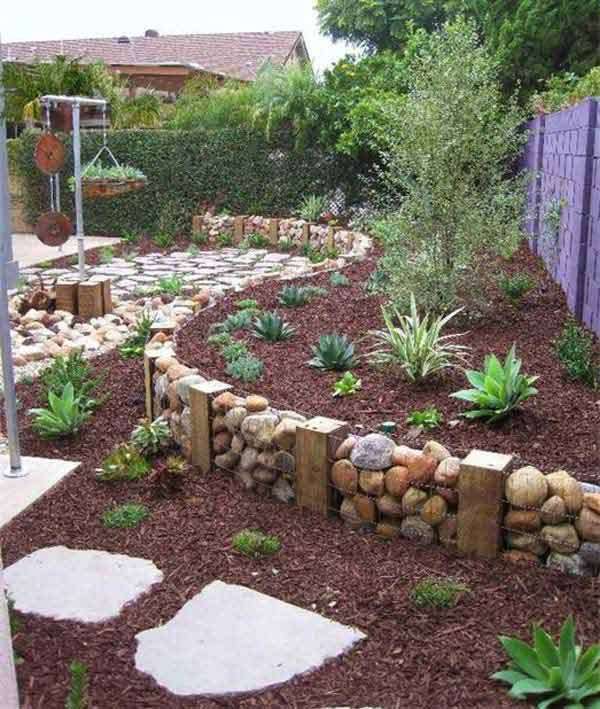 Photo: Credit
This gabion wall serving as a bed edging is definitely a dramatic garden feature.It is time for something more playful in the garden. I love this because it makes use of the stones.
You can see giant steps, which are incredibly comfortable to use and there is also plenty of space between the plants, so air comes in and out without anything standing in the way.
A nice tip would be to add some garden figures inside, who knows – it may spruce up the place! Pass on the gnomes, though!
8. Brighten Your Garden with Colored Squared Flower Beds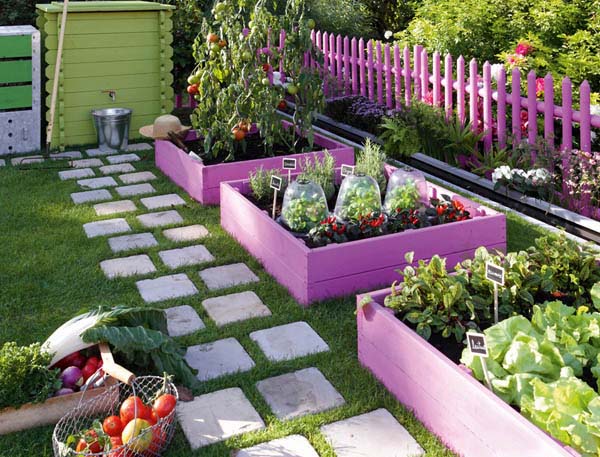 Photo: Credit
Painted pallets edging adds both functionality and appeal to this raised garden bed. Many of us go green, but some of us go purple, too! Isn't this an awesome garden?
Those devoted to feeling healthy and vibrant will love maintaining a small garden like this.
You can also play a character of Mark Twain's books and paint the fence in purple, blue or even neon colors! This is a really well-organized small garden, kudos!
It's just another unique idea to use wooden pallets.
9. Unleash Your Creativity with Herbs Garden Edging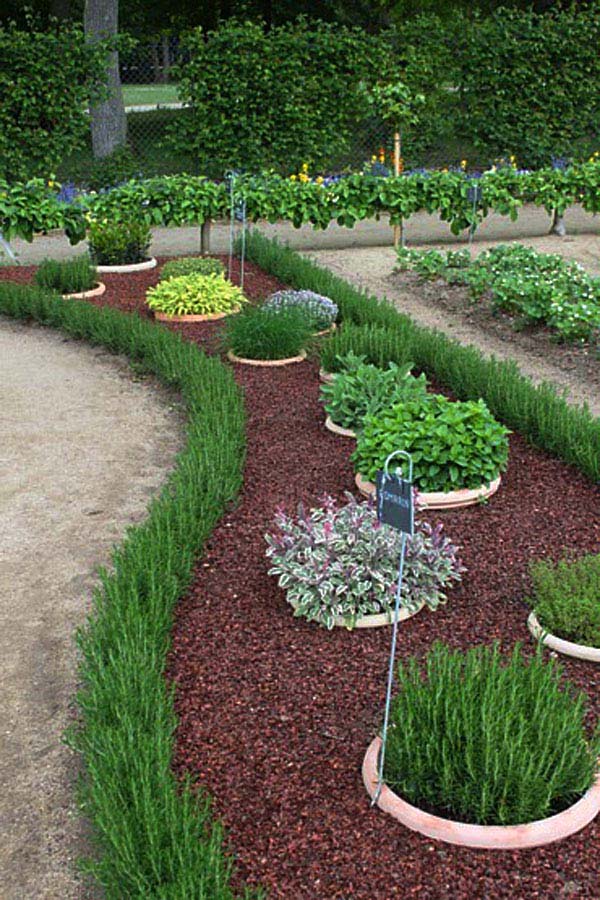 Photo: Credit
Herb edging makes an appealing separation between a herb bed and a garden path.
If you are wondering where to get your wheatgrass for juicing, growing it yourself in a vegetable garden is probably a good idea.
It requires no effort whatsoever to do it, it is cheap and it is always fresh.
Bed edgings also ensure that your produce, greens, and plants will be protected. The soil stays where it belongs.
10. Get a Contemporary Look with Curved Steel Edging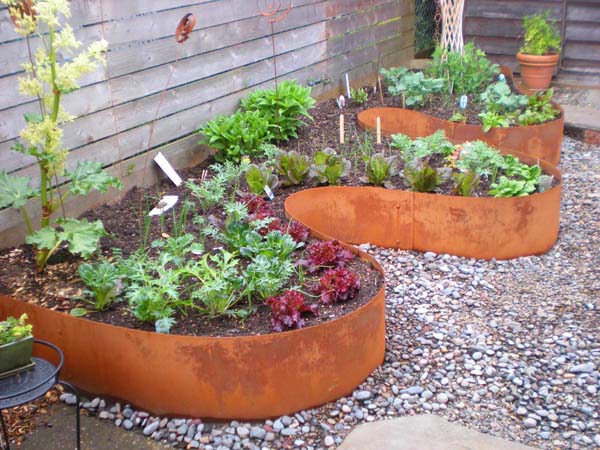 Photo: Credit
Curved steel edging lends a contemporary look to this space.
Another lover of greens and a proud owner who will enjoy the benefits of fresh produce and juicing, I suppose.
Lettuce, kale, parsley are so easy to grow! If you are not doing it by now, why not give it a try?
Remember, people living in houses are blessed because a garden is a truly grounding experience and a wonderful hobby.
11. Bring Farmhouse Elegance with Stone Edging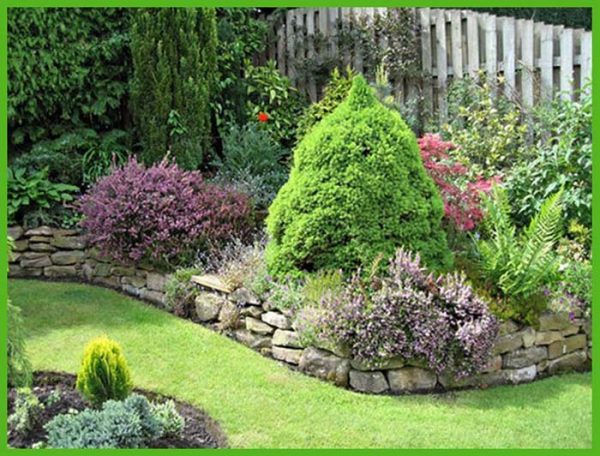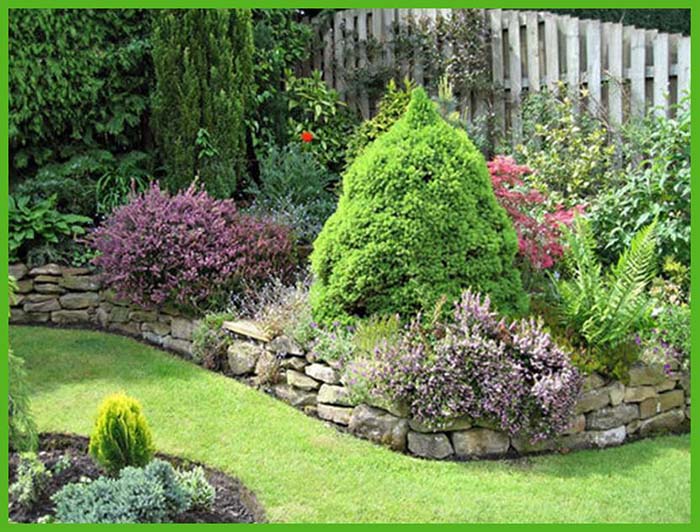 Photo: Credit
Stone edging definitely adds personality to this small raised garden bed.
I can easily guess, in this garden you can feel like kings and queens.
While I am a fan of the do-it-yourself approach, I also encourage finding a gardener to use for consultations or simply to help you with its knowledge and practical experience.
Not all plants go together perfectly and some work synergistically. Learning about that can be quite exciting.
12. Get Creative with Your Garden Edging with Terracotta Pots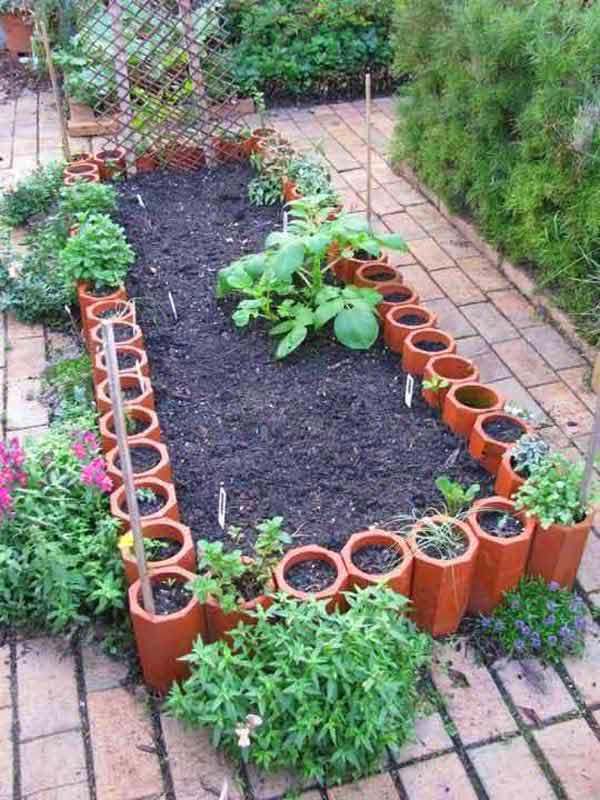 Photo: Credit
Outline your garden with terracotta pipes and use them to add additional plants to the area.
Situated right in the center of the yard, this rectangular garden is an example that plants will truly grow anywhere they can.
There are no boundaries for nature. I have seen tiny little flowers growing between the stones of the pavement.
However, there is easy access from all angles, so the soil is reachable.
Sometimes, if your garden is too hard to maintain, you don't feel good doing it.
13. Transform Your Garden with a Nature-Inspired Edging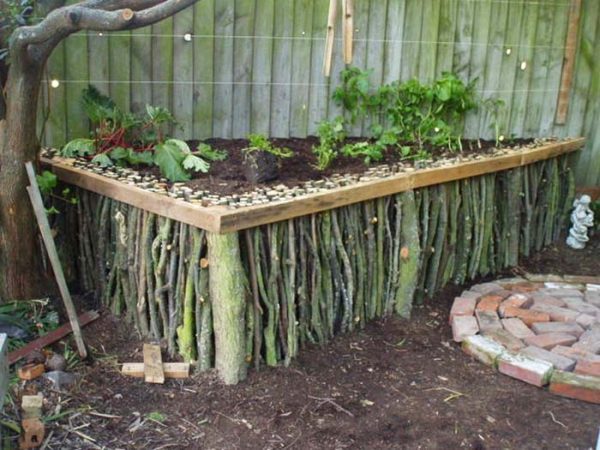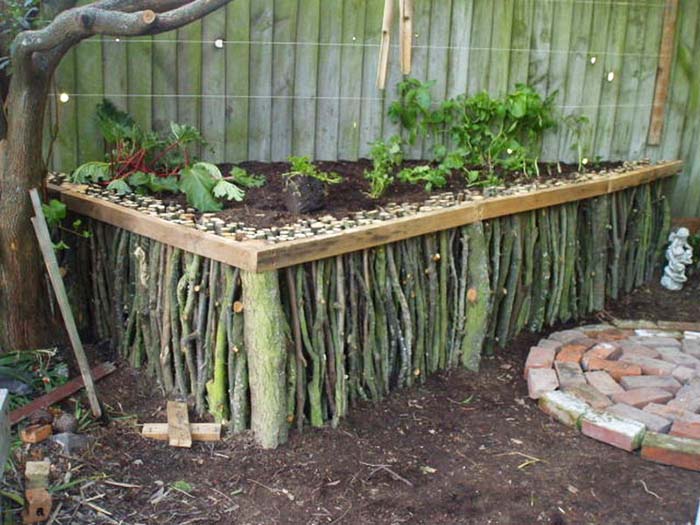 Instructions: Here
Simple, natural, practical…Awesome DIY project! Okay, enough with the cement in the gardens. It is not that interesting, I confess.
Have you ever thought of using natural resources like trees?
Again, you don't need much else besides a hammer and some nails to build a small garden.
Keep in mind there is also a spiritual rule for the plants – the higher they grow, the closer to the sun rays they are.
The esthetic pleasure you receive from walking by a garden edging like this cannot be measured, right?
14. Upgrade Your Garden Edging with Birch Logs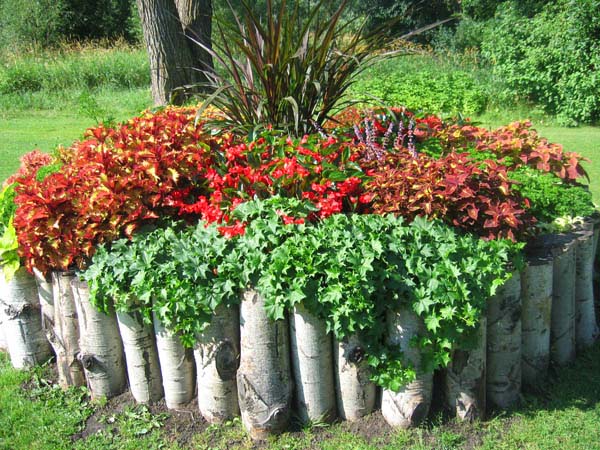 Photo: Credit
Birch logs edging lends a stunning look to this small raised bed with lush greenery.
Here is a lovely solution for a public park or a garden.
This is an isolated zone, where all the plants have been rooted and are growing with enough access to the sun.
Once again, trees have been used to have pieces of the same height lined around the plants. It is somewhat of a centerpiece, this garden.
Take your time to enjoy it.
15. Transform Your Home with a Beautiful Willow Wattle Fence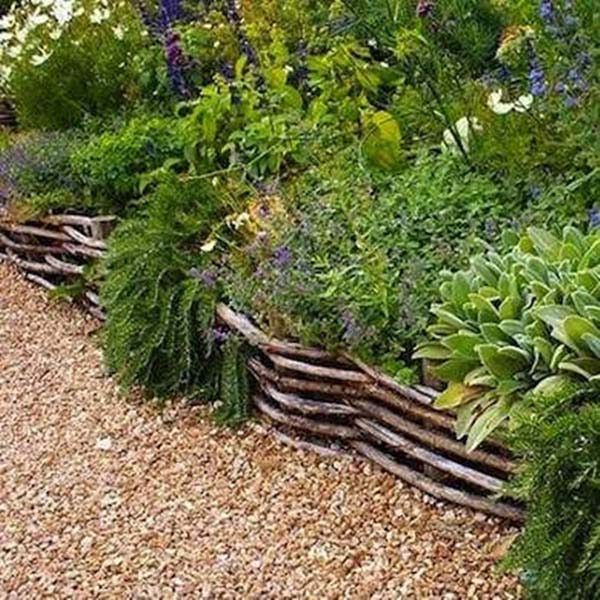 Photo: Credit
This willow wattle fence is simply gorgeous! The last idea I chose is divine as well and is the most abundant of all.
There is a sufficient amount of plants and flowers inside and you can see they grow wildly from every side.
If you are able to master a garden like this in your house, I bow to you. It means you really are a professional. It takes time to reach mastery, my friend, I know this first hand!
16. Master the Art of Gardening with a Pebble Border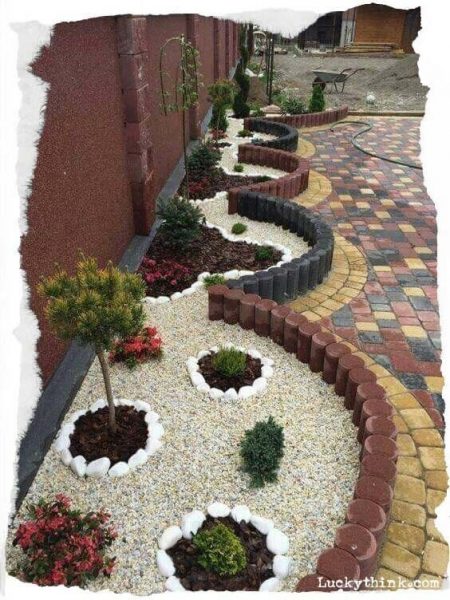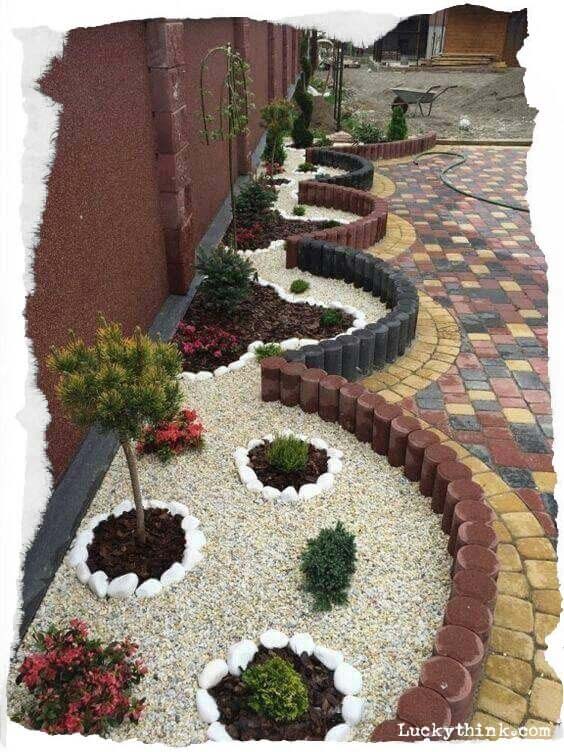 Instead of soil, you can use pebbles to fill in the area between the flowers and plants.