Low-budget planters offer an easy, simple, and affordable way to create outdoor spaces with charm and tons of personality.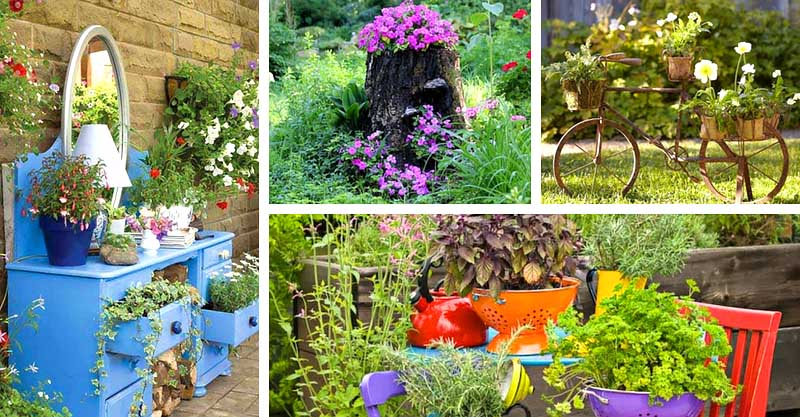 Whether simple and inexpensive DIY projects or repurposed household stuff, with some creativity, anyone can come up with a unique planter.
Think out of the box and check your garage and basement for unused items that make statement containers.
Garage sales and thrift stores are also places to find vintage pieces that usually can be transformed into attention-grabbing pots to plant greenery and enliven any garden.
Actually, anything from old tires to cans and barrels to glass and plastic bottles to broken chairs to wheelbarrows can become a garden container. Fill it with your favorite flowers and dress up your outdoors.
Forget about the mundane ceramic pots and let your imagination go wild. Sometimes, even the most ordinary household items used as planters add touches of whimsy and turn a so-so outdoor space into a dream-come-true piece of paradise.
1. DIY Projects
What about cement planters? This is an affordable option, which requires only some basic DIY skills. The shape, size, and color depend entirely on your needs and taste.
The result is amazing, unique planters with a stunning decorative effect. Furthermore, they match any décor and can be positioned in any space to beautify and enliven it.
Plus, these planters are a way to add personal touches to your living space.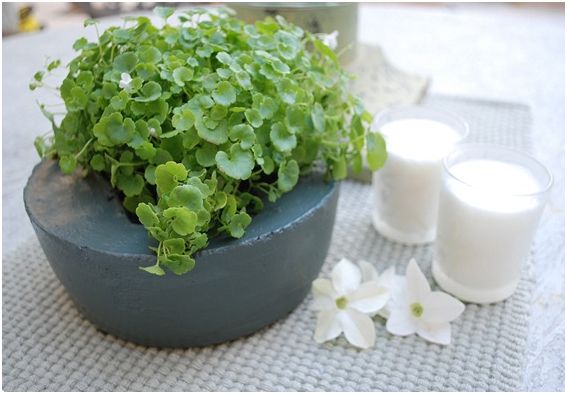 In the picture above, a fantastic cement planter, which can add color, texture, and personality to any space, indoor or outdoor.
As cinder blocks offer versatility and durability, they can also be used for making simple yet impressive planters, which usually become a chick, statement piece of décor, especially when decorated in one way or another.
Just unleash your imagination and creativity and improvise with the colors, stencils, and flowers you like most to make a nice addition to your living space.
With some patience when drilling the holes, reclaimed bricks can also become absolutely stunning succulent planters. Furthermore, reclaimed materials create a sense of history and add touches of undeniable charm and personality.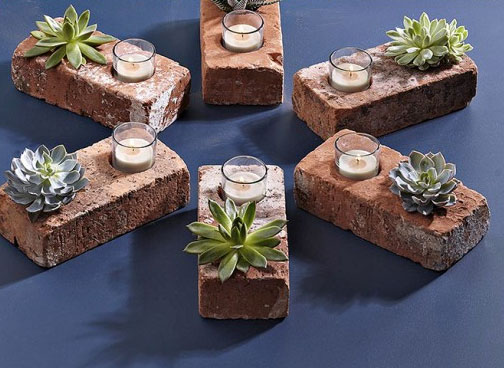 Above, brick planters, which double as candle holders. What a creative way to reuse bricks! Definitely a truly impressive brick centerpiece with an organic look!
Using reclaimed wood in one way or another always creates a sense of warmth and adds texture and tons of personality. Plus, it offers endless possibilities to come up with unique planters.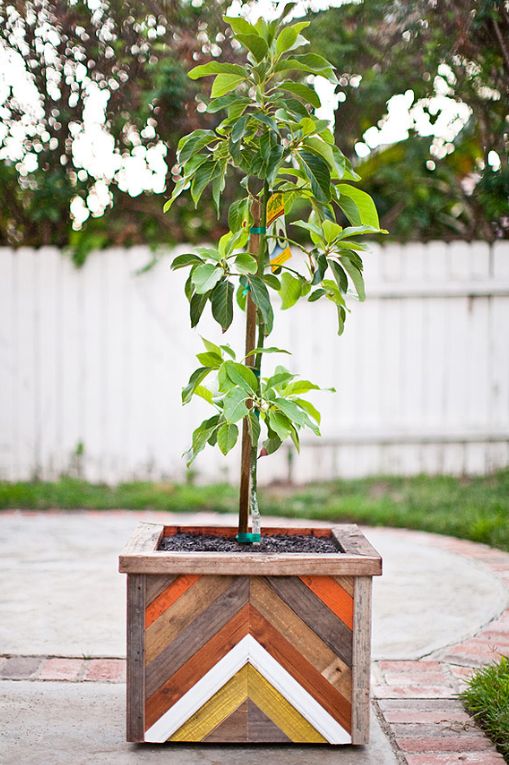 The eye-grabbing Chevron-patterned planter in the picture above is a fascinating way to add color, pattern, texture, visual interest, and personality to any outdoor space.
Usually, a coat of paint can transform practically anything. In this regard, if you have some ordinary, boring ceramic pots, consider using paint to lend them a new, fresh look.
Actually, even painting only the pot rim in different vivid colors can make a difference. Some DIY projects can help make the pots look "aged" or marbleized.
When filled with greenery, they definitely look amazing and add color, texture, and personality to the space.
If planning to use cans of any shape and size as plant containers, for some extra visual interest, they can also be painted in various bright colors and different patterns.
Other simple DIY projects are using appealing fabric leftovers to personalize both ceramic pots and cans.
However, when it comes to cans of a vintage look, you'd better use them as they are because they make a décor statement, especially when in groupings.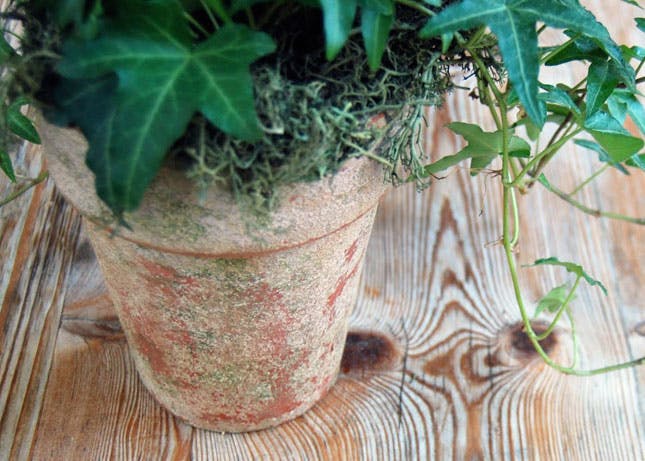 In the picture above, a simple DIY project lends a distressed look to an ordinary terra cotta pot. Incorporating it is definitely a stunning way to add texture and personality to any space, outdoor or indoor.
2. Items Repurposed into Planters
With some creativity, anyone can turn trash into treasure. Go green and look around, you will find endless options to come up with eye-grabbing planters that can personalize your living space.
Actually, almost anything can be transformed into a planter, from dead tree stumps to pieces of furniture to vintage containers to old bicycles and boats to chandeliers to glass and plastic bottles to even shoes, tea cups, and grocery bags.
Let your imagination go wild, grab an old chair, transform it into a planter, and dress up your garden.
You certainly have lots of baskets, bags, hats, and crocs that you don't use any more. Don't throw them away. Fill them with soil, plant blooming flowers and hang them on an empty or boring fence or wall.
Unquestionably, this is a budget-friendly way to enliven and beautify your outdoor space.
A porch arrangement of vintage-looking containers with blossoming beauties will add color, scent, and charm.
A ladder display of paint cans transformed into flower pots can add vertical interest to any garden.
Vintage cans can be planted with herbs to create a kitchen herb garden.
The possibilities are literally endless, your only limit is your imagination!
If you have tree stumps in your garden, don't even think to get rid of them, it is a difficult task. Instead, transform them into amazing flower bed, which definitely make statement garden décor.
Shallow root plants are the most suitable choice for these planters. For some extra visual interest, plant flowers around the stump.
If complemented by a water feature and a simple wooden bench or any other seating arrangement, such a space could become a favorite garden spot.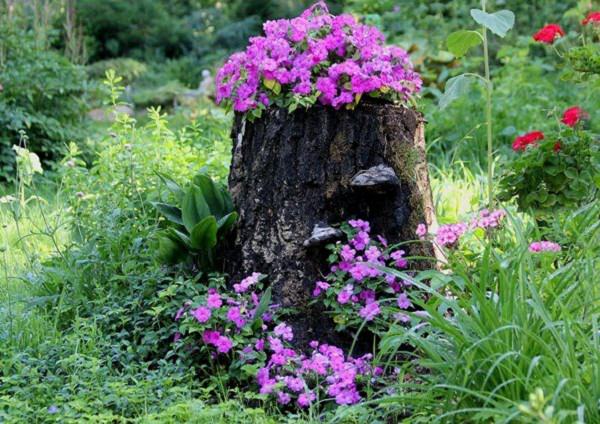 In the picture above, a tree stump reused as a container and planted with beautiful, delicate flowers makes a striking focal point and looks gorgeous against the background of the garden greenery.
What a way to add visual interest, touches of whimsy, and tons of personality! Truly impressive!
Complemented by baskets with cottage-style flowers, when reused as planters, bicycles, especially rusted antique ones, make striking garden accents.
For some added visual interest, you can repaint the bicycle in a vivid color.
Positioned in a natural background/against a fence, wall, tree, or hedge/ to highlight it and properly secured, a bicycle planter definitely becomes an eye-grabbing décor element.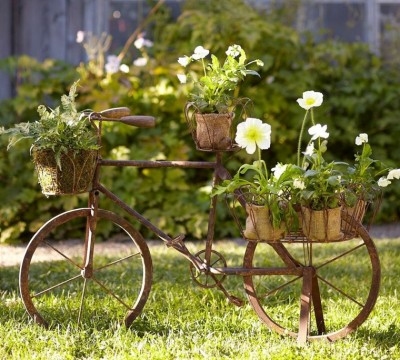 Above, simple burlap sacks planted with lovely flowers are positioned on an antique bicycle repurposed as a portable garden plant stand. Absolutely charming!
Generally, as they create a sense of history, add touches of whimsy, and can personalize any space, items with a vintage look make absolutely stunning garden containers. And the older, the better!
Look around your basement, attic, or garage and if you don't find any pieces of farm equipment, carts, wagons, wheelbarrows, chicken feeders, metal tool boxes, crates, barrels, water and milk cans, birdcages, or buckets, try at the thrift stores and yard sales.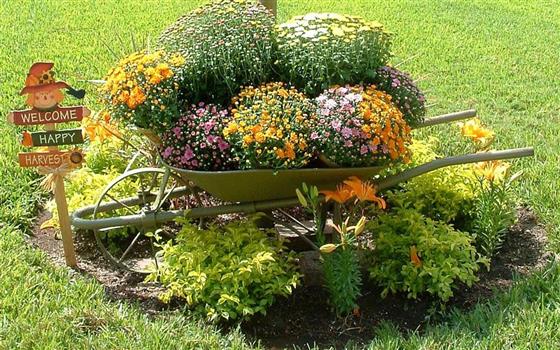 Above-shown, a wheelbarrow planted with multiple blooming flowers definitely grabs the eye in this garden. A fun garden sign adds extra visual interest.
As for old household items, almost everything can be repurposed as a garden planter, from tea kettles and jugs to wire spice racks, bowls, and tea cups.
As they let plants breathe and drain, colanders make the perfect planters.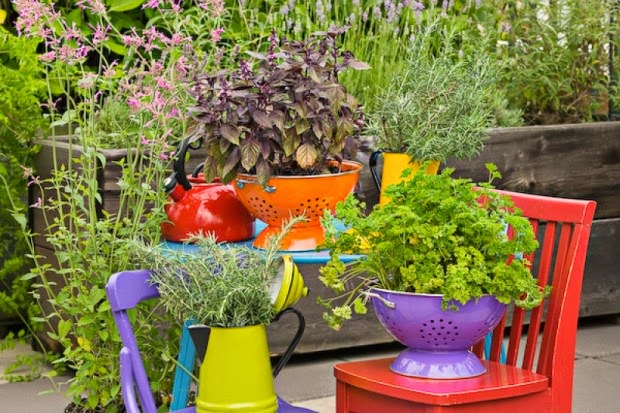 In the picture above, a colorful arrangement of colanders and jugs planted with flowers and herbs makes an impressive focal point in this rooftop garden.
Unused furniture pieces can also be repurposed as planters.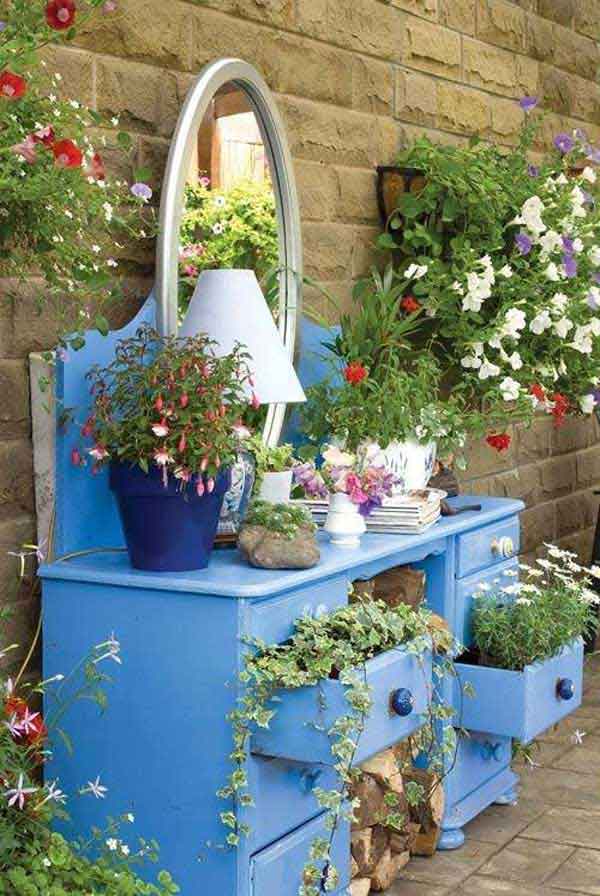 Above, a blue-painted "flower" dresser beautifully complemented by multiple additional pots makes a dramatic piece of garden décor. Unquestionably, a creative way to bring color, texture, scent, visual interest, and personality!
You want to have a unique garden? Forget about the classic ceramic pots. Instead, try simple, affordable DIY projects and repurpose unused items.
With some creativity, you can come up with eye-grabbing planters, which will definitely personalize your living space.