Garden signs are another way to give your well-maintained outdoor space a personal touch. With our collection of 28 Whimsical Garden Sign Ideas to Brighten Up Your Outdoor Space you will be able to spend some time on a fun project, experimenting with looks, inscriptions and location.
With these signs, you will be able to differentiate the flower garden from the vegetable garden or add plant labels in the soil. Some of them can direct your guests to the planted kinds or show them where they should pay more attention when they pass.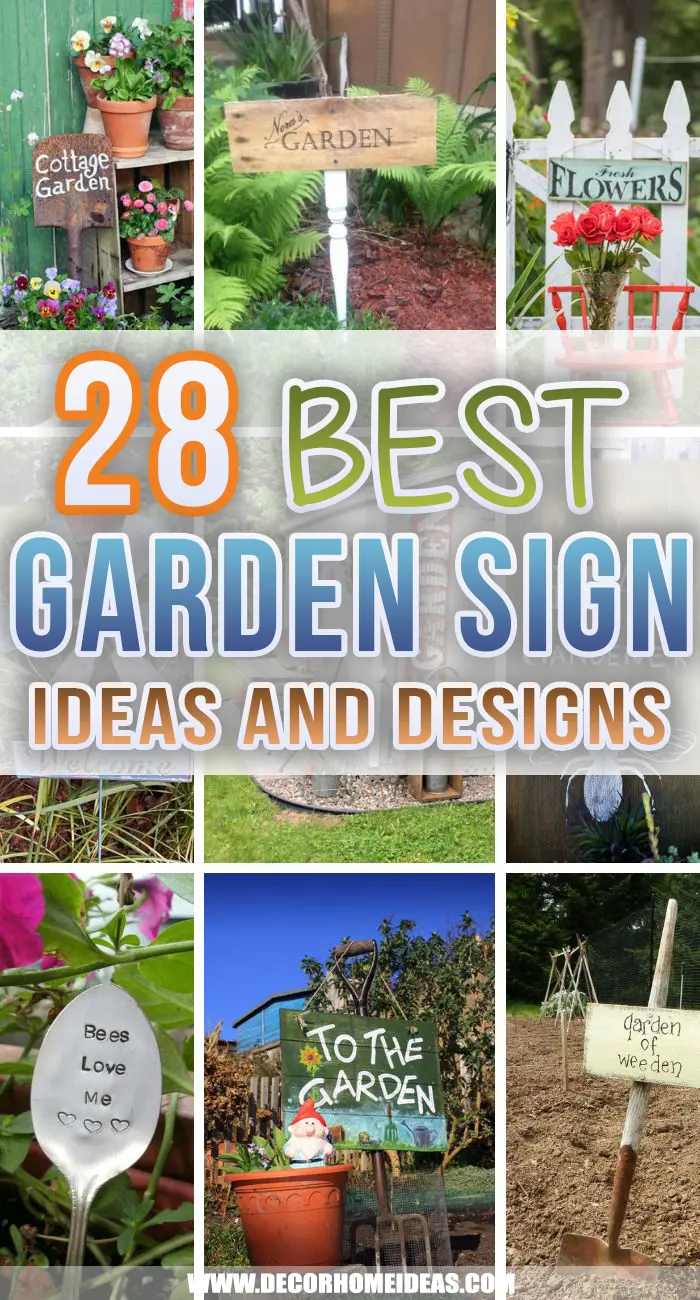 All of the sign ideas here are charming and unique, rustic or vintage, simple or elegant, to let you choose those that fit best your visual idea and garden landscape.
1. Farmhouse Flower Shop With Fence Pickets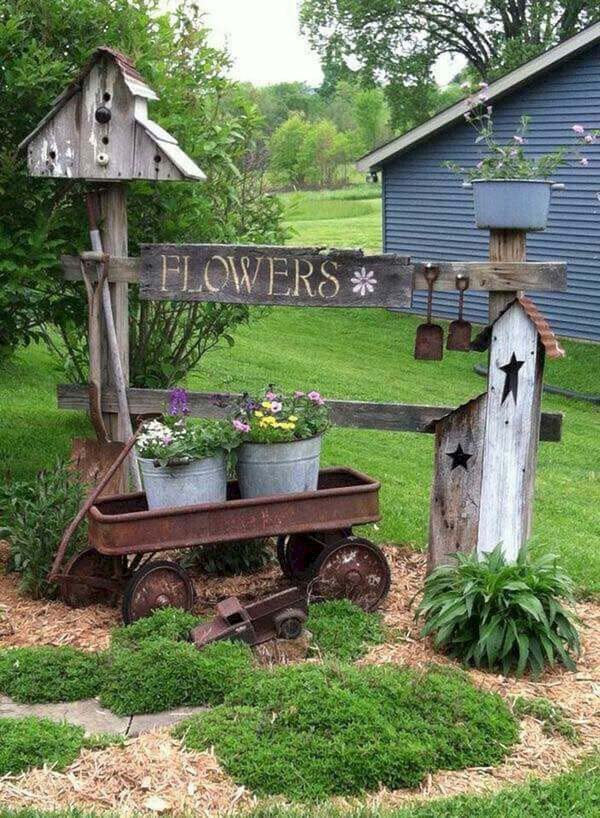 Old fence pickets can be given a new life by repurposing them into a garden sign of a flower corner in the backyard.
Add a cute sign on it using stencils and paint and surround it with rustic containers that can be used as flower pots.
This easy DIY project will give your outdoors a charming rustic nook to enjoy.
2. Sign From Wood Slats And Metal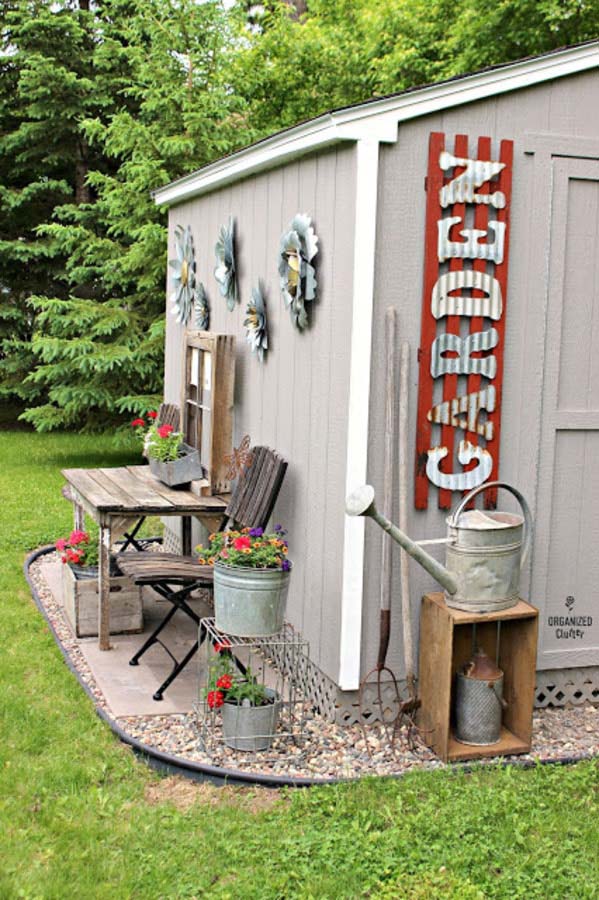 You can use the shed's sides to hang a unique handmade sign. This sign idea requires lumber and corrugated metal. The letters are cut with a plain metal cutter and then screwed to the wood base.
The color of the lumber and the way you will position the sign are also important for the final effect. In case you have more from the corrugated metal, you can try assembling metal flowers and adding them to the sign.
3. Free-standing Welcome Sign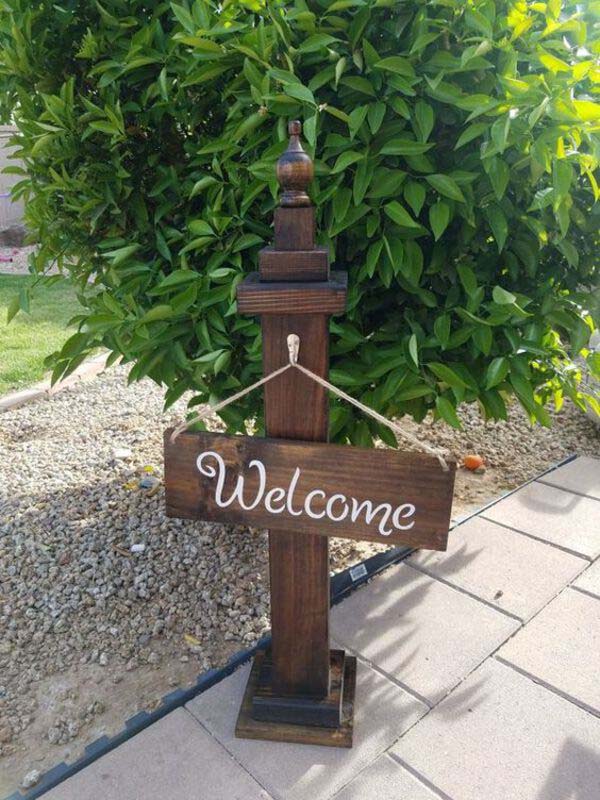 Another way for reusing leftover materials is shown in this great garden sign idea. A short piece of lumber is used as a post for a wooden welcome sign.
The sign can be customized in size and look by adding images of flowers or butterflies. In case you like the elegant rustic design, stain the post and the sign dark and write the word with white paint.
4. Hinged Slats Sign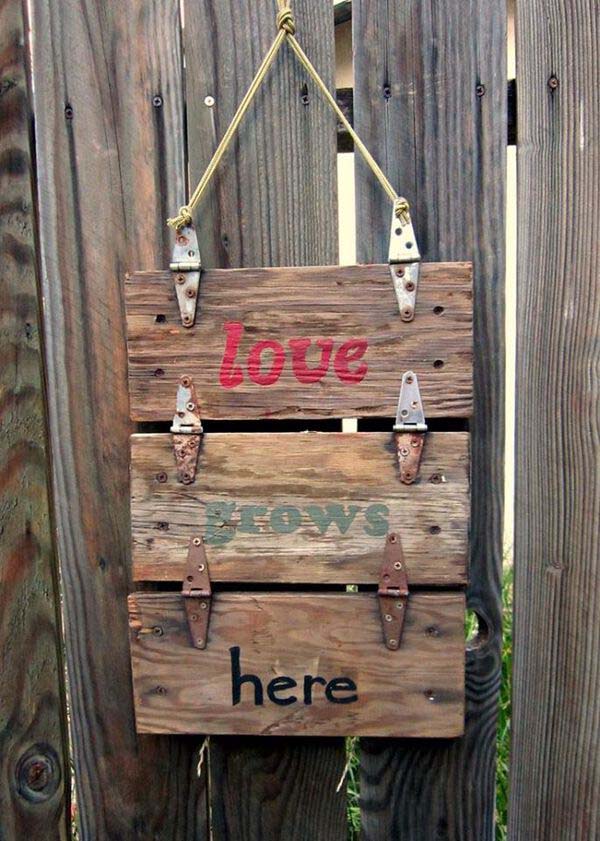 Pallet slats are perfect for this sign idea. You need only one for this particular size or in case you want to scale it bigger, opt for two slats.
Join the slats with old hinges and then start decorating them. You can use fun garden quotes or go for a meaningful statement. The hinged sign can be hung on the fence, on a post or on a tree.
5. Painted Window Sign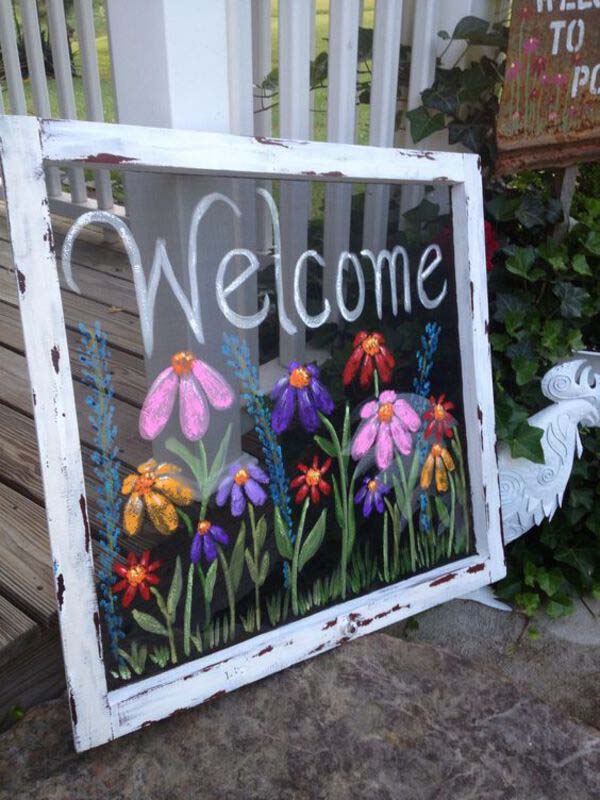 An old window can be repurposed into many cute farmhouse decorations. To make the garden more visually appealing, transform the window into a beautiful garden sign.
As easy as it looks, you only need to show off your painting skills. Draw beautiful flowers and a welcome message.
The sign can be leaned against the fence or hung with brackets on it.
6. DIY Plaque With A Garden-inspired Statement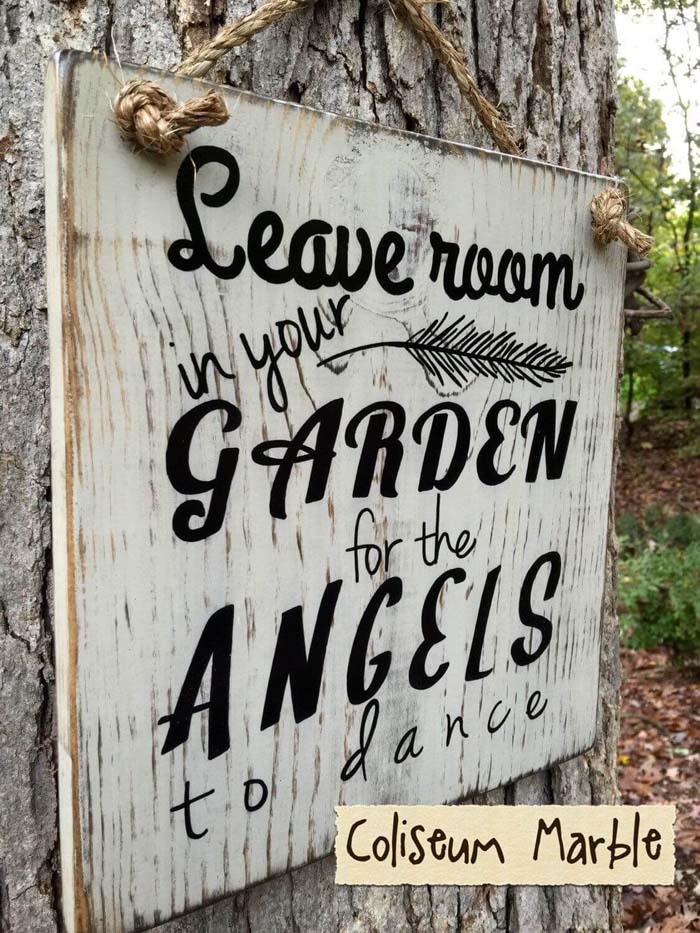 This is a handmade plaque that can be attached to a post, a tree or leaned against the fence in the garden.
It features a distressed background and a meaningful statement in the garden theme.

7. Old Chair Repurposed Into Garden Sign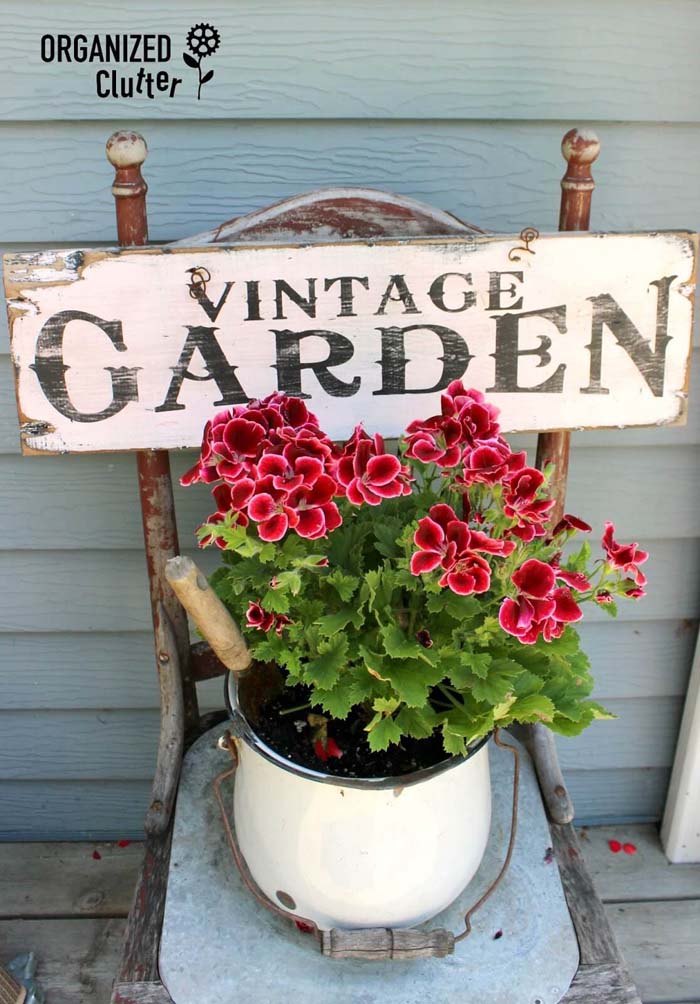 This is one of those sign ideas that are literally priceless. With the help of an old broken chair and paints, the chair transforms into a free-standing sign and flower stand in one.
To enhance the farmhouse feel of the garden decor, make sure to use a vintage container as a flower pot.
8. Sign On The Fence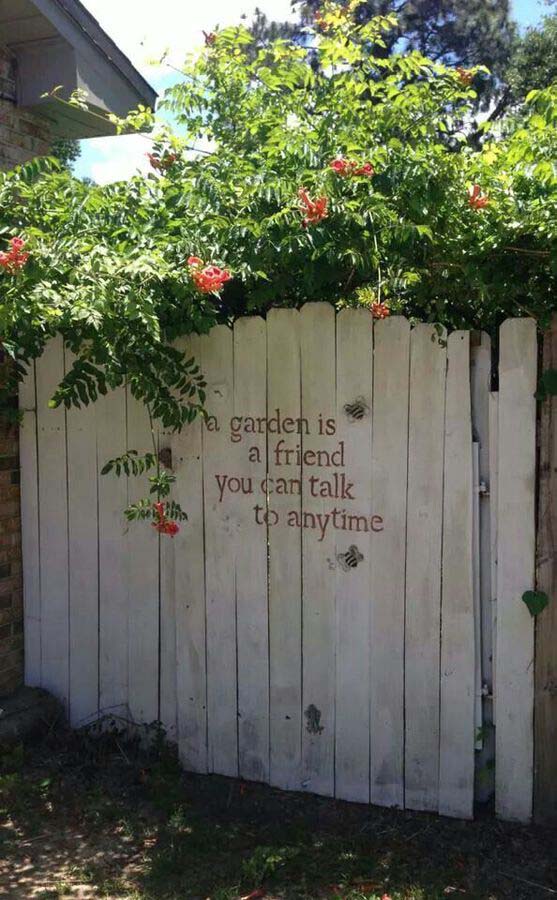 In case you have a wooden fence, you don't need any extra signs to hang on it. Instead, turn it into a sign.
You can experiment with the message of the sign.
It can be a simple welcome sign, a fun garden message or an inspiring thought. To give it an elegant look, use stencils. You can customize it with flower, butterfly and bee paintings. Don't forget to seal the painted artwork with mod podge or varnish.
9. Painted Rusty Shovel Message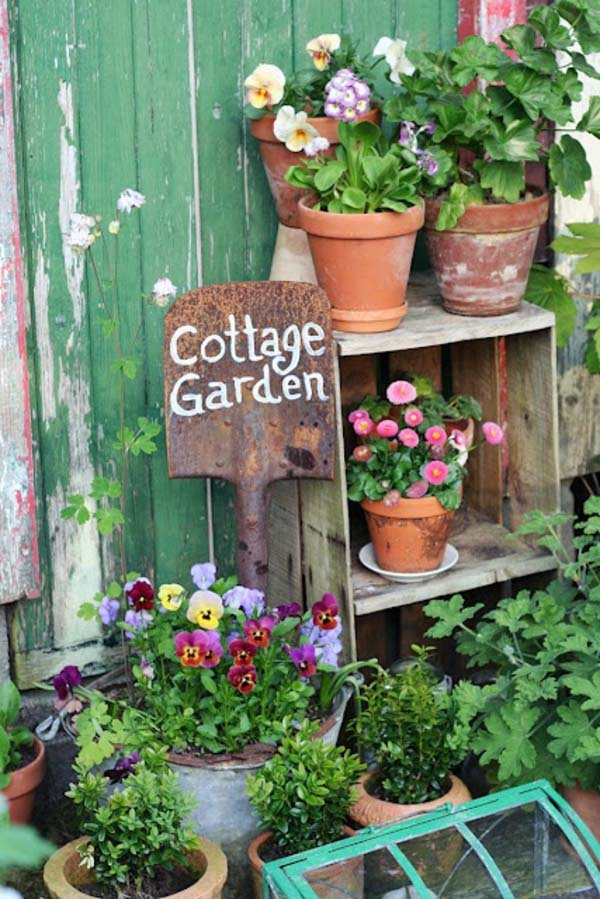 The rusty and useless garden tools are another source of garden signs. You don't have to repair them, use them in their current condition.
Simply add an inscription on the surface and place it in the garden or next to the garden.
via Bless My Weeds
10. Wooden Sign On A Metal Rod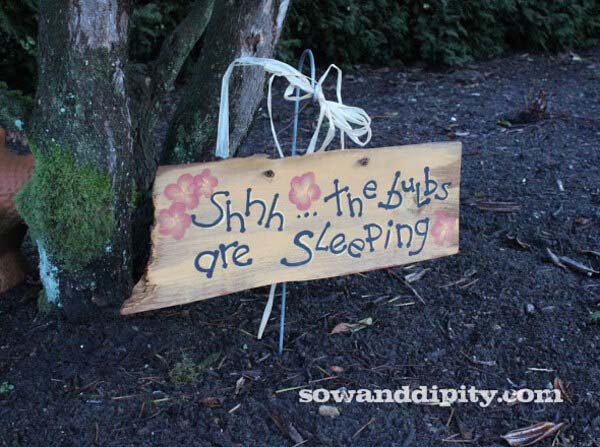 This is another cute idea that you can DIY to give your garden a charming touch.
The sign consists of a metal rod and a piece of thin board suspended on it. The board is left with curved uneven edges for an enhanced rustic look.
Depending on its place, the sign can display a welcome message, the type of the garden or the name of the plants seeded next to it.
11. Corrugated Steel Letters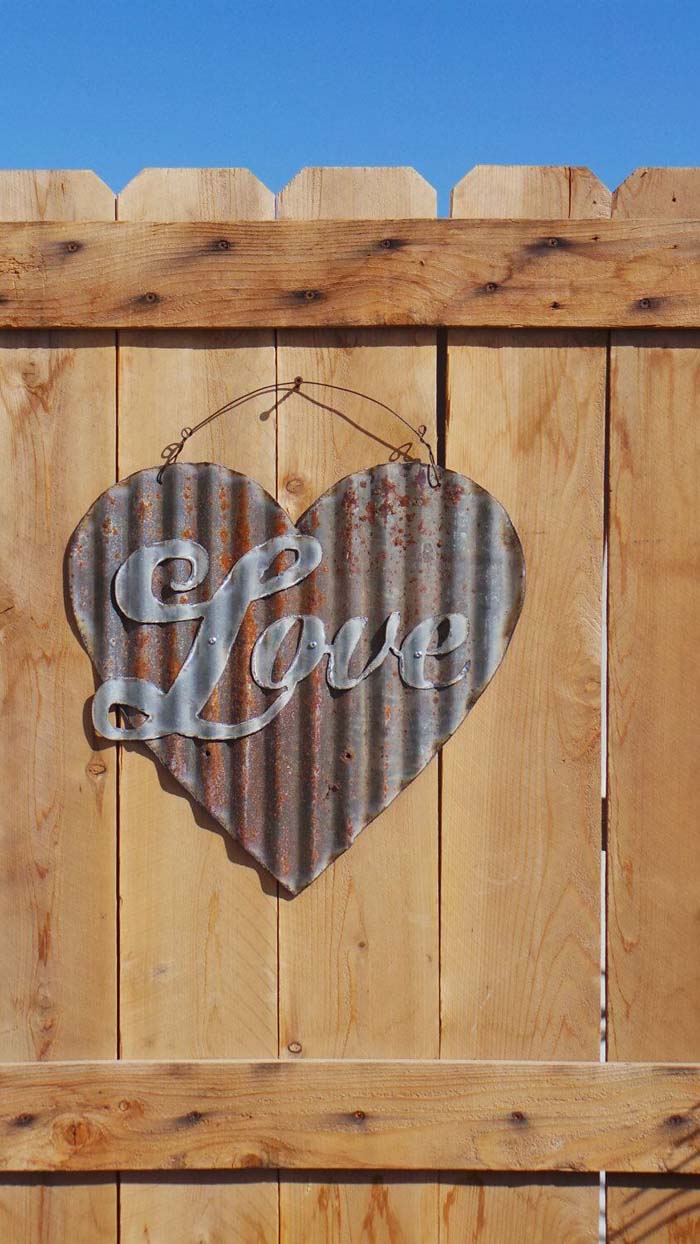 This a garden sign idea for people that have metal-cutting tools. Two types of metal are used- flat and corrugated sheets.
As you can see, the surfaces are rusty but that makes the final look of the sign more impacting.
12. Sign From Old Metal Spoon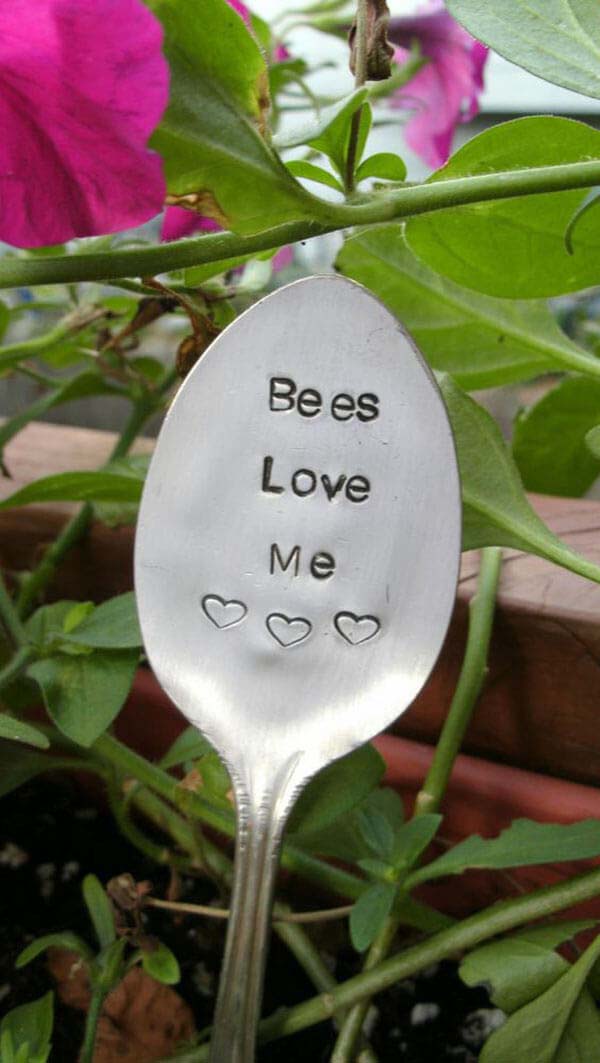 Any metal spoon or fork can be turned into a cute plant label or a sign with a plain metal engraver. You need to consider that the surface is quite small so be short with the words.
13. Master Gardner Is The Bee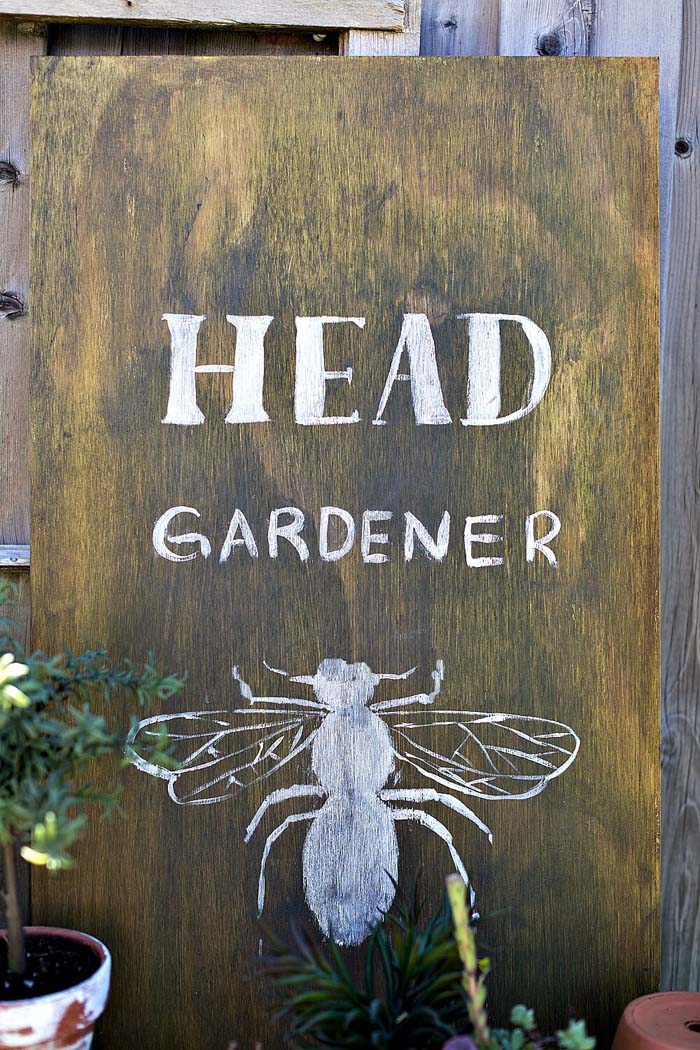 This garden sign idea is inspired by bees. Pollinators are a very important part of our environment and all gardeners praise them.
You can put this honor on a handmade sign and use it as a charming decoration in the garden.
via Craft Berry Bush
14. Letters On Sticks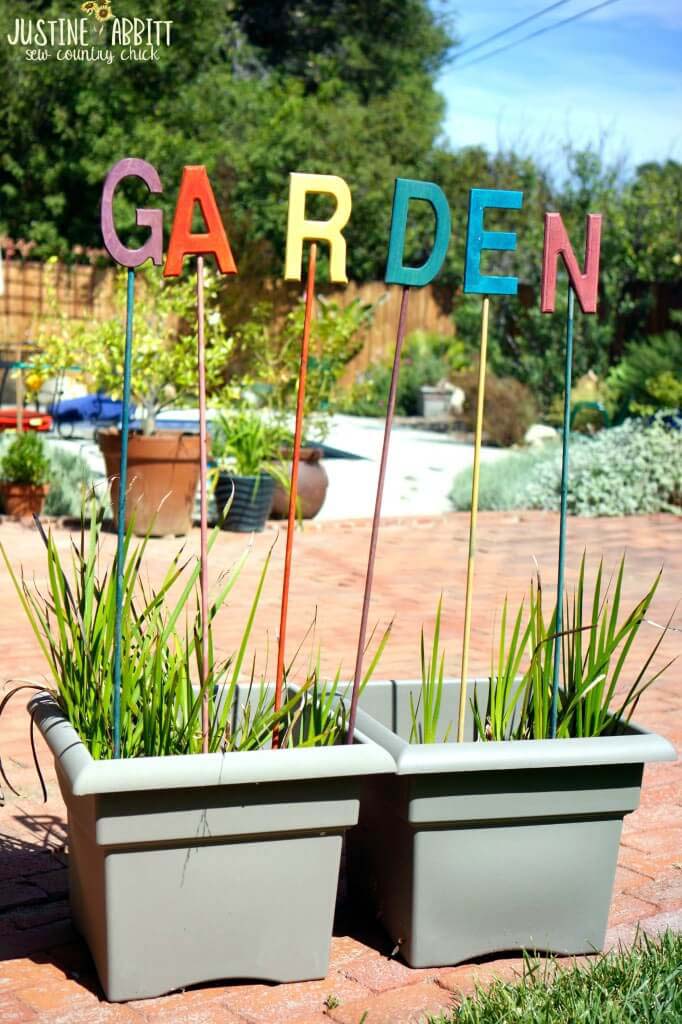 This is another funny garden sign idea that can be made together with your kids. The letters can be ready for wood cutouts or plastic fridge magnets. For stands, you can use barbeque sticks or twigs.
Paint each letter and its adjacent stick a vivid color and then insert them together in a planter. By the way, this idea can also inspire you to make plant markers for the garden.
15. Bug Hotel Sign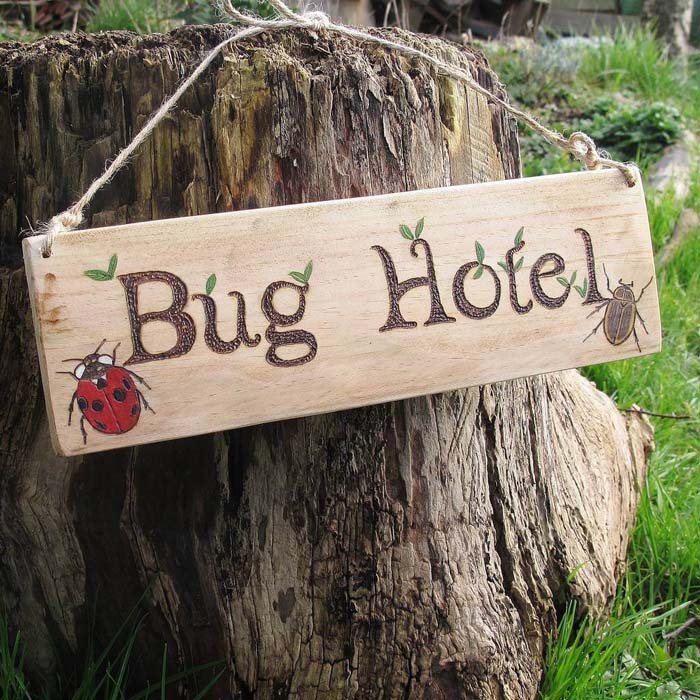 Insects are another inseparable part of the garden. This sign idea is a cute way to show the positive part of their existence.
You can be creative by painting the name of the hotel and the creatures on a piece of reclaimed wood or you can engrave them with a wood burner.
16. A Wood Sign On An Old Shovel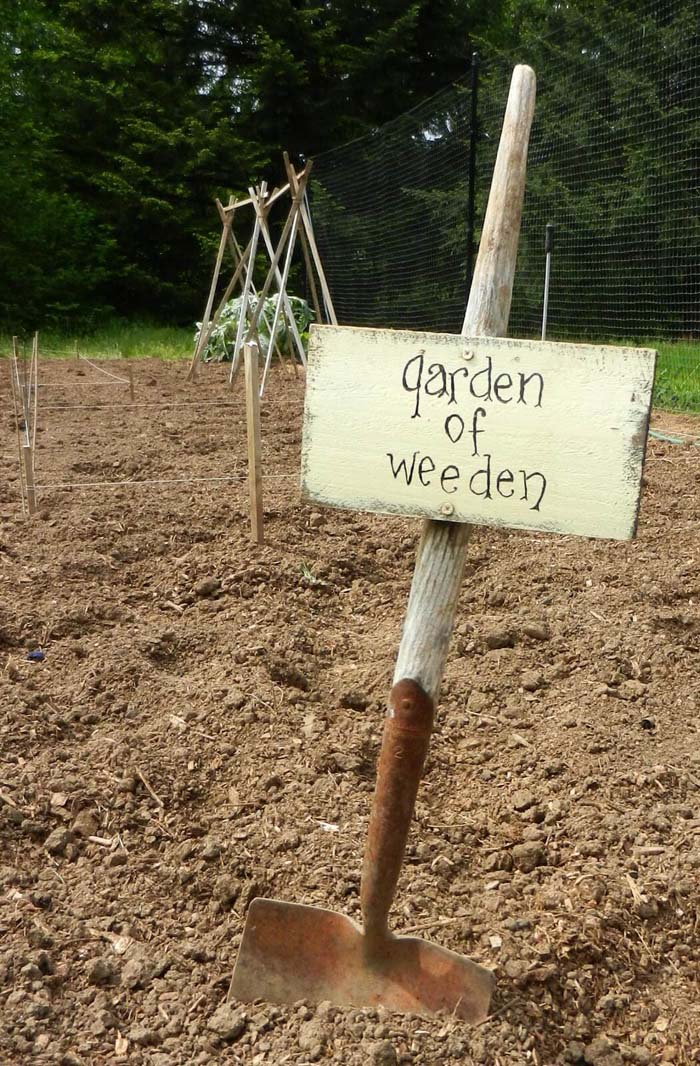 The shovel is broken, rusty and no longer possible to use it…
Turn it into garden décor. Add a sign from a plain piece of wood writing something garden-inspired. Insert it in the ground and enjoy the rustic flair.
via Cat Patches
17. Engraved Funny Garden Sign
This is a funny garden quote that will make your garden visitors laugh. It is also a creative way to show them which pathway they should take when walking in your garden.
The idea here features an engraved stone but you can also recreate it with a wood board and paints.
18. Wooden Sign For The Fence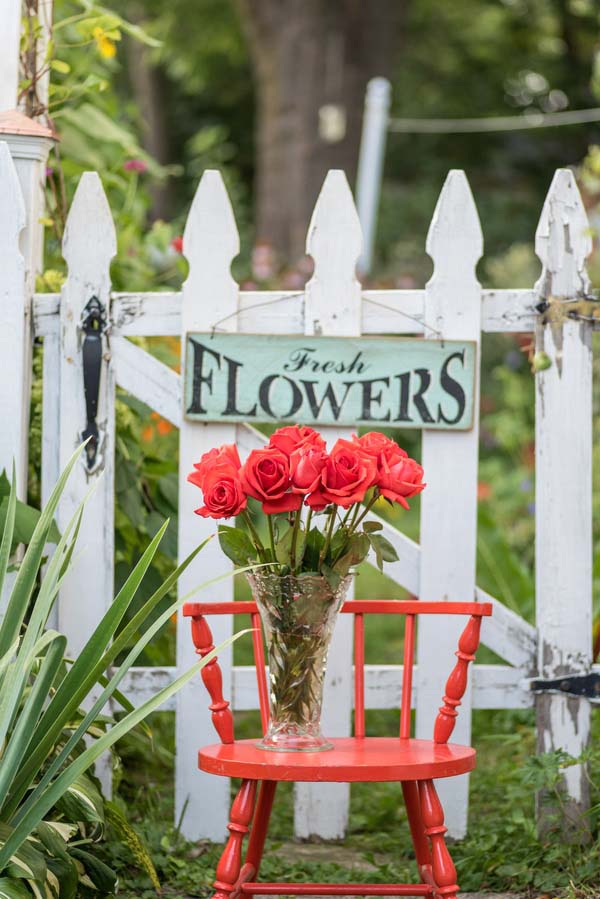 You can create a small but cute shabby chic corner in your garden with the help of an old chair, a flower pot and a gorgeous rustic sign "Fresh Flowers".
The sign is easy and can be customized to the size you want as long as you have got a suitable board.
19. Repurposed Rocking Chair Into A Garden Sign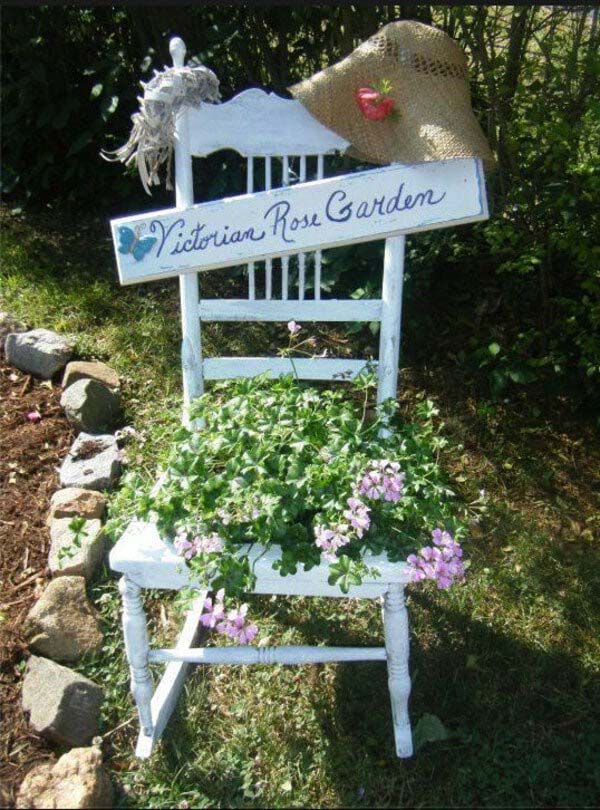 An old rocking chair has been transformed into a small garden with paints, a sign, a flower pot and farmhouse accents.
The unique vintage look is thanks to the original carvings of the chair which are emphasized with white distressed paint.
The wooden garden sign is made from a simple slat and paints. Added to the front of the chair it creates a great vintage effect turning a plain piece of furniture into a whimsical part of the garden.
20. Lid Plant Markers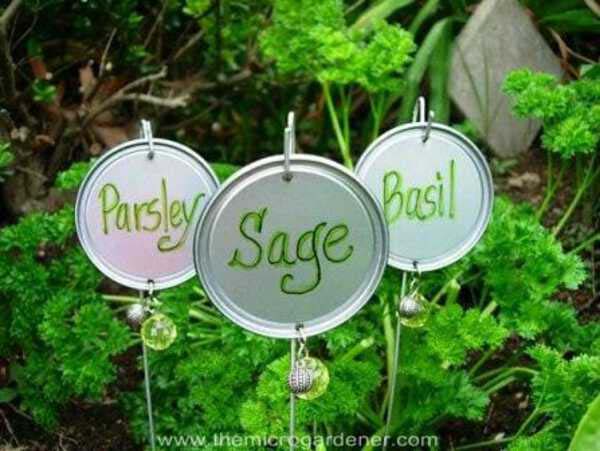 These markers are made from paint lids but they can be successfully recreated also from jar lids.
This sign idea features them as vegetable garden plant labels, however, you can write other inspiring words on them like love, grow, garden, etc. to make them more decorative than functional.
Drilled hole in the bottom of the lid is great for adding small dangling ornaments to the markers.
21. Wooden Garden Sign From Slats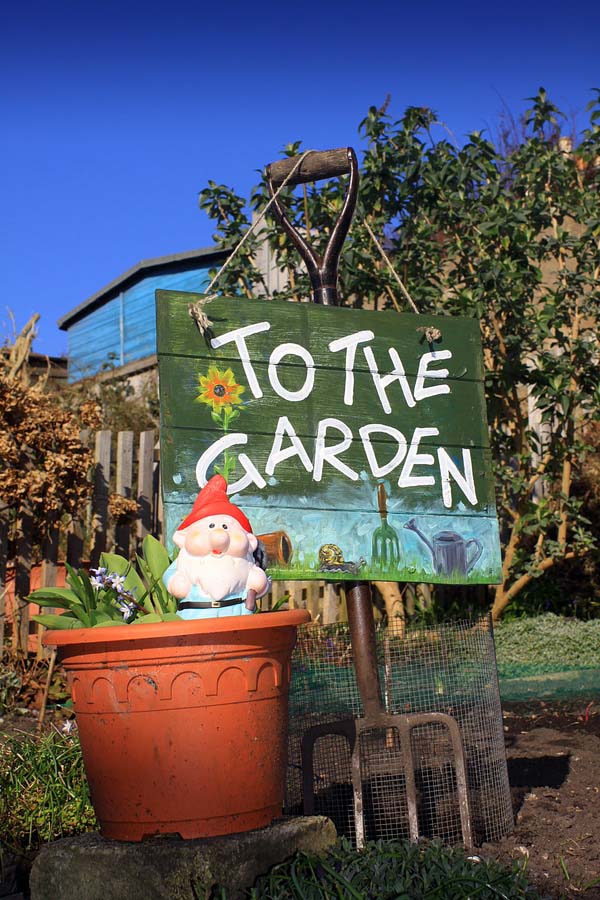 Mark the start of your garden with a beautiful DIY sign. The sign consists of four slats tightly fixed next to each other to ensure an even canvas for the creative painting.
You can paint images as shown in this garden sign idea or you can customize it with more floral elements.
Add the sign to the wood handle of an old tool with a rope loop. You can also hang the sign on a fence, on a chair or on a wall.
22. Garden-inspired DIY Sign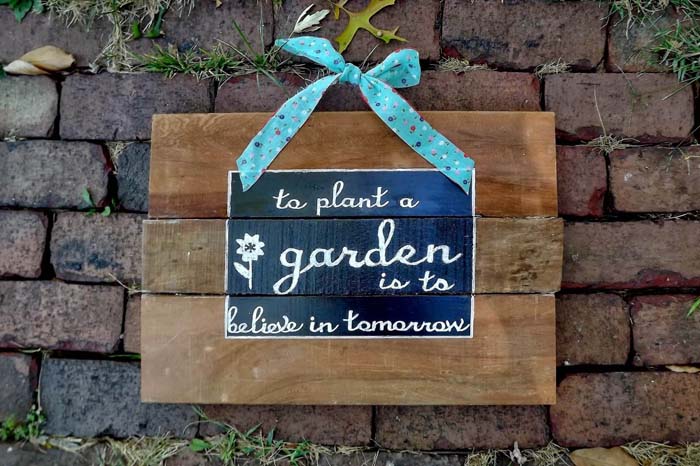 Another great DIY garden sign idea that displays a meaningful statement about the connection between life and nature. The plaque is made from three reclaimed wood beams attached tightly together.
The sentence is written with white paint in a black chalk rectangle which ensures that the letters stand out and are the focal point of the sign.
23. A Small Garden And A Sign In One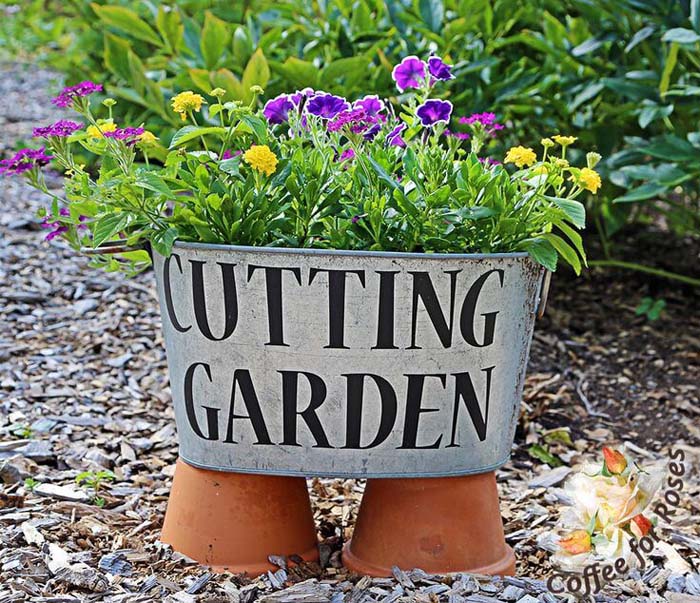 This sign idea is made on a vintage galvanized tub repurposed into a flower pot. Instead of throwing away old metal containers, you can restore them with little paint and give them a decorative look.
Plant a cascading tuft of flowers or vines in the container and place the pot on the patio or in the garden.
24. A Yarn Sign From An Old Chair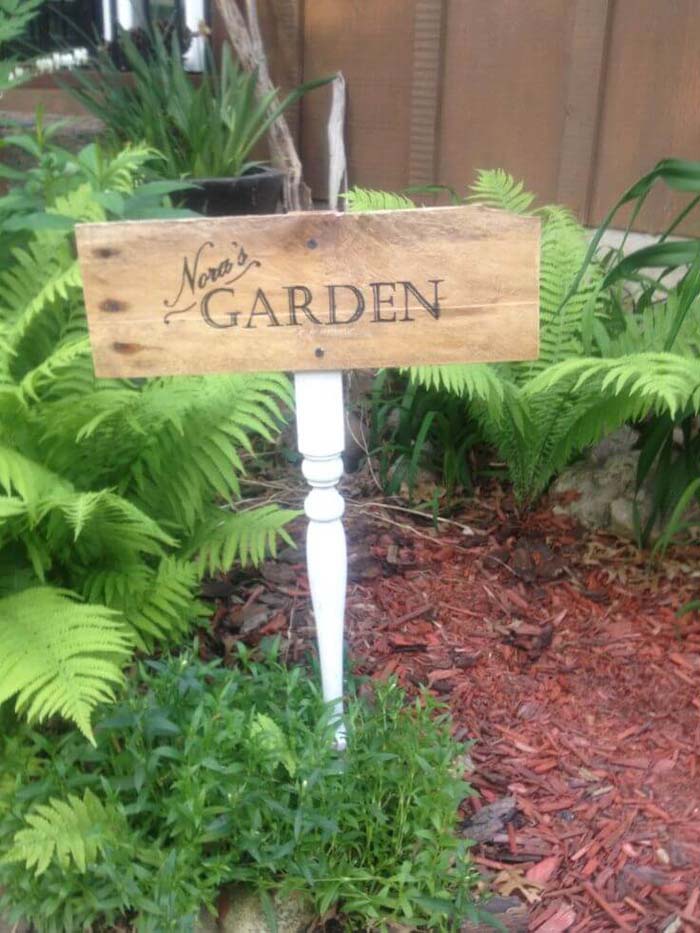 Is the garage or the shed full of old furniture? It is time to recycle it! With this easy and cute sign idea, you can repurpose all of the table or chair legs as posts for signs or posts for plant markers.
25. Garden Plaque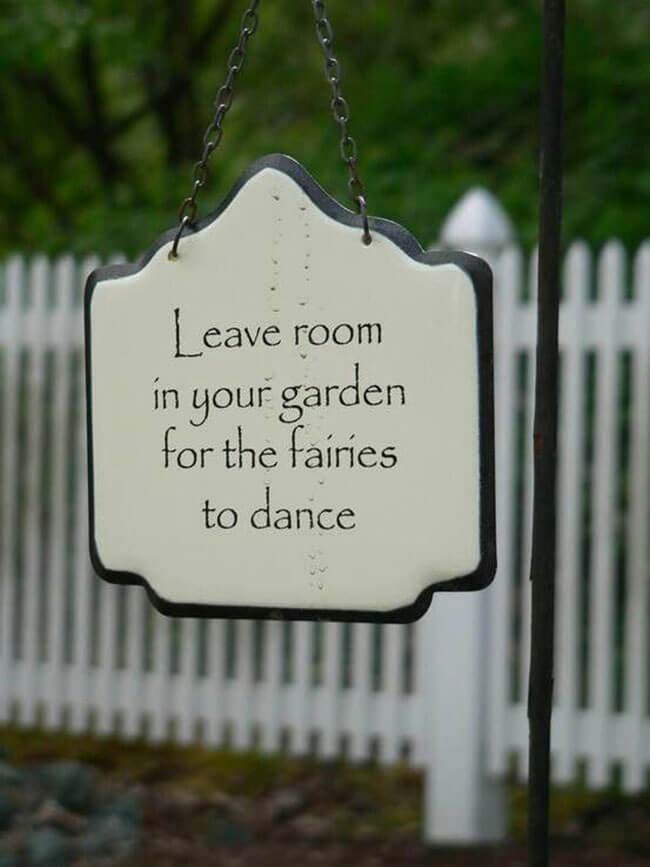 The old Celtic saying is inscribed on an elegant plaque perfect to be used as a patio or yarn sign.
If you are a gardener, you will easily understand the meaning behind this saying asking for good spacing of the garden plants and consideration of their growth requirements.
26. Small Wooden Garden Sign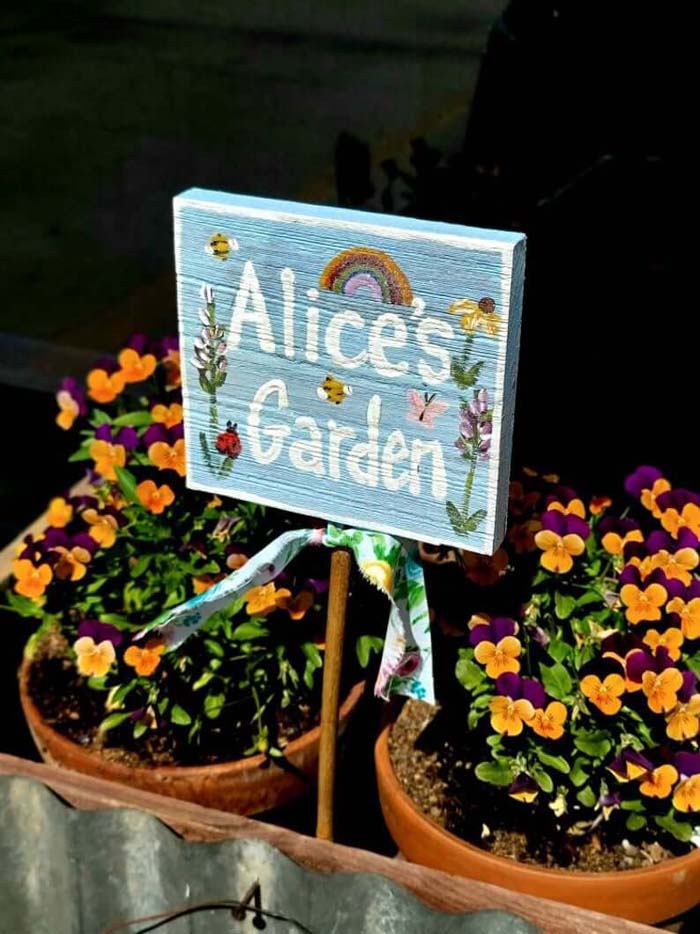 Even the smallest garden success deserves a garden sign to mention it. This small sign idea is great for such applications. It can be inserted in a flower pot or directly in the garden.
When you paint wood that will be exposed to outdoor conditions, always apply a coat of mod podge or varnish to protect it.

27. Garden Labels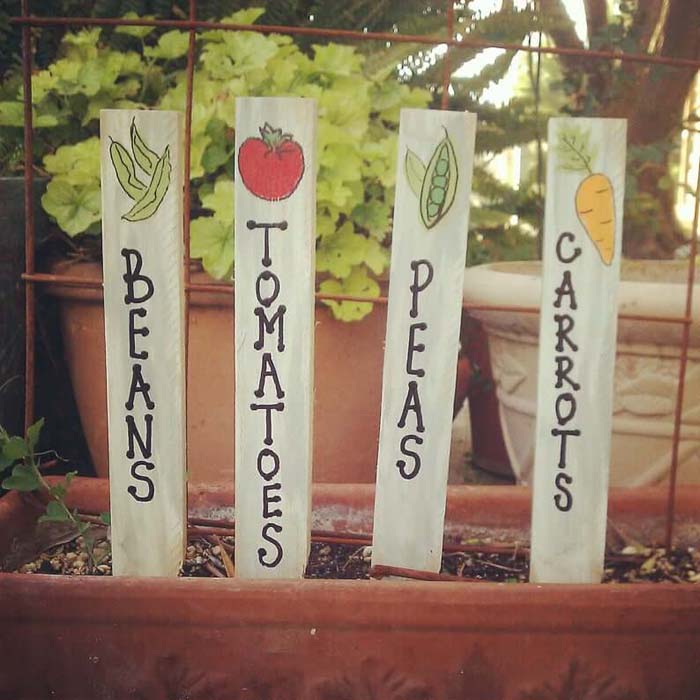 These wood inserts can be made from any leftover lumber and even from popsicle sticks. Apply a whitewash coat and then write the name of the planted seeds vertically down the slat.
You can even paint the image of the veggie to give the tag a cuter look.

28. Windmill Welcome Yarn Sign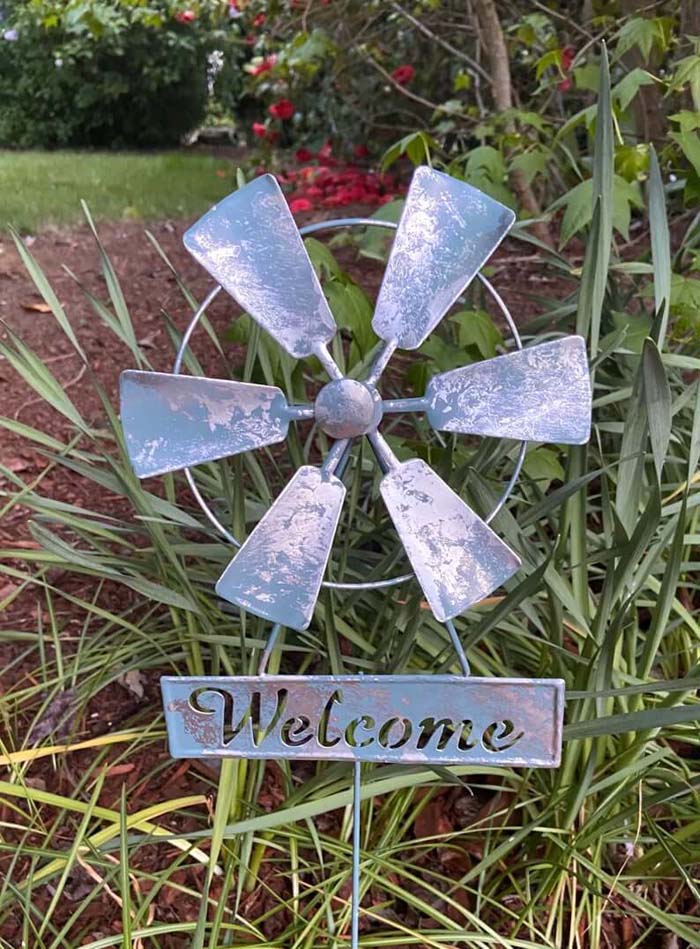 Windmill signs are amazing farmhouse elements that have recently become popular for indoor and outdoor garden decor.
This sign idea is perfect to add a vintage touch to the garden landscape and also welcome your garden visitors.