25 Amazing Tree Stump Planter Ideas For Your Garden
One of the fastest ways to create an eyesore in your yard is to cut down a tree. While no one really wants to cut down trees, it's sometimes a necessity.
You're then left with a tree stump that can be expensive to remove. An alternative to paying for tree stump removal is to create a planter. If this idea appeals to you, check out the tree stump planter ideas other people have created. You may find something that works in your garden.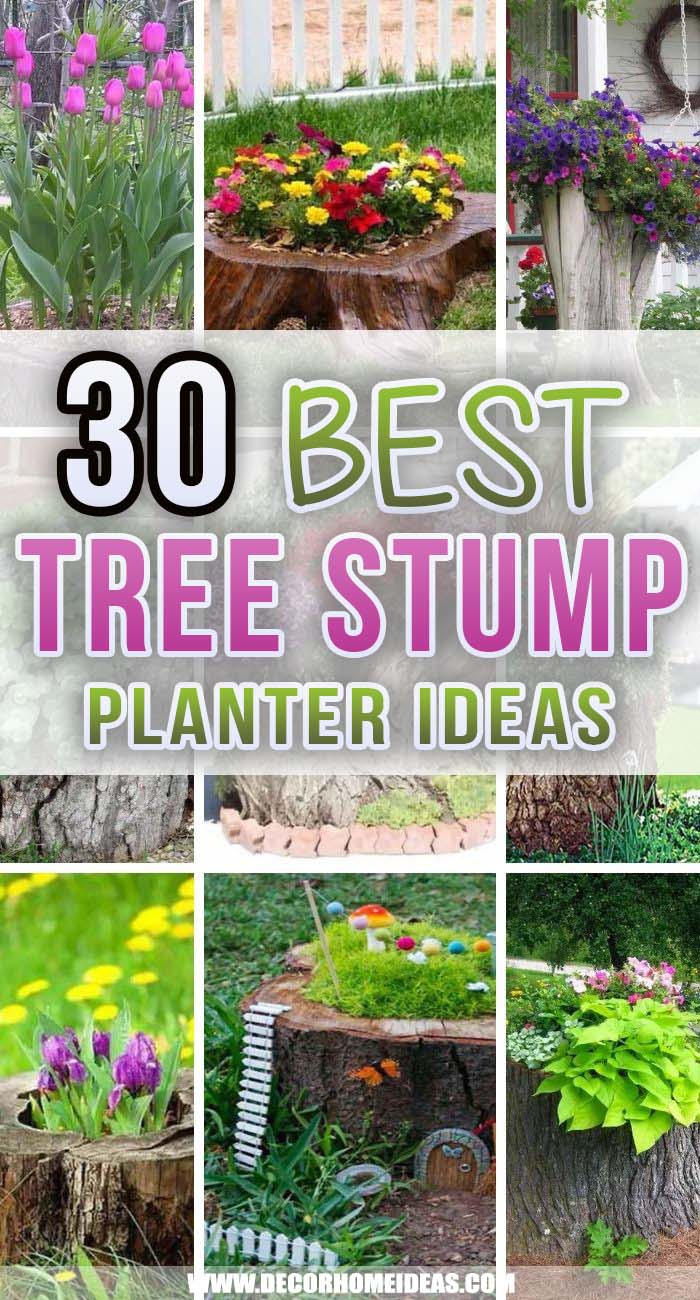 You'll discover that you can use tree stumps and logs to plant things you may not have thought were possible.
For the best results, follow the same rules for plants and shrubs that are suggested for planting in any garden. Some plants do best in full sun, while others thrive in shady areas.
Every plant still needs the proper soil, root system, fertilizer, and a source of water.
To make a proper stump planter, your stump should be at least 16 inches tall and 10 inches wide. You'll have to hollow out the middle.
Depending on the type of plants you'd like to use, drilling to add drainage holes may be necessary.
1. Add a Pop of Color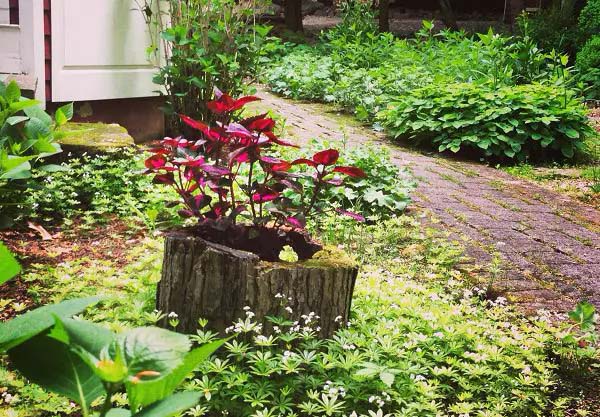 Add colorful plants in the center like Flirt Nandina, Red Twig Dogwood, or Coleus.
The tree trunk will provide moisture and nutrients as it decomposes.
2. Add Hanging Baskets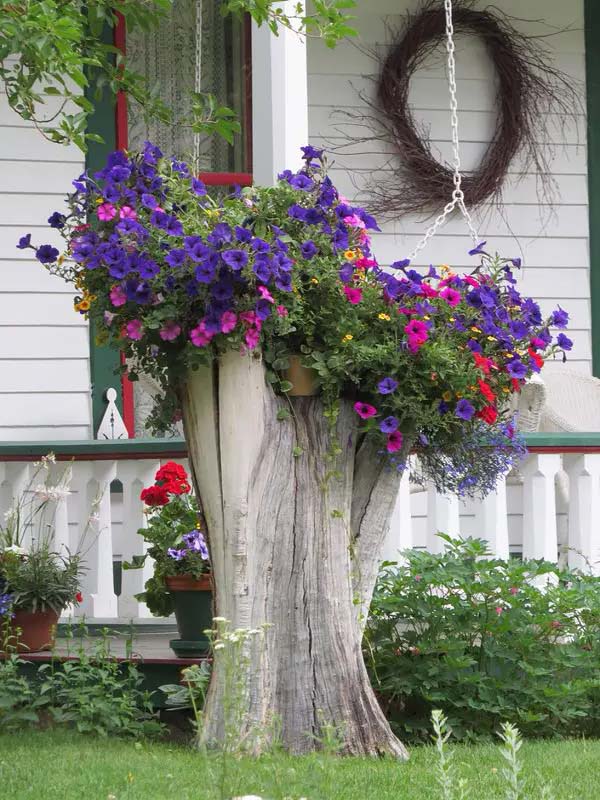 Petunias work well in hanging baskets. The homeowner created a lush hanging garden by securing a planter of petunias on top of a large tree stump and dropping a hanging basket on each side.
3. Aged Fungus Feature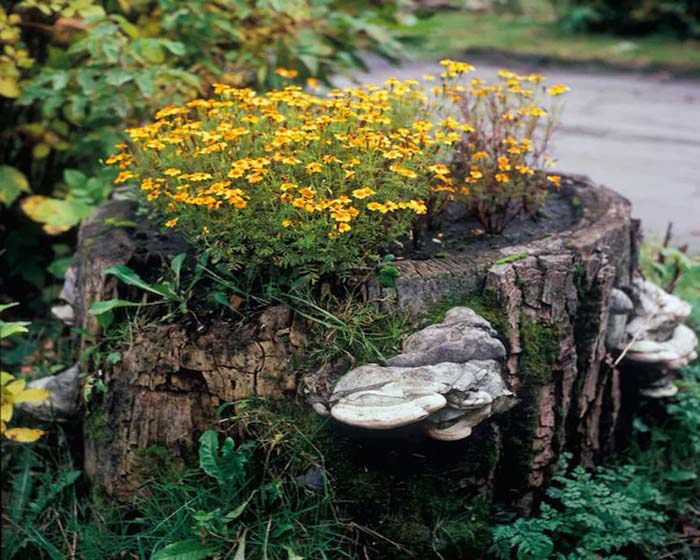 If you like Marigolds but you live in a warmer climate, try Mexican Marigolds.
This small shrub will do just fine in warm regions. Another option that's similar is Common Chinchweed. Both plants have uses in the kitchen.
The fungi add character.
4. Aged Natural Stumps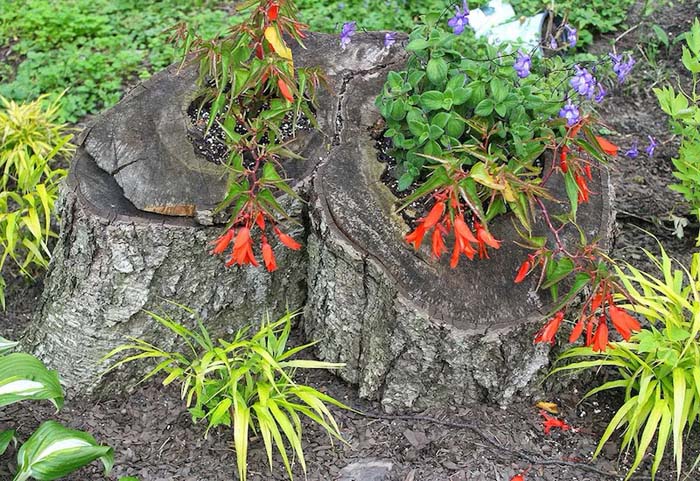 Flowers that do well in hanging baskets will usually work in tree stumps. A trailing plant like Begonia Firewings will fill out and add a ton of color.
They're a hearty plant whose trails will extend 15 to 20 inches long.
5. A Sculptural Vase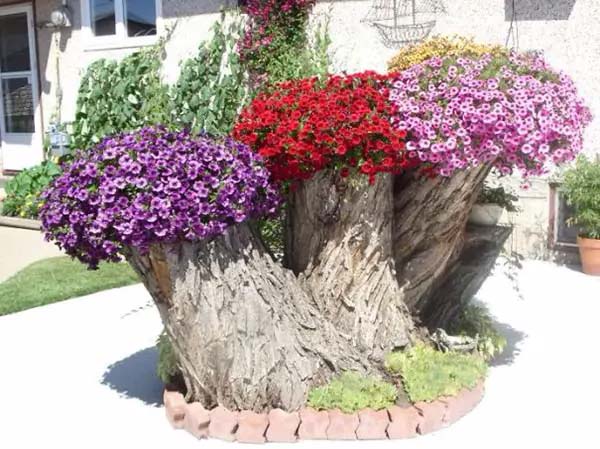 A circle of brick edging encircles an area that was the home of a large tree with multiple stumps. Each stump was treated as a separate planter for different colors of petunias.
6. Cascading Succulents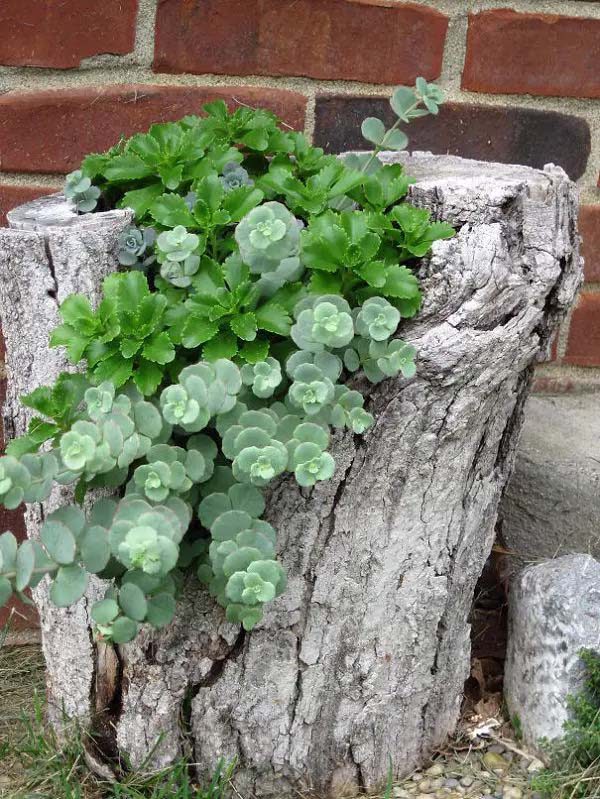 Succulents thrive in loose soil and can work well on an old tree stump. This stump looks like it has been moved from its original space.
Plant low-growing succulents like the flowering October Daphne Stonecrop.
7. Classic Collection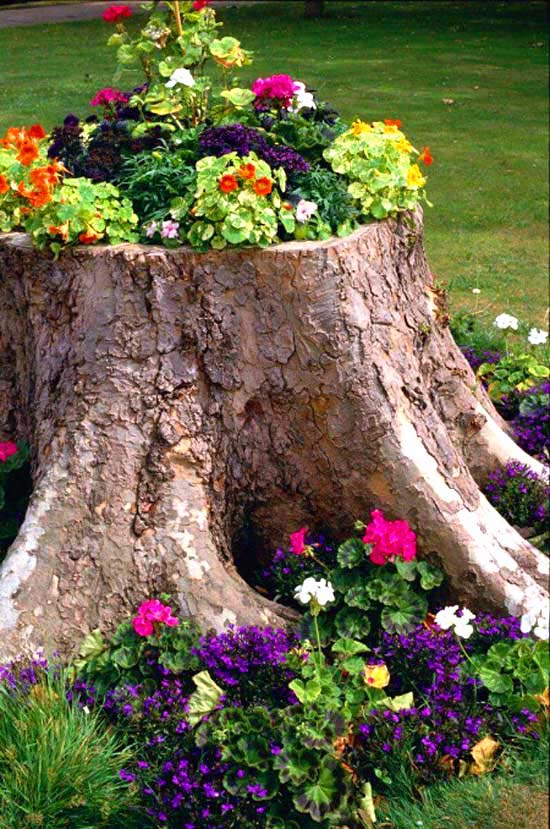 Add flowers like Begonias, Nasturtiums, and violets around the base.
It creates a nice transition between the lawn and the stump.
8. Colorful Tree Stump Planter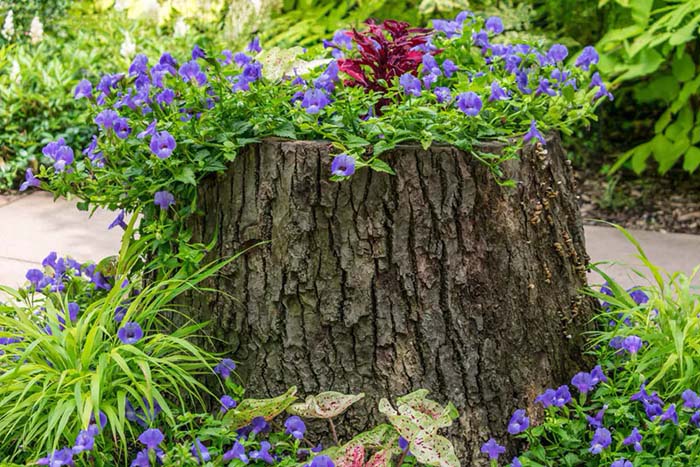 If you want to fill out your tree stump with purple flowers, try Calibrachoa Superbells Lavender or Summer Wave Blue Torenia.
Dwarf Caladium bulbs planted at the base are thriving here, too.
9. Create a Mini Bog Garden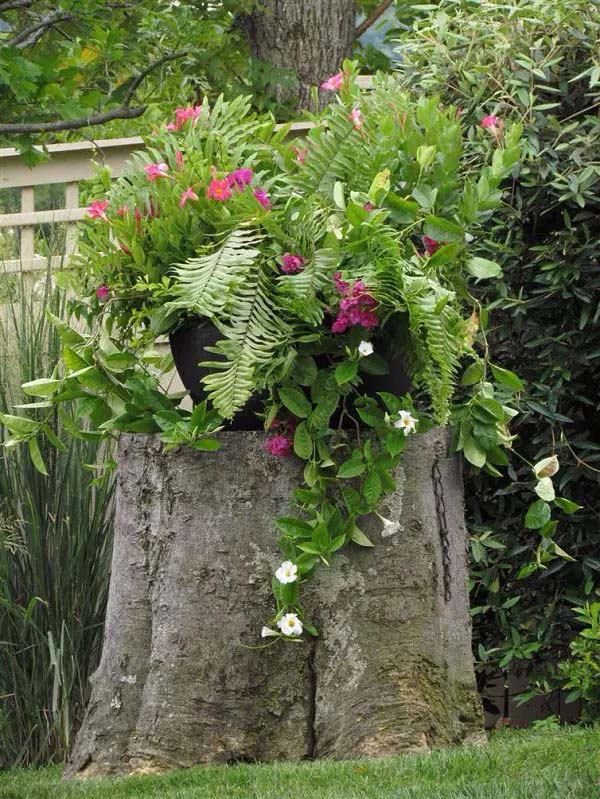 If you live in an area with a high yearly rainfall, create a miniature bog garden using ferns and trailing perennials like Swingtime Fuchsia and Lobelia.
10. Explosion of Tulips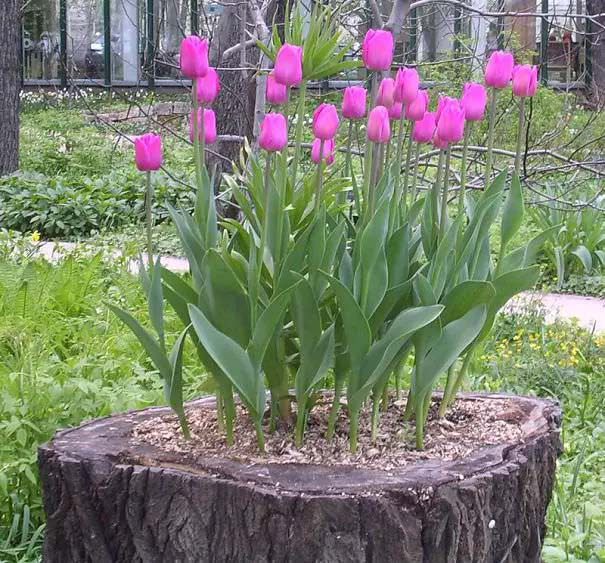 Plant tulips in your tree stump and you'll have a bouquet greeting you every morning.
11. Fairy Home Tree Stump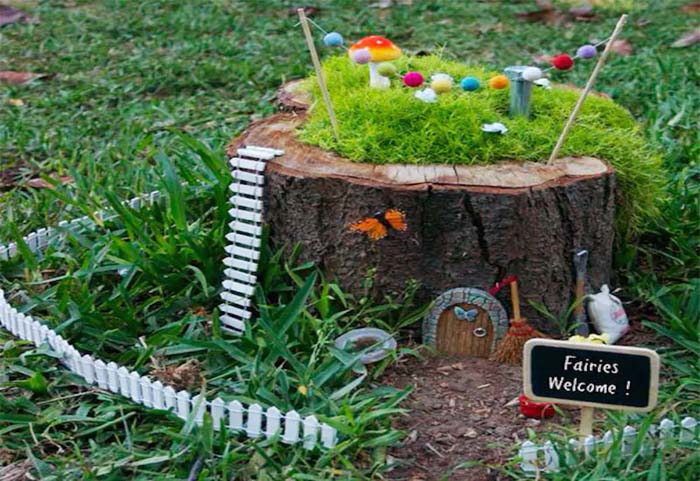 You don't have to carve a house in your small stump. Use miniatures from a hobby shop to create your dream land.
Extend a wonderland around the stump with a picket fence. This will save your lawnmower's blade from hitting any exposed roots.
via The Magic Onions
12. Fresh Double Tree Stumps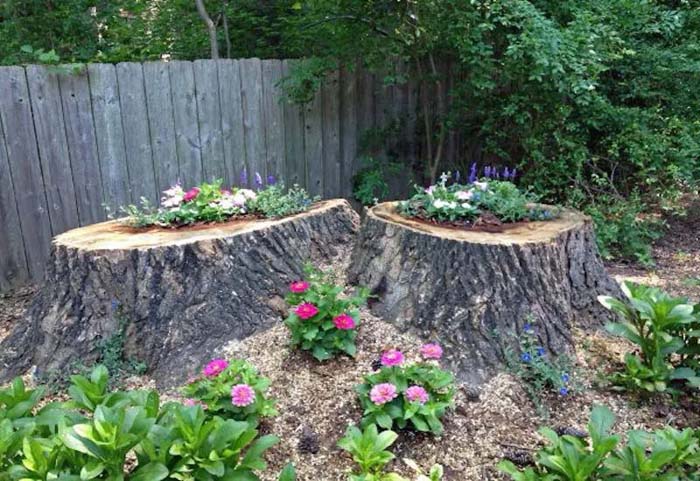 Two trees that were growing too close together have become a tree garden.
Experiment with different plants and colors. The soil will become rich with nutrients as these roots decompose.
13. Fresh Fungus Feature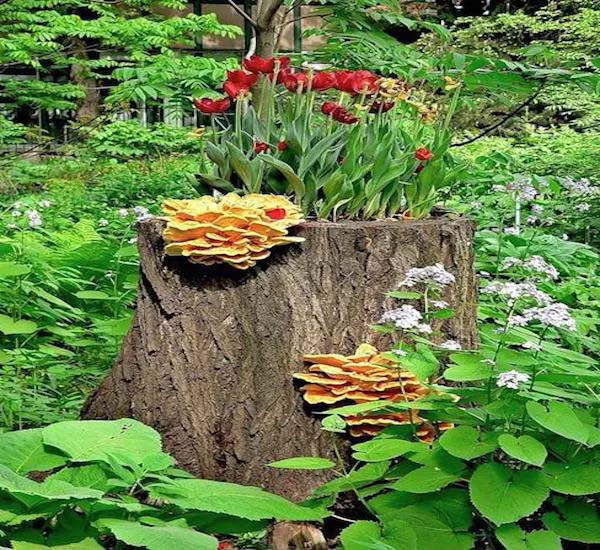 The tree stump of an oak is a perfect starting point for cultivating Chicken-of-the-Woods fungi.
The top can still be used as a planter for your favorite flowers, like these tulips.
14. Freshly Stripped Stumps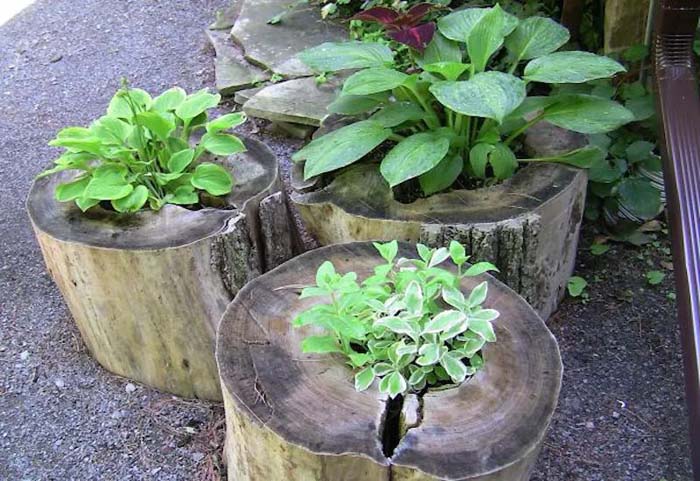 The advantage of using logs is you can move them around like regular planters, adding color and plants anywhere in your garden. When using logs, strip off the outside bark. It's loose and most of it will come off without much effort.
Both tree stumps and logs can be used to plant anything from succulents like Tricolor Jade to ground cover like Hosta.
15. Funnel Stump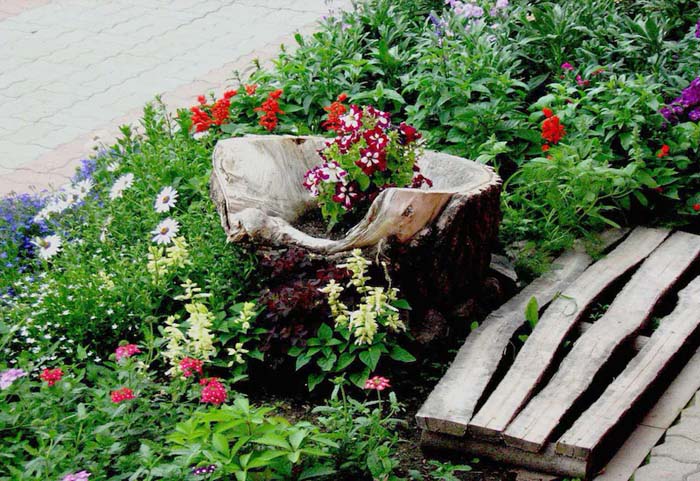 The beauty of using a stump is that it never looks broken. Plus, you can add beautiful color the same year you cut down the tree.
One cluster of Easy Wave Burgundy Star Petunias, planted in a stump, stands proudly in the middle of a flower bed.
16. Hummingbird Station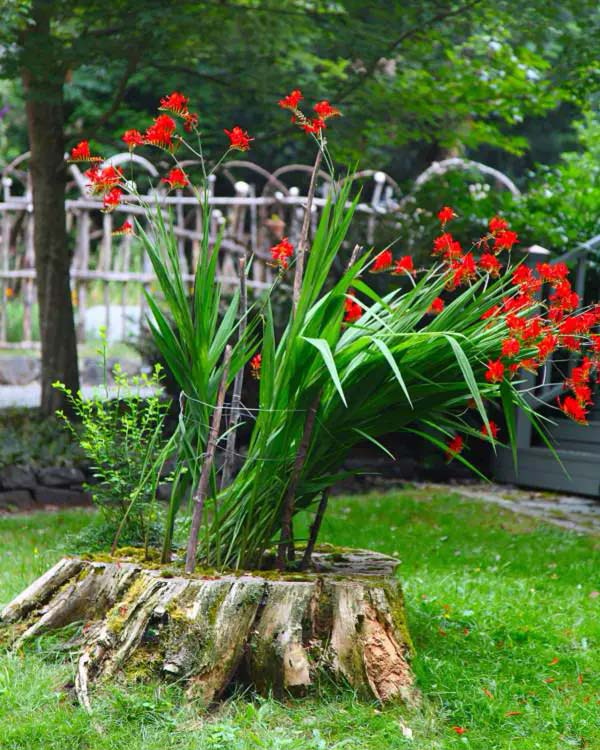 Coppertips or Crocosmia can be grown in tree stumps. They'll thrive in full or partial sun. Choose a red variety like Lucifer or Fire King.
Their red blossoms make them a magnet for pollinators like hummingbirds and butterflies.
17. Mix and Match Flowers and Vines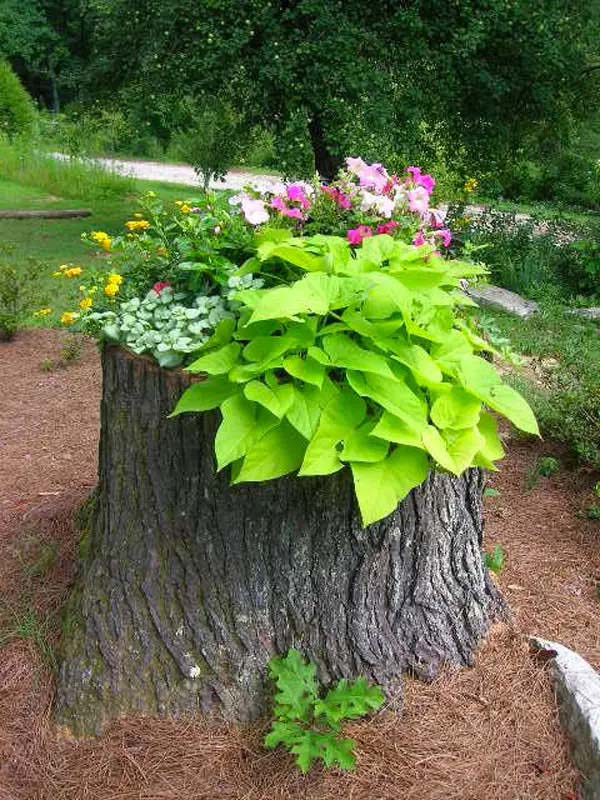 Marguerite Ornamental Sweet Potato Vine brings a lot of greenery back to an oak tree stump.
18. Natural Garden Stump
Over time, a stump that's been used as a planter will turn into a focal point in your garden.
Ornamental grass looks like a crown on a stump that's been cultivated for several years.
via Lowe's
19. Natural Moveable Stump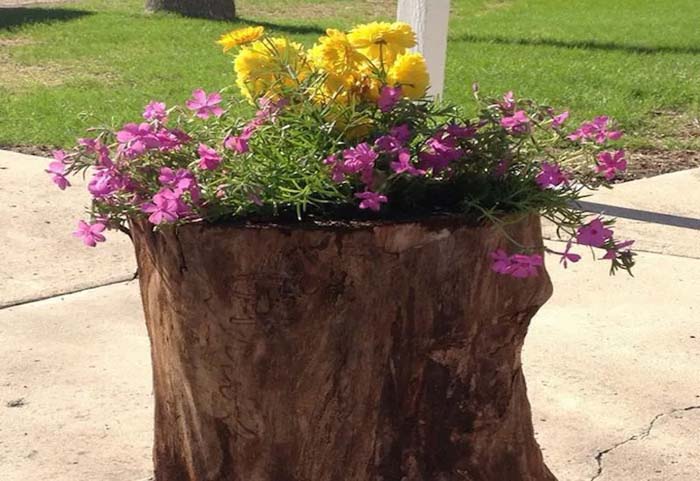 This stump was stripped of its outer bark. It's ready to go anywhere.
Purple Phlox looks great when paired up with a yellow flower like Dahlias or Pleniflora.
20. Palm Planter Stump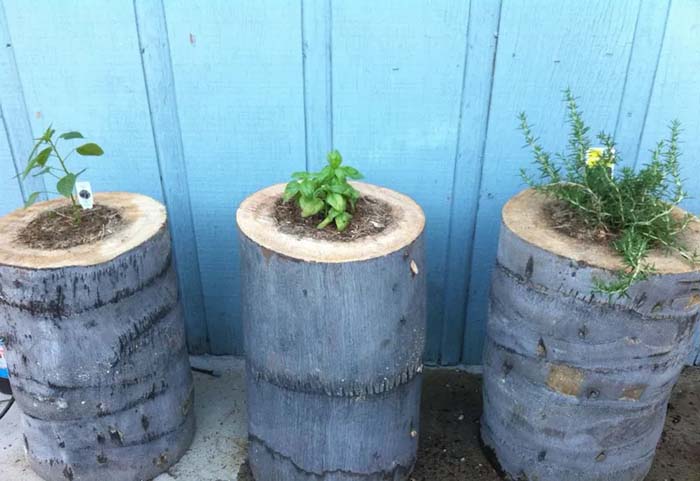 A felled tree was cut into three logs, bored out, and used as planters.
You can plant anything in logs like the ones shown here with peppers and herbs like basil and rosemary.
via The Crafty Tulip
21. Pansy Basket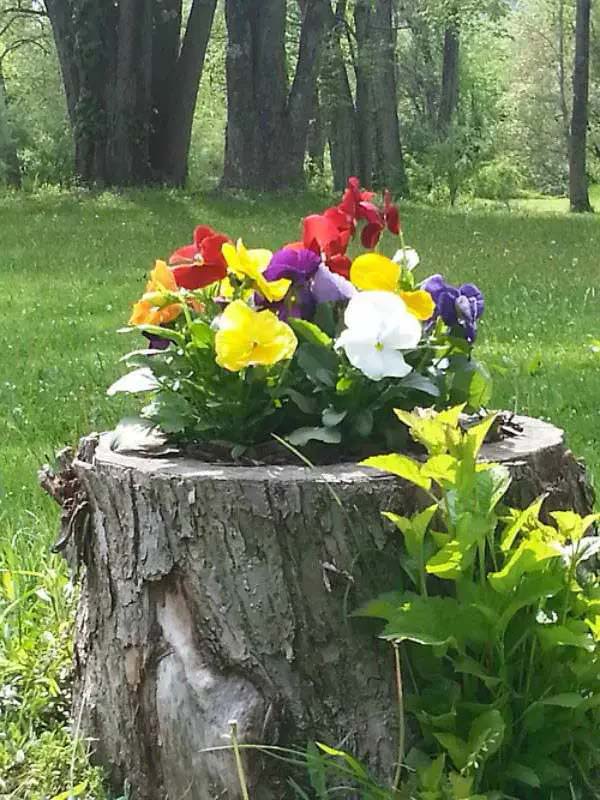 A collection of pansies creates a rainbow of beauty in a large stump.
22. Plant Marigolds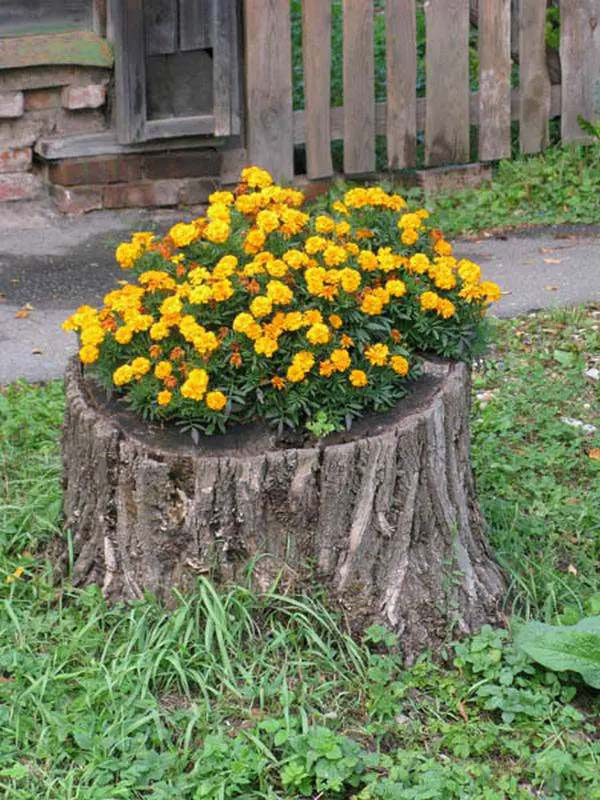 Marigolds bring much needed color to this gray stump. Choose a flower that can handle a little crowding.
23. Purple Tulips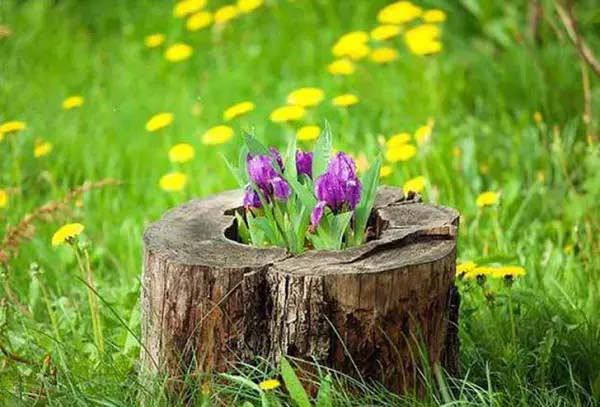 Tulips are ideal for pots and containers. Just a few tulips planted in this small tree stump add delicate beauty in this yard.
24. Rotting Wicked Tree Stump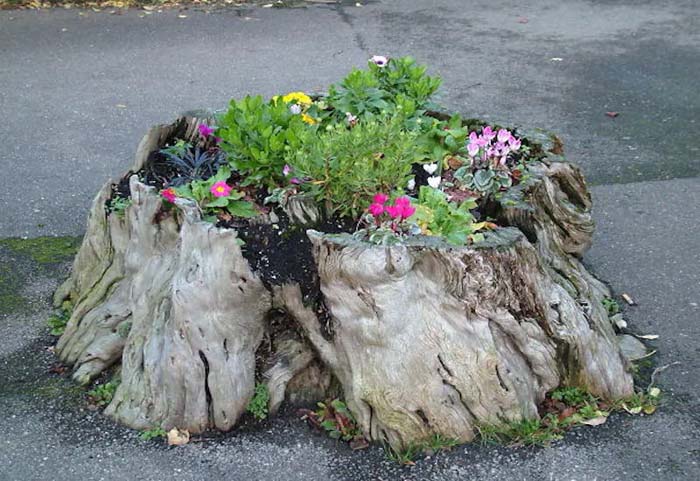 Tiny flowers and foliage add a little fun to this petrified stump that's embedded in a walkway.
via Ken Jobro
25. Stained Wood Stump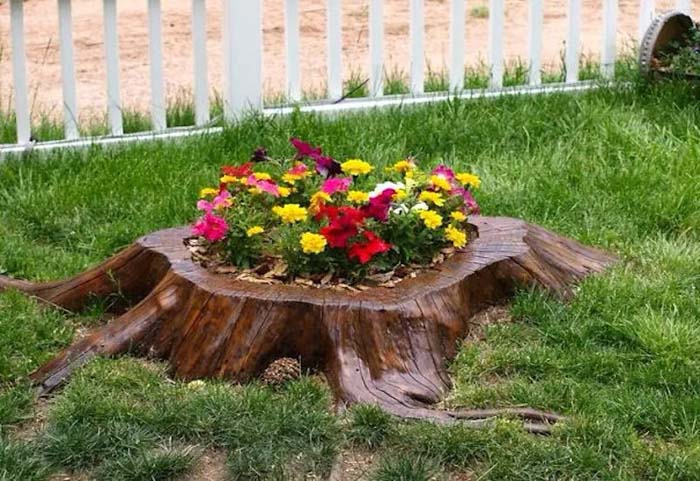 The outer bark of a tree easily breaks off after it's been cut. Decomposition starts immediately.
Adding two to three coats of polyurethane protects this tree stump, making it a permanent lawn fixture.
26. Use Flowering Ground Cover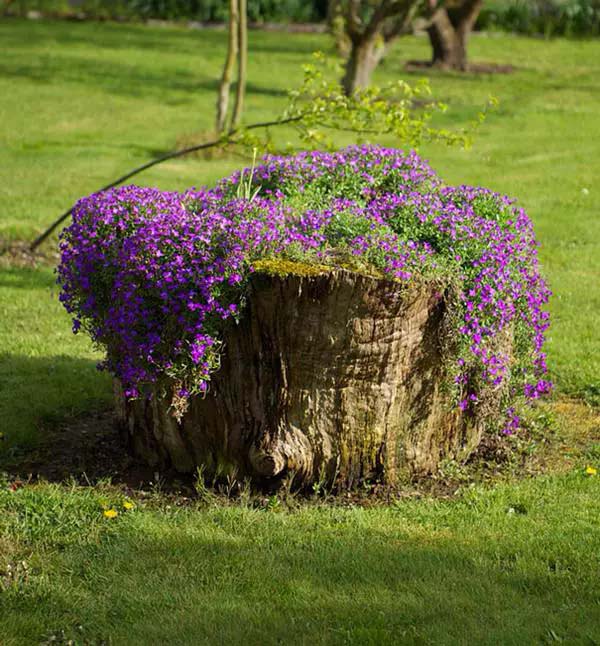 Flowering ground cover like this Creeping Thyme can thrive in a tree stump.
They follow their natural tendency to expand, creating a waterfall of color.
27. Whimsical Home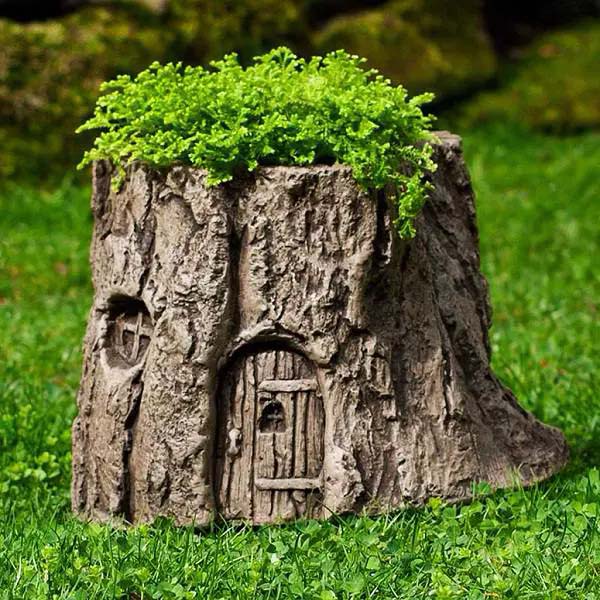 People are getting very creative by creating tiny trolls and fairy homes out of tree stumps in their gardens.
It continues to be one of the most popular tree stump planter ideas. If you don't have a tree stump in your yard, you can always buy one.
This planter is made from hand-cast concrete. Cap it with a spike moss Selaginella, which is a relative of the fern family.
28. White Painted Stump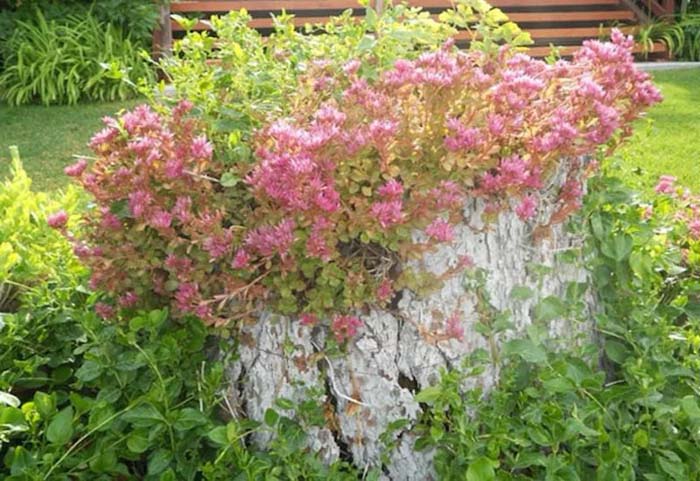 Little Quick Fire Hydrangeas run wild in and around this old tree stump.
29. Wicked Aged Stump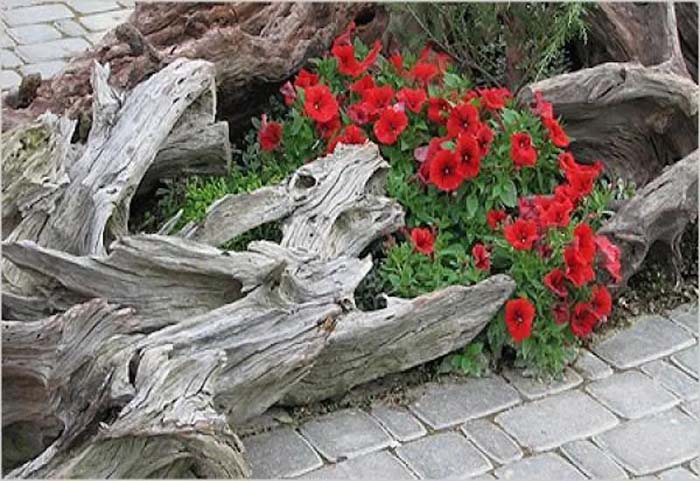 This stump got a beauty makeover when flowers and driftwood were added to its base. You'll get amazing results when you combine the petrified driftwood with red flowers.
Choose a red petunia like Supertunia Black Cherry or Surfinia Red.
30. Wildflower Station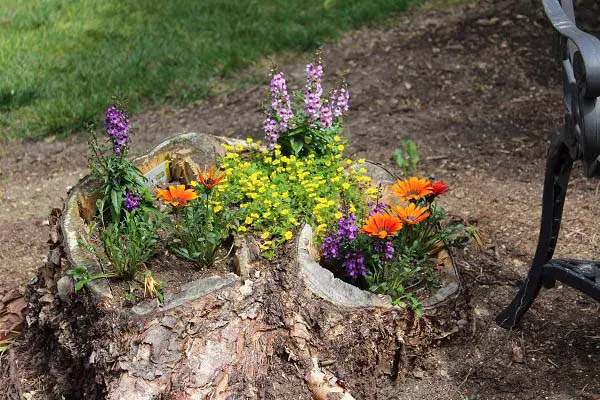 If you love wildflowers but are afraid they'll take over your yard, a tree stump will contain the root system. Angelonia and Gazanias will work in warm climates.