Often almost unused and untamed, side yards offer an option to add some extra functionality, visual interest, and appeal to any property.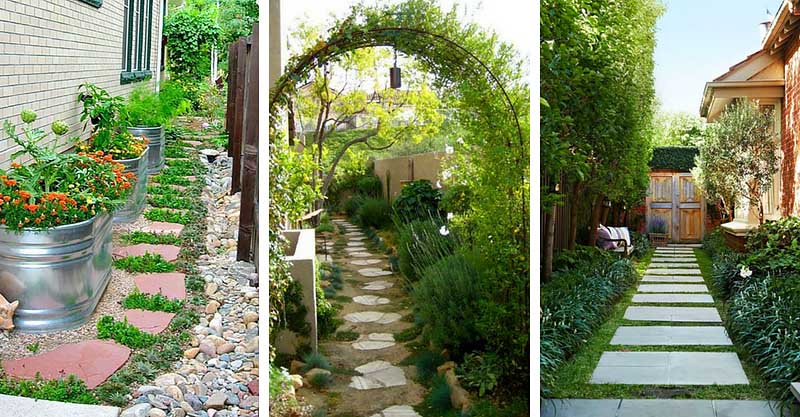 As side yards are usually long and narrow, sometimes their transformation could be quite a challenge.
However, with some creativity, these spaces can be put to good use.
Whether flower beds along the fence, a private retreat, a kids playground, or a herb garden, it all depends on the needs of the homeowners.
Just imagine how a water feature, an arbor with creeping vines, or a Zen garden will enliven this previously little-used space!
Furthermore, some easy, affordable DIY projects can help utilize the space and lend it a completely new look.
1. Small-size Side Yards
Actually, the easiest way to transform any little-used side yard, even a skinny one, is to turn it into a pathway/walkway or make it serve as a link between front and backyards.
Whether with a flagstone, brick, or concrete surface for a smooth look or covered with stepping stones, adorned or not, mixed with grass or moss for a natural look, a plethora of options can help create pathways, which offer both functionality and appeal.
When it comes to pathways, wooden boards/including reclaimed ones/, gravel, and mulch are also affordable solutions to consider.
When possible, opt for a curved pathway because it adds more visual appeal and interest than a straight one. Plus, a curved design creates a sense of mystery and makes the space feel larger.
If the space allows, to spice it up, the pathways can be bordered with flowers, ornamental grasses, and trees with narrow trunks of different height.
This will lend the side yard a dynamic, complete look. A tree option to consider is the black bamboo. A fast-growing and low-maintenance solution, it offers shade, texture, creates visual, and add touches of drama.
For safety reasons, as in any other outdoor space, lighting is a necessity.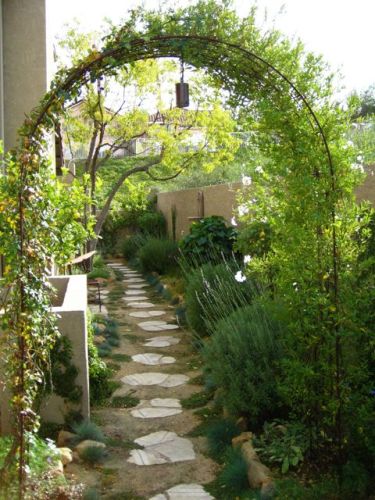 In the picture above, a stepping stone walkway in a side yard. Ornamental grasses and lavender make an appealing border. A metal arch with climbing vines adds tons of visual interest and personality.
If the lot has front and backyards, then, the side yard can serve as a link between them. When possible, in order to create a sense of harmony and balance and for some extra visual appeal, fill the entire space with matching plants.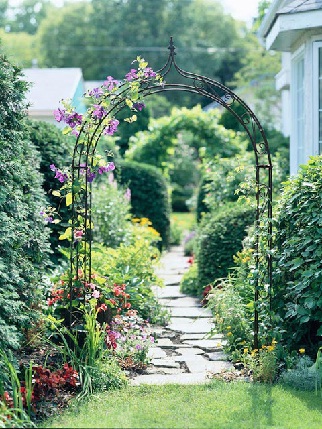 Shown above, in this outdoor space, a charming side yard with lush greenery helps to link the front with the backyard. A metal arch creates a stunning focal point.
As any space can become a garden, another common way to use this slender area is to turn it into a garden, including a herb or a vegetable one.
Whether a traditional one with an unmistakable cottage look, with a tropical, Mediterranean, or Asian flair, or of modern, minimal design, any garden takes the space to the next stage.
As side yards tend to be shady, shade-tolerant plants, such as ferns are a common choice.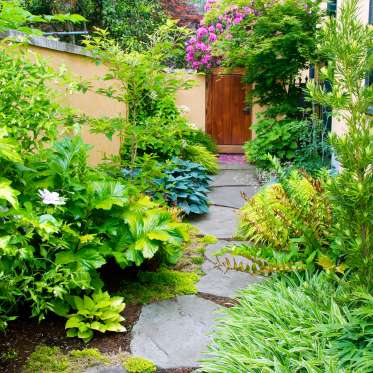 Above, lush vegetation that offers color, scent, and texture stands out against the walls. A pathway adds to the functionality of this soothing, inviting garden escape.
Being space-saving solutions, container gardens and raised beds are options to consider.
If really tight on space, even window boxes or colorful flower pots attached to exterior walls can do the job. When it comes to extremely small spaces, vertical gardens offer a practical, multi-purpose solution.
In addition to bringing color, scent, and texture, they can also hide ugly fences and provide privacy and vertical interest.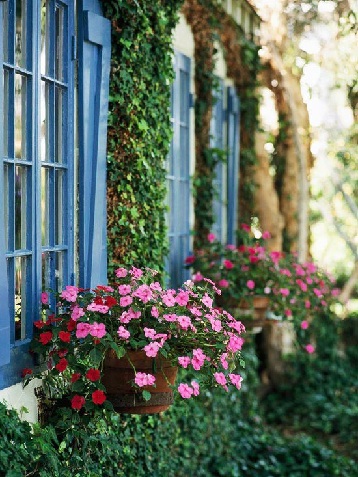 In the picture above, pots with beautiful flowers definitely stand out and make fresh, eye-grabbing accents.
To enliven the space, focus on incorporating a fountain. As the sound of falling water creates a sense of tranquility and a soothing atmosphere and adds charm and romance, even a small, simple fountain will enhance the side yard and turn it into an inviting, peaceful retreat.
Not to mention that it attracts wildlife and offers an intriguing way to create a focal point.
As side yards are usually long and narrow, to break up this look, include a garden structure, such as an arbor or a trellis. Note that apart from purely an aesthetic purpose, such pieces of garden décor serve to add some extra functionality to the space.
Adding a potting station is another option to consider.
When creatively approached, side yards could be transformed from ordinary, unused spaces into delightful private retreats, inviting dining spaces, and even kids playgrounds.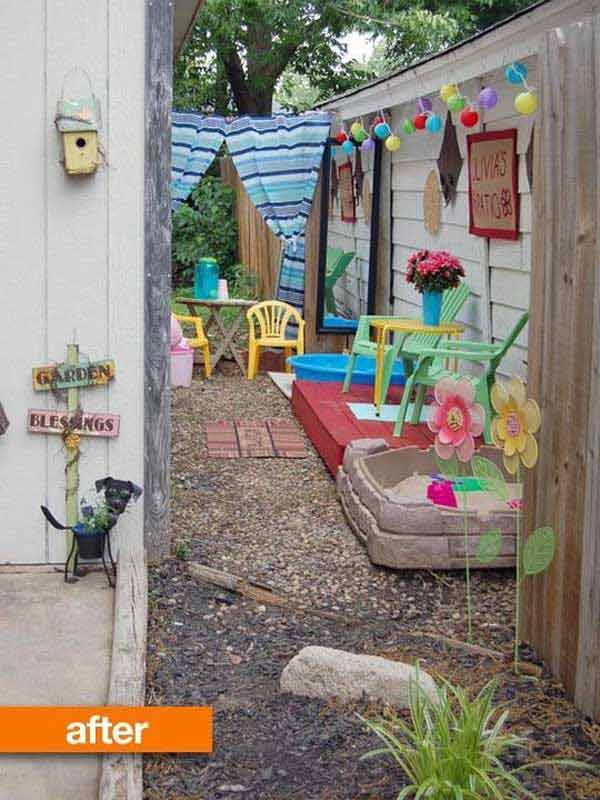 In the picture above, after a budget-friendly transformation, this once wasted side yard has become an awesome outdoor playroom. Any kid's dream-come-true space, don't you think? Truly impressive!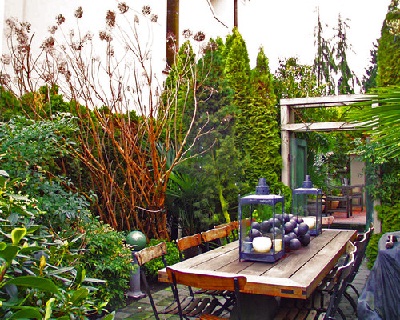 Above shown is an informal dining area surrounded by lush, dense greenery. Lanterns with candles positioned on top of a trestle-style table add so much charm and romance.
This enchanting space is definitely the perfect setting for entertaining with family and friends!
However, when working with a small-sized side yard and the space is too small to accommodate a dining set, then, arrange a café table, some bistro chairs and/or a bench, add throw pillows for coziness, and voilà, you have a charming setting for intimate dinners for two or informal gatherings with family and friends.
2. Medium- and Large-scale Side Yards
With some careful planning, any midsized and larger side yard can be turned into a functional and appealing garden room. However, before making any decisions, a purpose should be given to the space.
Whether for entertaining, relaxation, alfresco dining, or just for walking, it all depends on the needs and budget of the homeowners.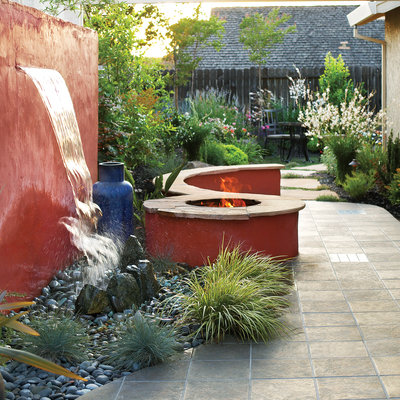 In the picture above, a stunning side yard. Against a fascinating floral background, curved seating, a water feature, and a fire pit are incorporated in this side patio.
A trellis offers extra shade and visual interest. Definitely an inviting, well-planned space with tons of personality, which offers functionality and appeal!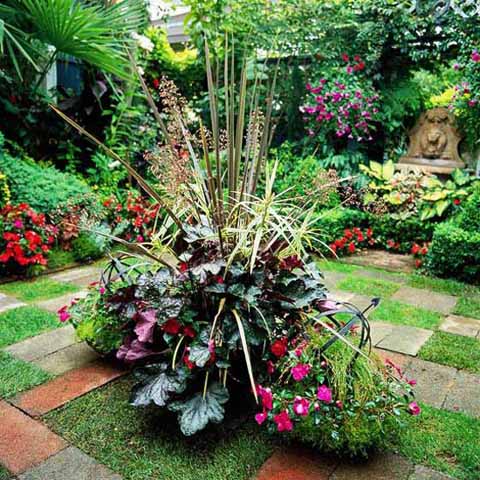 In the picture above, in this garden room, lush greenery offers color, scent, texture, and appeal. What a feast for the senses! Geometric patterns create a sense of order and formality.
A container positioned in the center of the space makes a jaw-dropping focal point. Unquestionably, an enchanting space to relax!
Incorporating larger garden structures, such as pergolas, creates magnificent focal points and adds vertical and architectural interest.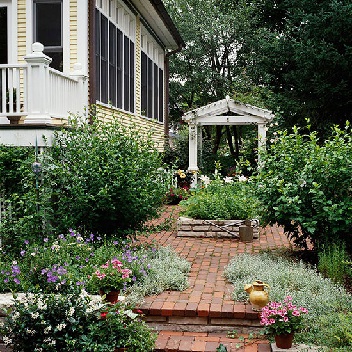 Above shown is an inviting side yard with a brick covering. Lush greenery offers color, scent, texture, and visual appeal. A white arbor supporting climbing roses makes a stunning focal point and adds vertical interest. Definitely an impressive space!
Although they can add some extra living space/especially in the urban space-lacking environment/, functionality, appeal, and personality to any property, side yards, whether small-sized or larger, are often overlooked and left almost unused and untamed.
However, even the tiniest side yard can be transformed as to meet the needs of the homeowners and improve their lifestyle.
From charming pathways to appealing flower gardens with a water feature to edible gardens to enchanting garden rooms, with some thoughtful planning and creativity, any side yard can be turned into a favorite, dream-come-true outdoor spot for relaxation, dining, or entertaining.