Have you ever stepped inside a tiny bathroom that feels remarkably roomy?
Your eyes aren't playing tricks on you — the decorations are simply designed to make the most of the space.
If you want to make a small bathroom look bigger, borrow these smart tricks from professional interior decorators.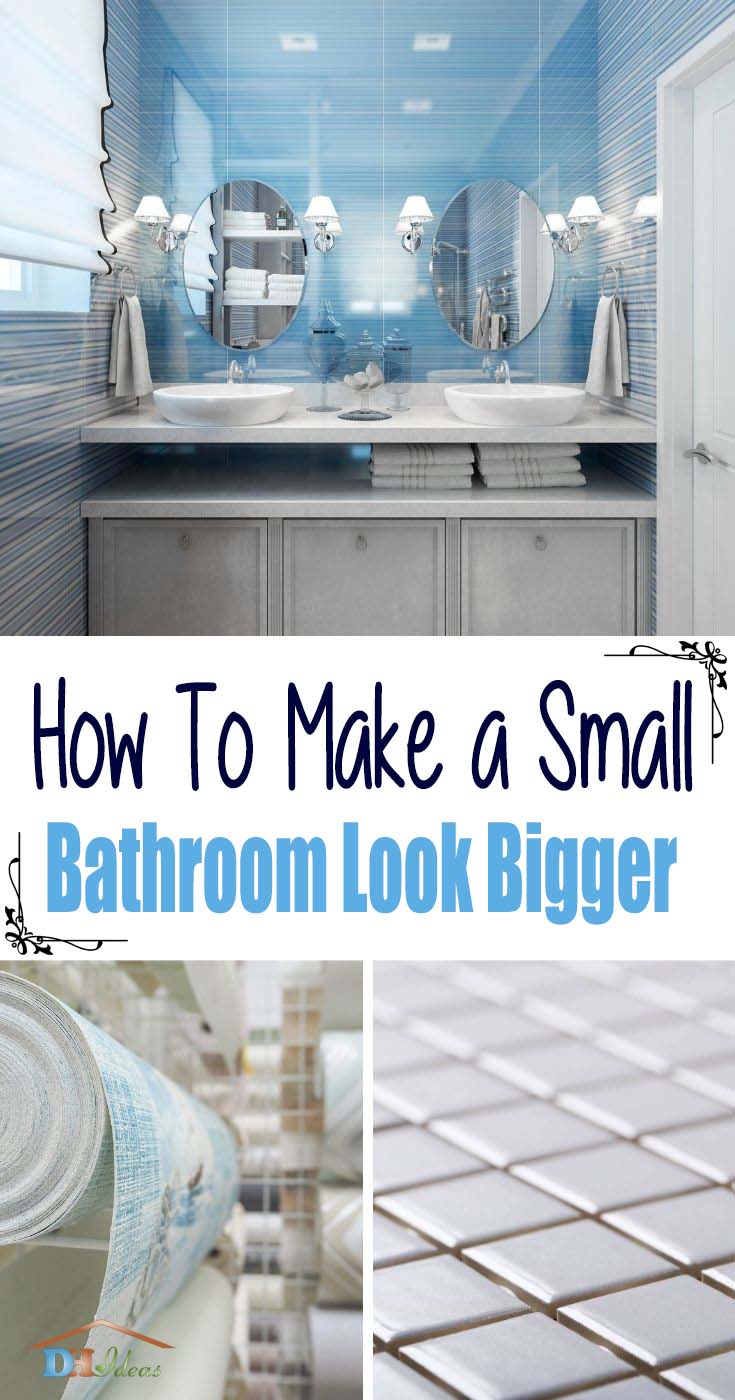 1. Go For Solid Walls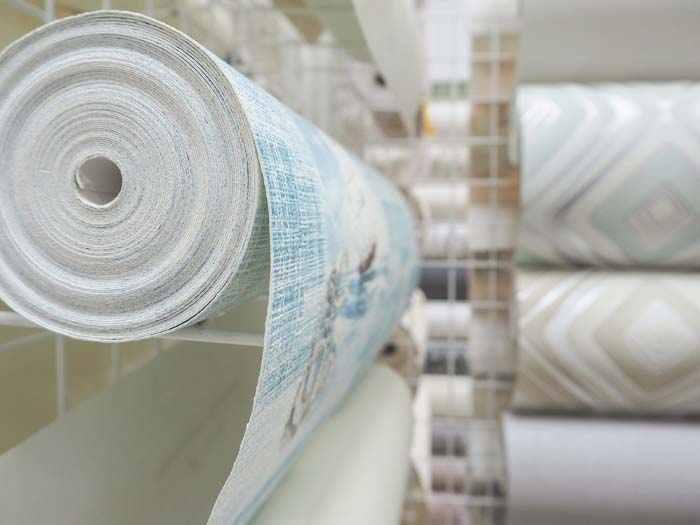 Patterned wallpaper is a popular home-decor trend, but it can be overwhelming in a small bathroom.
The all-over print can make the space feel crowded, which is the opposite of the effect you're going for.
If you want to use wallpaper, choose a solid-colored version for a more open, spacious feeling.
A subtle texture can provide a hint of depth and dimension, creating an interesting aesthetic.
2. Get Creative With A Corner Sink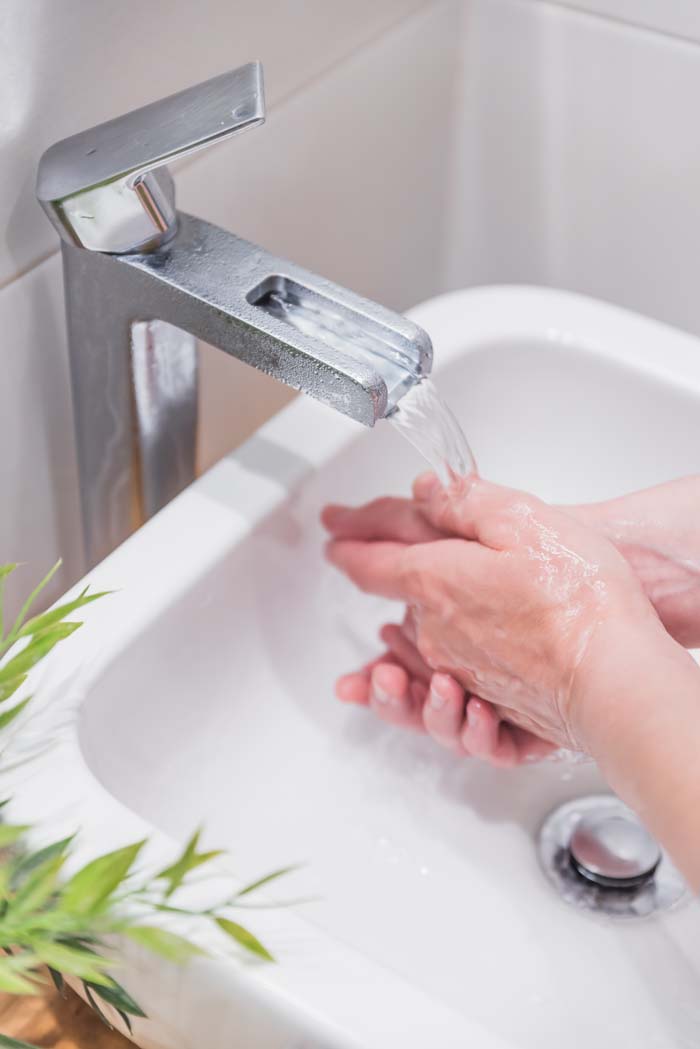 A miniature water closet usually has space for a toilet and a sink.
Free up more room on the floor by replacing a traditional sink with a corner-mounted model. Corner sinks fit into spaces that are often unused or ignored, so they're a clever way to utilize the walls.
Most models are just big enough for hand-washing — the perfect option for a guest bathroom or a tiny powder room in a historic house.
Before you invest in a corner sink, make sure to measure your bathroom to make sure it will fit between the door frame and the wall.

3. Recess Shelving For Storage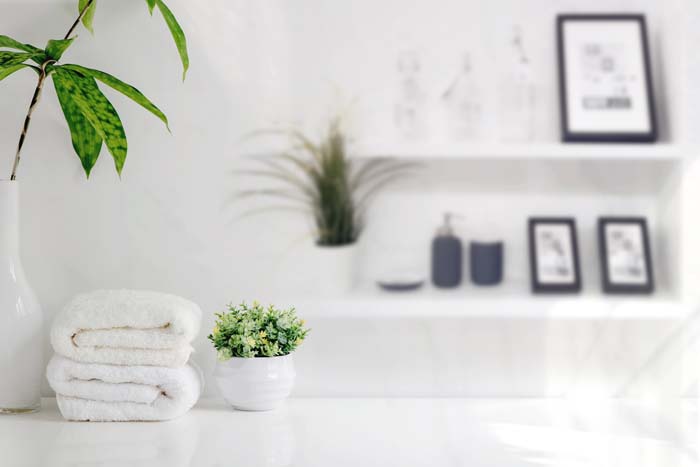 Storage is a constant challenge in a small bathroom.
To add a spot for towels and supplies without crowding, consider building shelves into the walls.
Since they don't project out into the room, recessed shelves preserve your valuable space.
That way, you can move freely without bumping your elbows. For an open, airy aesthetic, choose shelves that are the same color as your walls — they'll look like they've always been there.
4. Frame Existing Mirrors With Lighting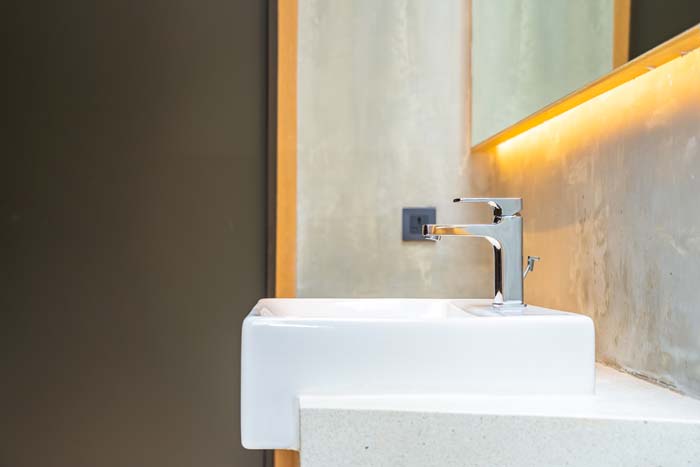 Great lighting is one of the best things you can do to help a small bathroom feel bigger. The trick?
Choose low-profile lights that don't take up much space. Take a page from an interior designer's handbook and install slim LEDs behind the mirror — the bright glow will radiate out from the edges, illuminating the room without breaking your line of sight.
If that's not possible , try mounting shallow wall sconces near the mirror. Avoid large or low-hanging overhead lights, which tend to make the ceiling feel lower.

5. Light Colors Make A Room Feel Bigger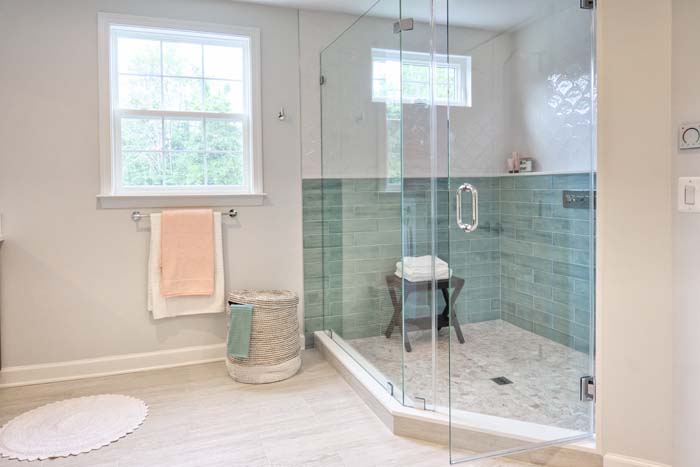 Light colors are an essential part of decorating a small space.
They reflect the glow from the window or fixtures, making the room feel brighter and more open. As you choose a color palette, stick to whites, pastels, or pale neutrals.
This trick works whether you're painting the bathroom or using tile; you can even extend it to your shower curtain, furniture, and decorative items.
6. A Small Moveable Vanity Maximizes Space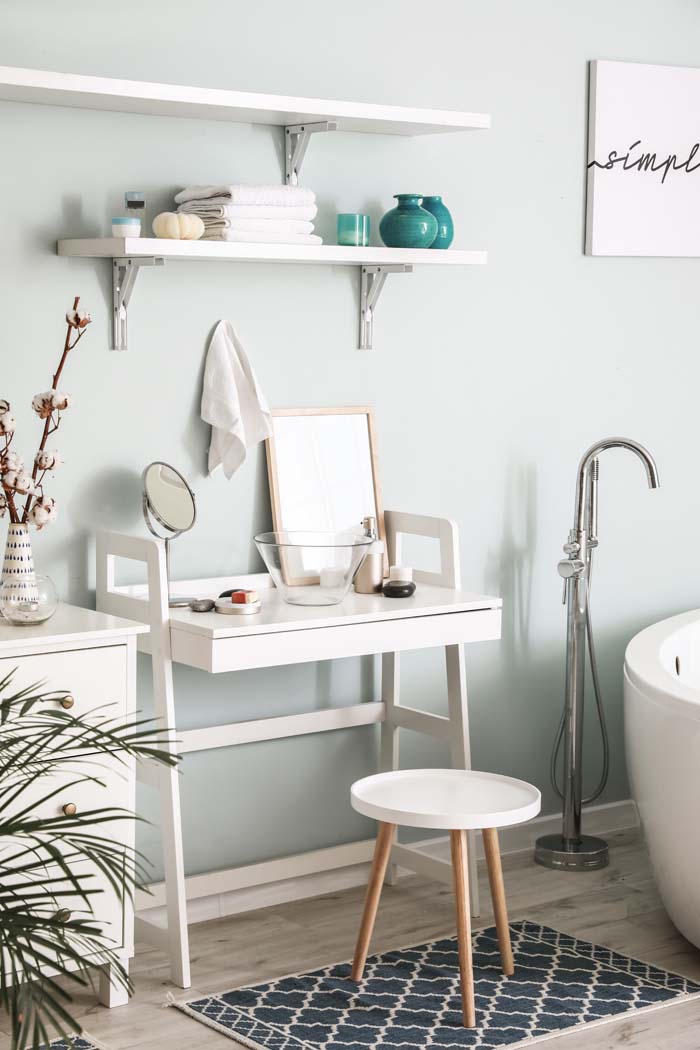 Does your bathroom have a bulky vanity with under-sink cabinets?
The storage might be nice, but is it necessary? Most vanities feature tall cabinets, which means that the upper area goes to waste.
Move your supplies to an external linen closet, and makeover the room by switching out the bulky cupboards for a small, floating vanity.
Since a wall-hung version allows you to stand closer, you can often get away with a shallower depth.

7. Clear Glass Door Extends Visual Space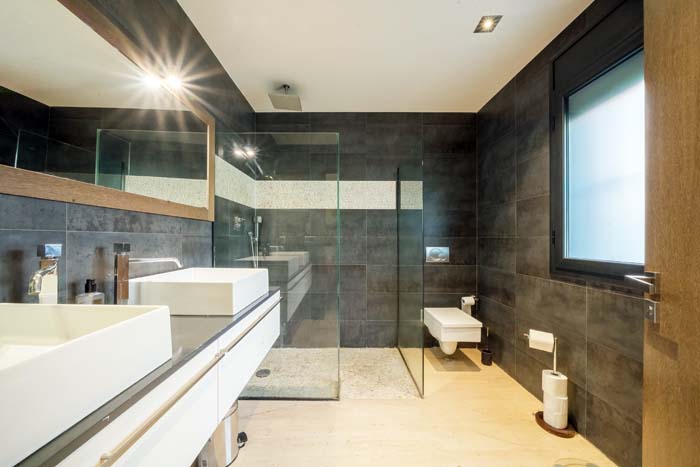 A shower is a fantastic addition to a small bathroom.
To keep this functional feature without sacrificing a roomy feeling, simply replace the shower door.
A clear, frameless model eliminates the clutter of frosted glass and unsightly metal. Instead, it allows you to see into the shower, creating the appearance of more space.
Since a swinging door requires space to move, a sliding model is a better option.
8. Go Oversized With The Mirror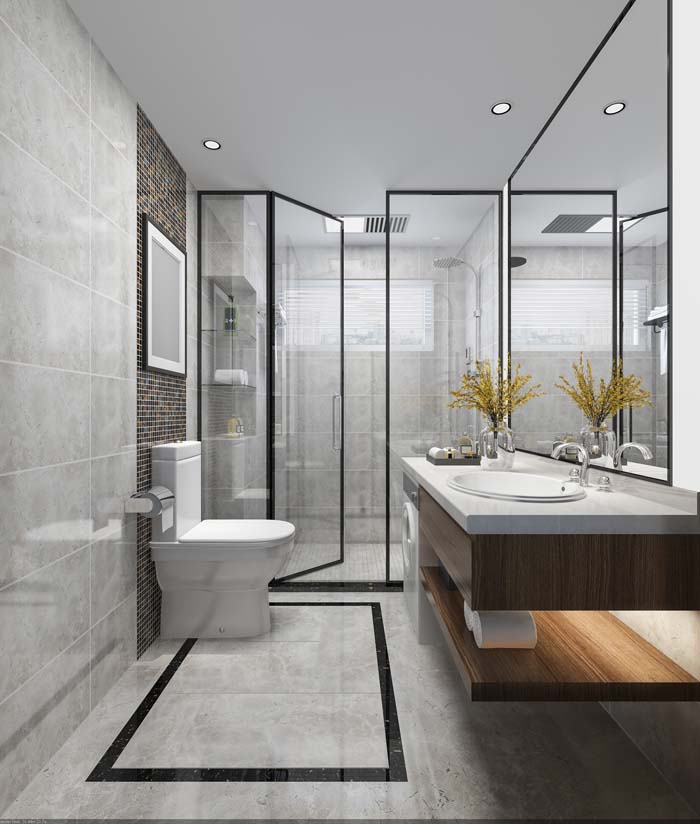 If you have the budget for just one bathroom decoration, make it a statement mirror.
It sounds counterintuitive to fill the wall with an enormous mirror, but the effect can be magical — the large reflective panel amplifies the light and makes the room feel much bigger than it actually is.
Don't be afraid to place the top edge of the mirror close to the ceiling; this interior-design trick creates the impression of vaulted ceilings.

9. Bathtubs Are Floor Hogs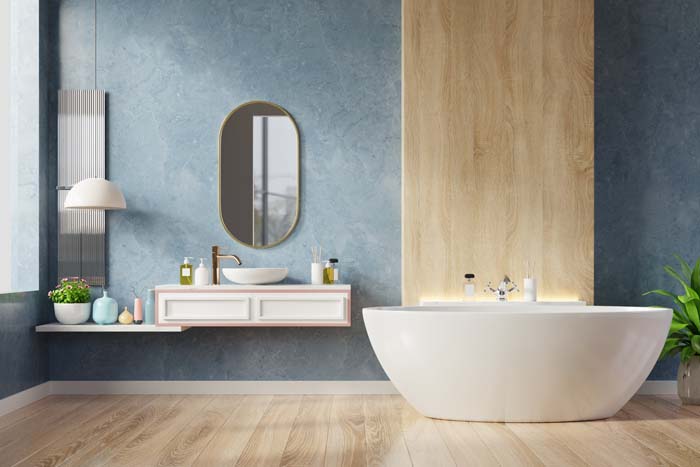 We know — it's hard to let go of your evening bubble bath.
If you truly want to make the most of the space, however, it's a necessary sacrifice. Even the smallest tubs take up an enormous amount of room on the floor.
To open up the room, install a shower with a frameless glass door or a fixed panel. The clear glass minimizes visual clutter and allows a clean line of sight from one wall to the other.
10. Keep Clutter To A Minimum

Looking for a small-bathroom tip that's cheap and easy?
It's simple: remove all of the unnecessary items from the room. Even tiny products, such as perfume bottles and toothbrushes, can make the space feel cluttered and disorganized.
Hide necessary items in the medicine cabinet or vanity, and relocate everything else to a spot outside of the bathroom. When you're done, you should be left with clean, open countertops and a more relaxing vibe.
11. Small Fixtures Fit Small Spaces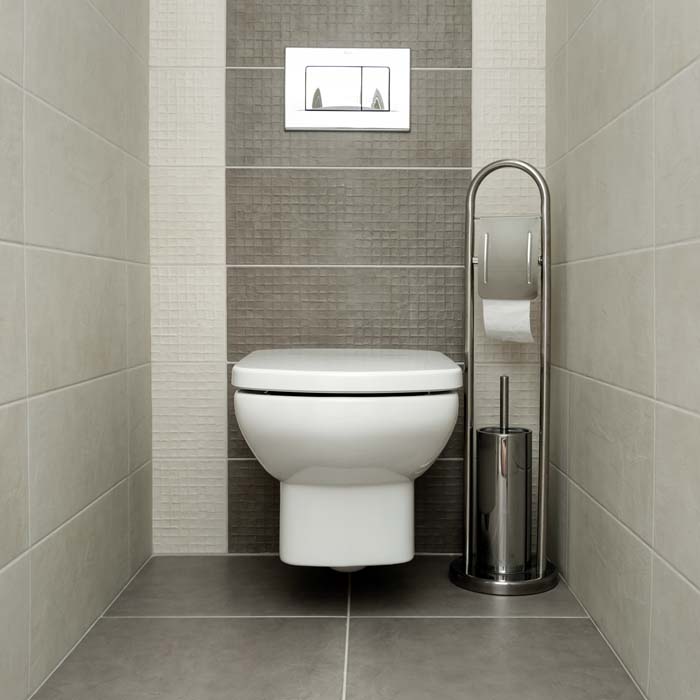 When you're decorating a small bathroom, it's helpful to replace bulky furniture and fixtures with more streamlined pieces.
The toilet is a great place to start — it sticks out into the room, adding visual clutter. By replacing your traditional toilet with a floating wall-mounted model, you'll free up all of the space underneath the bowl.
In a tiny room, this extra open area can have a big impact.

12. Bring The Floor Tiles Upward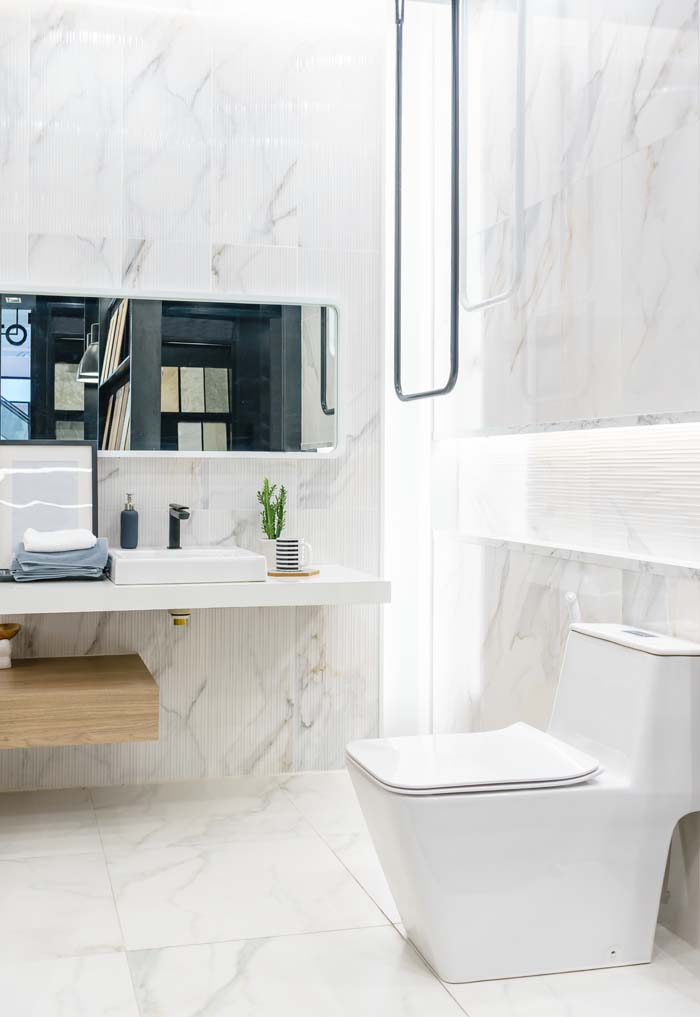 Are you planning to redo the tile in your bathroom?
To make the space seem bigger, pick one tile that you love.
Then, install it on the floor and into the shower. This trick creates a continuous, unbroken plane of color and texture that can make your bathroom look twice its size.
13. Keep The Color Cohesive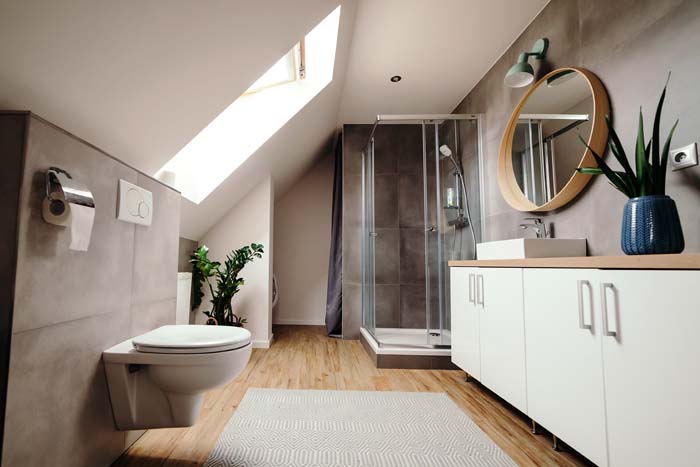 Sections of color can make a small bathroom feel even tighter, especially if you live in a building with low-slung ceilings.
An easy way to open up the space on a budget is to paint the ceiling and the walls in an identical color. If your walls are tiled, take a photo or tile sample to a paint store to get an exact color match for the ceiling.
The goal is to make the border look invisible — you'll be amazed at how much larger the room seems.
14. Fit The Fixtures To The Space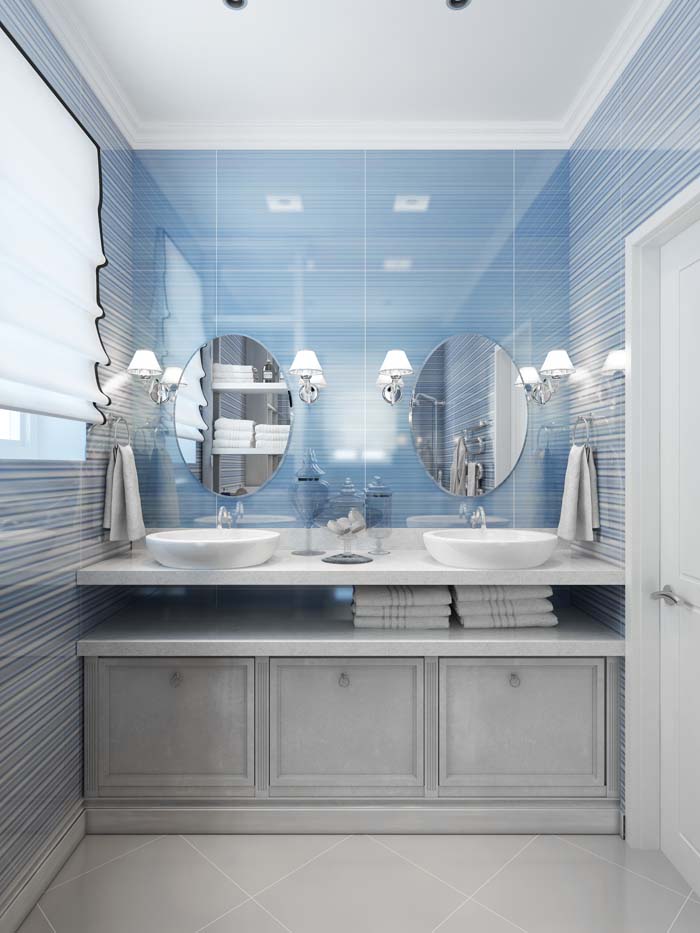 Decorating a small bathroom is all about proportions; in other words, the fixtures should match the scale of the bathroom. Instead of a vanity with full-height cupboards, consider a delicate pedestal sink or a wall-mounted floating sink.
You can also replace a traditional toilet with a tankless version. Sleek, streamlined fixtures look proportional to the room, so it feels more balanced and spacious.
15. Attach Your Cabinet Into The Wall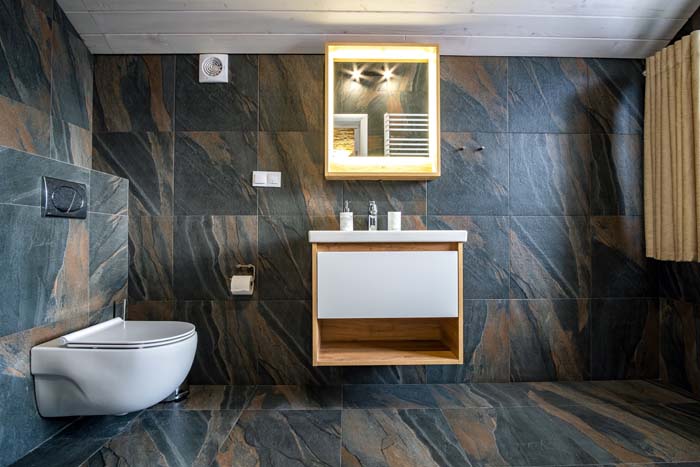 A medicine cabinet adds valuable storage to your bathroom. When space is at a premium, even a shallow cabinet can add unnecessary bulk.
You don't need to give up the convenience — simply recess the cabinet into the wall above the sink.
Depending on the layout of your home, this trick might even allow you to add deeper shelves and declutter the bathroom at the same time.

16. Allover Tile Adds Visual Continuity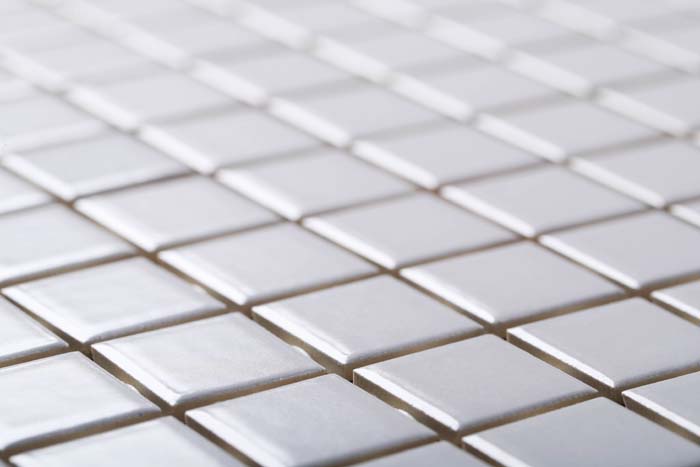 Are you doing a complete bathroom remodel? Focus a big part of your budget on tile.
The more tile you can add to your small bathroom, the bigger it will look. That's because continuous stretches of the same color and material reduce visual obstacles, creating the illusion of a large room.
Whenever possible, tile the full height of a wall or shower enclosure to help the ceilings seem taller.
Since the material is durable, waterproof, and easy to clean, it's a great option for small spaces with limited ventilation.
17. The More Mirrors The Better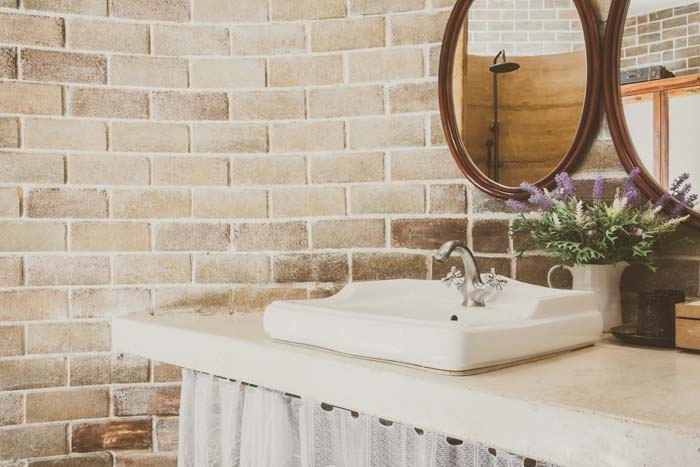 Mirrors are like magic in a small room; they reflect the space, tricking the eye into believing it's double or triple the size. For best results, place two mirrors on opposite walls.
They'll reflect the room into infinity, so your small bathroom suddenly feels cavernous. Stick to pieces with delicate or nonexistent frames to maximize and simply the effect.
As a bonus, the extra mirrors can help amplify natural and electric light for a brighter atmosphere.
18. Horizontal Stripes Add Width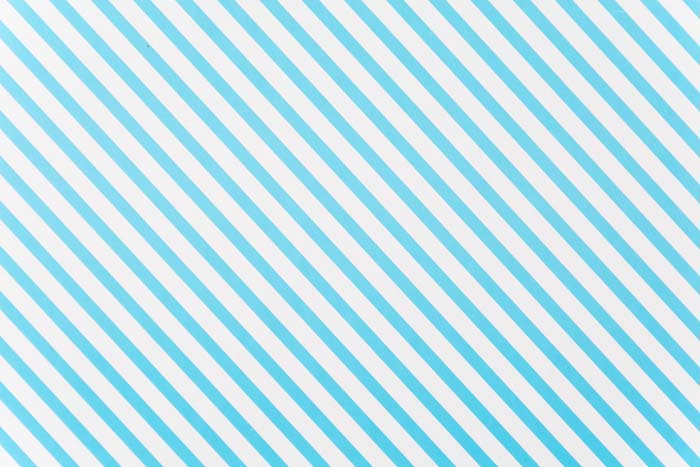 It's a challenge to work patterns into a small-bathroom design, but stripes are the exception.
The key is to choose stripes with low-contrast color schemes and identical spacing. Here's the true secret: only use horizontal stripes, which make the space feel wider.
Curiously, vertical stripes tend to make the room seem shorter. If you're not ready for a fully striped bathroom, you can use the pattern on a single accent wall for the same effect.
19. Keep Tiles Simple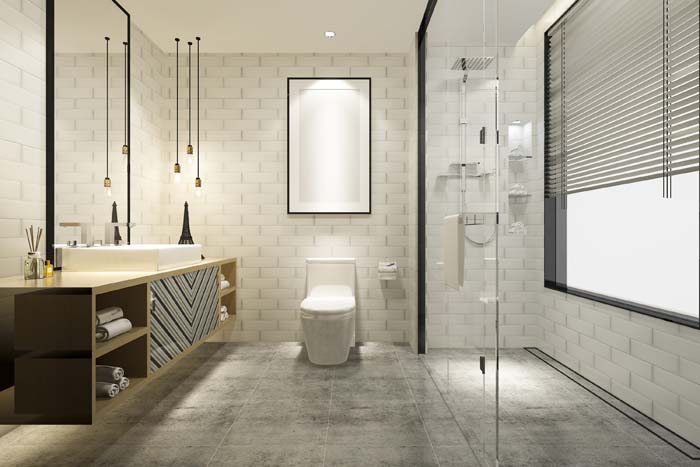 As you choose tiles for a small bathroom, it can be tempting to go wild with fun patterns and contrasting grout colors. Before you stock up, think strategically.
Small tiles with intricate shapes or high-contrast colors can make a bathroom feel cluttered and chaotic. It's often better to stick to light, solid tones or large tiles in pale colors for a more relaxing atmosphere.
Don't forget about the grout — a light color reduces contrast and helps the bathroom look more open.