Shower shelves are essential, especially if you have a family or you like to keep a large selection of bath products on hand.
If your shower doesn't have enough storage, it's time to think about adding shelves.
Whether you need a quick project or a permanent solution, these tile shower shelf ideas can help you choose the best design.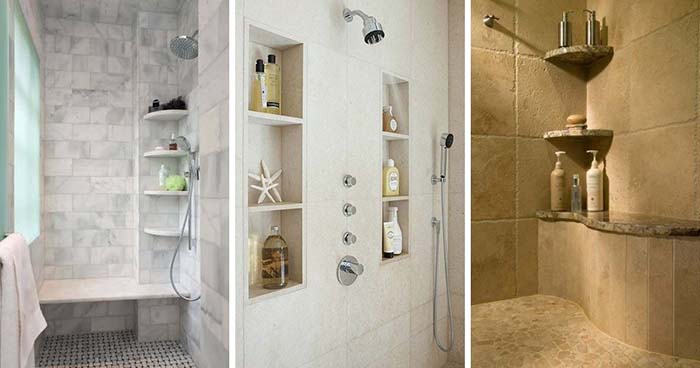 How do you add storage to your shower?
There are two main ways to add storage to a shower. If you have the funds and you're willing to do construction, you can build them into the shower.
If you're renting or you need a budget-friendly solution, you can add temporary shelves that fasten using tension rods, suction cups, or hooks.
Can you add shelves to a tiled shower?
Yes — you can fasten tiles to a tile shower using water-resistant adhesive or screws. Since the shelves aren't integrated into the walls, it's a good idea to use lightweight materials. Corner shelf is the most popular option.
How do you attach shelves to a tile shower?
If you're adding permanent shelves, you can attach them with a heavy-duty caulk.
Make sure to choose a water-resistant product and fasten the shelf in the center of a tile.
A better solution is to attach your shelf to the mortar while you're installing the tile; this creates stronger, longer-lasting shelves.
Can you hang shelves on tile?
For a temporary solution, you can hang shelves on tile using strong suction cups.
This solution is ideal for shelves that hold lightweight items. If you need a stronger storage solution, you can hang a traditional shelf using a mounting plate.
Simply drill the holes using a tile drill bit, and insert expanding anchors with silicone caulk. This secures the screws and prevents water from working its way behind the tiles.
What do you use for shower niche shelves?
Some manufacturers make shower niche shelves that are specifically designed to support weight.
They also feature special lips that fasten to the wall of the shower. It's best to install these recessed niches before you tile the shower.
That way, they can be integrated into the waterproofing of the wall and covered with tile for a seamless look.
My bathroom is already tiled and I would like to eliminate the shower caddy and put in shelves how can you go about doing this?
If you don't want to cut into the tile, you can "glue" shelves to the wall using caulk or hang them using traditional mounting plates and screws.
To integrate the shelves into the tile, you should first remove a section of the existing tile.
Then, you must redo the waterproofing in that area and mount the shelf to the backing board using mortar. Using new tiles, you can then fill in the gaps around the shelf.
Tile Shower Shelf Ideas and Designs
We have selected the best shelf ideas that you can use in a tiled shower to add more storage and keep everything in place. Neat and tidy. Shower shelves are great when you need to add more storage in your bathroom and shower niche is not an option.
1. Corner Shelves Are Space Savers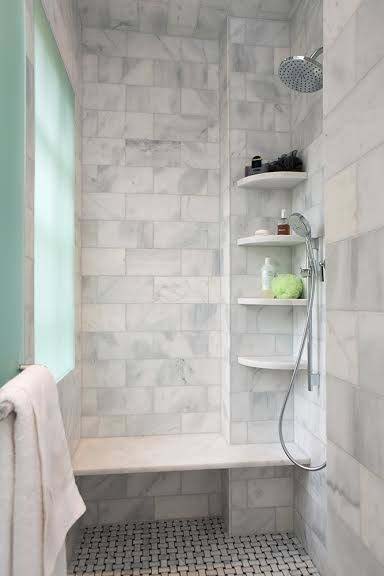 Add ample storage to your shower with corner shelves.
With their rounded edges, they're safe for kids and adults. The small size keeps them out of the way, so you can move freely and access bath products with ease.
Since most showers have at least two empty corners, this is a great one-size-fits-all solution.
To help these shelves fit into the design of the shower, the homeowner made them out of the same material as the integrated shower bench.
via Style Blueprint
2. Match A Shower Bench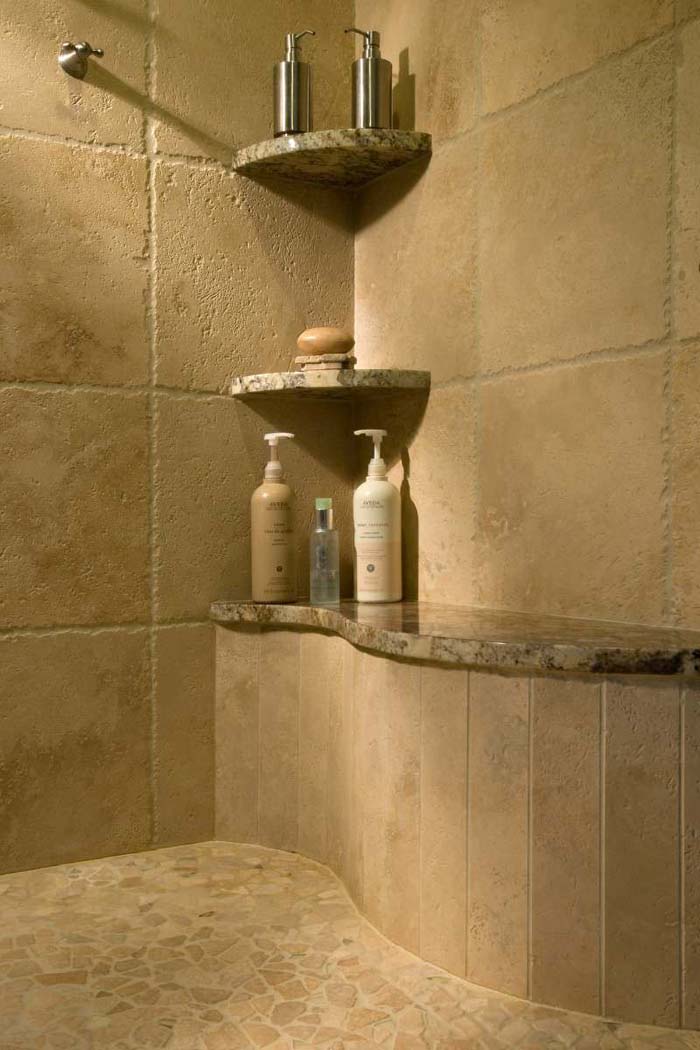 When you use a distinctive tile in your shower, it can be challenging to find matching shelves.
Here, marble shelves provide a beautiful contrast to the rough shower walls. The trick is to choose shelves in a similar color palette; that way, they blend in with the tiles.
By using a smooth, upscale material like marble, you can elevate your shower and create an elegant style.
The curving bench echoes the rounded edges of the shelves, giving the space a cohesive, artistic vibe.
3. Wall Recessed Shelves Offer Chic Storage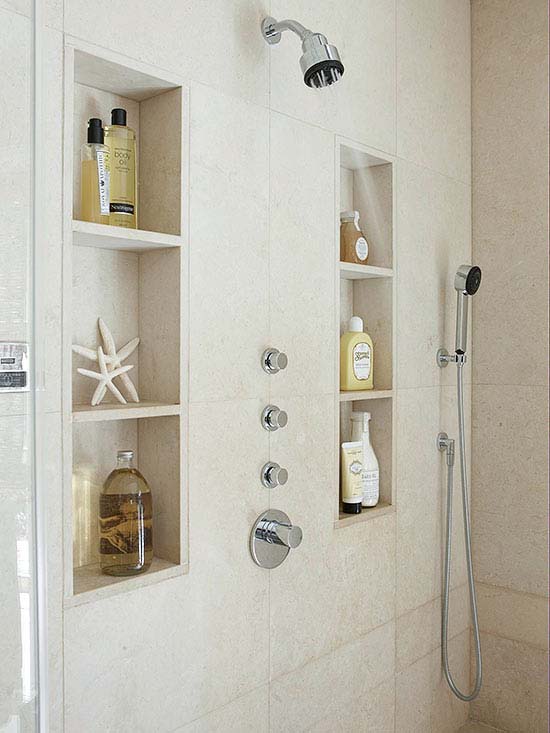 Do you have a large shower? Turn one wall into a convenient spot for storage by building in niche shelves.
Since each one is recessed into the wall, there are no exposed edges to bump into as you move around the shower.
With two rows of niche shelves, you'll have enough space to store bath products, kids' toys, or decorative items.
In terms of construction, this project works well with both panel and traditional showers.
via BHG
4. Keep Items Within Bath Reach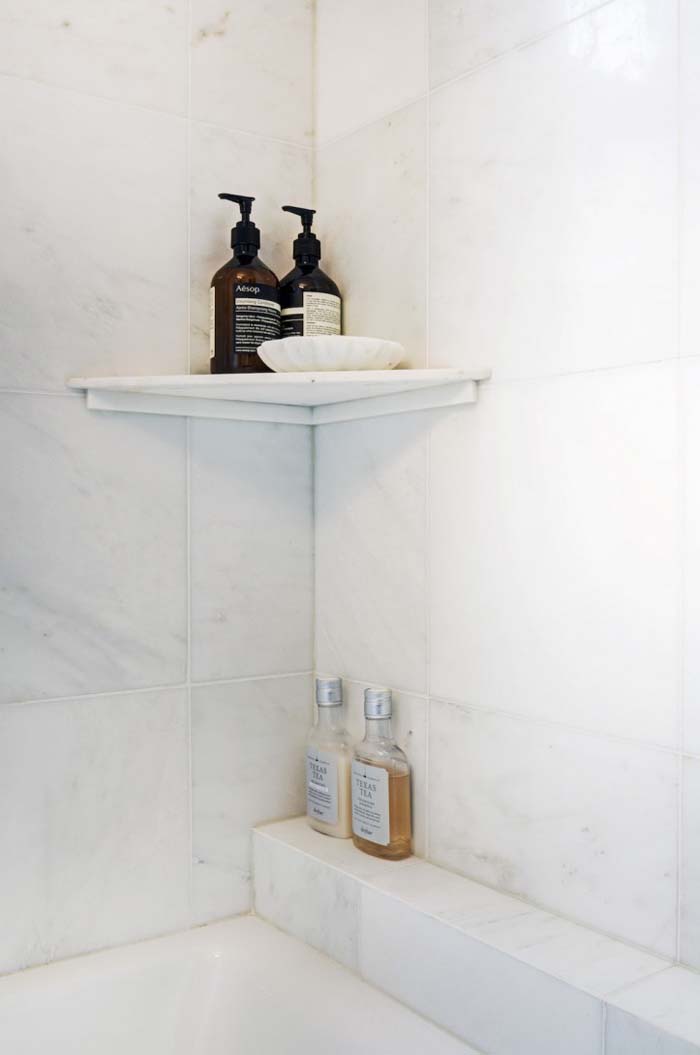 In a shower/tub combo, storage space is often limited — get creative by combining a bathtub ledge and a simple corner shelf.
The ledge is long and low, giving you lots of room for a bubble bath and bath oils.
The elevated shelf is the perfect size and height for shower products and shampoo.
via Sweeten
5. Vertical Corner Shelves Offer Ample Space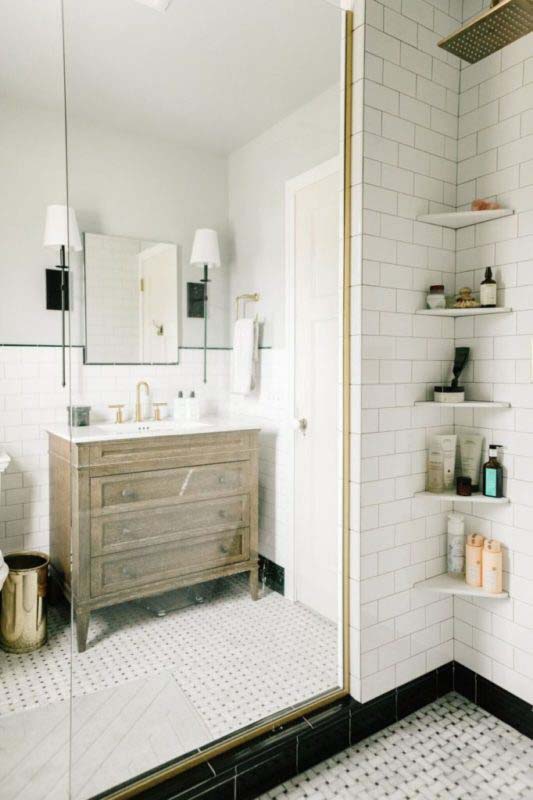 This clever shelving system proves that you don't need much space to add storage to your shower.
By adding multiple stacked shelves to a small corner, you can accommodate a wide range of products.
We love how the out-of-the-way position gives you free range of motion — and since the shelves are tucked into a hidden corner, they reduce visual clutter.
via Win and Delight
6. Choose A Finish To Match Your Tiles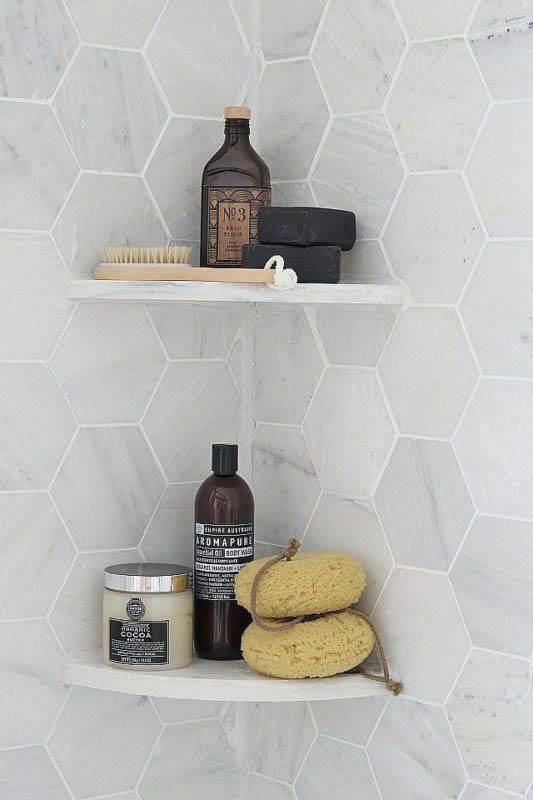 Do you have a unique tile shape in your shower?
Choose corner shelves in a matching color and finish to create a seamless aesthetic.
Here, it's all about the color variation — the shelves are a different material than the tiles, but the subtle grey and white hues help them blend right in. The result is airy and elegant.
7. Add Non-Permanent Storage With Tension Rods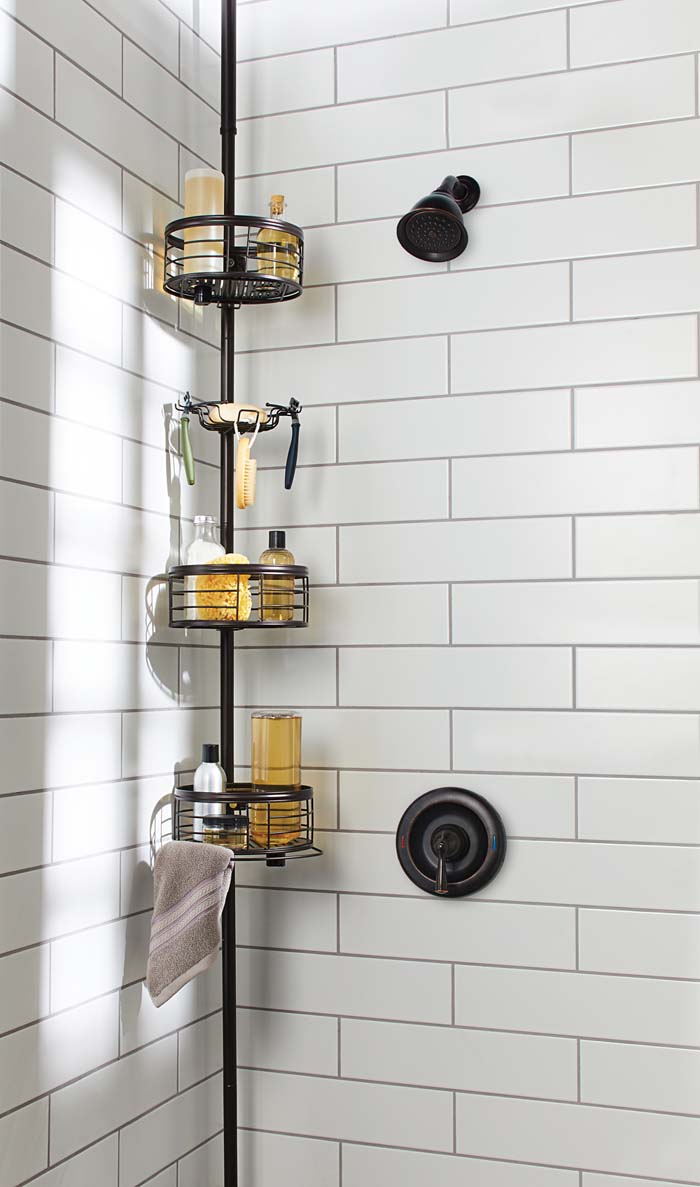 Tension-rod shower shelves are a fantastic way to add storage without taking on a construction project.
The vertical rod adjusts to fit your shower, using a heavy-duty spring to create a secure installation.
Choose a unit with multiple shelves and racks to hold all of your products.
This model features wire-frame sides and bottoms for efficient drainage after every shower.
via Walmart
8. Bump Out Shower Box Shelves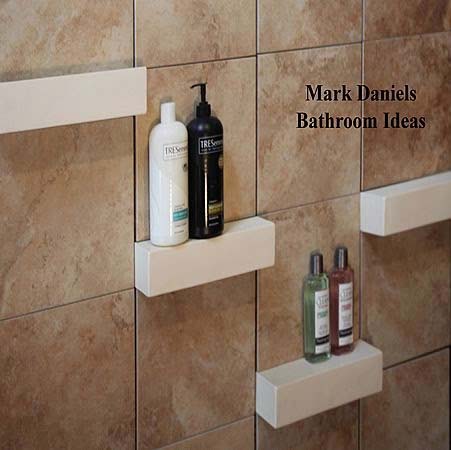 Want to build shelves into your shower while minimizing construction?
These simple box shelves are one option. They're the same width as the shower tiles, so you can cut small openings using a tile saw — that way, you can install the shelves and seal them with silicone without the need for re-tiling.
Make sure to seal all cracks to keep water out of your walls and prevent mold in the future.
via Aldora Muses
9. Match The Grout For A Fun Contrast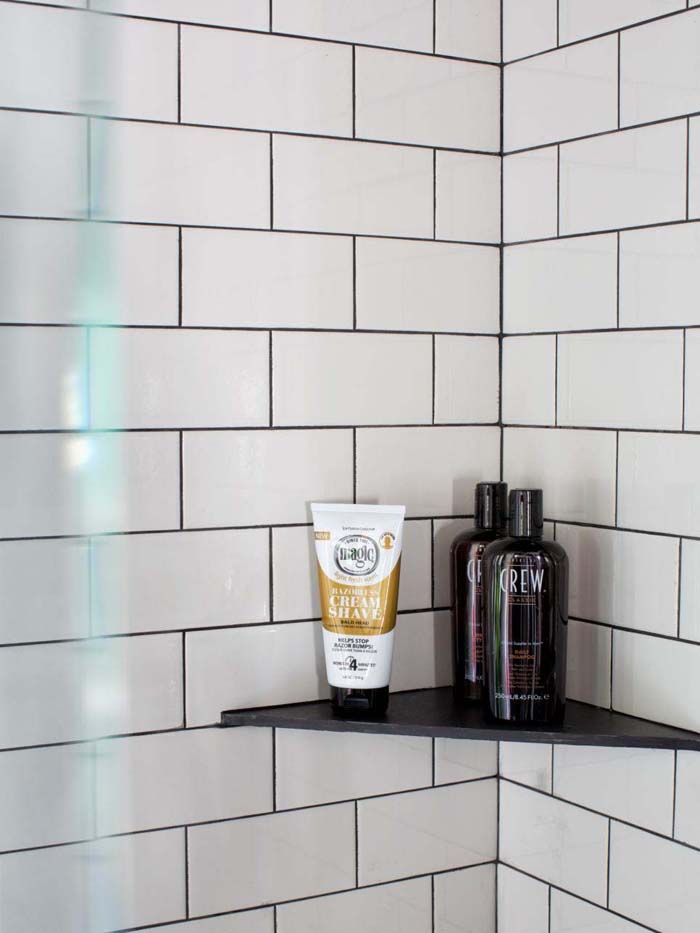 If you have a tiny shower, you might not have much room for shelves.
This small, triangular shelf is a space-saving option. It uses a flat front instead of a rounded edge, which reduces the projection into the shower cabin. The black color makes it pop from the white subway shower tiles.
That way, you get just enough room to hold crucial products, and you can still move around comfortably.
via HGTV
10. Suspend A Swing Shelf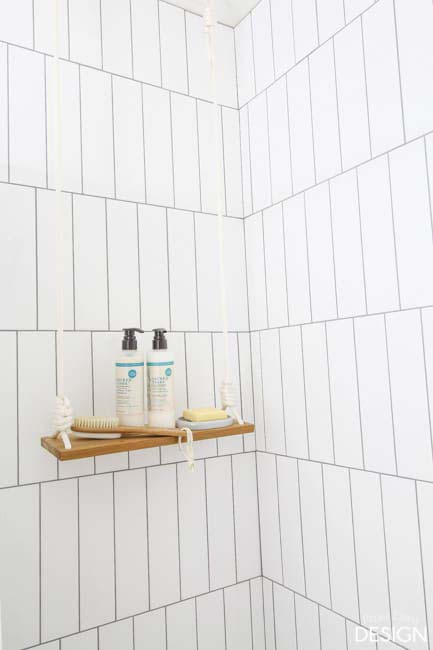 Avoid cutting into your existing shower tile with this creative shelf.
It looks like a child's swing, complete with rope handles and a suspended rectangular wooden plank.
To hang your shelf, simply add two plant hooks to the ceiling of your shower; they support plenty of weight, so you can pile on all of your shampoos and conditioners.
Since this shelf moves easily, it's best used in an adult's shower.
11. Opt For Glass For Minimum Impact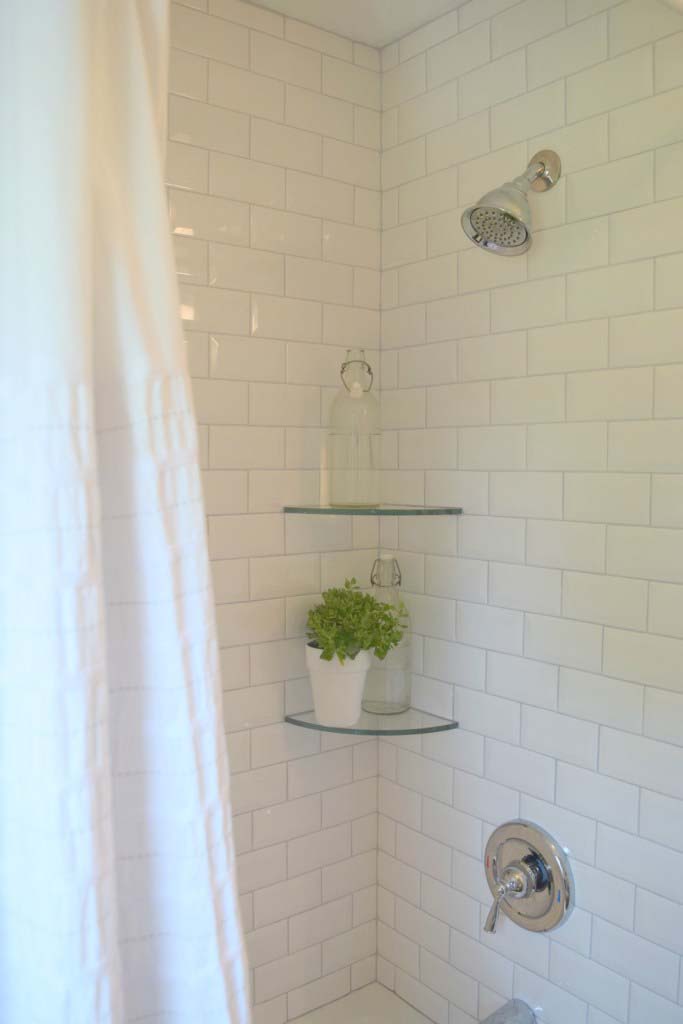 In a small shower, bulky or dark-colored shelves can make the space feel crowded and cluttered.
These beautiful shelves eliminate that problem by using clear glass.
The transparent material allows a clean line of sight from most angles, and the heavy-duty material is tough enough to support a heavy load.
Clear adhesive is a must if you're attaching these shelves to the exterior of your existing tiles.