What's the first thing that comes to your mind when you hear "vaulted ceiling"? Cathedral, church… yes, that's what these types of ceilings were used to be known as "vaulted cathedral ceilings", until recently more and more architects and interior designers started to use them in their projects.
Vaulted ceilings could create the illusion of greatness and increased volume while the materials for ceiling beams – hardwood for example, could add more character and coziness.

The vaulted ceilings could be made in the shape of triangle, dome or arc.
In our selection of 26 vaulted ceiling ideas for living rooms we preferred the triangle design as it is the most popular.
What's the benefit of having a vaulted ceiling in your living room?
It makes the living room look bigger and airier.
Ceiling beams could add visual interest and the wow effect for any of your guests.
By incorporating windows on the ceiling you could let more natural light in the living room.
What's the downside of your living room vaulted ceiling?
It's maintenance cost is higher and it's harder to clean it or make any adjustments to the ceiling lights or fans. You know, changing a lightbulb would need someone who is not afraid of heights and very tall ladder ( skyscraper ladder ).
You can't use your attic as a storage space ( and sometimes more storage space is all that we need ).
Having higher ceiling means more energy to cool or heat the living room and this could be very expensive in some areas where the weather is not the same throughout the year.
1. Exposed Rafters and Lots of Windows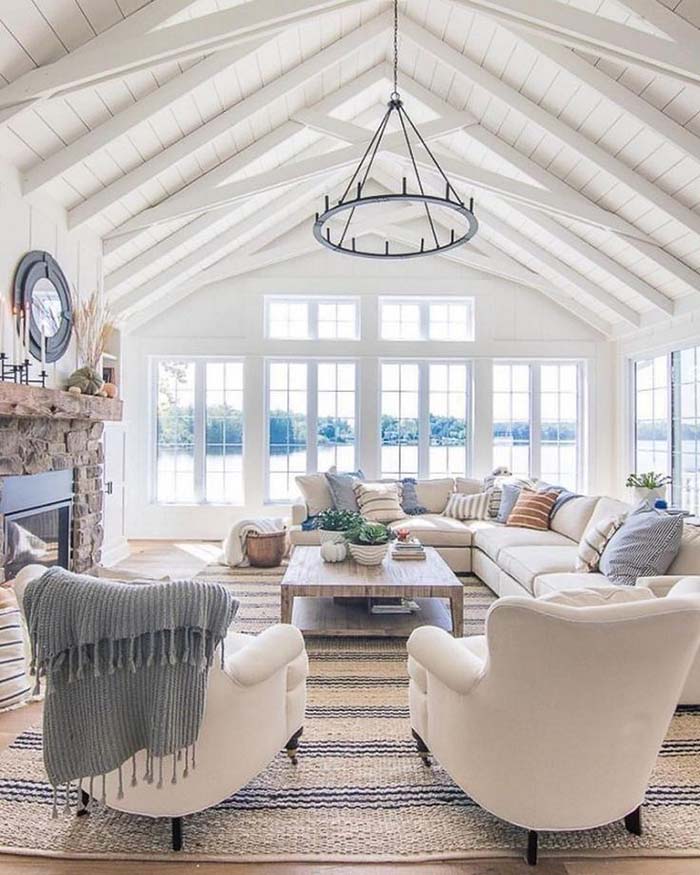 Photo: Credit
The light rafters and multiple windows let in plenty of light, keeping this room from looking too dark.
It's a great option for anyone looking at inspiration for vaulted ceiling living rooms.
2. Kept Plain and Neutral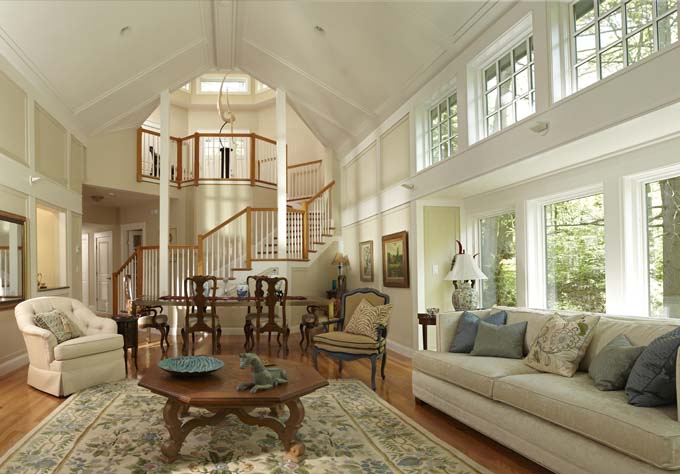 Photo: Credit
Designed to allow the beauty of the floor and the furnishings to really shine, this vaulted ceiling is kept plainer than other options.
It allows the focus to be on the rest of the room and not drawn to the ceiling.
3. Aged Beams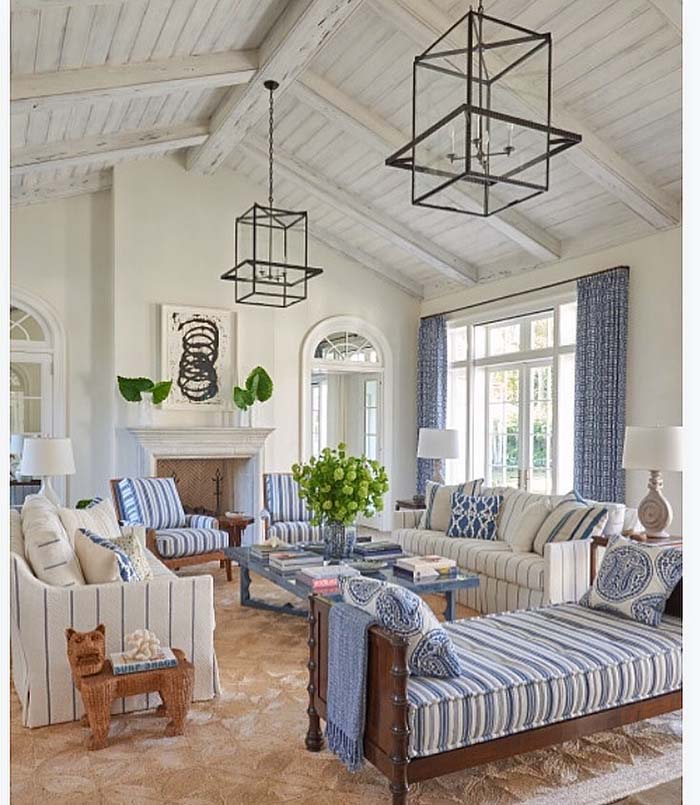 Photo: Credit
White beams that have aged and have some of the darker wood showing through look unique.
This room is completed with attractive and open farmhouse pendant lights that look airy.
4. Tall and Pointed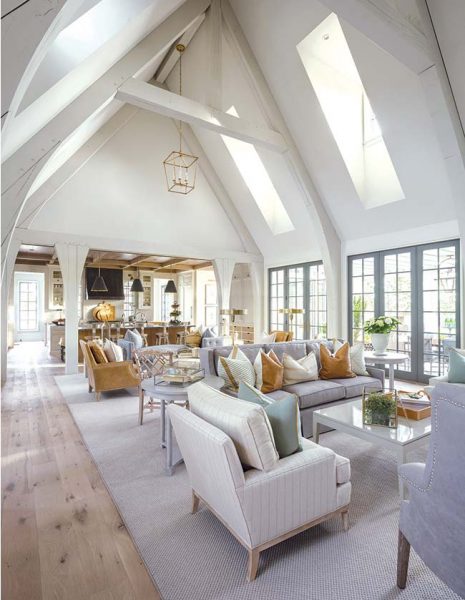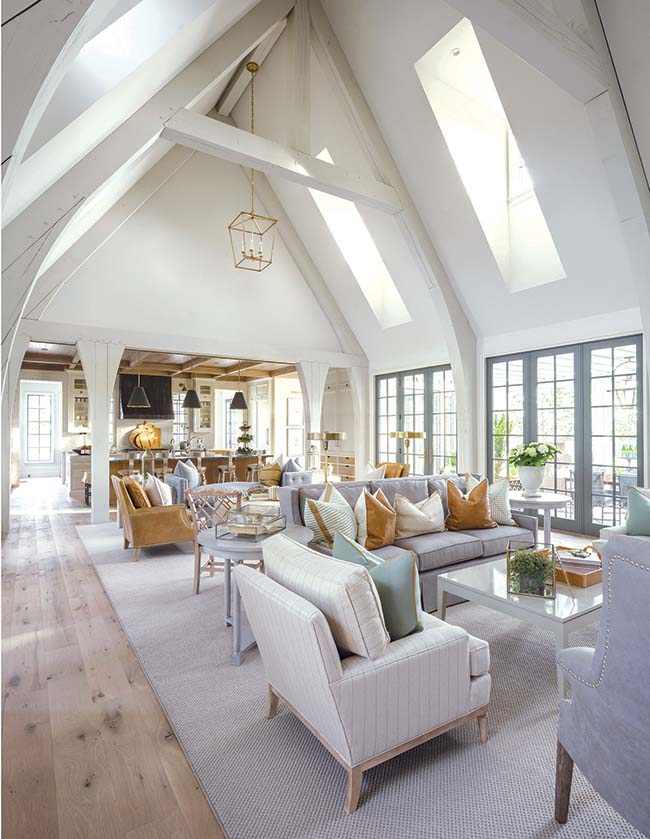 Photo: Credit
A taller and pointed ceiling draws the attention straight up. This is a great option for making two rooms out of a living room with vaulted ceiling.
The exposed kitchen helps draw the eye down the length of the room.
5. Long Planks Give Length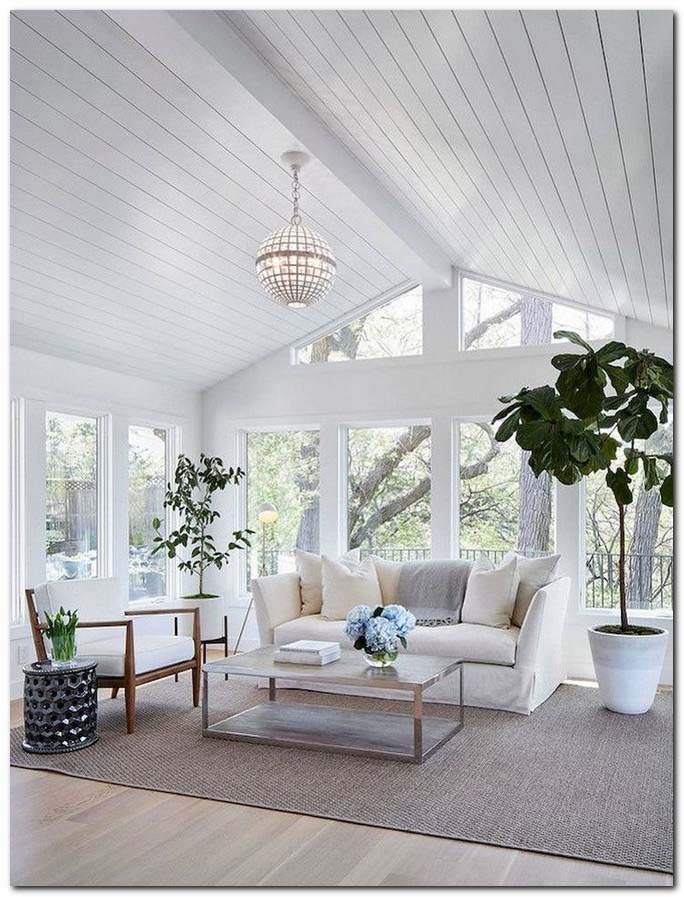 Photo: Credit
Extra long lengths that run the full length of this living room give it the feeling of being expansive and offering tons of space.
The white boards on the ceiling make the room feel even larger than it is.
6. Open Floor Plan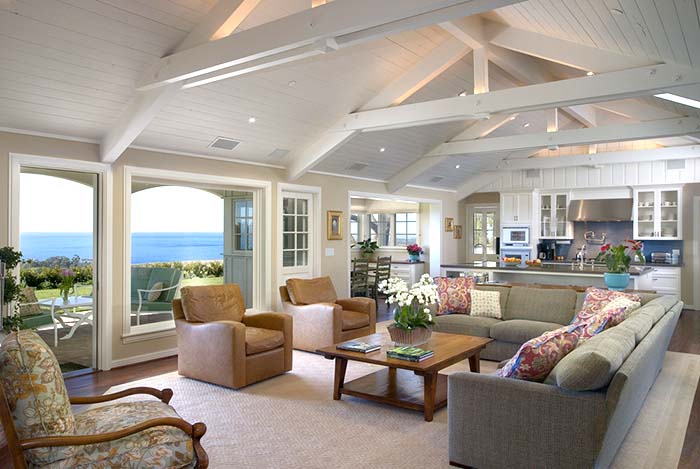 Photo: Credit
This open floor plan design shows how to decorate vaulted ceiling living rooms without the room feeling congested.
The open floor plan allows the rooms to flow and makes the furniture feel intentional.
7. Decorated with a Chandelier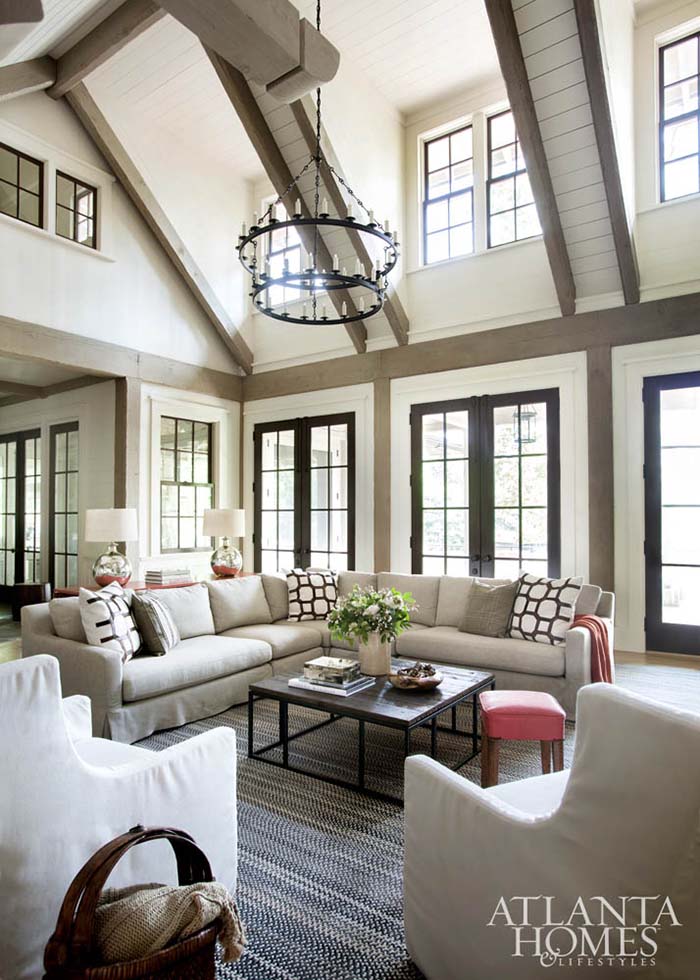 Photo: Credit
Adding a stunning chandelier is a great way to decorate a room with a vaulted ceiling.
This black chandelier features multiple lights, helping it to stand out from the rest of the home.
8. Contrasting Wood Adds Definition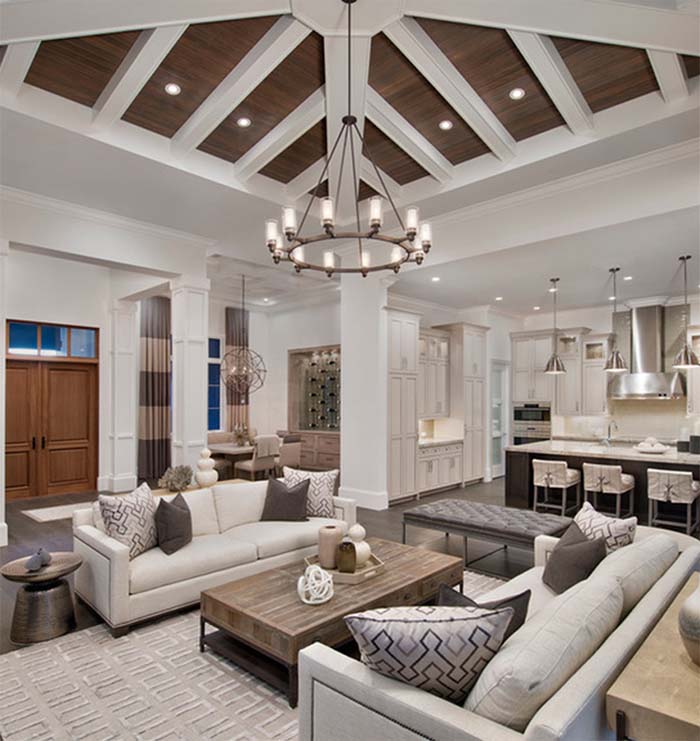 Photo: Credit
Dark contrasting wood on the ceiling updates vaulted ceiling living rooms with beams.
This quickly takes a normal vaulted ceiling and turns it into something that is much more special.
9. Gorgeous Statement Chandelier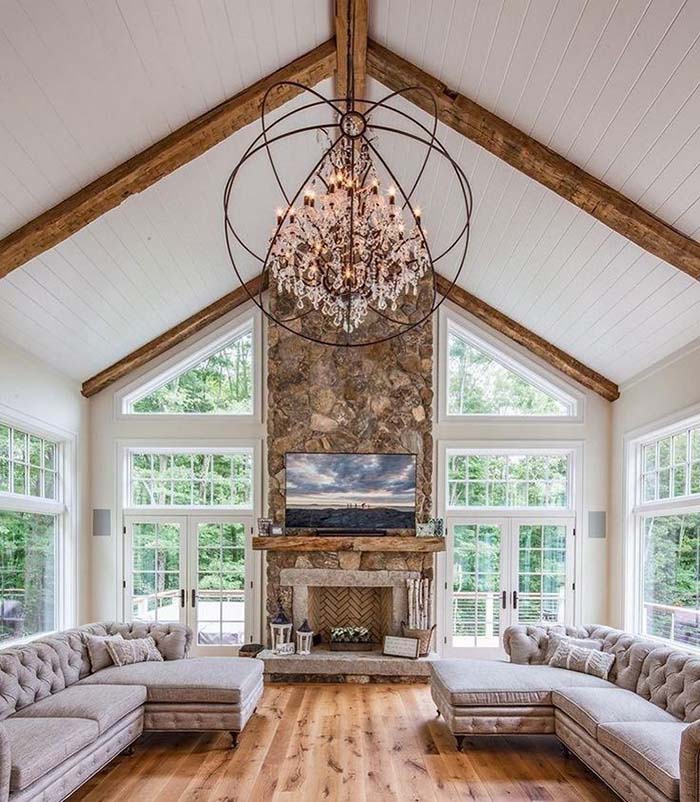 A shocking statement chandelier hanging in the middle of the room will stop any guests in their tracks.
This statement piece is sure to make the ceiling the focal point of the room and draw attention up from the floor.
10. Contrasting Wood Beams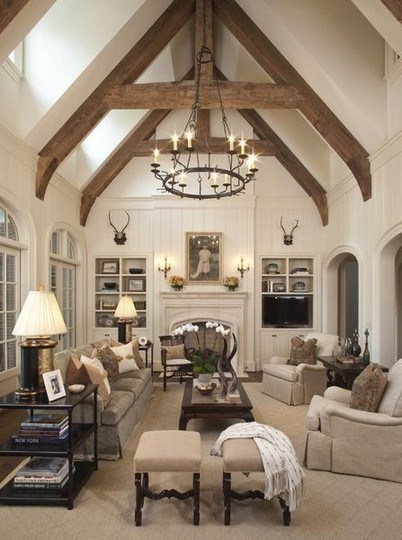 Photo: Credit
Dark wood beams that contrast with a lighter ceiling and lighter walls help to outline the space and really give it definition.
This is a bold look that works well in large and open rooms.
11. Light and Open with Windows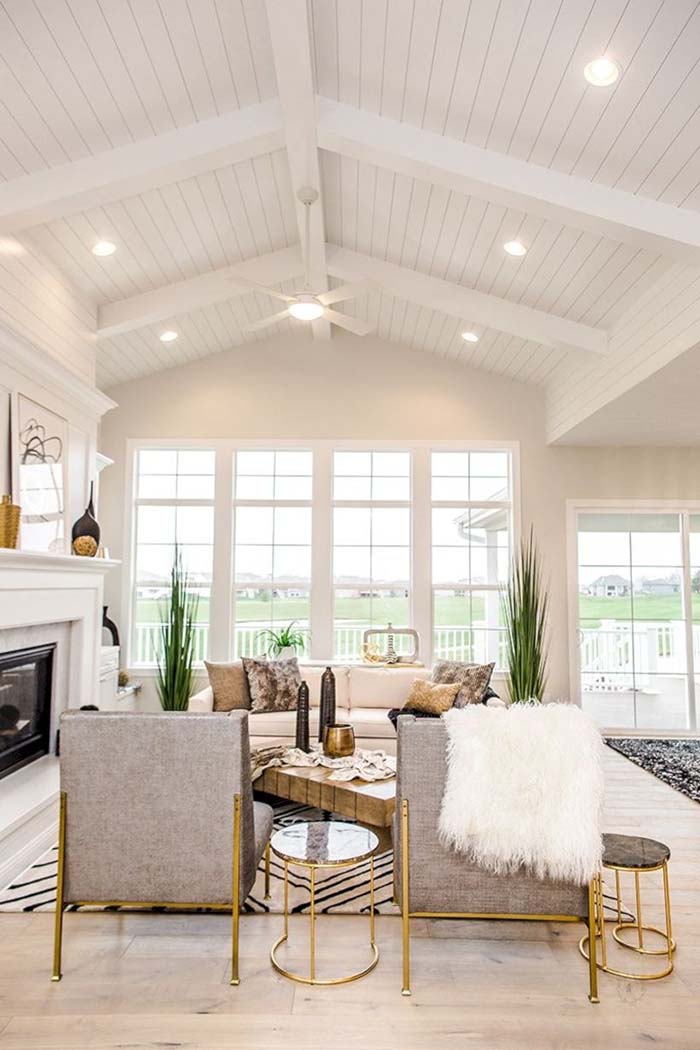 Photo: Credit
Letting in lots of natural light with large windows makes any room with vaulted ceilings appear bigger.
This style is perfect for homes that have a great view that will improve the feel of the living room.
12. Grey Ceiling and Natural Wood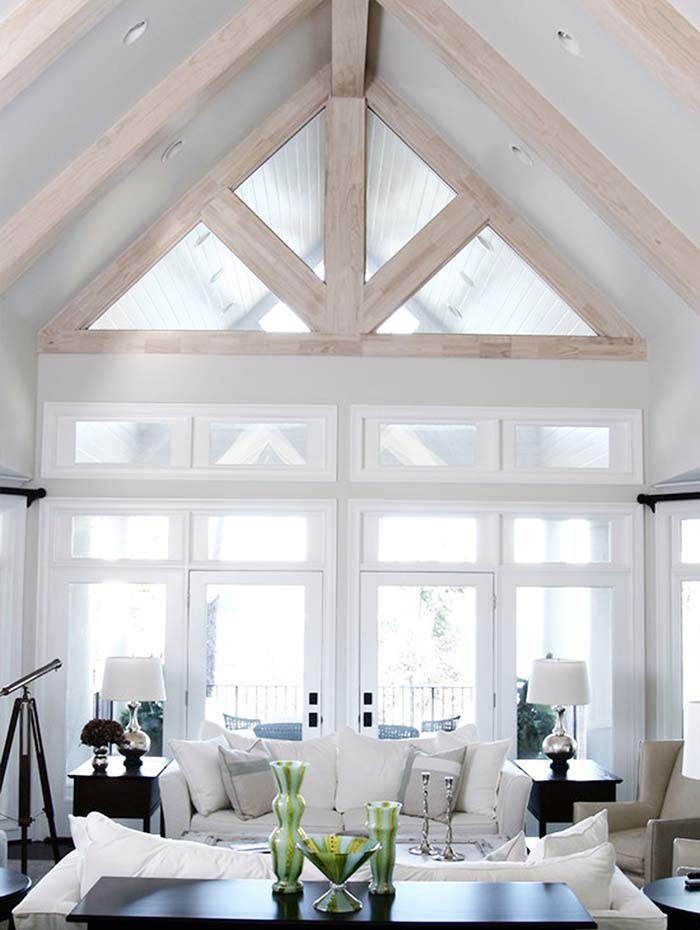 Photo: Credit
Updated vaulted ceiling living rooms don't have to be all white, as this gorgeous grey ceiling with natural wood proves.
This is enough of a contrast to draw interest without being too bold.
13. Dark Black Beams Set the Mood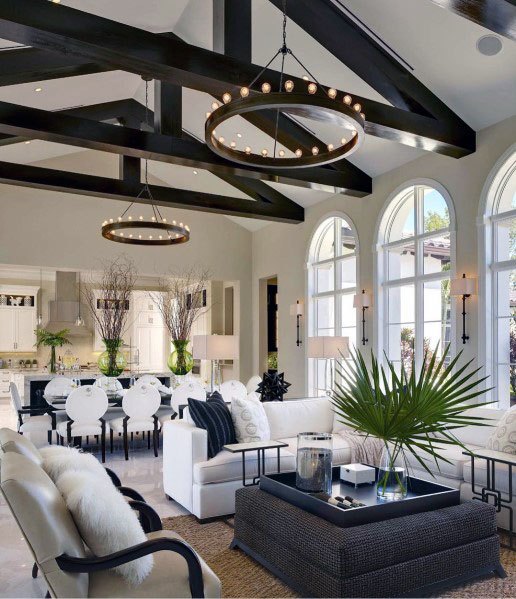 Beams on a vaulted ceiling don't have to be white, as these black beams show.
They are a gorgeous contrast to white and black furniture, as well as large open windows used throughout the room.
14. Crossbeams for Support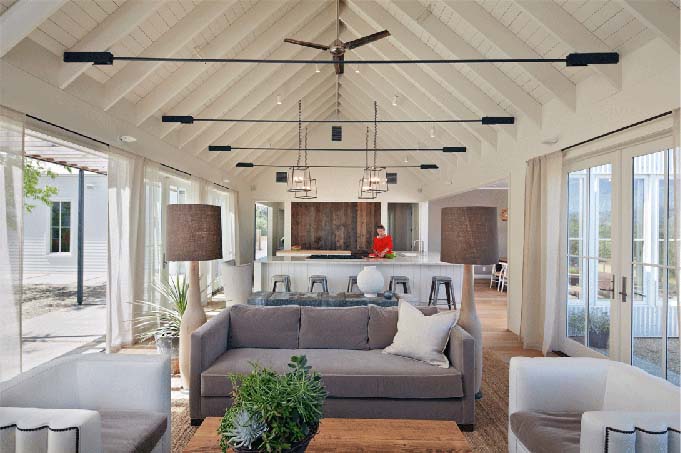 Photo: Credit
Thin black metal crossbeams that run along the width of the room are a great way to add support and to break up the monotony of a large room.
These beams help add structure and form to the room.
15. Fireplace Focal Point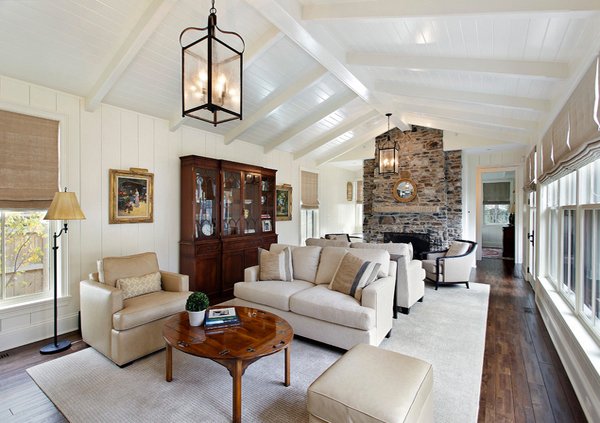 Photo: Credit
Large fireplaces are incredible focal points in any living room, especially one with a vaulted ceiling.
This style is refreshing and open and invites guests to warm themselves by the fire on a chilly night.
16. Old World Style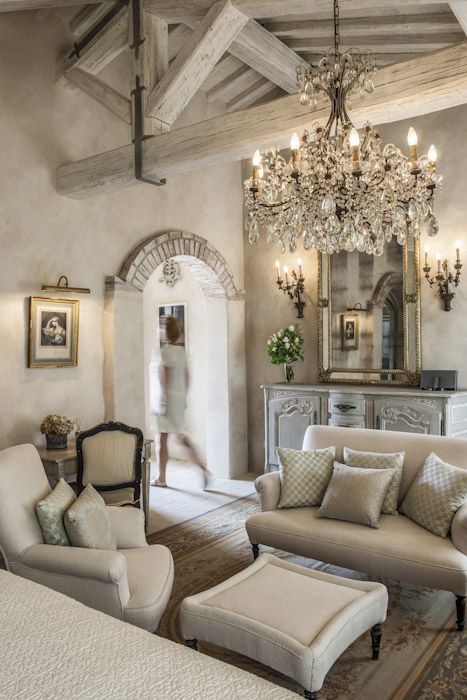 Embrace the feel of Italy with lots of neutral, dripping jewels, and distressed furniture.
The vaulted ceiling in this space is rustic and refreshing with thick beams.
17. Open to the World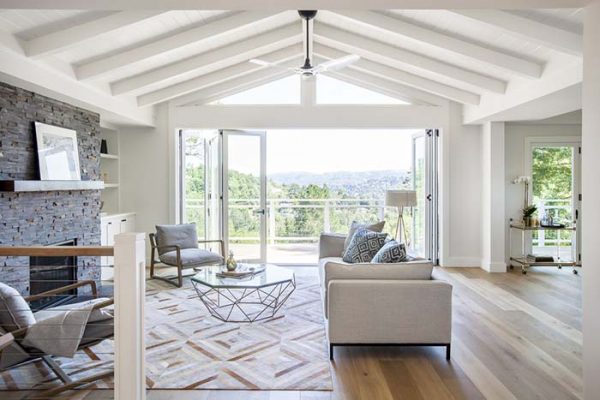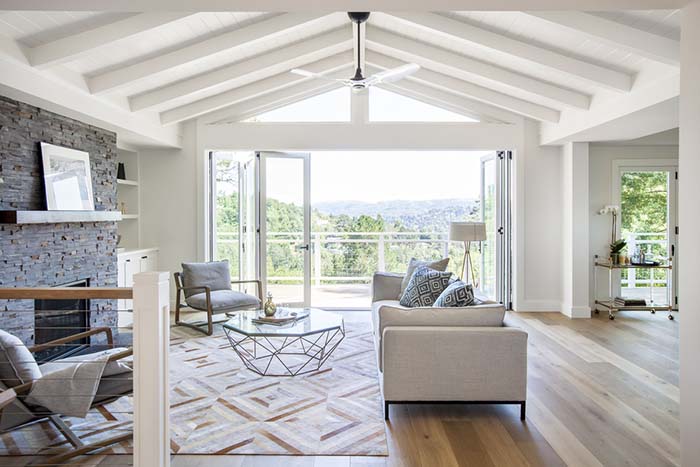 Photo: Credit
Modern vaulted ceiling living rooms rely on a lot of natural light and lighter wood floors to help make the space feel as large and airy as possible.
This modern look is great for families who love free space.
18. Nautical Theme Home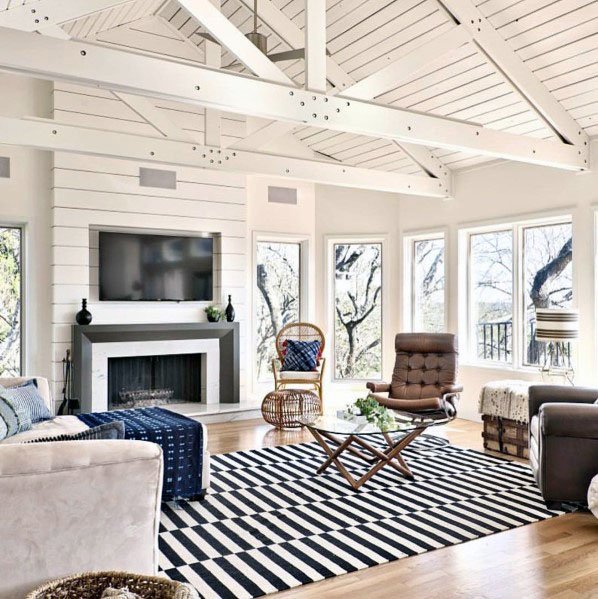 Nautical blues and stripes look right at home in this living room.
The space relies on a lot of texture and different colors to help tie the room together and make it look refreshing and clean.
Related: 9 Fantastic Living Room Color Schemes
19. Stunning Black and White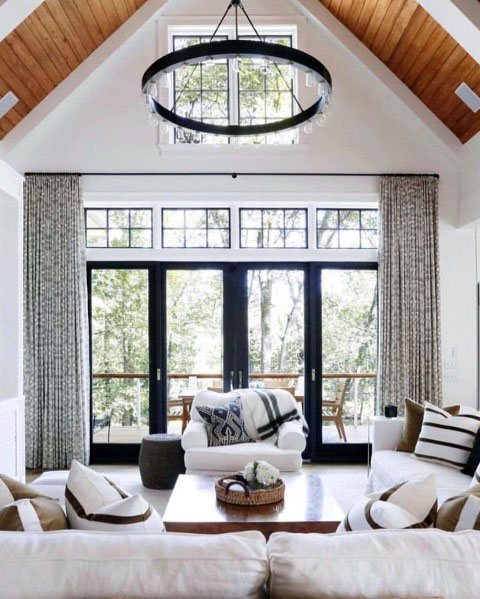 Black and white rooms look amazing when they have a lofted ceiling.
Using some natural wood throughout the space breaks up the contrast between black and white and makes it feel more comfortable.
20. Brass and Wood Add Warmth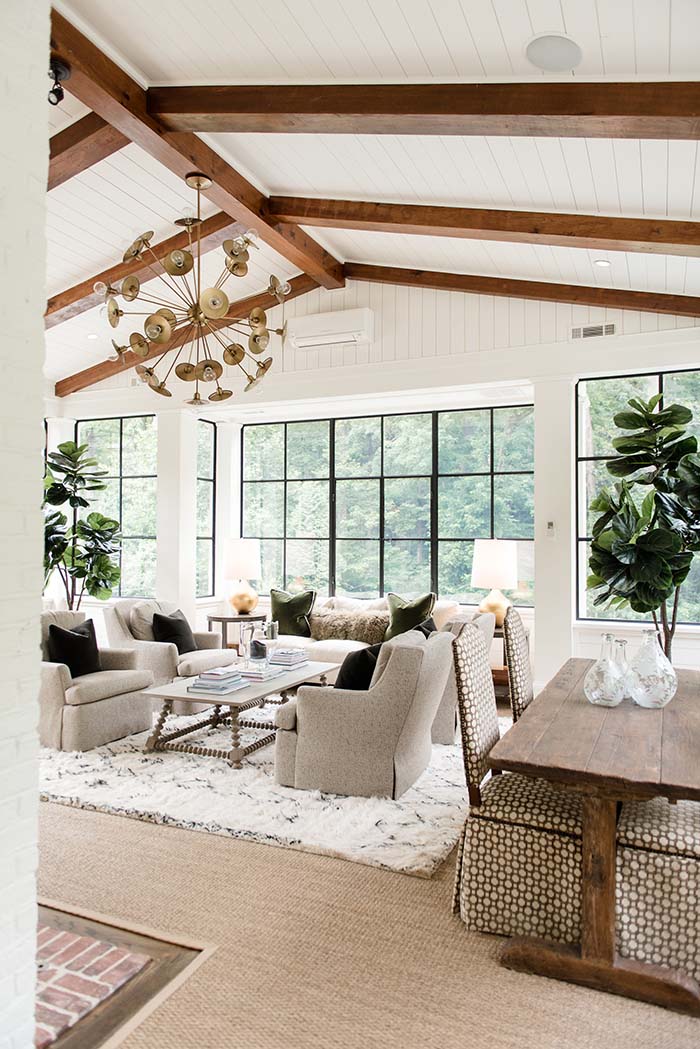 Photo: Credit
One of the best decorating ideas for vaulted ceiling living rooms is to add brass to the space.
This is a refreshing take on a living room and adds a neutral that doesn't appear bland or boring.
21. Open Living and Dining Spaces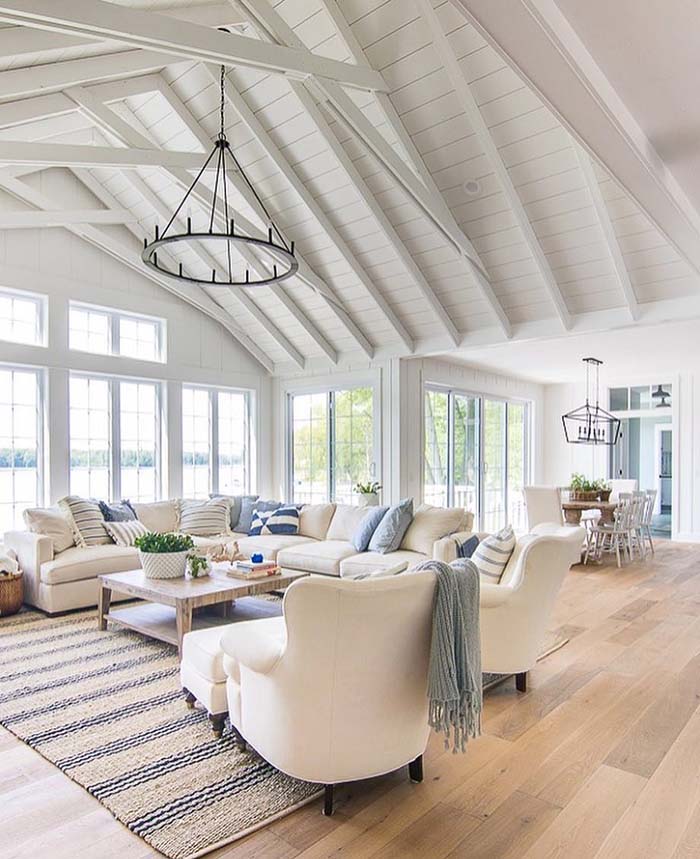 Photo: Credit
Opening spaces for living and dining are clean and bright.
These modern living rooms that open to a dining room are a fun take on this new style.
22.Gorgeous with Pulled Shutters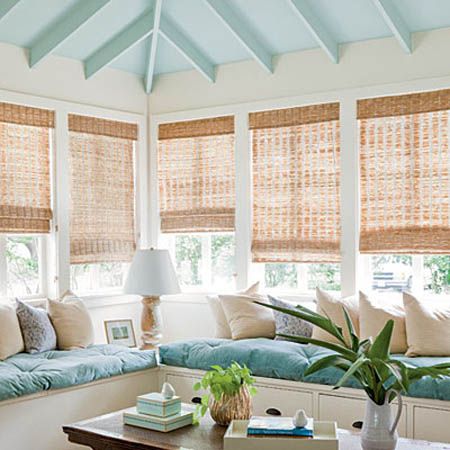 Wood shutters that are pulled halfway down and complementing cushions and a blue ceiling make this living room feel comfortable and beachy.
It's a great option for designing a cool and comfortable space.
23. High Windows by the Ceiling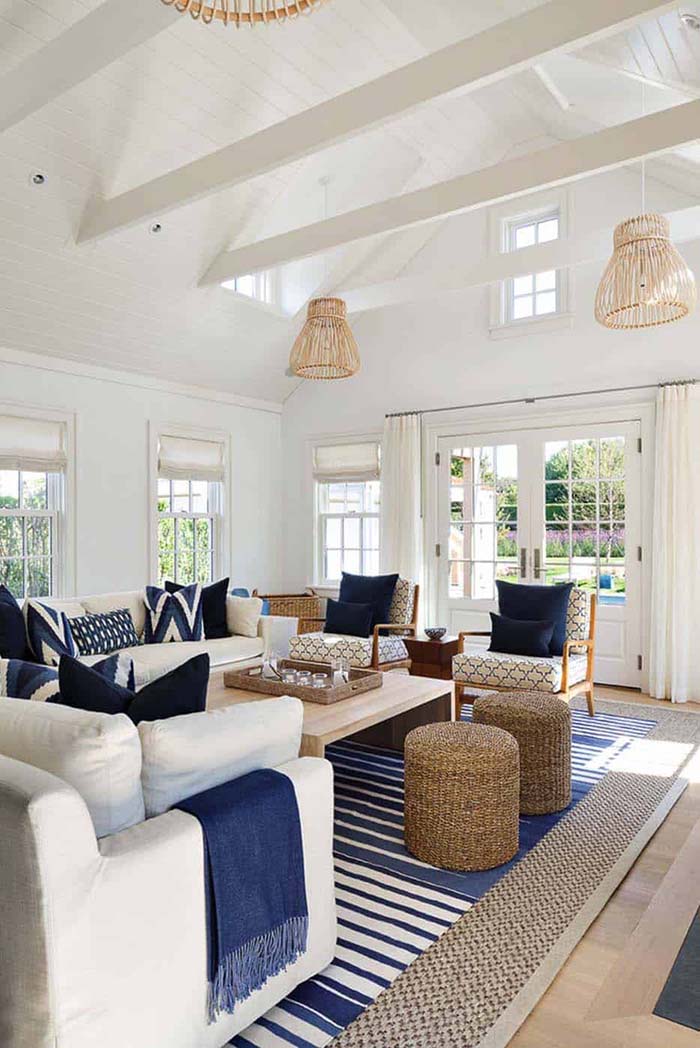 Photo: Credit
Adding in windows that are higher and located by the ceiling draws the eye up and shows off the gorgeous lighting fixtures used in the room.
24. Embracing Natural Greenery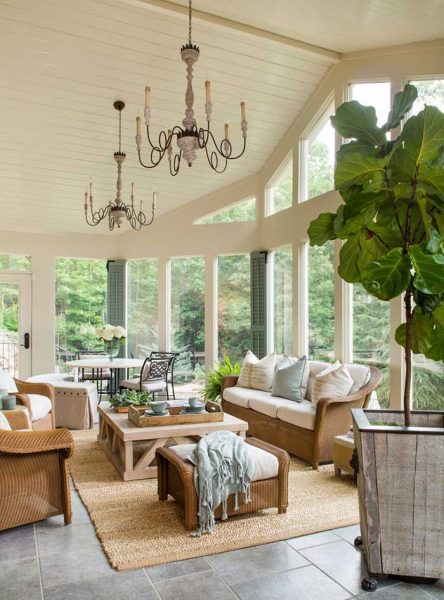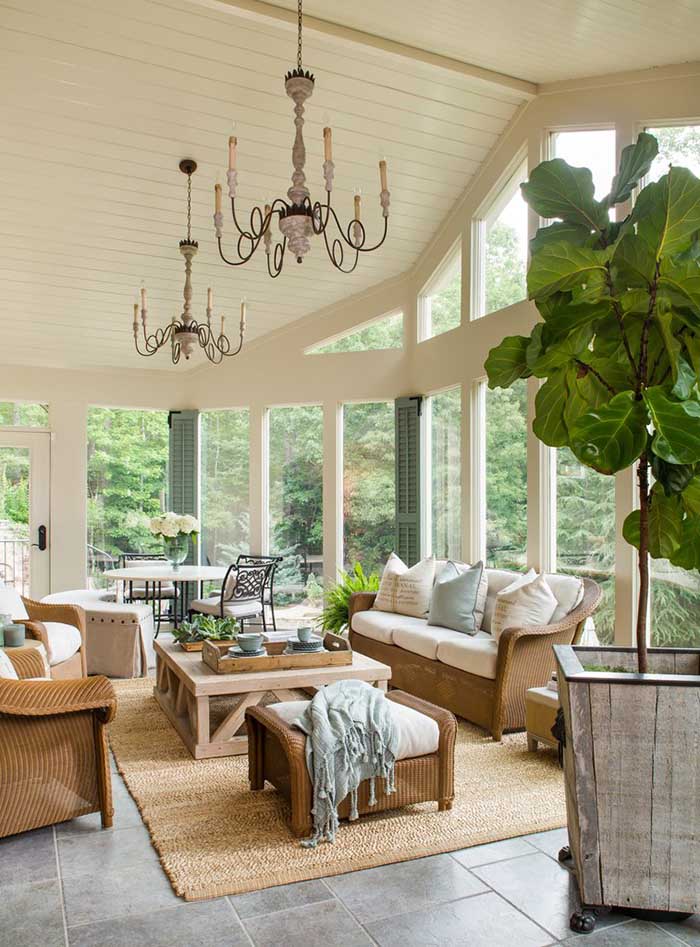 Photo: Credit
Updated vaulted ceiling living rooms dark couches look especially great when contrasted with lots of greenery.
This brings a very natural feel into the space and makes it feel welcoming.
25. Deep Ceiling for Warmth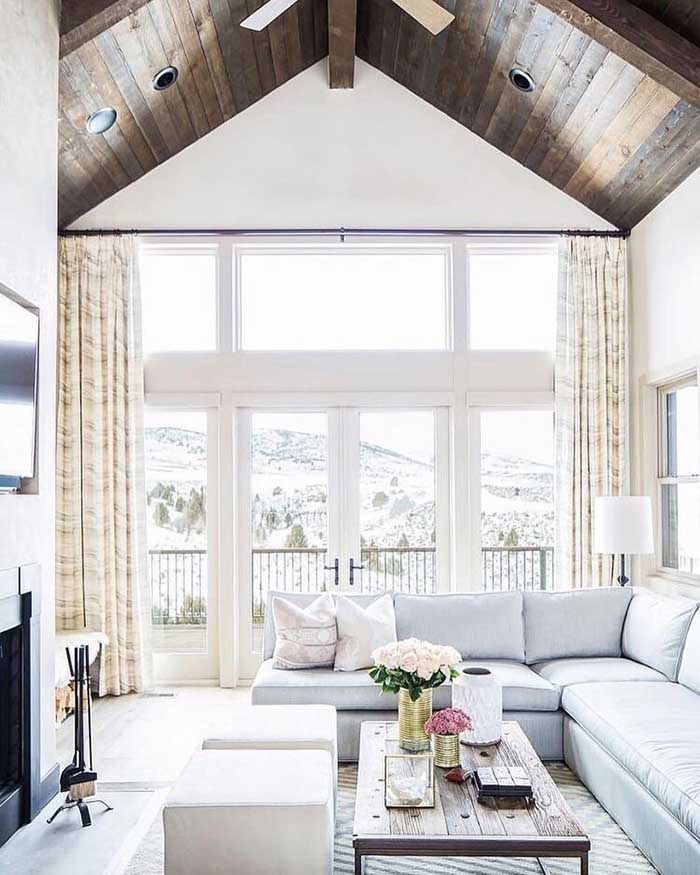 Photo: Credit
A deep and dark ceiling with plenty of variation and color changes feels warm and attractive.
This is a great option to make a huge impact in a smaller space.
26. Top Lit for Design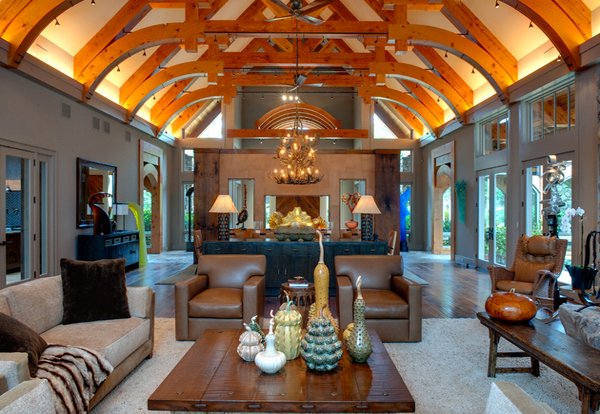 Photo: Credit
Adding lights along the top of the ceiling to shine on the exposed beams helps them to really pop.
Doing this is the best way to showcase this architectural interest on the ceiling.
Do you like this selection of vaulted ceilings? Let us know in the comments below.