Your garden is essential to your home's curb appeal and property value. One of the best ways to modernize your garden is by incorporating unique edging.
Edging can be used to highlight certain features of your garden, like flower beds or pathways., Edging also acts as a barrier which prevents root systems from crossing over.
Here are some modern garden edging ideas to help you create a beautiful, contemporary landscape.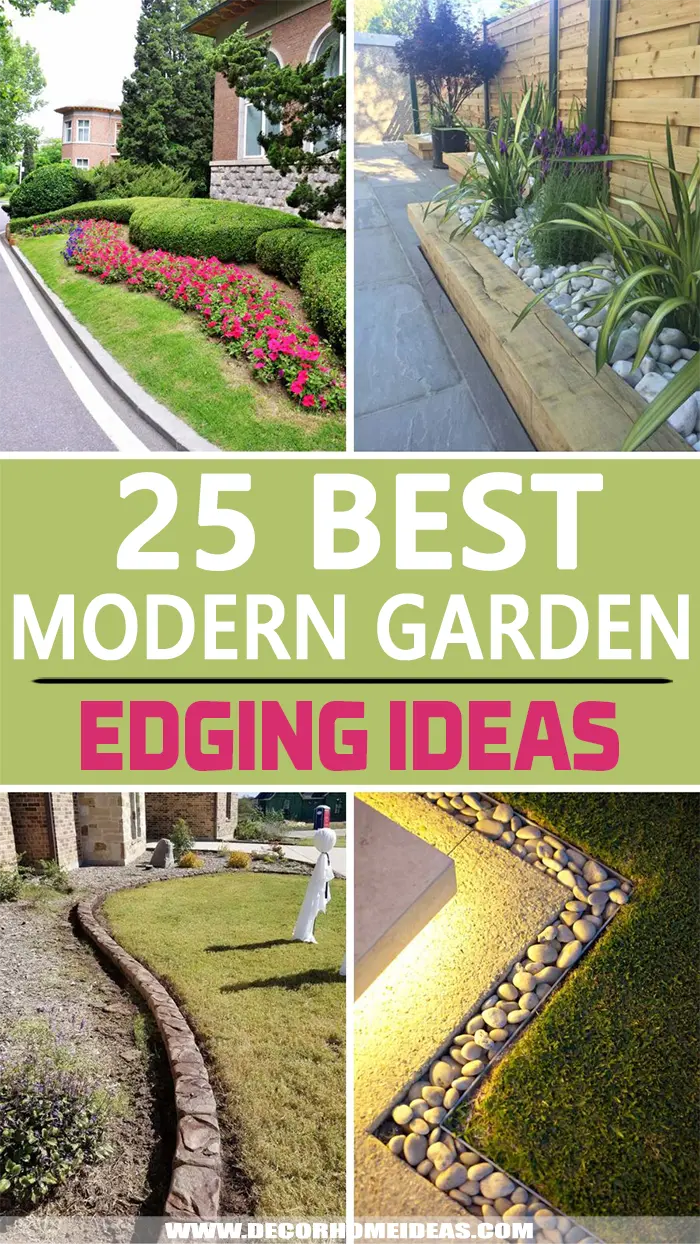 What is the best garden border edging?
The best garden border edging isn't about materials, but how they're placed in the garden. Brick looks great, but if it's laid on top of the ground, you're not blocking root systems. You need to set up a system that penetrates the ground below the roots to prevent grass from invading your garden beds.
What is the cheapest way to edge a garden?
The cheapest edging will be made of materials you get for free. Reclaimed materials such as brick, glass bottles, scrap wood, and metal scraps will all work as edging.
What is the easiest garden edging to install?
No-dig edging is the easiest to install and is aesthetically pleasing. It won't prevent roots from growing underneath, so you'll be doing more work throughout the growing season. Plastic edging is the easiest to work with.
1. Raised Plant Beds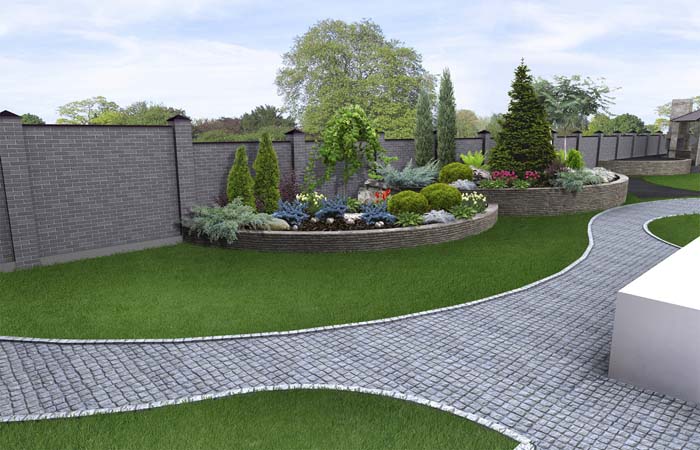 The easiest way to create interest in any garden is through the use of levels. Two separate levels of raised flower beds add a great deal of interest to the fence line.
While the overall look is modern, the garden beds themselves are much more interesting and have the look of an English garden. Since they're contained, it still keeps the modern feel.
2. Concrete Curb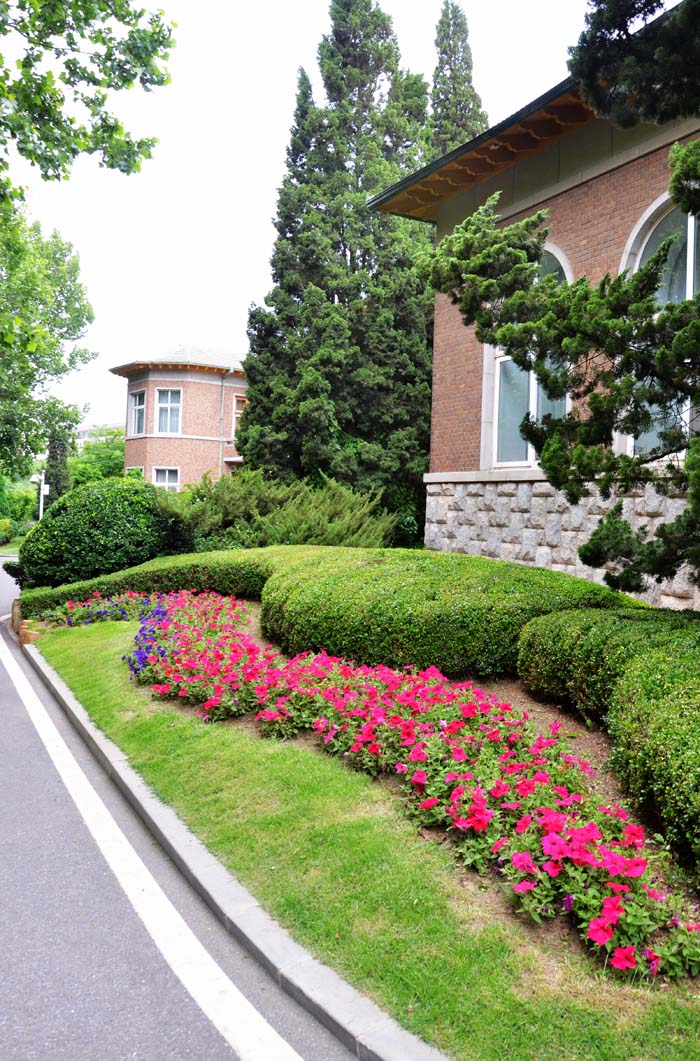 Pour stamped cement for a smooth look that's easy to work with around corners. Plant in layers, with the flowers in the front and boxwood hedges in the back.
By planting in layers, you'll create natural landscape edging in your garden beds.
3. Black and White Brick Pattern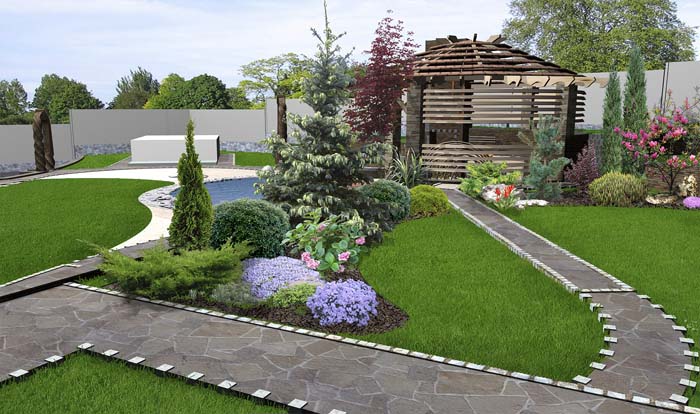 Hard angles and clean lines are the calling cards of the Modern style.
The gray and white edging bricks set in a geometric pattern are also very modern design elements.
4. Colorful Brick Mosaics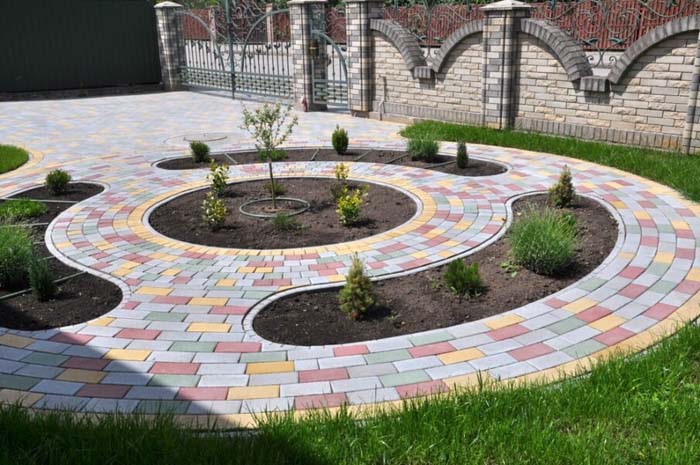 Colorful bricks set in curved patterns are decidedly modern. The curved theme is mimicked throughout the garden, as you can see from the pattern on the fence.
This is more of a hardscape idea as fewer plants require less water.
5. Bricks Set Lengthwise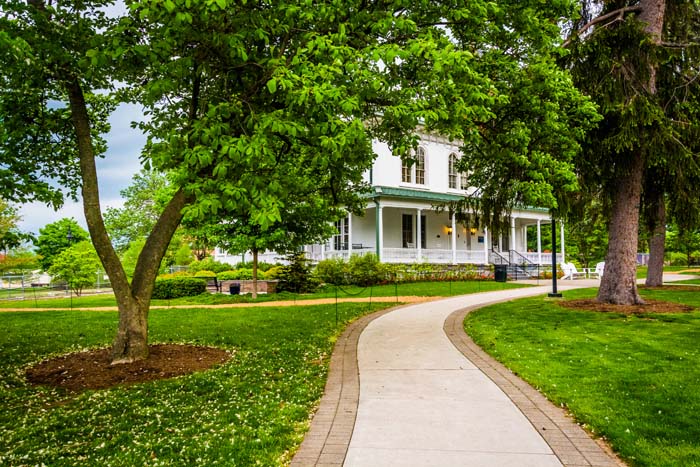 Traditional red brick sets the border of the walkway. It creates a two-tone effect with the cement.
6. Garden Bed Mixed with Lawn Edging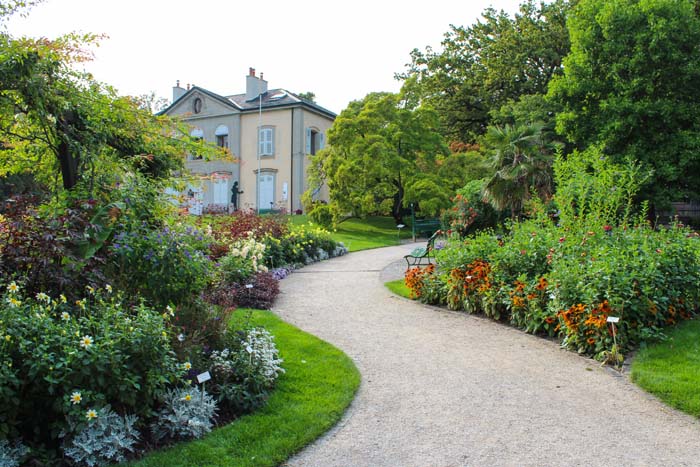 Manicured curves and a white path have the linear look common in modern gardens. The vanishing point makes the path look longer than it is.
Note how the garden beds and lawn edging take turns coming up to the walkway.
7. Square Garden Beds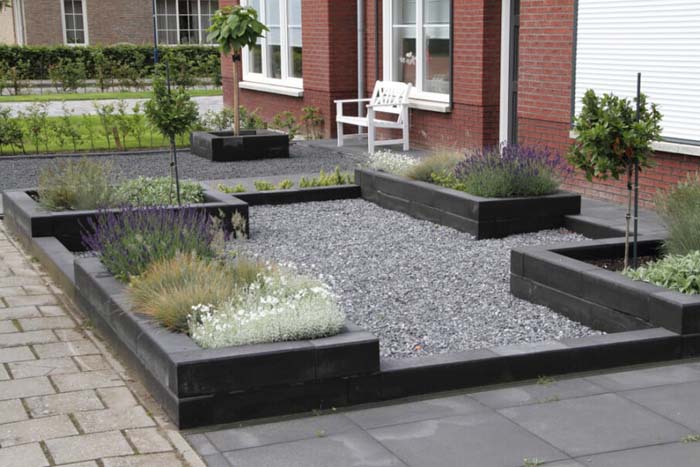 Rectangular and square garden beds are the ultimate modern garden edging idea. Symmetry is another key element in modern gardens.
Put together a raised garden bed quickly and affordably by painting cinder blocks black.
8. Reclaimed Bricks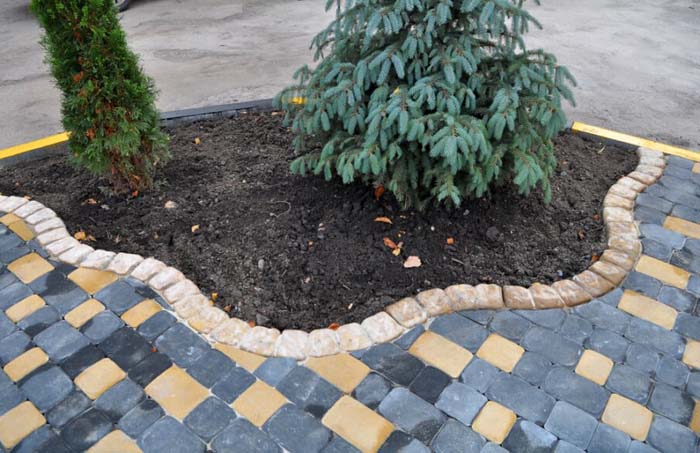 Reclaimed red bricks draw the line between the garden bed and the mosaic brick patio.
9. Stone Edging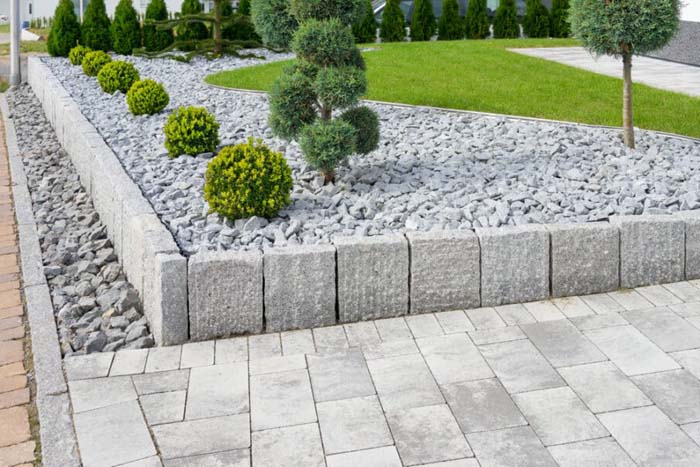 The stone slabs are set on their edges to create a border. Two levels hardscape idea with topiary minimalist design.
Stone edging is more effective if you put the stones in a trench as opposed to adding them on top of the dirt.
10. Gabion Walls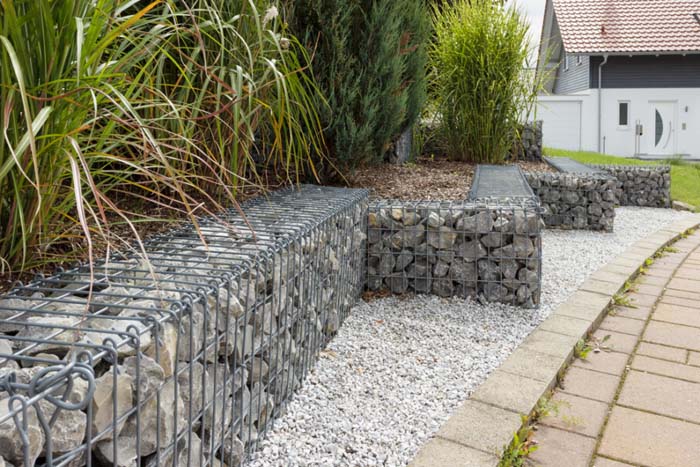 Gabion walls have been around for centuries. This one is set up to look modular and create hard corners against the curved edge.
Filled with sedum, they will eventually fill in and strengthen over time. The raised garden bed is filled with various types of ornamental grass.
11. Tan and Brown Gravel Hardscape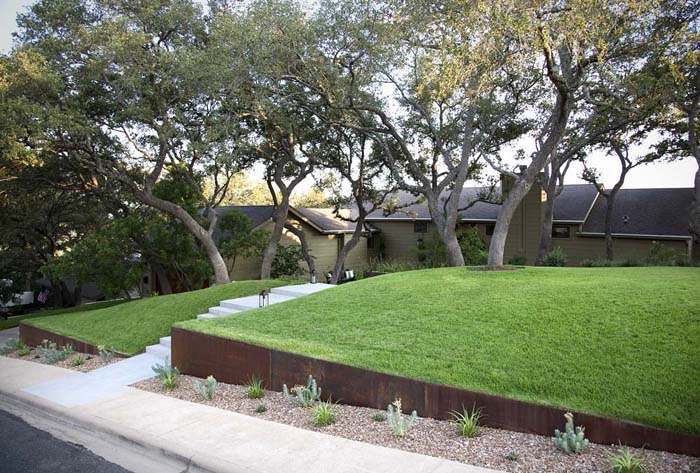 An uneven lot doesn't mean your yard has to have a casual feel. This yard stops abruptly and the steep drop off is met by a fence and hardscape edging filled with brown gravel and drought-tolerant plants.
While this lawn edge can be completed using wood, metal edging will last much longer.
12. Role Reversal Garden Edging Idea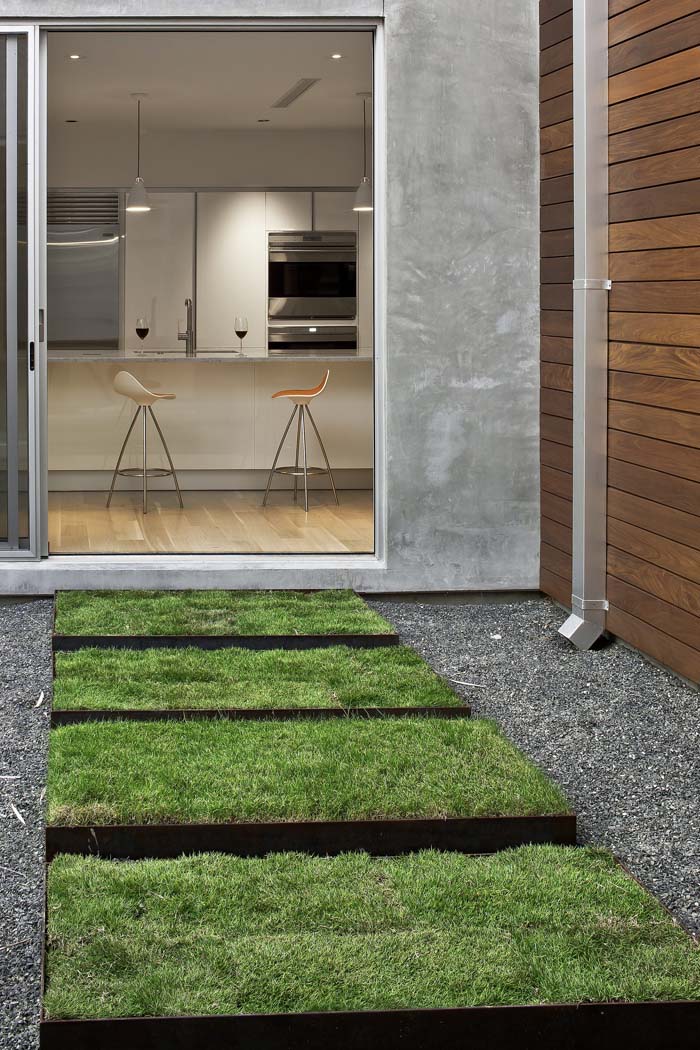 In the interest of water conservation, create a path made of sections of sod. Metal edging will keep the sod in place.
The main filler can be anything from cement to natural stone. Black, being a thoroughly modern design color, filler made of recycled rubber is a responsible and economical choice.
via Exterior Worlds Landscaping & Design
13. River Rocks Garden Edging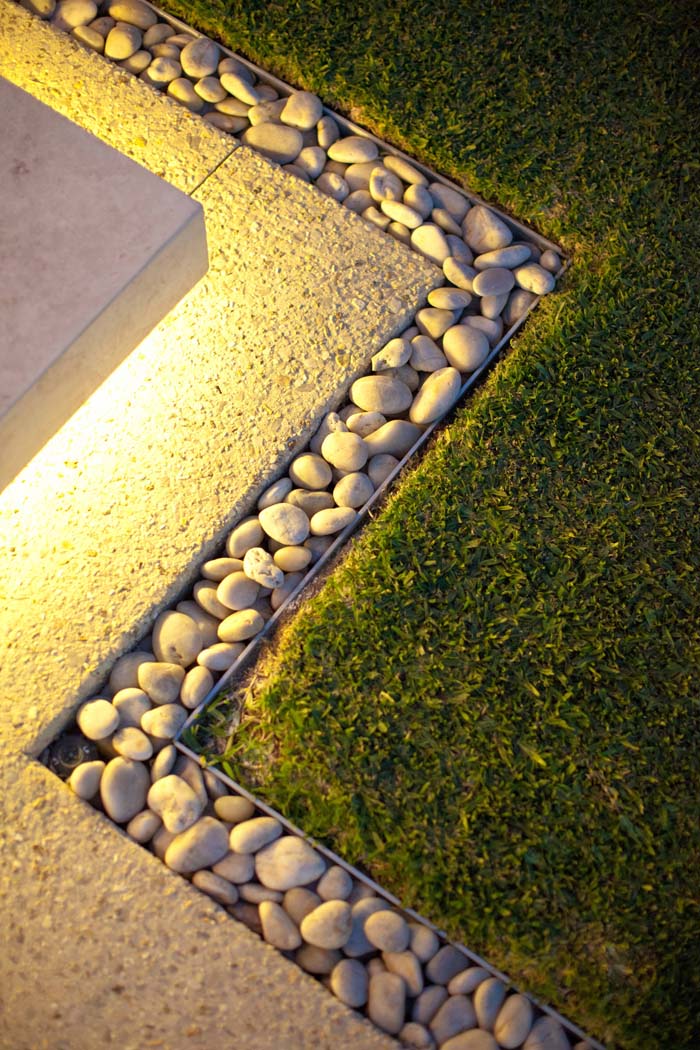 New garden ideas arise when you combine old standbys.
Hard corners become an unusual focal point by filling the edging with smooth river rocks, which are usually created to look like a natural phenomenon. You can create the border using metal or plastic garden edging.
via LD Total
14. Patio Pavers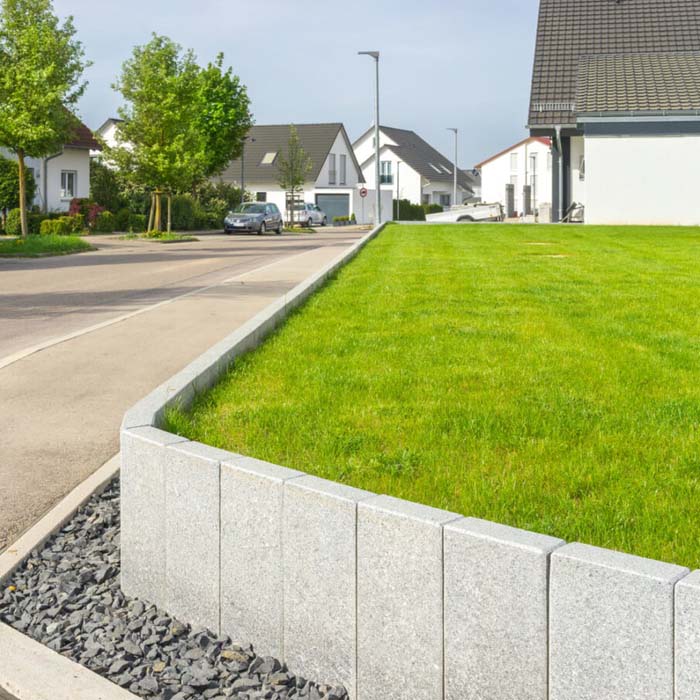 Smooth rectangular pavers are set on edge. The slabs create a low retaining wall.
The edging is built with a poured concrete edging filled with gray gravel.
via Lankford Associates Landscape Architects
15. Metal Edging Idea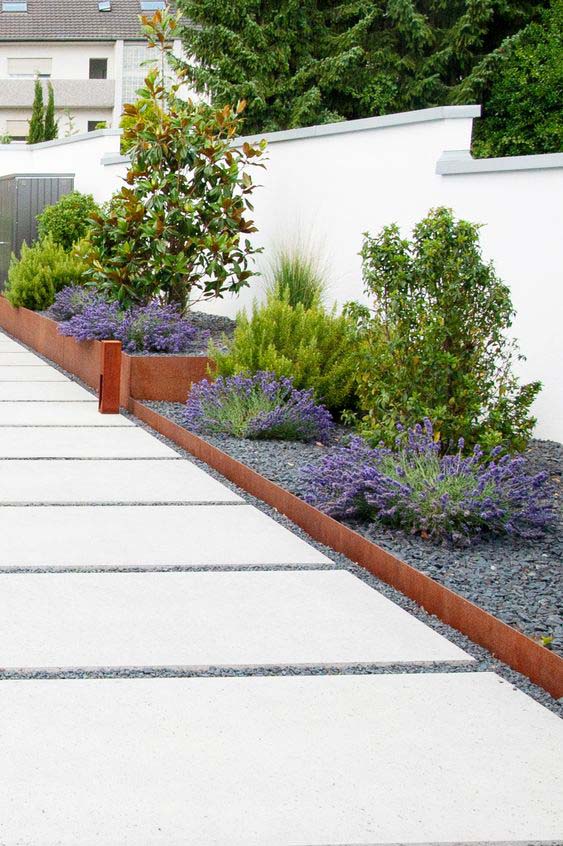 The low metal fence adds to the visual separation between the outside fence sections. It also adds color and interest to a minimally designed garden.
The black garden bed covering connects the various elements in this outdoor space.
16. Wood Edging and Gray Bricks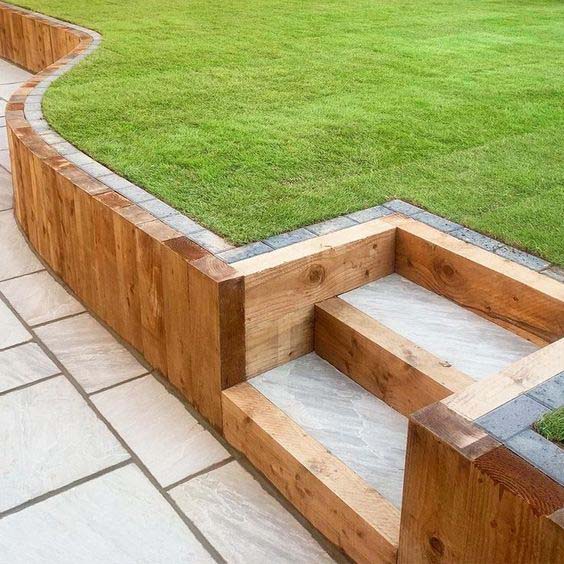 Wood edging and gray bricks team up to define an undulating retaining wall. The extra brick edging makes it easy to create a clean edge on the lawn.
Lighter grains of wood are common in the modern style and should be your first choice in modern garden design.
17. Layered Landscape Border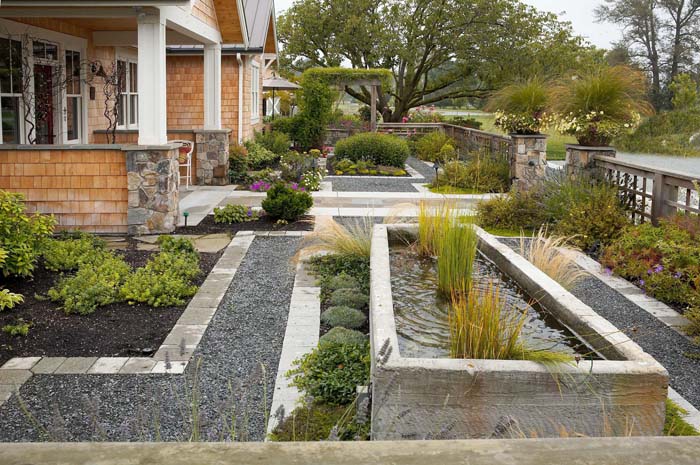 Modern gardens are all about minimal vegetation and geometric shapes. Using stamped concrete, your edging can match any other material in the garden.
Here, it's used to create a landscape border centered around the water feature.
via Lankford Associates Landscape Architects
18. Raised Flower Bed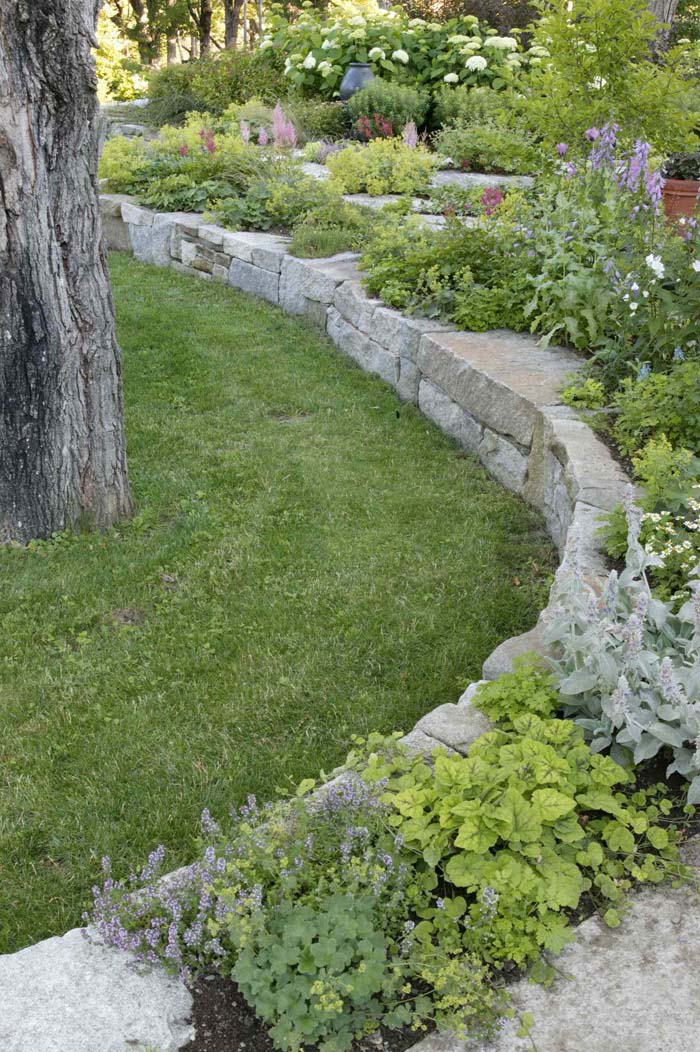 Stack natural stones are set up to create a raised flower bed. It creates a nice edge along the lawn.
These are separate planters set up to look like a single raised bed.
19. Stone Fence and Layered Garden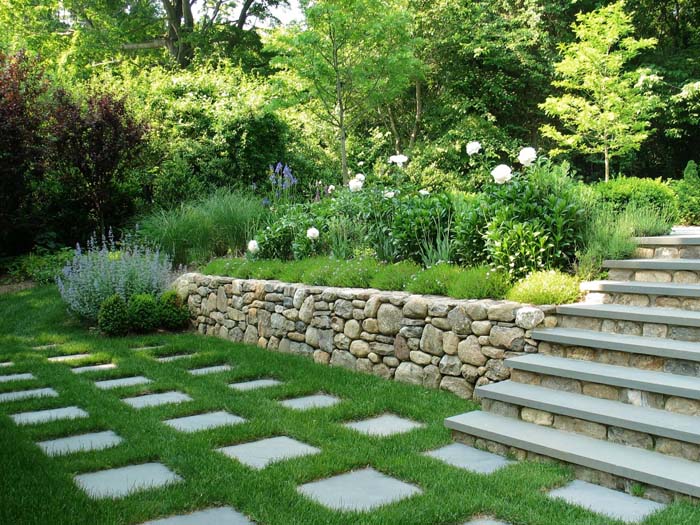 A layered garden sits at the top of a stone retaining wall. Low, round plants start the upward trend.
The base is left unadorned, allowing the eyes to follow the pavers to the stairs.
via Elise Landscapes
20. Railroad Ties Garden Edging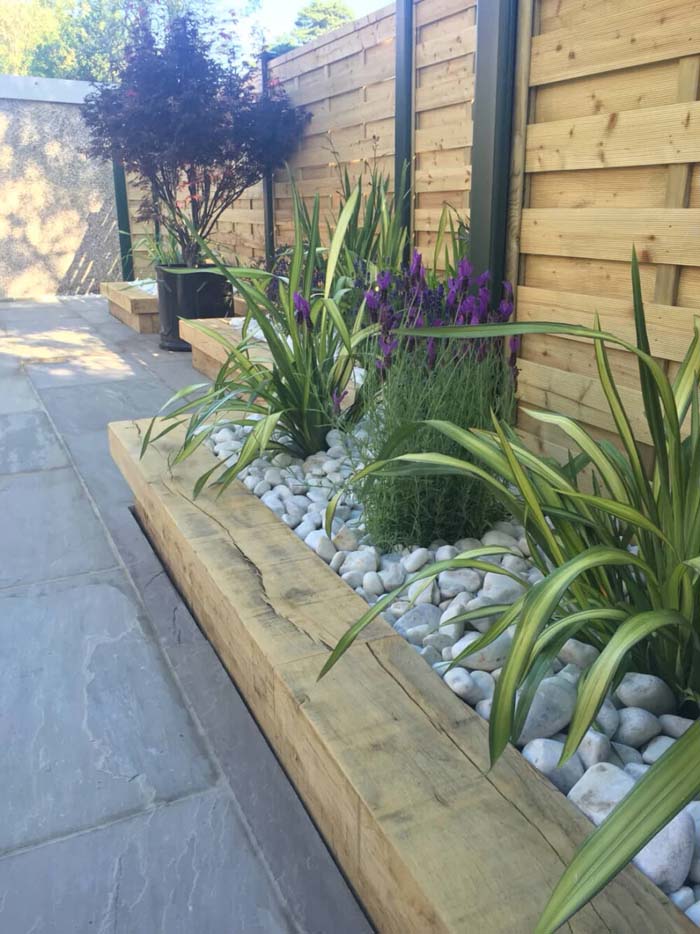 Medium-sized white gravel fills the garden beds. They're edged with railroad ties, bringing an organic look that connects with the wooden fence.
Railroad ties are found in many articles about landscaping ideas because of their affordability.
21. Precast Bricks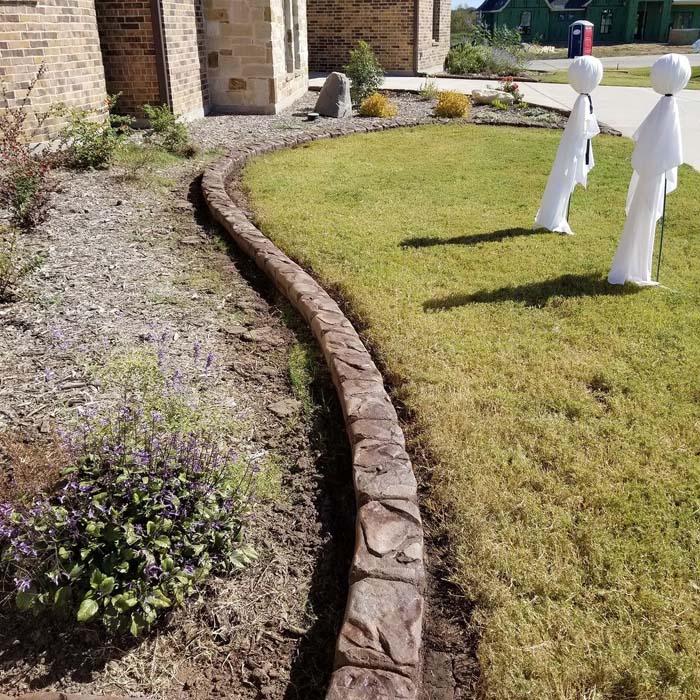 Precast bricks are an affordable option to set a long garden edge. These can also be customized using any color or design.
22. Spheres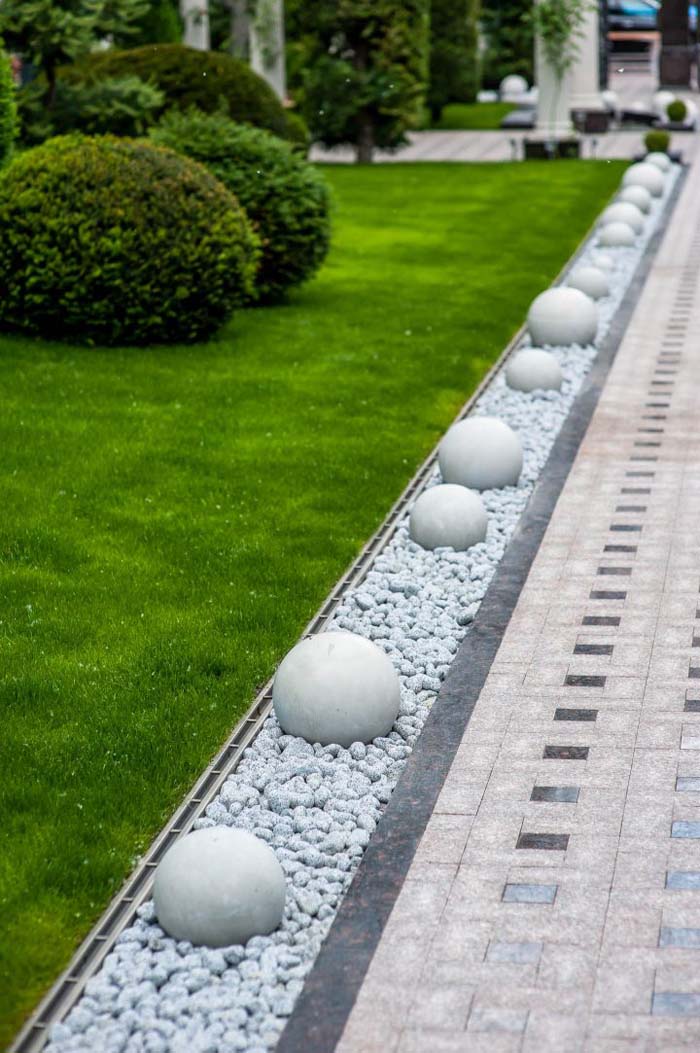 Spheres are common in modern gardens. Unusually round globes are set in a bed of white gravel, creating a train of edging that is the perfect eye candy.
Steel edging keeps the lawn mower from cutting in too close to the gravel beds.
23. Wood Edging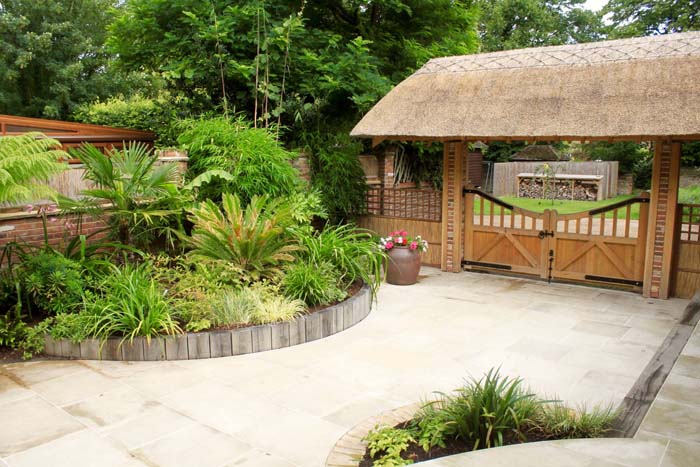 You can mix and match garden edging. The garden bed on the left is raised and edged with wood.
On the other side of the driveway, the garden bed is even with the ground and edged with brick.
24. Waterfall Garden Edging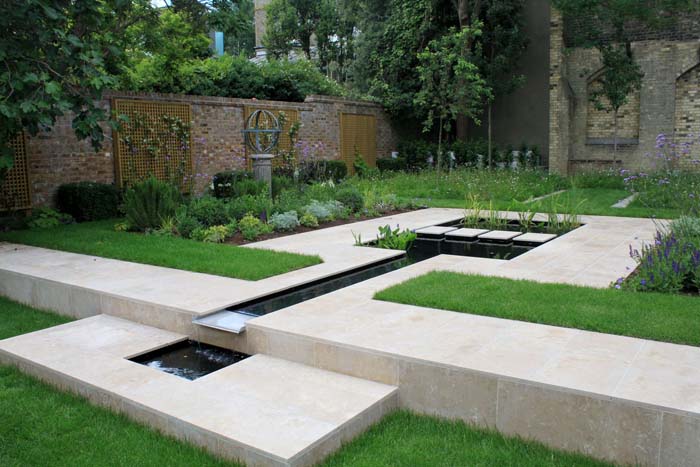 This garden has many of the hallmarks of modern design. Smooth surfaces can be made from polished stone or poured cement.
Squared off corners and symmetry are other garden bed edging ideas for achieving a modern looking style. Just a small difference between the top and bottom level is enough to create a stunning water feature.
25. White Brick Garden Edging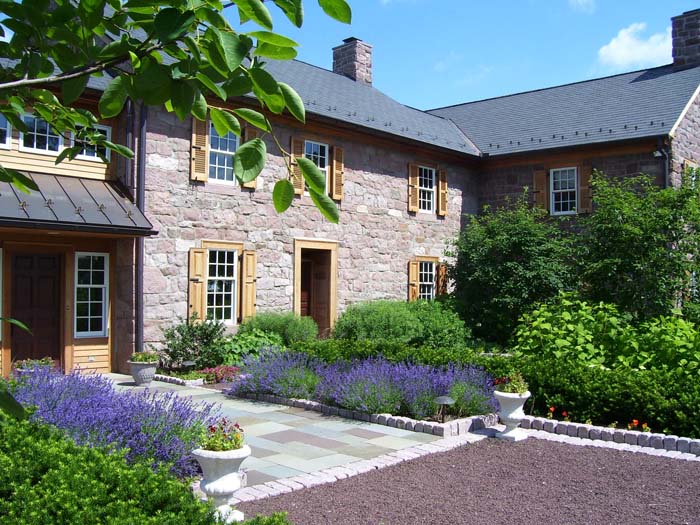 Simple rounded bricks in a light color are set on edge to tame a large formal garden.
You can expect that this style matches the interior home decor.