When the work week ends, we are looking for ways to refresh and take down the pressure. In these moments we don't want to get out, we just need to stay home in a place where we feel comfortable and relaxed.
On cold days, the best spot for relaxing is in the living room or the bedroom but what is it on warm days? It is the garden seating area where we can enjoy the fresh air and the sun.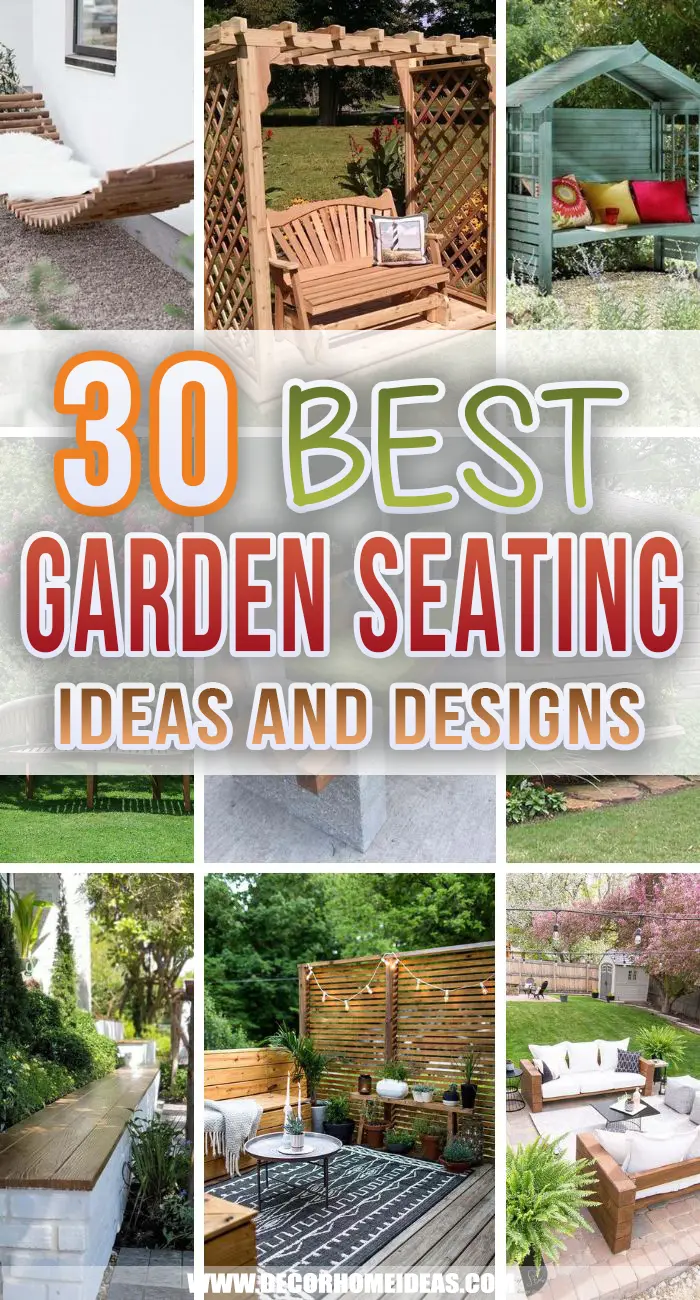 If you are planning to make an outdoor nook in your garden, then you have come to the right place.
Our 30 Garden Seating Ideas will inspire you to create a private relaxing corner that will take you out of the busy and monotonous reality.
1. Swing Embraced By Nature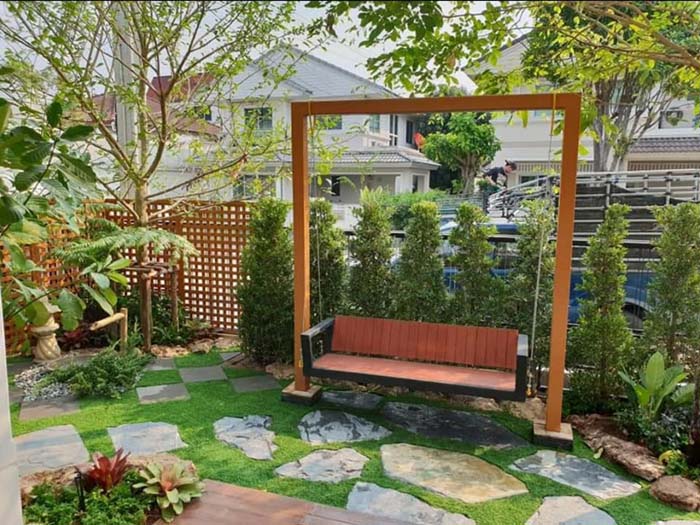 Swinging features are the dreamy outdoor extra to achieve complete relaxation.
A swinging chair is a good idea to add to the existing outdoor furniture but if you are a bigger family and have enough outdoor space, why not consider a swinging bench?
Place the bench next to the garden bed to surround yourself with greenery and drift away as if on a forest vacation.
2. Use Natural Shade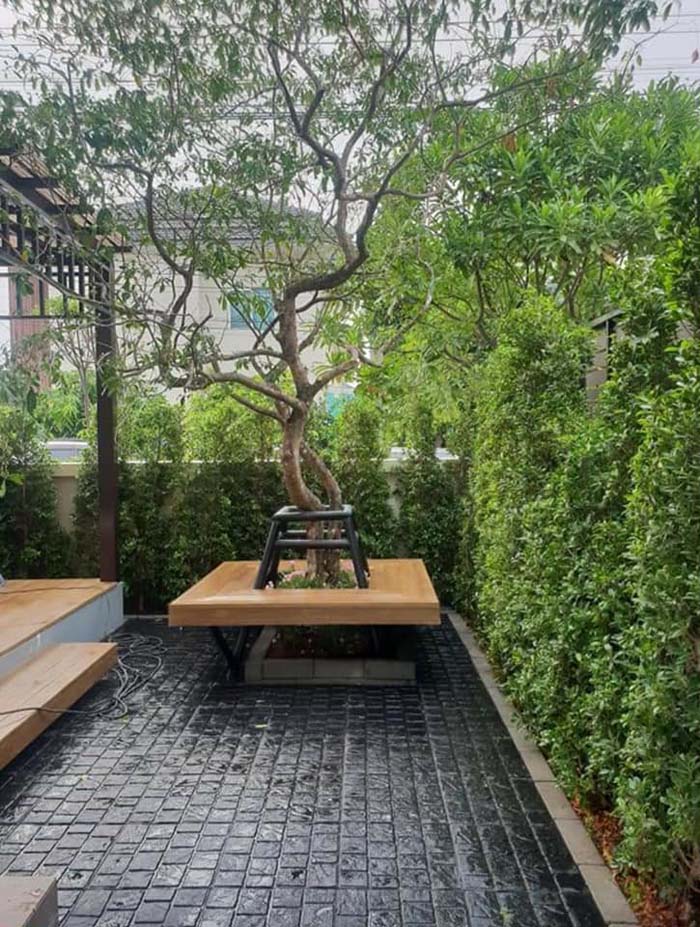 If you want to use the seating area even in the hottest hours of the day, use an existing natural shade to build the seating corner around. Literally, this seating corner idea has been designed to wrap around a tree.
The wooden boards for sitting stay on metal support based on the shape of the raised tree bed.
The combination of black metal and warm wood creates a natural rustic look that coheres with the outdoor setting. These types of seating corners are compact but at the same time capable to gather more people together.
3. Free-Standing Egg Chair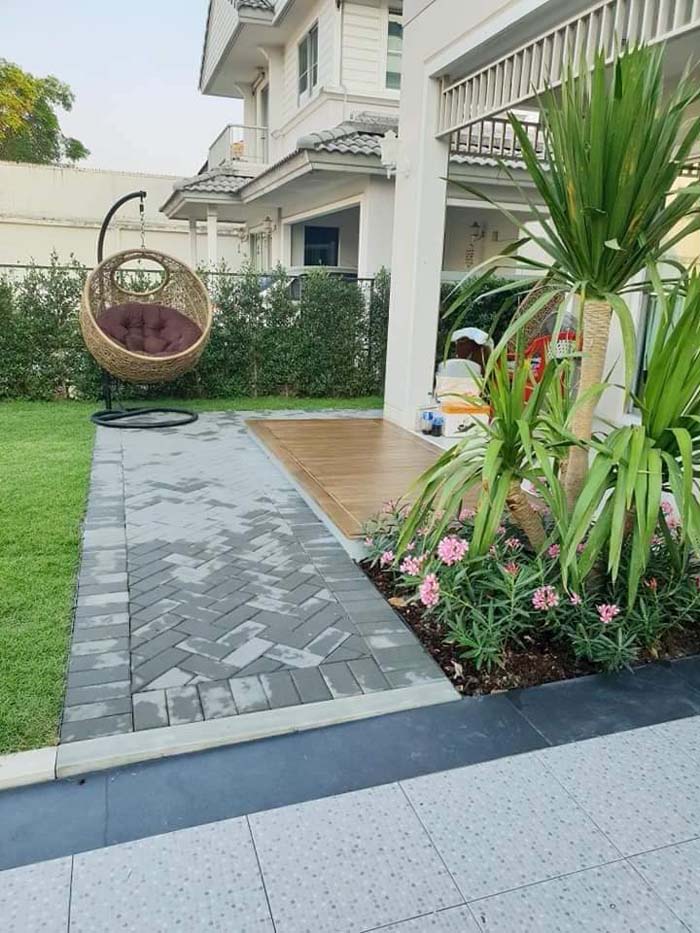 Hanging chairs are very trendy right now. They look pretty and are compact so you can always find a place for one in your garden seating corner.
This hanging feature has been designed to provide privacy and relaxation for one person. So don't feel embarrassed about dedicating some time alone to reading a favorite book or having a quick nap.
4. Make Your Own Design Of Garden Bench With Wood And Cinder Blocks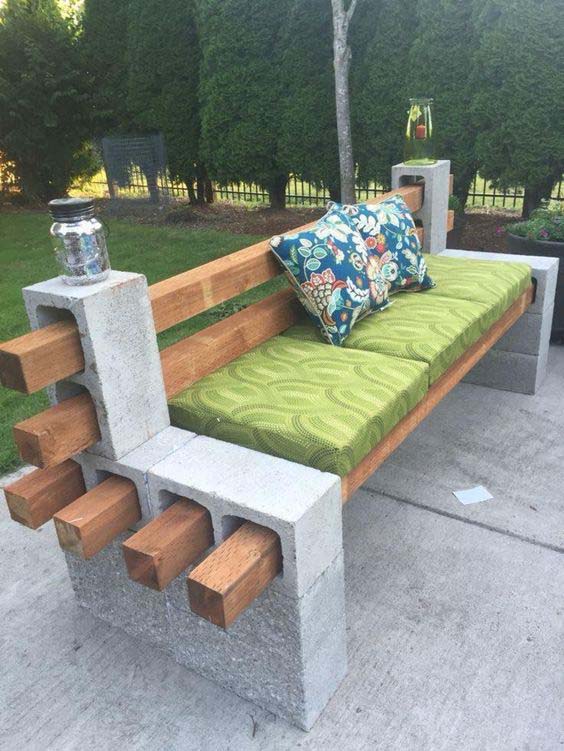 The traditional garden bench is an evergreen outdoor feature that is affordable, practical and also comfortable to make your seating corner more relaxing.
If you don't want to spend a fortune buying one from a store, you can make it with cinder blocks and wooden posts. The advantage of DIY is that it can be of the size that most suits your needs.
If you need inspiration, instructions and designs for cinder block benches, don't miss our collection in the link below.
5. Small Wooden Bench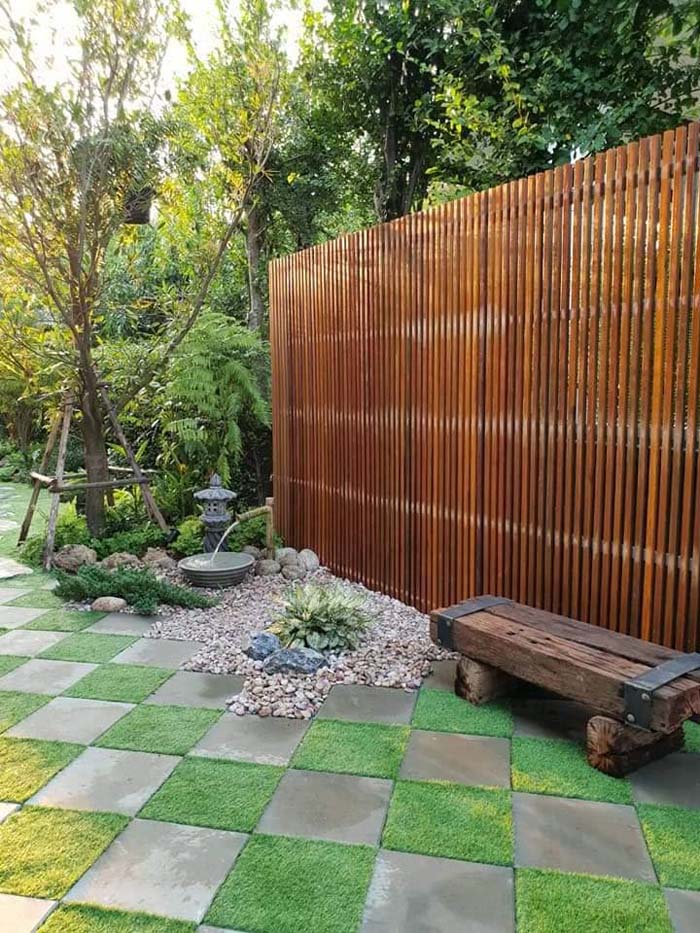 If there are narrow spaces in your backyard that look and feel inspiring, you can equip them with a small garden bench.
They are great for having a sit for a while and admiring the surrounding garden landscape or taking a rest after a garden activity.
6. Swing With A Long Seat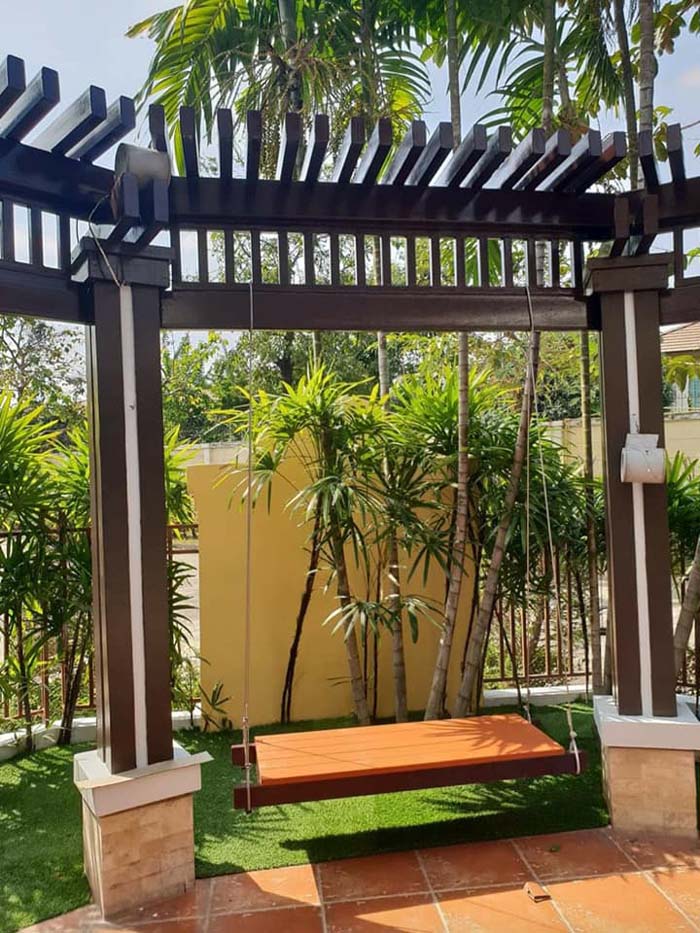 This seating corner was formed in a section of a large pergola structure.
Its structure is based on the traditional swing but with a prolonged seat looking like a bench seat.
7. Charming Rustic Seating Corner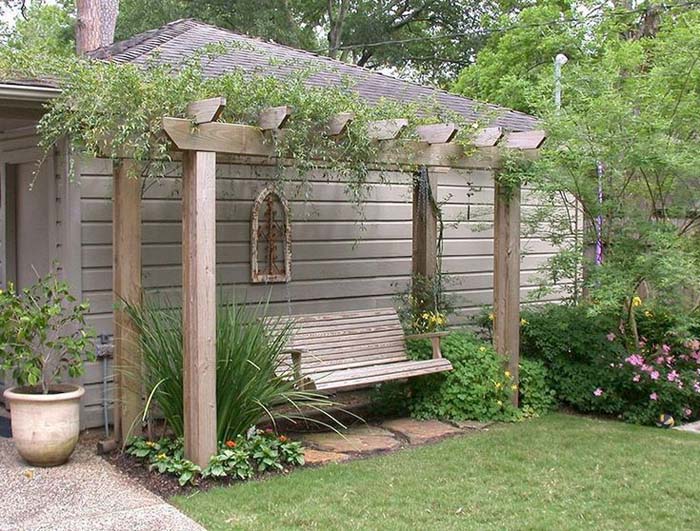 Are you in love with this seating corner idea? We are fascinated by the clever utilization of a garden section with a small pergola and a swinging bench looking like an extension of the house.
The similarity of color hues of these two creates an aesthetic overall appeal and together they help the greenery pop.
8. A Seating Corner Near The Garden Walkway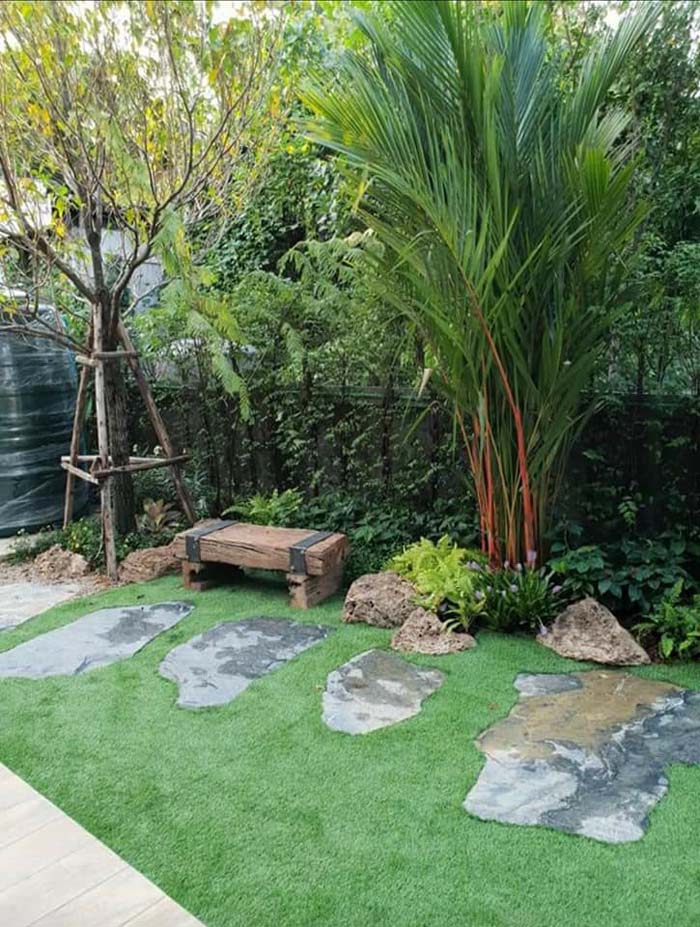 It is always useful to add small garden benches in empty corners of your garden.
They will encourage you to take a rest and also to enjoy the results from your green thumb practice.  
9. L-shaped Seating Corner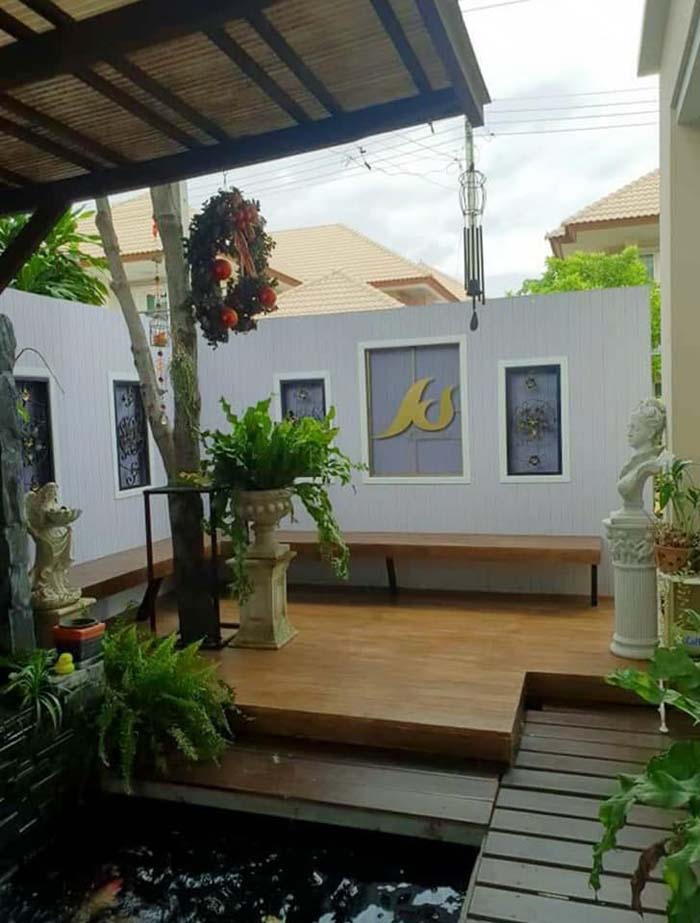 The L-shaped seating corners are great for small backyards because they provide plenty of seats with a small footstep.
The seating corner idea here features a built-in bench supported on metal legs. The depth of the seat is designed to offer a quick rest rather than lounging for a long time.
10. Dedicate Space From Your Backyard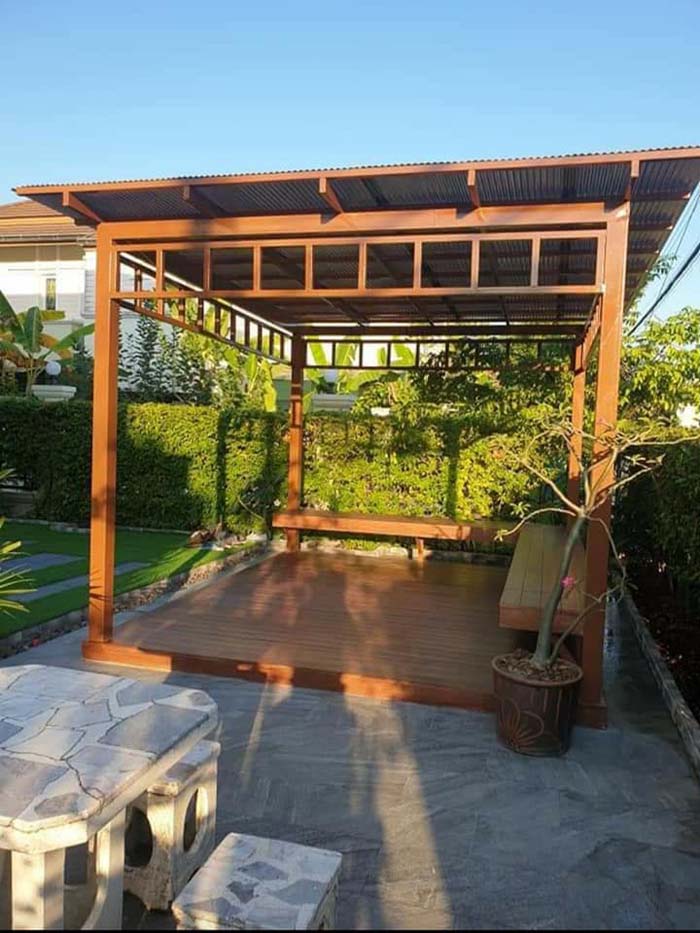 If you are lucky to have a big backyard space, then you are free to make a seating corner of the size that suits your family's routine, habits and preferences. The seating corner can be in the open area or can be enclosed in a floating deck structure with a ceiling.
That will ensure shelter regardless of the weather conditions.
11. Add Seating Features Where Possible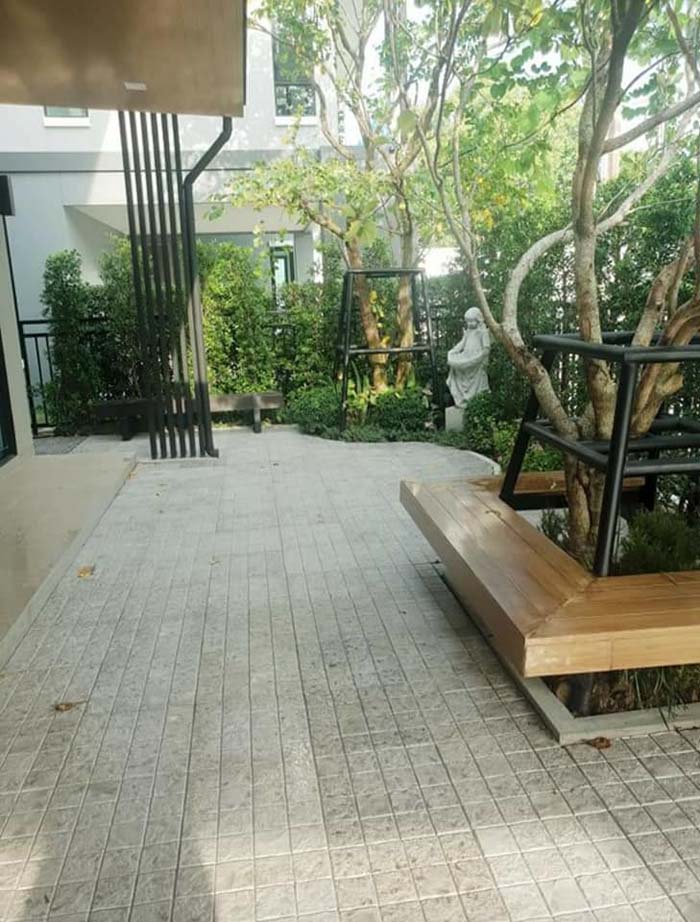 If you don't have a backyard but only a small front yard which is already utilized with an edge garden, there is still an option for creating a seating corner.
Add benches along the edge of the garden and even build benches around the garden beds. They will also serve as a visual border between the garden and the rest of the yard.
12. Bench Built-in The House Wall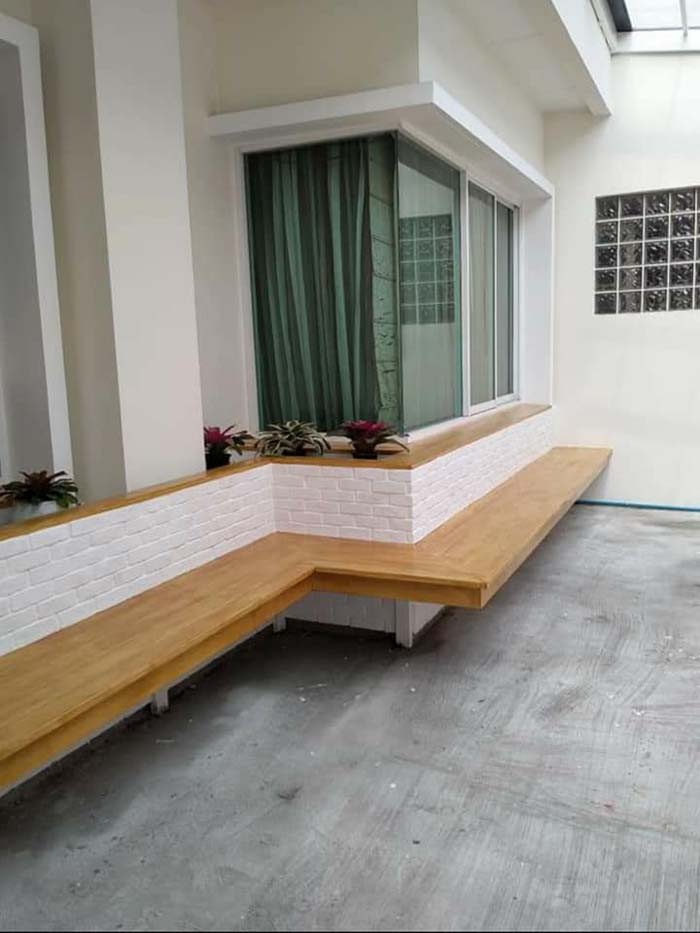 If you are limited in outdoor space, it is best to consider a built-in bench designed especially for your house.
The bench can follow the curves of the house and protrude as much as you wish. Use this feature to create a stylish outdoor landscape with attractive textures and extras such as a fire pit or a fountain.
13. Seating Area With Integrated Planters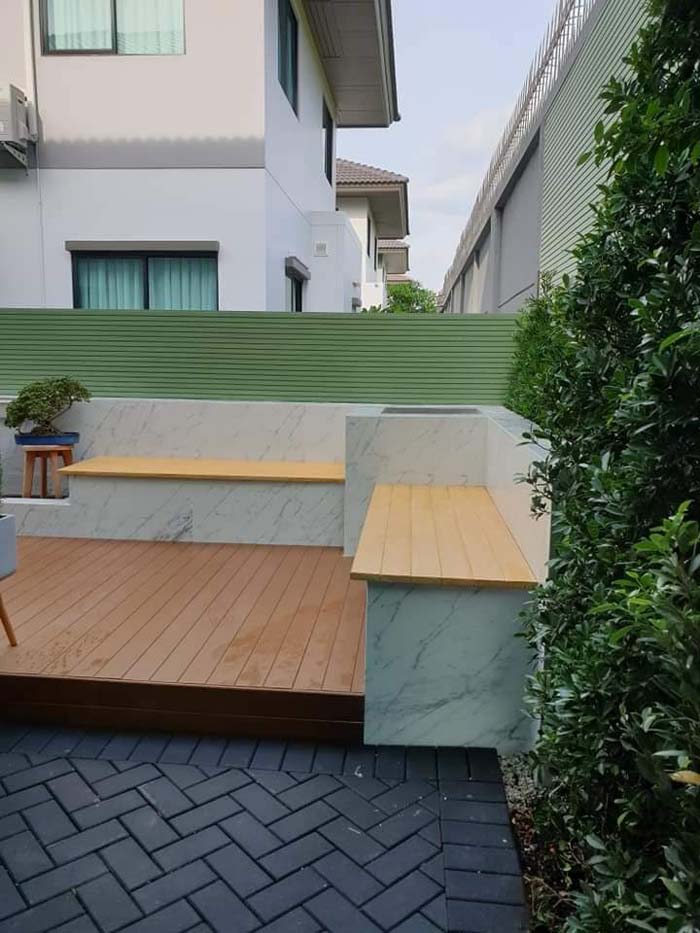 When you design the garden seating corner, aim to utilize every inch of the free outdoor space so that it has the potential not only for optimal comfort but also for an appealing look.
This seating corner was formed on a floating deck structure. The benches are separated by built-in pots made of the same material as the bench supports. The overall look is united and modern.
14. DIY Bench Around A Tree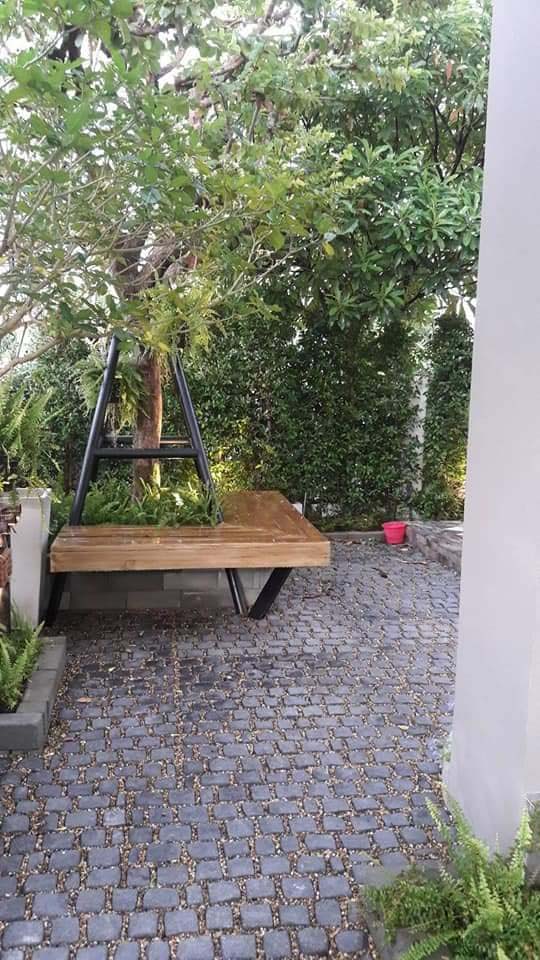 Benches around trees are an easy DIY idea that can be fulfilled with cheap materials. No need to change anything from the outdoor landscape.
Actually, you can use what you already have existing to make one.
15. Egg-shaped Hanging Chair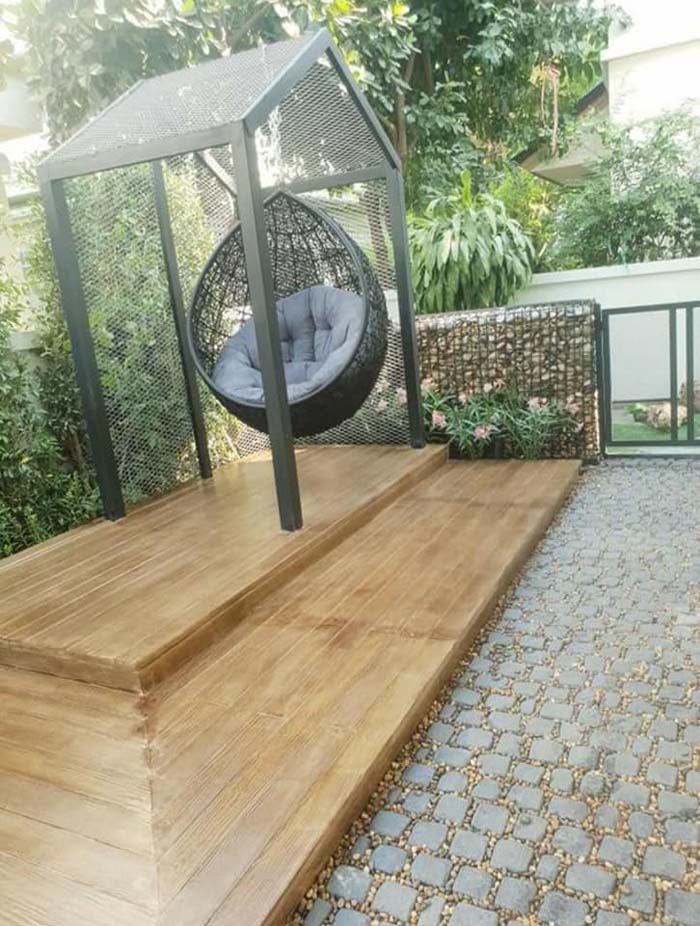 If you ask someone what is their idea of a relaxing outdoor corner, they would probably answer "a hanging chair". When you sit in one with an egg shape, you will feel light and floating.
The egg-hanging chairs can be found in two options- free-standing or allowed for suspension.
16. L-shaped Bench Around A Tree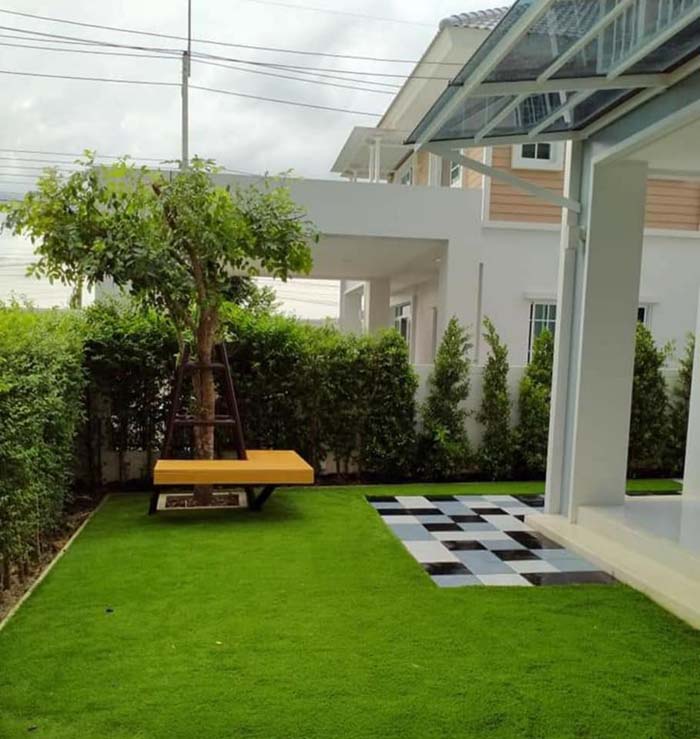 This is another great idea of a seating corner formed around a tree. Because of the space limits, the bench covers only part of the tree's periphery.
The L-shaped bench is looking towards the inside of the property.
17. A Wooden Hammock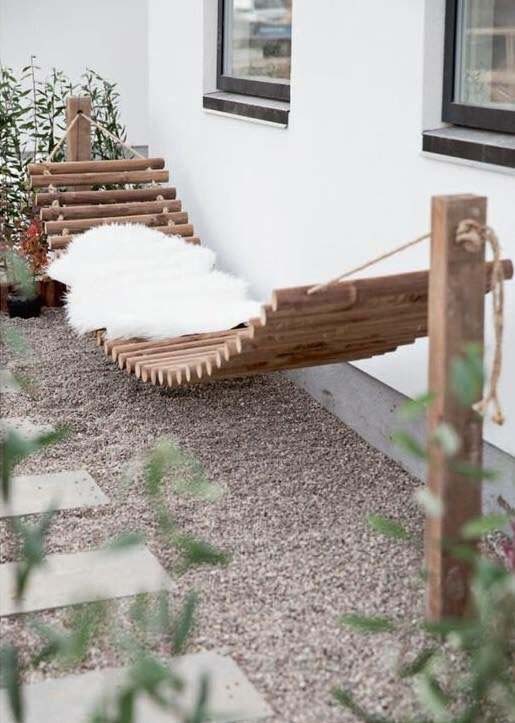 Hammocks are a budget-friendly and stylish seating corner idea. You can find them in a wide variety of designs, textures and ways of suspending them.
Hammock chairs are also great for small spaces. This new version of a hammock offers a boho look and design taking care not only of relaxation but also of healthy body condition.
18. A Seating Corner Along The Fence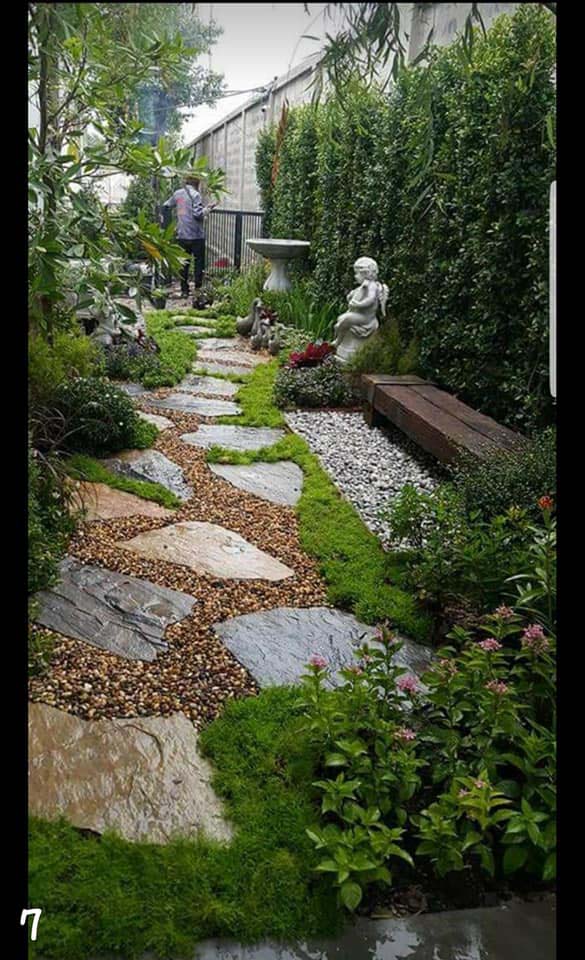 Another great spot for creating a seating corner is the fence, especially for small backyards. The best outdoor furniture for such a location is the bench.
Differentiate the seating nook from the rest of the yard with pebbles or gravel.
19. Daybed Under A Teepee Tent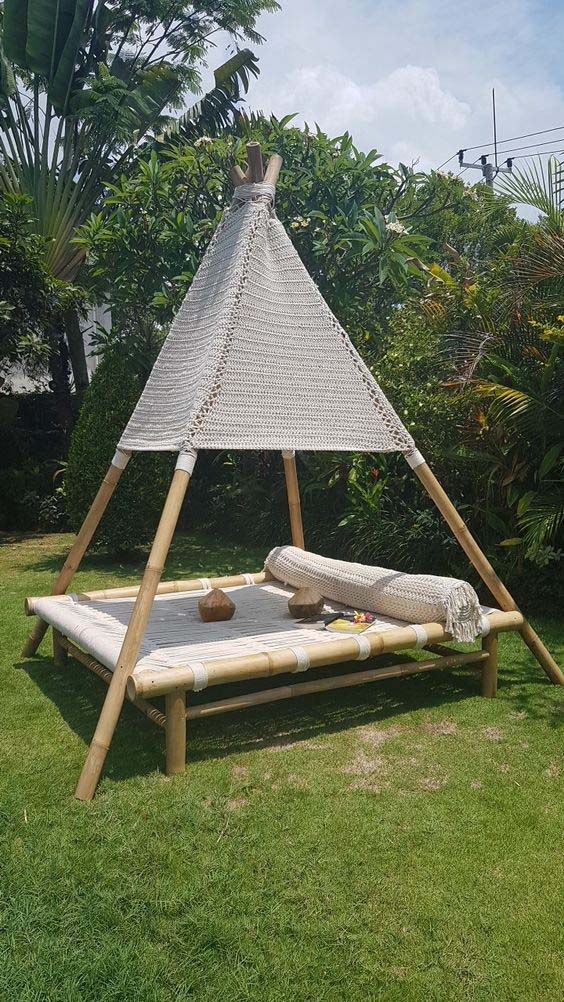 What does relaxation mean to you? Does it mean sitting or does it mean lying comfortably? If you are the second type of person, make your seating corner a lying corner with this daybed idea.
Added tepee tent will protect you from the strong sun rays without stopping the airflow that charges you with positive vibes.
20. Simple Seating Corner Idea But In The Right Place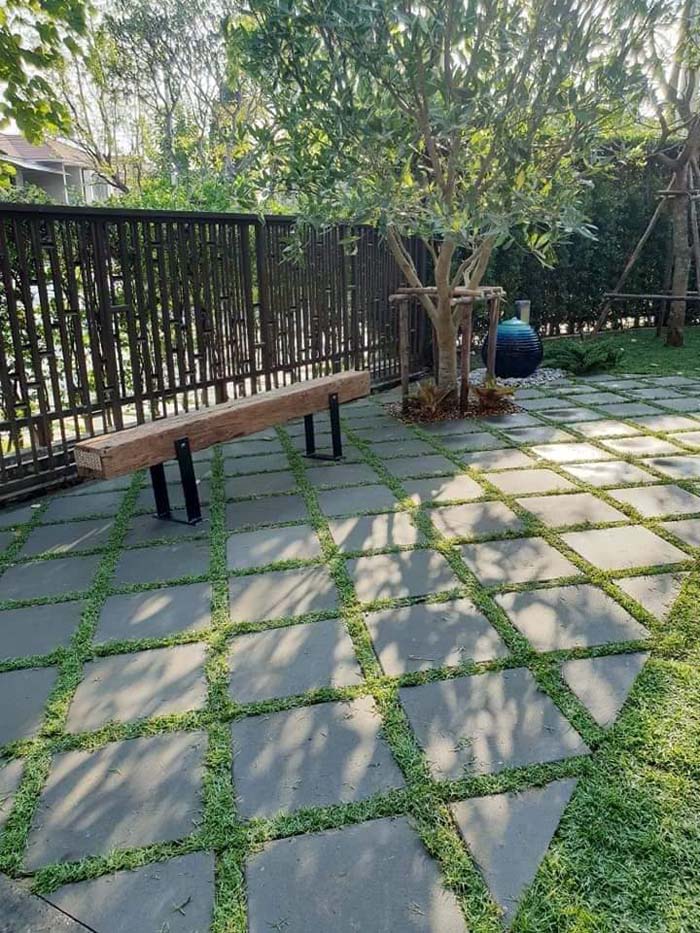 The location of the seating corner is also very important when you design your garden seating corner.
It can consist only of one bench but if it is under natural shade and surrounded by natural beauty, you will be set in an environment that provokes calm and relaxation.
21. Pop A Floor Bench In A Narrow Spot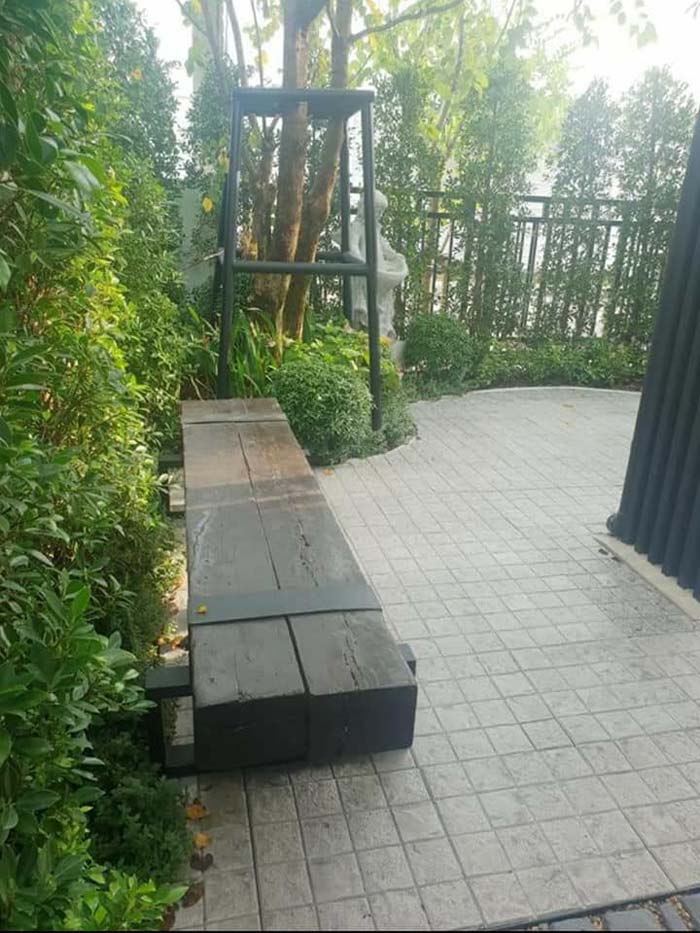 Thick lumber such as sleepers is perfect for building your own outdoor bench. This garden seating idea is inspired by the look and functionality of repurposed sleepers. Two of them are assembled together with metal strips and placed directly on the ground covering.
You never know when you may need a rest and this bench offers you a beautiful and comfortable seating spot to take a break.
22. C-shaped Bench Around A Tree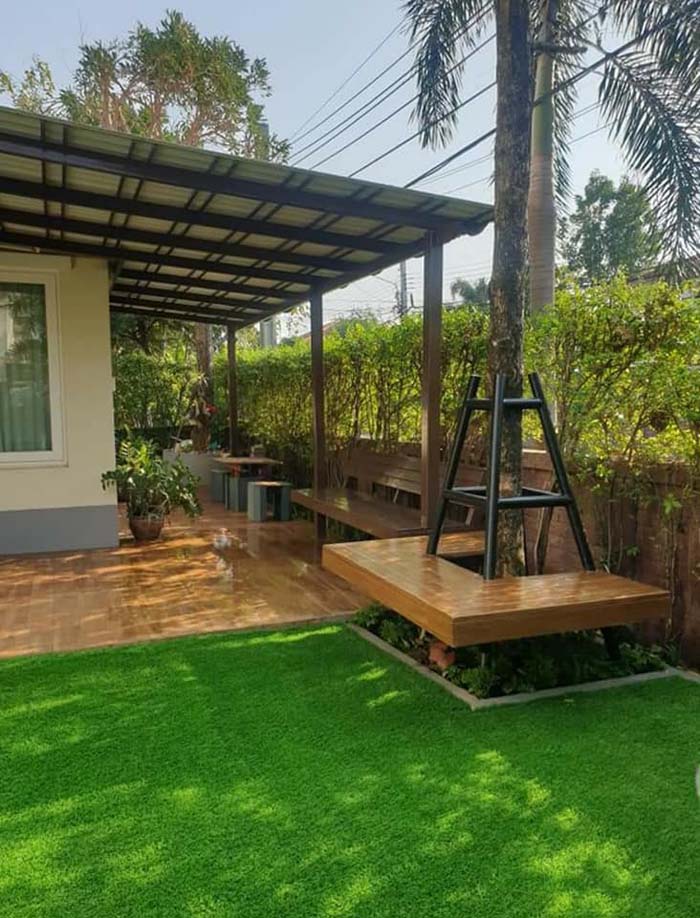 If the tree you are going to build a bench around is positioned very close to the fence, you can make the bench in an L or C shape.
23. Equip The Raised Garden Bed With A Bench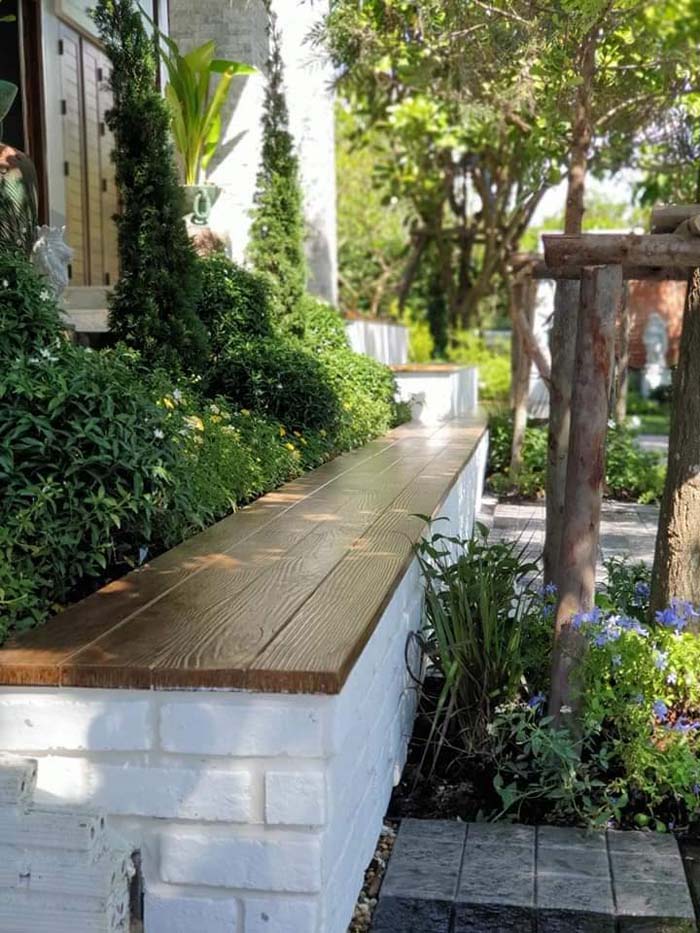 Use the solid raised garden bed to build a bench on.
This spot is surely strategic- you can do gardening while sitting on the bench or simply take a rest in the open air.
24. Bring The Interior Outdoors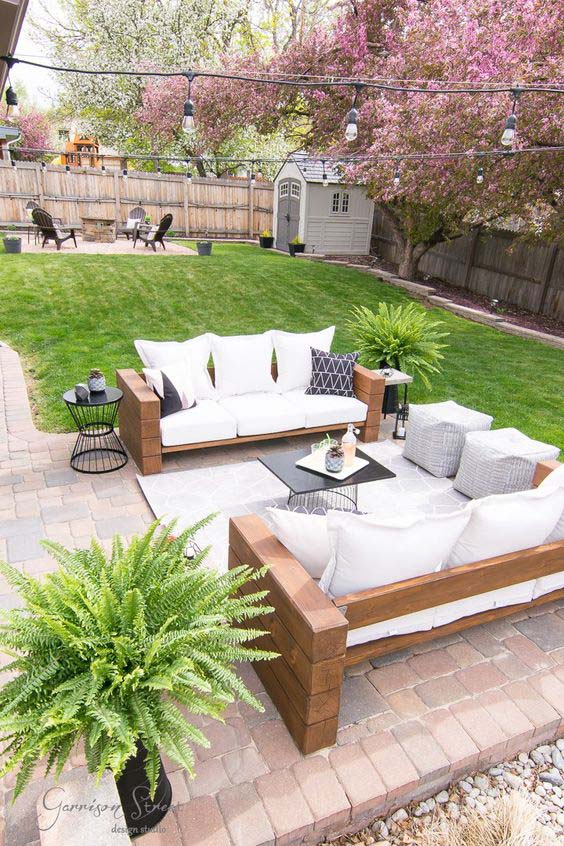 When your outdoor space is big enough, don't make any compromises with the seating corner. Make it big enough, comfortable and inviting as if it is part of the interior of your home.
Add comfortable sofas, a matching coffee table and decorations that will set the relaxing scene. A carpet will anchor the living space location and will also make the spot more inviting.
via Garrison Street
25. A Swing Under The Tree Shade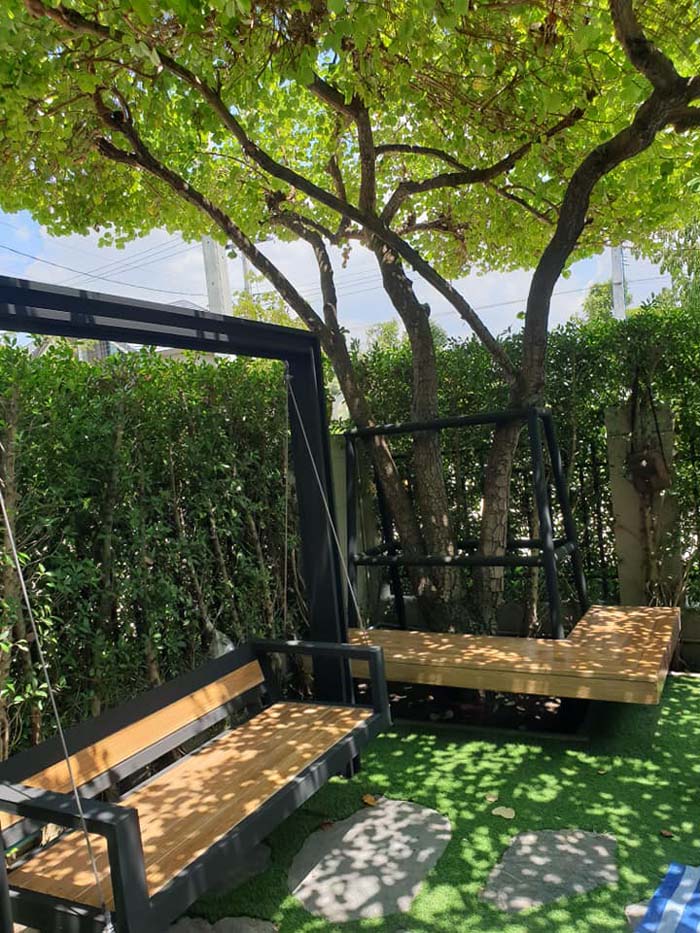 The swing can be used for reading, napping, sitting or taking a quick break.
Make sure that you choose the best spot for it- under the wide shade of a tree or under a pergola.
26. A Seating Corner Attached To The Exterior Wall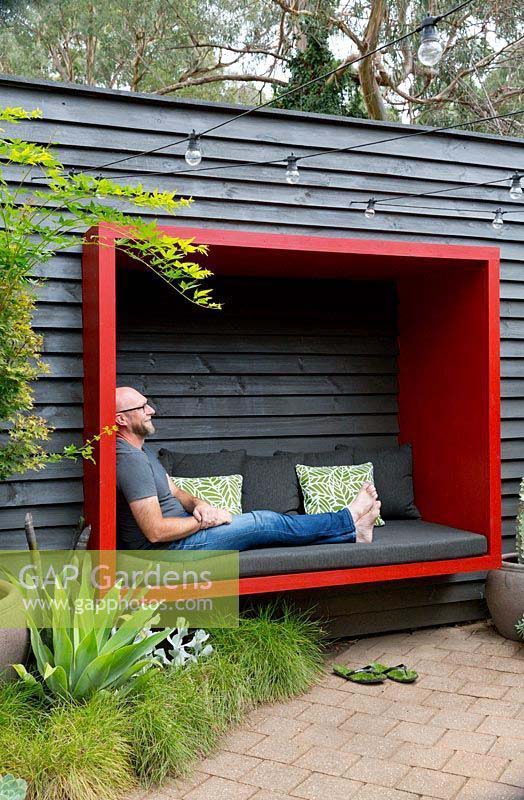 This idea can be implemented even in the tiniest outdoor space, well, even when there is no outdoor space. It features a structure added to the exterior wall of the house which is equipped with a bench.
The structure sides are functional not only to support the bench but also to offer a back.
via GAP Gardens
27. Cottage Pergola And Bench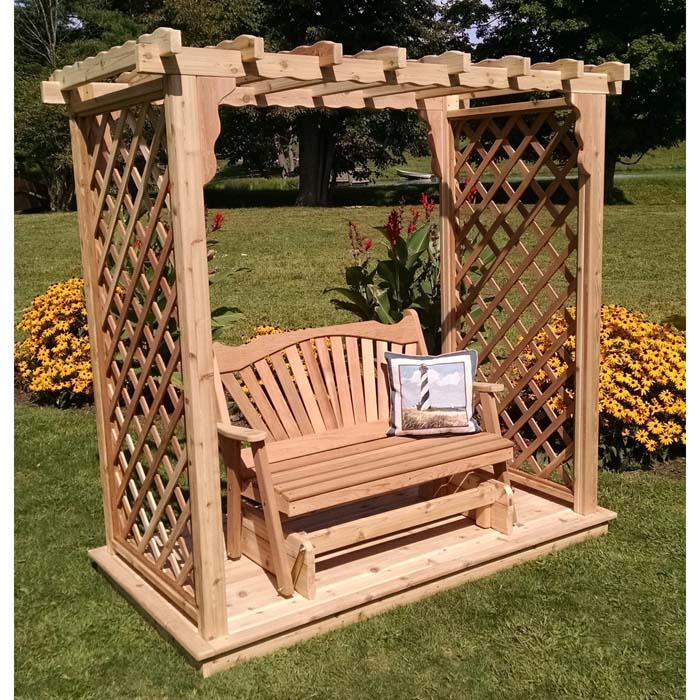 You can get a set of a bench and a pergola to make an outdoor seating corner. The set is made from wood featuring lattice sides of the pergola and foot support of the bench.
Add pots with climbing plants at either side of the pergola to sit under natural shade.
28. Covered Outdoor Bench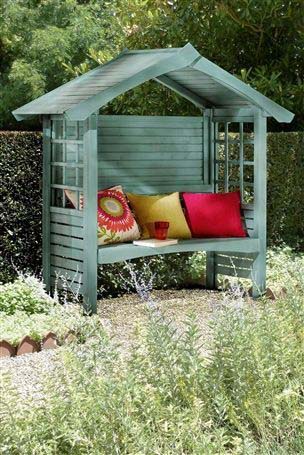 This seating corner idea inspires by its retro cottage look. Its sides mimic a house interior. There is a spacious seat thanks to the incorporated bench and cushions to feel comfortable.
The covered outdoor bench can be painted in the desired color that will match the surroundings.
29. A Seating Corner To Enjoy Rose Scent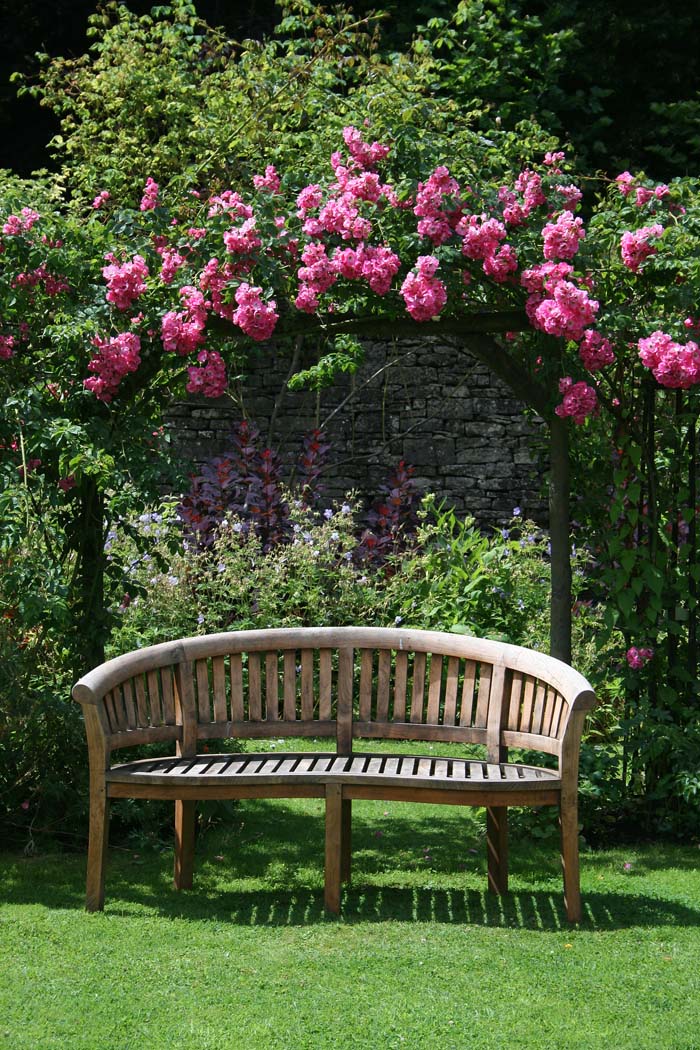 Such a seating corner is not only relaxing but also romantic.
Set under a pergola where lush roses grow, people sitting there will enjoy the natural shade from the climbing roses, their pink blossoms and the irresistible fragrance.
via Lindsey Renton
30. Seating Corner With A Privacy Screen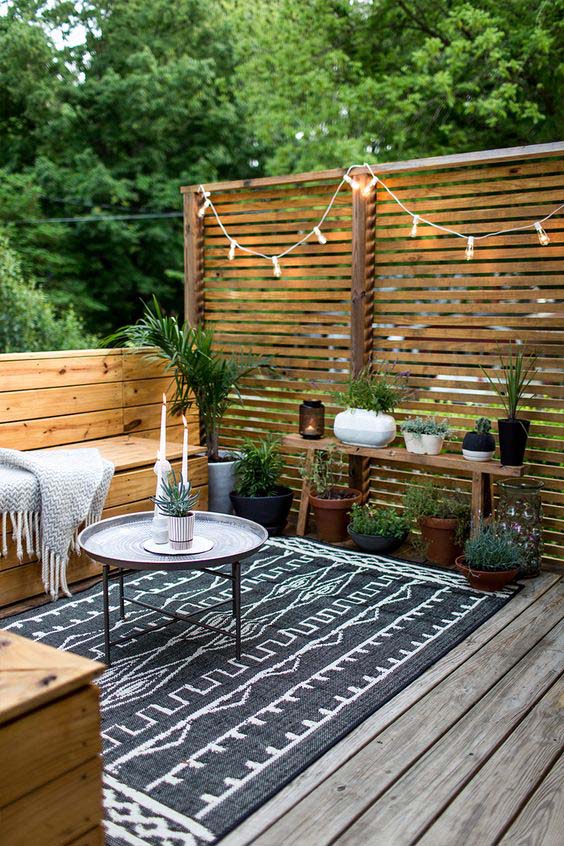 If you don't want to invest in expensive outdoor seating sets, you can always DIY a comfortable sofa and a bench from lumber.
Add a privacy screen from the same material to give the nook a finished look and to protect your outdoor living area from curious sights.
via Fresh Exchange