Are you looking for cottage style garden ideas? Then you know that this style of garden is the most difficult to define. But when you see it, you know that it is a cottage garden. It is cozy, homely, natural and charming.
The cottage garden requires the most time to evolve compared with other garden landscape designs. This is because the cottage garden is driven by nature allowing self-seeding plants to establish and grow.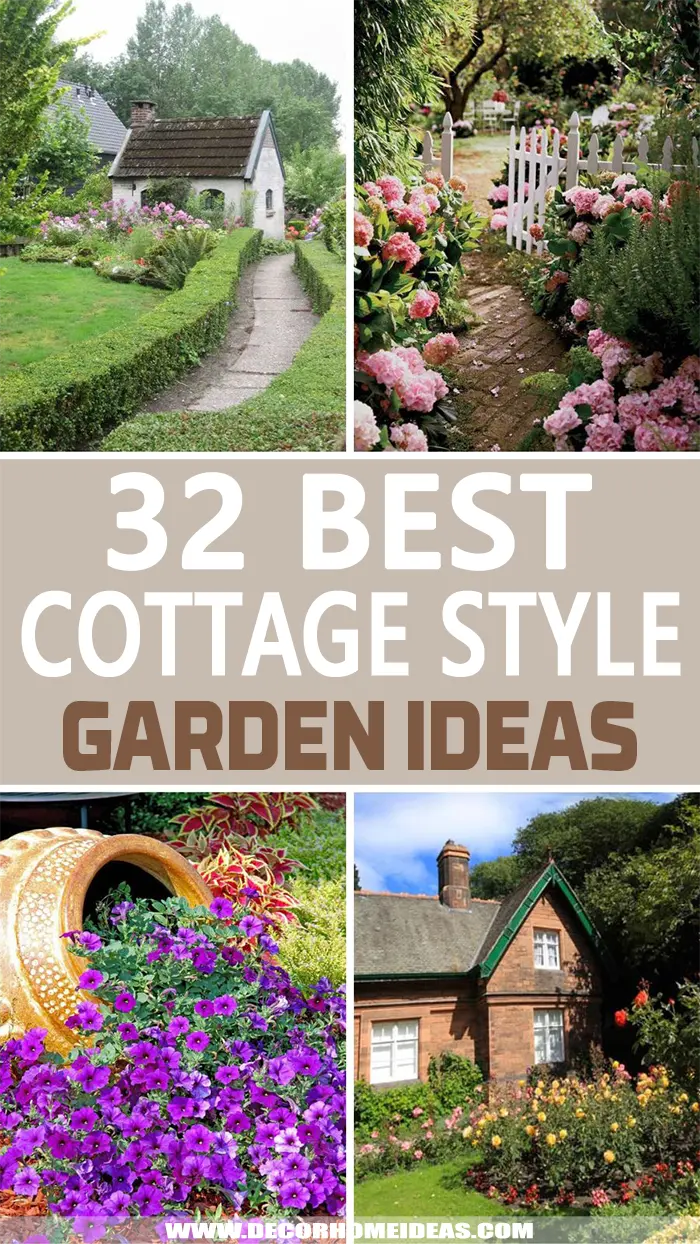 The natural core of the cottage garden is what makes them so inspiring, vivid and close to our hearts.
With our collection of 32 Best Cottage Style Garden Ideas, we will help you design a backyard full of fragrant and colorful flowers and irresistible cottage charm.
1. Romantic Roses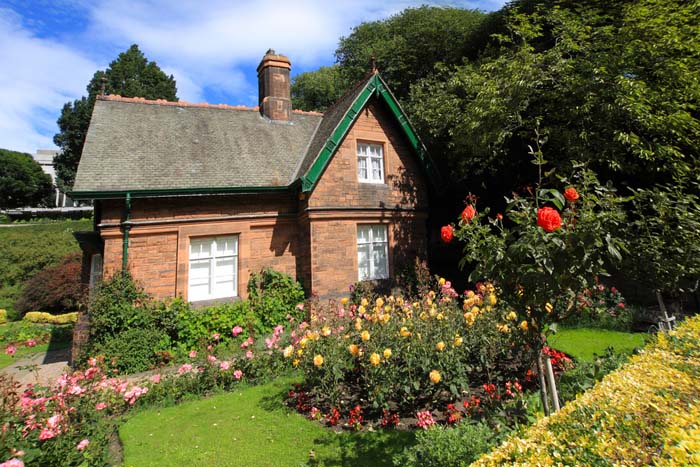 No cottage-style garden is a garden without roses. Roses are the most famous kind to give a landscape a cottage look. The variety of colors and types of growth makes the rose family generous to create your own cottage garden landscape.
Plant climbing roses next to a rustic structure to create a vertical statement. Edge a garden walkway with aromatic rose shrubs. You can even add them to the window sill or to the porch with flower pots.
This arrangement reminds a lot of the traditional English cottage garden where the yard is well-maintained and full of roses.
2. Plant Climbing Kinds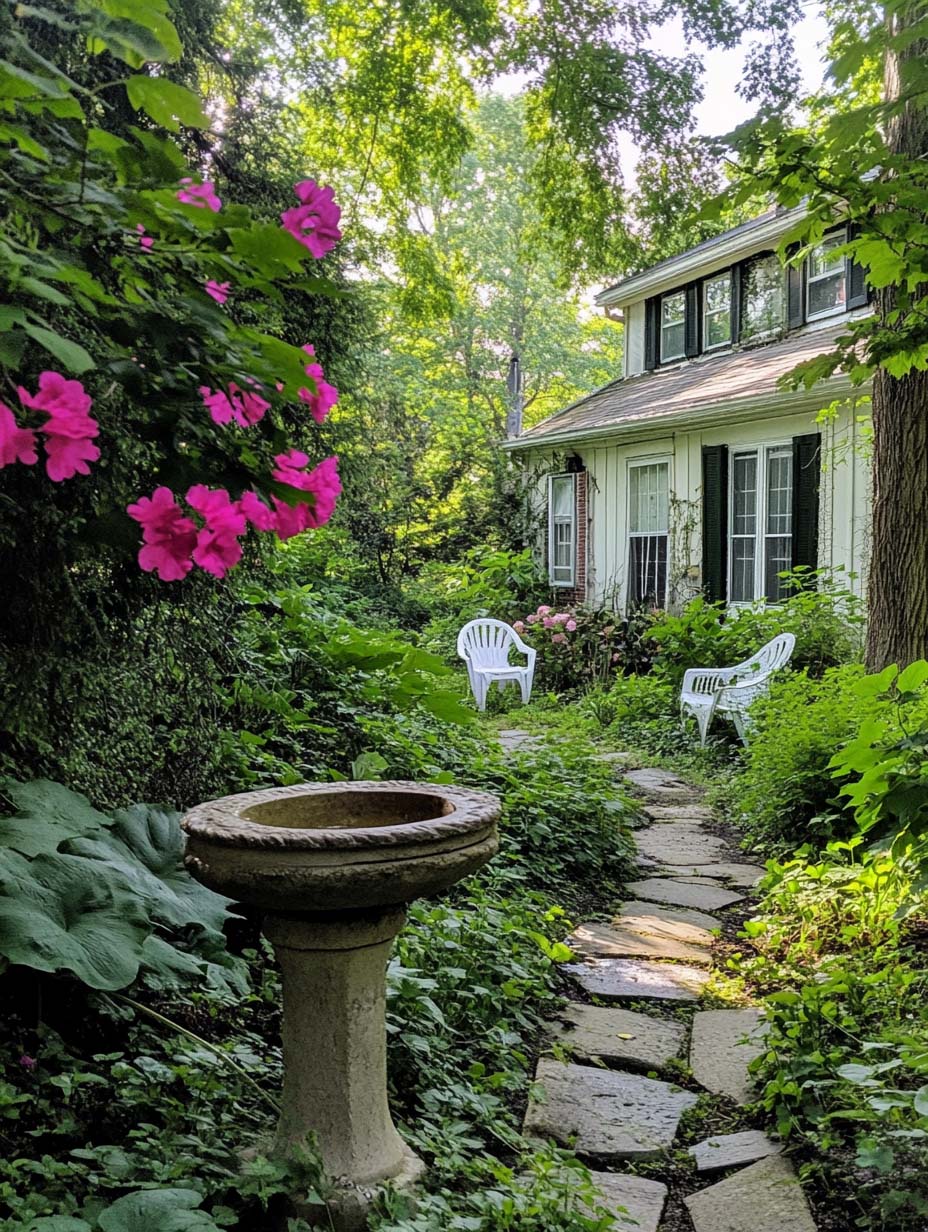 In a cottage style garden, all vertical structures should be used as trellises. The pergola is the most visible one but have you considered the fence as a support for vines?
Plant suitable climbing plants next to it and let them spread vigorously to cover the fence and create a living border.
3. Decorate The Front Door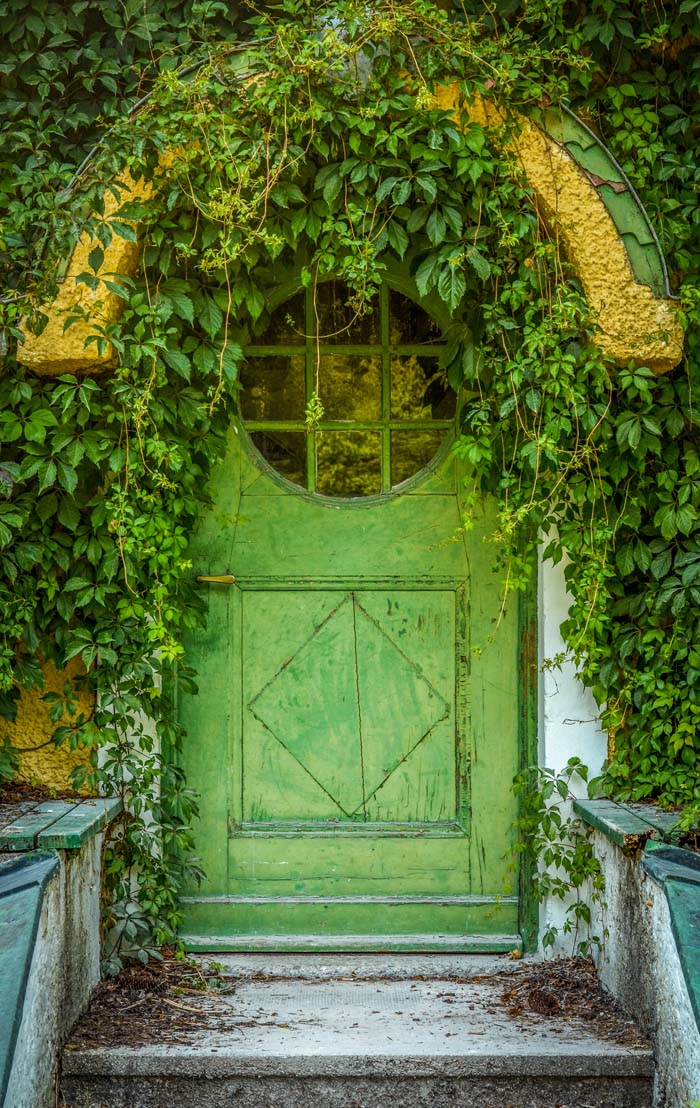 The arch window above the front door is also a great spot to grow ivy or another kind of climbing greenery.
The lush leaves give this weathered door a fairytale look and at the same time function as a noise refractor and absorber.
4. Make An English Style Cottage Garden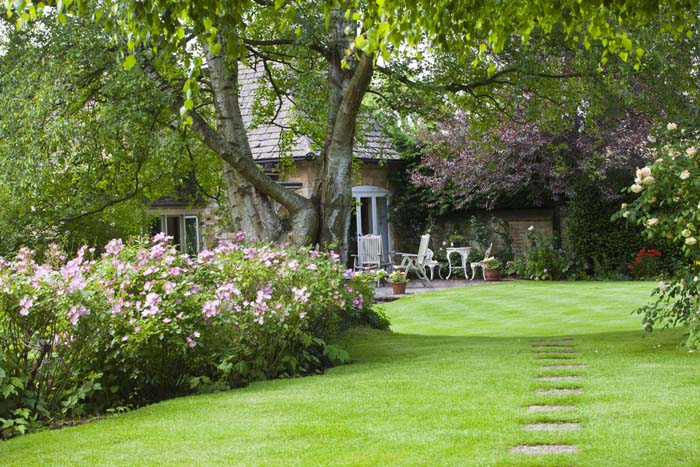 This is an example of a traditional English backyard where you can meet trees, shrubs and flowers. The lawn is well mowed letting the walkway to the seating nook peek out.
Maintenance is the key to an exceptional cottage garden look.
5. Window Pot With Cottage Garden Flowers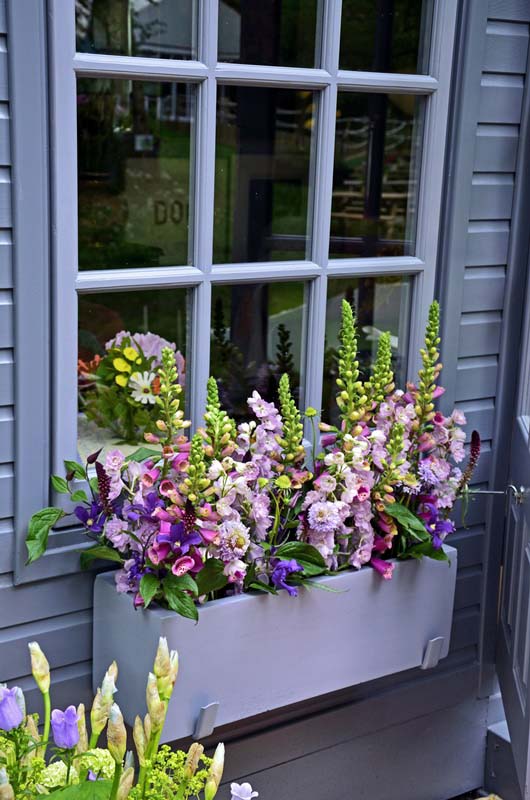 So, we know that the heart of the cottage style garden is the flowers. In case the outdoor space is limited, you can enrich the cottage garden look with planters on the windows.
They can be containers for bouquets of cut flowers or act as standard planters.
6. Picket Fence Cottage Garden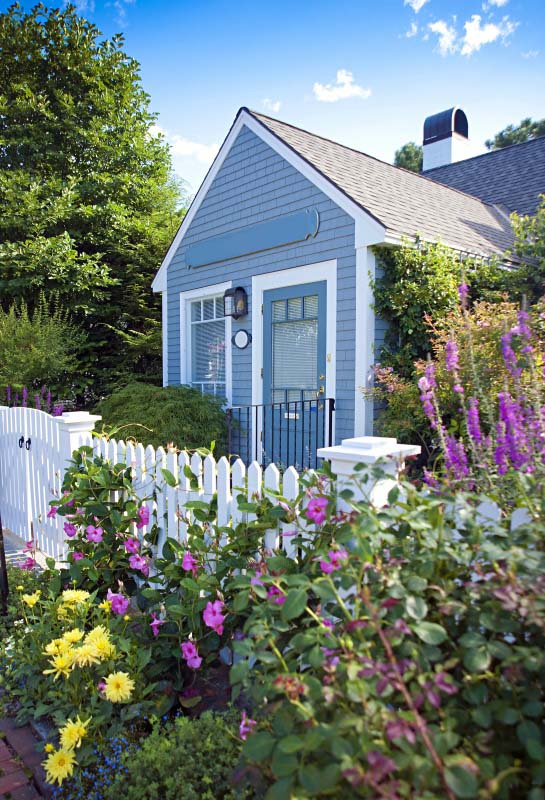 Another traditional element of the cottage style garden is the picket fence. Usually, it is painted white to coordinate with the rustic exterior of the house and also to ensure its long-lasting usage.
Use this bright outdoor element to anchor part of your cottage garden plants. Roses, perennials and evergreen shrubs will peek out and through the panels to make the landscape lively and whimsy.
7. Create A Vertical Garden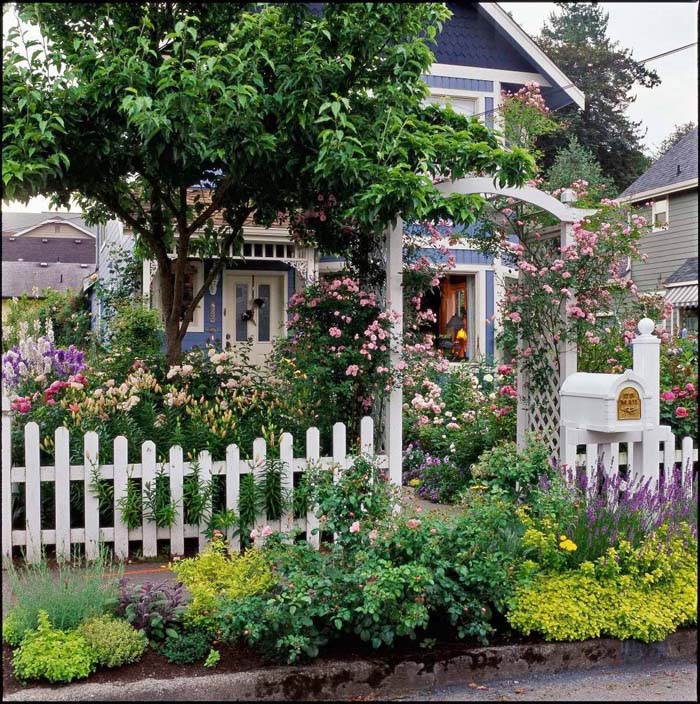 If there is a pergola or an arch over the gate, don't miss to use it as a trellis. It will create an important visual impact on your cottage garden.
You can choose from blooming kinds and green vines which will quickly cover the trellis and turn it into a garden focal point.
8. Use Vintage Pots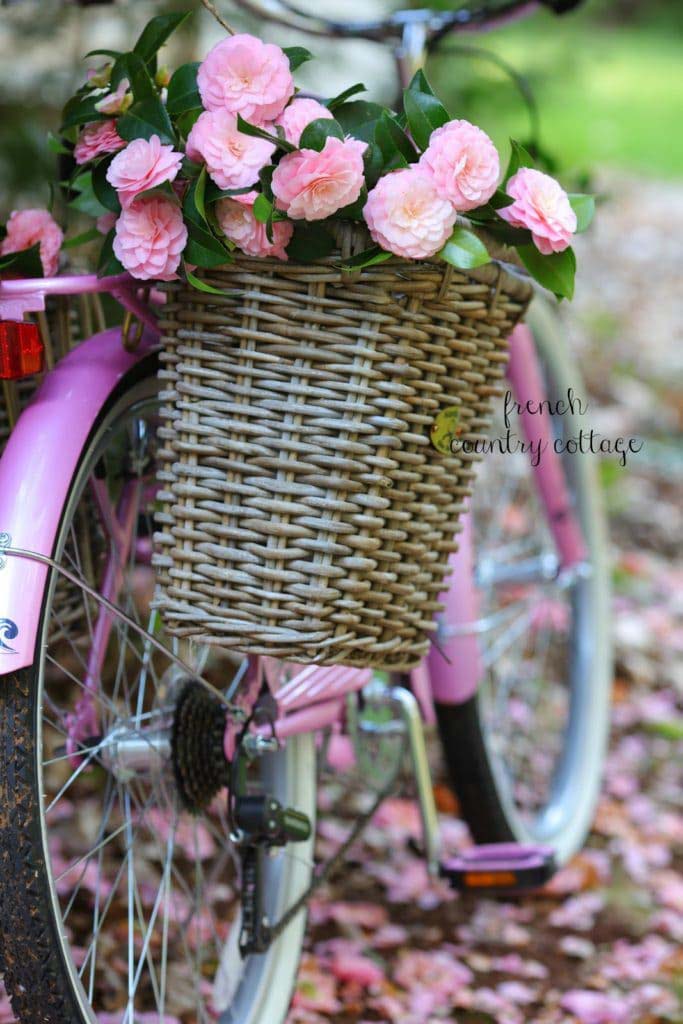 To give your garden an authentic cottage garden look go back to the cottage garden roots. In the past, cottage style gardens were small and usually used for growing crops and fruit trees.
That has made the owners look for other ways to grow more of the necessities so they have started to plant them in upcycled boxes and containers.
Bring this idea to nowadays and repurpose any vintage containers into flower planters. That can be saucepans, colanders, rattan baskets, wire baskets, or wooden boxes.
9. Edge The Walkway With Lush Flowers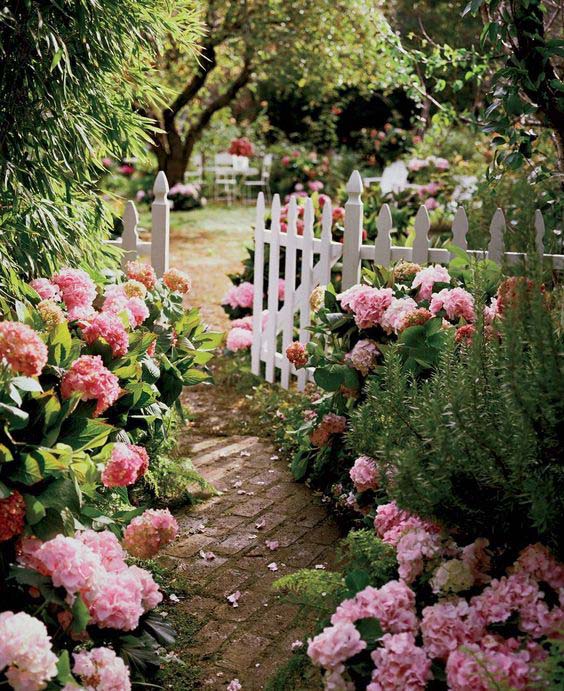 Pathways provide access to the cottage garden nooks and they must be supported by rich garden beds on either side. This cottage garden walkway is traced with pink hydrangeas which node their rich blossoms toward the pathway.
When you walk on this pathway, you will feel like being in a fairytale.
10. Layer The Cottage Garden Plants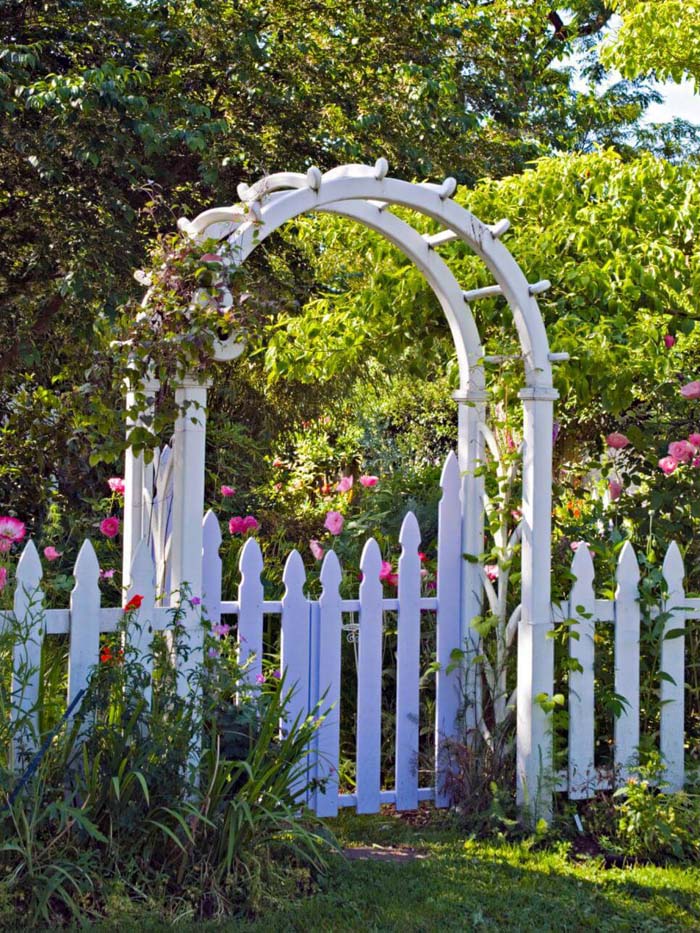 Another way to give your garden a cottage garden look is to layer the plants in height. Blooming tufts should cover the ground. Very close to them add higher plants like hydrangeas, for example, to flop over the lowest ones.
Combine with evergreen shrubs, field flowers, and spikes. Climbing roses and ivy should continue this garden arrangement scrambling over walls, fences or pergolas.
The lush greenery cascading from different heights will quickly differentiate your garden from contemporary landscape designs.
via HGTV
11. Mix Up Plants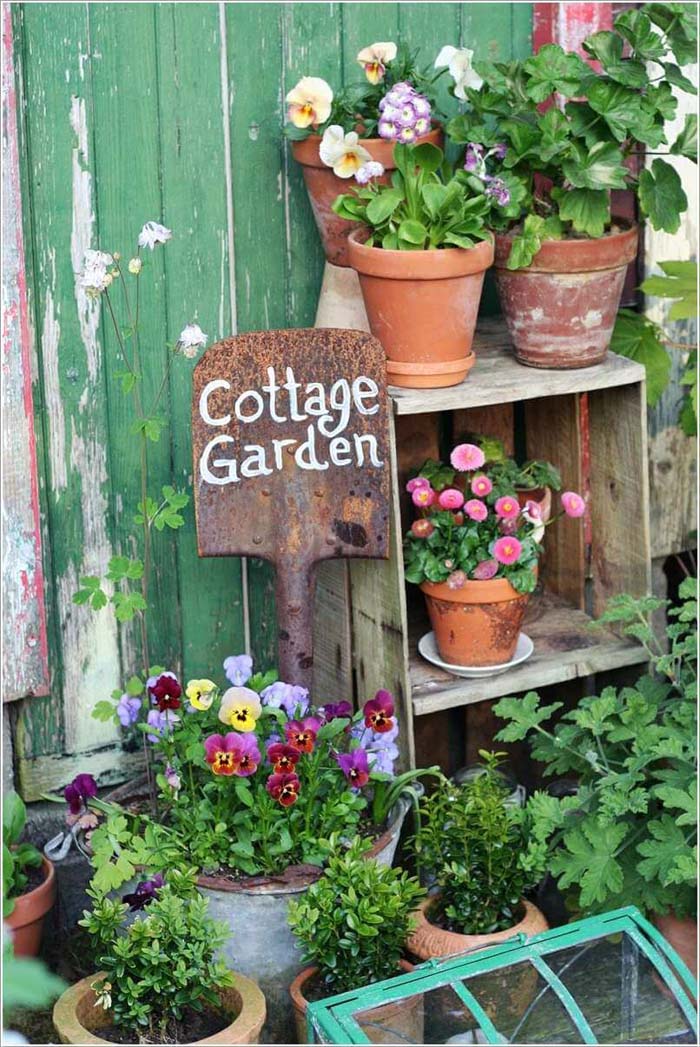 Use weathered pieces of furniture, painter ladders or any other vintage stand to create a vertical planter. The cottage garden is rich in a variety of plant kinds and that should be the focus of your own cottage garden landscape.
Mix the cottage garden plants and arrange them close to each other. Use terra cotta pots, galvanized containers, watering cans, tubs and any other container that can hold a plant to create a small vertical garden.
Give the arrangement more character with a vintage garden instrument with a plain but straight inscription.
via Bless My Weeds
12. Upcycle Old Bicycles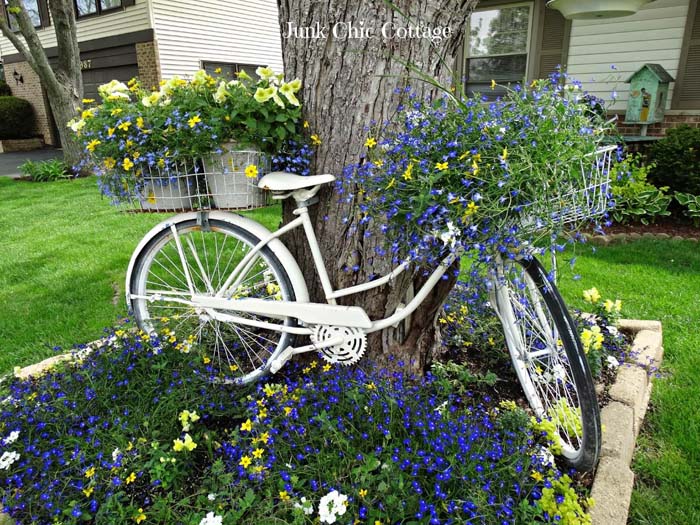 The old and useless bicycle can be transformed into a unique garden planter. You don't even have to repair any of its parts or rework its paint coat. The important part of it that should be functional is the wire basket.
Lean the bicycle against a tree and decorate it with cascading flowers.
13. Small Vintage Accents Give The Cottage Garden An Authentic Look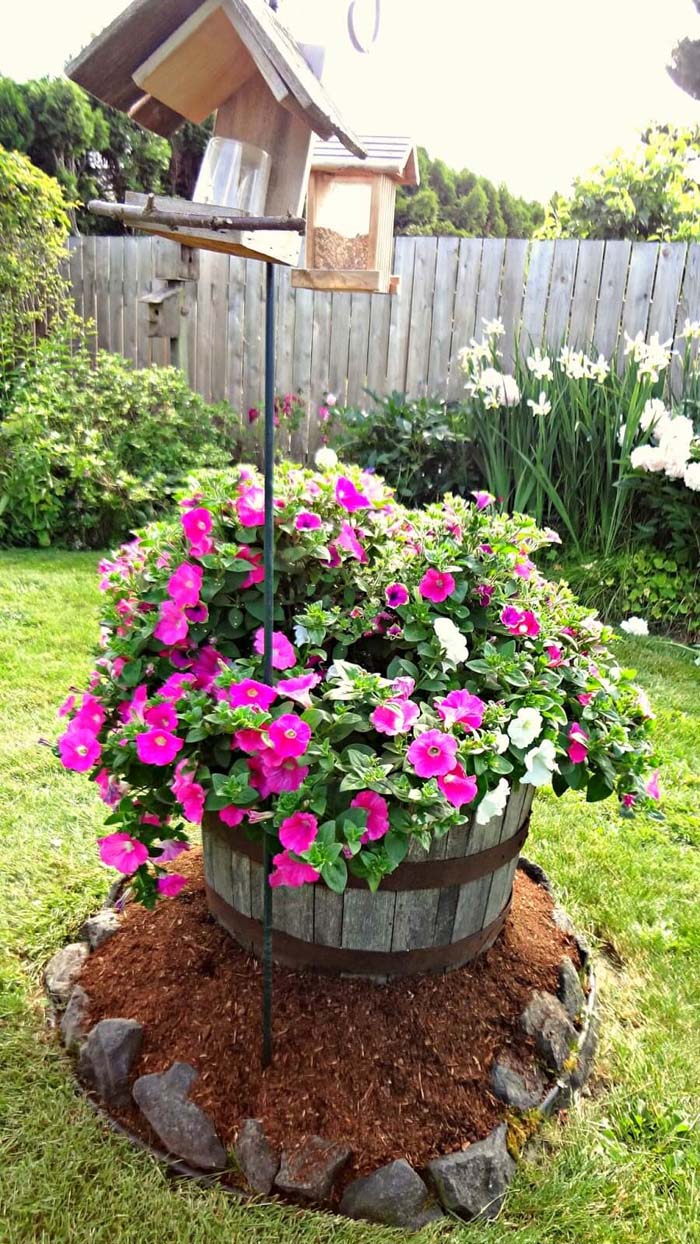 An important part of the cottage garden is wildlife. Attracted by feeders, water or the scent of the blooms, there has always been an undestructive bond between the cottage house and nature.
Add bird baths, insert them in the ground or hang them on a tree or a birdhouse, and decorate them with wind chimes.
14. Hide Your House With Greenery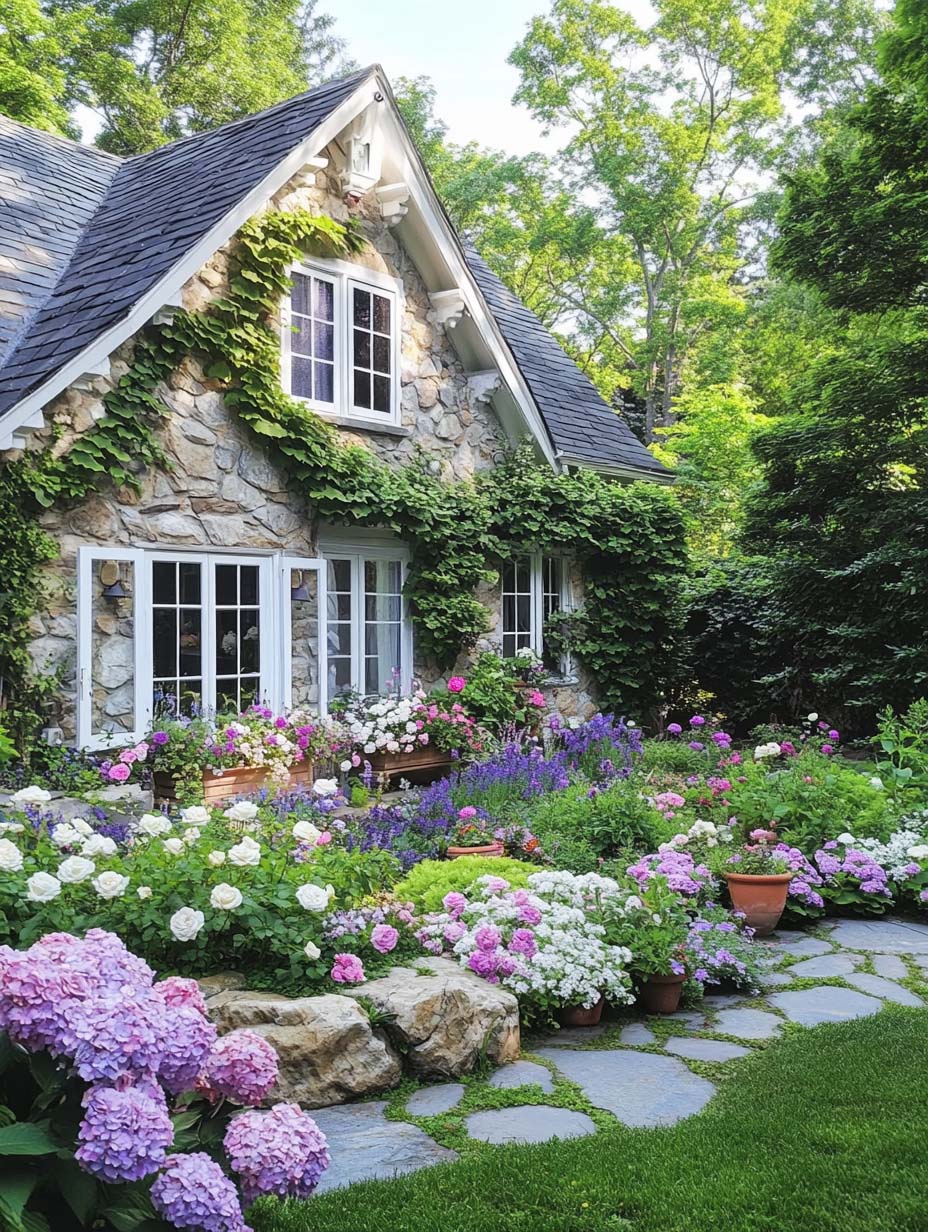 Many people think that vines can be damaging the walls of a house but if you choose the right one, the risk is minimal. What also matters is the material of your house exterior.
If the walls are made from bricks, masonry or stonework, the house can be turned into a dreamy mason covered with vines without any damage.
The lush green curtains tracing the building open up a neutral backdrop to add different colors and textures of flowers, creepers, and shrubs to your backyard. Purple flowers usually look best with a green backdrop.
15. Create A Relaxing Corner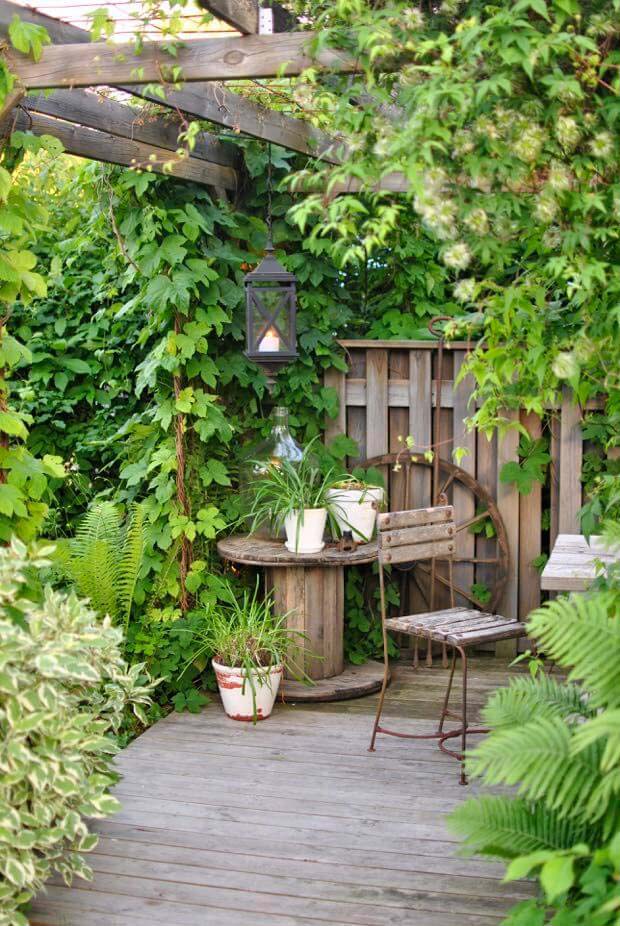 Old furniture or wrought iron vintage seating sets are the best addition to every cottage garden.
The location of the relaxing corner is very important. It should be hidden, surrounded by greenery and comfortable for spending some time in the fresh air.
via Hannas
16. Waterfall From Flowers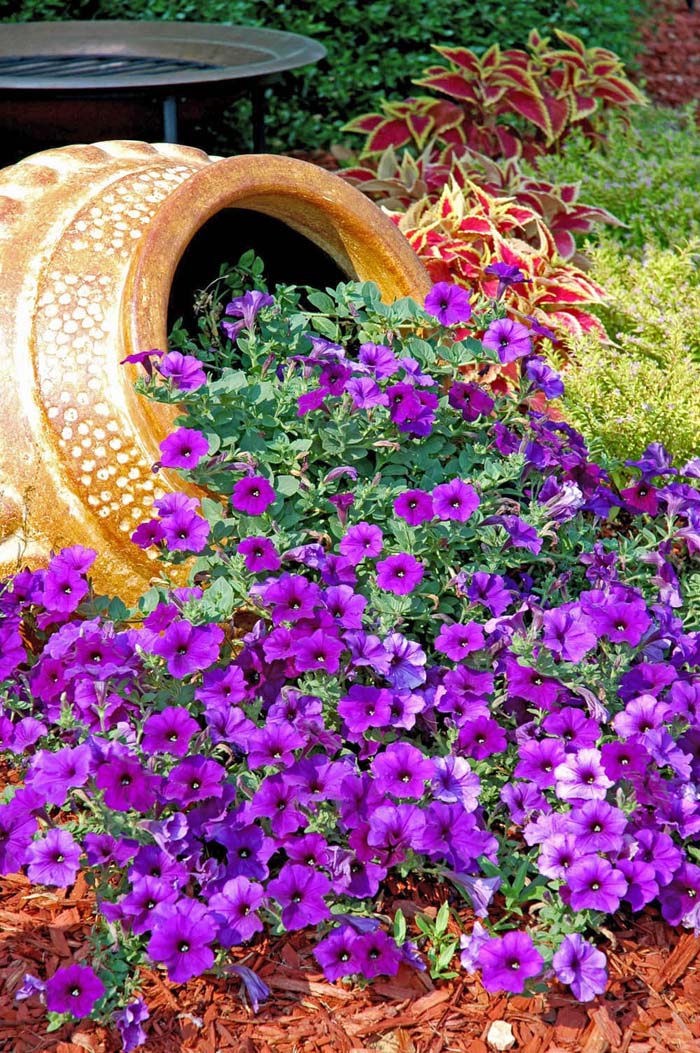 Another beautiful cottage garden idea represents a fountain from blooming flowers flowing out of a farmhouse container.
Cascading flowers like petunia or lobelia can create a lush tuft that will stand out against the neutral ground backdrop.
17. Watering Containers Repurposed Into Flower Pots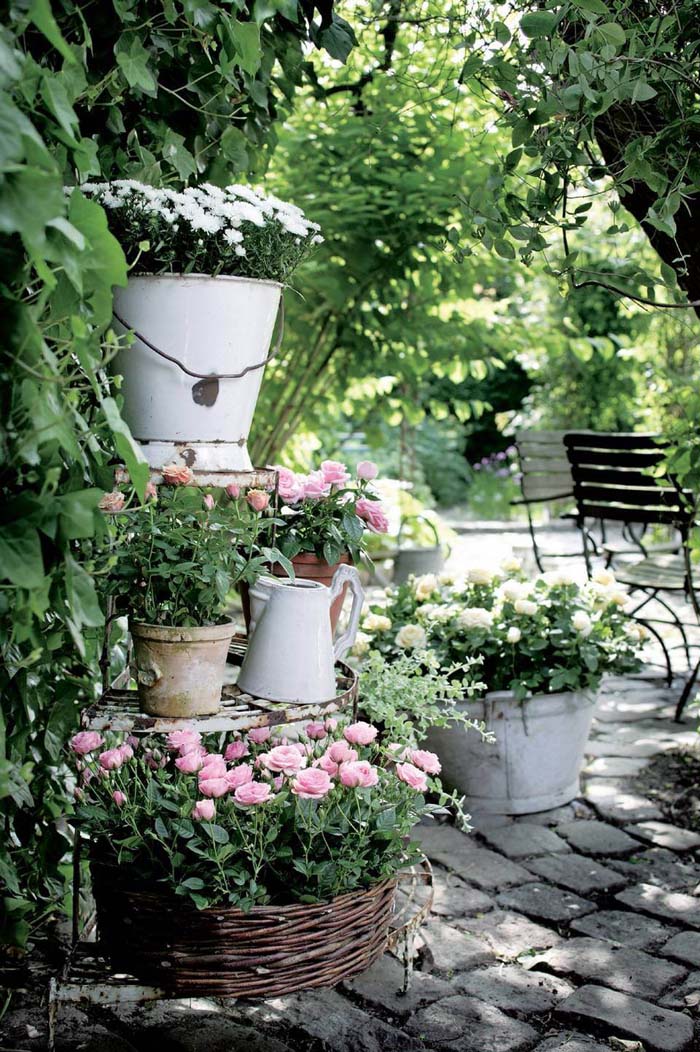 An old corner stand can be perfect to fill an empty space in the garden with beautiful cottage garden plants. It features a few levels to display plants in vintage containers.
The paint is distressed, there are rusty areas that perfectly match the casual and inspiring cottage garden look.
Addition of a basket with delicate roses makes a hint to the typical English cottage garden arrangement.
18. A Gate With A Rose Arch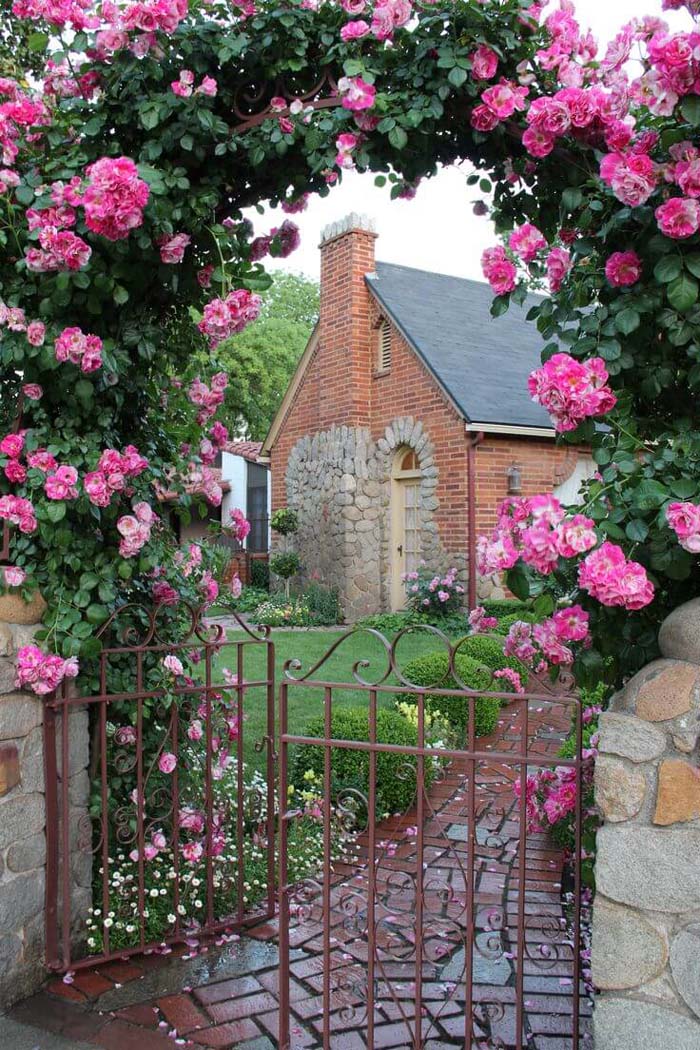 Another landscaping idea that matches the cottage garden layout is the wire arch covered by climbing roses.
The best spot for this arch is over the gate or over a seating corner in the yard.
19. Accentuate Vintage House Elements With Flowers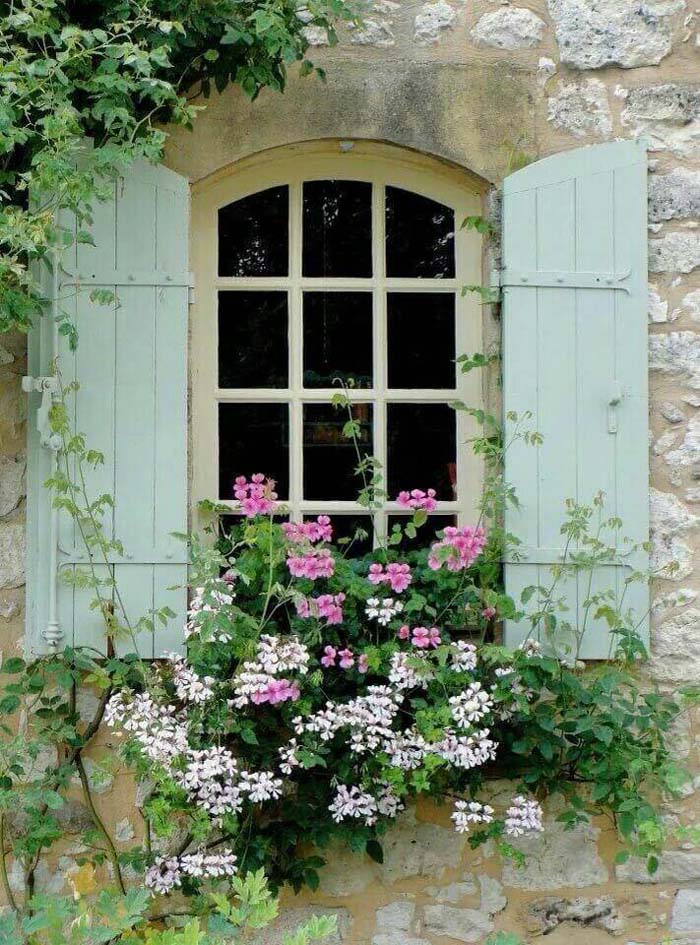 Every part of the outdoors in the cottage garden is functionally utilized with plants. In the past, they have been mainly crops and fruit trees but nowadays, flowers have taken their places to give the masonry building a unique touch of delicate beauty.
The planter boxes at the windows are a great way to highlight the retro look of the window shutters.
20. Shape The Greenery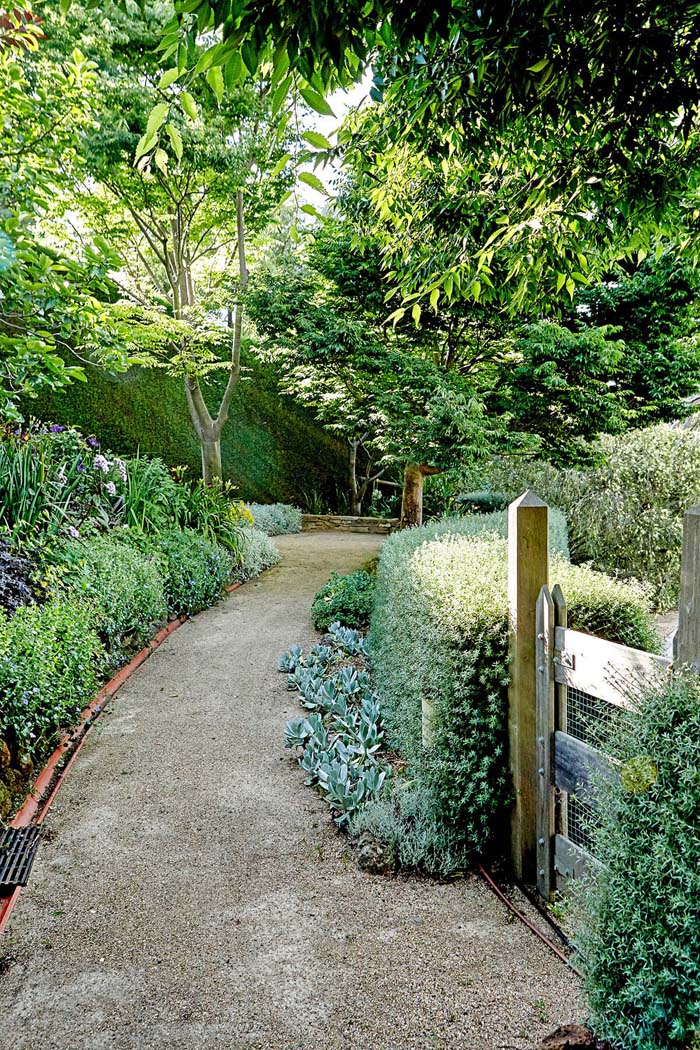 The cottage garden doesn't mean an unorganized landscape. On the contrary, the cottage garden is fully planted with flowers, shrubs and trees but there is aesthetics in the location.
Also, shaped evergreen shrubs are used to highlight the vintage outdoor elements.
via Homes To Love
21. Rustic Wooden Pergola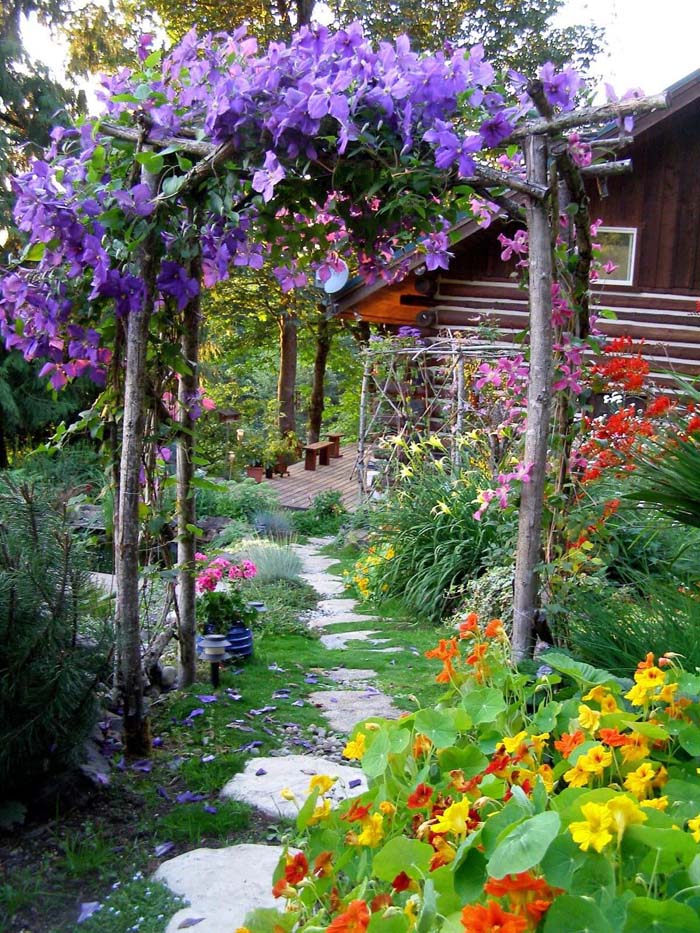 Use existing natural materials to give your cottage garden a unique arched element.
The rustic pergola is made from branches and twigs and is perfect to support climbing vines, flowers and ivy.
22. Choose The Right Plant For The Place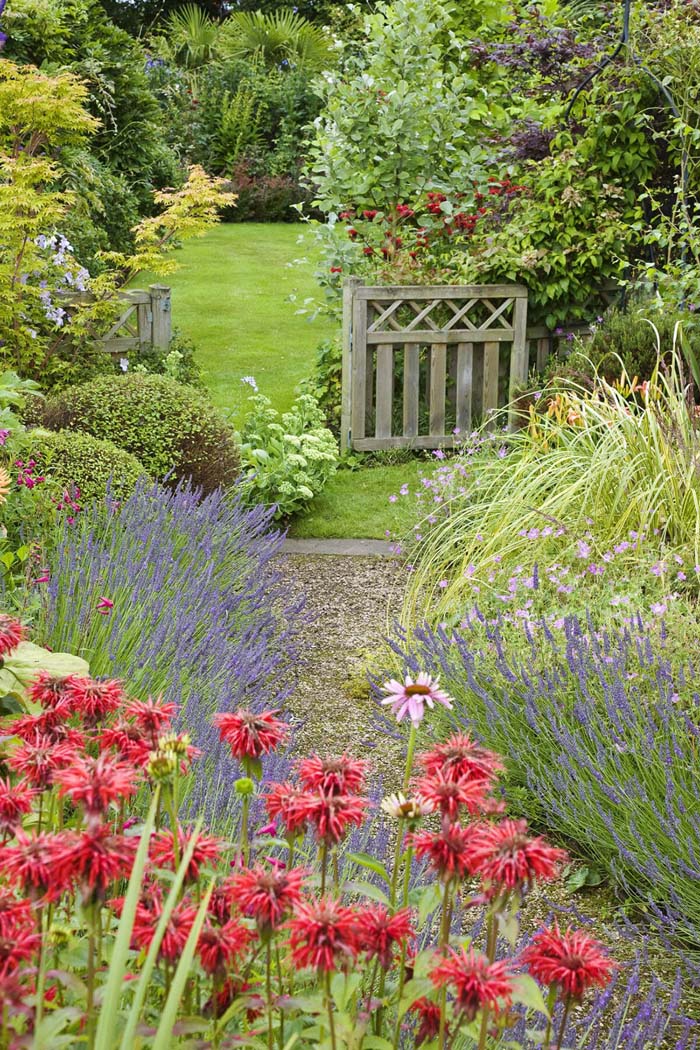 A tip directly from a professionalist in cottage gardening that you should consider for your cottage garden says that you should always think of the right plant for the right place. This means considering the growth requirements of the plant such as soil, sun and compatibility with other kinds.
This cottage garden landscape idea showcases good planning and knowledge of the plant kinds depending on their characteristics. At the beginning of the pathway, there are blooming flowers that are tall and make shade.
Next to them are short and shaped boxwood shrubs which are resistant to shade. As you walk further, rose bushes and trees surround the pathway creating a natural fence of a well-maintained lawn.
via Countryliving
23. Make A Vintage Display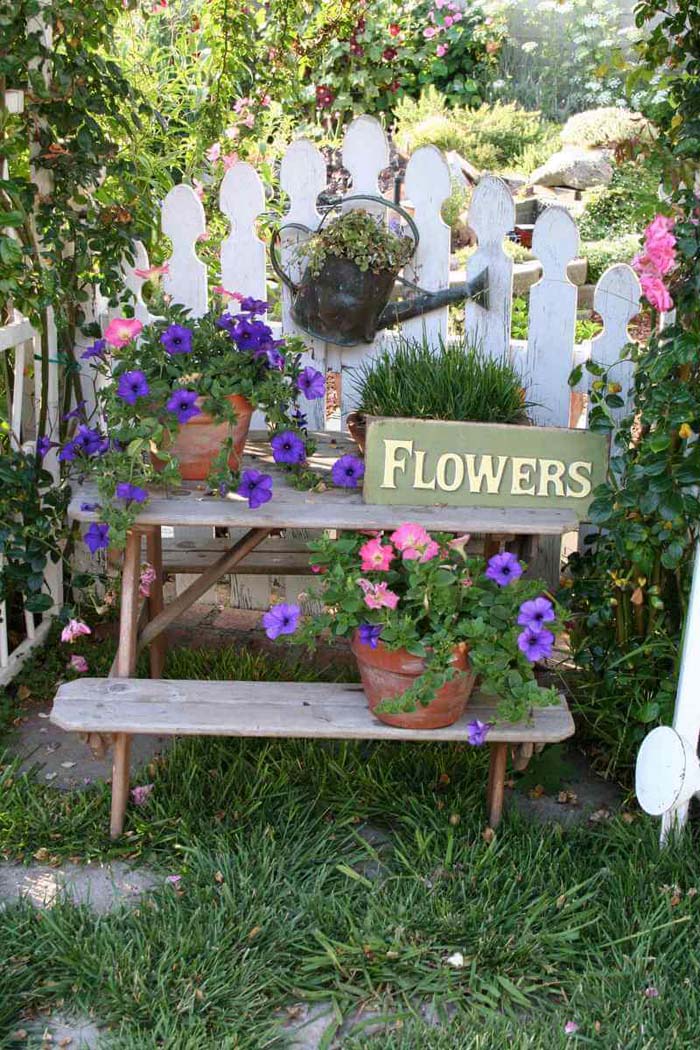 If you are looking to add decoration to the cottage garden, do it with vintage pieces that will add rustic charm. An old table or bench will suit perfectly a spot next to the fence to act as a repurposed flower stand.
Worn metal containers can be hung on the fence to hold cascading flowers and complete the vertical garden.
24. Create A Stone Or Gravel Path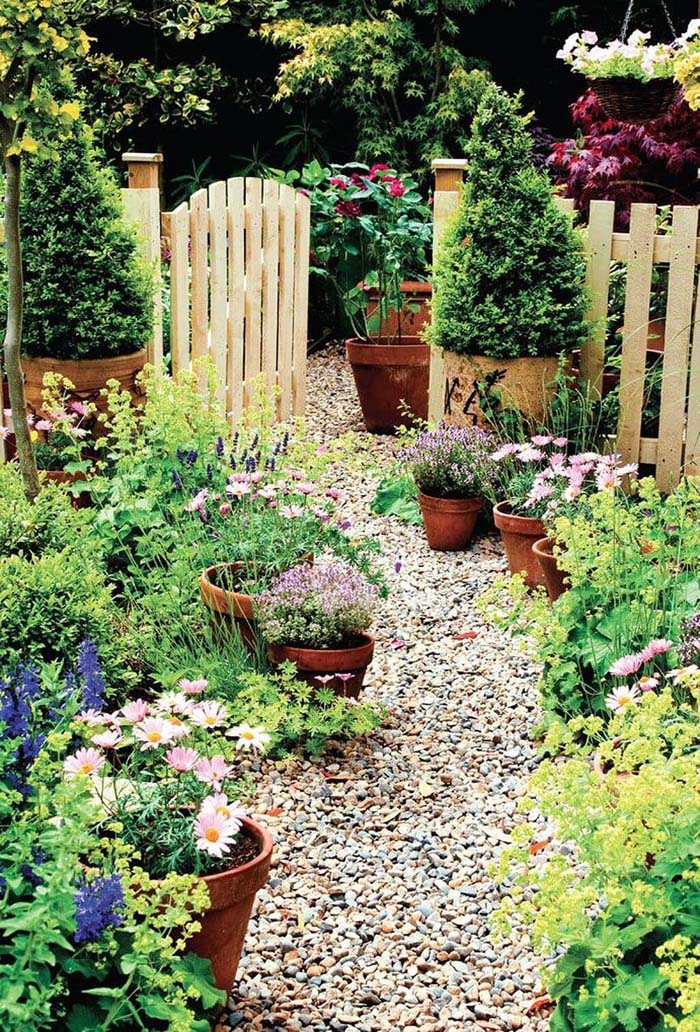 The authentic natural look of the cottage garden can be enhanced with a walkway made from gravel or stones. Place flower pots on either side of the path to create a fairytale tunnel.
In case there is enough space, don't forget to decorate with vintage items like a bench, a birdbath, a birdhouse and rusty galvanized containers.
25. Make A Bower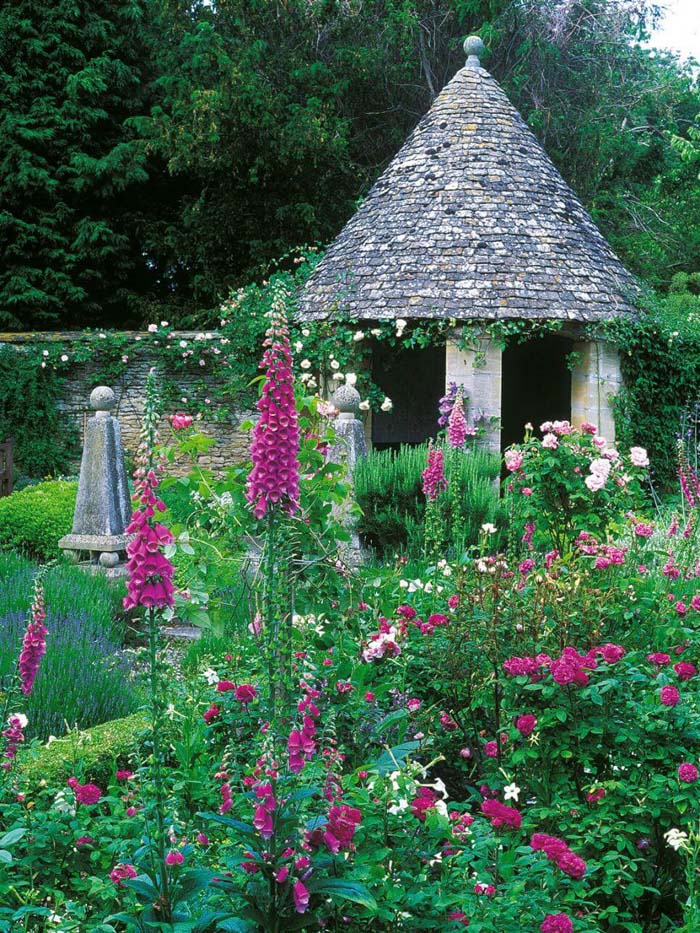 Another extra suitable for the cottage garden landscape is a little shed or a bower huddled up in the lush greenery. There you can take a relaxing rest and drift away dreaming.
Soften the building with vines which will create garlands and curtains over it.
via HGTV
26. Plan A Seating Area In The Cottage Garden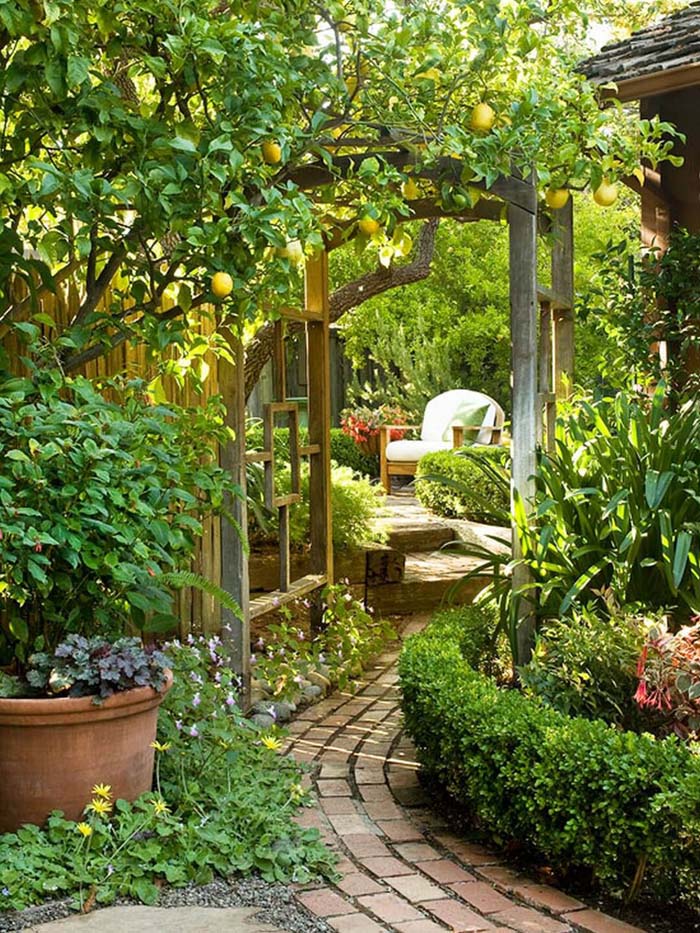 One of the most important things to do when planning your cottage garden is to allow for at least one seating area.
Depending on the size of the yard, that can be ensured with one bench or an armchair tucked away in the cool shade of the plants.
Make sure that you have a nice view of your cottage garden to enjoy its beauty, aesthetics and fragrance from the flowers.
27. Dreamy Corner Cottage Garden Idea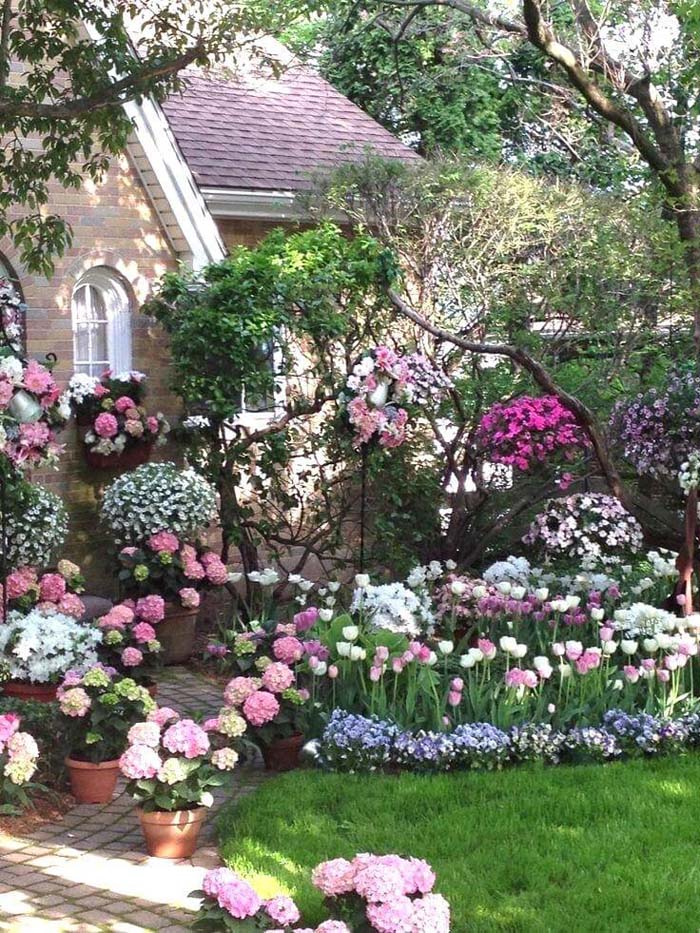 Even in limited spaces, you can create a dreamy cottage garden to welcome your guests with fragrance and layers of blossoms.
The trick to giving the garden an illusion of a larger scale is to add flower pots and stands to display plants on different heights.
28. Boxwood Border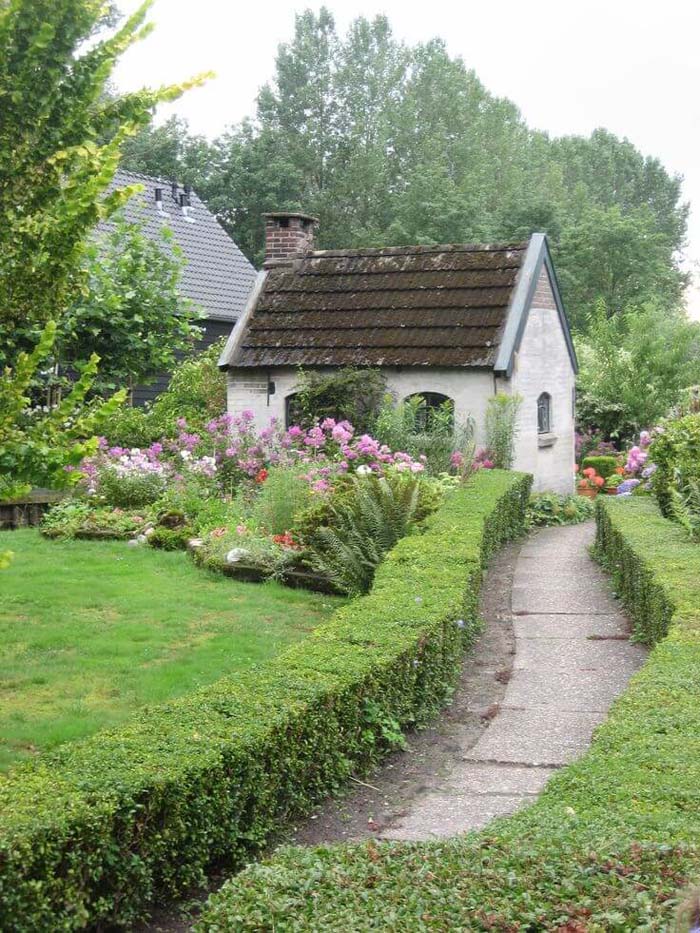 This small cottage house is given an enchanted look thanks to the fairy garden surrounding it. Borders of boxwood outline the pathway to the house's front door.
At either side of the entrance, there is a flower garden showing rich pink blossoms and delicate white flowers which stand out against the green leafy backdrop.
29. Introduce Flowers On The Garden Staircase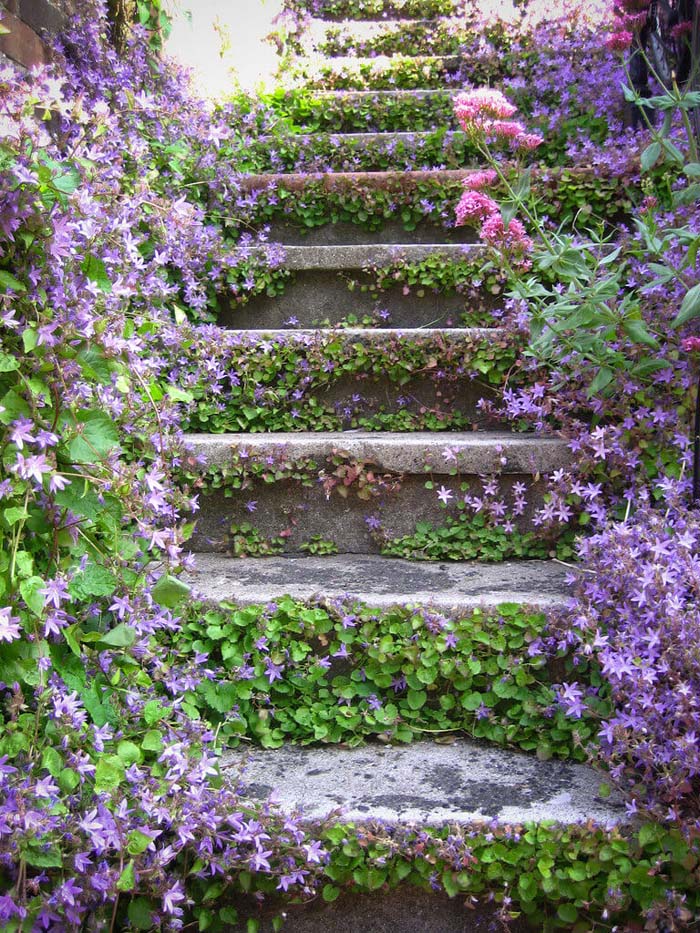 The staircase is an amazing way to create levels in the cottage garden and zone the areas in it.
To blend the structure with the garden, soften it with climbing flowers that trace the route up the staircase.
30. Make The Cottage Garden Gate Attractive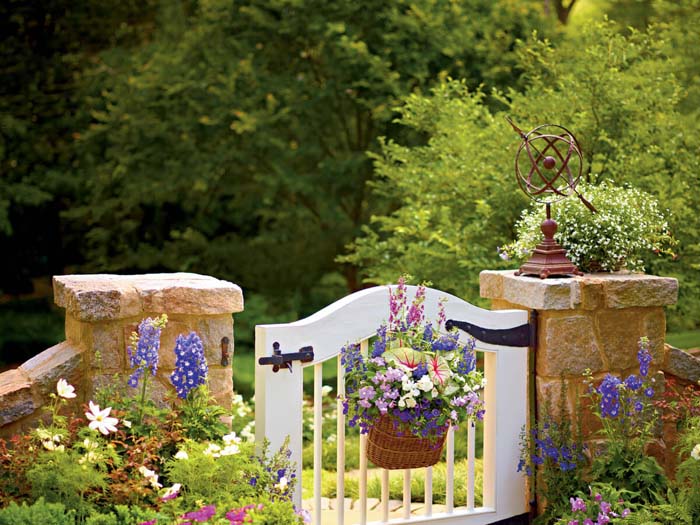 Make a hint about the visual look of the inside of your cottage property with a basket filled with flowers hung on the gate.
31. Make A Small Cottage Garden Arrangement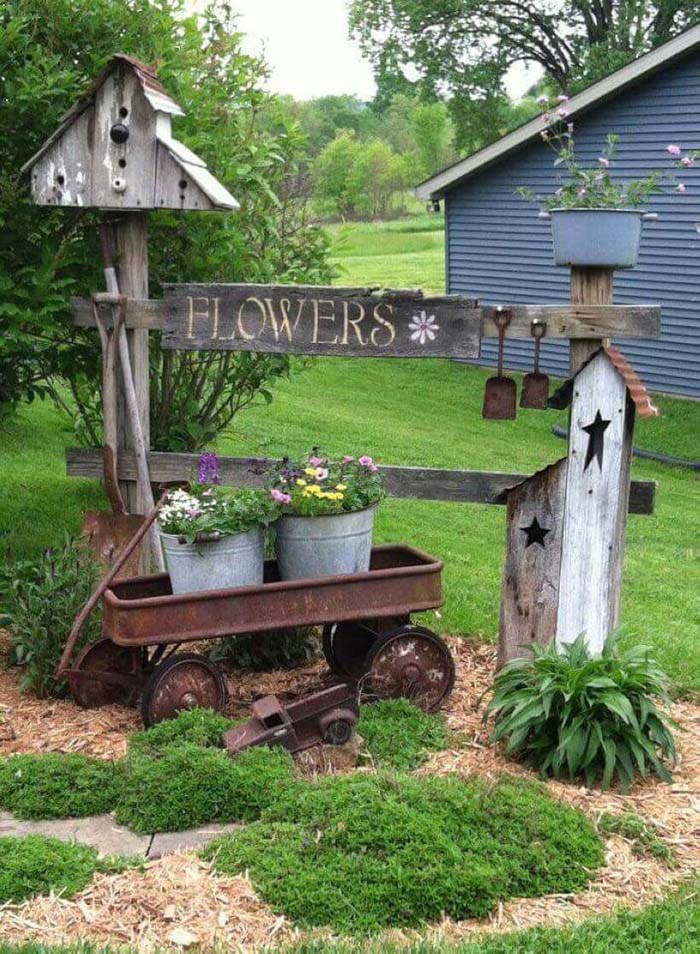 Use a piece of an old weathered fence to create a cottage garden zone. Surround it with old farmhouse items such as birdhouses, rusty shovels and vintage carts.
Add a simple sign made from a piece of reclaimed wood to inscribe the purpose of this nook. This small decor nook is a great addition to a farmhouse garden landscape.
32. Make The Entrance Of Your Cottage Garden Beautiful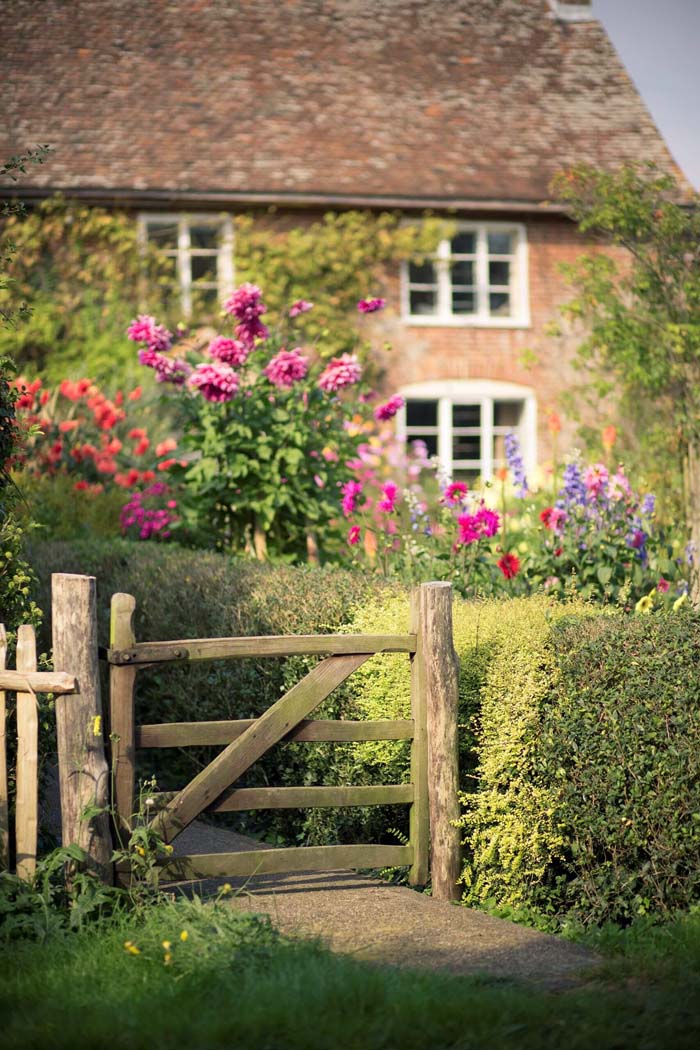 Set the scene of the cottage garden from its beginning- the gate. Frame the gate with boxwood shrubs shaped as borders and pretty collections of flowers and foliage behind the evergreen bushes.
As you step in front of the gate you will instantly feel the welcoming vibe of your home.
via Rachel Warne