The backyard is your own outdoor piece that can be turned into a paradise. A place for relaxing, for games of the kids, for releasing the stress, for practicing the green thumb, the backyard is the affordable and on-hand holiday destination in the summertime.
Make it comfortable and appealing without being a landscape designer. With the unique backyard landscaping ideas and designs we have collected for you, the backyard will become a family retreat that will bring joy and coziness.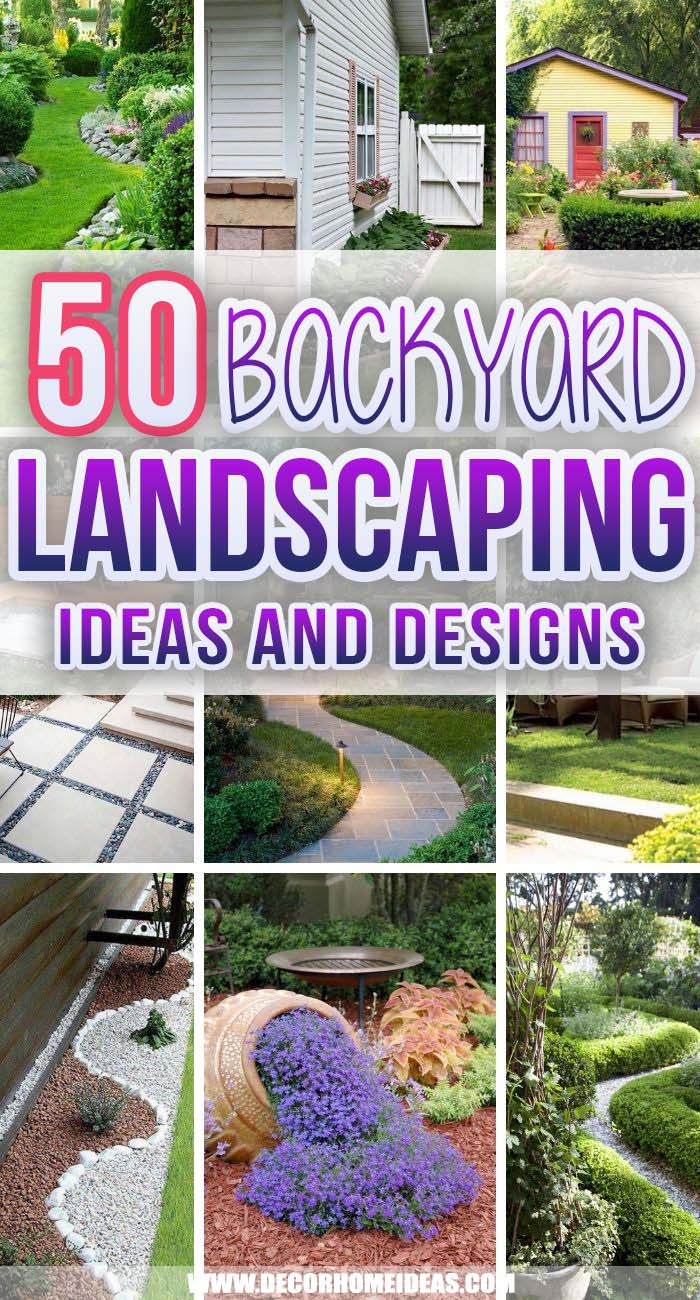 We will show you space arrangements with flowers, sitting outdoor furniture, firepit nooks, walkways designs, flowerbeds, water, and light features that will transform your outdoor space to be inviting, comfortable, and appealing as your interiors outside in fresh air.
1. Paved Flower Path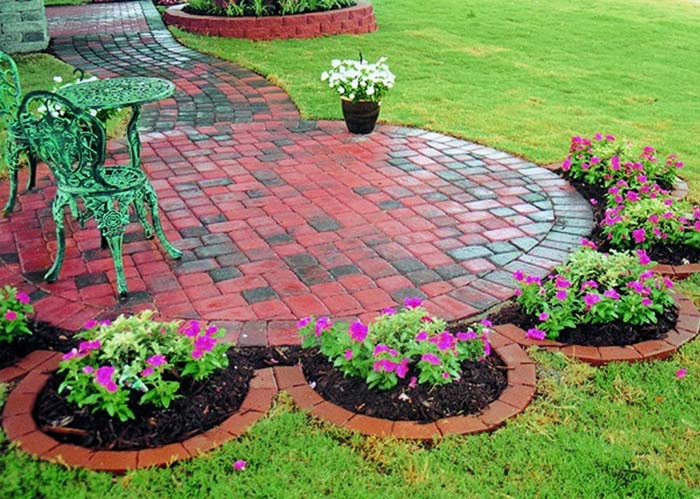 Use a garden motif to create a special sitting nook in your backyard. Arrange pavers in a flower pattern to distinguish the stamens where the furniture will be placed and the petals where real flowers will be planted.
In case the nook is close to the house, use the same material to create a connecting walkway.
2. Multitiered Deck Extension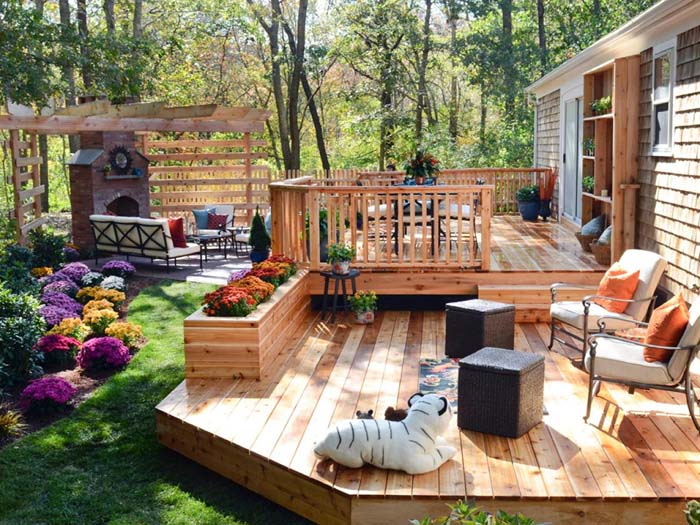 Even the smallest backyard can become a paradise offering natural beauty mixed with contemporary comfort if you utilize the space smartly. Extend the porch with a deck platform where additional sitting furniture can be placed.
Make a stone walkway to lead to an outdoor fireplace for barbeque. Edge the outdoor space with a garden with seasonal flowers to make sure that the colors and scents fill out the air all summer.
3. Private Garden Gazebo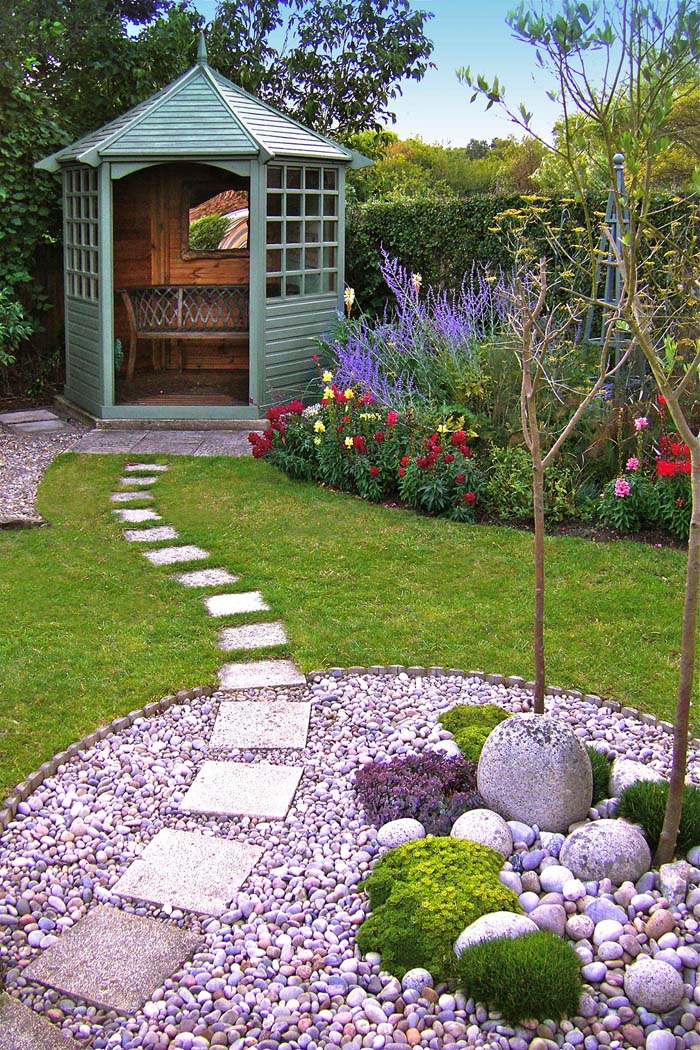 Create a summer house in your own backyard to enjoy your own property's natural landscape and fresh air regardless of the weather.
The covered design will keep you safe from rain and wind and the sun on the hottest days.
via Rich Saunders
4. Cascading Purple Blooms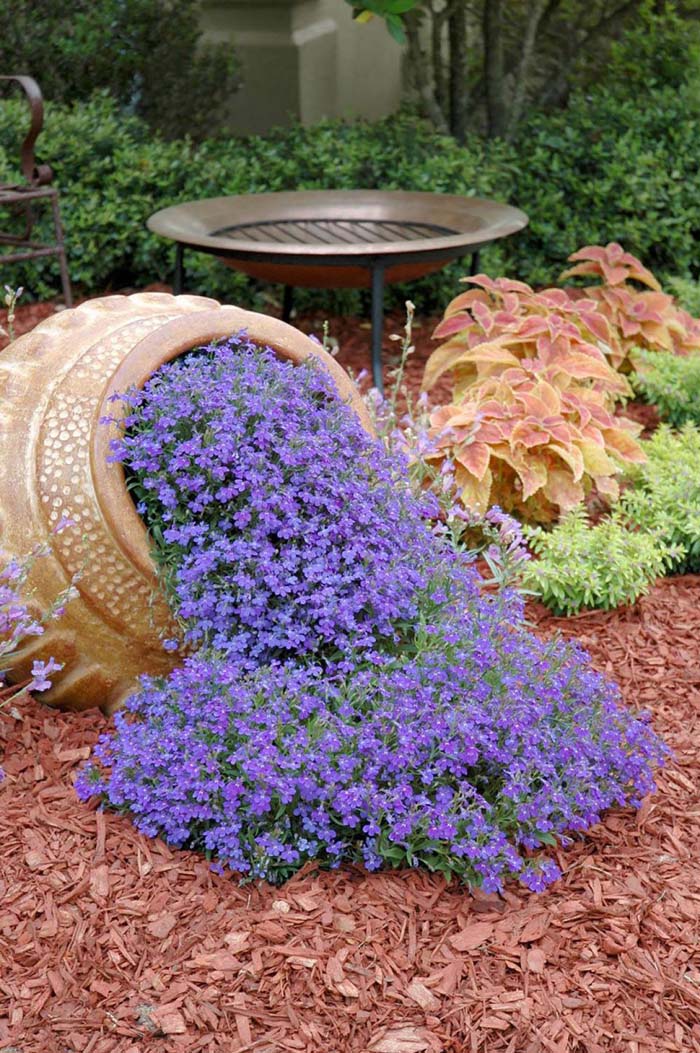 Create a point of interest in the backyard by forming a well-maintained garden bed.
Repurpose containers to create non-expected effects that will attract attention.
5. Non-Permanent Planter Ideas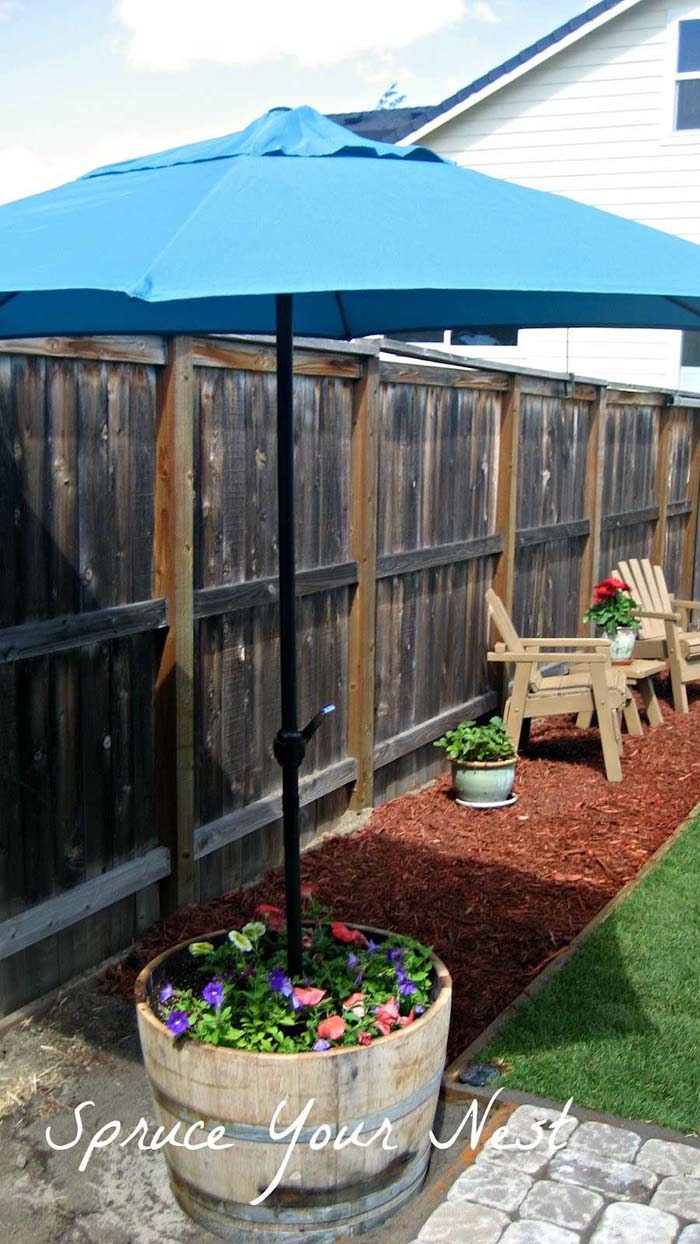 Include a multifunctional gadget for your backyard idea. This barrel with flowers is more than a rustic beauty. It supports an umbrella that can be moved to create shade as needed.
This is an easy and affordable backyard DIY that can spruce up the outdoor comfort of people that renters and don't want to invest much.
6. Tranquil Backyard Pond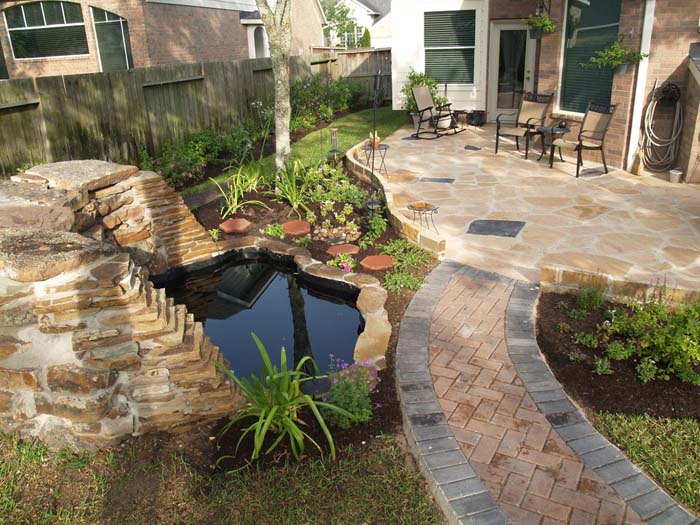 This pond looks like a natural creation. This effect is achieved by the stacked stones and the carved design in the ground. It can be surrounded by native plants to enhance the authentic wildlife look.
Another landscaping design can follow the rock stone garden plant variety with cascading plants.
7. DIY Wooden Path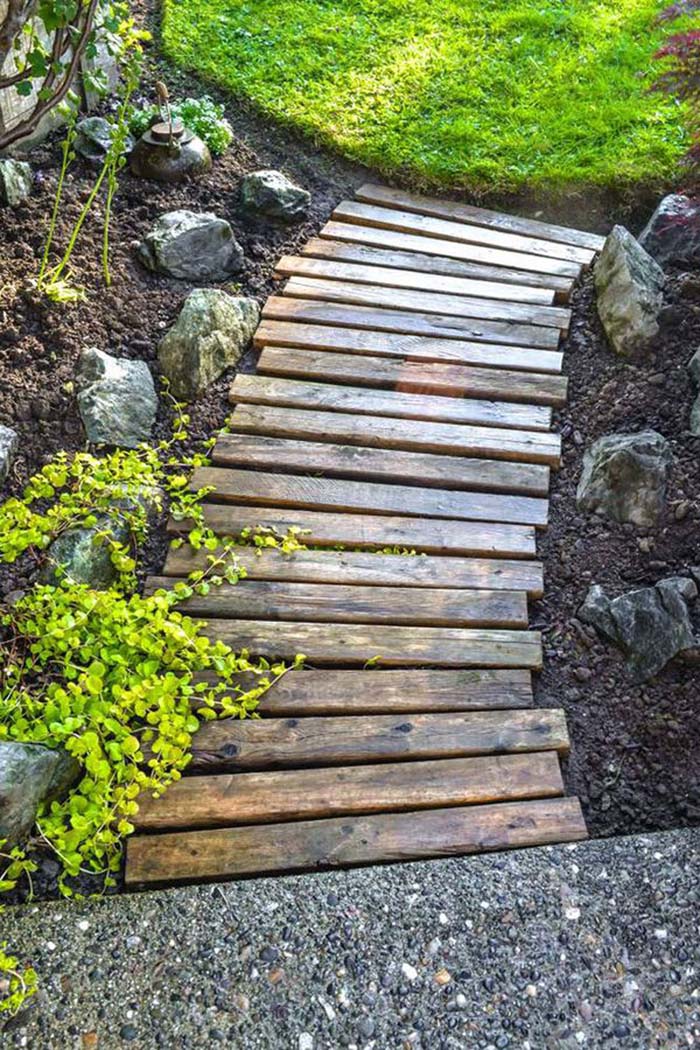 Make connections between the zones in the backyard with reclaimed materials. That can be pallet slats, rocks, ceramic pieces arranged in a mosaic pattern.
This element will not only make stepping on the ground safer and on the clean side but will also help to create a general organized look of the backyard.
via Country Living
8. Entertaining Fire Pit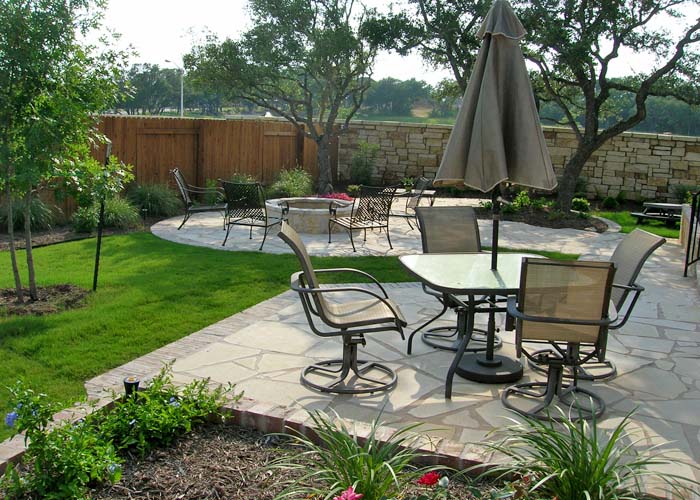 If you have a large lawn, why not make it more entertainment-friendly by building a firepit zone?
There are many DIY ideas about the garden designs and the materials you can use to make it yourself. Surround the fire pit with chairs or a bench.
via Design My Yard
9. Magical Lit Fire Pit Area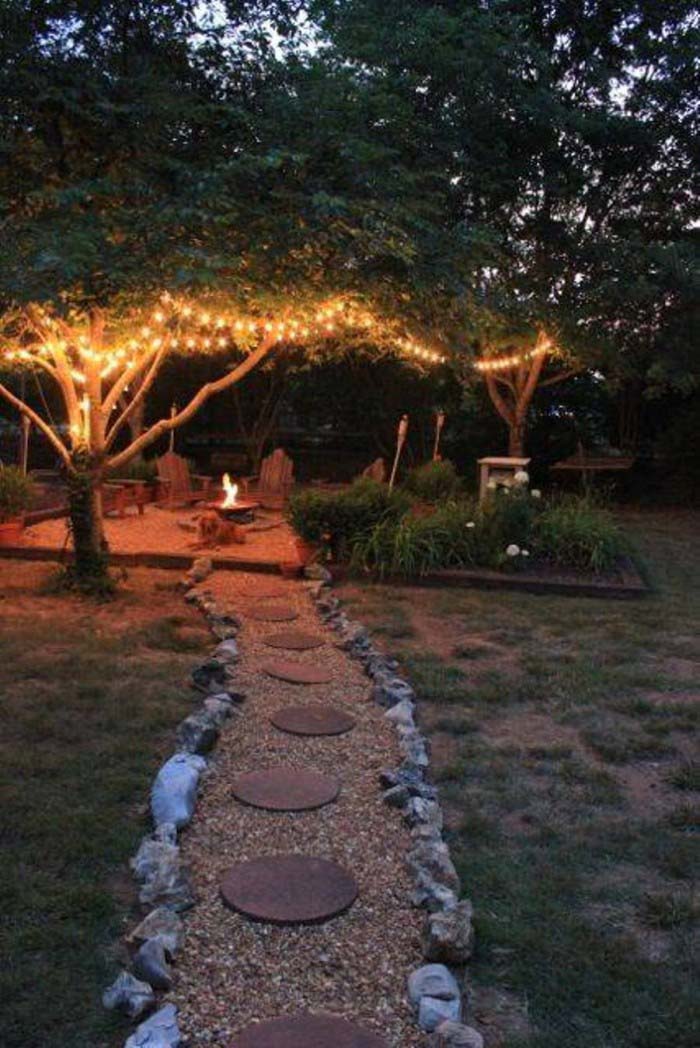 Make the nights outdoors inviting by adding string lights to the pergola or to the tree branches. The string lights will set a romantic and dreamy mood for two to enjoy outside or will add a fun element for a party out in the fresh air.
The string lights are inexpensive so consider adding them even to your modern backyard for a versatile look.
10. Party Pit With Pergola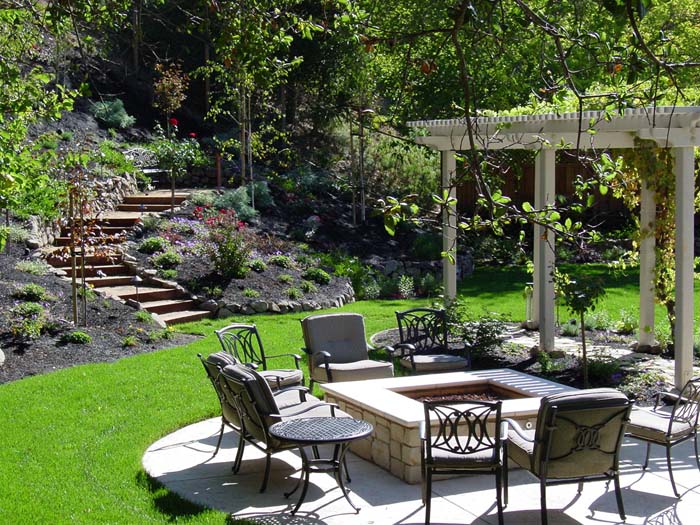 Organize the sitting furniture set around a firepit. Instead of a table, use the extended edges of the over-the-ground fire pit for placing drinks and why not meals.
When the fire is not set during the day, enjoy the natural beauty of a maintained garden bed. At night, light it up to feel the warmth and appealing coziness of the firepit.
via Alder Group
11. Serene Country Garden Space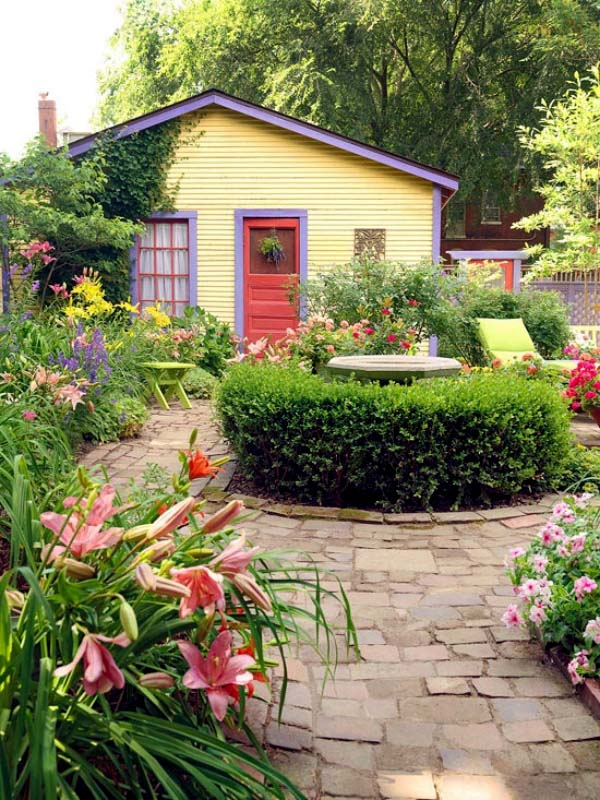 Want this charming country garden effect for your backyard idea?
The principles are simple- cover every spare inch of the earth with herbs, flowers, trees. The aim is to create a garden that looks like it has planted itself.
You will be enjoying a nature-inspired landscape with a mixture of colors and textures.
via OF Design
12. Wood Slice Garden Path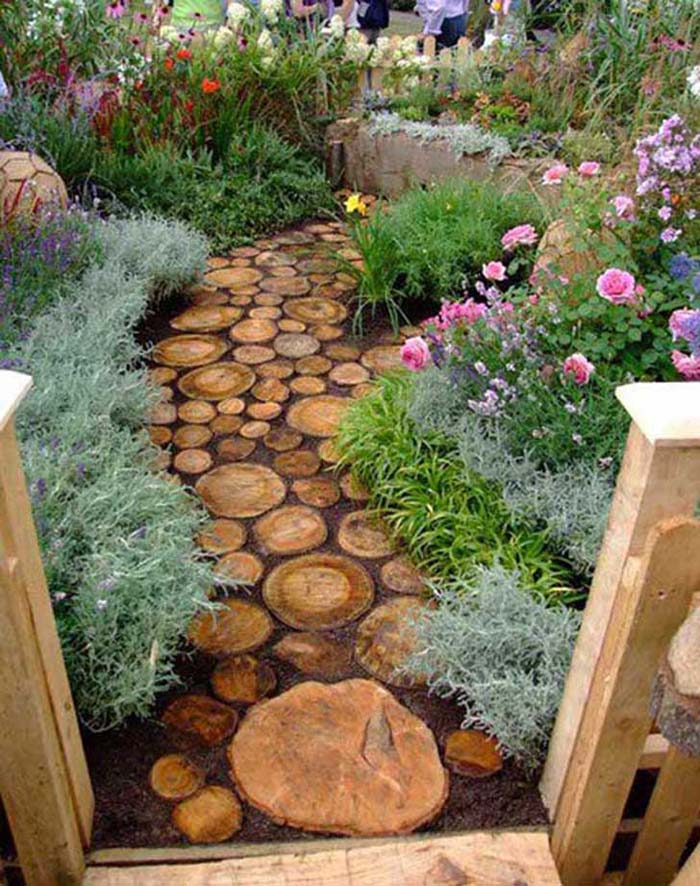 The pathways are an important part of the outdoor garden design. They connect zones and create an organized look of the property.
There are DIY pathway ideas that are budget-friendly and unique. Log slices are among the eco-friendly materials for building charming outdoor flooring.
via Viva Decora
13. Easy Bright Garden Area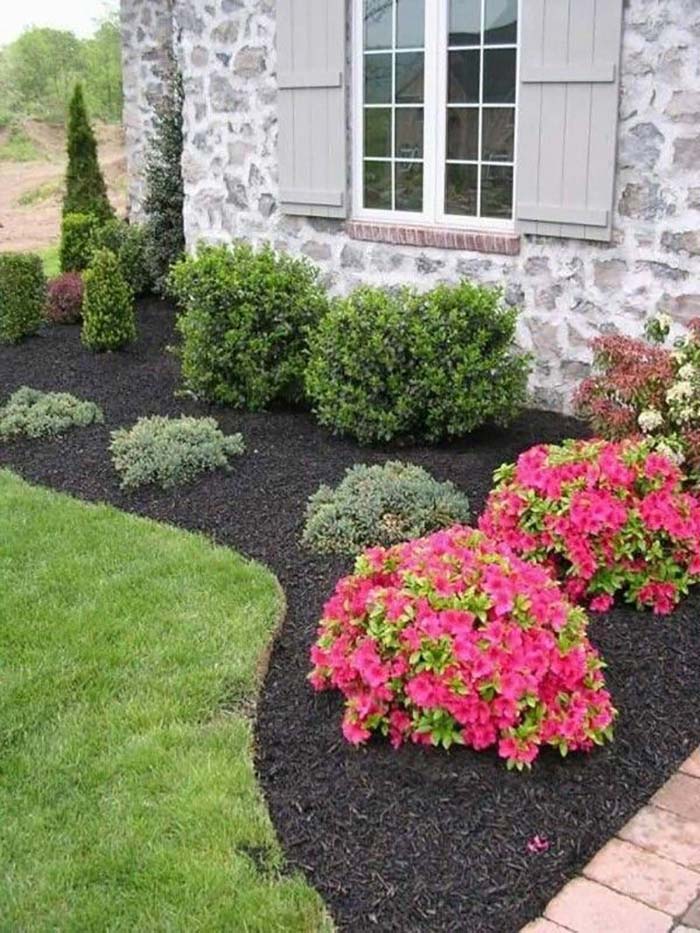 Create a bold garden bed with bright-colored flowers. Arrange them in an interesting pattern using matching in color plants and mulch for a drastic contrast.
For more ideas of breath-taking pink flowers, check the list below.
14. Relaxing Water Feature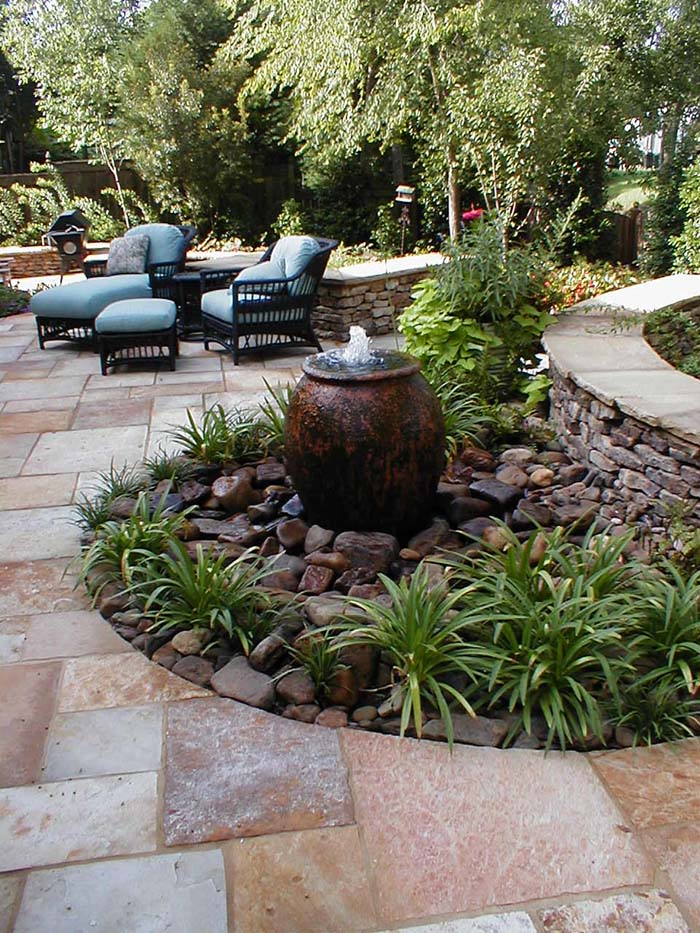 The sloped backyards may be a challenge for landscaping. Use the natural ascent for cascading in height arrangements with stones and greens.
Thus, the backyard will feature many focal points and a unique energizing feel.
15. Covered Spaces Add Shady Comfort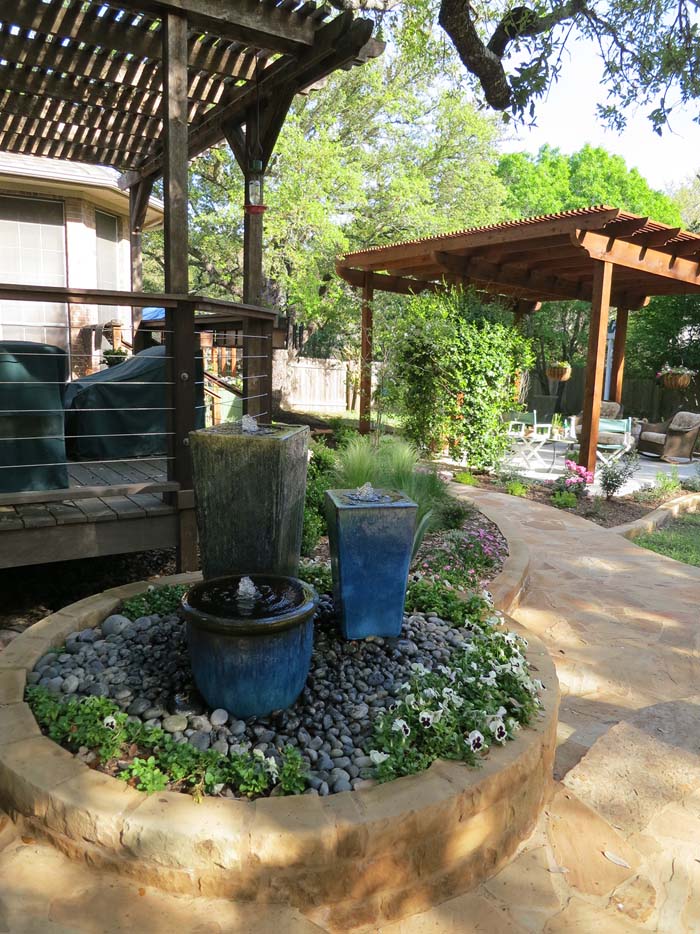 Create a shaded nook for all-day-long outdoor relaxing by building a pergola or another shading feature. If you want to have a garden bed close to the pergola, choose flowers that are shade-friendly.
Cover the ground with stones and pebbles to help the drainage, to stop weed growth and to make the connection with wildlife stronger.
via Design My Yard
16. Tranquil Water Sounds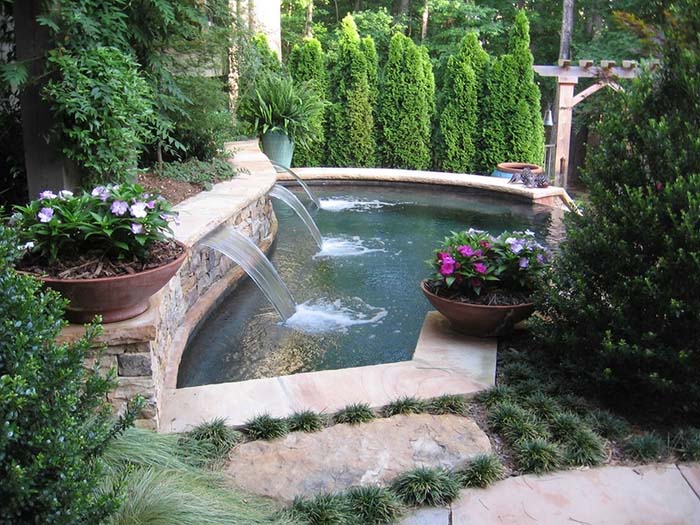 Whether a pond, a fountain or a swimming pool, the water feature has the ability to make the modern backyard unique and welcoming.
The waterfall is preferred by people with small yards who want to enjoy the murmur of water. Surround it with native plants and flower pots to make it look more natural.
17. Flowers And Chairs Add Seasonal Color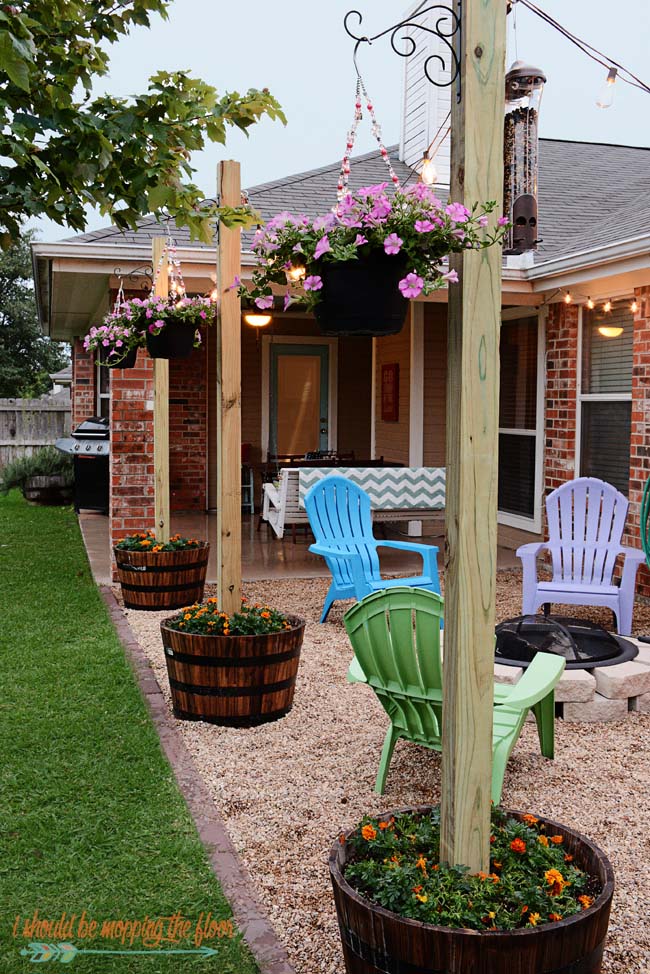 Make the lamp posts of your backyard more functional by placing them into barrel planters. The posts support string lights that outline the patio with a firepit.
To each post, a wrought iron bracket is screwed to hand wonderful flowering baskets.
via I Should be Mopping The Floor
18. Stunning Backyard Fireplace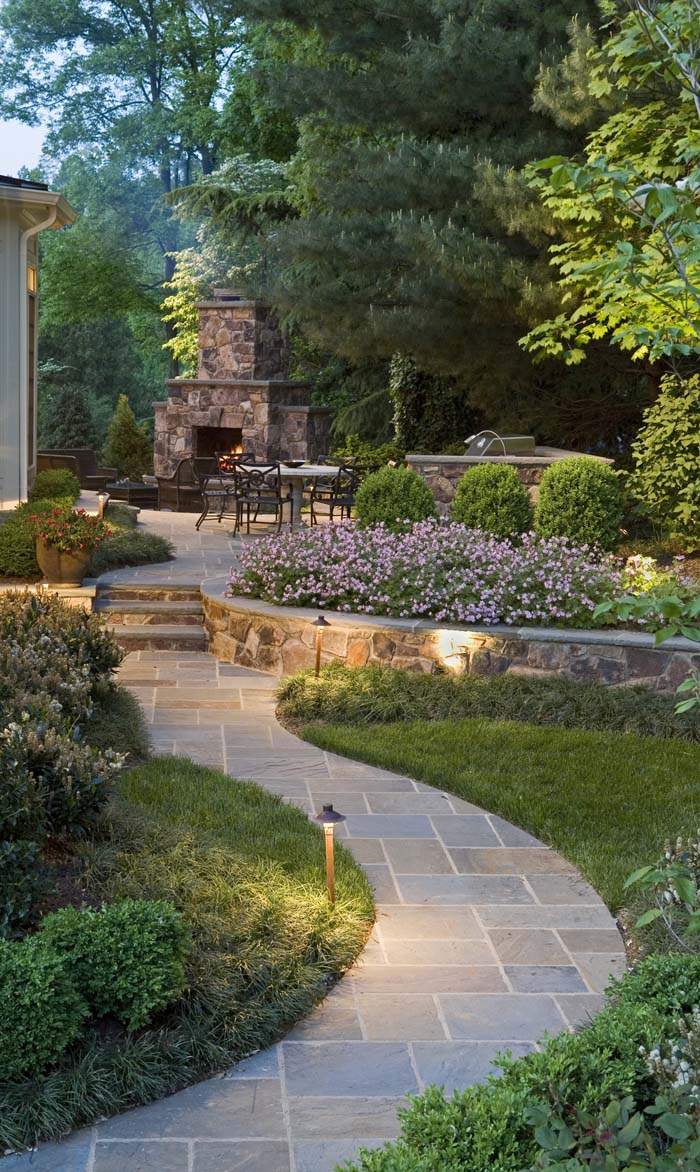 This inviting backyard idea features an outdoor fireplace that can be accessed via a pathway through the garden. The patio and walkway surfaces are made of flagstone in earthy natural colors.
At either side of the walkway there are current powered lights. A more affordable and eco-friendly replacement can be solar-powered lights.
19. Glorious Gazebo With Flower Garden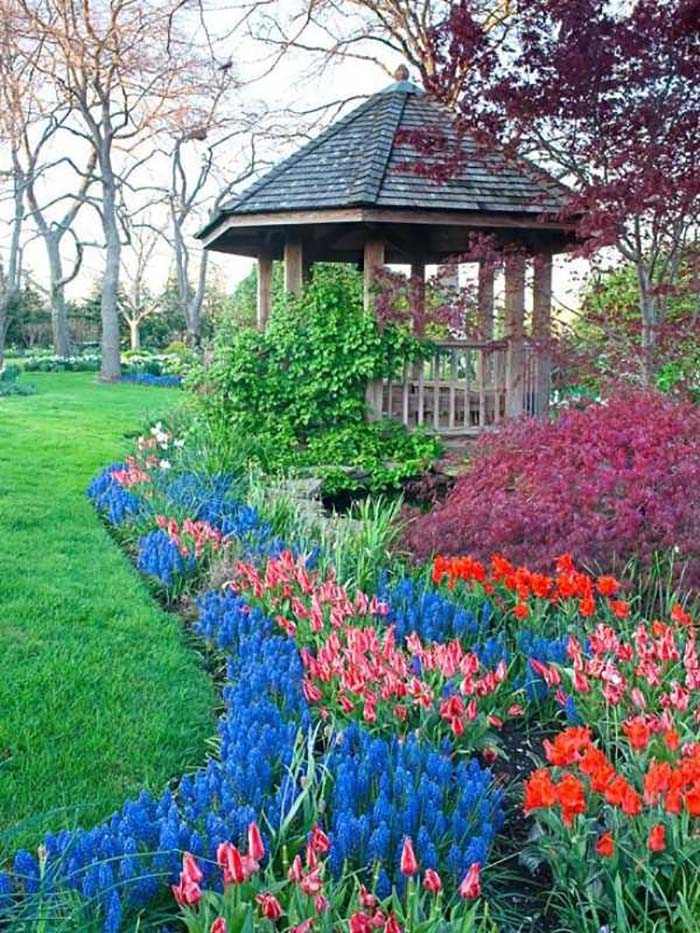 Make a focal point in the backyard with flowers. Alternate two or three kinds of blooming flowers.
Plant them thick to ensure that in their blooming phase the blossoms create a magnificent natural carpet.
via OF Design
20. Cozy Corner Fire Pit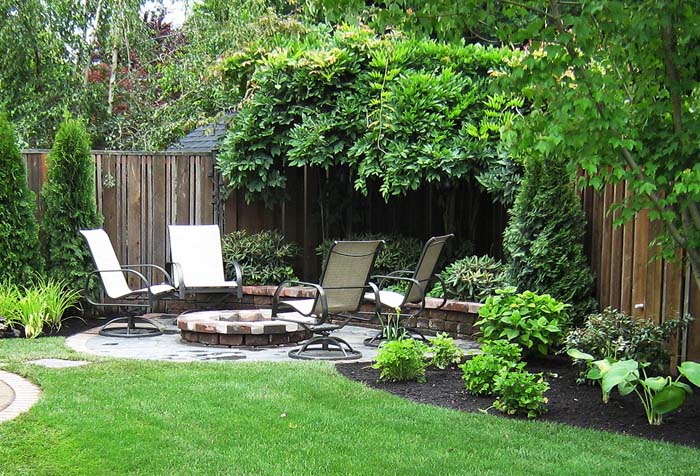 In case your backyard is large, divide it into entertaining areas. For a corner utilization, consider building a fire pit nook. Cover the ground with stones that will distinguish the sitting area around the pit from the lawn and the garden.
Since the nook will be used more at night, you can utilize a sunny part of the backyard and leave the shady one for activities that take place during the day.
21. Decorative Garden Statuary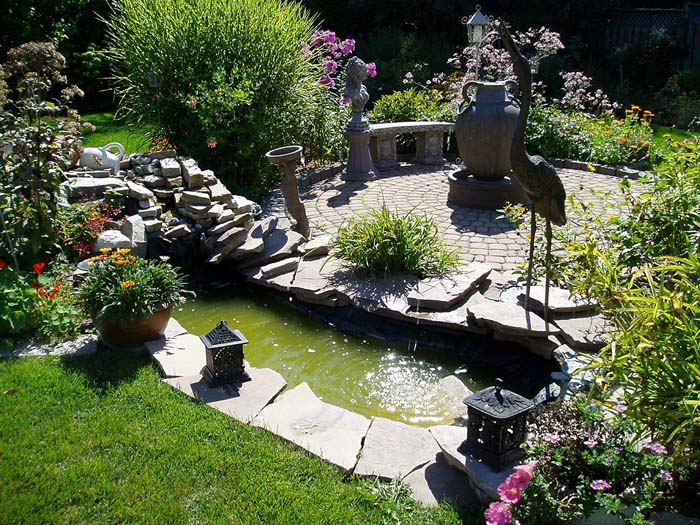 Make a small faux pond in the backyard to have a favorite place for relaxing. Plant flowers and greenery to enjoy the scents and colors under the melody of the murmuring water flowing from a fountain built from stones over the pond.
This water feature is perfect for sloping backyards where a cascading garden design is naturally possible- the higher place is the spot for a fountain to flow and the lowest becomes the basin of a pond that accumulates the water.
22. Monochromatic Magic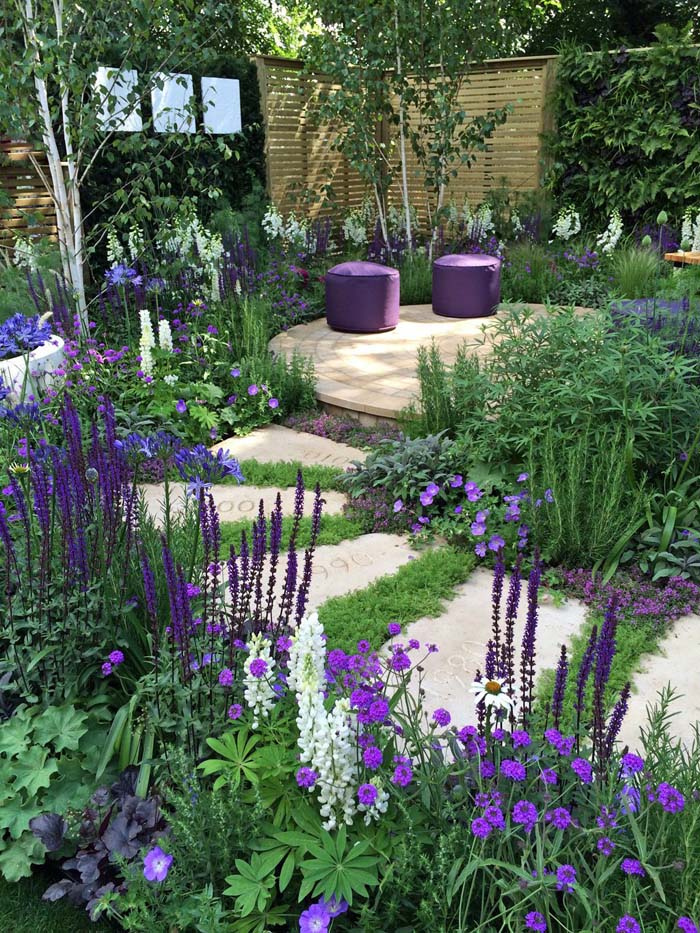 Create a purple and white blooming garden that will inspire calm and romantic moments. Purple may not be a favorite color when it comes to your wardrobe, but in the garden, purple flowers are irreplaceable for adding abundance and depth in spring and summer.
The white flowers also have a calming effect so they perfectly complement the mystical purple.
23. Vary Flower Heights To Maximize Color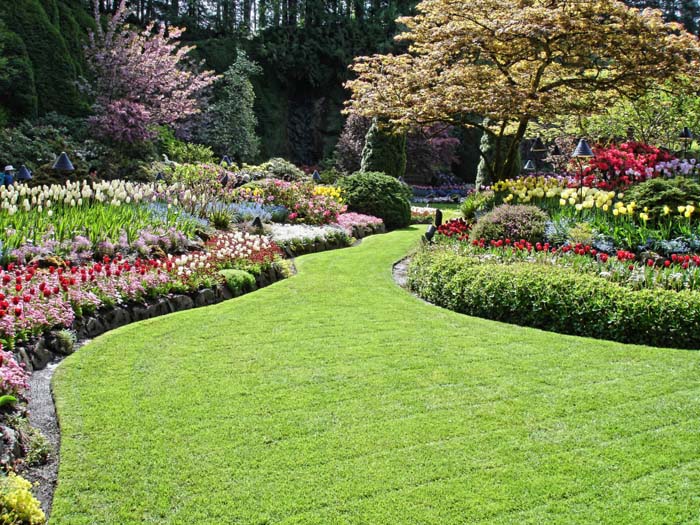 Create a sloping effect of your backyard with plants. Choose plant varieties of different heights so that the beauty of each is clearly seen.
Use mulch or pea gravel to edge the garden beds and separate them from the lawn pathway.
24. Serene Zen Space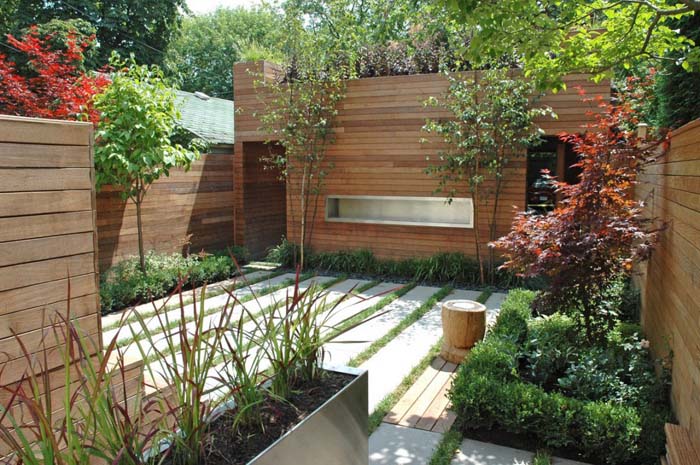 This is an idea of how to utilize optimally the small backyard. Firstly, don't underestimate privacy. Ensure it with fences. Secondly, don't forget that this is your own piece of nature so greenery is a must.
Use the lines of the fence to create garden beds where different plants can grow. Combine with shrubs, trees ad ornamental grass to create a unique landscape although with a small footprint.
25. Traditional Flowering Garden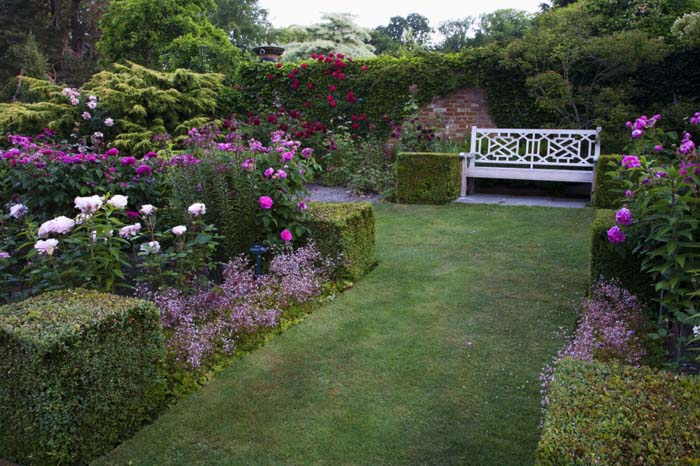 If you enjoy the flower gardens, plant as many flowers as you wish to enjoy their beauty, texture and colors.
A clever idea is to use their natural development in height as a privacy screen that zones a bench inside this natural landscape.
via Country Living
26. Relax In An Idyllic Swing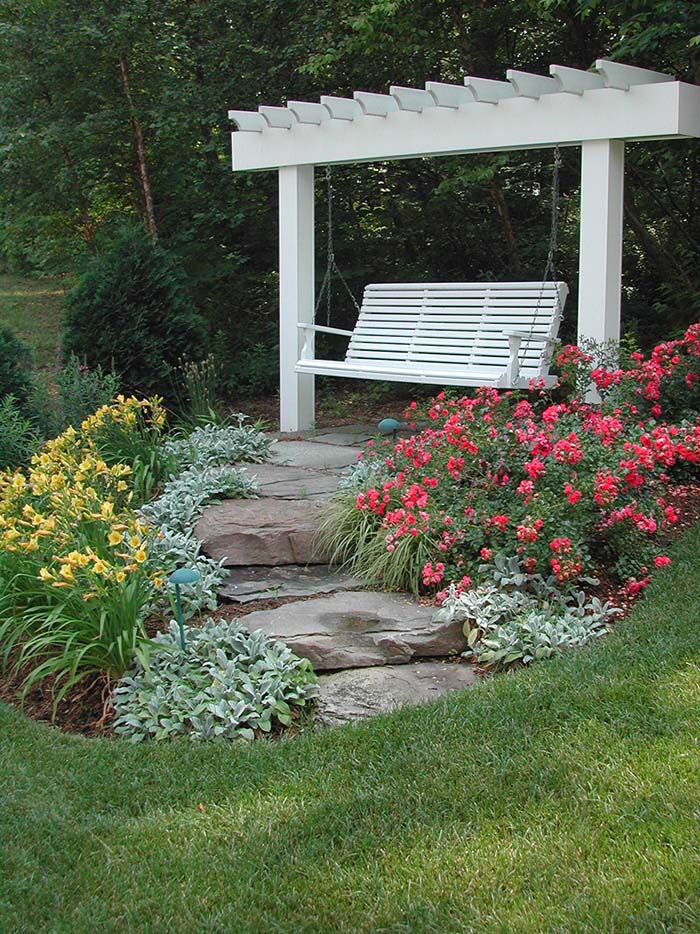 Combine the flowers by their color to create a pleasant for the eye visual interest. Use an existing landscaping element to distinguish the kinds, a pathway for example.
Place a bench or a swing at the end of it to admire the seasonal flowers.
27. Working With Nature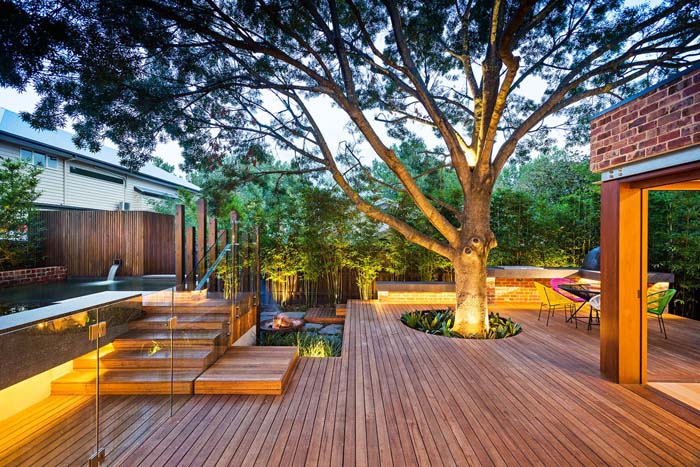 If you have decided to cover your garden with decking, consider using the shade of the large trees growing there instead of building a pergola.
Plan and build the platform around the trunks leaving enough space for the tree to grow.
28. Add Interest With Varying Ground Covers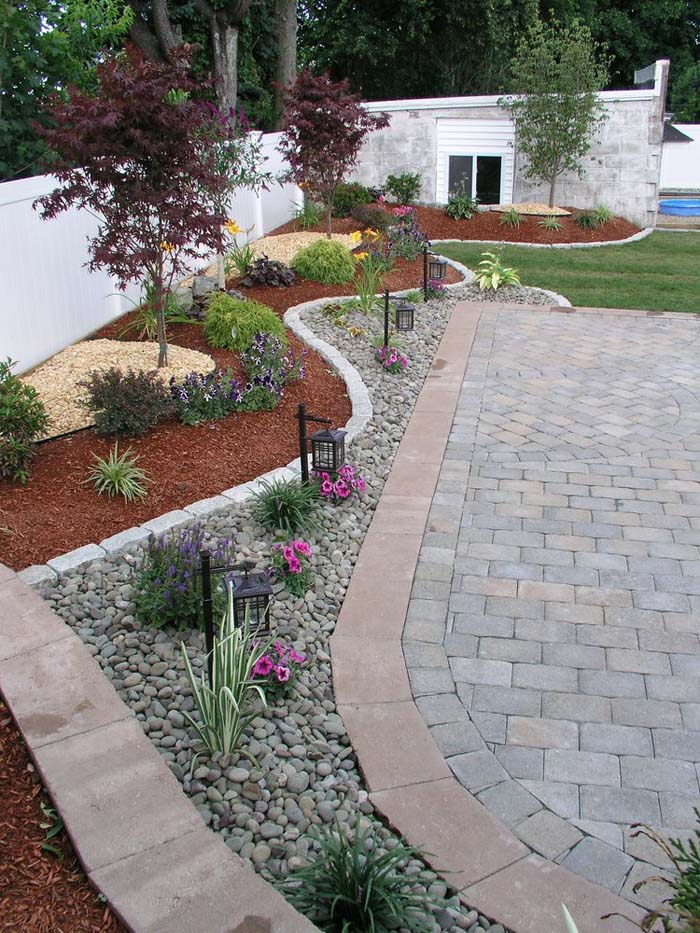 Create an interesting landscaping design with rocks and pavers. Use the pavers and the large stones to form the shapes of the gardens. The ground can be covered with pebbles that will help the drainage and will stop the growth of weed.
The other garden can be covered with mulch which is also weed-protective. The dark color of the mulch is also good for creating a contrasting background for green plants to stand out.
via Yelp
29. Expansive Leveled Areas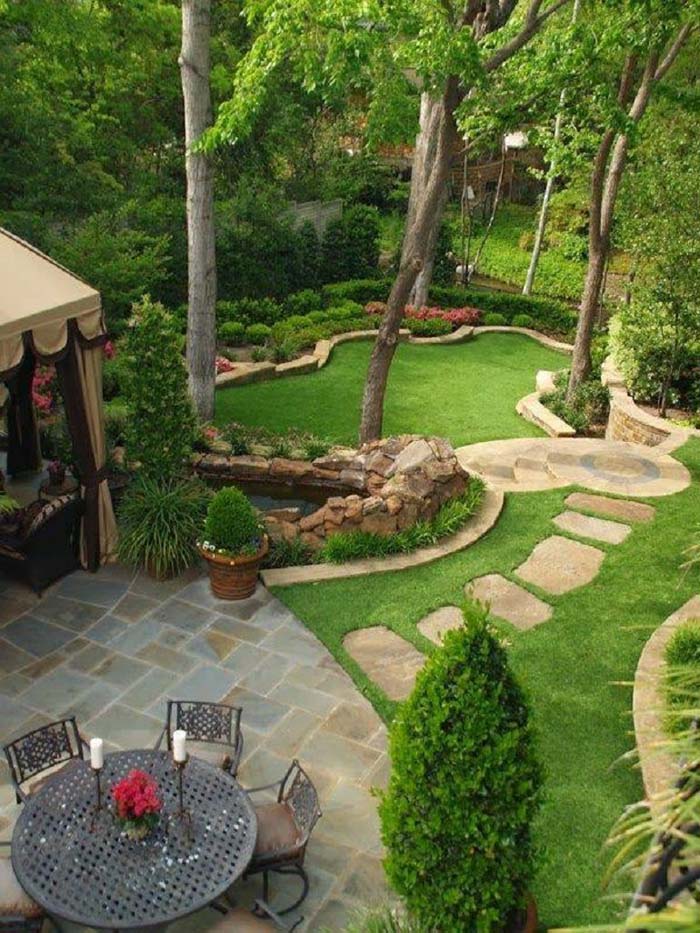 Create a terraced landscape with raised garden beds. Dedicate small parts of the lawn to build them up with soil. Surround the beds with stones that will keep the soil mass there and will accentuate the gardens as focal points.
Such an interesting landscaping design will be easy to create a project on sloping backyards that naturally have lower and higher points.
30. Illuminated Water Feature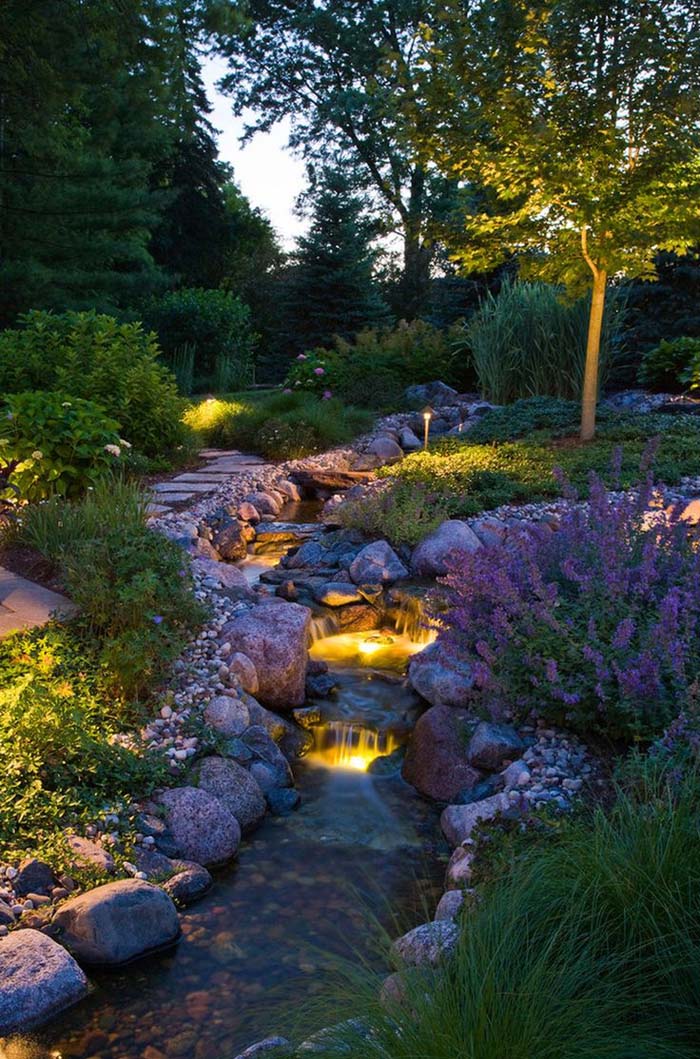 If you are thinking of building a water fountain, consider giving it an additional visual effect at night by building in lights on the ground.
31. Enchanting Flower Arch Entertaining Area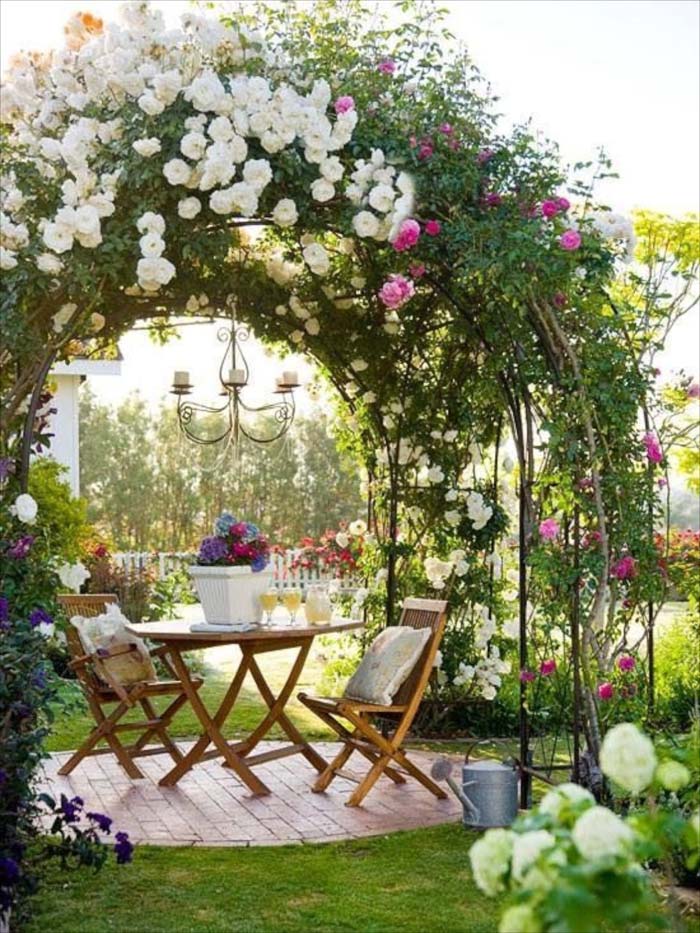 Make your backyard a romantic English garden where roses' blooms shade and create a natural screen of a private sitting area in the outdoors.
Use a wrought iron gazebo to let the roses climb and create the mesmerizing living canopy.
32. Stark But Stunning Low Water Garden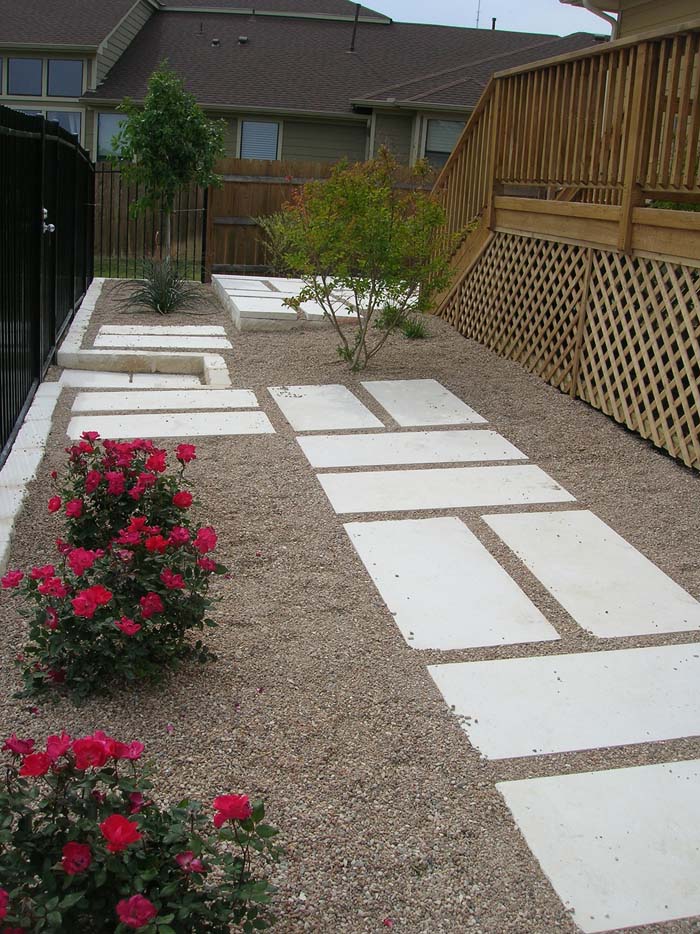 Depending on your home location, you may not want to maintain a lawn or a garden with many plants.
In those cases, you can grow succulents that don't require much watering or cover more of the earth with pea gravel and leave just small areas for garden beds.
via Design My Yard
33. Simple Flower Boxes And Hostas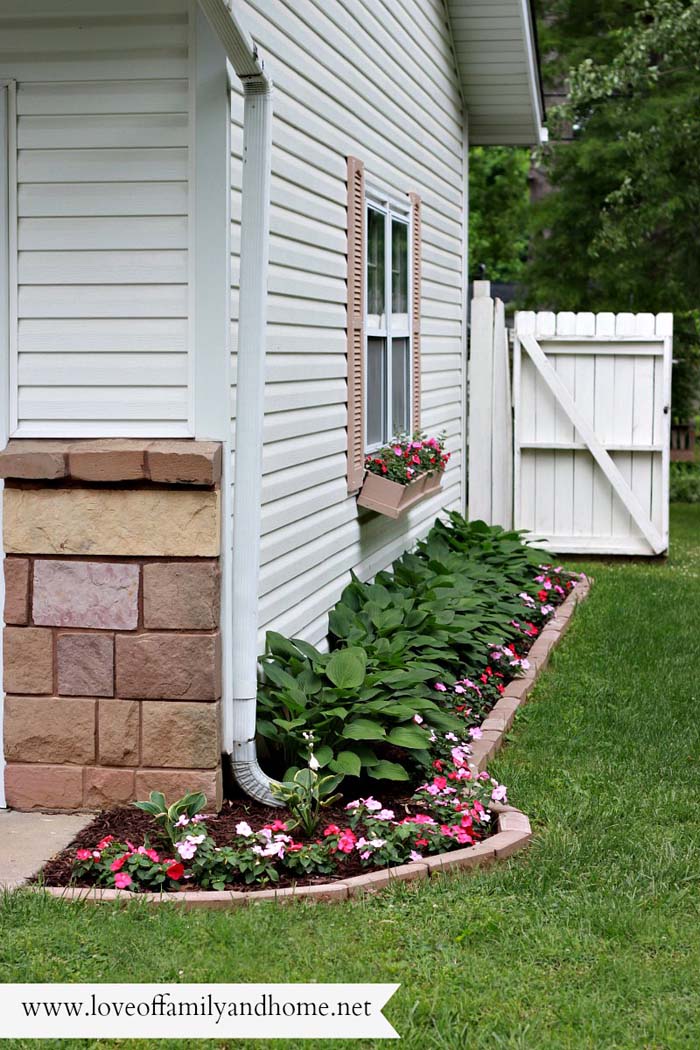 In case you don't want to dedicate too much of your time to garden maintenance, you can create a small raised garden bed at a strategic place that will give your home an instant curb appeal.
That could be the edge of the front wall or a corner next to the porch.
34. Peaceful Backyard Spa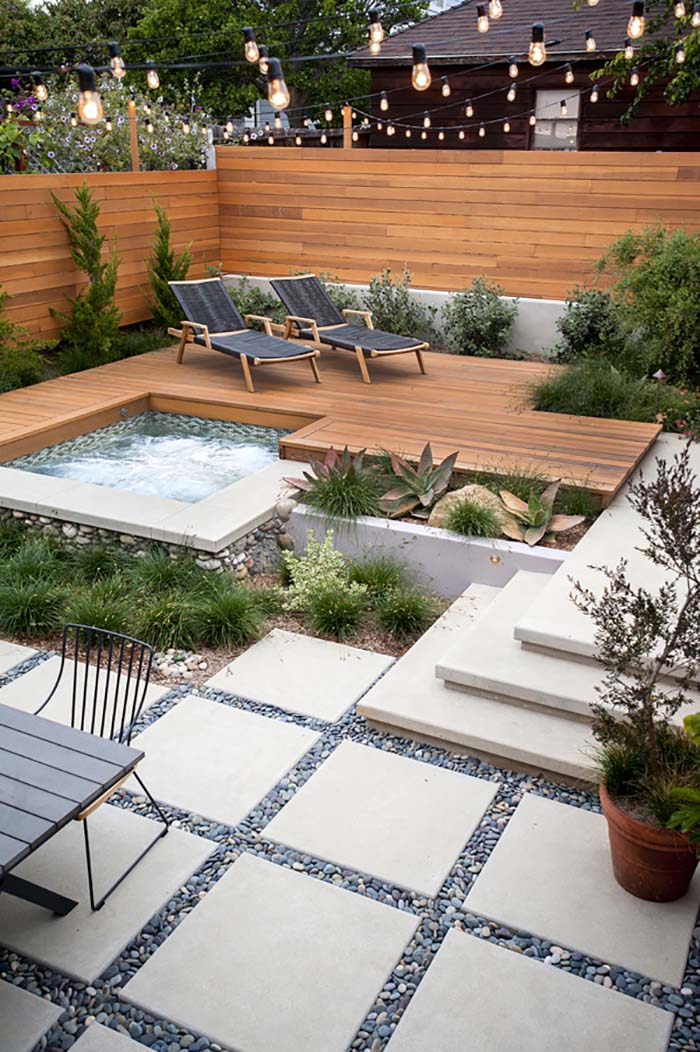 Another backyard landscaping idea considers fewer maintenance thanks to wood and stone coverage.
This type of arrangement is good for small backyards and fór busy people that don't have time to take care of gardens and lawns. Only small areas are left to garden beds where native plants grow to remind that this is an outdoor space.
35. Floral Islands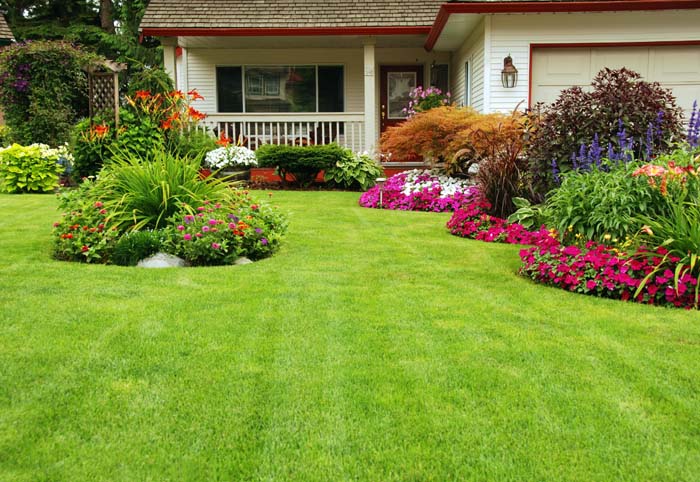 Make small oases with flowers on the lawn to create an interesting focal point.
Use taller plants in the middle and surround them with lower and blooming kinds that will create the round shape of the floral island.
36. Verdant Garden Path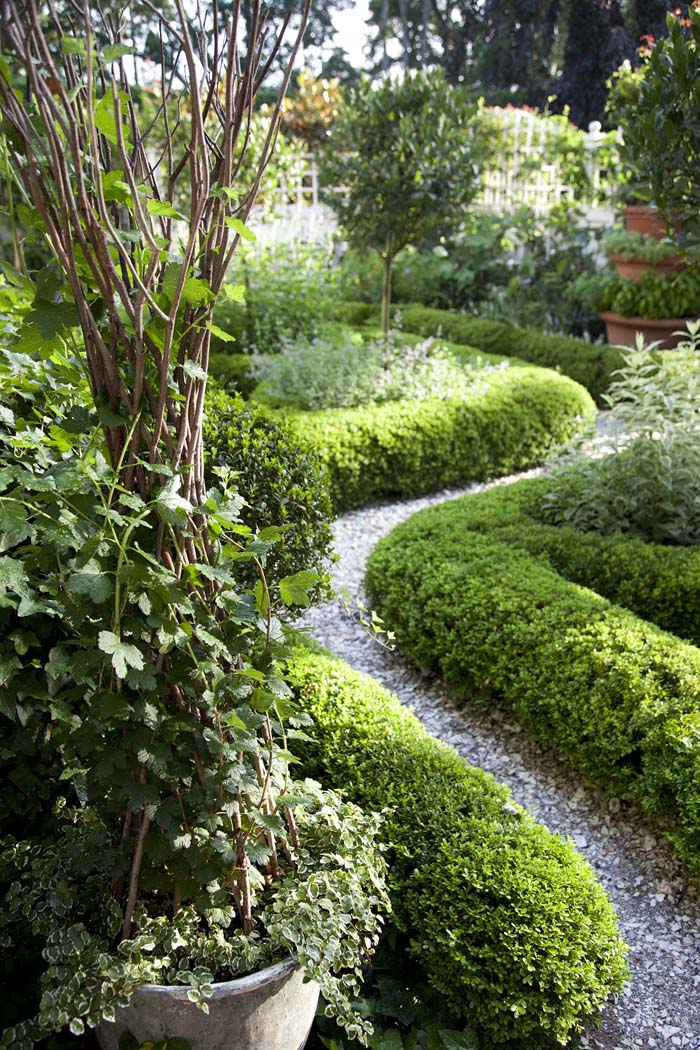 This backyard is entirely covered with plants to create the look and whimsical feeling of being in a wild forest but on your own property.
Only small curved pathways are left to lead to different zones where the varieties of plants can be admired. The walkways are traced by boxwood shrubs which are usually used as natural fences.
37. Expansive Outdoor Living Space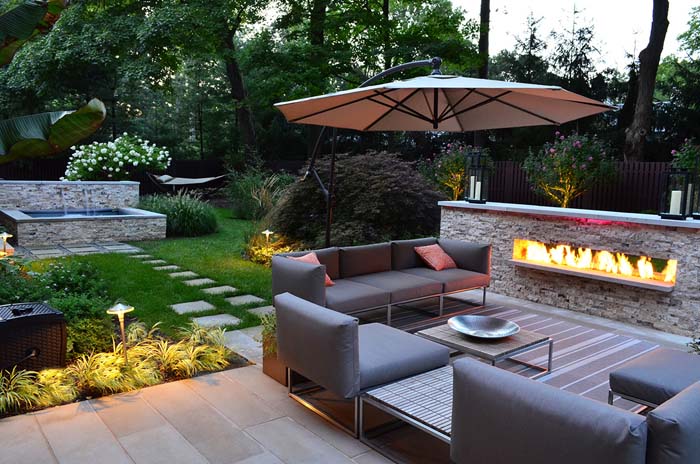 If you want to enjoy your backyard all summer long, make it as comfortable as your indoors. Place a cozy sofa and armchairs to sit relaxingly in the fresh air. The seating set is placed opposite an outdoor fireplace that welcomes gatherings and talks.
The table is not that big but will welcome a few drinks under the stars. The muted light from the ground lamps will complement the illumination from the fireplace.
38. Integrated Flower Bed Patio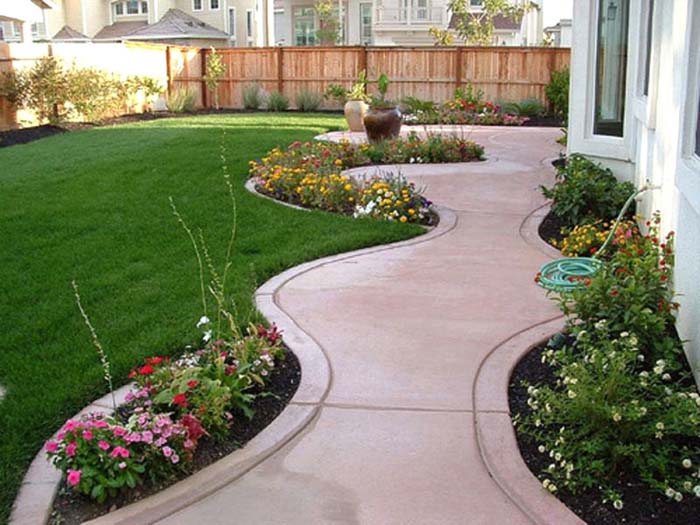 This is an interesting idea for dividing a clean area in the backyard from where you can maintain garden beds. And because it outlines flower beauties, its design is also fascinating.
Curved lines narrow and then widen the cement walkway creating eye-shaped flower beds.
39. Flower Garden Rock Borders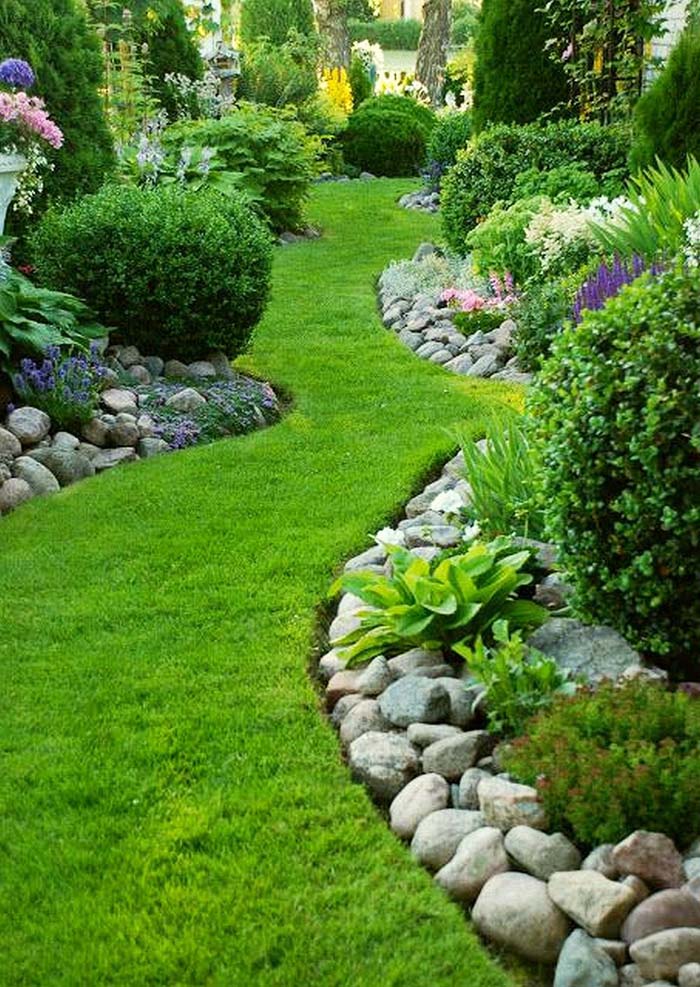 It is always a good idea to add stones to the garden. Use them to cover the ground or only to edge the flower bed.
They will stop the weeds and will differentiate the focal landscape point from the green lawn.
40. Rock Lined Path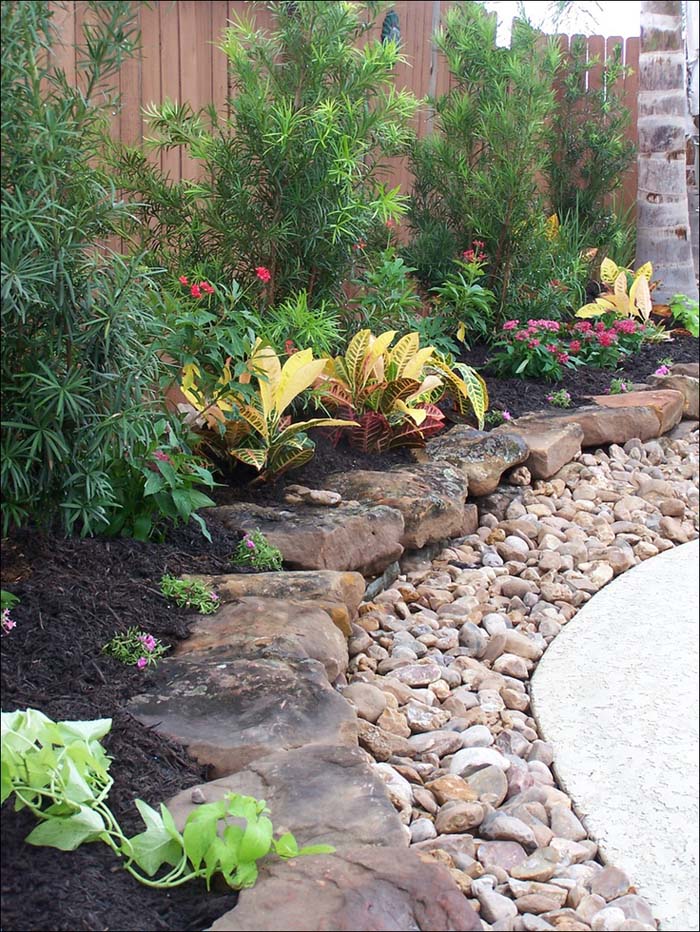 If you are looking for a non-traditional landscaping idea, try this leveled stone arrangement. The bottom lane is covered with river rocks. On a higher level, large stepping stones form the edge of a garden bed that follows the line of the fence.
They also act as a retaining wall for the plants and for the soil most probably because it has been additionally piled up there to create the terraced pattern.
41. Entertaining In A Small Yard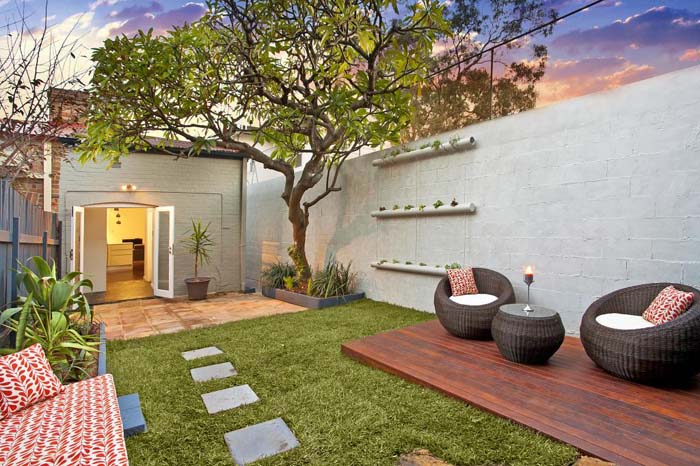 This is an interesting idea on how to zone your small backyard without investing too much and without maintaining it too often. Cover the ground with faux grass squares that will imitate a well-maintained green lawn. Build a platform from wood planks where you can comfortably place a seating set.
To anyway feel that this is an outdoor space, make sure that you include live plants in the design. You can create small garden beds along with the fence or use planters instead.
42. Modern Look Wood Deck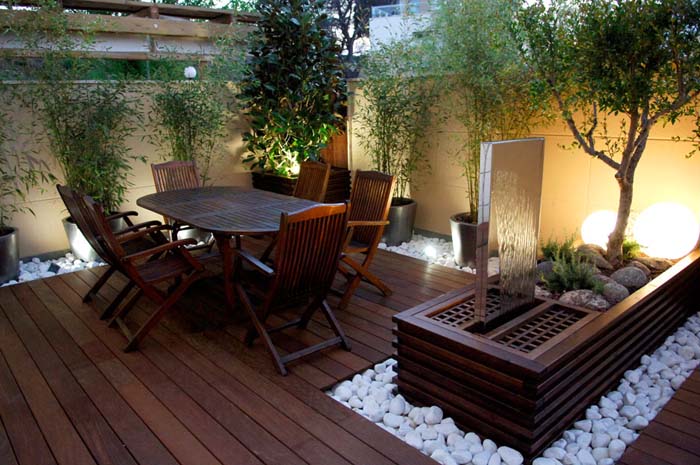 Another great idea for an urban backyard or a small patio in general. It is covered with wooden decking to limit the maintenance amount.
The platform doesn't go to the fence. Instead, a walkway is left equally around the walls to be filled with white rocks. They succeed in adding a natural element to the backyard but that is enhanced with the modern pots with exotic trees.
via Juan Casla
43. Garden Meets Nature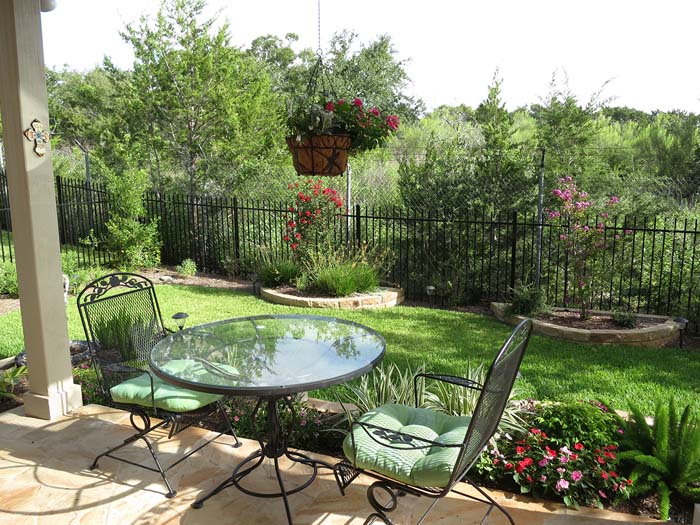 This idea features a small garden bed that limits the maintenance to a minimum and adds the color you need to make the patio welcoming. The garden bed has been designed to be part of the patio space by dedicating an edge planter built in the patio.
Make sure that the seating furniture is close to the garden to enjoy the flowers and their scents.
via Design My Yard
44. Adirondack Fire Pit Area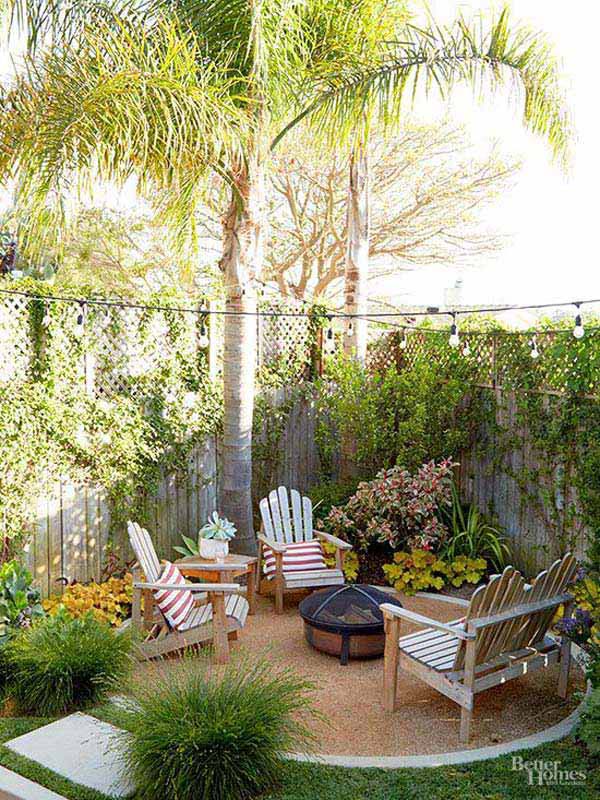 If you want to upgrade your backyard, make sure that you decorate your fence. Indeed, they are an important part of the property bringing the needed privacy, however, they can also create a depressing feeling if they are not well decorated.
Add planters to the wood planks or surround the fence with garden beds. Plant vines, trees and shrubs to make the impersonal element a living wall.
via BHG
45. Elegant Manicured Garden Haven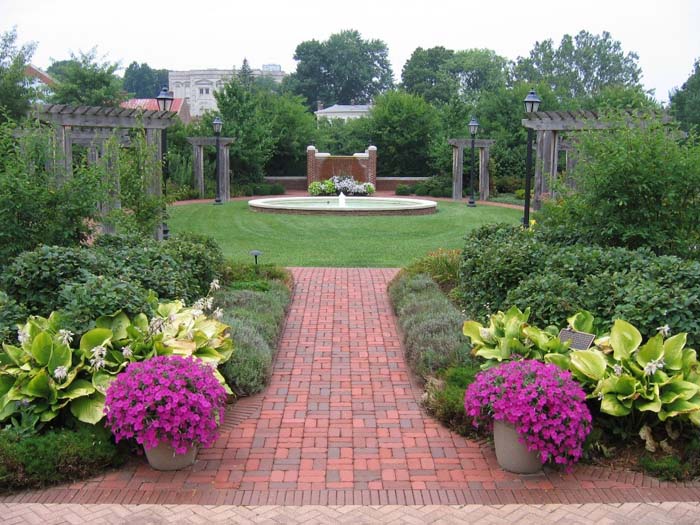 Is this the backyard landscaping design of your dreams? A large green lawn embraces a fountain in the center that calms with the water murmur.
The grass field is surrounded by gazebos where roses will climb in the summer to create blooming vertical shaders. To get to this whimsical garden a paved walkway leads surrounded on both sides with lush floral kinds.
46. Colorful Flower Pond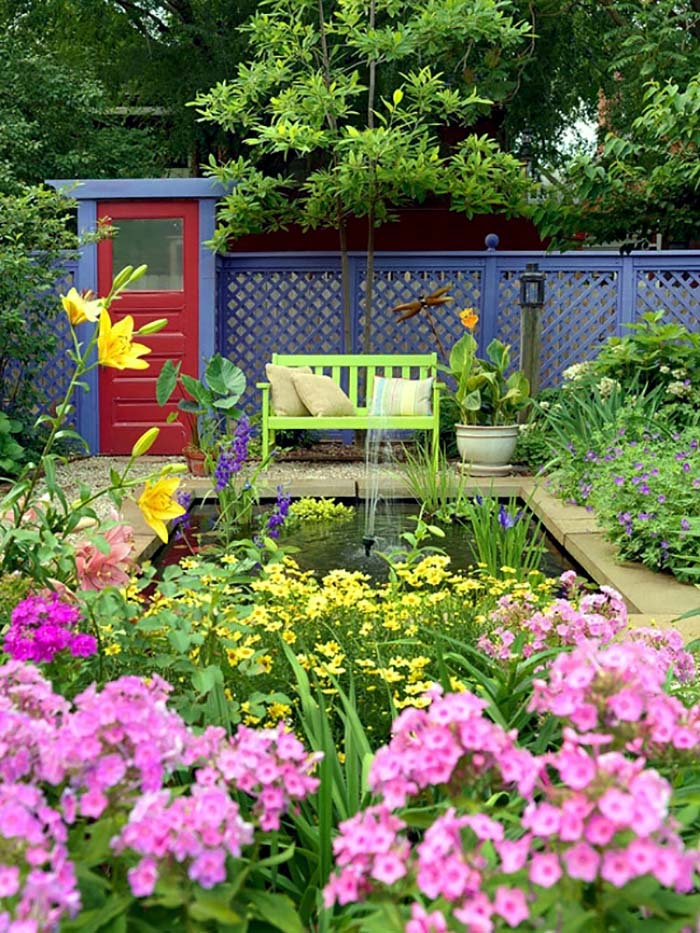 The basis of this backyard landscaping idea has been the large fountain in its middle. It is the focal point all other elements are coordinated to. A comfortable sitting bench provides space for two to admire the blooming flowers opposite it and the water sounds.
Water will welcome birds but there will be other wild creatures visiting the place- butterflies and bees will gather around the fresh colorful blooms.
via OF Design
47. Ornate Private Pergola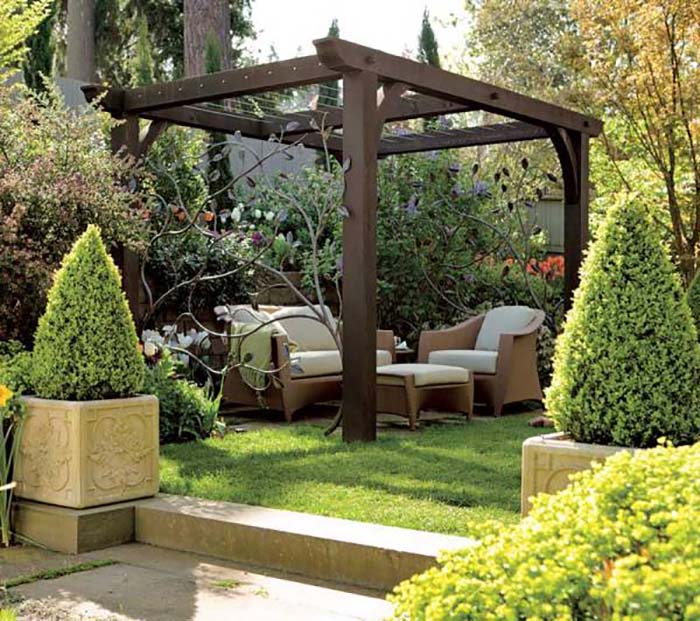 If you have a pergola, don't forget to upgrade its functionality by making it a trellis for climbing vines. In case you don't want to wait that long until the vine covers the posts and the roof of it, think about faux vine paneling. It is made of wrought iron and has beautiful curves imitating the vine growth.
These additions can stay there even when the real vines develop and be another support for them to climb and create a thick wall.
48. Welcoming Flagstone Path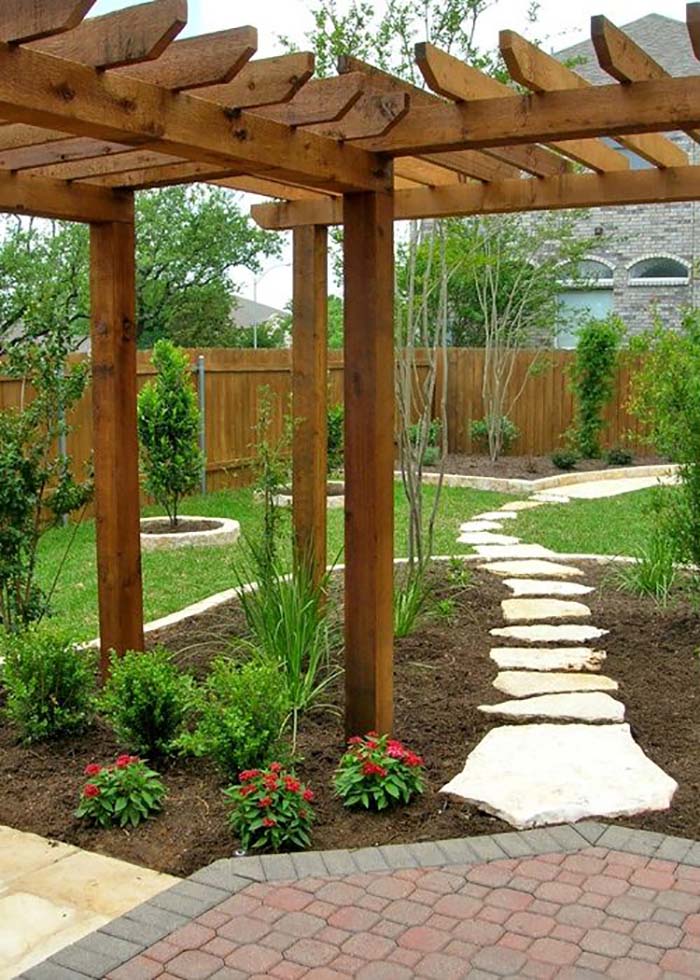 An easy and unique pathway design features using flat stones of random size, neatly arranged in a row that leads to a zone in the backyard.
via Smiling Curbs
49. Perfect Balance Planters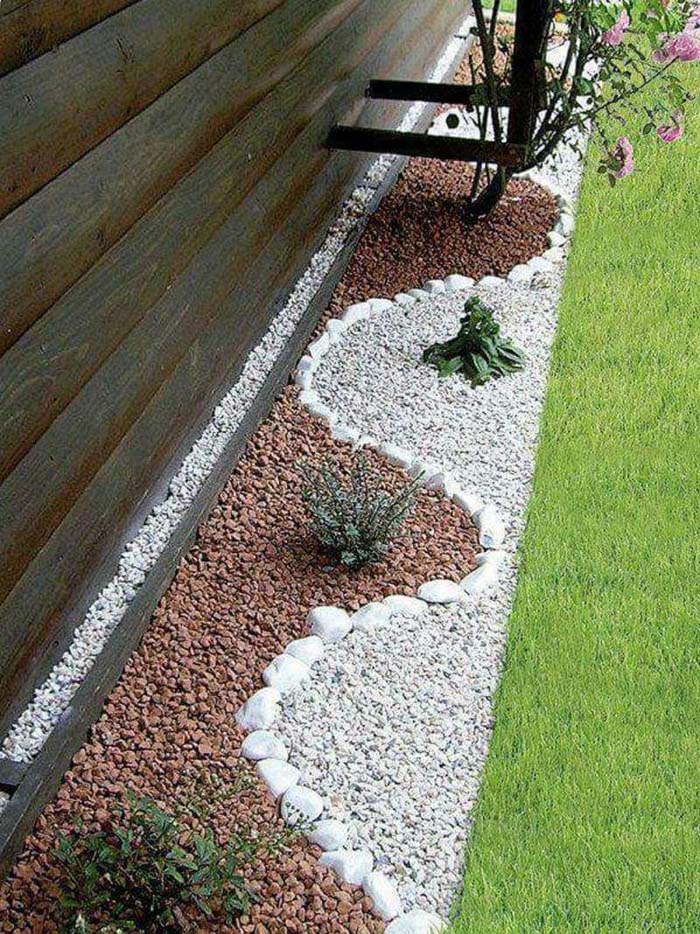 Use pea gravel in two colors to create a unique garden edge with planted flowers. Alternate brown with white by separating the sections with larger stones.
In this example, the pattern follows a curved line that reminds a Yin yang symbol. Another advantage of the stone layer in addition to the attractive look is the protection from weed growth.
via 5 Miles
50. Tranquil Meditation Garden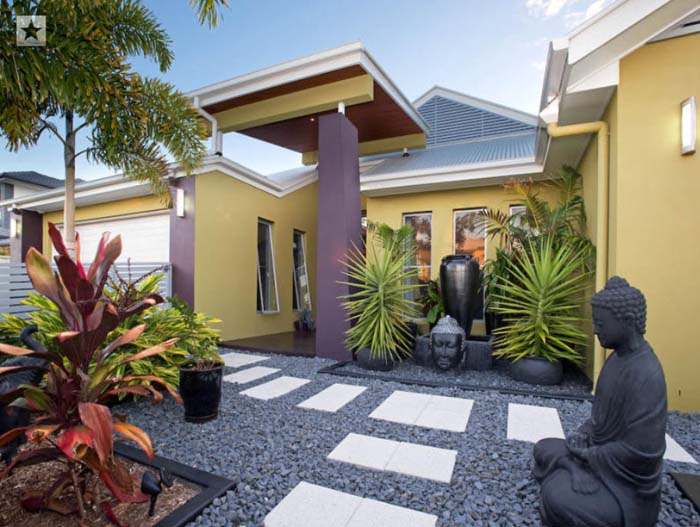 This garden design is another example that has been affected by Asian teachings. The combination between grey gravel and large white stones creates a relaxing ground coverage that is so harmonized that it instantly relaxes the senses.
The sculptures placed at the ends of the backyard aim to complement the zen loon and enhance the meditation feel.