The idea to make our backyard the most desired and beautiful nook entices all of us. There are a few key things to do – well maintenance, differentiation between the vegetable garden from the rest of the yard, some proper landscaping.
Make a rest area for you and for your guests. Last but not least, decorate with beautiful stones, mulch, figures, garlands and a pond.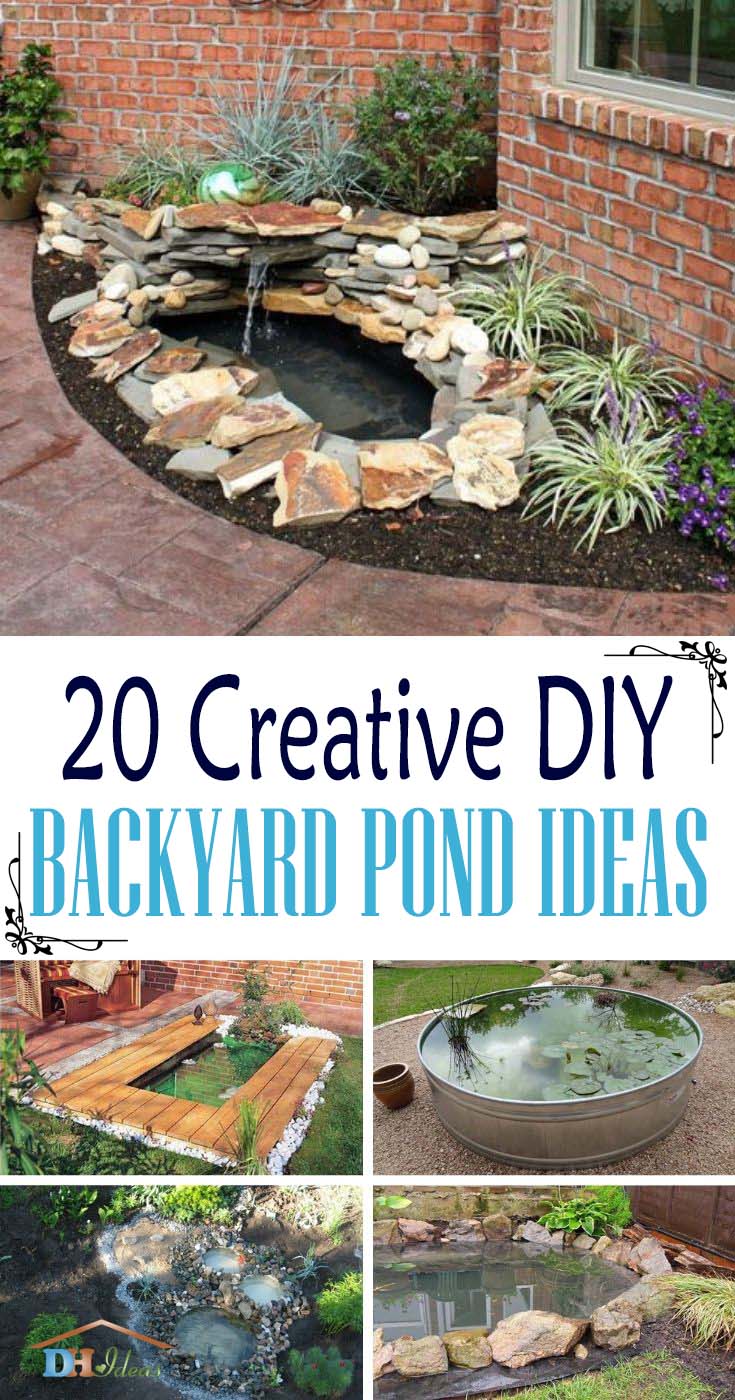 Yes, the pond is one of those decorations that require more time making but is definitely worth doing for two major reasons.
Firstly you will have a calm and beautiful water environment to retreat yourself with after the end of the hard day. Secondly, it will increase the exterior value of your backyard.
Watch my latest video:
The most appealing feature of your backyard is soon to become real once you choose a design from the DIY projects we have gathered for you.
All of the materials below give detailed instructions and material requirements so the basis is set. The rest is some free time, creativeness and willingness.
1. Beautiful Planted Zen Container Pond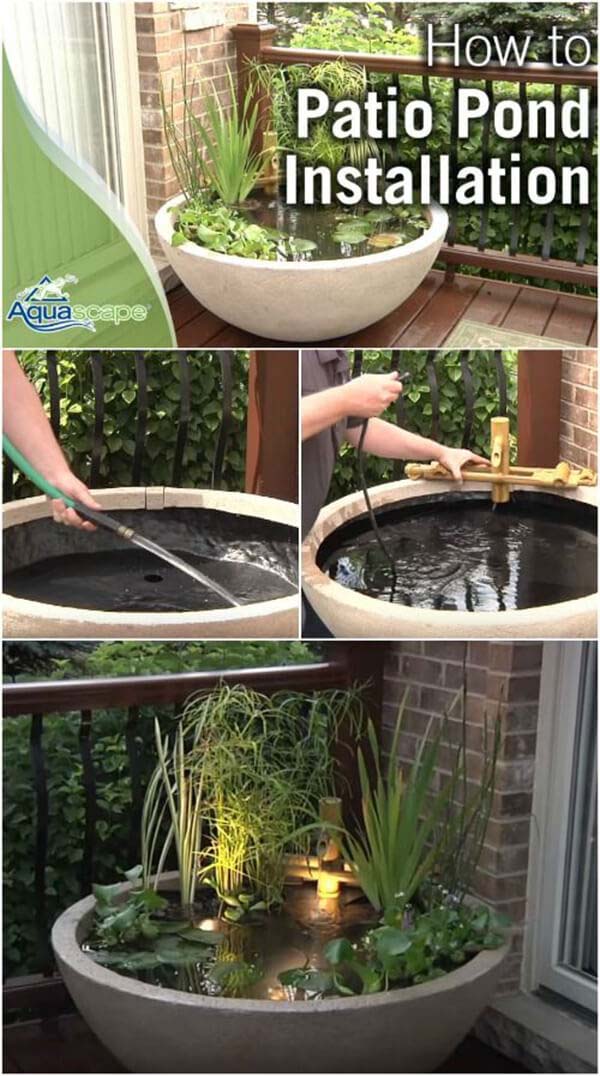 The best thing about this pond is that it allows everyone to have a water garden regardless of the setting.
With the help of a shop-made aquatic patio pond, you will get a large water container made of natural stone that only needs to be filled with water.
If you want to use it as a real pond with fish, you can add special filters, led lights and suitable plants.
via DIY & Crafts
2. Contemporary Backyard Rectangular Water Feature

This rectangular pond combines low budget and modern looking. It is made of a water-tight container inserted in the ground.
The water can be driven via a regular water pump if the power supply is nearby or you can consider a solar-powered pump.
Add a few concrete pavers to hide the plastic edge of the container, decorate with stones and fill with water and suitable plants.
via The Garden Glove
3. DIY Backyard Pond Ideas for Small Spaces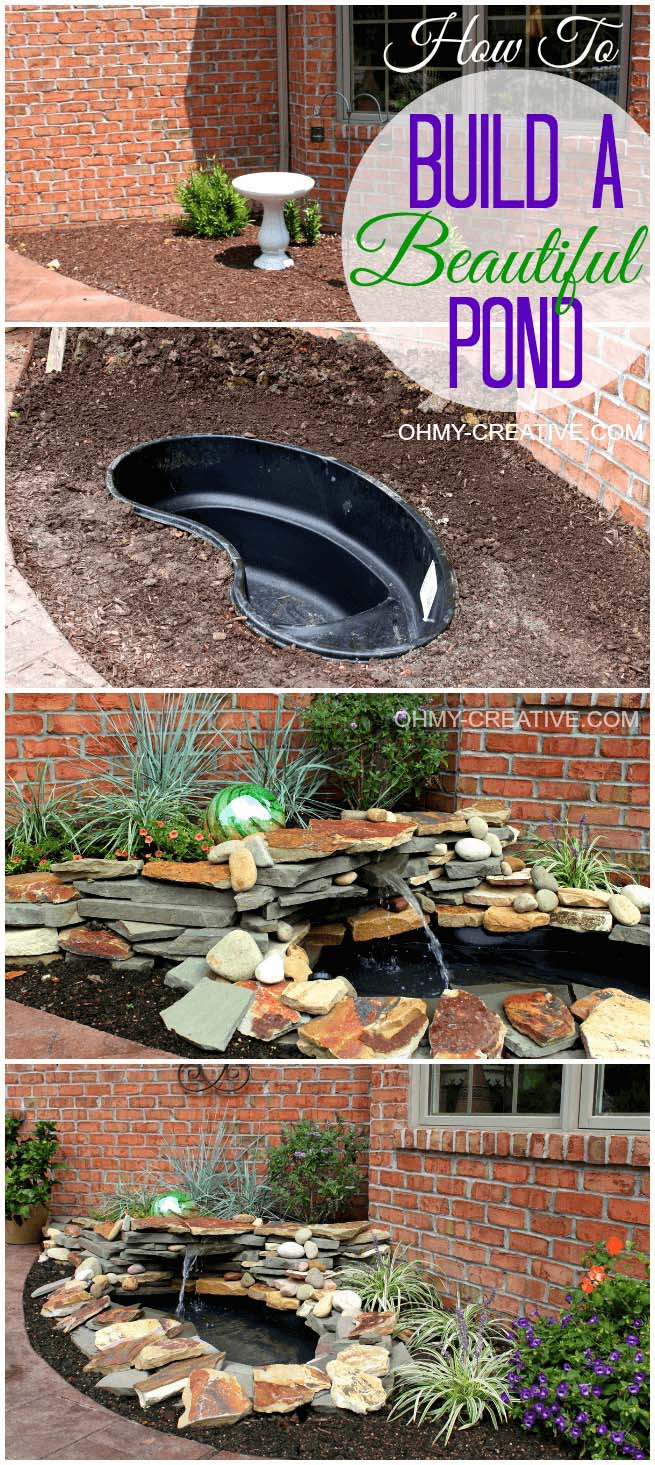 This waterfall pond looks like a product made by professionals but believe it or not, it has been homemade.
A huge amount of rocks are needed to surround the pond basin and to build a wall to hide the water supply tube in.
If you purchase this at any specialized company, it will cost between $4,000 and $5,000. The total cost for this DIY pond was $441.50!
via OH My Creative
4. DIY Backyard Waterfall on a Budget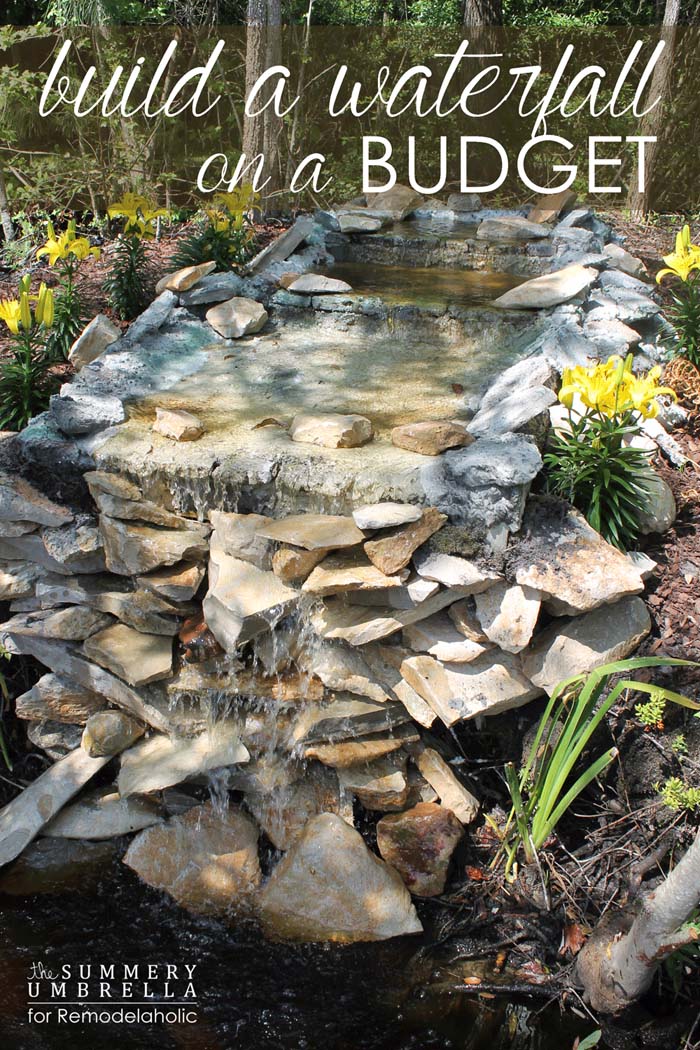 This realistic waterfall has been entirely homemade, even most of the stones! The waterfall flows into a nearby pond.
The structure of the waterfall consists of three wooden frames with foam insulation inside which are tiered.
It is then fixed with concrete and the faux stones at the desired place.
5. DIY Recycled Tractor Tire Water Feature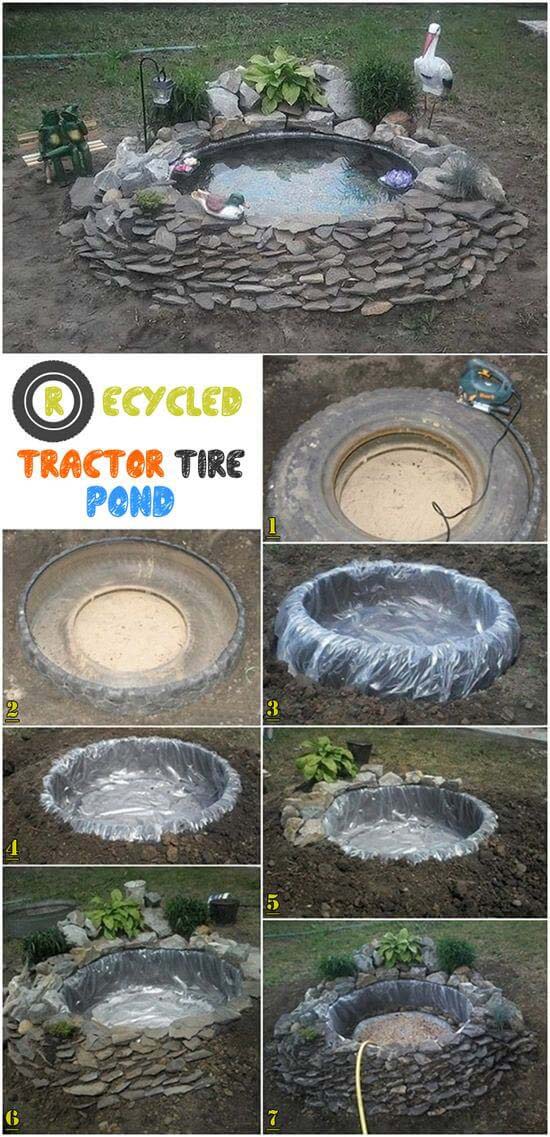 A pond made out of upcycled tractor tires could save a big amount of money and yet look very well.
All you need is to dig a deep hole so that the half of the tire you would use gets in, cover the inside with suitable foil and decorate with beautiful stones to hide the visible part of the rubber.
via Green Leaf Tips
6. Weekend Pond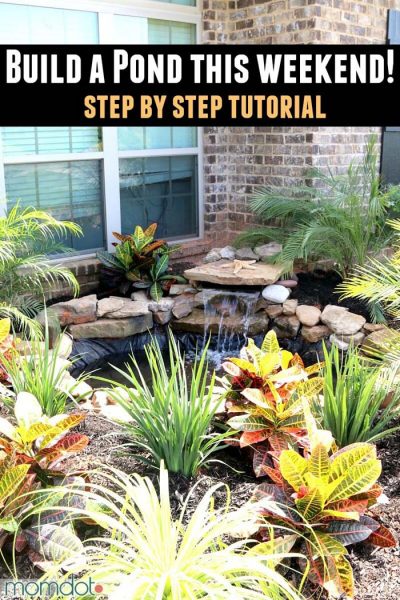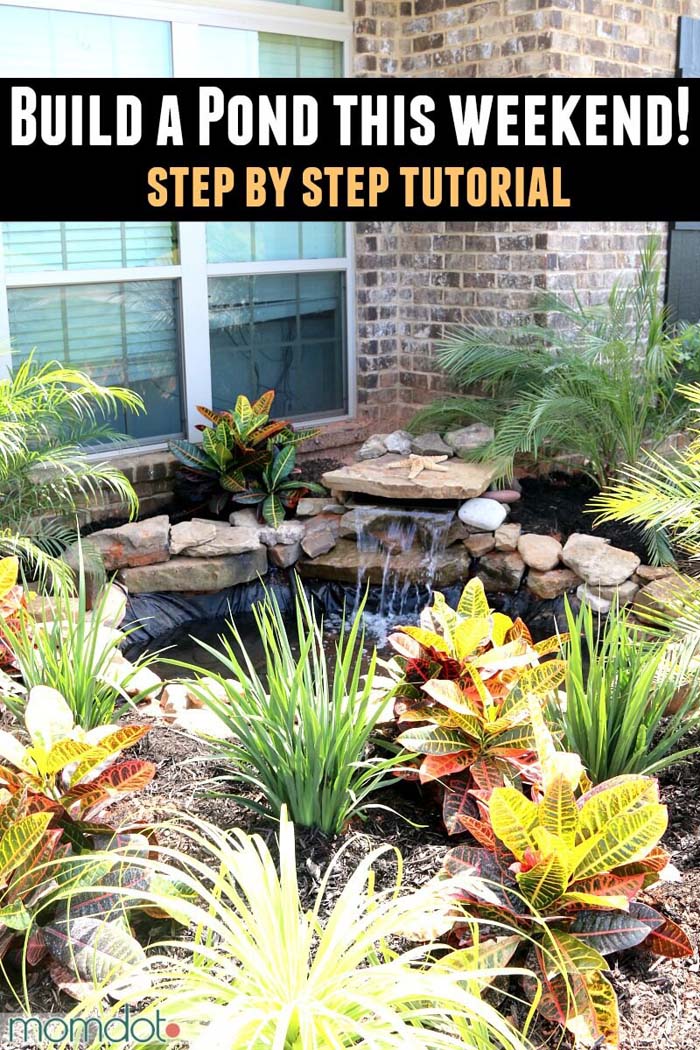 It has taken one weekend and the help of some friends to make a large pond decorated with stones and green leaf plants.
A pond liner has been laid in a hole in the ground to separate the water from the soil. The set they have used for the water supply and filtration is special for ponds.
via Mom Dot
7. Easy to Build DIY Pondless Fountain

There is an idea for an easy-to-make fountain that is also suitable for the balcony of an apartment.
All you need is a fountain pump with a telescopic tube, a standard plastic bucket, strong wire mesh and decorative or natural stones.
There is a video tutorial that eases understanding the process.
via Selbst
8. Ecological DIY Linerless Natural Pond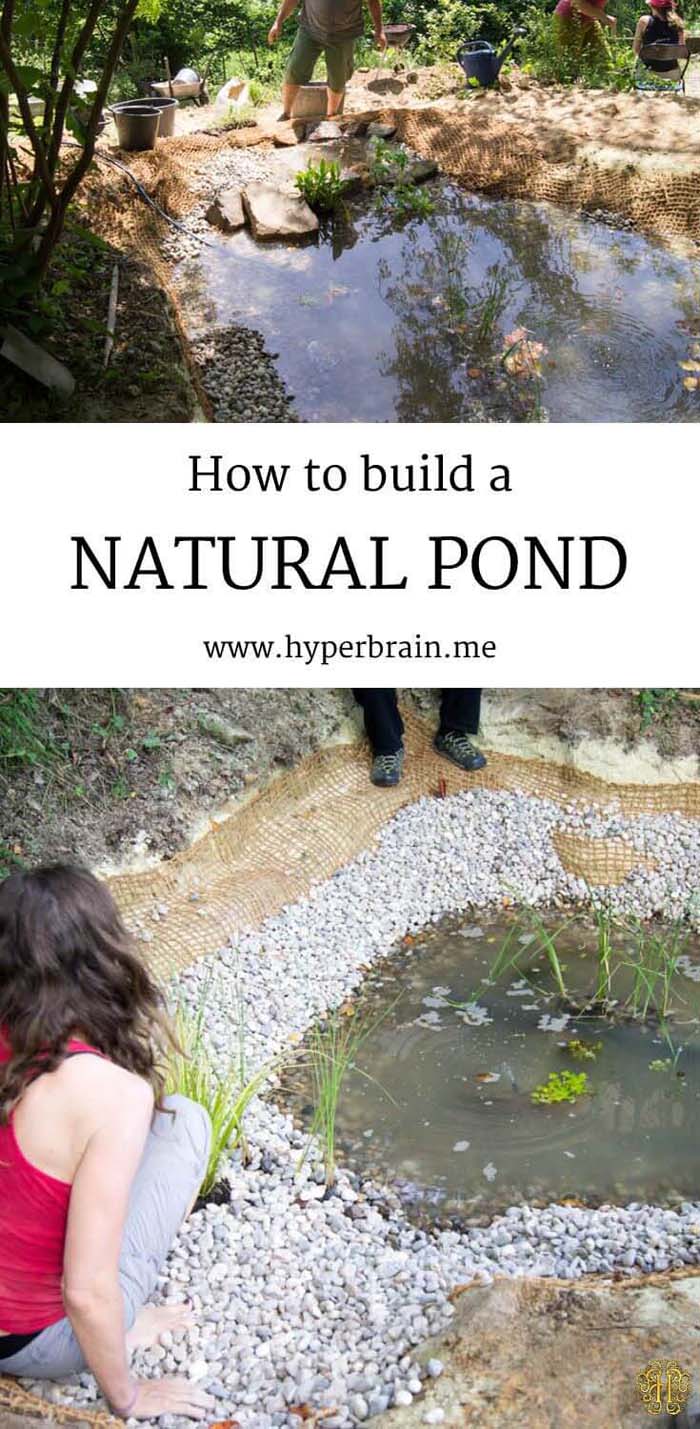 The benefits of having a natural pond are numerous so if your backyard is spacious enough, you must make your microhabitat.
The specific materials needed to make this beautiful pond are bentonite clay and pebbles. The first one is needed to seal the topsoil layer, the second one provides extra protection in case you decide to step into the pond or in case of a storm.
This article has taken into consideration ways to provide the best environment for water creatures so make sure to follow the advice of the author.
via Hyper Brain
9. Galvanized Water Trough Pond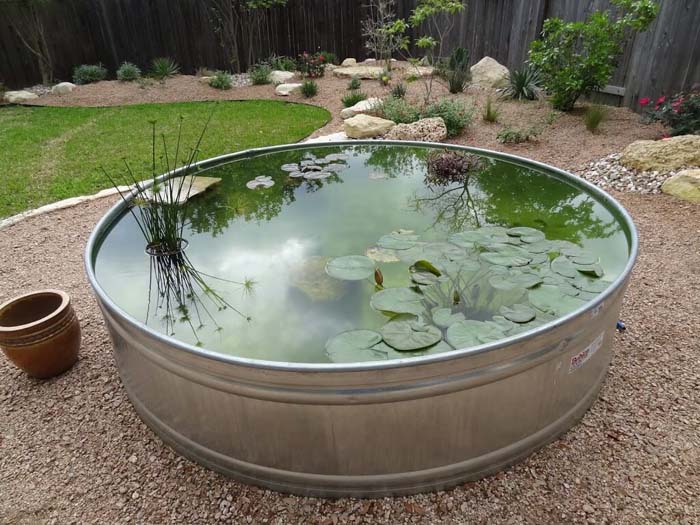 Stock tanks may be repurposed in many ways and this is one of them.
By the means of a proper pond system, the tank becomes a large pond where suitable flora and fauna can live.
via Vickie Hallmark
10. Hand Dug Garden Fish Pond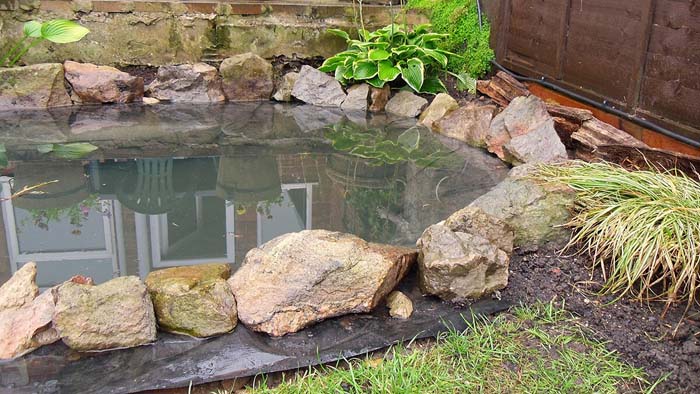 The hardest thing about making a more realistic pond is the digging. The final result will make you forget about the tough beginning.
This pond has been dug in the ground, then covered with liner. A good idea you can take from this tutorial is what plants and wildlife are good to balance the environment of the pond instead of using a filtration system.
via Dynamite
11. How to Build a Backyard Garden Pond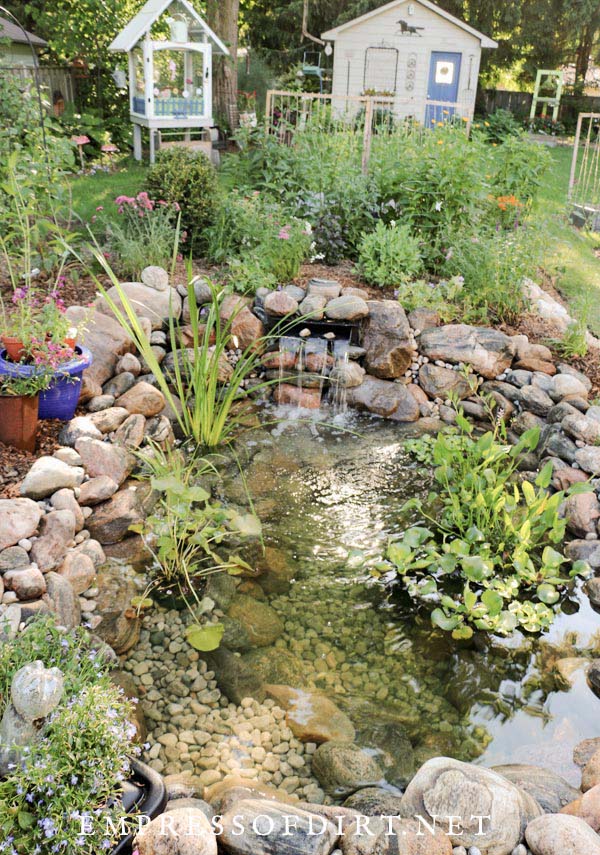 This is a large pond, measuring 8×10-feet, with depths ranging from 2 to 4-feet. The materials needed are a shovel, liner, waterfall system, mulch, many rocks and suitable plants.
The most impressive thing about it is how neatly and beautifully the stones have been arranged. The entire pond- from its bottom to the wall for the waterfall system is covered with pebbles, flat stones and big rocks.
via Empress Of Dirt
12. How To Create a Wildlife Pond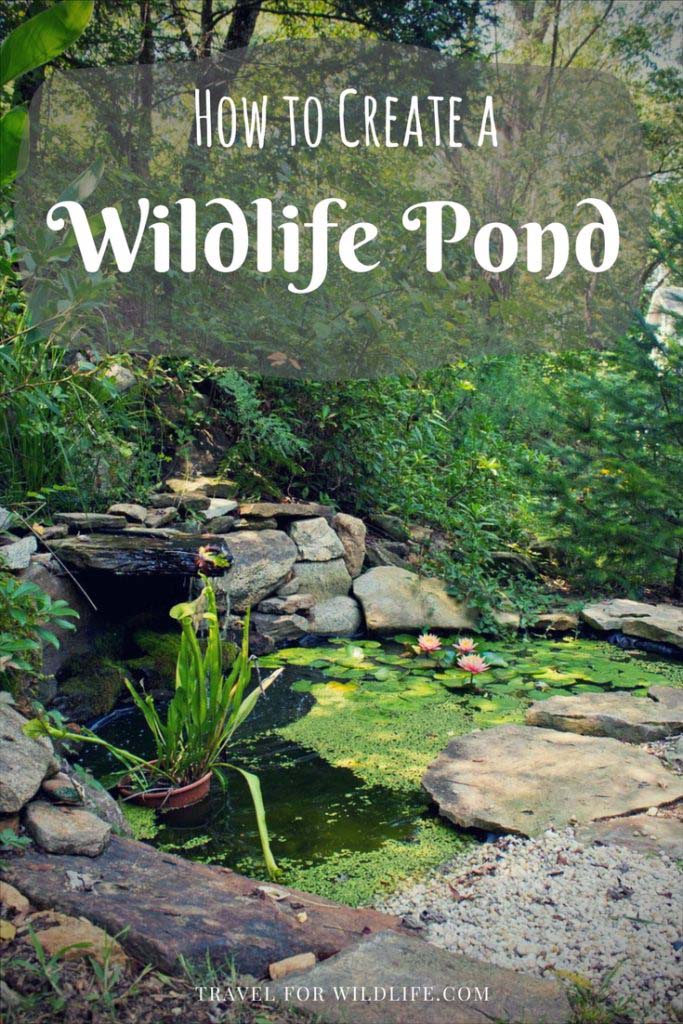 If you follow strictly the instructions of the tutorial, your pond will naturally attract wildlife to your yard.
This wildlife pond has two different levels and a waterfall. The author gives very interesting facts about the wild animals that are prone to visit such ponds and also priceless tips for the materials to be used.
13. Inexpensive Rock Lined Tire Pond

Old tires make a great mini pond. Whether from a tractor or a car, or both, you should insert them in preliminary dug holes in the ground and surround them with stones and rocks of different sizes.
You can use a solar or regular pump for the water supply. Why not add a fountain system?
via Decor Home Ideas
14. Large Backyard Flagstone Waterfall Feature

Flagstones are strong and of the best geometric shape to use for a homemade waterfall cascade.
They have been tiered over the liner. The top flagstone is used to hold the waterfall system. Of course, all flagstones have been additionally covered with large flat natural stones.
via DIY Network
15. Modern Rectangular Pond with Mini Deck

The top of this stylish pond is framed by large pavement panels which are leveled to provide a stable sitting area around the pond made of lumber.
As you can see from the photos, a special pond fleece has been laid in the hole prior to the regular PVC liner to prevent weed growth.
The article is in German but there are many photos which will give you enough information to make it yourself.
via Selbst
16. Multi-Basin Recycled Tire Water Feature

If you love the idea of recycling old tires to make a pond, then why not use three tires and make a multi-basin water feature?
Arrange the tires in order as you like, insert them in the prepared holes, cut the top part of each tire and cover with liner. It would look great if you can supply at least one of the basins with a fountain set.
via Handimania
17. Simple Pre-Formed Pond with Waterfall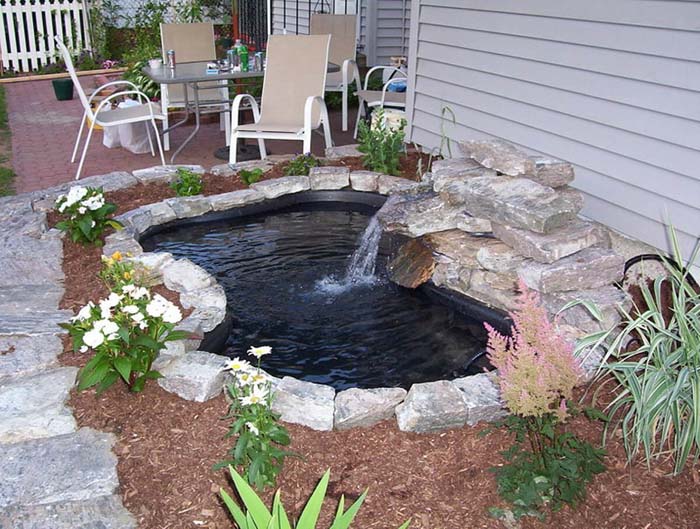 This is a DIY for a koi pond as the authors have made a new level with pea pebbles above the ground and have outlined it with gravel to form a beautiful natural wall frame.
They have used a ready pond liner and have inserted it in the pebble ground so that the top of the pond matches the top of the wall. The next steps from the project are the nicest part – filling with water, plants and decoration.
via Learning As I Go
18. Small Free-Form DIY Backyard Pond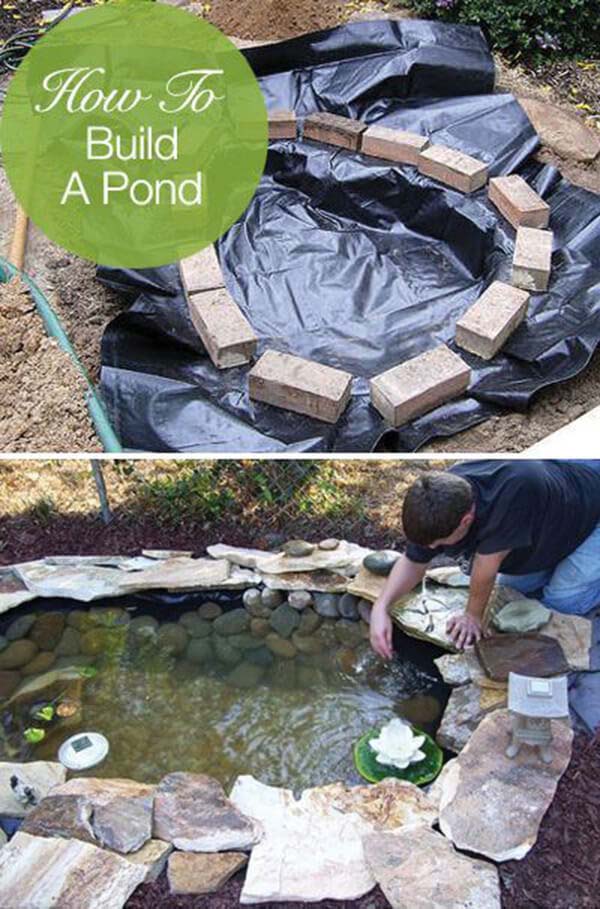 The process of making this pond is almost the same as those above with the only difference of the stones used.
As you can see in the first photo, the author suggests using slate-style rocks for framing the chosen shape of the pond. They could make the pond look quite more urban.
19. Tiny DIY Container Water Garden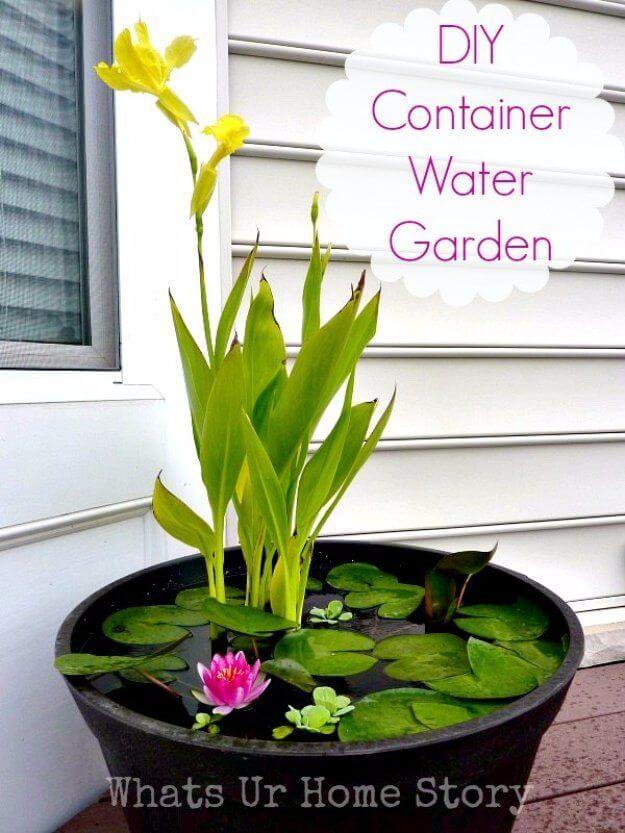 This tiny water garden is amazing as it is very easy to make and it can fit in everywhere as long as there is enough sunlight.
The water plants you see are put in a large container together with their pots. The soil is protected from floating by adding a layer of rocks above the soil. Add water, mosquito dunks and voila. You can even breed your own fish in there!
20. Vintage Pond From Upcycled Materials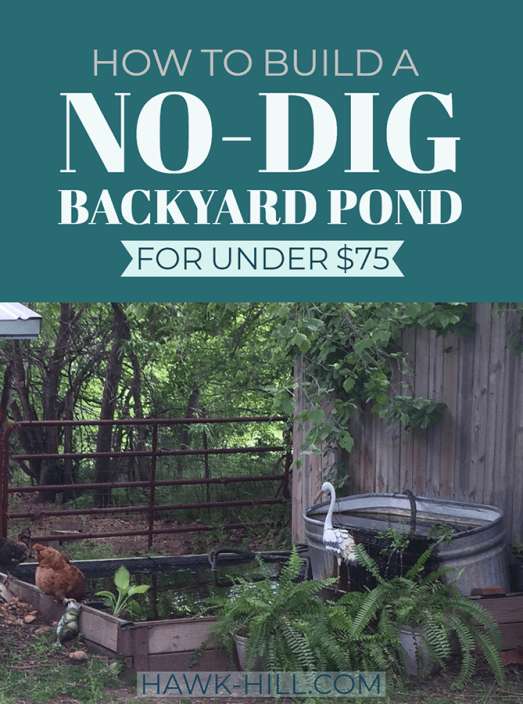 No kit, no digging, only some regular materials if you have left to upcycle or to get new ones from the nearby store.
The vintage look of the pond is achieved by the waterfalls – one of them is the galvanized gallon on top of the pond that creates a large overflow. The other one is made of small metal buckets staggered on a chain.
via Hawk Hill