With the temperatures getting higher, our mood also becomes brighter. We start thinking about the warm days we are going to spend in our backyards.
Along with that, we would feel the need to make some improvements to the backyard exterior to be more appealing, beautiful and comfortable.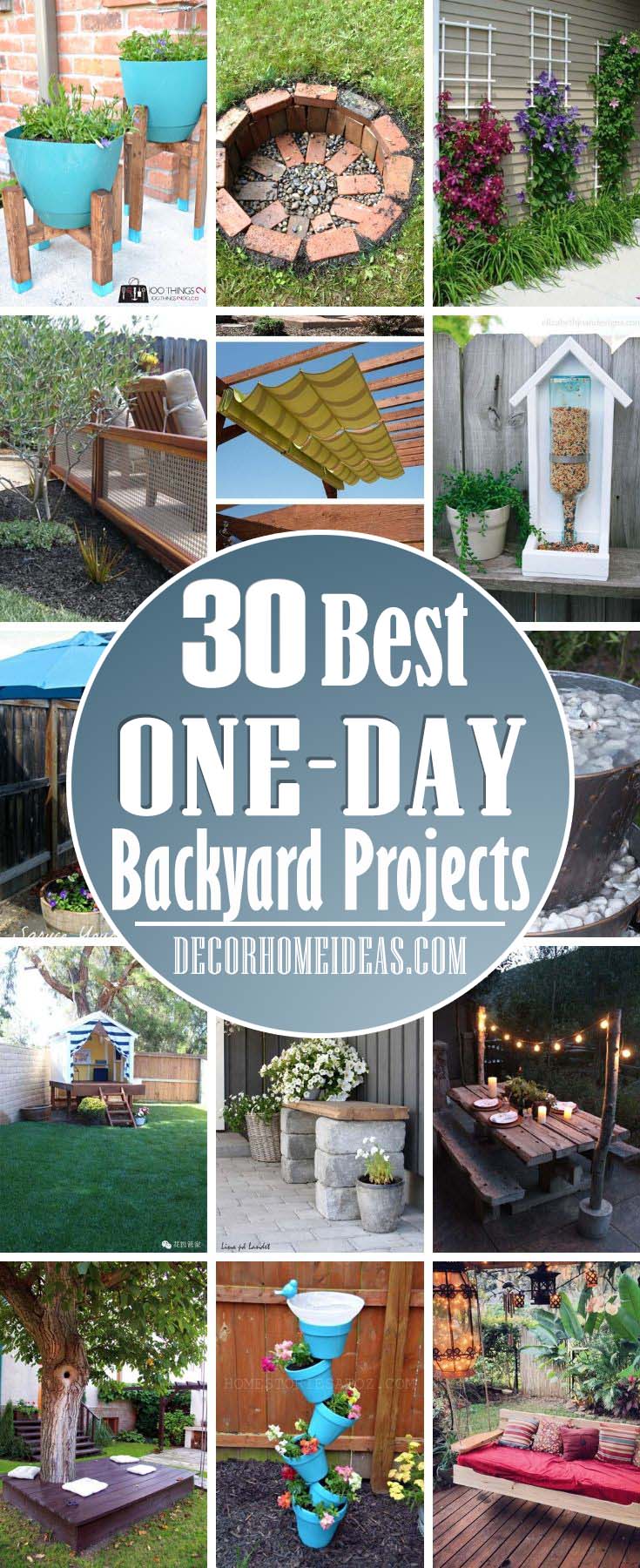 Since most of us continue to be quite busy, we have thought about projects that are easy to do and take only one day to be fully accomplished.
These fun 30 one-day projects will help you spruce up your backyard this summer. Whether you choose to remodel your sitting area or add more aroma to your patio or garden, we promise you will get quick gratification.
1. Build a Durable 3-Panel Shade Pergola 

This incredible step-by-step video tutorial reveals the secrets of making a great 3-panel shade pergola that looks like a shop-made item.
The finished shade canopy opens and closes as a bowsprit of a ship. Bring the sea to your home and make yourself a pergola that will last for many years.
via Sailrite
2. Create a Rustic Ambiance with String Light Poles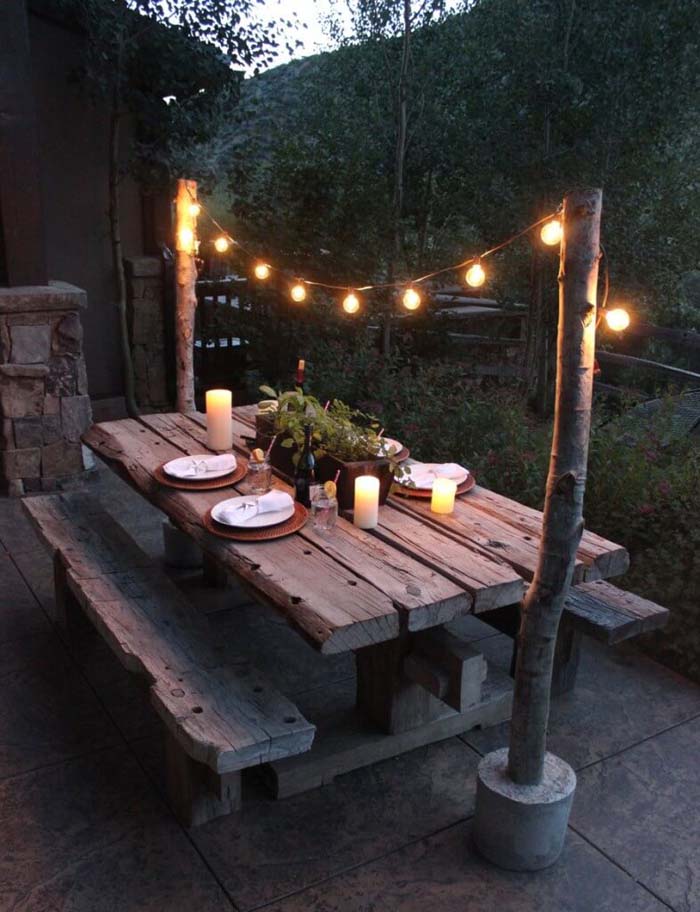 An easy-to-make and on a low-budget project is making these rustic string light poles with a concrete base.
You will take your outdoor summer entertaining to a whole new level and will bring warmth and nature to your outdoor sitting furniture.
via J Sorelle
3. Construct a Relaxing Nook Under a Big Tree's Shade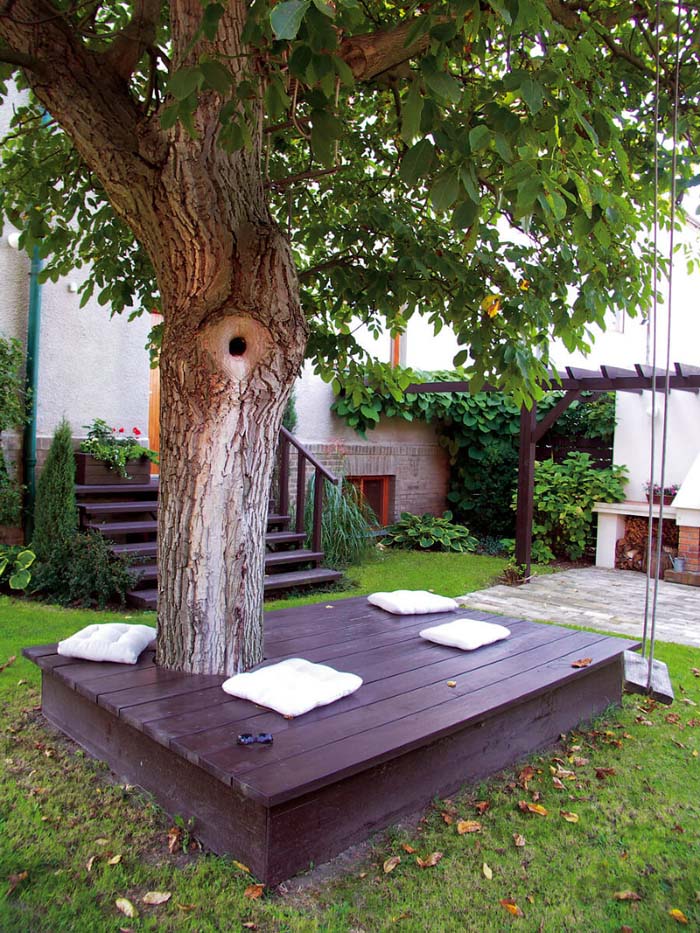 If you prefer the natural shade for spending the hottest time of the day reading a book or only relaxing at fresh air, then you must retreat yourself with a comfortable lying area.
Build a wooden platform around the trunk of a big and shady tree in your backyard. We recommend that you stain the wood beams to protect them from atmospheric conditions and thus extend their life.
via DIY Bastelideen
4. Hide Your AC Unit with a Simple Wood Structure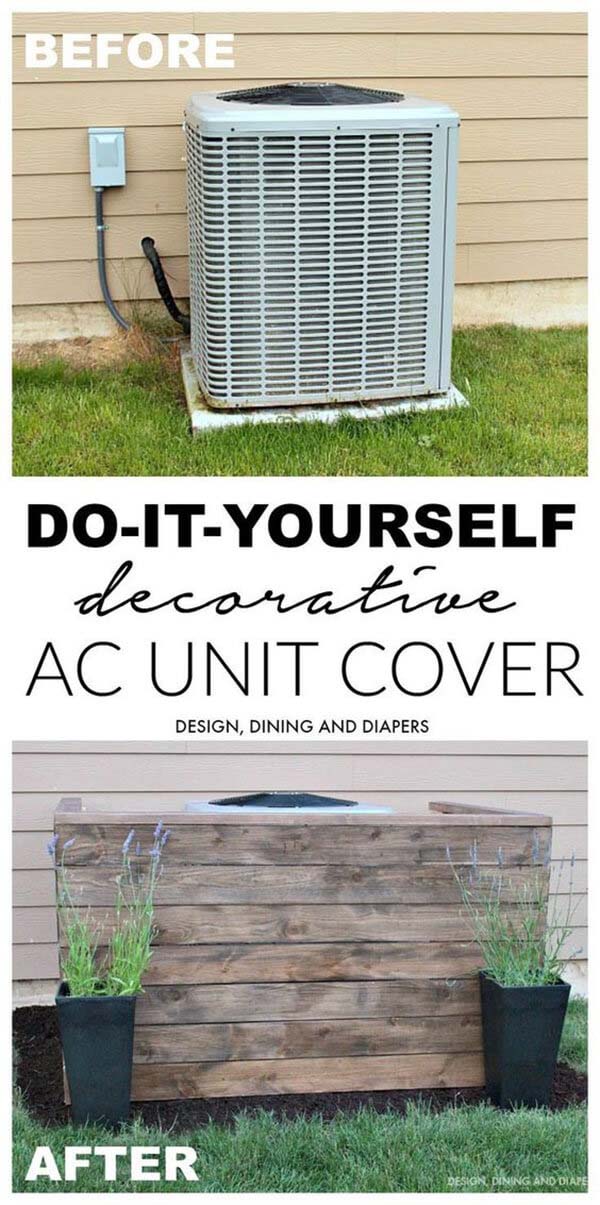 Your backyard is very neat, you have paid attention to every detail so that each piece of furniture and decoration follows a design concept you love.
What about the external housing of the AC unit? It doesn't seem to match the exterior of your backyard… Simple as it looks on the photo above, just make a wood structure to hide it and put two identical pots in front.
5. Build a Rustic Arched Gate for Your Backyard

The backyard gate is literally the first thing you see before you enter your property. Since its condition and appearance speak for housekeeping in general, you must pay certain attention to it.
Make a new vintage arched gate in just a day by choosing wood material that will match your fence. Following the instructions on the link below and your new gate with window detail will be finished in just one day.
via Confession of a Serial DIYer
6. Transform Terracotta Pots with Decoupage and Fabric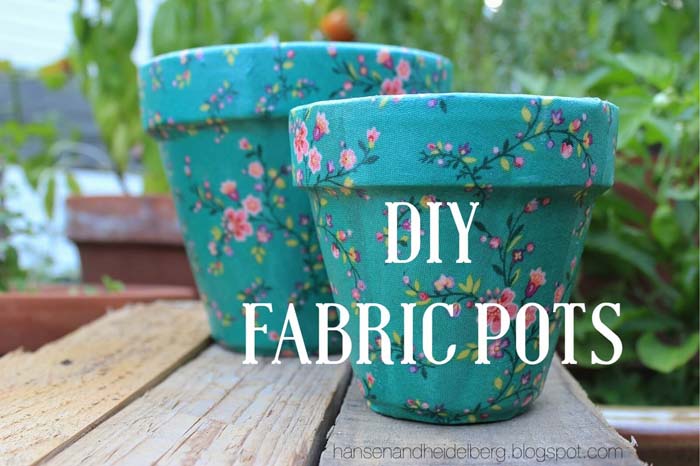 Terracotta is one of those materials that are easy to be transformed with almost any decoration. Decoupage is one of the techniques you can use, the other one is applying the fabric.
Both techniques are very easy to be performed by anyone and the final result is stunning. Dress your pots in new "clothes" and you will see how quickly your yard will look renovated.
7. Make a DIY Metal Bucket Water Feature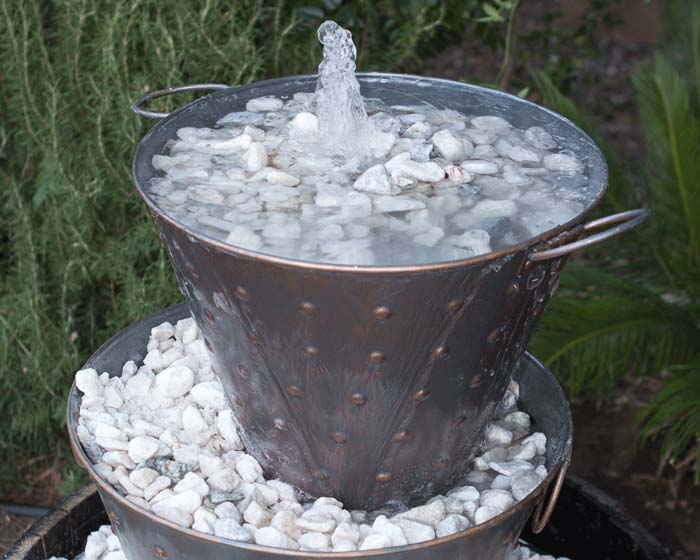 The water feature is a dream come true for all of us and is definitely worth investing time in.
This bucket fountain requires less time and investment than other ideas for ponds or fountains, so if you want to hear the soothing sound of flowing water tonight, get started.
via Do It Yourself
8. Create a Flower Stand for $5 in Under an Hour

Flower stands always give a more sophisticated look to the way you display favorite plants and flowers.
Instead of buying expensive stands, you can make your own ones for $5 only and within a few hours.
via 100 Things 2 Do
9. Build Window Boxes Easily in 4 Steps

Window boxes in the desired size in only 4 steps! Using cedar beams and screws, you can quickly assemble boxes to store tufts of blooming flowers.
via Ella Claire
10. Create a Fire Pit for Outdoor Entertaining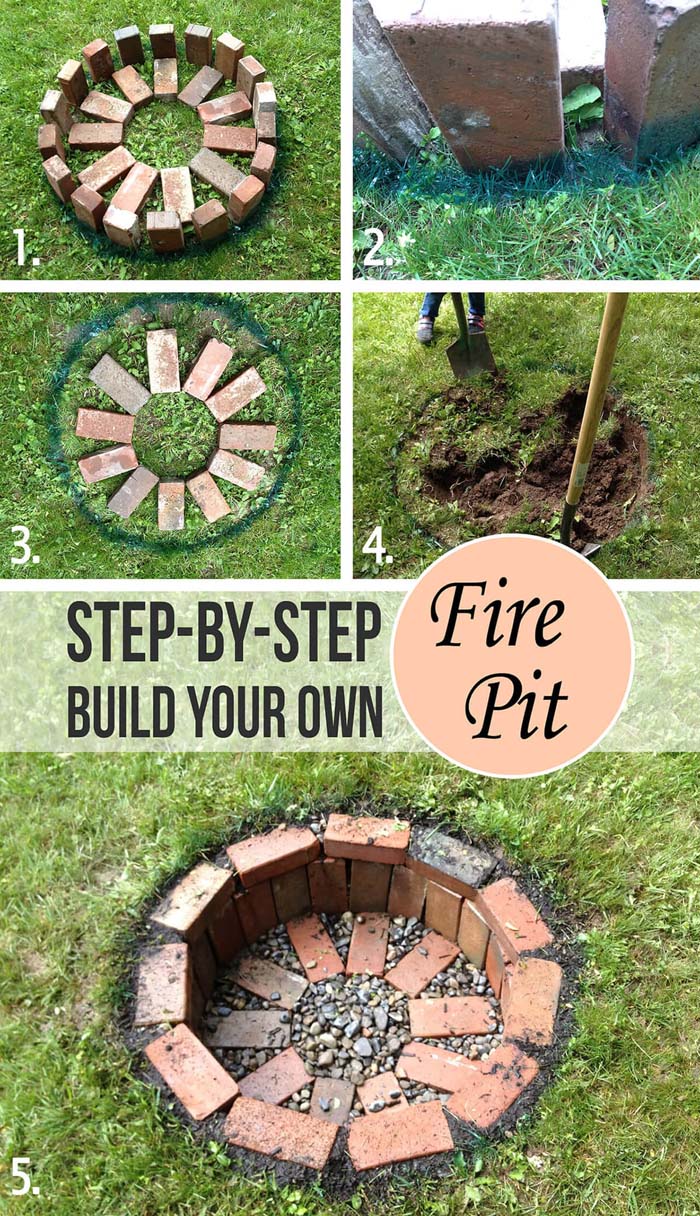 Take your backyard entertainment to another level by building your own fire pit!
Old bricks or paving stones resist the high temperature from the fire so make sure to find 40 off and lay them in a pattern you like.
via Tuff Guard House
11. Make a Stylish Sofa and Coffee Table Set in Minutes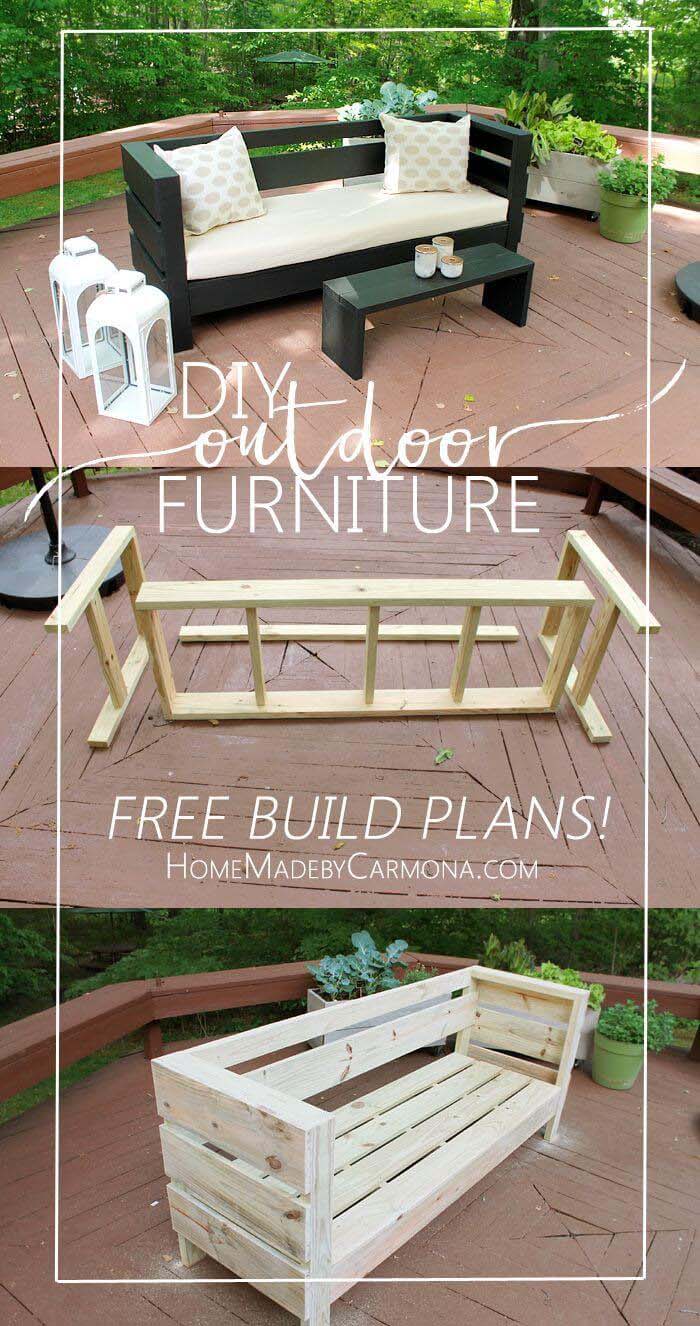 The free plans for making this gorgeous sofa and a coffee table shouldn't be missed! The set is perfect for gathering with many guests as the table can easily be transformed into a bench.
Don't worry about where to put the drinks in that case. There is a little shelf inserted inside the armrest on both sides of the sofa to use for drinks and snacks.
12. Create an Elegant Half-Wall Partition for Your Backyard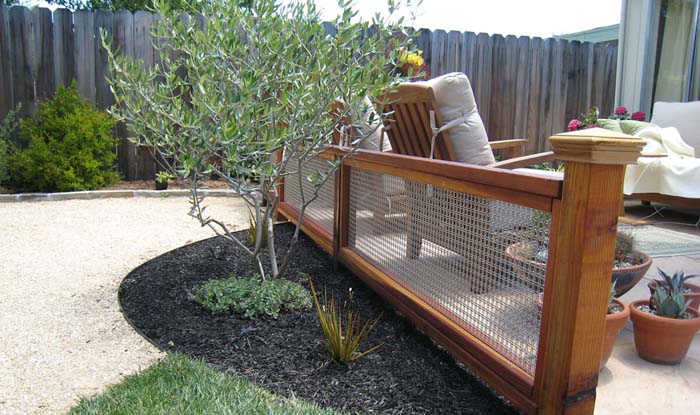 If you want to visually divide areas from your backyard, for example, the pool area from the sitting area, why not make yourself a beautiful and strong half-wall partition?
Stainless steel woven wire is sandwiched between natural wood railing to make interacting with the rest of the furniture more natural.
via Banker Wire
13. Revamp Your Porch with Pallet Wood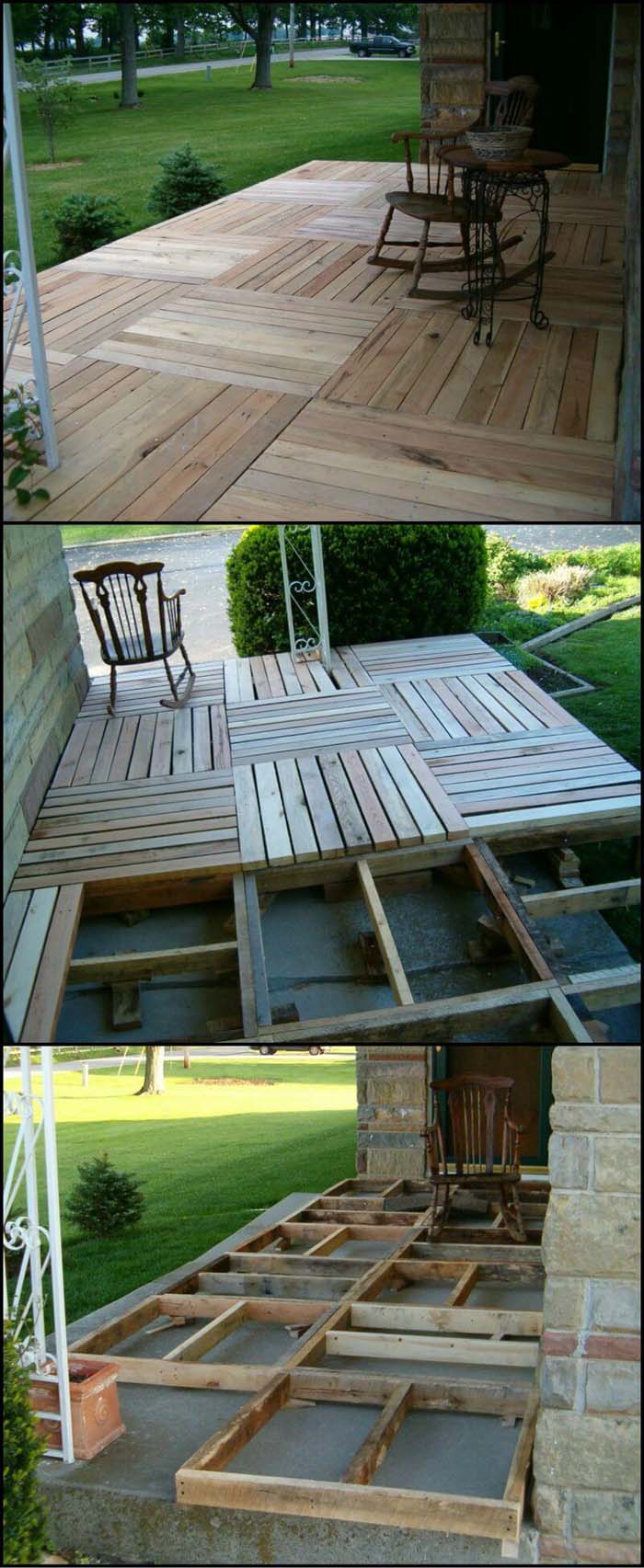 How to improve an old porch on a budget? Use pallets! Of course, they have to be dismantled and re-nailed as to make the beam alignment tight.
By planing them, you would smooth and even the surface which can then be stained in a color you like.
Pallets are great material for such purposes as the lumber is strong and could take up the stress from such application without any damages.
via Redo Redux
14. Build a Playhouse for Outdoor Fun and Safety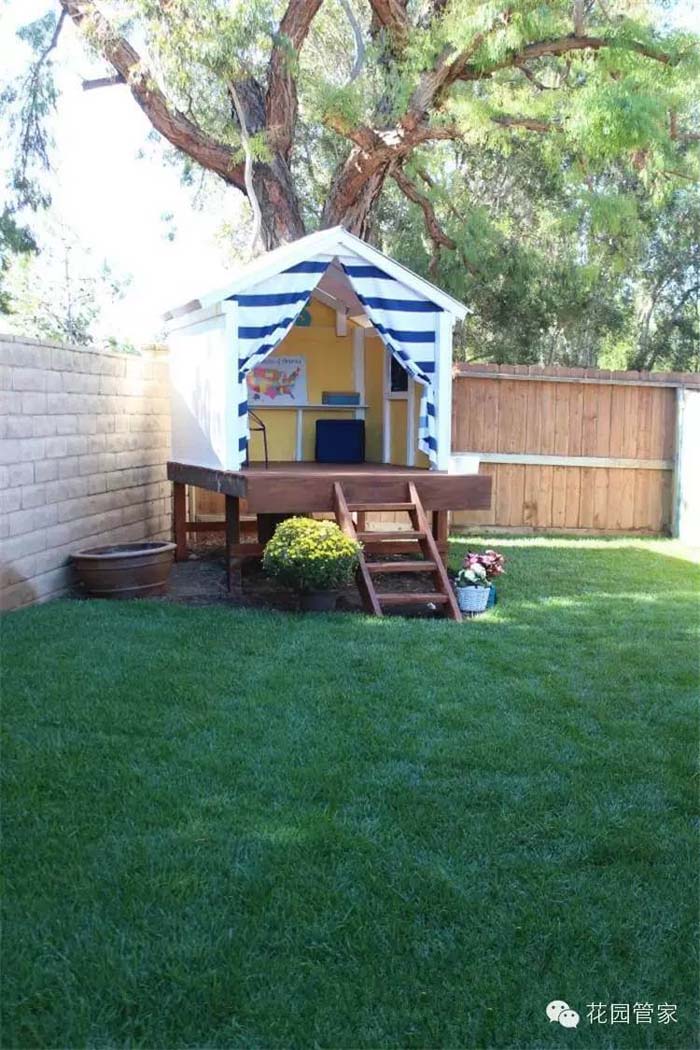 Those of you who have small kids must think of activities to occupy them with and make their time spent in the backyard fun and safe.
Made With Happy provides step-by-step instructions on how to make a cute playhouse using mainly wood material.
via Made With Happy
15. Unwind in an Oversized Hanging Bench Swing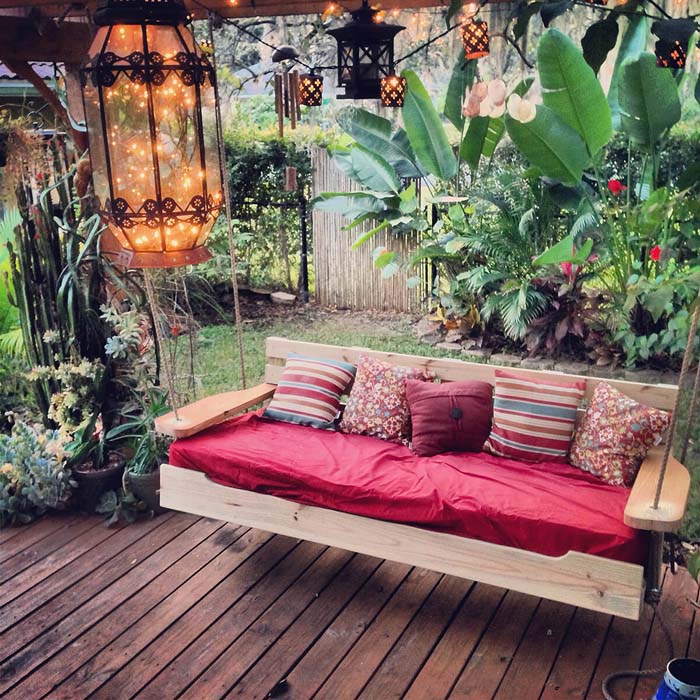 Would you believe that this magical swing with the size of an oversized single mattress costs only $250 and 9 hours to do?
Everyone deserves relaxing swinging moments in a hung bench like this one so make sure you check the link below for more information about the process of building.
via Ana White
16. Make an Affordable Backyard Hammock Stand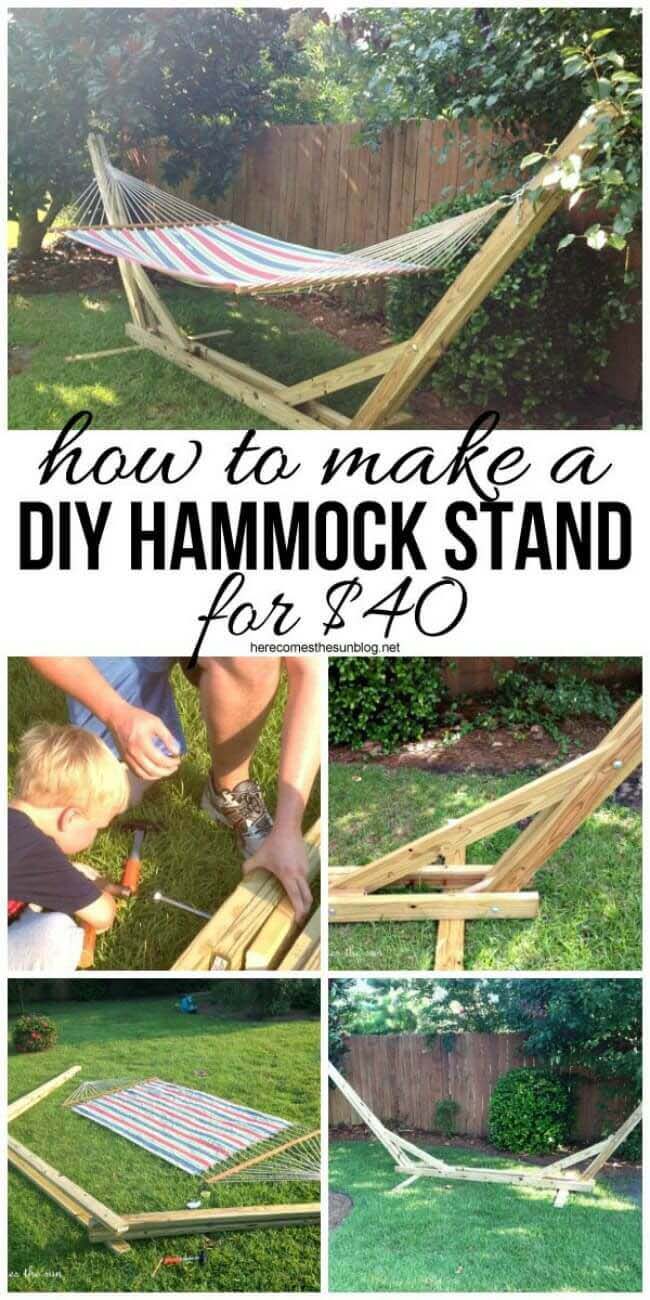 If you don't have large trees to hang a regular hammock on but do want to have a great relaxing experience, we do recommend making such a comfortable hammock stand as buying one will cost a fortune for sure.
For only $40 dollars you can get the needed supplies which are boards, long bolts and screws and enjoy the sky above.
17. Craft a Colorful DIY Umbrella Stand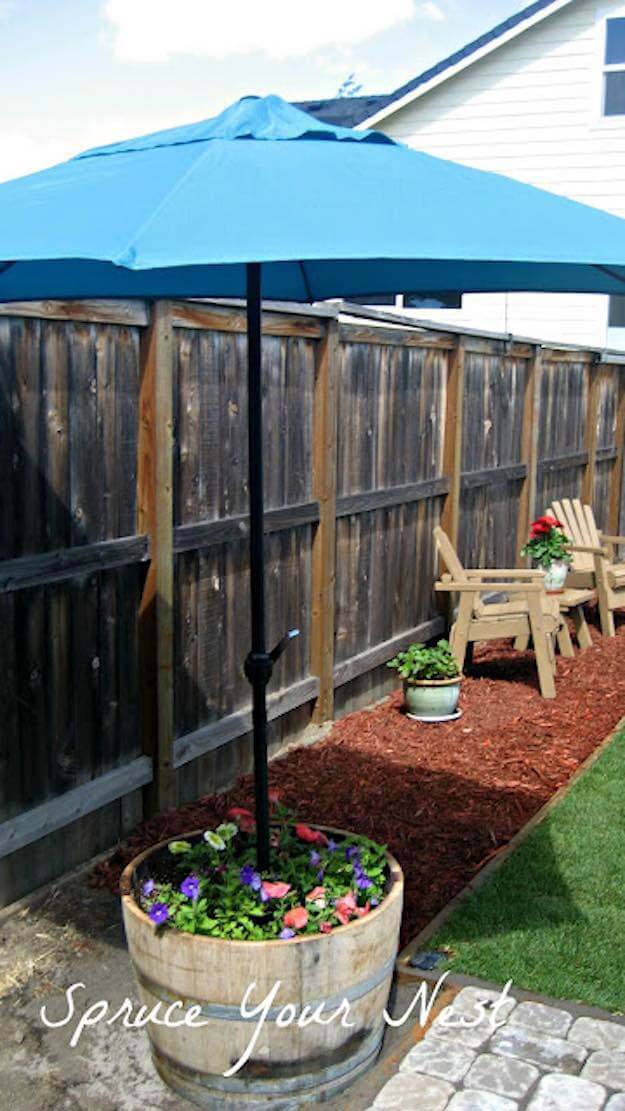 Want a more beautiful and matching stand for your umbrella?
As long as you have a medium-sized barrel, you can easily make a quick and stable stand. Fill the barrel with rocks on the bottom and cover them with soil. The perfect finish will be the planted blooming flowers.
18. Unique Monogrammed Cedar Planter for Your Porch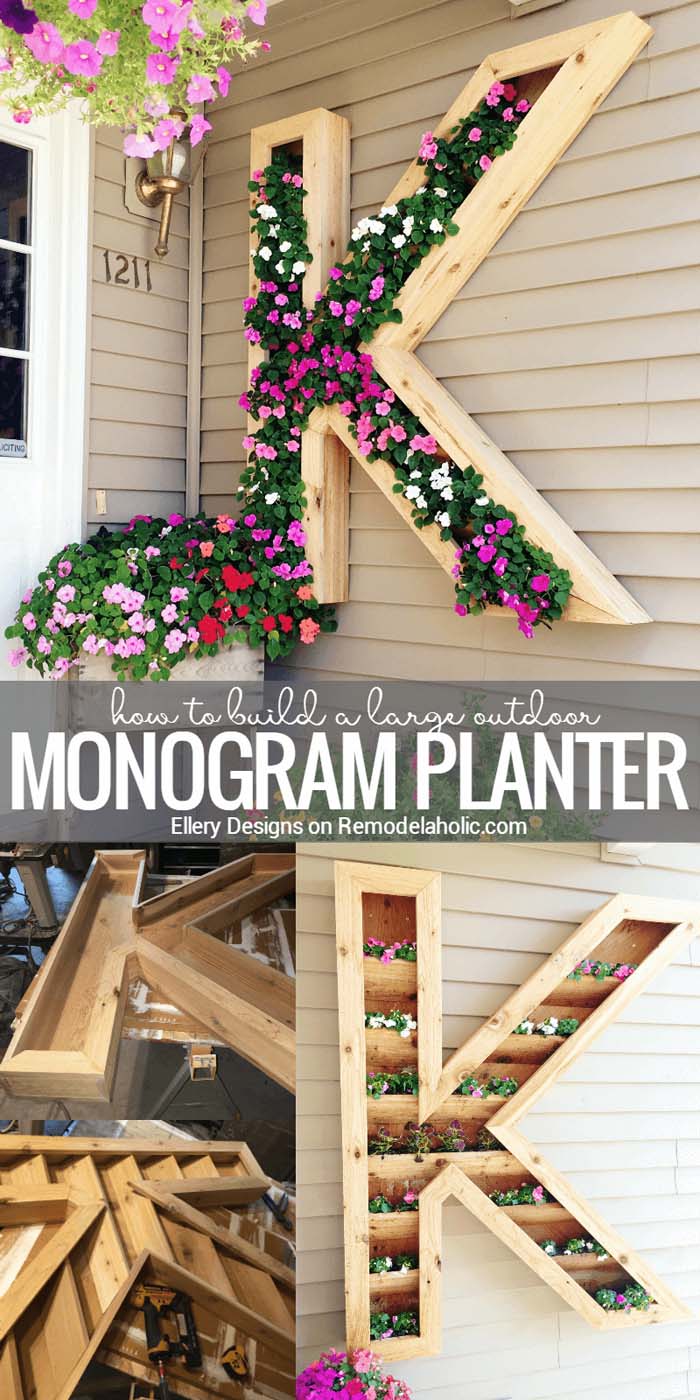 Made of cedar boards, this planter is so huge that it can accommodate a lot of blooming flowers in summer.
Such planters are a rare phenomenon so if you want to be different, make a statement with this DIY monogrammed planter.
via Ellery Designs
19. Create a Fun Outdoor Lab with a Spool Umbrella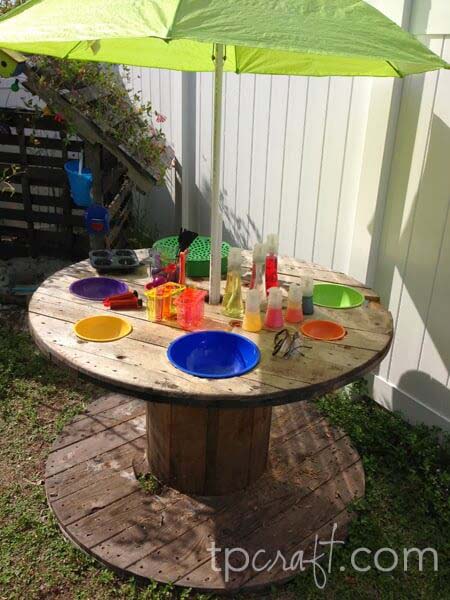 This craft idea is very interesting as it provides a learning environment and safety for kids.
As the spool has been turned into a small science lab, it will quickly become the favorite outdoor project of your kids. Protect them from sunburning by inserting a regular patio umbrella in the middle of the spool.
via TP Craft
20. Attract Birds to Your Backyard with a DIY Bird Feeder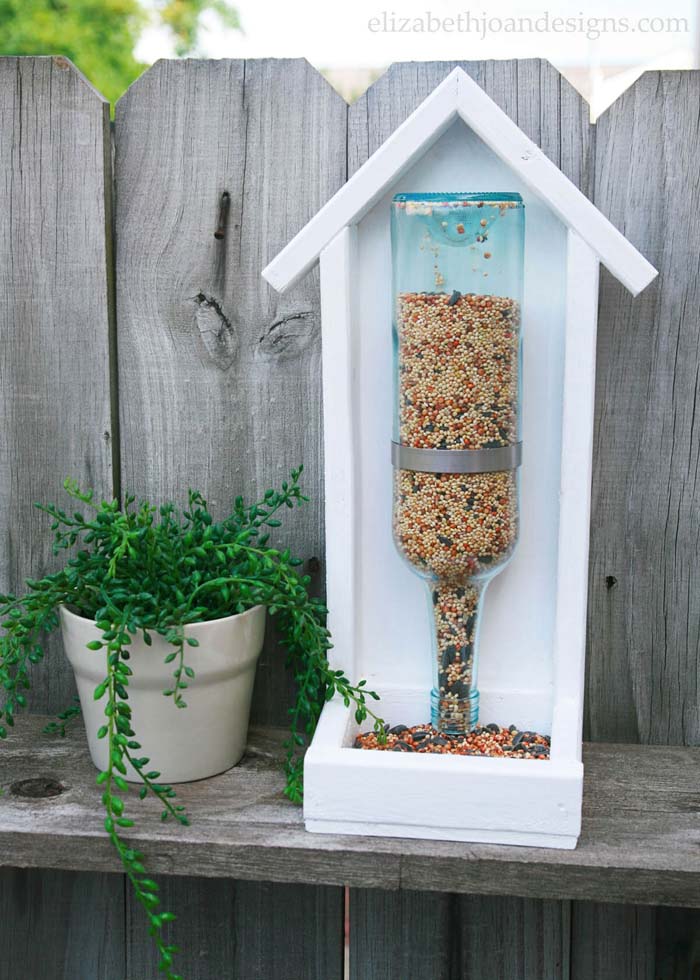 Birds are among the regular wildlife visitors to our backyards. Watching them bathing in the pond is so interesting.
Why not keep them a bit longer in your yard? This quickly assembled bird feeder will attract them.
via Elizabeth Joan
21. Make Rustic DIY Tire Ottoman Chairs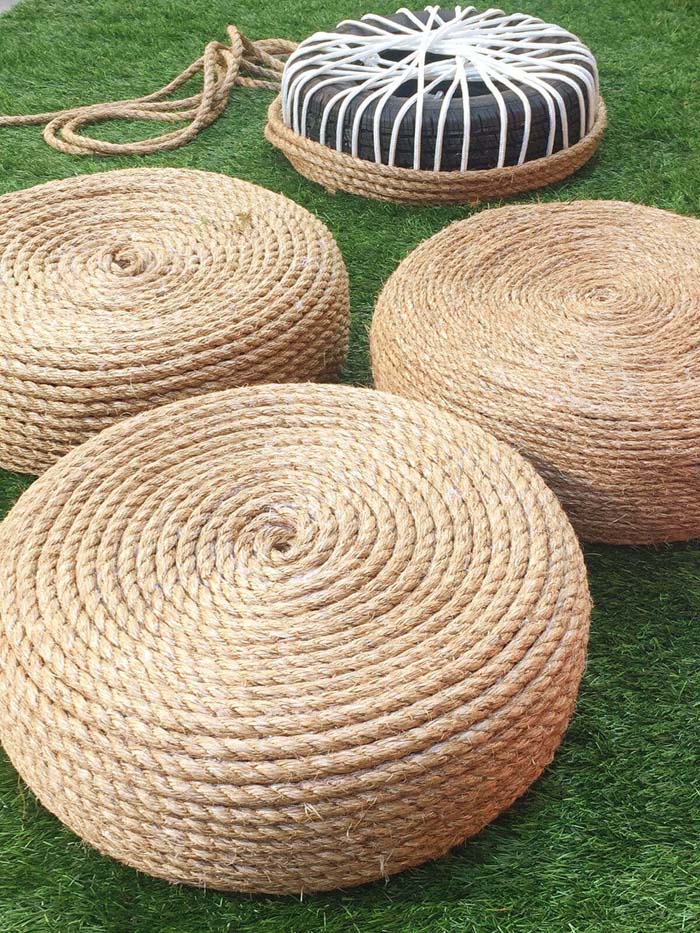 When your sitting area in the backyard cannot accommodate many people, here is a very quick, easy and cheap idea for you.
Old tires are transformed into ottoman chairs using only a thick cord and a hot glue gun.
via 1001 Gardens
22. Enhance Outdoor Meals with Rolling Side Table

Are you fed up taking the distance between the sitting area of your backyard and your kitchen like 100 times before the table outside is set and ready for a meal?
Save a big amount of time and nerves by making this rolling side table. It is large enough to accommodate all you may need.
via Jen Wood House
23. Create a Rustic Bench with Leftover Paving Stones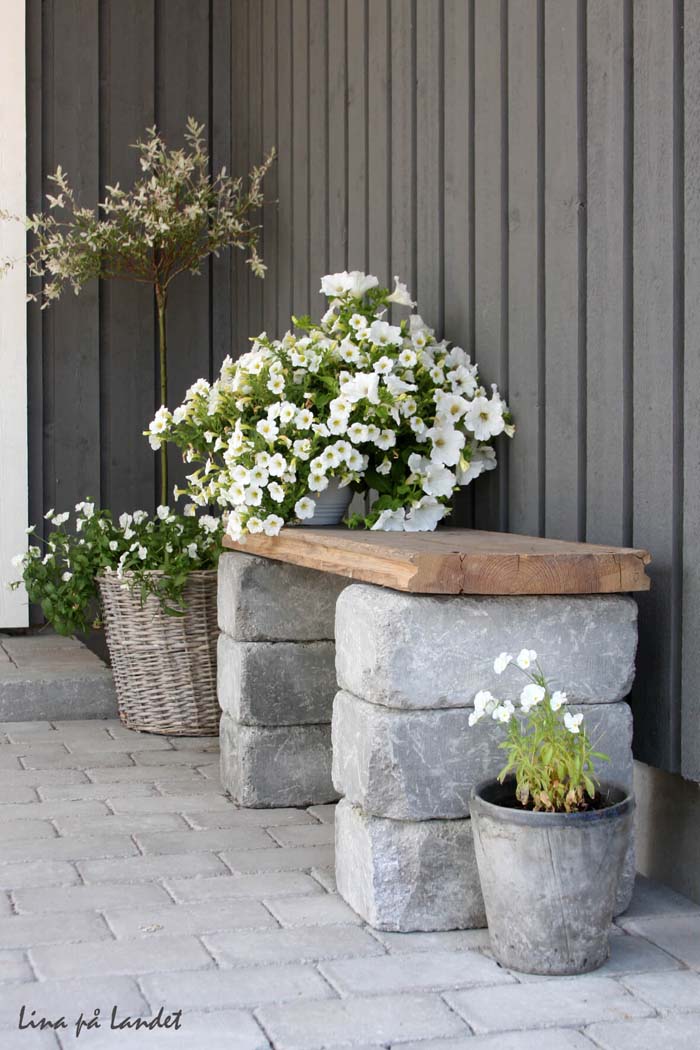 This small and easy-to-make rustic bench is perfect for the "lonely" walls of your house that you have been thinking quite a long time about how to blend with the rest of the backyard.
Left-over paving stones and a piece of thick laminate are all you need.
via Lina Pa Landet
24. Transform Your Backyard with Trellis Climbing Vines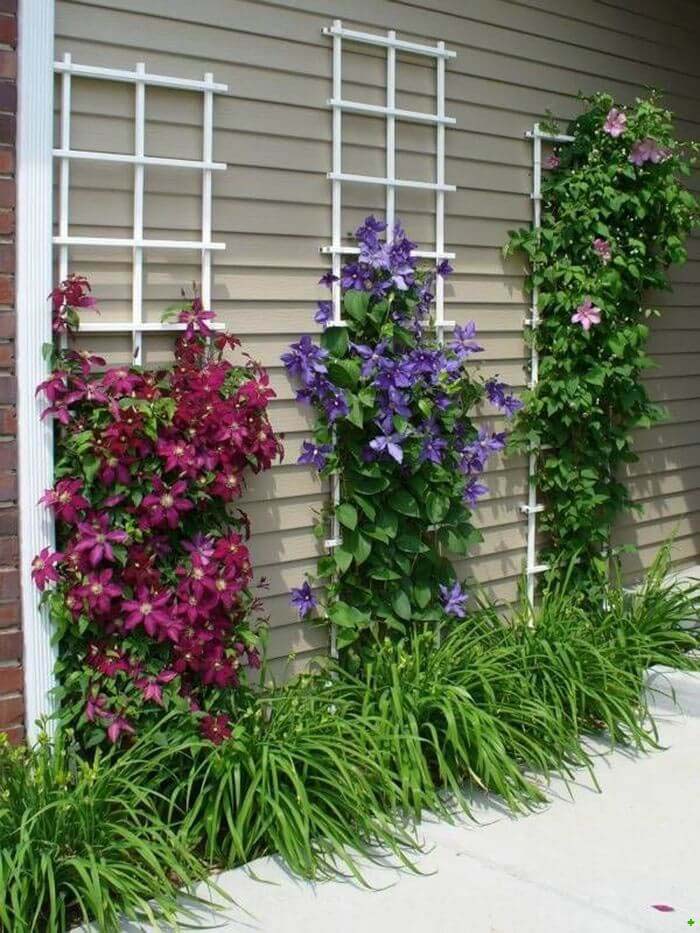 Vines should not be underestimated as they give a beautiful transformation of the backyard as they have climbed and covered the wall.
Such climbing flowers should be properly supported by trellis and those from the photo are some of the easiest and inexpensive ones.
via Decor Home Ideas
25. Creative Tilt-Potted Flower Display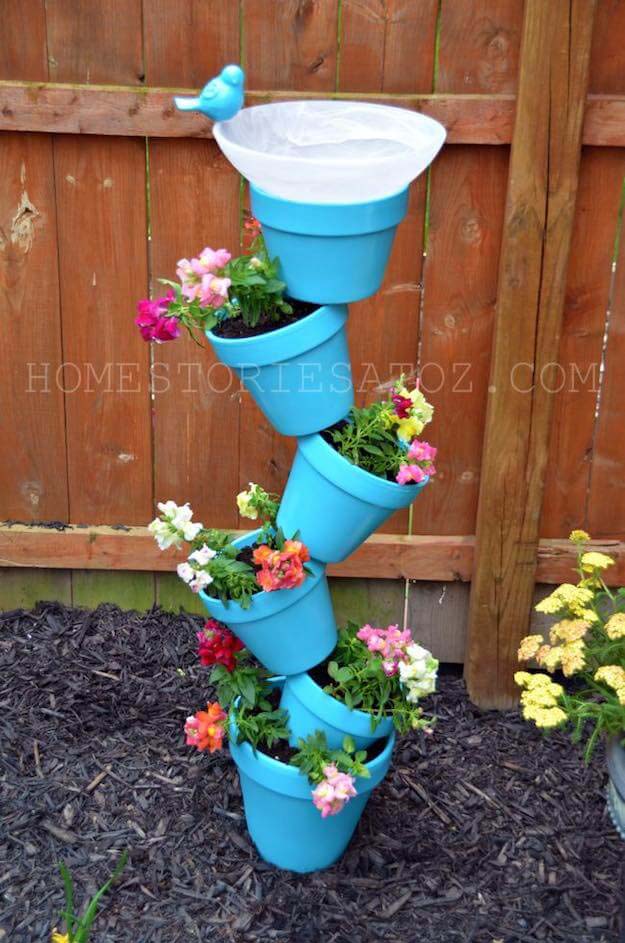 Be creative and make an interesting flower display in few hours only. Paint several terracotta pots and thread them on rebar.
The interesting inclined effect is done simply by tilting each pot.
26. Make an Ergonomic Lounge with a Wooden Cabana Chair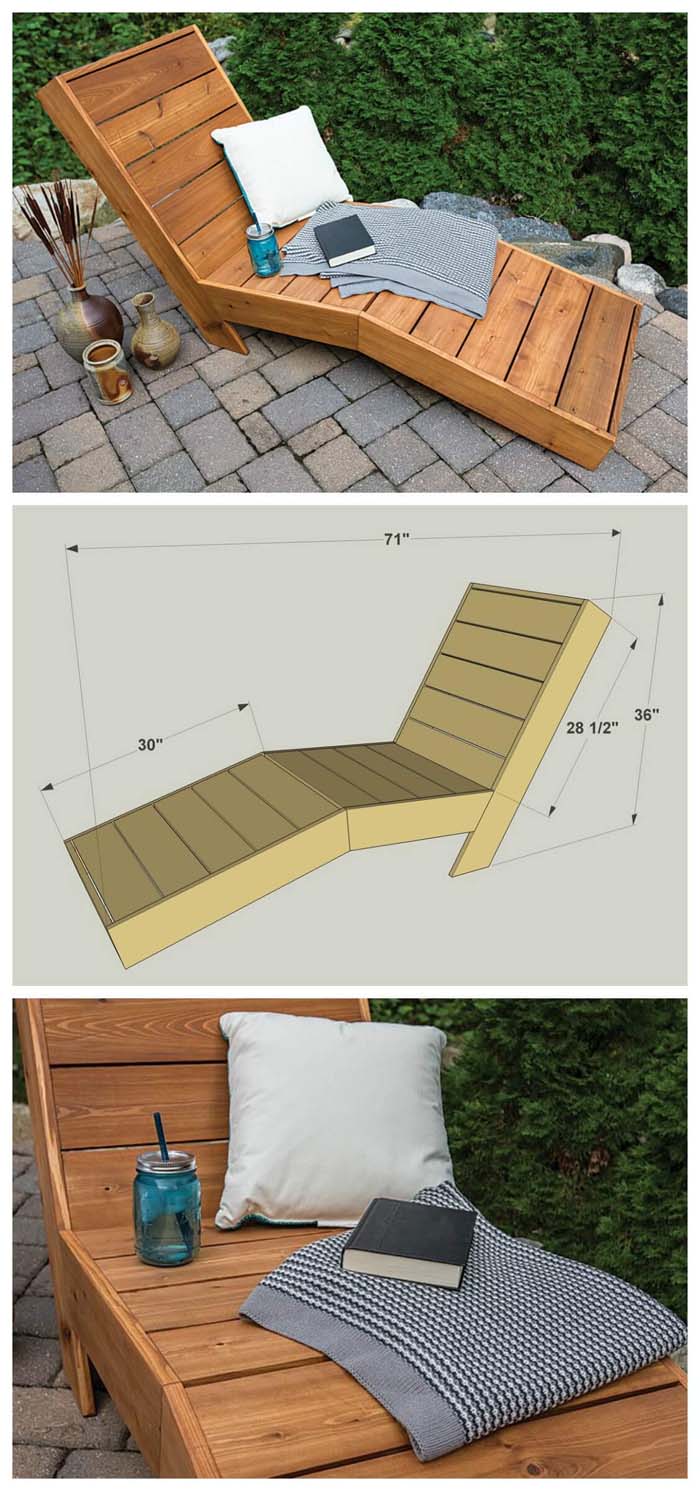 With the help of the detailed instructions on the link below, you can make yourself a lounge that will cradle your body.
The ergonomic shape shouldn't frighten you as it does not complicate the project at all.
via Build Something
27. Boost Curb Appeal with Vertical Gardening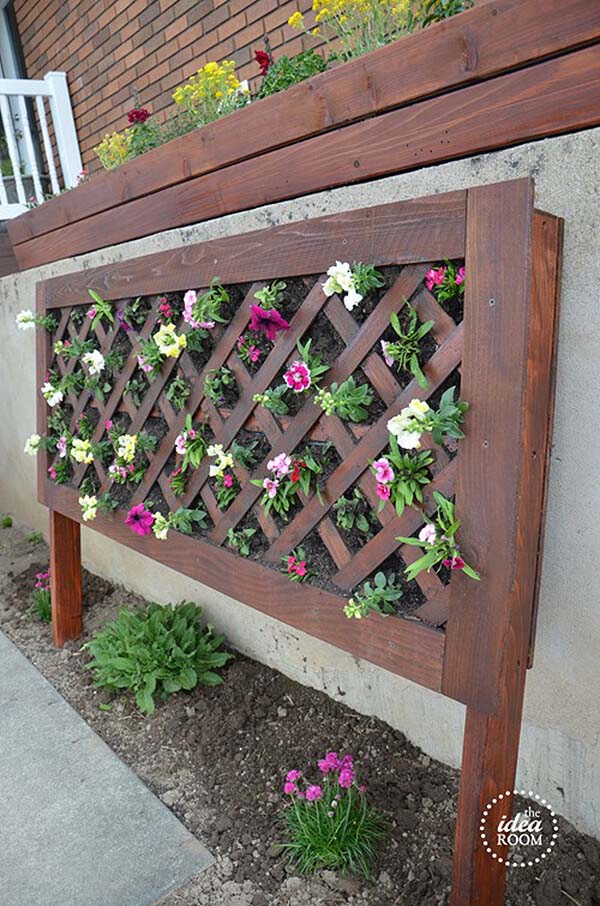 Does any part of your backyard walls need improvement? If it is not the right timing for repairs, you can quickly hide it.
This vertical flower bed is very impressive so we bet you will be using it every summer, even after you have repaired your walls.
via The Idea Room
28. DIY Towel Hanger for Poolside Convenience

You must consider getting a towel hanger if you are lucky to have a pool in your backyard.
With the help of square timber and plain metal hooks, you can make one yourself. It looks quite well, by the way.
via Just Judy Blog