While most of us would love the idea of adding a pool to our backyards, there's a certain amount of planning and responsibility that goes into the construction.
The easiest way to add a pool is by putting up an above ground pool. The planning should include security by way of adding fencing. Take a look at our list of pool fence ideas for above ground designs that may work in your situation.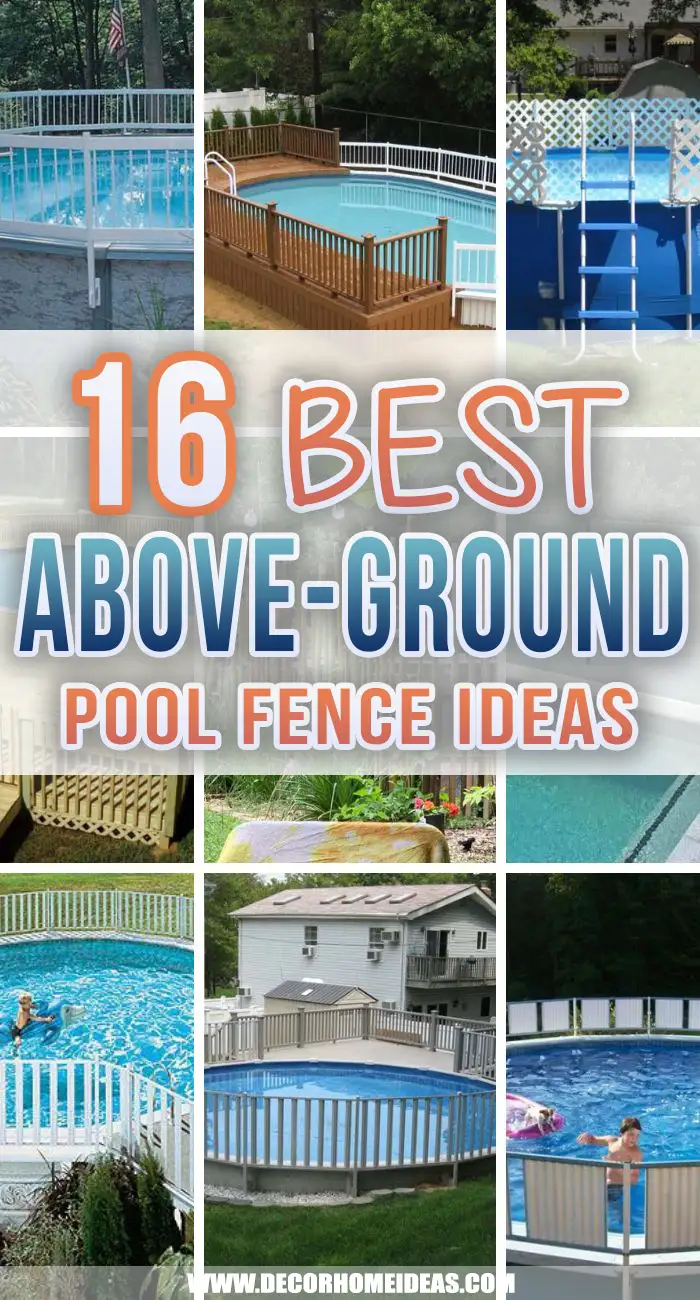 The easiest way to add above ground pool fencing is with a kit. These pool fences are built using standard measurements.
A standard kit can be made from wrought iron, aluminum, or vinyl fencing. Kit A is the base. Kit B and Kit C are add ons for specific needs to meet any pool code. See popular kits HERE.
The advantage of buying a pre-made kit is you can buy additional sections or accessories for your swimming pool fence as needed, knowing they will fit your original pool fence. You can find things such as a pool cover or gate latches that may need to be replaced.
If you prefer adding a fence made of wood, that's always an option. Wooden fences work for security and can also be used to integrate a deck onto the pool. 
You have plenty of affordable and good-looking options for your pool fencing. Take a look at these metal, vinyl, and wood fences for new pool fencing ideas.
1. Combine Wood Deck and Railing With Pool Fence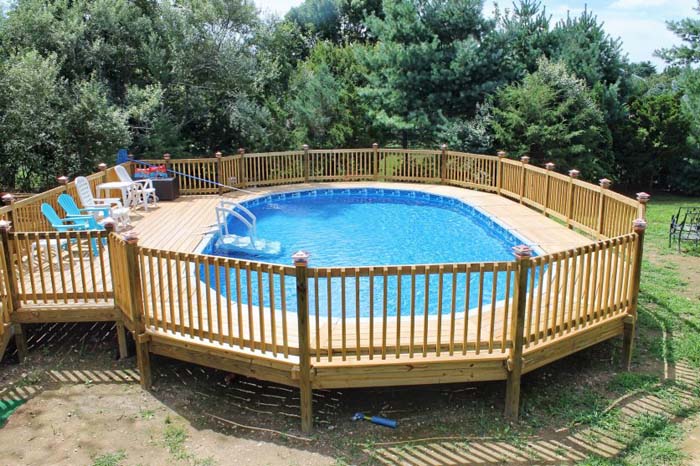 Build the deck to match the height of the top of the pool. This hides the pool wall, creating the illusion of an in-ground pool using an above ground pool. 
Combining the deck with the pool with a wooden fence is one of the common pool fence ideas for saving space in small yards. You don't need two separate entertainment areas and will only need to build one deck railing and fence system.
2. Black Mesh Removable Pool Fence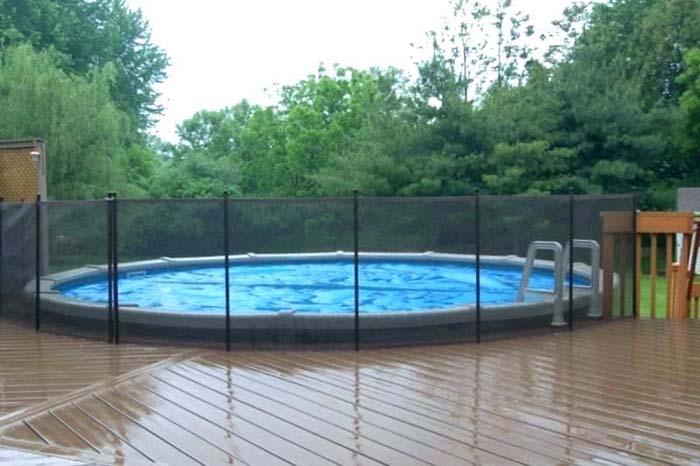 A wire mesh fence is a clean looking alternative to a chain link fence. This wire mesh pool fencing is removable. It's ideal for situations where young children may be visiting and the home needs to add extra pool safety.
For a permanent solution, wrought iron fencing and an iron gate in front of the swimming pool would be a safe and elegant solution.
3. Garden Bed and Fence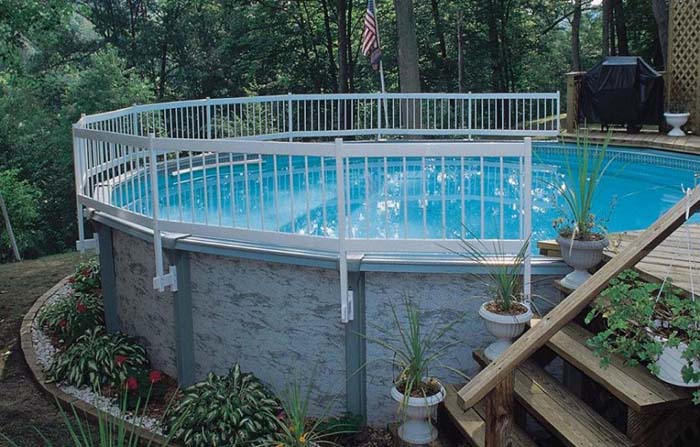 Aluminum pool fencing adds a clean look to the deck and pool.
Add more color to the area around the perimeter of the pool with a small edged garden bed.
4. Unframed Lattice Pool Fencing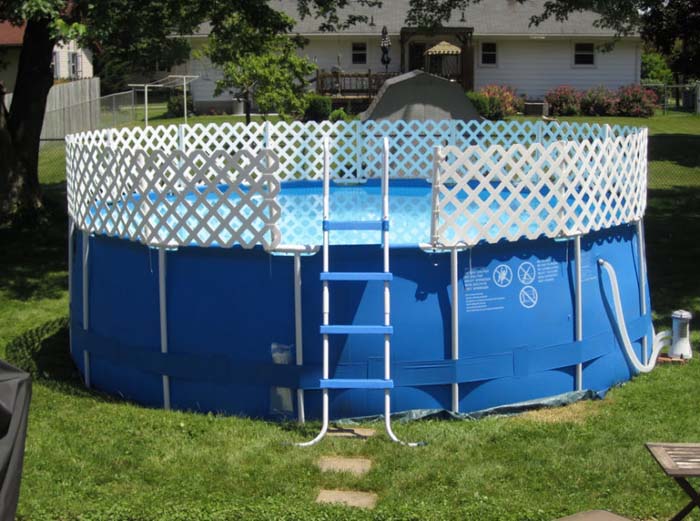 Lattice panels are attached to the top of a swimming pool. These offer more in the way of privacy than security, as they could easily be pulled down to gain access to the pool.
5. Privacy Panels for Above Ground Pool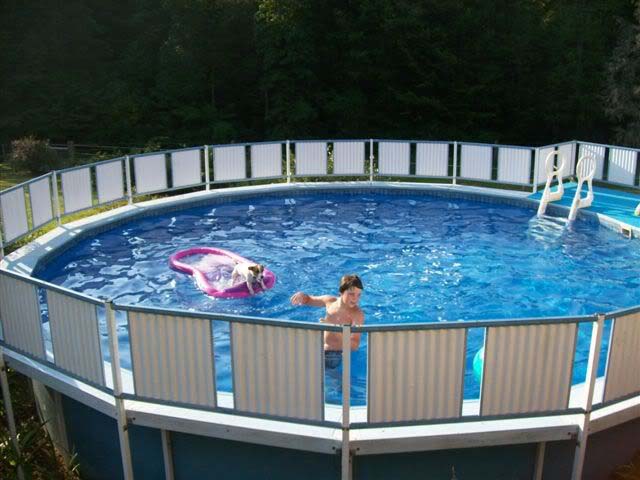 Here's a nice above ground pool fence idea with panels. It's attached to the pool using a mounting bracket system and poles embedded in the ground.
These panels offer more privacy than traditional pool fence kits.
6. Oval Aluminum Pool Fencing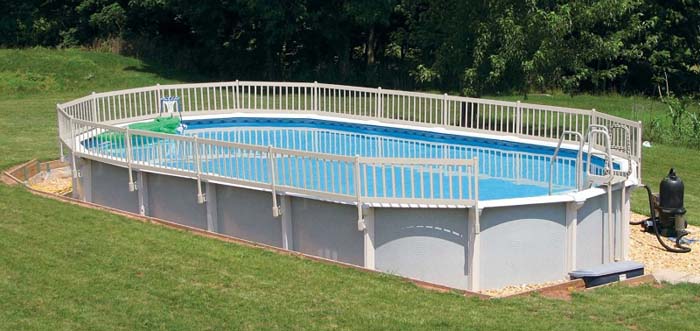 Above ground pool fence kits come in a variety of materials. An aluminum fence is a popular solution. They can be found in a variety of finishes, including galvanized, powder coated, or vinyl coated.
7. Pool Edge Fence Kit With a Full Deck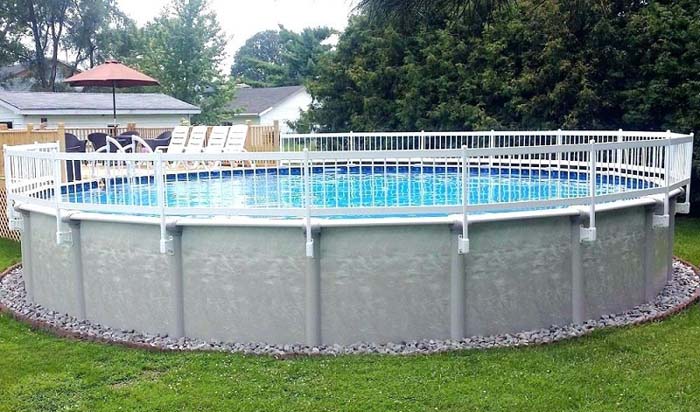 There are several reputable manufacturers creating above ground pool fence kits. They work with standard pool frames down to the last mounting bracket.
8. Seating and Skirting for a Pool Fence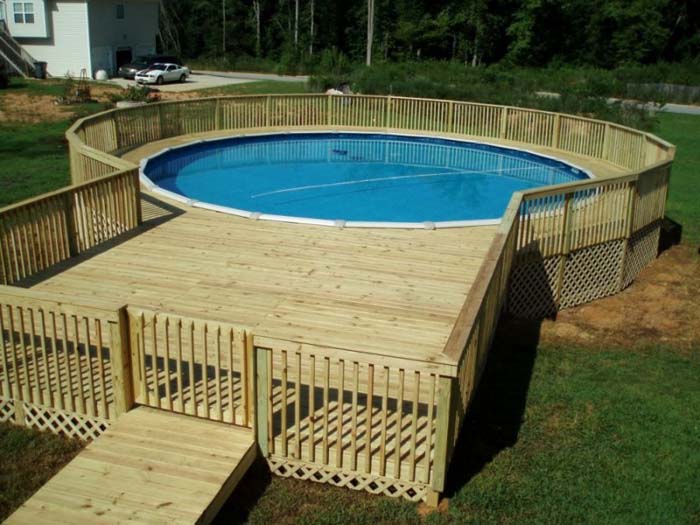 One of the popular above ground pool fence ideas is to maintain the same railing around the pool as you have to secure the deck.
This pool has a deck that was constructed for wheelchair accessibility. On each side of the gate is a custom-built fence section. The railing and deck extend around the pool.
The lattice skirting installed underneath gives the pool a clean finish.
9. Three Above Ground Pool Security Barriers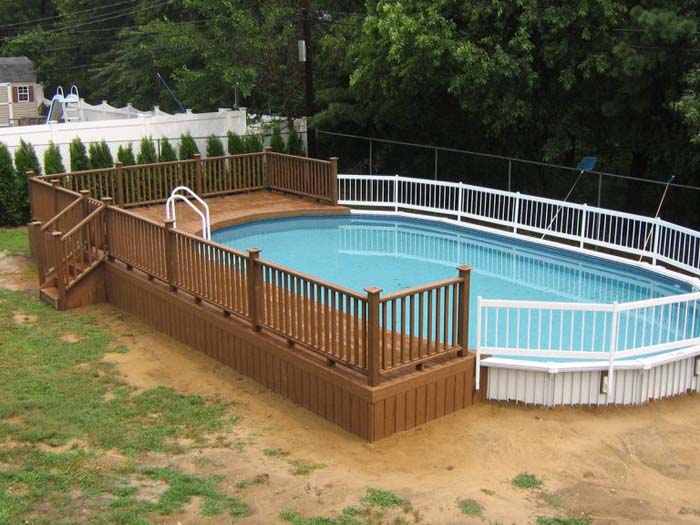 A large above ground pool is partially embedded in the yard. Besides the deck railing and vinyl fence, the pool owner added a high chain link fence arid the yard.
This may be necessary depending on city and HOA bylaws. You can see how this will be less obvious in a few years when the arborvitae planted alongside the fence fills in.
10. Two Fences for Embedded Above Ground Pool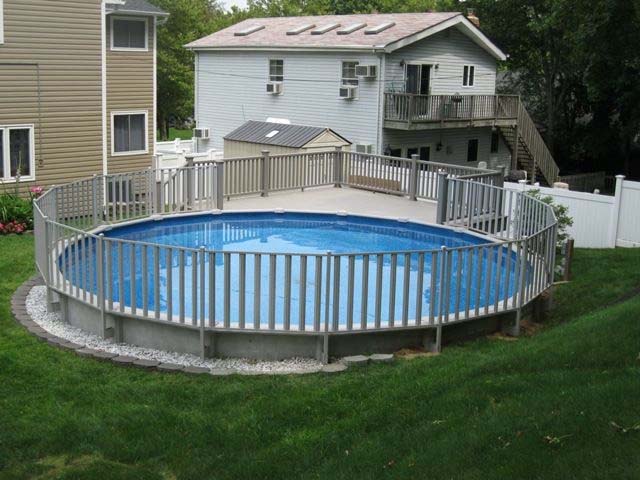 Extra precautions need to be taken if your above ground pool is built into the landscape. This above ground pool uses a standard pool edge kit and deck railing ideas. The stairs and deck were customized to suit the slope.
Since the deck and pool are more easily accessible, a full composite white fence was added to the property, discouraging neighbors from stopping over uninvited.
11. Bamboo Tree Pool Privacy Fence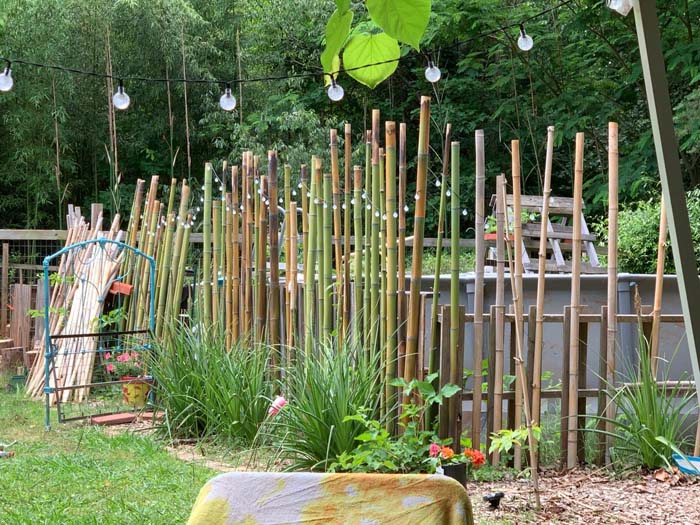 While bamboo is normally associated with tacky Hawaiian shirt parties, it can also add privacy and an organic touch to a pool area. As far as fence installation goes, this is an easy project.
If you need more security for your swimming pool, a chain-link fence can be hidden in between the reeds.
12. Pool Fence Is Part of an Entertainment Area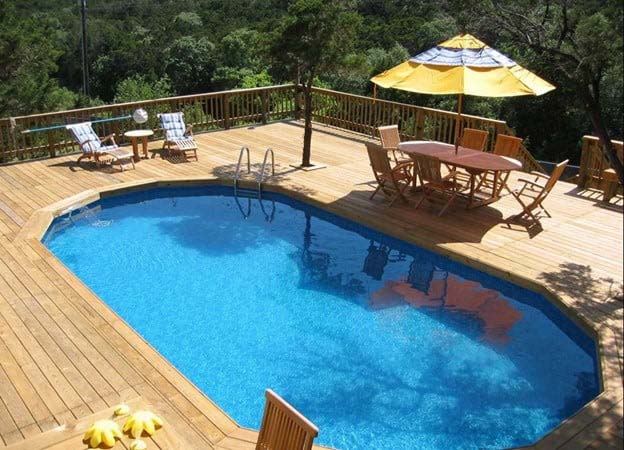 An above ground pool doesn't have to be an afterthought in your yard. Instead of creating separate entertainment areas, incorporate the pool in your deck's fence design.
This above-ground pool deck is still large enough to create separate seating areas. Raising the deck to pool level gives guests a bird's-eye view of the scenery.
13. Frosted Glass Pool Fence Has Modern Look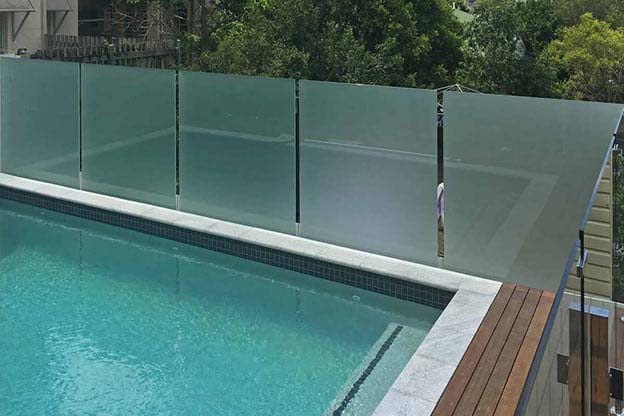 Frosted glass pool fencing is popular in neighborhoods with small yards. Besides working as a privacy fence, they help cut down the noise on both sides of the fence. 
These are the same types of panels you can use on a patio. If you would like to keep the view, use a clear glass pool fence.
14. Add a Trellis to Your Pool Fence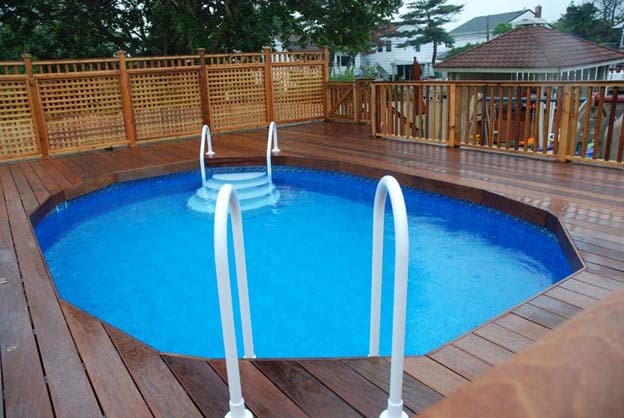 This small pool gets an upgrade with a full surround deck. Another pool deck idea is to add a trellis to the traditional railing.
It creates texture, cuts glare, and adds intimacy to the deck.
15. Vertical Picket Pool Fence and Sun Deck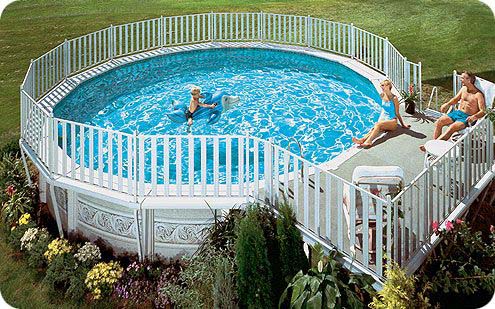 Pool kits are designed to wrap around the pool, but the vertical panels can also be set at 45-degree angles to enclose a sun deck.
16. Framed Lattice Pool Fence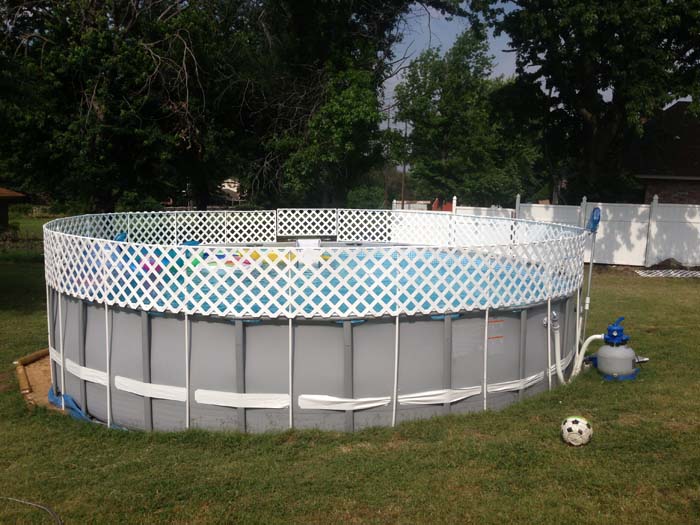 A vinyl pool fence made of lattice is anchored to poles which are buried in the ground. A taller composite fence protects the outer edge of the property, making It easier to secure the pool.