When you're designing a patio, it's important to match the overall look and feel of the home. Rustic homes can present a challenge — how do you choose furniture that's relaxed but still modern?
If you're stuck, these gorgeous rustic patio ideas can help you design the perfect outdoor space.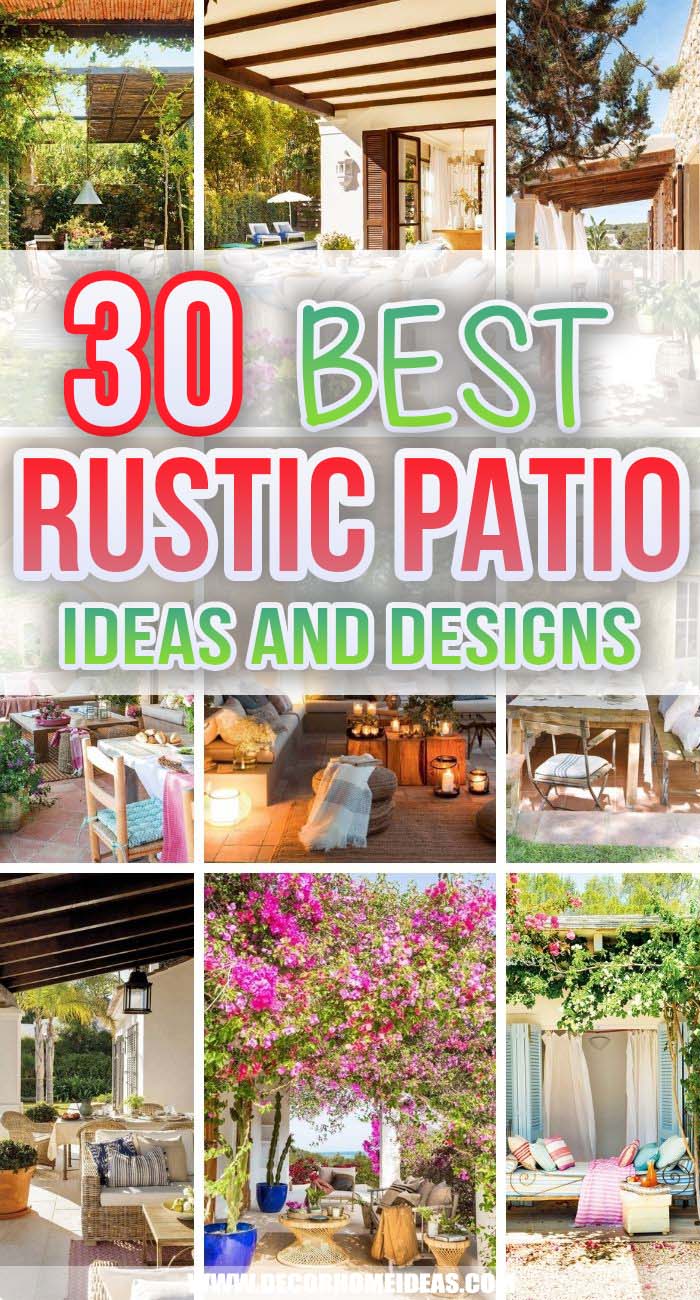 1. Beachy Blue and Neutral Rustic Patio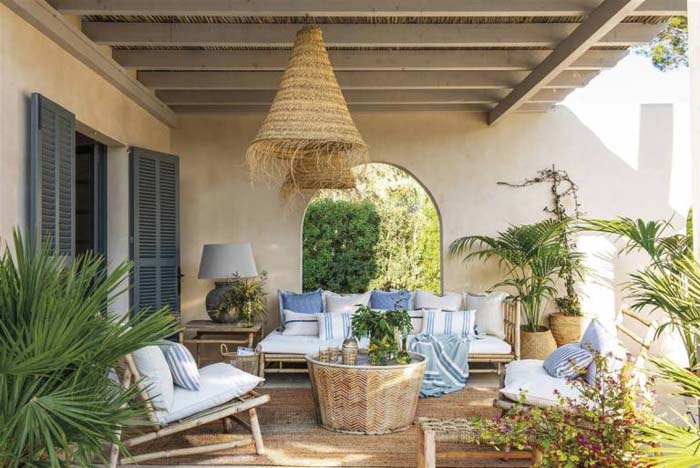 Looking at this patio, it's easy to imagine that the ocean is just a few steps away. The secret?
The seagrass light fixture, coffee table, and planters are paired with the soft, sea-blue accents. The effect is remarkably soothing and casual — the perfect combination for a rustic-style home.
2. Bright, Cheerful Country Patio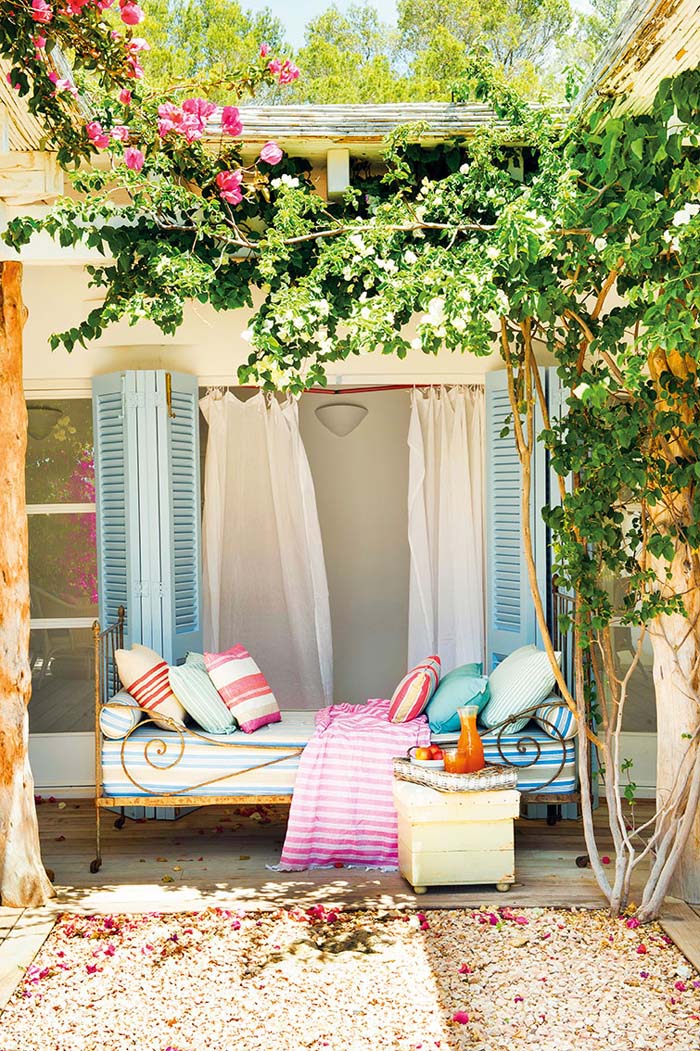 If your idea of rustic style is fresh and farmhouse-inspired, look to this patio design for inspiration. The traditional shutters are painted a bright shade of blue, and the vintage daybed is adorned with vibrant pillows.
The combination of old and new brings the rustic space into this century.
3. Bright White Seaside Patio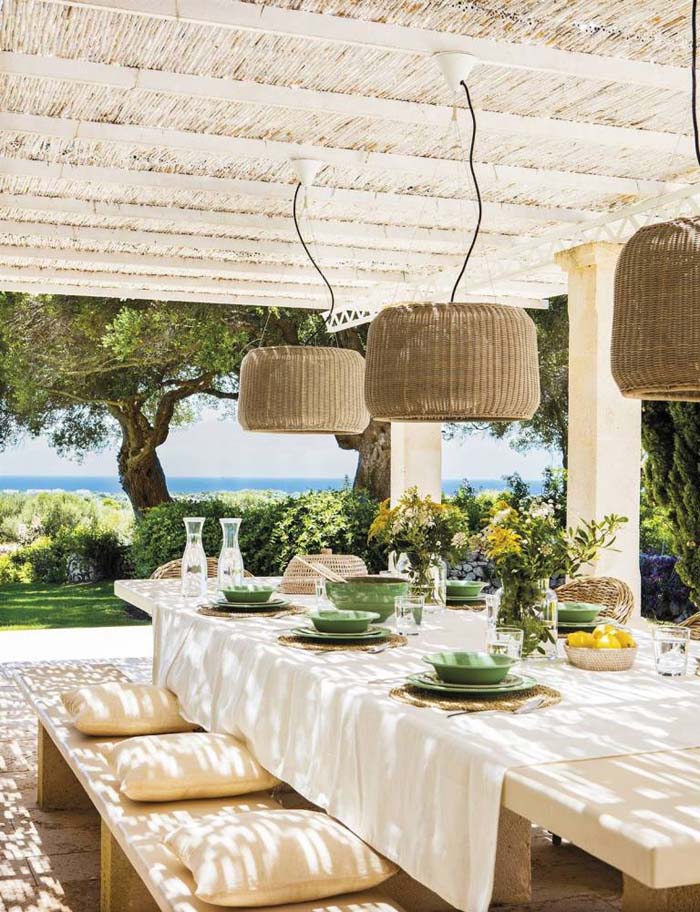 Do you want to update your dark, rustic patio? Give it a coat of white paint.
Here, a white thatched roof creates a gorgeous, sunny outdoor dining area. Bring in the natural environment with green and yellow accents.
4. Covered Rustic Stone Patio with Candles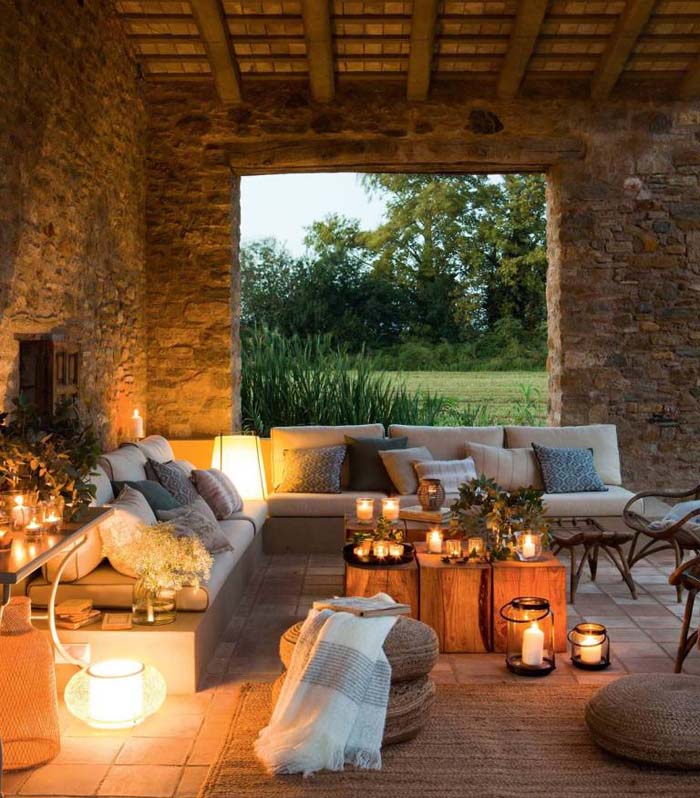 In centuries past, patios were enclosed to provide protection from the elements. Embrace this cave-inspired atmosphere with a cozy patio design.
Keep your furniture light and simple to ensure that it feels elegant. Then, add a wealth of candles and lanterns; they'll add a relaxing, romantic feeling.
5. Dark Wood and Blue Accents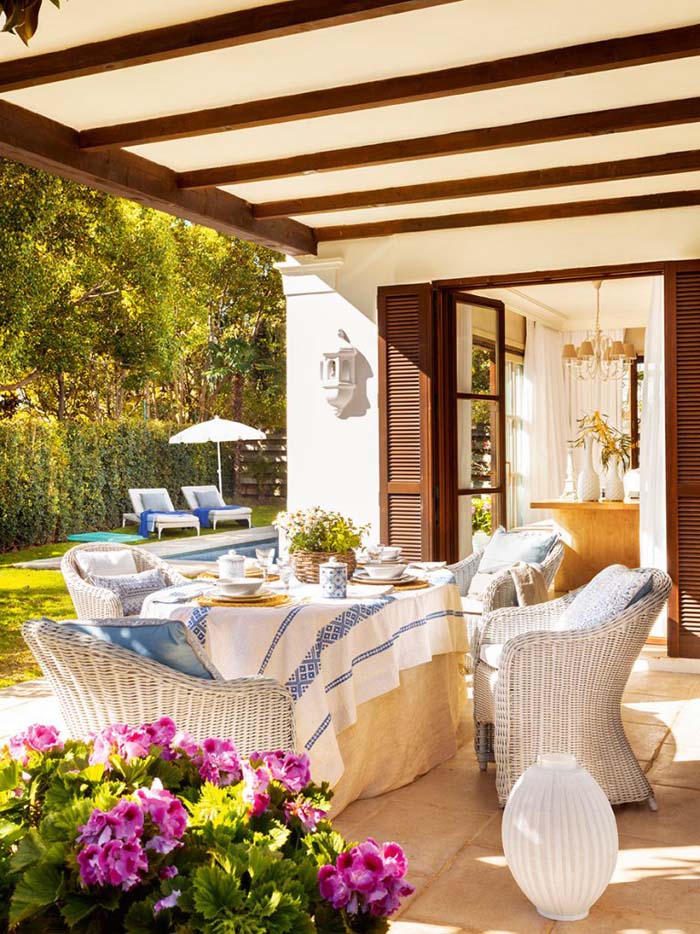 Dark wood beams are a gorgeous part of a rustic patio, but they can make the space feel heavy.
To counteract that effect, this design uses white wicker chairs and elegant blue accents. Note how a little goes a long way — a tablecloth and few pillows have a big visual effect.
6. Fresh Blue and Natural Ivy Patio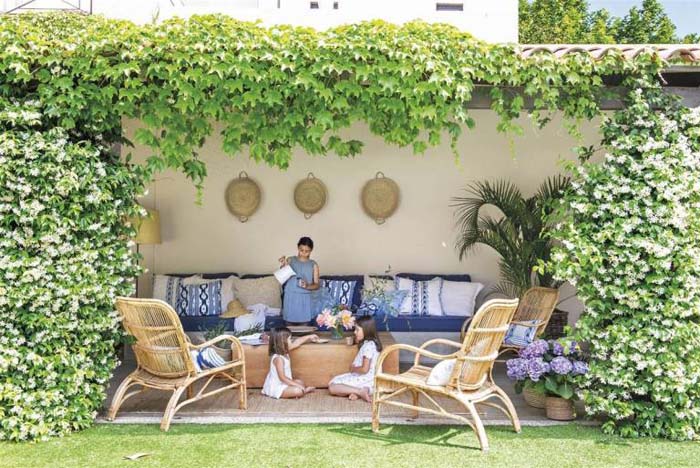 Take your rustic patio to the next level by planting ivy; the vines will turn older walls into a spectacular showpiece.
To match the bright green of the leaves, choose blue accents in a similar tone and saturation level. Pale furniture made from natural fibers enhances the laid-back look.
7. Fresh Mediterranean-Inspired Rustic Patio Design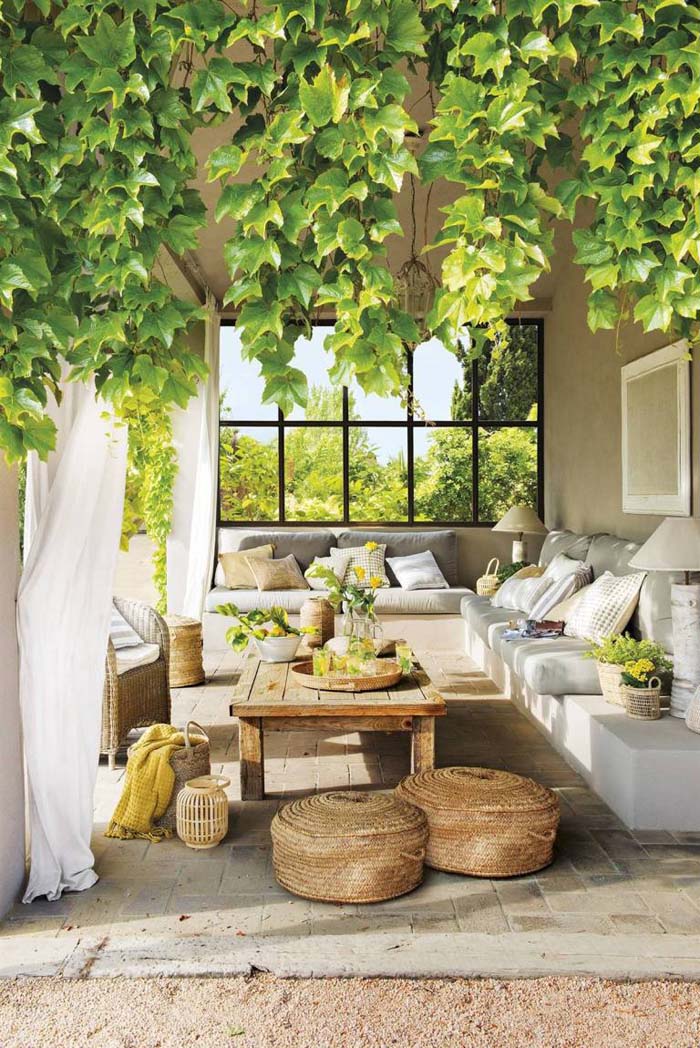 You'll feel like you've stepped into a Greek or Italian villa with this patio, which uses natural materials including wood, seagrass, and stone.
Linen sofas and pillows add an elevated touch that's rustic yet sophisticated. Finish the design with dreamy white curtains.
8. Fresh White Covered Patio with Blue Accents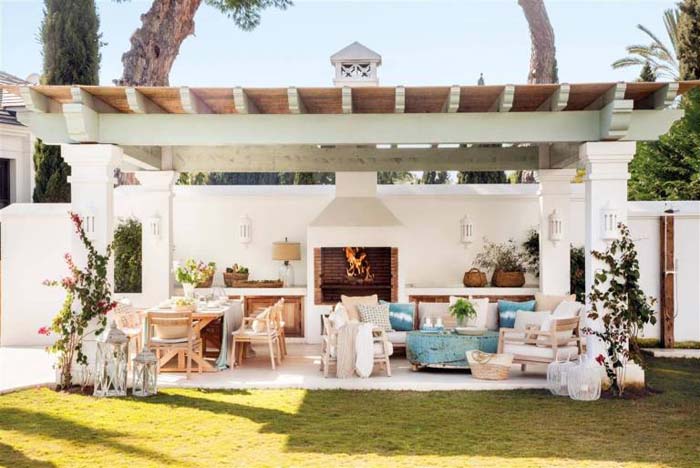 You can't go wrong with a palette of white and natural wood; it's fresh and timeless. If your lawn is short on plants, infuse a bit of extra color with a few carefully chosen blue accents.
When it comes to color, a little bit goes a long way.
9. Grand Rustic Patio with Seating and Dining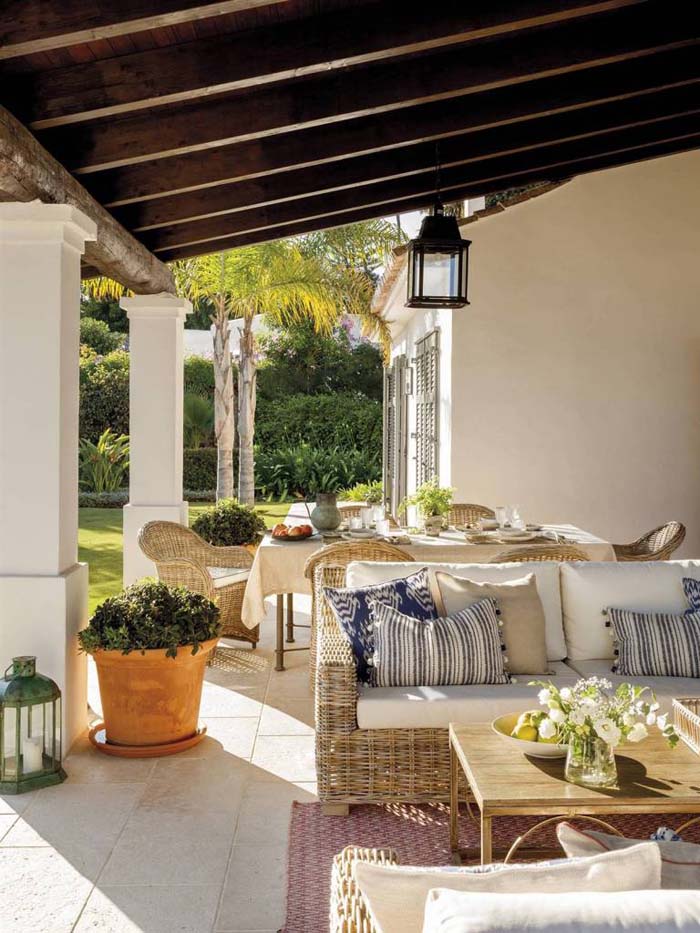 Do you have a large patio? Make it feel more manageable by dividing the space into seating and dining areas.
Here, wicker chairs and sofas reflect the rustic character of the exposed-beam ceiling, while white and blue accents add a fresh feeling.
10. Green and Tan Rustic Patio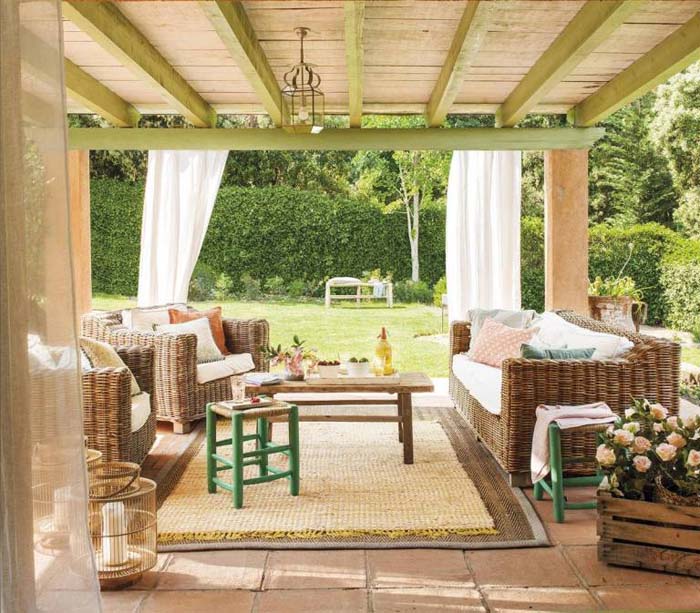 Tie your patio into the natural environment by mimicking the color scheme. Start with a foundation of natural wicker and wood furniture. Then, layer in green pieces: a stool, plants, and pillows.
Here, the homeowner painted the ceiling beams a sage green for a stunning and completely unexpected finishing touch.
11. Ivy-Covered Ceiling Over a Corner Sofa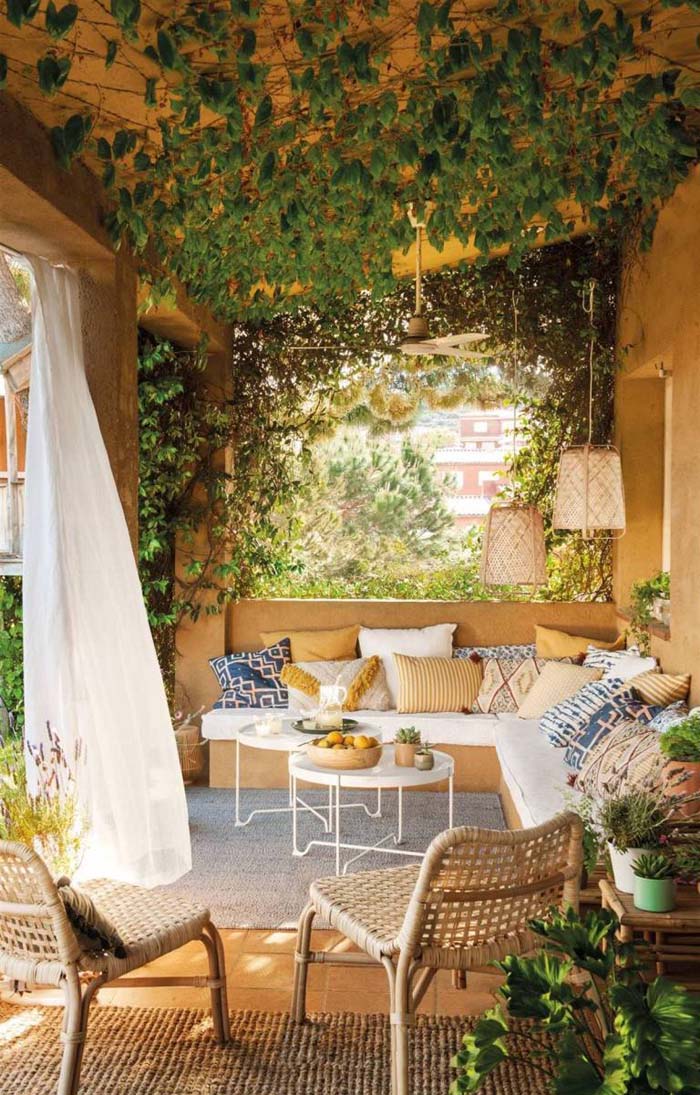 When you have a small patio, a space-efficient design is a must. This sweet, rustic space benefits from a built-in corner sofa that accommodates a big group.
Woven chairs and rugs bring out the warm colors of the walls, and breezy white curtains add a fresh, Greek-inspired vibe.
12. Living Green Ceiling and Light-Colored Furniture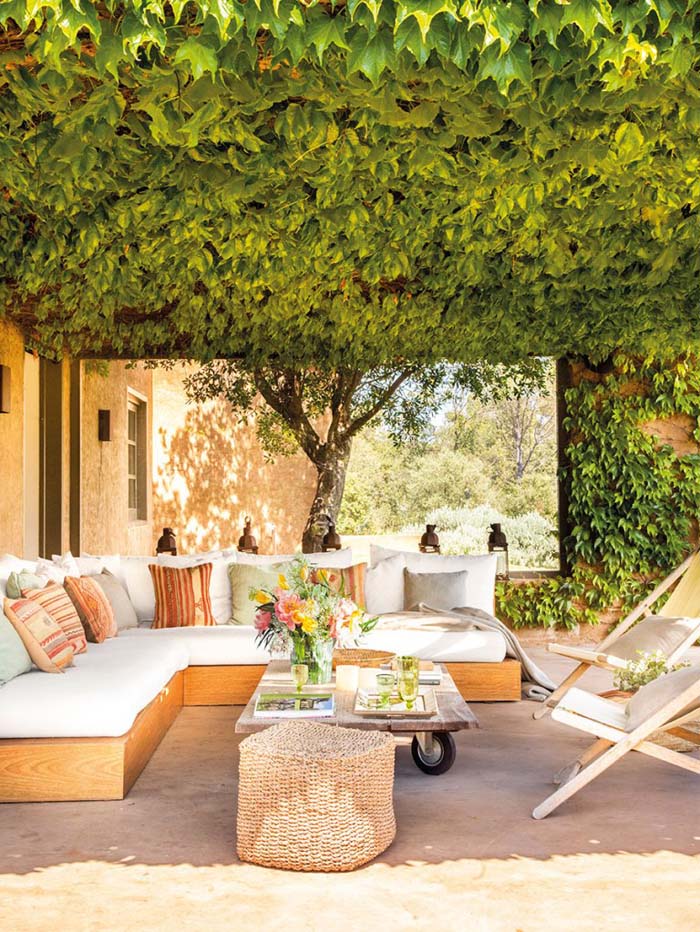 This patio is a showstopper — the ceiling is composed of brilliant green vines, so you feel connected to the great outdoors.
To highlight this focal point, the designer uses light, neutral-colored furniture that blends in with the exterior of the home. Fresh flowers and arm-toned accent pillows add a pop of warmth.
13. Mid-Century Rustic Patio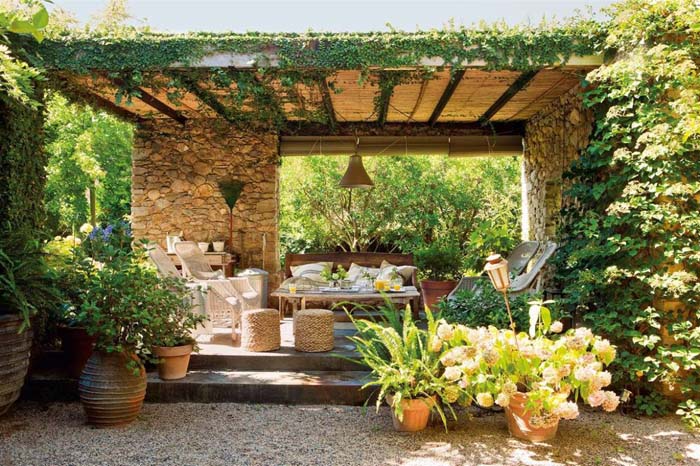 Green climbing vines and potted plants soften the harsh lines of this mid-century modern patio. By obscuring the architecture, the design brings out rustic stone and wood materials.
Woven seagrass seats and wicker furniture create a relaxed, charming vibe that encourages guests to get comfortable and stay awhile.
14. Modern and Rustic Patio Design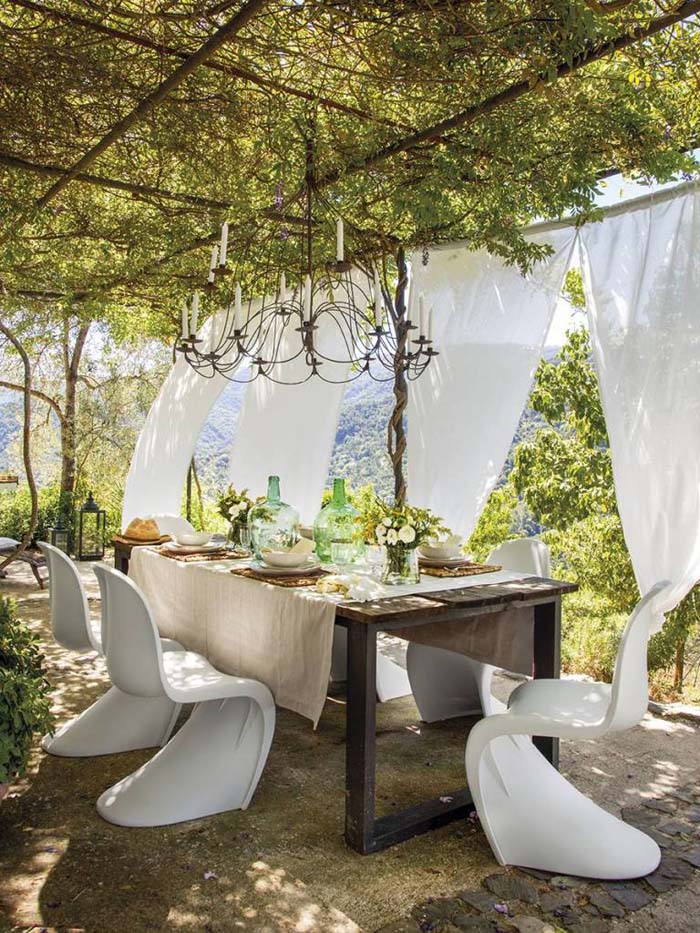 When you have an exceptionally rustic patio — think dirt floors and a vine-covered pergola — you can balance it out with a hint of contemporary design.
Here, the vast majority of the pieces are rustic; it's necessary to balance the wild, ultra-modern chairs. The effect is striking and daring.
15. Natural Fiber Accents for a Modern Rustic Vibe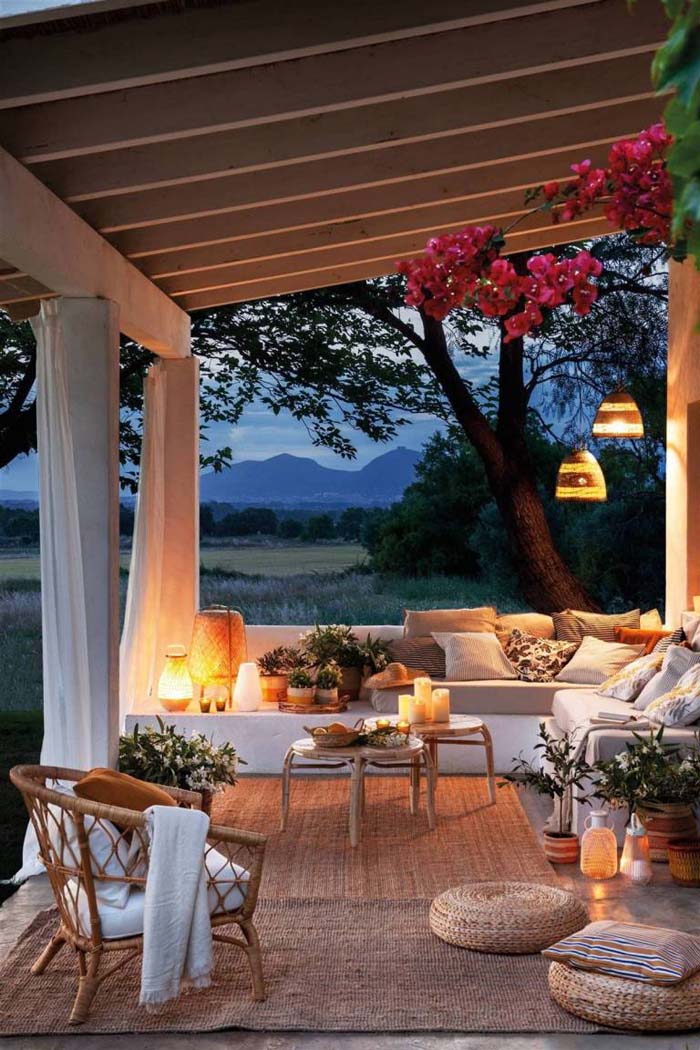 Keep your small patio feeling light and bright with natural-fiber accent pieces.
Choose a rug, poufs, wicker furniture, and wood tables in light tones; they add texture and visual interest without overwhelming the space. White textile accents make the perfect finishing touch.
16. Neutral Colors and Natural Textures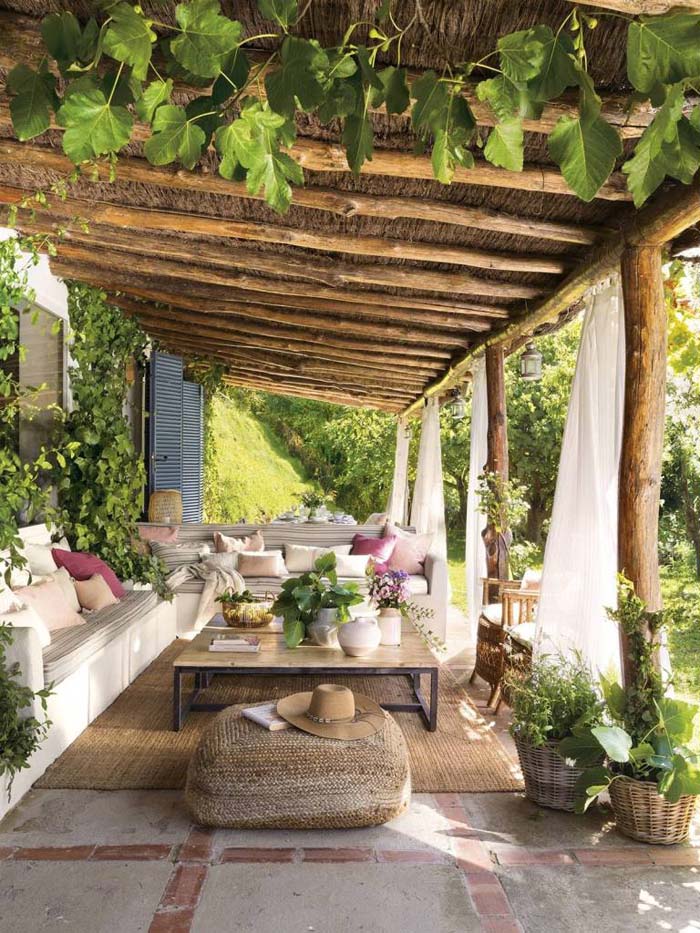 This patio is all about the spectacular wood-beamed roof. Natural-fiber rugs, planters, chairs, and poufs echo the textures of the wood.
Since the seating area is covered, the homeowner uses a white sofa and curtains for a pop of light.
17. Reclaimed Wood Seating and Natural Stone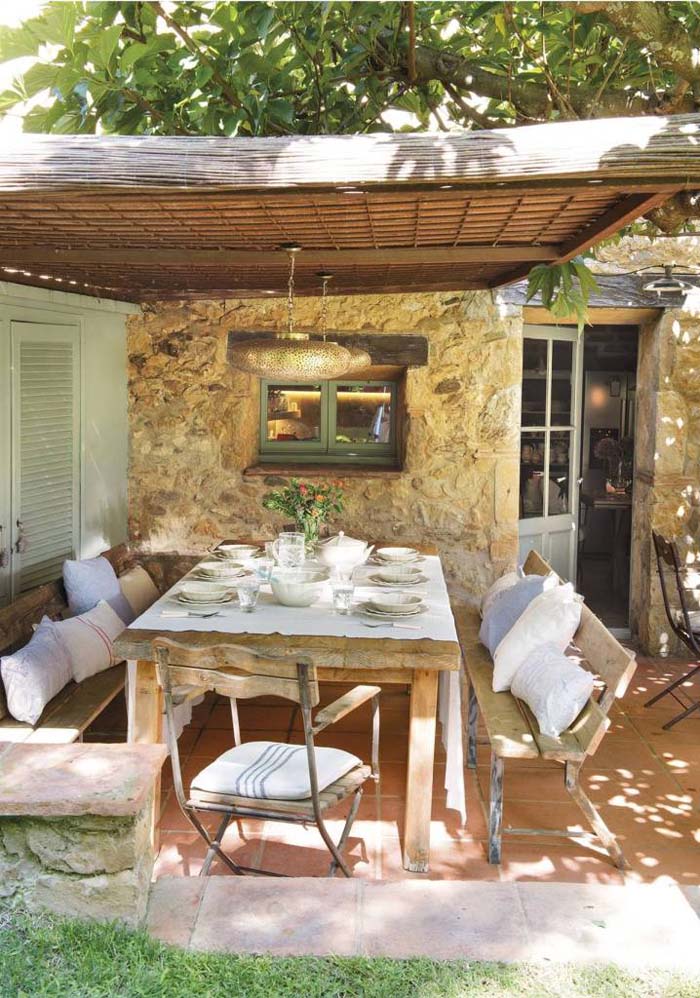 When your patio is very old and very rustic, don't fight it — lean into the antique vibe.
Handcrafted furniture made from reclaimed wood matches the artisan style of the home. Plus, the light, natural colors keep the space feeling bright.
Add a few pale cotton pillows for comfort, and you're ready to host elegant dinner parties al fresco.
18. Rustic Covered Patio with White Curtains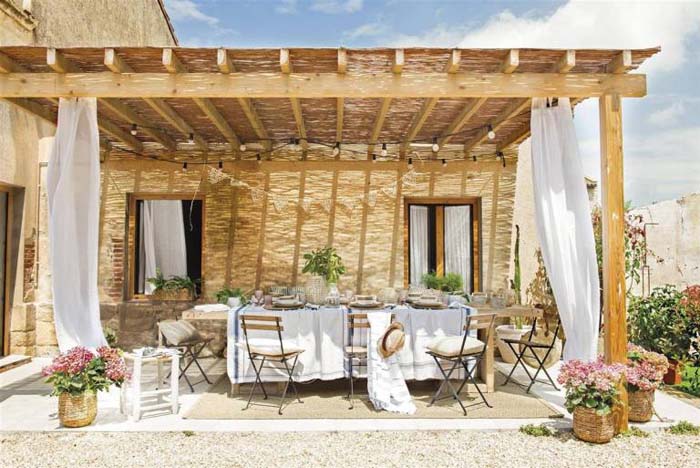 Showcase your rustic patio in all its glory by sticking to a single accent color. In this breezy space, full-length white curtains and a white tablecloth highlight the textures of the natural-colored walls and roof.
If you're craving color, add in a few potted plants.
19. Rustic Mediterranean Patio with a Floral Ceiling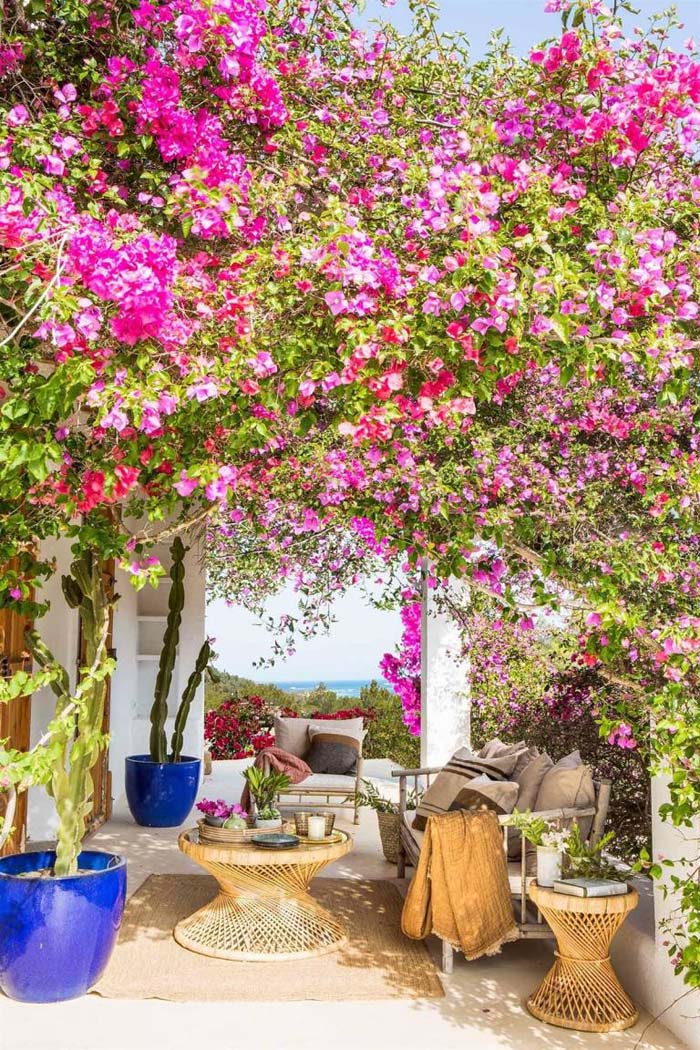 Break out your gardening skills to replicate this patio, which features a remarkable flower-covered ceiling.
Brilliant blue planters match the energy of the vibrant blooms, and the wicker and wood furniture creates a cozy place to relax. With a ceiling this bold, keep other elements simple.
20. Rustic Pergola with Twinkling Lights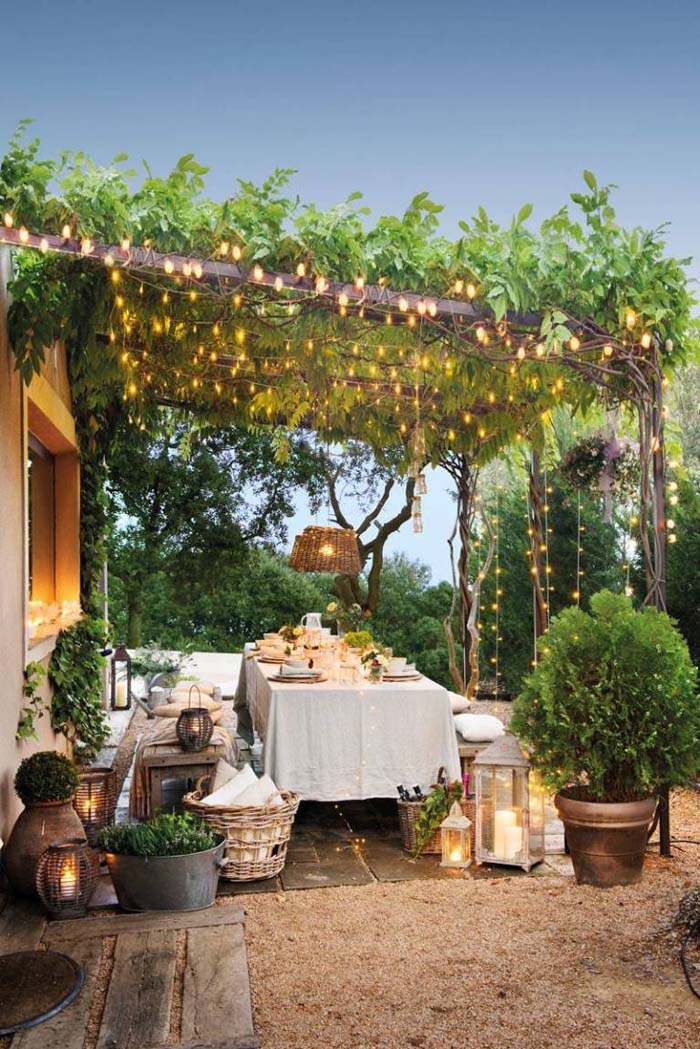 Your dinner guests will gasp in delight when they see this perfect patio setup.
Twinkling lights adorn the pergola, creating a magical ceiling.
A classic wooden table and potted plants are all you need for decoration. For a romantic glow, add a few candle lanterns around the perimeter.
21. Rustic Stone Patio with a Mediterranean Flair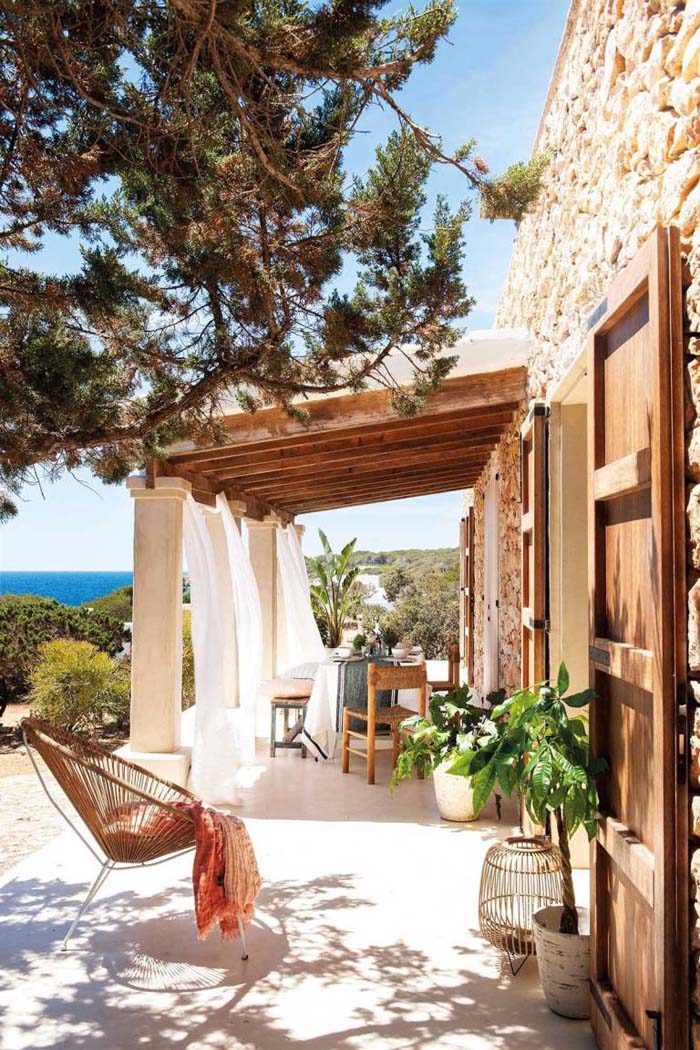 Make the most of a grand outdoor setting with a pared-down patio design. Here, a simple dining set allows the majestic stone home and breathtaking view to take center stage.
Billowing white curtains soften the transition from home to wilderness.
22. Simple Rustic Covered Patio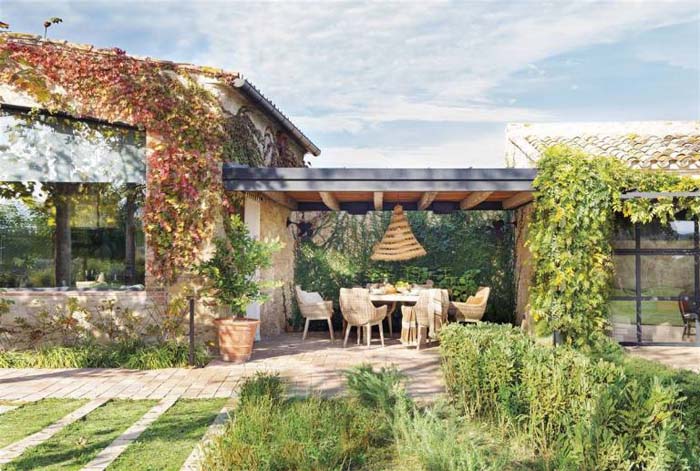 This patio proves that small spaces can be stunning. If you have a tiny patio, stick to a few statement pieces.
A bold light fixture draws attention to the wood-beamed ceiling, and sleek, sculptural chairs add a modern flair.
23. Terra Cotta Patio with Colorful Accents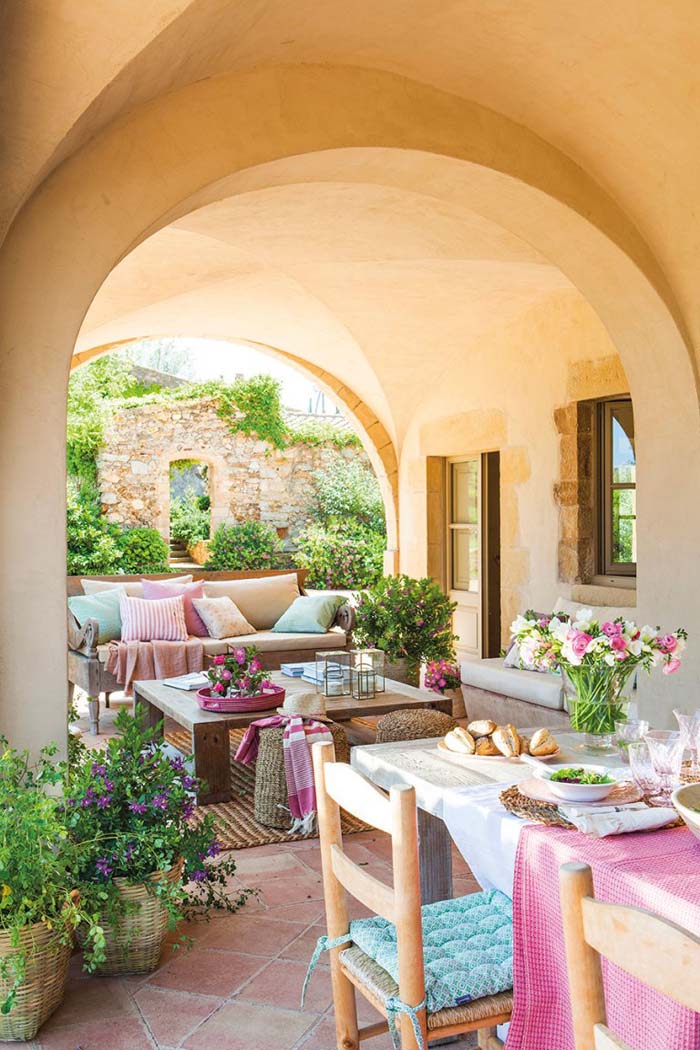 Rustic style often integrates natural tones, but that doesn't mean you can't add color.
Here, the classic terra cotta walls set off the brilliant green plants.
Pink and turquoise accents add a breath of fresh air, creating a space that honors the rustic architecture while integrating modern style.
24. Walls of Greenery and Natural Materials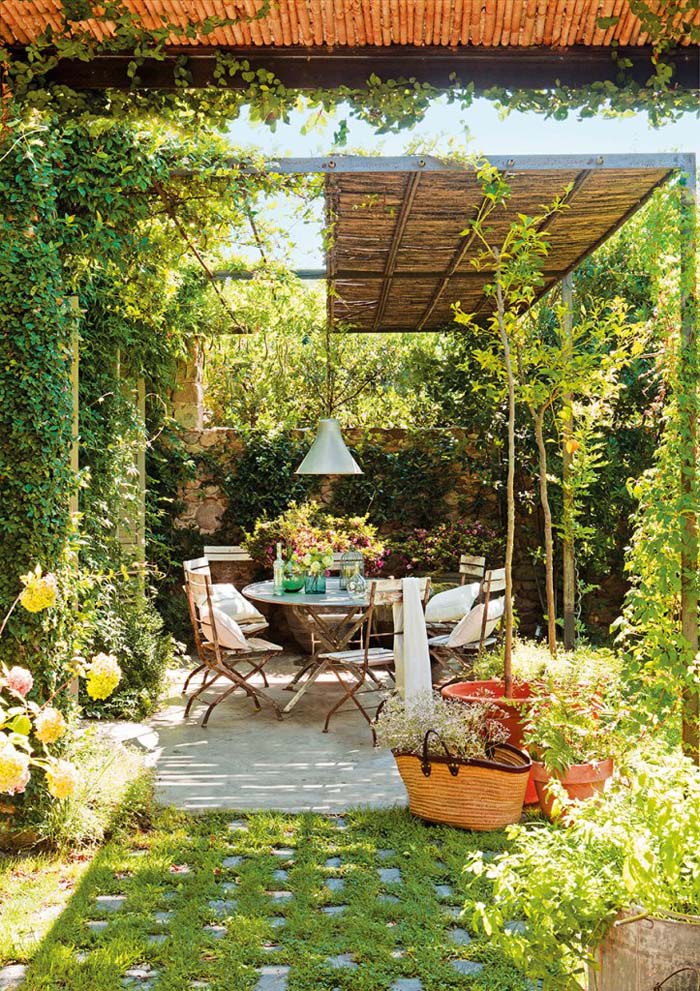 This patio is all about the plants — everywhere you look there's a wall of greenery or a potted flower.
It's so dramatic and beautiful that you don't need to worry about complicated decor. Simply set up a dining set and enjoy your leafy, green wonderland.
25. Warm and Cool Clay Patio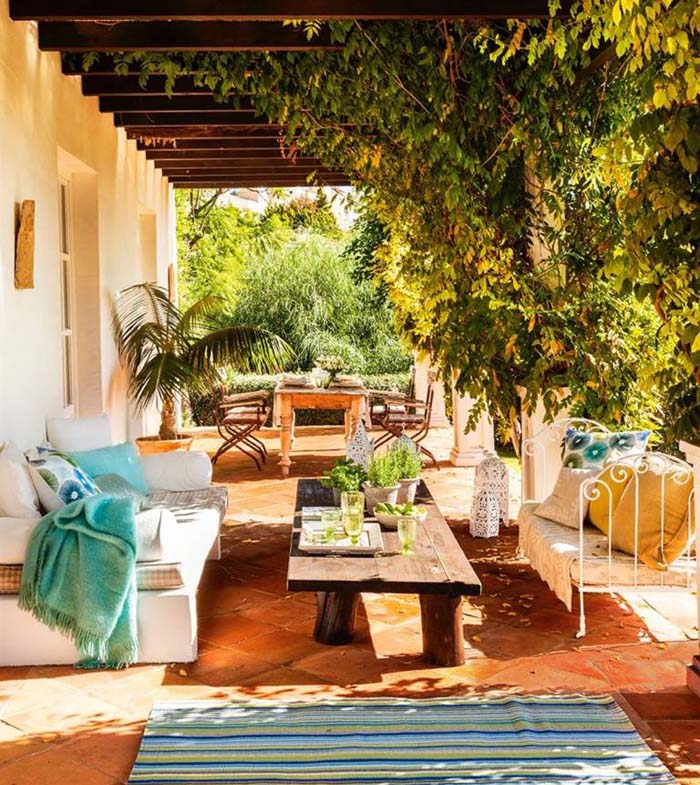 As you're choosing colors for your patio design, consider opposites on the color wheel.
Turquoise throws, pillows, and rugs are a wonderful way to complement a red clay floor — the effect is simultaneously rustic and contemporary.
26. Warm Clay Pavers and Bright Green Plants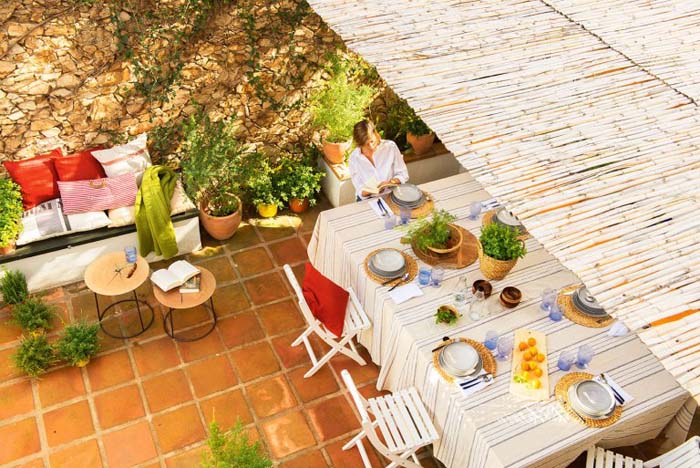 Are you struggling to decorate around rustic clay pavers? Don't fight it; instead, make the most of the orange color by adding a slew of potted plants. The green leaves work beautifully with the clay.
Here, red pillows are the perfect vibrant accent.
27. White And Jewel Tone Accents on a Desert Patio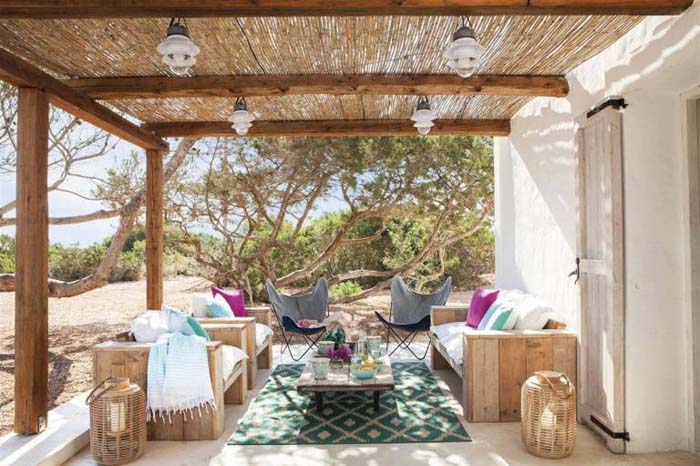 Your patio is essentially an extension of the landscape — here, a wooden pergola and a reed ceiling bring in the colors of the desert.
Add in a hint of your personality by pairing fresh white chair cushions with jewel-toned accent pillows and a bold rug.
28. Wicker Furniture on a Rustic Garden Patio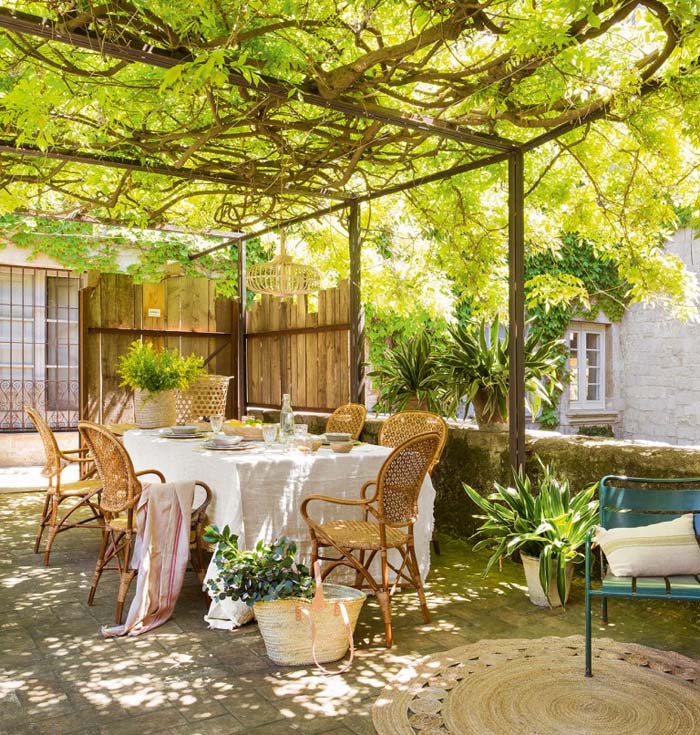 Doesn't this patio look welcoming? To keep the focus on the spectacular ceiling of greenery, the designer kept everything else simple and casual.
Wicker chairs, potted plants, and a white tablecloth fit right into the outdoor environment.
29. Wood Beams and White Accents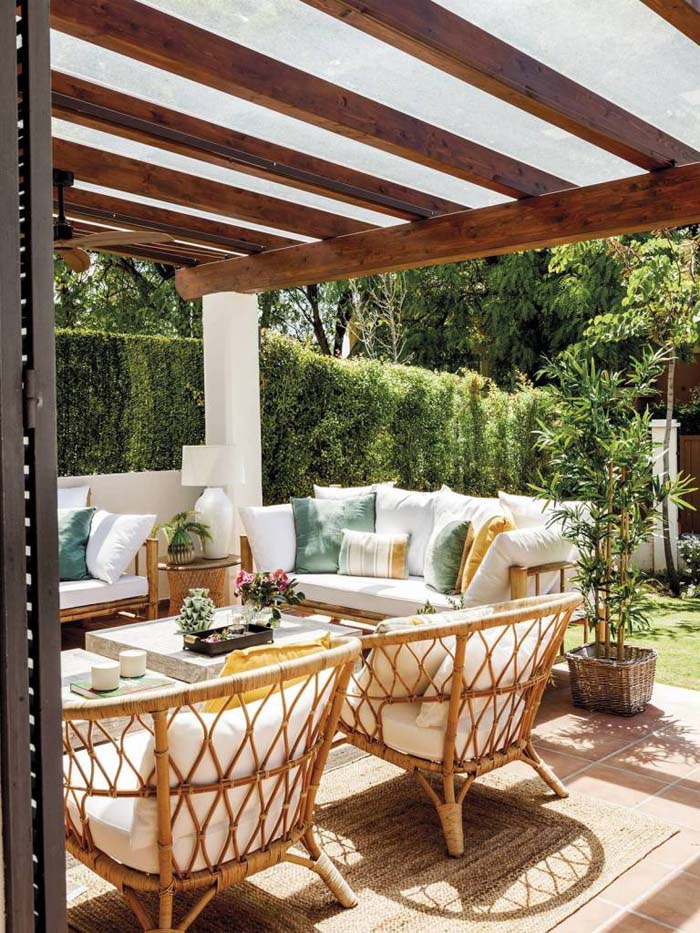 Do you have dark-stained wood beams soaring above your patio? Highlight them by keeping all of your other elements light and bright.
A white ceiling and sofa draw the eye upward to the beams, so the space feels enormous and airy. For accent colors, stick to lighter versions of the shades found in nature for a cohesive vibe.