It is winter. The trees in your yard are white, the ground is covered in fluffy snow. The view is so gorgeous as taken from a traveling magazine… The air is so fresh and clean… The silence is almost tangible… But… you are locked in your house because of the cold outside.
I ruined the dreamy picture, haven't I? Enjoying the winter horizon outside without any bad memories from frostbite or getting wet is no longer mission impossible! These garden domes sold by Amazon are your way to escape home and spend quality time outdoors even in the worst weather.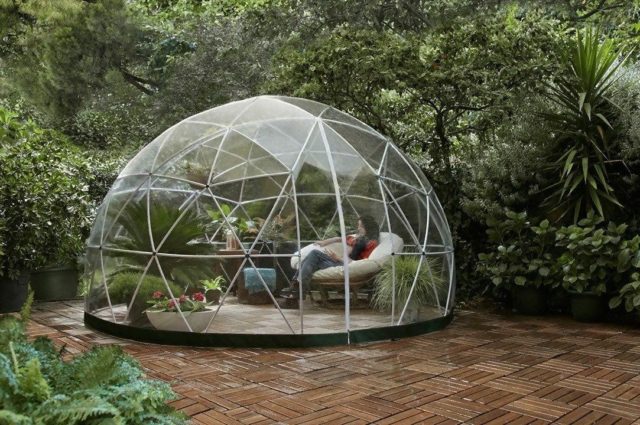 If these domes haven't won you already with their unconventional shape and stylish prism sections, I bet you will be rushing to get one once you read the big list of advantages of these portable igloos.
Let's start with the first one – maximum solar gain. That means that sunlight is always transmitted at right angles throughout the day for four seasons due to the transparent material the cover is made of.
The dome shape ensures optimal airflow and uniform temperature inside.  The garden dome can resist strong wind up to 62 km/h and lying snow of maximum 40 kg.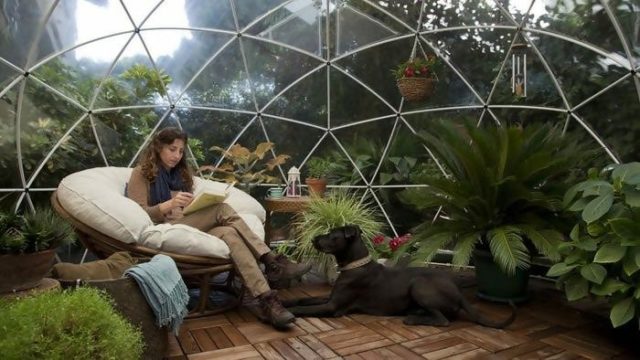 In short, this portable garden home is energy-efficient, provides perfect isolation from the outer environment, it is spacious enough, it is airy and naturally lighted and warmed up during the day.
Because of its almost spherical shape, the domes take approximately a third less surface area to enclose compared to a traditional garden building.
Its width is 142.8 inches, the height – 86.4 inches which makes it big enough to fit a couch, a table, one or two chairs, plants and even decorations of your taste. Three adults can sit comfortably in there and watch the night sky as vivid as if lying on the ground outside.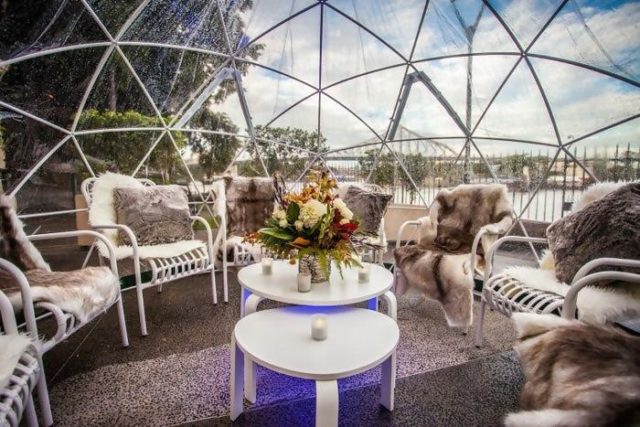 That igloo is large enough for more people to stand up inside around a circular table in the middle. That makes it a clever acquisition for restaurants, cafes, clubs or wedding and party agencies.
The dome garden can be fixed to any floor as it does not require any interior support. The unit comes with clamps and screws for hard grounds like concrete, tiles, wooden deck and sandbags for soft grounds like soil, sand, grass etc.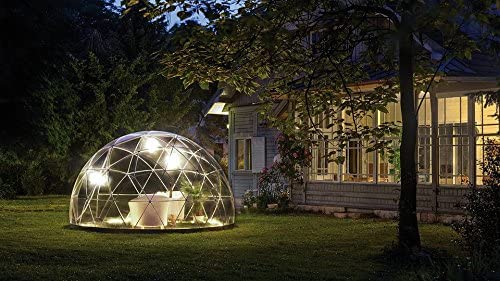 Setup can be easily made by anyone and it takes not more than 2 hours. It is made from rust-resistant and recyclable PVC and PA6 materials that make it suitable for all weather conditions.
Close the zipped windows in winter and the dome will heat up several degrees, especially when it is very cold but the sun is still out. Its shape also ensures cutting out the wind chill factor. The igloo will require roughly 40% less heating in winter than a standard greenhouse due to the geodesic shape.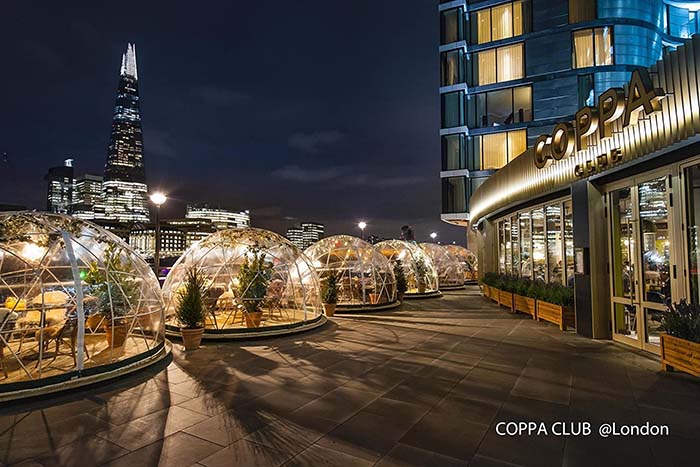 This is due to its low volume for its base area and the fact that its surface is always at right angles to the sun's rays even in low winter sun, heating it up naturally.
The transparent garden dome can be used for various applications. Turn it into an interesting play area for your children. Watch them enjoy wintertime spent outdoors in a safe, warm and covered space.
The igloo can be used as a greenhouse as well. The natural heating up will ensure good conditions for the growth of your greeneries. The best part of its possible applications is camping. Being portable, you can take it with you wherever you go. You will have a more classy and comfortable experience with this stylish igloo for sure.
Add a mosquito net to the structure and enjoy the sunlight and the fresh air without any worries for bites from annoying insects. If you prefer the beachy look, the transparent cover can be changed with a canopy one which turns it into a modern gazebo. 
We haven't seen a better design for a garden building. It interacts with the environment in such an absolute way that it can become the preferred choice for a shelter of every family. If you want to remain connected with nature even in rain, snow or if there is a wind, get your comfortable microclimate garden dome that will harmonize with the natural environment outside.
Check availability and price: HERE