I'm sure you've already seen those squirrel picnic tables that everyone's been making in these times of quarantine and lockdown. If you've missed the story here it is: Man Builds A Picnic Table For A Squirrel While In Quarantine And Everybody Started Making One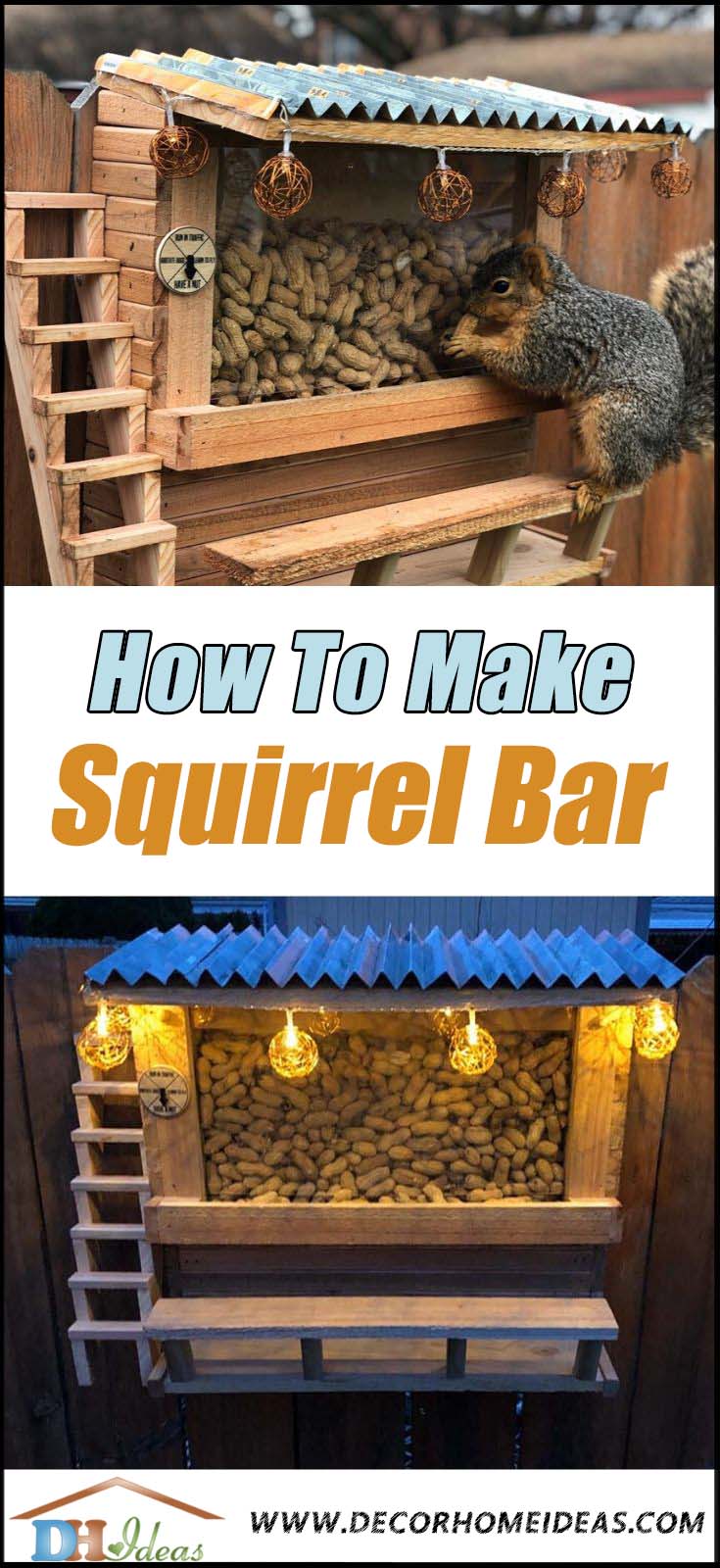 And just when you thought that you've seen all about squirrel habitats, there comes a project that is even more sophisticated and funny – the squirrel bar!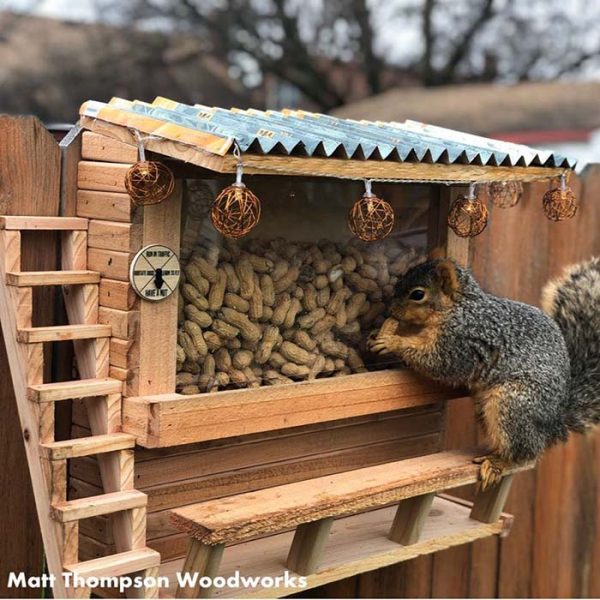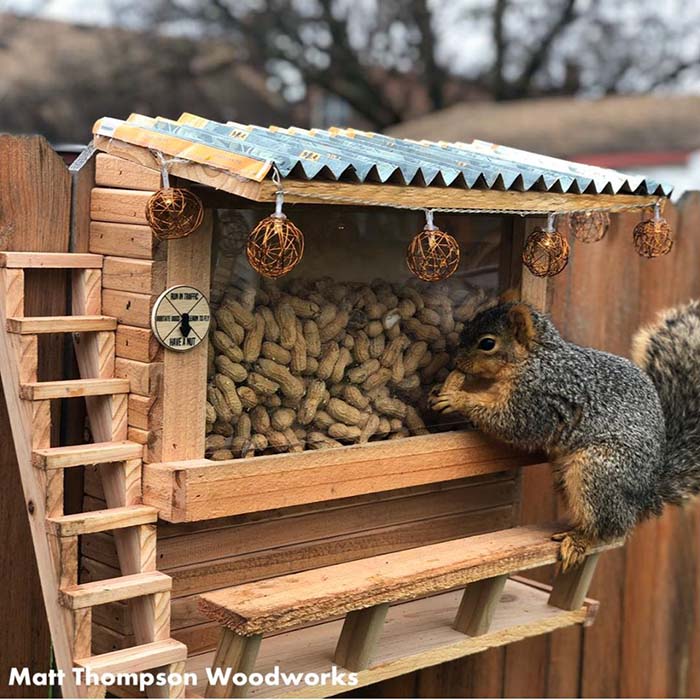 Related: Easy Woodworking Plans and Projects
How To Make a Squirrel Bar
Made out of scrap wood and pallets it looks like a real bar full of peanuts. It has vintage lighting and other decorations.
As we don't have plans for the building process we can get some approx. dimensions from the photos and improvise with the size of the bar.
It looks like the squirrels really enjoy their own bar.
You can firmly attach it to your fence or any wall and let squirrels invade it.
The side staircase gives a safe way for the squirrels to come to and out from the bar.
The wooden landing in front of the food storage container is very clever as it imitates a tree branch where the squirrel will otherwise stop to have its meal.
The bar must be as more comfortable as possible to make these fluffies come more often.
It is a fantastic idea to put a watering bowl or bottle with filtered or boiled and cooled water.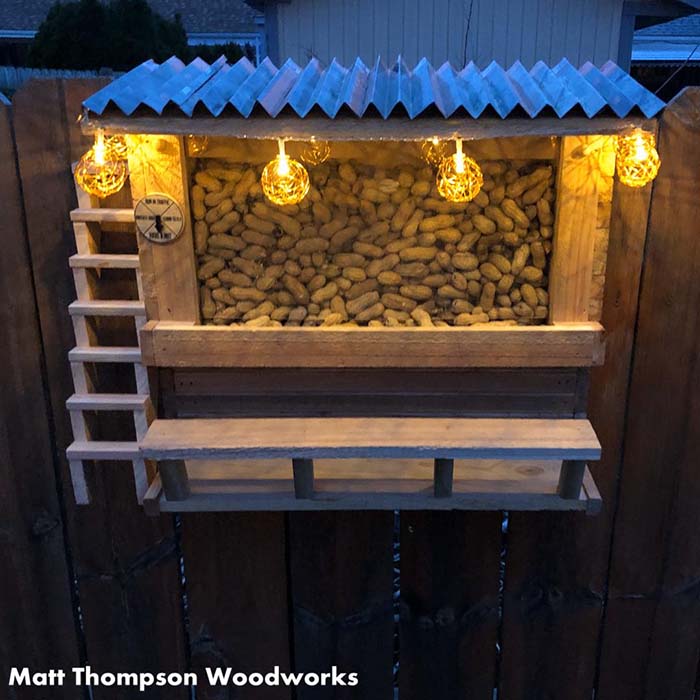 You will be surprised how much squirrels like to hydrate themselves, especially after a tasty meal.
If you want to make your customers even happier, you can change the meal in the bar every day – the variety of food suitable for squirrels is big.
Acorns, peanuts, walnuts, dry fruits without any sugar (they are healthy eating supporters) cedar kernels, some mushrooms (field mushrooms and almonds are totally forbidden) are among their favorites.
What they truly love are raisins, dry apricots, dry apples and eggs.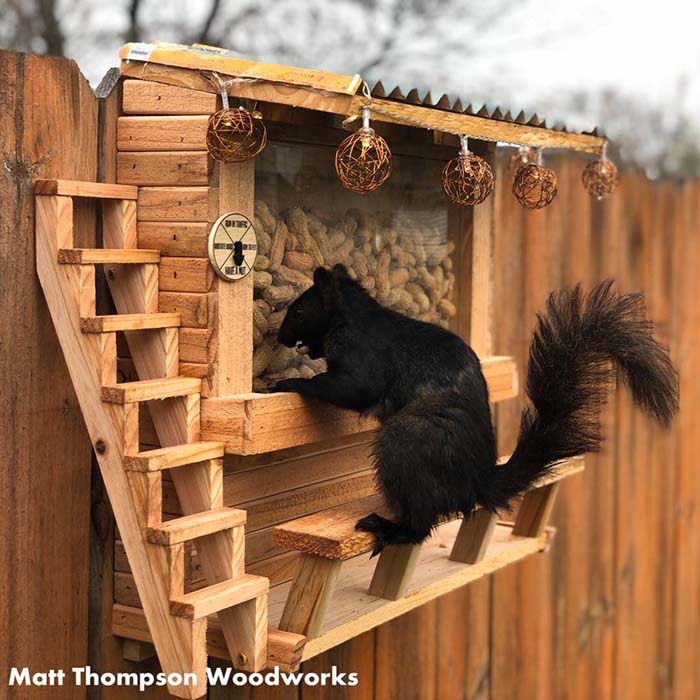 The guy named Matt Thompson is the one who makes them and posted in a Facebook group: "I think the guy who came up with the squirrel picnic table is in this group. He inspired me to make a squirrel bar. I think I have every squirrel in the city in my backyard."
He is running a woodworking FB page and you can find more of his crafty projects here. As far as we know he is not selling any of the things he made, as he is making them just for fun.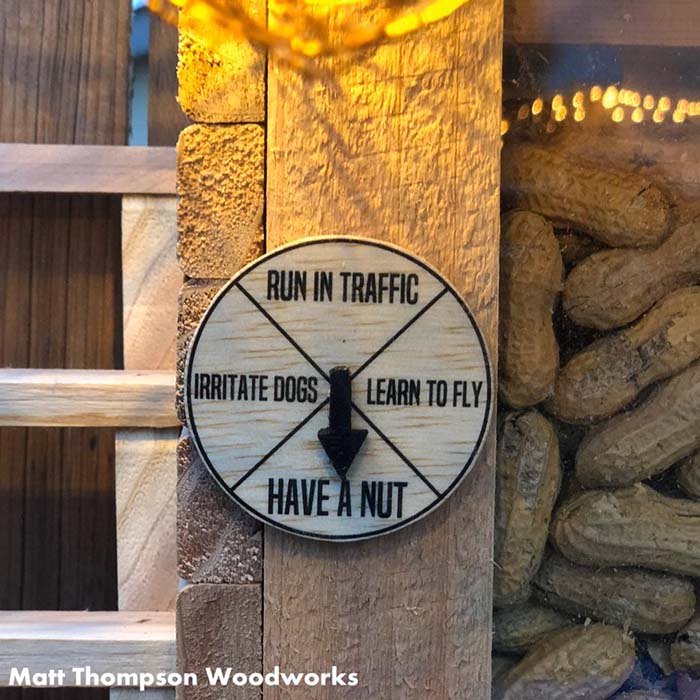 The squirrel bar looks amazing even at night when the lights are on. The usual visitors are protected from rain and could enjoy snacks all day long.
It looks like there are already some regular customers to the improvised peanut and cocktail bar.
Matt says: "I thought the squirrel picnic table was a really cool idea so I made my own version😆🐿. #squirrelbar "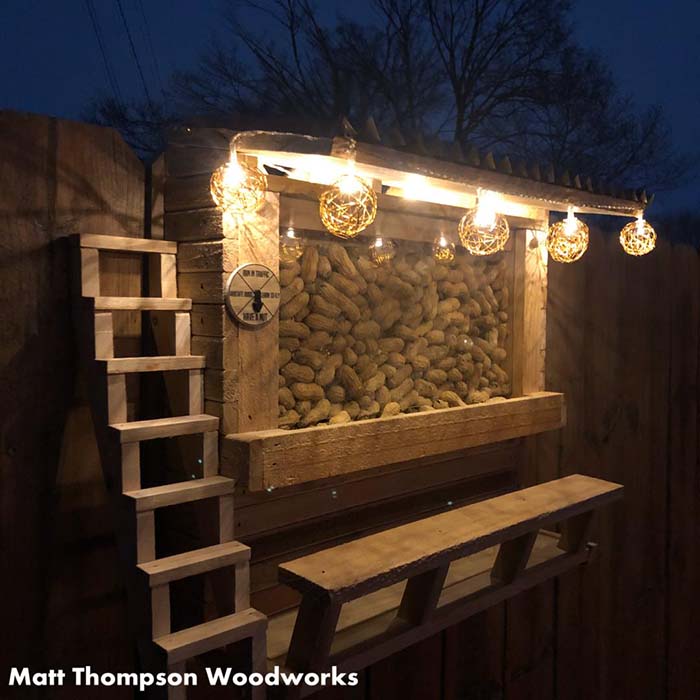 Well done, Matt, you've made it perfect.
There are already some people that are ready to order the picnic table and the bar so their squirrels would feel like in paradise.
When you see your fluffy friends coming for the first time, make sure you are as far away as possible from the bar.
Squirrels' eyes are high on their head and placed on each side of them so they can see a large number of their surroundings without having to turn their heads.
So don't think you will remain unnoticed if you are standing too close to the bar. Your first contact with the squirrel is very important.
Treat your customers well and you would be enjoying the funny moments with these lovely creatures for a long time.
More awesome woodworking projects could be seen at Matt Thompson Woodworks.