Spring is the revival of nature and the same must happen with the porch.
The weather will become warmer and that surely means more time spent outside. The porch is the best place to spend the sunny hours outside- with family and friends.
So how does spring look when it comes to decor? It brings a mixture of vivid colors related to the wake up of nature: the juicy green of the first grass, the white color of soft clouds and fruit trees blossoms, pure blue of the sky, yellow, pink, lilac and red for the first peeking flowers.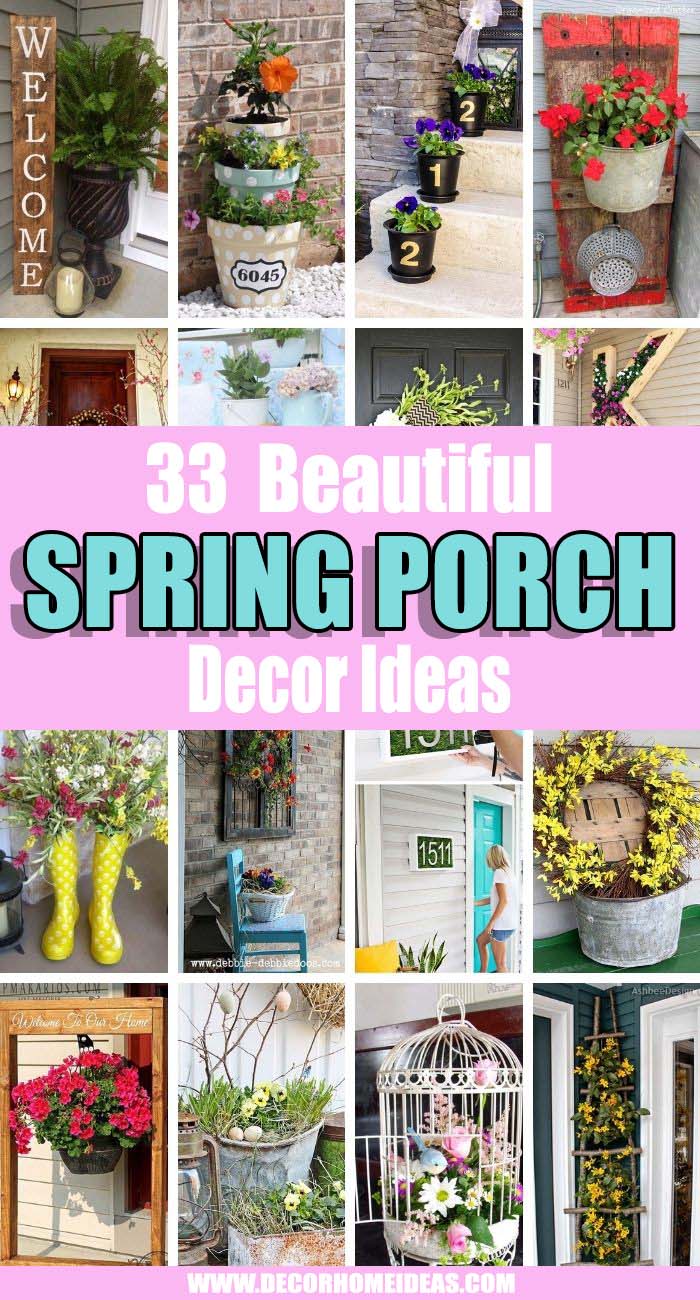 Those are the colors that will welcome spring on the porch. Whether an extravagant planter for the porch or inviting wreaths for the front door, the porch decor ideas that will welcome spring at the beginning of your home are here to fill your place and heart with cheer and warmth.
1. Add Décor To Traditional Urn And Lantern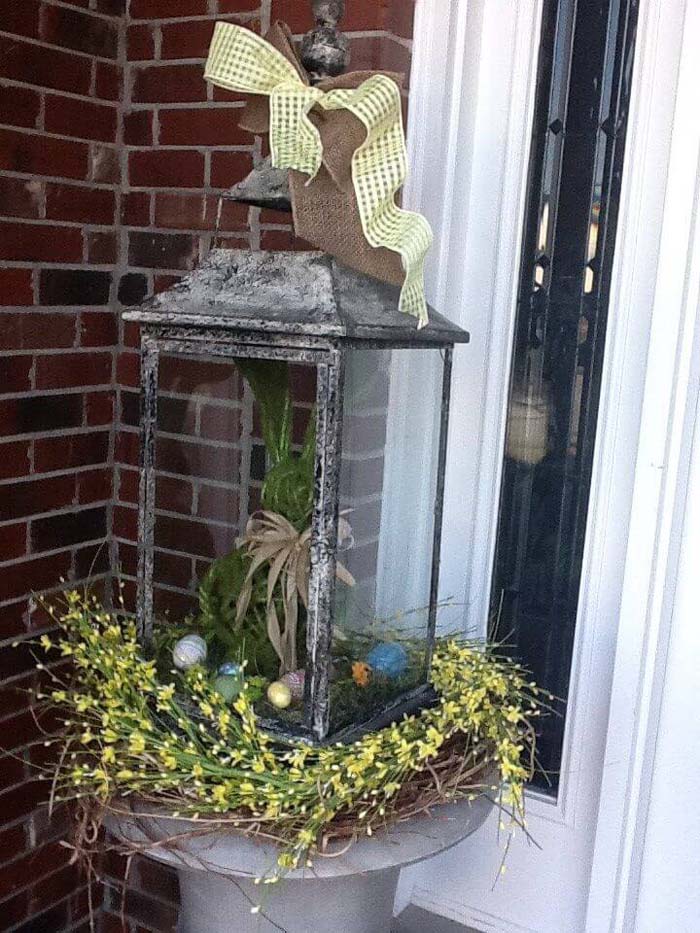 When spring has come, Easter is sure to follow. Rabbits, eggs and sprigs will add a lot of charming cheer inside our homes.
The same motifs can be included in a porch decoration when placed in a protective atmosphere. And what could look better and have a greater outdoor impact than a large lantern encapsulating an Easter scene?
Having a metal frame and a large burlap ribbon is an easy way to give the arrangement a vintage look. Wrap it with a wreath of spring sprigs to enhance its inviting nature.
2. Bold Sunflowers In Vintage Milk Can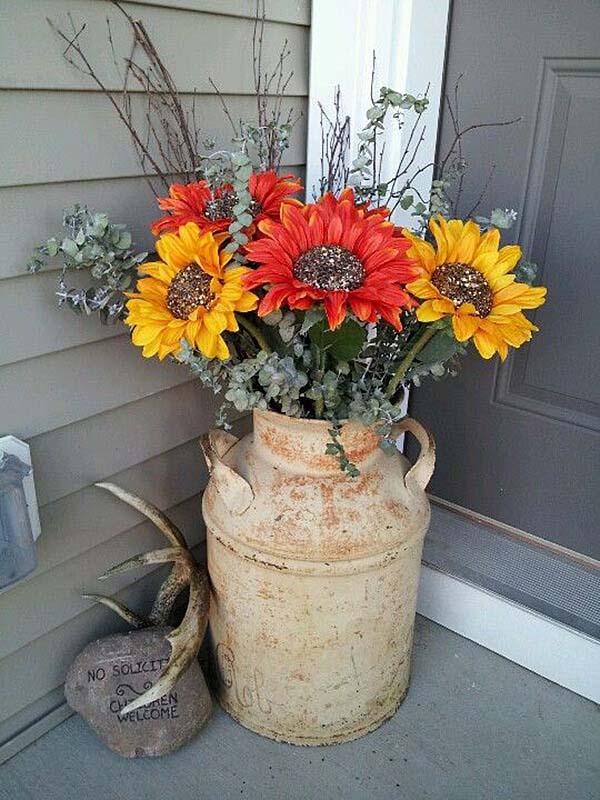 A repurposed milk can placed in front of the door becomes a non-traditional planter for the first fresh flowers from the garden.
The arrangement features vivid colors that warm the sight and instantly cheer up the mood. Their sunny look is gently smoothened by the surrounding green evergreen twigs.
via Indulgy
3. Add Vertical Interest With Standing Branches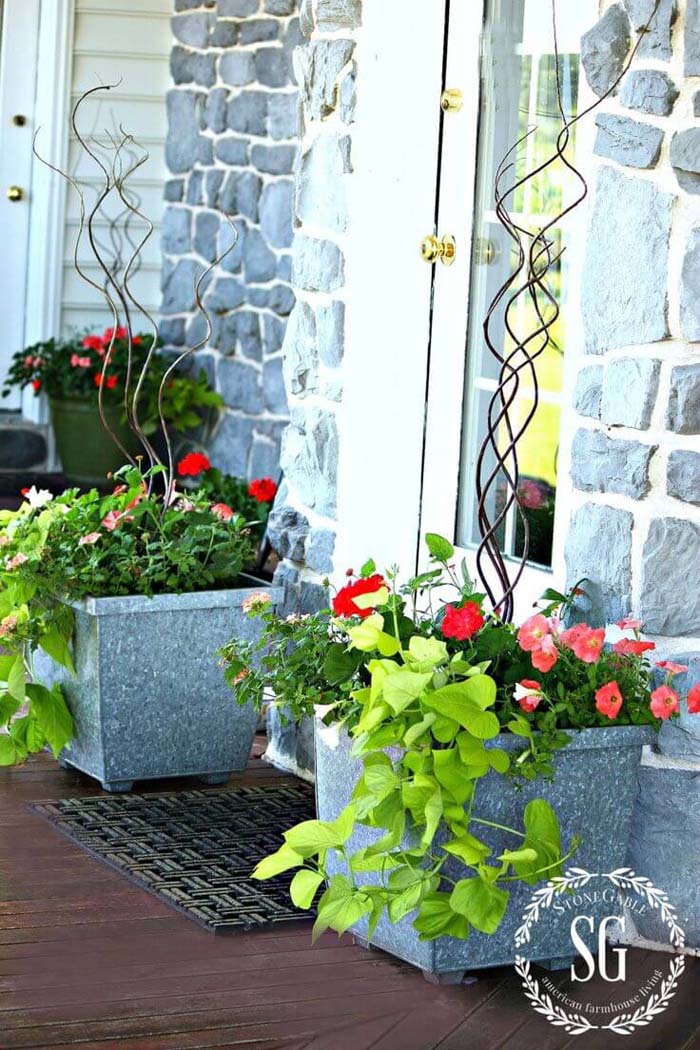 Do a quick and fascinating makeover of the existing planters in front of the door. Add a set of decorative curved branches at the most rear center of each to give the flower arrangement height.
The position of the branches coincides with the door framing to give the front door a point of interest in a natural way.
via Stone Gable
4. Spring Flower Arrangement In Birdhouse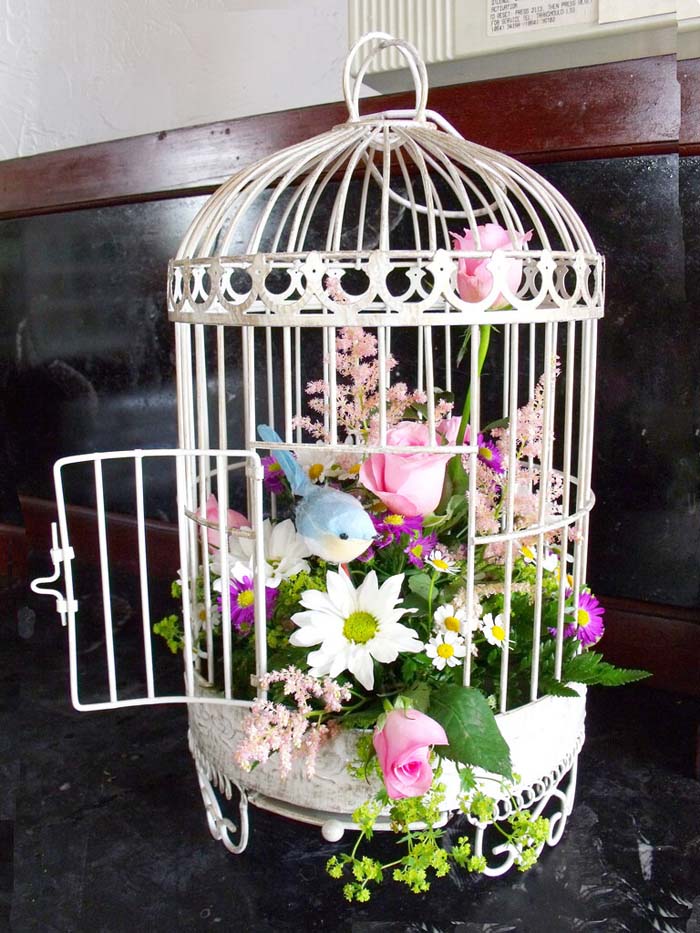 A vintage cage possesses a piece of the awaking spring accommodating sprigs of faux flowers and a small bird.
This is a gorgeous alternative to the traditional use of the cage turning it into an inviting focal point of the porch decor embodying spring.
5. Bright Rain Boots Make Stunning Planters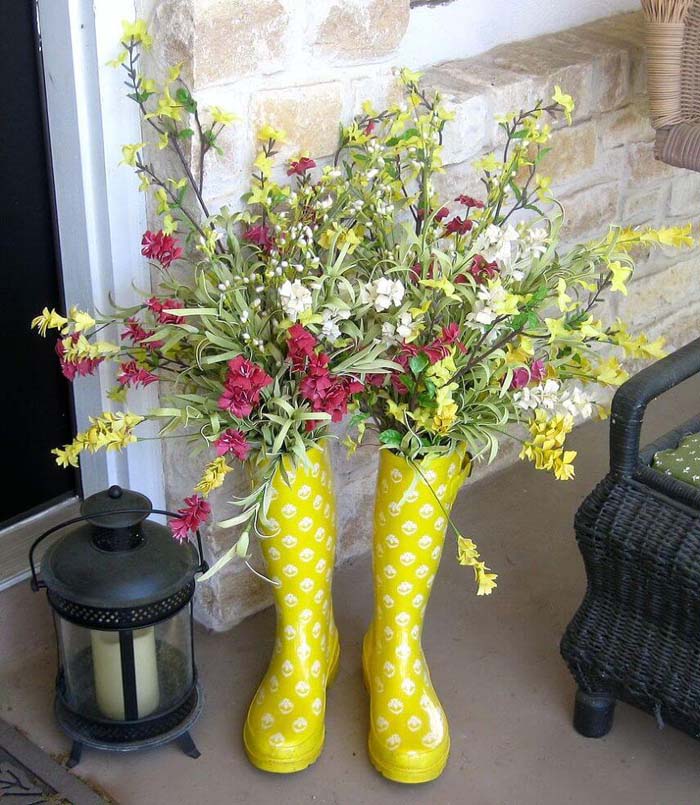 Take the pair of rain boots out because spring is coming! Not to use them walking in the rain but to turn them into cheeky welcoming planters at the porch.
Making that is easy peasy! In case you would like to plant real plants inside, make holes for drainage. Or just fill it with soil and insert your fresh flower twigs bouquet inside.
6. Climbing Flower Rustic Ladder Display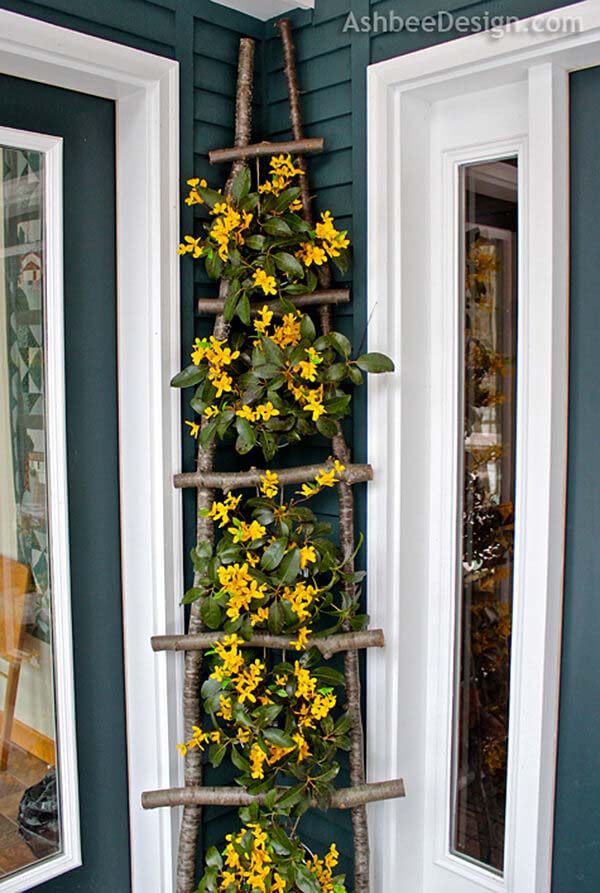 Make the corner of the porch shiny and welcoming with a magnificent ladder art inspired by nature and spring.
It is built out of natural materials- branches attached in the shape of a ladder. Small pots with fresh twigs beautify every step, creating a vertical planter that will brighten up the porch with the shining yellow blooms.
via Ashbee Design
7. Faux Grass Garden Style House Number

Mark how special your home is from the entrance with a spring-inspired nameplate with its number.
This DIY incorporates a wooden frame in the design of a shadow box lined with faux grass. The green background lets nailed white numbers pop out and easily attract the sight.
via A Beautiful Mess
8. Brightly Painted Gutter Planters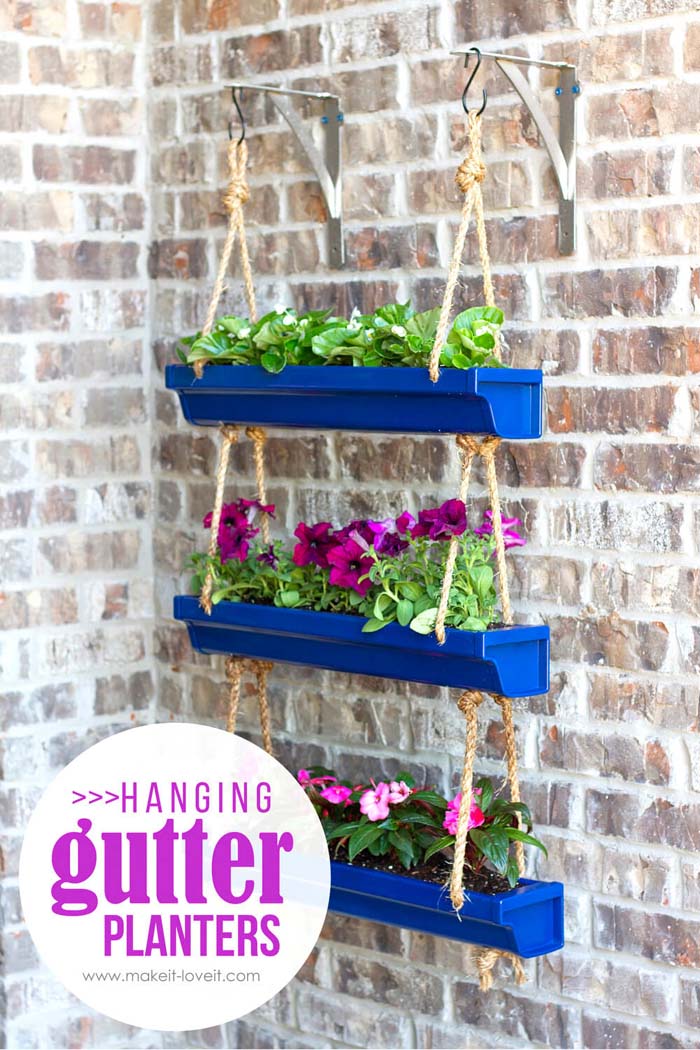 Are you looking for a decoration that will represent the coming spring? This DIY gutter planter will surely do so as it combines a burst of vivid colors and aromatic scents in one!
The planters are made of gutters cut in size to fit the space the planter will be hung. Two holes at either side of the gutters ensure space to put through thick rope and make the planter tiered.
To enhance the rustic look of the vertical planter, suspend on rustic corbels or vintage wrought iron brackets.
via Make It Love It
9. Repurposed Milk Can As Vibrant Patio Table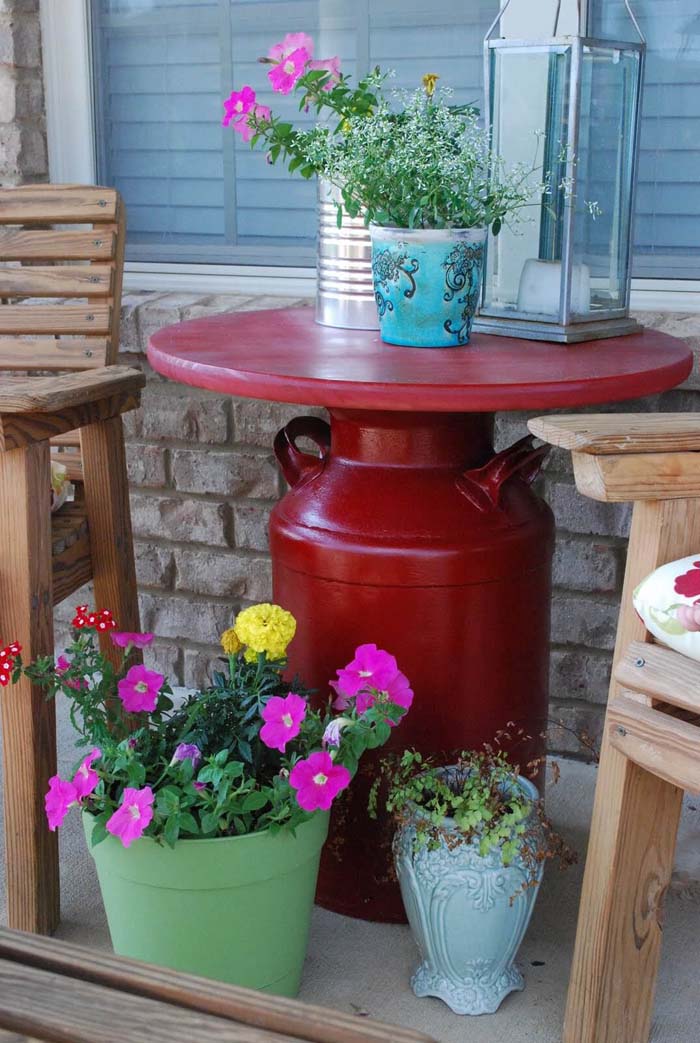 An old milk can from the flea market becomes a unique porch table quickly and easily. For less than $5 and with the help of bright paint the weathered look of the metal becomes clean and attractive.
Place a spool top or an old table counter to create enough space for using it as a side table, a coffee table or as the focal point for a farmhouse porch nook.
10. Spring Greens Monogram Wreath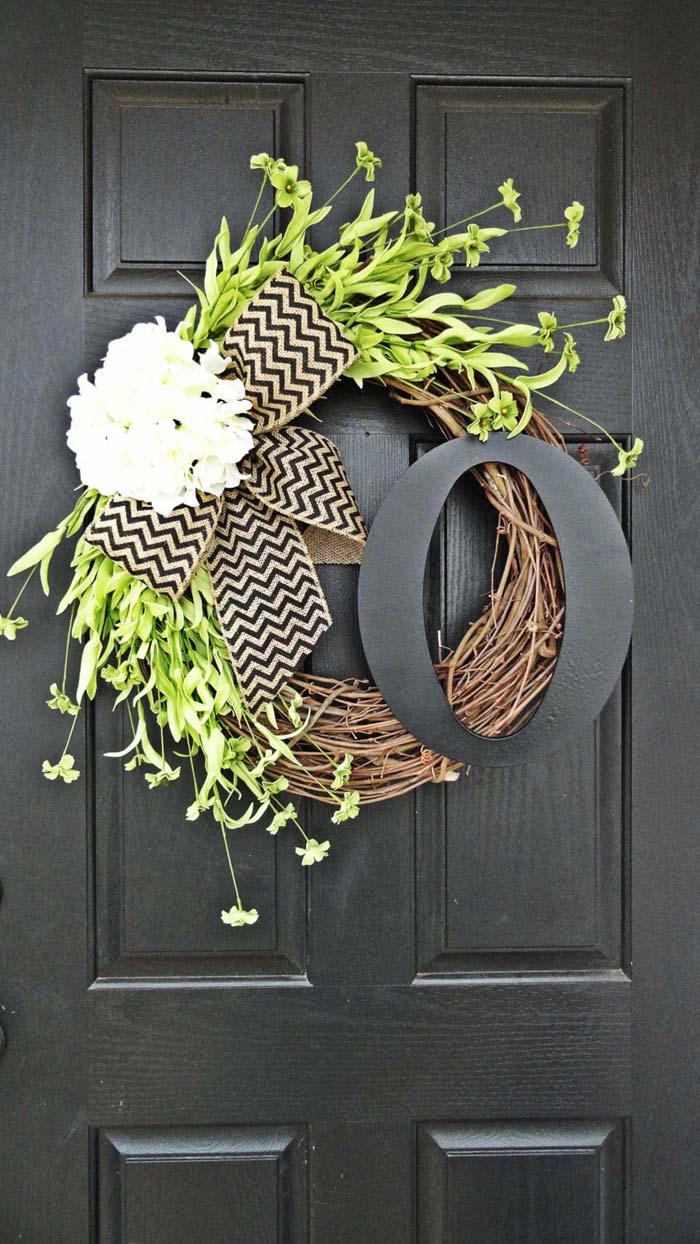 The very first thing that comes to our minds when mentioning spring porch decor is a wreath. It is surely a great seasonal decor and a means to welcome people.
This idea combines all that with a personal touch- a monogram with the first letter of the family name. It is placed against a round base of grapevines, tied with a large farmhouse ribbon.
To give the wreath a point of interest and color, a bouquet of fresh field flowers backs up the chevron patterned burlap ribbon.
via Etsy
11. Porch Display With Fern And Welcome Sign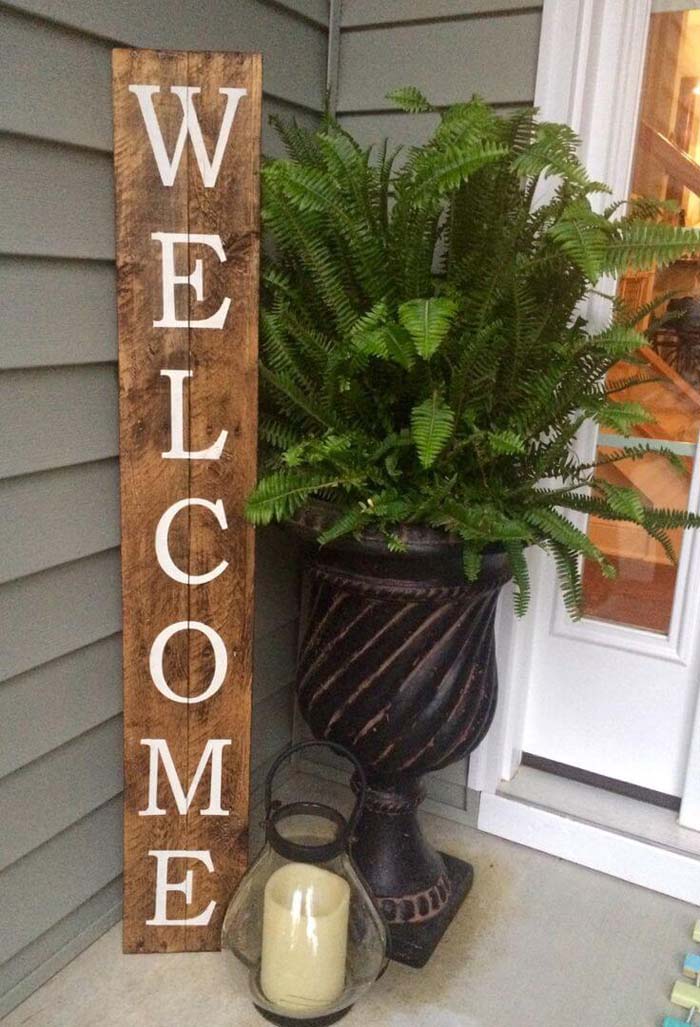 A wooden handmade sign leaned against the wall next to the front door is a great addition to the porch spring decor.
The wood is stained in dark to provide contrast for a clear inviting statement in large letters.
via Etsy
12. Vintage Painted Chair Flower Basket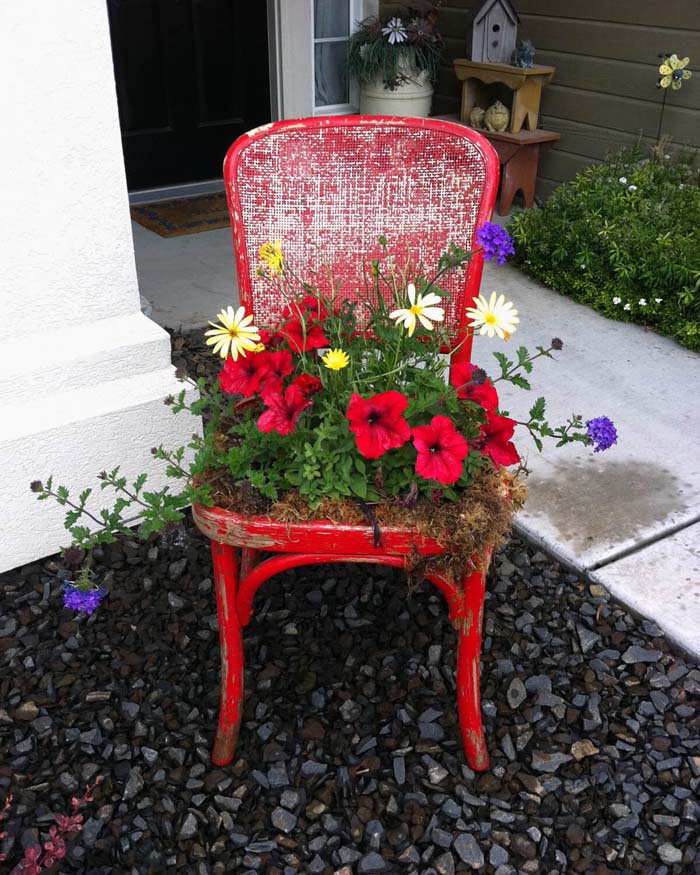 Make a fresh spring decoration out of a weathered old chair. Upcycling it will require a little amount of paint in a bright color that will light up the tired wood texture.
Fill the seat with soil or place a planter on it. Plant flowers that bloom in spring to enjoy the outstanding repurposed chair sooner.
13. Wood Crate Displays Pastel Flowers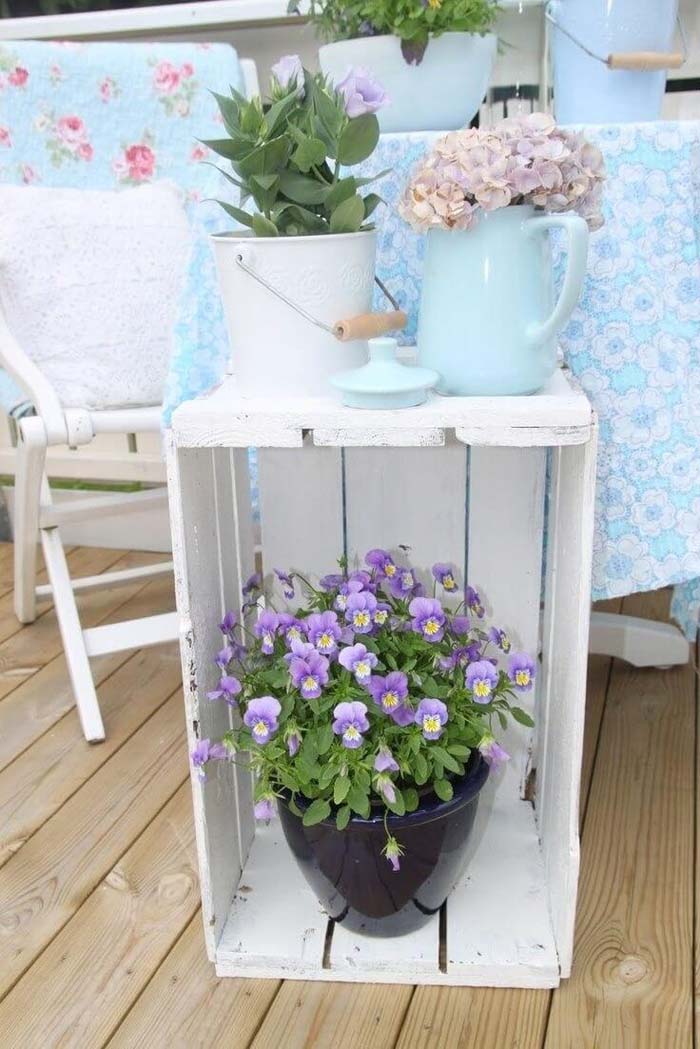 Do you need an extra stand for the smaller flower pots? Turning a plain wood crate into a plant stand is a great and budget-friendly idea.
Paint the wood in white to create a bright backdrop for the flowers to pop against. You can play with the position of the crate but you can get the most of it if orientated as shown.
14. Clear Glass Showcases Grapevine Detail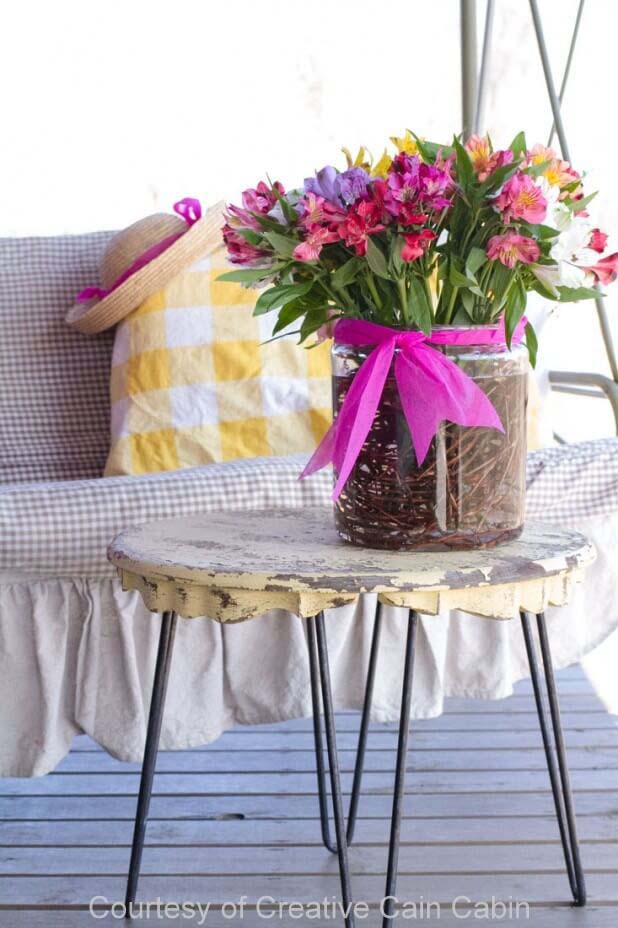 An easy and quick spring decor update is to use a non-traditional material in the existing glass vases. Placing woven grapevines in the bottom of each will create the illusion of nests.
The most charming part of this idea are the flowers peeking out as if growing from the nest.
15. Antique Urn Spring Floral Arrangement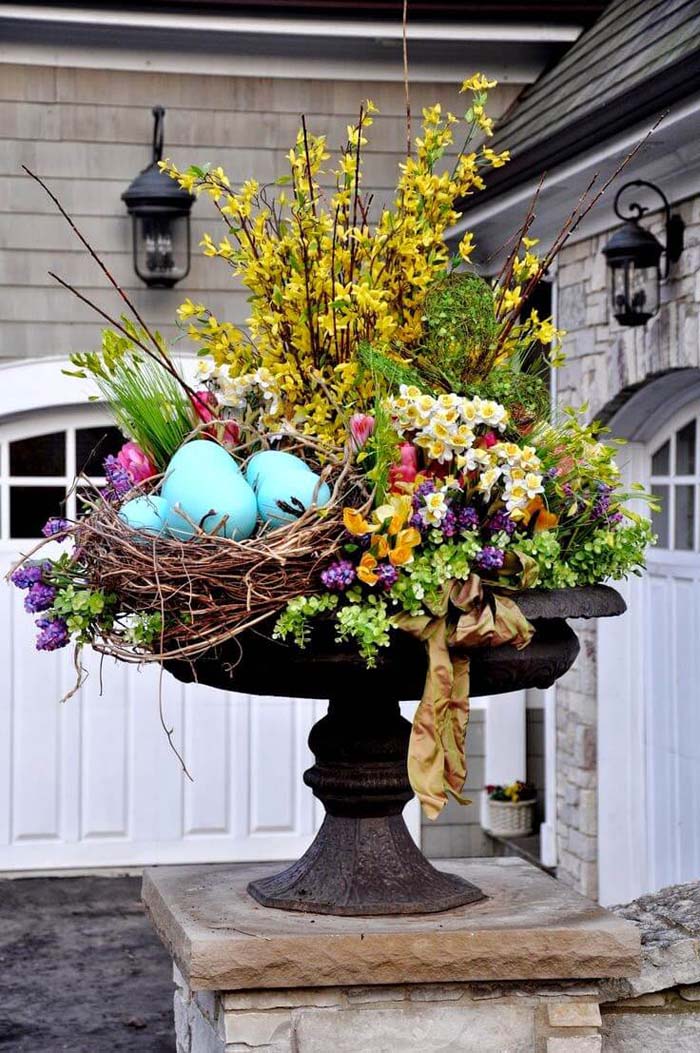 The existing planter can be quickly upgraded to the seasonal decor by decorating it with spring symbols.
An arrangement of a wide variety of spring flowers and twigs covers the top of the planter to create a magical colorful oasis. You can add a nest with eggs and birds on top of the flowers or aside from them to confirm the "welcome spring" theme.
16. House Number Milk Can With Floral Spray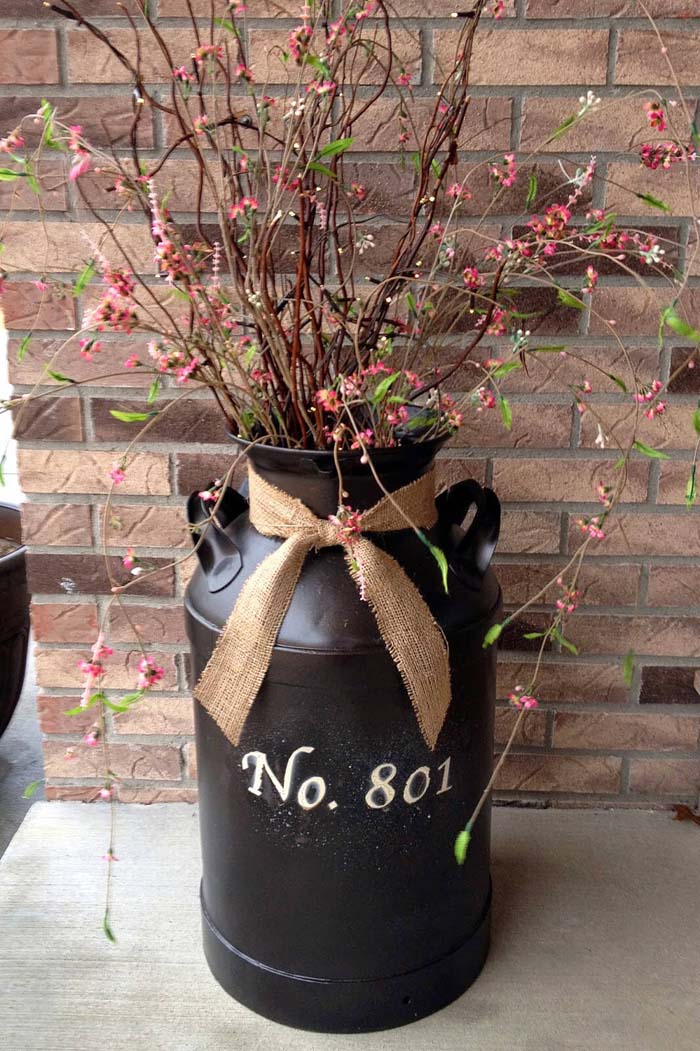 You will surely love the idea of transforming a milk can into an appealing porch planter.
With spray paint in black the rusty surface has been changed into an eye-catching matte container providing a wide variety of additional accents.
You can write "welcome" on it and give the milk can an additional function as a sign or write the number of the house. Wrap a length of burlap around its neck to expose the vintage beauty regardless of the makeover.
17. Go Vertical With Spring Branches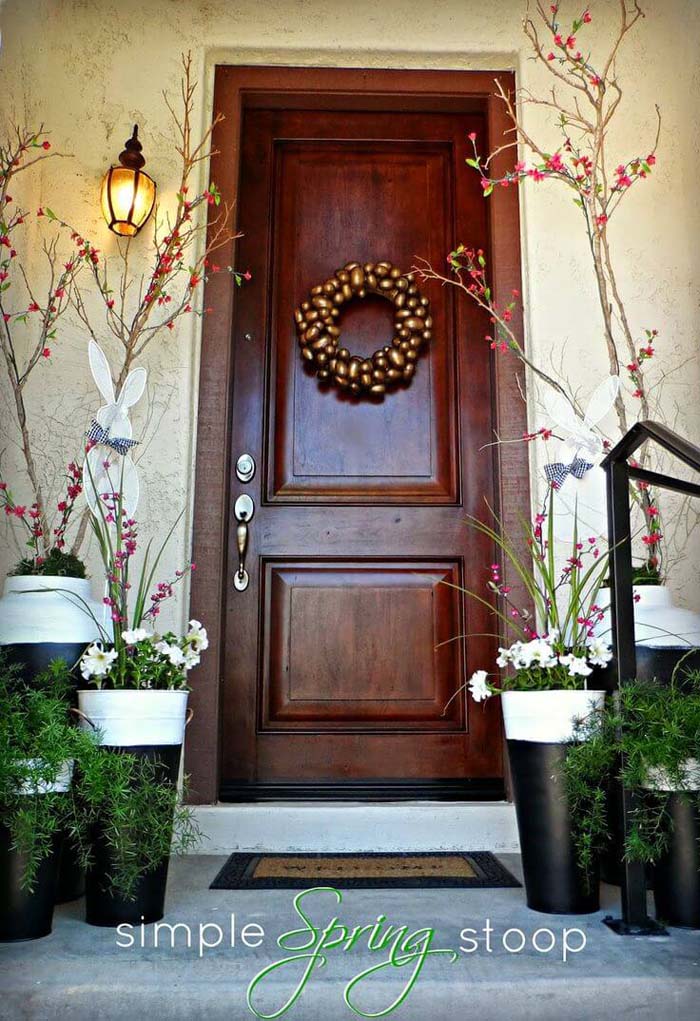 Tall but compact flower pots beautify both sides of the front door in this spring porch decor.
To give the planters further height and create a point of interest, tall branches with blossoms are inserted into each of them.
You can use the protruding side nodes to hang accents like rabbits, birds, eggs to bind up the nature-inspired porch decor.
18. Floral Basket Hanging Frame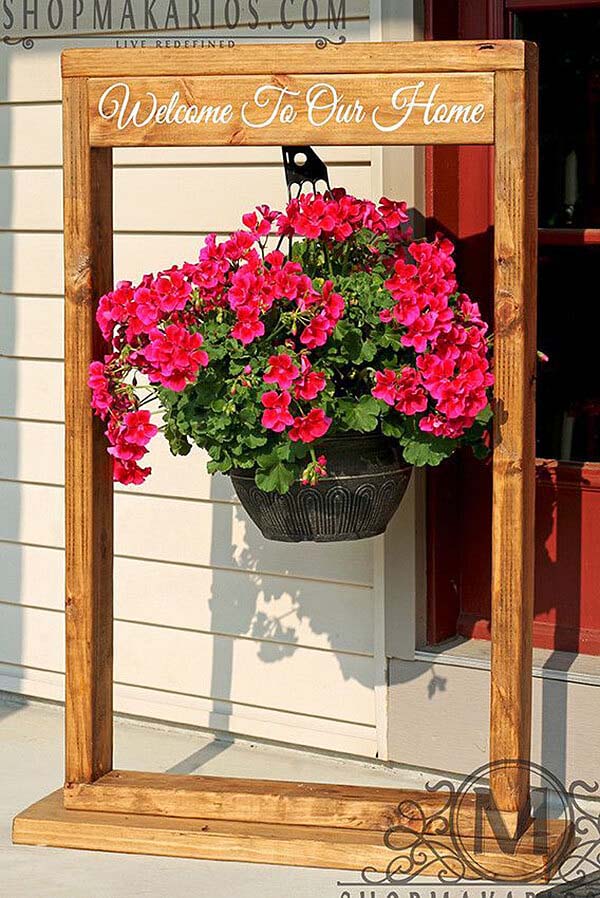 This is an all-season front porch decor idea that will easily lift the welcoming level of your home.
Made to function both as a sign and a planter, the framed basket spreads rustic charm, vivid colors and wonderful aroma.
Once warm days are gone, you can replace the pot with a galvanized bucket filled with evergreen twigs.
via Shop Makarios
19. Hang Planting Buckets On A Trellis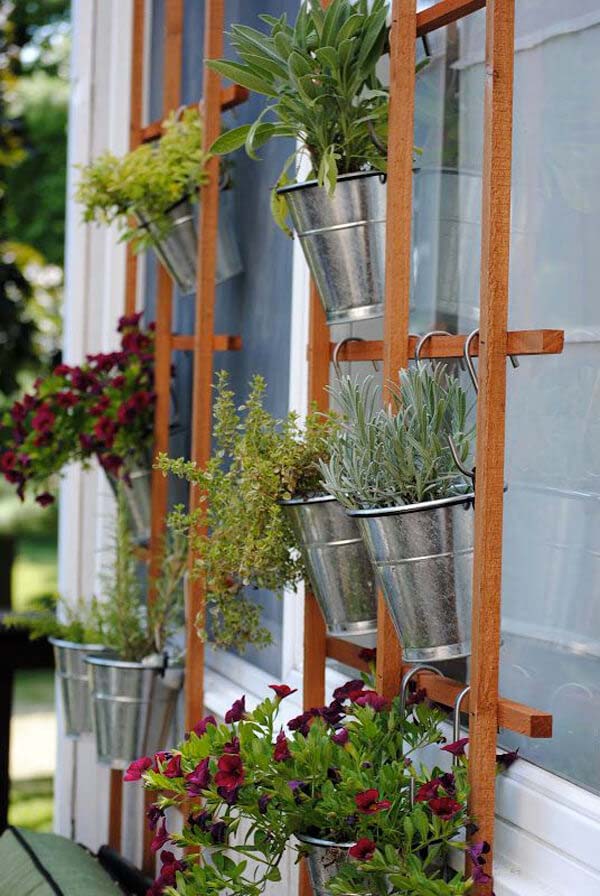 If you enjoy the flowers and can't wait until summer to see the garden brighten up by the colors and shapes of blooms, you can create a vertical garden to admire at the porch.
It won't take much of your time, neither from the space. It is built vertically along the porch to create a wall of fresh flowers.
The ladder design provides many steps for baskets with hooks to be hung.
20. Oversized Planter For Spring Blooms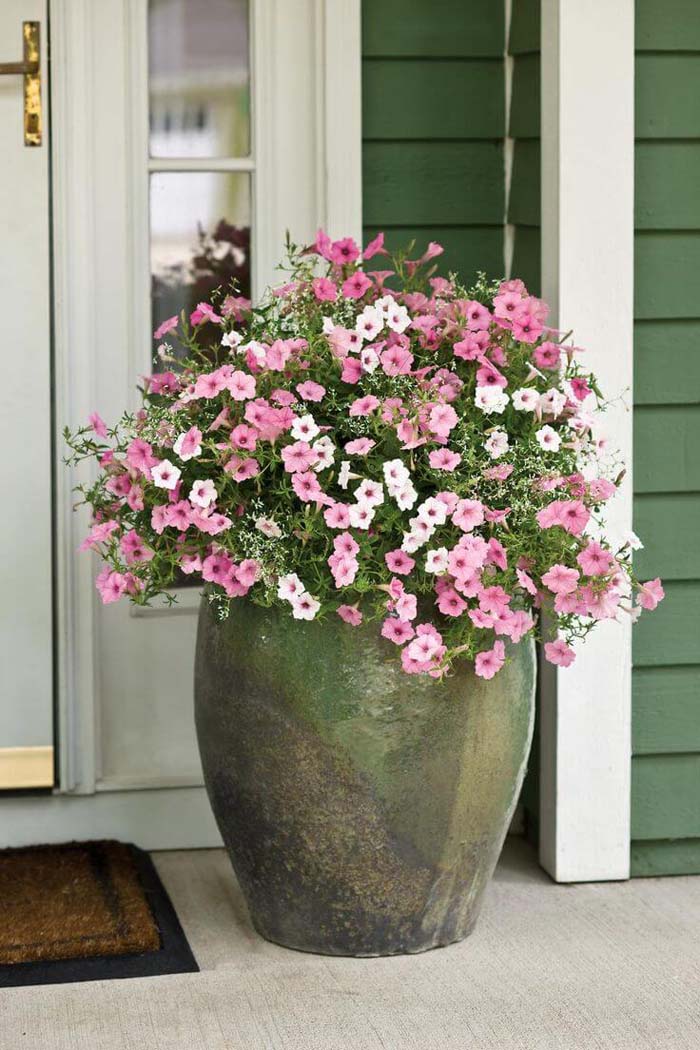 Any guest will feel totally welcomed with this blooming classic. Recreating this idea is not difficult as long as a unique planter like this clay one is on hand.
The rest of the effect is down to the flowers planted. Cascading petunia is a great and easy-to-maintain choice.
via Tracy's Trinkets Treasures
21. Plant Herbs In A Hanging Garden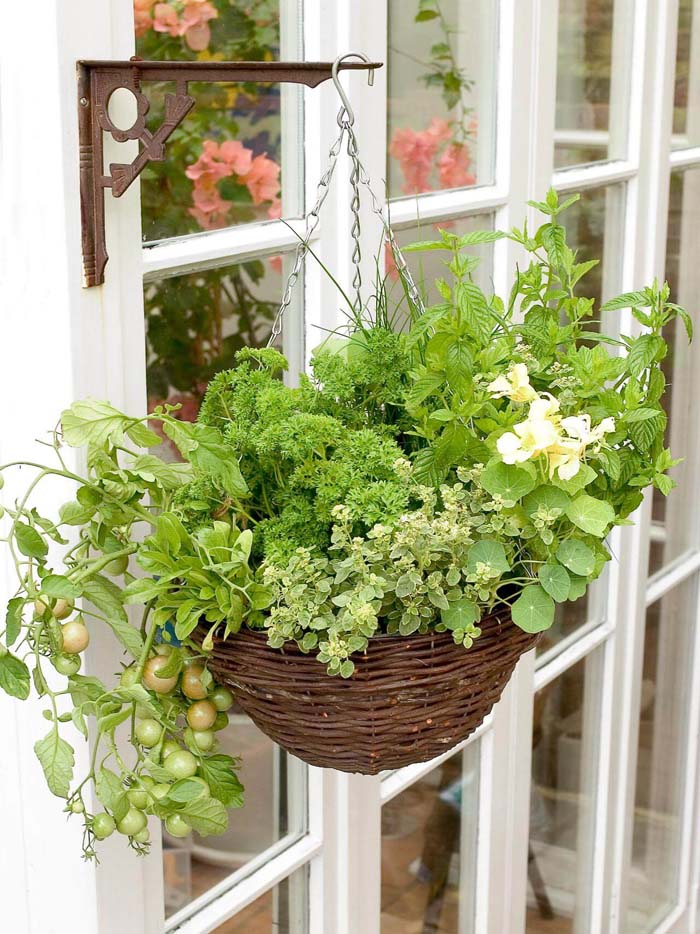 Growing herbs instead of flowers in a basket on the porch is a practical idea. The herbs create an unusual green look when different types of them are planted into the same container.
Their incomparable smell will freshen up the air and will repel insects. Last but not least a meal flavored with fresh herbs cannot be compared with any other, can it?
via HGTV
22. Custom Painted House Number Flower Pots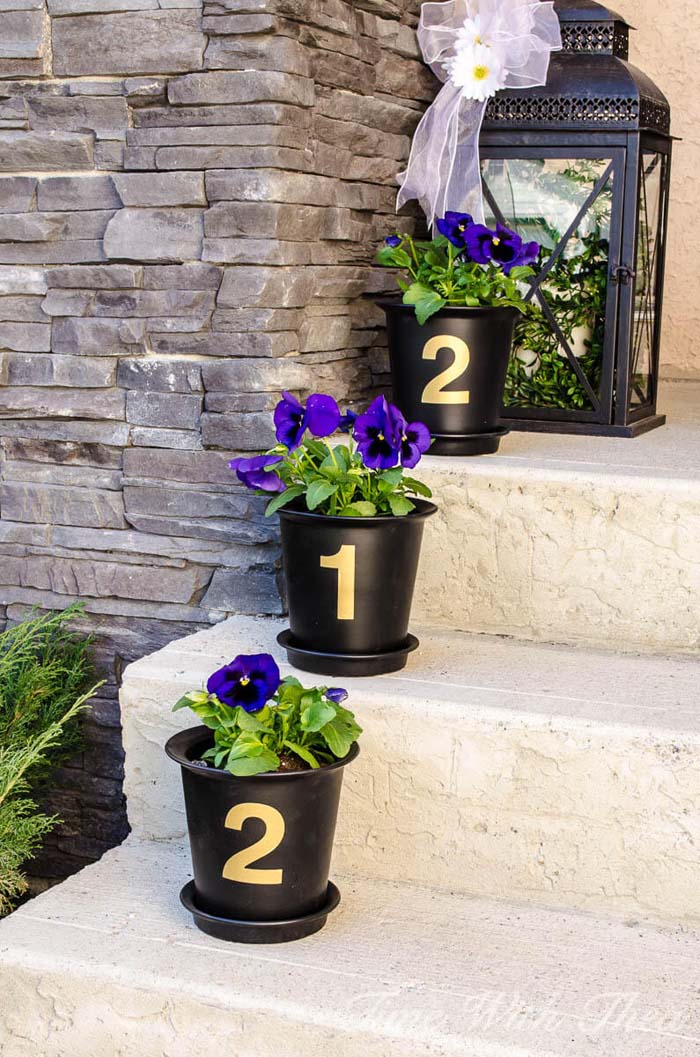 Line the stairs of your front porch with a personalized flower pot arrangement. Get the number of identical pots that are needed to display the number of your house.
This idea is very creative and attractive because of the non-standard artistic way of marking the number of your home.
via Time With Thea
23. Succulents And Catkins Chalkboard Porch Display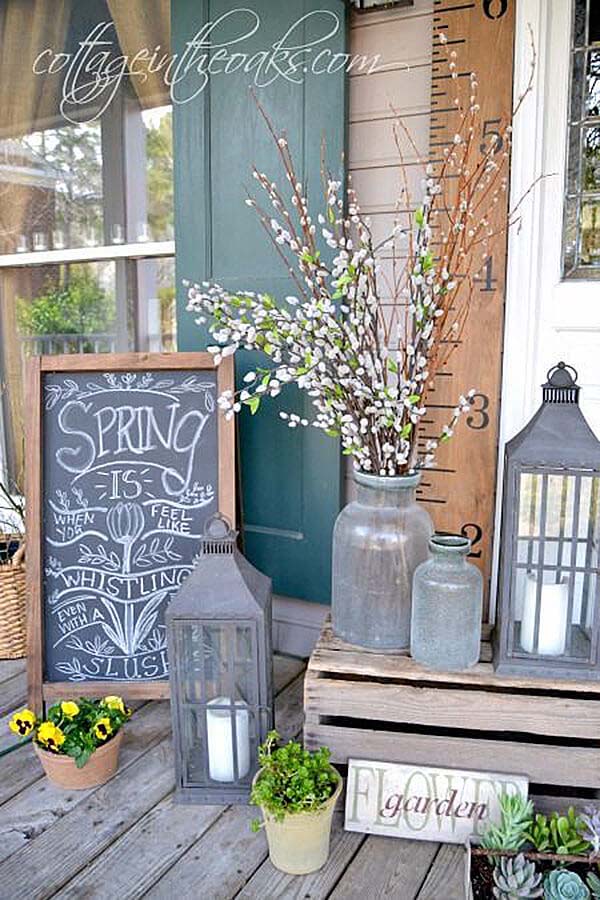 Create an adorable farmhouse decor on the porch that will make all people passing by come and admire.
Creating such an arrangement is budget-friendly as it gives old or antique items new applications.
A crate has been placed upside down to accommodate milk glass bottles turned into vases. Two antique metal lanterns are included in the spring decor and a large chalkboard.
Write beautiful quotes on it or be straight and short in what you mean. A wooden DIY sign ties up the farmhouse scene together with clay flower pots.
24. Plank Mounted Bright Yellow Wreath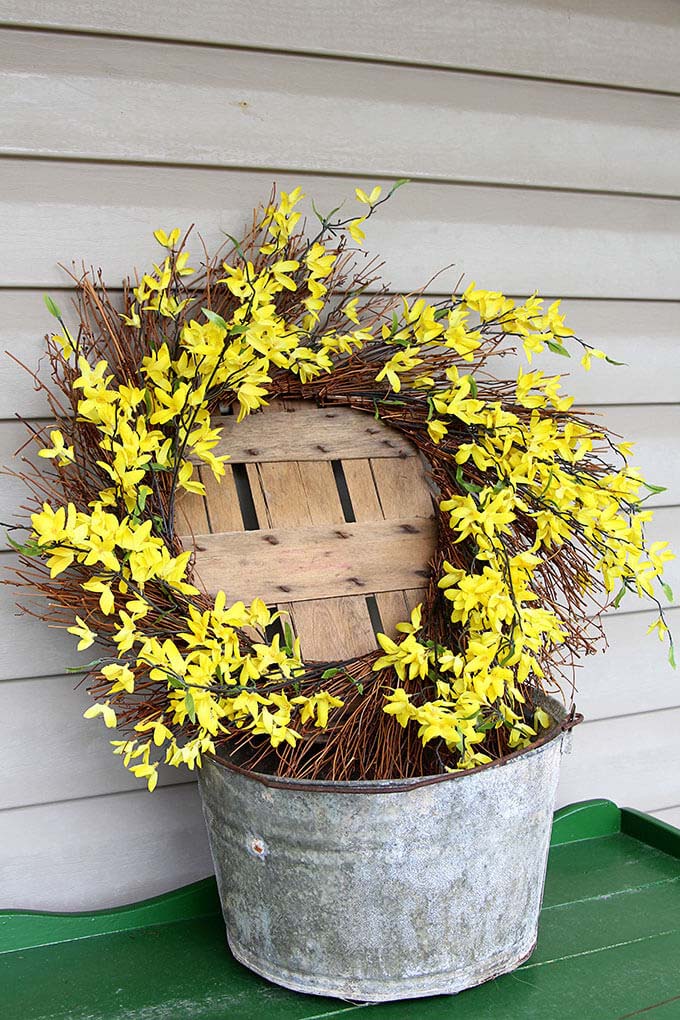 It is very simple to make your porch ready for spring. With fresh twigs of forsythia, you can make a wreath that will turn the porch into an attraction. Use a round base cut from a pallet to give the craft a farmhouse effect.
Wreaths usually beautify the front door, however, the interest will be increased if placed into an old bucket.
25.Hanging Monogram Planter Box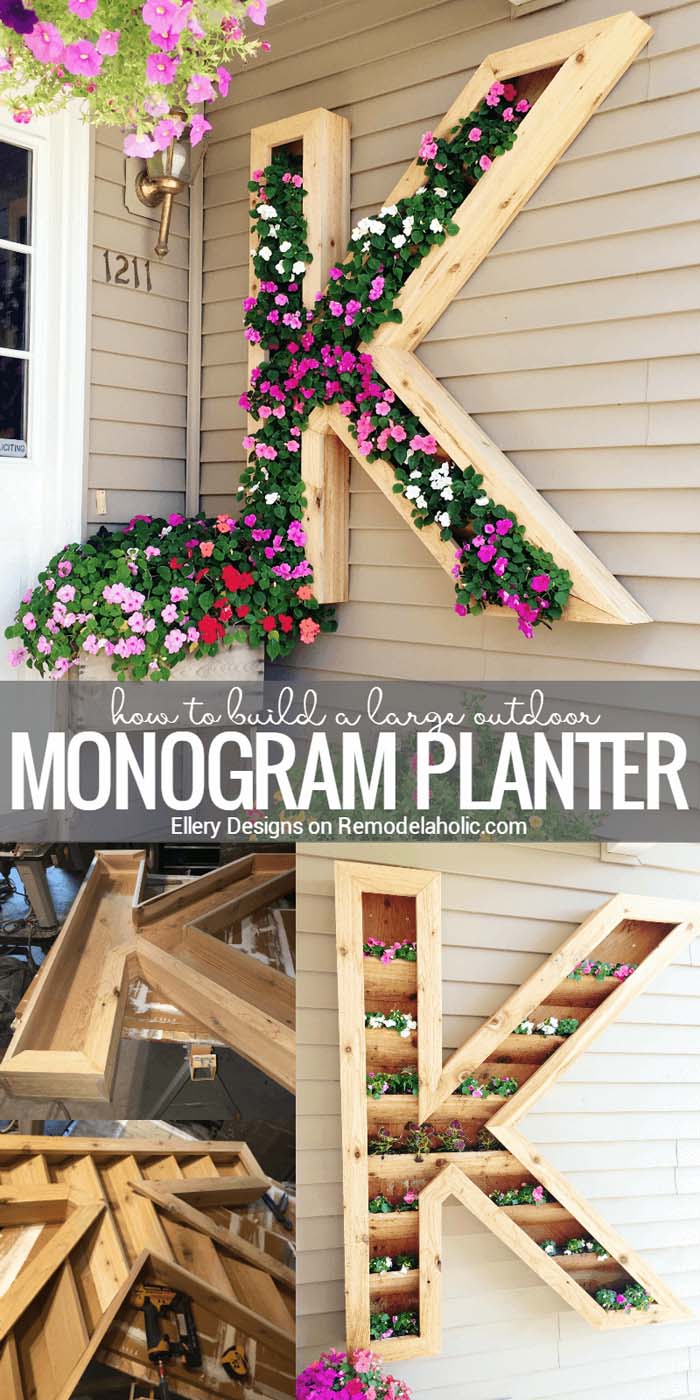 Looking for a dramatic welcome spring decor for the front porch? This trendy monogram planter will be clearly seen and will leave breathless anyone passing by your house.
The letter the construction should be designed into can be your family name or why not K for the kingdom.
Fill each section with soil to grow seasonal flowers. You don't need to take the large wall art down after the warm days are gone as it can accommodate other seasonal symbols or holiday motifs.
via Remodelaholic
26. Rustic Planters With Spring Pansies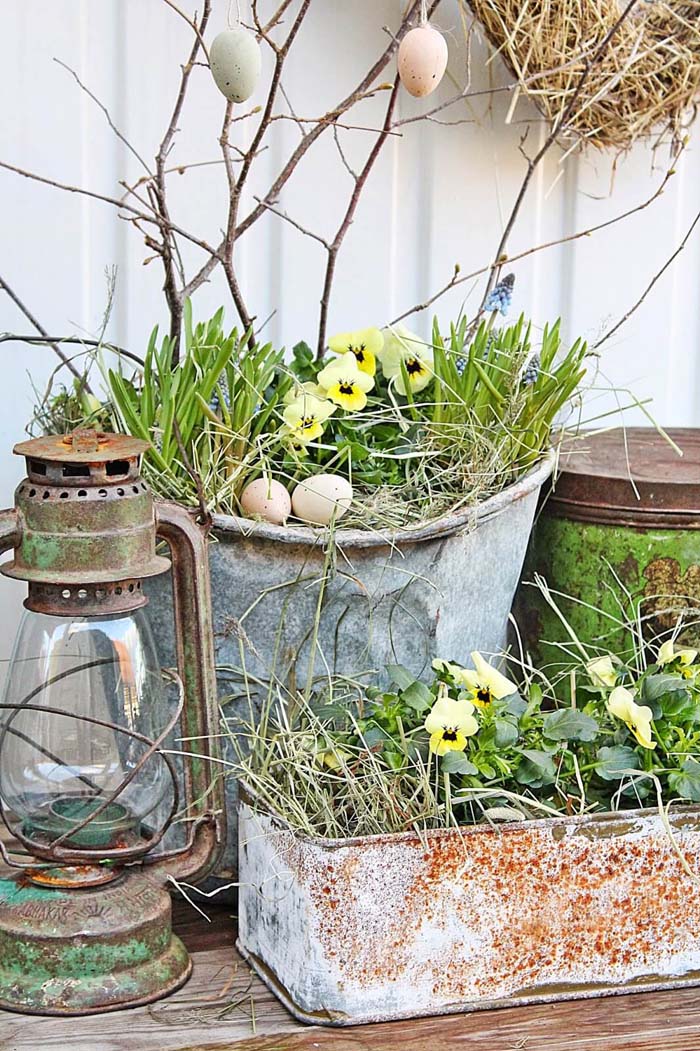 Use the rusty defect of antique vintage items as an extraordinary spring porch effect.
All you need to do is to fill them with potting mix and plant spring flowers in them. Soon you will enjoy natural scenery brought closer to you. For additional interest, add eggs, birds and other spring motifs to the arrangement.
27. Bright Spring Flower Drawers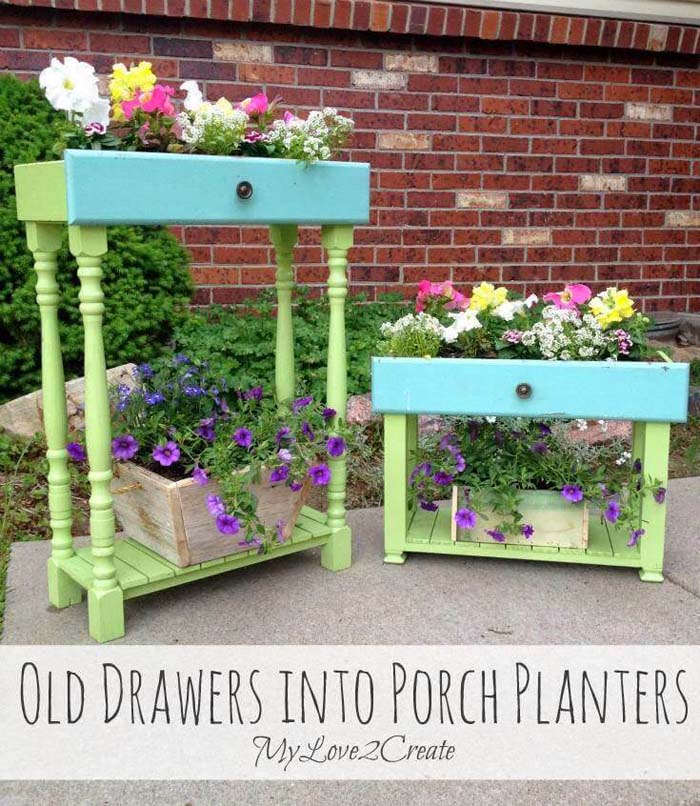 A countryside essence is brought to the front porch with an easy DIY planter idea.
Old pieces of a drawer are assembled in a tiered design to create flower pot stands in sunny colors. Each stand is of a different height to easily attract attention.
Another idea is to make two identical stands and place them on either side of the front door.
Nothing could express more that your home is ready for spring than these cheerful flower stands.
via My Love 2 Create
28. Charming Polka Dot Flower Pots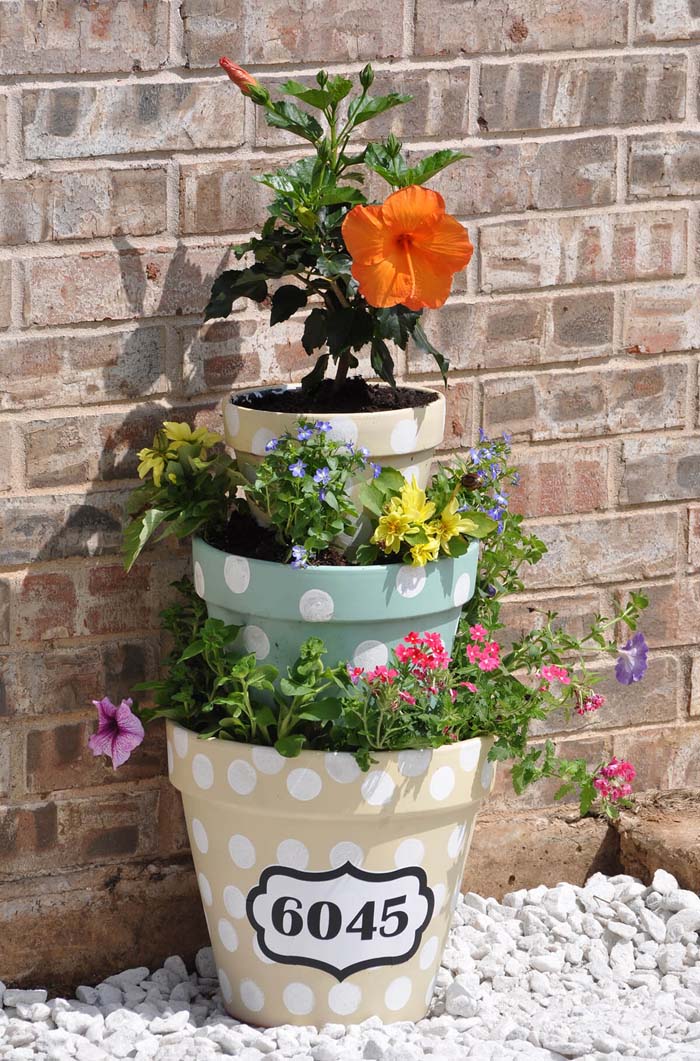 Another functional decor idea that is perfect for the porch spring decor features three clay pots displaying the number of the house.
They are of a descending size that allows stacking them and creating a vertical garden.
Each pot has been painted in a cheerful polka dot pattern that never goes out of style and is known to quickly transform an ordinary item into an accent.
29. Terra Cotta Pot Chandelier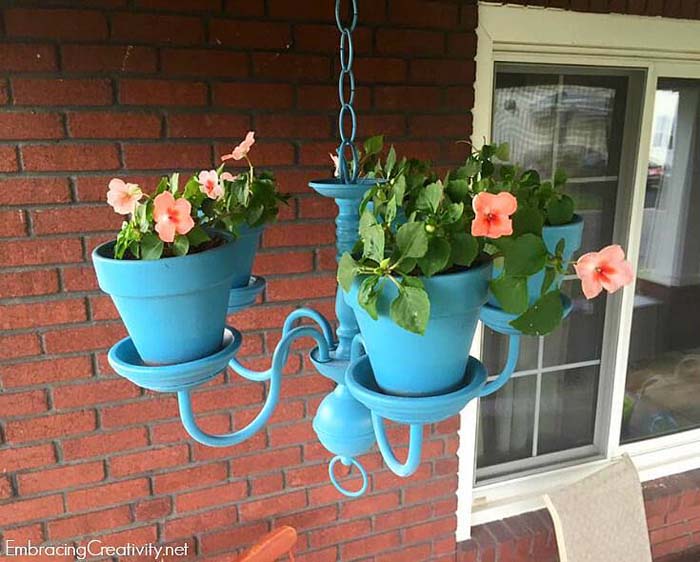 You can make your front porch ready for spring by working on its top plane and by that we mean using the ceiling to create a focal point.
An old chandelier that is no longer in use becomes an undoubtedly magnificent flower planter in few steps. Find terra cotta pots of a size that can fit the light bulb place.
Paint the chandelier and the pots in bright spring color- blue, red, yellow, green are all great for that. Next is to plant the flowers and place the pots onto their new unexpected place.
30. Ornate Window Wreath Hanger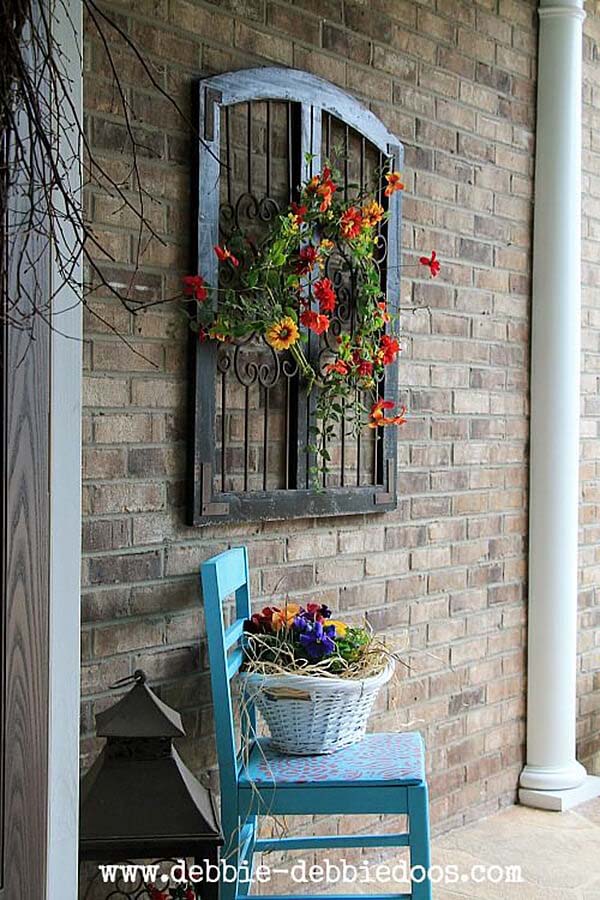 Make a stunning and unexpected backdrop for your spring wreath. We are used to seeing wreaths hung on the front door. Hanging them in a place that is not typical will certainly draw attention and create the decor interest you have been looking for.
The author has decided to recreate a vintage scene on her front porch placing a wreath of spring flower cuts onto a wrought iron window frame.
31. Reclaimed Wood Plank Flower Planter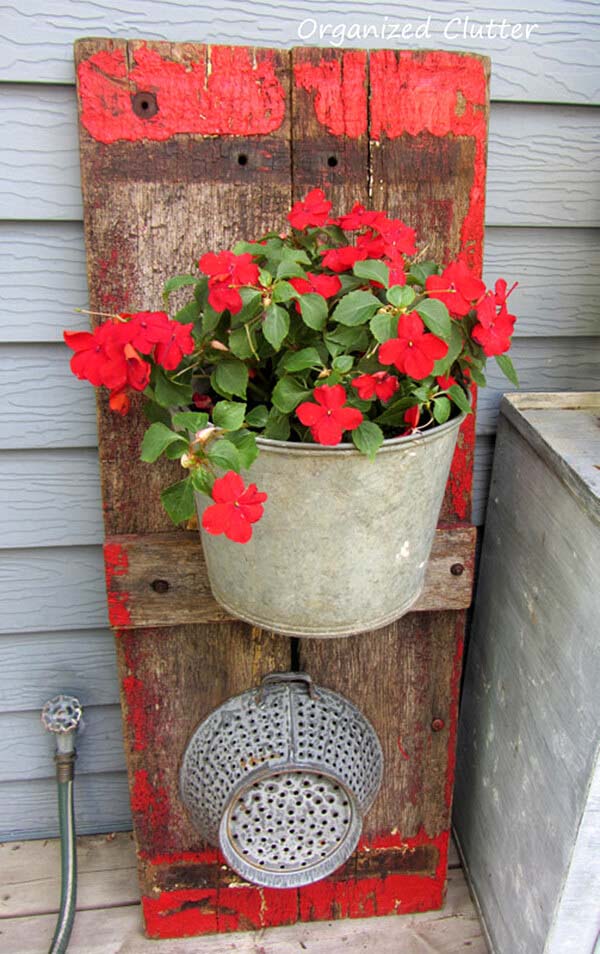 You can make your own version of this farmhouse spring art for your front porch. It won't cost a lot, maybe even nothing but the final result will be unique and inviting.
The texture of the weathered slats gives the craft a look of an antique. The farmhouse galvanized utensils enhance the authentic value. Placed next to the front door will create a casual atmosphere where guests will feel more welcomed.
32. Spring Bouquet Welcome Sign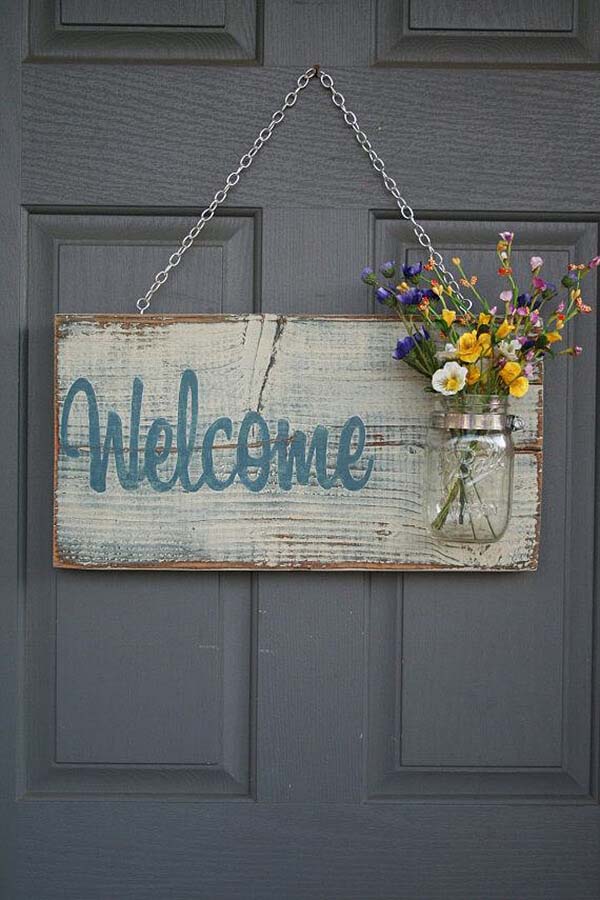 A countryside essence makes this front door charming and inviting thanks to a sign with a special place for flowers.
The large wooden board has been distressed at the edges to give it an authentic vibe. The "welcome" message is spelled in hand-written font to create a casual and welcoming effect.
Next to it a Mason jar is attached with a pipe bracket to hold a bouquet of field flowers.