Spring is not only another season coming, it is a state of the mindset for more cheerful, warm and shared times.
Celebrating spring starts from the heart but that feeling can be easily sensed and even seen when the home decor reflects it.
Today we will be enjoying a collection of rustic farmhouse decor ideas that welcome and celebrate spring in a spectacular way.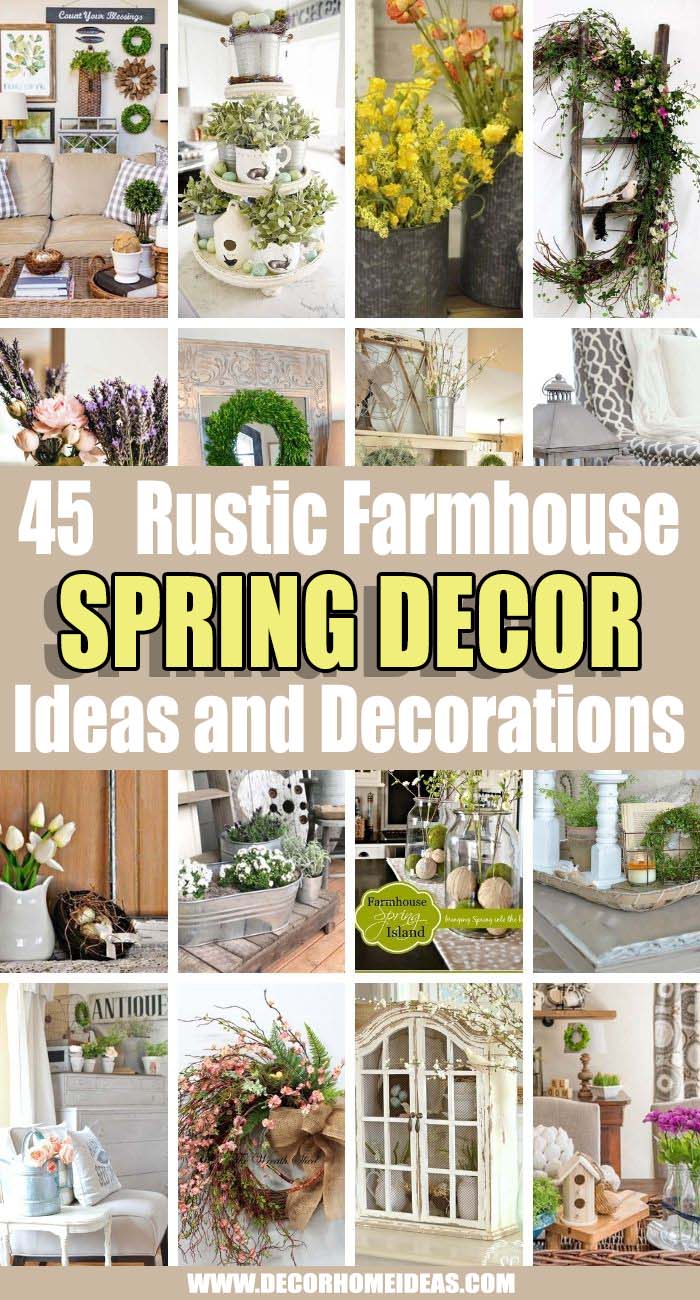 The designs, the colors and the supplies are all inspired by the revival of nature in springtime so it is certain that even the most modern home will flawlessly embrace a piece of the outer world and transform into a welcoming cozy place.
1. Baby's Breath Spiral Wreath on Rustic Window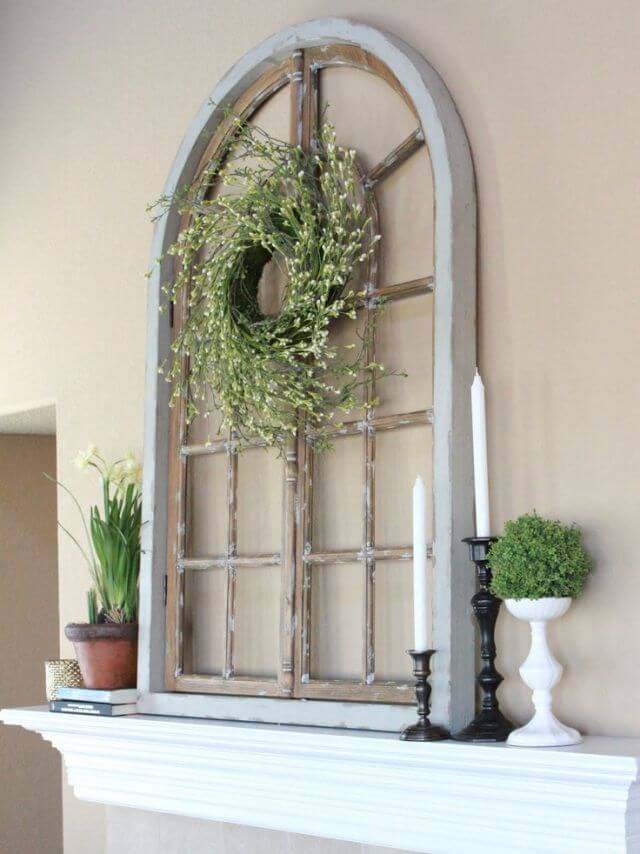 Decorate the mantel with a motif from the outer world. Represented by an upcycled window frame and a wreath from baby's breath, this decor idea is budget-friendly and charming.
2. Blue Hydrangea Arrangement in Colored Bottles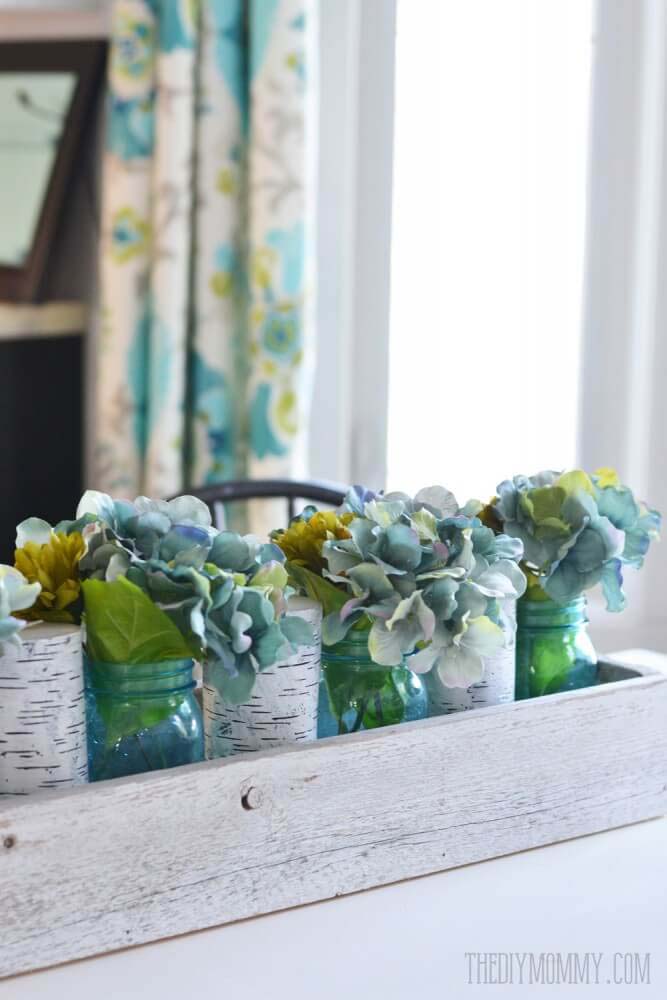 Make a centerpiece for your dining room decorated in a farmhouse style. You can use any type of reclaimed wood as long as its size allows assembling a planter box.
Fill it with jars holding beautiful hydrangea blossoms. To give the arrangement a point of interest, alternate with candles wrapped with paper imitating wood.
via The DIY Mommy
3. Blush Pink and White Flower Wreath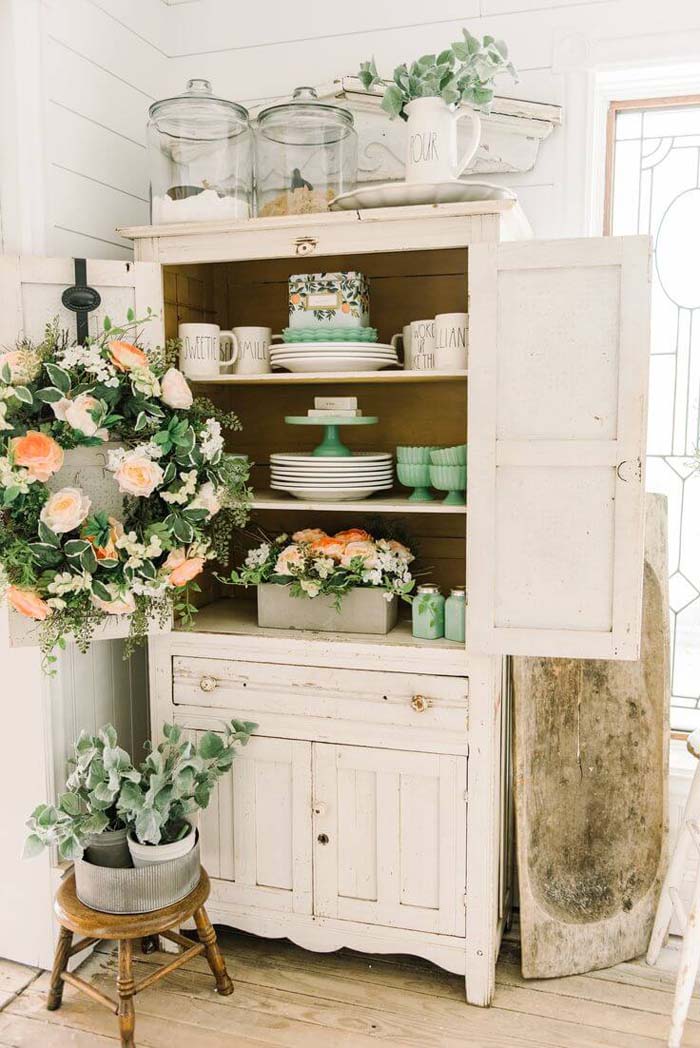 Turn the old buffet into a display for gentle rustic spring decor. Hang a wreath made of pink and white blossoms peeking out of evergreen leaves.
Use the same flower combination for a small planter, anchoring the same motifs inside the buffet.
Such an antique piece of furniture is the best place to display a collection of vintage utensils and containers.
via Liz Marie Blog
4. Bottle with Cotton Arrangement Centerpiece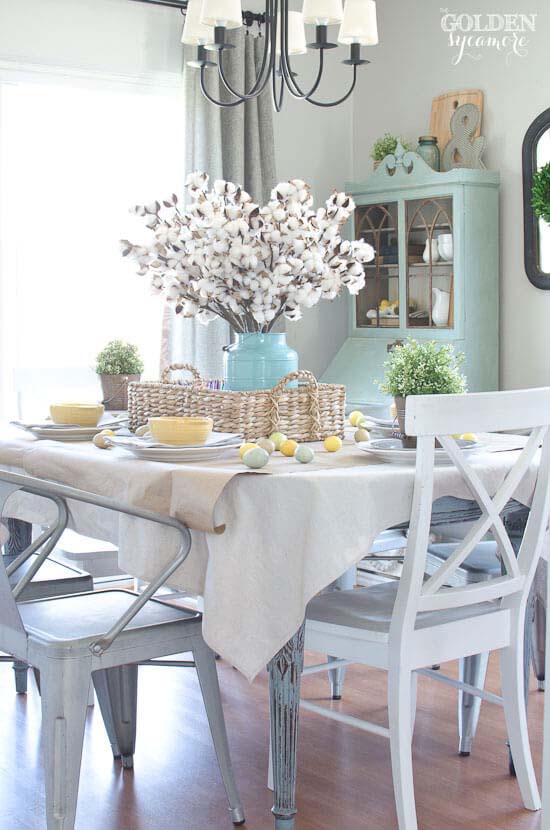 Another plant we relate to spring is cotton. Its gorgeous cloudy buds easily attract attention with their look and non-typical presence.
To give the bouquet a better connection with the remaining interior, place it into a vintage vase or galvanized container or into a wicker tray.
5. Chalkboard and White Pot Arrangements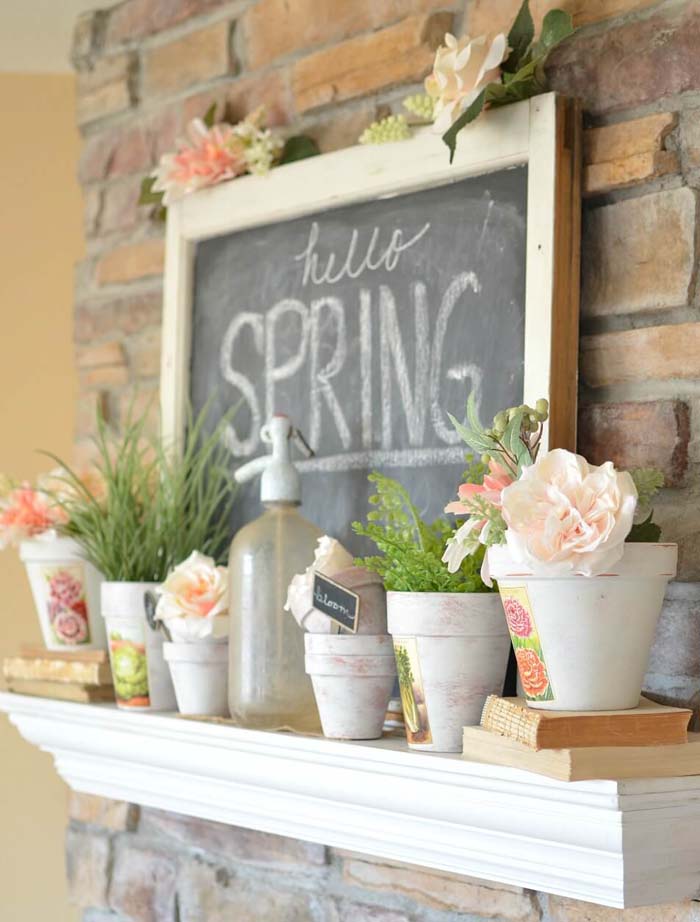 This is a small rustic garden grown on a mantel. The collection of whitewashed terracotta pots looks amazing with their floral decoupage motifs.
A chalkboard with a hello spring inscription becomes a contrasting backdrop for the flower garden and adds a cheerful vibe.
via Sarah Joy Blog
6. Colored Bottle with Pink and White Flowers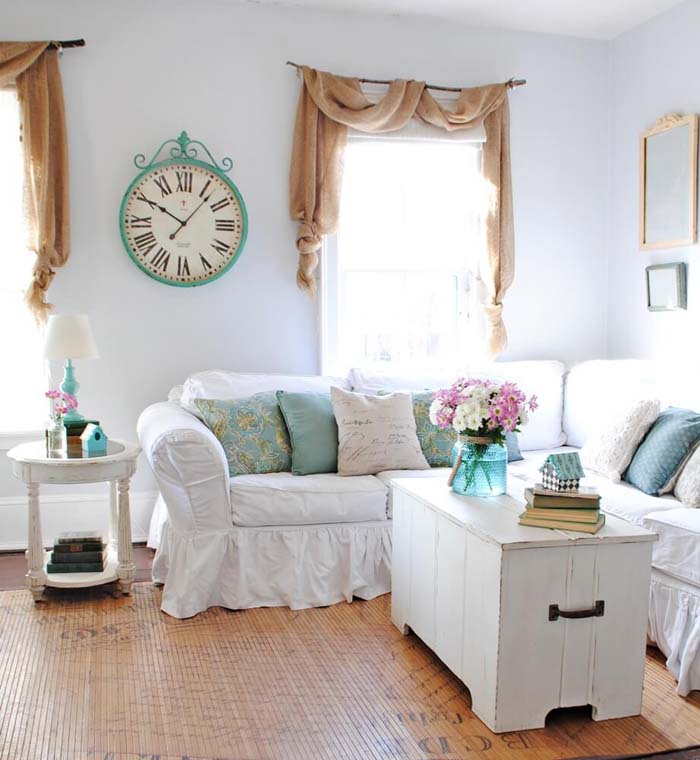 In a white-colored living room, a glass vase in blue holding a bouquet of fresh pink and white flowers becomes an instant focal point.
Any large jar can be transformed into such a rustic vase with a little twine woven around its neck.
via Stone Gable
7. Colored Glass Bottle Flower Arrangements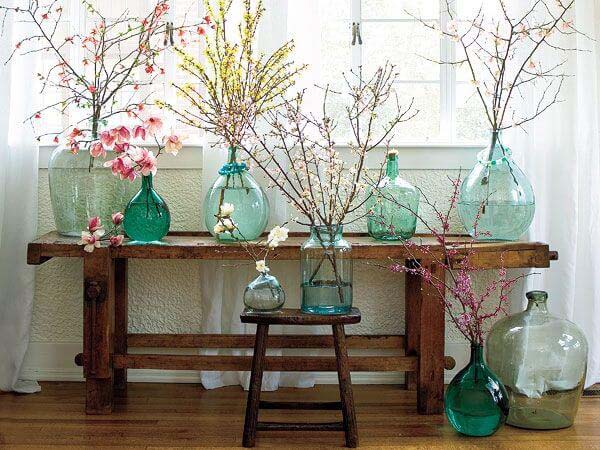 In case you have a collection of large glass bottles, make them part of your spring decor.
If you want to make them look more authentic, their color can be changed with a special glass paint with low opacity which allows seeing through the glass.
The next part is easy- just gather twigs with blossoms from shrubs and fruit trees and insert them into the vases.
8. Colored Glass Bottle White Flower Arrangement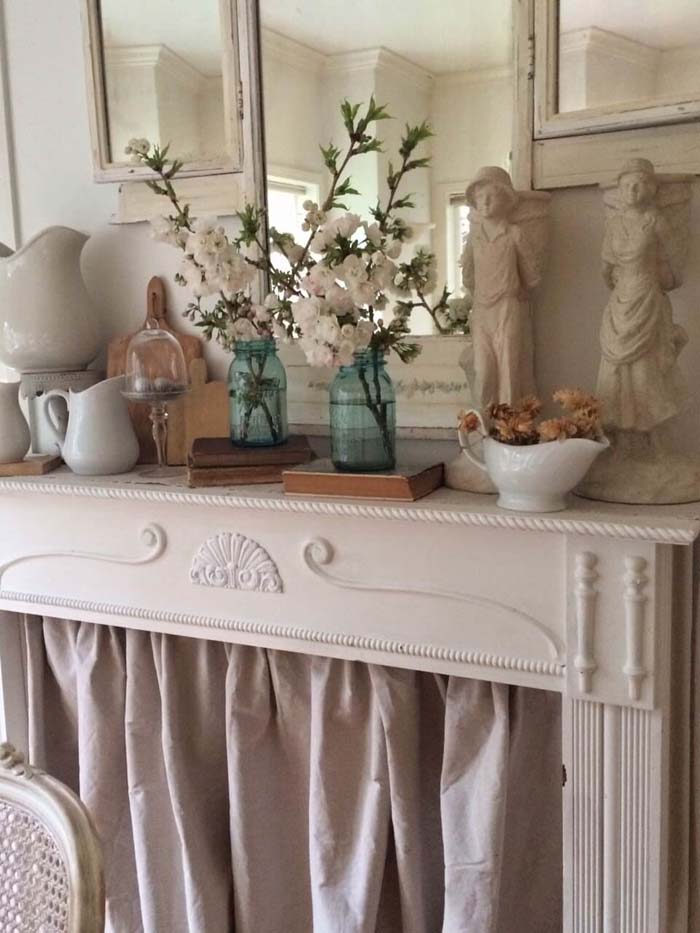 This idea is very simple, however, it drastically changes the mantel decor, making it more welcoming and inspiring.
For that idea, Mason jars are an affordable and good-looking type of glass container. Twigs with white blossoms will suit a decor where white and cream are predominant.
via Little Farmstead
9. Door Basket with Pink and Yellow Arrangement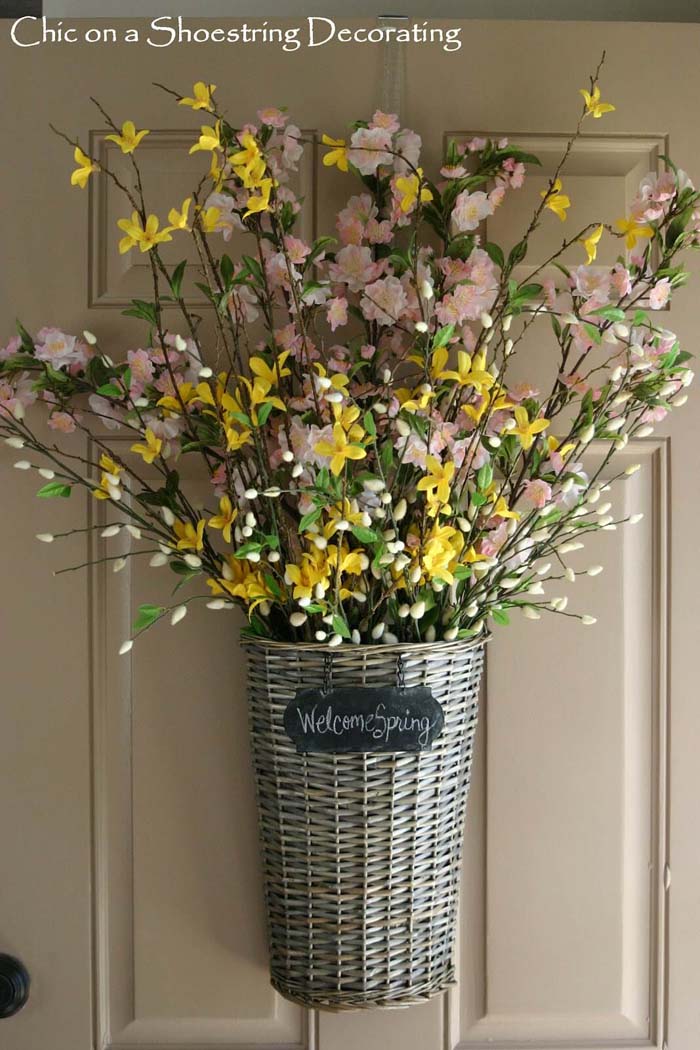 Who says that wreaths are the only suitable front door decoration? A wicker basket full of bright spring blossoms twists this stereotype.
Add a small chalkboard sign to write welcome spring and be sure that your guests will feel more than invited.
10. Easter Themed Mugs with Baby's Breath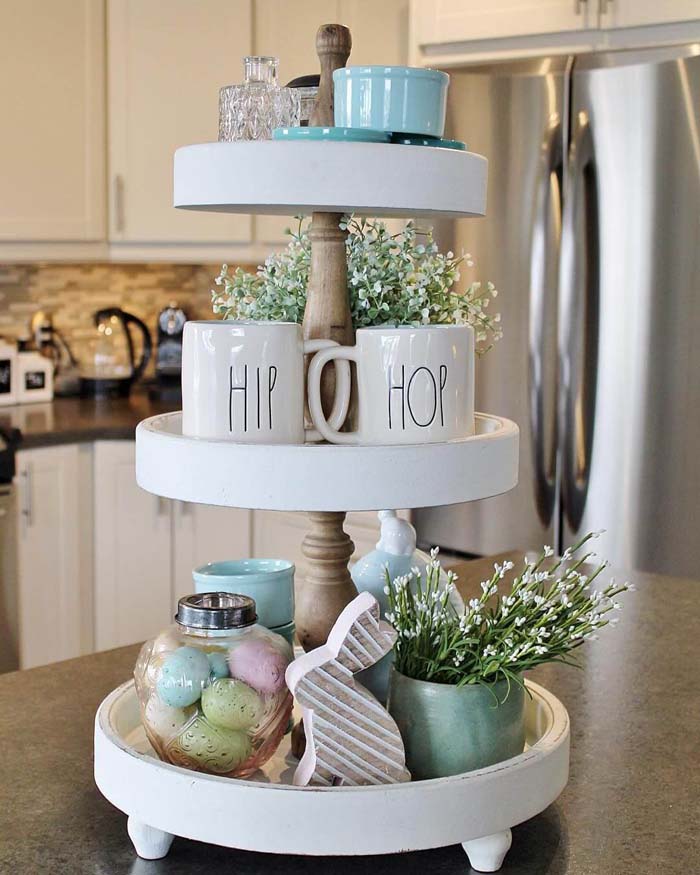 Another symbol of spring is Easter so including motifs like rabbits and eggs will turn your spring decor more than festive.
The idea here gives a hint about a creative tiered display combining fresh sprigs, Easter accents and fun Easter-themed mugs.
via All Honey Design
11. Farmhouse Chair with Metal Vase and Flowers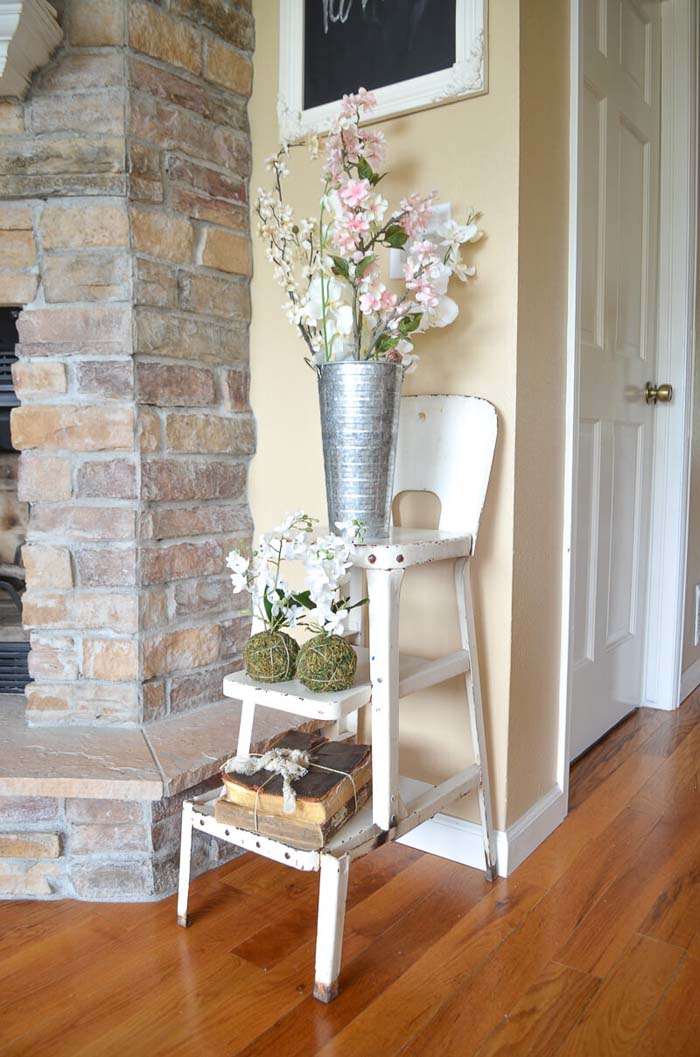 Bring spring into an empty corner of your house, using upcycled items. This tower is made out of old pieces of sitting furniture. The creative stacking results in a ladder-like design with three tiers.
There you can display different types of farmhouse accents like yarn, wicker baskets, old books, etc.
To give the stand a spring-themed look, include twigs with blossoms in the arrangement.
via Sarah Joy Blog
12. Farmhouse Easter Mug Greenery Arrangements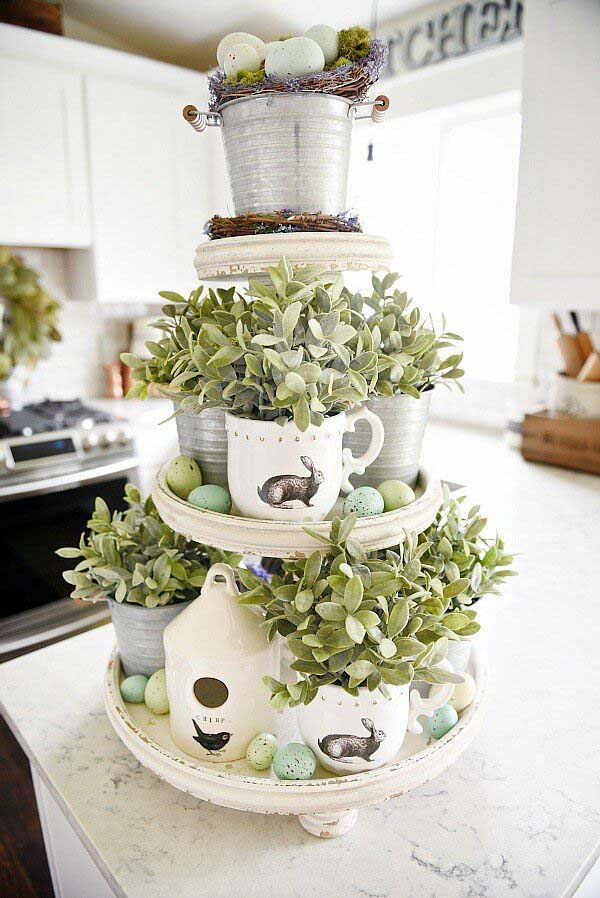 Another great spring decor idea involves the Easter theme in a very cute and practical way.
Mugs with bunnies hold green plants. Inbetween the repurposed pots, small eggs fill the gaps, enhancing the festive look.
The top of the farmhouse stand is dedicated to a small galvanized bucket holding a nest with eggs, symbolizing family.
via Liz Marie Blog
13. Floral Wreath with Greenery and Basket Planter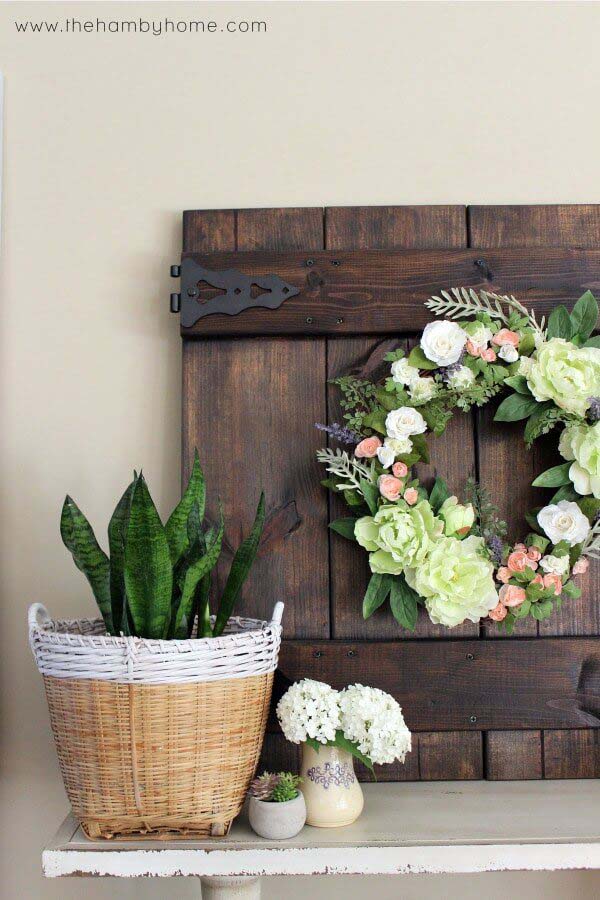 Adding a wreath and a pot hidden into a wicker basket is easy to be recreated welcome spring decor.
The wreath can be made of faux flowers. Using real ones could be a better idea because of the great scent spread.
Hang the wreath on a repurposed window frame or a backdrop made of pallet slats.
via The Ham By Home
14. Green Moss Spiral Wreath with Mirror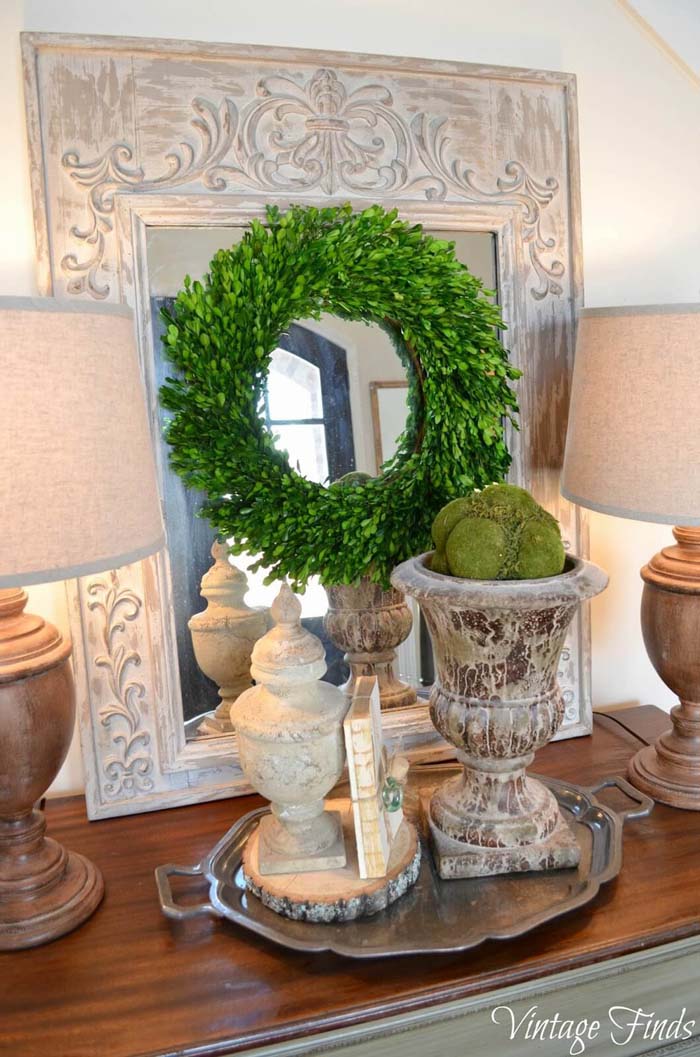 This idea presents a quick way to update your decor and adjust it to the spring theme.
A wreath made of box wood hung on the window and a moss ball do a great transformation, giving the antique set a green fresh motif.
via Vintage Finds
15. Greenery Wreath with White Flowers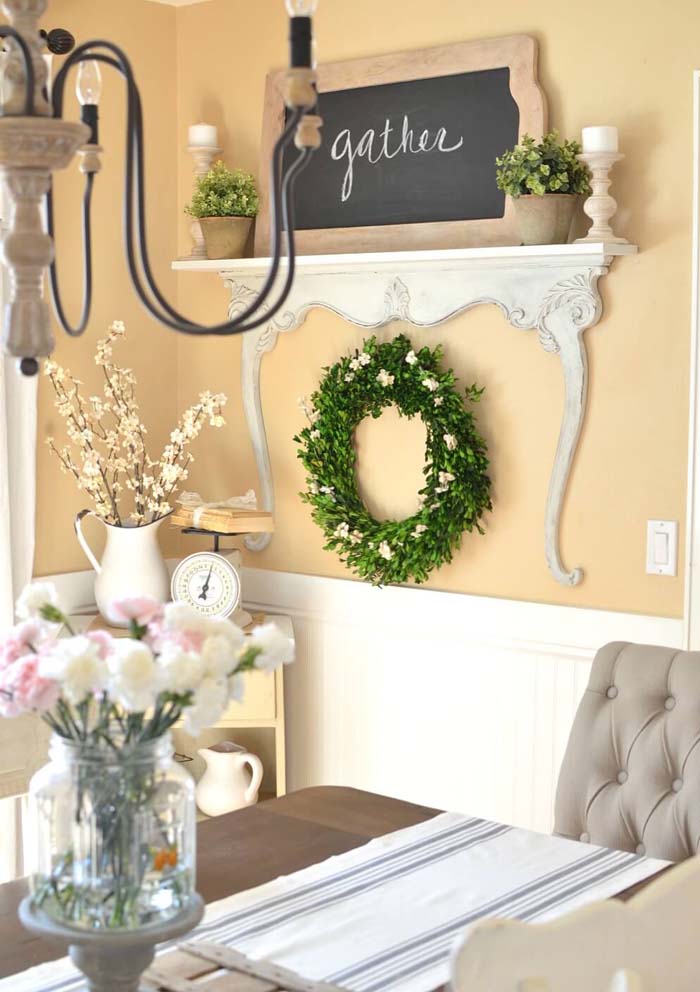 When you want to upgrade the boxwood wreath, you can do it easily by weaving white flowers around the greener.
via Sarah Joy Blog
16. Hanging Mason Jars with Growing Flowers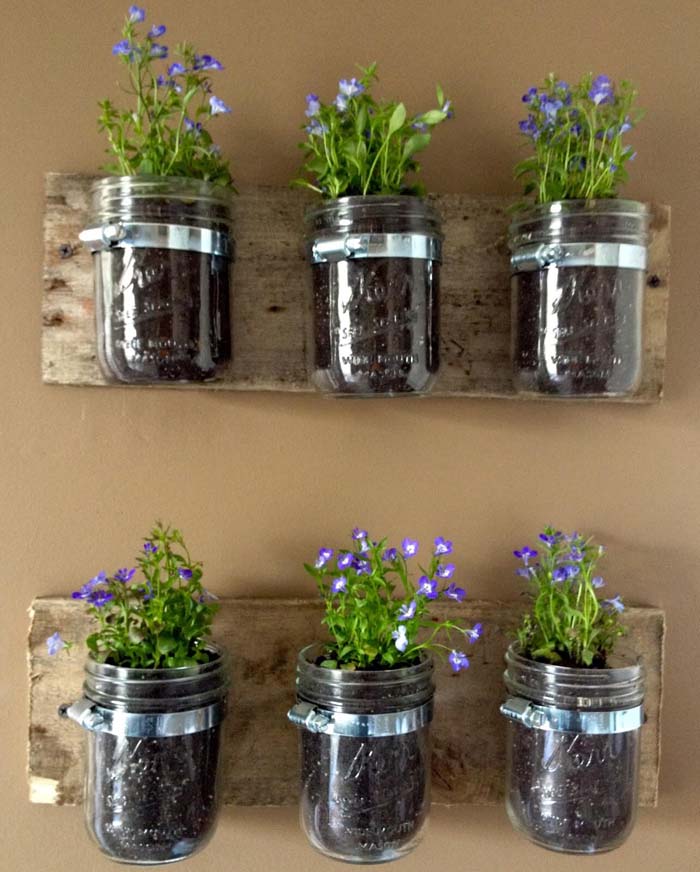 Do you miss your flower garden? Don't be anymore! You can make yourself an indoor one, holding seeds of blooming flowers that will surprise you in the spring.
The rustic design of this wall garden makes it feel more like part of the inside than the outside world.
17. Large Mouth Jar with Twine Balls and Flowers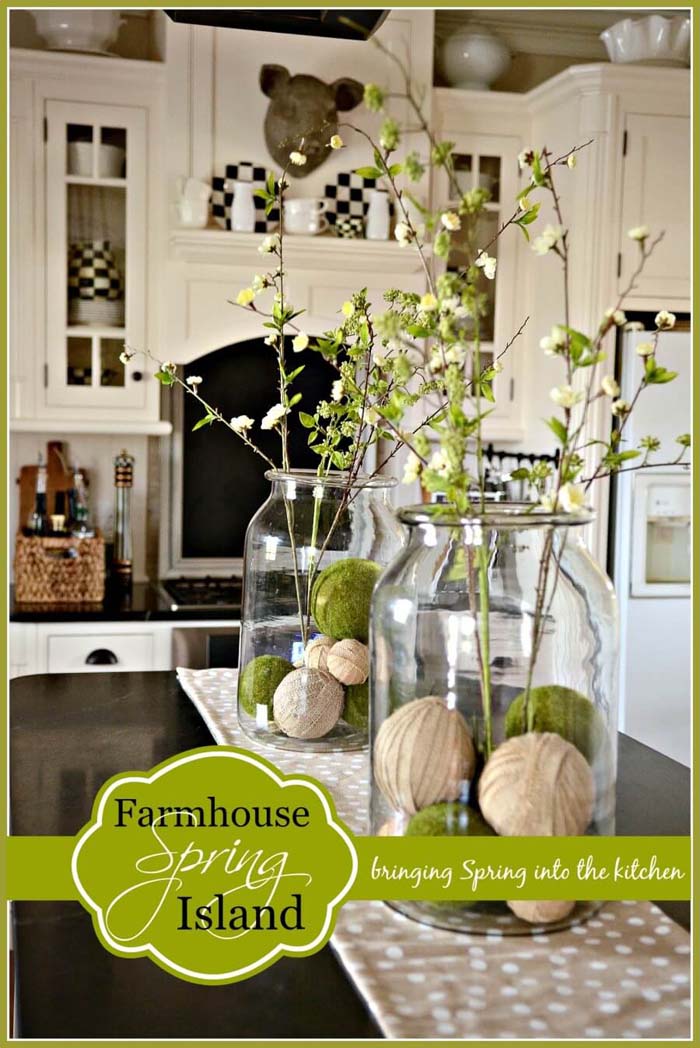 Twine balls, grapevine balls, moss, pebbles- all look great turned into a basis of a rustic vase made out of a repurposed large jar.
The elegance of this decor is achieved by matching the colors of the twine balls with the colors of the twigs inserted into them.
via Stone Gable
18. Mason Jar and Lace Flower Arrangements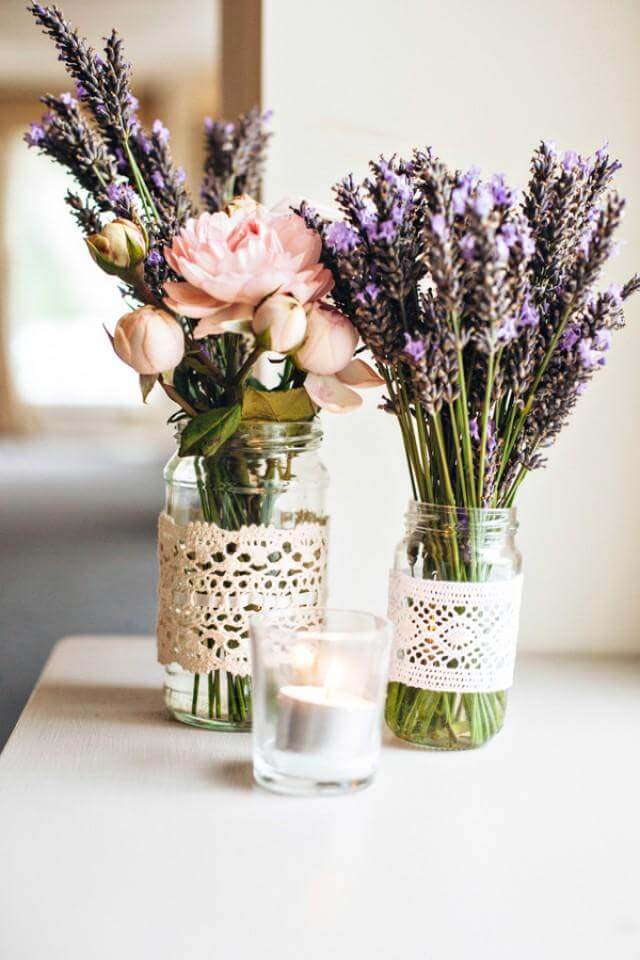 Using supplies on hand you can make a great spring decor with a lot of farmhouse charm.
Any jar you have got becomes a vase for the first garden flowers. Simply decorate it with a length of lace glued to it.
19. Mason Jar Blush Pink Flower Arrangement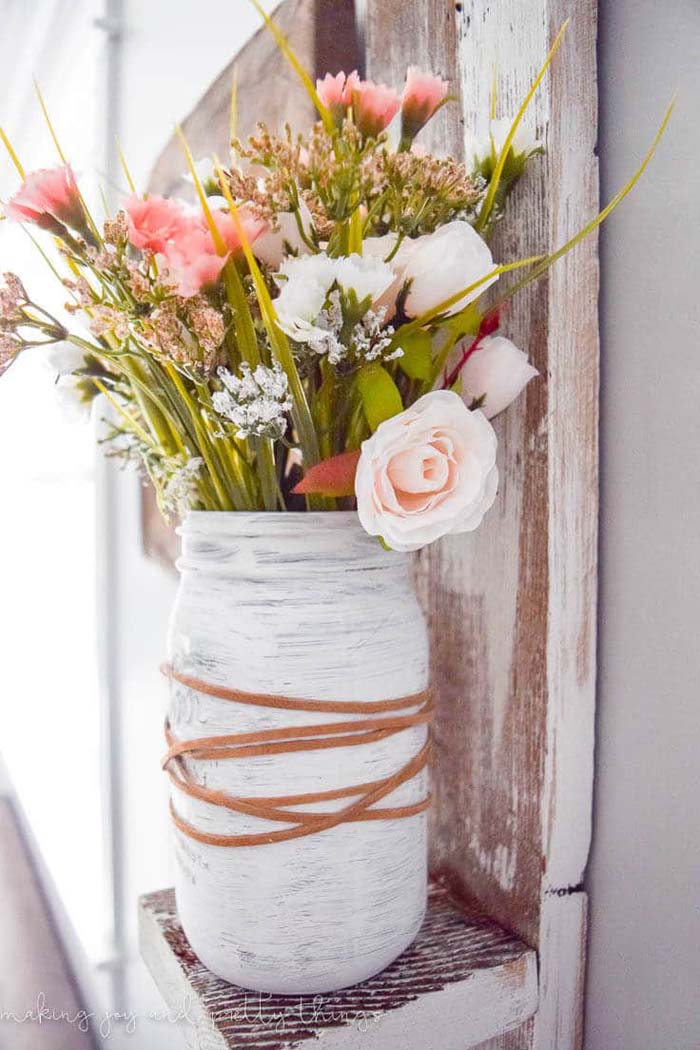 The decoration of this jar is made to suit the accents in the bouquet it holds. The pink field flowers have defined the color of the twine twisted around the whitewashed Mason jar.
via Kenarry
20. Metal Basket with Moss Wreath and Greenery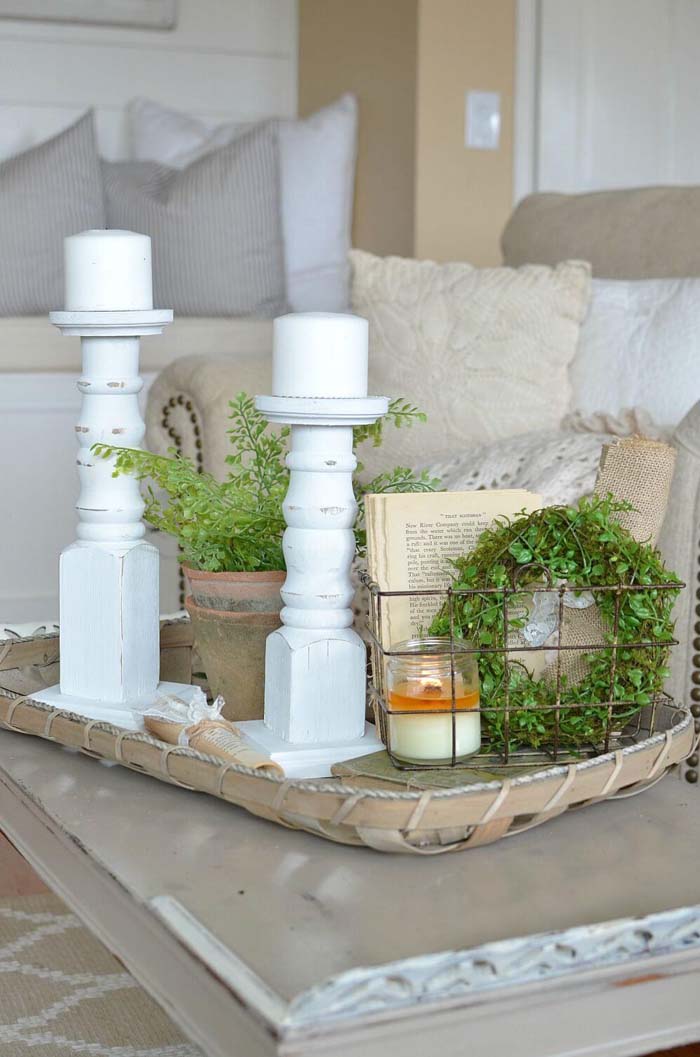 Combine all of the antique or vintage items you have got into a breath-taking centerpiece.
To match them with the spring theme, add a few flowers, twigs and wreaths.
via Sarah Joy Blog
21. Metal Pitcher with White Flower Arrangement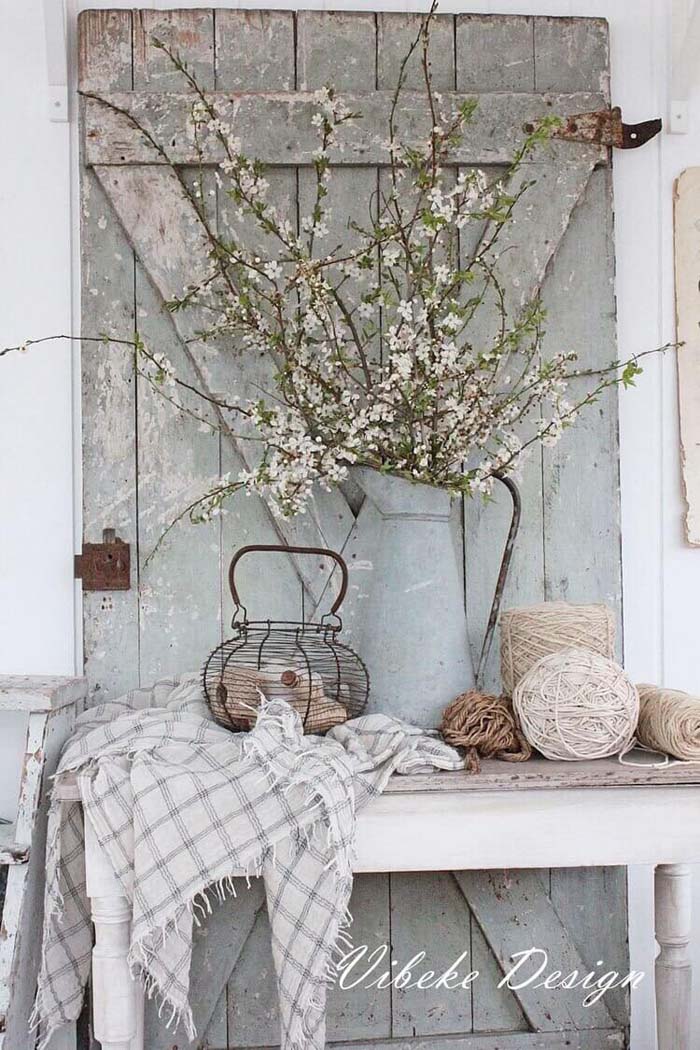 This outdoor decor features a pitcher turned into a vase which farmhouse spirit is enhanced by the adjacent accents. A metal basket, a blanket and twines create a cozy place under the stars.
via Vibeke Design
22. Metal Washtub with White and Greenery Arrangements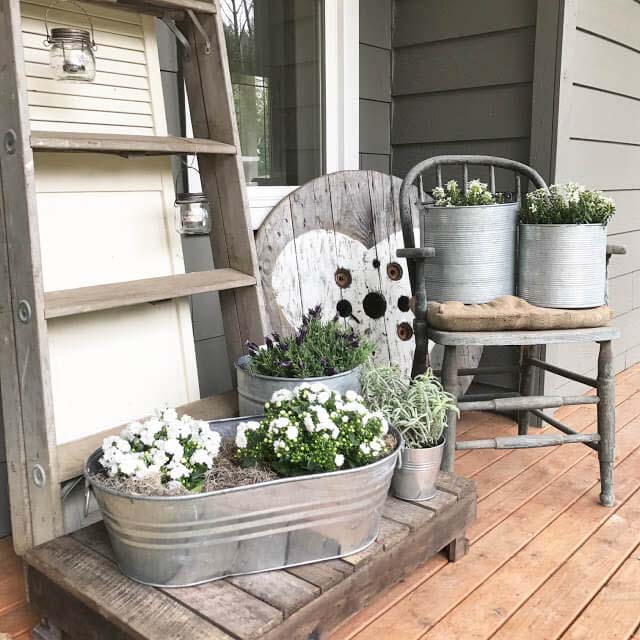 Let all of the people passing by your house understand that spring is coming! A porch arrangement including galvanized containers repurposed into planters create an early garden.
They are all placed onto different repurposed wooden stands to give the spring more interest through height.
via Little Farmstead
23. Metal Watering Can with Flowers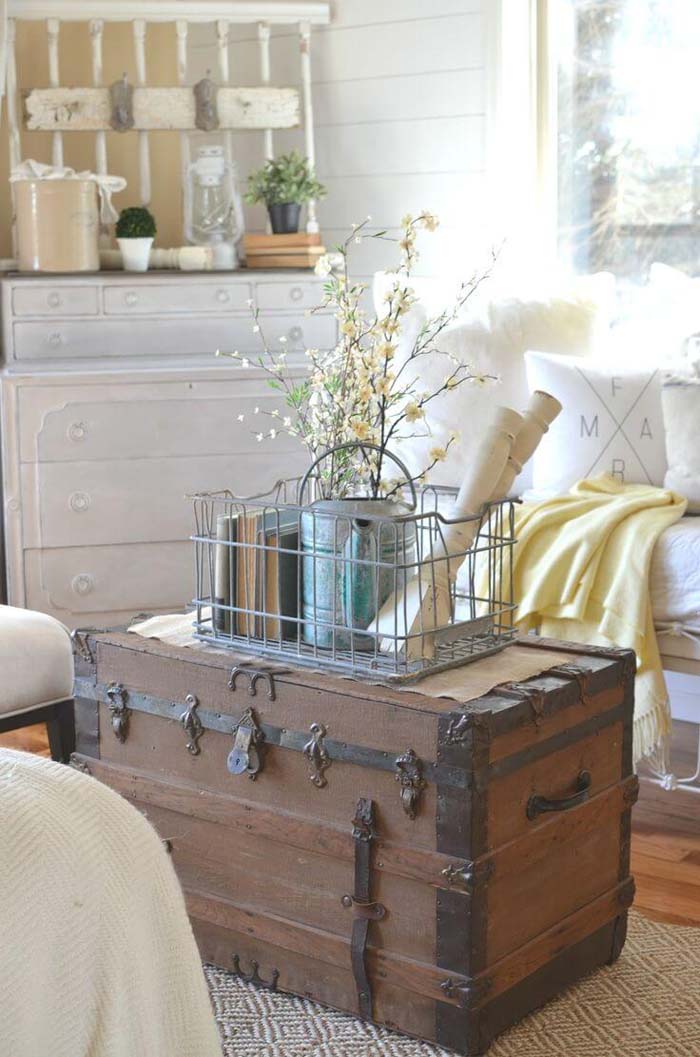 This is another great idea for a spring-themed centerpiece. The farmhouse charm is easily spread by the milk crate showing signs of age.
It accommodates old books and a watering can from galvanized steel turned into a vase.
via Sarah Joy Blog
24. Metal Watering Can with Pink Flower Arrangements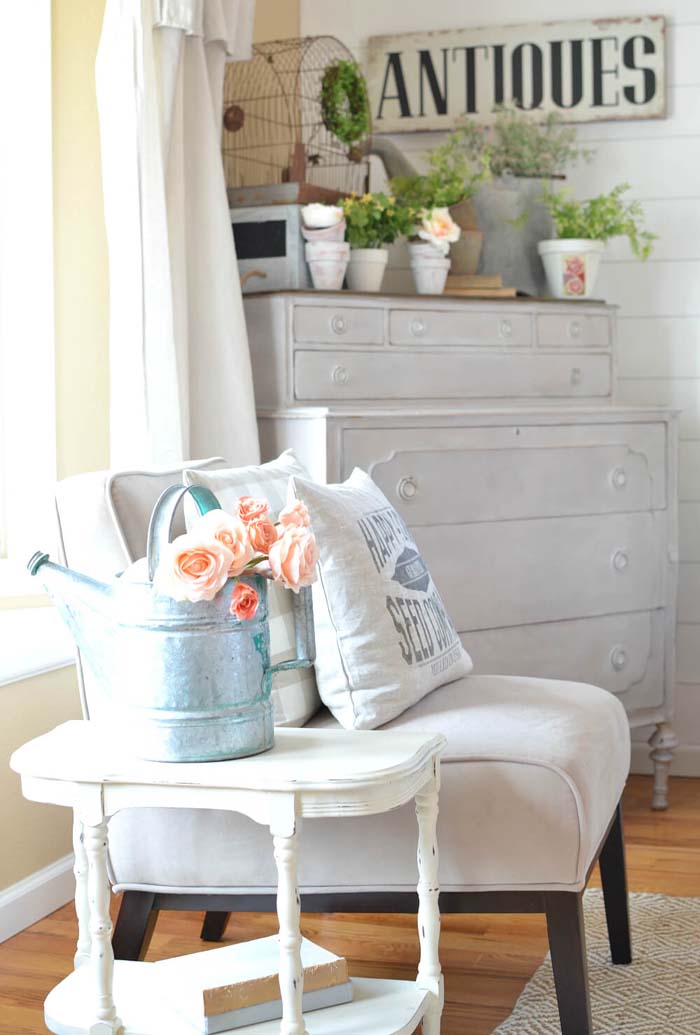 When speaking of rustic farmhouse spring decor, two things are a must- flowers and a vintage accent.
A simple and easy decor idea features a watering can holding a bouquet of roses. To give it a special and vivid place, it beautifies a vintage side table.
via Sarah Joy Blog
25. Mini Glass Jar with Tulips and Metal Sign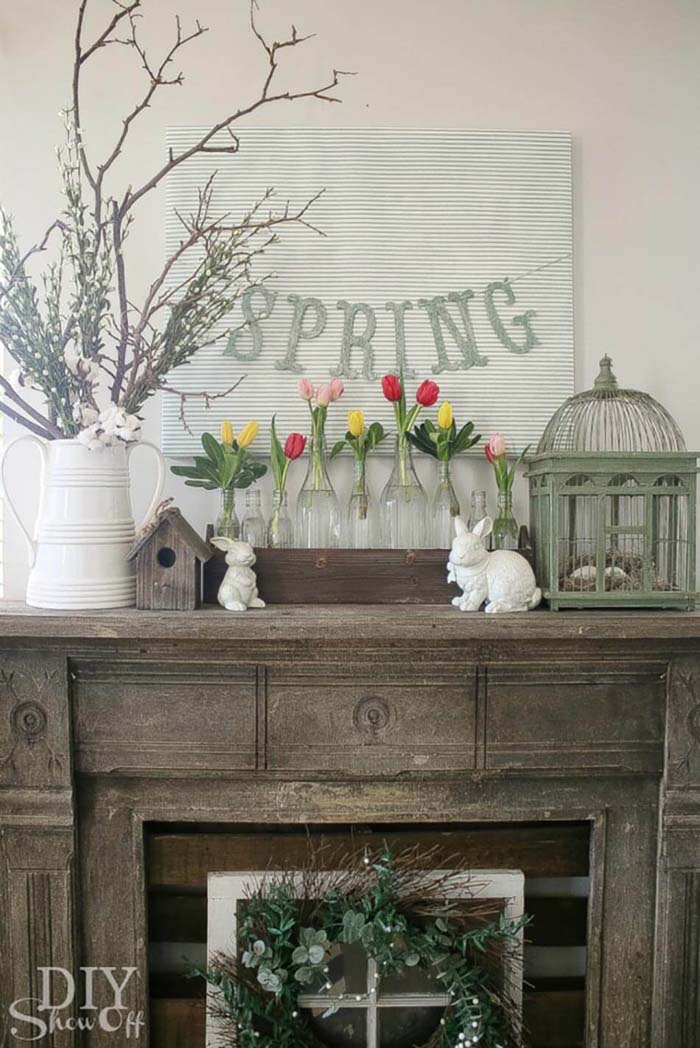 A box planter is turned into a mantel centerpiece holding a set of glass bottles. They are all decorated with the same accent to give them a continuous look of a collection.
This spring theme is continued with the flowers they are holding- tulips, symbols of spring.
via DIYs Showoff
26. Moss and Greenery Wreaths and Topiaries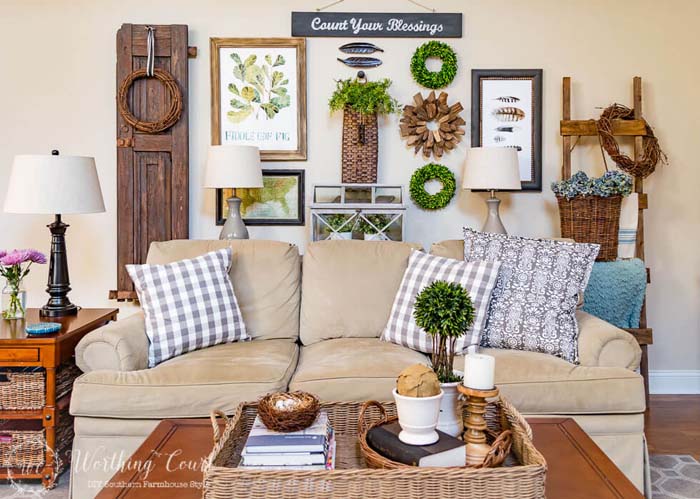 If you are an extravagant person and your decor is bold as you are, you will like this rustic farmhouse decor idea. The vase and flower arrangements are replaced by a whole wall marking spring.
All of the decor items are inspired by nature. Paintings looking like diagrams of leaves' color change throughout the seasons are an interesting part of the wall decor. Other parts consist of wreaths in different designs.
Both ends of the wall are closed by wooden parts taken from the outdoors- a ladder and a shutter.
via Worthing Court
27. Moss and Vine Hanging and Planter Decor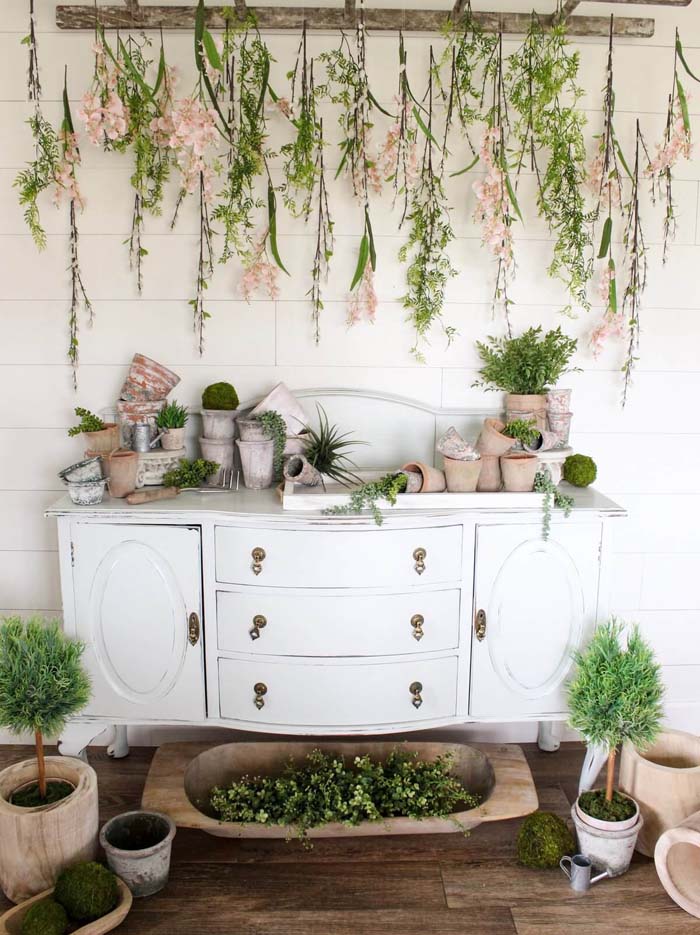 We have seen a lot of ideas of how to include the old ladder into the decor, however, we have never seen such a creative one!
The ladder that has been suspended from the ceiling has been used as a base for spring-themed decor, turning it into a holder for hanging flowers.
via Cotton Stem
28. Pink Flower Spiral Wreath with Burlap Bow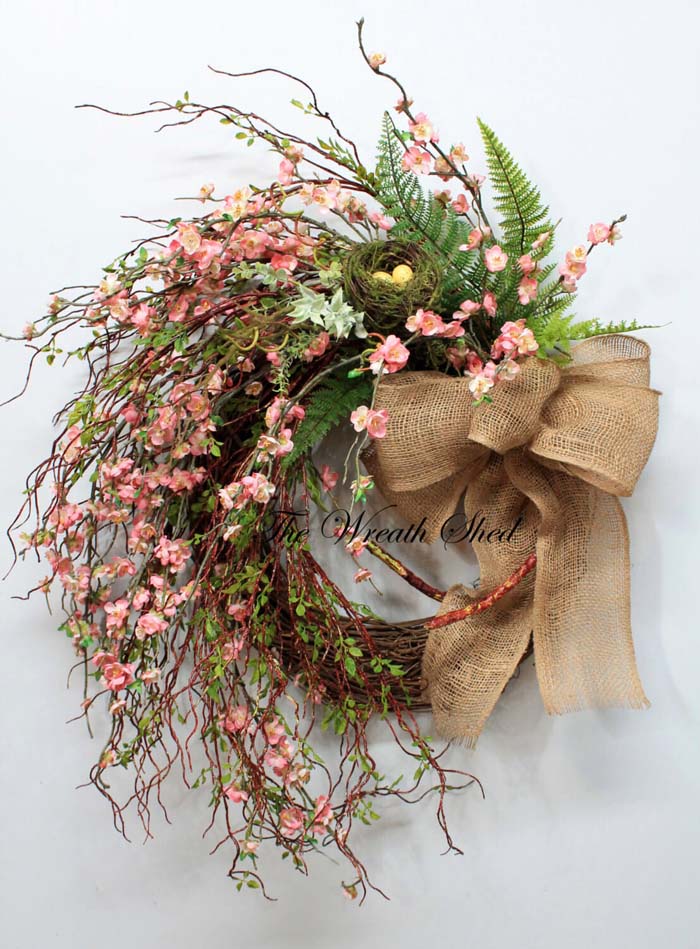 If you don't have time to make yourself one of the rustic farmhouse spring-themed ideas, you can always check Etsy for unique decor items.
This one features a wreath- one half of it reveals the texture of grapevine, the other one explodes with small pink flowers. The natural combination is tied with a large burlap ribbon.
29. Rustic Cabinet with Flower Arrangements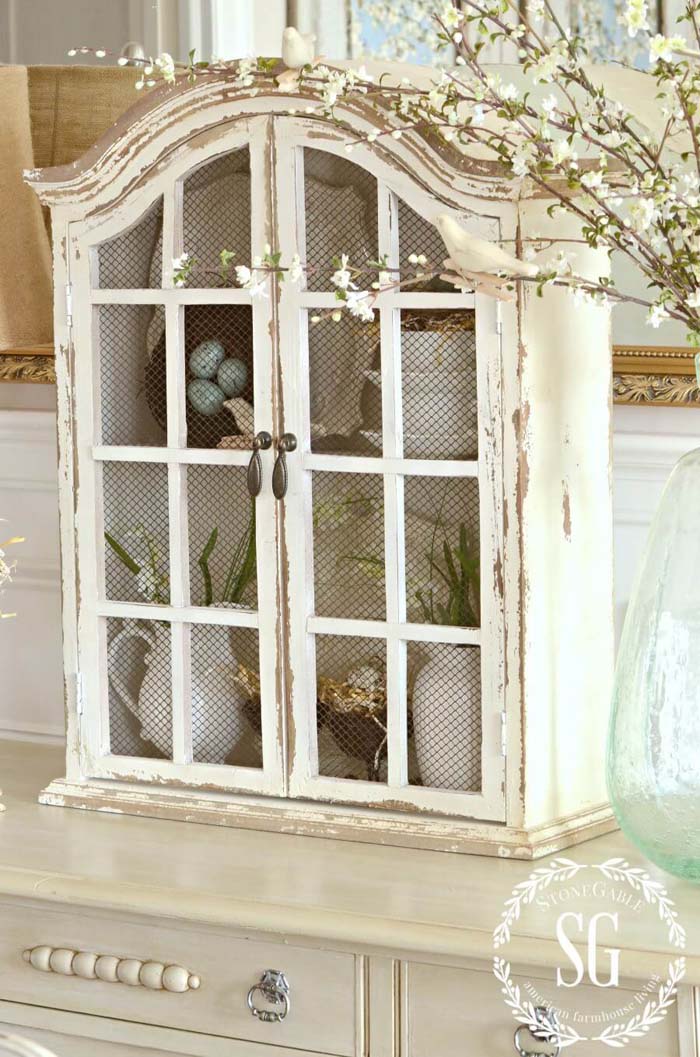 Change the rustic cabinet decor with a spring-themed one. Any old porcelain utensils, eggs, flower bouquets, baskets will give it a more cheerful look, typical for spring decor.
via Stone Gable
30. Rustic Egg Box with Yellow Tulips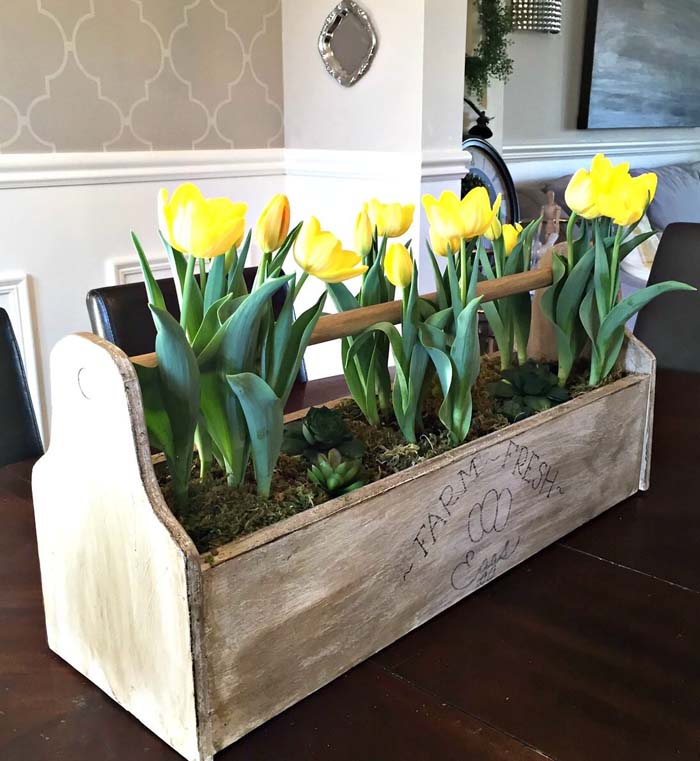 Looking for a creative idea? The farmhouse egg box is repurposed into a planter for spring flowers.
You can plant the corms in winter and give them time to grow in this container. The other option is to transplant flowers from the garden.
via My Crafty Spot
31. Rustic Garden Moss Balls in Cement Planters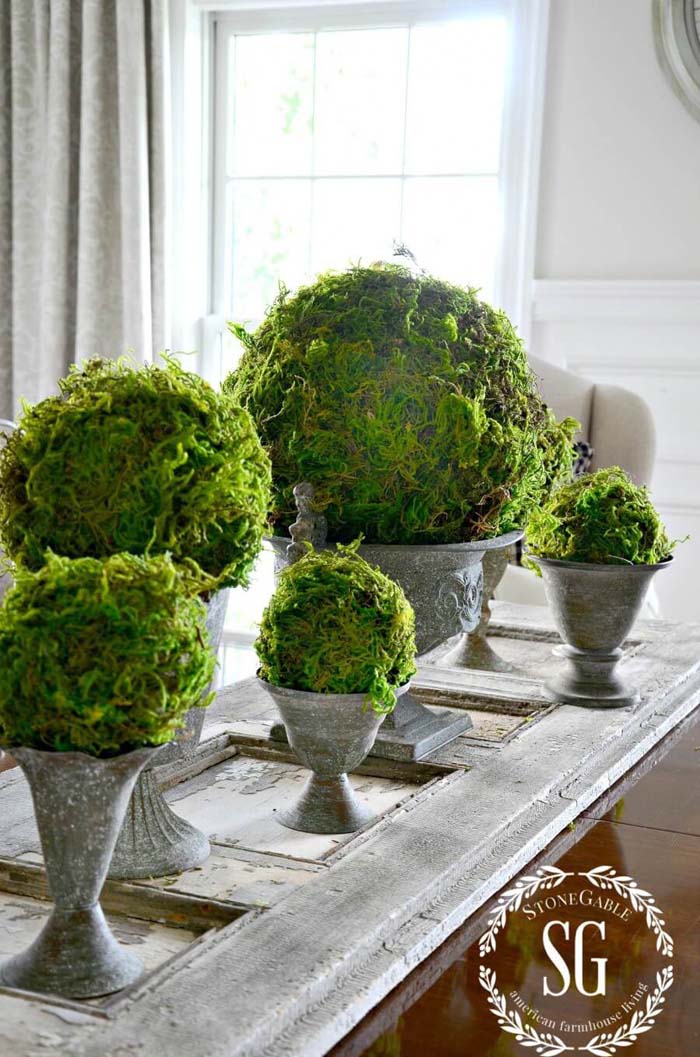 Moss balls are very trendy and look very elegant in the spring-themed rustic decor. Luckily, you can make them yourself in case you don't want to invest any money.
Styrofoam balls give the round shape of moss glued onto them. Inserted into vases or instead of candles on candlesticks will instantly create a farmhouse decor.
via Stone Gable
32. Rustic Jug with Hydrangea and Vine Arrangement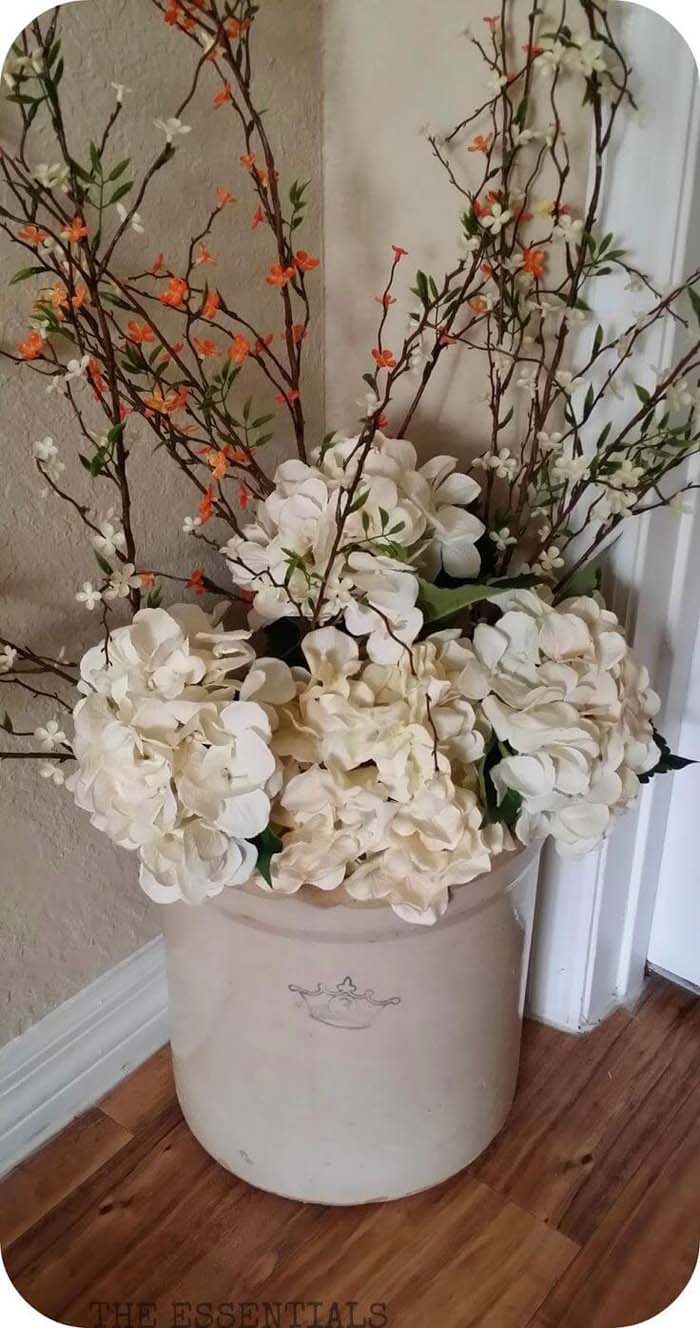 Make your entryway welcoming and spring festive with this idea! A large jug is painted in cream to give it a unique farmhouse look with a typical for this style earthy color.
Fill it with faux hydrangea blossoms on the lower level and twigs at the back to give the arrangement an interesting height variety.
33. Rustic Lantern with Flower Arrangement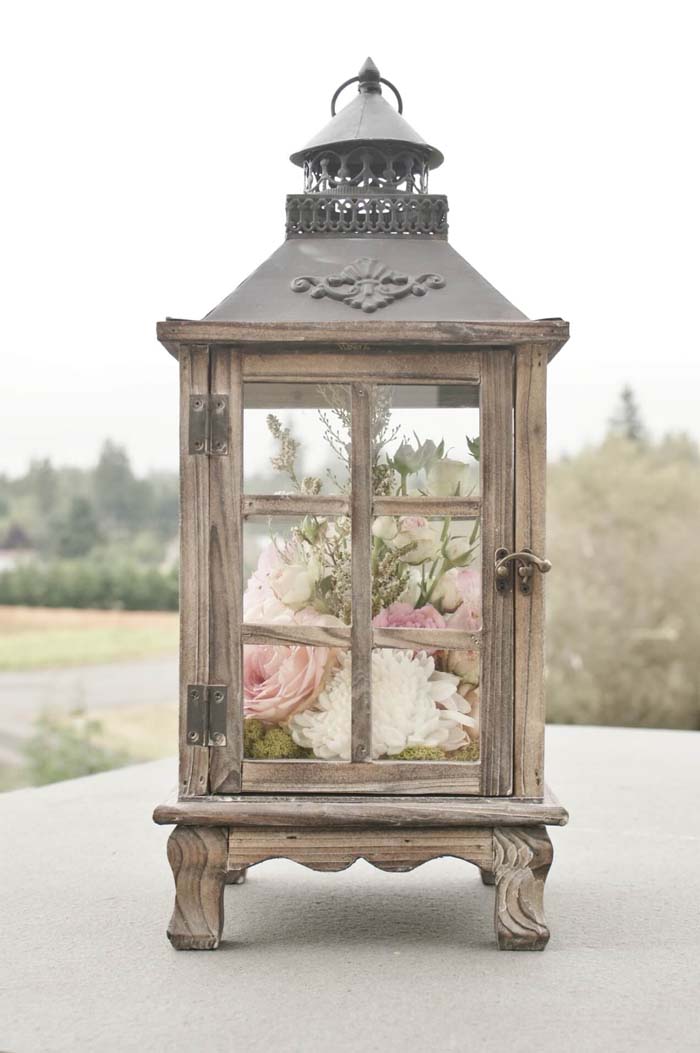 This is another easy and quick project for spring decor. Get out the rustic lanterns and fill them with faux blossoms. Place them on the porch railing, on the mantel or use them as a centerpiece for your farmhouse dining room.
34. Rustic Lanterns with Greenery Arrangements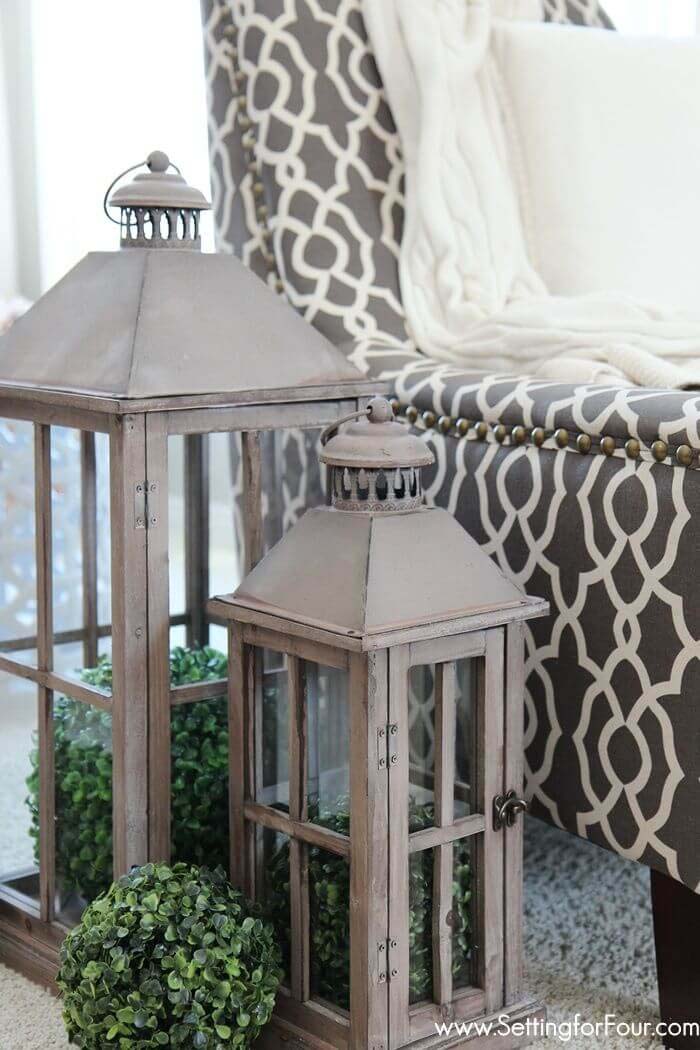 Another accent that will blend the lanterns into the rustic spring theme are the faux box wood balls.
via Setting For Four
35. Rustic Milk Bottles with Purple Flowers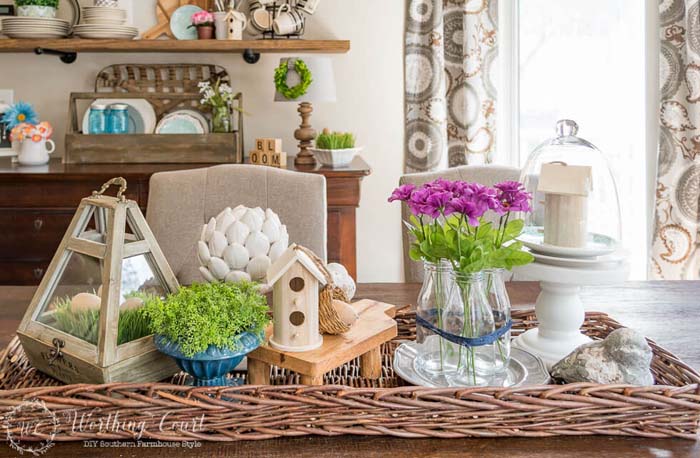 Tying plain milk bottles with a wide ribbon will create an amazing set of vases, the perfect finish for a table centerpiece spring decor.
via Worthing Court
36. Rustic Window Pane with Flowers and Greenery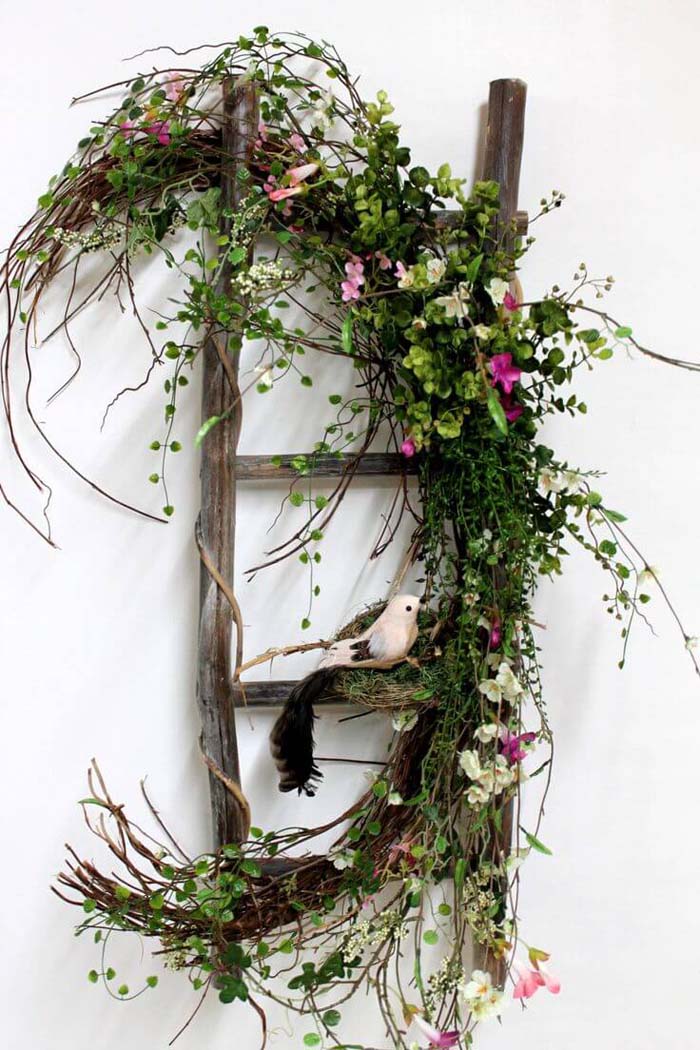 Use a piece of an old weathered ladder as a base for artistic wall art. This idea presents a bunch of greenery, grapevines and flower vines hanging freely instead of woven into a wreath.
A small nest with a bird is attached next to this arrangement, creating an inspiring natural wild spring scene.
37. Rustic Window with Cotton Wreath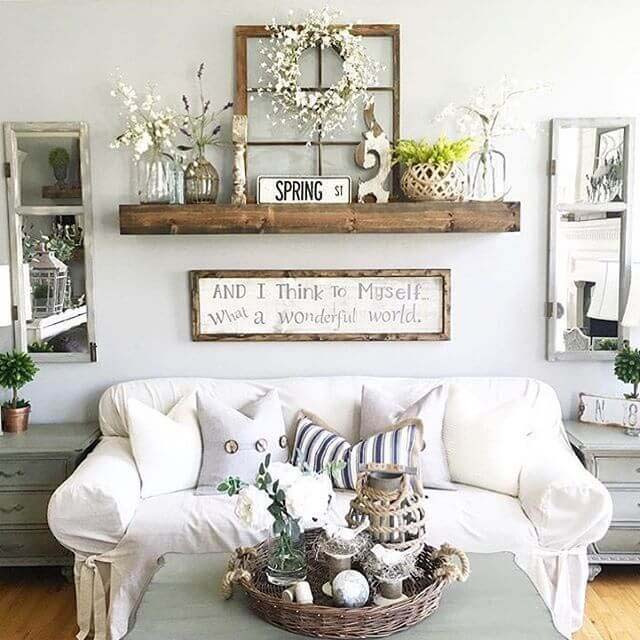 A large wooden frame is transformed into a small window to become an attractive background for a spring-themed shelf decor affected by the charming rustic farmhouse style.
A wreath made of cotton sprigs bursts with its soft cotton buds in front of the glass. Spring is easily seen also with the variety of fresh flowers dipped into the vintage vases.
via Sarah Joy Blog
38. Simple Sign and Tulip Arrangements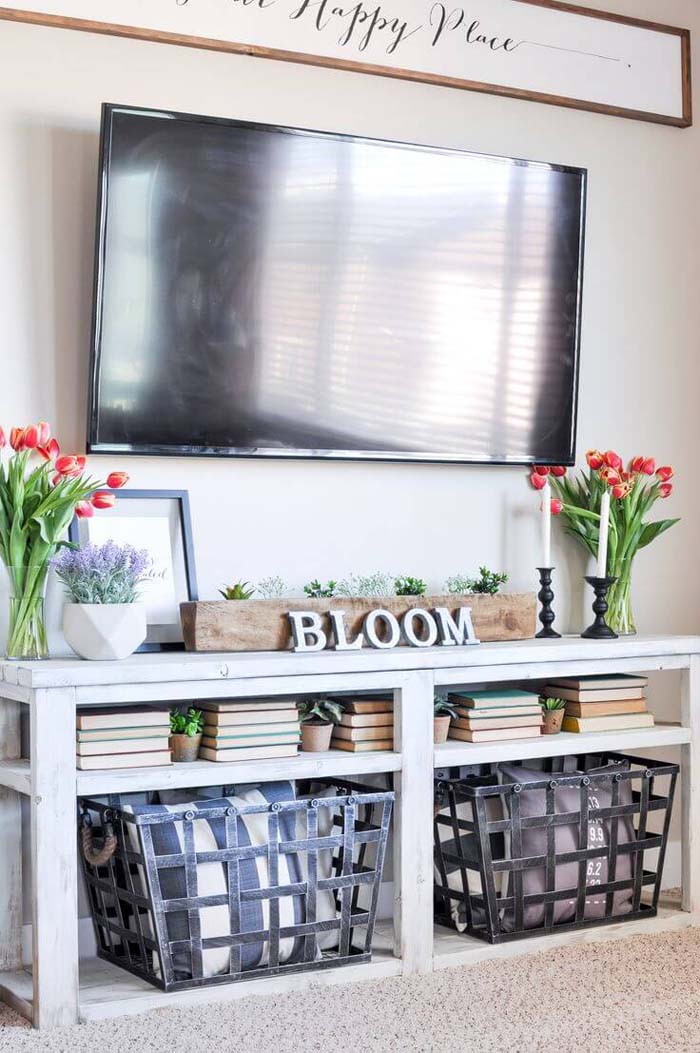 Bless your home with a charming rustic sign inspired by spring. Let everything bloom like the two bouquets of tulips on either side of the table.
via Cherished Bliss
39. Tulip Arrangements and Metal Sign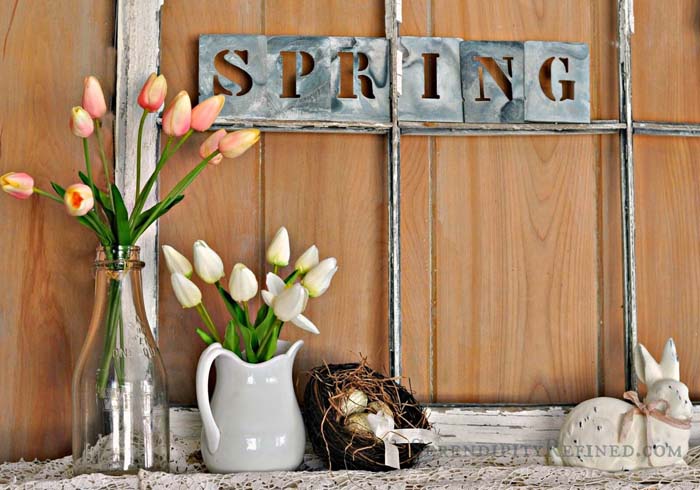 A sign with the initials of spring made of scrap metal pieces looks amazingly framed into a faux window wall decor.
In front of it two repurposed vases hold freshly cut tulips. The Easter figures complete the decor adding another symbol of spring.
40. White Laundry Line Spring Sign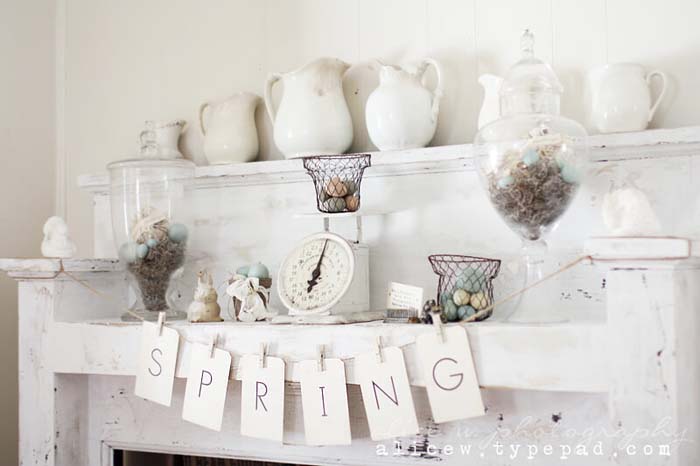 Just a simple banner could make great spring-themed decor. To give it a farmhouse look, attach each piece of paper with small wooden clothespins onto the twine.
41. White Planter and White Flower Arrangement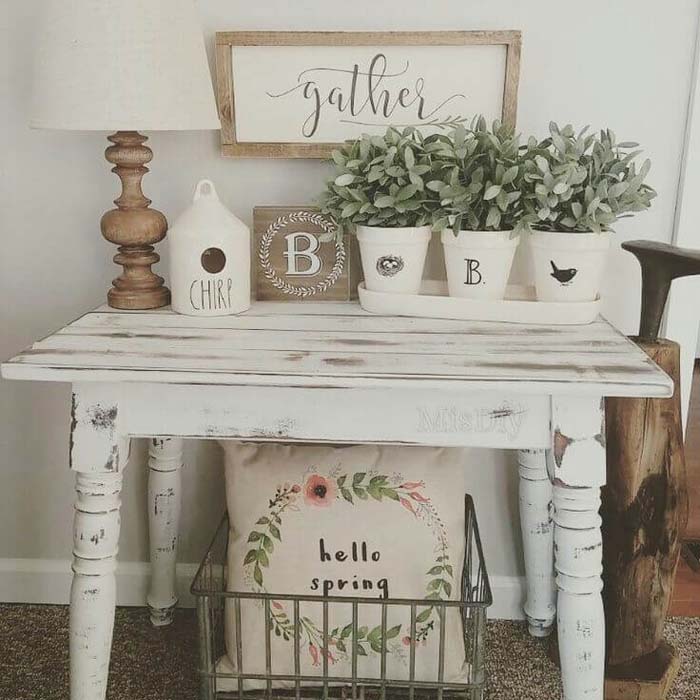 In some cases a simple decor could be just enough. The setting in this image shows vintage items in white and brown. The front of the pots are decorated with Easter symbols. Each of them is holding a small green bush.
Above this side table, a farmhouse sign screams the most important value of the family- to gather.
The spring motif is represented on the bottom level by a pillow with a hello spring inscription.
via The Jess Style
42. White Planter Arrangements and Moss Wreath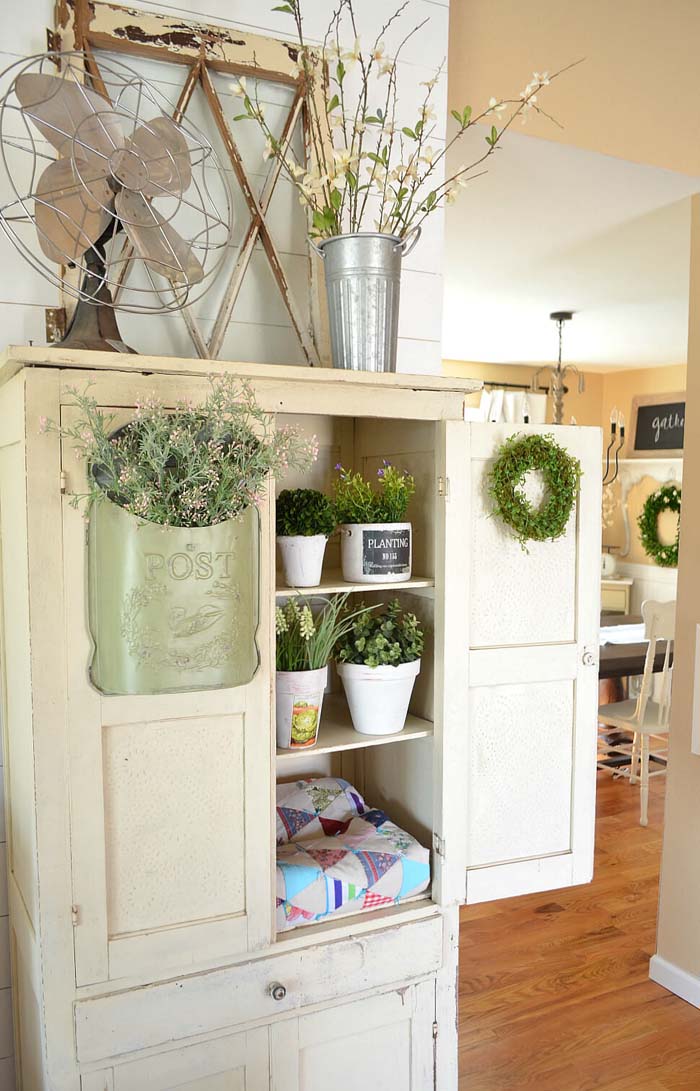 Leaving the rustic buffet open will surely draw attention. So make sure to do your best in composing an appealing rustic spring decor there. Start with a small wreath made of moss hanging on the cabinet door.
Continue the nature motif inside on each shelf with adorable plain flower pots.
An interesting idea is to change the pattern and replace the pots on the bottom of the cabinet with a patchwork blanket.
via Sarah Joy Blog
43. Yellow and Orange Flowers in Metal Cans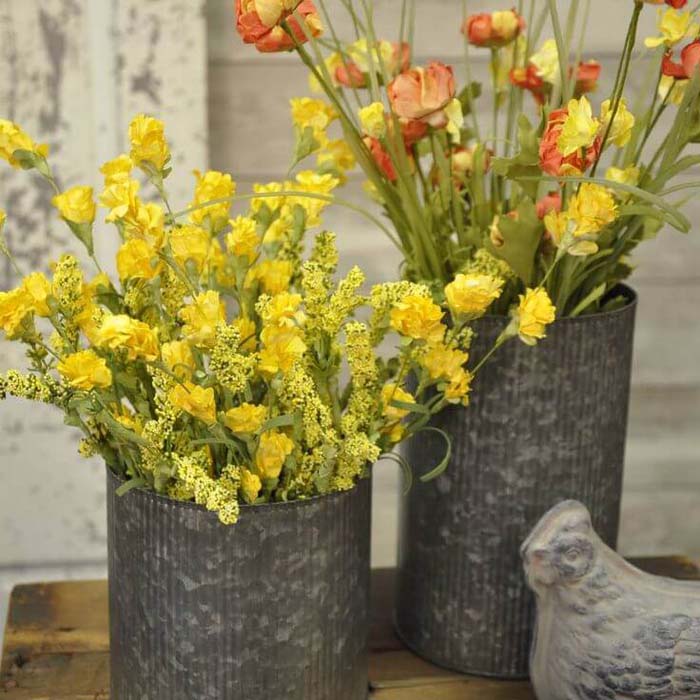 Such tin vases can find their place inside and outside. You don't have to decorate them at all – their authentic look is just enough to add a farmhouse charm to the place. Fill them with flowers or spring twigs to get a floral feel.