Are you wondering what could make Easter more special apart from the colorful eggs and the front door wreath?
The answer is simple – charming Easter decorations. And this time we have stopped on those inspired by the rustic style.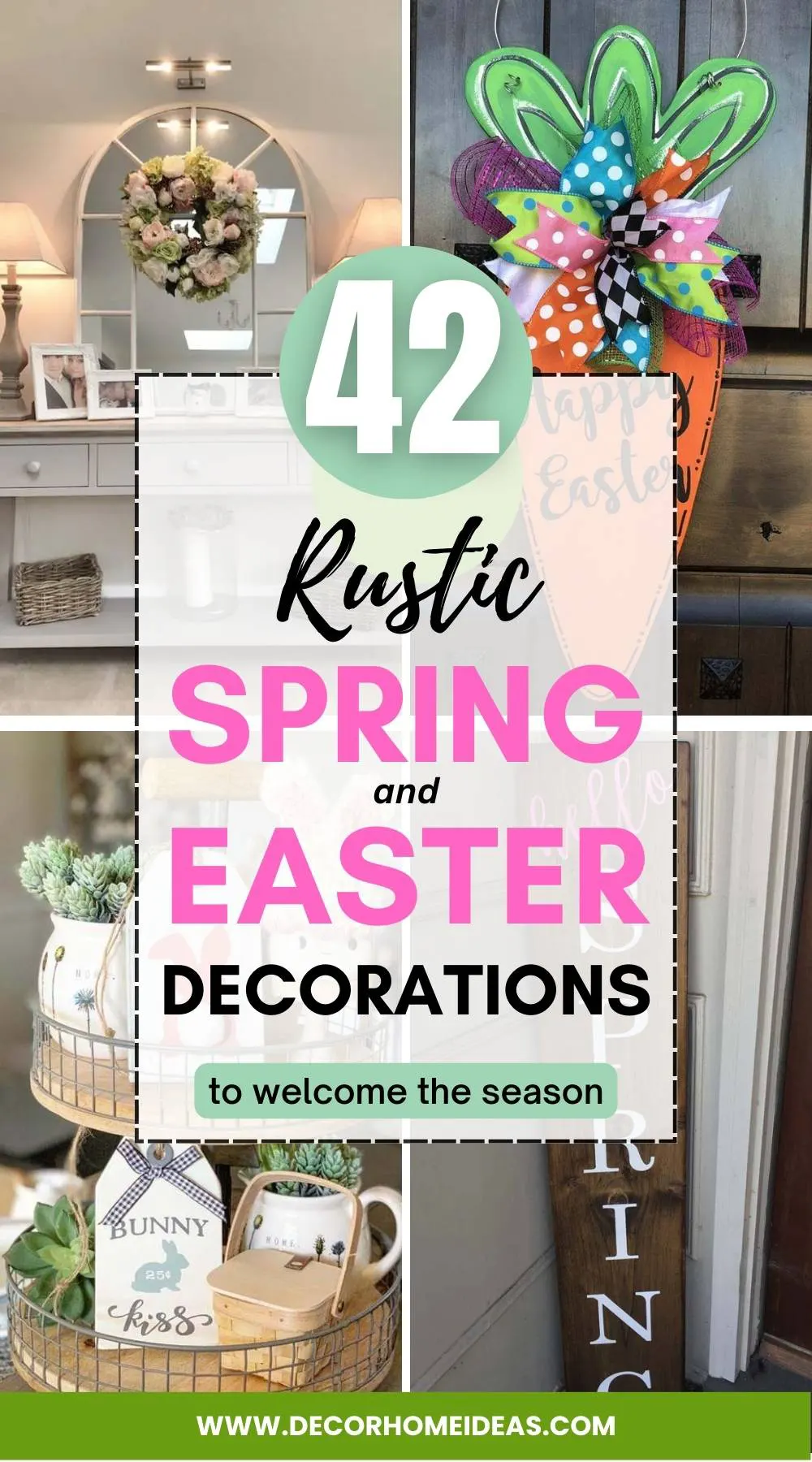 You may have seen rustic embellishments for the kitchen or for the bedroom but have you ever thought that they can be the perfect accent of your "welcome spring" decor?
It's not surprising that they fit so well in the contemporary world because they add a nostalgic and authentic vibe to the interior making it outstanding and welcoming as every home should be.
The collection of rustic decorations that follows shows a mixture of materials from nature that have been creatively combined to create unique decor for a home full of joy and positive expectations.
1. Cute Easter Themed Sign
This cute sign can be placed in the entryway or in the living room. Its distressed frame shows the signs of age and provides a contrasting backdrop for the clear glass and the black stencil.
2. A Different Kind Of Holiday Ornament
Ornaments for hanging are not typical only for Christmas. They are perfect for any holiday decor that wants to ensure a festive look on all levels.
This ornament is very cute but also very precious because of its handmade origin and unique design.
3. Fresh Spring Flowers Rabbit Wreath
This wreath combines typical motifs of spring and Easter twisted through the rustic prism. There are burlap sunflowers and gentle faux blossoms of daisies.
A large white rabbit is surrounded by ribbons and that central accent makes this wreath a unique Easter front door decor.
4. Wood Outline Moss And Twig Wreath
The greatest examples of the most beautiful color combinations are provided by Mother Nature. The vivid green represented by the moss woven around the dark brown of grapevine creates a magical wreath that pleases the eye.
The wooden cut rabbit in the center marks the festive vibe Easter brings and creates a cute accent to the interior.
5. Upgrade To Spring Textiles
Looking for a way to make the interior more entertaining and appealing for Easter? A pillow cover with a life-like wild bunny image will make the decor more alive.
6. Quirky Cute Bunny Ears Felt Garland
A pop of color placed at a more neutral decor will make the interior more festive and welcoming.
This felt ball garland will brighten any room with gentle pastel colors. The cute bunny ears embellishing some of the felt balls make a hint that Easter is eagerly expected.
7. Easy DIY Reclaimed Wood Door Sign
Although available for sale, this eye-catching sign can be made even by a DIY beginner. A tall wooden beam and vivid paints are the supplies for that Easter color explosion.
The symbols that celebrate the holiness of the holiday make it very unique.
8. Seasonal Bunny Bunting
This is an example of classic rustic decor. Made of burlap and incorporating neutral colors that are typical for nature, this banner will enhance the welcoming feeling of your home.
9. Springy Variation On Door Décor
Tulips are a symbol of spring. The woven basket is a typical container used in the old times or in the countryside. Combining them to create a non-traditional front door wreath will lead to an instant attraction to your home.
The arrangement is tied with three types of ribbon that match its colors and style.
10. Spring Pastels Egg Wreath
This wreath is a perfect way to welcome Easter. Eggs and berries in pastel colors are arranged in the shape of a circle to create a bursting accent for the front door.
11. Spell It Out With Bright Blocks
Want a unique piece of Easter-themed art? These blocks create a point of interest thanks to their shape, alignment and colors.
If you place this sign in front of your house or on the front porch, you will infect all passers-by and guests with a cheerful mood.
12. Repurposed Sackcloth Bunnies
The sack being a rough farmhouse element is transformed into a cute bunny figure.
The filling is soft as a bunny should be. The cheesecloth scarf of the bunny is decorated with a rusty bell to enhance the impact of the classical rustic elements.
13. Add Simple Seasonal Signage
This small sign will be easily noted thanks to its bright color. Its size makes it the perfect addition to the spring decor.
The wreath symbol is recreated on the wooden surface with a vinyl sticker surrounds a welcoming statement inscribed in two different fonts.
14. Spring Hued Bunny Mason Jars
Make a centerpiece for your Easter table or for your mantel with a set of distressed jars.
They wouldn't have been that Easter-thematical if it wasn't for the cute rabbit silhouettes painted on the wide burlap ribbon.
Use them as vases or why not to store treats?
15. Rabbit Ear Silhouettes
These bunny cutouts from wood will be the favorite Easter decor for your kids. Each one is made to be unique by different surface decorations.
Polka dots, welcome spring inscriptions and cute ribbons create the most charming and fun rabbit face.
16. Retro Easter Eggs Decorative Art
The design of this sign is very simple. However, when you take a closer look, its content creates a joyful vibe.
Different Easter symbols like eggs, a rabbit and a straight greeting will make everyone dip into the festive atmosphere in a charming rustic way.
17. Subtle Easter Bunny Rose Wreath
A wicker wreath painted in white provides contrasting background for a one-of-a-kind flower arrangement. The gentle buds of roses look like real ones that everyone would like to smell.
The wreath is celebrating both spring and Easter thanks to the addition of a small porcelain figure of a bunny.
18. Festive Spring Leaves Fairy Lights
These strings of fairy light can make the highest part of your home more festive. A garland of green leaves complements the light bulbs to recreate a symbol of the reviving nature during springtime.
19. Burlap Stamped Fluffy Tail Garland
This banner is another classic decor of the rustic style. Burlap triangles ensure canvas for a simple bunny image.
The attractiveness of this decor piece is ensured by the fluffy tail pointing out.
20. Frame A Cute Bunny With Greenery
What is cuter than a bunny? A bunny with flopped ears! This is the central motif a wall art celebrating spring and Easter.
The white bunny is painted on a reclaimed wood background and is surrounded by a simple moss wreath. All elements of this rustic piece are unique and highlight the jolly mood.
21. Long Narrow Spring Centerpiece
This table centerpiece clearly states that spring is already here and that nothing is more beautiful than gifts by nature.
The combination of green leaves and field flowers creates a magical arrangement that connects humans with wildlife.
22. Reclaimed Wood Carrot Bunches
These carrots have been shaped out of reclaimed wood. Painting them and inserting paper grass into their tops have given them the typical look of the carrot.
If you are looking for a cute and unique Easter decor, this bunch of carrots will ensure that.
23. Welcome Spring Bright Paper Banner
The pieces of this banner are quite big and its colors bright so it is sure that it will be easily noticed.
Thanks to the inscription and the blooming images it creates a cheerful mood and a more festive atmosphere wherever it is placed.
24. Weathered Look Farmhouse Rabbit Tags
The distressed finish of these tags makes them look like antiques. Their small size makes them perfect as an addition to existing Easter decor or as a cute accent to a gift.
25. Lit Easter Egg Fireplace Décor
This garland is the perfect decor for making a mantel Easter-themed. Small bulbs will ensure the festive mood is on even in dark.
A layer of faux grass is placed beneath the garland to ensure a good backdrop.
26. Bold Paper Flower Wall Art
Another symbol of spring is the blooming flower. This example for a spring decoration has been made of tissue paper.
Working with tissue paper is quite easy and there are tons of tutorials how to make your own giant flowers.
27. Velvety Soft Luxe Egg Display
These eggs can be part of your spring and Easter decoration for a long time. They are made of fabric and look unique because of the fine attention to each element.
Velvet is shiny and soft. The colors are vibrant and arranging them in one basket will create a unique table centerpiece.
28. Modern Farmhouse 3D Cut Sign
This sign combines modern and rustic in a wonderful way. The inscription is cut from metal and looks very shiny and clean.
Inserted into a wooden base stained in dark smoothens its sleek contemporary look and blends it easily with the homely atmosphere.
29. Rustic Twine Wrapped DIY Eggs
This egg decor is an easy DIY project. Styrofoam eggs can be taken from every Dollar Store. Then jute twine is woven around them to embellish them in an appealing rustic way.
Use them to decorate a wreath, to fill a basket for your table centerpiece or as a cute gift for the holiday.
30. Cotton Tail Bunny Stencil Sign
Most of the Easter decorations contain the bunny image. This one is another idea for this typical symbol, however, it has been given a unique value thanks to its design.
Instead of painting the silhouette of the bunny, it is outlined. Polka dots are painted on a jute bow to increase the cute vibe of the art. The finishing element of the bunny sign is a pom-pom tail which almost brings the rabbit to life.
31. Traditional Burlap Easter Rabbit Wreath
This wreath combines cuteness and traditional rustic in one. Thanks to the unique design, the elements create a wonderful Easter atmosphere.
The burlap bunnies and bows pop out against the green moss wreath. The brightly colored eggs and berries add a colorful nuance to the wreath which looks very natural.
32. Rustic Bunny Mason Jar Nest
This jar warms with its bunny image and the gentle light. It can be placed on the Easter table or become an addition to the rustic decor of the porch. Its lid is transformed into a nest thanks to the woven green yarn and the nested eggs.
33. He Is Risen Easter Sign
Easter is a holy day and that is reminded with this handmade sign. The inscription on it spreads hope around and its colors and materials make it look antique.
This sign can be hung or leaned against a wall. Because of its holy message, it can make a precious gift to friends.
34. Fluffy Catkin Egg Décor
This ornament is made of a styrofoam egg covered with catkins. The fluffy texture gives the accent a point of interest in an old-fashioned way.
35. Gingham Cottage Style Spring Garland
The cottage charm of this handmade banner makes it the perfect addition to the Easter decor in the kitchen or in the living room.
The plaid pattern combining pink and white provide a gorgeous contrast for the green letters to pop out. Welcoming spring, this banner will look perfect added to a green wreath or another decor made of flowers and twigs.
36. Add A Bold Bow To A Wood Bunny
This flop-eared bunny has been whittled out of a solid piece of wood. It is admiring how a plain log becomes a piece of art thanks to the skills and creativeness of humans.
Only a plaid bow decorates the neck of the rabbit in order not to ruin the unique look of the figure.
37. Wood And Burlap Easter Display
This bunny figure is cut from a wood beam. It is painted in white color to become a cute rustic addition to the Easter decor.
The burlap bow on its neck makes the rabbit look more special and if specially dressed for the coming holiday.
38. Colorful Mason Jar Planters
Mason jars are the most universal supply that can be adjusted to match any holiday theme. If you want to include them in your Easter decor, just paint them in colors related to spring- white, green, yellow, gold.
To give them a rustic look, distress the edges with sandpaper. Use them as vases for your table.
39. Spring Daffodil Bunny Wreath
Daffodils are one of the first flowers that show in the first days of spring. Because of their vivid yellow color, they create a sunny vibe and spread fresh aroma.
Used as an embellishment for a wreath made of darkly stained grapevine, they mark straightly that spring has come. The central accent of the wreath is given to a bunny wood cutout with a cute pom-pom tail.
40. Bunnies And Carrots Wood Décor
These wooden figures of bunnies have a distressed look as if they have been taken from the cottage of grandma. This finish is made on purpose to let them enhance the homely feeling and add a unique vibe to the space.
You can buy them in different sizes and combine them to create a whole bunny family for your Easter decor.
41. Standing Wood Bunny Display
This wild bunny has been cut out of reclaimed wood. Its texture is weathered to create a feeling for an antique possession that has been part of the Easter celebrations for long years.
A very small bow made of twine gives the rabbit a cute look. The tail is decorated with a burlap circle and a brown button that highlight the rustic beauty of the sign.
42. Spring Decor Wooden Bunny
"My beautiful handmade bunny is my favorite Easter decoration addition this year! This shop really went the extra mile and made and shipped my bunny a week early just so I could have it on my porch for when my family came to town. I appreciate the excellent customer service just as much as the amazing craftsmanship." – said a happy customer.