Easter is a time for celebrating.
There are many types of crafts and decorations that you can make for your Easter celebrations.
If you are looking for some great crafting material, look to the wood.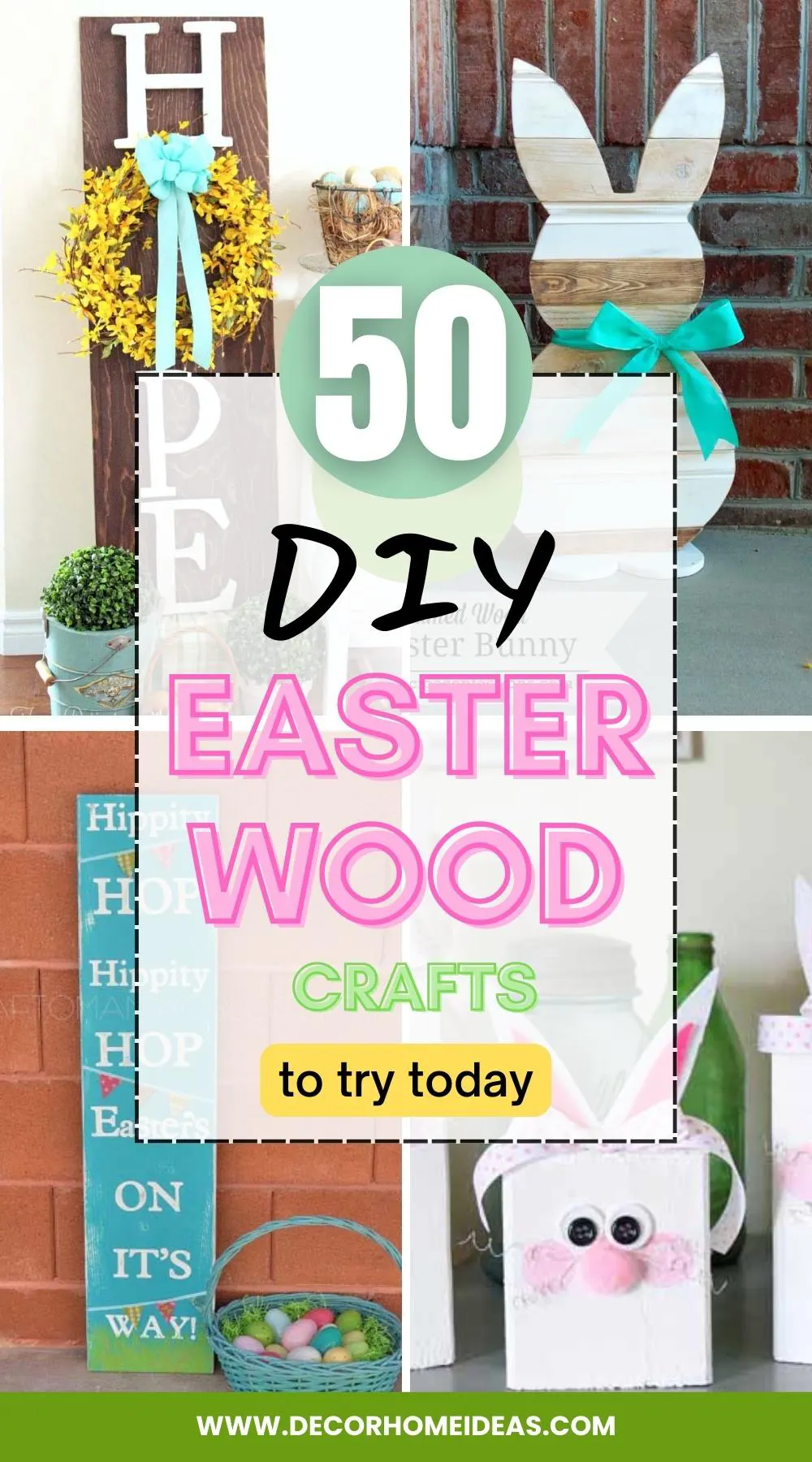 It is stable, inexpensive and very customizable.
1. Elevate Your Porch with Wooden Easter Bunny Planters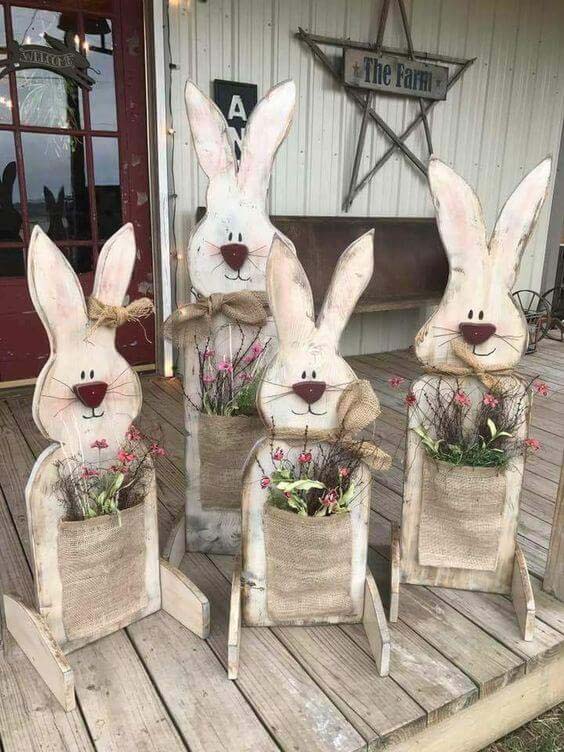 Rustic thin bunnies are a simple decoration idea. They are perfect for hanging rustic bags for planting small flowers.
2. Distressed Wood Bunny Blocks for Rustic Home Decor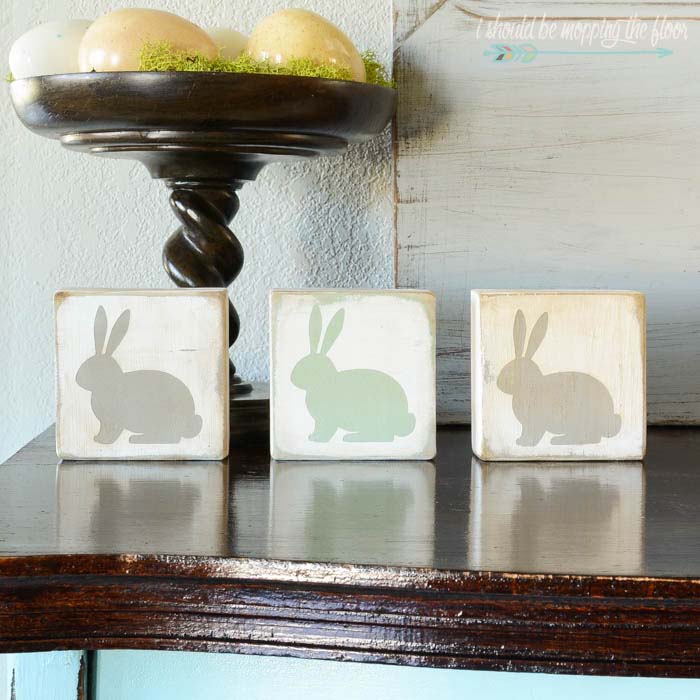 These simple bunny blocks utilize distressed wood to make rustic bunny shadow decorations.
via I Should Be Mopping the Floor
3. Adorable Wooden Bunny Crossing Sign for Your Yard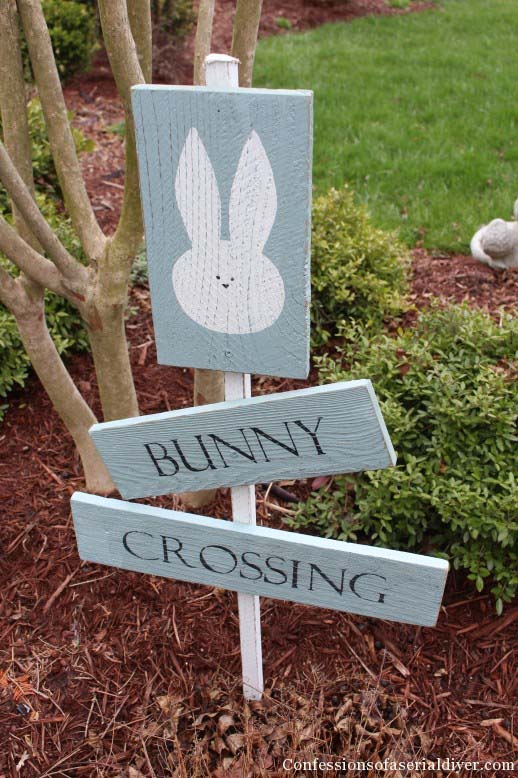 An adorable wooden bunny crossing sign is simple and great for your yard.
via Confessions of a Serial DIYer
4. Craft a Bunny From Wood and Felt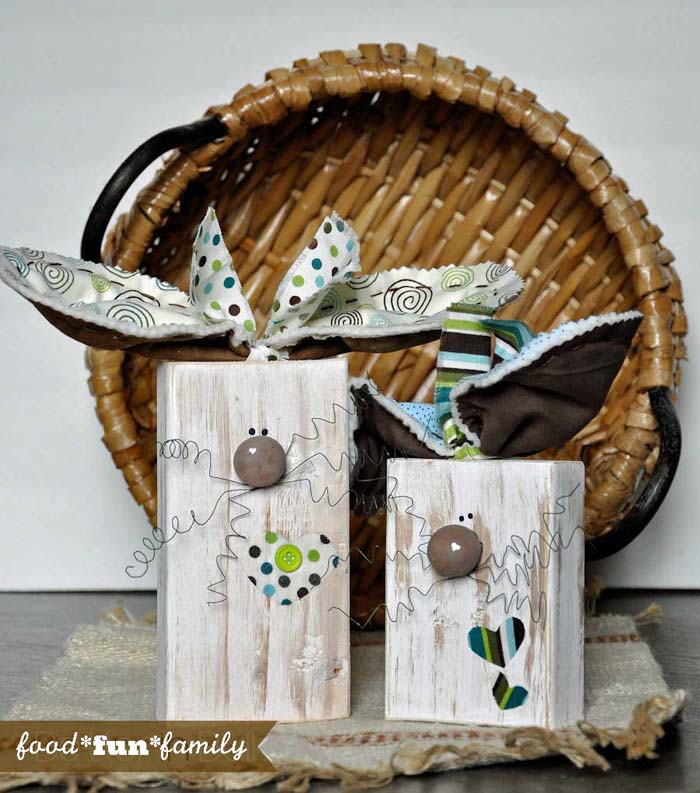 Take a block of wood and add wire whiskers and a button nose. The large felt ears on top complete the bunny look.
via Food Fun Family
5. Make a Custom Wooden Bunny Trail Sign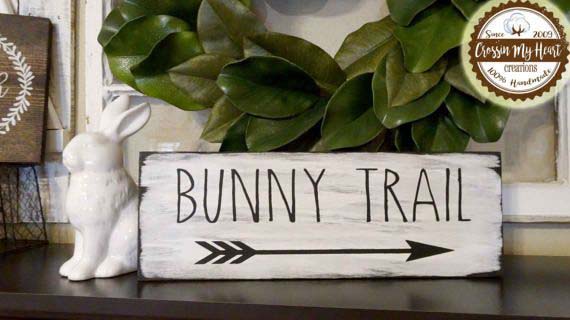 Simply take a piece of wood and paint it with white paint. Use a stencil to add "Bunny Trail" and an arrow.
via The Daily DIYer (via Youtube)
6. Celebrate Easter with a Symbol of Jesus' Resurrection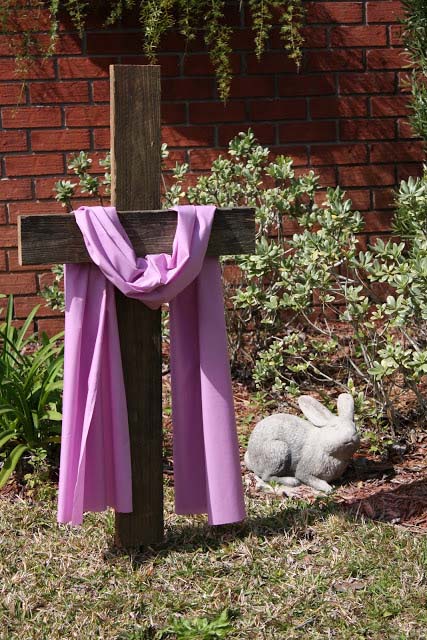 Easter is about Jesus and how he was raised from the dead. Add a wooden cross to your yard with a purple cloth like Jesus.
via Coastal Charm
7. Custom Wooden Box Depicting Crucifixion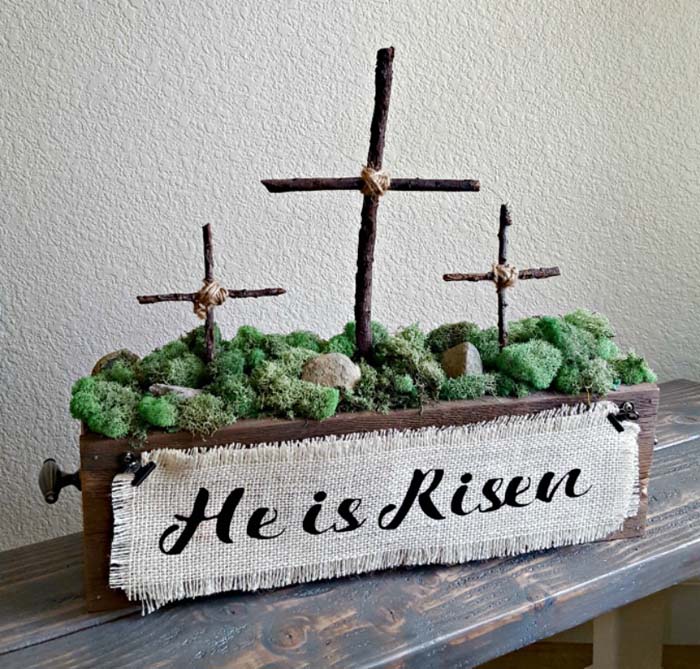 This Jesus themed decoration is simply a wooden box with He is Risen on rustic burlap. Complete it by filling it with rocks and crosses.
8. Make Natural Bunny Decoration with Wood Slabs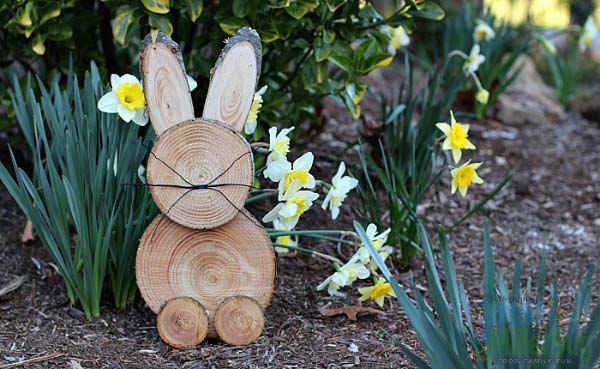 Take slabs of wooden trees and stack them in a bunny shape. Then add wire whiskers and ears. This makes adorable natural-looking bunny decorations.
via Mom Unleashed
9. Create Wooden Birdhouses for Easter Decorations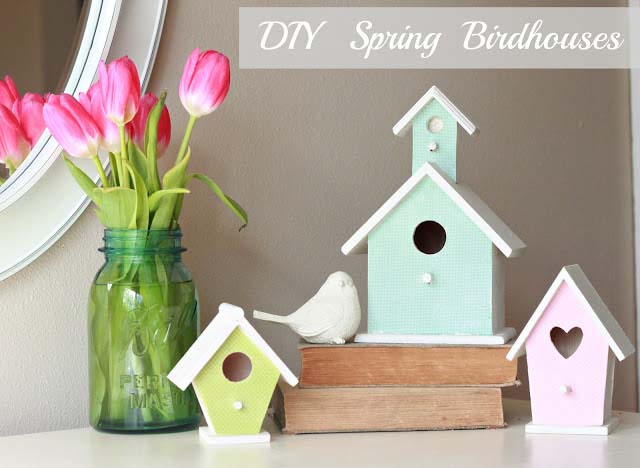 Wooden birdhouses are simple to make and perfect Easter decorations. You can buy them at most crafting stores in kits or make them from scratch.
10. Craft a Unique Pallet Bunny Decoration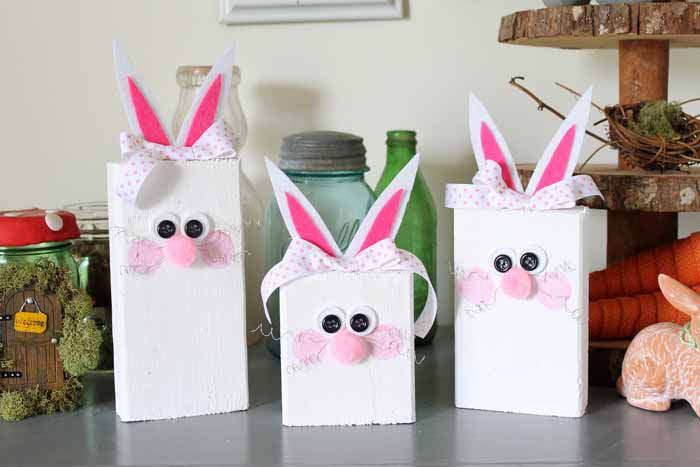 Take scrap pieces of a pallet, sand them and paint them white. Then add wire whiskers and pink ears.
11. Make Easter-Themed Art with Pallets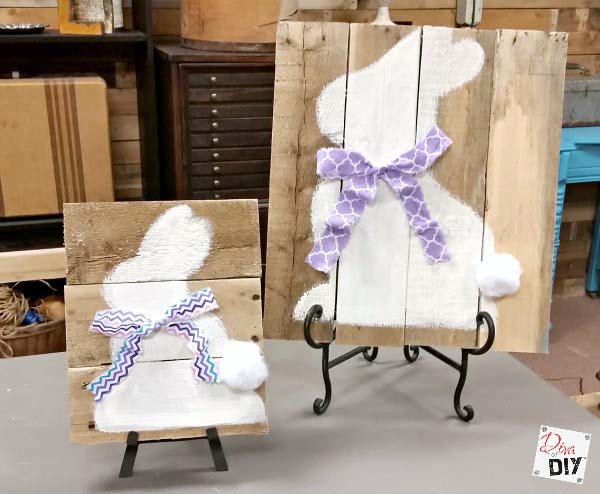 Screw together sanded pieces of pallets and then paint white bunnies on them. Finish them and add them to your Easter front porch.
via Diva of DIY
12. Add a Wooden Easter Bunny Craft to Your Decor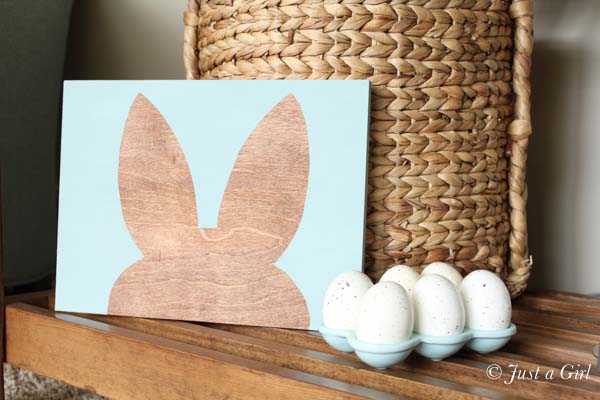 This simple bunny craft is pieces of wood screwed together. Then add a bunny face to the front.
via Just A Girl
13. Craft a Bunny Sign with a Fluffy White Tail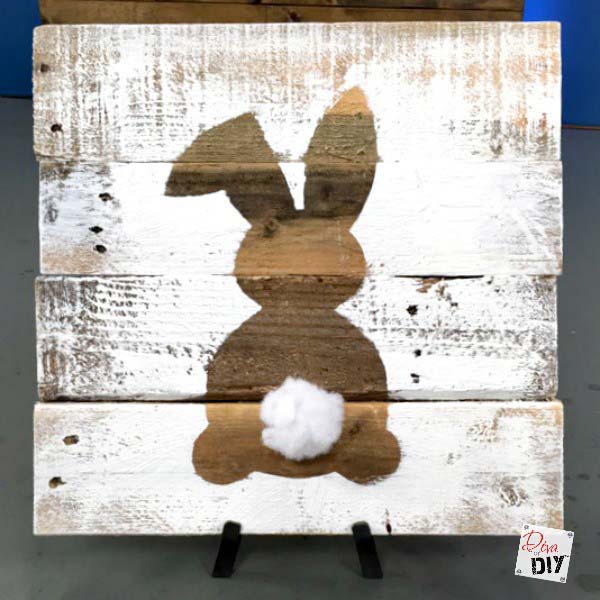 A simple bunny sign is made using a sign and a shadow of a bunny. Complete the look with a fluffy white tail.
via Diva of DIY
14. Welcome Easter with an Adorable Wooden Door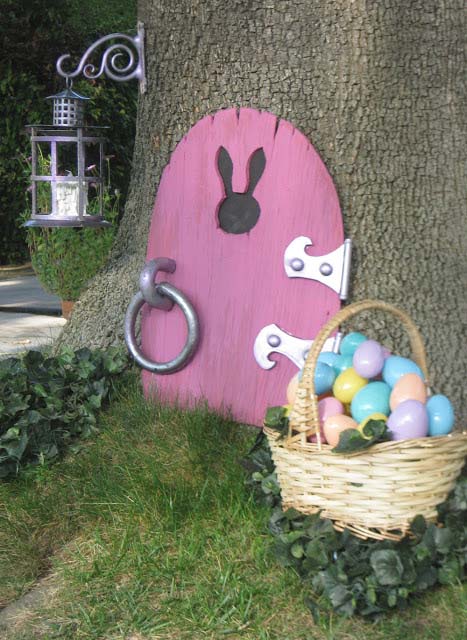 For an adorable addition to your front yard tree add this cute wooden door. A stack of Easter bunny eggs on the outside finishes the Easter look.
via Dave Lowe
15. Wood Bunny Decoration with Flower Headband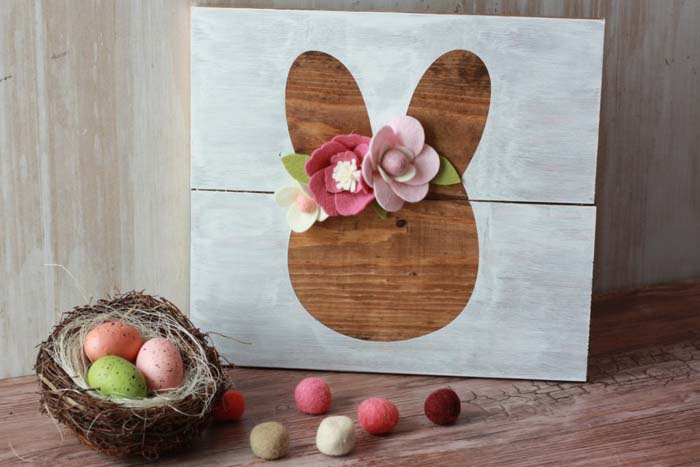 This bunny decoration is basic wood with a bunny shadow. Then the bunny has a flower headband on.
via Everyday Jenny
16. Store Books in an Easter Bunny Themed Wood Crate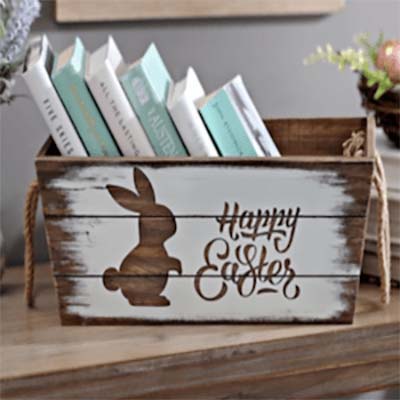 If you need an Easter place to store your books consider this box that says Happy Easter on the side.
17. Brighten Easter with a Wooden Tulip Centerpiece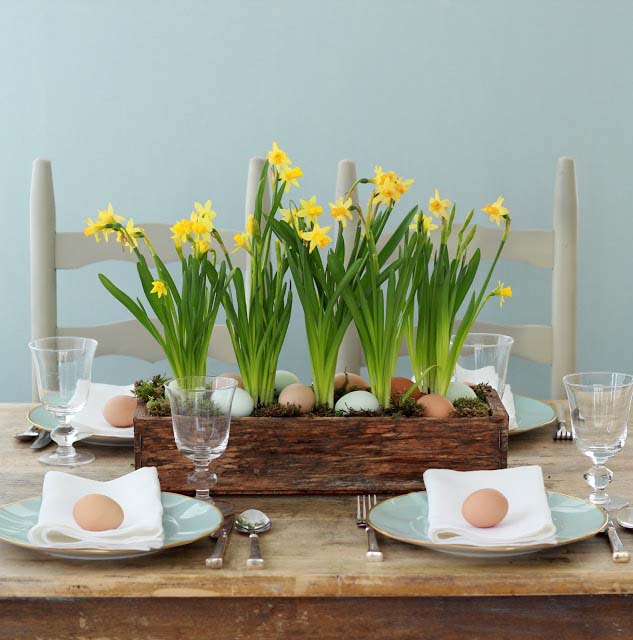 This simple wooden Easter centerpiece is a wooden box planted with tulips and colored egg decorations.
18. Put Cute Easter Chicks on Pallet Sign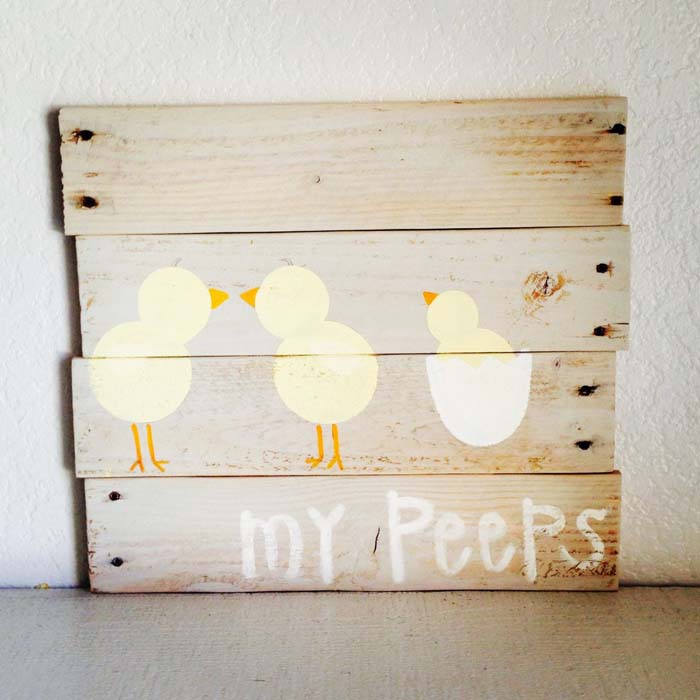 Make a basic pallet sign and put Easter chicks on it.
19. Make Wooden Animal Planters for Your Porch Decor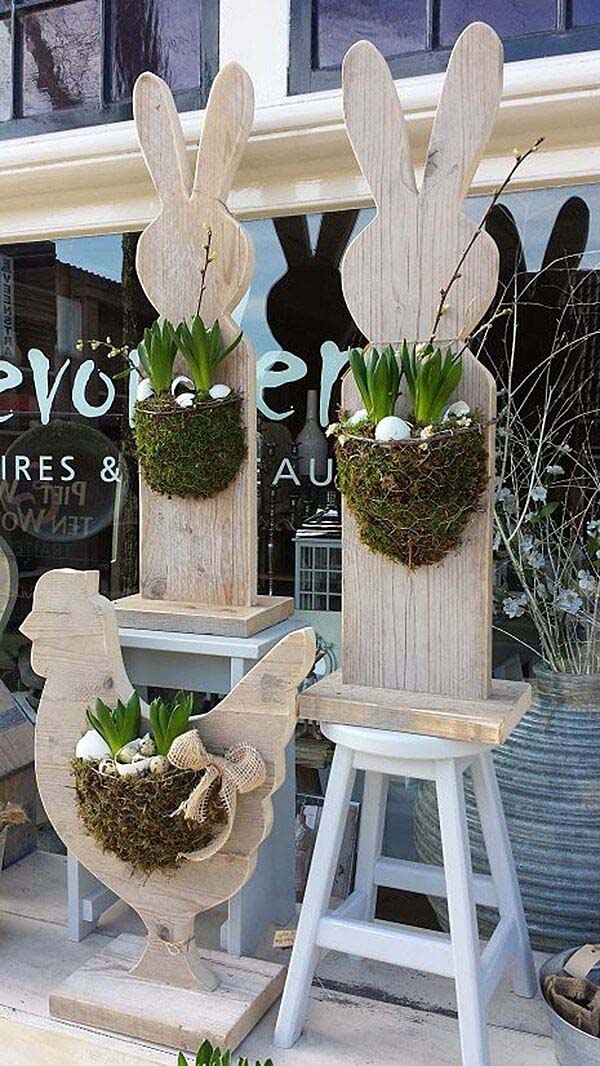 For a great porch, look make these planters made from wood shaped like bunnies and chicken wire bowls.
20. DIY Wood and Burlap Door Hangers for Easter Decor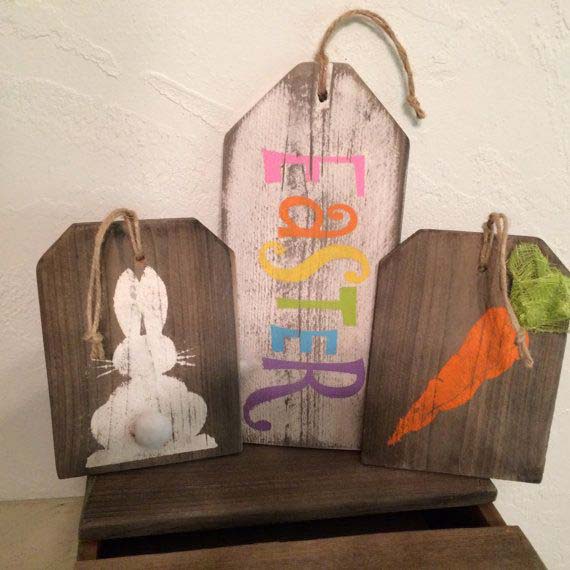 Adorable door hanger decorations can be made from wood and strong burlap string.
21. Put Your Easter Flowers in a Painted Farmhouse Box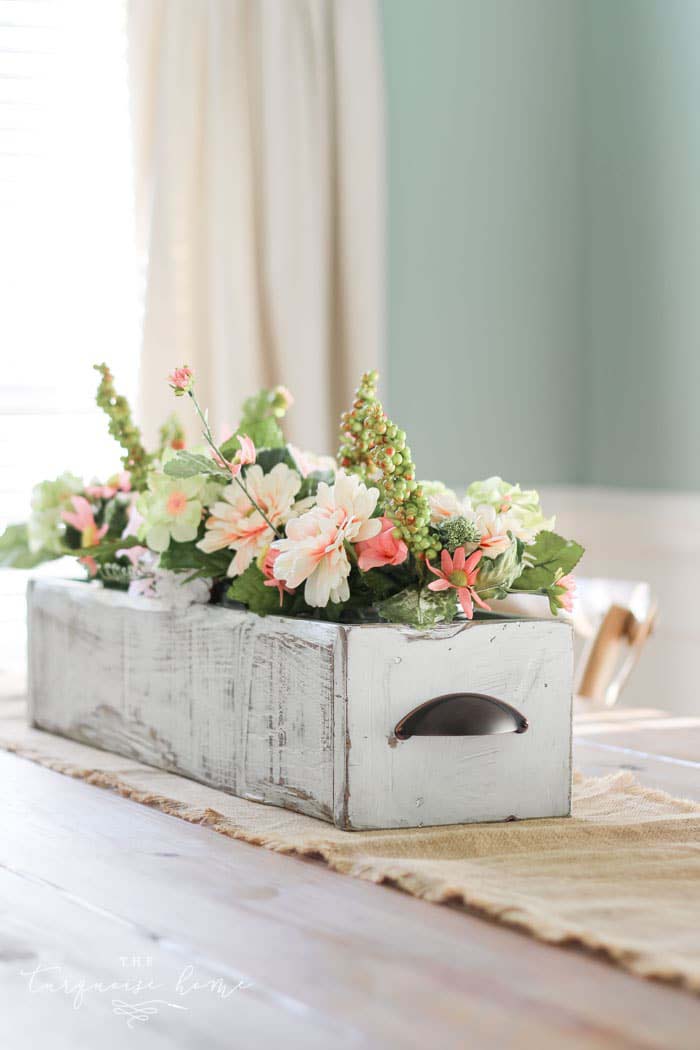 This farmhouse box is painted with white paint and planted with Easter flowers.
22. Craft a Wooden Bunny from an Old Picket Fence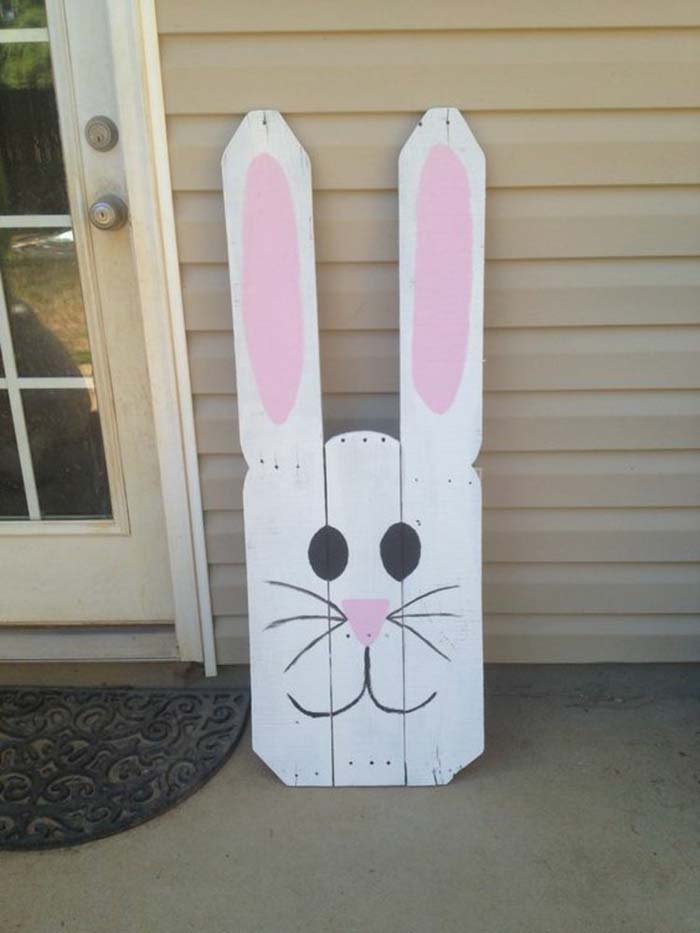 A basic wooden bunny can be made from an old picket fence.
23. Upcycle an Old Piece of Wood with a Cheerful Message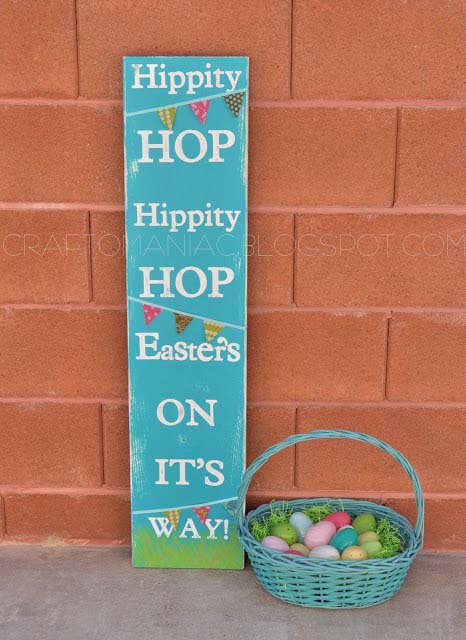 Take an old piece of wood and sand and paint it. Then put a cute saying like "Hop, Hippity, Hop" on it.
via Craft O Maniac
24. Oversized Wooden Easter Eggs for Front Yard Decor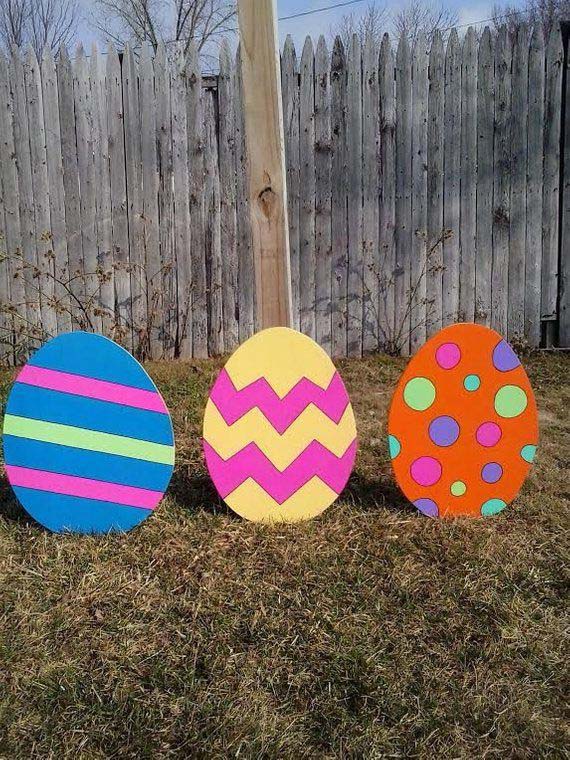 These oversized wooden eggs are perfect for your front yard decoration. They can sit in your front yard or on your front porch.
25. Make Mod Podged Wooden Easter Bunnies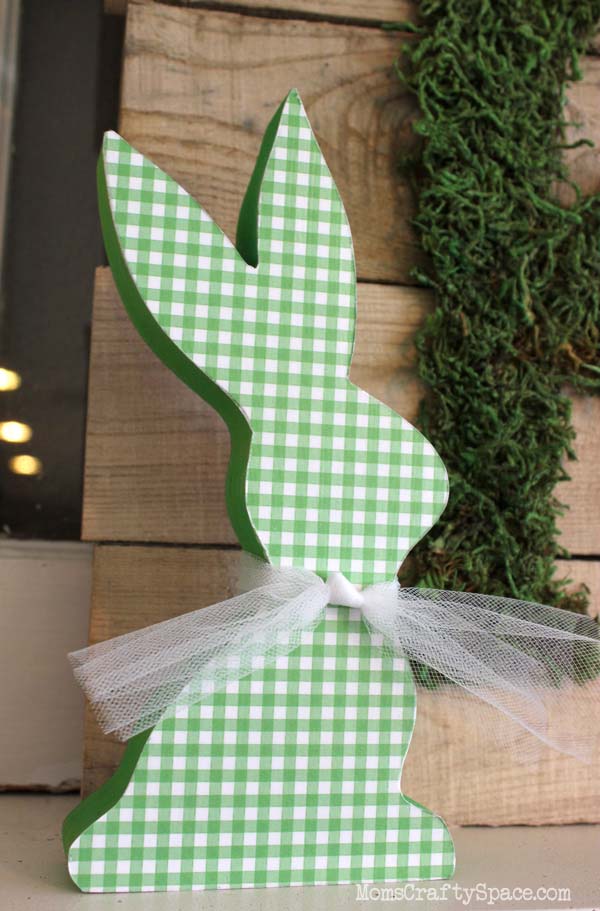 Make this oversized wooden bunny. Then paint in green and white and add a large bow.
26. Craft a Unique Easter Basket with Paint Sticks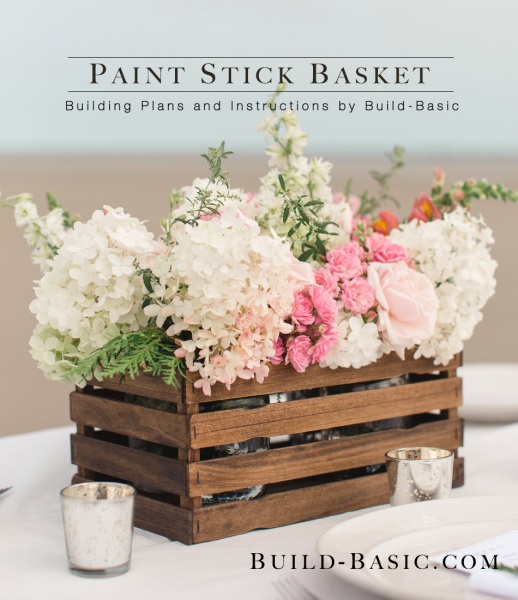 You can use old paint sticks and stain them. Then arrange them in the basket form. Attach them together with small nails or glue. Then add beautiful flowers or simply fill with Easter eggs.
via Build Basic
27. Adorable Handcrafted Bunny with Wooden Hat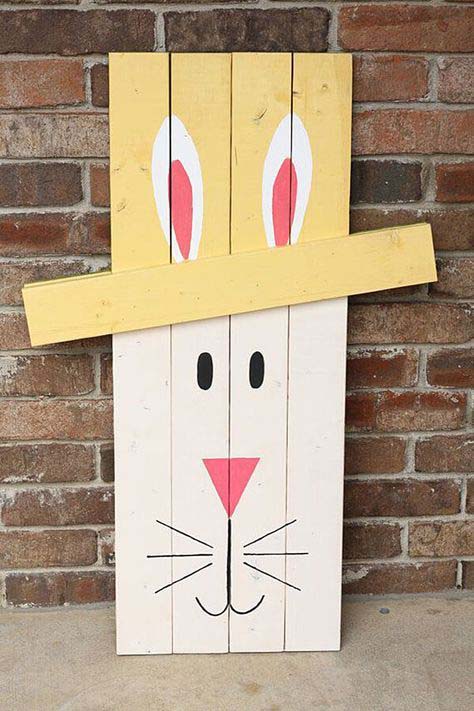 This adorable bunny is made with 1" by 4" and has a wooden hat across the top. The hat across the top is a piece of wood and is what helps hold it all together.
28. Welcome Guests with a Personalized Pallet Bunny Sign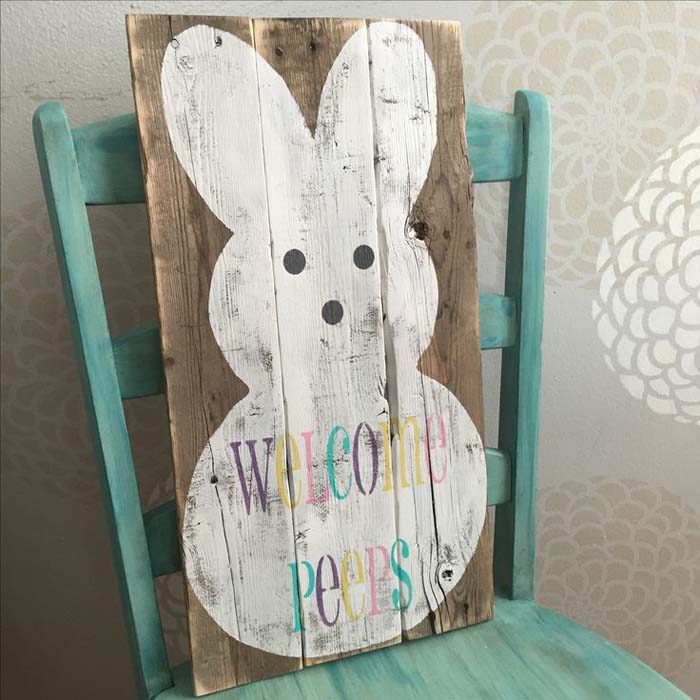 An old pallet is a perfect base for a painted bunny. Add the "Welcome Peeps" saying for a final touch.
29. Reclaimed Wood Bunny Craft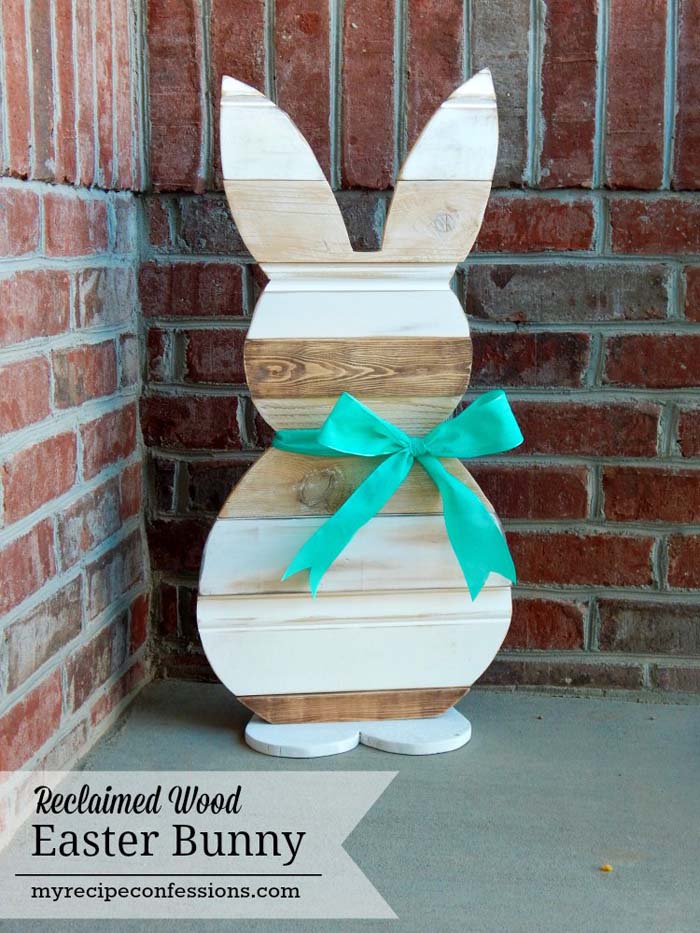 Sand and glue together old reclaimed wood. Then cut in bunny shape. This is perfect for sitting on your mantel or front porch.
30. Make Easter Gifts with Reclaimed Wood Eggs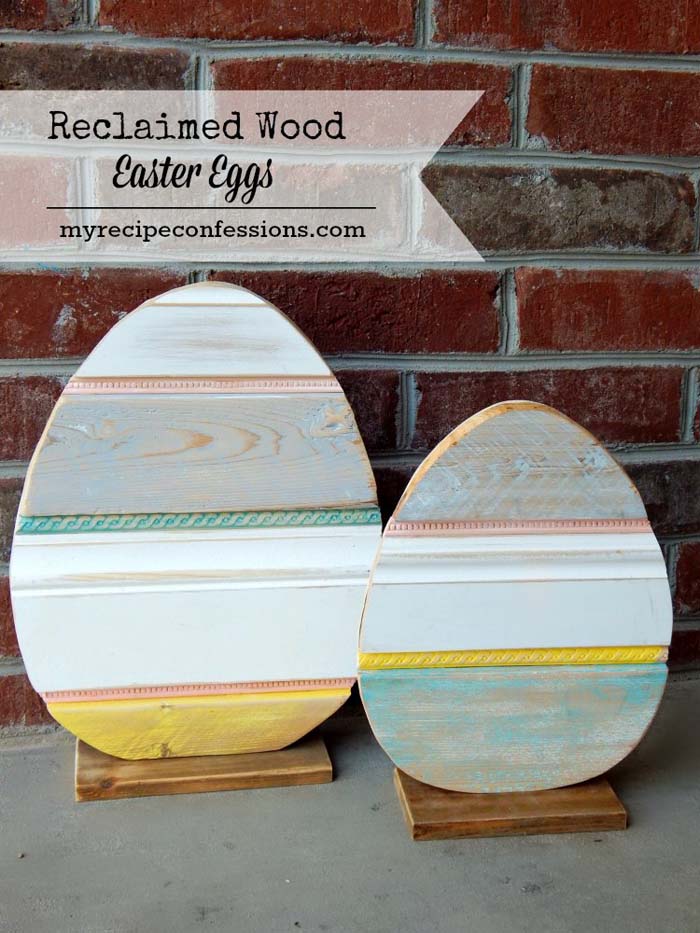 Reclaim old wood and sand and stain. Then cut into the egg shape. These can be used as decoration or you can stain them into cutting boards making a perfect Easter gift.
31. Craft a Traditional Easter Cross with Reclaimed Wood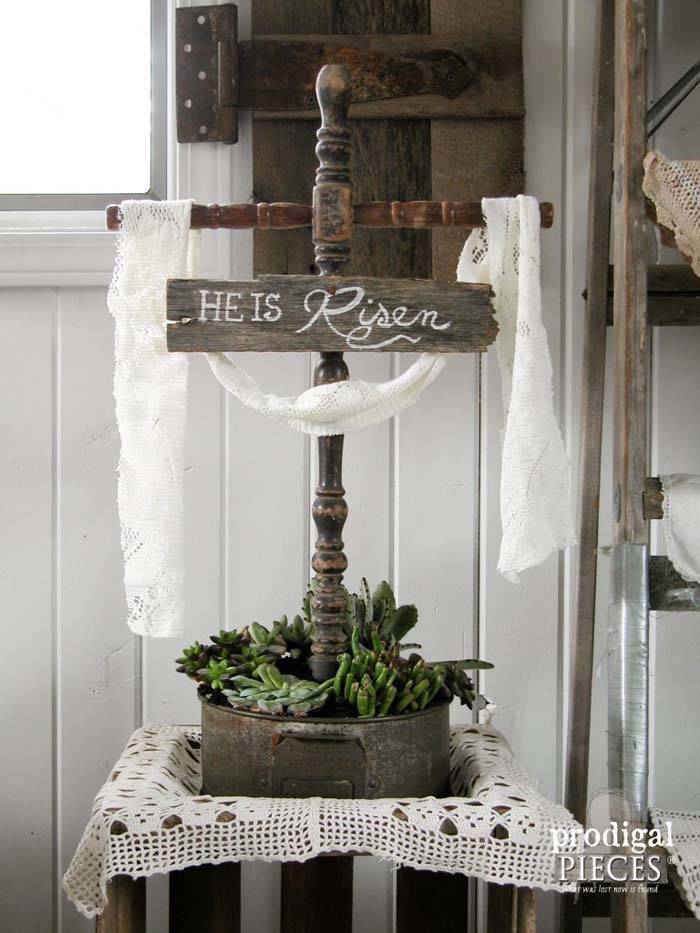 Using old wood makes an Easter cross. Then lay white fabric over it for a somber look. Easter is all about Jesus saving our sins.
via Prodigal Pieces
32. Adorable Wooden Bunny Wall Art with Fabric Tails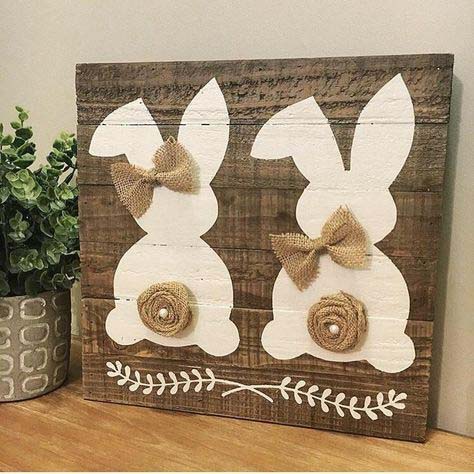 This classic bunny wall art is just simply a wood base with bunnies painted on. The fabric bunny tails complete the look.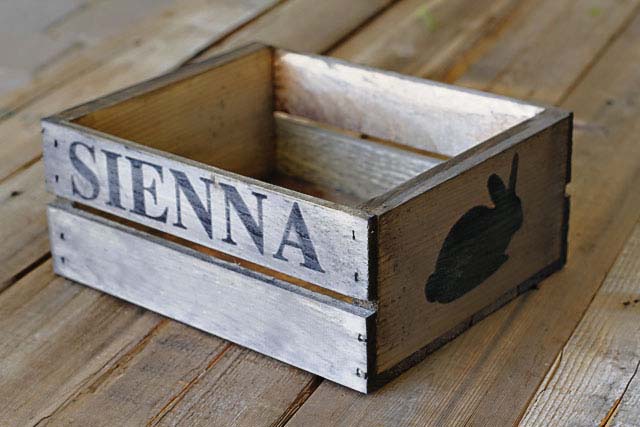 Utilize a wooden box and make it Easter-themed by painting a black bunny on the side. This is a simple Easter decoration for an old milk crate.
via Lil Blue Boo
34. Put Colorful Wooden Easter Eggs on Your Mantel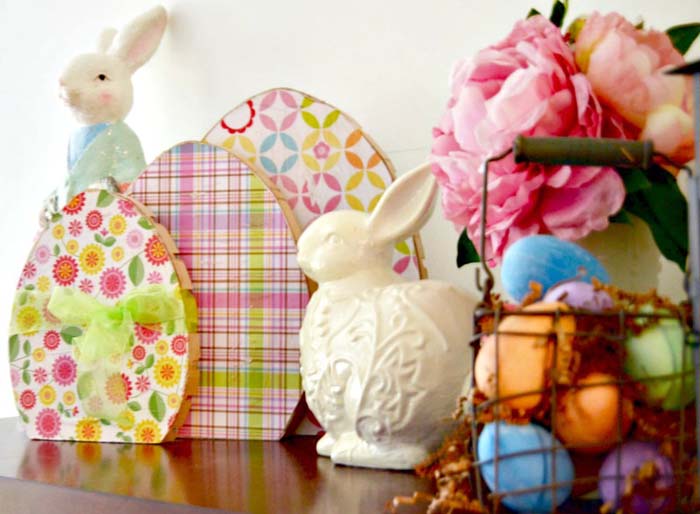 Complete a whole mantel look by adding oversized brightly colored wooden eggs. Then add a basket of Easter eggs and maybe a few wooden bunnies.
35. Paint a Vibrant Easter Egg on Wooden Canvas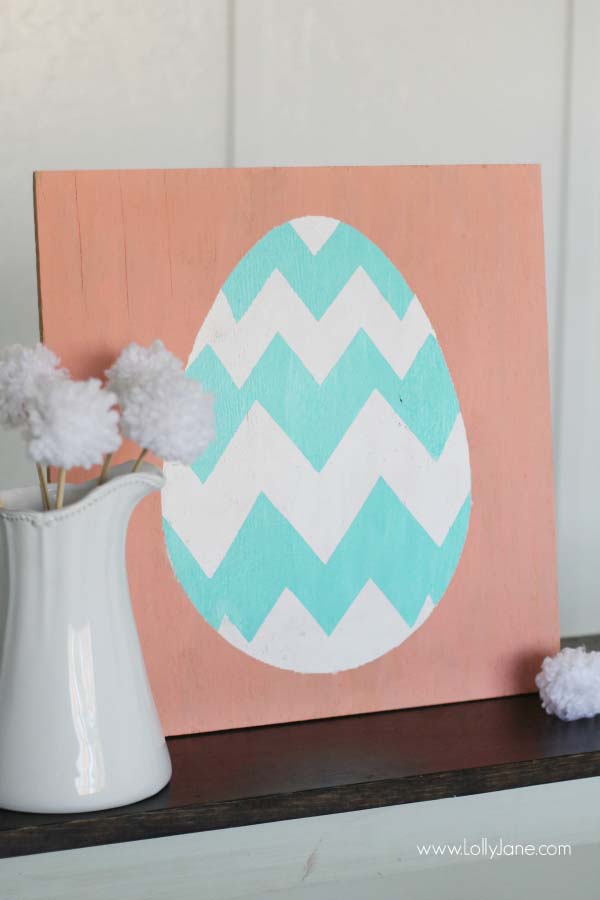 This oversized egg is painted on a large piece of wood. The colors are bright to give it the bright spring look.
via Lolly Jane
36. Reclaimed Wood "Welcome" Porch Sign for Easter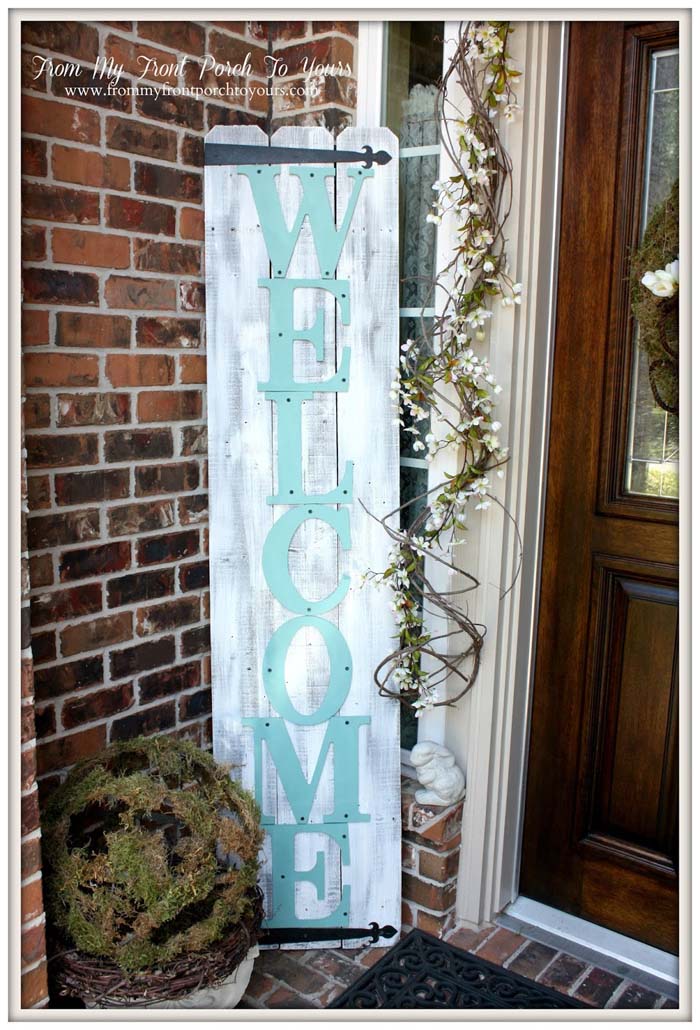 A simple porch sign is made with reclaimed wood and simply says "Welcome" It is perfect for Easter and can stay all spring.
via From My Front Porch to Yours
37. Brighten Easter Decor with a "Hope" Porch Sign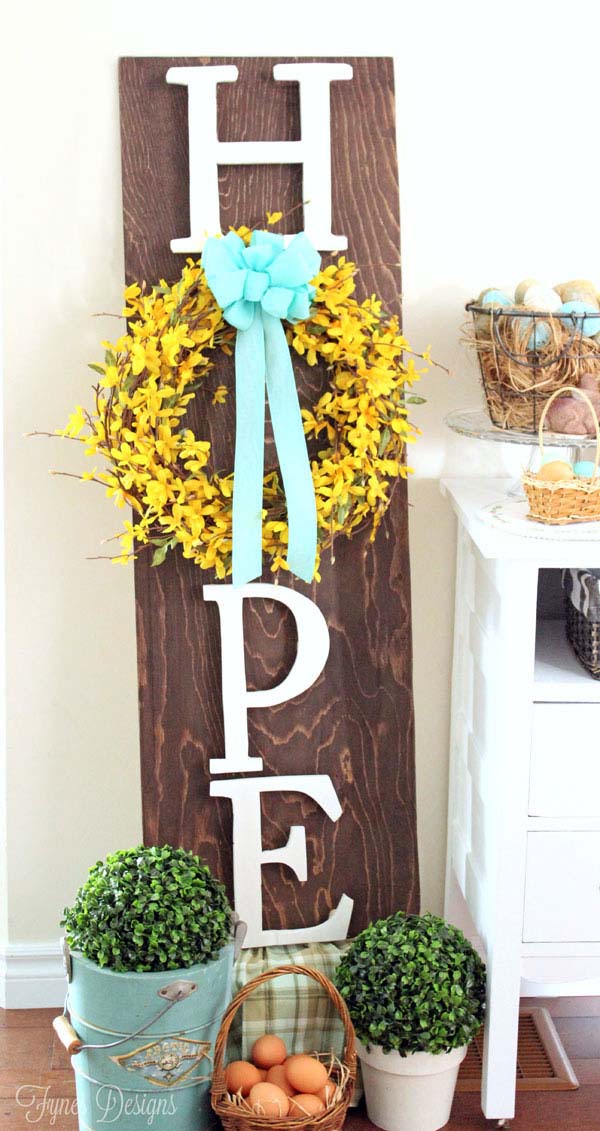 This beautiful front porch sign says "Hope" but the O is a beautiful wreath. It gives your Easter decor a pop of color.
via Fynes Designs
38. Make a Cute Wooden Bunny Magazine Holder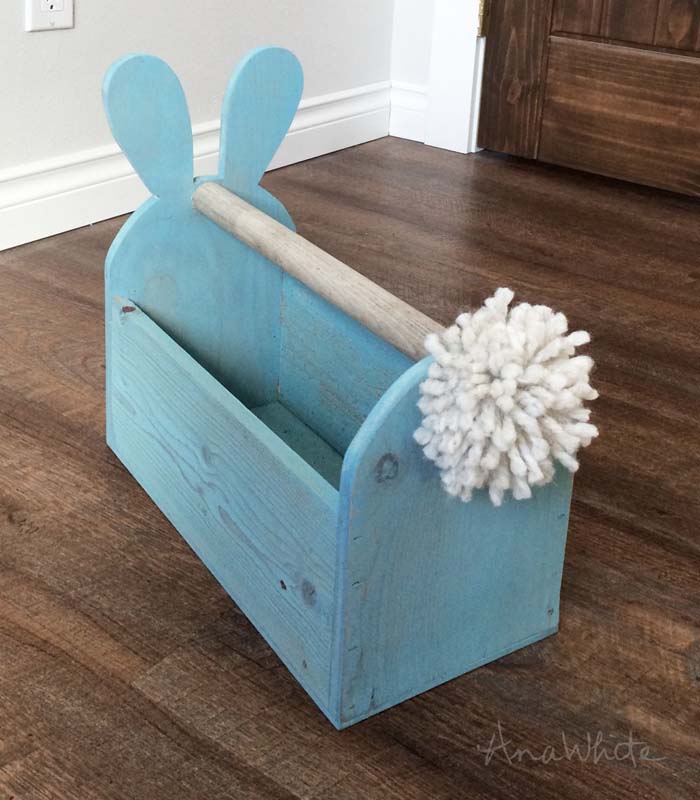 A wooden magazine holder is a perfect base. Put a cute bunny head on one side and an adorable bunny tail on the other side.
via Ana White
39. Create Easter Carrots with Wood Dowels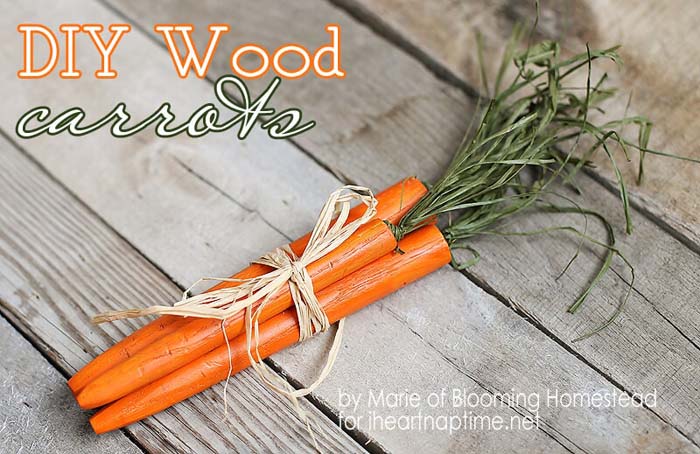 Using wood dowels you can paint them orange and add green tops on one side. Then bundle them together like adorable Easter carrots.
via I Heart Naptime
40. Make a Spring Garden with Wooden Carrots and Bunnies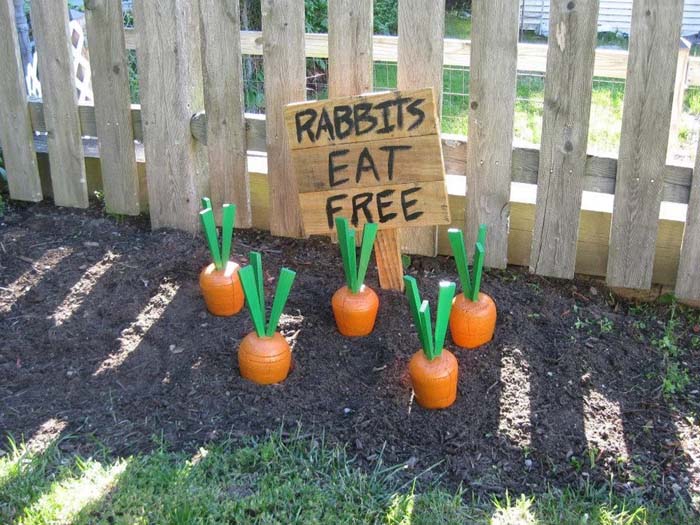 Add large wooden carrots to your spring garden. Then add a cute "Bunnies Eat Here" design.
via Instructables
41. Create an Easter Bunny Decor with Repurposed Wood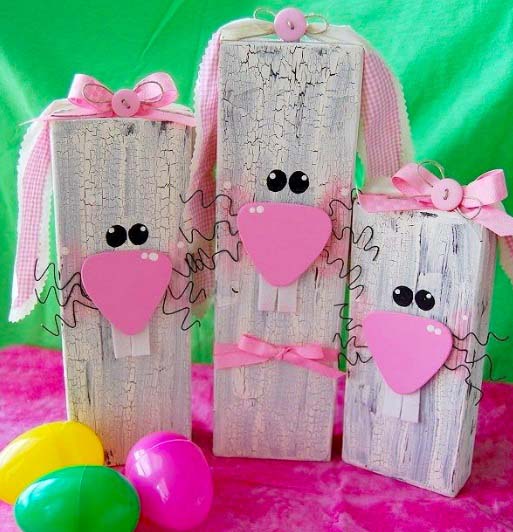 Use old 2' by 4' that you have cut down. Then add adorable eyes, ears and whiskers to complete the Easter look.