Spring has sprung — the plants are blooming and days are getting longer.
This is the perfect time to think about outdoor decorations. With a few colorful elements, you can brighten your home and garden and get ready for warmer weather.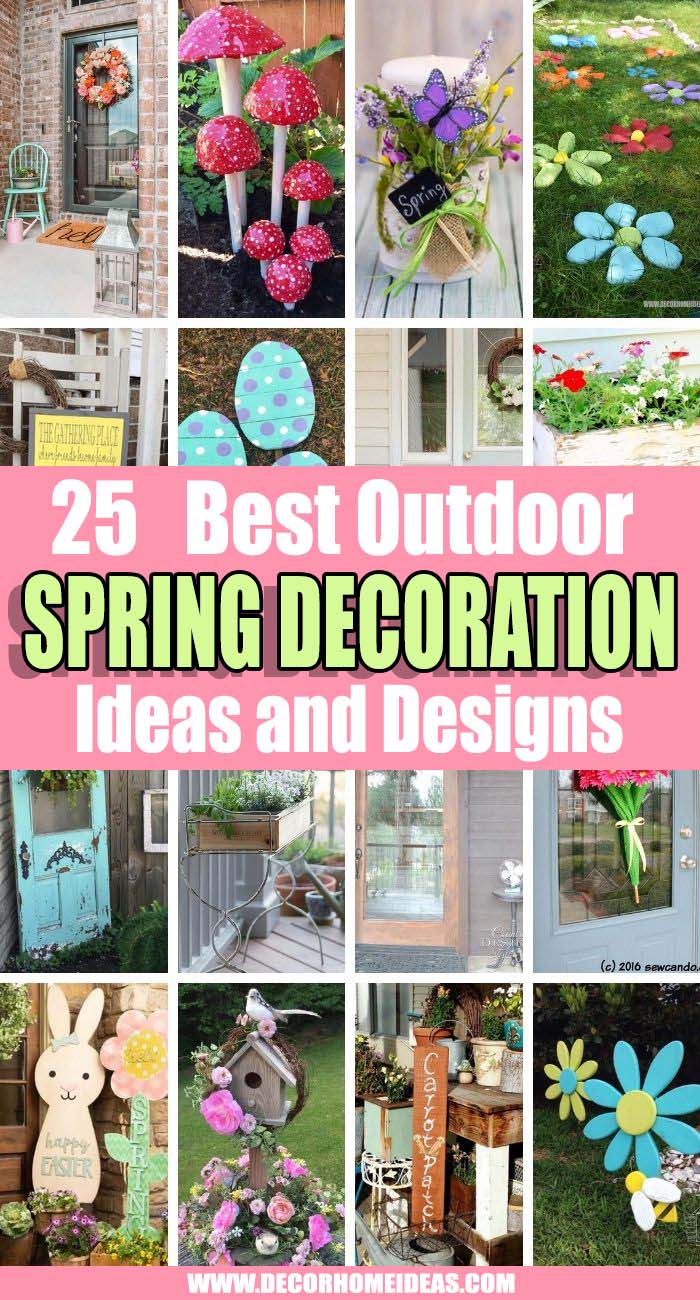 Celebrate the new life and refresh your space with these beautiful outdoor spring decoration ideas.
1. A Charming and Great Idea for Reclaimed Wood and Potted Flowers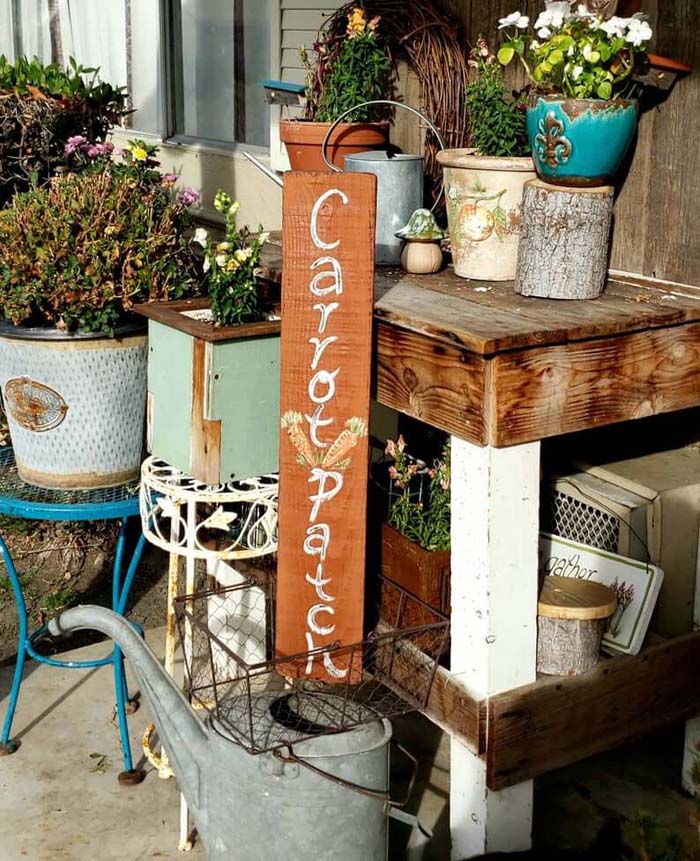 Do you have a selection of mismatched pots and gardening supplies?
Bring them together to create a gorgeous spring decoration.
Simply arrange them on a wooden potting table and use a reclaimed-wood sign to add a rustic twist.
The different pieces complement each other, creating a shabby-chic symphony of color and texture.
2. A Delightfully Perfect Infusion of Color for Nature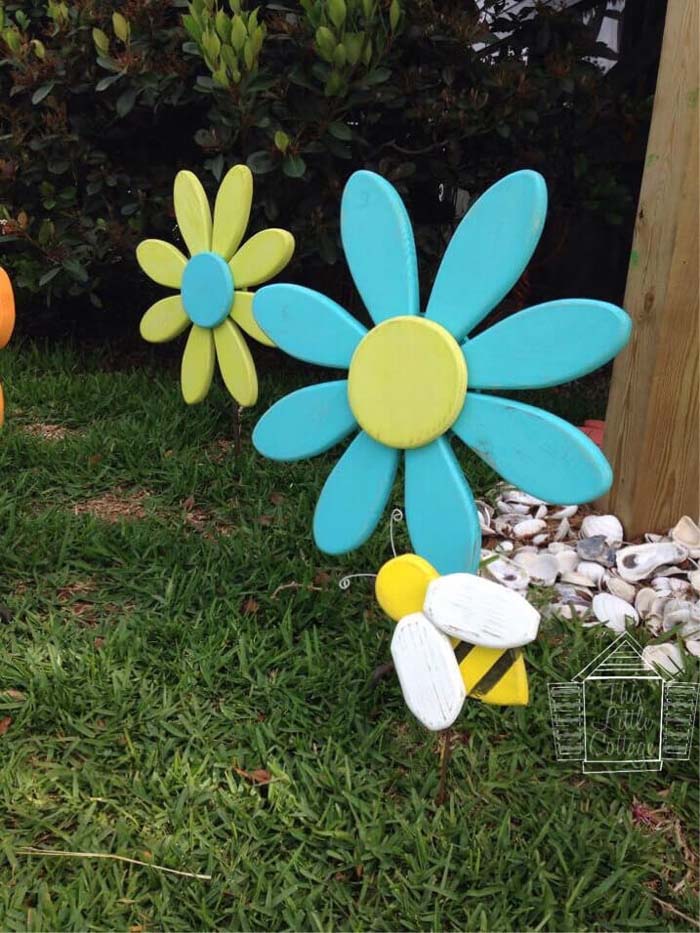 Before your flowers bloom, your spring garden can look a bit drab.
Infuse the space with a bright, cheerful vibe using these adorable wooden flowers.
The brilliant shades refresh the yard in the early days of spring — you can even leave them up throughout the summer.
3. A Fabulous and Unique Idea for A Flower Wall of Memories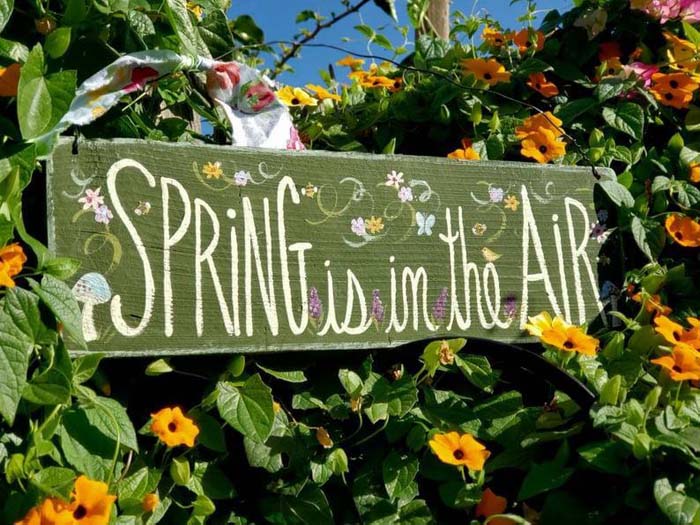 Draw attention to a wall filled with vines and flowers with a sweet spring sign.
With its distressed edges and hand-painted words, this sign blends into the natural surroundings.
Painted flowers help tie the sign to the rest of your garden.
4. A Lovely Spring Garden Decor Birdhouse with Floral Delights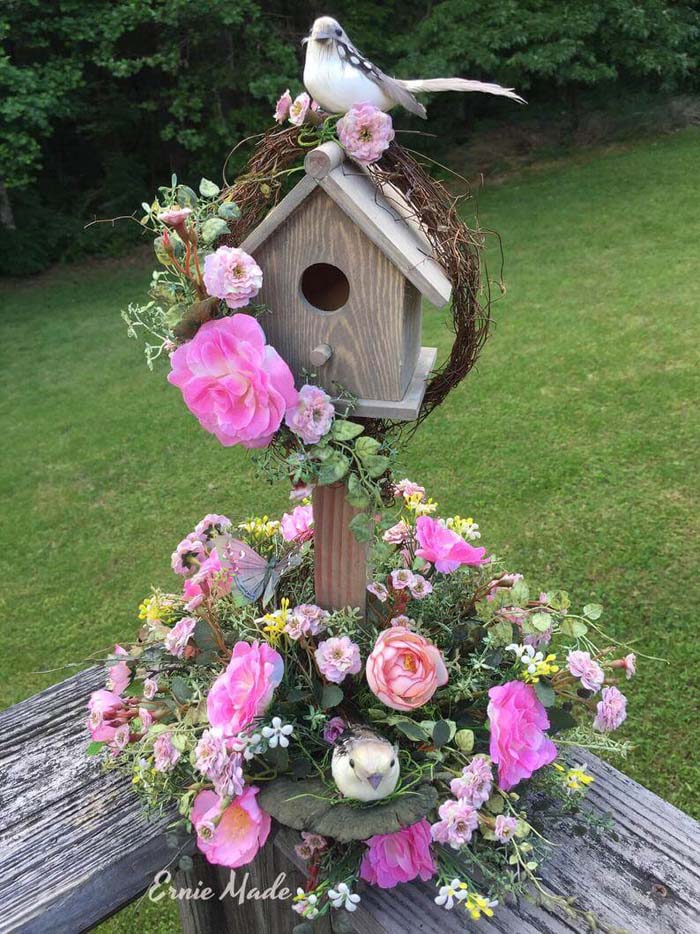 A birdhouse is a classic way to decorate for spring — it's a reminder of the new life the season brings.
This stunning birdhouse gets a fresh makeover, thanks to a garland of faux flowers.
A few artificial birds add an extra touch of life to the display.
5. A Simple and Unique Way to Say Spring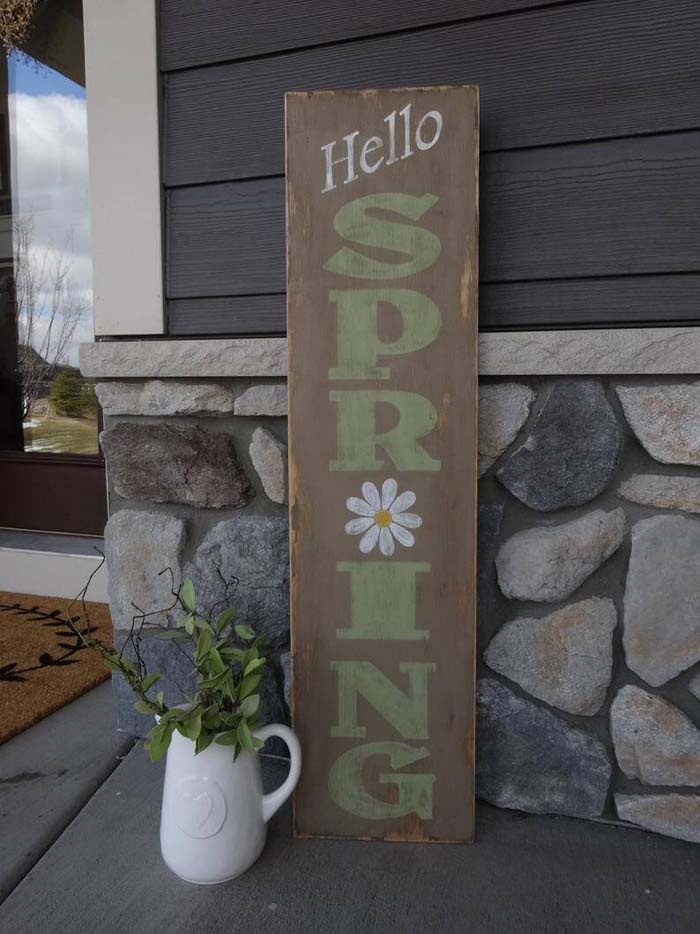 Whether you're decorating a porch or a small front entry, a leaning sign is a perfect solution.
Just lean it against any wall; the slim frame won't get in the way of foot traffic, and the cheerful design adds a pop of color.
Pair your sign with a potted plant for a sweet vignette.
6. April Showers Door Umbrellas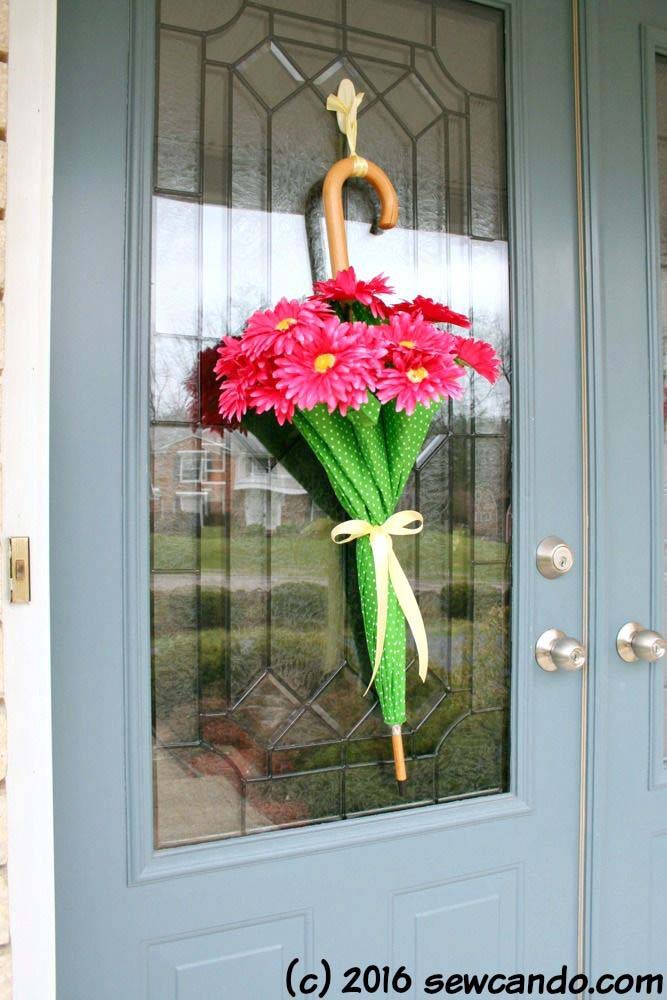 Does spring bring rain to your part of the world?
You can still enjoy bright spring colors with this cute umbrella decoration.
Fill it with your favorite faux flowers, add a pretty ribbon, and hang it on your front door like a wreath.
via Sew Can Do
7. Delightfully Perfect Charms of Spring To Welcome Your Loved Ones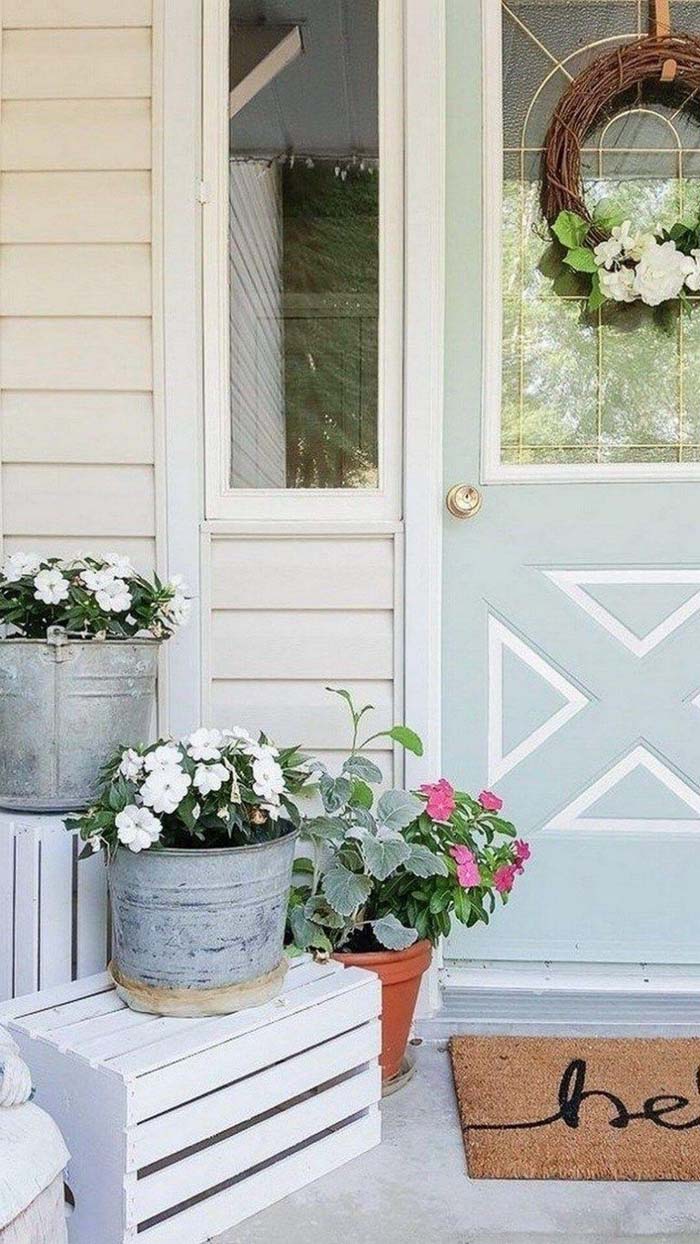 When your guests come over for spring get-togethers, set a welcoming tone with this rustic front-porch display.
Making it is a breeze — just use rustic wooden crates as plant stands, and top them off with potted plants.
A flower-covered spring wreath completes the effect.
8. Colorful Tiny Birdhouses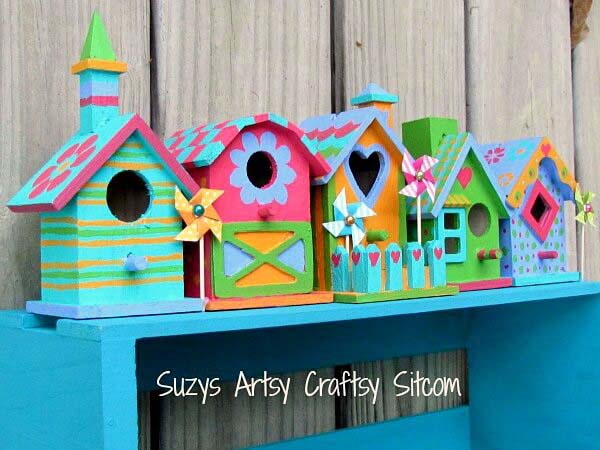 Brilliant colors are a surefire way to lift your spirits.
These tiny birdhouses are proof positive; each one dances with vibrant shades, bringing life and happiness to any outdoor space.
Set them on your front porch, place them around the yard, or hang them from trees to welcome spring birds.
via Suzy's Sitcom
9. Adorably Cute Country Box Filled with Love For Your Enjoyment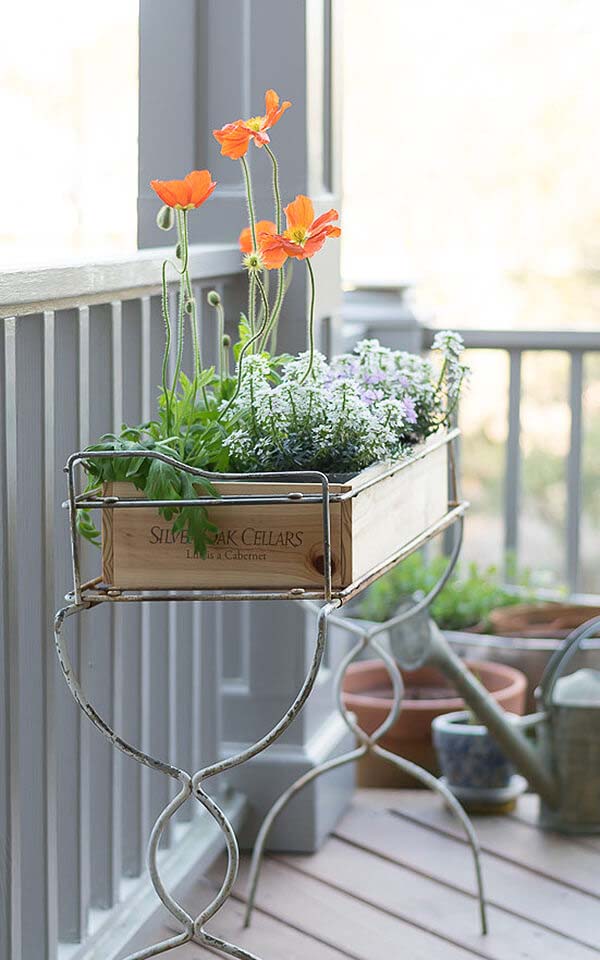 Tired of traditional planters?
Make your own with a vintage wooden box. The stamped design adds a touch of old-world charm that contrasts beautifully with the fresh green leaves and colorful flowers.
Set your box on a vintage plant stand for a one-of-a-kind spring decoration.
10. Calm, Cute and Country Style To Grace Your Porch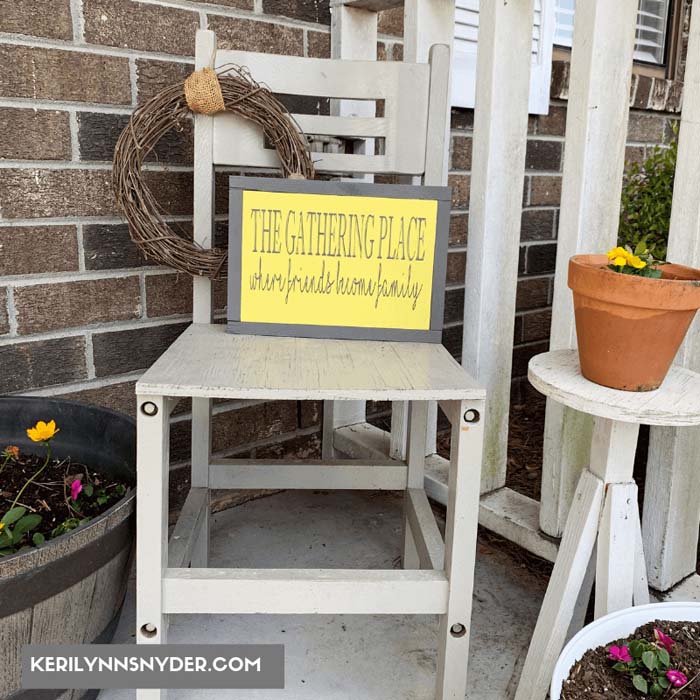 If you love the simplicity of country style, bring the aesthetic to your front porch this spring.
All you need to start is an old wooden chair; top it with rustic-chic elements such as a wooden sign, a twine wreath, or a potted plant.
via Keri Lynn Snyder
11. Deconstructed Flower Banner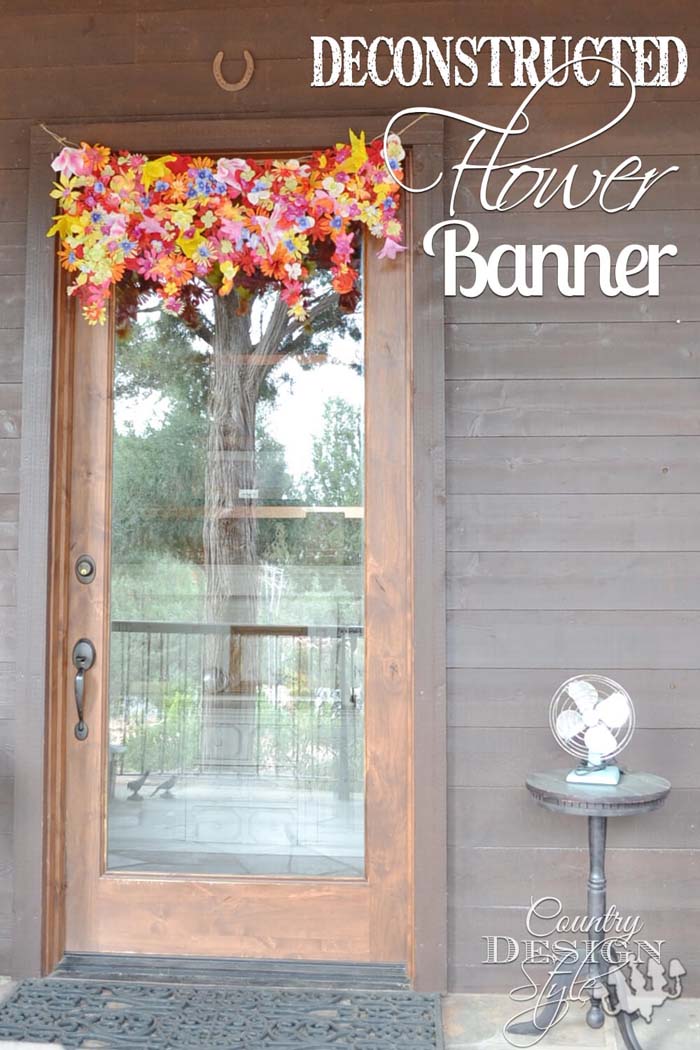 Have you ever seen anything as beautiful as this deconstructed banner?
It features a cascade of spring flowers, each in a different variety and color.
You can make your own using artificial blooms from the dollar store — just hang them from a sturdy piece of string and suspend them from the top of a door for an instant burst of color and life.
12. DIY Outdoor Spring Decor Old Window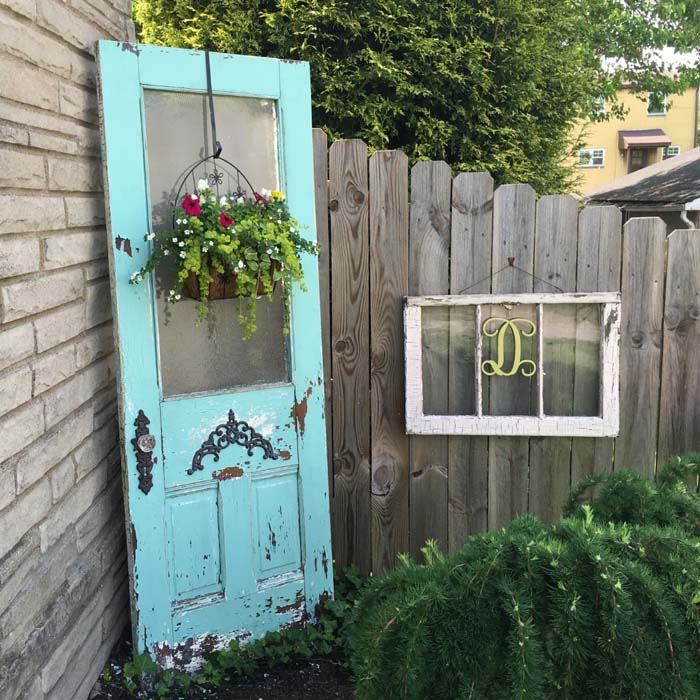 The next time you're at a thrift store, check for old windows — they make the perfect outdoor decoration.
Personalize your window with a painted wooden letter.
Then, hang it from a fence, an exterior wall, or even your front door to create an unexpected custom decoration.
via Craft Cuts
13. DIY Painted Rock Flowers Garden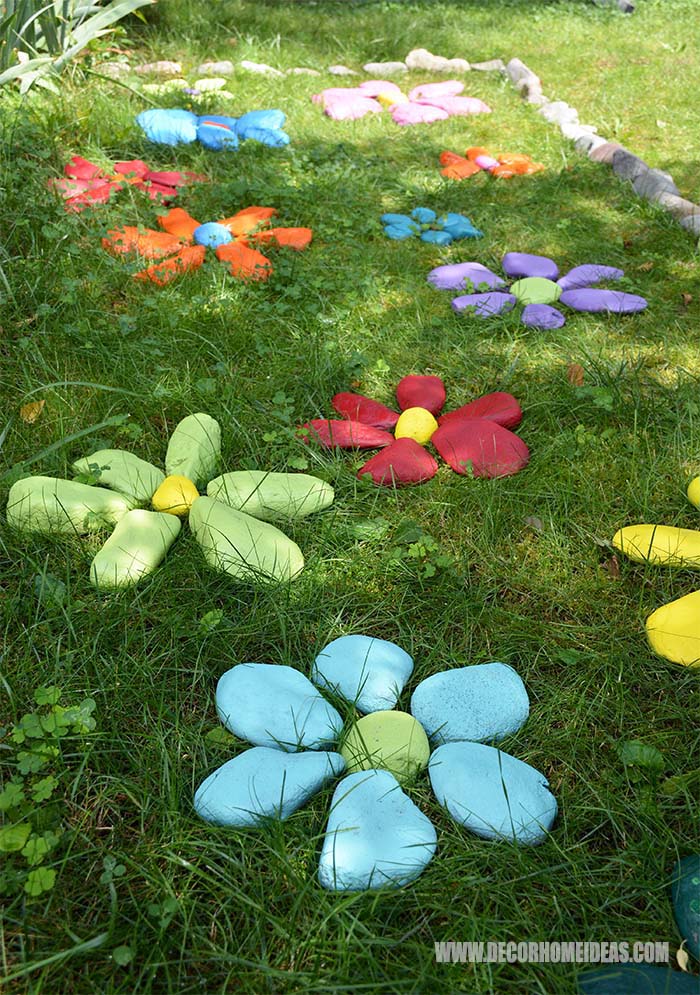 Don't want to wait for flowers to bloom this spring?
Turn any part of your yard into a fun garden with these clever rock flowers.
They're a breeze to make, and you can set them up in any small or large space. If you have little ones, get them in on the fun for a family craft.
via Decor Home Ideas
14. Easter Egg Yard Stakes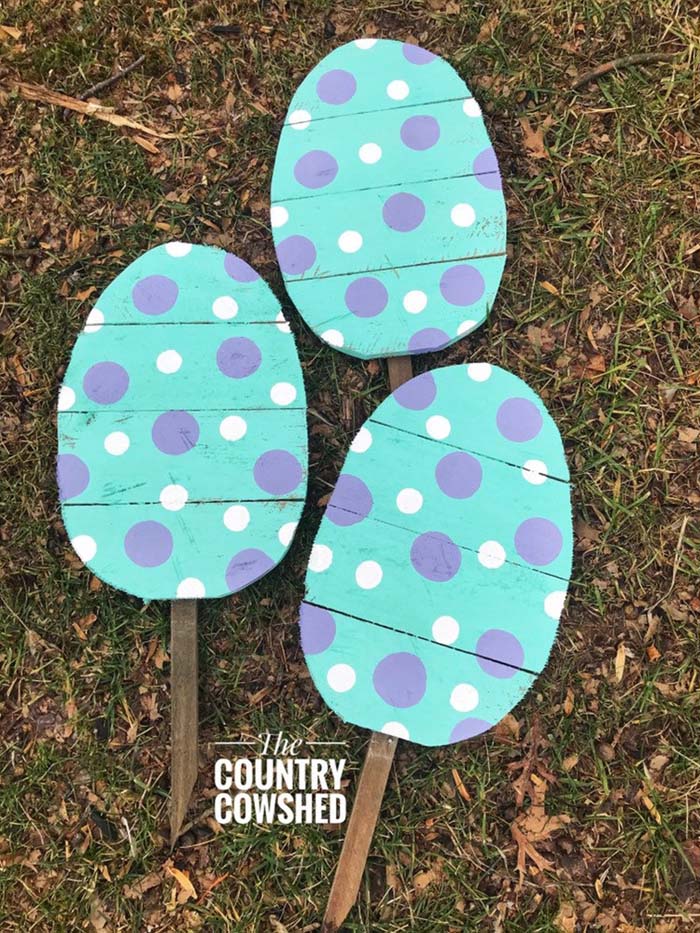 How cute are these little Easter-egg yard stakes?
Made from simple wooden planks and covered in a custom-painted pattern, they're a lovely balance between modern style and rustic charm.
The pointed stakes push easily into the ground for lightning-fast installation.
15. Elegant and Perfect Colors of Rustic Charms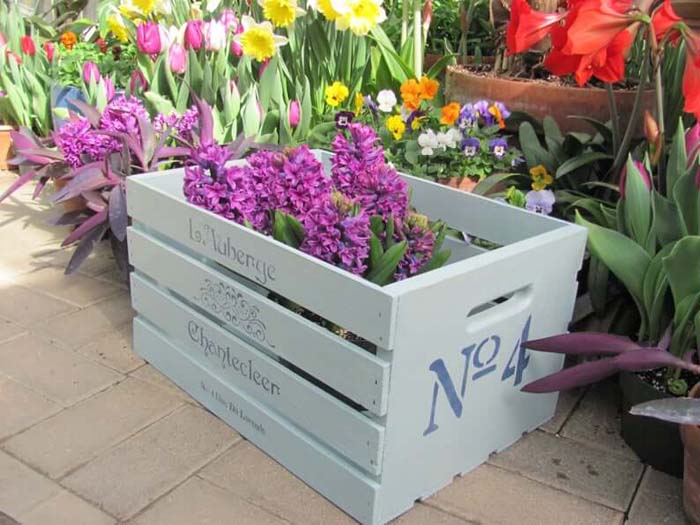 There's something beautiful about rustic wooden crates — especially when they're filled with fresh flowers.
Whether you use potted plants or durable artificial blooms, this simple arrangement is the perfect way to decorate your porch for spring.
16. First Sign Of Spring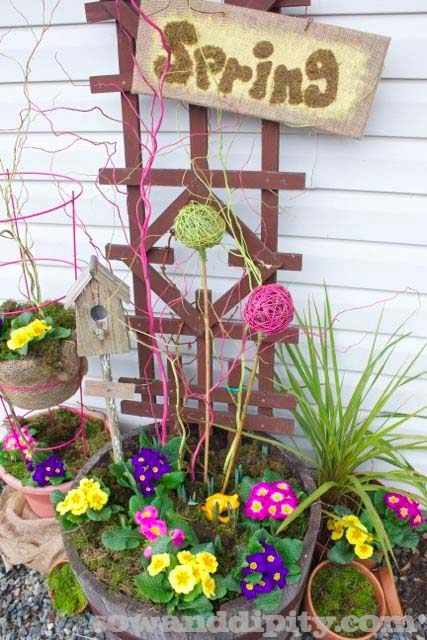 You'll smile every time you catch a glimpse of this adorable spring decoration.
It's all about the color — fresh flowers, spray-painted twigs, and bright greenery combine to create a piece that embodies the feeling of the new season.
Add a sweet hand-painted sign and a lattice for extra height.
via Sow and Dippity
17. Hopeful and Awesome Ideas to Keep Easter Hopping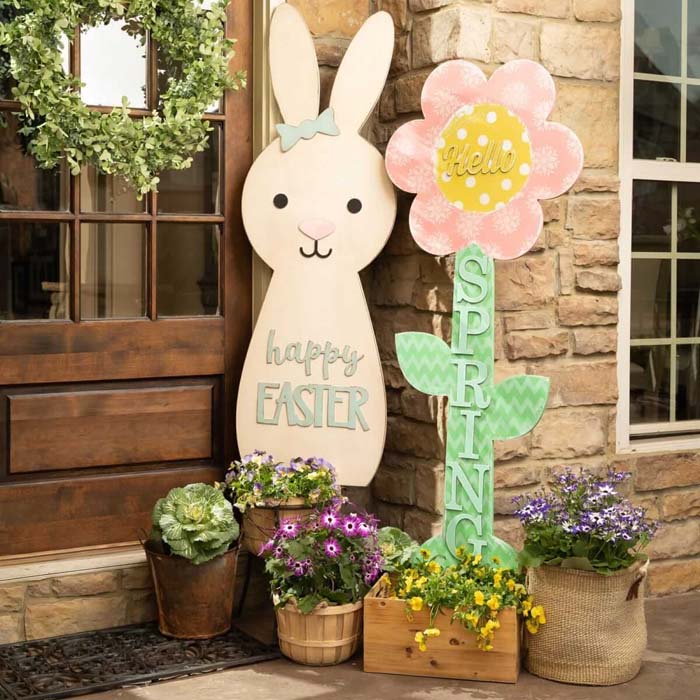 Easter brings plenty of spring-themed decorating possibilities.
If you have little ones, this oversized flower and bunny are a delightful way to brighten your front porch.
Make them yourself and lean them next to a bunch of potted flowers to create a fun, whimsical setup.
via Jane
18. Milk Can Table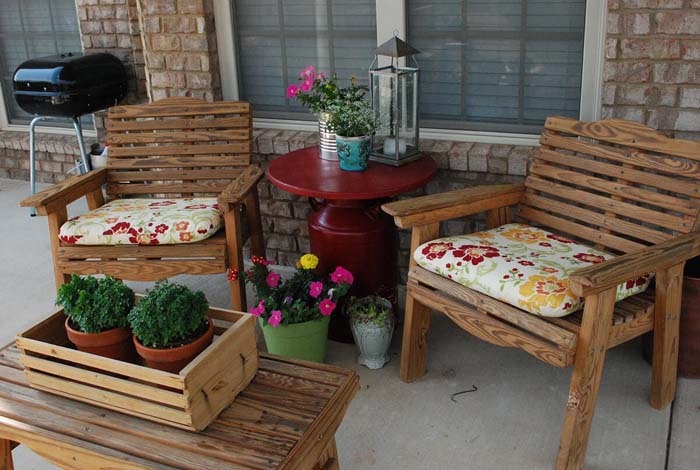 Are you wondering what to do with a vintage milk can?
Turn it into a table to refresh your porch for spring. Just add a wood or metal top and a coat of paint to create a unique and functional table.
Top it with a few potted plants for extra spring fun.
19. Old Drawer Flower Box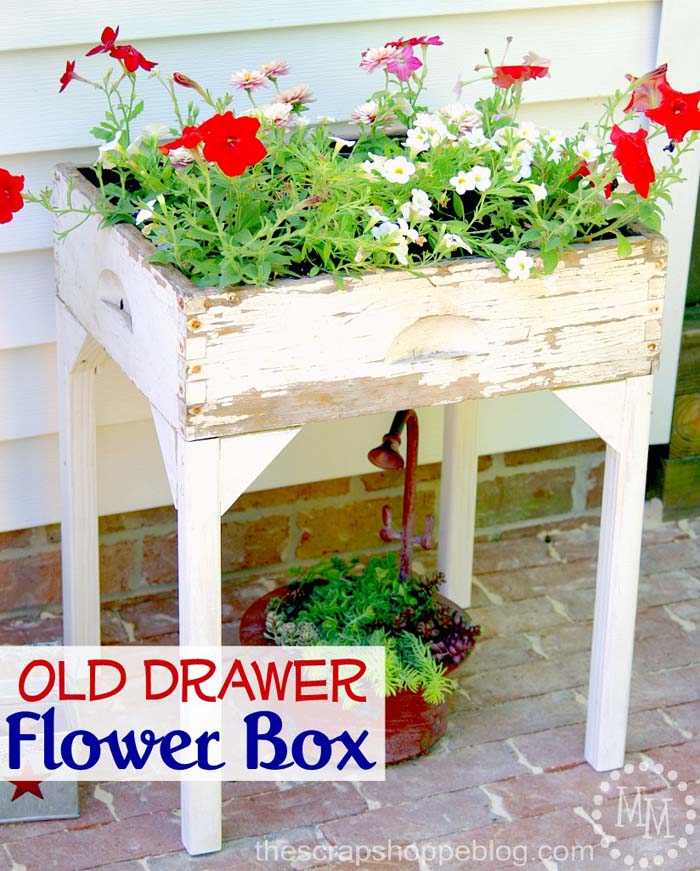 Flower boxes are a convenient way to plant flowers — but what happens when you want a custom look?
If you have an old drawer, you can create a one-of-a-kind box using simple wooden legs.
Don't worry about sanding and painting; the weathered look contributes to the charm.
20. Pretty Home Decoration Strawberries for a Quaint Garden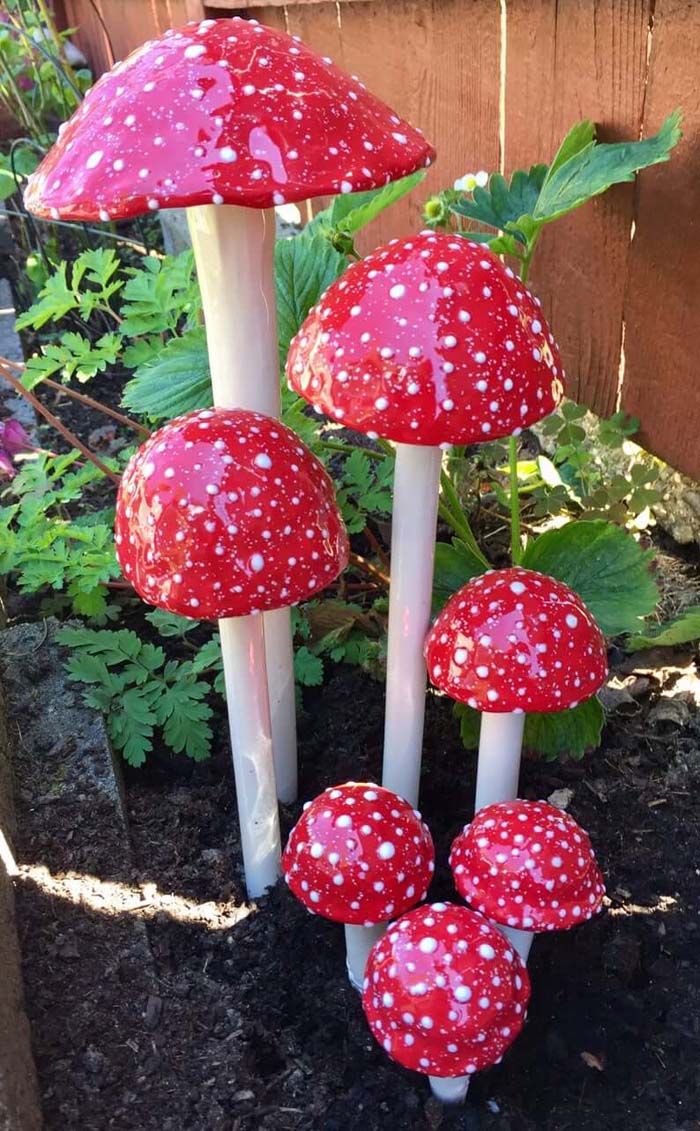 Turn your garden into a whimsical fairyland with these oversized toadstools.
Modeled after real mushrooms, they feature bright red tops studded with white polka dots.
Tuck a single toadstool into your plants or use a large arrangement to make a sweet spring statement.
21. Spring Birch Bark Candles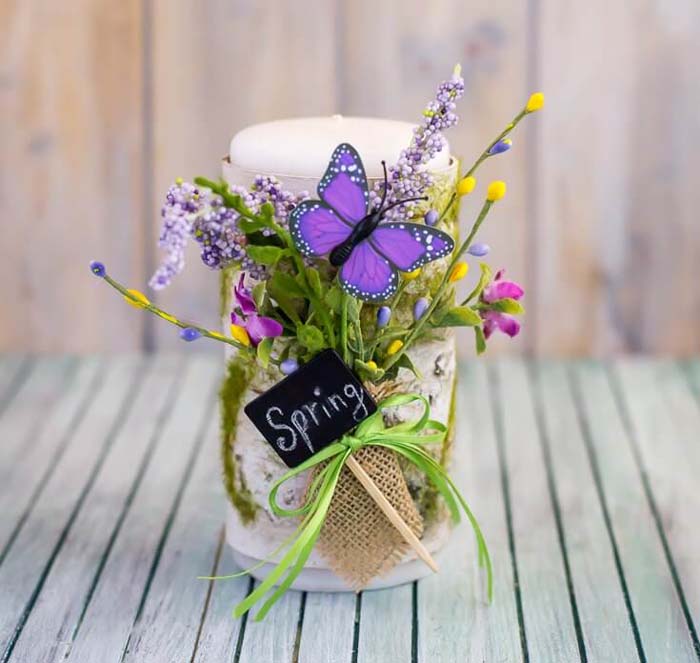 Looking for a quick craft project for spring?
Turn a cheap pillar candle into a work of art with a length of birch bark and a bouquet of wildflowers.
A tiny butterfly and a spring sign bring extra color and texture to this clever candle, which you can display indoors or outdoors.
via Flour On My Face
22. Spring Front Door Decoration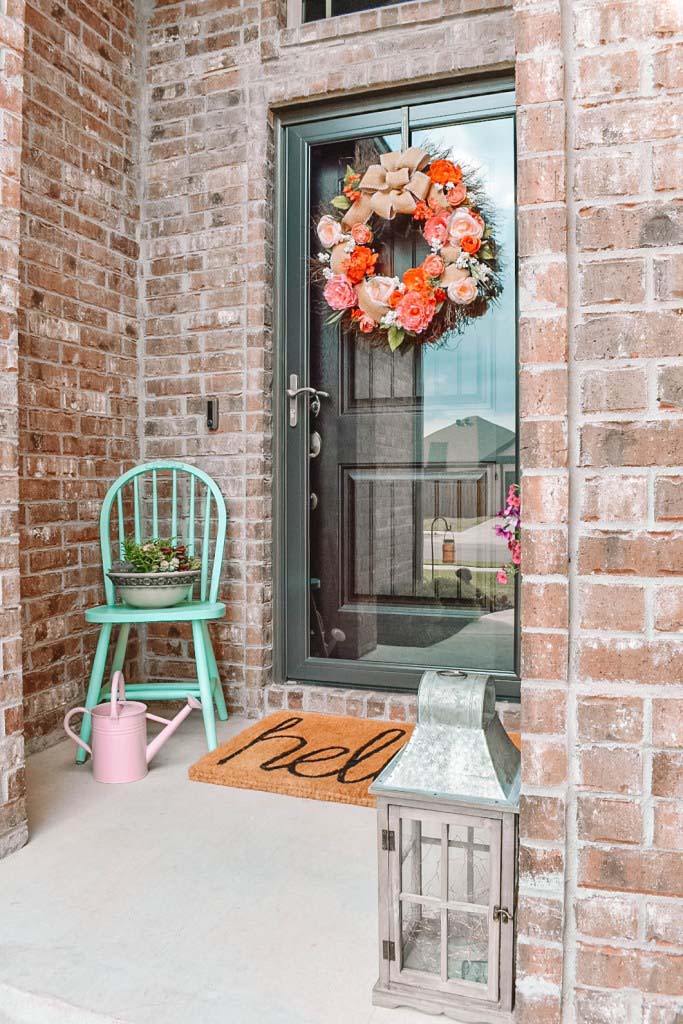 Don't let a small front entry stop you from decorating — all you need are the right items.
A colorful chair tucked into a corner serves as a plant stand, and a brilliantly colored floral wreath brings life to a simple door.
The trick is to use a variety of bright colors to make a big impact in a tiny space.
23. Lovable Spring Garden Decor To Enhance Springtime Joy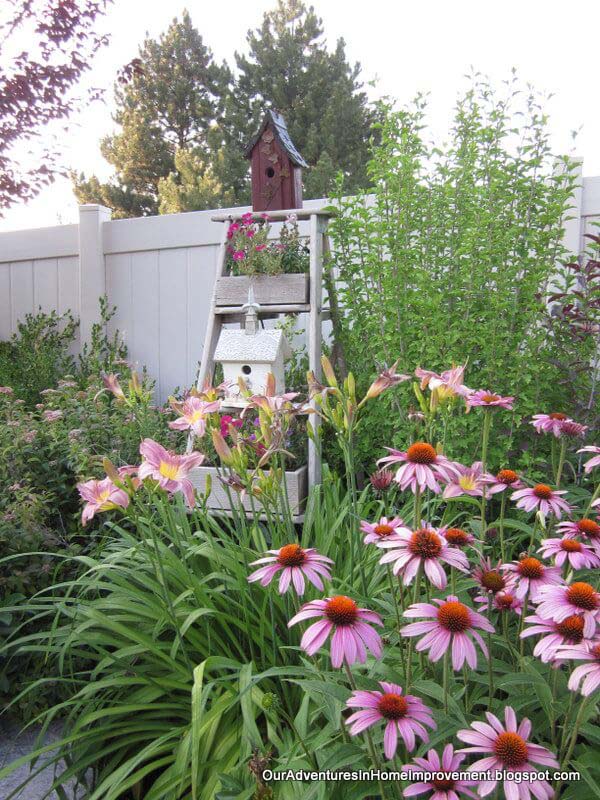 An old ladder becomes part of your garden decor when you use it as a plant stand.
Set planter boxes and birdhouses on each rung; they'll attract birds and insects for a true outdoor paradise.
via Our Adventures In Home Improvement
24. The Beautiful and Cool Reflections of The Season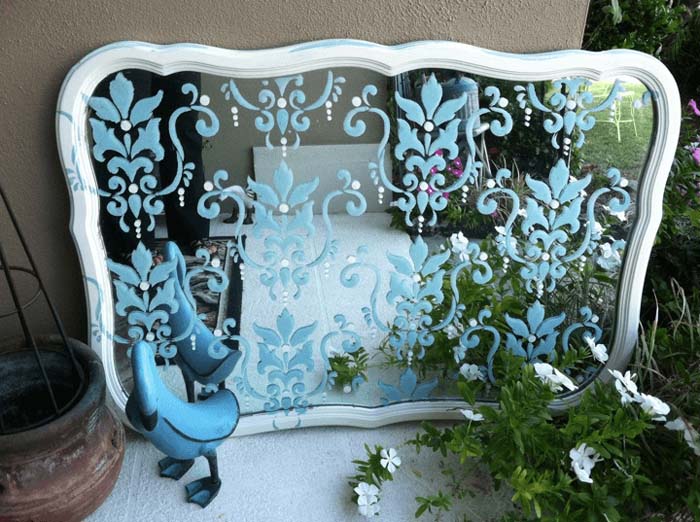 Put your painting skills to work with this project, which starts with an old mirror.
Grab a few stencils from the craft store and use them to create a pattern that repeats across the mirror.
Set it outside to reflect the spring sunlight and add color to your porch or patio.
25. Thumbprint Flower Pot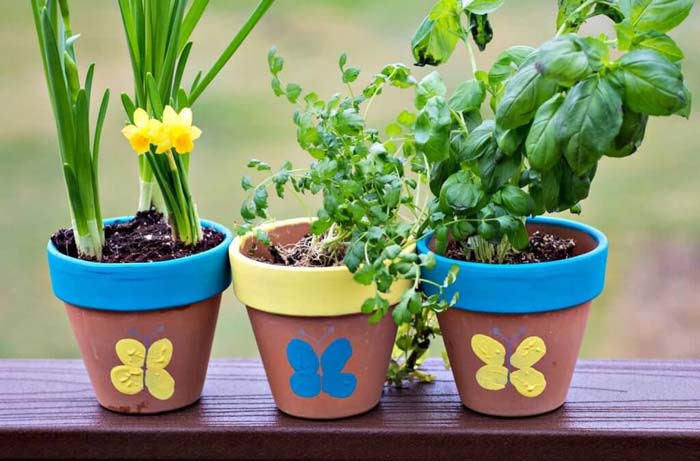 Do you have little ones?
Get them in on the spring decorating fun with these super-cute thumbprint pots.
Your kids can use their thumbs to create completely unique flowers — paint the top rim of the pot in a contrasting color for a lively effect.