Winter is knocking on the door and you will gonna need a fireplace that's extra cozy and can warm you up in the cold windy nights.
Since there are lots of articles showing different fireplace ideas, I've decided to show you a great collection of 25 Fireplace Mantels With Windows On Each Side And Window Seats Or Doors that would make any living space total winter goal. Let's bring on the show!  😉

1. Enhance Farmhouse Vibe with a Modern Stone Fireplace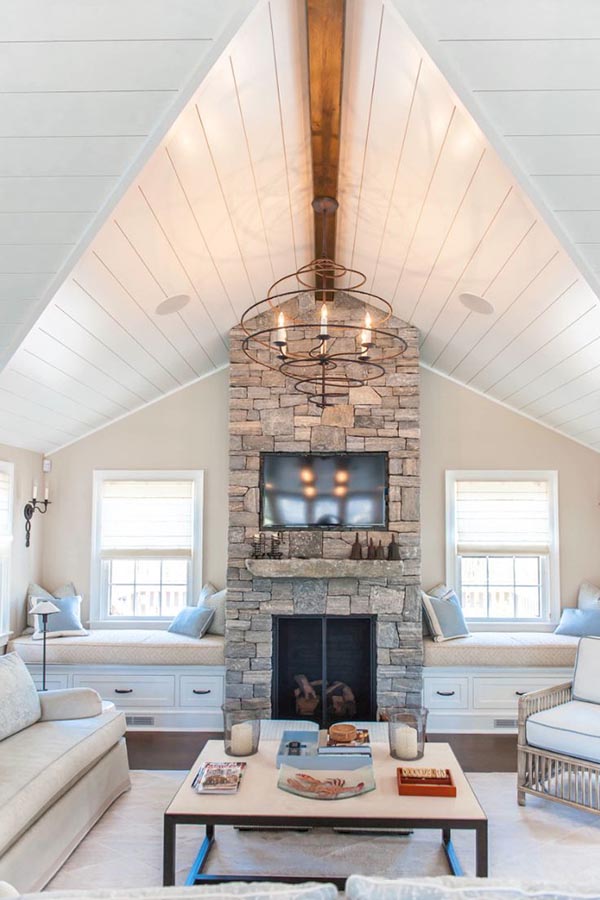 Image:Source 
As I am a huge fan of the concept of using the stone material in the interior design, I'd like to show you these stylish stone fireplace mantels. They kind of bring the warm farmhouse vibe to this contemporary living space.
Moreover, the stone fireplace with window seats on either side makes you want to lay down with a great book and a cup of hot chocolate!
2. Brighten Your Fireplace Mantel with Tall Bordering Windows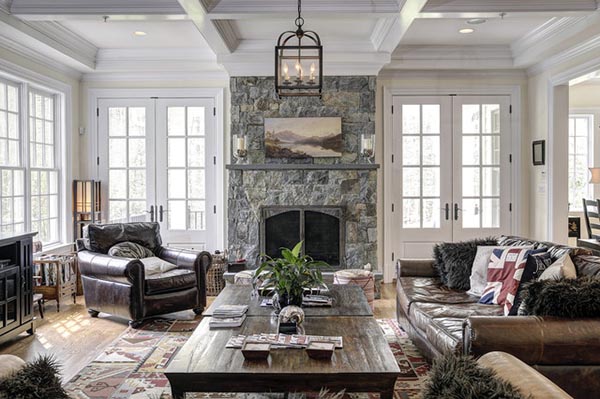 Photo:Credit
That's a beautiful living room for a countryside family home – with a traditional stone fireplace with doors on both sides, medium tone solid wood floor, rustic carpet, and leather sofas.
3. Transform Your Fireplace Mantel into an Entertainment Spot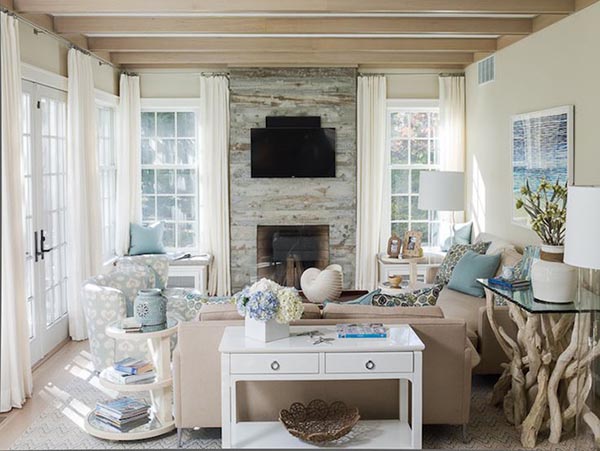 Image:Source
Recently, a friend of mine, who is now refreshing their living room, asked me to share some ideas for window seats on each side of the fireplace in the living room with TV over the fireplace. Here is what I showed her…stunning, isn't it?
4. Bring Character to Fireplace Mantel with Countryside Art Piece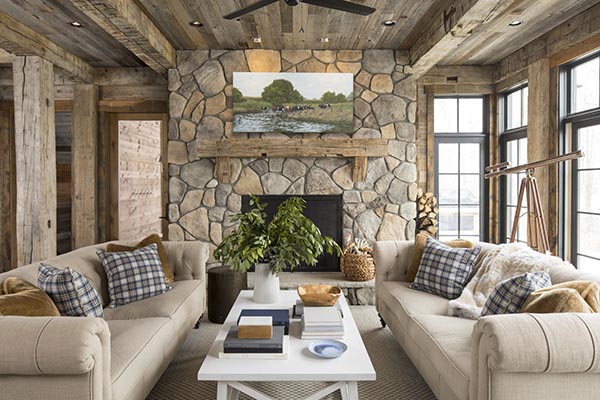 Photo:Credit
While I was searching for some ideas for a fireplace with glass doors on both sides, I found this picture with one glass door and one tall window. It is definitely an interesting touch to this cozy mountain lodge.
5. Embrace Simplicity in Your Fireplace Mantel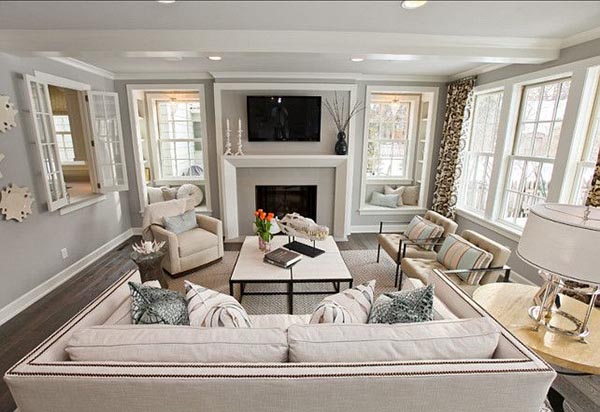 Image:Source
Do you need to cozy up a simple space? Then, display some minimalist decor to the fireplace mantel, and add some additional fluffy cushions to the sofas and the reading nook around the windows.
6. Elevate Your Fireplace Mantel with Traditional Interior Design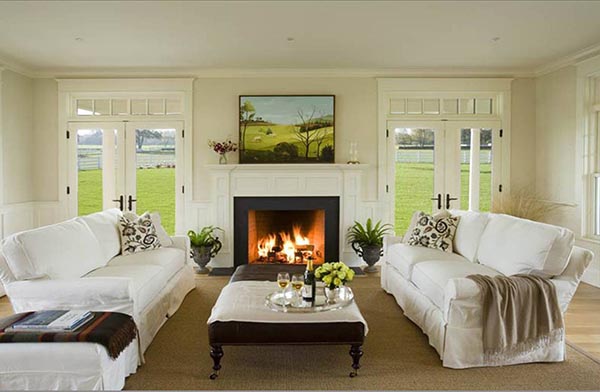 Photo:Credit
Here is another traditional fireplace between windows idea! Though the white fireplace mantel is quite simple, the artwork creates texture and dimension and contributes to the rooms overall mellow vibe.
7. Combine Style and Comfort with Fireplace Window Seats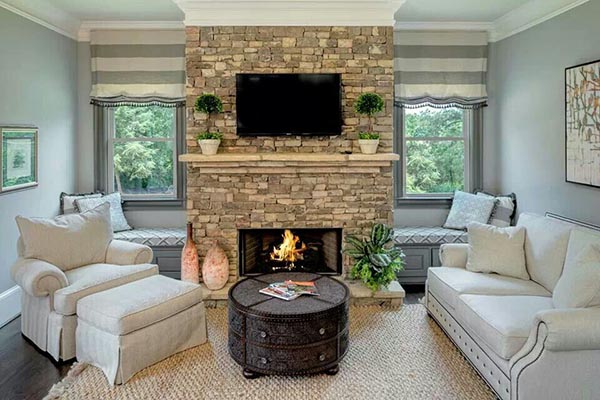 Image:Source
Looking for a fireplace with window seats? Why don't you mix it up? The stone facade here fireplace helps warm up an otherwise all-grey living room. It gives it character and keeps it from being too bare.
8. Transform Your Vintage Living Room with a White Fireplace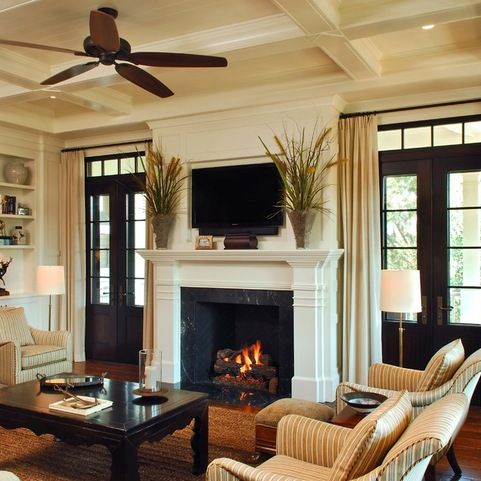 Photo:Credit
The overall design of this living room is very out-dated and yet warm and cozy. However, the white fireplace mantel gives a timeless look to the whole space.
9. Bring Nordic Charm to Your Home with a Fireplace Mantel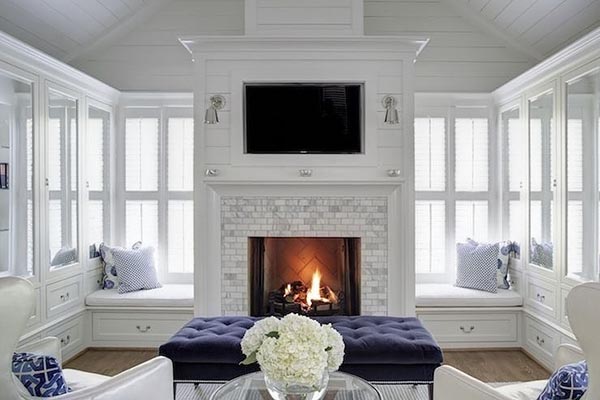 Image:Source
The recipe for a Nordic-inspired living room: fewer colors, minimalist decor, white wooden natural furniture, and fireplace with window seats on each side. This up-to-date fireplace is obsession-worthy, for sure!
10. Make Your Room Airy and Bright with a Chic Fireplace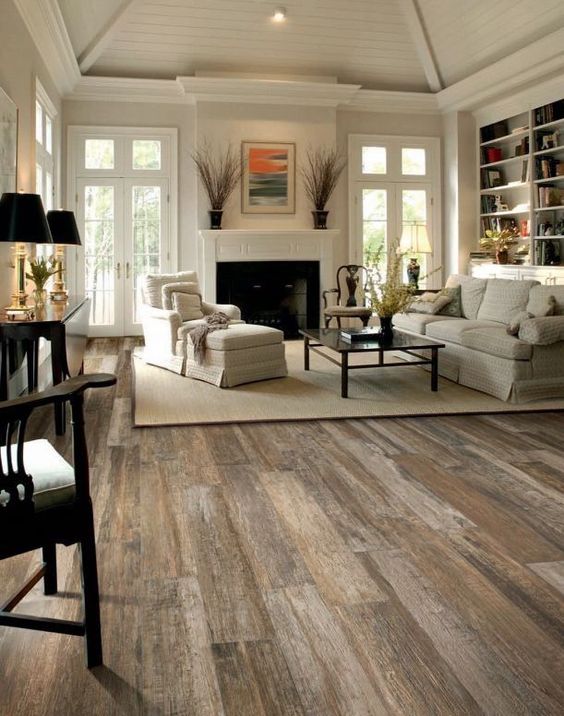 Photo:Credit
Desperately searching for fireplace mantel ideas? There are so many cool accents in this living room – the fireplace with doors on both sides, the built-in library shelves, the windows, and the high ceiling.
11. Turn Your Room into a Cozy Retreat with Southwestern Decor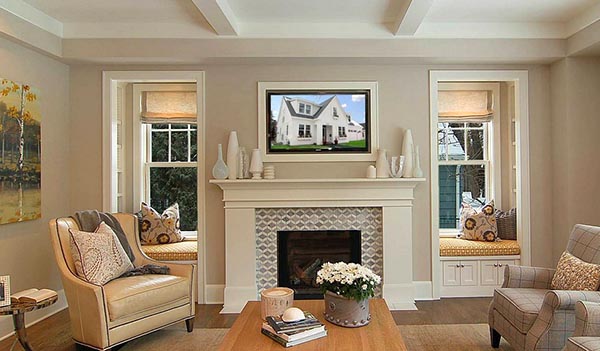 Image:Source
 All the texture and pattern in this Southwestern living room helps space feel more private and cozy. I just love the classic fireplace with window seats on either side.
Fireplace tile ideas like this one are getting more and more popular.
12. Add Elegance to Your Room with an All-White Palette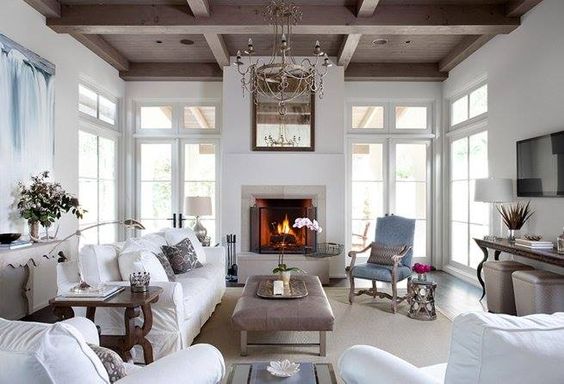 Photo:Credit
The polished white fireplace adds a nice, modern vibe to this high-ceilinged living space, while exposed tall windows ups the cozy factor.
13. Sit by the Fire with Cozy Cushioned Built-In Window Seats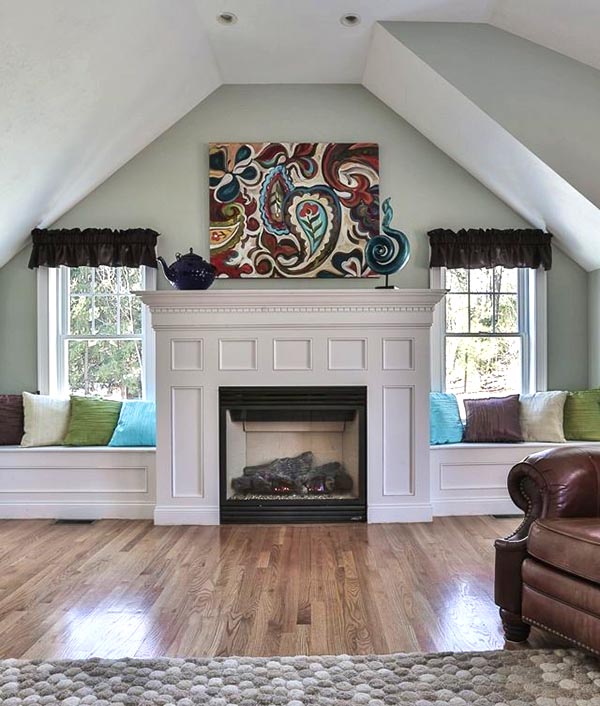 Image:Source
I recently found some pics of rooms with fireplace and permanent window seats, however, I will show you only this one for now.
A faux leather armchair, artwork, and a bunch of colorful cushions boost the cozy vibes.
14. Add Contrast to a White Fireplace Mantel with Black Accents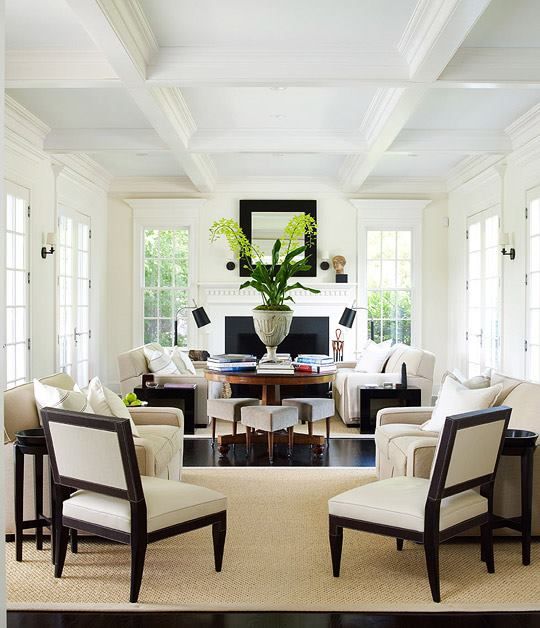 Photo:Credit
However, everything in this picture has been centered around the small table with the enormously big vase, I think the fireplace mantel decor is the centerpiece of this design idea.
15. Be Charmed by a Modern Classic Fireplace Mantel Design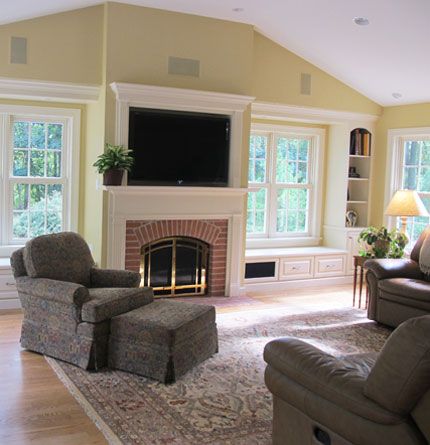 Image:Source
Here is another fireplace hearth with window seats on both sides.
I would transform the sitting space into lovely, cozy reading nooks using cushions, blankets, and some simple wall art.
16. Utilize High Ceilings for a Rustic Fireplace Mantel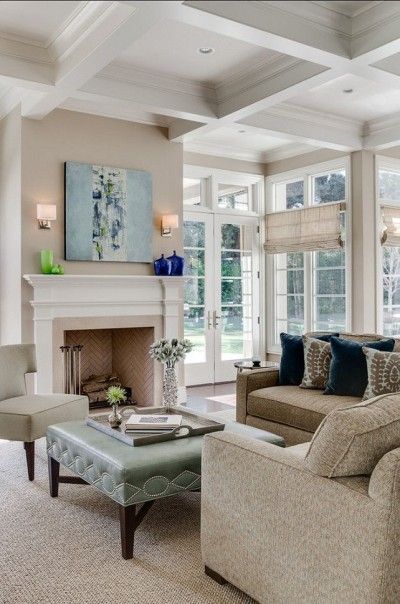 Photo:Credit
The low-relief fireplace mantel is what really caught my eye at first place. However, I like the entire room as it's very bright and welcoming.
17. Maximize Space with a Small Elegant Fireplace Mantel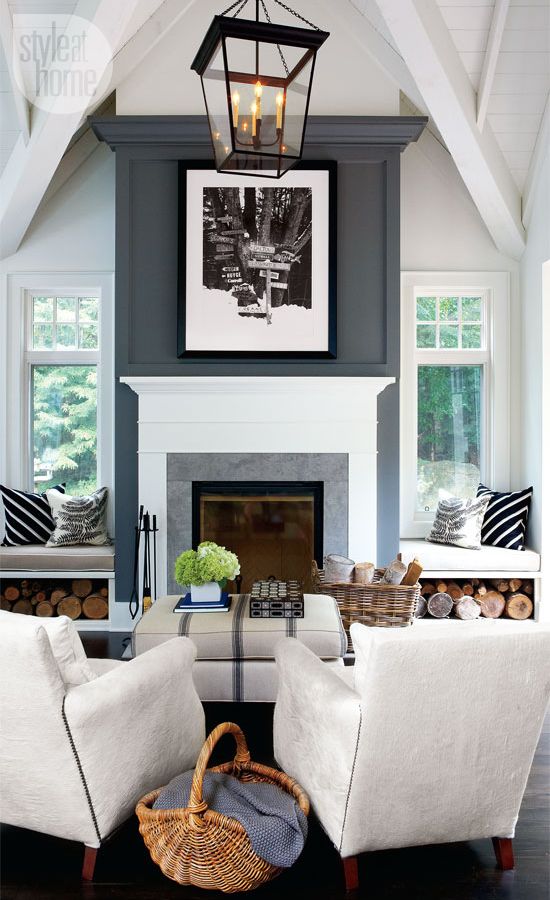 Image:Source
This one is for sure one of my most favorite fireplace mantels ideas! I just love everything about it – the contrast in the paint colors, the sitting area, the rustic lamp, and the piece of art above the mantel!
18. Bring Coastal Vibes with Your Fireplace Mantel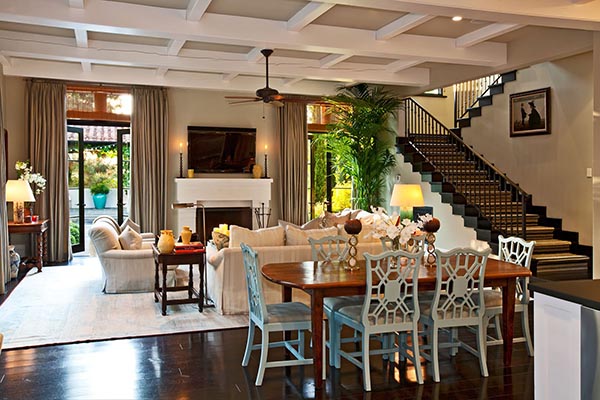 Photo:Credit
Here is another beautiful classic fireplace with doors on both sides. It perfectly fits the overall interior of this coastal living room.
19. Create a Spacious Cozy Reading Nook Around a Fireplace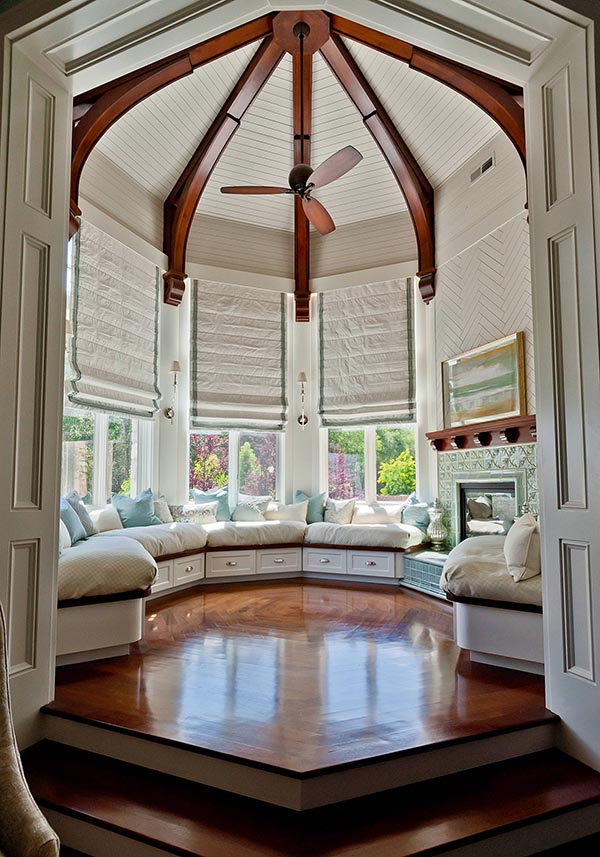 Image:Source
In this picture, the fireplace mantel decor has a dramatic impact on the whole high-ceiling living space.
20. Accent Your Fireplace Mantel with Luxurious Decor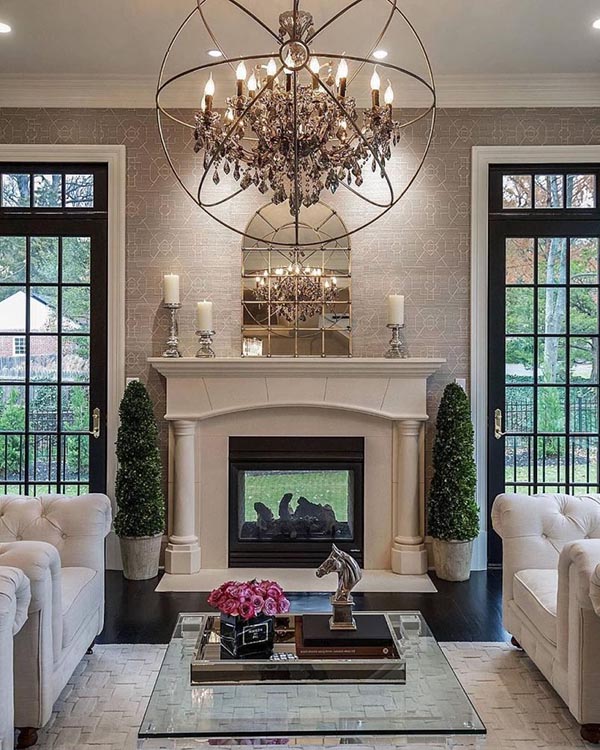 Photo:Credit
Hang a luxurious-looking mirror above your fireplace mantel – it will give some additional polish to your living room, or help space feel more spacious if you're working with a small room.
21. Bring Rustic Elegance with Colorful Flower Vases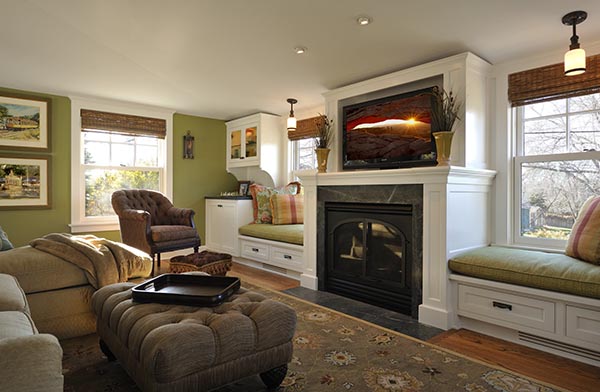 Image:Source
It's simple, but it works every time – frame your fireplace mantel with vase or candles on each end.
22. Create a Cohesive Living Room with Matching Decor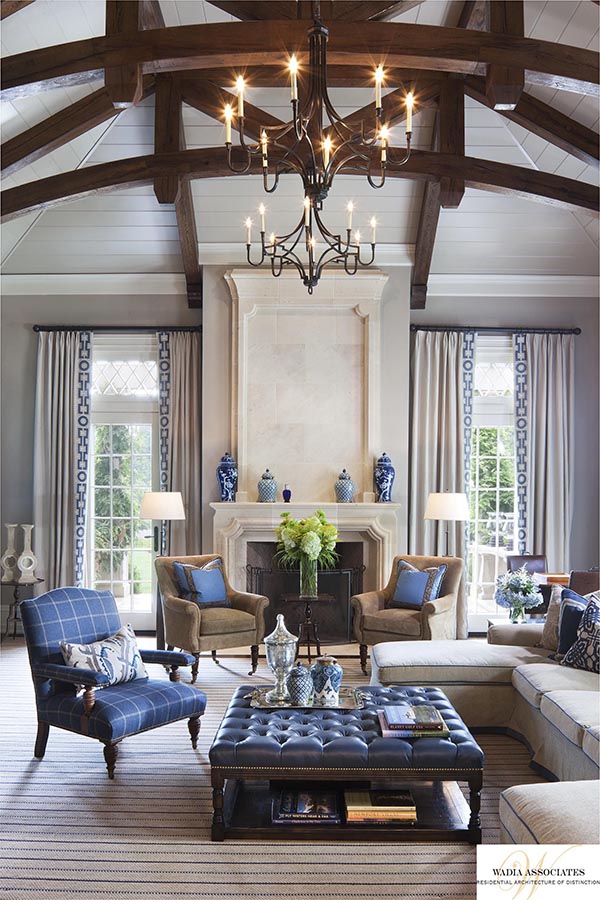 Photo:Credit
The combination of blue, white and wood is timeless and cutting-edge.
If you are looking for some fresh fireplace mantel designs, take a look at this statement-making piece among the patterned curtains, vibrant cushions, and fancy Portuguese style pottery.
23. Make a Statement with Timeless Color Combination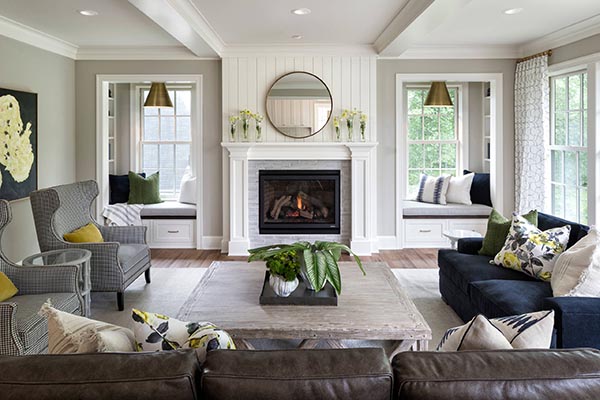 Image:Source
Gray-green and white is the color combination that literally never fails. The fireplace with window seats on each side became part of the wall decor by using a similar tinge.
24. Turn Your Fireplace Mantel into the Focal Point of the Room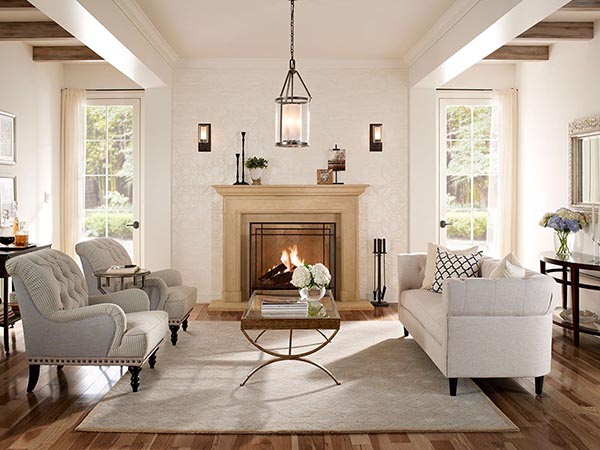 Photo:Credit
This caramel color fireplace mantel is truly the centerpiece of this beautiful high-ceiling living room. The tones of the overall design are so soft and silky.
25. Create a Warm and Inviting Room with an Elegant Mantel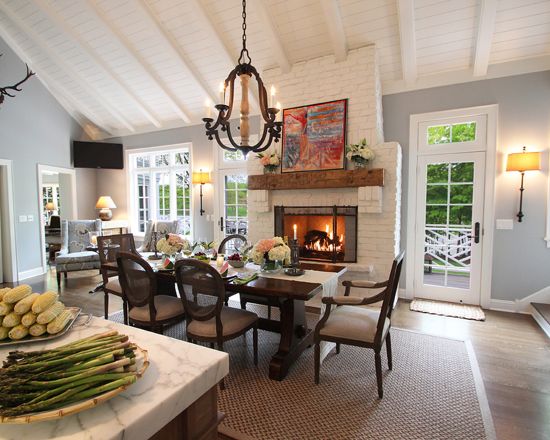 Image:Source
Do you like the stone fireplace with glass doors on both sides?
Just take a detailed look at the stunning fireplace mantel decor! I simply love it!  😎
No matter the design you choose – minimalistic, luxurious, modern or classic, the truth is the mantel can say a lot about your personal style and taste. So, do not rush, take a deep breath, and make the right choice for yourself.