The fireplace is supposed to be an eye-catching centerpiece. But if yours is grabbing attention for all the wrong reasons, consider giving it a beautification with stylish tile.
There are tons of great options available that will convert a sad fire surround into a feature you will simply love. Are you in?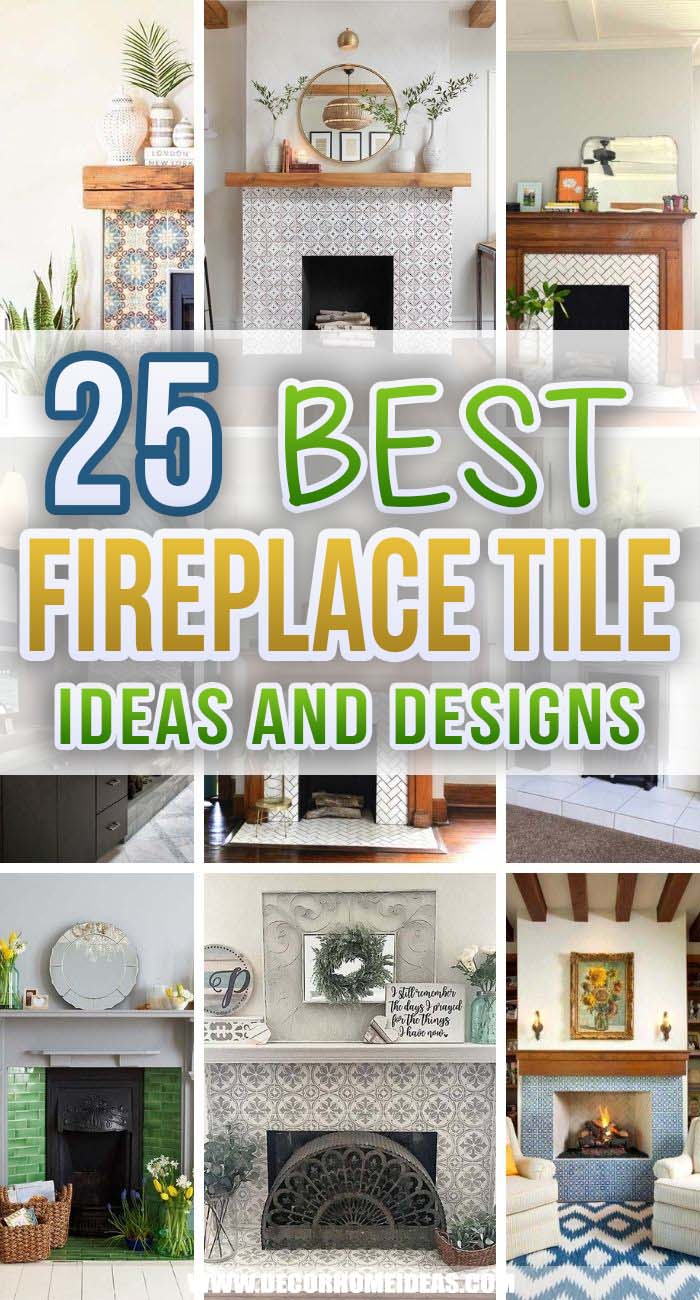 These 26 Amazing fireplace tile ideas will inspire you to design a hearthside worthy of cozying up to year-round.
What is the best tile for a fireplace?
Slate: Slate tile will give your fireplace a rustic touch
Marble: Marble tiles can give your fireplace elegance and style as it comes in different natural tone variations
Granite: Granite tiles are the strongest and will last forever
Porcelain: When it comes to tiling a fireplace hearth, choosing a glazed porcelain tile makes the best choice because they are more durable that non-glazed tiles
Travertine: It can be used for both your floor and fireplace surrounds
Terra-Cotta: While you can consider it a bit outdated there are some fireplace tiling designs that are just nice
What is the tile around a fireplace called?
Hearth! The hearth refers to the horizontal floor area of stone directly in front of the firebox opening.
1. Upgrade Your Fireplace with Ceramic Tiles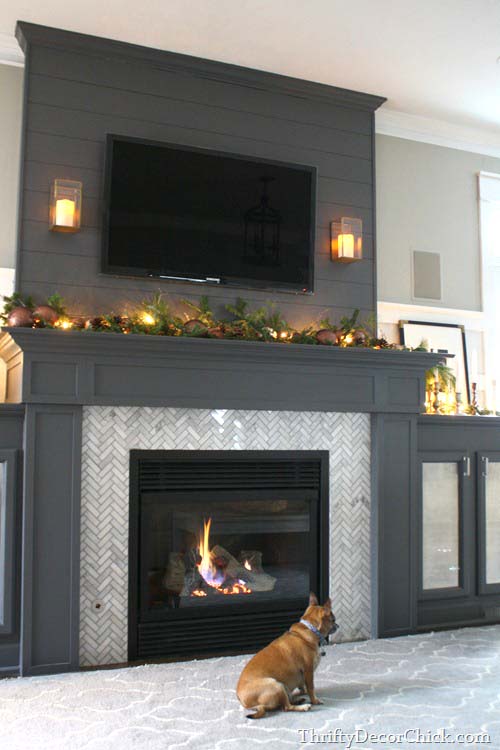 Photo:Credit
If you want to give your fireplace a simple and stylish look, a great choice would be ceramic tiles. They are one of the most common modern fireplace tile ideas.
The ceramic tiles are usually offered in a wide range of colors and patterns as well as shapes (such as a subway tile fireplace).
2. Discover Timeless Beauty with Marble Tiles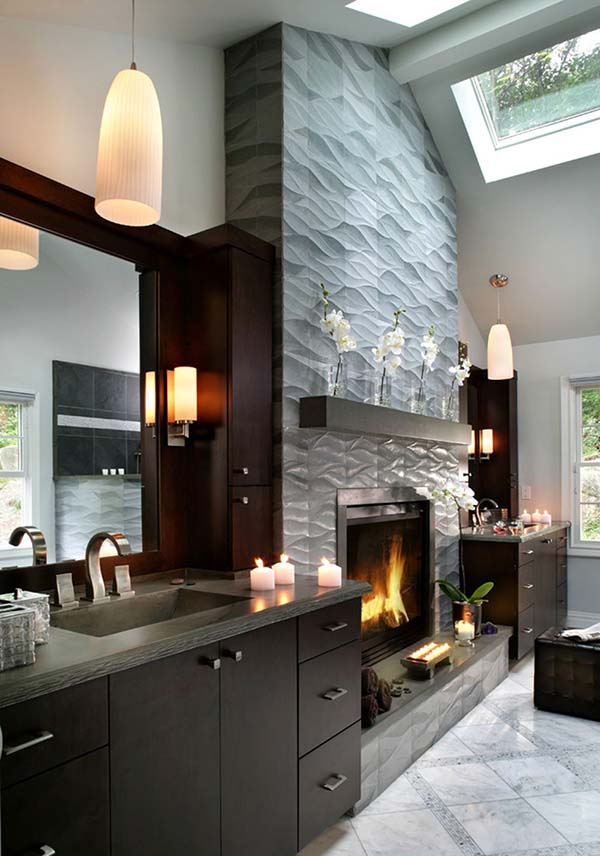 Photo:Credit
Why don't you give the fireplace at home a timeless, chic, and luxurious look by using a marble tile fireplace surround?
People usually love the tile fireplace ideas with marble as it makes a strong statement and adds some additional glamour and versatility to the living room.
3. Add Style and Sophistication with Cement Tiles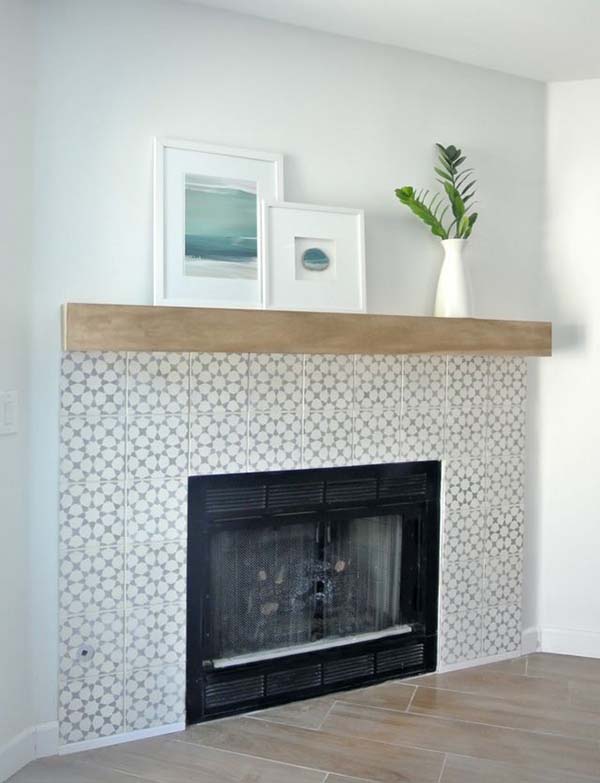 Photo:Credit
Cement tiles have been embellishing upscale floors for centuries mainly because they are very durable, and come in a broad range of colorful patterns.
Along with the other tile fireplace surround ideas I've prepared for you, consider using cement tiles for your fireplace to create a stylish centerpiece in the house.
4. Create a Moroccan-Inspired Fireplace with Tiles Design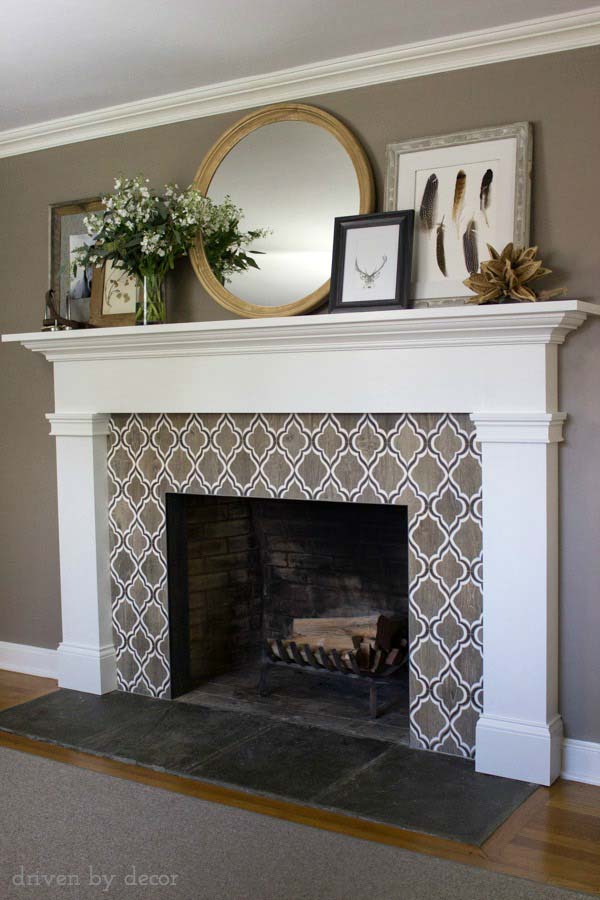 Photo:Credit
I know that even though, the internet is full of tile around fireplace ideas, sometimes is quite hard to find something you really love and that makes you feel warm and cozy.
Take a look at this pretty Moroccan-inspired print – the colors, the pattern, and the natural feel of the wood grain finish is just fantastic!
5. Mix Tiles for a Bold Unique Look Styles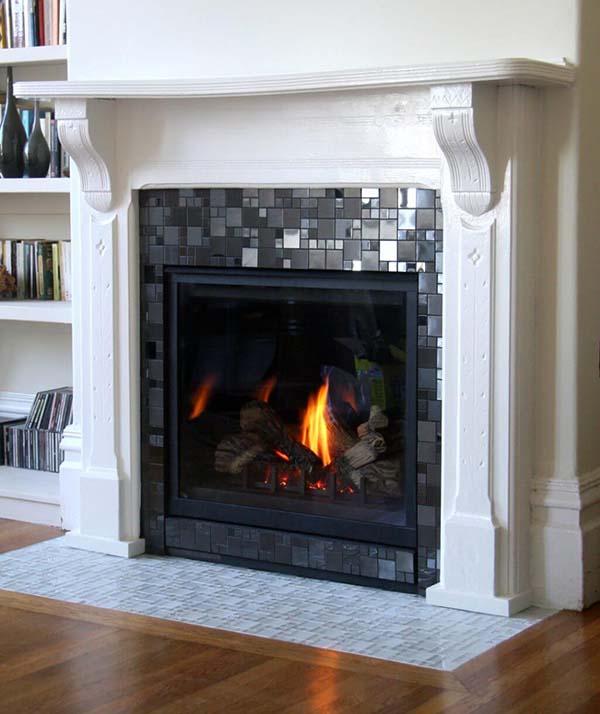 If the matchy-matchy décoration is not your thing, spice the things up a little by combining two different types of tile, for instance, Carrara marble with a glass mosaic.
6. Bring Farmhouse Charm with Your Fireplace Tiles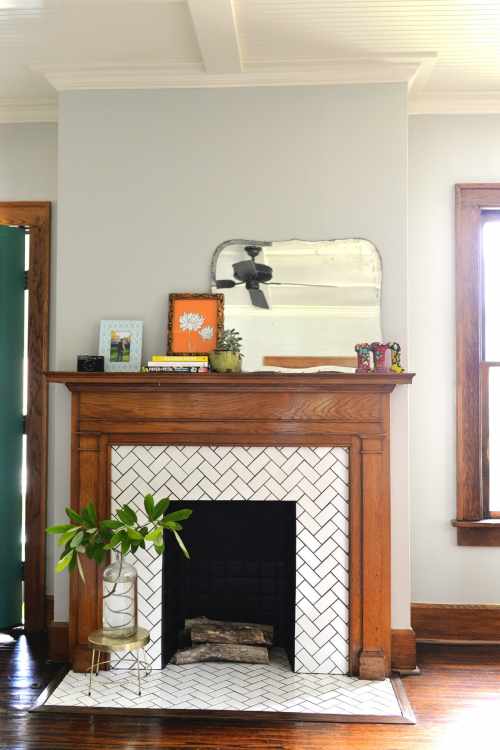 Photo:Credit
…and here is something for the fans of the rustic tile ideas for a fireplace!
This farmhouse inspired, features a black tile back panel and a white tile front panel in a charming herringbone pattern. We love how the wood mantel jumps out against the crumbly, white brick.
7. Get a Mediterranean Vibe with Colorful Mosaic Tiles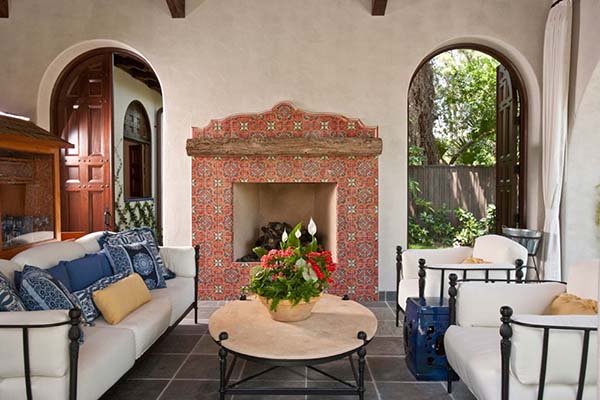 Photo:Credit
Transform the fireplace at home into a beautiful Mediterranean centerpiece. This design would fit great a beach-style living room. A great example of a fireplace with doors on each side.
Definitely one of my favorite fireplace tiles surrounds ideas!
8. Indulge in the Lavish Look of Porcelain Tiles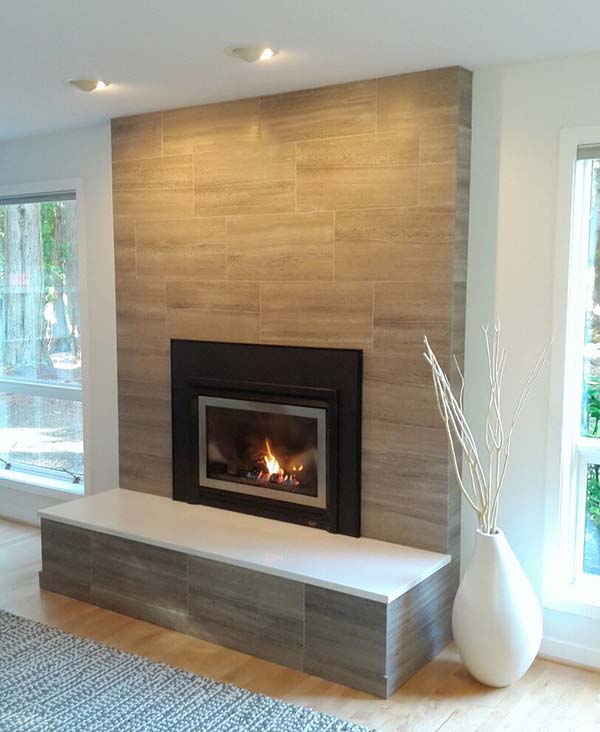 Porcelain tile is now the go-to product for fireplaces. First of all, it is very versatile, and then, the tiles from porcelain are available in a wide range of colors and shapes and a variety of coatings to be incorporated such as metal, linen, and leather.
If your home has contemporary look, consider covering the entire wall behind the fireplace with porcelain fire tiles in large format, executing one of the timeless fireplace tile surrounds ideas. It's the perfect indoor fireplace for your home.
9. Make Your Fireplace Sparkle with Stained Glass Tiles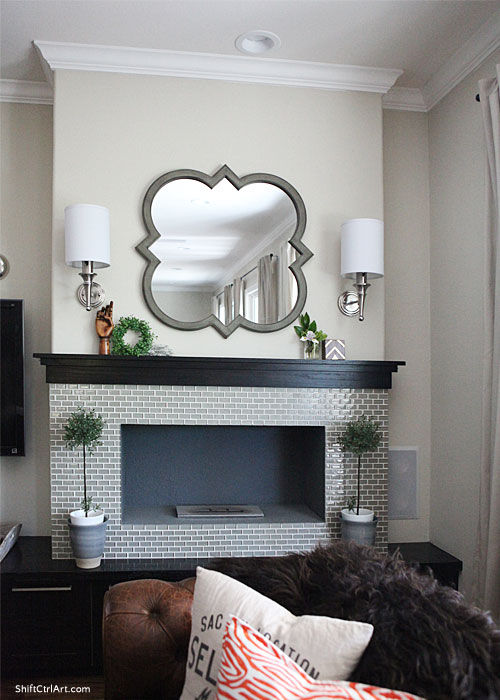 Photo:Credit
When I decided to refresh my fireplace, I first spoke to a friend of mine who's an interior designer.
He suggested to me to find and select some contemporary fireplace tile surround ideas as it would help me to modernize the entire living room.
So I finally covered the fire surround with some stained glass tiles, similar to those ones in the picture. Now, I've got an eye-catching centerpiece that makes all my friends envious.  😉
10. Be Bold and Creative with Vibrant Modern Tiles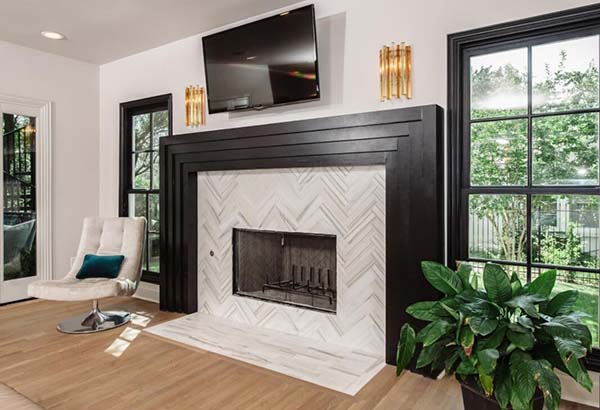 Photo:Credit
The avant-garde gas fireplaces are welcomed in any home thanks to their easy operation and most importantly the warmth they bring. A Great example of a fireplace with windows on each side.
Keep in mind that If you are creating a floor covering in the room where is the planned fitting of the fireplace, you need to beware of the strength of the relevant supporting substrate fireplace.
11. Add a Rugged Appeal to Your Home with Stone Tiles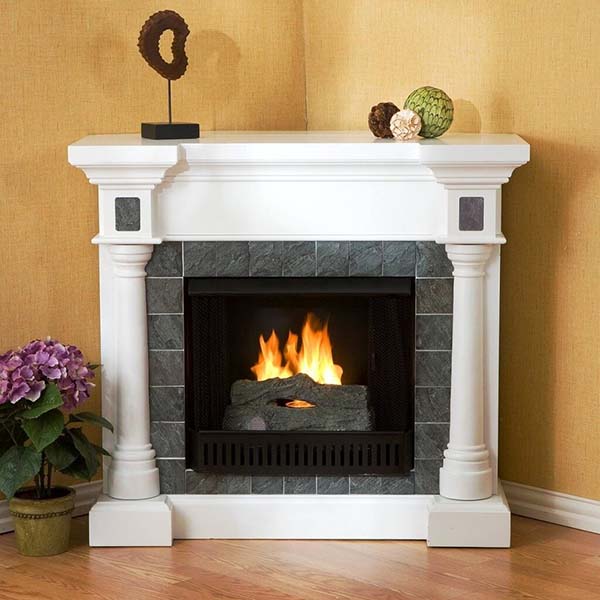 If you don't like the ceramic and the cement, why don't you look for some stone tile fireplace ideas?
It can also create a contemporary unpretentious look, without needing a lot of maintenance. This one is a built-in corner fireplace.
12. Make an Artistic Statement with Cobalt Blue Tiles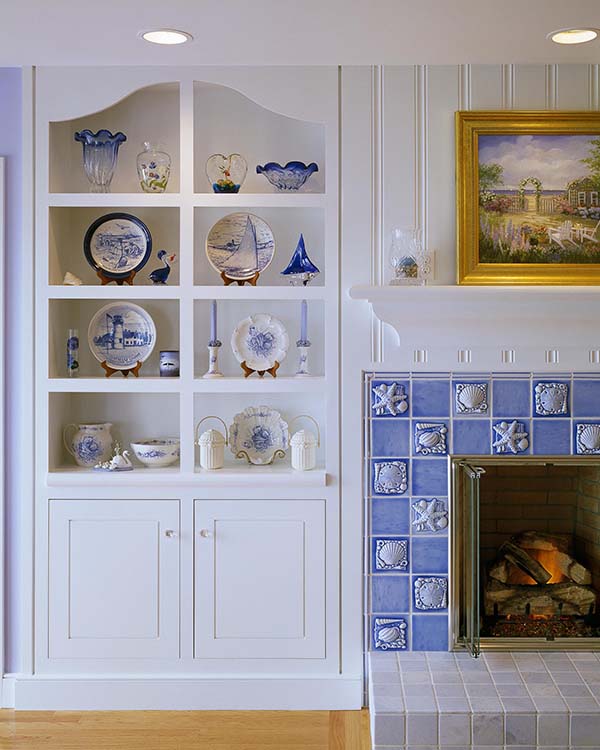 Photo:Credit
The fireplace reflects the strong beachy vibe of the living room with Cobalt blue tile.
In order to keep the main focus on the decorated surround, the mantel decor is minimalistic.
13. Beautiful Contrast between Fireplace and Mantel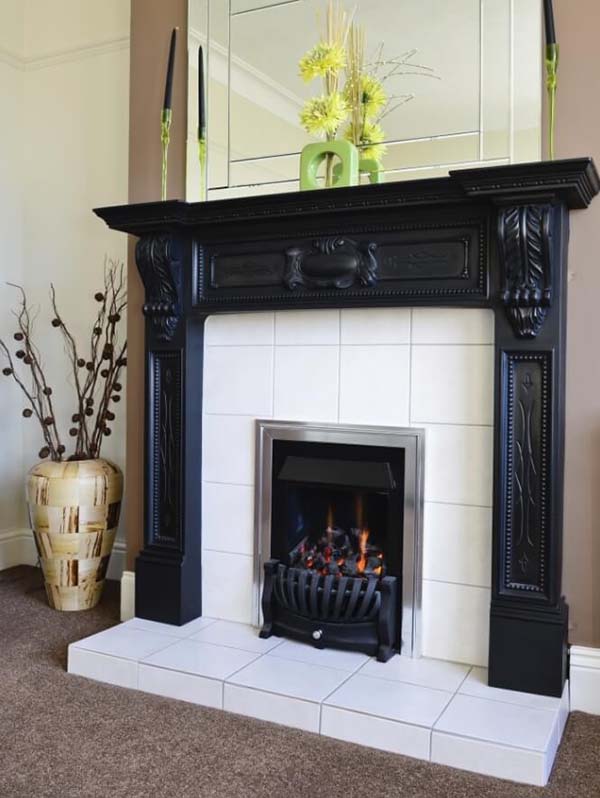 One of the easiest fireplace design ideas with tile is to make a strong contrast between the fireplace surround and the mantel. You can do it with the colors, the shapes, or the materials used.
14. Showcase Your Style with Marble Tiles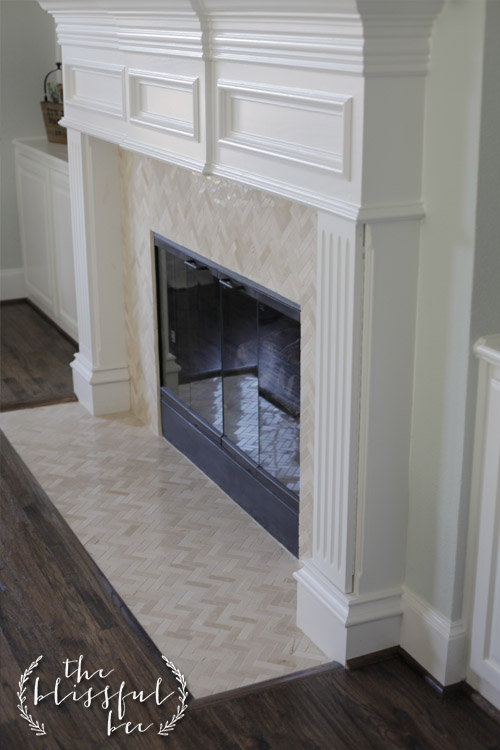 Photo:Credit
Continuing with the marble tile fireplace ideas…
These stylish 1×3 inch marbles tile with a herringbone pattern transform the boring classic fireplace into a wonderful focal point that makes the entire space warm and cozy.
15. Elevate Your Fireplace Tiles with Greenery Accents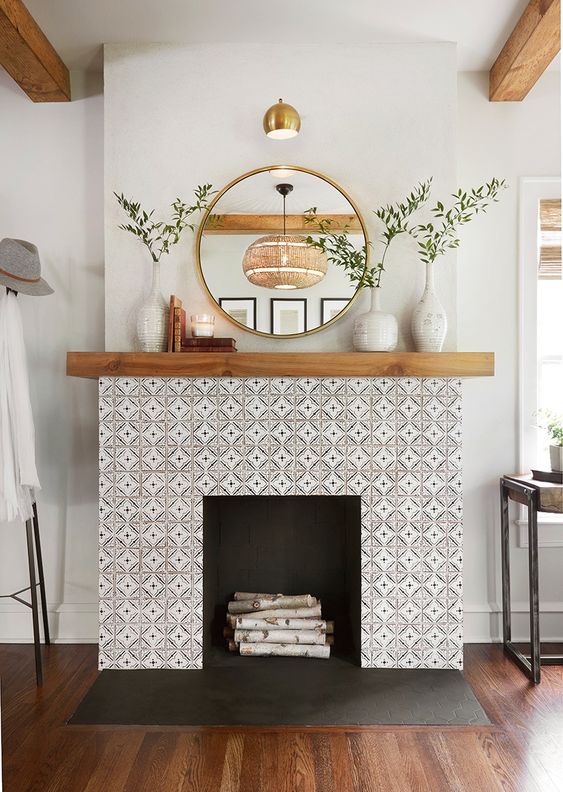 Photo:Credit
The Mediterranean-style tiles in natural colors stylishly frame this fireplace.
The mantel plays as an extension of a wooden ledge that hugs the wall and provides space to display greenery in beautiful pottery, and a basic rustic candle holder.
16. Create a Roomy Feel with Your Fireplace Tiles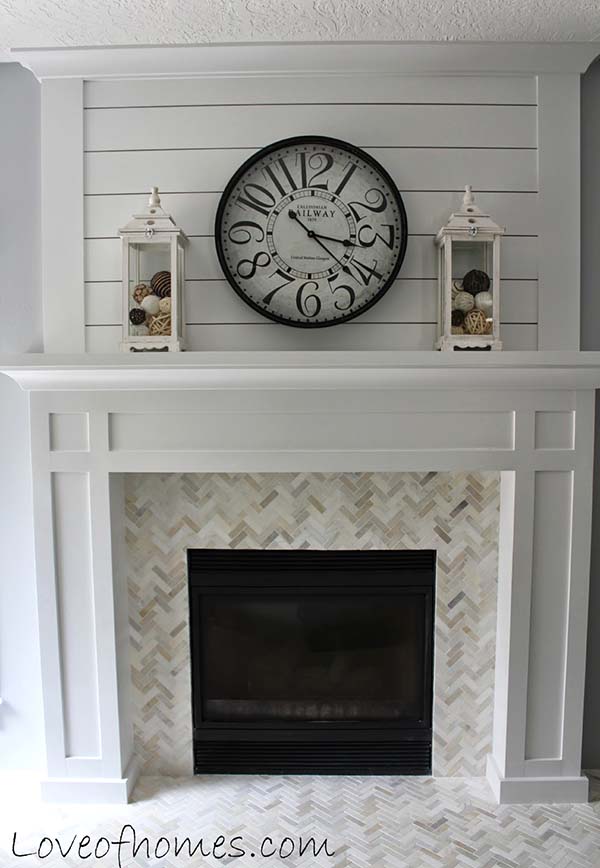 Photo:Credit
Here is another gorgeous fireplace transformation with tiles from Lowes and some planked wood painted in snow white.
The additional elements give a strong breezy feel to the entire space.
17. Add a Pop of Color with Your Fireplace Tiles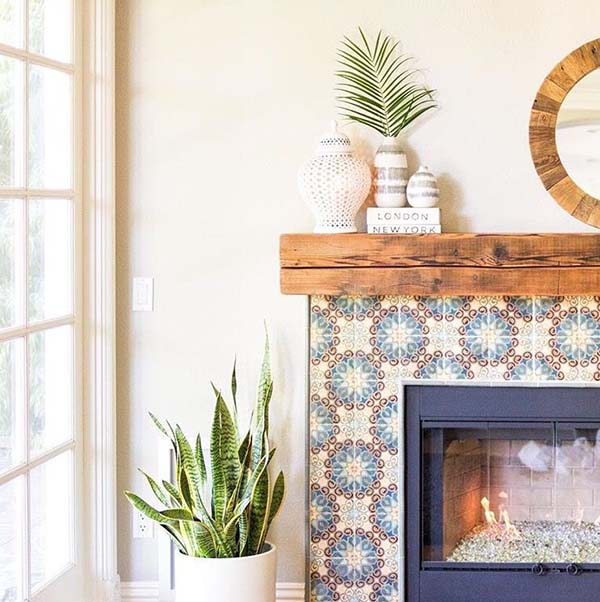 Photo:Credit
Since there are tons of various options to choose from when looking for some contemporary fireplace tile ideas, you can give full freedom to your creativity.
You can choose tiles that fit the colors of the walls, the floor or elements in the interior design of the room such as the window treatments, the furniture, or the lighting equipment.
Consider the fireplace tiles a different kind of wall decoration.
18. Transform a Fireplace with Chalk Paint and Stencil Tiles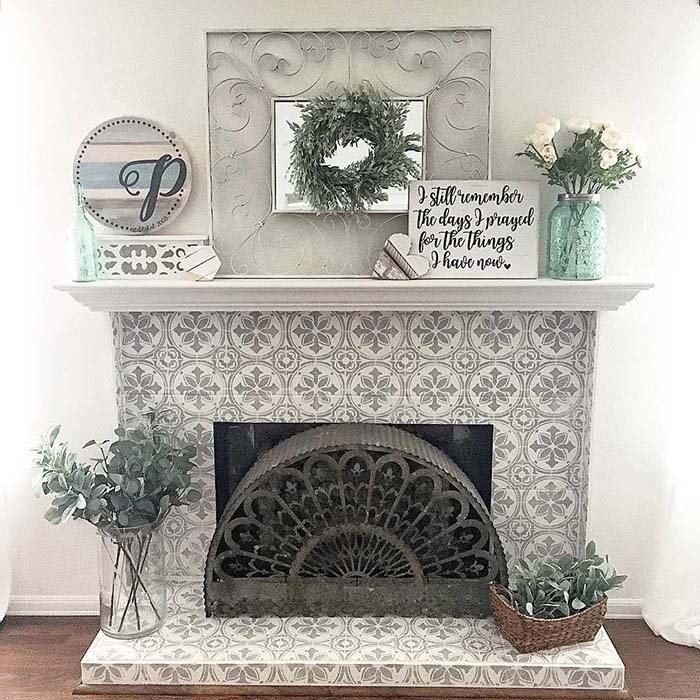 Can you believe this stylish fireplace is being made by a bit of chalk paint, a great stencil (pattern), and… a lot of patience, of course?
This design surely goes to my list of fireplace tile surround ideas!
19. Personalize Your Fireplace with Hand-Painted Tiles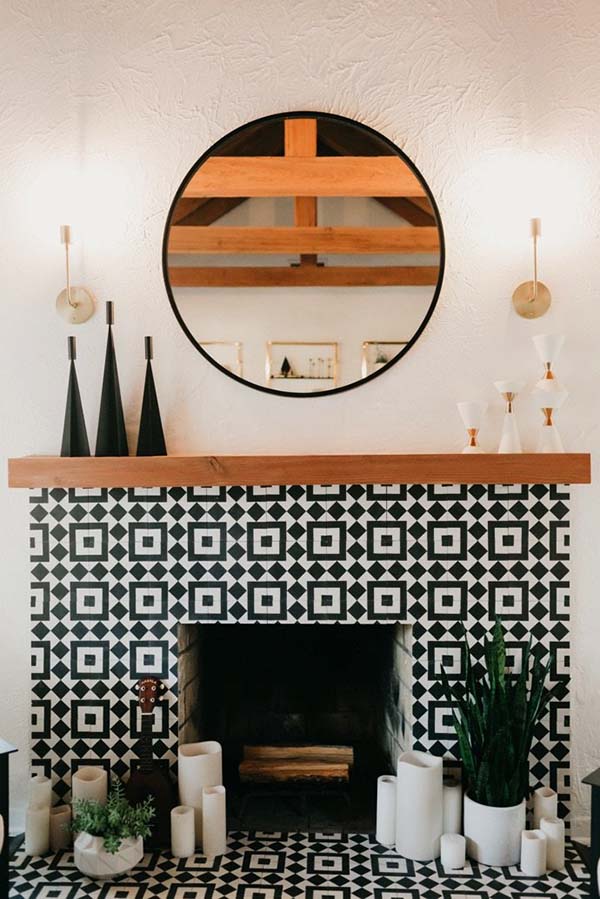 Photo:Credit
Hand-painted tiles surely add a strong artisanal appeal to your fireplace surround, but they are quite costly (their price can go up to $50 per square foot?!!).
To save some cash, you can just paint affordable plain white tiles before installing them.
To do so, you will need a stencil for the pattern and craft paint that is both waterproof and scuff resistant.
20. Set the Right Tone with Gray Fireplace Tiles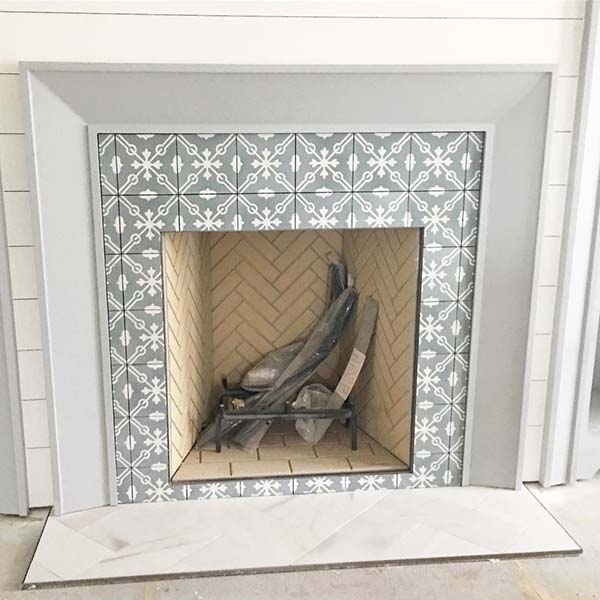 Photo:Credit
Searching for some fireplace tile design ideas? Take a look at this one in the picture above then!
I just love how the wallop of the buttery color of the back panel jumps out against the patterned grey tiles.  😕
21. Bring Life to Your Fireplace with Green Tiles and Plants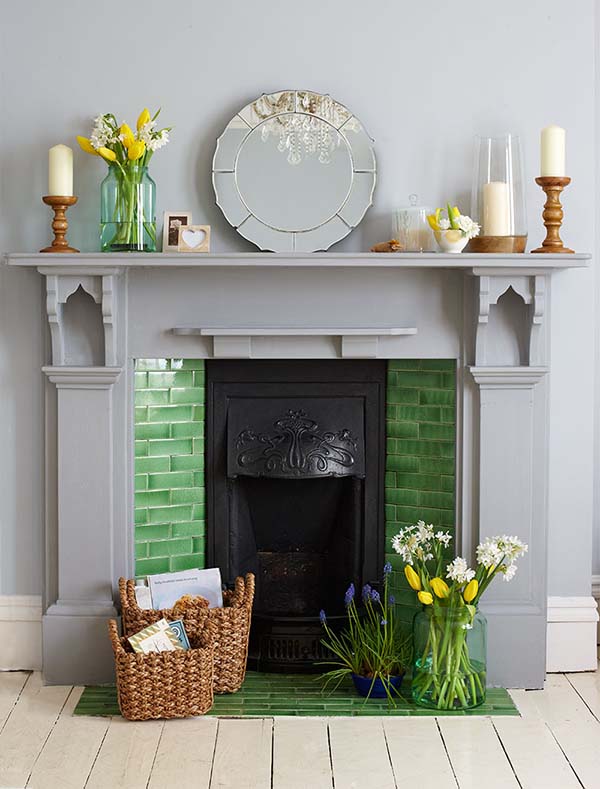 Photo:Credit
The texture is often neglected when decorating tinier spaces but getting a lovely combination of tactile accessories is just as essential as in a more spacious area – particularly compelling if you have smooth, glossy tiles.
The rustic materials, such as timber and rattan, create a strong visual and physical contrast and look amazing when layered up.
Finish the look by adding a few cracks of color with spring flowers in an oversized vase.
22. Enhance Your Living Room with Rustic Patterned Tiles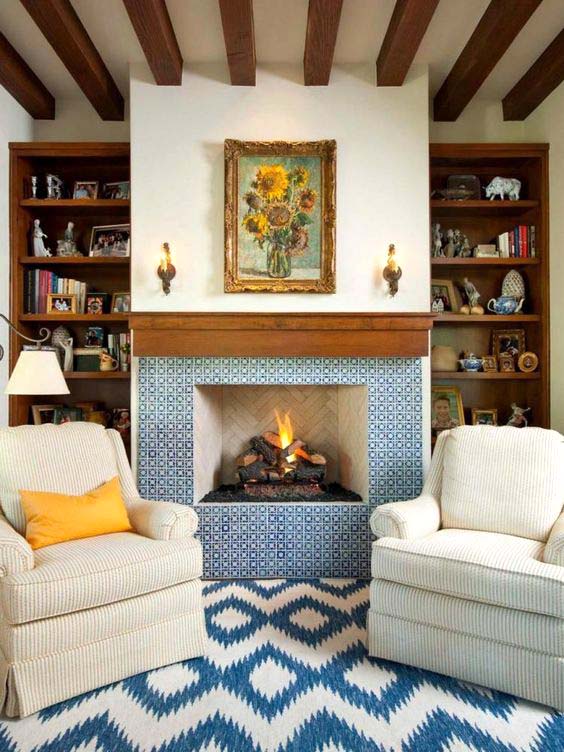 Choosing patterned tiles for reviving your old boring fireplace can create striking contrast in the entire living room.
You can quietly enjoy the result while staying in the sitting area.
23. Bring a Contemporary Vibe with Your Fireplace Tiles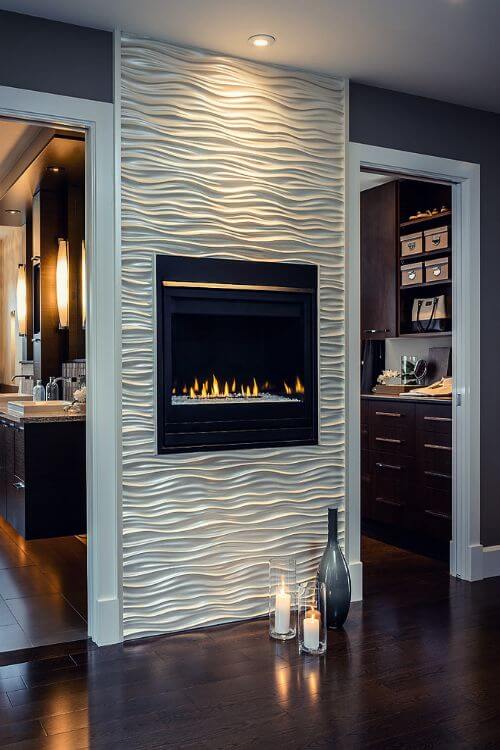 You don't need to overemphasize the decoration of the fireplace in order to bring a contemporary and sophisticated look. Simplicity is timeless.
Pick some simple decorative tiles for the mantle and the entire fireplace décor, that will certainly bring your fireplace in focus.
24. Achieve Monumental Beauty with Tin Tiles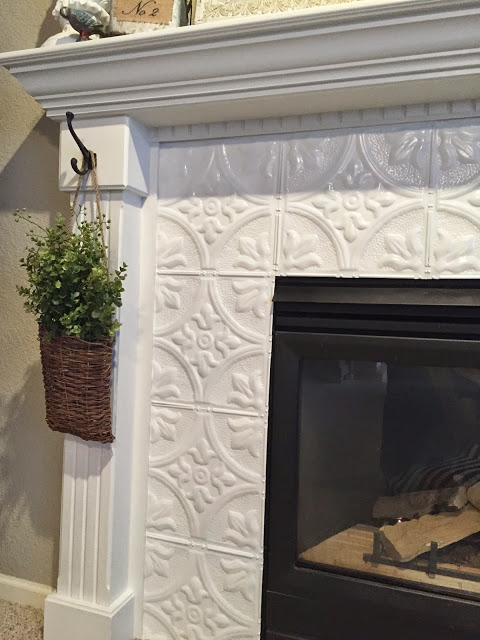 Photo:Credit
Here is proof that one of your most favorite tile around fireplace ideas could be easily made for $135 dollars and some free time.
This tin tile fireplace makeover will surely be the new centerpiece in the living room.
25. Transform Your Home with a Classic White Fireplace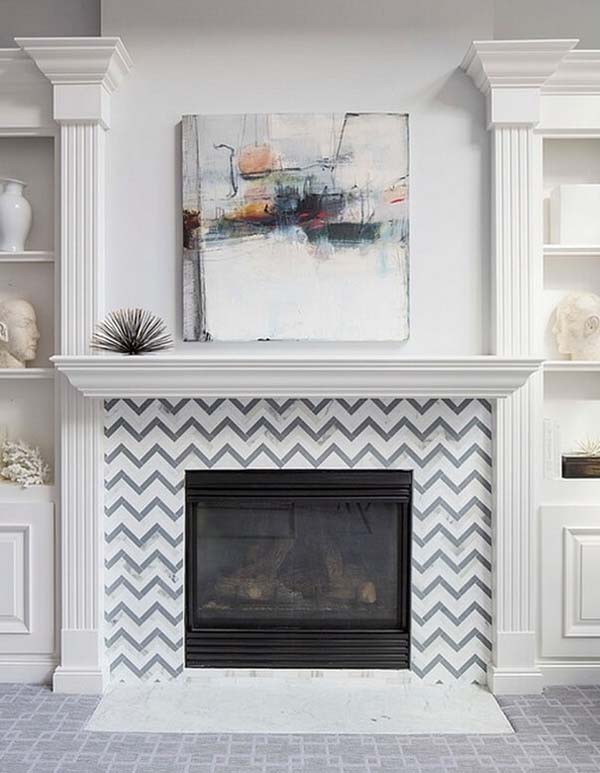 When deciding on tile fireplace ideas, it is essential to choose the right color to either match your existing vibe or make a statement that attracts attention.
The white color, for instance, makes an elegant statement and gives a stylish look to the entire living room. Add some cool pattern so it won't turn into a boring fireplace.
26. Add Texture and Definition with Mosaic Tiles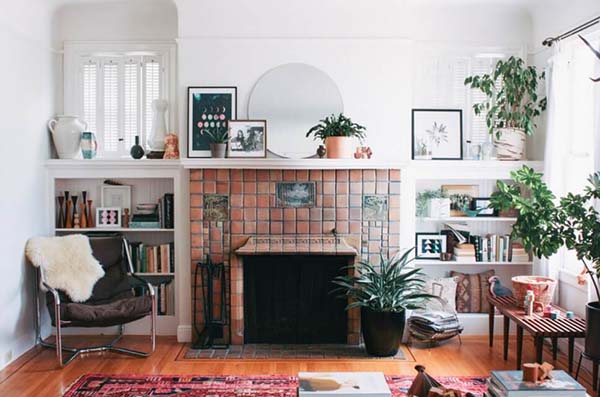 Mosaic tiles will bring your old, boring fireplace to the focal point.
When using mosaic tiles on the surround, dare to mix in some different colors and create a vintage-inspired look.
The cozy and romantic vibe spread around the fireplace will surely make everyone enjoy its magic. It gives a strong character to the living space in which it is placed and creates a warm feeling for the person sitting in front of it.
27. Revamp Your Fireplace with Patterned Tile Design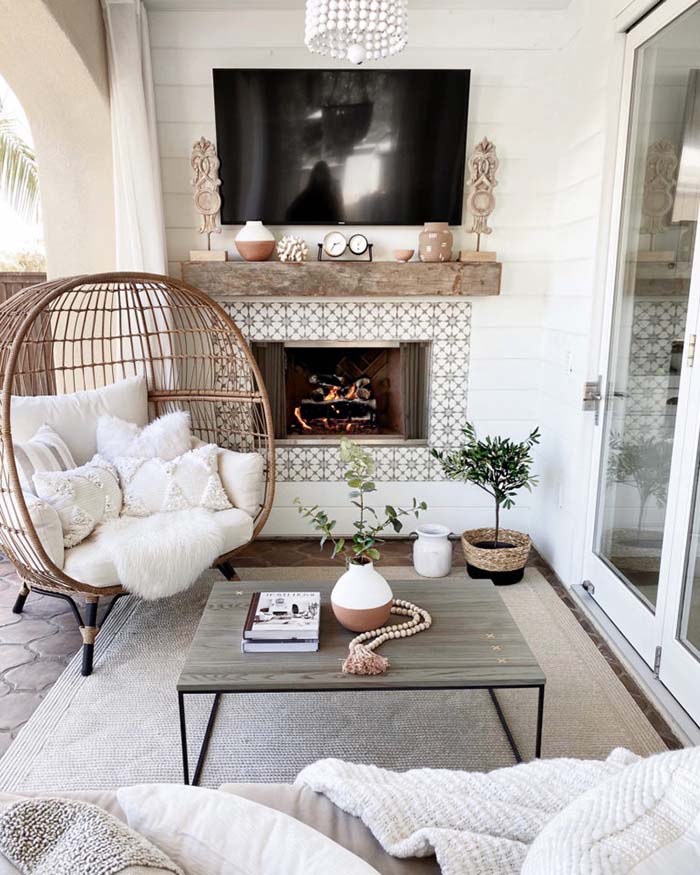 This old fireplace was given a new life with a patterned tile design and a piece of reclaimed wood as the mantel.
via Stylin' By Aylin
28. Give Fireplace a Natural Look with Beige Hearth Tiles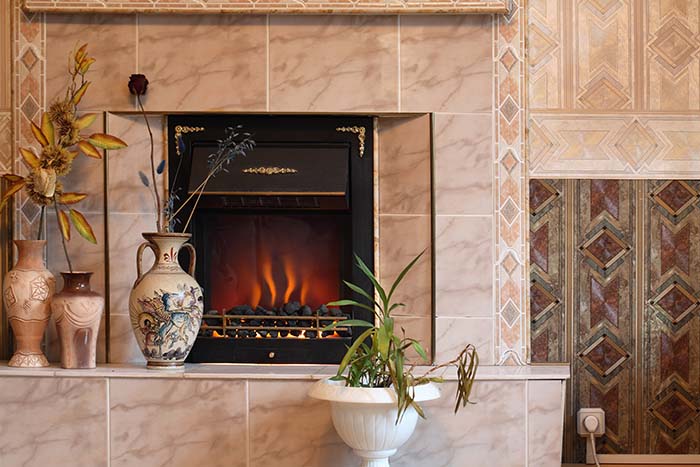 When it comes to tiled fireplaces we have to include at least one electric fireplace in our selection. You can choose a hearth tile in a beige or similar color that will give you more warmth.
Any decorative tile would do just nice as long as you keep tile style well incorporated in your interior design.
I hope you enjoyed reading my list of 28 one-of-a-kind fireplace tile ideas! Cheers!