Not all spaces can shelter an extensive fireplace.
That's why we would like to share some decorating ideas for a family room with a corner fireplace. The ambiance is of timeless quality, and a great corner fireplace would easily complement your home's tenfold.

When speaking of home decor, the fireplace is a cornerstone.
Let's get started with a collection of 32 amazing corner fireplace ideas (hopefully, you will choose the right fit for your home).
1. Add an Organic Feel to Your Fireplace with a Stone Wall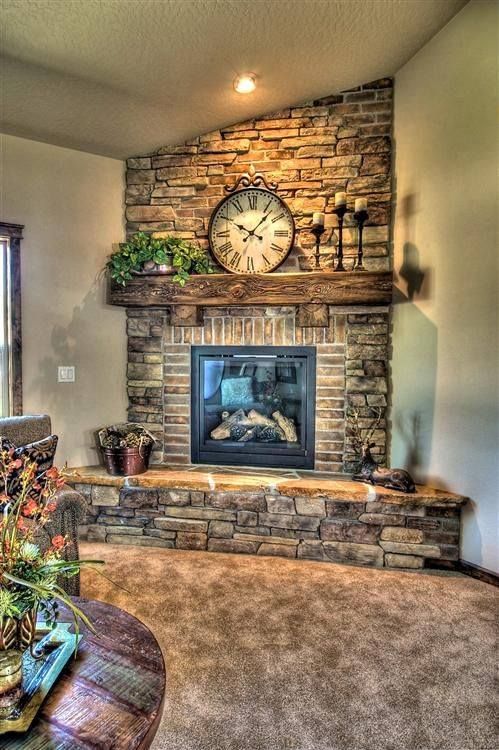 Photo:Credit
The corner fireplace ideas in stone are usually the most wanted ones as the stone gives a natural, unrefined look to the overall design.
2. Place the Fireplace Close to Window for a Stunning View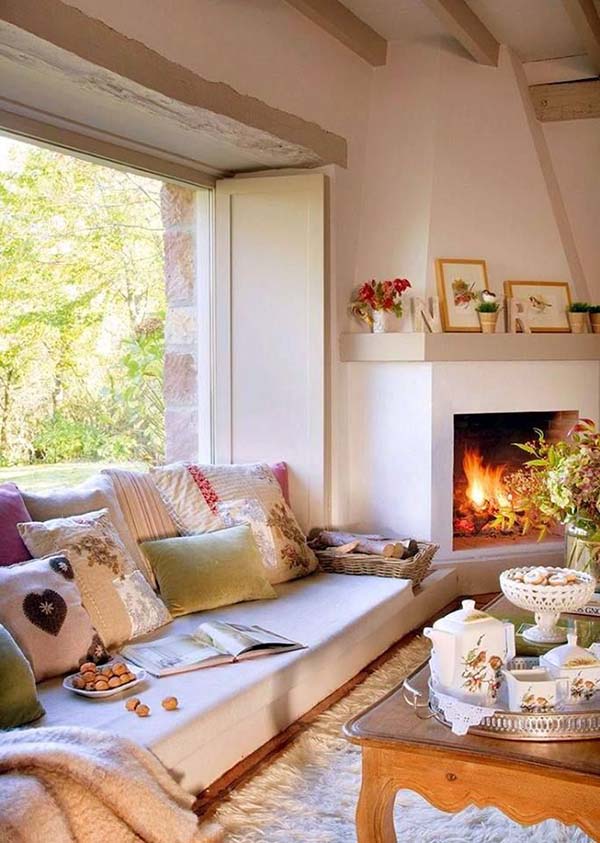 Photo:Credit
This is definitely one of the boldest living room ideas with a corner fireplace I've ever seen as it is situated right next to the window and the sofa.
That will keep you warm and cozy during the cold winter night while you are reading a book and watching the snowfall.
3. Embrace a Contemporary Vibe with Electric Fireplace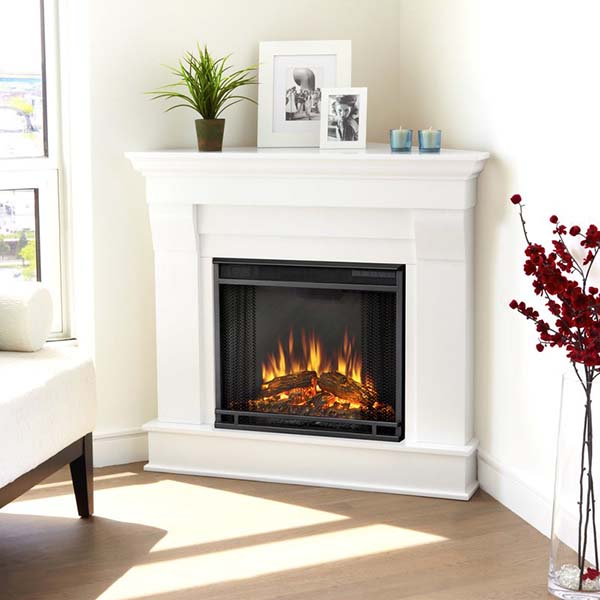 Photo:Credit
Most of the modern corner fireplace ideas are using an electric one as it is easy to maintain and can be placed everywhere even on a carpet.
Learn more: Here
4. Welcome Coziness and Style with a DIY Stone Corner Fireplace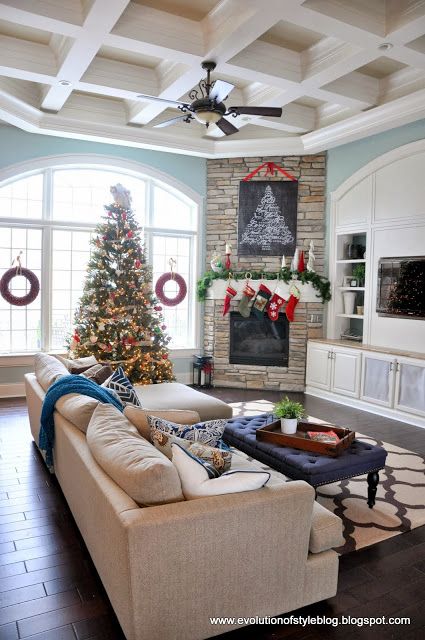 Photo:Credit
Are you looking for some rustic corner fireplace ideas? Take a look at this beautifully DIY made centerpiece made of stone. It perfectly fits the overall design and makes this living space more welcoming and cozy.
5. Bring Farmhouse Charm with Rustic Fireplace Display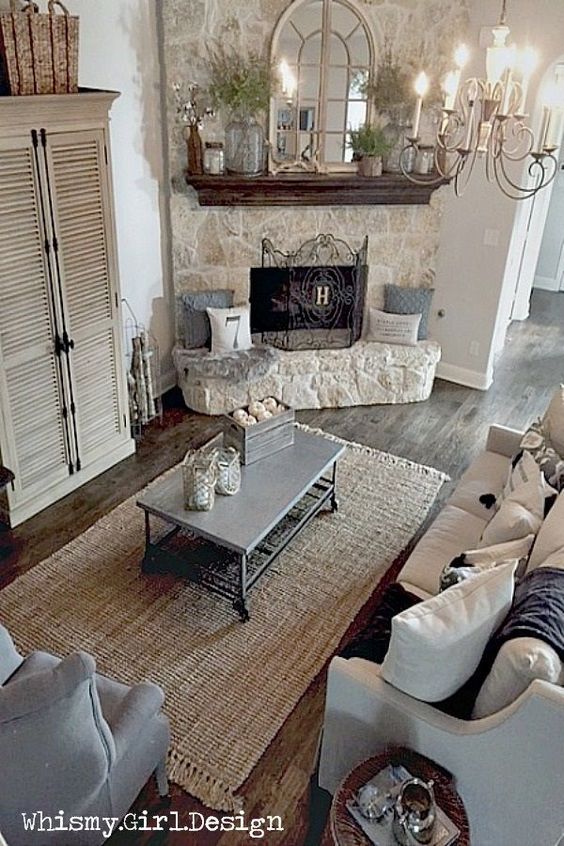 Photo:Credit
Here is a great combo of luxury and bucolic. I just love the corner fireplace decor!
6. Create a Focal Point with a Simple Corner Fireplace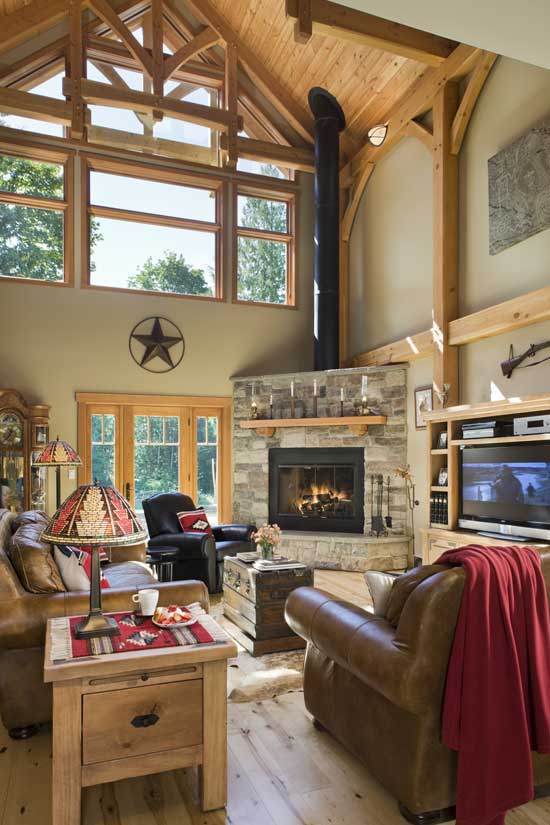 Photo:Credit
The simplicity of this corner fireplace decor, mated with the lofty ceiling and multiple windows, brings a feeling of vastness and openness to this great chalet-style living room.
7. Uplift Your Modern Living Room with a Corner Fireplace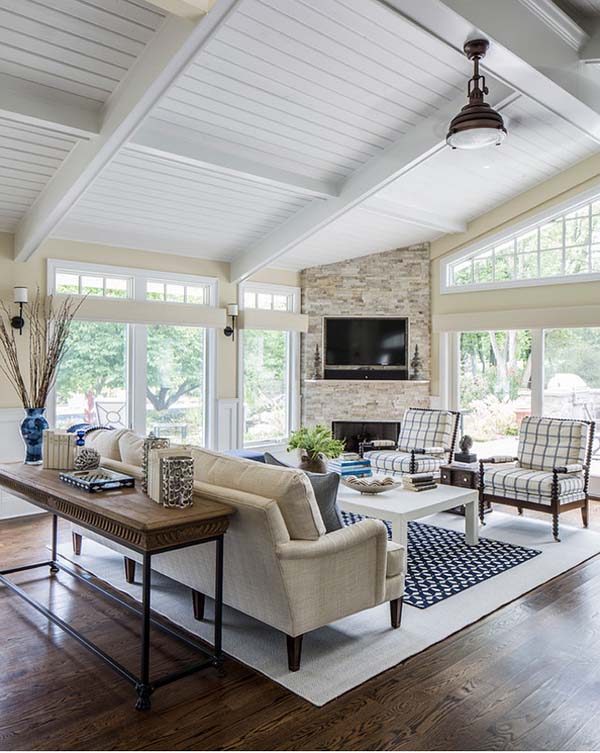 Many friends asked me to share with them some corner fireplace ideas with the TV above.
I have found this contemporary living space with a flat-screen above the fireplace that is situated between two big windows – very unusual and bold.
8. Transform Your Home into a Chalet Haven with a Fireplace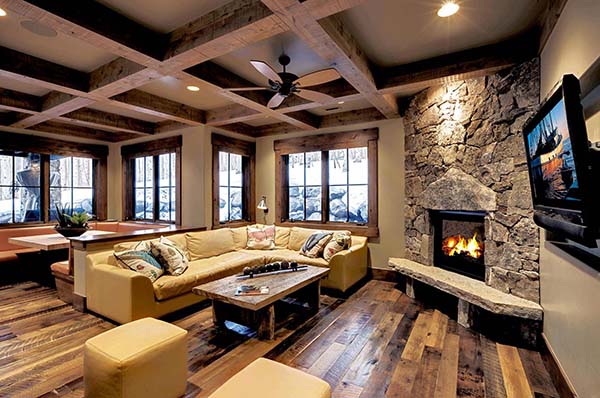 Photo:Credit
The framed timbers on the ceiling offer a steady frame through the living space while the window walls bring the marvelous views right inside.
You should definitely add this to your list of living room design ideas with a corner fireplace in stone!
9. Make Your Home Feel Airy with a Corner Fireplace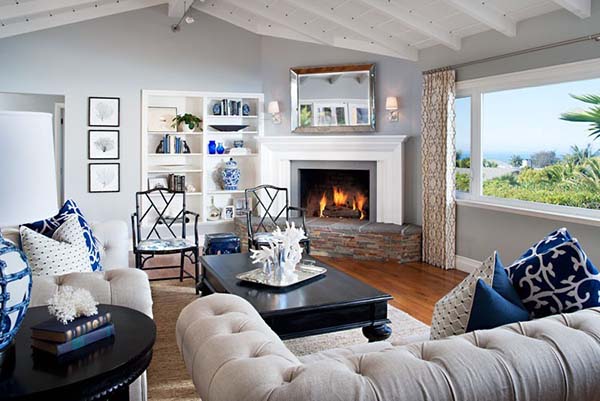 Photo:Credit
One of the greatest corner fireplace mantel ideas I've found so far! Love the white solid mantel, and the mirror above – it makes the living room look more spacious.
What about the slightly perceptible industrial vibe? Stunning!
10. Accentuate Your Fireplace with a Magnificent Art Piece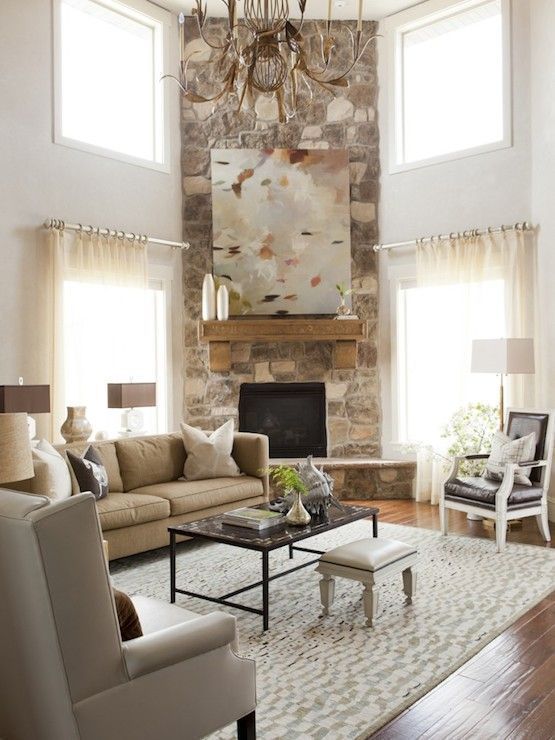 Photo:Credit
Have you thought that you can add some wall art to all the corner fireplace design ideas so you can make it more unique, more YOU?
11. Revolutionize Your Home Decor with a Rustic Corner Fireplace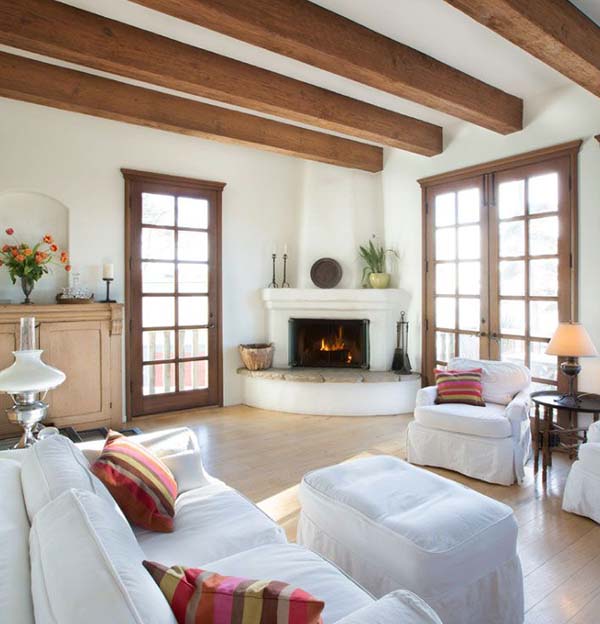 Photo:Credit
Don't know about you, but my list of favorite fireplace corner ideas is very long. This white corner fireplace, for instance, is a cool example of how the classic could be naturally paired with some modern elements.
The only thing I would add to this design is more greenery, don't you agree?
12. Add a Cozy Touch with a Traditional Fireplace Design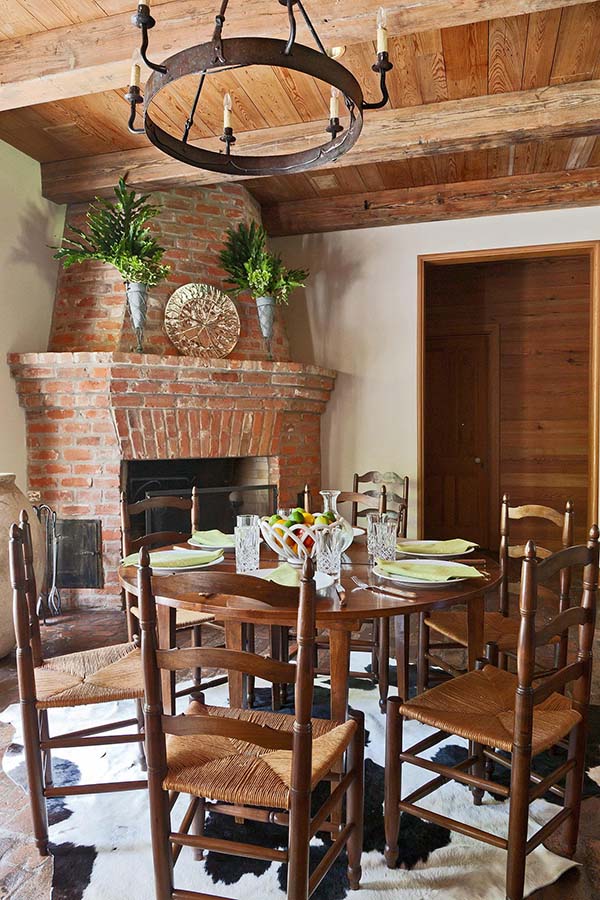 Photo:Credit
What I really like about this design is the neutral color of the walls and the natural materials used for the corner fireplace and the furniture. Warm and cozy in a simple way!
13. Elevate Your Living Room with a Fireplace Art Display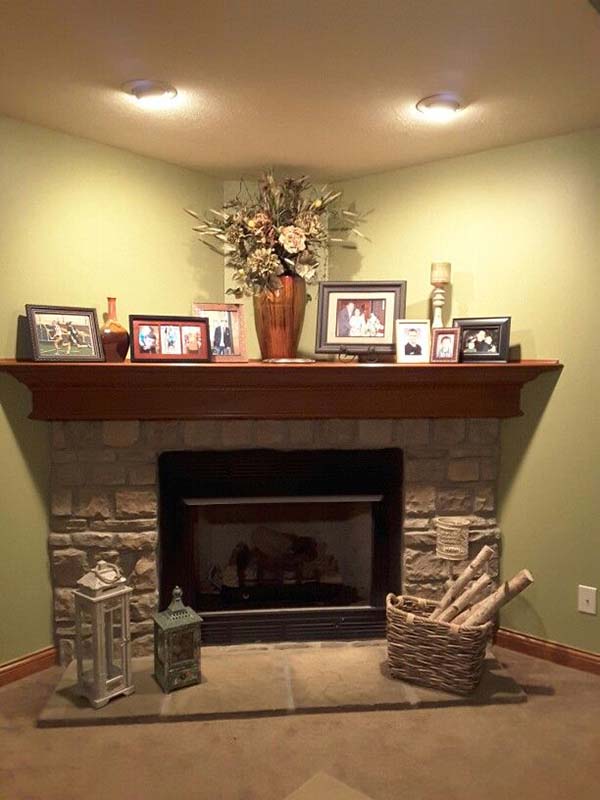 Photo:Credit
One of the best corner fireplace mantels ideas you can find while searching on the internet is the one that shows you how to transform the mantel into a small art exposition or family portraits fanfare.
14. Be Bold with a Corner Fireplace in Your Kitchen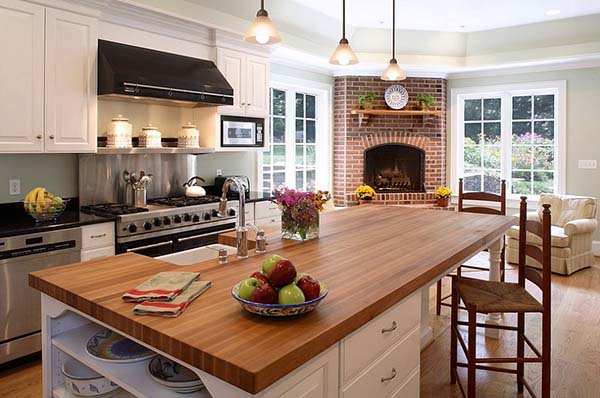 Photo:Credit
That could be for sure an appealing addition to your kitchen! Just make sure the corner fireplace decor fits the overall design of the space.
Tip: That would fit better in a more spacious farmhouse-looking kitchen.
15. Create a Timeless Stylish Look with a White Fireplace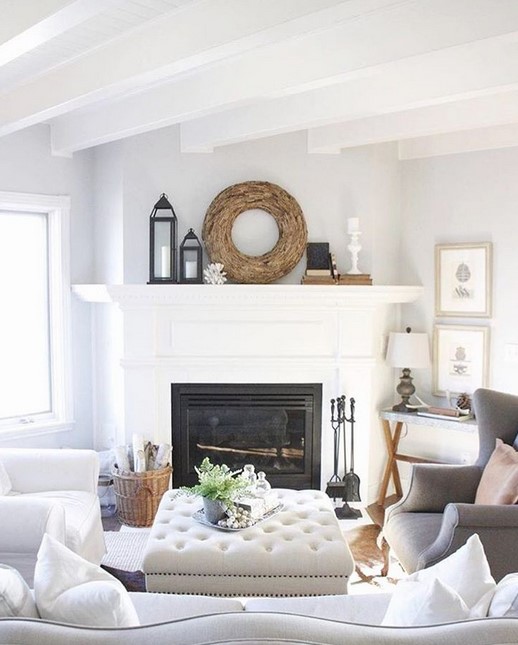 Photo:Credit
Playing with the colors is one of the timeless corner fireplace decorating ideas.
However, white is the most elegant color. Plus, it makes your living space look three times bigger than it actually is.
16. Create the Perfect Ambience with Art Deco-Inspired Fireplace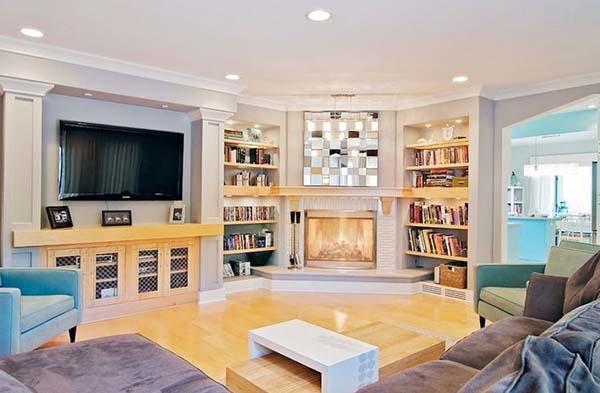 Photo:Credit
Pinterest is full of living room with corner fireplace decorating ideas that are inspired by Art Deco*. You can create a similar effect with tiles. Check our: Fireplace Tiles Ideas Article.
*This is an ornamental architecture and art movement that began in the 1920s and developed in the States and Western Europe and then became a major style during the 1930s.
17. Add Rustic Charm with a White Brick Corner Fireplace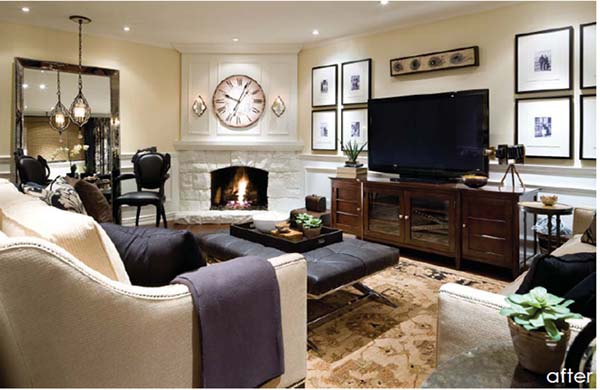 Photo:Credit
To a vintage living space, as shown in the picture, an old style of white brick corner fireplace is what goes well.
18. Make a Statement with a Nordic-Style Corner Fireplace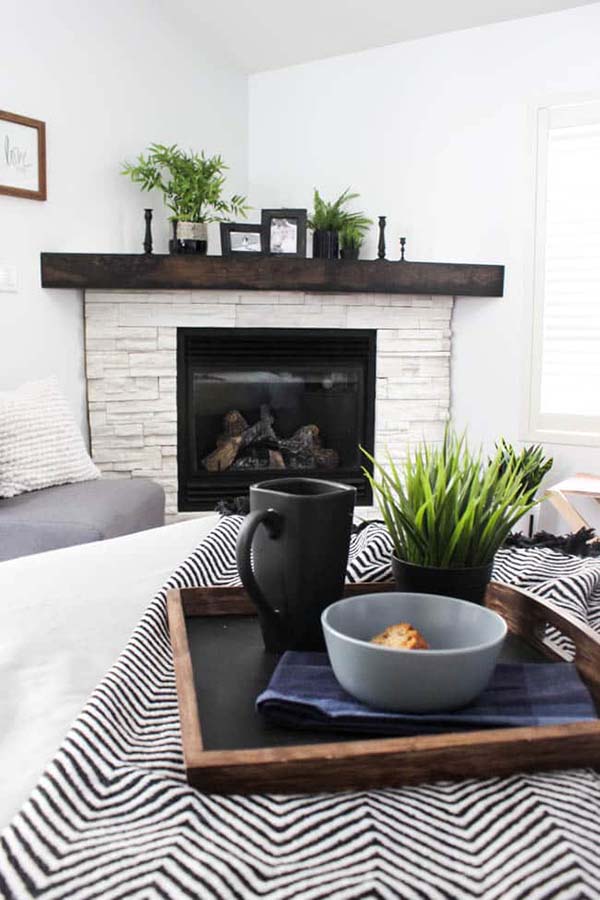 Photo:Credit
Still can't find your dream corner fireplace decor? Why don't you search for some Scandinavian-style corner fireplace surround ideas (like this one above)?
19. Unwind and Relax in a Cozy Corner Fireplace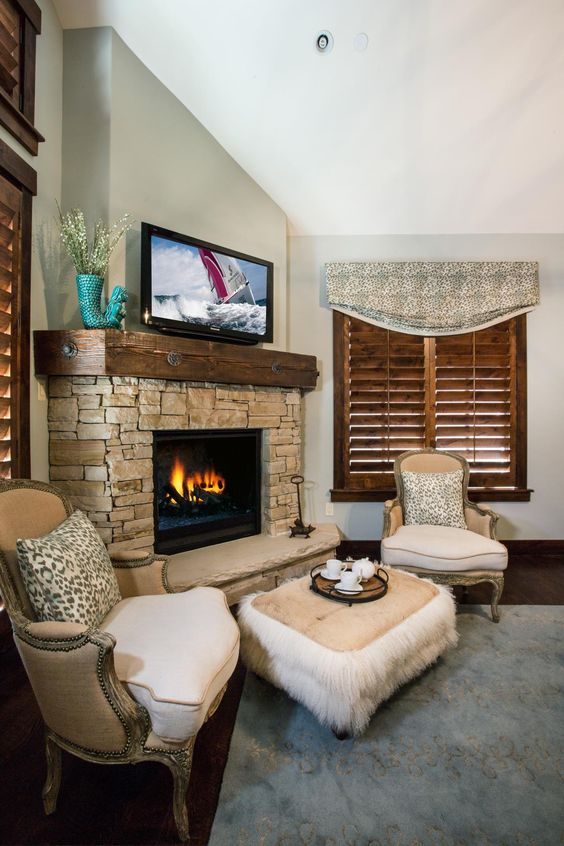 Photo:Credit
As opposed to the majority of corner fireplace ideas, the design on the picture shows a cute sitting spot right in front of the corner fireplace. That will definitely make you feel warm and cozy during the cold winter!
20. Get Creative with Your Corner Fireplace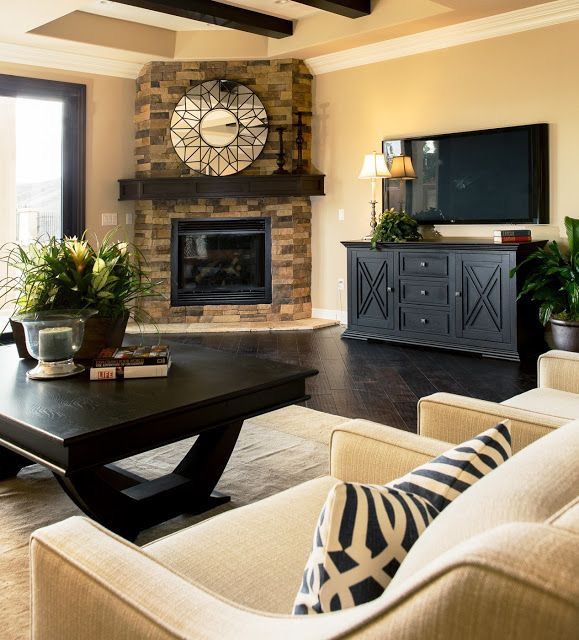 Photo:Credit
Who said the corner fireplace ideas in stone should be straightforward and literal?
This living space, for instance, is a stylish mixture of colors and styles.
21. Maximize Your Small Living Room with an Elegant Fireplace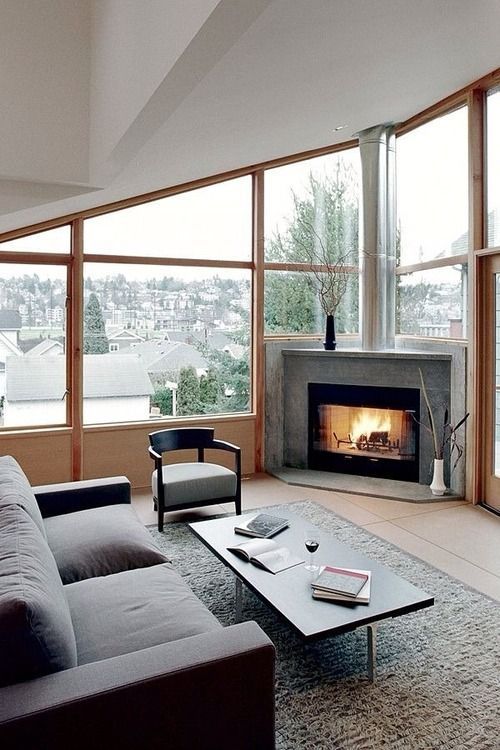 Are you a fan of the modern corner fireplace design ideas? If so, take a look at this stunning centerpiece that complements the minimalistic design of the small living space on the picture.
22. Add Character and Texture to a Room with a Corner Fireplace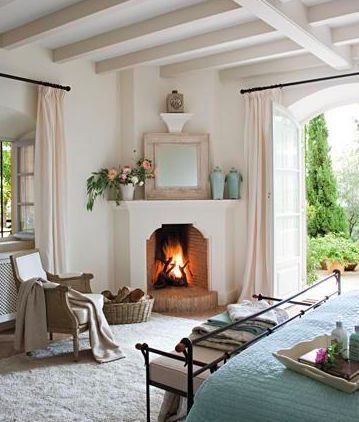 If your room is high-ceilinged, consider adding some elements above the mantel to give the space more volume.
23. Bring Warmth to Multiple Rooms with Your Corner Fireplace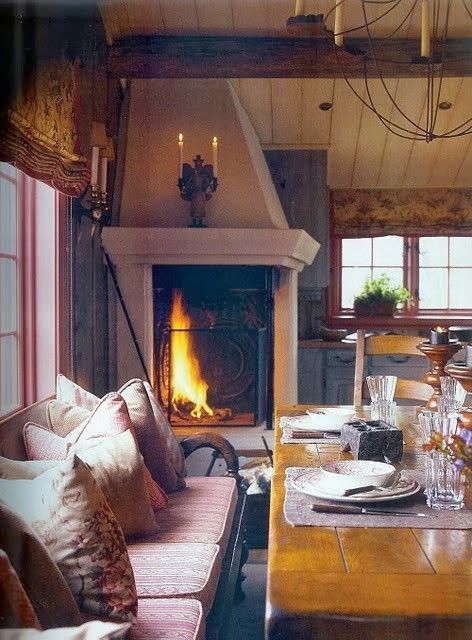 There is this kind of corner fireplace when two rooms, in this case, the kitchen and the dining room, can feel the charm and warmth at once from only one fireplace. Love it!
24. Make Your Living Room Luxurious with a Rounded Fireplace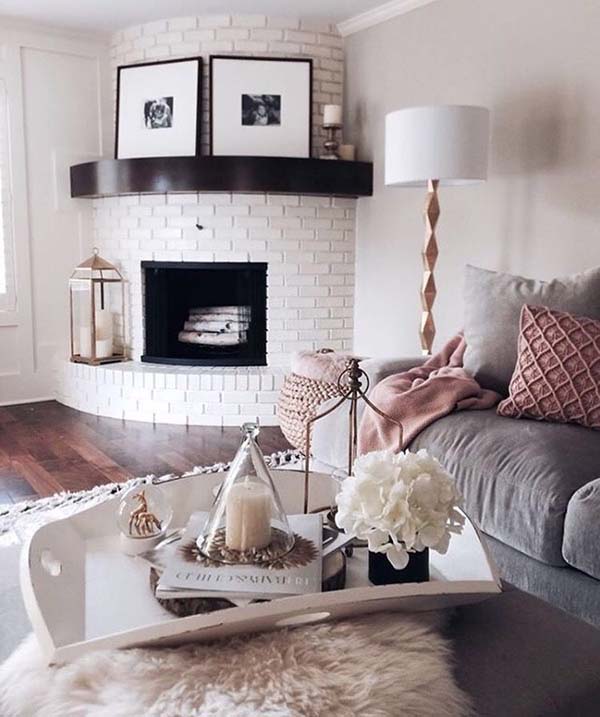 Photo:Credit
My favorite corner fireplace ideas are usually the ones that experiment with the shapes and the colors.
This rounded fireplace makes the entire living space unique and lavish.
25. Bring a Natural Vibe to Your Fireplace with a Stone Mantel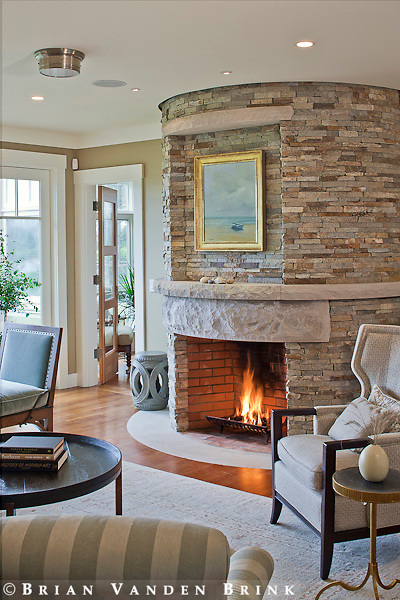 Photo:Credit
My traditional corner fireplace surely needs one mantel shelf like this one in the picture!
26. Build a Rustic Corner Fireplace with Stone and Wood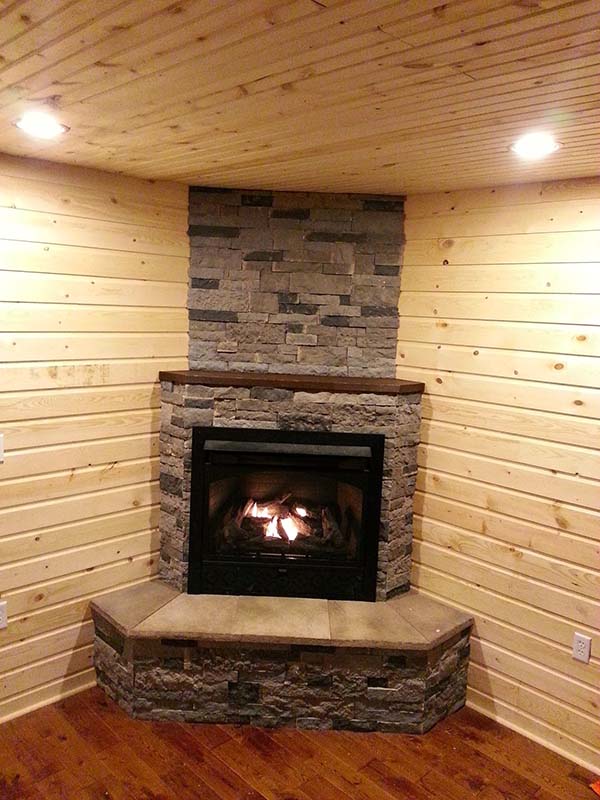 Photo:Credit
This goes to my TOP 3 of DIY corner fireplace design ideas. I fancy the mixture of stone and light-colored wood.
27. Turn Your Fireplace into a Cozy Reading Nook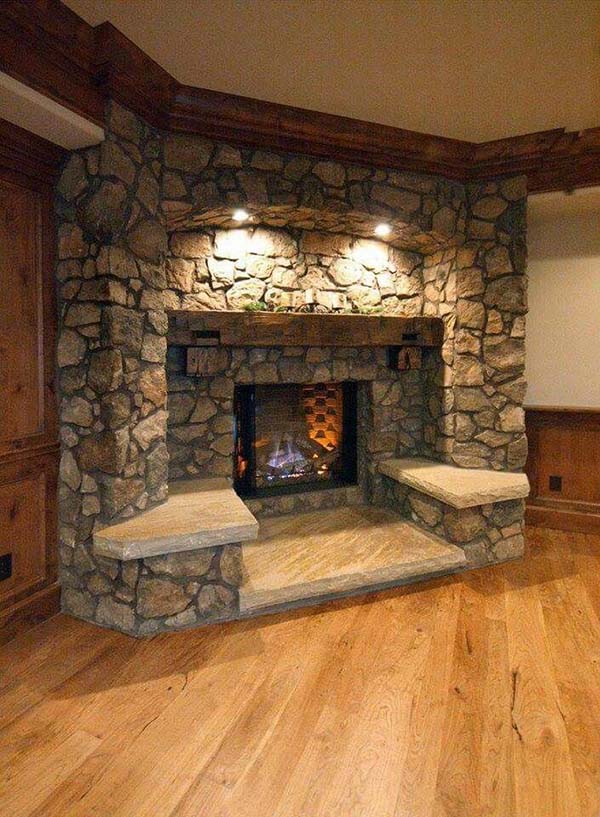 Photo:Credit
Got a good book and some free time?
I consider this as the Queen of the corner fireplace design ideas with stone.  😉
28. Elevate Your Lodge-Style Room with a Corner Fireplace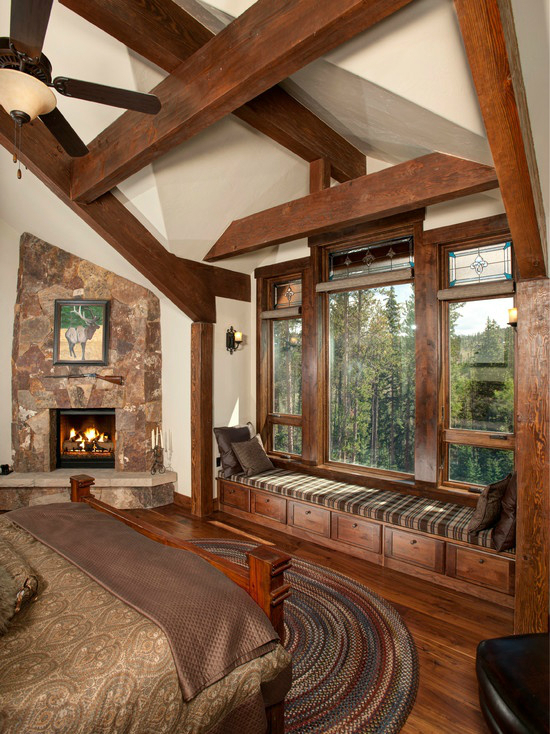 Photo:Credit
A classic stone corner fireplace is the best choice for this kind of high-ceilinged, lodge-style home. Great interior design, there is nothing unnecessary.
29. Upgrade the Look of Your Home with a Shooting Box Design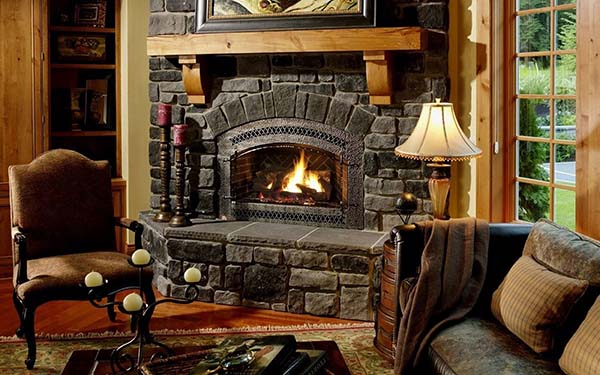 Photo:Credit
Here is an example of a mountain style medium tone wood design shooting box with a small stone corner fireplace.
30. Show Gratitude with Your Corner Fireplace Mantel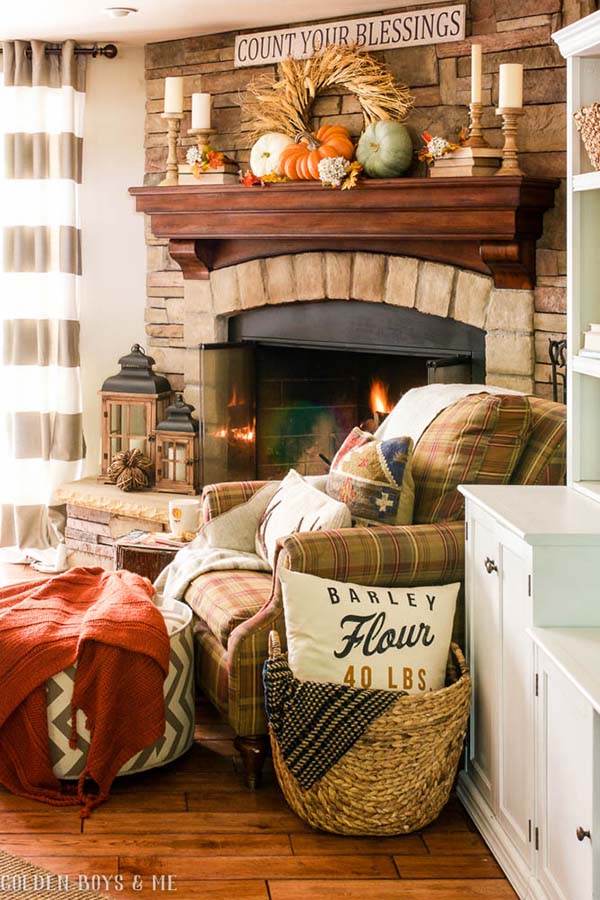 Photo:Credit
Here is one of my most preferred corner fireplace ideas for a tiny living room. It is so well-decorated, cozy, and relaxing – it calms me down even when I am just looking at the picture!
31. Personalize Your Corner Fireplace Mantel with Greenery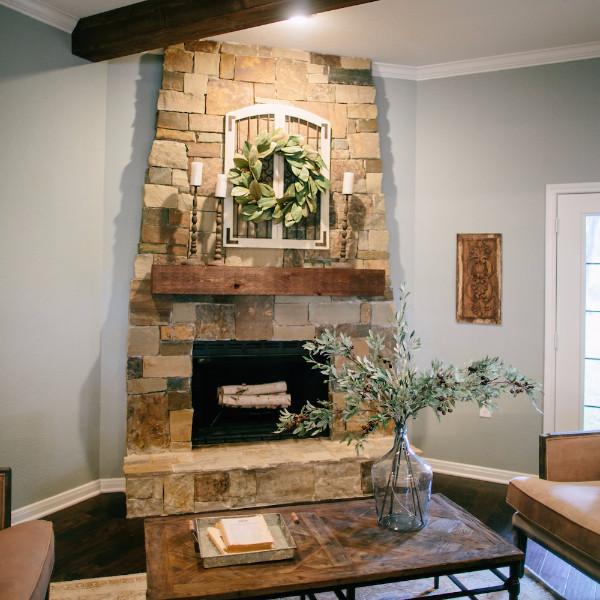 Photo:Credit
If there is some space above the mantel, that would be a great opportunity to express your style and taste by displaying some piece of art, pottery, or just a green wreath over the fireplace.
32. Add an Artistic Touch to Your Corner Fireplace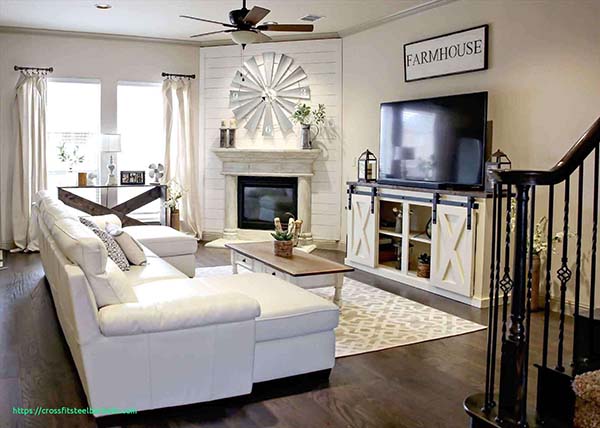 Photo:Credit
In the end, here is a very bright and cozy, mid-sized traditional farmhouse living room with an elegant corner fireplace.
To conclude, the corner fireplace is so much appealing as the typical one, but it is designed for smaller places, where there is not enough place for a regular fireplace.
In such a way, you will save a space and your room will turn into a fabulous cozy spot. 
Also, don't forget the importance of safety. There are numerous options of custom-made fireplace screens and doors that can incorporate into your chosen design.