Sunflowers bring joy to any garden — it's impossible not to smile when you see these tall, impressive flowers.
Plus, since they're surprisingly easy to grow, you can enjoy a full plot of bright yellow blooms in as little as three months.
Whether you have space for a single miniature potted sunflower or you're going for broke with full-size, 10-foot stems, these beautiful sunflower garden ideas can help you get started.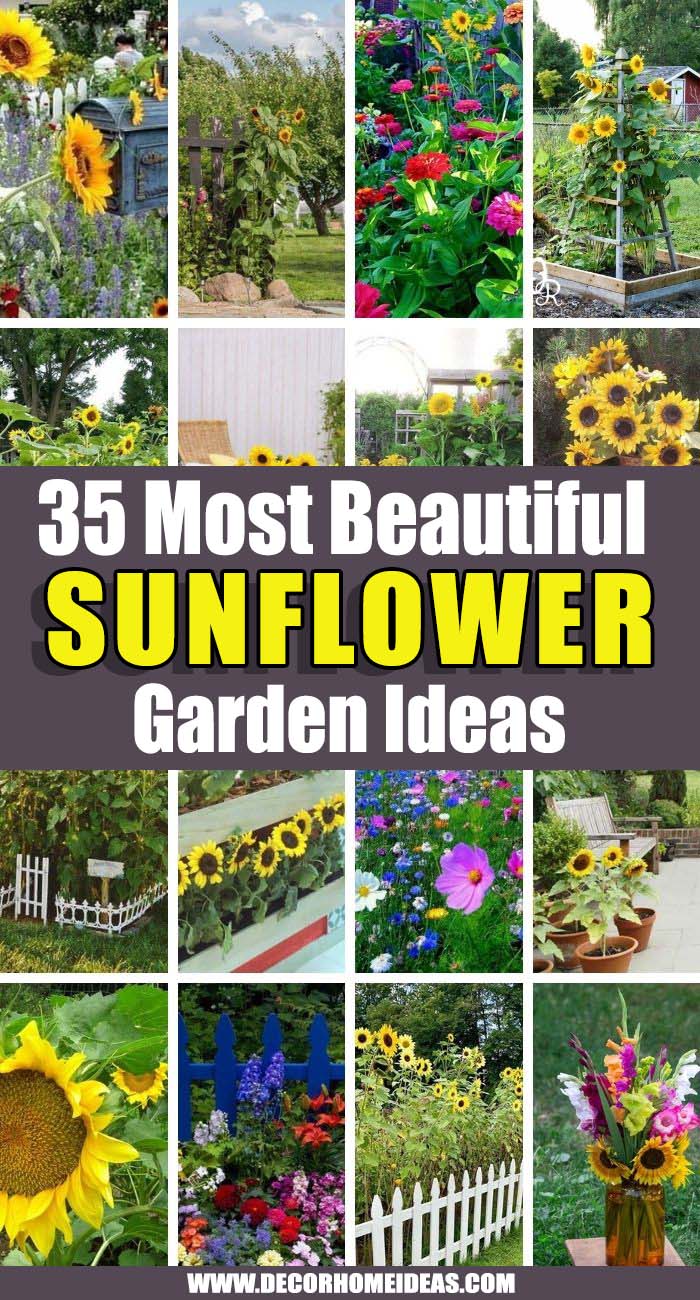 Before we dive into the gallery I would like to show you something that I really like and was really fun to create – How To Make A Beautiful Clothespin Sunflower Wreath. Watch the video below:
I'm obsessed with sunflowers so everything related to these awesome flowers makes me feel full of joy!
Growing sunflower is easy – they grow best in full, bright sun, and in evenly moist, well-drained soil. The amount of space they need depends on which varieties you are growing.
Are there different colored sunflowers?
Annual sunflowers (Helianthus annuus) are sturdy plants, valued for the cheerful blooms that appear in late summer and fall. Commonly, sunflowers are bright yellow with brown centers, but varieties include shades of bright yellow, copper, red, brown, orange and bi-colored.
If you prefer colored sunflower over common sunflower, consider mixing them with white or bright-colored perennial flowers.
There is a wide sunflower variety that can cover all tastes and preferences. Moreover, they are great for pollinators and hummingbirds. That's bees heaven on Earth.
You can get sunflower seedlings from:
1. Fenced In Sunflower Garden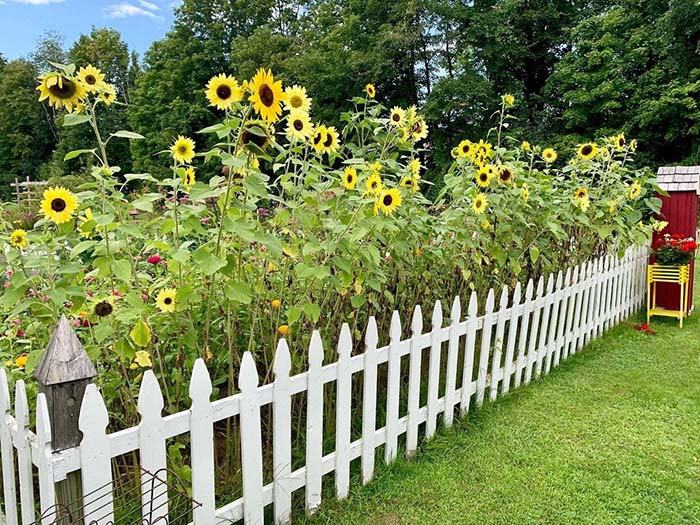 Left to their own devices, sunflowers can grow wild.
Create a neater look by containing your garden plot with an adorable white picket fence.
It adds a sweet farmhouse vibe to the wild greenery and highlights the height and beauty of the flowers.
via My Peace at Home
2. Smaller Scale Sunflower Basket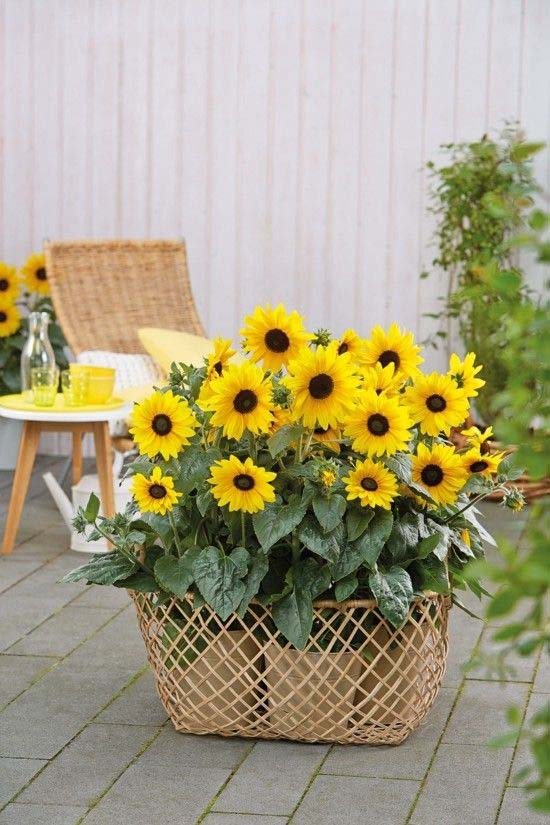 Get the look of a sunflower field in a small space by collecting several potted miniature plants.
Set them all inside a basket — the result is a thick, easy-to-maintain cluster of sunflowers that looks great on a patio or deck.
3. Integrate Into A Garden Design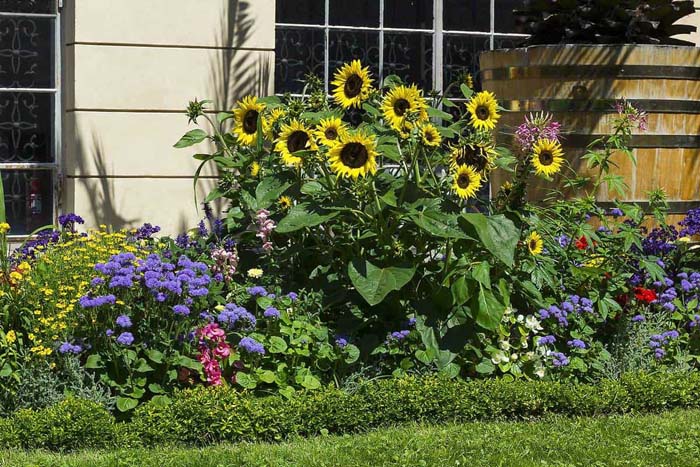 It's true — sunflowers make the biggest impression when they're planted in thick clusters.
A group of giant sunflowers looks larger than life, bringing a smile to the face of everyone who passes.
You don't have to fill your whole garden; here, a thick stand of shorter flowers frames the yellow blooms.
4. Add Sunshine To A Floral Vase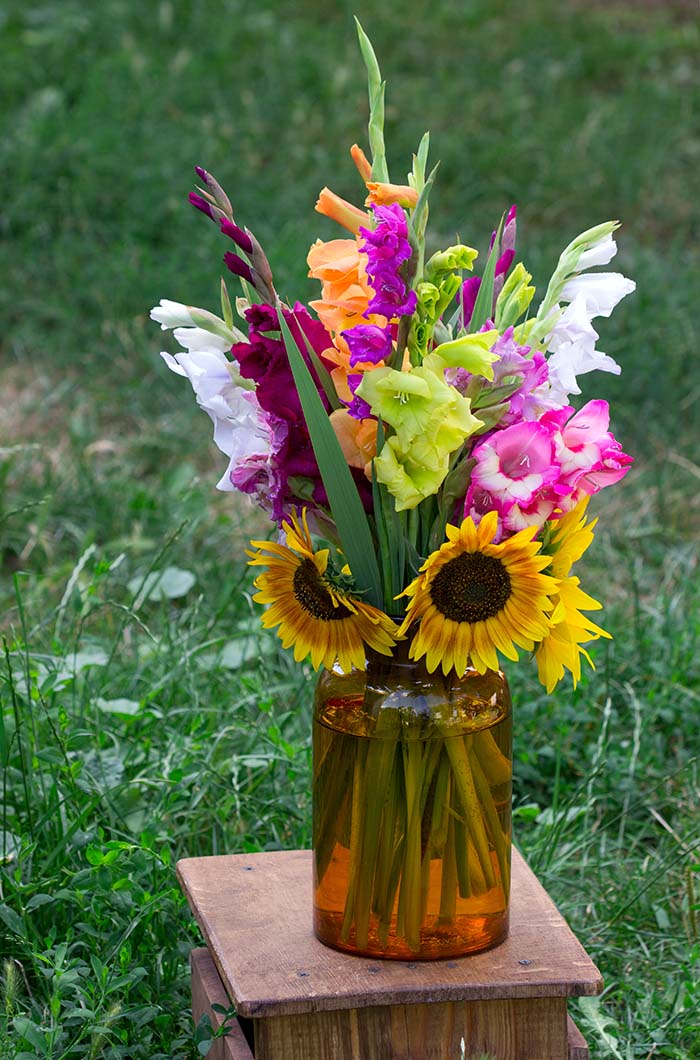 Maximize a small space by adding sunflowers to your planter. The trick?
Tuck in a few oversize sunflower blooms with flowers in other sizes for a burst of texture and color.
Bright Blue Picket Fence Garden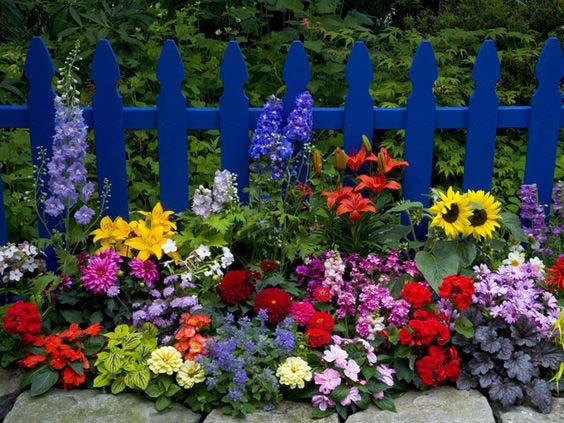 This stunning garden transforms a simple picket fence into a work of art.
The royal blue pickets look gorgeous against the greenery, setting the stage for a delightful rainbow-colored garden.
Miniature sunflowers are a bright, sunny addition to this sweet setting.
via Rosita
5. Grow Different Sunflower Varieties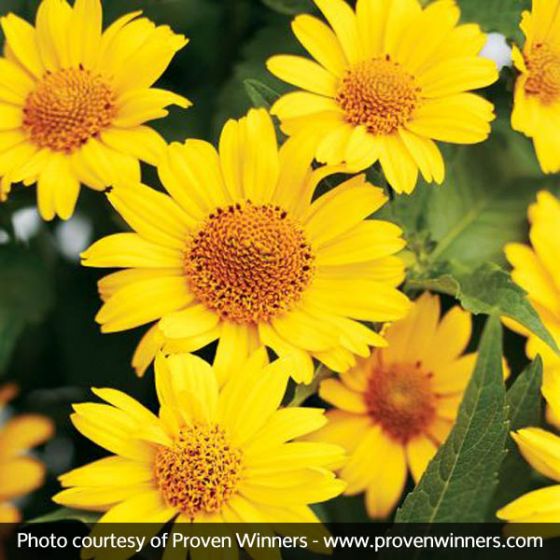 Get the most from a small plot of land by planting it with a multitude of sunflowers.
These miniature versions grow to different heights, creating yellow blooms everywhere you look. This particular dwarf sunflower is – Tuscan Sun Sunflower and they are perennial sunflowers – get them HERE
6. Dense Hedge Of Mini Sunflowers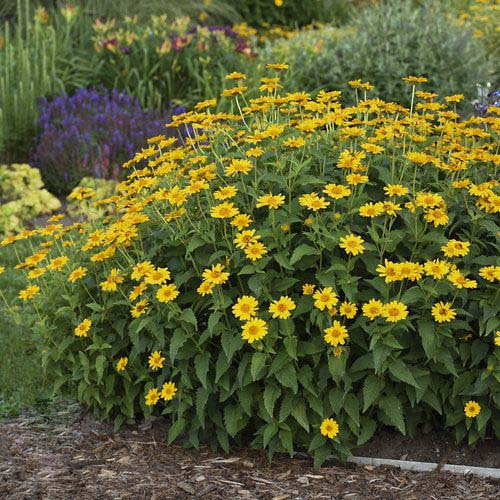 If you're going for a bold, head-turning garden design, pack lots of sunflowers into a small area.
As they grow, the leaves will form a thick, rounded mass topped with adorable yellow blooms.
This trick works for both miniature and full-size varieties.
via Proven Winners
7. Shady Sunflower Secret Spot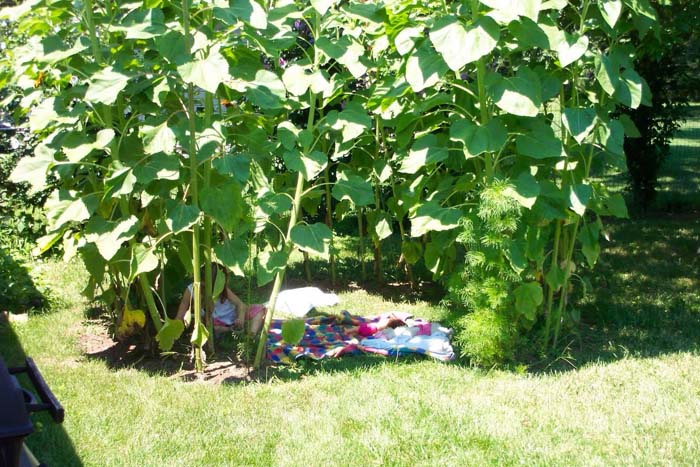 Your kids will love this creative sunflower garden idea — it doubles as an outdoor fort!
To recreate it, simply plant your sunflowers in a circle or a square, leaving a gap that's about 2-3 feet wide.
When they reach their full height, the flowers will form the walls of an awe-inspiring play area.
via Almanac
8. Retreat Amongst The Sunflower Ring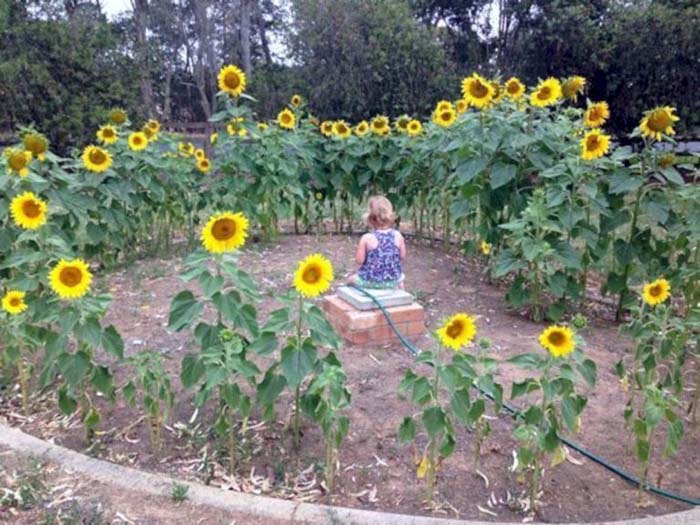 Do you have a little one who loves to dream in the garden?
Make the outdoor space feel even more whimsical and magical by planting sunflowers in a circle.
They'll create a wall, leaving the center free for reading and playing.
9. Statement Making Bloom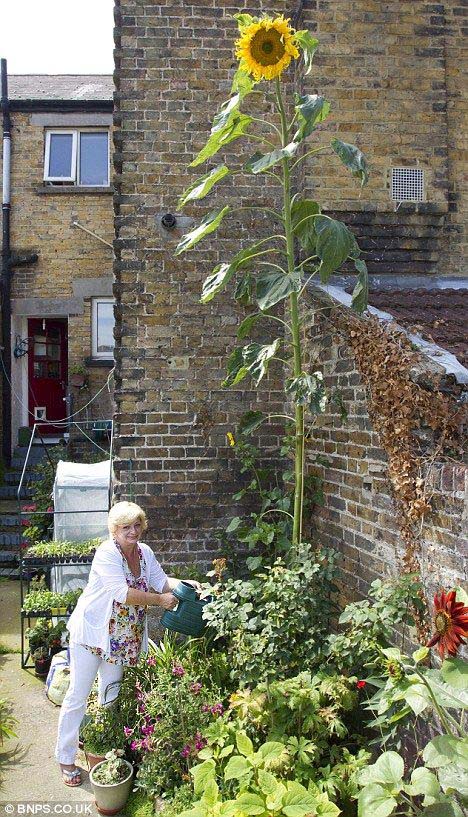 Sometimes, less is more.
A case in point is this remarkable annual sunflower, which towers above the garden in a display of nature's grandeur. You can call it a skyscraper sunflower and this particular one could be the tallest sunflower in the world.
via Daily Mail UK
10. Sun Followers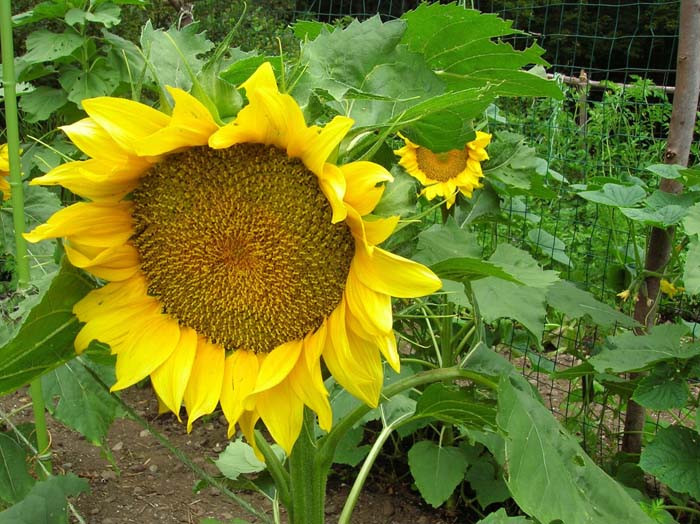 When sunflowers are young, their heads move throughout the day following the path of the sun.
See this fascinating natural effect in action when you plant giant sunflowers in the garden.
All you need is a few — the plants are so big that they look gorgeous in groups of three or four.
11. Vintage Truck Full Scale Planter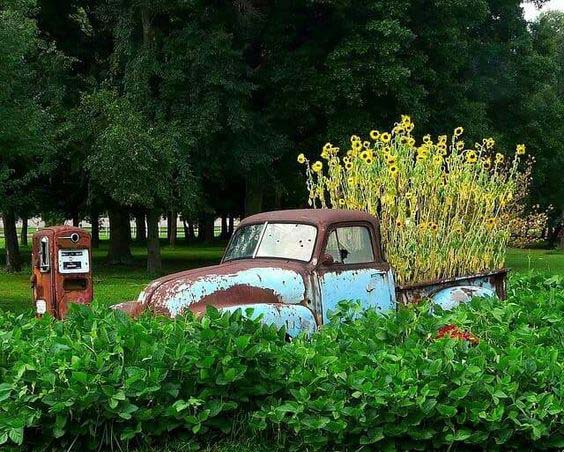 You need a pretty big planter to accommodate full-size sunflowers — why not get creative and make one out of a vintage truck?
This larger-than-life display is the perfect combination of vintage style and cheeky charm; don't be surprised if passersby stop for a photo!
12. Create Contrast With Vibrant Red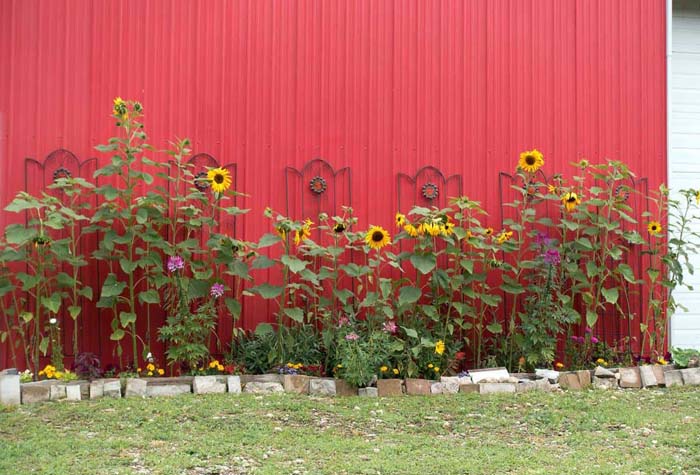 Bring color and life to a plain exterior wall with a border garden filled with sunflowers.
Each one grows to a different height, creating a sense of whimsy. For extra color, fill in the base with small, vibrant blooms.
13. Border Hedges With Tall Sunflowers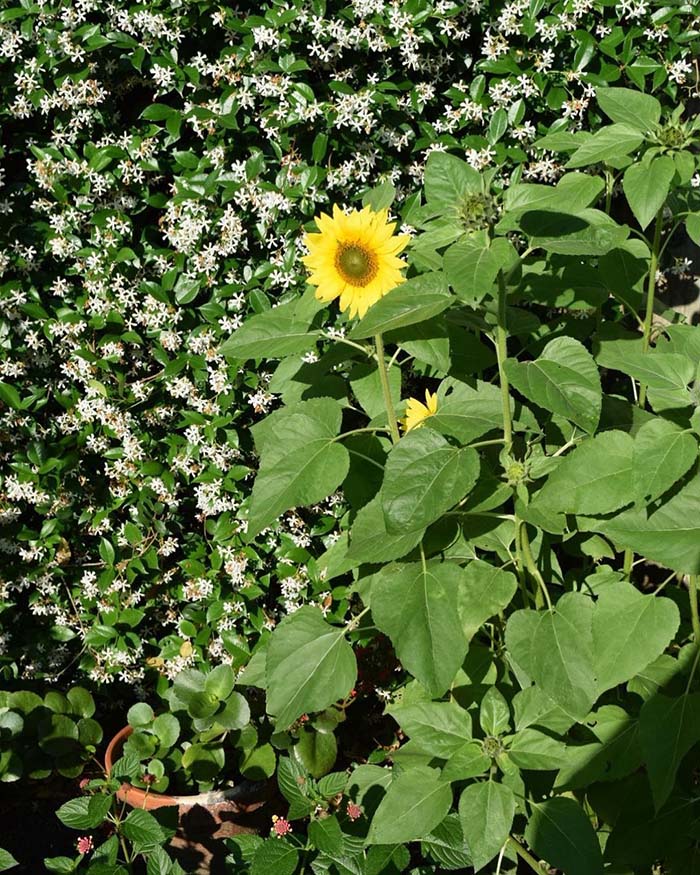 Add extra fun to your sculpted hedges by planting a few sunflowers along the border. The sunflower head will align with the sun throughout the day as we know and could add more interest to any flower garden.
The large leaves and brilliant petals complement the more delicate leaves of the hedge, creating a thrilling contrast.
via Lise Marie TX
14. Fairy Garden Staircase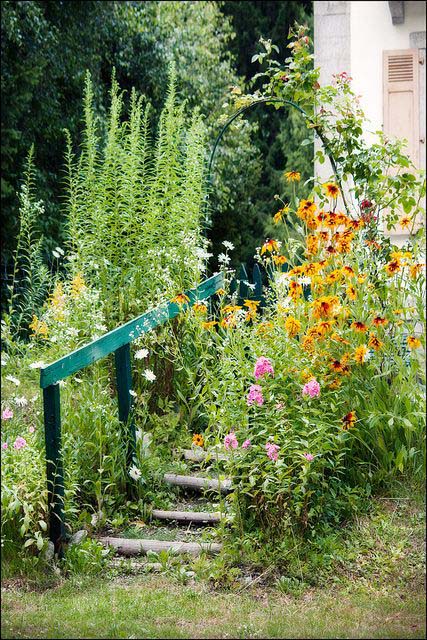 Your guests will love walking up the stairs to your house when they get to pass through a tunnel of plants.
Tall greens, an arch made of vines, and a stunning patch of sunflowers turn an ordinary staircase into a magical entryway.
via Ellen
15. Tall Sunflowers Edge A Charming Garden Path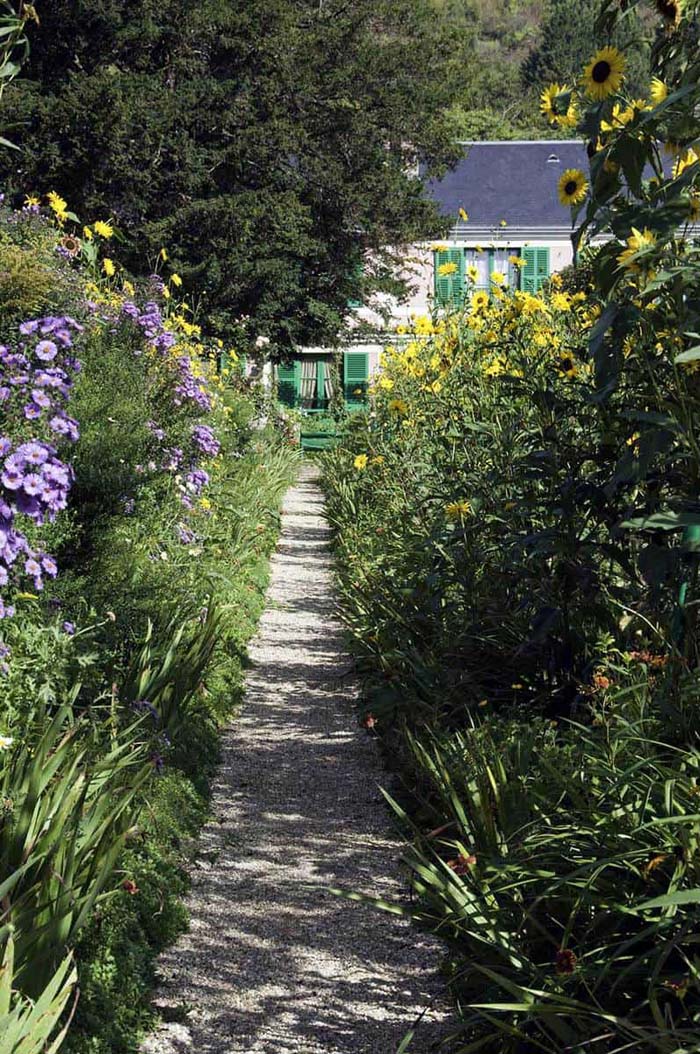 Sunflowers can grow to be 14-feet tall — these full-size stems are a delightful way to infuse your flower garden with a sense of magic and wonder.
Here, lush stands of sunflowers and other tall plants turn a simple walkway into a memorable experience.
16. Add Height With Mini Sunflower Bunches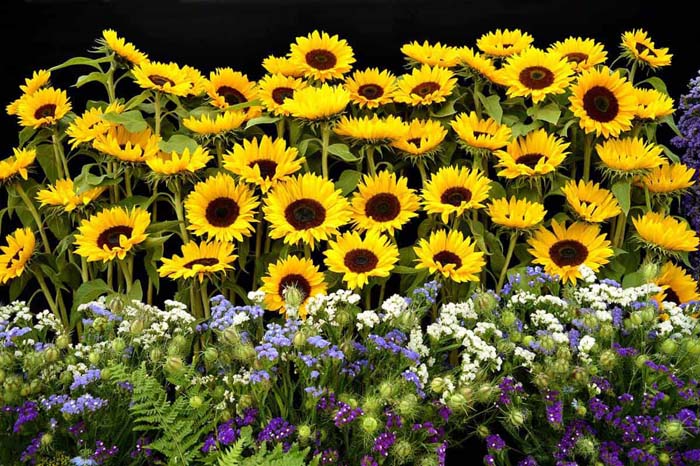 Have you ever seen a field of sunflowers following the path of the sun?
Recreate the same magical effect in your garden by planting a large number of miniature sunflowers close together.
As they grow, the heads will create a sea of yellow.
17. Sunflowers Charm On Their Own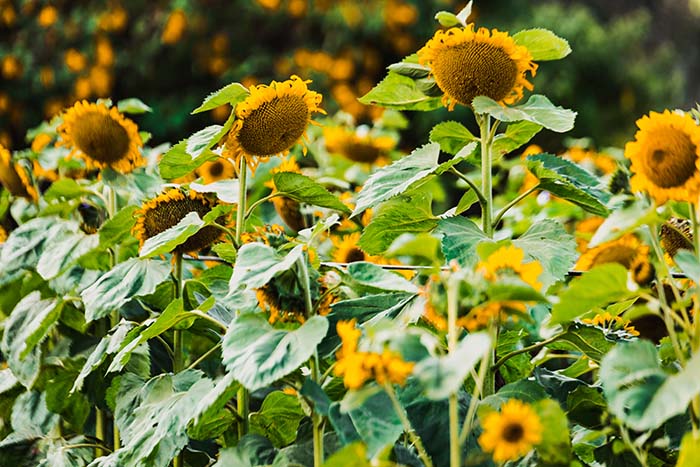 Do you love the way yellow flowers look next to green leaves?
Go all-in on the color scheme by pairing sunflowers with other yellow flowers.
Create a charming wall of yellow petals by planting low and medium-height species.
18. Add Potted Sunshine To A Patio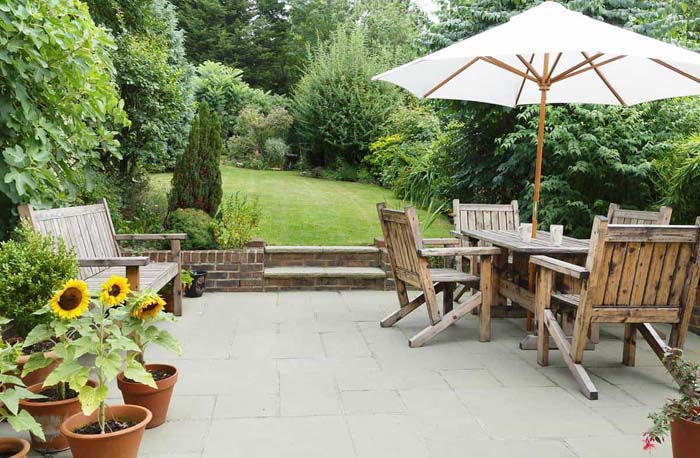 Don't have space for a full-size sunflower plant?
No problem; miniature sunflowers offer the same effect in a smaller area. Put each flower in its own pot to give it space to grow.
19. Potted Sunflowers Brighten A Dense Garden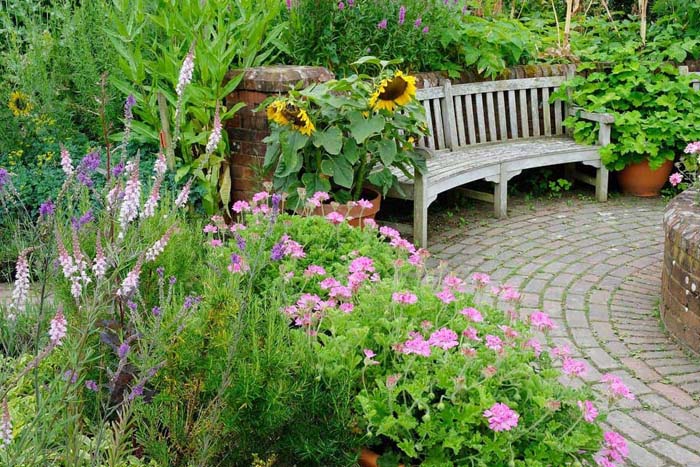 If you've already planted an English garden, it might be too late to make space for sunflowers.
Fortunately, there's a simple solution — place several sunflowers in a large pot.
They'll grow close together, mimicking the look of your existing plants.
20. Sunflower Height Works In Vintage Milk Jug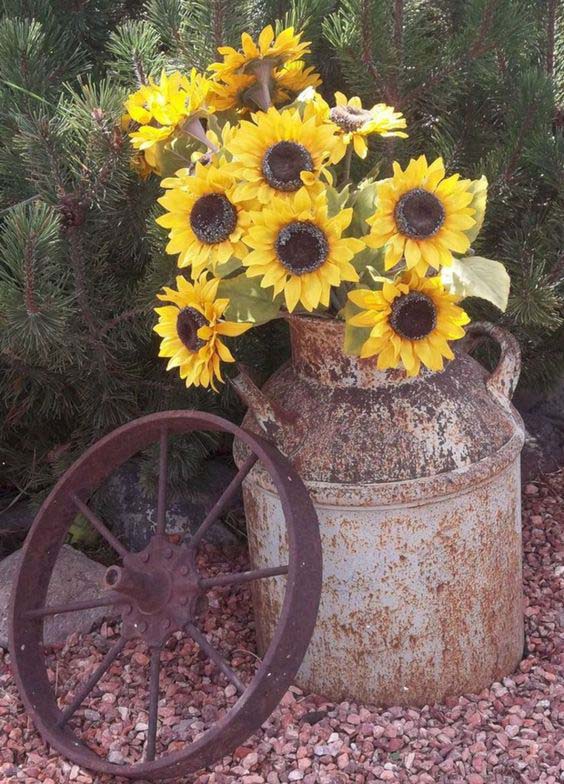 Amp up the rustic vibe of your home by turning unexpected items into planters.
Rusted metal milk can looks like garbage at first, but it turns into a thing of beauty when filled with sunflowers.
21. Country Sunflower Garden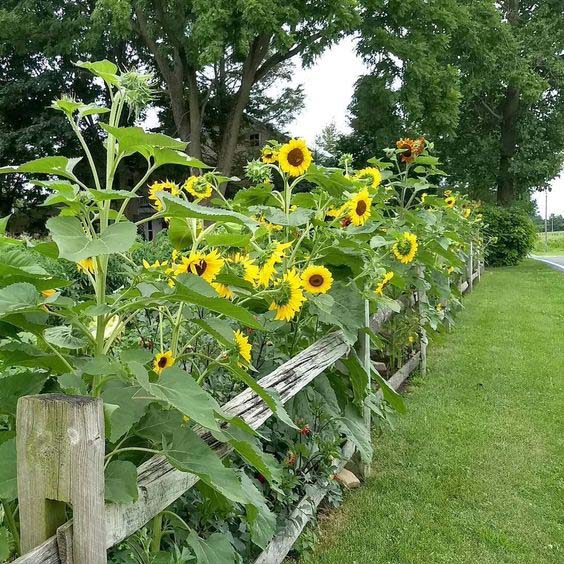 Create privacy for your yard without investing in an expensive fence with this creative solution. Simply plant a thick row of sunflowers behind your existing fence.
As they grow, they'll block the view into your property and look great at the same time.
22. Pops Of Yellow In A Traditional Garden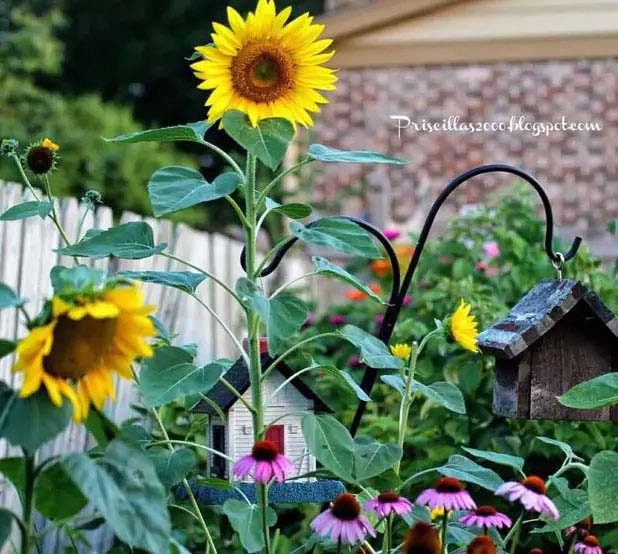 Are you looking to add a touch of yellow to your garden?
Plant sunflowers at strategic locations among the existing plants. They'll pop above the foliage, creating a cheerful peek-a-boo effect.
23. Verdant English Garden Path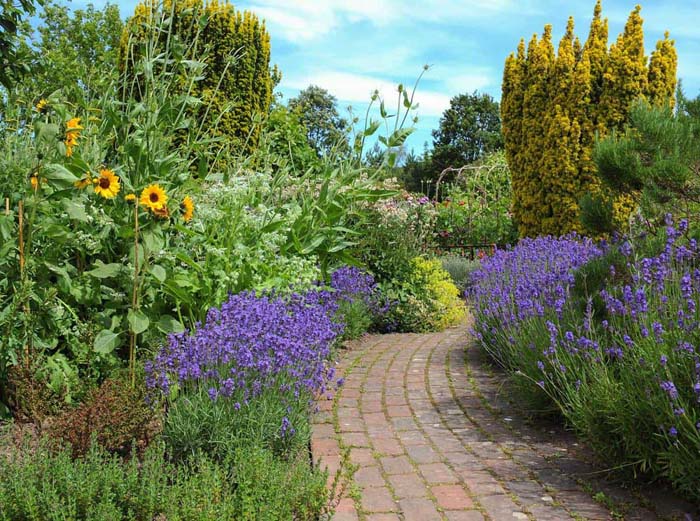 If you have a lush, full English garden, sunflowers fit in perfectly.
The key is to plant them with other tall bushes and foliage; that way, they look like a natural extension of the wild, untamed growth.
To showcase the beautiful yellow petals, place your sunflowers in front of greenery.
24. Corral A Patch With A Mini Fence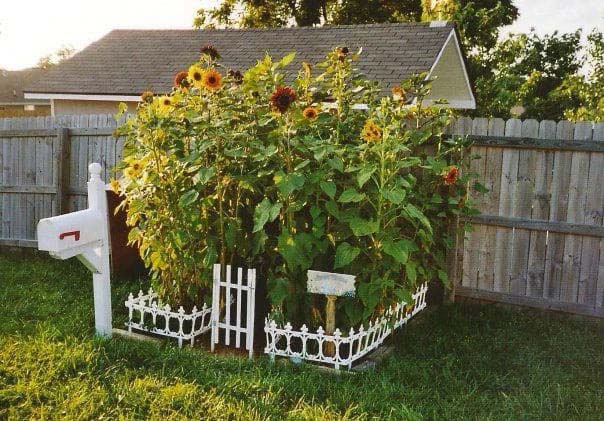 Fit full-size sunflowers into a small yard by defining the plot. Here, a tiny white picket fence emphasizes the height of the flowers.
A small wooden gate creates the impression that fairytale creatures are living among the leaves.
25. Bright Sunflower Bicycle Basket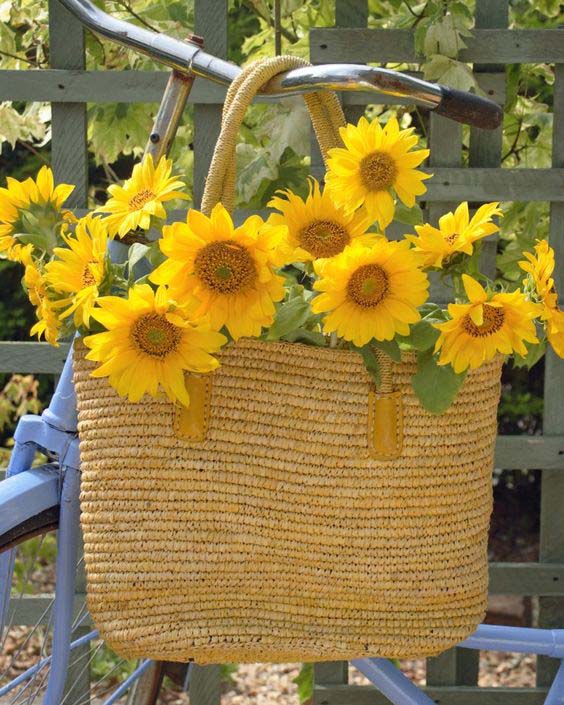 Embrace the vintage cottage vibe by turning an old straw tote into a planter for your tiny sunflowers.
Here, the flowers are potted and tucked inside the bag, which hangs from the handlebar of a retro bike.
26. Use Tall Sunflowers For Privacy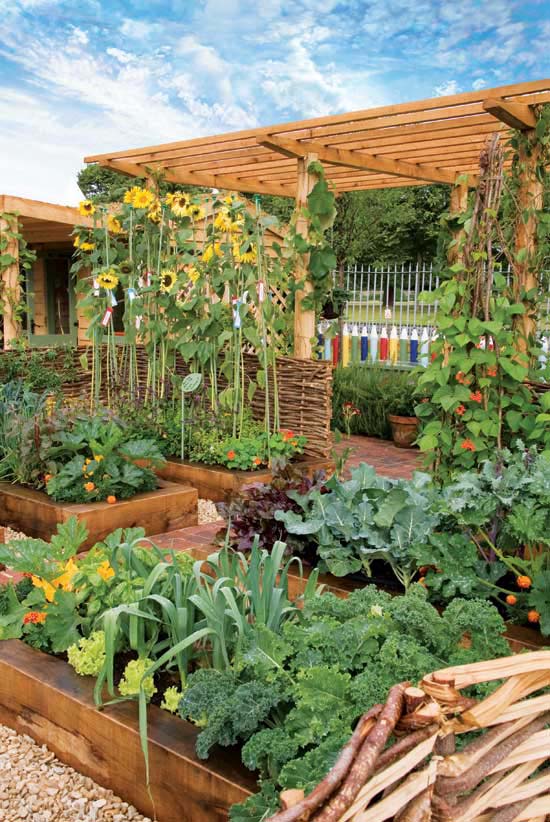 Create a bit of privacy in your outdoor pergola with a line of sunflowers.
The stems and the leaves form a natural wall, and the cheerful blooms add a pop of color.
This is a great way to maximize the fresh look of a hardscaped garden.
via Judy White
27. Accent A Gate With Welcoming Sunflowers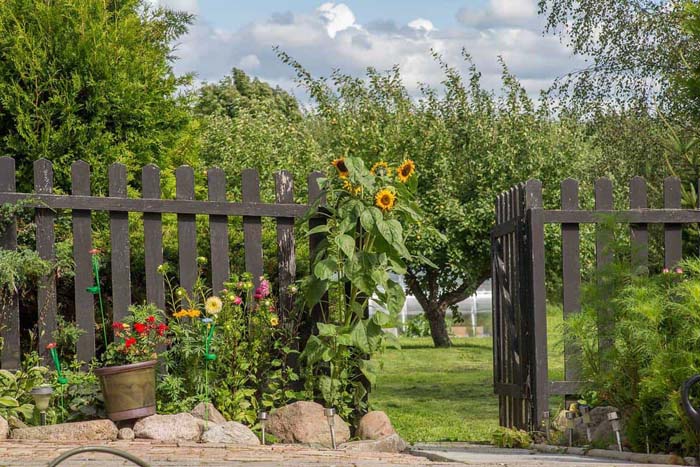 Tall, narrow sunflowers are a great way to accent a feature of your yard.
Here, a collection of four or five plants grows next to a gate, framing it beautifully and welcoming visitors with a burst of joy.
28. Swimming Pool Fence Surround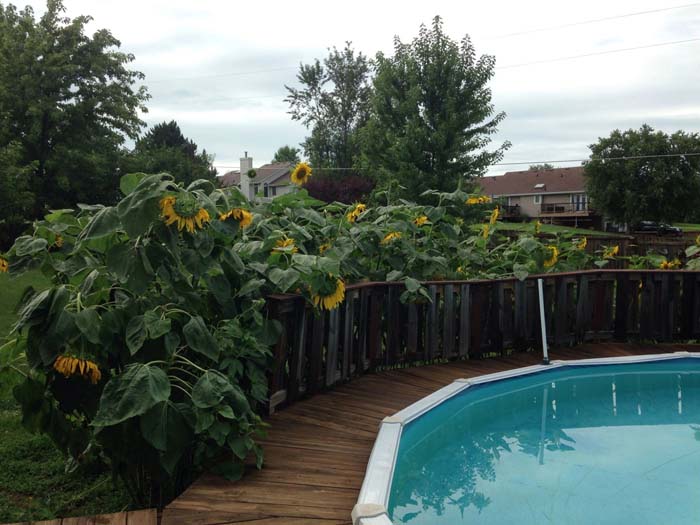 Do you want to relax by the pool in peace?
Instead of a traditional tall fence, why not pair a low-height fence with a patch of sunflowers?
The thick greenery boosts your home's curb appeal and blocks the view of the pool, so you can stretch out in the sunshine.
29. Charming Garden With Antique Mailbox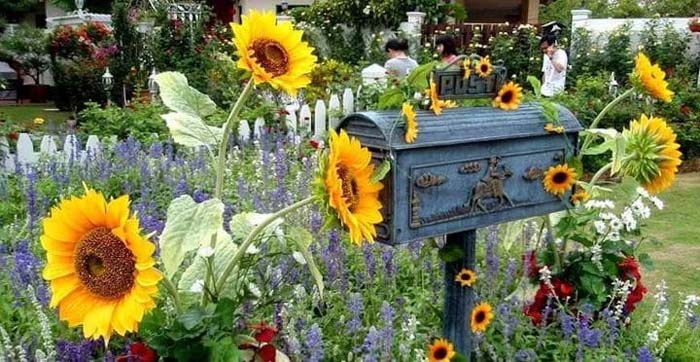 Delight your postal worker with this beautiful mailbox design.
It's framed by sunflowers in varying sizes, adding a sweet, sunny vibe to your home's front-drive.
via Hometalk
30. Make A Sunny Walk With Stones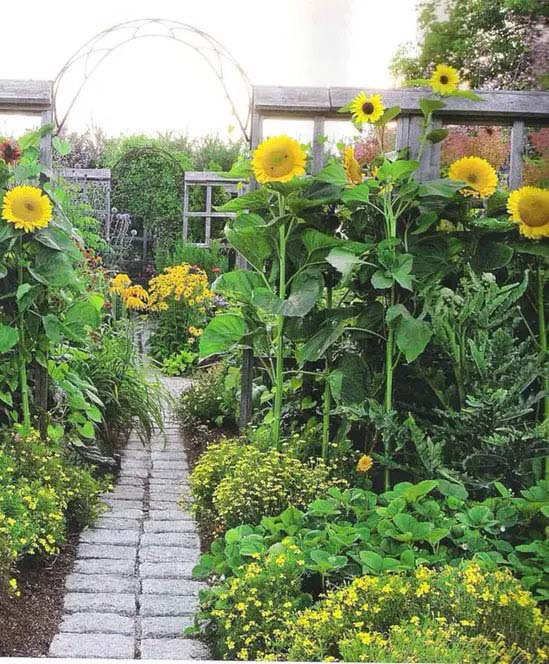 A brick walkway allows guests to explore your garden at will. For an experience that's extra-delightful, plant sunflowers on either side of the path.
They'll grow to tower over your head, adding a sense of the fantastic to the space.
31. Rows Of Mini Sunflower Boxes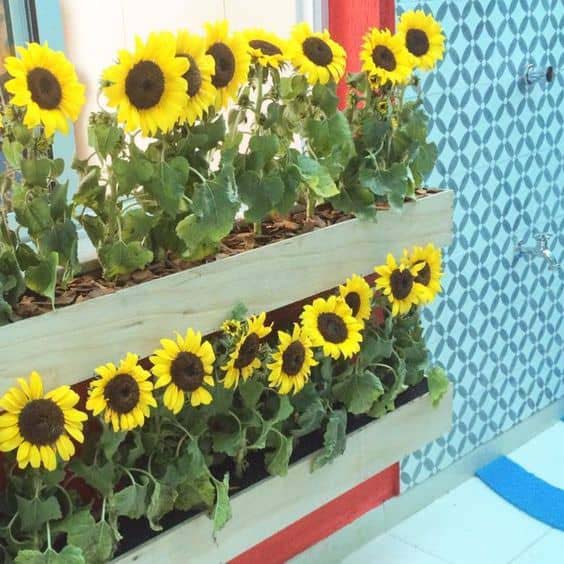 When you don't have any space, wall-mounted garden boxes are a great solution.
Stack two or three, leaving room for the sunflowers to grow. The contrast of the crisp boxes and vibrant flowers is a thing of beauty.
32. Plant A Garden In A Galvanized Tub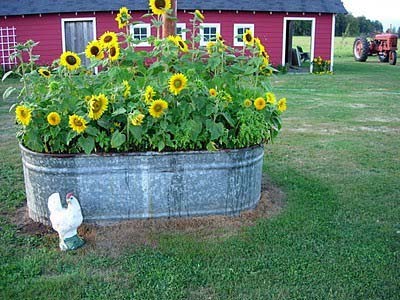 If you have a farmhouse, this clever planter is an affordable and fashionable option.
It's a simple galvanized metal washtub, which you can get for a fraction of the cost of a full-size planter.
The large size is perfect for a patch of miniature sunflowers, and the metal adds just the right touch of country charm.
33. Let Sunflowers Grow In A Wildflower Field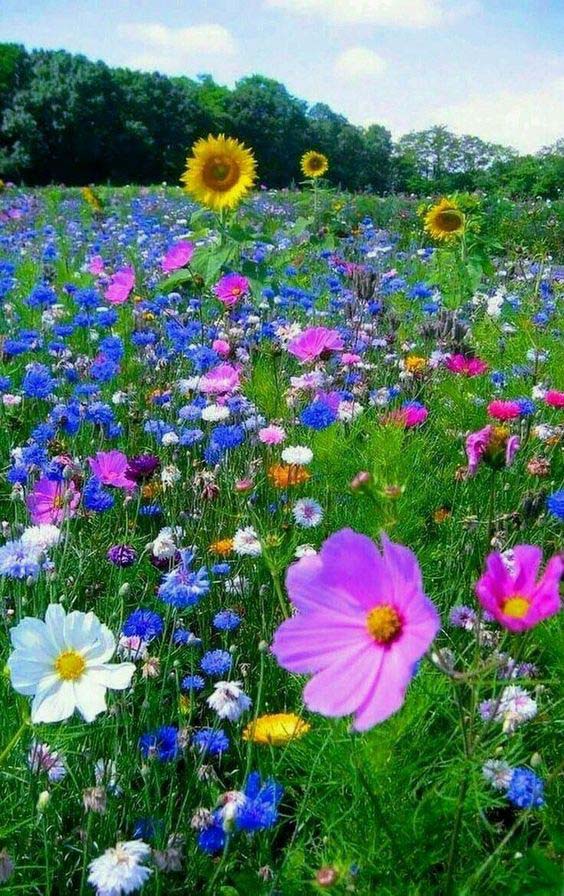 Do you prefer the look of wildflowers to a cultivated garden?
Create the same effect in your yard by scattering wildflower seeds at random throughout the soil.
Then, place sunflowers at varying points around the bed. The result will look like the flowers just happened to grow there.
34. Give Support With A Pyramid Trellis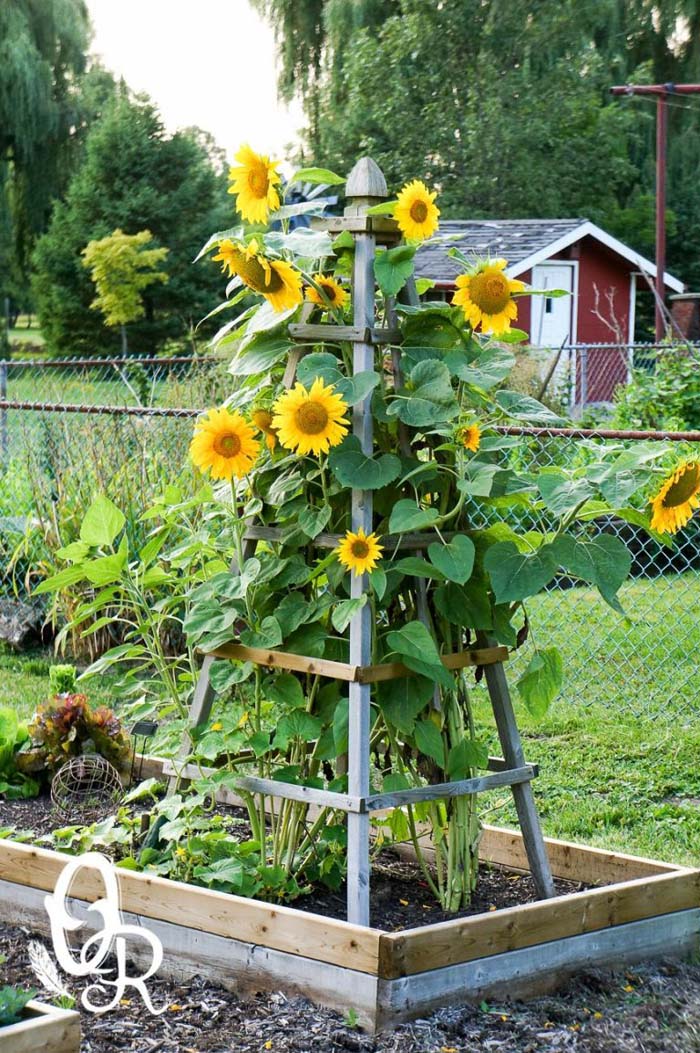 Sunflowers are usually tough enough to stand on their own, but you can still use a gorgeous wooden plant cage for aesthetics.
The leaves and flowers will burst from the openings, creating a three-dimensional array that looks great in a small space.
35. Cheery Pink And Yellow Spring Flowers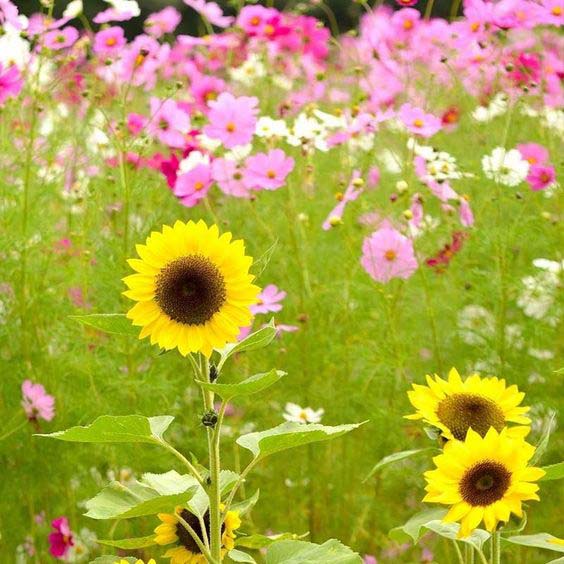 There are few colors that evoke a sense of spring like bright pink and yellow.
Capture this cheerful energy by pairing miniature sunflowers with an array of pink blooms; they'll play beautifully off of the vibrant green leaves.
via American Meadows
36. Glorious Addition To A Brightly Colored Garden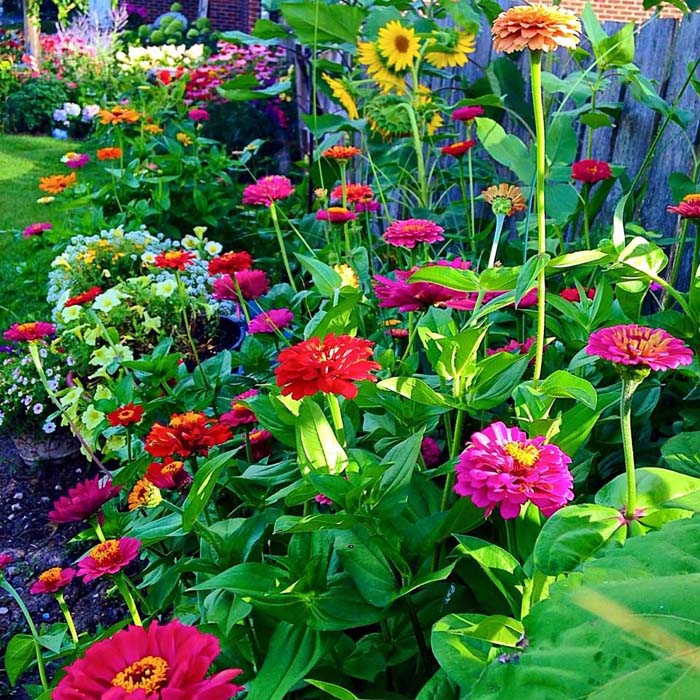 Does it get any more joyful than this multi-colored garden?
Here, the sunflowers play a supporting role, adding a sunny warmth to the pink, red, and orange flowers.
We love how every plant is a different height, adding a wild, natural feeling to the garden bed.