The entryway is the first area from the internal part of the home that people see. The way it looks gives the first impressions about the housekeepers and the design concept of the entire home.
Along with its decorative function to connect the entrance with the internal part of the house, the entryway has also a functional responsibility related to final dress-up and preparation.
Therefore it is important that it is furnished and decorated to ensure comfort.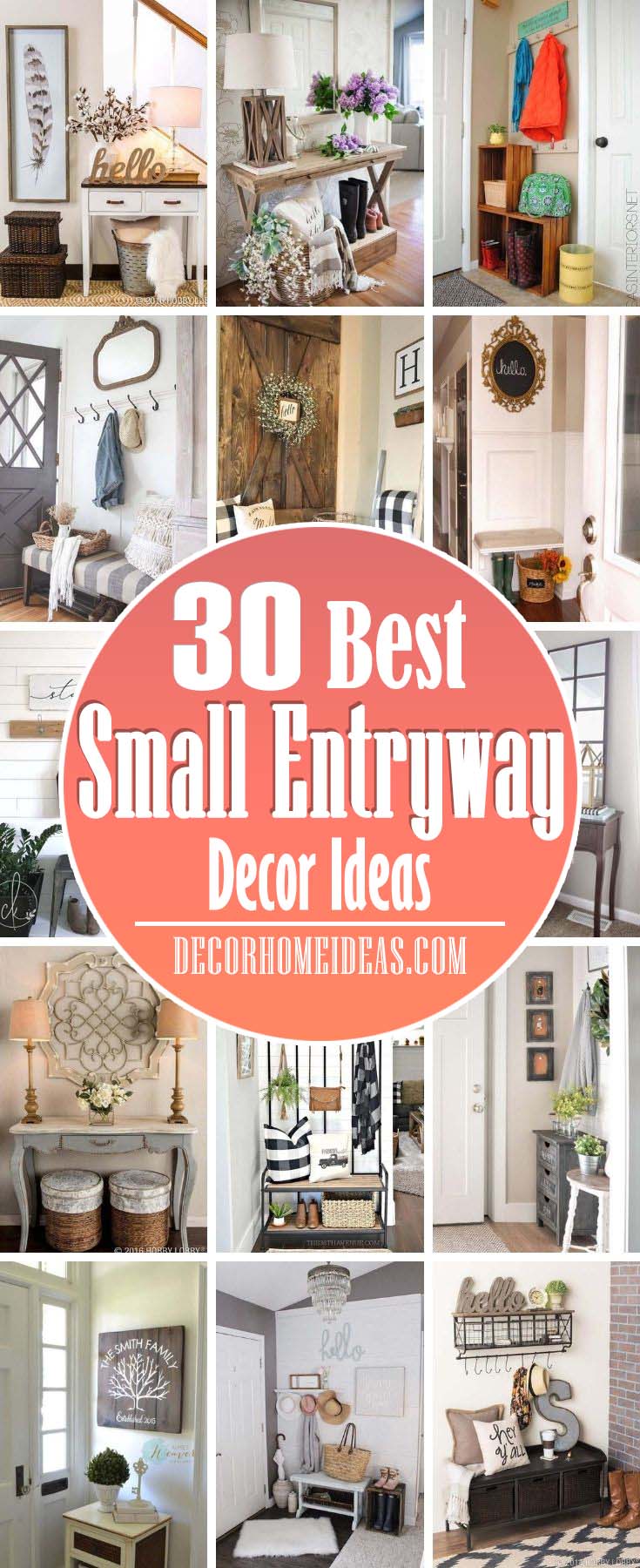 Since entryways usually cover a small part of the total floorage, optimum utilization in an aesthetic way must be considered.
We have gathered the best ideas about how to achieve maximum comfort and raise the decoration value of the small entryway.
They will give you hints and inspiration about suitable furniture, color combinations, designs and practical utilization to make your entryway charming, appealing and cozy.
1. Choosing the Right Vanity and Mirror for Final Preparation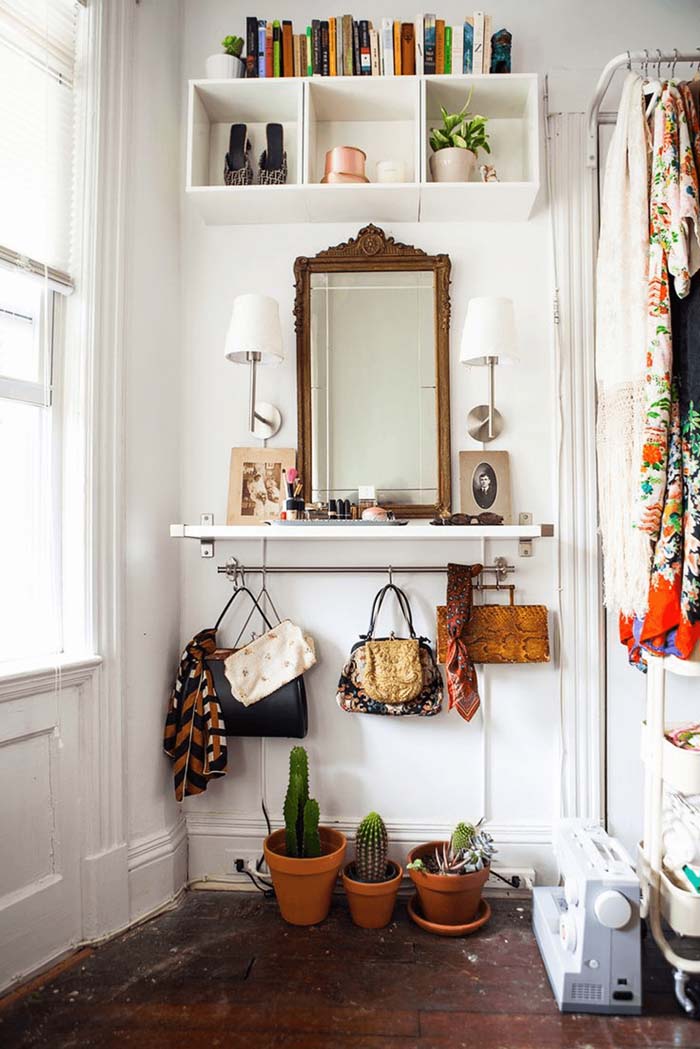 Vanity and a mirror are an exceptionally practical choice for final preparation and looking yourself up and down. The bigger the mirror is, the greater the illusion for wider space it will create.
When choosing their size and position, pay attention to the direction of opening the door, what the mirror will reflect etc.
2. Decorative Storage Solutions for Limited Hallway Space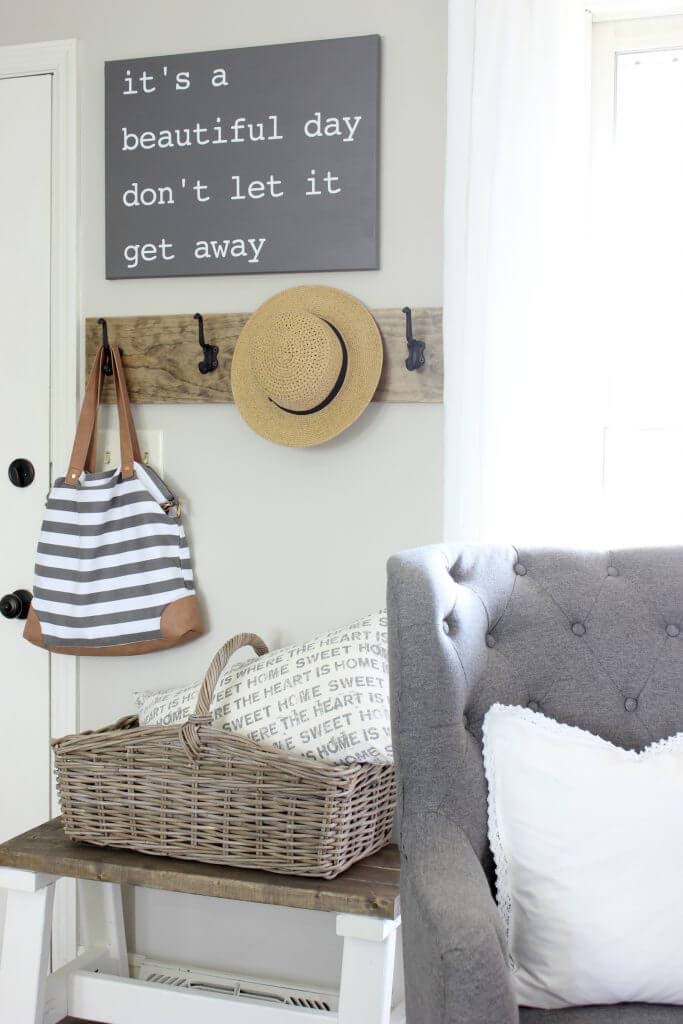 If the space limits you about the storage furniture, go for alternatives like baskets and other decorative containers.
Made of rattan, plastic or galvanized metal, they certainly make the hallway more interesting and can easily blend with the rest of the interior.
via Hymns and Verses
3. Maximize Your Space with Practical Furniture Solutions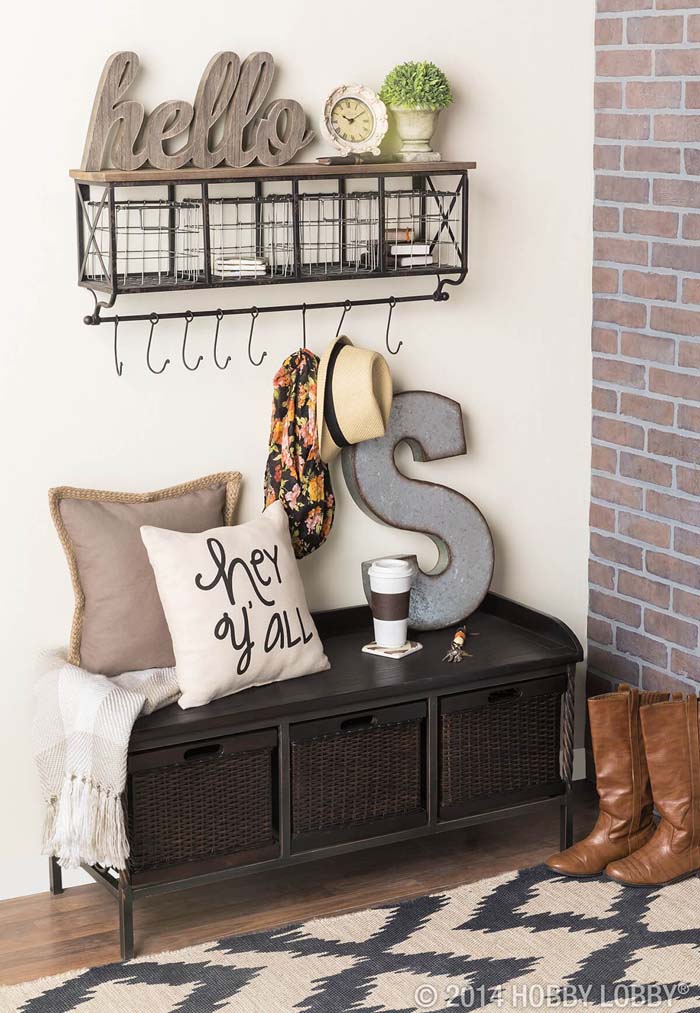 The practical furniture will help with space utilization. Every square inch matters! A bench with drawers for storage will put an order in the shoe mess.
A wall rack will allow usage of the vertical space in the best possible way and neat storage of hats, scarves and coats.
4. Combine Mirrors and Tables to Enhance Entryway Aesthetics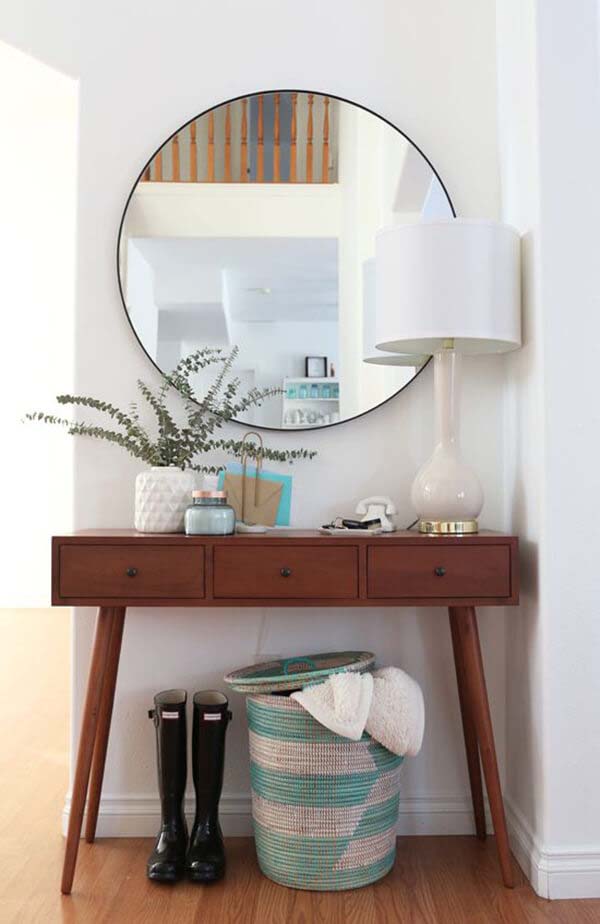 As mentioned already, mirrors have decorative and very practical value. Placing them to reflect an empty wall or an open space will create the illusion for the entryway to be wider.
A stylish table with drawers can become a stand for decorations and storage of keys and other items.
via At Home In Love
5. Create an Inviting Space with Comfort and Charm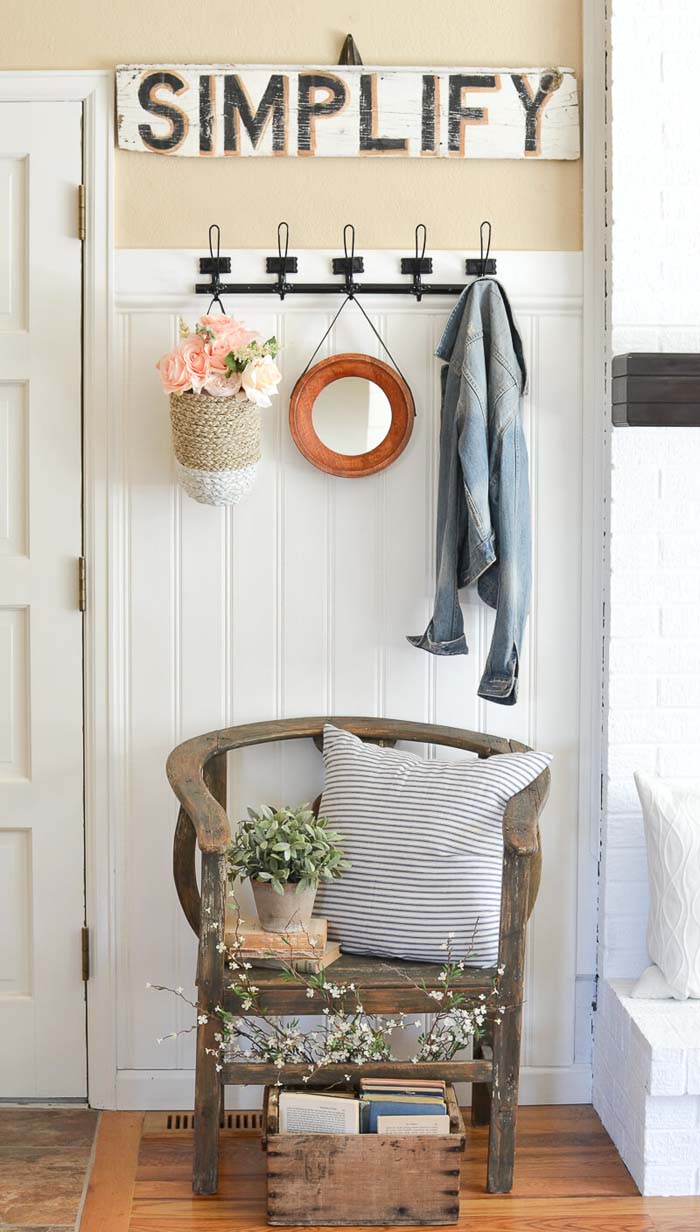 An entryway affected by the rustic style will make the entrance informal and extremely welcoming.
An old armchair embellished with the signs and prints of the usage in the past will ensure comfort and will spread warm vibes. Combine with simple storage accessories like a plain metal or wooden rack and a crate.
via Sarah Joy Blog
6. Decorate a Small Room with an Remarkable Element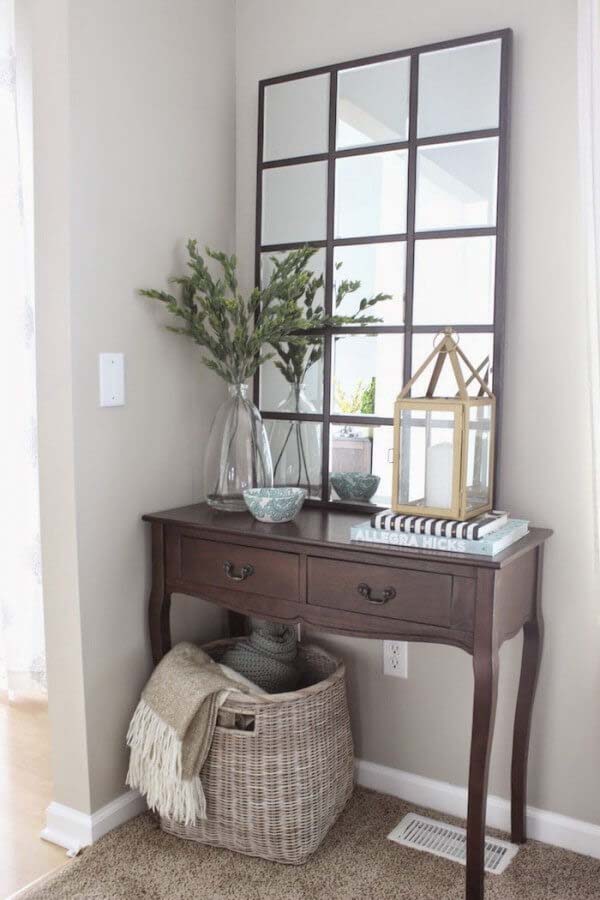 When a small room is being decorated, there is one basic design rule- choose an element that will draw attention from the size of the area.
A mirror split in squares will become an eye-catcher and will serve its standard application at the same time.
via Grandville Life
7. Maximize Vertical Space in Small Entryway Designs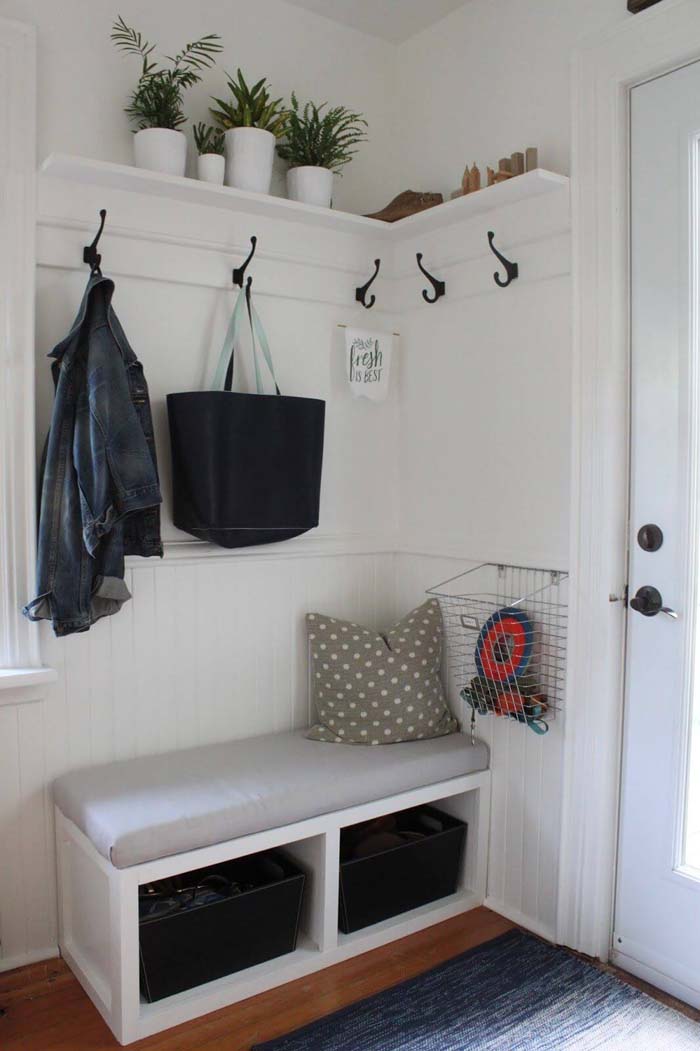 This example of a small entryway design shows how important vertical plain and corner usage is.
The hanging possibility can be increased by fixing a shelf that traces the entryway walls. For sitting and storage, add a simple bench with a comfortable cushion.
via Modern Jane
8. Multifunctional Entryway Table for Small Entryway Decor Ideas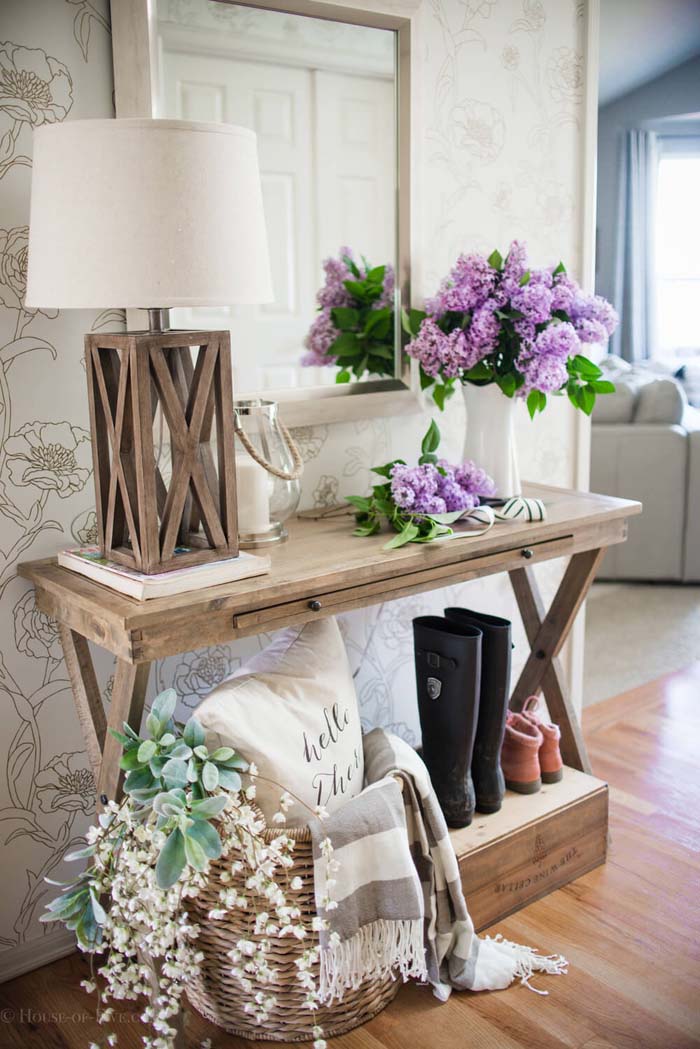 A fairly high but narrow table can become a multifunctional piece of furniture in the entryway.
Use its top for decoration. If there are drawers, store your keys in there. The space between the legs can accommodate crates to store shoes and baskets for more volumetric stuff.
via House Of Five
9. Create a Cozy Farmhouse Entryway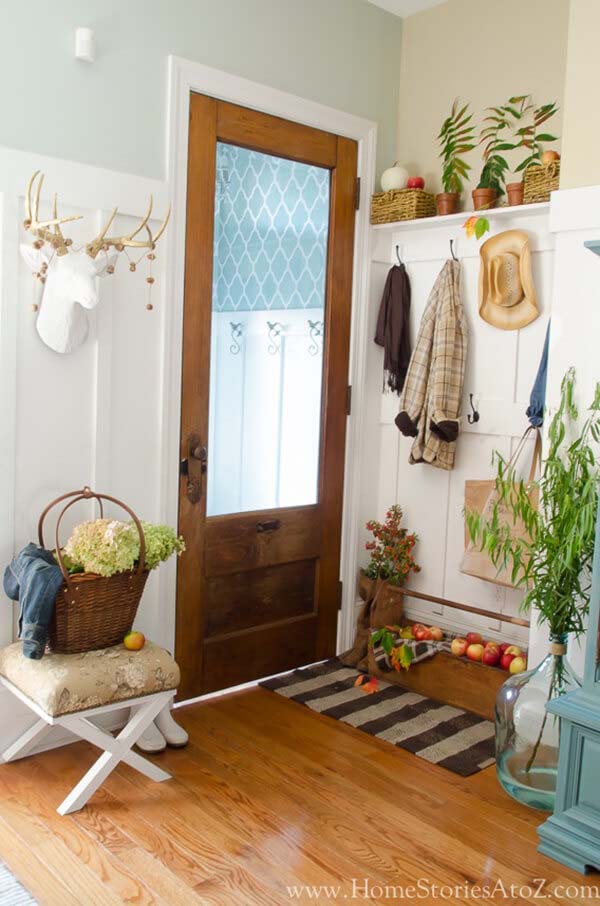 Take advantage of the calming and welcoming nature of the farmhouse to decorate your entryway.
Add wooden stools, baskets, racks for storage and decoration. Add a rug in the same style to anchor the area.
10. Rustic Signage for an Inviting Entryway Atmosphere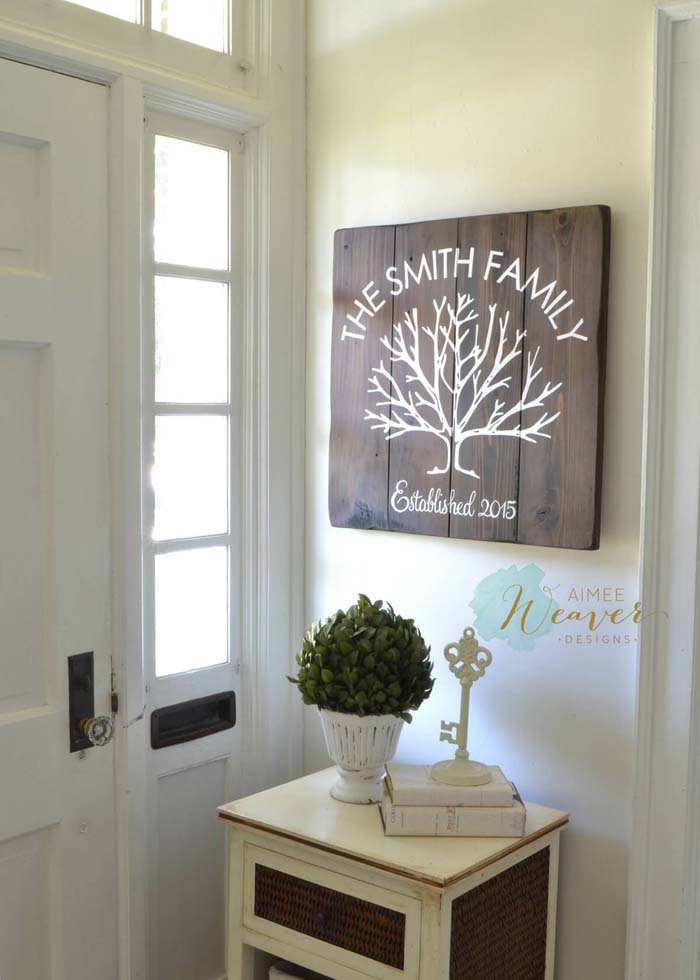 The atmosphere of the entryway can easily become more welcoming with a simple decorative feature like the sign.
Signs with a rustic touch are very universal as they match any interior style. They can greet with a phrase, an inspiring word or the family tree.
11. Make a Statement with a Laser-Cut 'Hello' Sign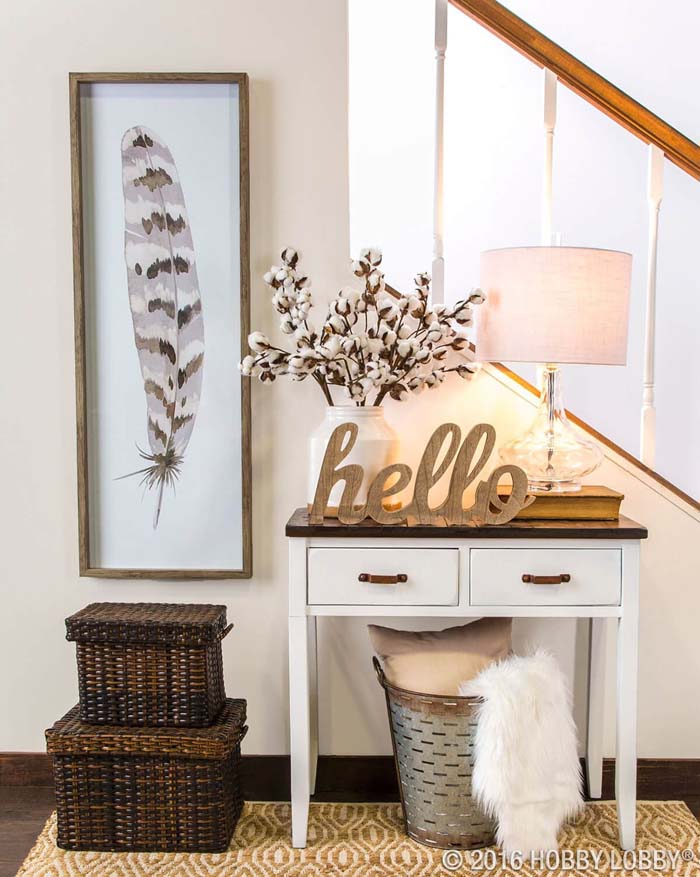 A cute laser cut sign "hello" placed somewhere in the entryway won't leave your guests indifferent.
Because of the plain design and the material it is made of, it matches very well farmhouse or rustic interior style.
12. Make a Welcoming Home with a Wreath in Your Entryway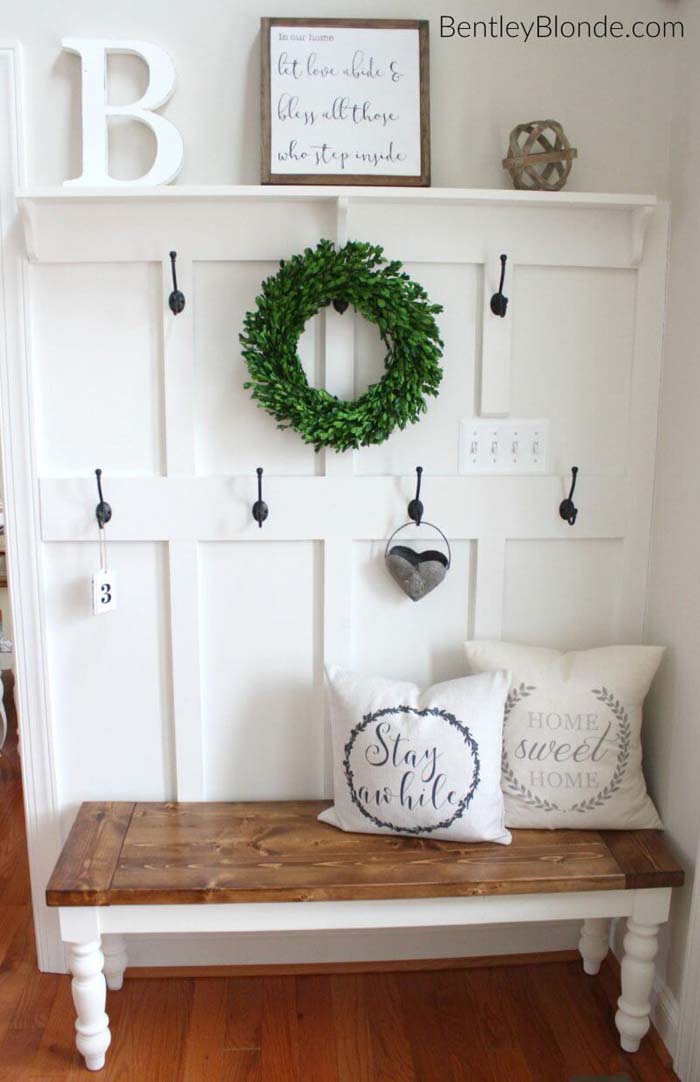 Wreaths successfully beautify not only the exterior but also the interior.
Since they are accepted as a greeting feature, their best place in the interior is the entryway.
via Bentley Blonde
13. Maximize Entryway Functionality with a Hall Tree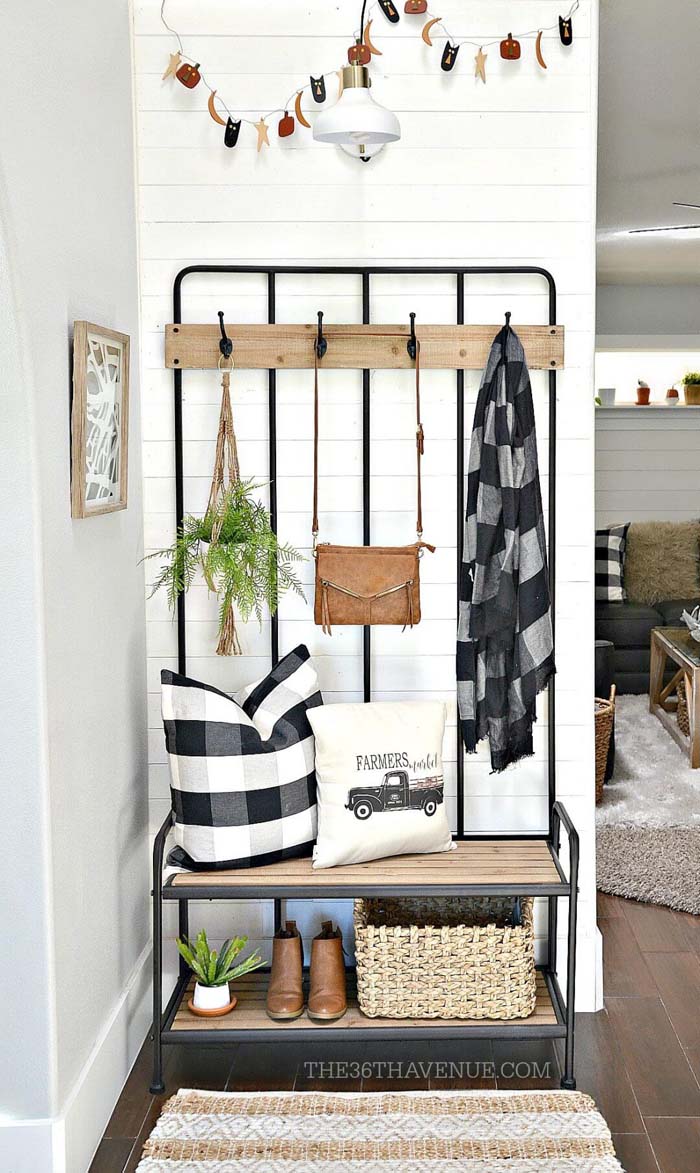 A hall tree becomes a practical and multifunctional piece of furniture in the small entryway.
Placed against an empty wall, it provides three levels for storage. To make the entrance be part of the home, hang plants, add cushions and a rug beneath or before it.
via The 36 Avenue
14. Brighten Your Entryway with Light Colors and Natural Accents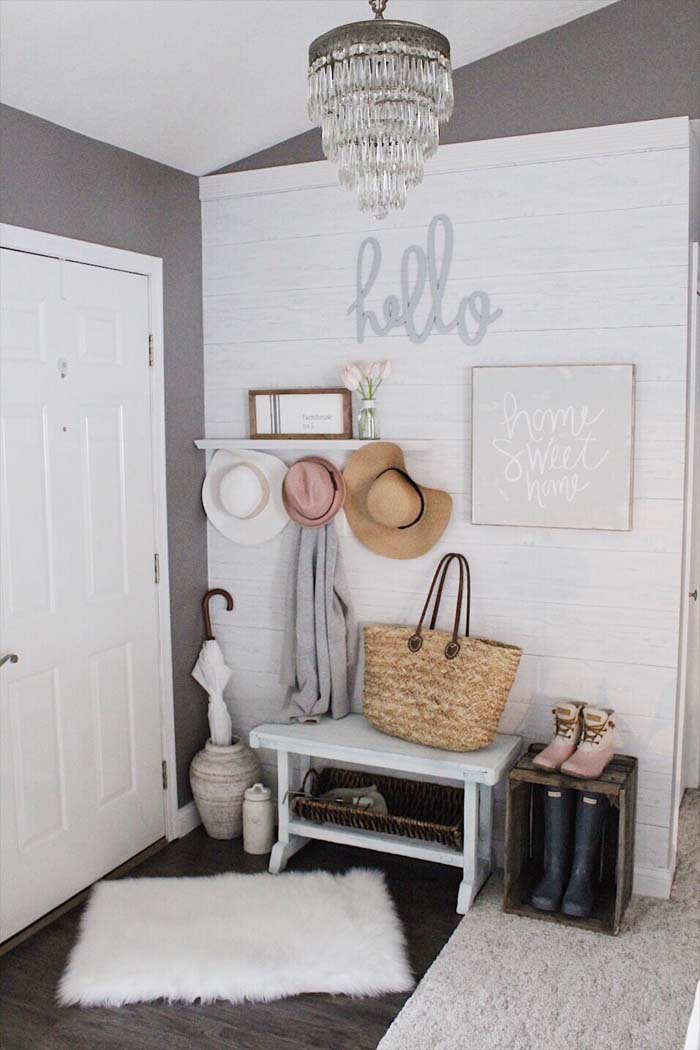 If there is not much light in the entryway, use light colors for the walls and for the furniture.
You can add some texture through natural materials and earthy colors but they should only be an accent.
15. Organize Your Entryway with a Wooden Board and Hooks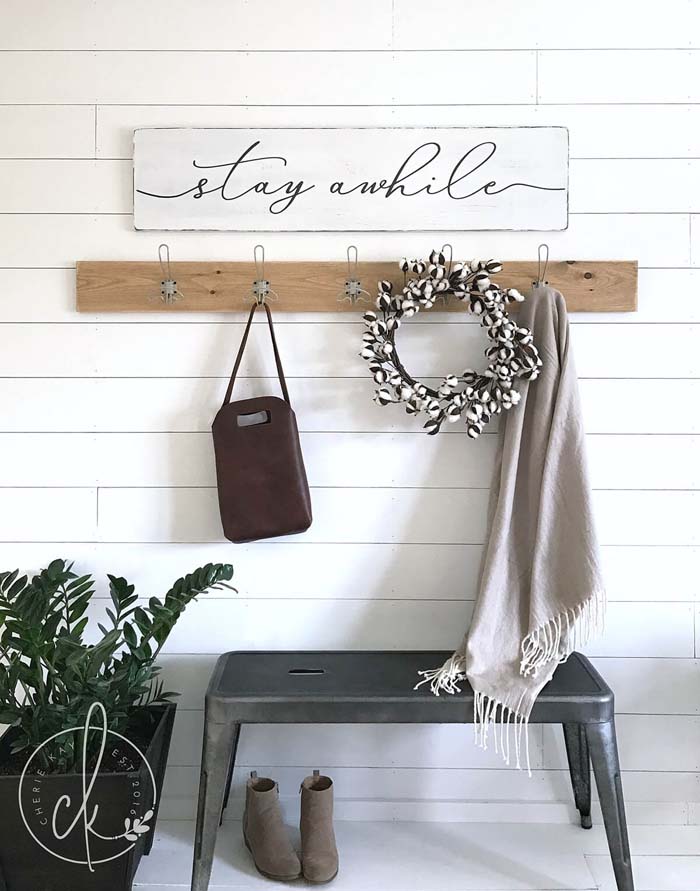 A wooden board with hooks will be a practical hanger for a small entryway as it won't take up any of the floor and will provide satisfactory organization.
The surface above the hanger can be used for a sign that enhances the welcoming atmosphere.
via Etsy
16. Entryway with Rattan Ottomans and Distressed Wall Accent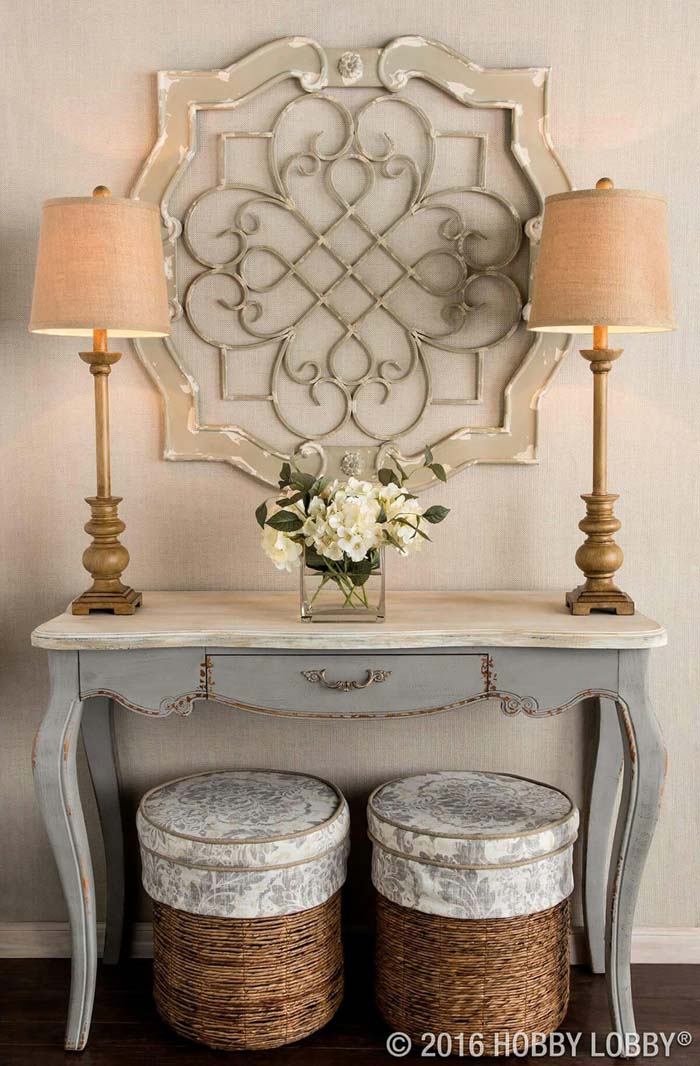 This vintage entryway inspires with its style, aged lines and textures and multifunctionality. Rattan ottomans provide seats and a storage area. When unused, they go under the high table.
The light is ensured by two tall lamp stands placed symmetrically on both sides of the table. To increase the decorative level of the nook, a wooden distressed element adds vintage texture to the wall.
via Hobby Lobby
17. Make a Small Entryway Pop with Contrasting Colors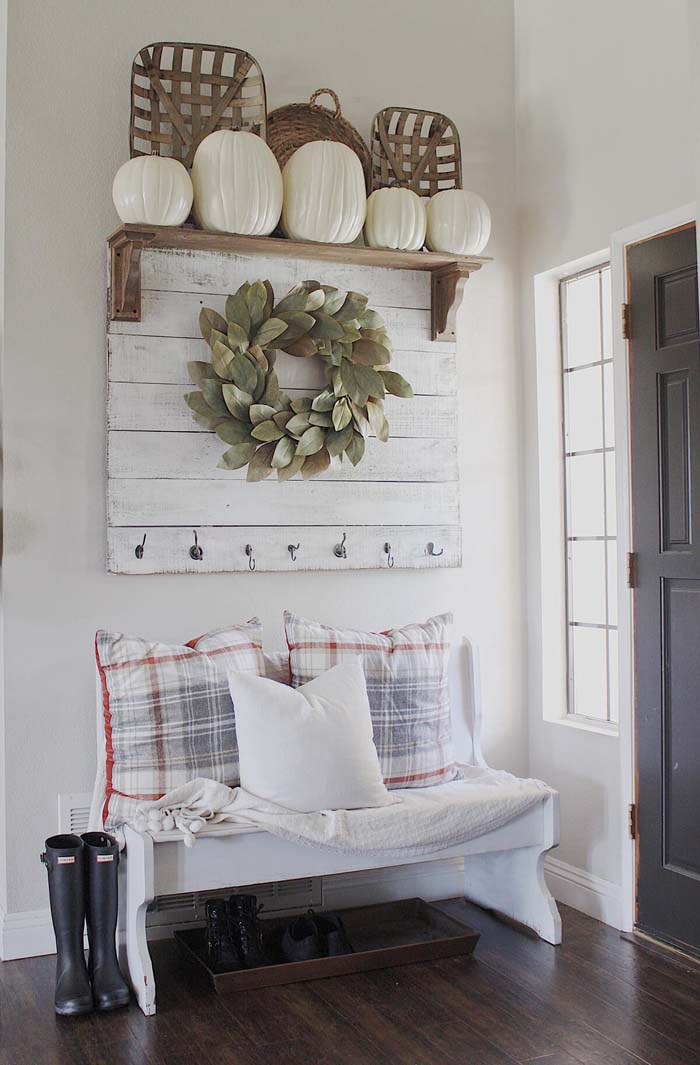 When the entryway is painted in light colors due to its small size, decoration in contrasting colors and rougher texture will give character to the space.
Decorate the bench with pillows covered in interesting fabric, some non-traditional storage containers. Mark the place as welcoming with a wreath or a sign.
via Allie Cecil Blog
18. Utilize an Entryway Corner for Simple Tasks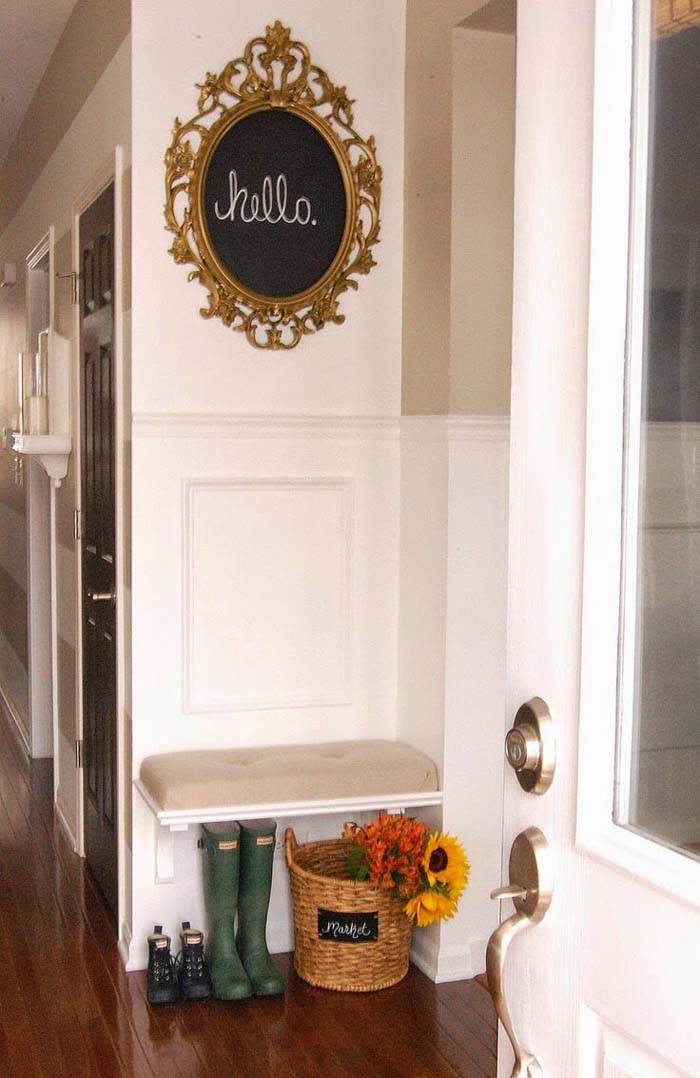 The entryway can literally be only a corner as long as you cleverly utilize the space. A small bench will allow the simple activities related to that place.
Suspend it on brackets to let space beneath free for storage of larger items. You can add a shelf, a rack or a hanger on the wall for coats, hats or umbrellas. Don't forget what the suitable decoration for that place is- a sign or a wreath.
19. Transform Your Old Dresser into an Entryway Shoe Storage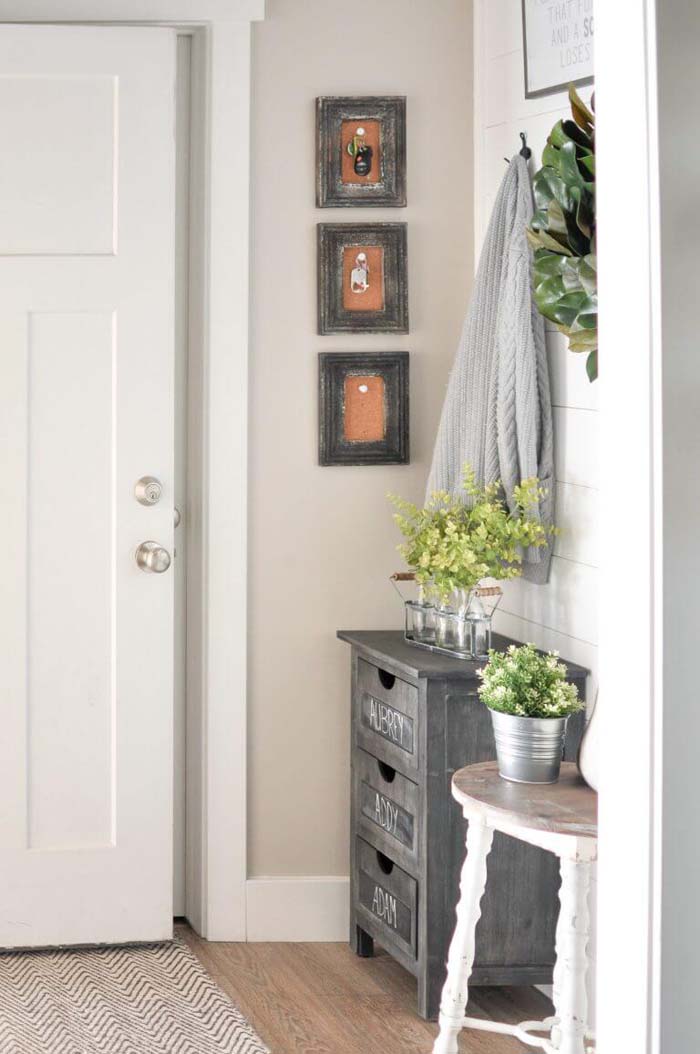 You can always go for upcycling. By repurposing old furniture you can turn a useless dresser into a practical entryway shoe storage.
Each drawer can be marked with the name of the owner. Use the top as a display of plants, candles etc.
via Cherished Bliss
20. Create a Rustic Country Entryway with Repurposed Barn Door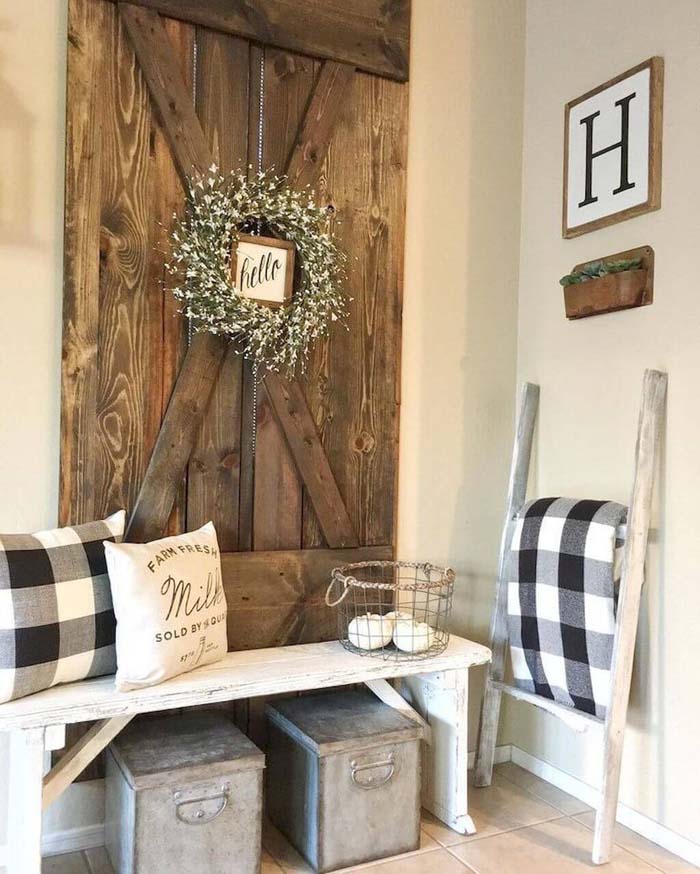 Use an old barn door as an attraction and as a background of your entryway arrangement. To enhance the countryside style, use plaid covers for the pillows.
Add a small framed hello sign, embraced by a gentle wreath. Galvanized boxes, distressed wooden furniture, baskets and similar decorative items will increase the rustic influence of the entryway.
21. Upcycle Old Crates into Stylish Step-Effect Entryway Storage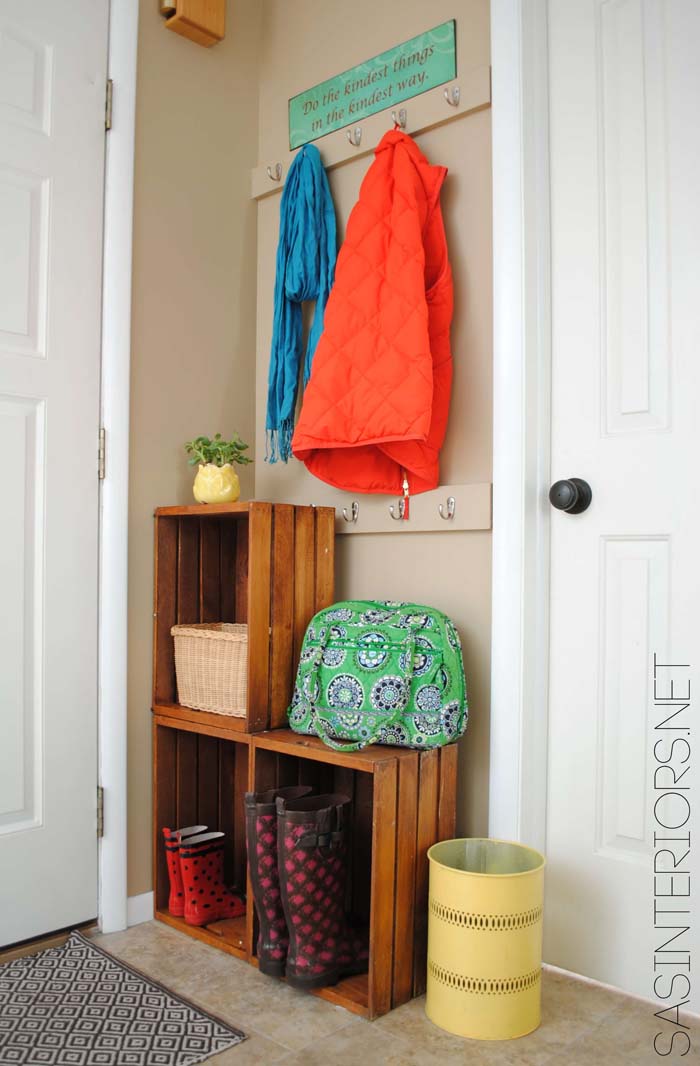 If you are looking for an affordable storage solution for your small entryway, use the upcycling trend and turn the old crates into functional shoe storage furniture with a step effect.
A few wooden boards with hooks nailed to the wall will provide a vertical surface for hanging coats.
via Jenna Burger
22. Entrance with Apartment-Friendly Entryway Table and Mirror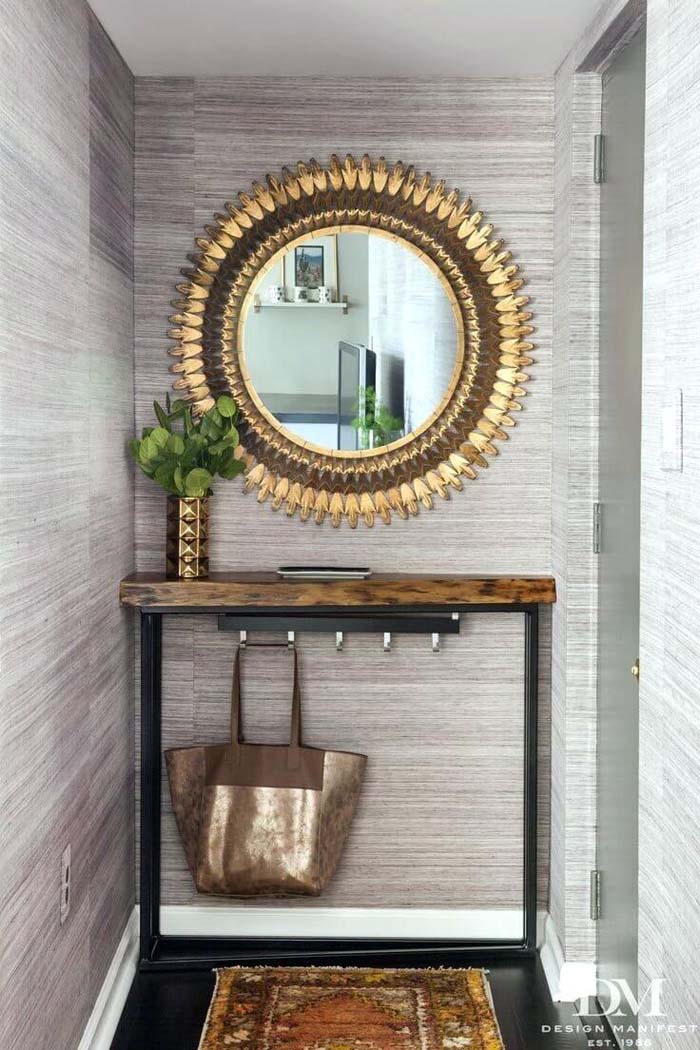 Even the smallest apartment can have a defined entryway. A stylish and compact table with a hanger attached to its frame will accommodate bags, scarves and umbrellas.
Place a rug to differentiate the nook from the rest of the interior and add an attractive accent like a sunburst mirror to show attention to every part of your home.
via Decorators Best
23. Come Home to an Eye-Catching Arrow Symbolism Decor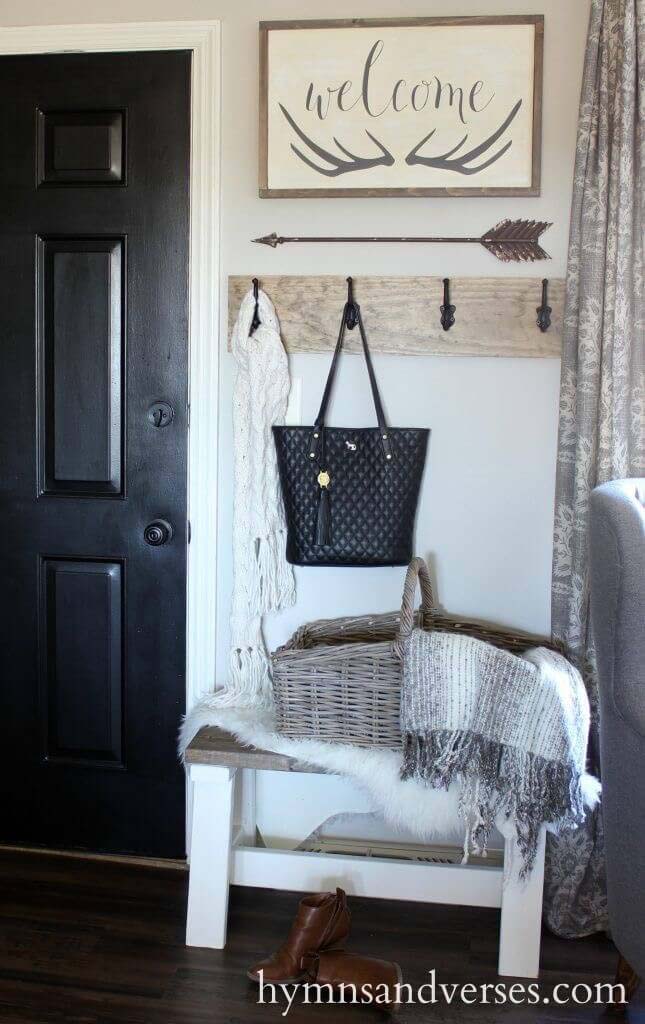 Another way to add sentimental and meaningful decor to your entryway is to use the symbolism of the arrow.
Together with a "welcome" sign, you can mark the direction to the internal part of your home.
via Hymns and Verses
24. Add Depth with Light Grey Shades to Small Spaces Decor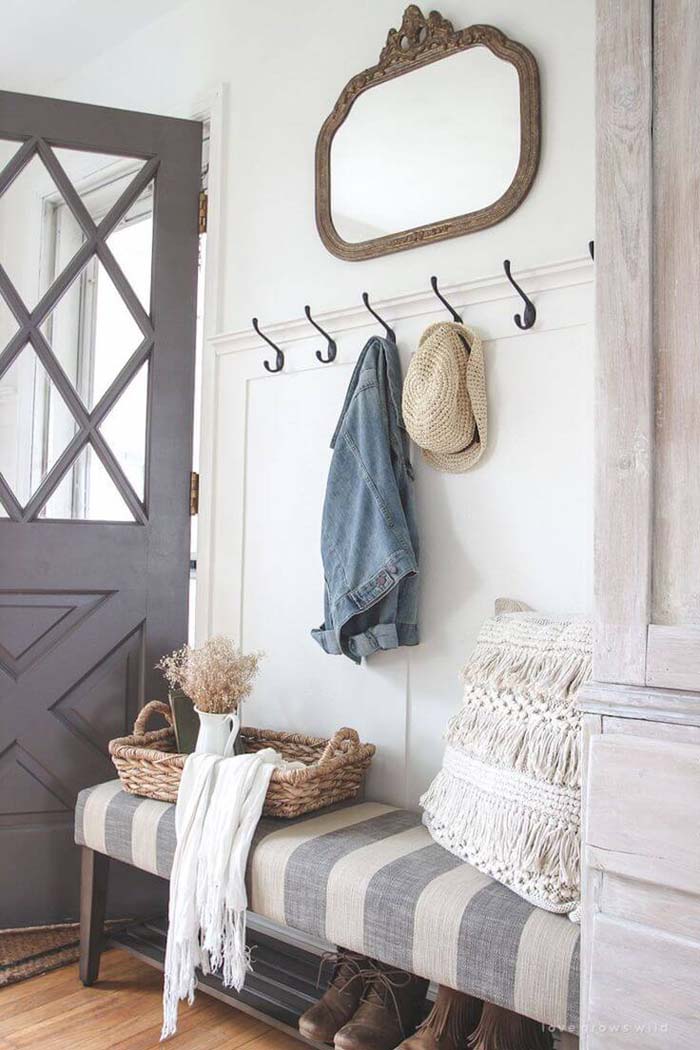 The light shades of grey are also suitable for small spaces décor.
They do not close up space, on the contrary- they add depth and interest, especially in combination with white.
via Love Grows Wild
25. Enhance the Back of an Entryway with Shelves and Mirrors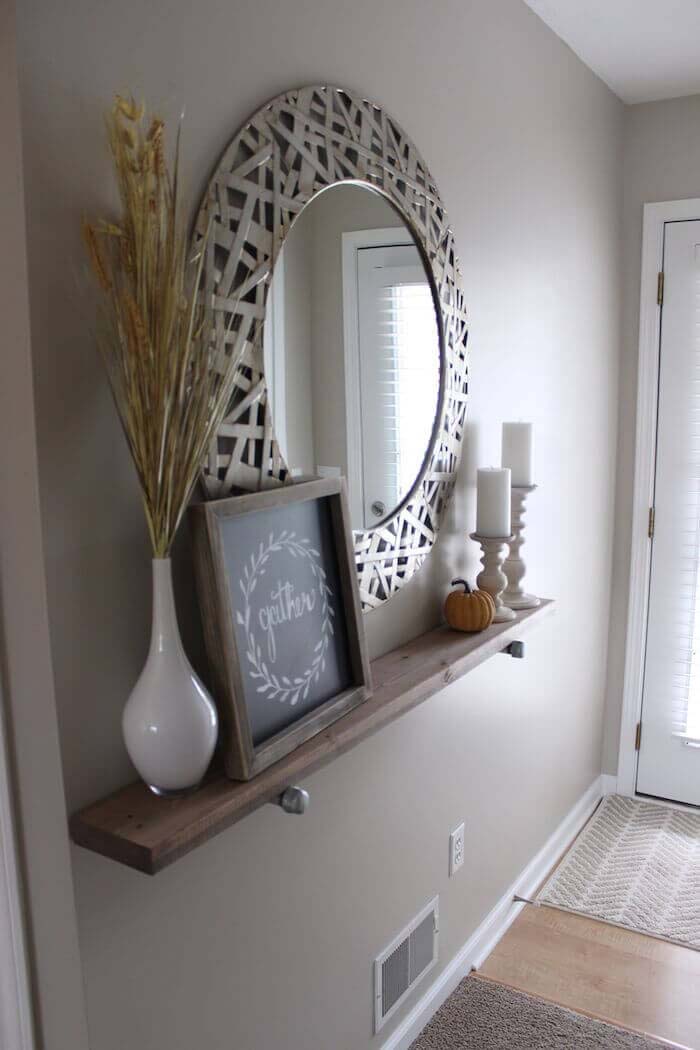 That part of the entryway which is behind the opened door also needs attention. Most of the time it doesn't allow fitting of any seating furniture so its usage comes down to decoration.
Place a shelf to hold a welcome sign and other interior elements like candles, vases, plants. Hang a large mirror to reflect the natural light coming in and to create the illusion for a wider space.
via Grandville Life
26. Create an Inviting Coastal Space with White and Blue Accents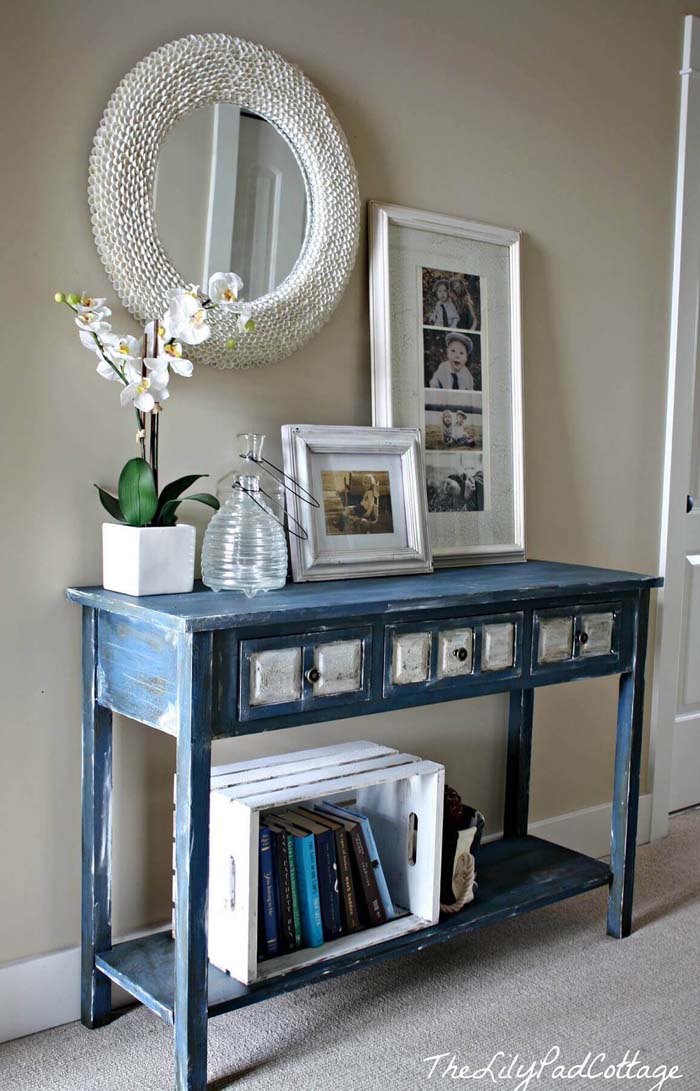 The coastal decorations make the space warmer and more welcoming.
Use the white and blue color combo to recreate the relaxing experience related to the ocean. A few accents with shells will enhance beach influence.