When the holidays are over, it's time for the inevitable: taking down your Christmas decorations.
As you take each item off of the tree or the wall, finding the right type of storage is worth the effort — it makes your life easier when it's time to deck the halls next year.
These clever hacks can streamline the storage process and keep your decorations safe.
1. Bottled Bead Garland Container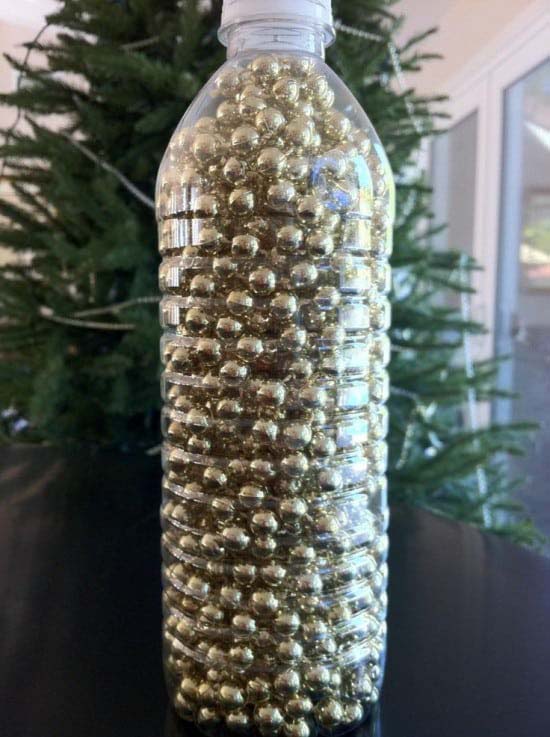 Beaded garland is a lovely addition to your Christmas tree, but it's difficult to store in a box without tangling.
A simple solution is to drop the beads into a plastic bottle and secure the top with the lid.
It prevents the strand from getting caught in other decorations and prevents knotting.
via Tip Junkie
2. Christmas Card Organizer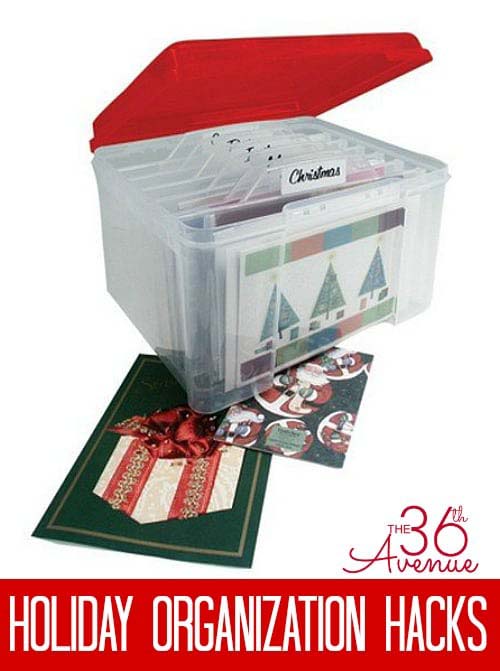 Have you ever wondered what to do with the Christmas cards you receive every year?
Keep a record of your friends and memories by storing the cards in an organizer box.
Mark each section with the year, and you can always look back on Christmases past.
via The 36th Avenue
3. Creative Christmas Ornament Storage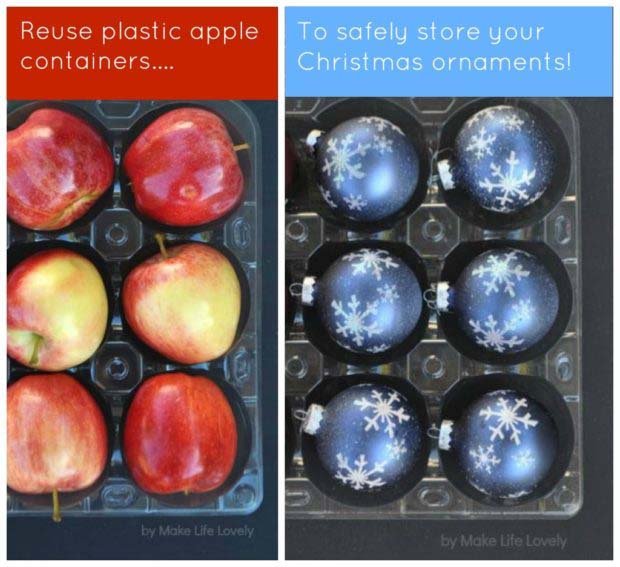 Delicate glass Christmas ball ornaments are a classic decoration, but they're exceptionally fragile.
If you don't have the original box, use a plastic apple container.
The material is lightweight but protective, so it makes storage a breeze.
via Make Life Lovely
4. DIY Christmas Card Books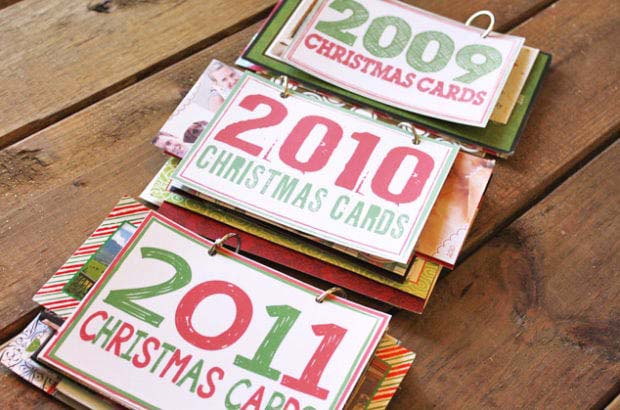 Here's another fun way to store your Christmas cards — break out your hole punch and make them into books.
Simple metal rings accommodate all of the cards, enabling you to flip through them.
Make a cover for each stack, and you can break them out each Christmas for a nostalgic look at past holidays.
5. Egg Carton Ornament Storage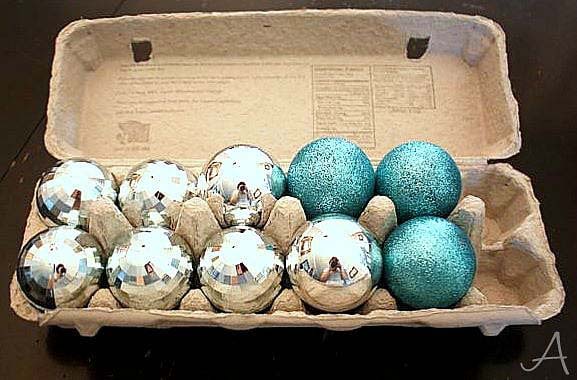 Egg cartons are the perfect way to store small, delicate ornaments.
Glass balls fit neatly into the individual compartments; you can also store other small ornaments.
Just close the lid and tuck your container into a Christmas bin until next year.
via Ask Anna
6. Gift Wrap Storage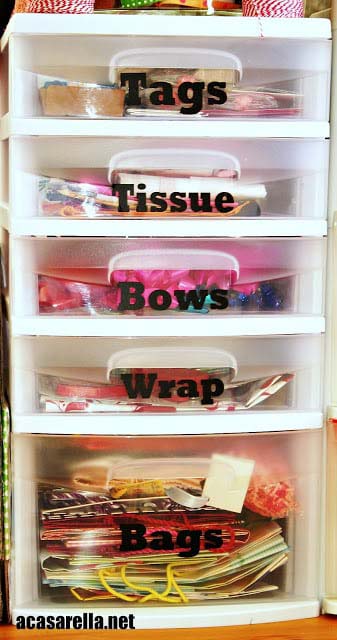 One of the best ways to save money and reduce waste is to keep leftover gift wrap from year to year.
To keep everything safe, use an affordable plastic set of drawers.
The lightweight plastic prevents crushing, and the small units fit easily in a closet.
via A Casarella
7. Hang Ribbon In A Slotted Tupperware Bin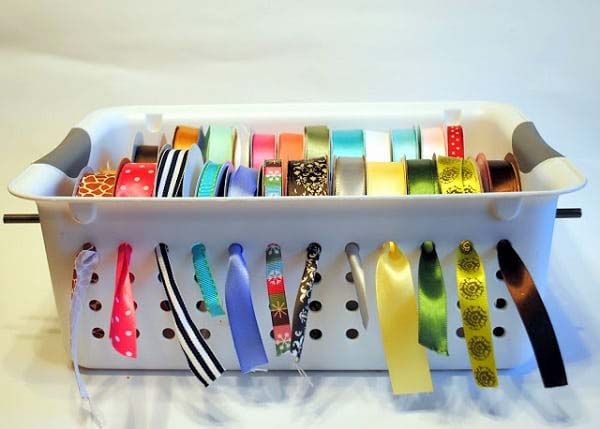 Do you love to wrap your gifts with ribbon?
Keep your spools safe with a cheap plastic basket.
Pull the ends through the holes in the basket and store the rolls vertically.
You can even dispense the ribbon this way for convenience.
via Spunky Junky
8. How To Shrink Wrap Your Christmas Tree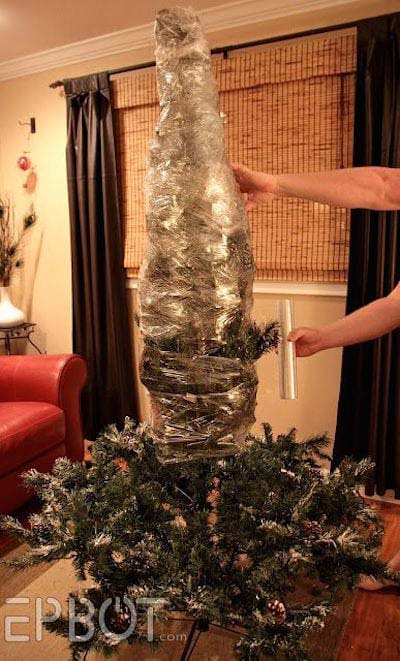 If you have an artificial tree, there's no question — taking it down is a hassle. Instead, grab a roll of plastic wrap.
By folding the branches up in tiers, you can shrink-wrap the tree for easy storage.
Next year, just unroll the plastic and fluff the branches.
via EPBOT
9. How To Store Christmas Lights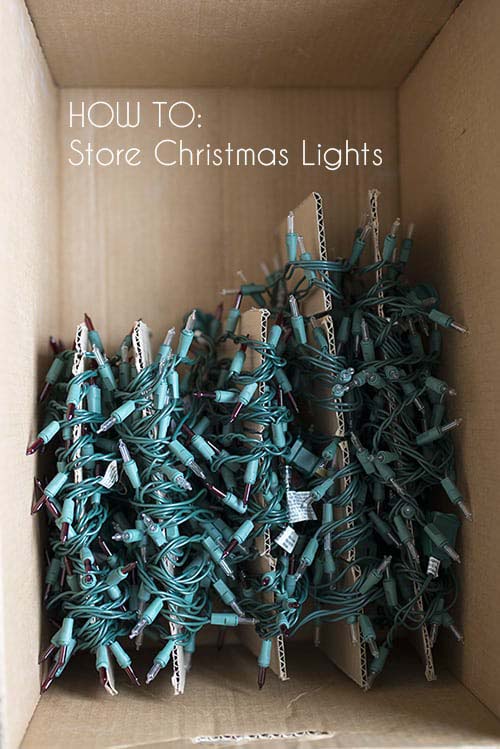 Have you ever spent time untangling Christmas lights?
Avoid that issue with a few pieces of cardboard.
Cut slits in the side, and you have a secure, tangle-free way to wrap your lights.
via A Real Housewife
10. How To Store Christmas Lights Around A Coat Hanger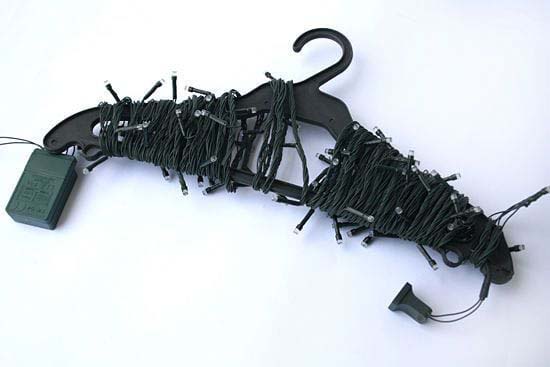 Do you have extra closet space?
Hang your Christmas lights after the holidays.
All you need to do is wrap them around a hanger.
When it's time to decorate the tree again, the hanger serves as a handy dispenser.
via WikiHow
11. Label Your Decorations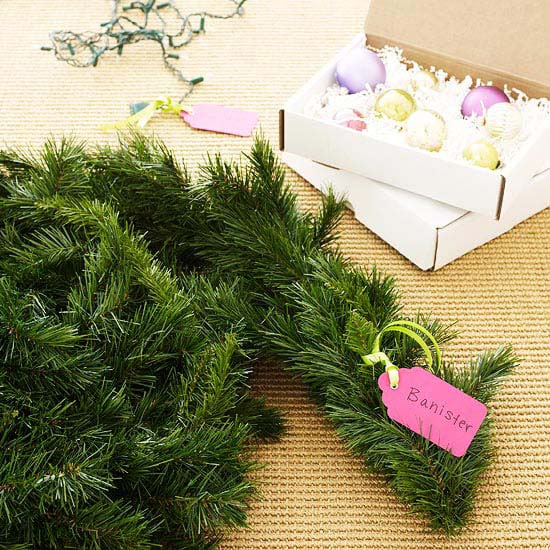 Streamline the decorating process each year by labeling the pieces.
If you have a length of garland that's perfectly sized for the front door or banister, a simple label helps you remember where it goes.
When it's time to decorate again, you don't need to waste time figuring out a layout.
12. Organize Your Holiday Supplies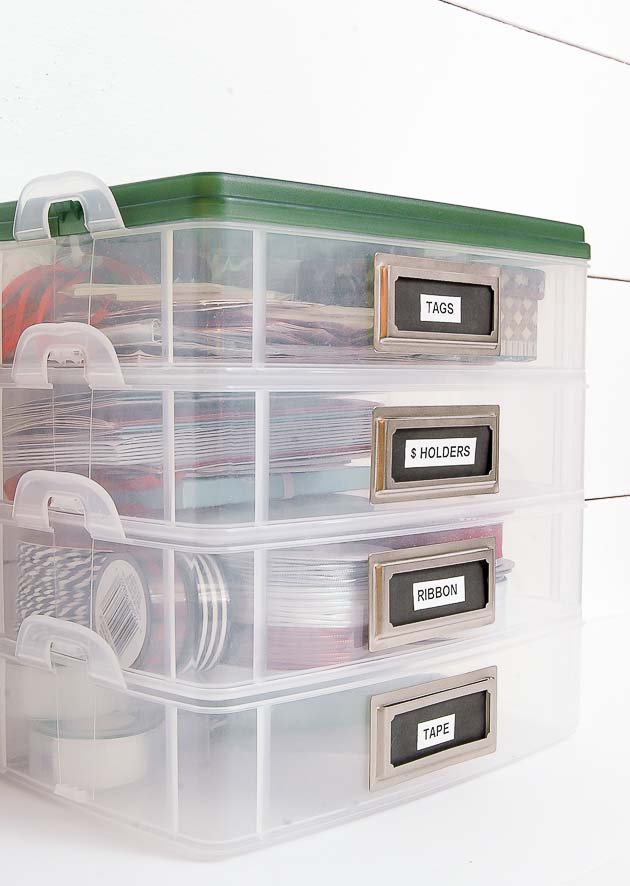 Have you ever bought a new pack of gift tags or other supplies, only to discover a set that you already had on hand?
Solve that problem with an organized storage system.
Snap-together plastic bins keep everything together, and clear labels help you find what you need.
13. Organizing Christmas Décor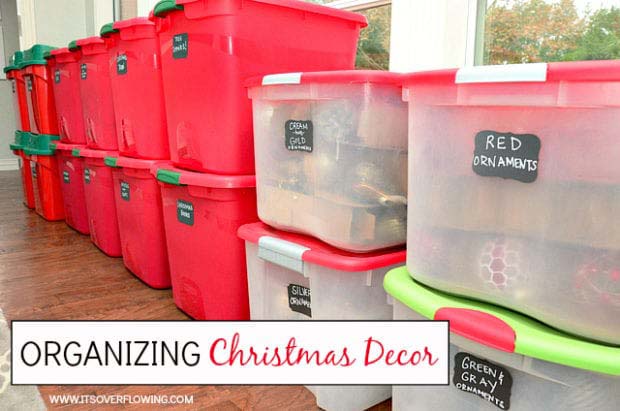 You'll thank yourself next Christmas when you step into the garage to discover a set of organized decoration bins.
The key is to label everything — that way, you can grab the bin you need and get right to decorating.
via It's Overflowing
14. Packing Away The Christmas Tree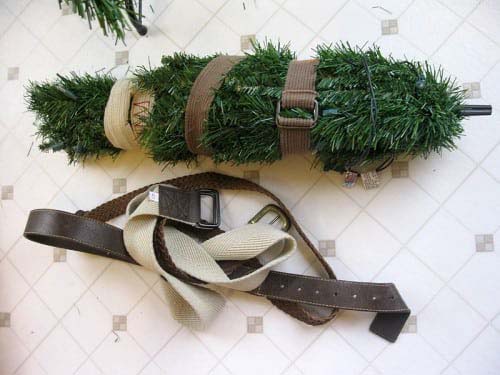 When it comes to putting away an artificial tree, correct storage is crucial; it prevents the branches from bending and breaking.
This clever hack uses extra belts to compress each section of the tree.
Make sure to keep the branches pointing up for easy setup.
15. Plastic Cup Ornament Storage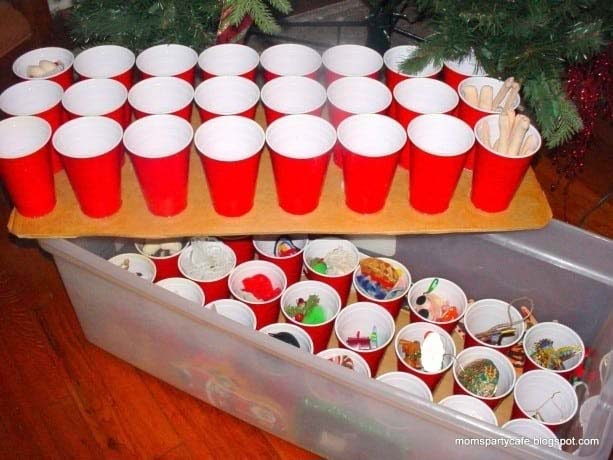 How creative is this storage solution?
All you need is a pack of small plastic cups and a few sheets of cardboard cut to the shape of your bin.
Place an ornament in each cup and use the cardboard between each layer.
This strategy makes tree-decorating a breeze, and you can reuse the pieces year after year.
via Mom's Party Cafe
16. Storing Christmas Lights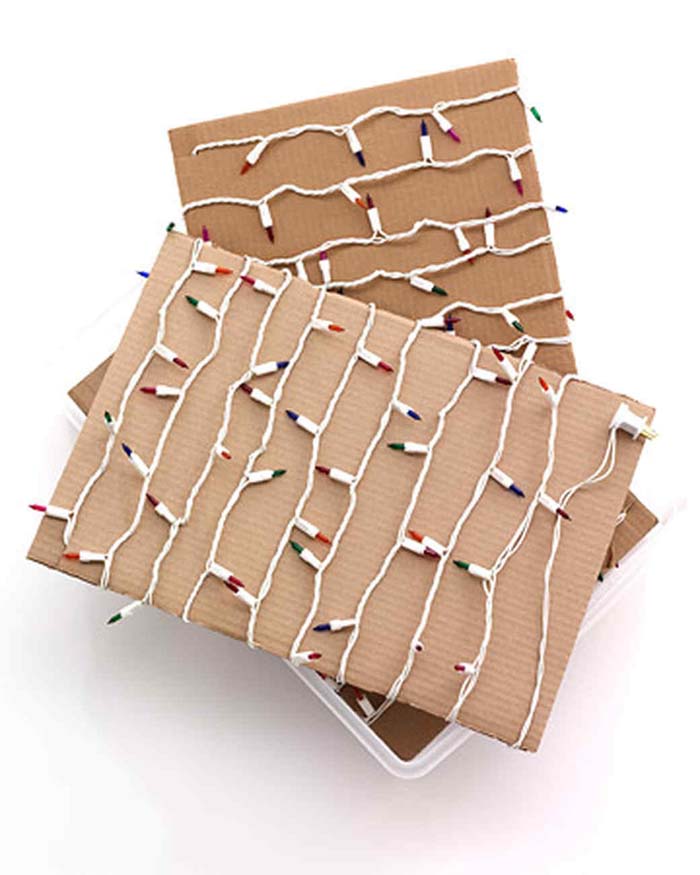 Cardboard sheets are the ideal way to store Christmas lights — plus, it's a great way to use some of the packaging from your Christmas gifts.
For maximum convenience, leave plenty of space between each line of lights; this prevents tangling.
via Martha Stewart
17. Tangle Free Christmas Light Storage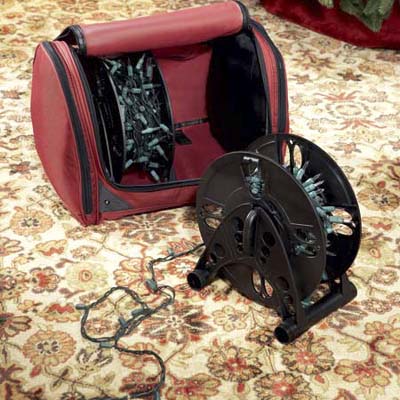 If you're willing to upgrade your Christmas storage, this is a great investment.
A simple plastic reel stores your strings of lights; it also dispenses them quickly when you decorate next year.
The handy case protects the lights from moisture and dust in storage.
18. Tips For Organizing Christmas Ornaments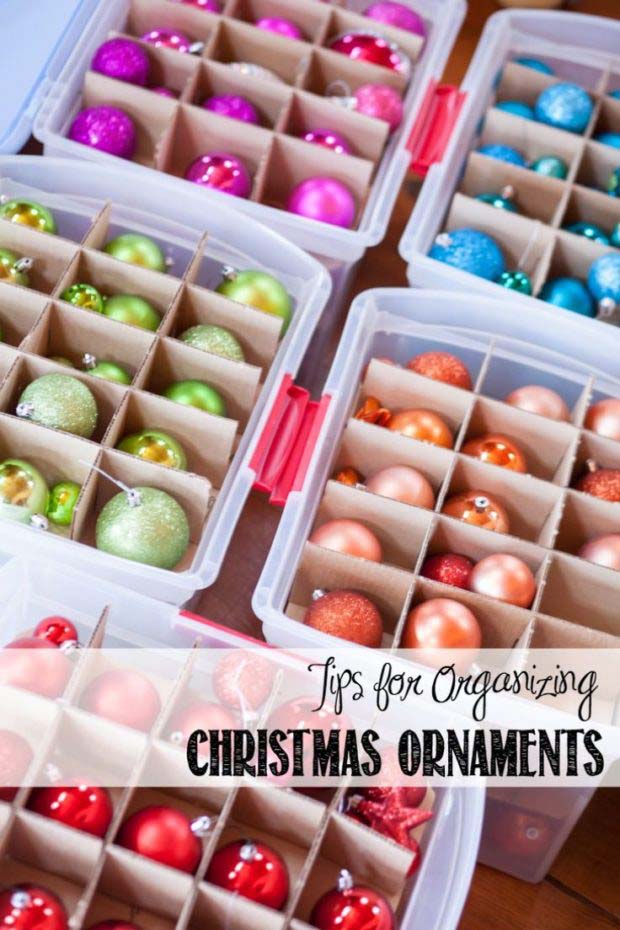 If you've ever dug through a jumble of ornaments, you know that it's a time-consuming task.
Simple cardboard dividers help make the most of small plastic bins.
Organize your ornaments by color, and you'll be ready to create a coordinated tree next season.
19. Wrapping Paper Shoe Rack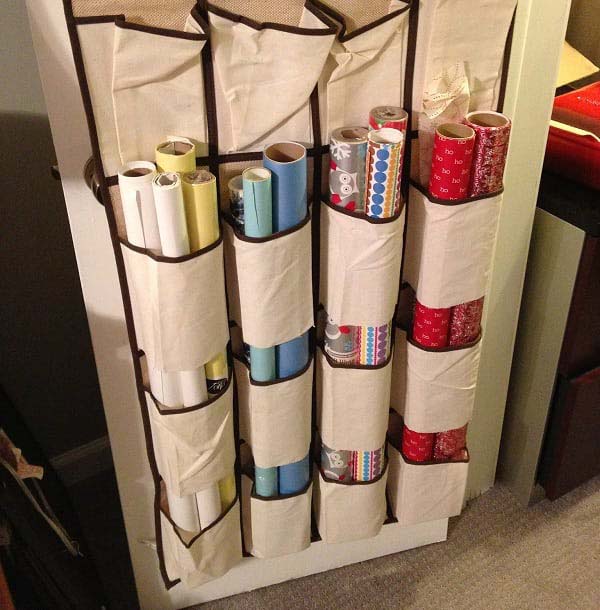 Are you working with minimal storage space?
Turn the back of a door into a gift-wrap organizer with a cheap shoe holder.
Cut the bottom out of two rows of pockets to create a convenient spot for wrapping paper rolls.
Leave the top pockets intact to hold gift tags, bows, and other supplies.
20. Wrapping Paper Storage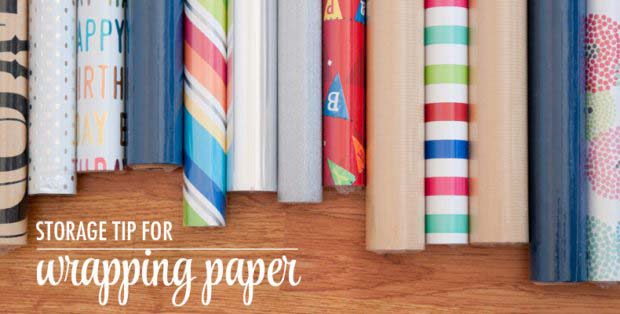 Wrapping-paper costs can add up at the holidays.
Get the most for your money by storing the rolls from year to year. The trick?
Use a clear garment bag to hold the rolls upright.
They fit into a tiny space in a closet, and you can see each roll clearly to evaluate your needs when it's time to replenish.
Plus, the plastic protects the paper from tears and moisture.
via The Chic
21. Wreath Storage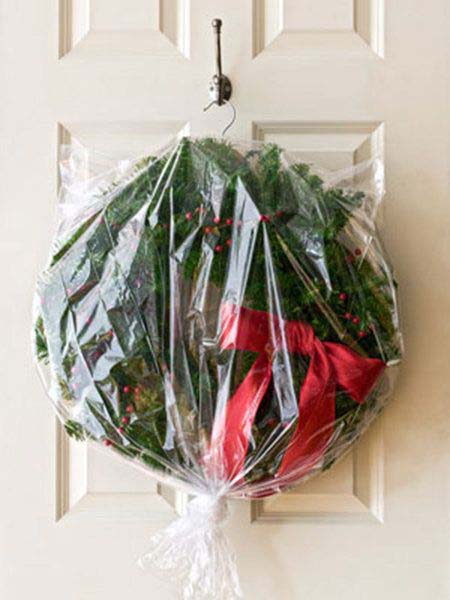 The wreath is a Christmas essential, but moisture and dust can leave it looking worse for the wear.
An easy solution is to hang it on a clothes hanger, wrap a plastic bag around it, and tuck it into a closet.
This method prevents crushing and keeps the needles clean and fresh.