The holidays are here and it's time to start deciding, what types of great appetizers you will use this year. Appetizers have a lovely way of bringing people together during festive times.
As we mingle with family, friends and co-workers, finger foods become the perfect conversation piece.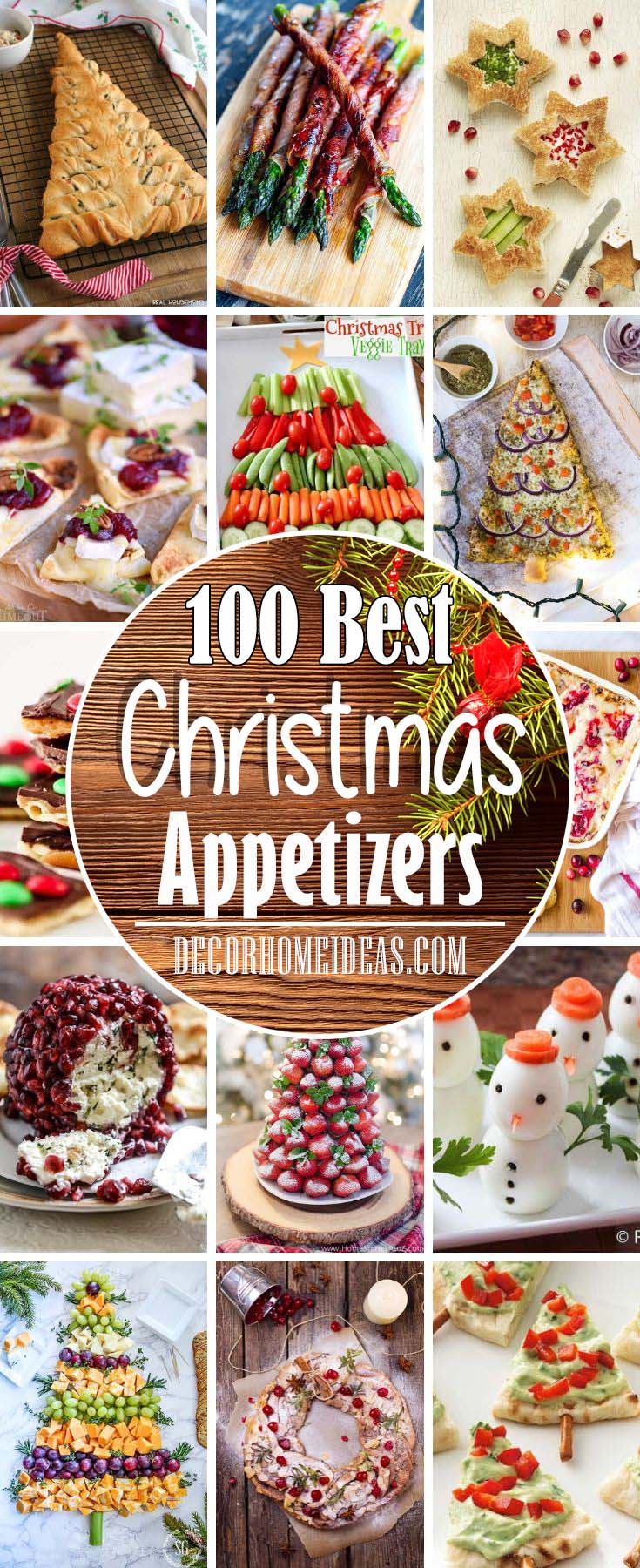 Sometimes it is difficult to choose between just one appetizer. This is why there's no reason not to select an entire table.
Displaying various snacks is the best bet. Guests will appreciate all of the different choices.
A table with a combination of salty bites, creamy dips, sweet sauces and many other kinds of appetizers will surely keep your guests interested and excited!
1. Enjoy a Delicious Peppermint Marshmallow Dip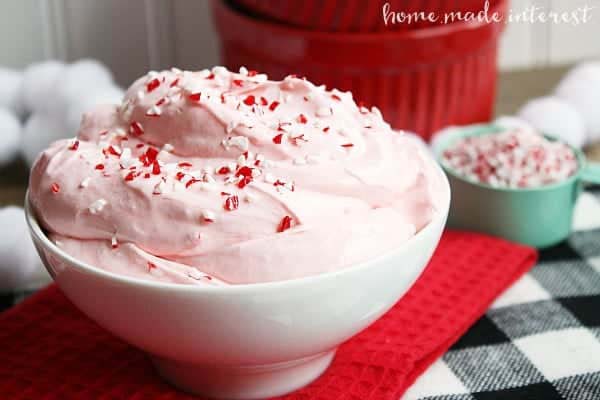 This simple-to-make dip is created by using only a few items, some of which are marshmallows, and peppermint extract.
The marshmallow fluff is added together with cream cheese and whipped together. If this combination sounds delectable that's because it is!
via The Pinning Mama
2. Make a Smoky Bacon and Parmesan Wreath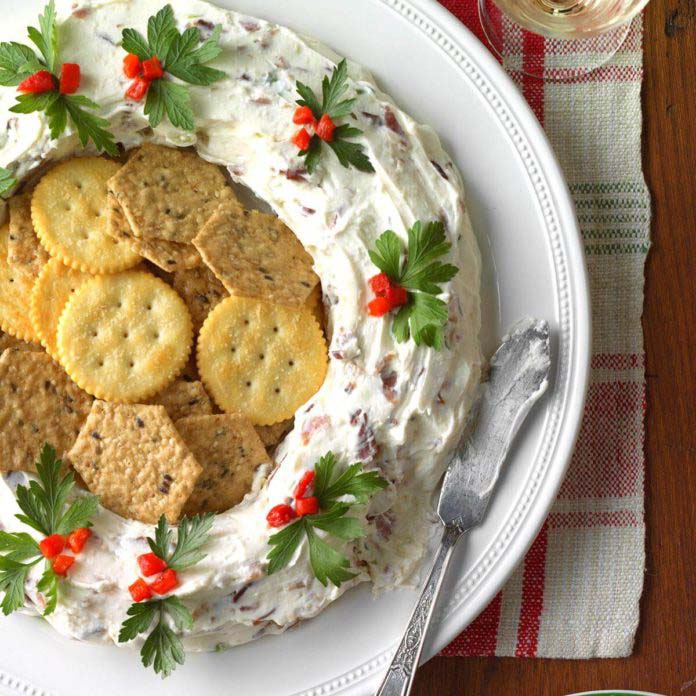 If you're looking for the perfect spread for the holidays, here it is! The smoky bacon and Parmesan combined together create a memorable and tasty dressing.
via Taste of Home
3. Savory Goat Cheese and Roasted Cranberry Spread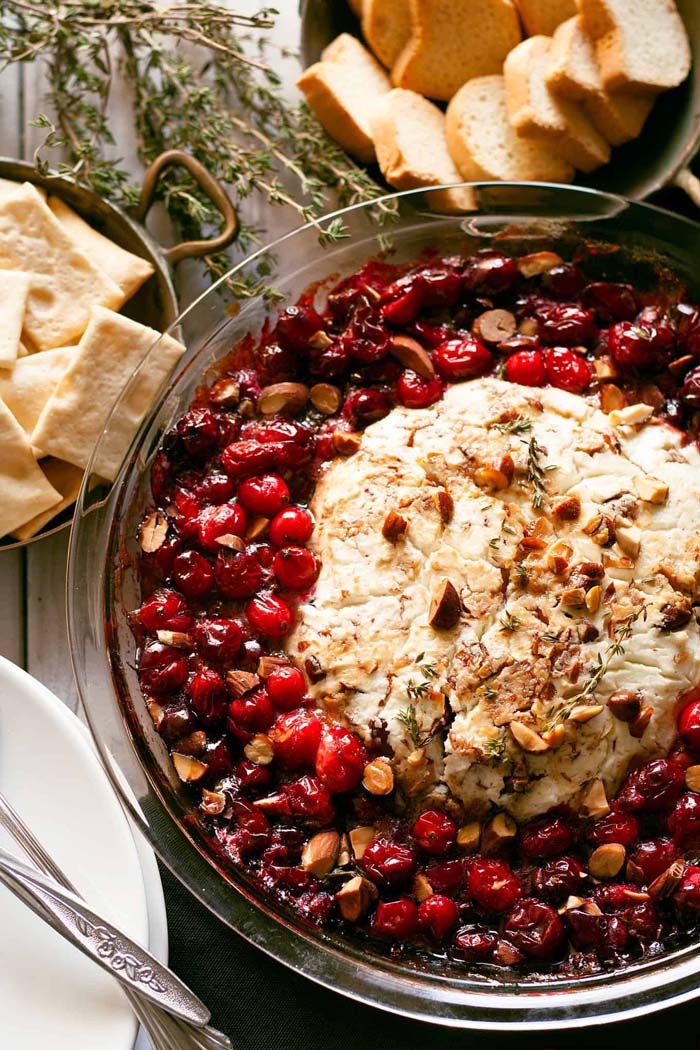 Goat cheese and roasted cranberries make a delicious spread for all types of crackers and bread. Baked together these two ingredients will be the talk of the party!
via Thirsty Feast
4. Make Sweet and Spicy Pecan Treats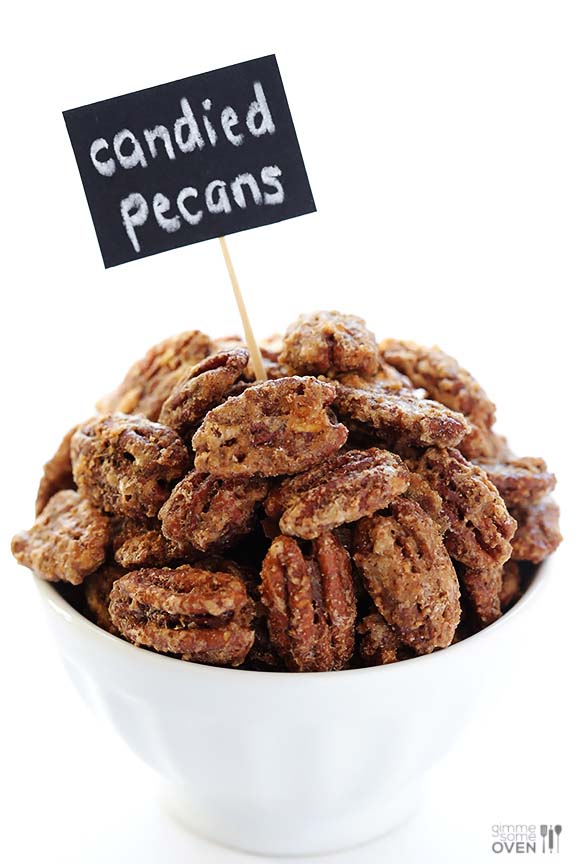 If you are a pecan lover, then just imagine them covered in spices and sugar. This treat can be made within minutes! The perfect snack to keep the guest busy when they arrive early!
via Gimme Some Oven
5. Be Creative with a Candy Cane Cheese Spread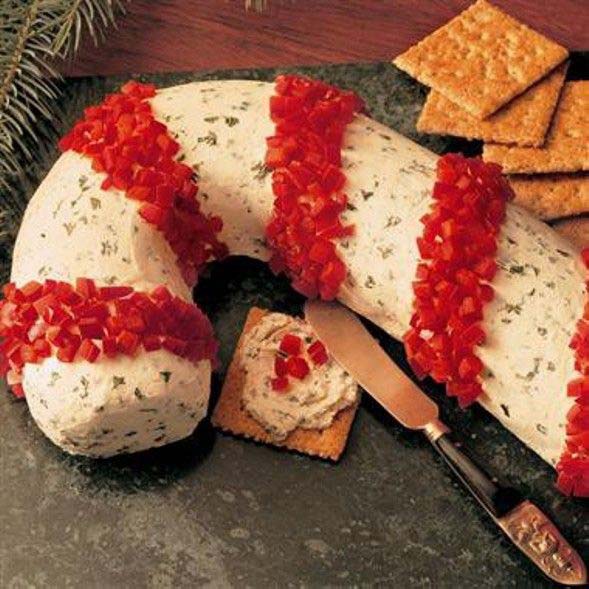 A simple and fast party introduction, this spread can be made literally in minutes!
Choose your favorite cheese spread and mix it with a few herbs and spices from your cupboard! Don't forget to shape it in the form of a candy cane to get the attention of the guests!
via McCormick
6. Create a Summery Caprese Christmas Wreath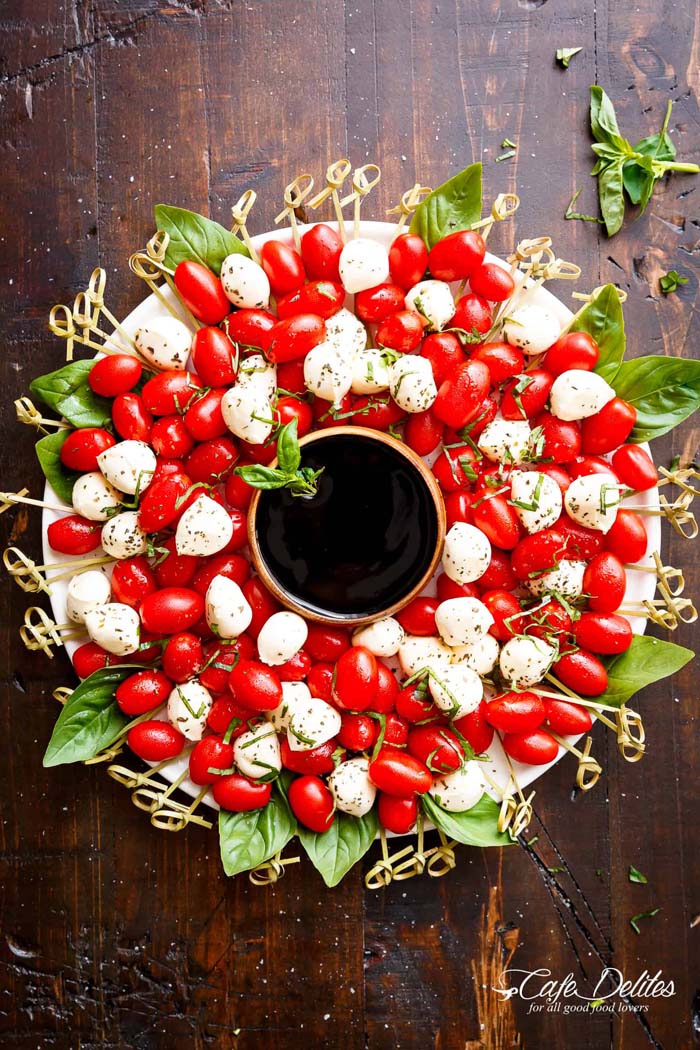 A platter filled with Fresh mozzarella cheese and plump tomatoes can save the day at a holiday get-together.
Balsamic sauce setting in the middle for dipping makes this an absolutely perfect dish!
via Cafe Delites
7. Make a Festive Christmas Tree with Cheese and Sausages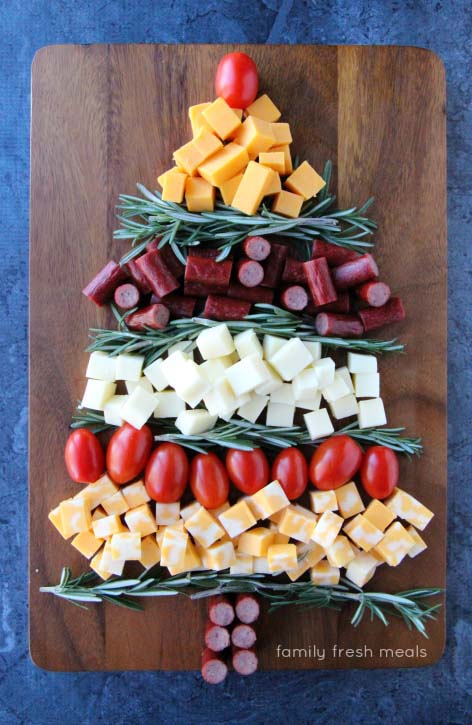 Gather up your favorite holiday cheeses and sausages and make it into a Christmas tree!
8. Top Your Cheese Balls with Olives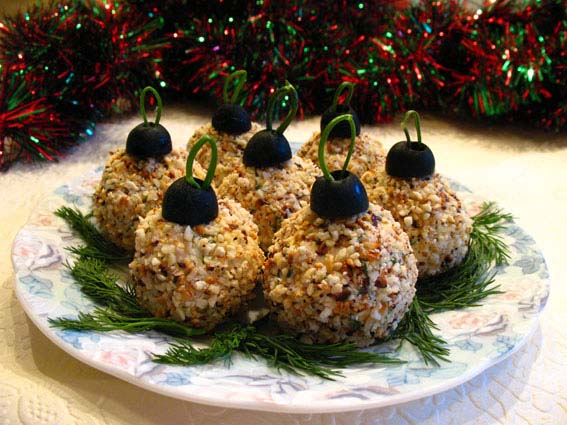 Sometimes something as simple as cheese balls topped with olives can make your holiday an unforgettable occasional!
via DIY Enthusiasts
9. Show Your Creativity with Cheese Reindeers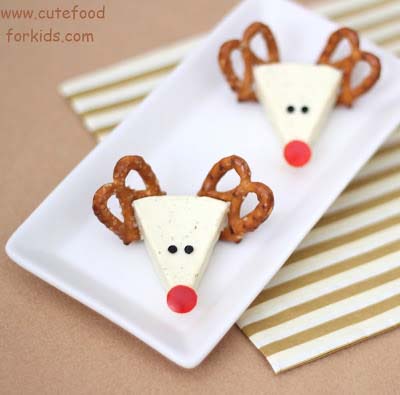 This easy appetizer is made of Laughing Cow cheese. Add peppers and pretzels to make a reindeer face and this snack will be the talk of the party!
via Cute For Kids
10. Prepare a Piquant Crackers and Sausages Christmas Tree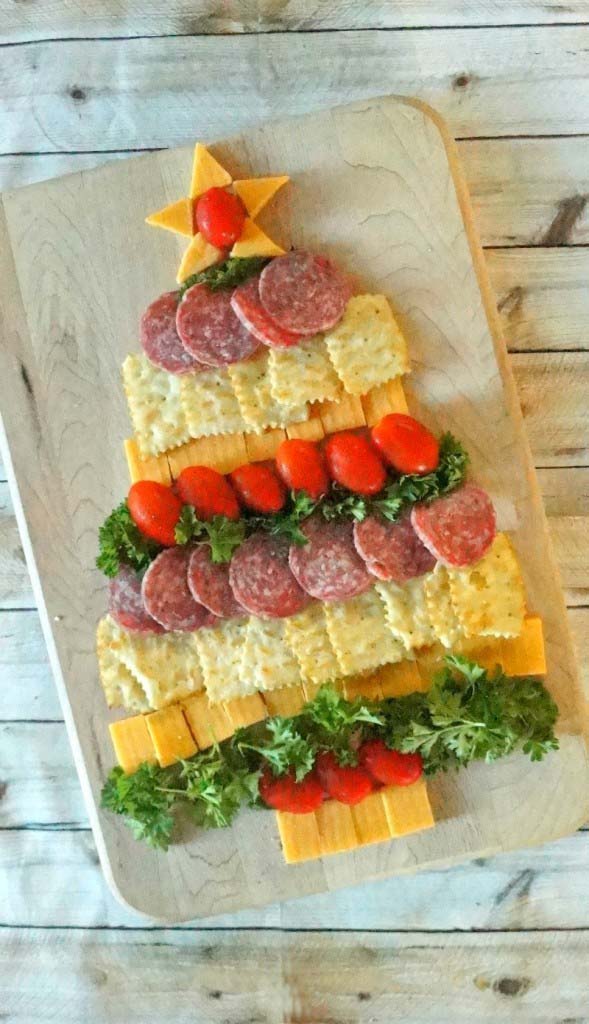 Set aside for the holidays your best crackers and sausages. Don't forget the crackers. Choosing from any type of crackers will do, saltine, wheat etc.
via Honey and Lime
11. Make a Colorful Appetizer Tree with Cream Cheese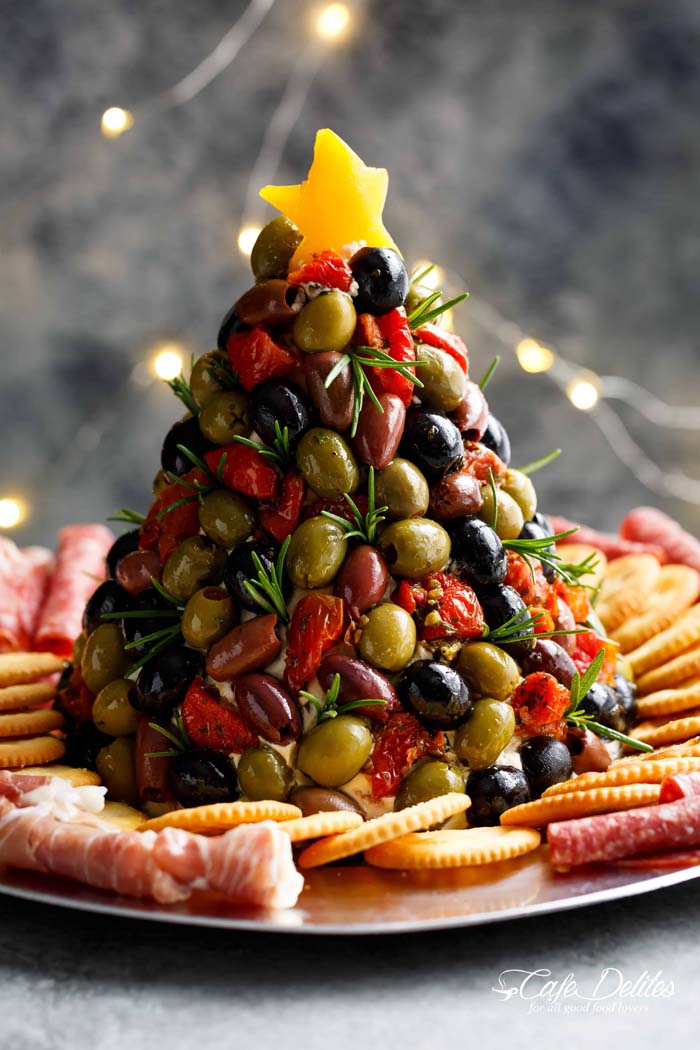 Cream cheese is used when making this perfect appetizer. Make sure that the cream cheese is packaged, it will hold better.
Choose your most mouthwatering chives, peppers, etc to mix with the cheese. Form it into a Christmas tree, then cover it with olives and surround it with crackers.
via Cafe Delites
12. Treat Guests to Savoury Cherry Cheesecake Dip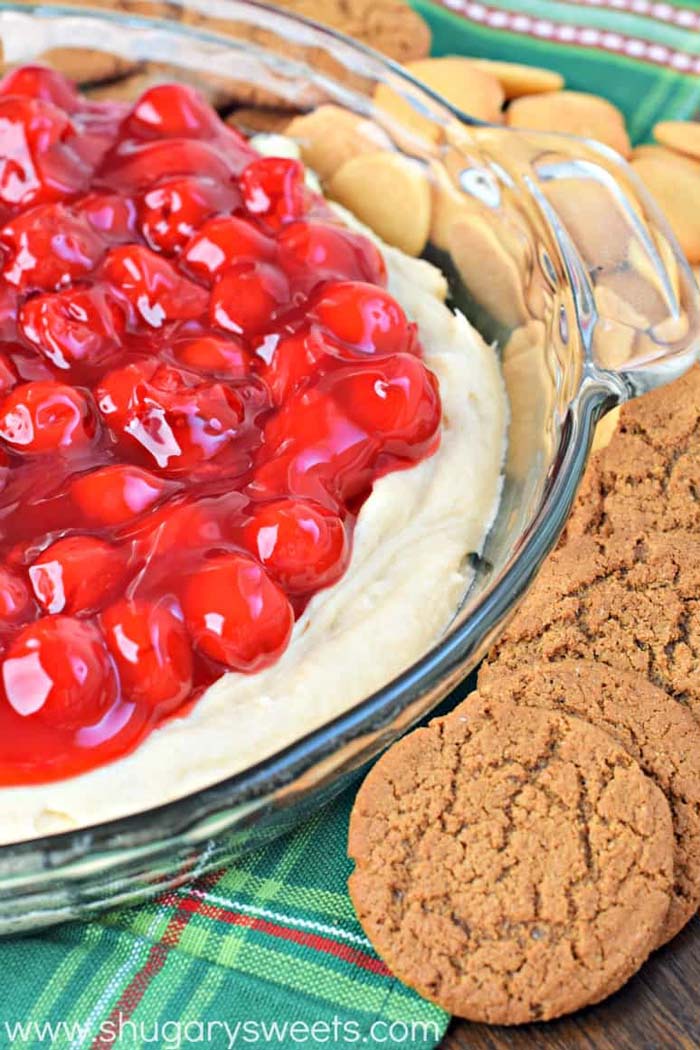 In need of Christmas cold appetizers? Cherry Cheesecake Dip is a mouthwatering dish made from cheesecake. Just choose crackers and dip away!
via Shugary Sweets
13. Stuff Cherry Tomatoes with Cheese and Pesto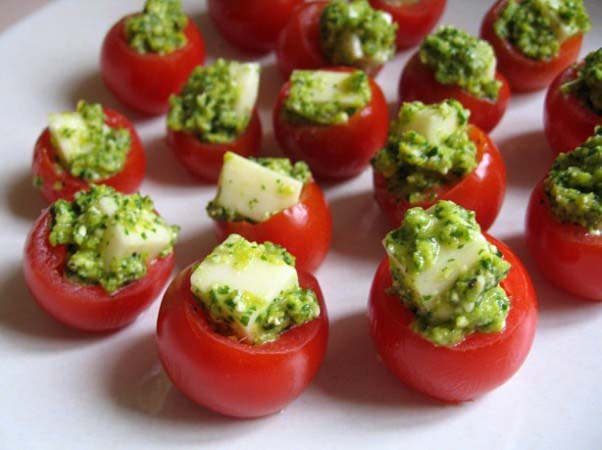 Christmas dinner appetizers is how you break the ice, during a holiday mix. And there's nothing like plump red tomatoes to do the trick!
Tomatoes are scrumptious if eaten solo, so just imagine if they're stuffed with your most favorite cheese along with a herb-filled pesto?
via DIY Enthusiasts
14. Make a Christmas Party Appetizer with Guacamole Bites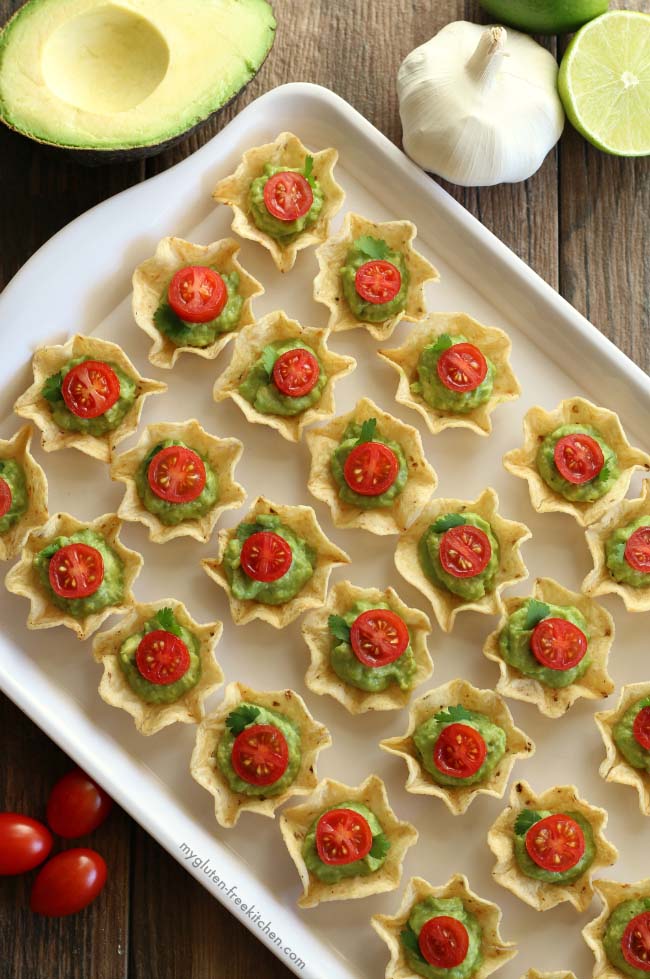 When giving a party, you do not want to run out of Christmas appetizers ideas.
Keep in mind that some guests may desire a unique selection of snacks. A Gluten-free Guacamole appetizer with crackers is the perfect platter.
15. Chocolate Pretzel Wreath for Christmas Snack Table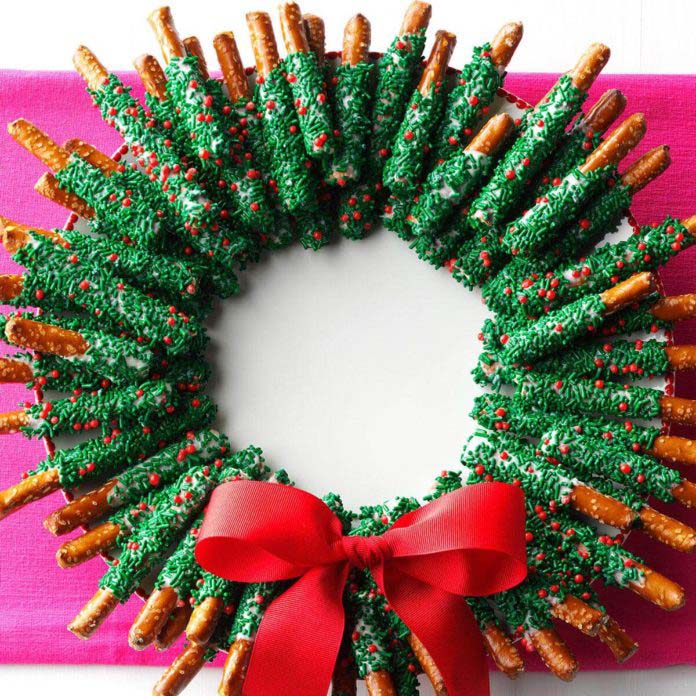 If you're looking for cute Christmas appetizers this pretzel wreath is among the most popular treats on snack table. Easy and quick to make, the pretzels are dipped in chocolate then shaped into a wreath!
via Taste of Home
16. Utilize a Cookie Cutter to Make Mini Pizza Bites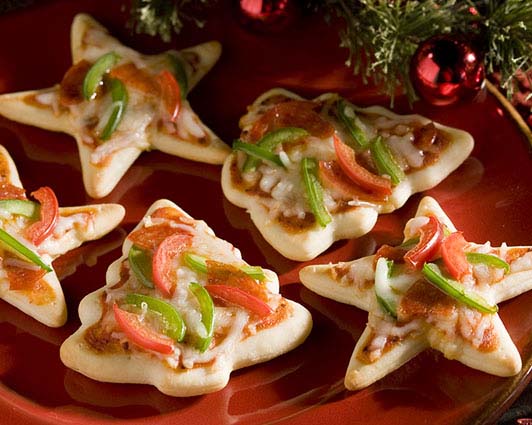 via DIY Enthusiasts
17. Make a Creamy Dip for Your Christmas Cookies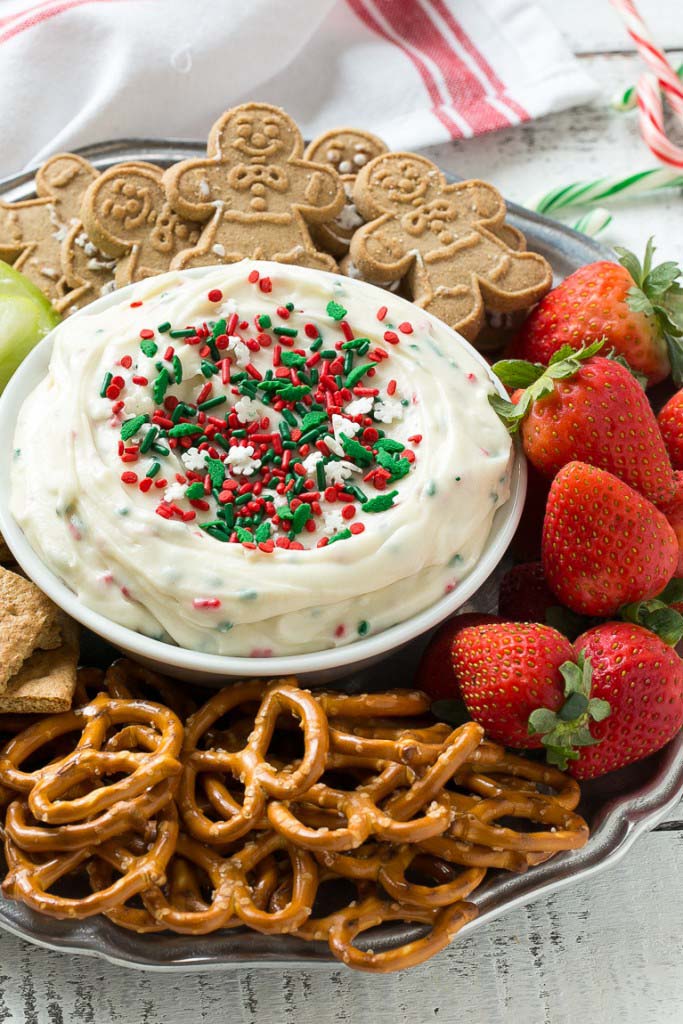 Whipping up this eggless creamy base will take only minutes! The trick is to keep beating the dough until it becomes fluffy, then add loads of sprinkles!
18. Add Chocolate to Crackers for an Unforgettable Appetizer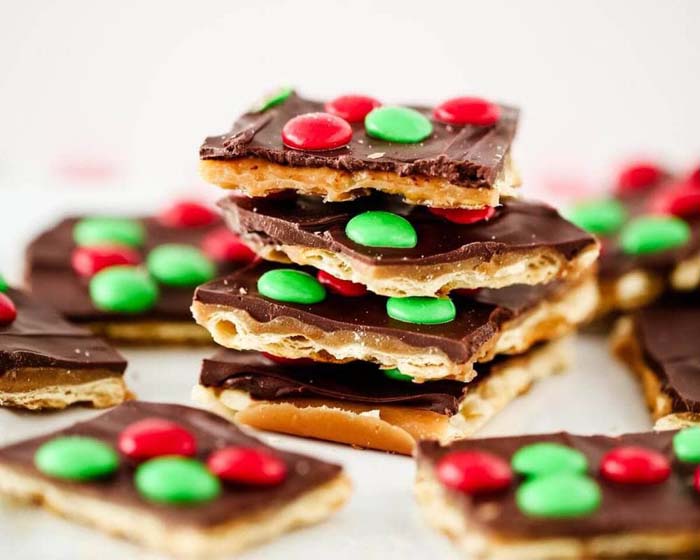 via I Heart Nap Time
19. Sweet and Salty Peppermint-Covered Crackers and M&Ms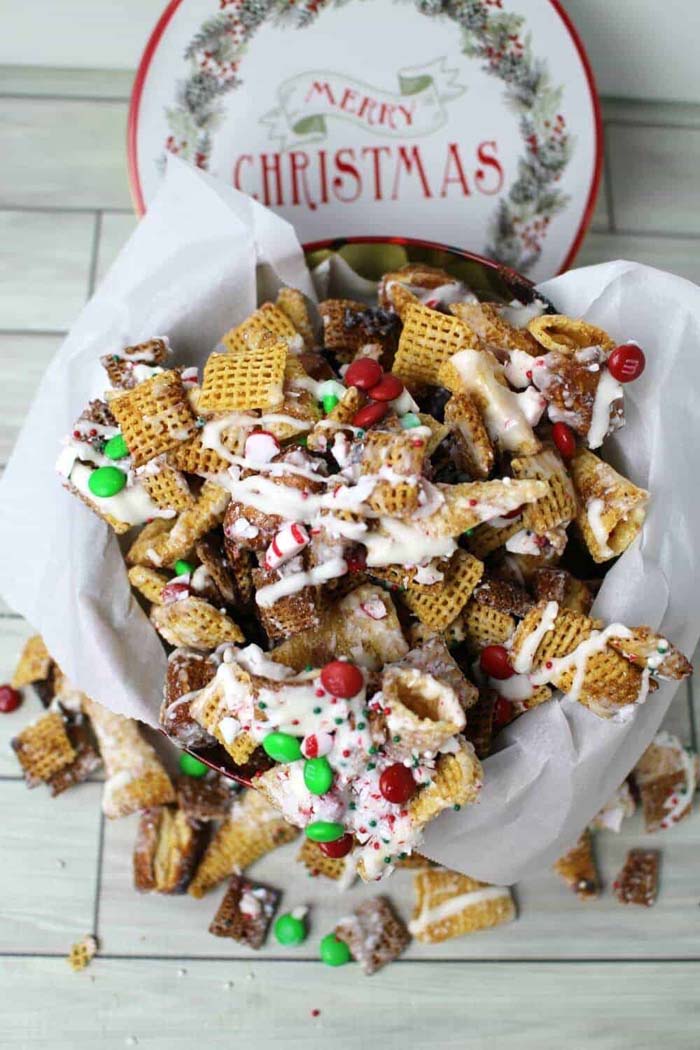 For the holidays create memories by pouring peppermint over a basket of crackers! This sweet and salty combination can't be beaten! Especially if you throw in an assortment of M&Ms!
20. Garnish Pretzels with Cracker Crumbs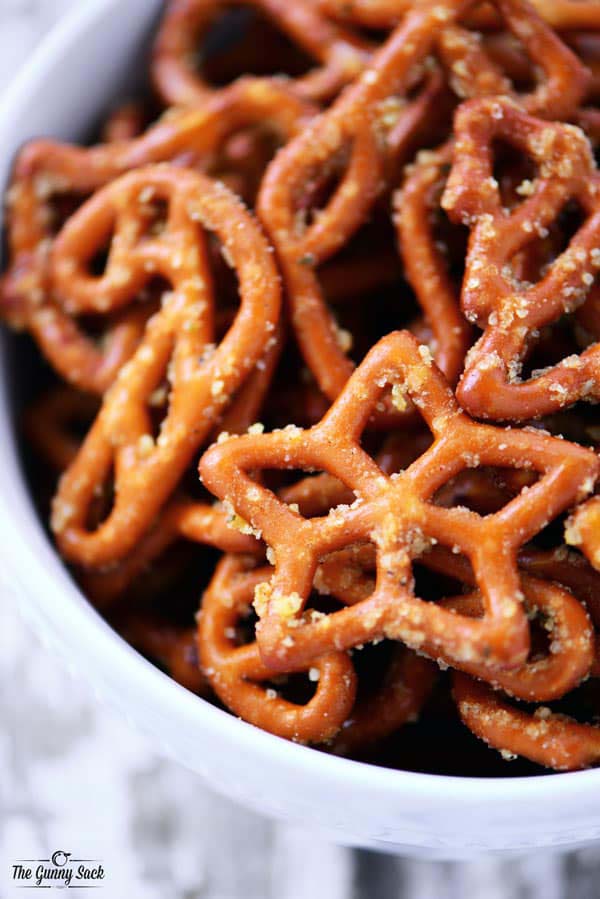 via The Gunny Sack
21. Create a Chocolate-Covered Strawberry Christmas Tree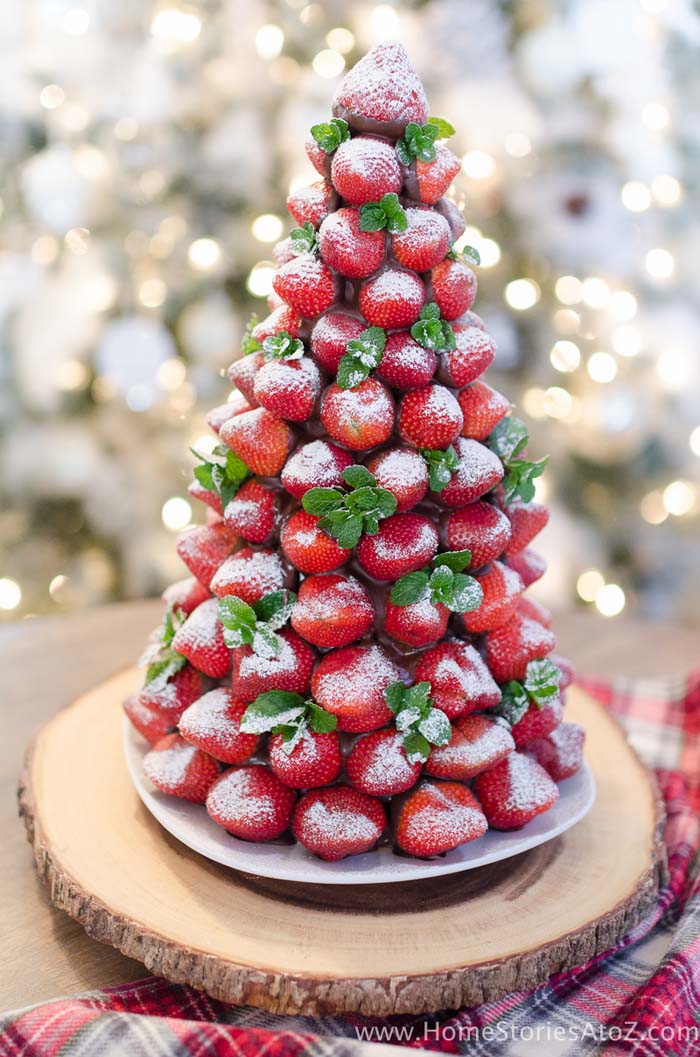 Strawberries covered with chocolate served on a platter laid out like a Christmas tree
22. Let the Party Continue with Christmas Deviled Eggs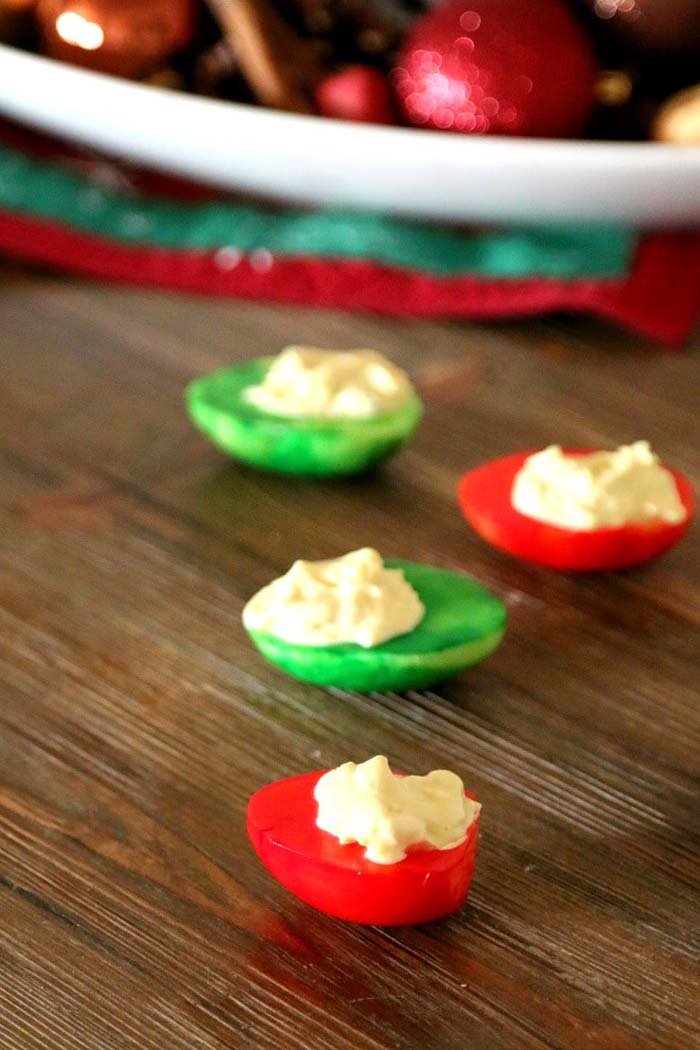 Deviled eggs topped with your a nice seasoning can be served within seconds at any party!
via Momdot
23. Make a Chic and Tasty Sausage Wreath for Your Dinner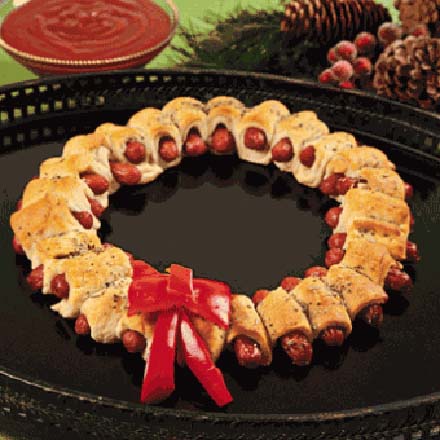 Sausages are the perfect treat, before dinner, make it interesting by making a wreath!
24. Spice Up Your Evening with a Spicy Queso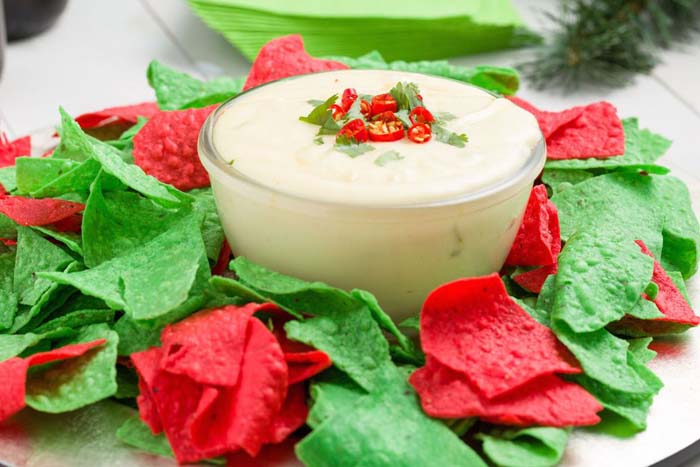 Hot cheese will be the talk of the evening at this bash! Make the queso as spicy as you and your friends would like it!
via Delish
25. Add Cute Santa Decoration to Crackers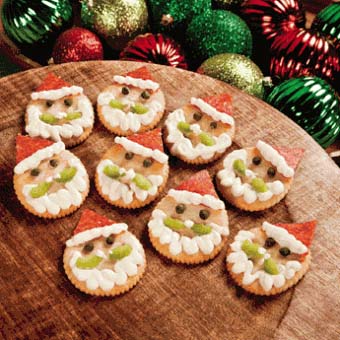 There's nothing like a platter full of assorted crackers to nibble on while circulating a crowed room!
26. Bring Christmas Cheer with Star Sandwiches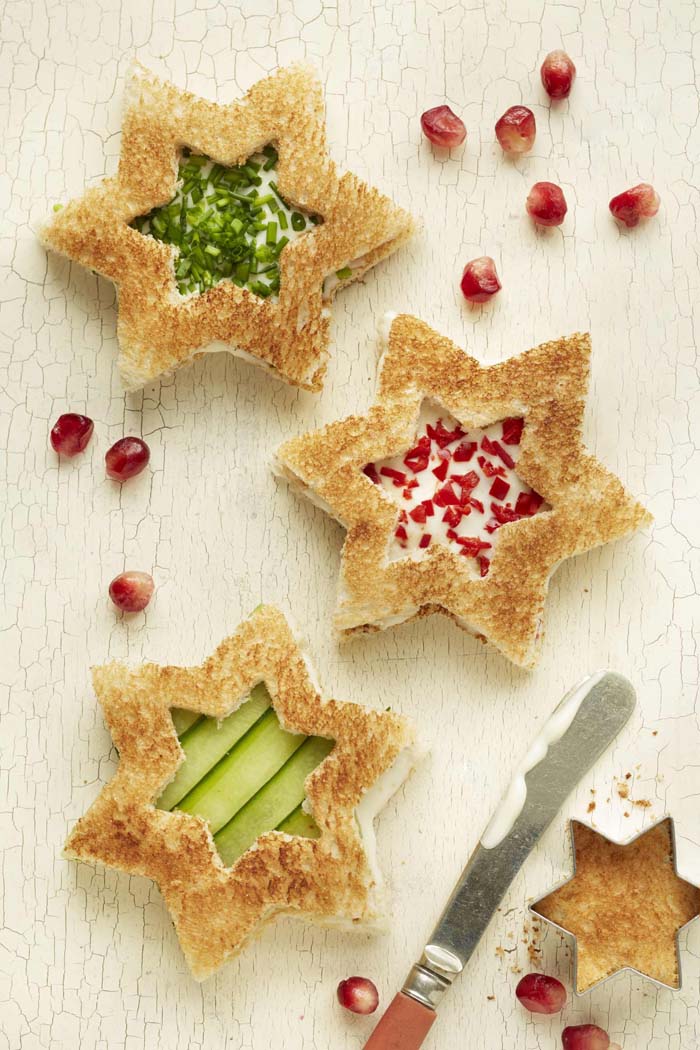 Looking around for Christmas themed appetizers? Well, look no further, for this special recipe all that is needed are cucumbers, Primula Cheese, and bread.
After adding the Primula Cheese of choice onto the bread that has been cut into a star, sprinkle plenty of chives and red chilies onto the sandwich.
via In the Playroom
27. Adorn Your Platter with a Cute Cheese Snowman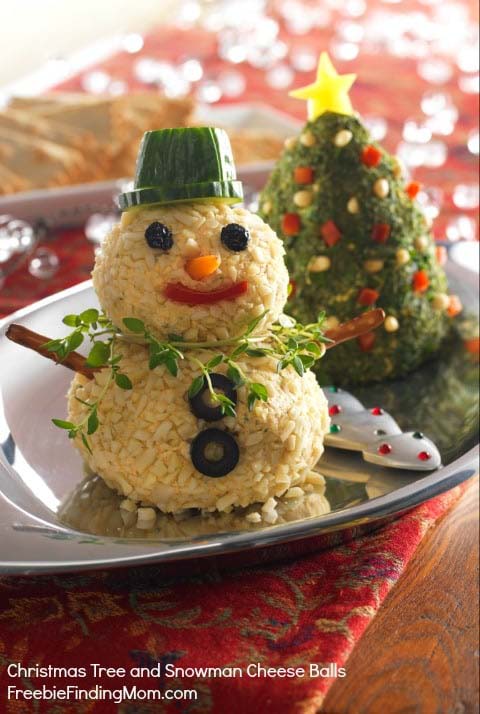 Dividing, then rolling soft cheese into two balls, will do it to create the perfect snowman!
28. Delight Your Family with a Christmas Tree Cheese Board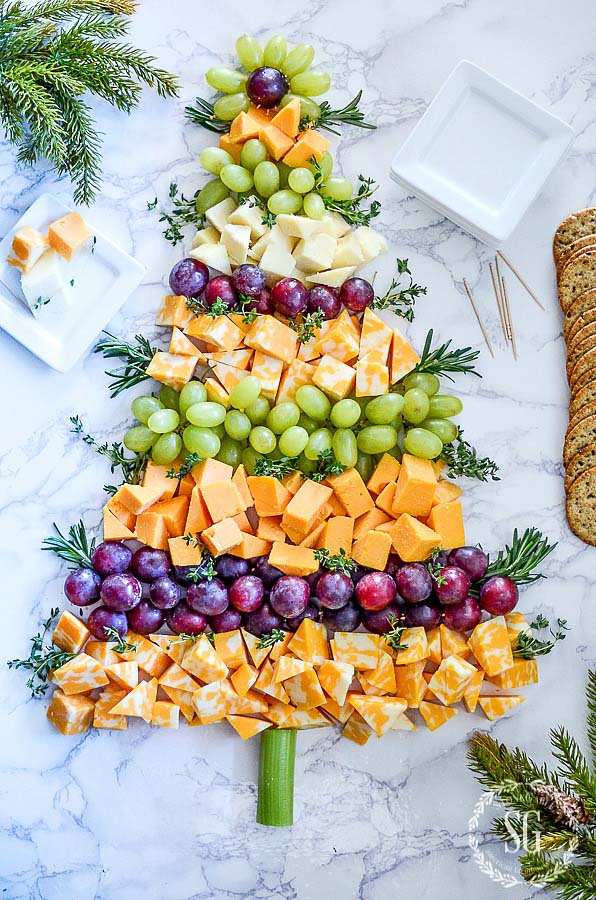 Gather up all of your favorite cheeses and load em up on this holiday board! Your family and friends will not be able to move from this table!
via Stone Gable
29. Top Christmas Tree Cheese Pops with Broccoli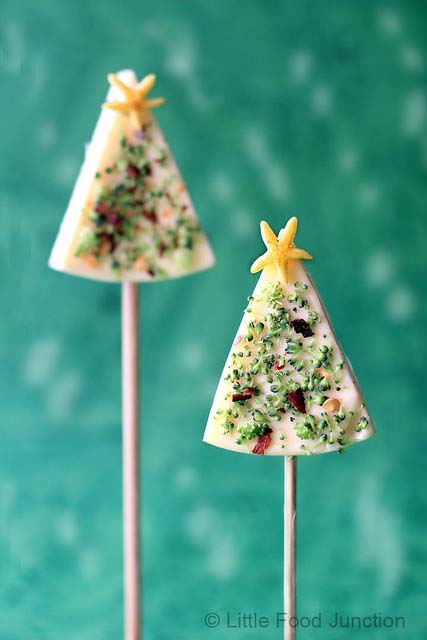 The only ingredients that are needed for this dish are broccoli and cheese wedges. Place a toothpick in the wedge and there you have it!
30. Create a Colorful Christmas Cracker Platter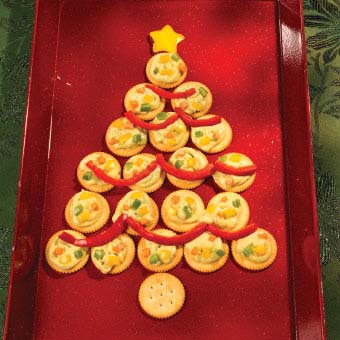 A platter of Ritz crackers, topped with spread, carrots, peppers and food coloring is all you need for this spectacular Christmas platter!
31. Use Cream Cheese Danishes for a Christmas Tree Appetizer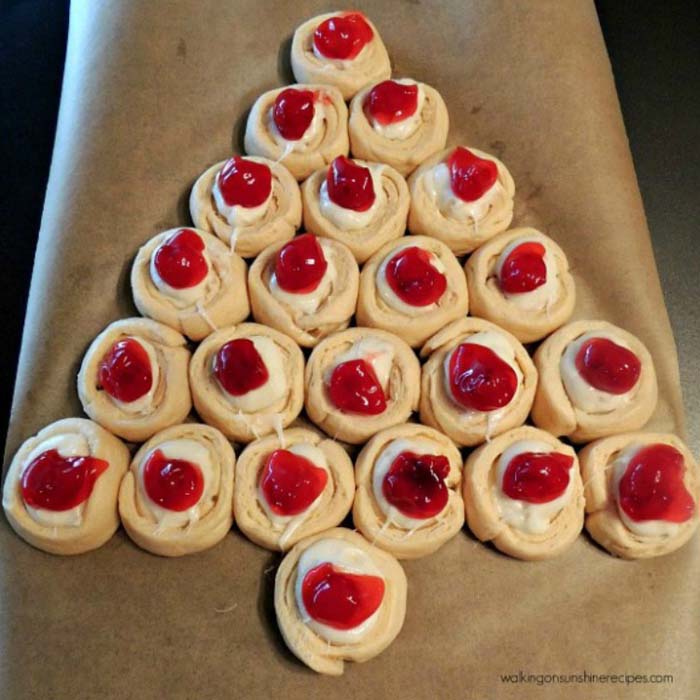 A platter full of danishes shaped like a Christmas tree will start a great conversation at any party. Topped off with scrumptious cream cheese!
via Walking on Sunshine Recipes
32. Go Organic with a Christmas Tree Fruit Platter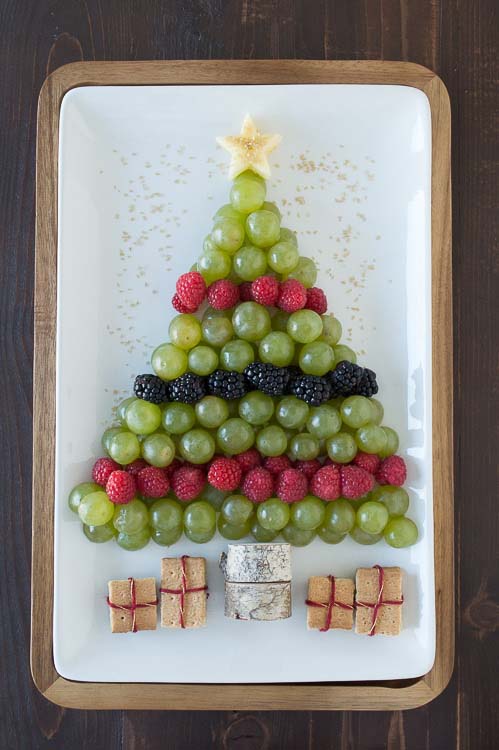 One of the best Christmas appetizers platters is a selection full of fresh fruit! After picking out your best mouthwatering fruit, shape it into a Christmas tree, then wham, there you have it!
33. Turn a Pizza into a Beautiful Christmas Tree Appetizer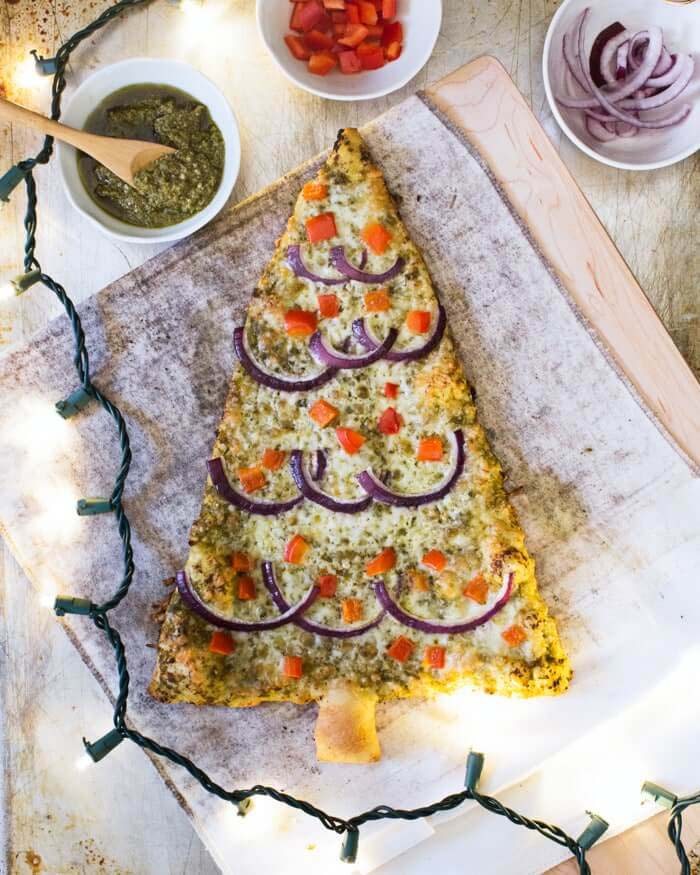 Imagine a pizza Christmas tree! If you can't imagine it then create it! The pizza must be shaped like a Christmas tree, then it can be topped off with onions and peppers!
via A Couple Cooks
34. Make a Luscious Christmas Tree Pull Apart Cheese Buns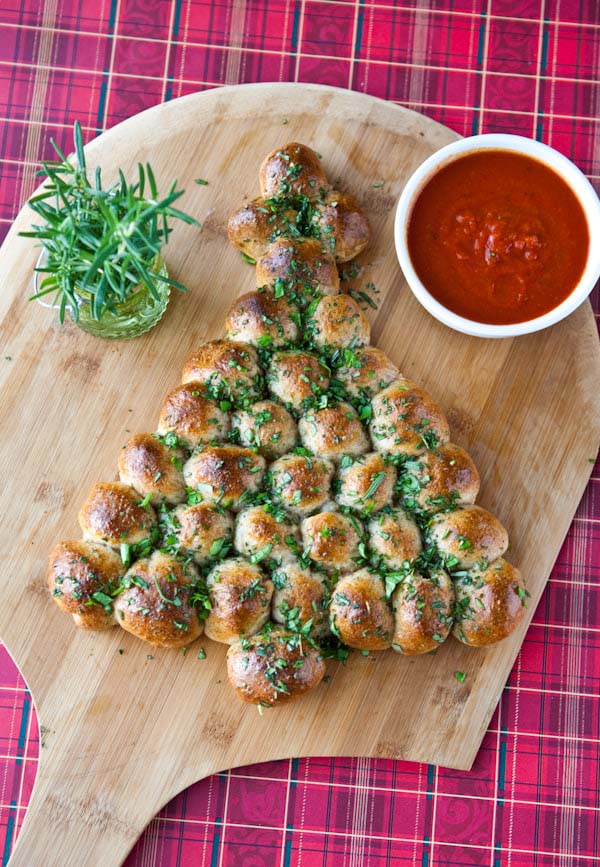 via Eclectic Recipes
35. Use Pizza Bites for Your Pull Apart Appetizer

Ummm, pizza for Christmas! These holiday pizza pull-aparts are fabulous! Pepperoni and cheese-filled bites are the perfect choice for the season!
via Ready Set Eat
36. Create a Festive Flour Tortilla Christmas Tree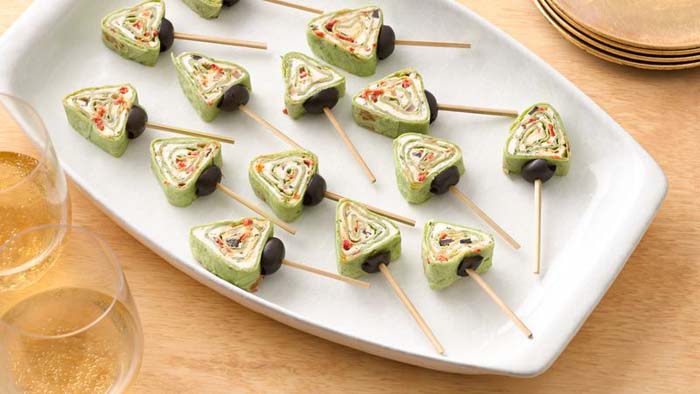 Floured tortillas rolled into the shape of a Christmas tree with a toothpick can be very endearing and scrumptious!
Just combine the cheese with olives, basil leaves, and red peppers!
via Betty Crocker
37. Shape Spinach Breadsticks into a Rustic Christmas Tree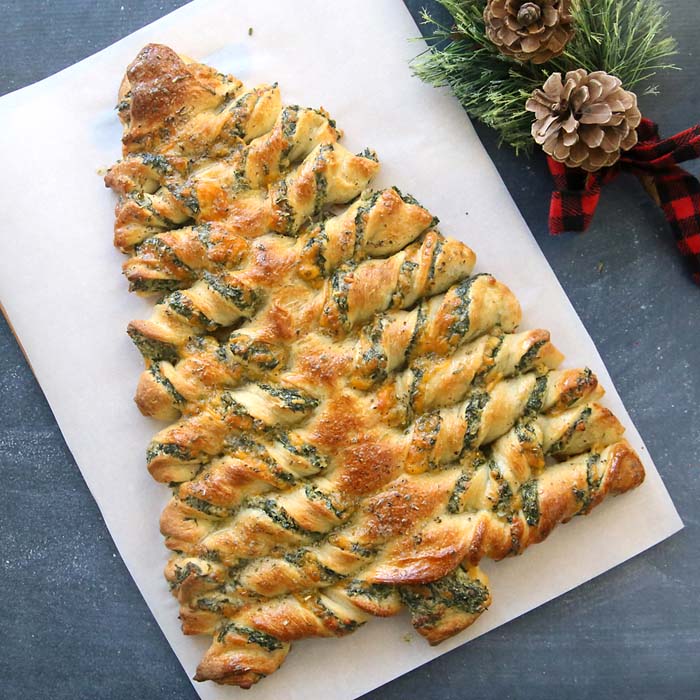 Before popping the breadsticks into the oven, mix spinach into the dough, then shape the dough into a Christmas tree!
38. Go Healthy with a Christmas Tree Veggie Appetizer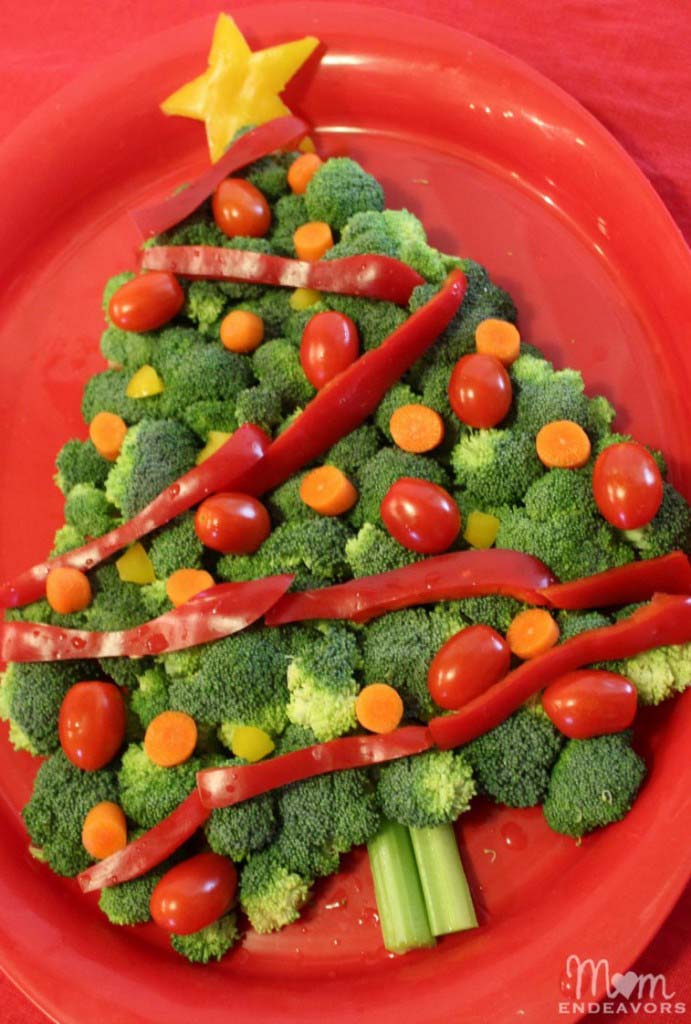 A platter full of broccoli in the shape of a Christmas tree makes a nice conversation piece! Don't forget the carrots, peppers and more!
via Mom Endeavors
39. Top Your Veggie Tray Christmas Tree with a Cheese Star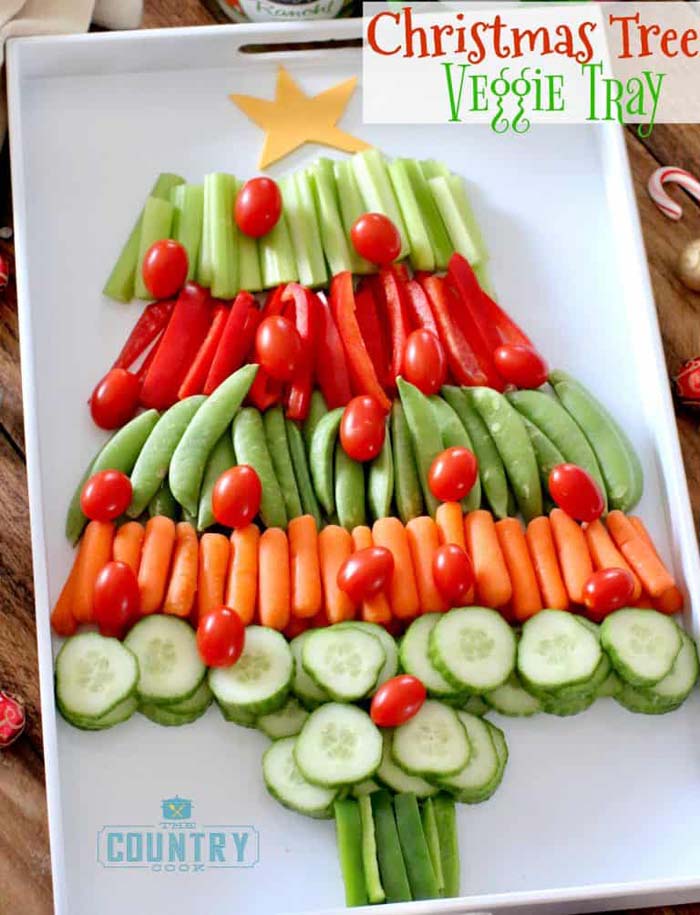 A platter full of celery, tomatoes, peppers and more will keep family and friends searching for dips and sauces thorough the night!
via The Country Cook
40. Uniquely Arrange Vegetables into a Christmas Tree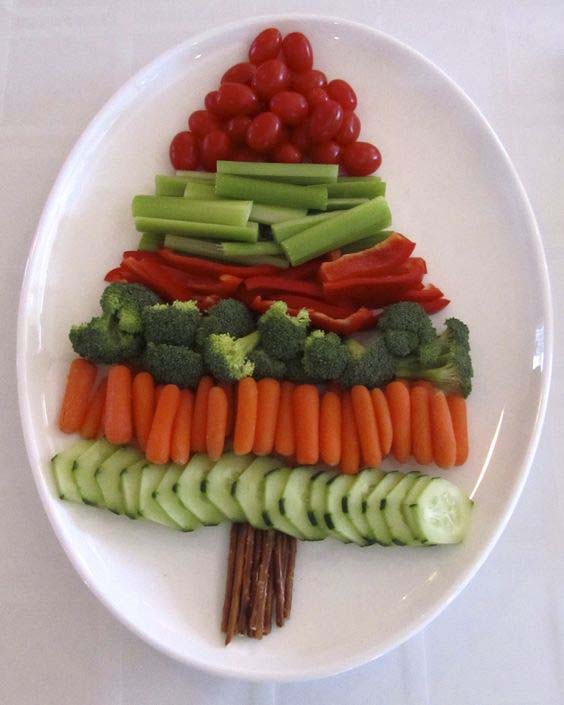 Choose your best veggies and make a Christmas tree out of them! Select carrots, cucumbers and more, get creative!
41. Get Creative with a Christmas Veggie Wreath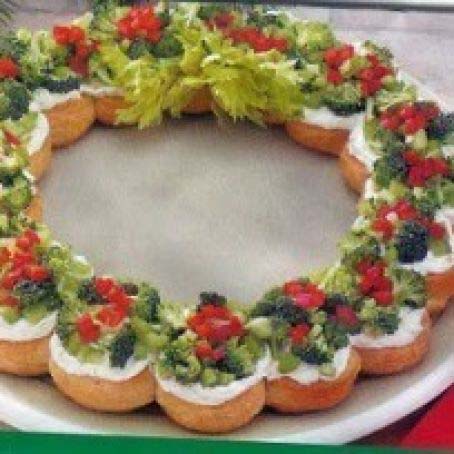 Crescent roll stuffed with veggies and lightly decorated with rosemary.
via Key Ingredient
42. Make a Veggie Wreath with Broccoli and Cherry Tomatoes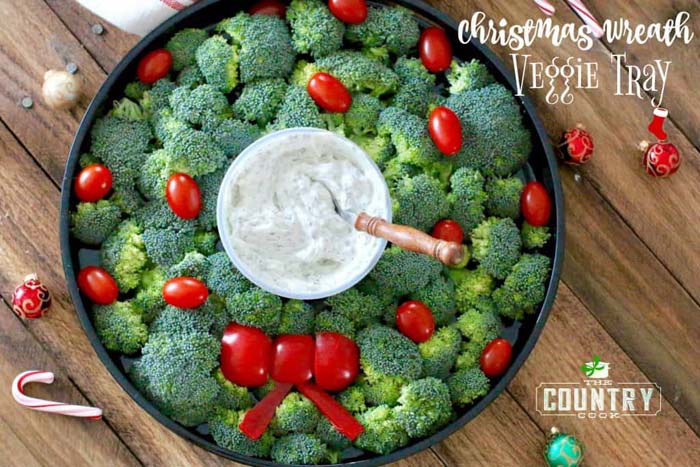 Load up a bunch of favorites and make a Christmas wreath!
via The Country Cook
43. Make a Mouth-Watering Cinnamon Bread Wreath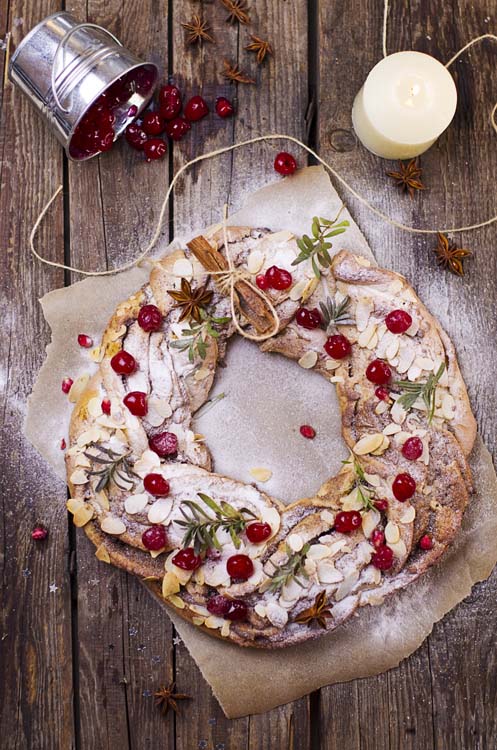 Make a Christmas wreath out of deliciously warm, sugary cinnamon bread and watch your guests enjoy it!
via Luluto
44. Delight Party Guests with Cranberry and Brie Bites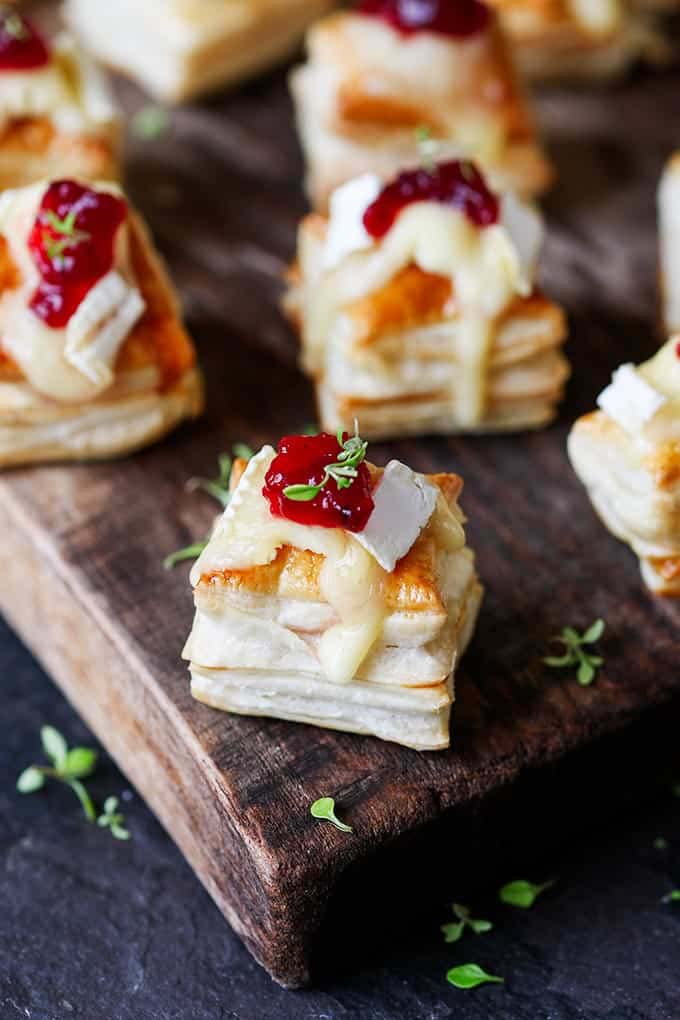 Putting thin slices of dough on a pan and popping it in the oven creates tasty pastries.
Topping them with sweetened cranberries will be all that needs to be done before introducing them to party guests!
45. Delightful Cranberry and Cream Cheese Bruschetta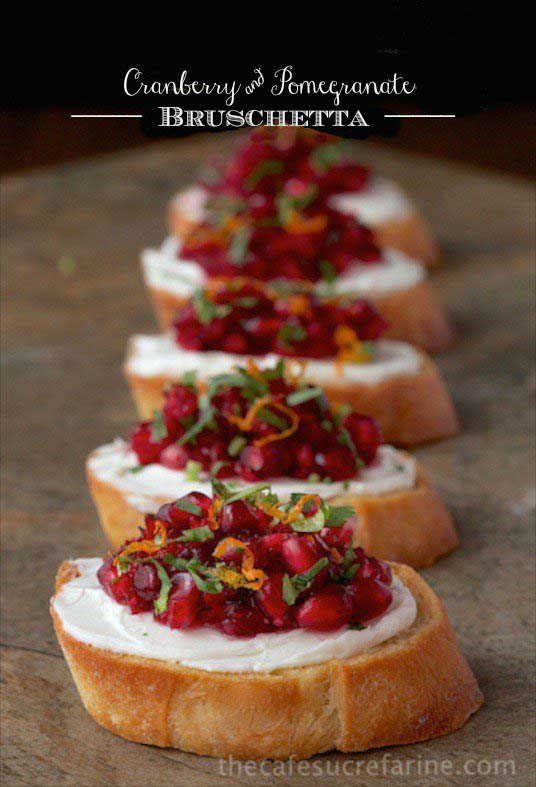 There's nothing like a neat piece of Bruschetta, topped with cream cheese and cranberry sauce.
This gorgeous tasteful treat will get your taste buds going before dinner!
46. Prepare Sapid Cranberry and Walnut Pinwheels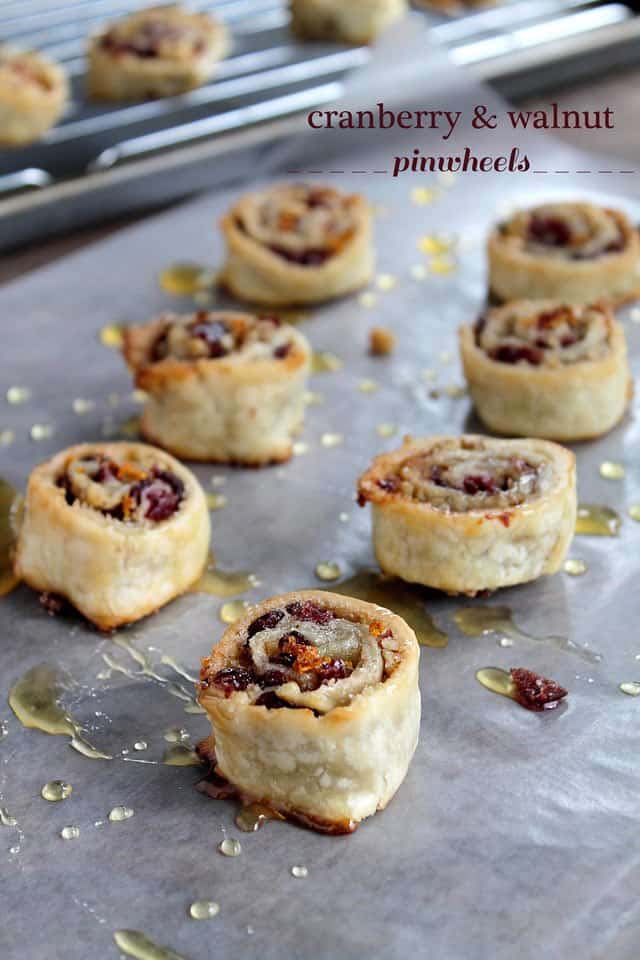 Pinwheels filled with cranberries and walnuts, what a delightful finger food!
via Diethood
47. Get Taste Buds Going with Cranberry Barbecue Meatballs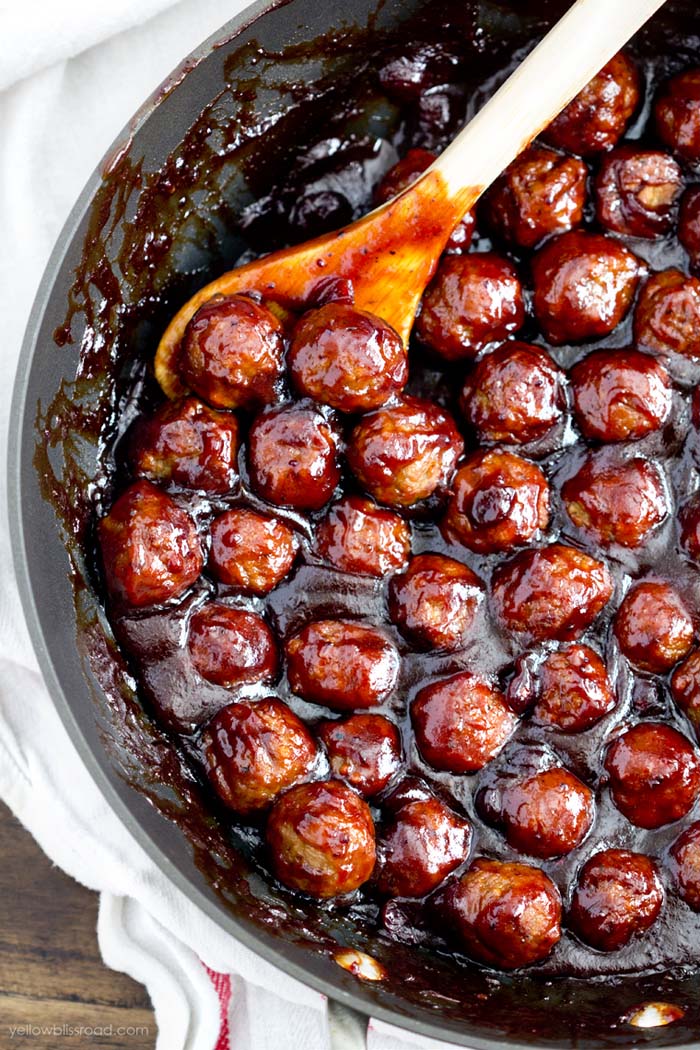 Take out your slow cooker and pour in the meatballs, cranberry sauce and barbecue sauce, let it come to a slow simmer then serve!
48. Dip Your Crackers in Cranberry Cream Cheese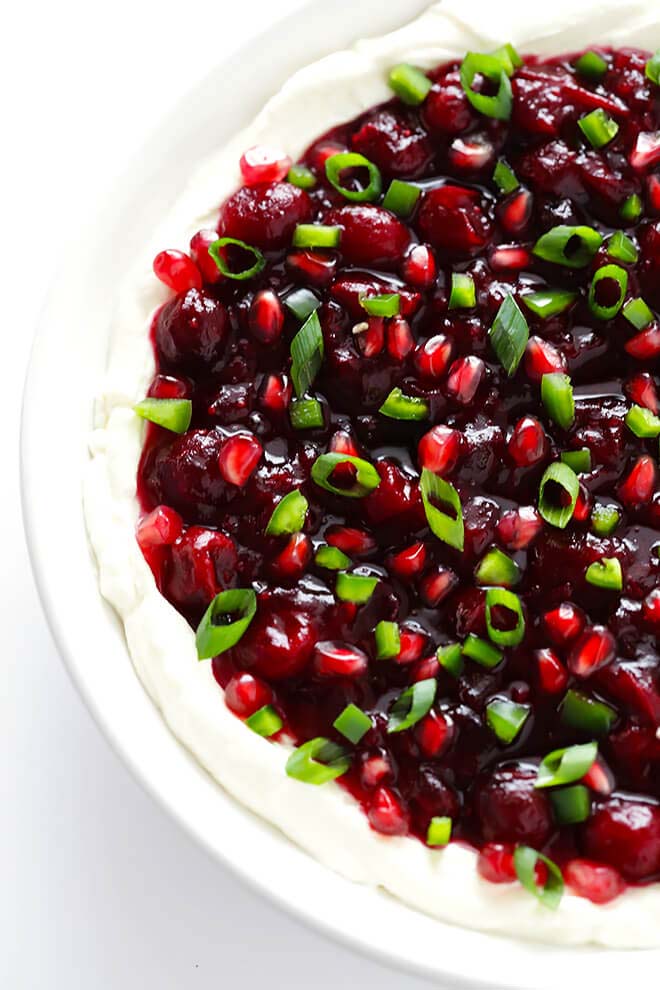 Chives, cranberry sauce and cream cheese, use Ritz crackers to scoop up the dip!
via Gimme Some Oven
49. Embellish Your Platter with Cranberry Feta Pinwheel Tree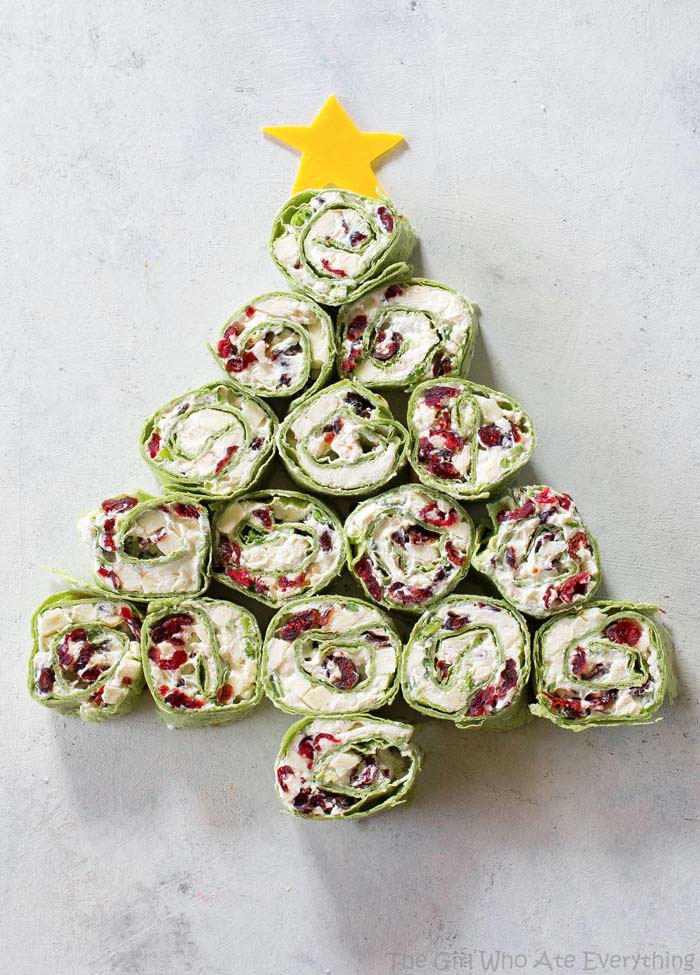 Filled with feta cheese and cranberries lay the pinwheels in the shape of a Christmas tree on a decorative platter and enjoy!
via The Girl Who Ate Everything
50. Surprise Guests with a Cheese and Cranberries Crescent Loaf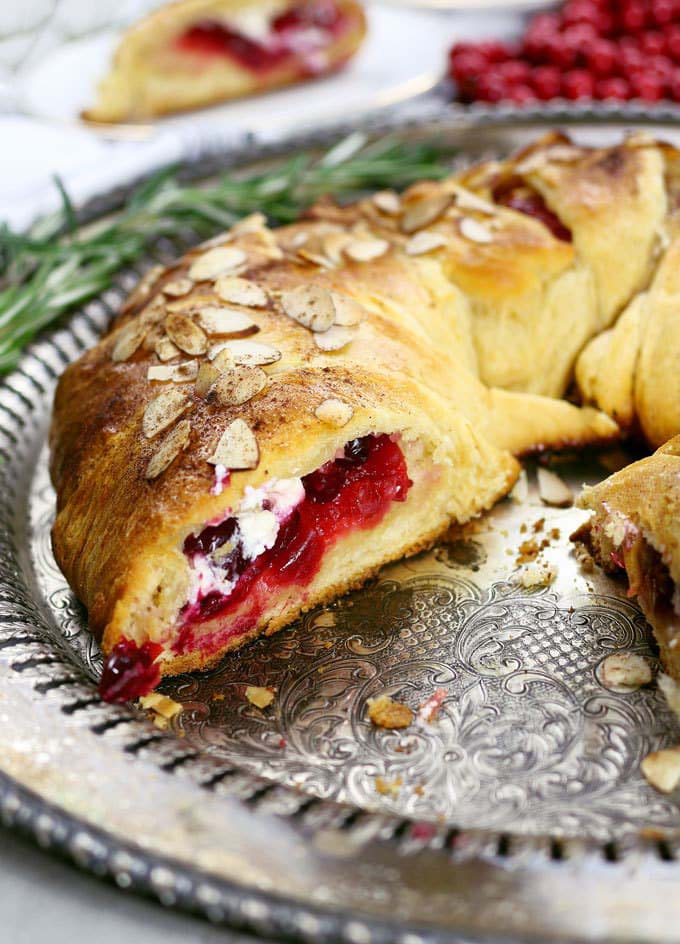 A nice warm crescent loaf stuffed with cream cheese and cranberries will have your guests distracted for a while!
via Honey and Birch
51. Prepare a Simple Cranberry Jalapeno Dip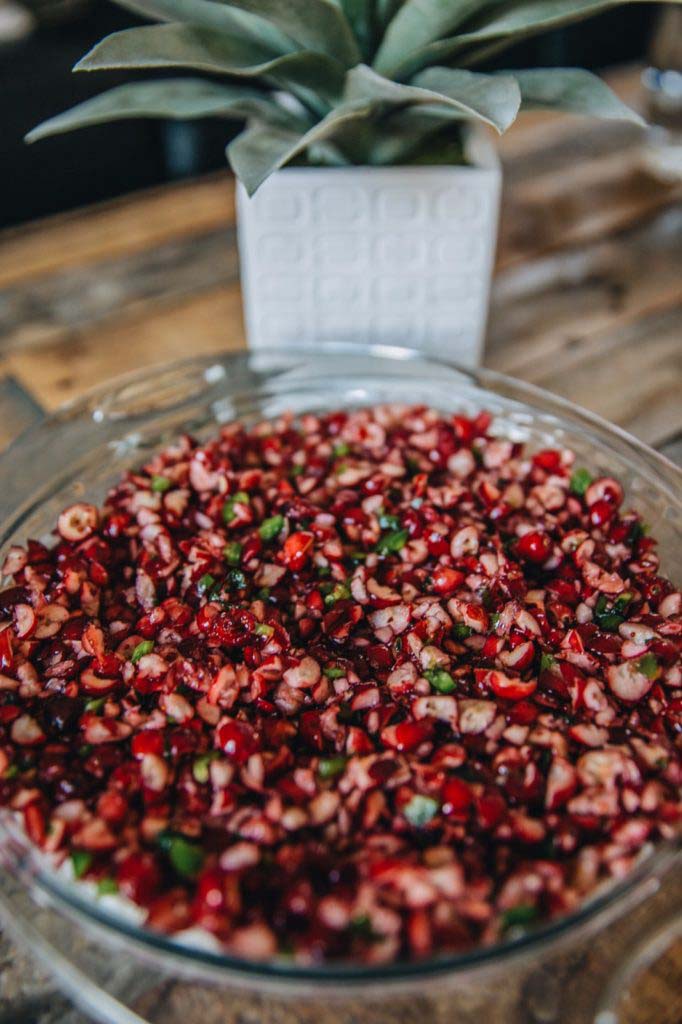 Cream Cheese, cranberries and jalapenos would be the perfect dip for a nice get-together! A simple idea that would take only minutes to serve!
52. Fancy Snack Combination with Brie, Cranberries, and Pecans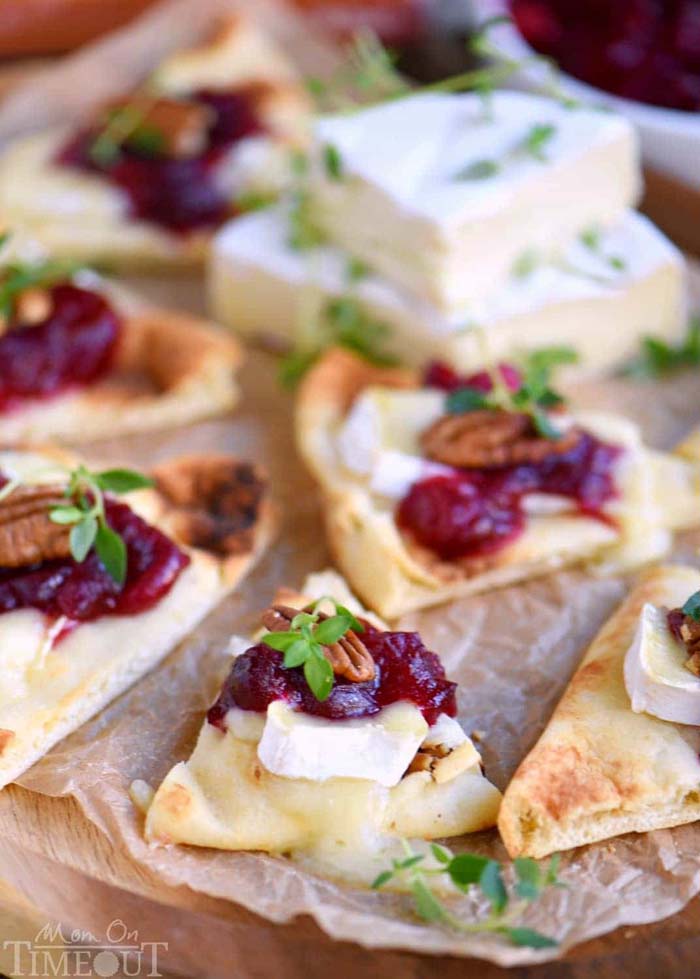 Brie, cranberries, and pecans, can make a pretty fancy snack!
via Mom on Timeout
53. Be Bold with Cranberry Turkey Pinwheels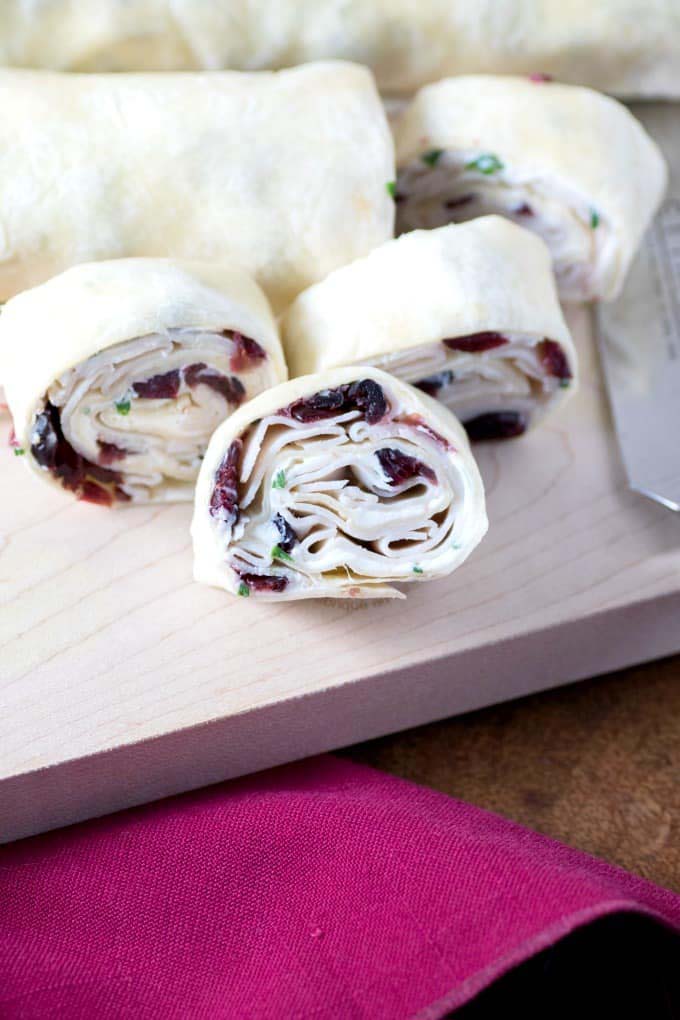 Turkey and cranberries in a nice wrap, what a tasty snack!
54. Turn Olives into Delicious Penguin Appetizers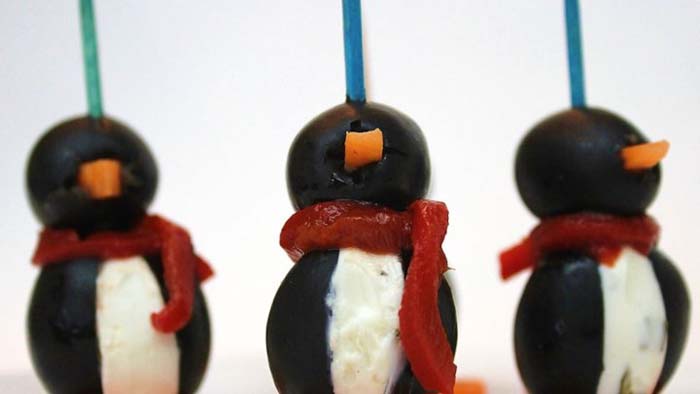 Select 18 large olives, make sure they're pitted, stuff the bottom half with cream cheese and don't forget the carrots and the olives as the scarf and nose!
via All Recipes
55. Create a Festive Cream Cheese Christmas Tree Appetizer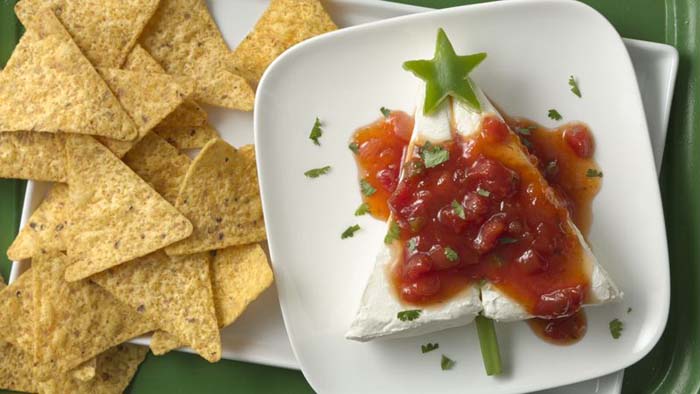 Cream cheese shaped like a Christmas tree, with salsa, green onions, and marmalade makes a tasty appetizer. And forget the tortilla chips
via Betty Crocker
56. Make Cute Snowman with Eggs, Carrots and Peppercorn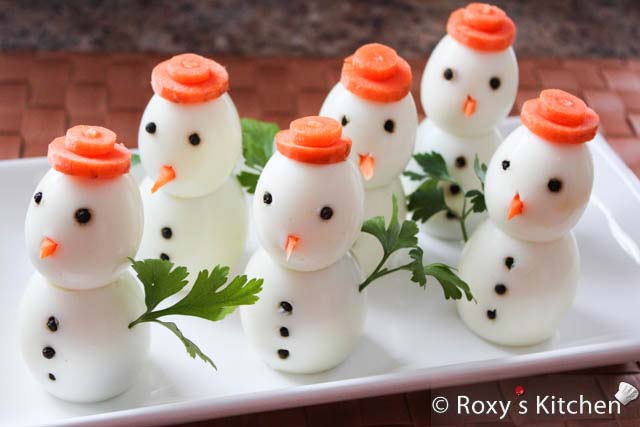 Hard-boiled eggs and carrots can make a pretty snowman! Oh and don't forget the peppercorn!
via Roxys Kitchen
57. Add Flavor with a Frosted Sugar Cookie Dip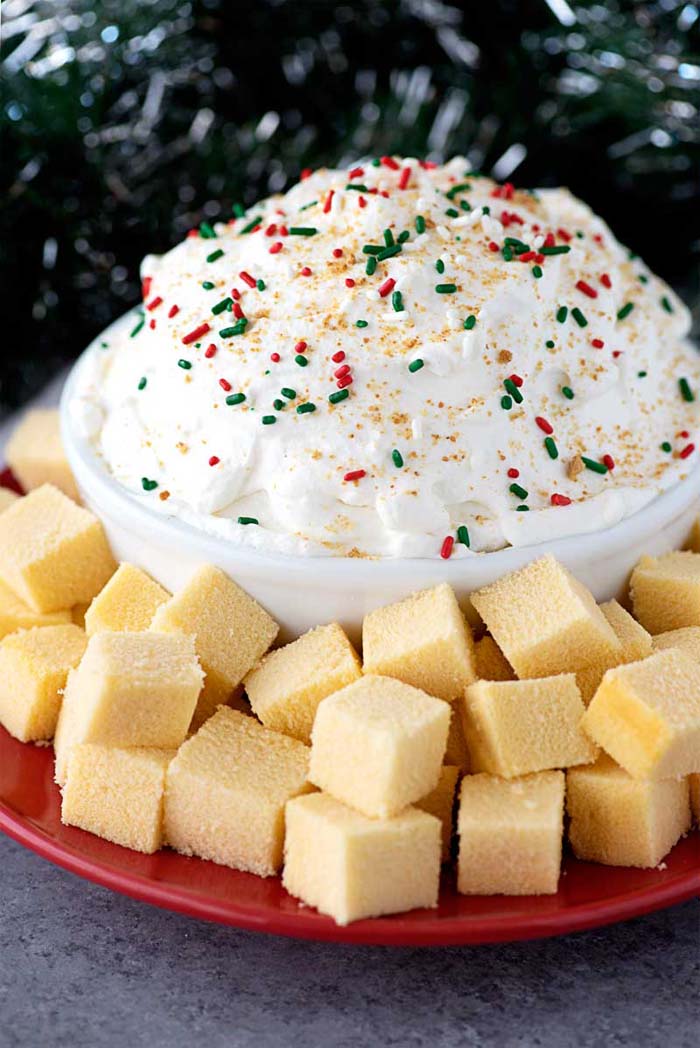 Sugar cookie mix used as a dip makes delightful Christmas appetizers.
58. Enjoy Dinner with a Fruit Pizza Christmas Wreath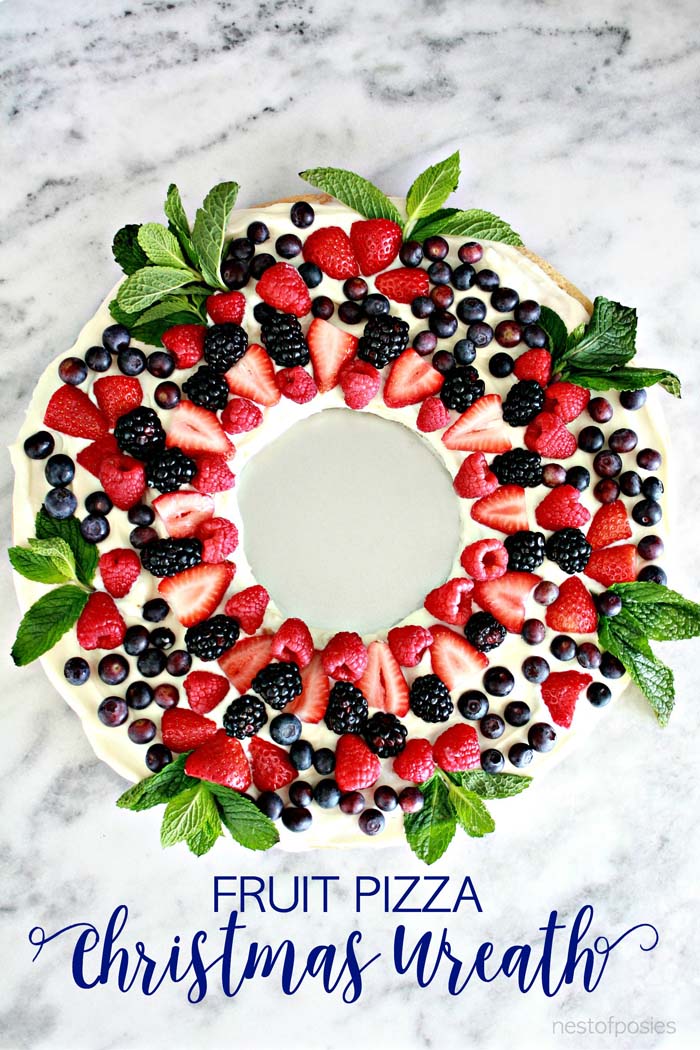 Fruit pizza shaped like a wreath, are excellent appetizers for Christmas.
via Nest of Posies
59. Liven a Christmas Party with Grinch Fruit Kabobs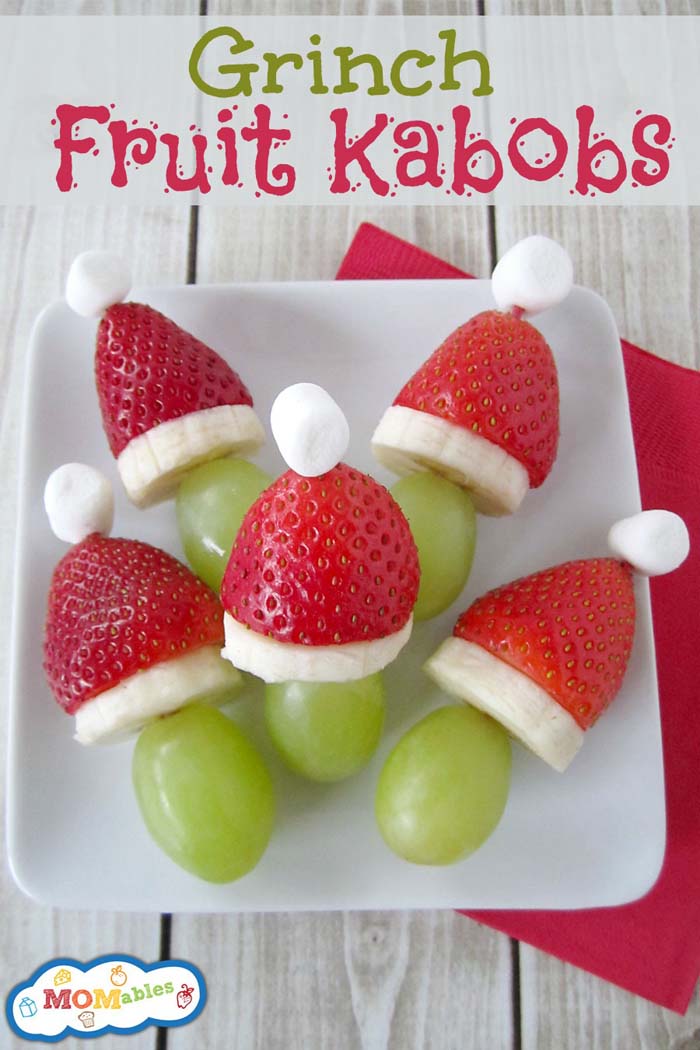 When it comes to appetizers for the Christmas party, fruit on kabob sticks is a memorable idea.
via Momables
60. Turn Popcorn and Marshmallows into Grinch-Themed Snack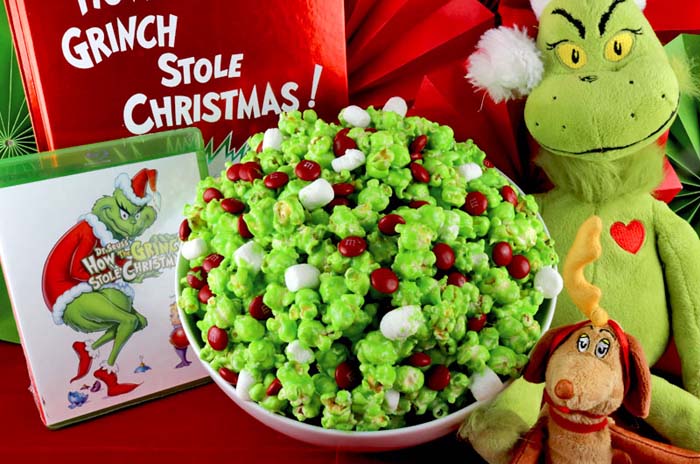 With a little food coloring, M&Ms and marshmallows this bowl of popcorn will be unforgettable!
61. Decorate Crackers with Ham and Cheese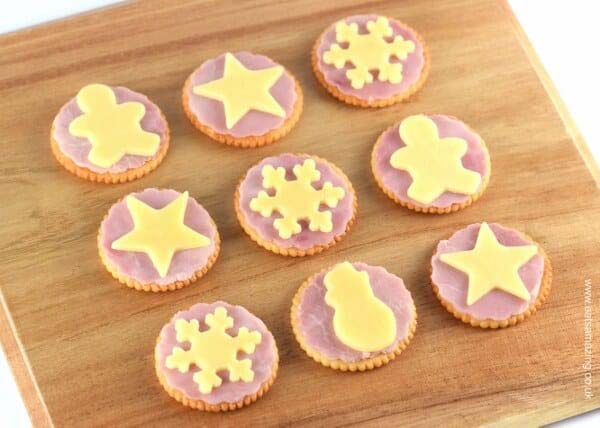 Ritz crackers layered with ham and cheese is a light simple snack that everyone will enjoy! Excellent Christmas eve appetizers.
via Eats Amazing
62. Celebrate Christmas Dinner with an Antipasto Wreath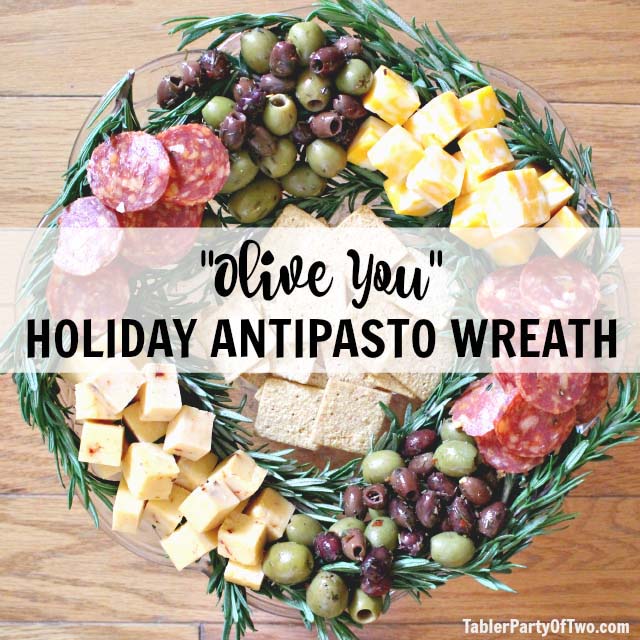 Olives, sausage, and an assortment of cheeses laid nicely on a wreath, with crackers in the middle makes waiting for dinner pleasant!
63. Let Guests Enjoy a Delicious Cheese Wreath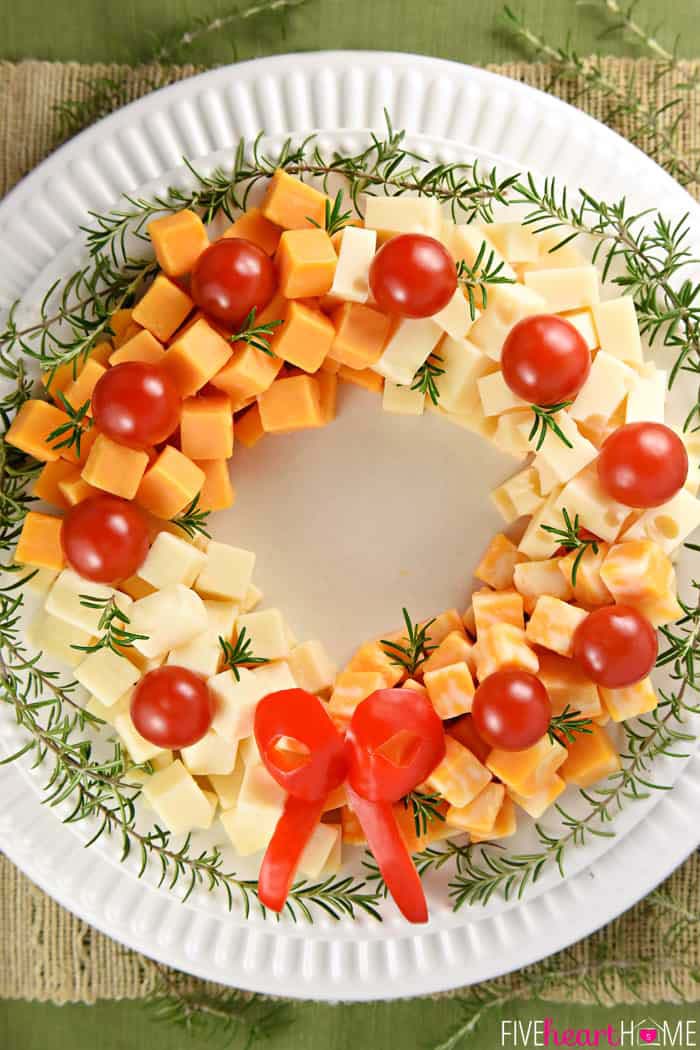 A nice assortment of cheeses, with plump tomatoes shaped like a wreath settled nicely on a platter, makes the party room look festive!
via Five Heart Home
64. Create Festive Christmas Stockings with Hotdogs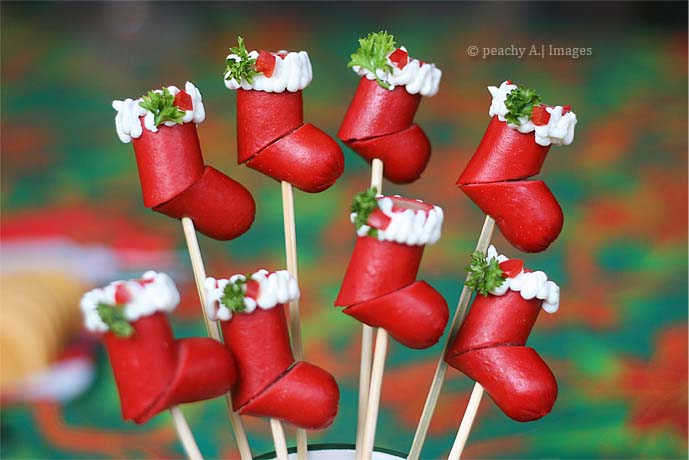 Tiny hotdogs shaped like Christmas stockings, yumm,yumm!
65. Stuff Your Veggies with Cream Cheese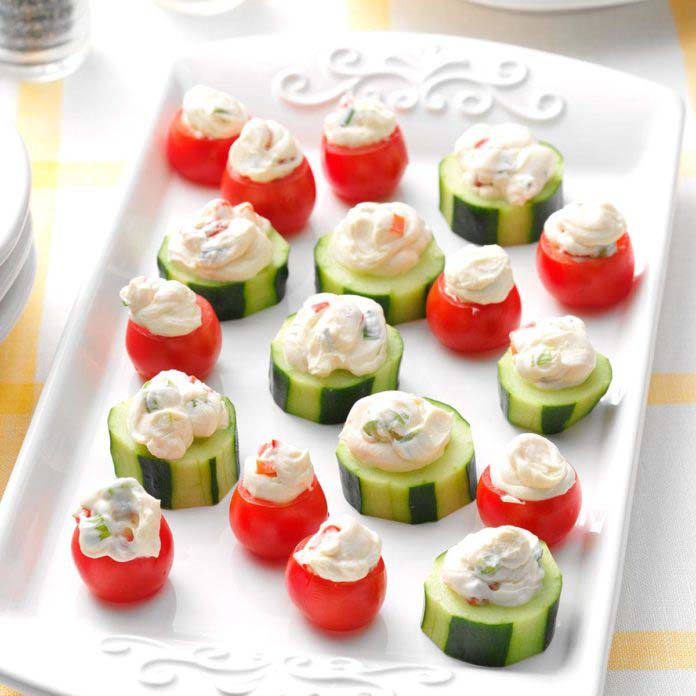 Cream cheese spread with green onions, carrots, garlic powder, onion powder topped on cucumbers and tomatoes!
via Taste of Home
66. Utilize Pretzels to Make Mini Cheese Ball Bites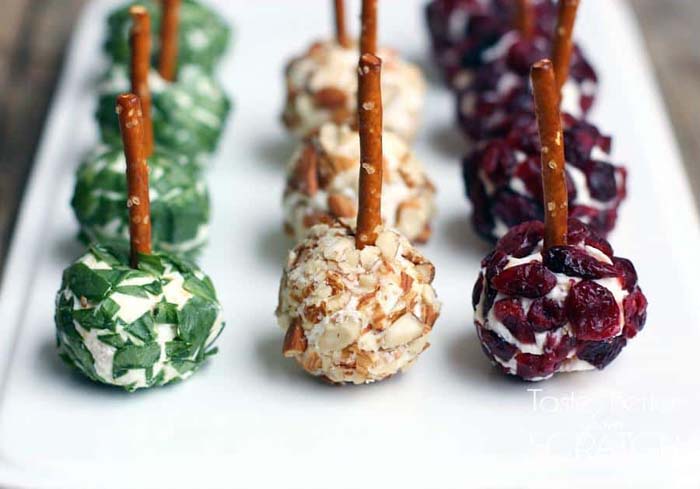 67. Stack Olives for a Christmas Tree Appetizer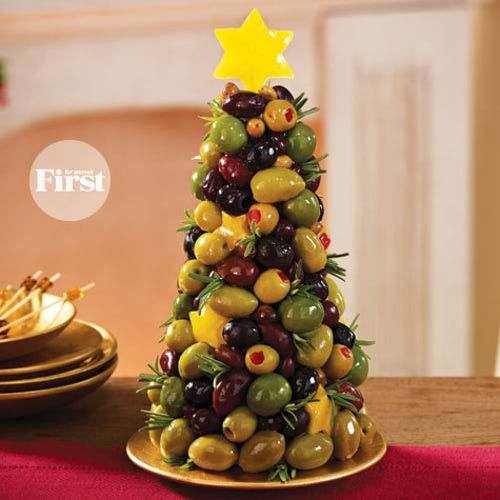 Large olives stacked up on top of each other to form a Christmas tree.
via First For Women
68. Let Your Kids Enjoy with Cute Olive Penguins for Dinner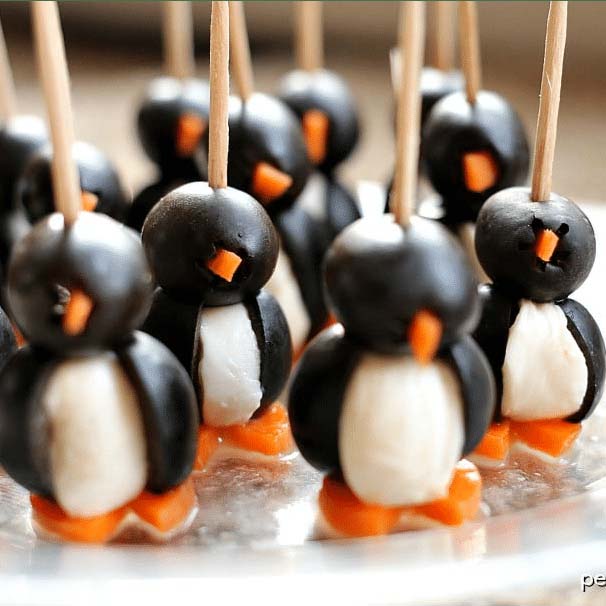 69. Make a Christmas Ornament with Veggies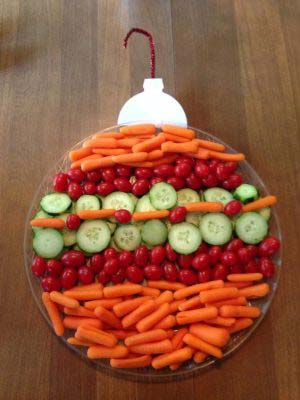 A platter full of veggies shaped like an ornament. Cucumbers, tomatoes, carrots included!
70. Shape Your Baked Bites into Christmas Stars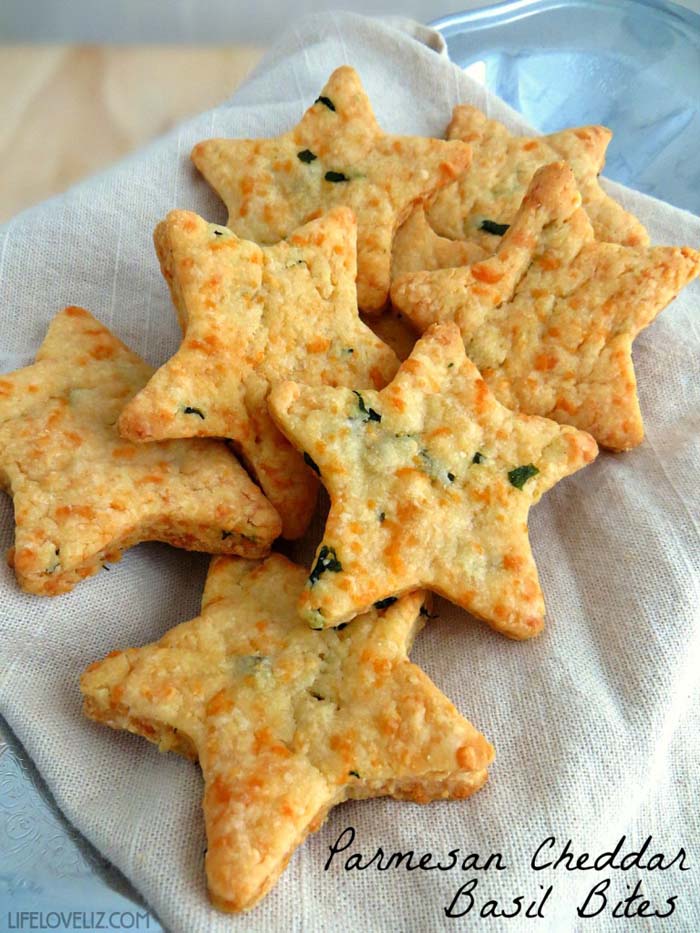 Baked to perfection these bites are cut into the shape of stars. Mixed with a parmesan and basil, it's quite tasty!
via Life Love Liz
71. Amaze Your Party Guests with a Pine Cone Cheese Ball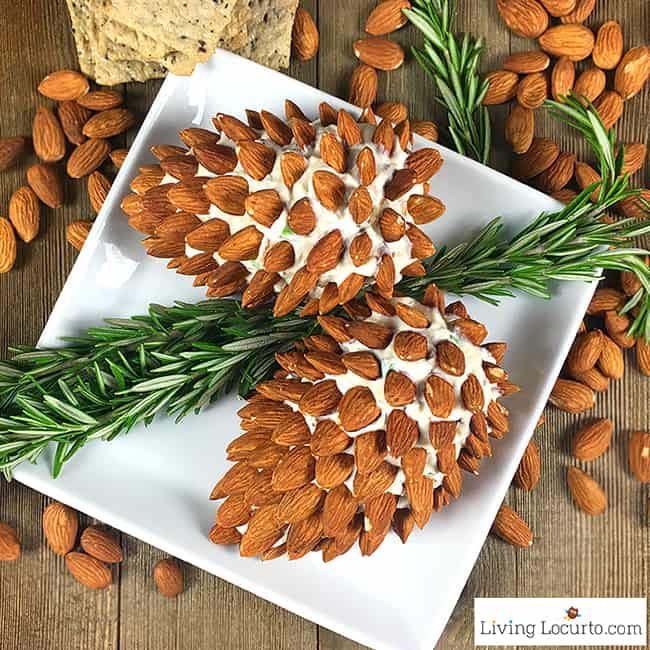 A large cheese ball shaped like a cone, with pecans stuffed into it, makes it look like a festive pine cone!
via Living Locurto
72. Enhance Christmas Ambiance with Pita Tree Appetizers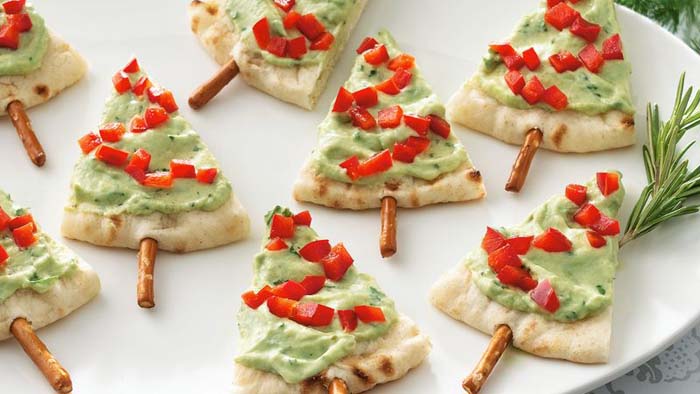 Pita bread cut out in the shape of a Christmas tree, covered with a guacamole and sour cream spread. And let's not forget to add pretzel to the spread, garlic, parsley and red peppers!
via Betty Crocker
73. Make a Pomegranate and Cranberry Bruschetta Table Runner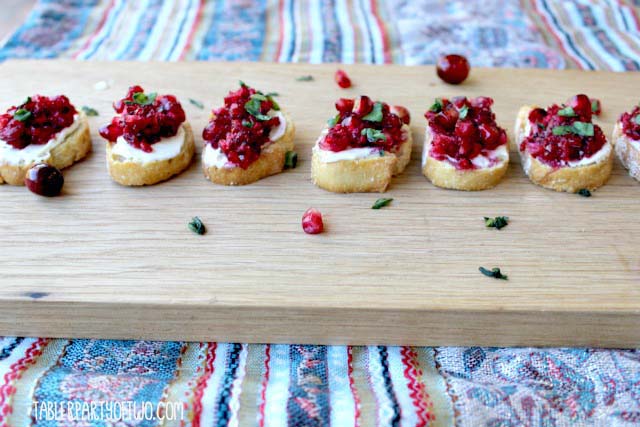 74. Pomegranate Cheese Ball with Toasted Almonds and Sage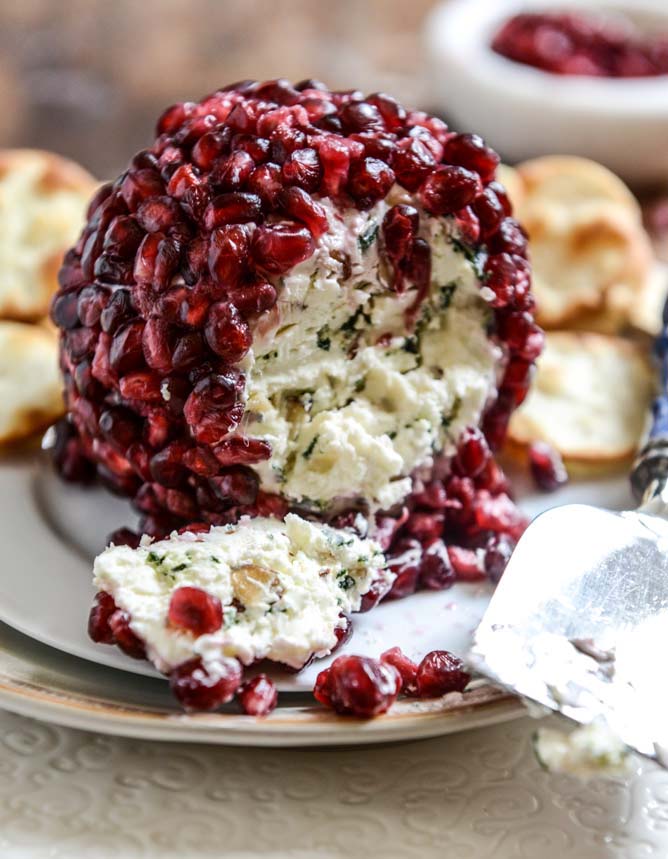 A round cheeseball covered with luscious pomegranate! Wow, if this doesn't get the attention of your guests, what will?
But let's not forget the toasted almonds and sage that's stuffed into the cheddar cheese!
via How Sweet Eats
75. Add Flavor to Your Guacamole with Pomegranate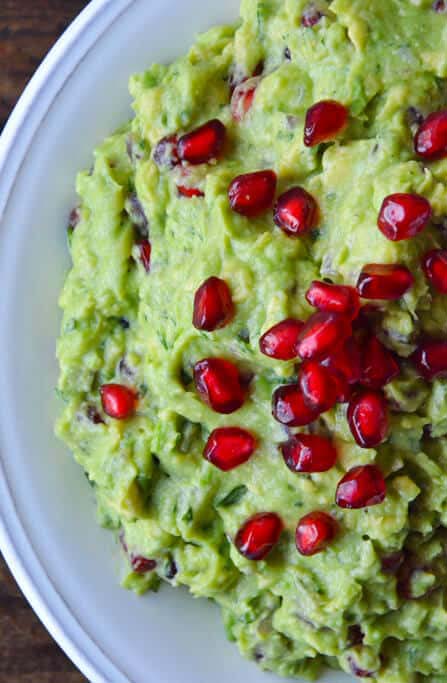 Guacamole mixed with plenty of pomegranates and used as dip.
via Just At Taste
76. Wrap Your Prosciutto with Asparagus for a Tasty Snack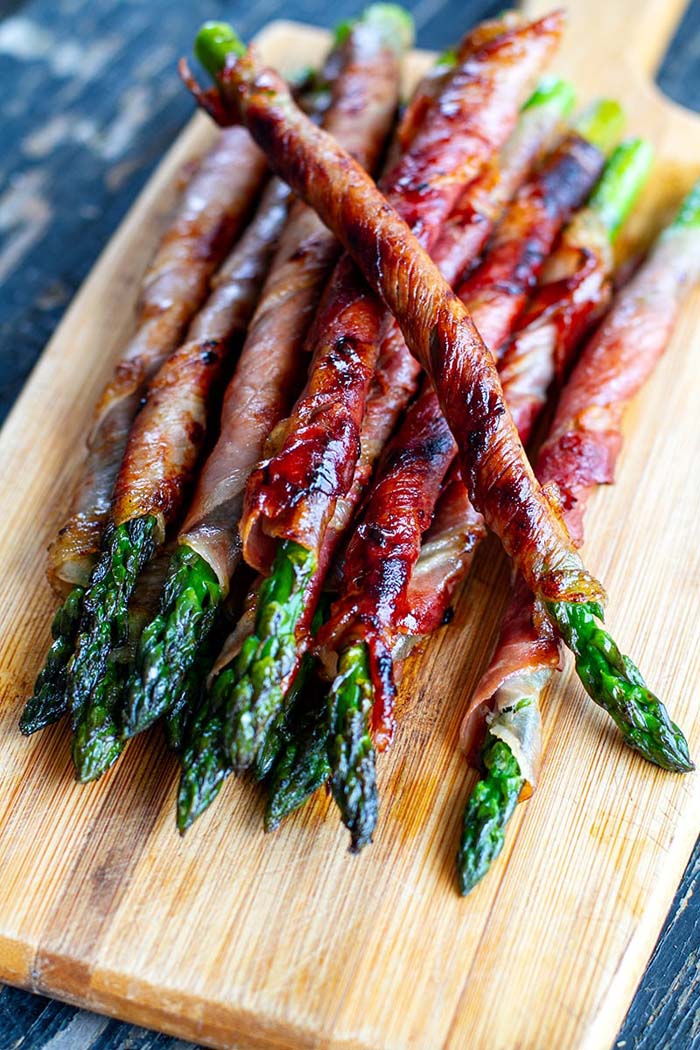 Prosciutto wrapped in delicious asparagus.
via Irena Macri
77. Make a Cheeseball Ranch Snowman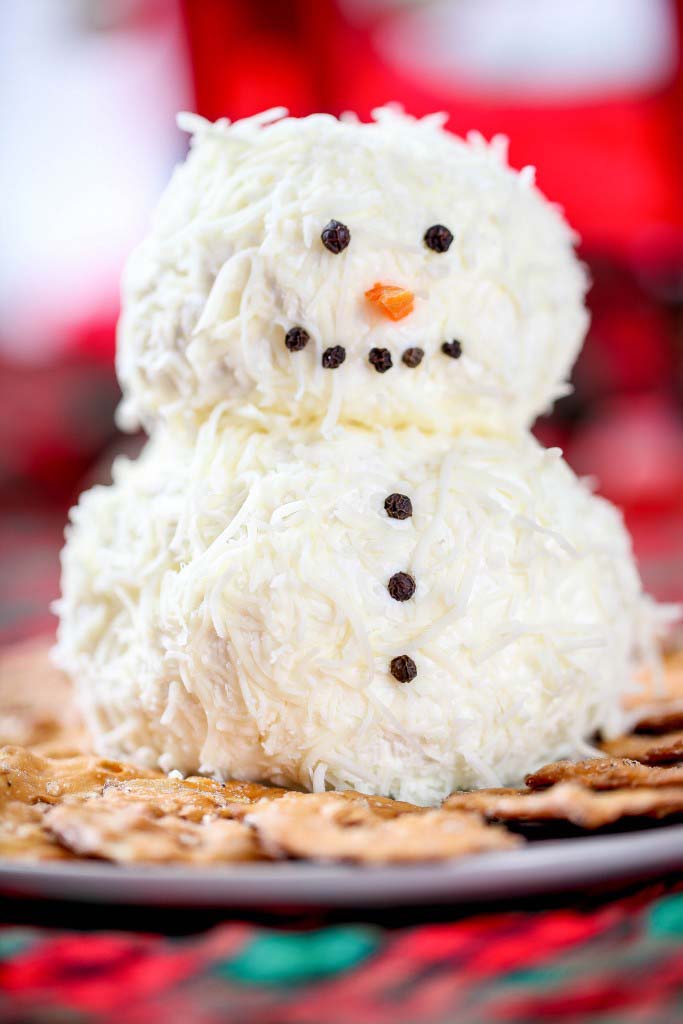 Cream cheese mixed with Ranch sauce, shaped like a snowman.
via Baking Beauty
78. Create an Easy Party Dip with Red Velvet Cake Batter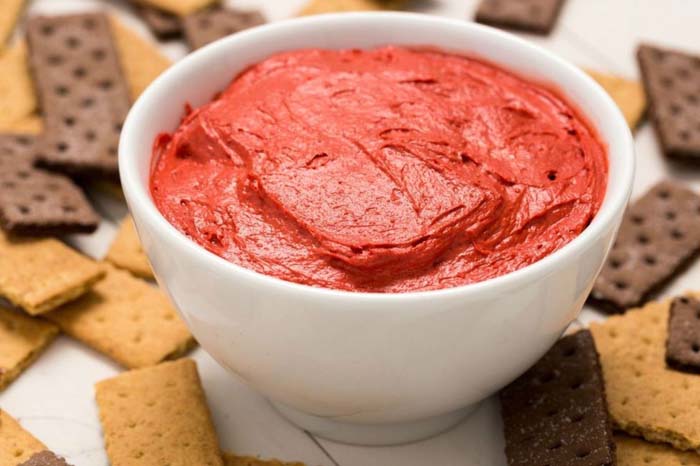 Cake mix used as dip is a quick and easy party idea.
via Delish
79. Garnish Your Flatbread with Cranberry and Goat Cheese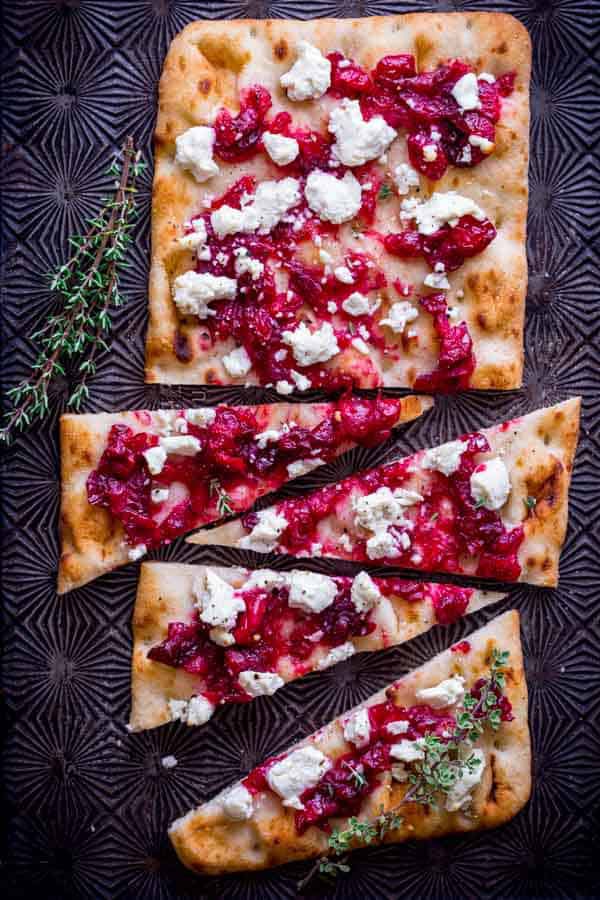 Flatbread topped with cranberries and Goat cheese.
80. Make a Christmas Snack Bowl with Popcorn and M&Ms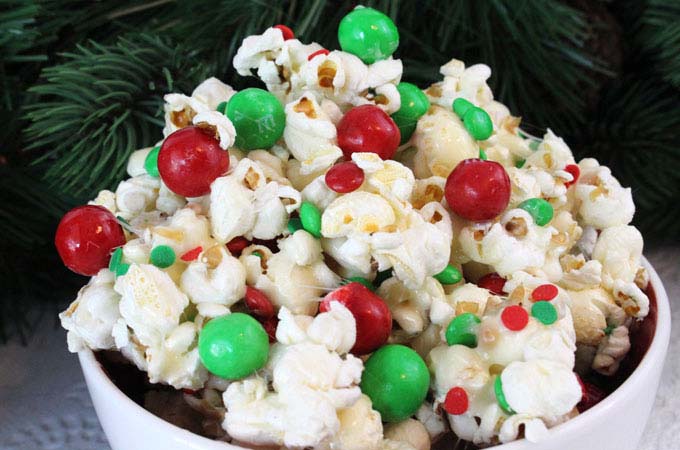 Popcorn covered with a marshmallow mixture, mixed with an assortment of M&Ms, can be a real treat!
81. Create a Festive Veggie Tray with a Santa Shape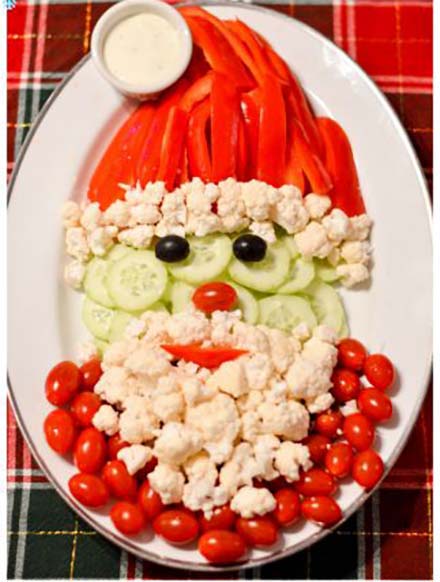 A veggie tray shaped like a Santa can be a nice appetizer. Just choose the types of veggies that you think your guests will like and there you go!
via Totally The Bomb
82. Go Bold with a Delicious Chocolatey Mix of Treats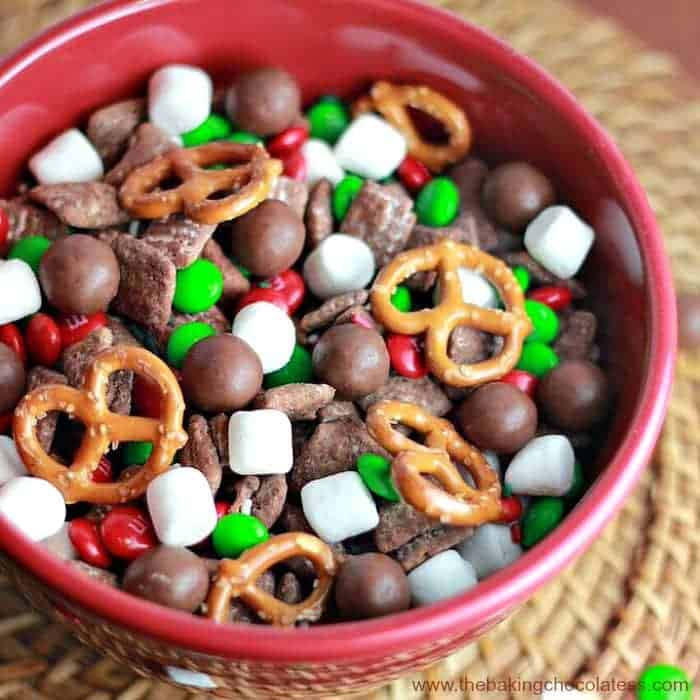 This chow is loaded with lots of good stuff, including M&Ms, pretzels, marshmallows and peanut butter fudge!
83. Adorn Your Cheese Ball Snowman with Crackers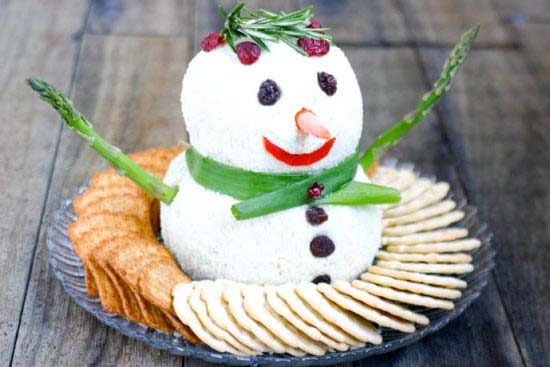 Two chunks of cream cheese shaped into a snowman. Two asparagus arms, cranberry hair, carrot nose, raisin eyes, and a red pepper smile!
via The Whoot
84. Bake a Snowman Pizza for a Festive Christmas Appetizer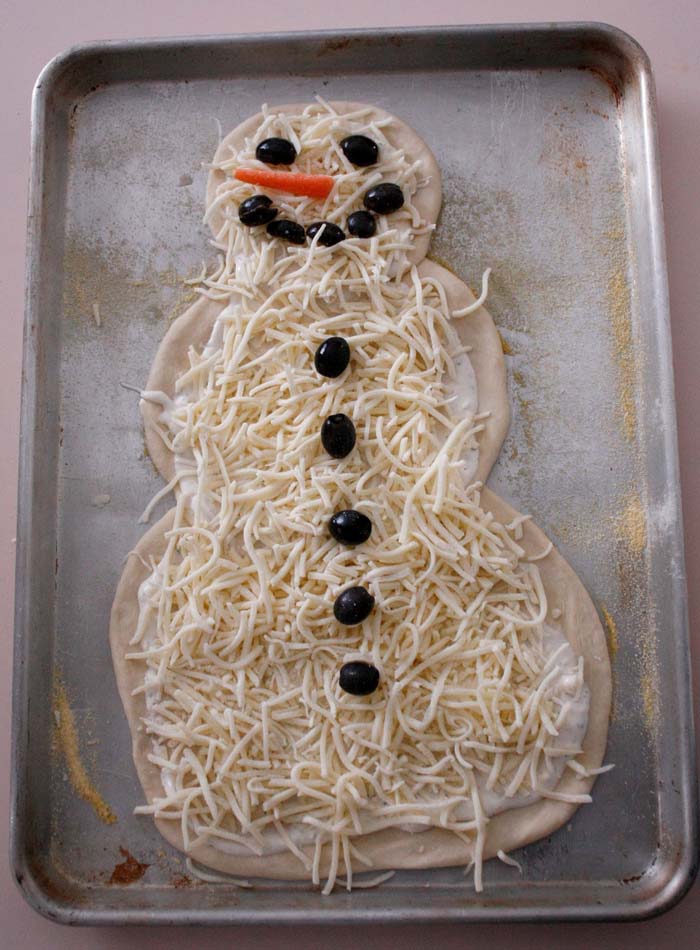 Pizza shaped like a snowman, topped with olives and a carrot nose. Great make-ahead Christmas appetizers.
via Delia Creates
85. Create a Colorful Pinwheel Christmas Tree Platter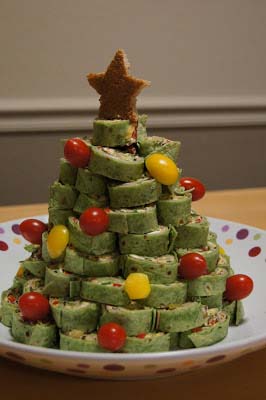 Pinwheels loaded up on a platter layer by layer creating a standing Christmas tree!
The pinwheels are stuffed with cream cheese, green onions and chiles, red peppers, sliced Deli Turkey, tomatoes and yellow peppers!
via Tiramisusies
86. Sprinkle White Sugar on Cranberries for a Glossy Look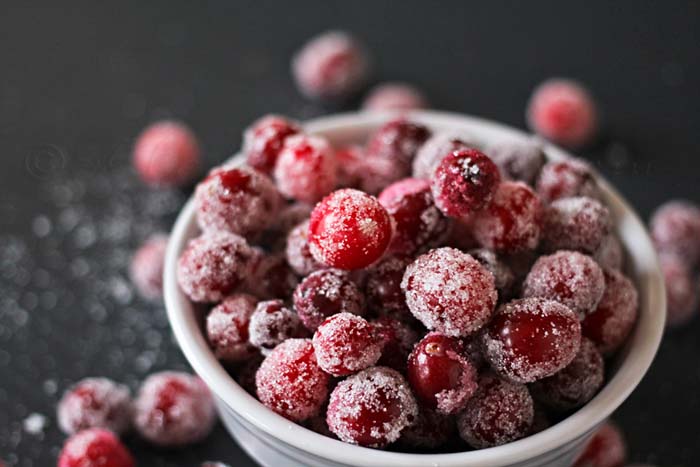 Cranberries sprinkled with white sugar, placed in a decorative bowl.
via Klein Worth Co.
87. Make a Brie and Cranberry Appetizer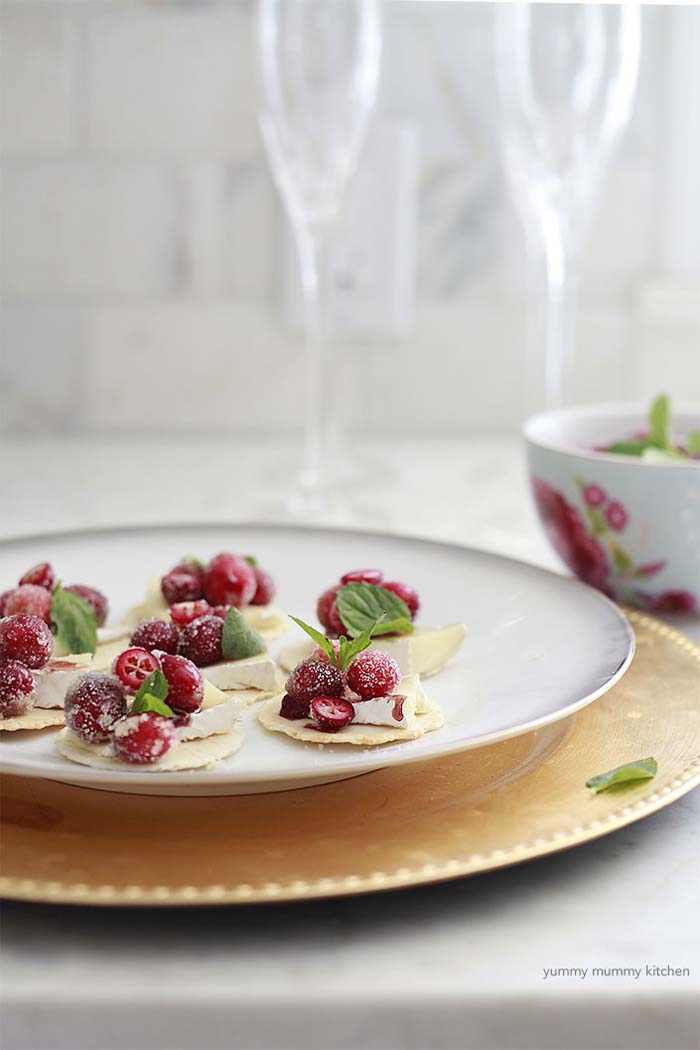 Thin slices of brie, topped with cranberries with a little cream cheese on the side.
88. Spinach Dip-Filled Crescent Roll Christmas Tree Platter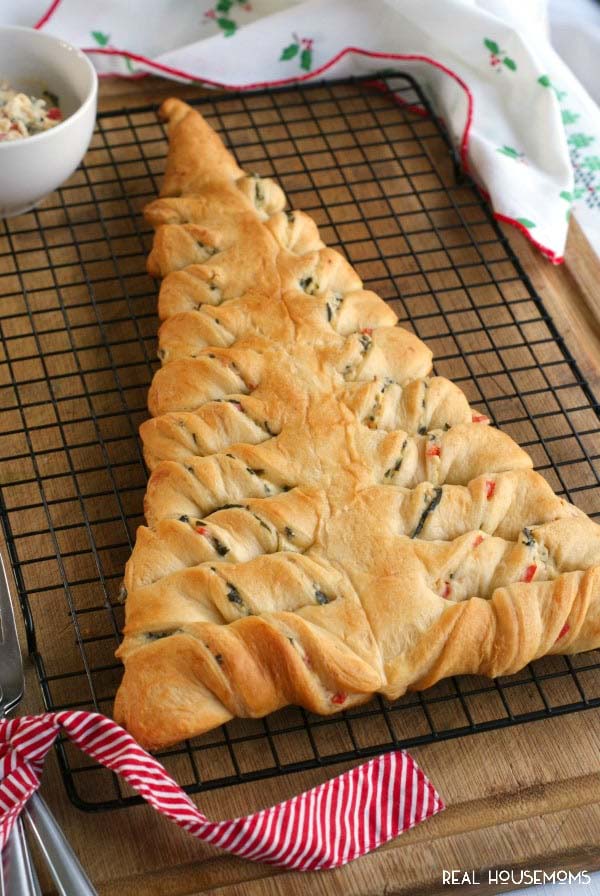 Crescent rolls filled with spinach dip, laid on a platter in the shape of a Christmas tree.
via Real House Moms
89. Jazz Up Christmas Dinner with Strawberry Cheesecake Santas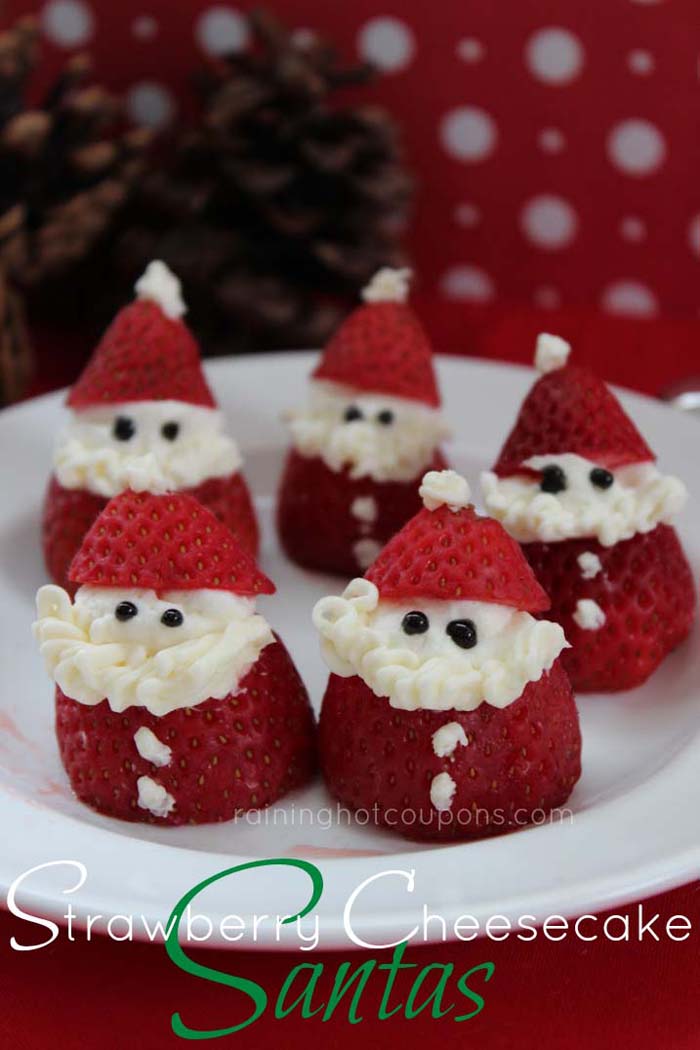 Luscious strawberries stuffed with cream cheese and then topped off with the other half of the strawberry.
90. Make Turkey Cranberry Topper with Ritz Crackers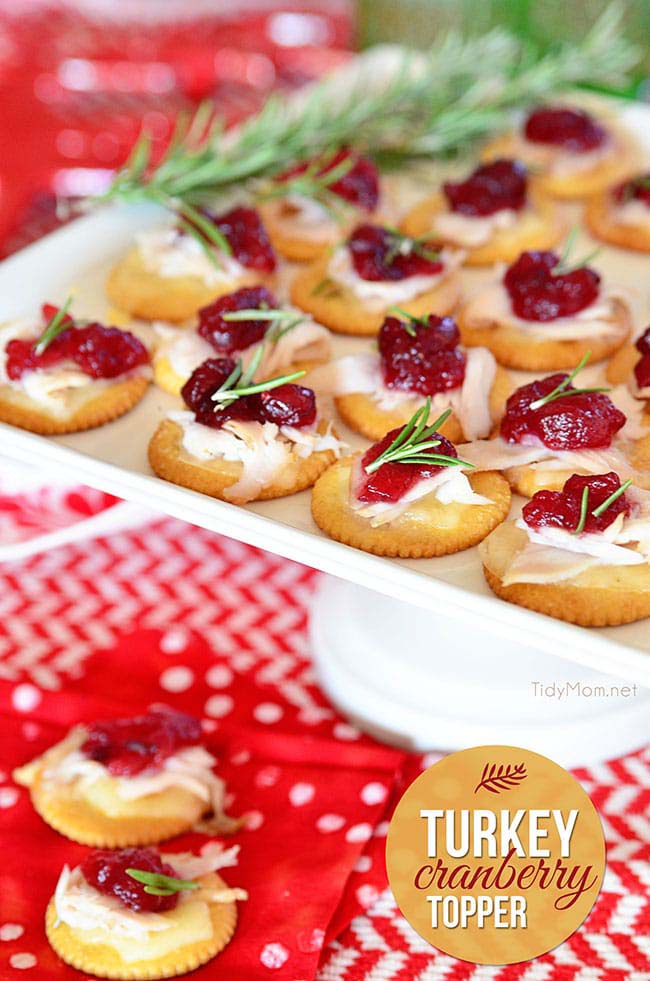 No one would have ever guessed how tasty a Ritz cracker with turkey and cranberries could be!
via Tidy Mom
91. Snowman-Inspired Dipping Platter with Veggie Bowls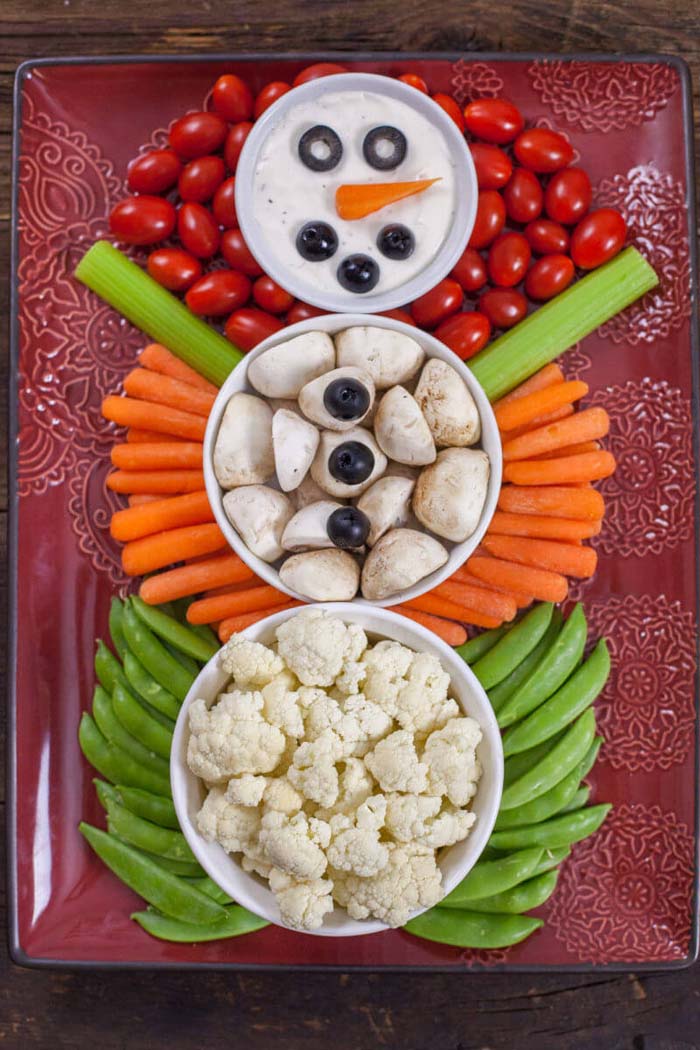 3 bowls displayed like a snowman, each bowl filled with a white sauce, white broccoli or white marshmallows, surrounded by carrots and other veggies to dip!
via Eating Richly
92. Enjoy Christmas with White Cheddar and Cranberry Dip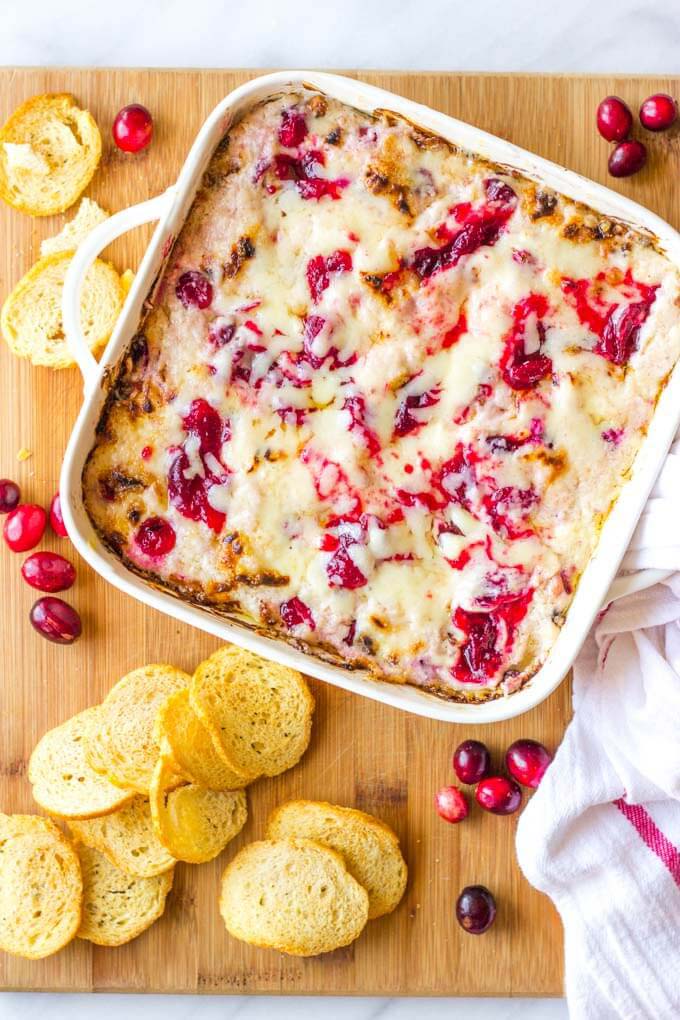 Cheese bakes with cranberries in a dish then served hot with bread.
via Little Broken
93. Use Cream Cheese Crescent Rolls for a Tasty Wreath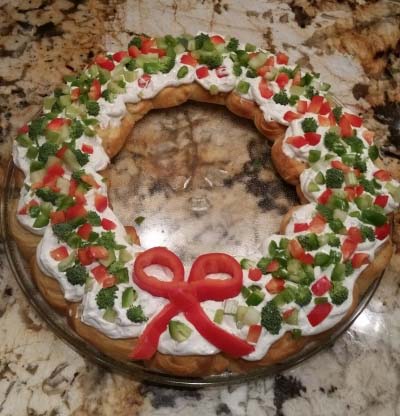 Crescent rolls shaped like a wreath, topped with cream cheese and broccoli.
via Food.com
94. Make a Statement with a Charcuterie Tree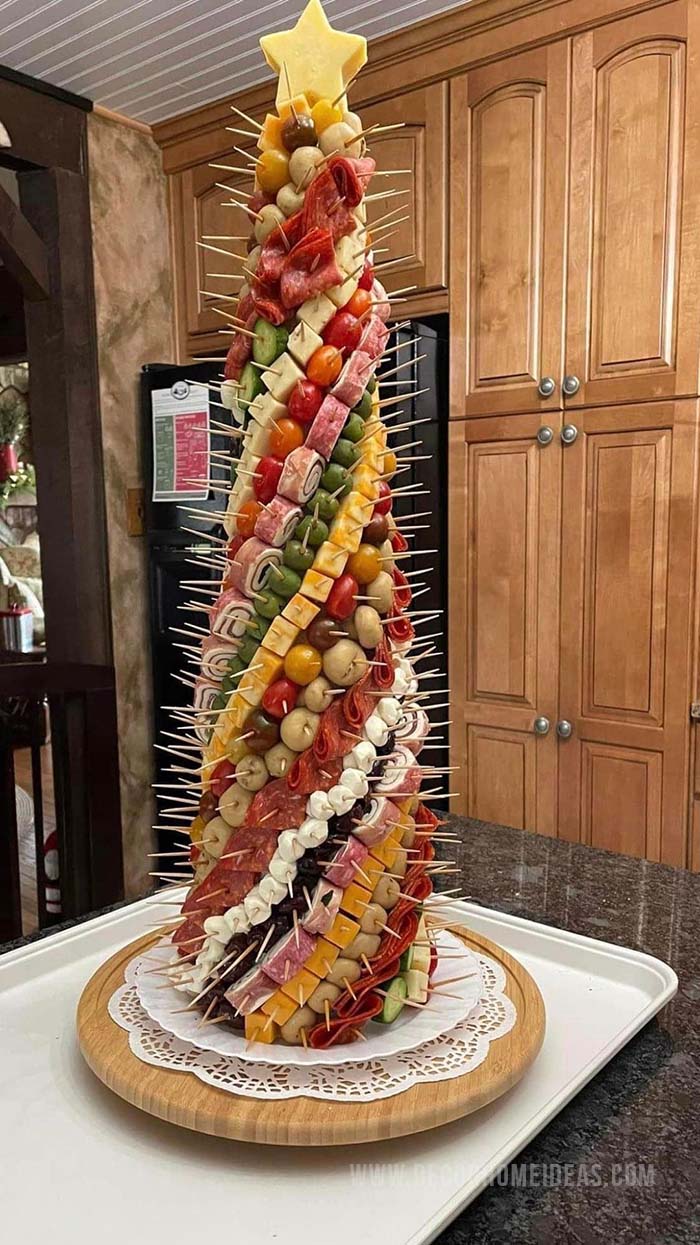 Deborah Racite Curtis created this masterpiece by using a styrofoam tree bought from Michaels. Used a press & seal and started attaching all the different bites. All was made in a couple of hours.