There's nothing like a sweet treat to celebrate the Christmas holidays.
Whether you're preparing for a holiday party or baking a special dessert to cap off a family meal, the end of the year is the perfect time to go all out.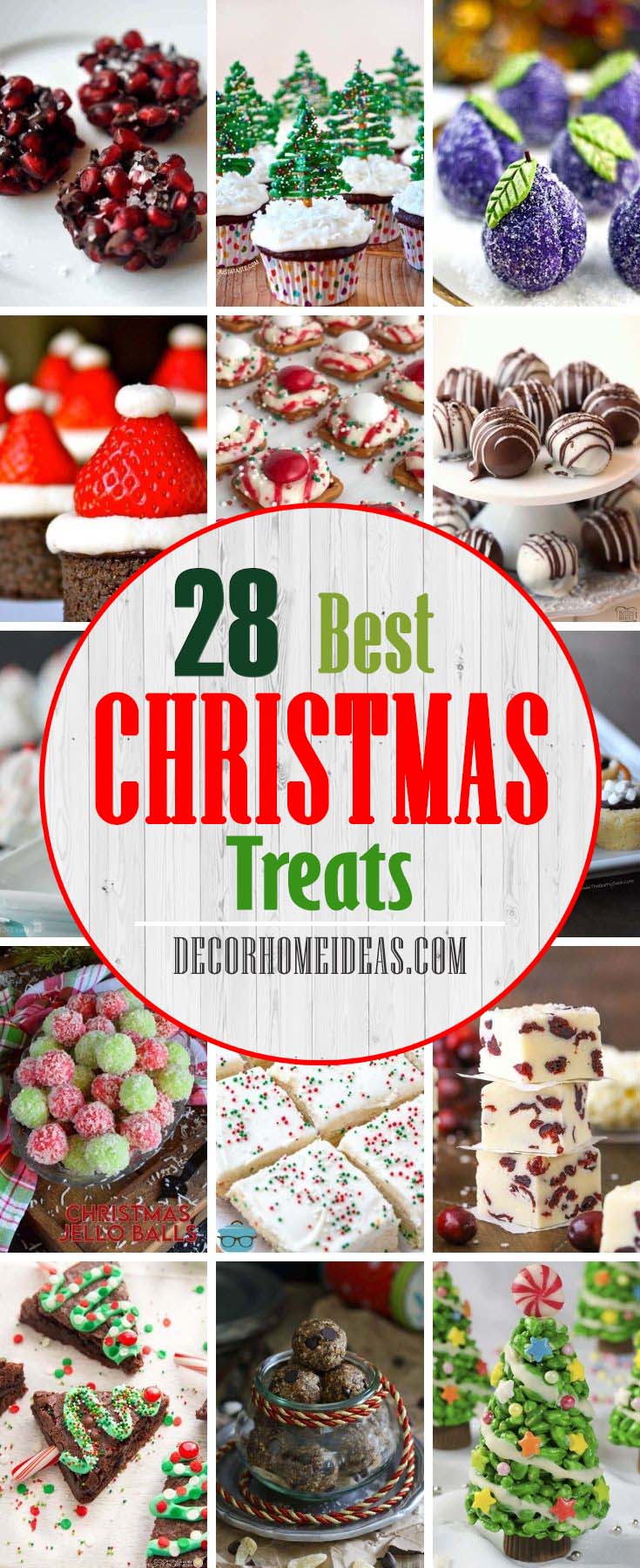 These amazing Christmas treats are a fun way to indulge your sweet tooth and delight the ones you love.
1. Easy Mascarpone Parfaits With Pomegranate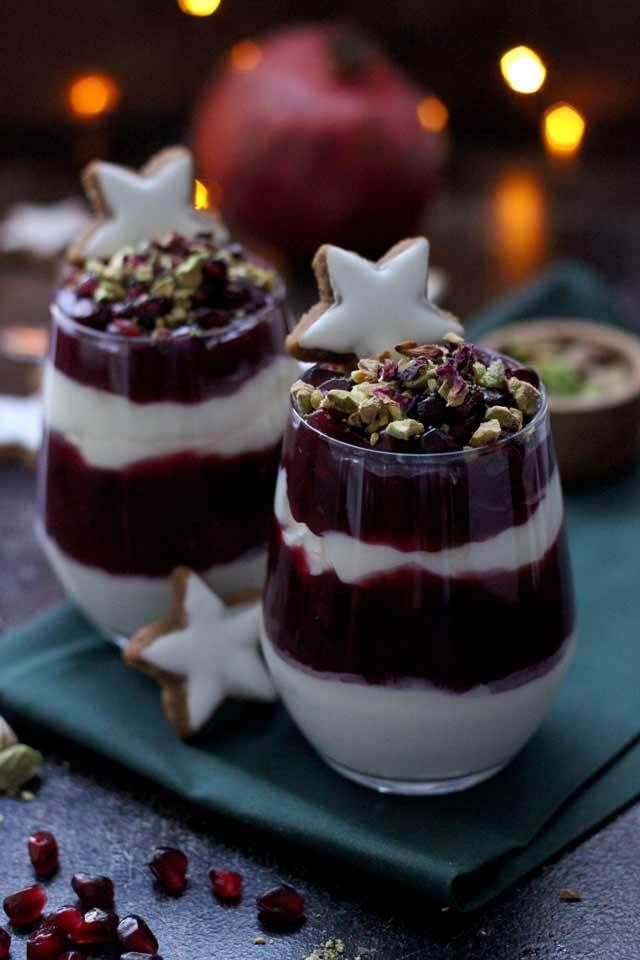 For a treat that tastes as good as it looks, try these stunning pomegranate parfaits.
The rich crimson color of the pomegranates looks even more beautiful next to the white mascarpone cream.
Together, the flavors create a dish that's just the right blend of sweet and tangy.
via Happy Kitchen
2. Fun To Decorate Tree Brownies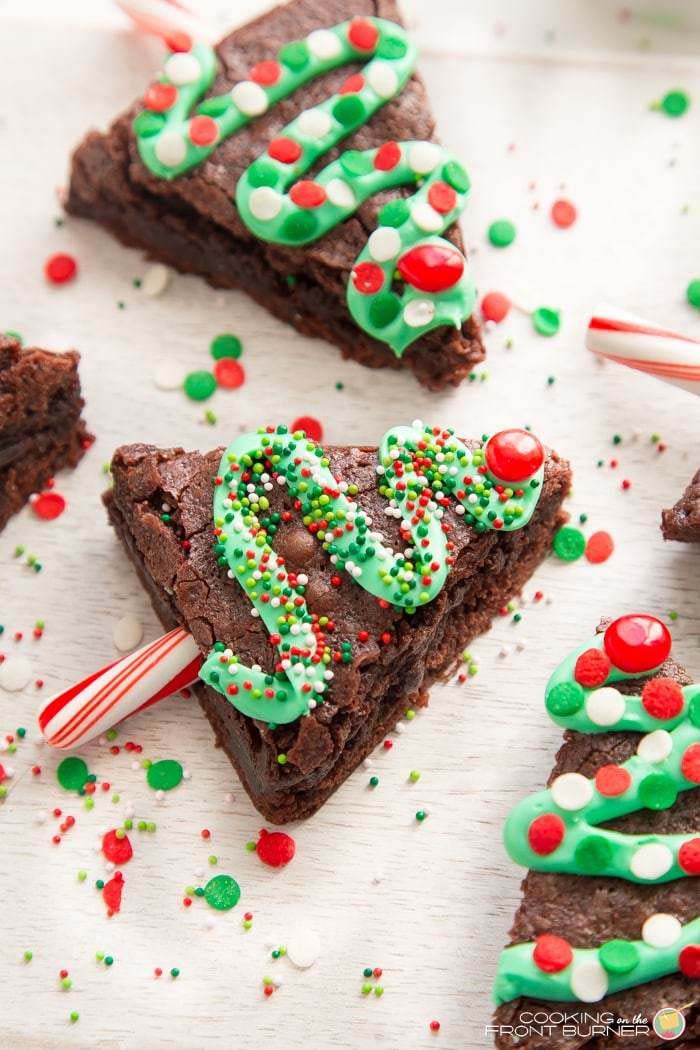 Brownies are an instant crowd pleaser.
To make yours look a little more festive, cut them into triangles and insert a candy cane "trunk".
A frosting swirl and a few colorful sprinkles turn simple brownies into a delicious party snack.
via Lil Luna
3. Snowy Cupcakes With Pretzel Trees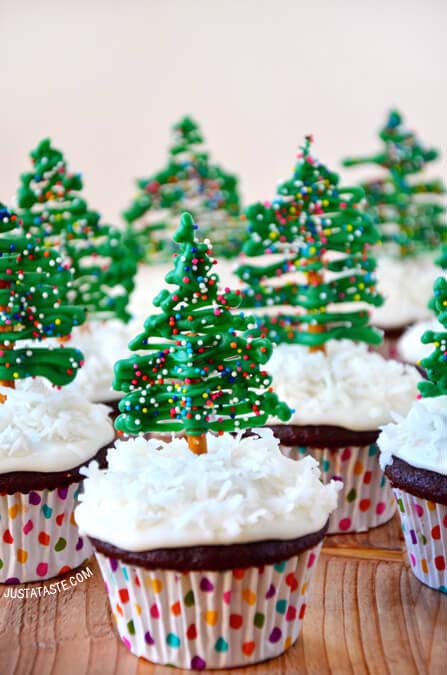 Cupcakes are a staple of Christmas parties — they're easy to pick up and a breeze to eat.
This super-cute version creates a forest of candy trees that will wow guests of all ages. The best part?
The pretzel tree trunk adds the perfect crunch.
via Just a Taste
4. Homemade Fudge Bites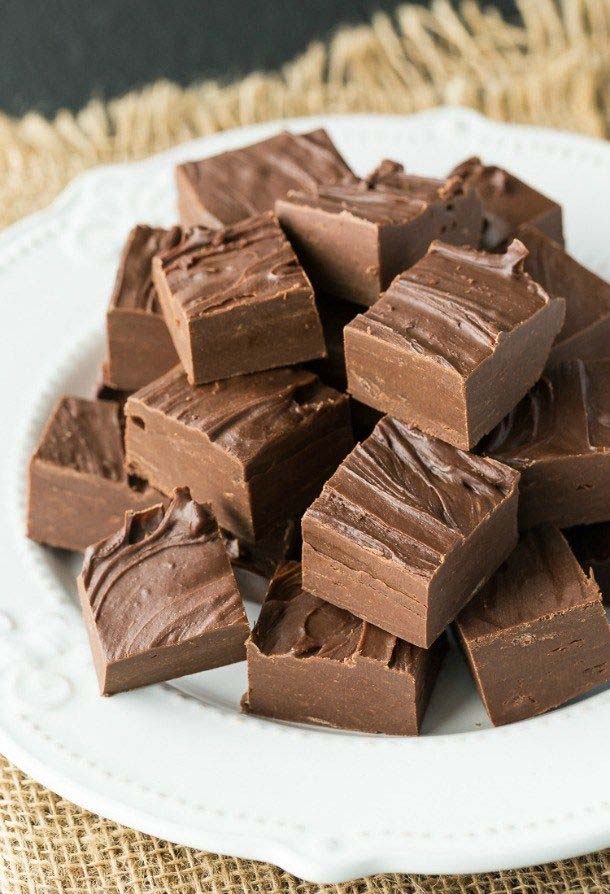 After a big meal, when you need just a little bit of dessert, fudge is the perfect fit.
This luscious, rich fudge delivers serious flavor; cut it up into small chunks.
It's a treat all on its own, but you can add a coating of sprinkles as it cools for a pop of Christmas color.
5. Floaty Chocolate Meringue Trees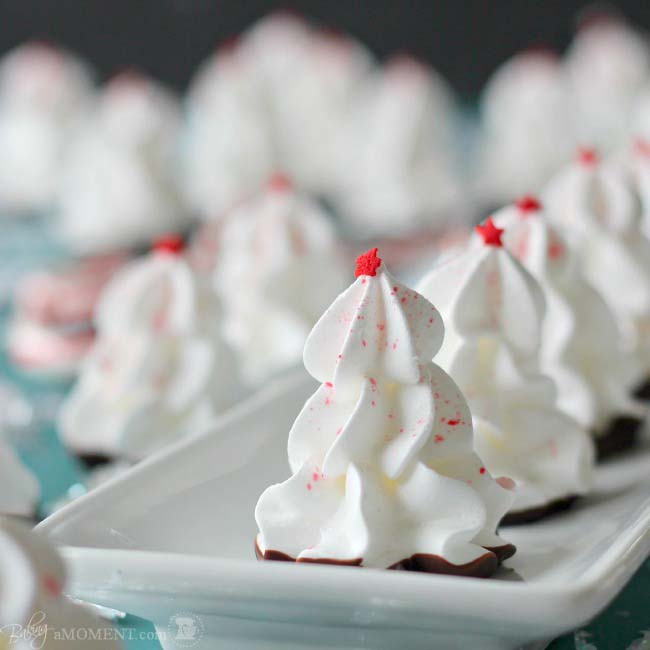 Light and crunchy, meringues are a delicious way to satisfy your sweet tooth.
These adorable trees take advantage of raw meringue's ability to hold its shape; pop them in the oven and dip in chocolate for a fun party dish.
The peppermint flavor takes them over the top.
via Baking a Moment
6. Chocolate Cookie Dessert Log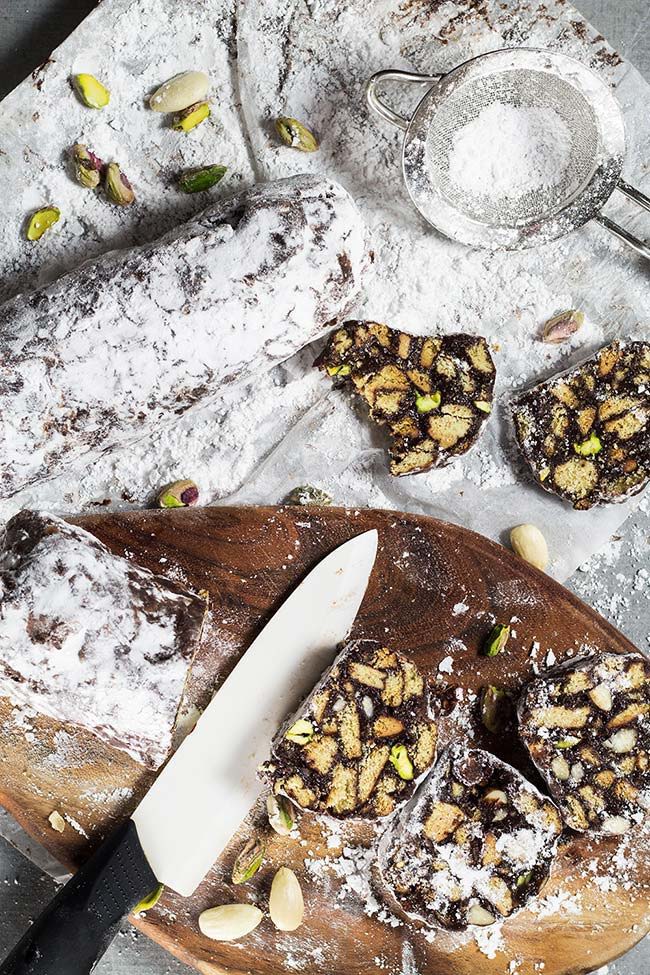 Don't have time to bake?
This chocolate salami is a fun, no-bake dessert that you can make ahead of time.
Although it's made with chocolate, it's loaded up with nuts and cookie pieces to temper the sweetness.
Since it's served in a log, your guests can cut as much as they like.
via Yummy Addiction
7. Red Velvet White Chocolate Cake Bites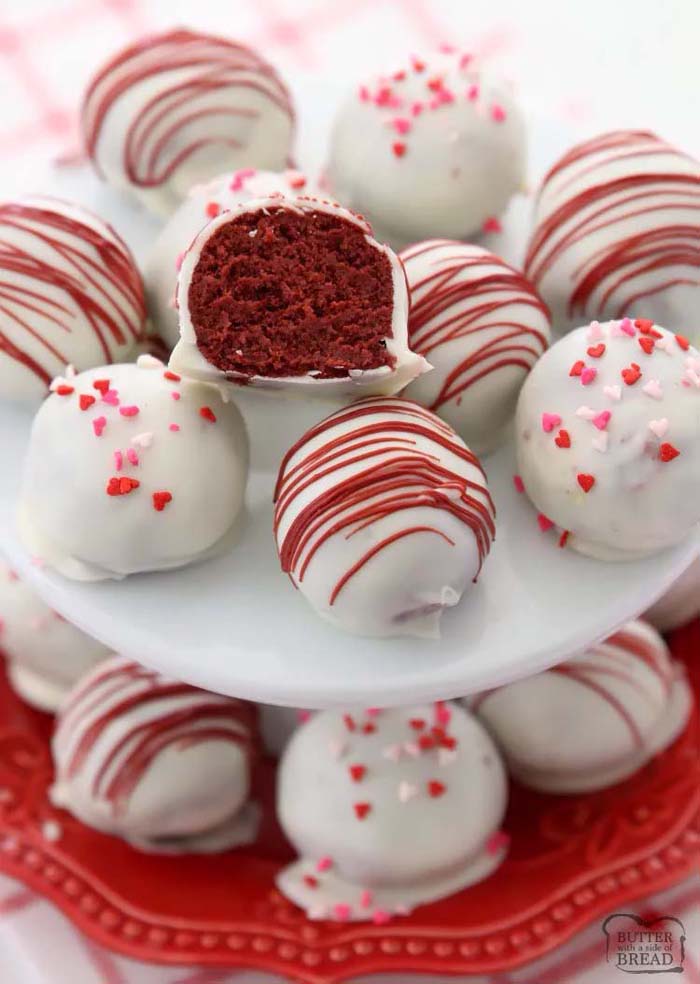 Everyone loves a cake ball — and since these gorgeous red velvet balls are made with Oreos, you know they're going to be a crowd pleaser.
The deep red interior looks lovely with a white chocolate coating, and tiny Christmas sprinkles add a festive touch.
8. Frosted Sugar Cookie Sprinkled Bars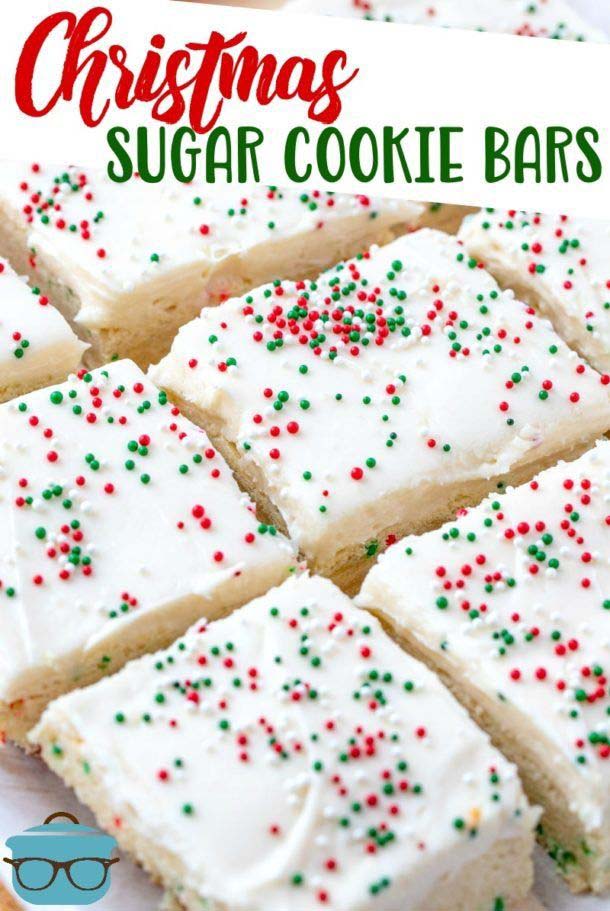 Sugar cookies are a staple of Christmas baking, but they're extremely time-consuming.
That's where these delicious bars come in.
They deliver all of the flavor and sweetness of a sugar cookie, but they take a fraction of the time to make. Add a layer of frosting and slice into squares to serve.
via The Country Cook
9. Rice Krispy Holiday Trees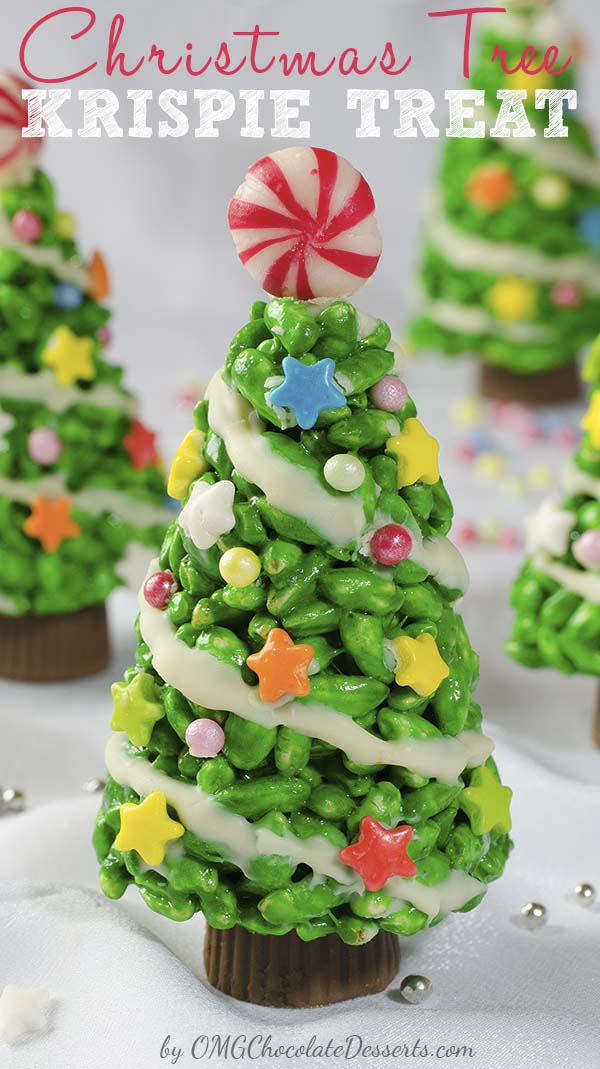 Take Rice Krispie treats to a new level by shaping them into tiny trees.
A peanut butter cup makes the perfect trunk, and tiny shaped sprinkles look exactly like ornaments.
Just make sure to add them when the treats are still moist for the best sticking power.
10. Holiday Favorite Gingerbread Bites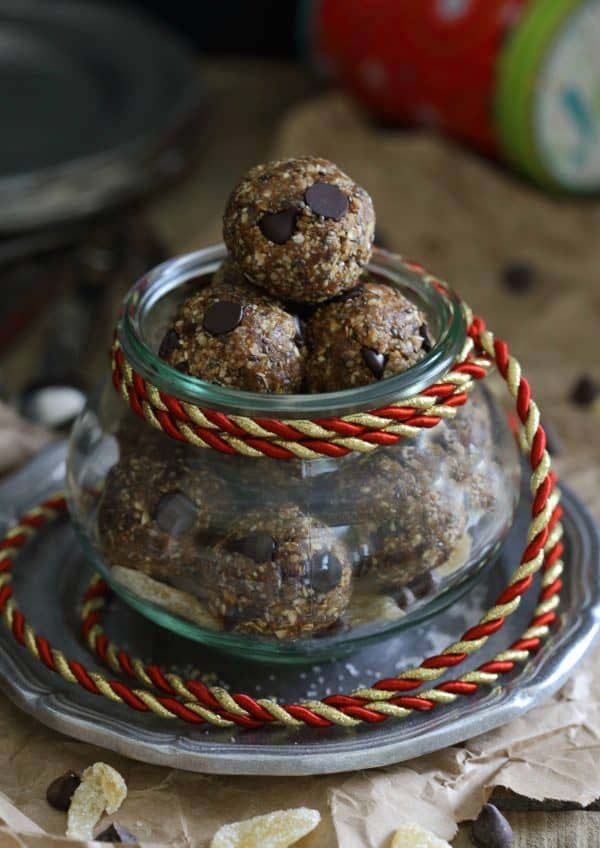 A little bit spicy and a little bit sweet — these gingerbread bites have it all.
Chocolate chips are scattered through each one, providing a delicious burst of flavor.
Since they're so small, you can have one or a few to suit your cravings.
11. Sugar Globe Gingerbread Houses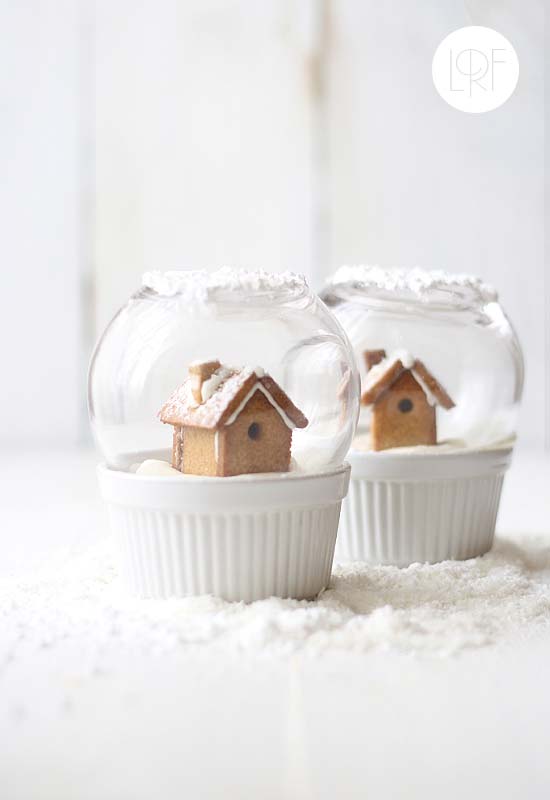 Do you have some time on your hands?
Turn individual cakes into stunning snow globe desserts.
Tiny gingerbread houses sit atop the dessert in a ramekin, and a clear bubble bowl creates a snow globe.
Add a sprinkle of edible snow on top for the full effect.
12. Healthy Protein Balls With Gingerbread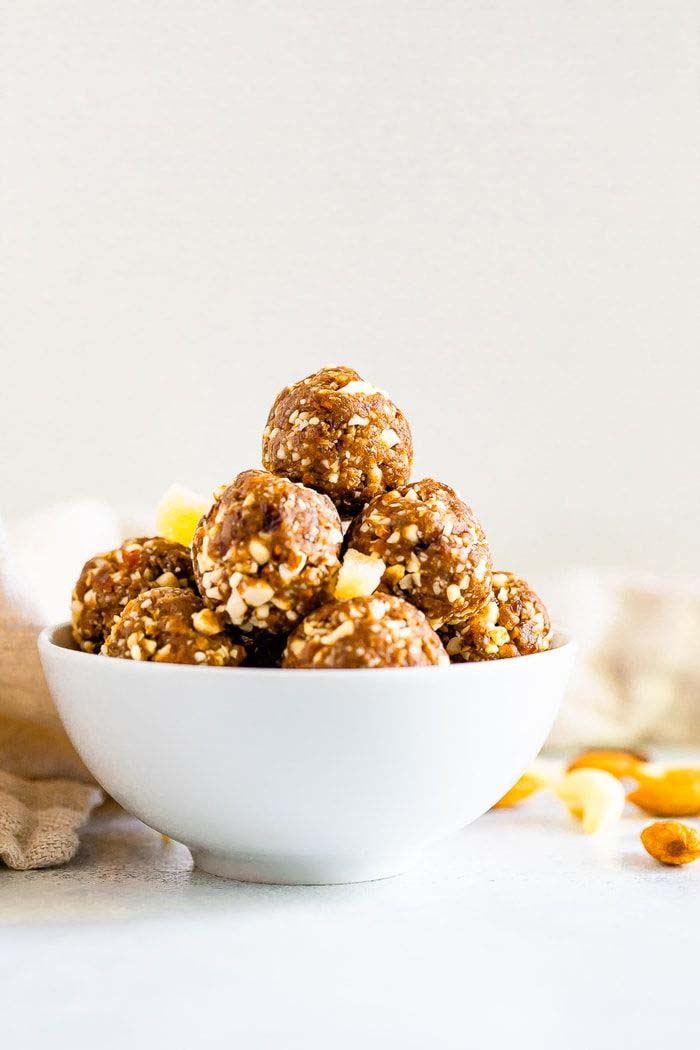 If you're an athlete, you know that protein balls are a great way to pack in nutrients without feeling full.
These gingerbread protein balls put a festive spin on the sporty snack — they're so delicious, you can even serve them at a party.
via Eating Bird Food
13. Reindeer Face Chocolate Coated Grahams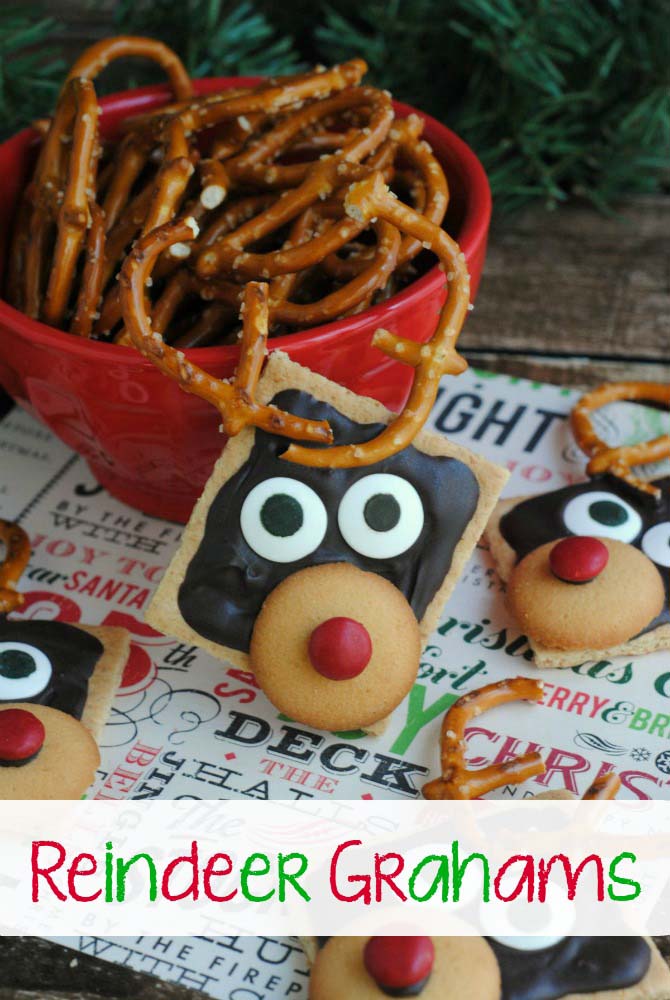 Indulge your love of carbs with these yummy reindeer treats.
Made with a graham cracker, a vanilla wafer, and a pretzel, each one offers the perfect combination of sweet and salty.
The delicious chocolate coating ties everything together.
via This Mama Loves
14. Cookie Cup Hot Cocoa Mugs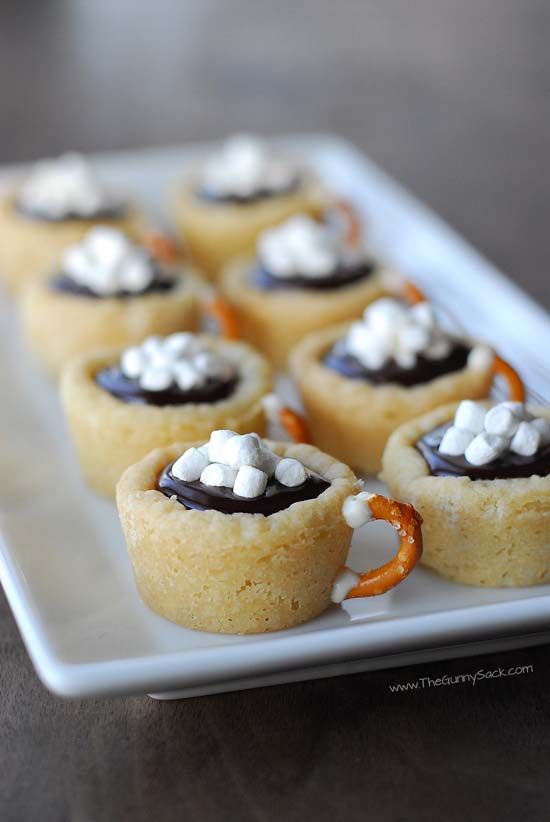 Tiny cookie cups filled with chocolate are a fun addition to your Christmas-party dessert table.
Each one is bite-sized, so your guests don't need to worry about utensils.
The cute pretzel handle and mini marshmallows amp up the cute factor for a festive holiday treat.
via The Gunny Sack
15. No Bake Coconut Jello Balls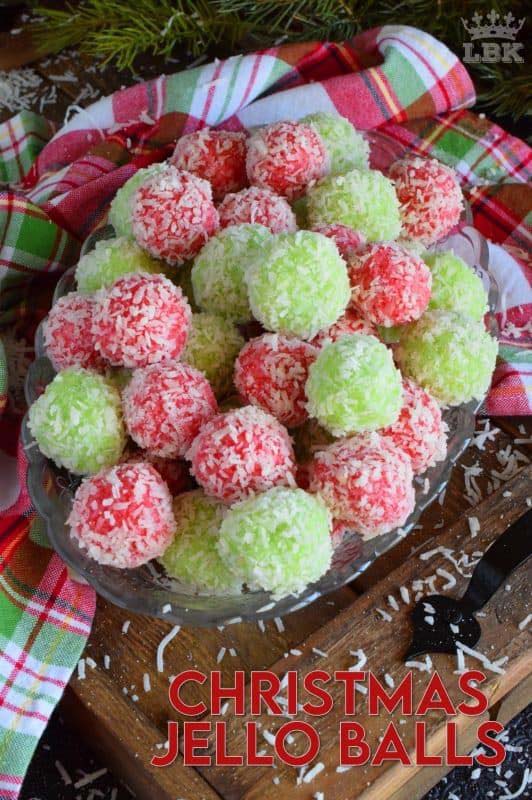 Not interested in baking or cleaning?
These Jello balls are no-bake cookies that require just one bowl.
With just three simple ingredients, you can create an unexpected Christmas treat; make extra, because your guests will definitely come back for seconds.
16. Santa's Workshop North Pole Cupcakes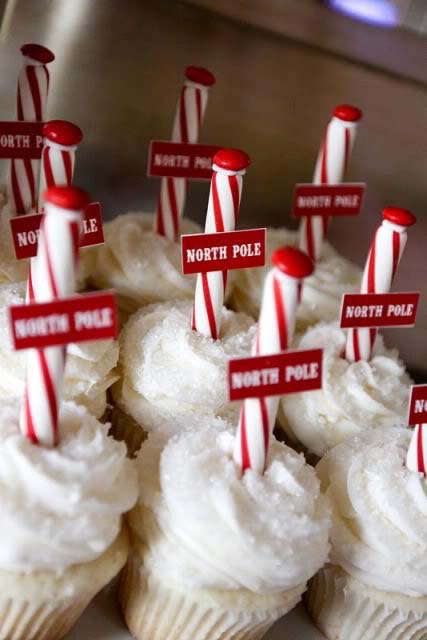 Frame a beautiful gingerbread house with these adorable North Pole cupcakes.
This is one of those desserts that makes a big splash, but requires minimal effort.
Just press a candy cane North Pole sign into a mound of white frosting, and you have a unique Christmas treat.
17. White And Milk Chocolate Oreo Truffles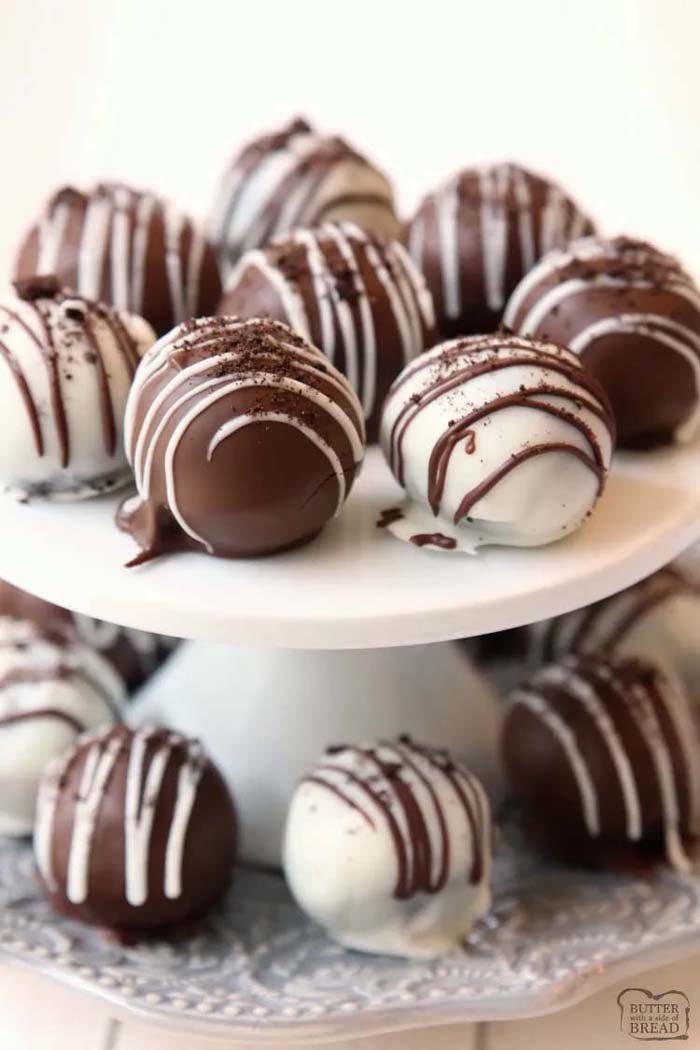 You won't be able to resist these Oreo truffle balls — coated in chocolate, they pack a big, sweet punch.
Each one can be devoured in just one or two bites, so you'll feel great afterward.
The contrasting chocolate drizzle is optional, and a sprinkle of crushed Oreos adds to the effect.
via Butter With a Side of Bread
18. Kisses And Cups Mini Christmas Trees

Do you love peanut butter cups?
Make them even more delicious by turning them into festive trees.
A chocolate kiss forms the top point, and a few swirls of frosting add a pop of color.
19. Candy Cane Kisses Pretzel Bites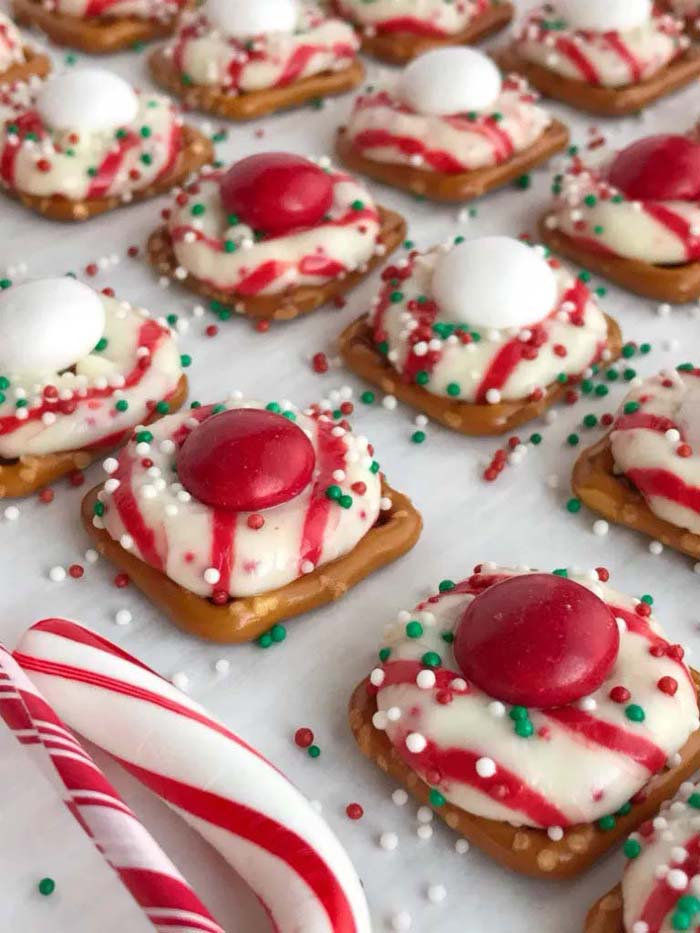 Bite-sized pretzel squares become the perfect sweet treat when topped with peppermint chocolate kisses.
Making them is remarkably easy; just set a kiss on a pretzel and bake for a few minutes.
Each tiny treat is an explosion of crunchy pretzel and creamy chocolate.
20. Healthy Frozen Yogurt Fruit Bark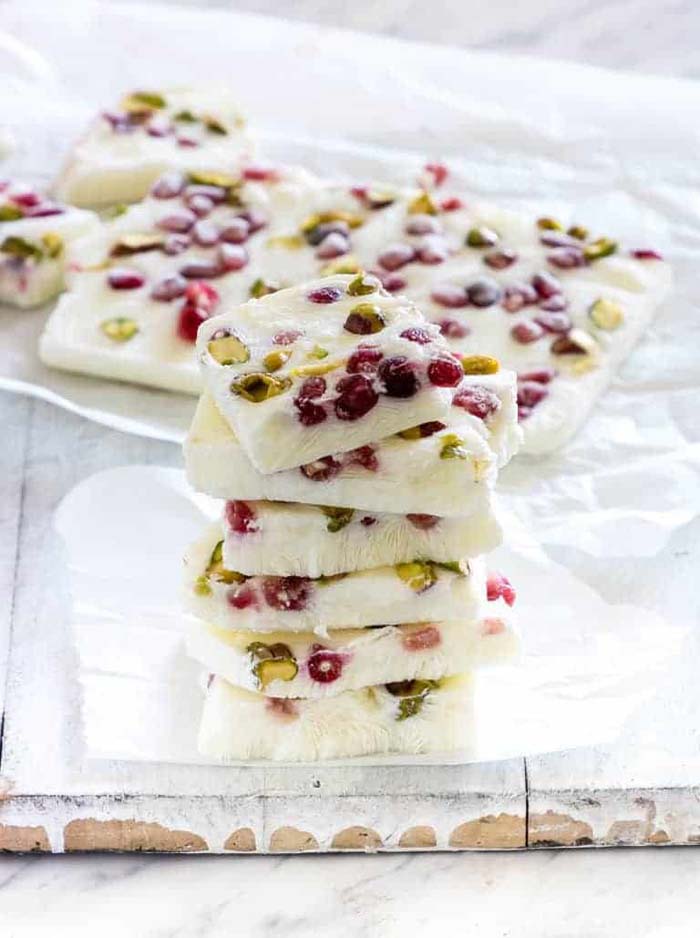 Looking for a healthy Christmas treat?
This frozen yogurt bark fits the bill.
The tangy flavor of the yogurt pairs beautifully with the sweet pomegranate seeds and rich pistachio, creating a treat that feels decadent but doesn't destroy your waistline.
21. White Chocolate Polar Bear Treats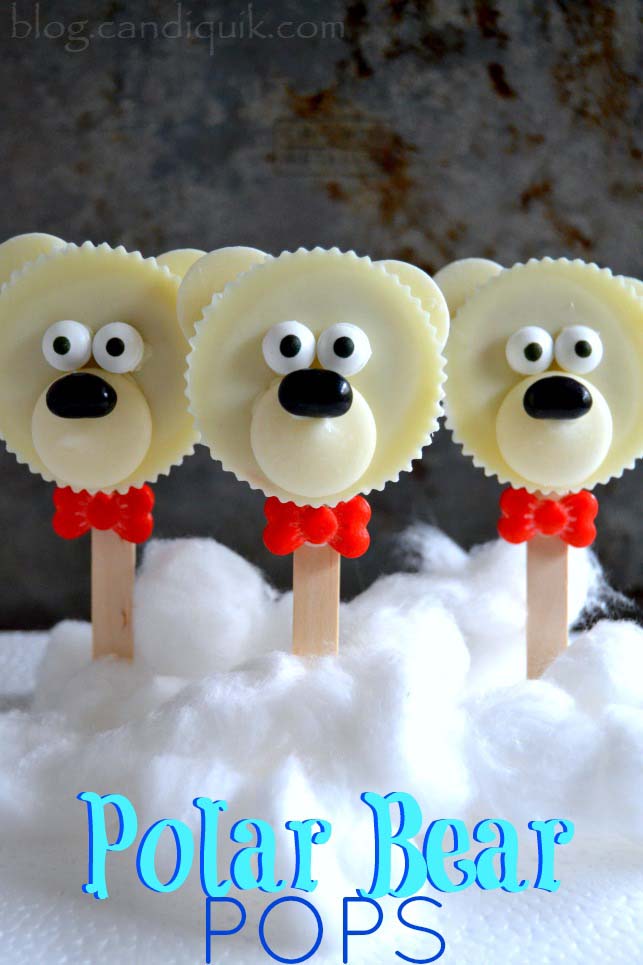 Delight your kids this Christmas by turning craft sticks into adorable polar bear treats.
Each one is crafted with an assortment of white-chocolate candies and topped off with an adorable face.
Tuck each stick into a foam base for an easy, fun party display.
via Miss Candiquir
22. Chocolate And Sea Salt Pomegranate Snacks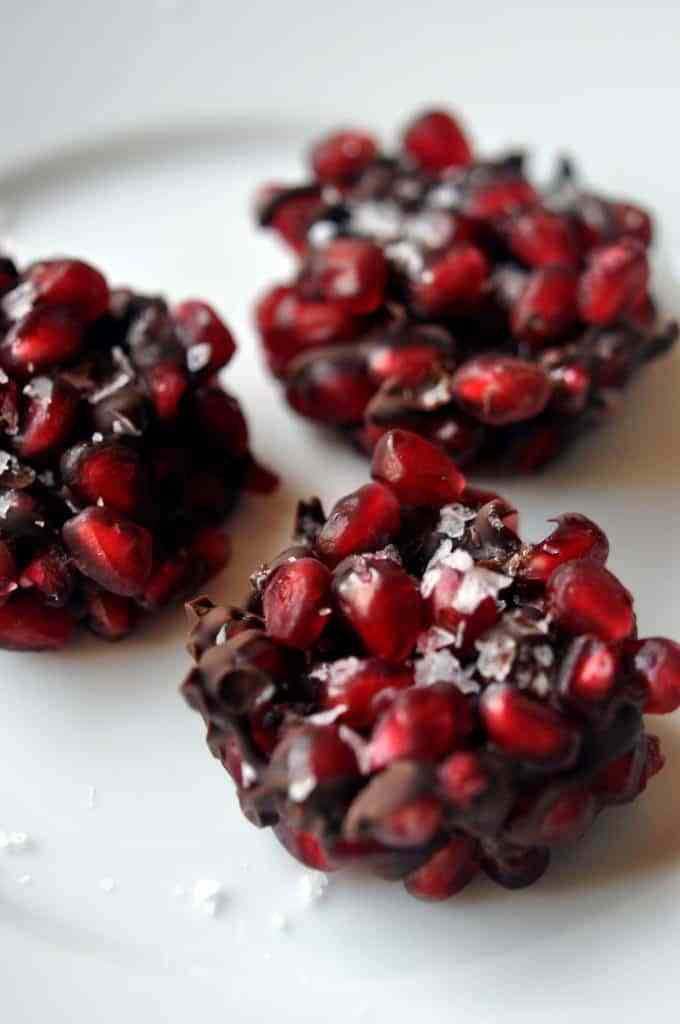 Pomegranate seeds and dark chocolate make a gourmet pairing in these bites.
You can make them in minutes and store them in the fridge until it's time to party.
The brilliant red seeds and deep brown chocolate make a lovely, festive addition to your buffet.
23. Festive Raspberry Cream Swiss Roll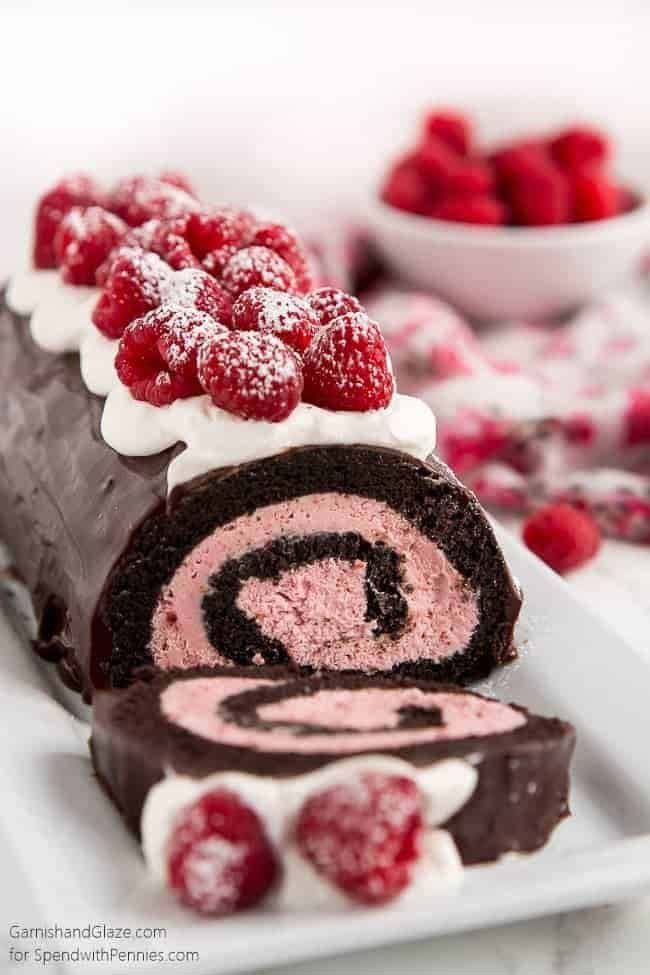 If you're in the mood for indulgence, turn to a delectable Swiss roll cake.
The chocolate sponge sets off the tangy raspberry cream, creating a fantastic blend of flavors.
Add cream and raspberries to the top to complement the lovely swirl of each slice.
24. Chocolate Coated Oreo Reindeer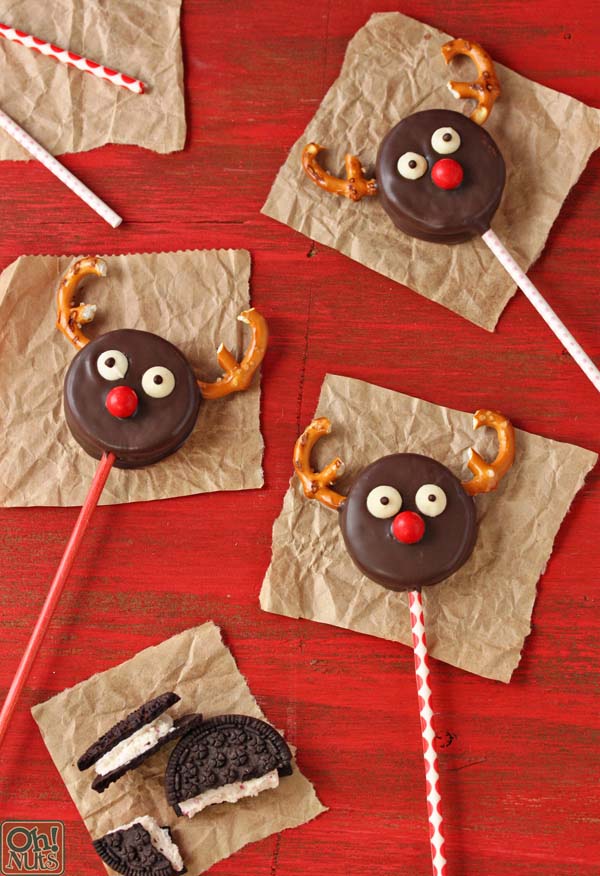 Fun and easy to make, reindeer Oreo pops are a surefire hit for family dinners and Christmas parties.
The sticks make it easy to dip the cookies in chocolate and add cute reindeer faces and antlers.
via Oh Nuts
25. Candy Face Reindeer Pretzel Bites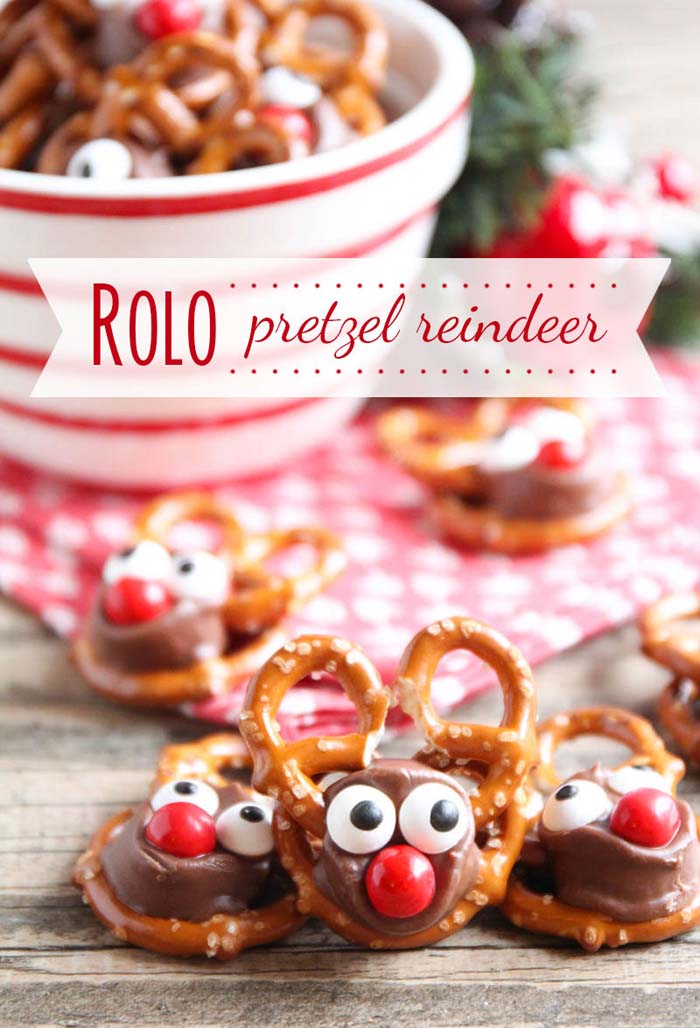 Chocolate, caramel, and salty pretzels come together in these stunning bite-sized reindeer treats.
The flavors are indulgent, and the adorable candy faces make your loved ones' days just a bit brighter.
via I Heart Naptime
26. Strawberry Hat Santa Brownies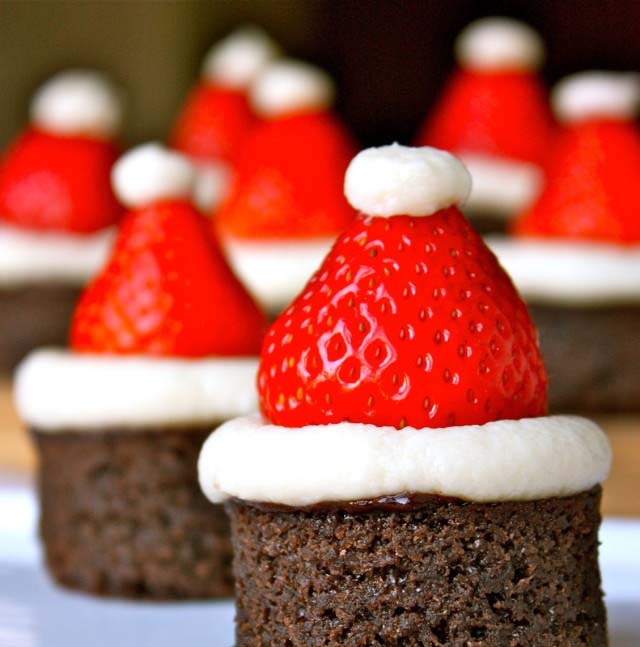 Add a fresh burst of fruit to your Christmas desserts by turning strawberries into Santa hats.
Whether you use whipped cream or white frosting to make the fur, the combination is irresistible.
via Daisy's World
27. Marzipan Christmas Sugared Plums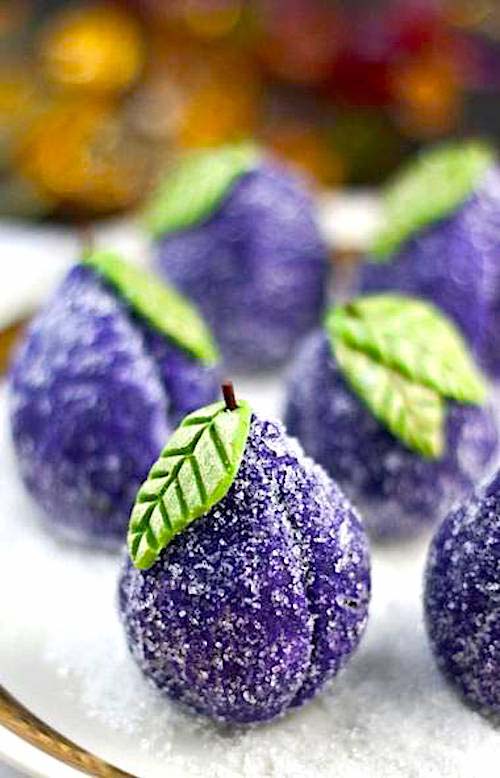 You might hear about sugar plums in favorite Christmas poems, but have you ever had one?
This fanciful dessert reimagines the mythical fruit in marzipan form.
They're beautiful and delicious.
28. White Chocolate Holiday Fudge Squares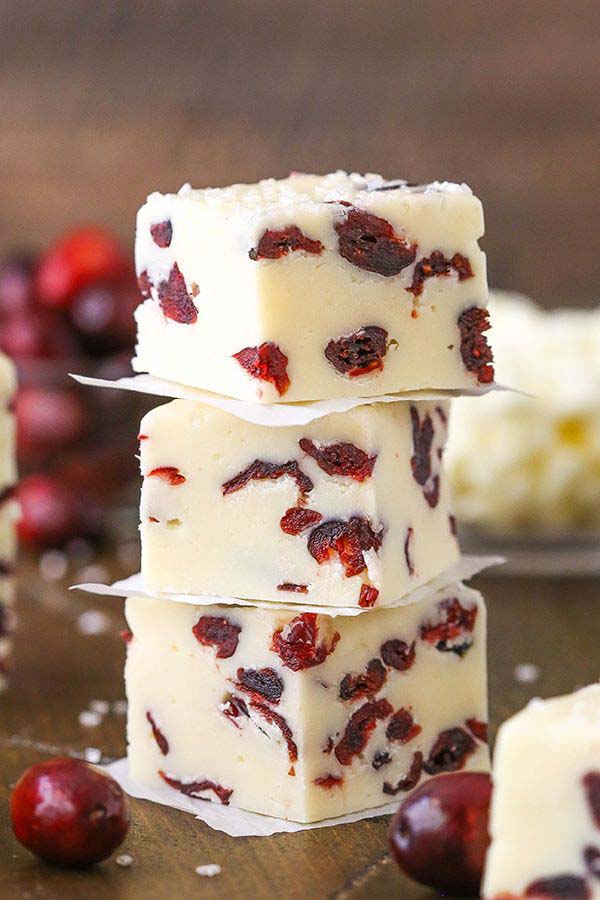 Sweet, indulgent white chocolate sets the stage for tangy, tart cranberries in this unique fudge recipe.
It tastes great, and it looks lovely on your table at Christmas or any time of the year.