I've always been saying that paying attention to detail is what makes your home cozy and welcoming. It's a bit of a cliché but it is true.
For instance, I've noticed that nobody is using the space around the stairs. There are tons of unusual and not expensive ideas you would be able to use for stairway decorating.

I'll share 27 of them to prove my point. Let's get started!  🙂
1. Make a Lasting Impression with a Stairway Wall Art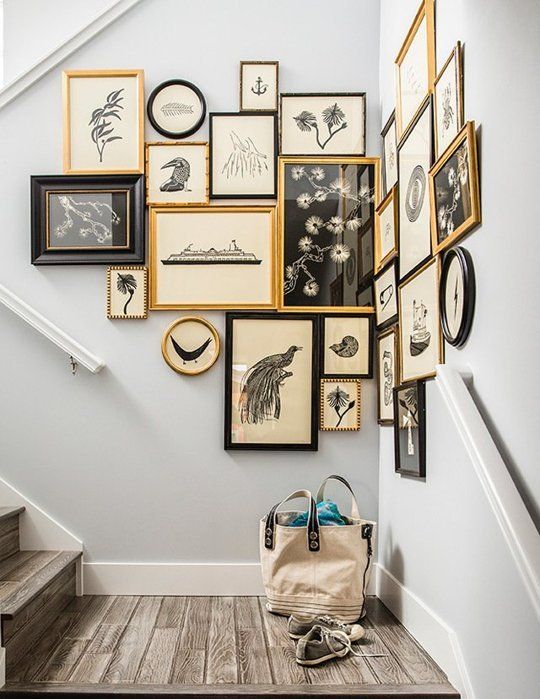 Photo:Credit
Brag about your artistic side. Adding as many pictures and drawings, as you like, brings a warm vibe to your house. Just make sure they are having the same color frame.
You can also use two different colors, such as black and gold, to make the staircase looks more sophisticated.
2. Give Your Staircase a Designer Look with Chevron Patterns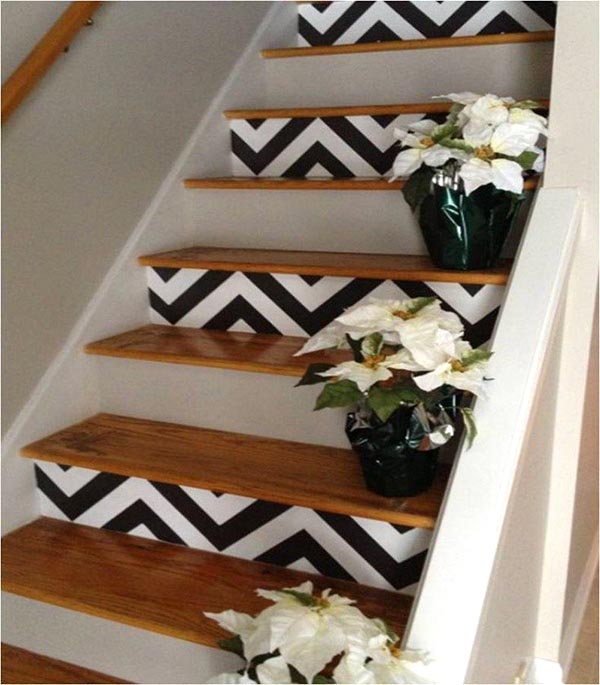 Photo:Credit
There are lots of people who are not fans of chevron.
But let's face it – it looks awesome. Plus, you instantly transform your stairway without breaking the bank!
 3. Breath Life to Your Stairway with Small Planters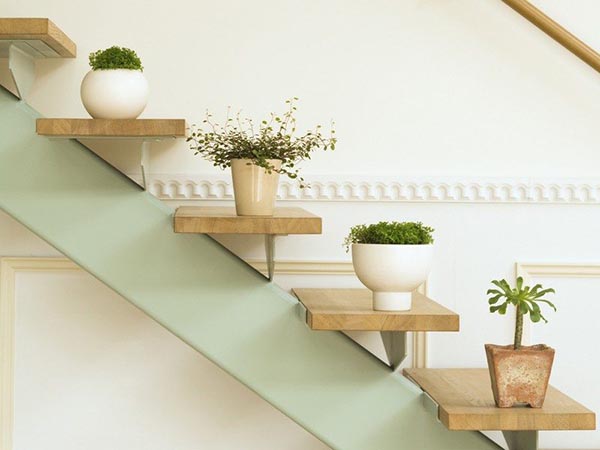 Photo:Credit
Adding some greenery to refresh your staircase is always a good idea!
Just make sure there is enough sunlight and the plants won't die for a day.  😎 Consider design of the flower pots to match the staircase design.
4. Get a Sophisticated Look with India Blue Pottery Staircase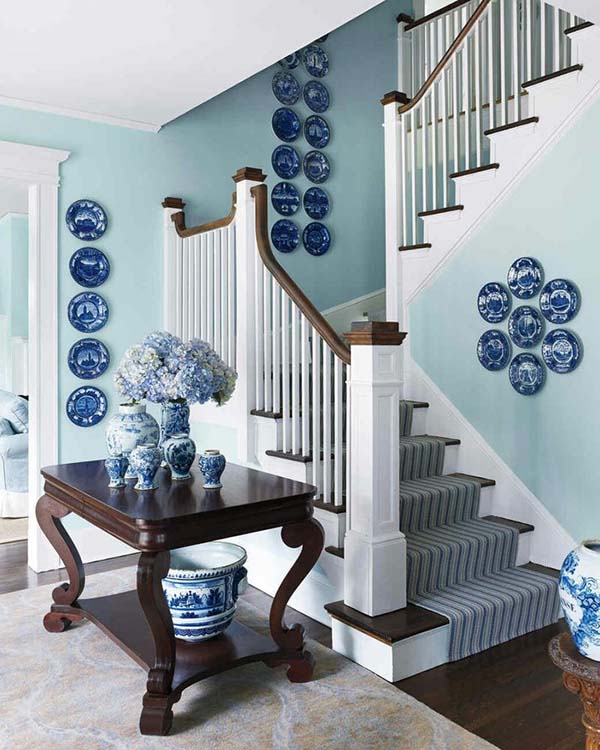 Photo:Credit
If you want to give your staircase a timeless look, consider using India blue pottery. They are combining different centuries and cultures which adds a final exotic touch to the overall design.
5. Enhance Your Stairway with Rustic Wall Decor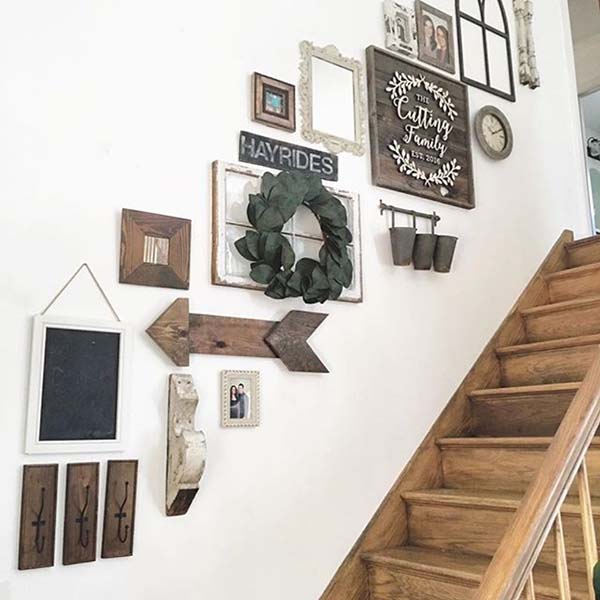 Photo:Credit
There are just so many rustic elements here. I am sure there are people who are content with living in such a chaotic space.  So, here is something for them!  😉 
6. Get Creative with Your Staircase Decorations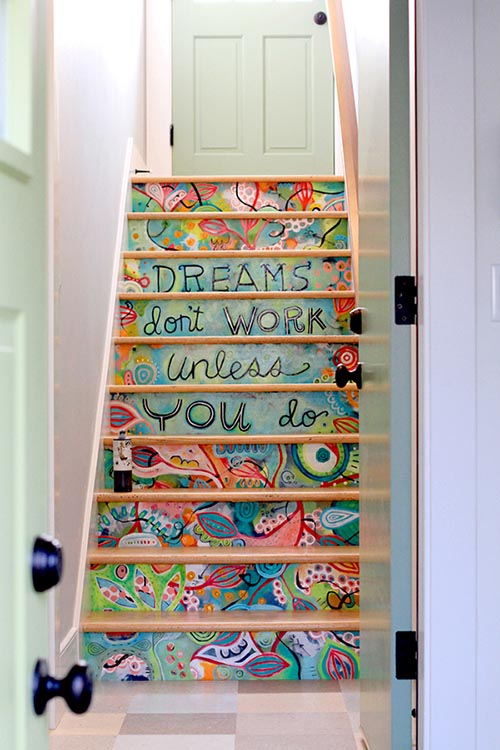 Photo:Credit
The staircase is usually the first thing you see when you enter the house.
That's why is important to make it nice, colorful, and funny. Why don't you add an inspirational quote to make it even nicer?
7. Brighten Your Stairway with a Kids' Wall Art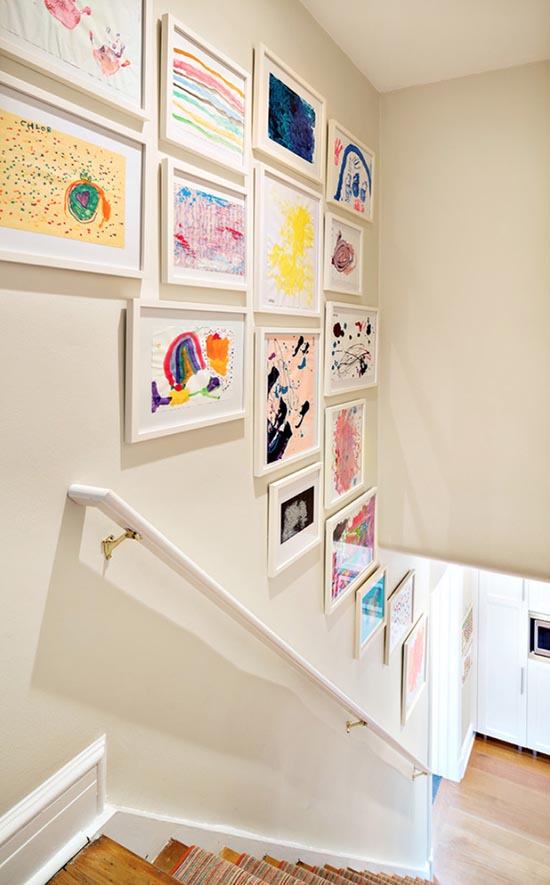 Photo:Credit
Here is another cool, cheap, and easy way to transform the stairs at home – put your kid's drawings in identical frames and hung them on the wall. Buy similar picture frames to achieve clean design.
Moreover, in the future, they will recall you from the childhood of your kid.
8. Personalize Your Stairway with a Family Tree Wall Art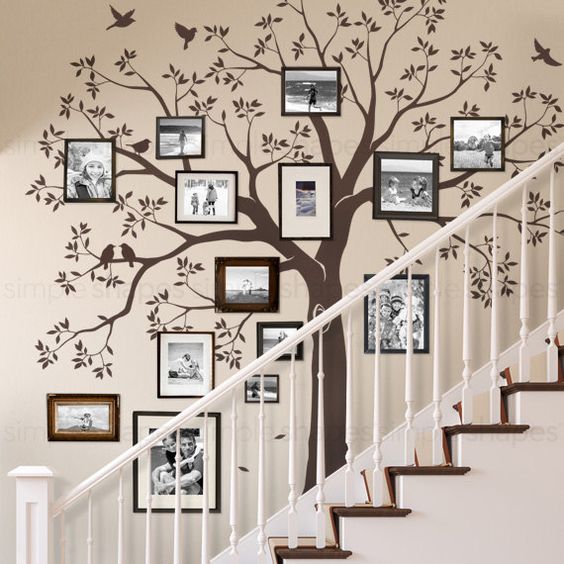 Photo:Credit
Creating a family tree with some of your dearest family photos takes the stairs decoration to the next level.
You can find a tree wall sticker for less than $5. Don't worry – it's easy to put on the wall and also to remove it later if you don't want it. It won't ruin the paint.
9. Create an Instant Cozy Look with a Neutral Staircase Runner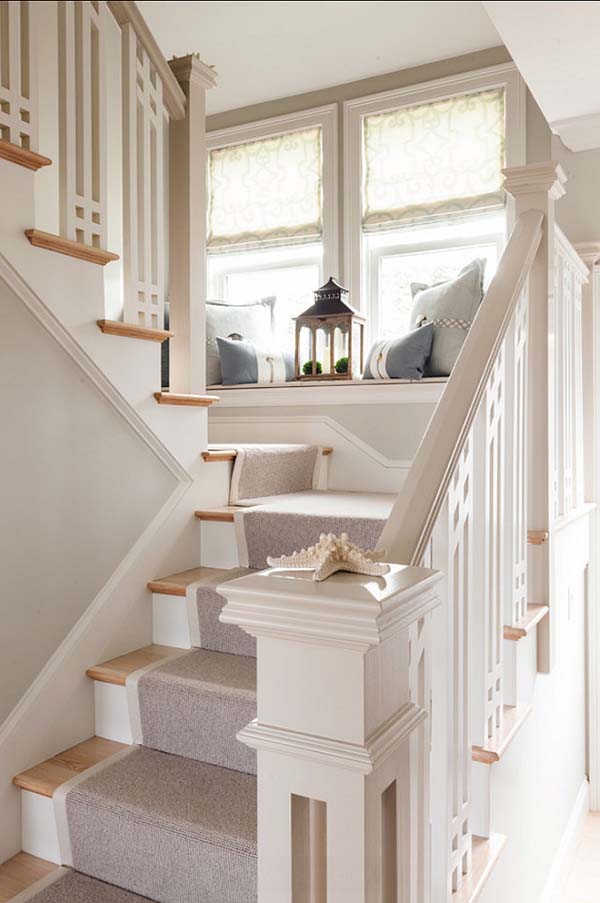 Photo:Credit
You can easily add some additional warmth to your staircase by choosing a stylish runner in neutral colors (such as Titanium OC-49 by Benjamin Moore). Runners create the "home" feel when you are stepping on them.
10. Add Quotes to Your Staircase for a Custom Look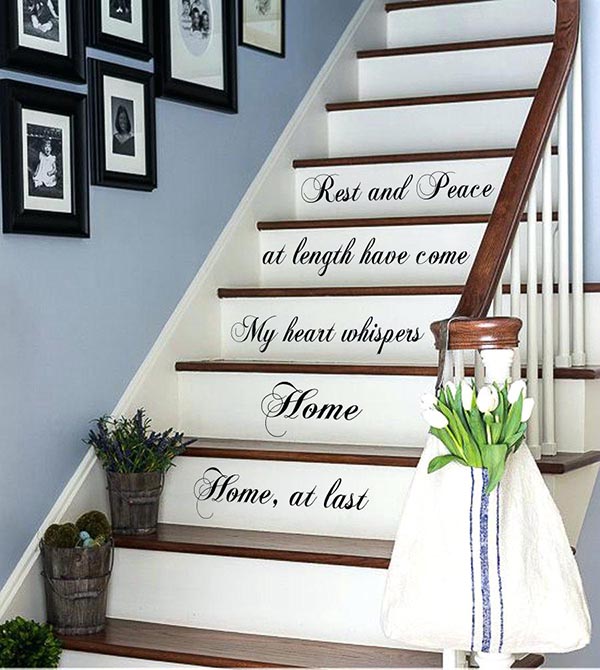 Photo:Credit
For those of you who are looking for a cheap and personalized way to refresh the stairs at home, I would say choose your favorite quote.
 For instance, mine is "I am original, you cannot label me."
11. Bring Vintage Charm with Old Rustic Frames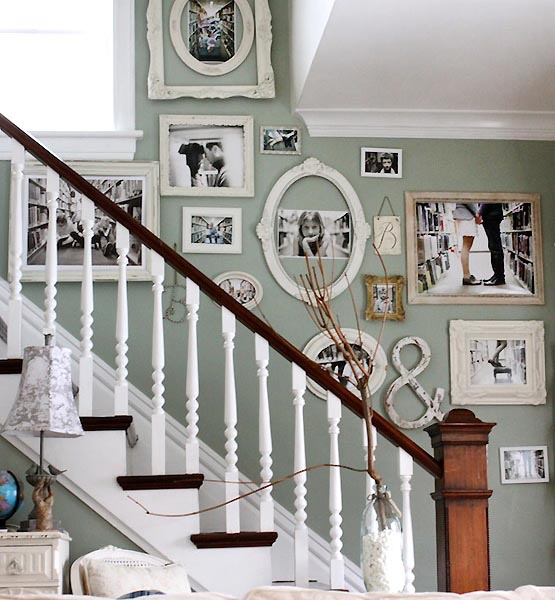 Photo:Credit
Take a look at how to decorate your stairs with empty flea market old picture frames. You can find them in different shapes, sizes, and colors. It's cheap and it will show your personal point of view.
12. Add Texture to Your Stairway with a Brick Accent Wall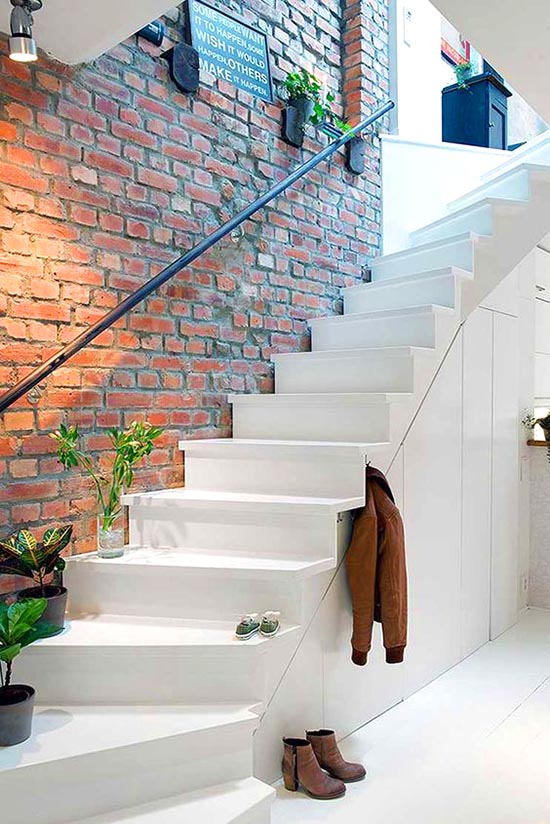 Photo:Credit
Constructing a DIY brick wall will make your stairway looks very unpretentious and stylish. The best thing is that brick goes with almost every material and color.
Materials needed:
Brick chisel
Plastic sheets
Small crowbar
Scrubbing brush
A dust mask
Brick Sealer
Tip: You can paint the bricks in white or even in some bold color to make the look even more appealing.
13. Uplift Your Stairs with Elegant Spanish Tiles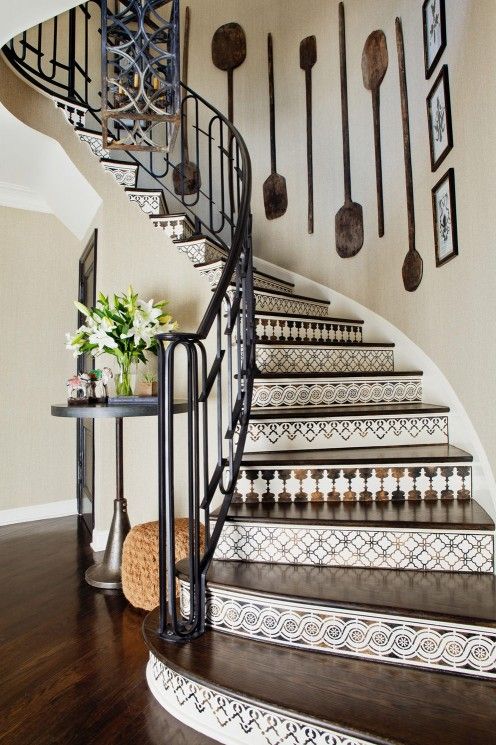 Photo:Credit
An inspiration for a Mediterranean wooden curved stairway idea.
It won't be the cheapest way to transform this spot in the house but, for sure, it will give it a stylish timeless look.
14. Make an Impact with Mirrors along Your Stairway Wall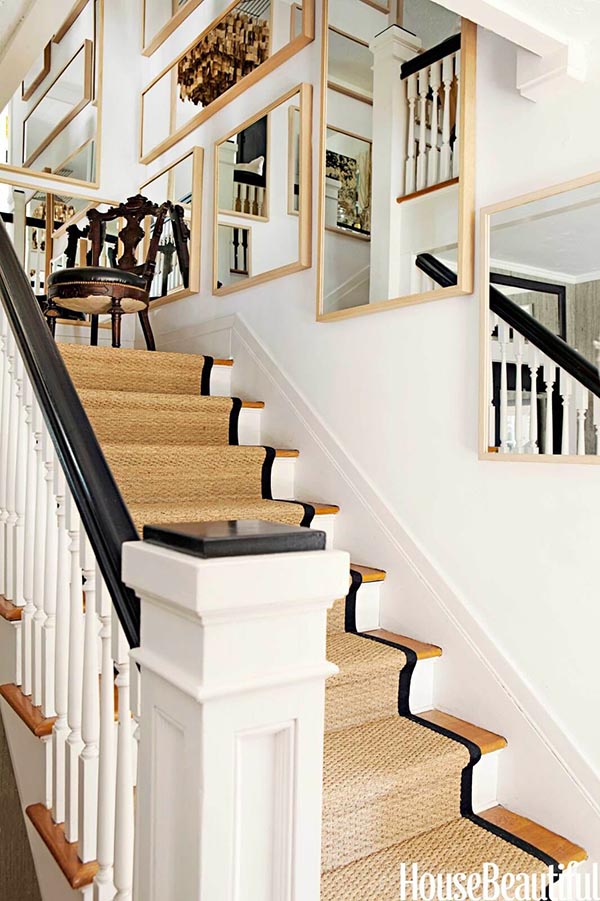 Photo:Credit
Here is a trick that is taken directly from the modern interior magazines.
Just look at the frames, the runner, the big mirrors, and the white wall are also in line with the contemporary style. I simply love this staircase design!
15. Stand Out from the Crowd with Your Staircase Wall Art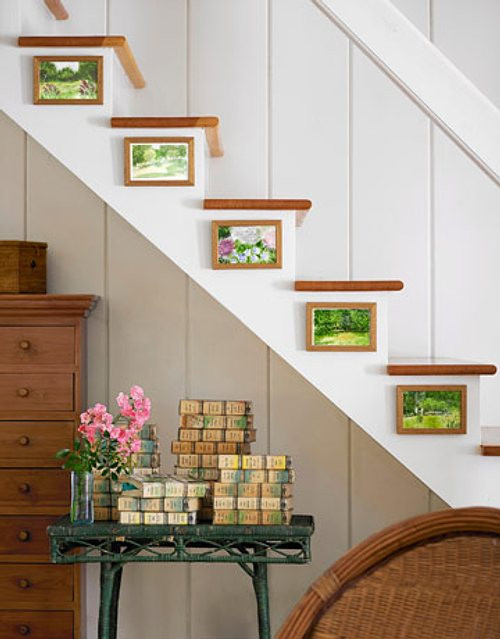 Photo:Credit
I've decided to show you this picture as it is a very unusual way to display the wall art.
However, I find it nice because you would be able to see it from many different angles. For each stair there is different photo.
16. Add Classic Charm with Contemporary Mix to Your Stairway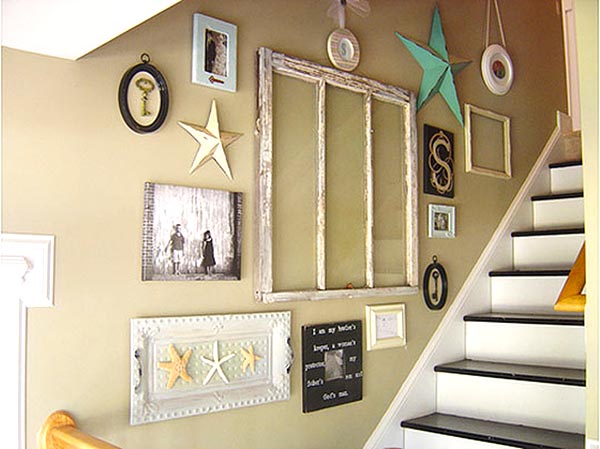 Photo:Credit
In the last decade, we've seen vintage accents in every interior.
Contemporary and vintage are such an elegant and tasteful combination, it is a shame not to try it especially in the staircase. 
You can decorate with starfish, monograms, keys and a lot more objects.
17. Upcycle Wooden Crates into Rustic Staircase Decor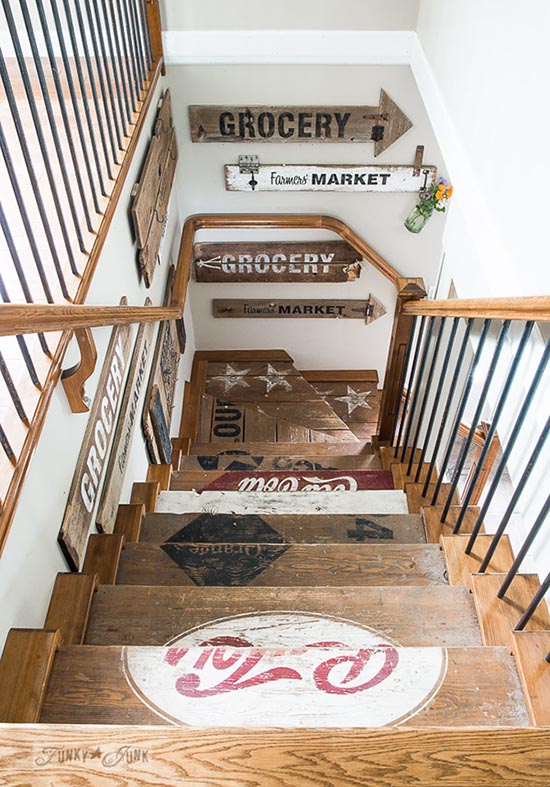 Photo:Credit
This project is a great opportunity for every experienced DIY-er to show off their creativity! It won't cost much but the results are stunning.
You can find the detailed tutorial with pictures here. Enjoy!
18. Be Bold with a Rustic Tree Branches Railing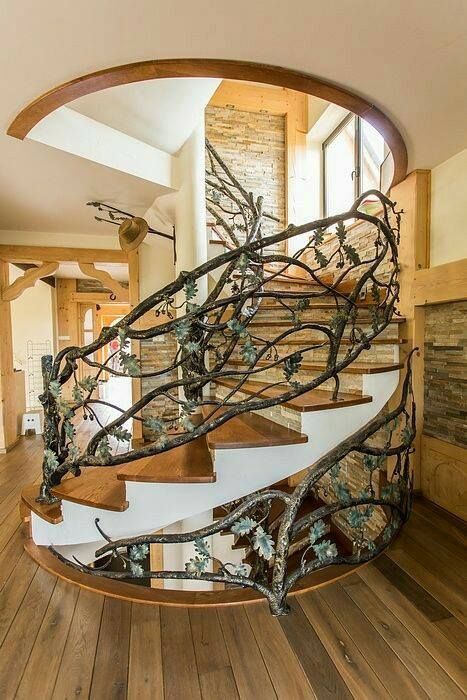 Photo:Credit
This amazing tree branch used as a handrail in the attic staircase is definitely one of my most favorite staircase decorating ideas.
I guess the biggest challenge would be to find the perfectly formed branch. So put your boots on and go for a walk in the woods!  😎
19. Get a Timeless Look with a Vintage Stairway Wall Art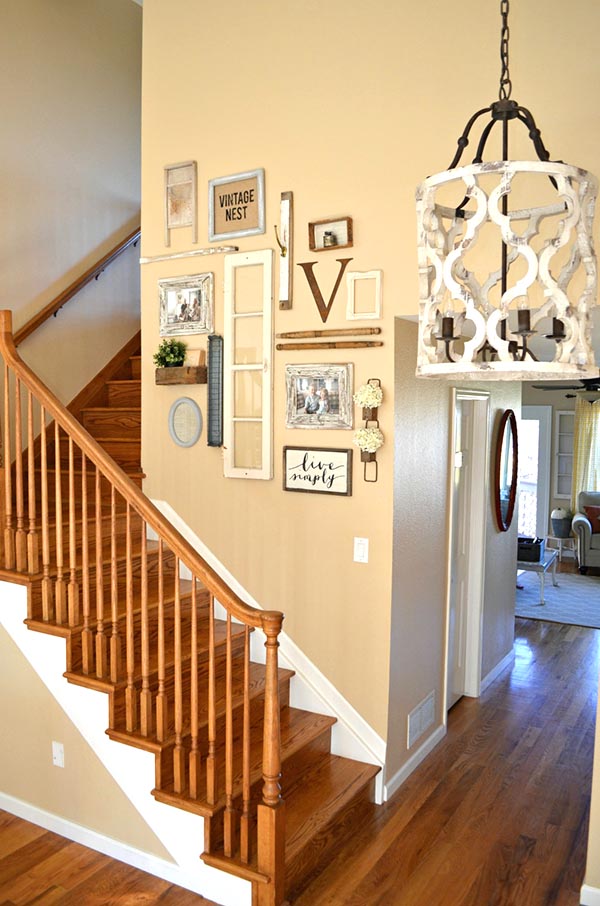 Photo:Credit
Here is a thought – why don't you turn the staircase into a little gallery? It would make your entrance more warm and welcoming.
Plus, the collection would remind you of some sweet memories and people.
20. Create a Festive Mood with a Christmas Staircase Garland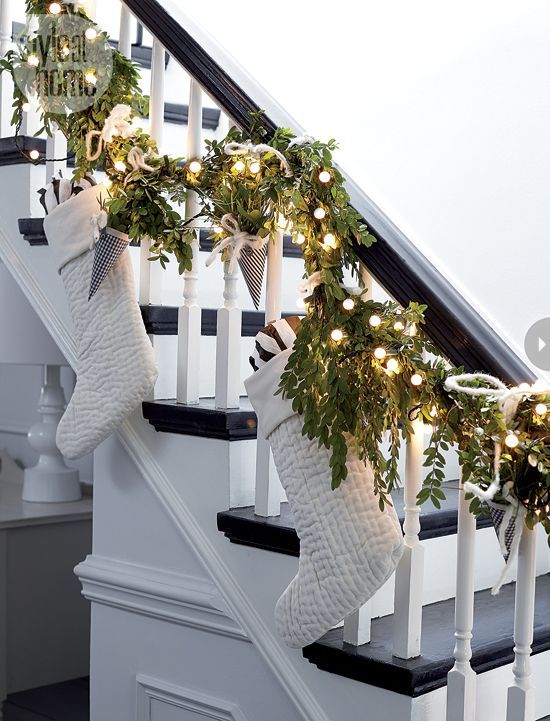 Photo:Credit
Christmas is such a special time of the year!
As the staircase is a centerpiece in the house, make sure you decorate it in the nicest possible way.
21. Enchant Your Stairway with Greenery and Candles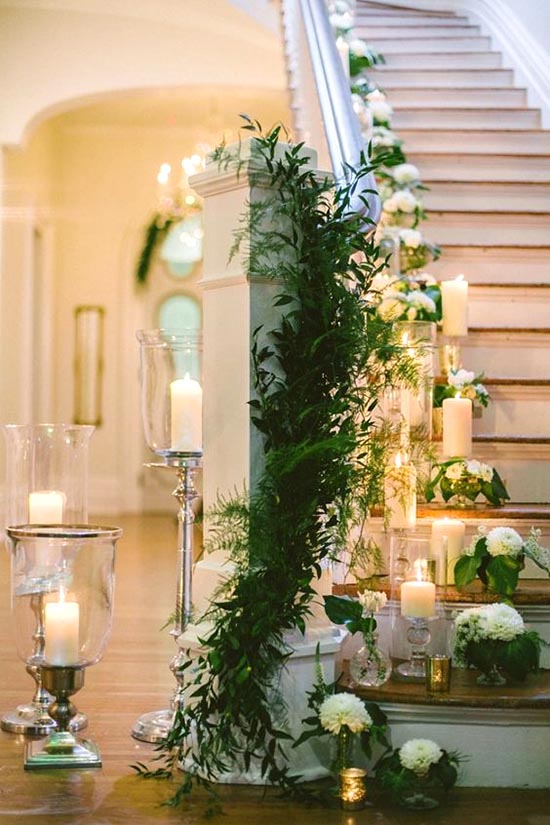 Photo:Credit
The combination of emerald and gold, plus a bit of a greenery, is a great option for a staircase wedding decoration at your house.
Remember – simplicity means beauty!
22. Decorate Staircase with Wheat Bundles for a Farmhouse Look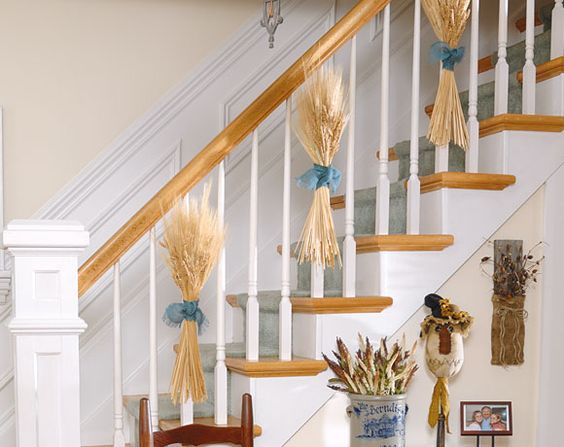 Photo:Credit
Another cute idea for a stairs decoration is to bind plenteous of wheat to your stairway banisters with strips of colorful material or sacking ribbon.
23. Bring French-Country House Vibe with Your Staircase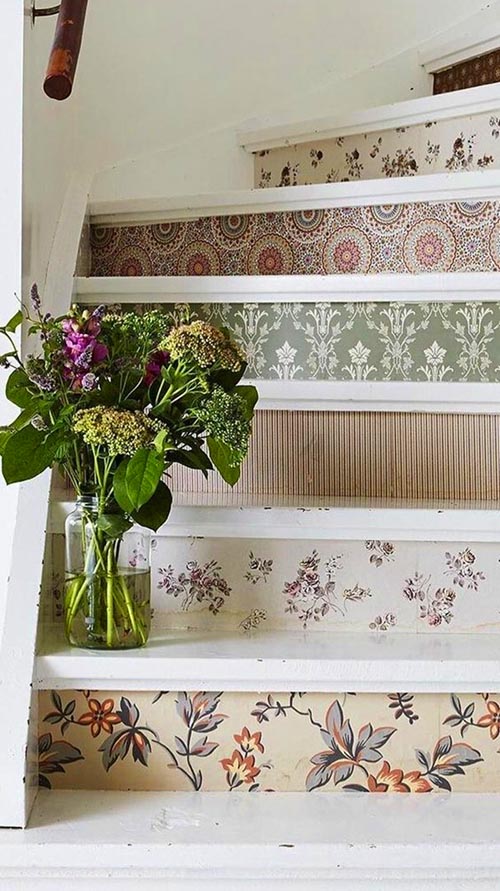 Photo:Credit
When I first saw this photo of a stairs decoration, It reminded me of a little French country house.
Floral decoration is ageless and always brings a cozy vibe to a place.
24. Build Custom Shelves for Your Stair Runner Decoration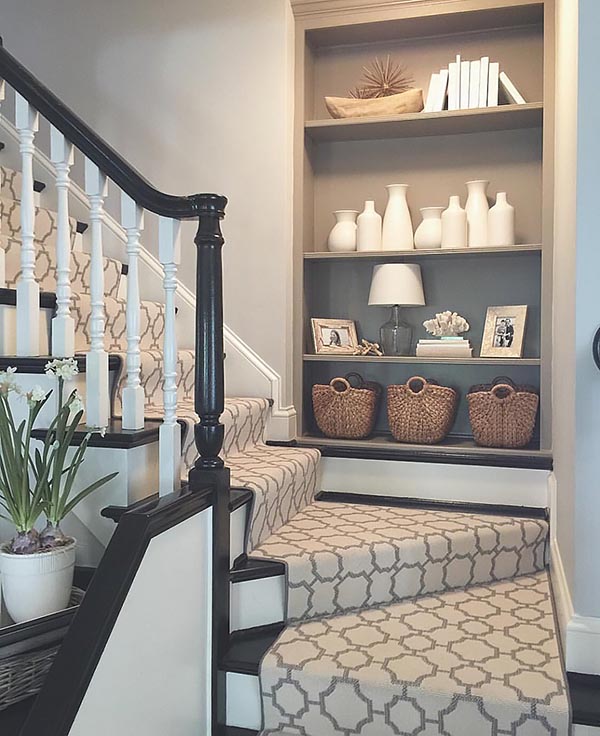 Photo:Credit
This modern geometric runner rug fuses together abstract lines and shapes, and classic patterns to give your staircase a contemporary edge.
25. Show Your Artistic Skills with Elegant Paint Art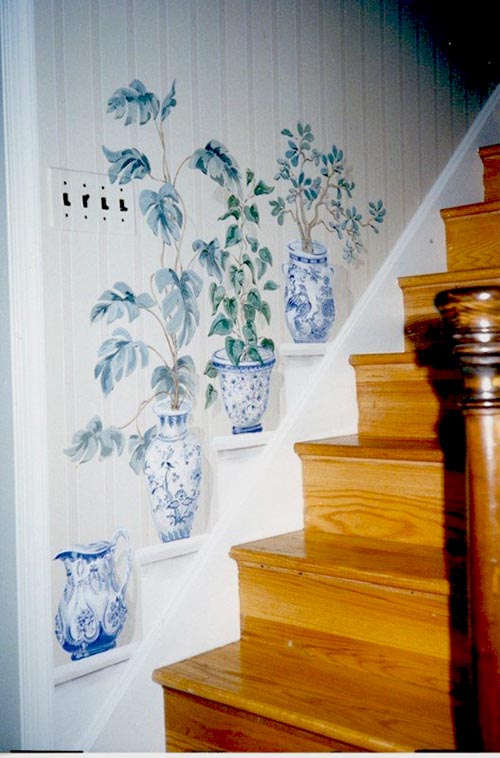 Photo:Credit
For those of you who don't have enough free time to look after some plants, the decorative painting would be a smart choice to transform the stairway!
Take a look at Carol Nagel's portfolio here and find some inspiration. You are very welcome!  🙂
26. Create a Bohemian Stairway with Rustic Planters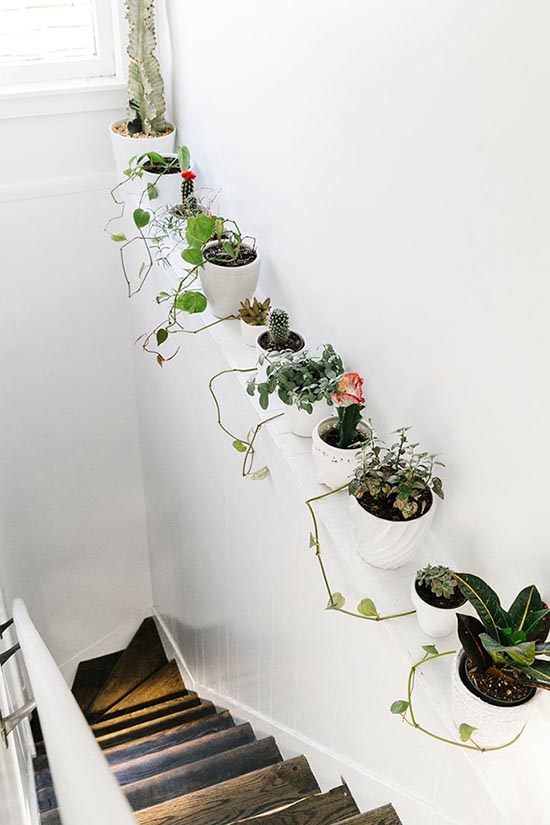 Photo:Credit
How about creating a spot at home where you can stop along your path to take a deep breath and relax?
I love the idea of having a little narrow shelf where I can put some greenery.
27. Set Your Stair Aglow with Natural Lighting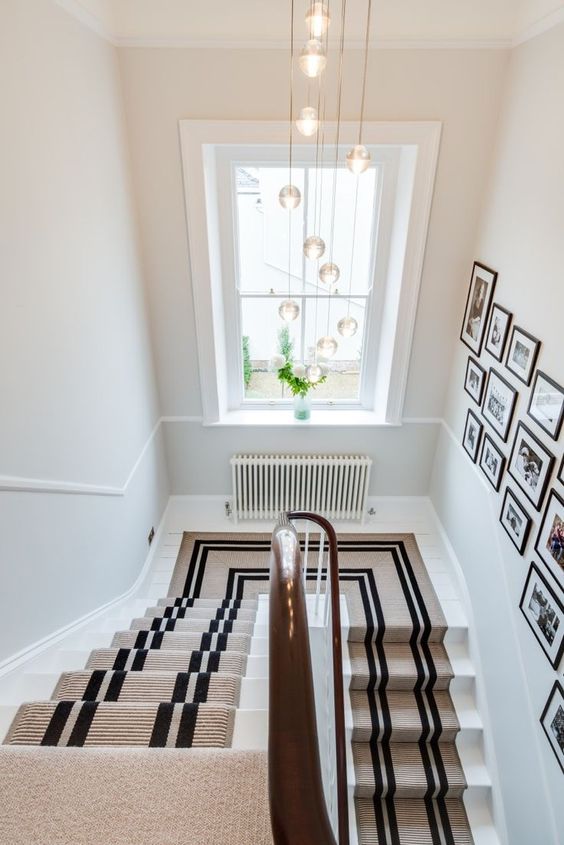 Photo:Credit
The crystal long drop lighting is always a good idea to brighten up the stairway!
It adds some texture and make the entrance to look more stylish and luxurious.