I have always loved to have mirrors at home not just because of their practical use but also because they are a cheap and stylish accessory for a finished look.
We have a series of mirror decorating ideas and this particularly is about the easier and cheap ones.

Moreover, they have almost a magical ability to make the room seem larger and brighter and can be used to visually expand the size of tiny homes.
I have selected 14 cheap mirror decorating ideas to spark your inspiration. Let's have a look!  🙂
1. Create a Rustic Mirror Frame with Sea Sticks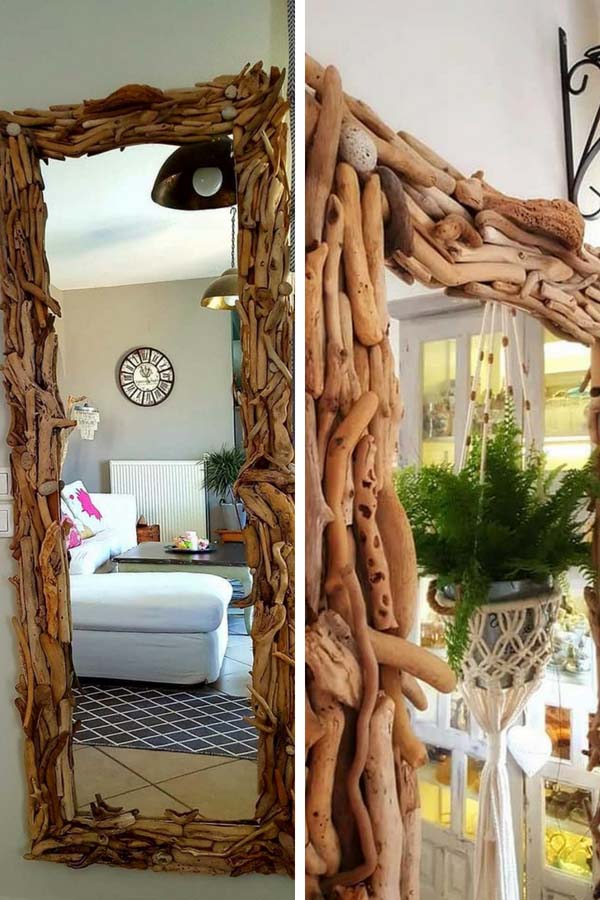 Image:Source
You can decorate a mirror with the stick that are thrown out by sea. Make a wood frame around the mirror, then put the mirror over it and then use some glue to stick the wooden sticks in random pattern.
2. Transform Your Dining Room with a Stylish Trio Of Mirrors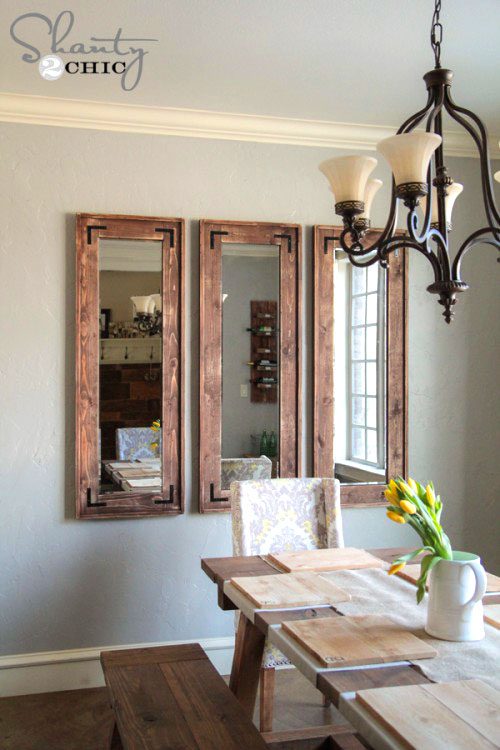 Photo:Credit
Each piece of this triple stylish DIY full-length mirror is made for under $40! Unbelievable, right?
They make the small dining room to look more spacious and adds some visual distance between the room and the wall. Plus, the rustic style is very trendy right now!
3. Bring Vintage Charm with a Distressed Wood Mirror Frame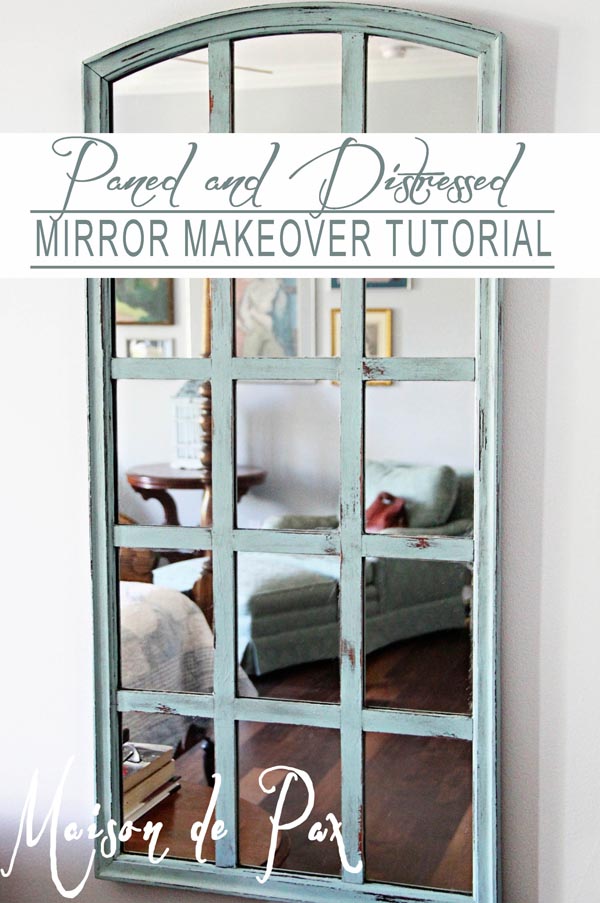 Photo:Credit
Here is something for all the crazy DIYers reading this article! You can easily transform an old window frame into a stylish vintage mirror for either the bedroom or the living room. Recycled window and picture frames are great for DIY projects.
There is a list of everything you will need:
a mirror
unfinished molding strips thinner than your mirror frame
hand saw or chop saw
glue
chalk paint
glasspaper
wood filler
wax (clear)
4. Upgrade Your Mirror with a DIY Tile Frame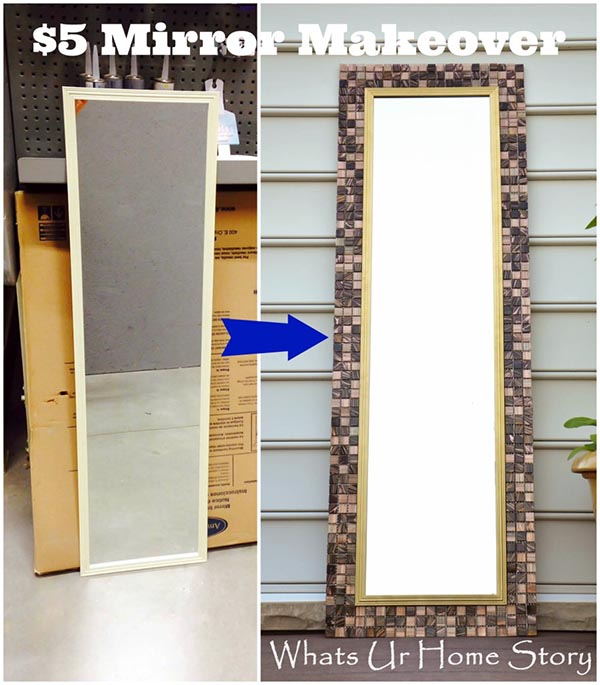 Photo:Credit
I believe that the best ideas are very often the cheapest one. Check out, for instance, this amazing DIY full-length tile mirror frame. It costs less than $10 and will perfectly fit your bedroom.
5. Give Your Mirror an Elegant Look with Flower Motifs Frame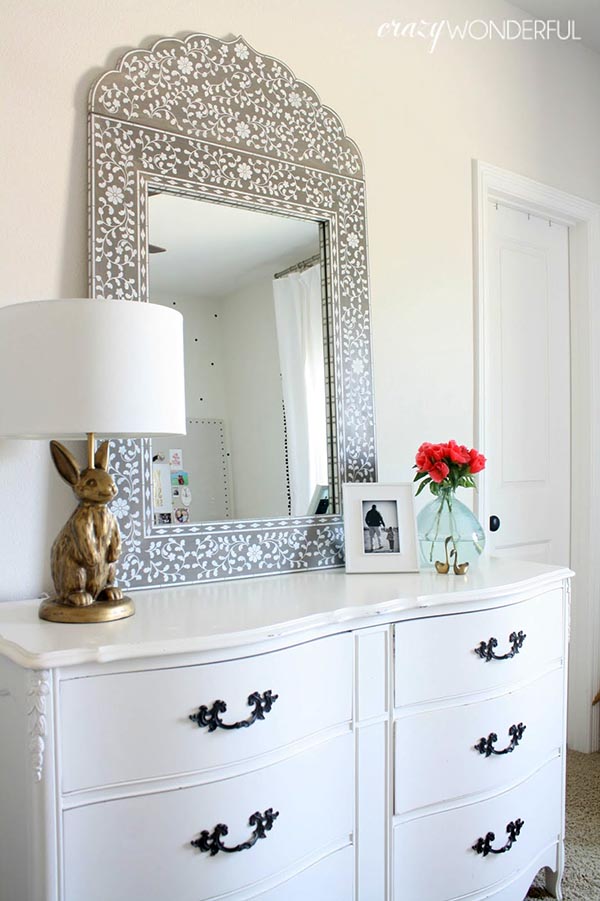 Photo:Credit
When I first saw this picture, I was truly stunned by the uniqueness and the beauty of this DIY wooden mirror with floral motifs. It's a great way to cheaply decorate a teen girl's bedroom. It gently compliments the whole design and gives the room a finished look.
You can find the full step-by-step tutorial here.  😉
6. Adorn Your Living Room with a Simple Mirror Design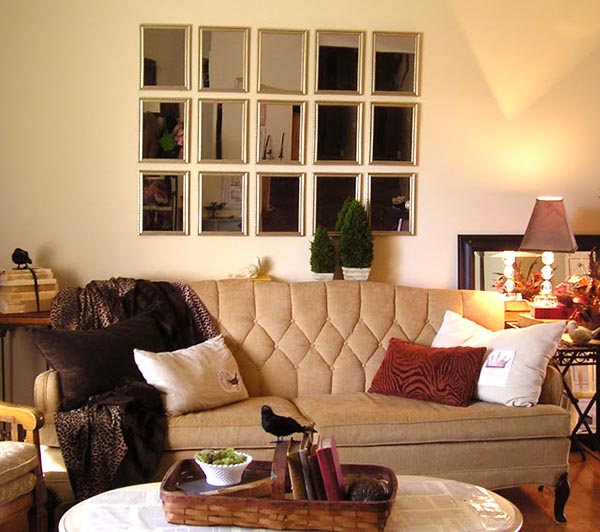 Photo:Credit
I bet every one of you has at least once visited a dollar store/a pound shop.
There are tons of cheap Chinese stuff…some of them useful, some of them not. This DIY design of a mirror for the living room is built of 15 small mirrors bought from one of those stores. I love how simple in a stylish way it looks.
7. Bring Farmhouse Charm with Rope-Wrapped Mirrors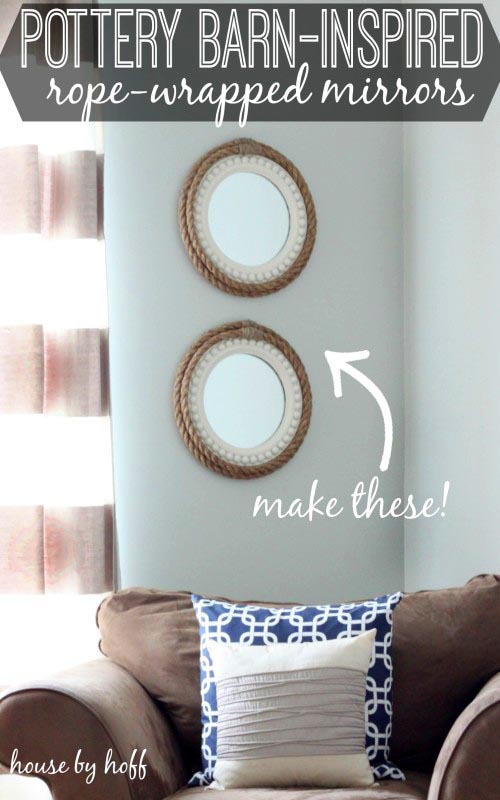 Photo:Credit
Here is an idea what to do if you find some old circular mirrors in your basement – simply freshen them up! How?
Just glue some rope around the old circle mirrors by using hot glue. I love the maritime touch these ropes are adding to the whole living room.
8. Make a Statement with a Rustic Sun-Like Mirror Frame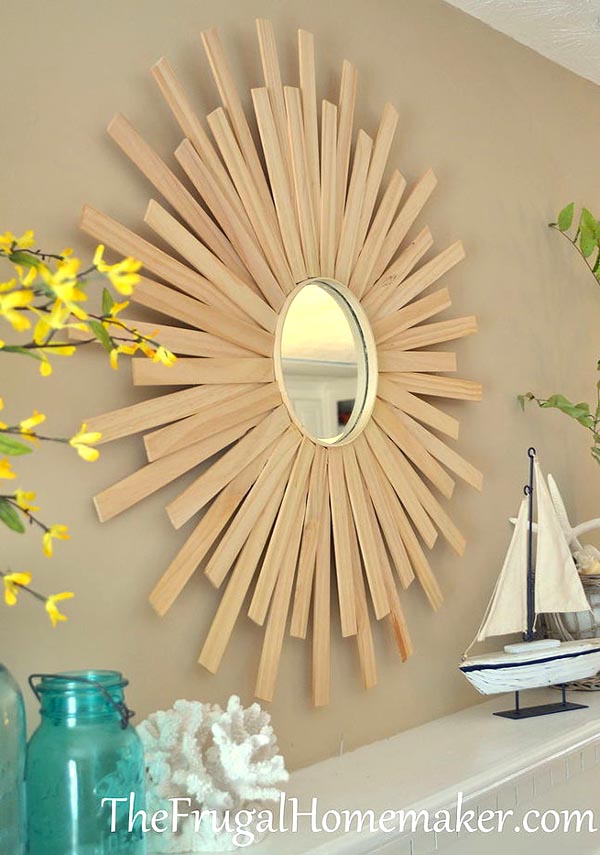 Photo:Credit
I would like to share with you this cool idea of a DIY wooden circular mirror. It brings the sun and the sea waves into your home. Plus, it will not break the bank!
Here is the list with all you need:
a circular mirror
paint sticks (about 50)
wood embroidery hoop
9. Upcycle Pistachio Shells into a Chic Mirror Frame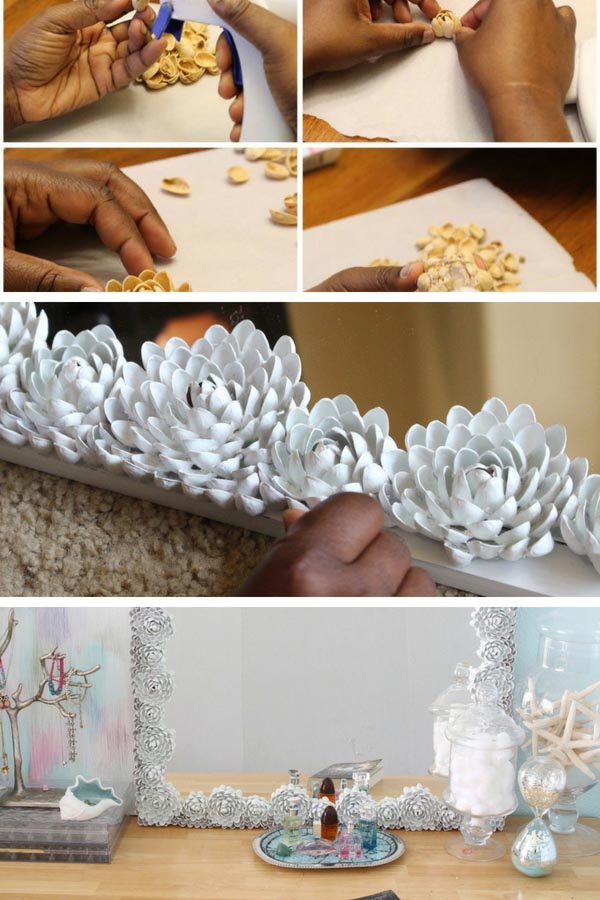 Photo:Credit
To be honest, this is one of my most favorite mirror decorating ideas. It is made of pistachio shells (can you believe it?!) but it does not look cheap! It is very stylish and looks like an expensive accessory.
Here is the full tutorial with pictures. Enjoy!
10. Bring Nautical Vibes with Your Mirror Frame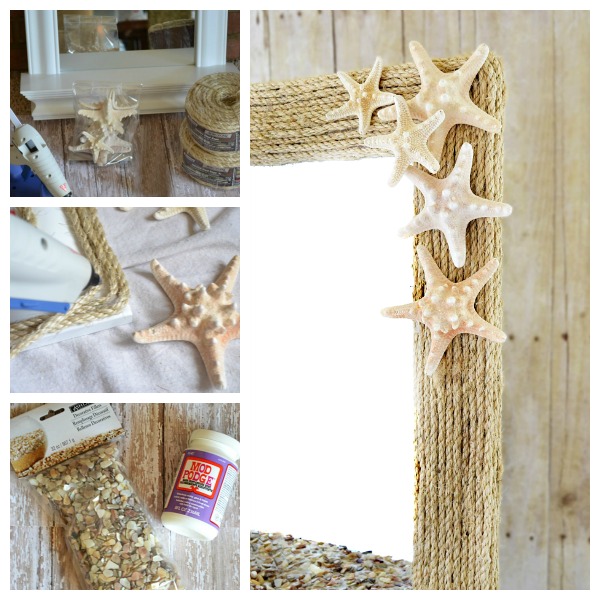 Photo:Credit
I love how this simple framed mirror is transformed into a nautical beauty! I have done it for my home and every time I look at it, I feel like I am on the beach enjoying the summer breeze.
Here is what you need for this cool DIY project:
a framed mirror
100 feet of sisal rope
gun for hot glue
some shells and starfishes
a bag of seashell decorative filler
11. Make a Lasting Impression with an Oyster Shell Mirror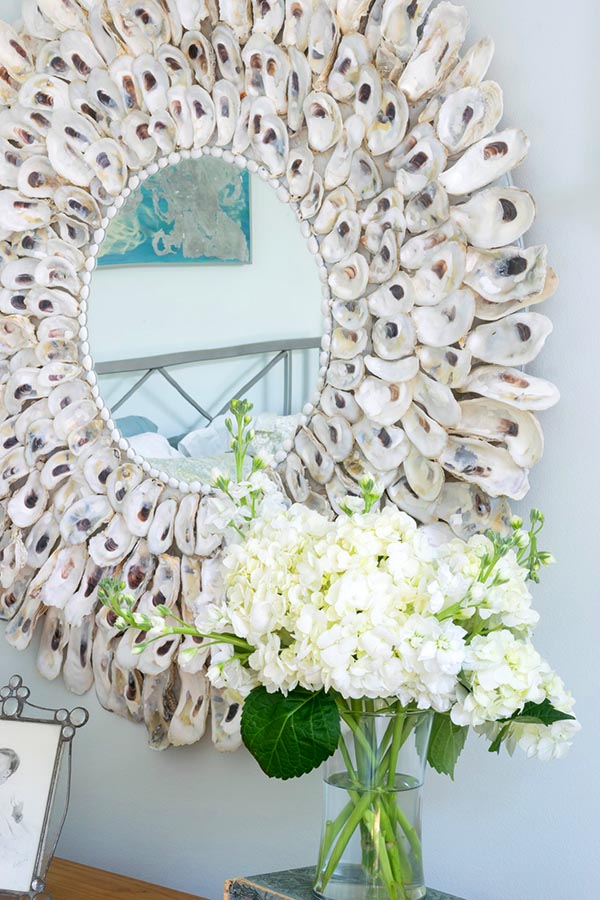 Photo:Credit
And speaking of beaches and summer breeze, I want to share with you another ocean themed mirror idea made of lots of Oyster shells.
All you need is a simple circular mirror, some hot glue, and a big bag of shells. This project would need about 3-4 hours and the result is more than stunning!  🙂
12. Bring an Industrial Vibe with PVC Pipe Mirrors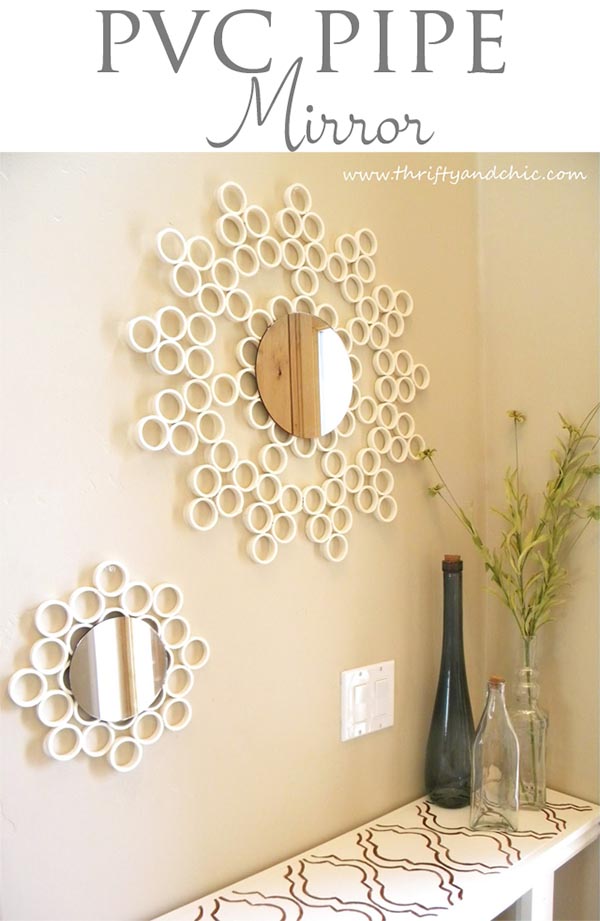 Photo:Credit
Here is something else for those ones of you who are crazy about DIY projects and have some spare time!
This beautiful asymmetric mirror frame is made of PVC pipe cut into small pieces.
Related: 20 Creative PVC Pipe Ideas Anyone Would Use!
It pairs well with other materials such as wood and glass. It won't be expensive to build it but it will add very cosmic touch to the room. The 'hardest' part of the process is to cut the pipes into small regular pieces.
13. Enhance Your Mirror with a Rustic Wooden Backdrop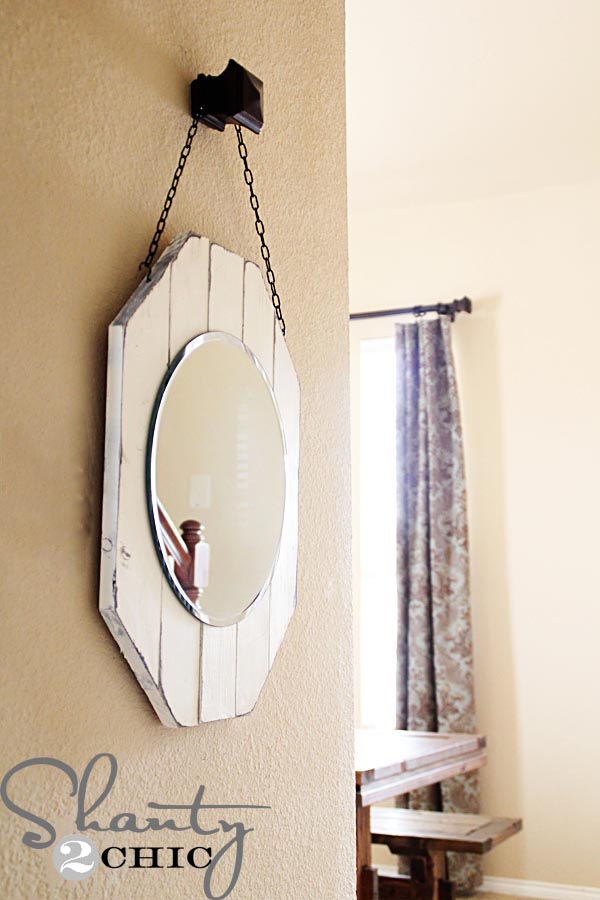 Photo:Credit
For those of you who are on a tight budget, this cute mirror will cost less than $20 and 2 hours of your free time.
It would fit well a home with a prevailing wooden design. You can check out the full tutorial with pictures here. Enjoy!
14. Indulge in the Lavish Look of Amethyst Stones Mirror Frame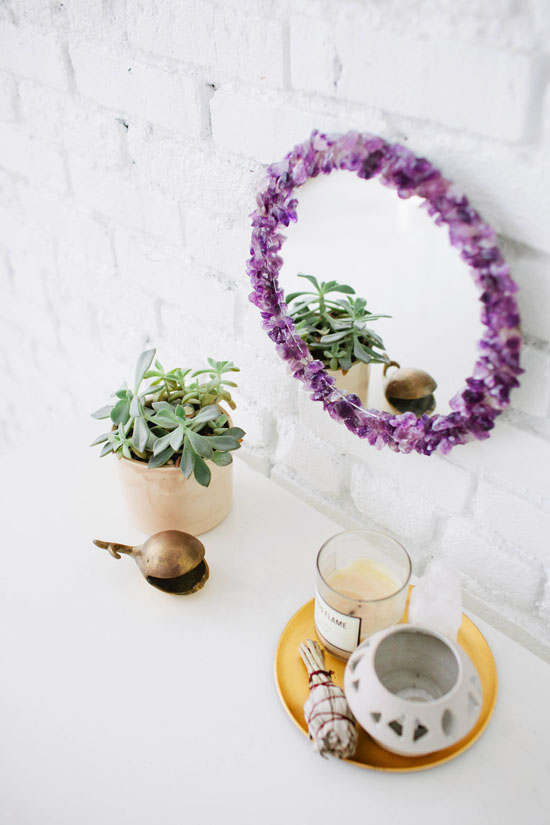 Photo:Credit
I have always been a big fan of the minimalism and the simple designing.
When I saw this picture, I instantly fell in love with the mirror. It is circular and made of small amethyst stones. You can use it as a purple accent in your bathroom.
I love the contrast between the purple color, the white decoration, and the greenery. This is definitely one of my Top 3 mirror decorating ideas. I hope you like it, too.
Bonus: Large Mirror Decorating Ideas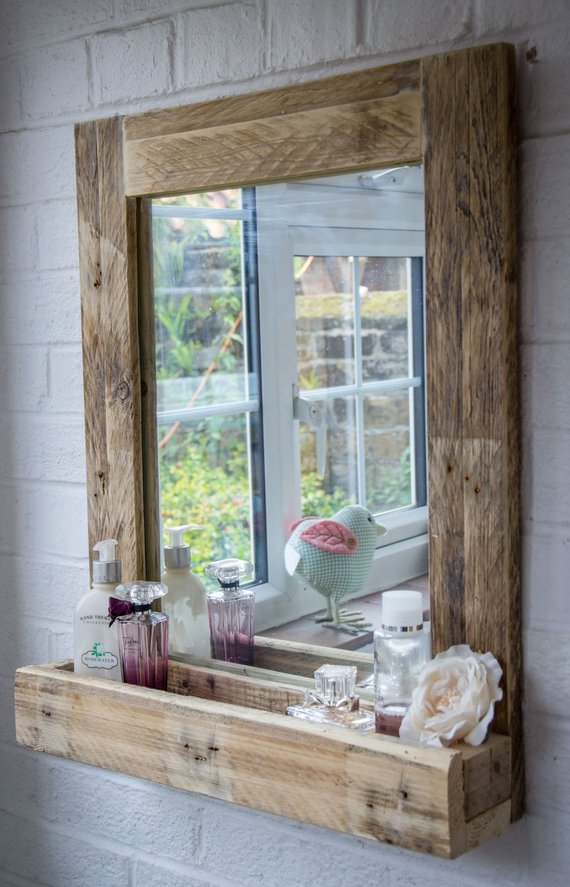 Photo:Credit
This lovely DIY mirror (and storage section) made of reclaimed pallet wood with dimensions of 60cm long / 49cm wide / 12cm deep brings a strong rustic feel into your bathroom.
It can be very easily made and it does not require a big budget… what else you would want?