When it comes to the basement it's always hard to start remodeling and it's not because we don't want to have a nicely decorated and useful basement, but because getting some good ideas is really hard even with the modern technology and all the photos and projects that we can find for free on the Internet.
First thing to consider is what we would like to do with our basement or what do we want to be in that basement after the remodel. Do we want a TV seating area, a playground, a bedroom, wine cellar, guest room or something else?

Then we should think about the needed space. If we want a home office we can start arranging the furniture in our mind before starting to remodel. Do we need a lot of sockets to supply electrical equipment?
Start with the electricity and plumbing first, because these lines can't be moved once installed. Then think about the walls, ceiling and the floor. Sometimes there is a lot of moisture in the basement, so you should buy paint and floor tiles that will stop the moisture.
Don't go with very dark colors as this would require a lot of light and lighting fixtures installed in order to get enough light. Assuming there are no windows in the basement.
Related: 10 Best Paint Colors For Small Bathroom With No Windows
After doing all the installation and painting you can choose the style of the area – could be modern, classic, rustic, farmhouse or any other type that you like.
The following 22 basements remodel ideas can give you some fresh ideas before you start your project.
1. Make an Impact with Colorful Walls, Wood Floors and Ceilings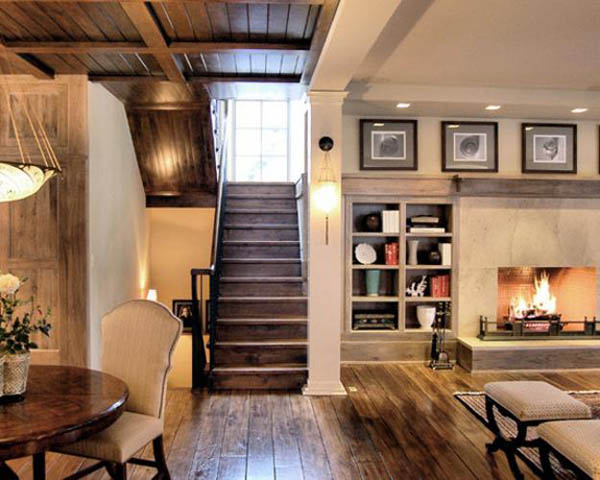 Photo:Credit
One of my favorites , not only because of the fireplace, but also the warm pastel tones for the walls and furniture. Great combination with the dark wood ceiling and floor for accent.
Some decoration over the fireplace and nice small book case.
2. Transform Your Basement into a Cozy Refuge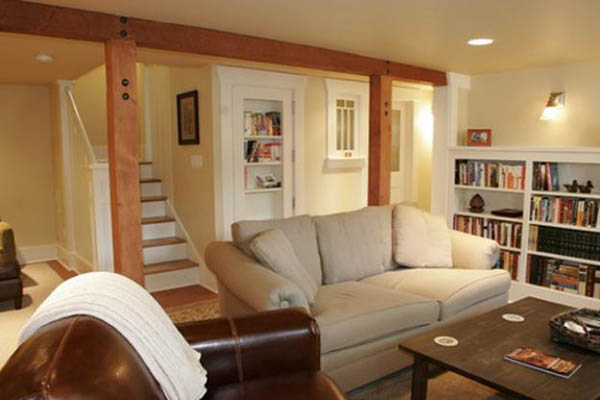 Photo:Credit
You don't need a lot of crazy fashionable ideas to create a small cozy and warm basement. Nor a fancy sofa.
Just use simple furniture, a nice couch for example and light colors and voila – your best room is ready to move in. You can easily read a book here or just have some time for yourself.
3. Turn Your Basement into a Book Lover's Paradise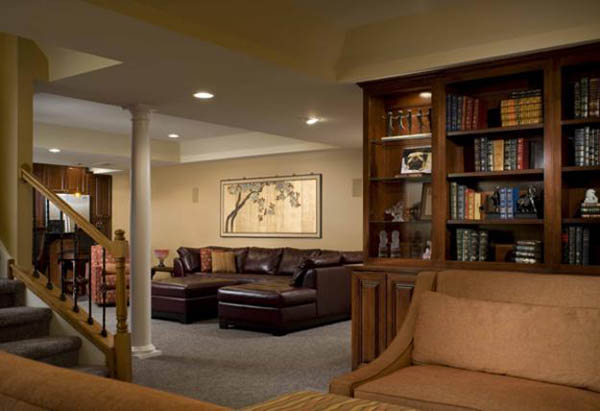 Photo:Credit
If you love to read and have a lot of books, then make your basement a place to relax, read and store all the book collections that you have. You can also create a reading corner.
This one is big enough to have some friends and play cards or just chatting.
4. Bring Farmhouse Charm with Your Basement Decor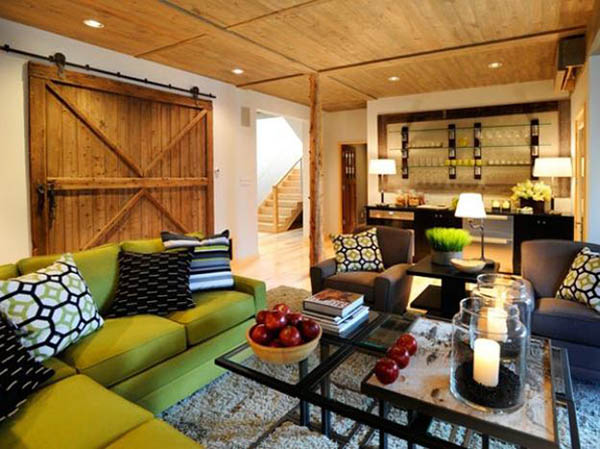 Photo:Credit
I'm not sure if this is a real barn door or just a nice decoration, but it looks really good in that basement.
Adds some accent and creates a farmhouse decor style atmosphere.
Fresh colors are chosen for the sofa and some green plants are also there ( might be artificial though )
5. Add Texture and Character to Your Basement with a Fireplace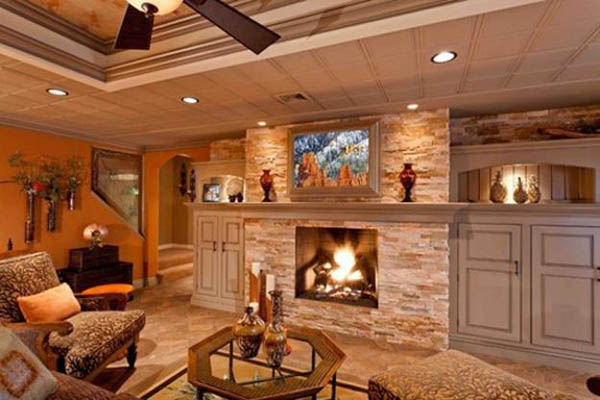 Photo:Credit
This one is like dream home for many of us, but for someone it's just a basement with all the extras one would like – fireplace, ceiling fan, comfortable sofa and the only thing missing is some good company and a bottle of wine or if you prefer – tea.
6. Transform Your Basement into a Cozy Entertainment Spot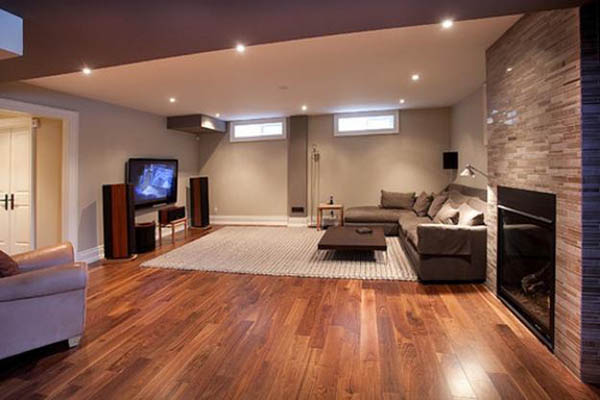 Photo:Credit
Create a room where you and your family can enjoy movies or Saturday's night game with the volume maxed out.
There is also a fireplace to create more cozy atmosphere.
7. Let Your Wine Mature in a Rustic Basement Design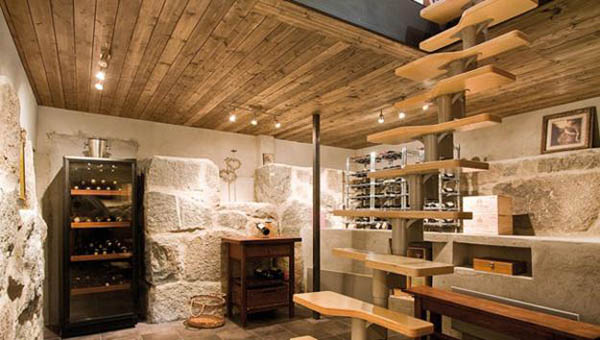 Photo:Credit
The most popular basement purpose is the a wine storage. A perfect place to store your repurposed wine barrel projects.
If you have some good wine, that's the perfect place to store it and get some friends to taste it.
8. Bring Rustic Elegance with a Wooden Pallet Wall Accent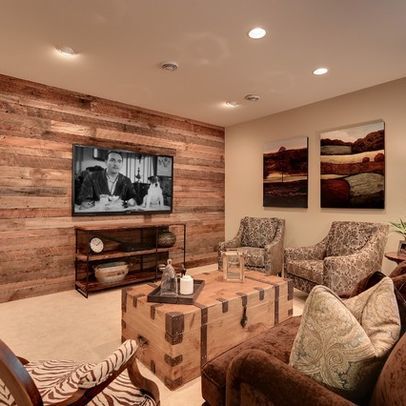 Photo:Credit
I bet you've never thought about using wooden pallets to make a wall cover and then put a TV on it? Well, this project reminds me of a pirate ship with the wooden chest used as a table.
9. Have Fun in Your Basement with a Pool Table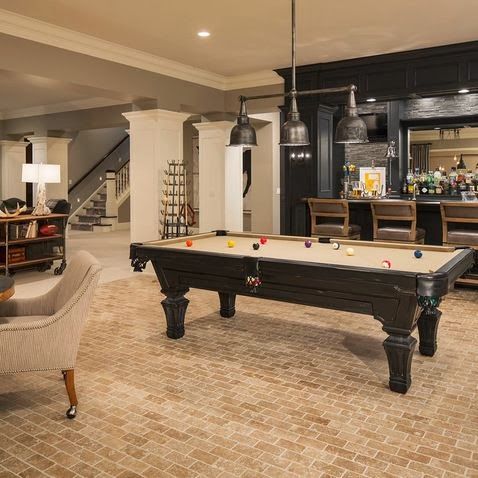 Photo:Credit
If you can afford it you can put some nice pool table and play with your friends and family.
There is also a fully loaded bar and the area looks very large so maybe this one is like a basement floor in a big house.
10. Make a Statement with Modern Basement Interior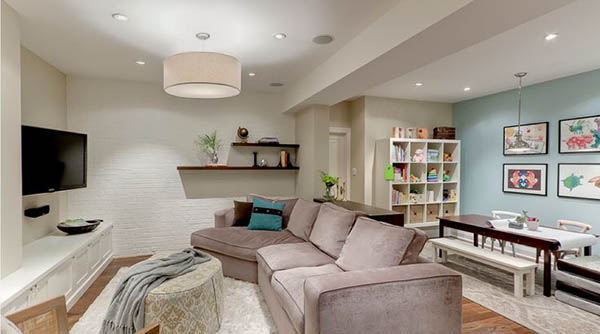 Photo:Credit
When you don't have any windows you can put some lights on the ceiling and some light and fresh colors for the furniture and walls and it looks like it's a normal room. This concept is about modern trends – turquoise and neutral beige paint colors.
11. Add a Touch of Homely Luxury with Your Basement Decor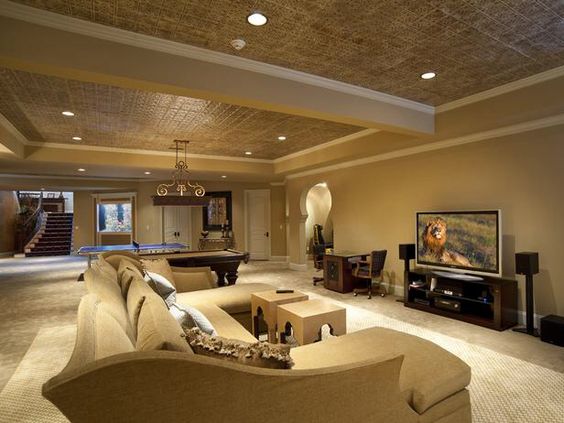 Photo:Credit
This one is really great. Big and spacious. Nice sofa and big TV screen makes it a perfect getaway from the daily routine.
12. Give Your Basement a Cheap and Easy Makeover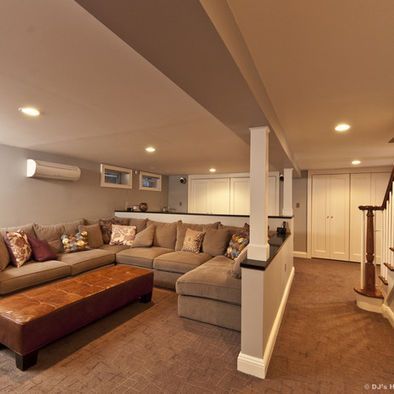 Photo:Credit
How to remodel on a budget? Here is the answer – use furniture that you already have and don't buy expensive items to decorate the basement. Easy and simple.
13. Add Splendour to Your Basement with a Gorgeous TV Area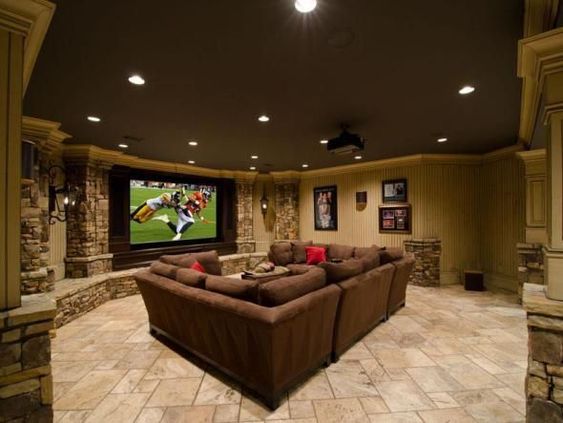 Photo:Credit
If you can afford it then do some breath taking TV area in your basement to impress your guests. Combine dark colors and expensive materials and furniture.
14. Elevate Your Basement Design with a Mini Bar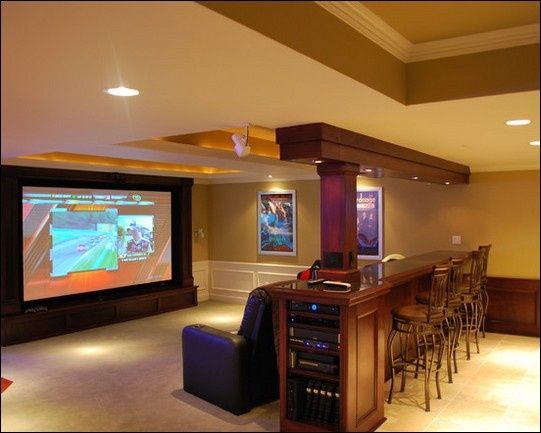 Photo:Credit
The best bar to watch the game could be in your place. Invite all your friends and enjoy the home atmosphere with some bar drinks.
15. Give Your Basement a Polished Look with a Makeover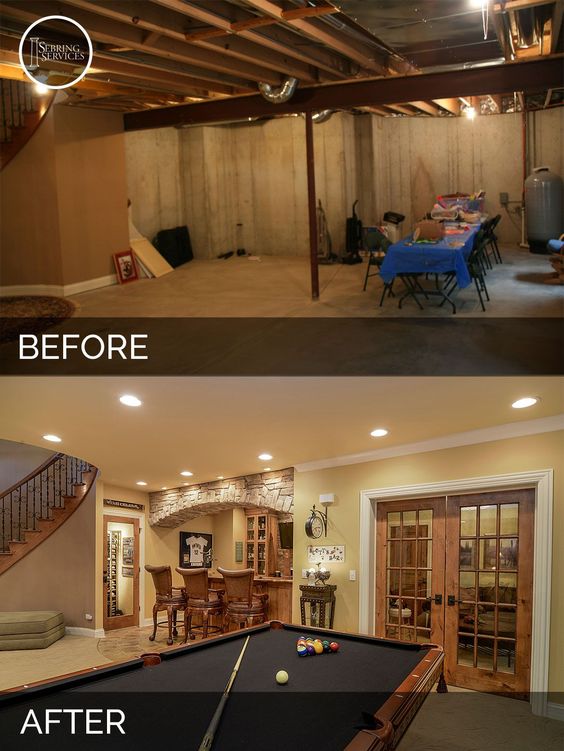 Photo:Credit
This one shows that everything is possible if you want to do it. From this ruined place to this amazing basement. It's all about your dreams.
16. Bring Contemporary Vibes with Your Basement Design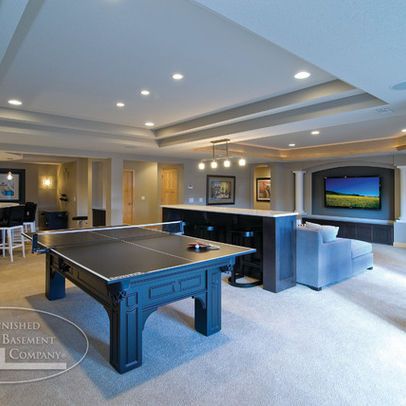 Photo:Credit
This one here can be used as a gym or just a room to play table tennis. It's so spacious you can put all gym tools inside.
17. Transform Your Basement into a Modern Living Room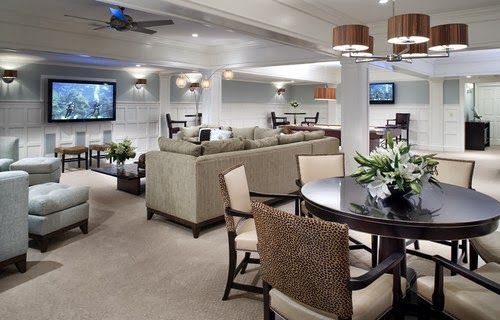 Photo:Credit
When I look to this picture I can't believe it's a basement, it's so well designed and decorated
18. Create a Glamorous Retreat with a Basement Bedroom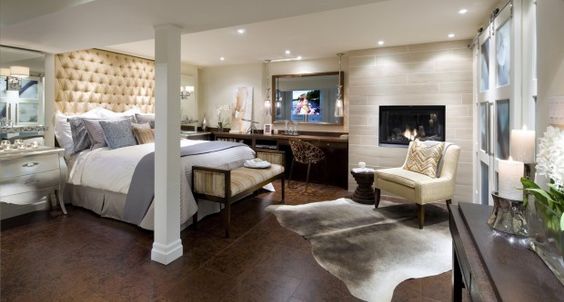 Photo:Credit
When you inform your guest that they will stay in the basement, they will be really surprised to find it the best bedroom they've ever seen. The bedroom headboard takes the whole wall.
19. Get an Elegant Look with a Neat Basement Arrangement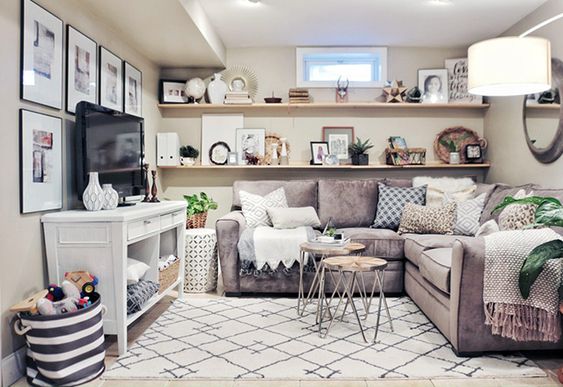 Photo:Credit
This is really small basement, but it's so well decorated! Everything is in place – from couch to the TV. Floating shelves and wall decoration makes the room so cozy and inviting.
20. Make Your Basement Airy with a White Color Scheme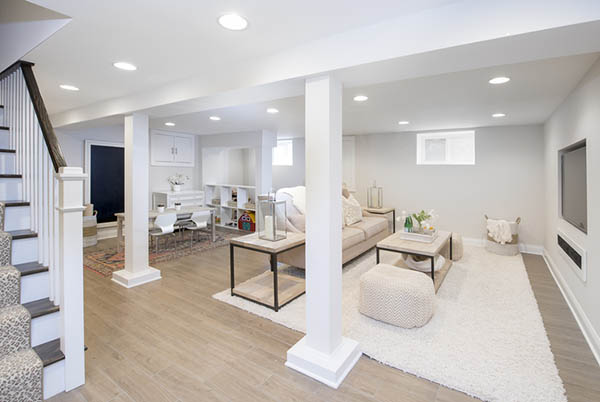 Photo:Credit
If you thought basements are dark and scary, take a look at this basement project. It's so well designed with the open space idea in mind.
21. Add a Pop of Color to Your Basement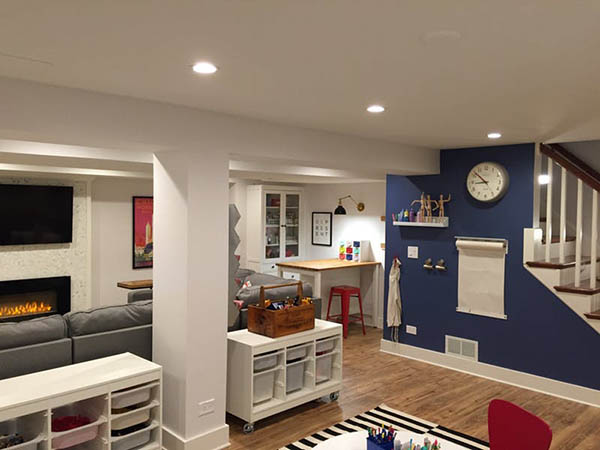 Photo:Credit
You won't believe what this basement looked like before remodeling…see all details here
22. Bring Character and Warmth with Your Basement Furniture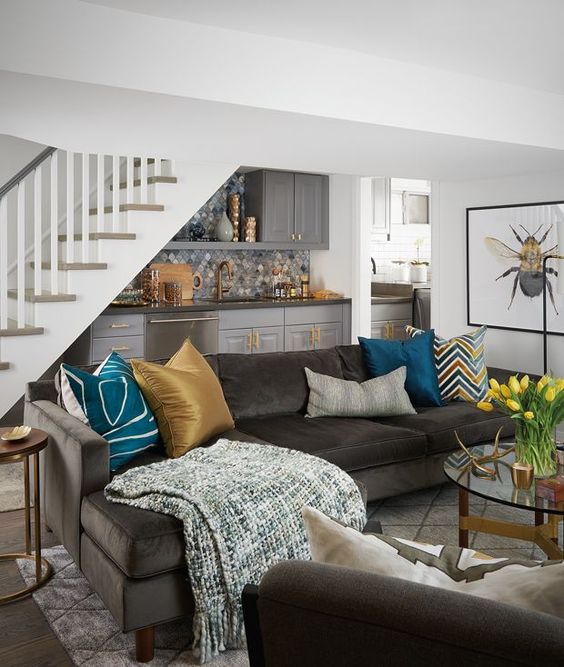 Photo:Credit.
That's my favorite one! Great combination of colors, decoration and furniture. Simply the best!