Constructing a flower bed is an easy and effective way to add some color and character to the outdoor area. You may have some fresh ideas and a raw plan how you want your garden to look like.
However, there are some important aspects to consider before to start building it.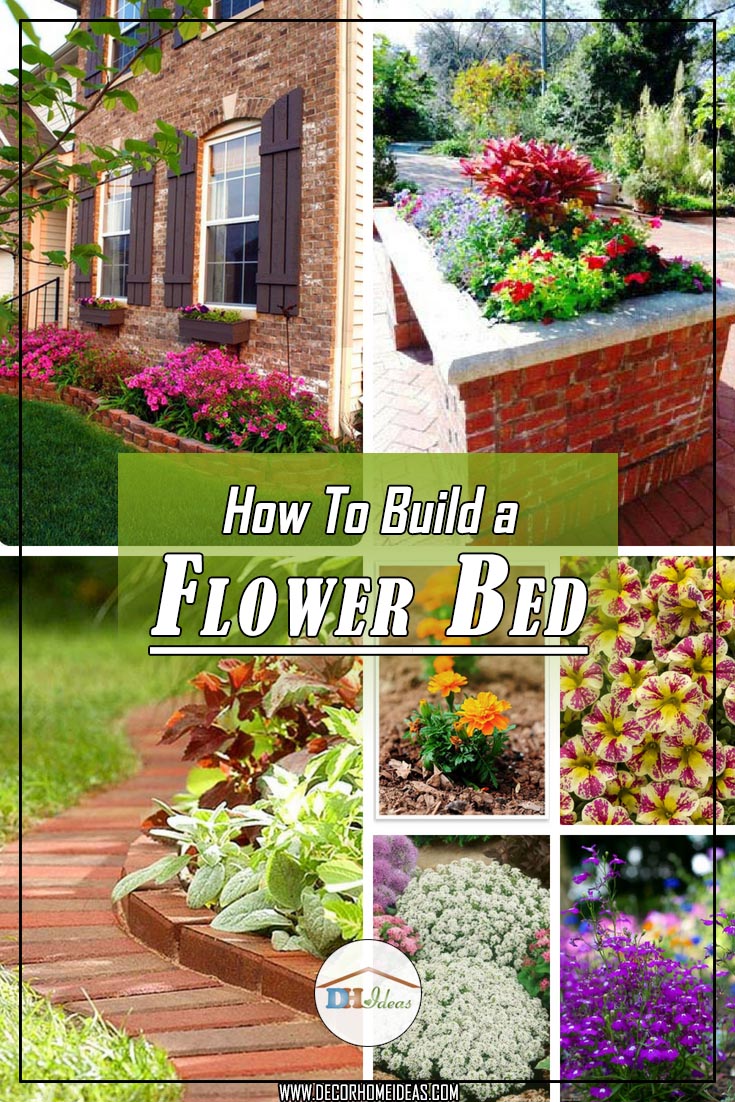 Here are some useful tips to get you started.
How would you set up a flower bed?
The first and the most important thing to consider right before to start building a flower bed is the soil preparation. In fact, this is the key factor for a healthy plant growth.
https://www.youtube.com/watch?v=oQcNKs1iTjk
You can get the proper soil from here: Raised Bed Soils
To start with, there are three general kinds of flower beds you might be preparing.
The first kind is a brand new bed that has never been planted before.
The second one is a currently deserted bed that has been planted before, and the third kind is a bed with existing flowers and plants.
Depends on the type of the bed you are working on, the process of soil preparation would be different.
1. A Brand New Flower/Plant Bed
When making a brand new flower bed in the garden, the first step is to get rid of the existing vegetation (especially the useless weeds).
Some experienced DIY gardeners cover the soil of the bed area with lots of layers of newspaper, and then with a thick layer of compost. In this case, the useless vegetation cannot breathe properly.
In other cases, depends on how stubborn are the weeds and the grass, some gardeners are choosing to use glyphosate herbicide. Just keep in mind that, if you are using it as well, it is required to wait at least a week before to start planting the new flowers.
Once the useless flora has been killed, you will need to turn the soil over to a depth of about 10 inches and to add 2-4 inches of compost.  Do not forget to work the soil only when it's moisturized but not too wet. In case of a heavy shower that day, wait at least a day to dry out a bit.
2. An Empty Flower Bed That Used To Be Planted
The soil preparation for existing beds is identical to the one for the brand new ones.
You are basically replanting the same bed with new flowers and plants. You just make sure all the weeds are being killed and feed the soil with some organic matter.
Also, as I mentioned in the previous paragraph, make sure the soil is moist but not too wet or too dry (you can easily check by picking up a trickle of soil and squeeze it).
3. Already Existing Beds With Plants
I truly find this type of flower beds the trickiest one as it already contains some perennials, bulbs, and shrubs. You may ask yourself why?
Because, firstly, you should be extremely careful not to harm the existing plants' roots while preparing the soil. Secondly, you cannot use chemicals (such as glyphosate herbicide) to kill the weeds as it can easily kill the existing flowers as well.
The rest of the process of soil preparation for this type of beds is similar to the one for the other two types – add 2-4 inches of natural compost on the top layer and make sure the soil you are working is moisturized enough.
How to build a flower bed?
Before to actually start building the flower bed, make sure you have a clear plan/sketch. If it is made well, it may complement the architectural features of your house.
To start, you can outline the future bed's boundary by using the garden hose or flour.
It can be easily moved and remade until you find the right size and shape for your flower bed.
Also, think about the location – if there will be enough sunlight or it will be shady.
When you clear this up, you will know what types of plants and flowers to choose from. Last but not least, determine where is the nearest water source… you don't want your beautiful flowers to dry out, I guess!  😉
How to make an edge between the grass and the flower bed?
If you search on the internet, you can easily find out how to build a stone or brick flower bed border between the grass and the flower beds.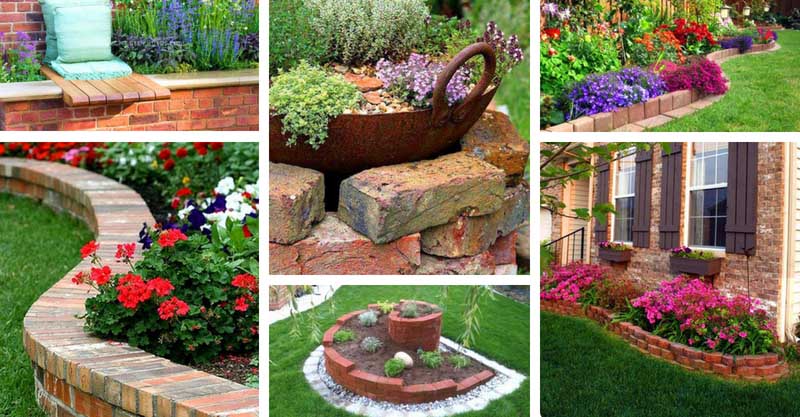 However, the easiest and the most effective way to maintain a great edge between the lawn and the flower beds is by using the shovel.
It helps to maintain the line between both and to weave out the bare soil where the sod was removed with a rake and clean up any remaining pieces of grass or roots.
Related: 25+ Amazing Lawn-Edging Ideas For Your Garden
Flower bed designs and ideas
Once you are done with the soil preparation and the sketch, you can dig a bit for some fresh flower bed design ideas. And trust me – that is the funniest part of the process!
Don't miss these: 30 Gorgeous Flower Bed Ideas To Try Today
Just to give a little twinkle to your creativity, here are some of the most popular flower bed designs:
Building raised flower beds with pavers or stones – you can experiment in million different ways. Plus, it adds a lovely rustic vintage look to the whole landscaping
Getting symmetric  flower bed design for the front of the house
Using a beautiful flower/plants bed to cover unattractive backyard features such as air conditioner, storage shed, bin cans etc.
Edging the garden by building brick border flower bed
Call attention to your patio by creating a wooden fence all wrapped in flowers or by building a raised flower bed with beautiful greenery
To make the garden look more dramatic and stunning, play the two-colors combination card. Here is the basic color wheel to help you understand the relationships among colors: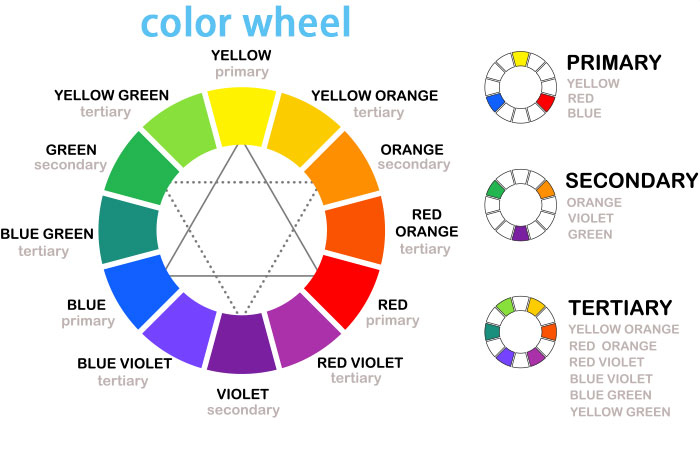 More info on colors: Here
Flower bed plants
As you've already planned the flower bed, killed the useless grass, done the soil prep, and you edged your destined to-be-planted site: now it's the right time to plant the bed.
There is a countless amount of flower bed plants out there. You will just need to pick flowers that coop well with the local climate, obviously, and are suited to your blossom bed's area and exposure to daylight. In any case, past that, the best blossoms are the ones you adore the most.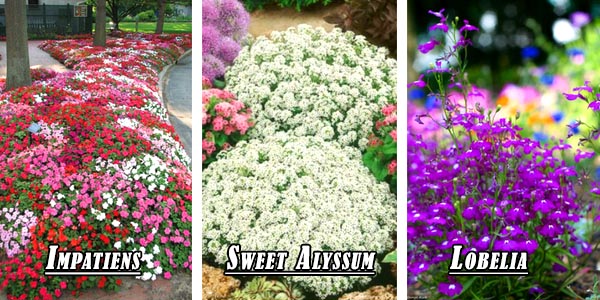 Add punch to bloom bed outlines in the front of the house with a bright blend of changed stature wonders like zinnias, snapdragons, stock, or marigolds.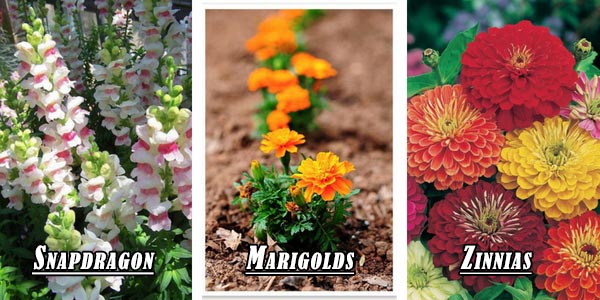 Tall blossoms, including sunflowers, hollyhocks, and the cosmos flower, are ideal for a little bloom bed plan around the means of your entryway patio or along a property fence.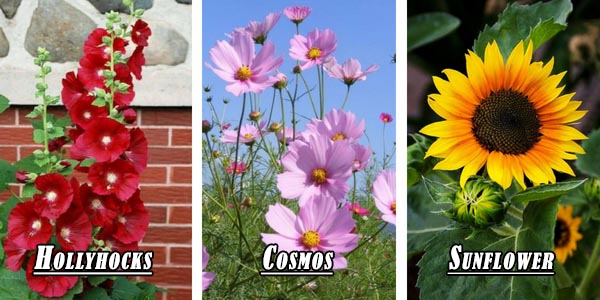 Raised flower bed planting thoughts incorporate an inside column of tall and medium-stature sprouts with a fringe of falling blooms like bacopa, ivy geranium, greenery rose, or calibrachoa.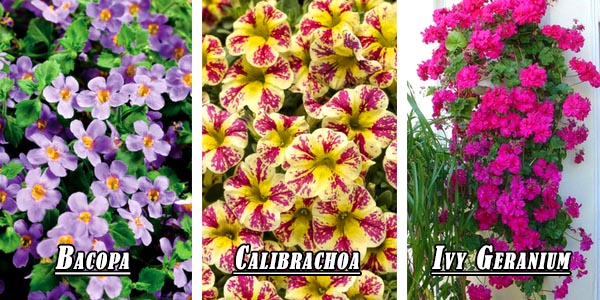 Other flower bed plant thoughts incorporate a garden of single-shading blossoms, an enthusiastic blend of red-white-and-blue sprouts, a pastel bloom bed, or a "moon plant" planted completely in white blossoms.
Why should I build a raised flower bed?
The raised flower beds are one of the most preferred types of beds and have tons of benefits.
First of all, they are appropriate for both small garden spaces and spacious yards. Second, the better drainage and deeper rooting improve the plants' productivity.
Also, this type of beds saves you the time for killing weeds as the bed is elevated away from surrounding useless vegetation.
Last but not least, those of you who will eventually focus on DIY building raised flower beds, would be able to save their back and knees from the strain and pain.
What is exactly a raised flower bed?
An important question that needs an answer.
This is basically an extensive planting holder that sits over-the-ground and is loaded with soil and plants.
It is a container with no base or best—a casing, extremely—that is put in a radiant spot and loaded with great quality soil—to end up a wellspring of pride and delight, and a highlight of the garden.
More info on raised bed gardens: 21 Raised Garden Bed Kits – Ultimate Buying Guide
How to build a raised flower bed?
Here is the answer to how to build a raised flower bed in 6 easy steps:
To support timber beds, put wooden stakes at each corner (and each couple of feet for longer beds). Place within the bed so the stakes are less noticeable
Drive the stakes around 60% (2 feet) into the ground and leave whatever remains of the stakes uncovered over-the-ground
Guarantee that the stakes are level with the goal that they're in the ground at a similar stature, or you'll have uneven beds
 Set the most reduced sheets a few creeps subterranean level. Watch that they are level
Utilize electrifies nails (or screws) to settle the sheets to the stakes
 Include any extra columns of sheets, settling them to the stakes, as well.
What is the best wood for the raised flower bed?
While choosing the wood for your future raised flower bed, keep in mind that investing in more expensive woods, such as cedar, will save you lots of money in future as they will last longer.
Some of them accommodate natural oils that prevent rotting and make the raised flower bed more resistant.
Concrete blocks, stones, and bricks are great alternatives to wood. However, consider the result you are focusing on.
Building a raised flower bed planter box
Annuals flowers regularly have a shallow root framework and develop well in a grower box with an 8-inch depth. Perennials, similar to globules, require a more profound planting box profundity.
Huge globules require a planting profundity of 8 inches, which implies the grower box ought to take into account the 6 inches required at the base, as talked about prior, making the profundity no less than 14 inches.
Most littler globules are planted at 3 to 4 inches down, so they would do fine in a grower box with an 8-inch profundity. Perusing the bundle or holder planting directions can help while deciding appropriate grower box depth.
Building a flower bed without any preparation may appear to be threatening, all things considered, it's a genuinely simple venture that pretty much any passionate DIYer or plant specialist can ace.
The time spent in arranging, planning, and getting ready will be reimbursed many circumstances over once you're appreciating your delightful blooms. Hope I've managed to help you a bit! Now…it's your turn!  🙂
[pt_view id="99e2b48lvs"]