Purple is one of those colors which always make a strong statement, grab attention, and give your home a luxurious look. The majestic presence of this color is just proven!

If you agree with me, let's have a look at these 35 of the best purple bathroom ideas. Hopefully, you will find the perfect match for your own bathroom!
1. Transform Your Bathroom with a Purple Vanity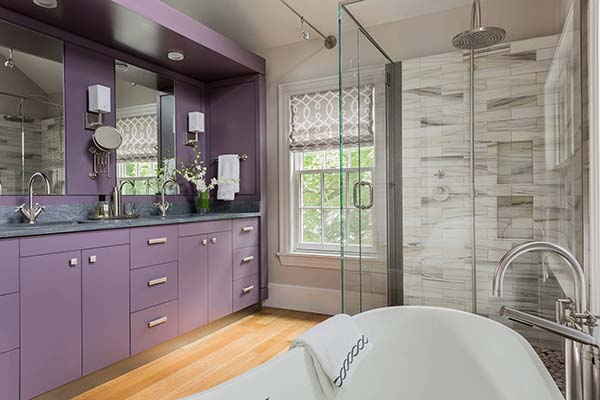 Image:Source
To start, the purple bathroom vanity is very chic and perfectly fits the contemporary space with frameless glass shower area and bright wooden floor.
2. Enchant Your Bathroom with a Dark Purple Mirror Frame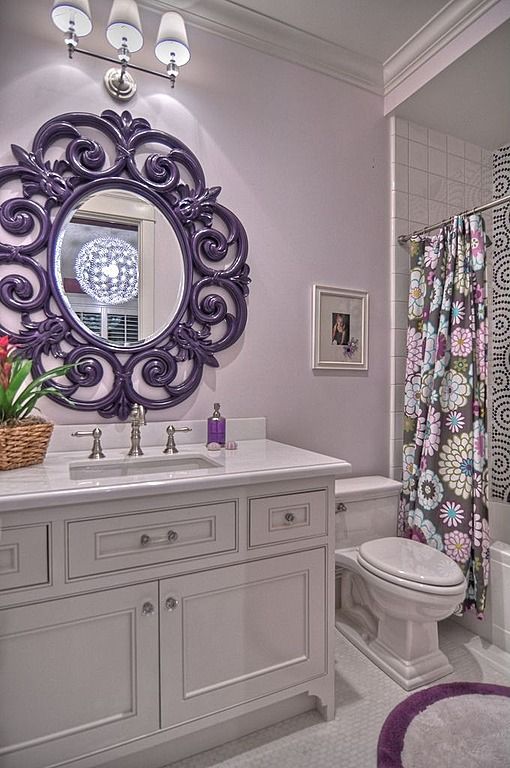 Image:Source
If you are searching for more feminine purple bathroom decor ideas, here is a stylish and easy way to accomplish it by adding a dark purple mirror frame and floral bathroom curtain.
3. Refresh Your Bathroom with Light Purple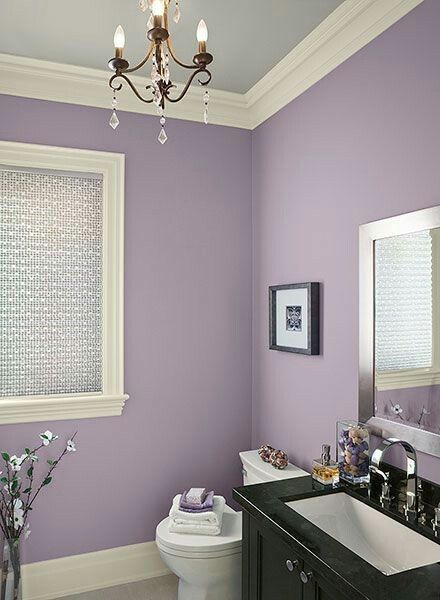 Image:Source
This light purple bathroom looks very warm and welcoming.
Moreover, there is a visual advantage – the bright color makes the tiny space look larger.
4. Create a Bright and Airy Bathroom with Purple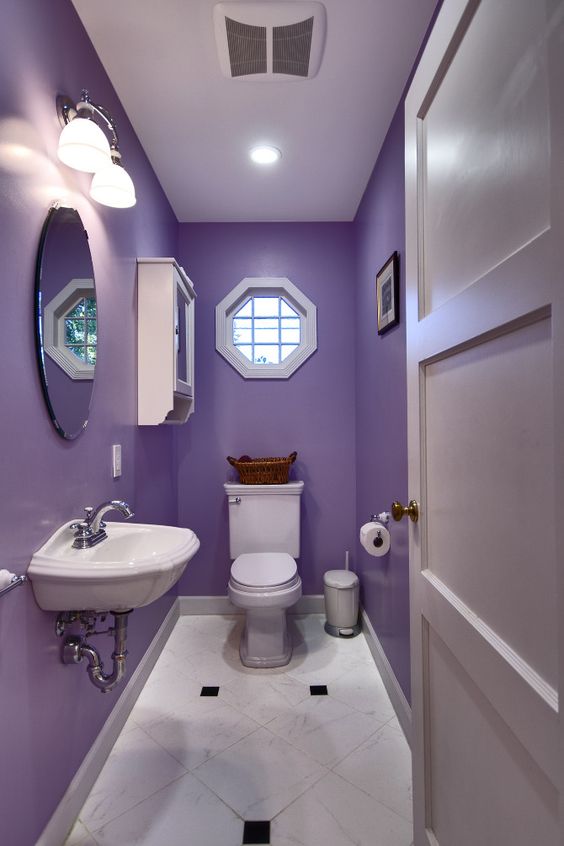 Image:Source
If you do not have windows in the bathroom, I suggest using brighter shades for the walls combined with a white-ish floor (such as this narrow purple bathroom). We have some great tips on how to choose paint color in a bathroom with no windows.
5. Unwind in Total Luxury with Purple Mosaic Tiles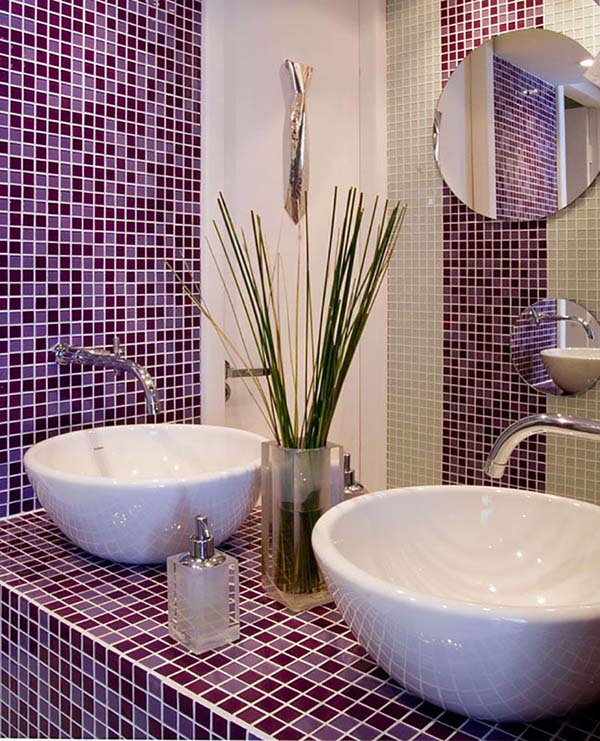 I am sure you will instantly fall in love with this Mediterranean style purple bathroom decor!
If you like purple mosaic tiles, you can get variety of sizes and models: Here
6. Make a Fashion Statement with Light Purple Colors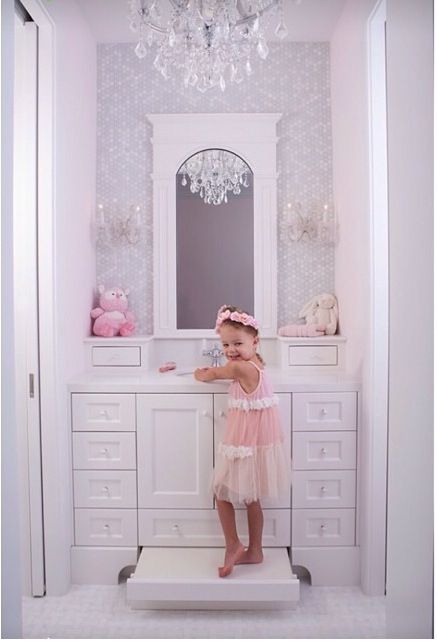 The best thing about the purple color theme is that it can convert any bathroom into a royal retreat.
Just look at this majestic girly light purple bathroom decorated with a completely polished and trendy manner!
7. Turn Your Bathroom into a Royal Retreat with Purple and Gold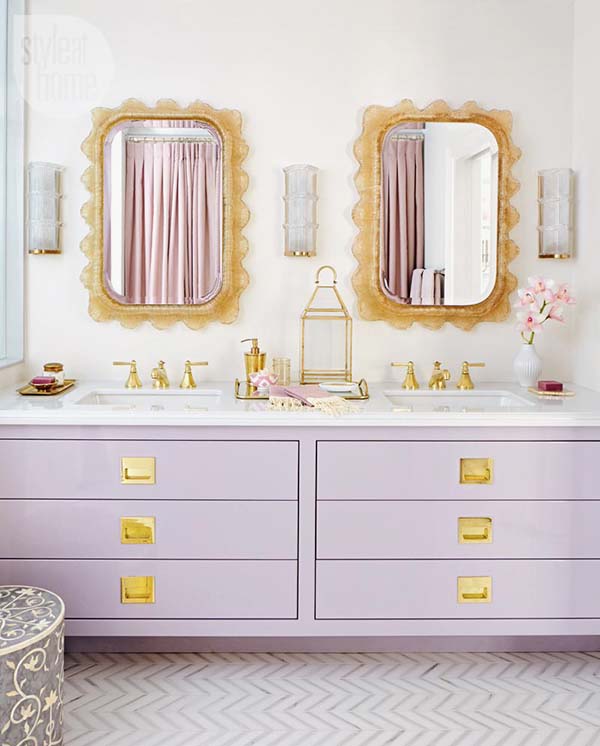 Image:Source
The purple and gold bathroom looks very gorgeous and unique.
The shiny violet shade adds stylish and dynamic ambiance in the bathroom and nicely fits the whole baroque concept of this bathroom.
8. Create a Charming Atmosphere with Purple Curtains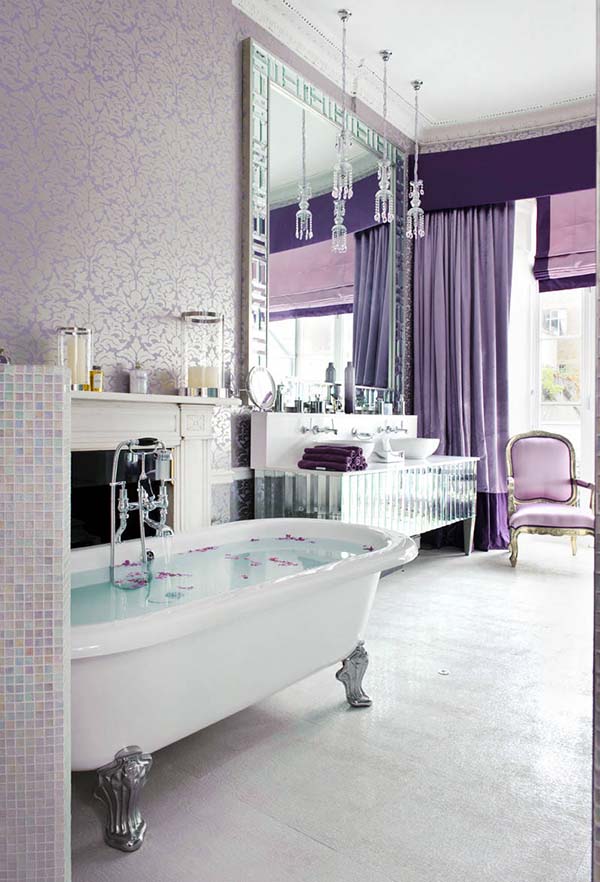 The overall look of this purple bathroom is ecstatic, modern and glittering thanks to the smart combination of three shades of a purple and minimalist setting of the interior.
9. Get a Polished and Refined Look with a Purple Wallpaper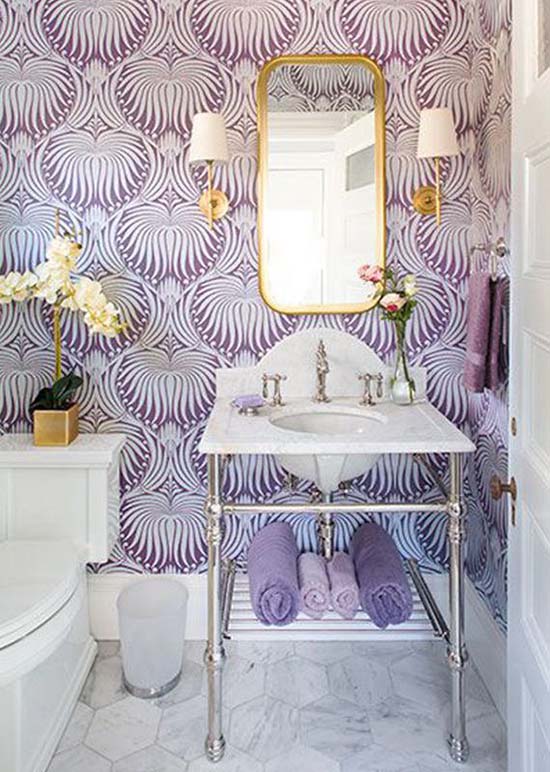 You can get this wallpaper: Here
Are you looking for some fun purple bathroom wall decor? Turning your small washing room into a rejuvenating retreat with Mediterranean touches could be the right answer.
10. Make an Impact with Stylish Modern Purple Sink and Accents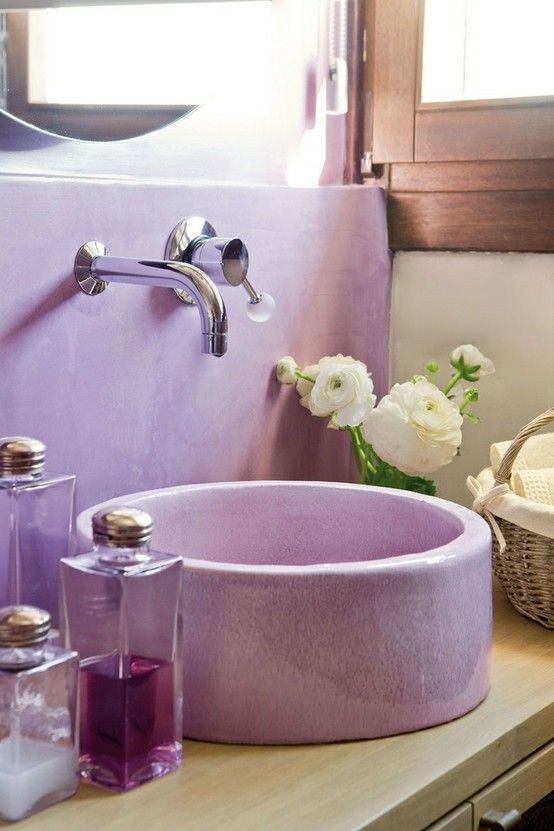 Fancy having a bathroom with purple accents? Then start with a cute purple sink in an unusual shape.
11. Turn Your Bathroom into an Oasis with Purple and Beige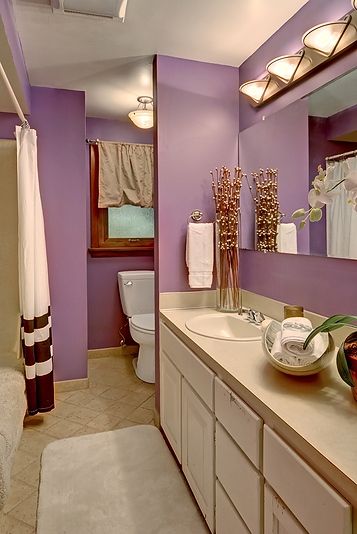 This purple and beige bathroom is an equivalent of a true perfection. The right lighting brings an additional warmth to the beautiful space.
12. Get a Unique Look for Your Bathroom with Dark Violet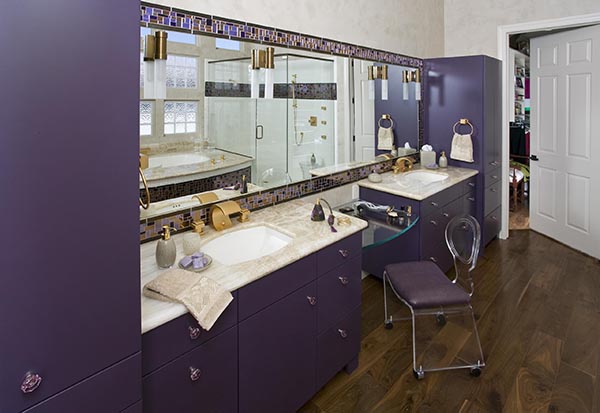 Image:Source
The interior designer, Peg Berens, shows you how the dark purple color in a combination with the light marble countertop creates a very interesting and dramatic ambiance in this present-day purple bathroom.
13. Upgrade Your Bathtub Experience with Mauve Walls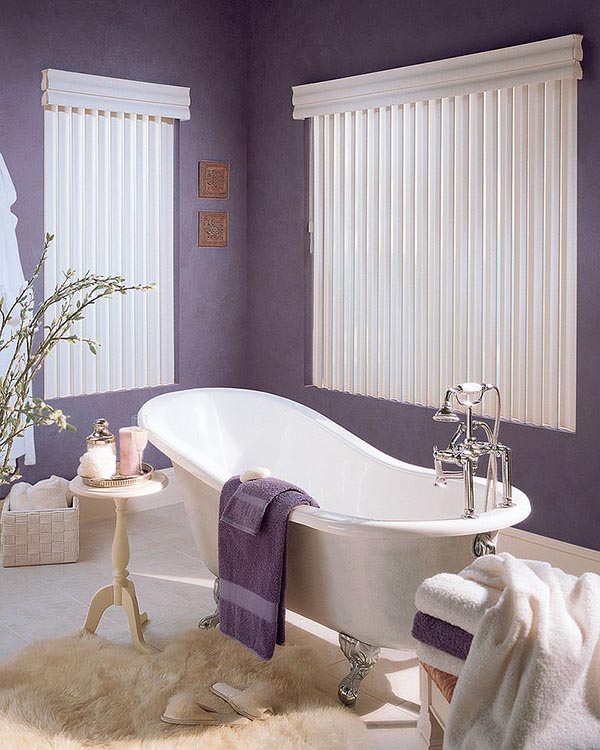 Add this one to your list of images of purple bathrooms.
Can you imagine how much sunlight would come from these wide windows over there and how the sun-rays deeply brighten the soft purple wall? Stunning.
14. Bring a Touch of Sophistication with Dark Purple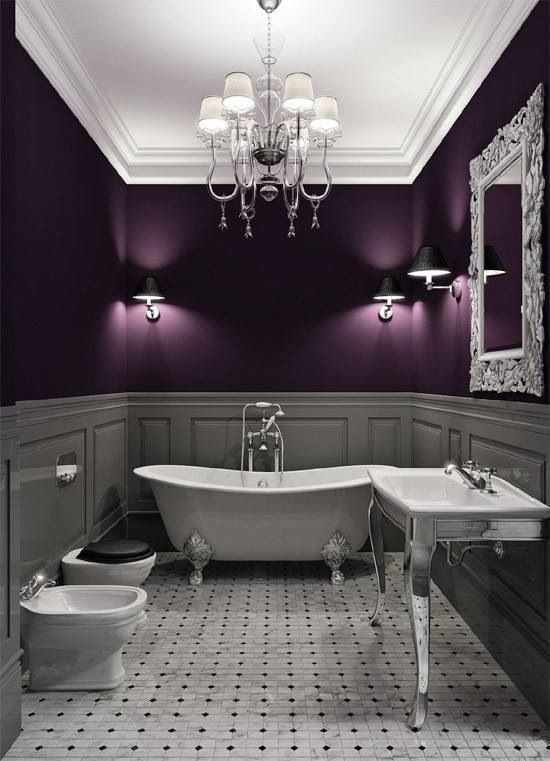 Image:Source
As I mentioned before, every shade of purple can be what you want it to be, and here you can see how the deep and decreased purple reacts in a totally posh and luxurious setting.
15. Elevate Your Contemporary Bathroom with Purple Accents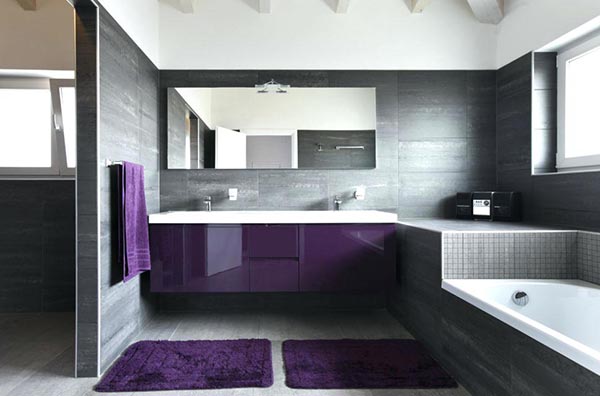 Photo:Credit
The gentle blend of grey and deep purple creates the stylish purple modern bathroom in the picture above.
The lavender accents are adding a truly powerful and dynamic nature to this contemporary washing room.
16. Bring Contrast to Your Purple Bathroom with a Wood Vanity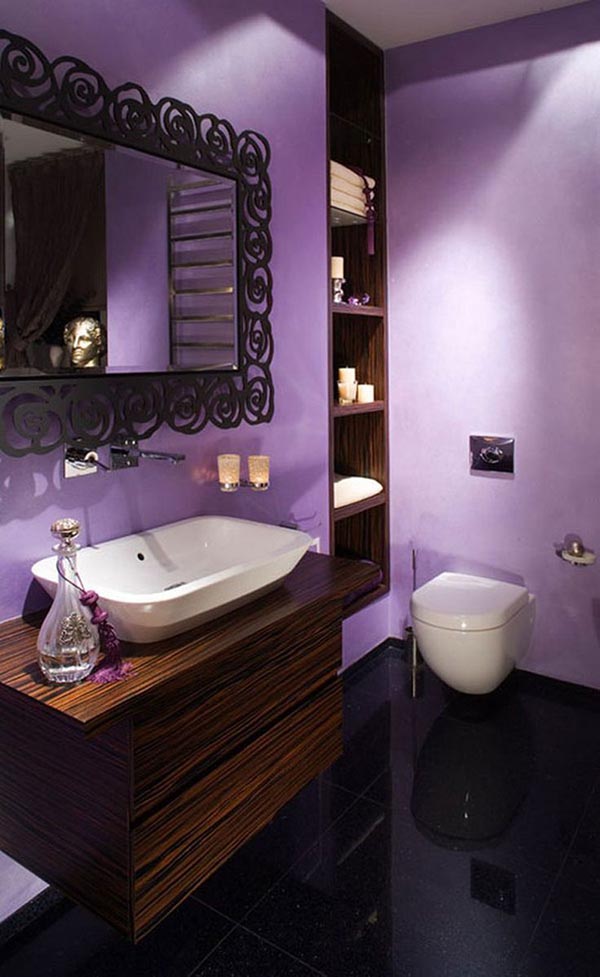 Photo:Credit
Evoke regal elegance in your bathroom with stylish deep purple walls. Here, a rich eggplant shade continues in black floor tiles. The wood vanity prevents the hue from becoming too heavy.
17. Brighten Your Purple Bathroom with Natural Light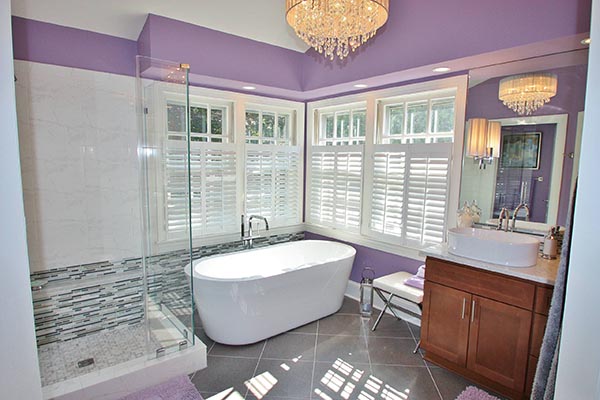 Photo:Credit
The amount of sunlight is essential especially when we are talking about the bathroom! That's the first room we are going to when we wake up in the morning.
So, instead of heavy purple bathroom window curtains, you can install some roller blinds in neutral tones (similar to this purple bathroom above).
18. Uplift Your Tiny Bathroom with Light Purple Decor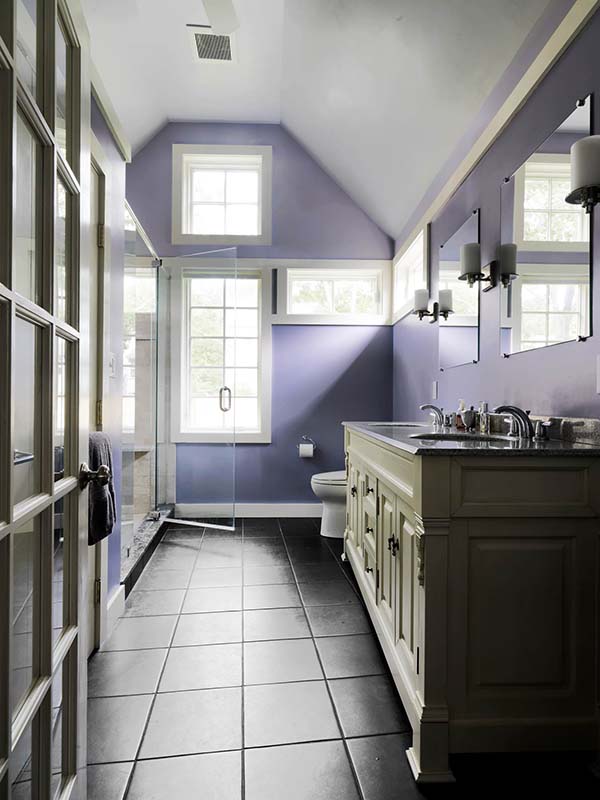 Photo:Credit
While I was searching for some cool purple bathroom pictures, I found this one and I thought it could be the best farmhouse washing room.
The brights violet tones make the tiny room look more spacious than it actually is.
19. Bring a Mediterranean Vibe to an Elegant Purple Bathroom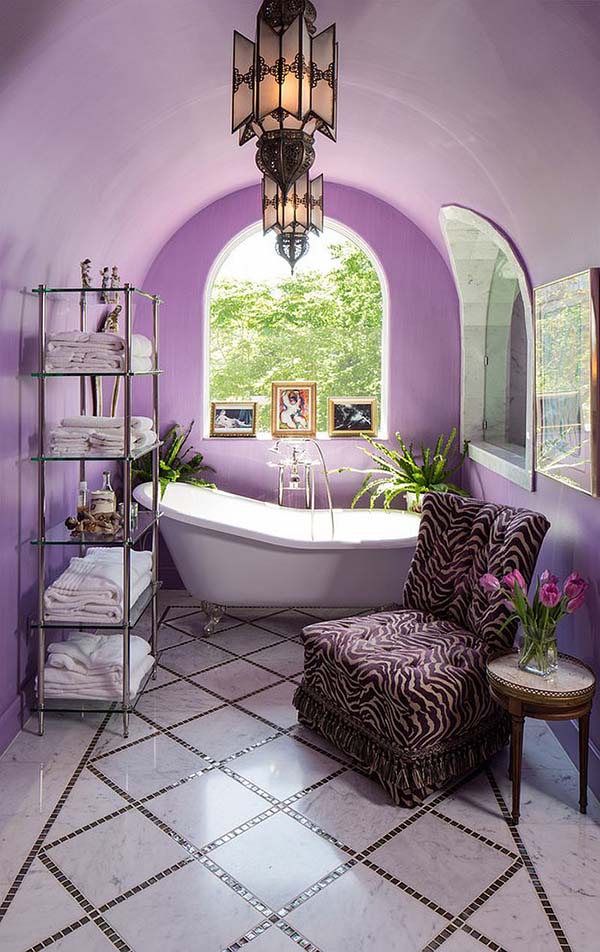 Here is another small purple bathroom with unique Mediterranean touches.
Take a look at the details – the Arabic style lampstand, the cute sitting spot, and the stylish combination of materials.
20. Create a Lavish Oasis with Floral Purple Tiled Walls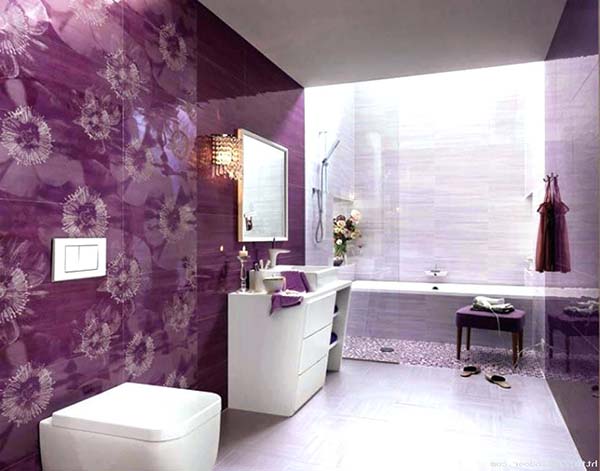 Photo:Credit
The beautiful floral bathroom purple tiles are the main accent of this alluring feminine purple bathroom decor. I just love them!
21. Add Splendor to Your Spacious Bathroom with Purple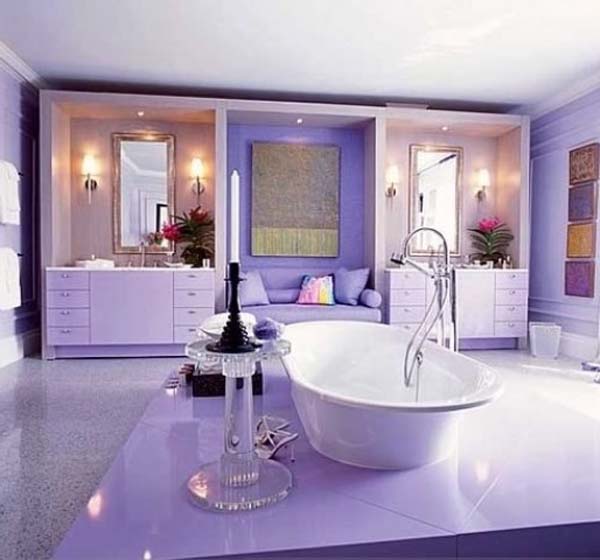 Photo:Credit
The pastel and soft violet shades applied in this large purple bathroom with very stylish and modern setting radiate cheery and vivid ambiance.
The decorative palette in the bathroom entirely matches the color scheme and provide this washing room with a charming overall appearance.
22. Transform Your Contemporary Bathroom with Plum Palette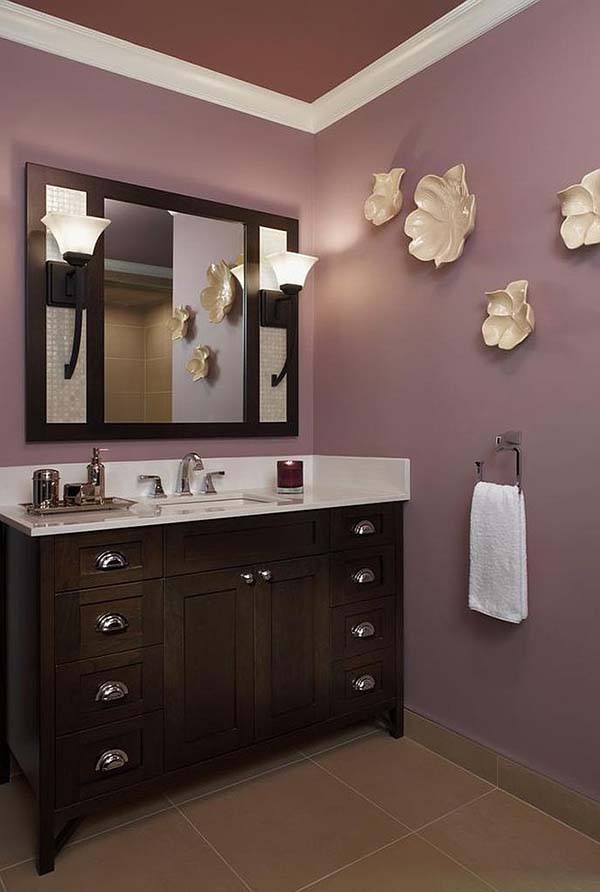 If you are a fan of the plum palette, give your contemporary bathroom a real purple magic.
Take a deep look at its interesting use of wall art.
23. Spruce Up Your Bathroom with a Touch of Purple and White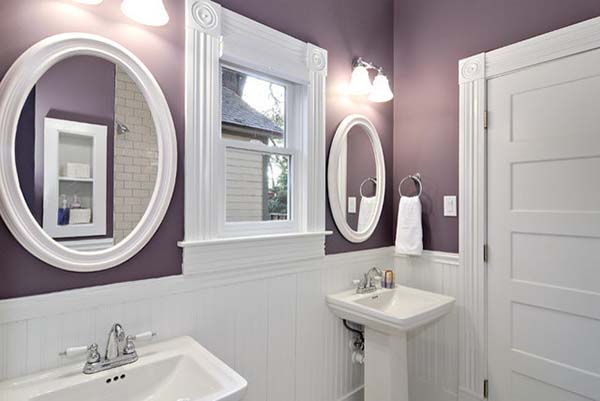 Still looking for some fresh purple bathroom paint ideas? I instantly fell in love with this exquisite eclectic bathroom in snowy white with a purple accent wall.
24. Get a Calming Atmosphere with Lavender and Neutral Accents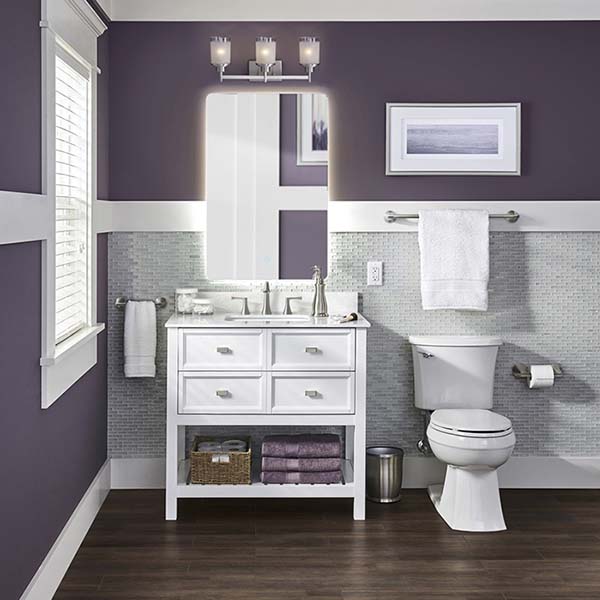 Photo:Credit
The abundant purple and soft lavender are the colors of 2018. Use a dash of white or gray bathroom tiles to break up this saturated color.
25. Give Your Bathroom a Classy Look with Purple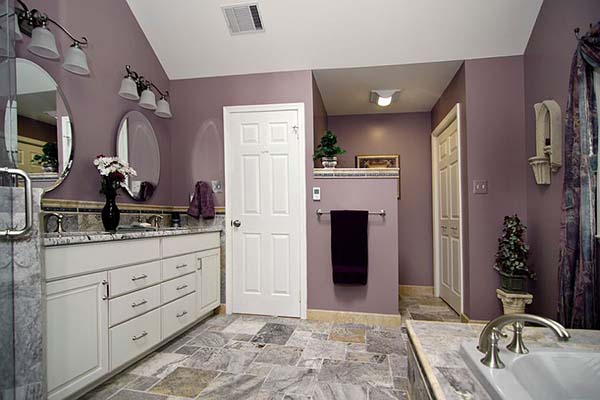 Here is an example of a craftsman style bathroom with classy purple walls and a stone floor.
Some deep purple bathroom tiles would also fit well in this design.
26. Add Style to a White Bathroom with a Purple Wall Accent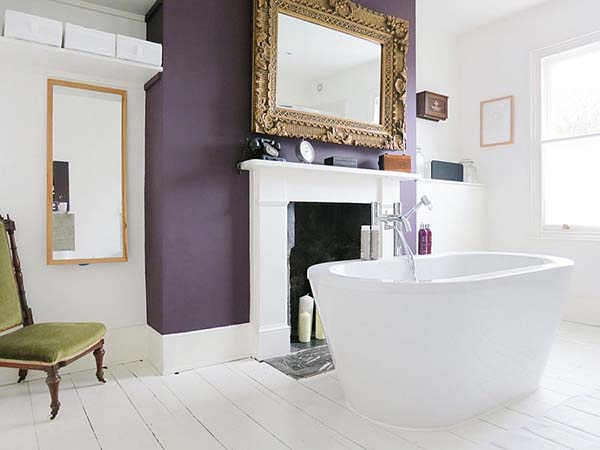 I've shown you one beautiful bathroom with a purple wall accent so far. There is another finely detailed design in snowy white.
Take a look at the olive color chair and the simple but stylish wall decor.
27. Step into Paradise with an Asian-Style Purple Bathroom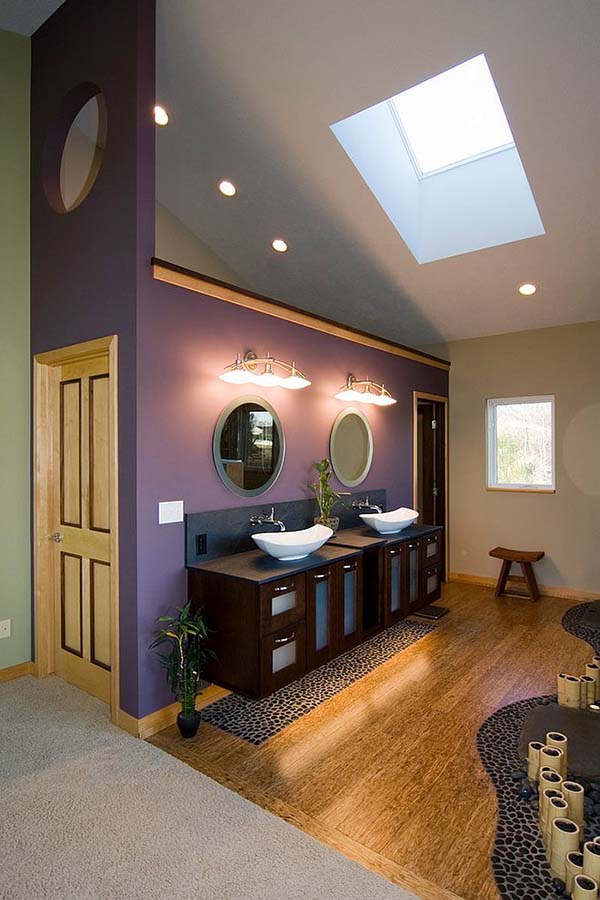 Photo:Credit
The skylight brings natural ventilation into this Asian style purple bathroom.
One of the most common purple bathroom ideas is to combine this color palette with a wooden floor or wooden accents.
28. Bring a Roomy Feel to Your Bathroom with Purple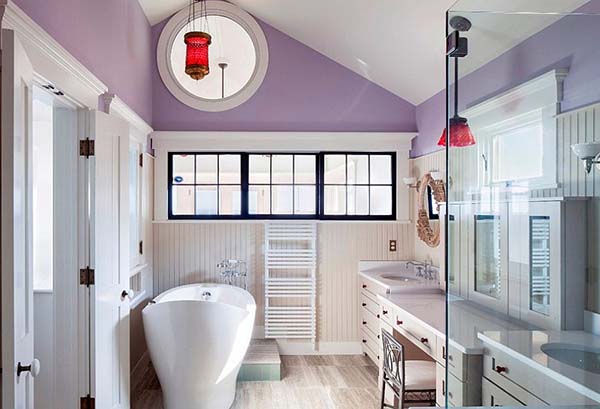 Do you fancy this luxurious purple and yellow bathroom with custom windows and beadboard accents?
29. Make a Farmhouse Bathroom Stand Out with Purple Wall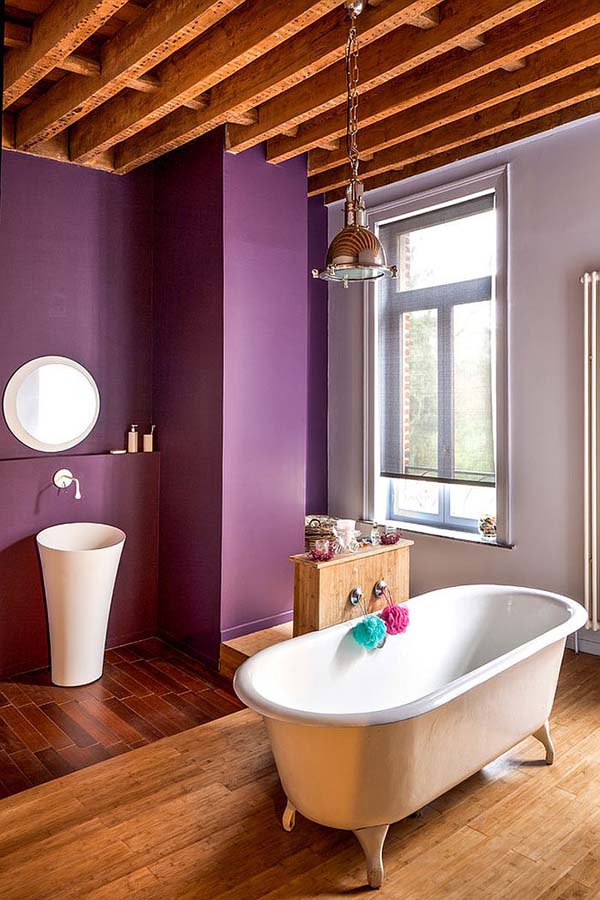 Looking for a farmhouse purple bathroom ideas?
Keep it simple and minimalistic by combining lavender color with the traditional light wooden floor and ceiling. Sometimes simplicity is more stylish than an expensive congested design.
30. Give Your Bathroom a Royal Look with Purple Tiles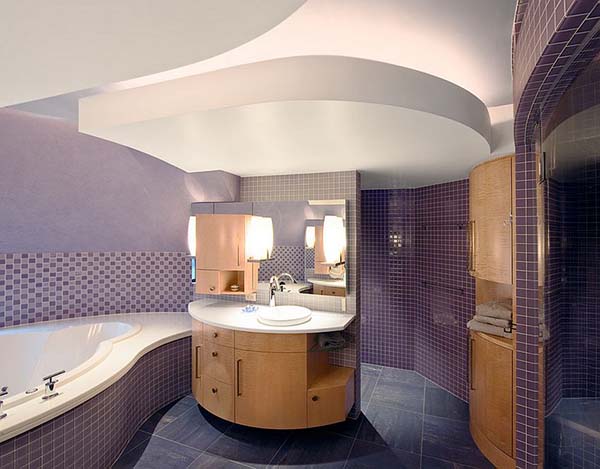 The masterly curves and shapes together with the purple wallpaper applied here create a unique mood and dimensions.
This is one of my favorite purple bathroom decor ideas!
31. Create a Luxurious Bathroom Oasis with Purple and Marble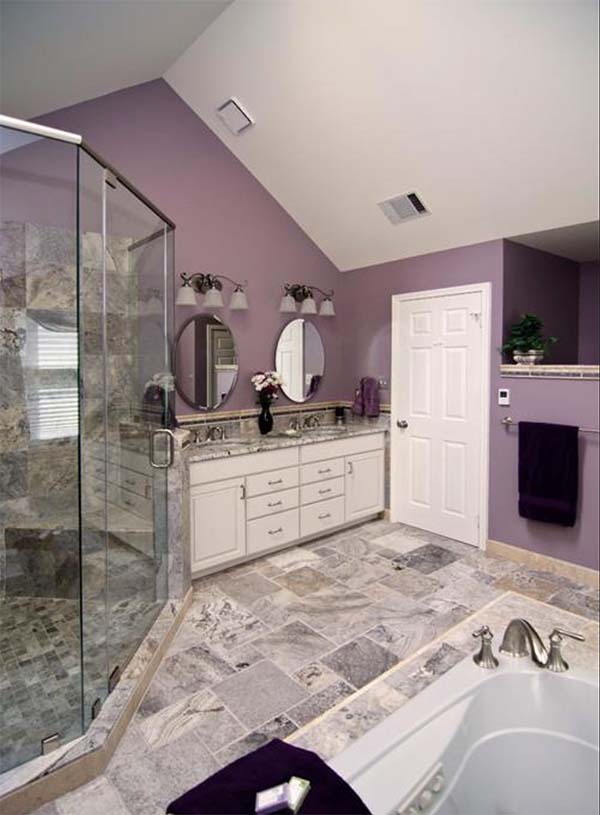 Photo:Credit
Purple and marble is a classic combination that demonstrates luxury and style.
The frameless glass, the solid marble countertop, and the black details are the perfect finish for this indulgent purple bathroom decor.
32. Turn Your Bathroom into a Stylish Haven with Purple Wall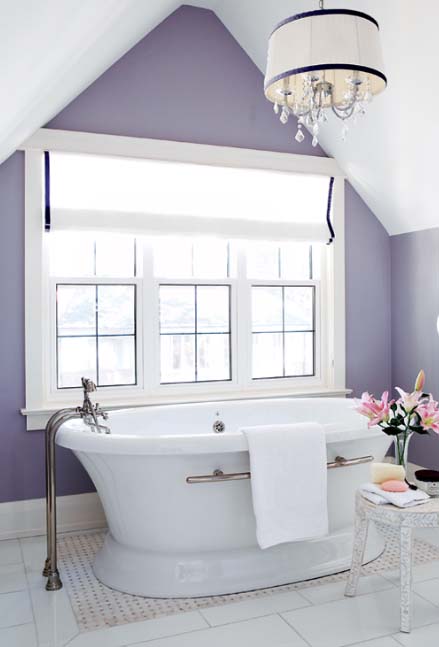 Enjoy your bath time in this spa-styled minimalistic purple bathroom. The large window will allow the sunlight to brighten your day.
33. Unlock the Hidden Possibilities of Soft Purple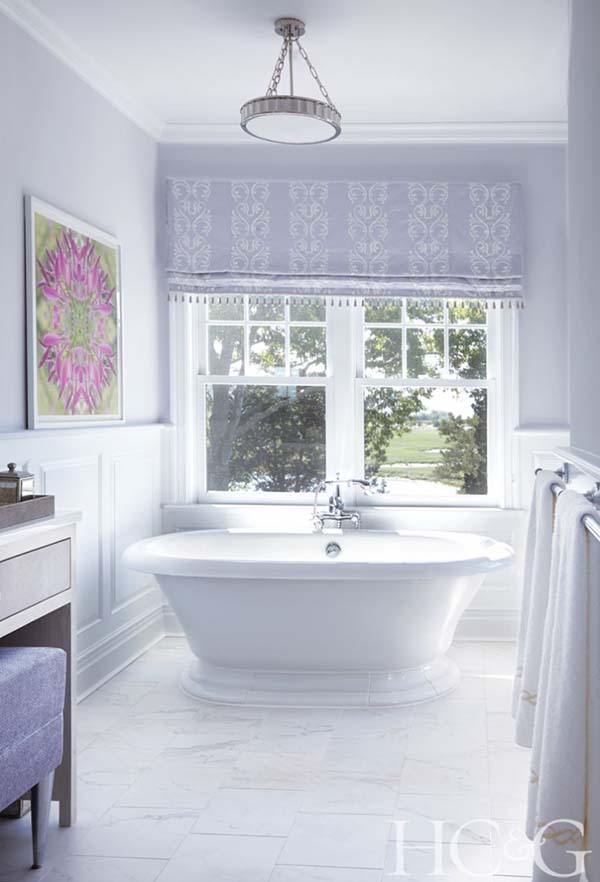 Photo:Credit
I am in love with the large purple wall art for a bathroom.
Surely, that's the key accent of this beautiful, airy, minimalistic washing space.
34. Bring a Vintage Charm with Periwinkle Bathroom Decor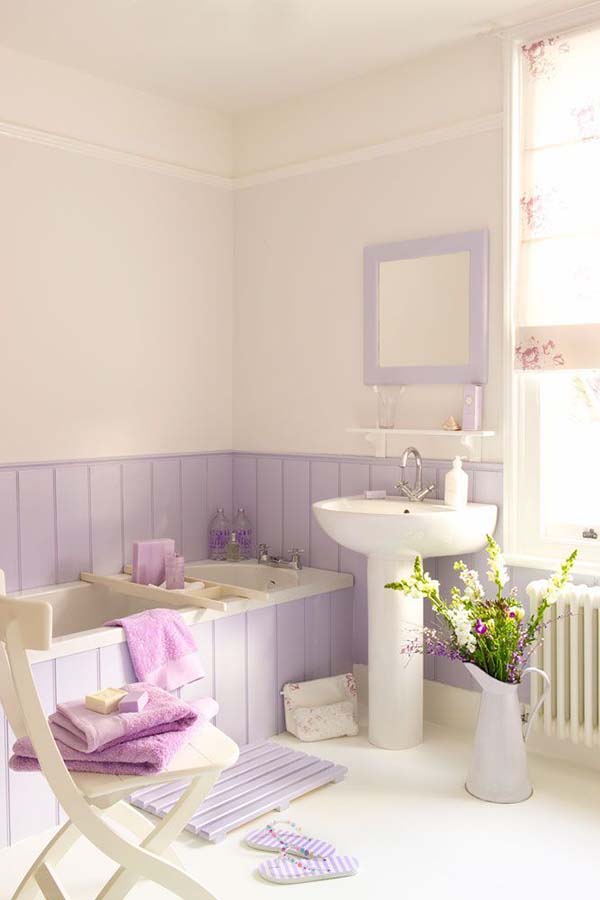 Photo:Credit
A touch of lilac and ivory color (plus some fresh seasonal flowers) makes this purple bathroom agreeable, giving it a more stress-free effect on anyone who uses it.
35. Make a Lovely Bathroom Retreat with Purple Flower Accents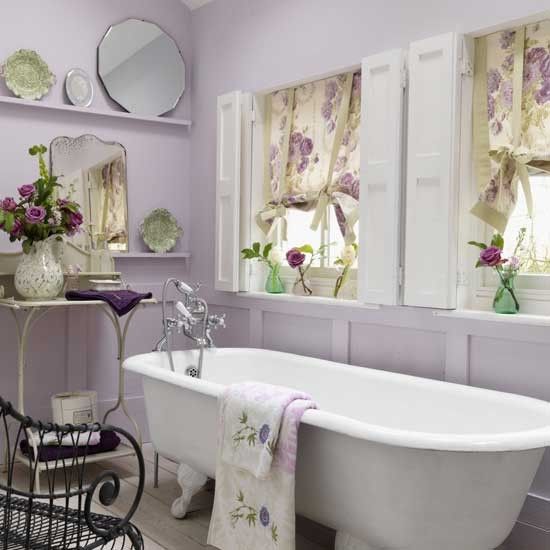 The floral accents give this purple bathroom a nice vintage look. The bright lilac paint makes this pocket-size space look spacious and airy.
So, we can say that, in grasping the idea of a purple bathroom interior design, there is a strong desire for individuality and adventure.
As I showed you above, the purple color surely can turn your bathroom into a dramatic and vivid place, or maybe with a soft and mellow mood. If you are looking for more bold colored bathrooms we have the perfect selection for you – here.