A bathroom doesn't have to be boring. Colorful bathrooms that use bold colors are all the rage. You can create rooms like this yourself.
All you need are nerves of steel and an eye for design. Done correctly, bold color bathrooms make a nice statement. They provide a warm place to relax after a hard day.

And they give comfort when you need it most.
Designing blue, red, pink or green bathrooms that work is easier than you think. Bold colors work best in small portions. Offset them with white, black or neutral colors to add contrast.
Remember to use bold colors sparingly in your bath. As a wall color is fine.
But you may want to confine darker colors to single feature walls instead of as an all-over design element.
In the interest of helping you design bold color bathrooms that you're going to love, we picked out a few of our own favorites.
These baths are big on color. They're big on comfort. They have elegance, warmth and functionality. These baths will help inspire you.
You'll be able to create the bathroom of your dreams much more easily once you give these colorful bathrooms a peek.
1. Gray, Black, and Brown Bathroom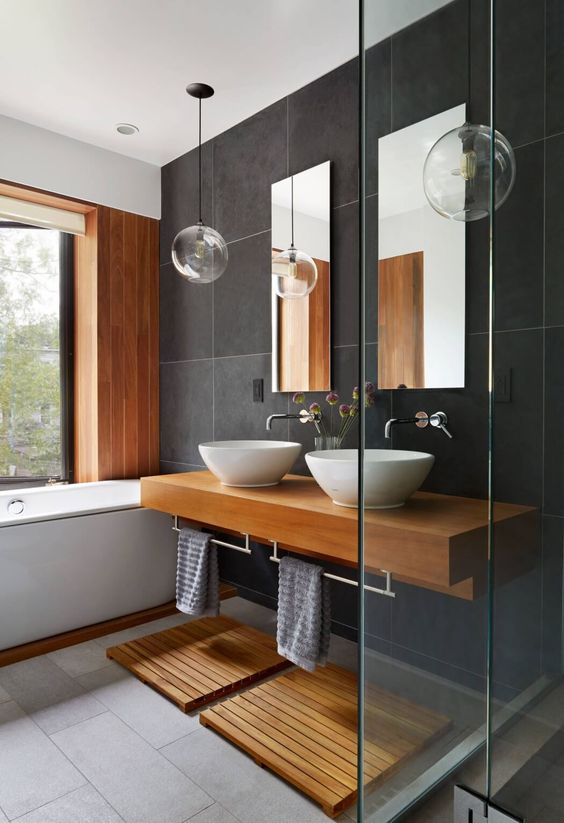 Photo: Credit
Once thought too dreary to function as a wall color. Gray is now trending for entire rooms. This bathroom uses light gray tiles on the floor.
The walls feature a darker, charcoal color that is almost black. It serves to make this wall a feature in a room that might otherwise be too plain.
Brown accents in the forms of trim, countertop and flooring completes the look. Come home to this room every night and see how great it makes you feel.
2. Turquoise, White and Yellow Bathroom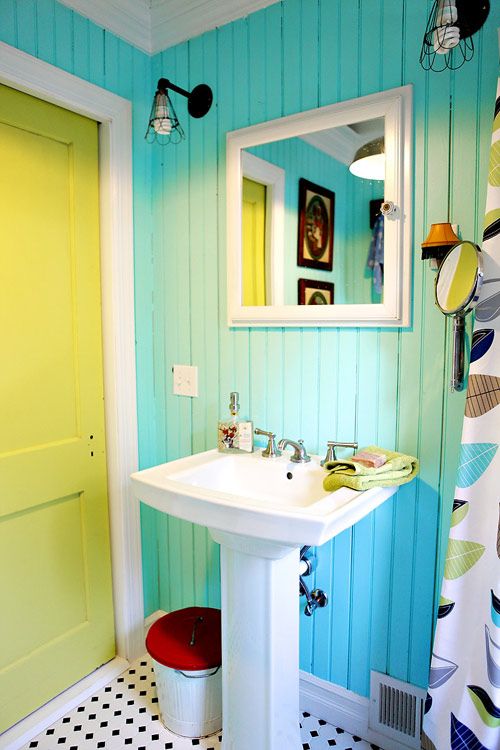 Photo: Credit
The colors of the country never looked so good. This small bath looks cozy enough to cuddle with one entire wall painted turquoise. A yellow door adds interest. Black and white floor tiles and a colorful shower curtain tie it all together.
Don't be afraid of color if you want to recreate this look. French Country design is in. You'll be happy in this home with it's adorably chintzy bath and feel-good vibe.
3. Blue and White Bathroom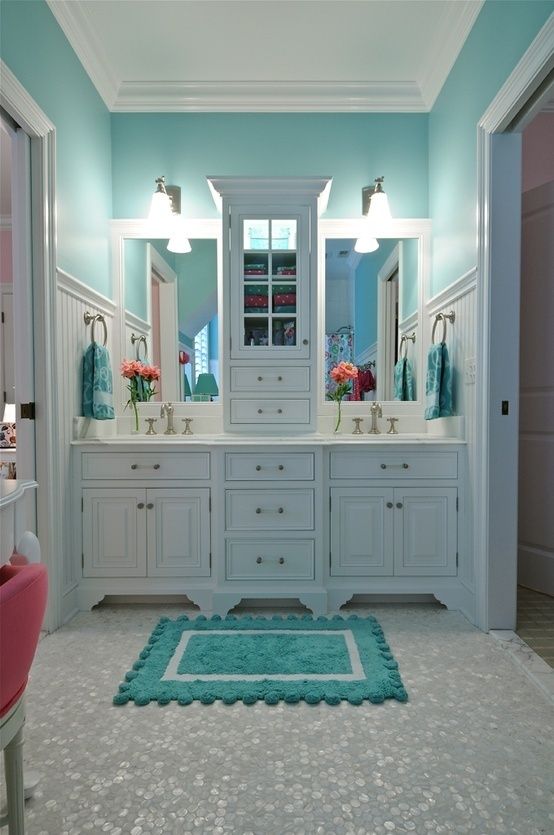 Photo: Credit
This blue and white bath is pretty enough for a princess. It will make everyone in the home feel good when they step inside.
Soft walls of light teal and white trim and bead board take this bathroom back an era. Anyone who's tired of contemporary design will love this warm and spacious bath.
Great lighting, large mirrors and crown molding to die for make this room the envy of the entire house. Those who love blue bathrooms are going to enjoy spending time in this room that screams relaxation.
4. Black and Yellow and White Bathroom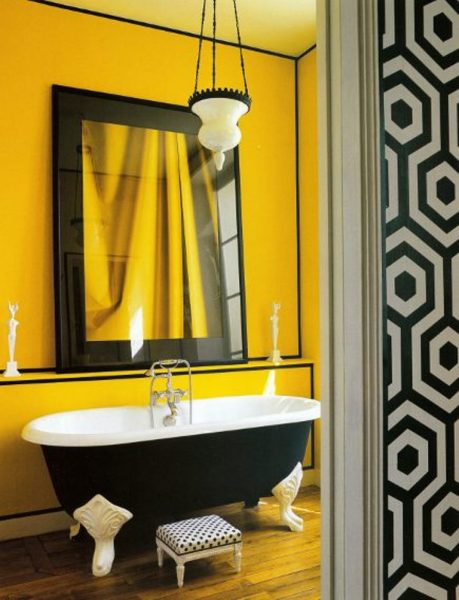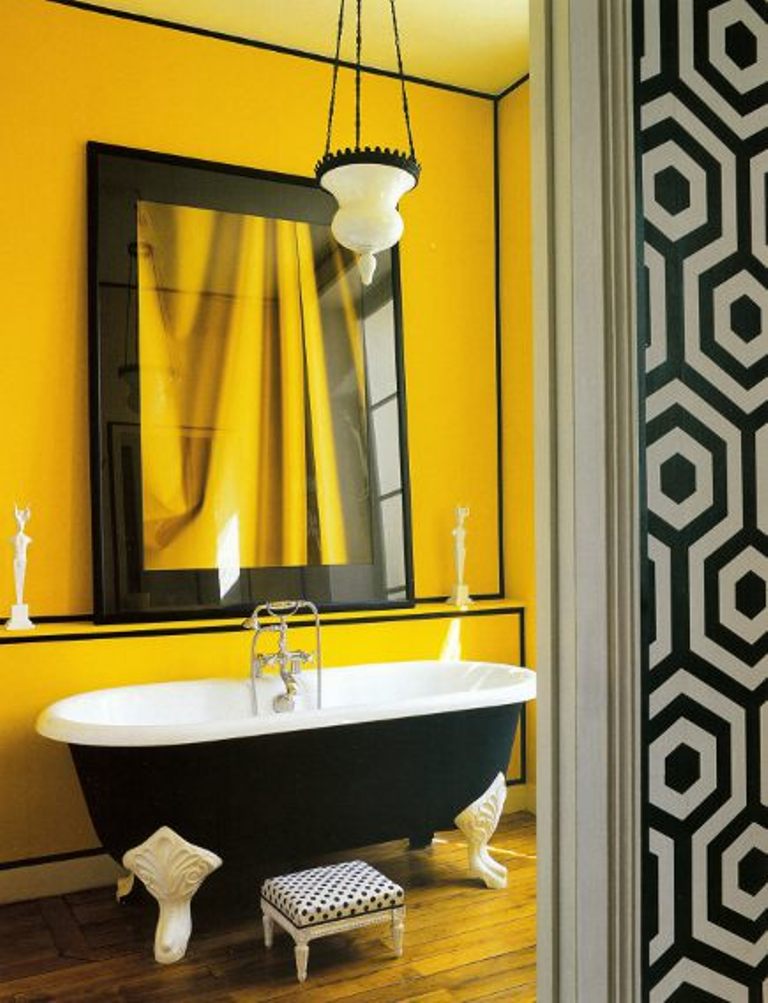 Photo: Credit
Bright yellow walls and black trim make this bathroom stand out. Those who want to make a bold statement might love this new take on an old design.
Vintage light fixtures and an old claw-foot tub make a nice combination. Black trim adds interest.
An accent wall covered in colorful wallpaper add life to a room that might otherwise be bland. You might not choose a yellow bathroom as your first option. Once you see how well this one works, however, you just might change your mind.
5. Black and White Bathroom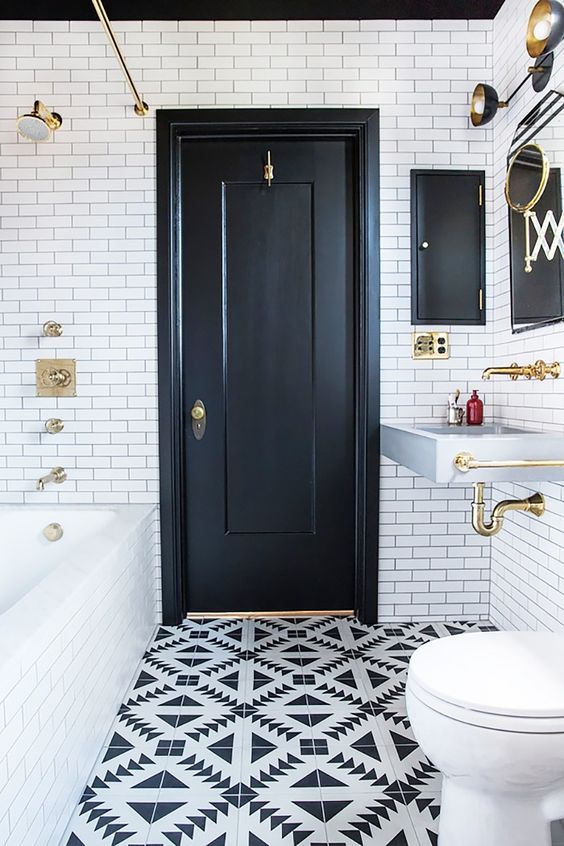 Photo: Credit
The floor is the star of the show in this bath. A busy pattern draws the eye down. Walls covered in white brick keep things neutral. The color of the day here is white. A solid black door adds interest.
Those who like lots of contrast will enjoy this color scheme that provides a blank canvas for wall art. Bold colored bathrooms like this one go a long way toward keeping life interesting.
6. Pink and White Bathroom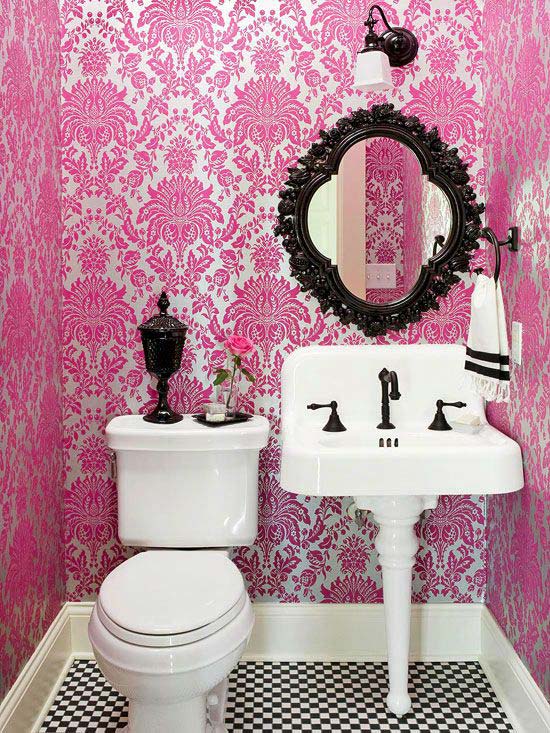 Photo: Credit
Anyone who's not afraid of color and pattern will appreciate this room that's swathed in pink. It's perfect for guests of all ages.
A small pedestal sink and toilet forms a half bath that will delight guests. Fixtures in dark finishes add mystery. Silver on the walls look elegant.
Colorful, geometric tile finish this bath that's sure to be a conversation starter. Pink bathrooms aren't just for girls anymore. This adorable bath proves it.
7. Green, White and Blue Bathroom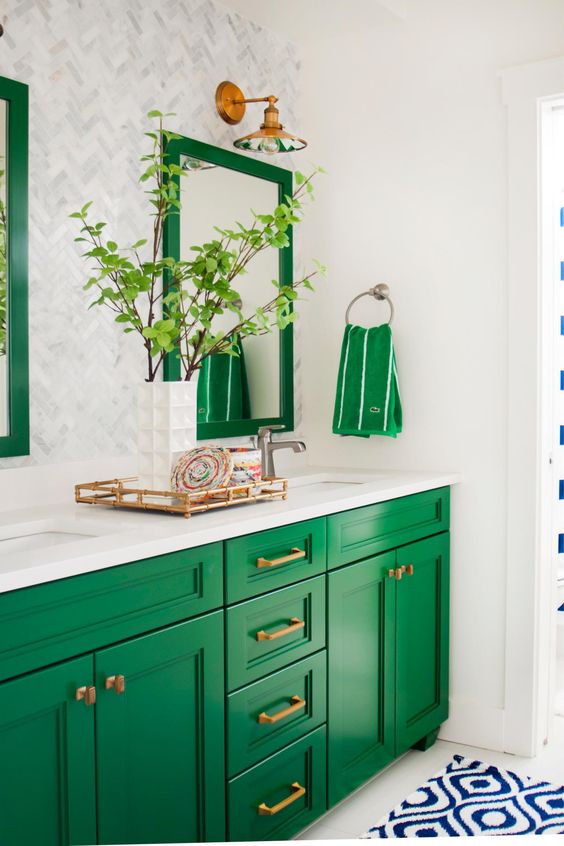 Photo: Credit
It's a color blend you might not picture. This grass-green bath has polish though. It's light, airy and sure to capture the eye of all your guests.
Bright green cabinets offset white countertops and make the room exciting. White walls keep things from being busy. A blue and white chevron rug is a nice accent piece.
If you like a bath that makes a strong statement, this green and white room could be just what you're looking for. Green bathrooms are a more attractive option than you think. Give this color a try.
8. Pink, White and Chrome Bathroom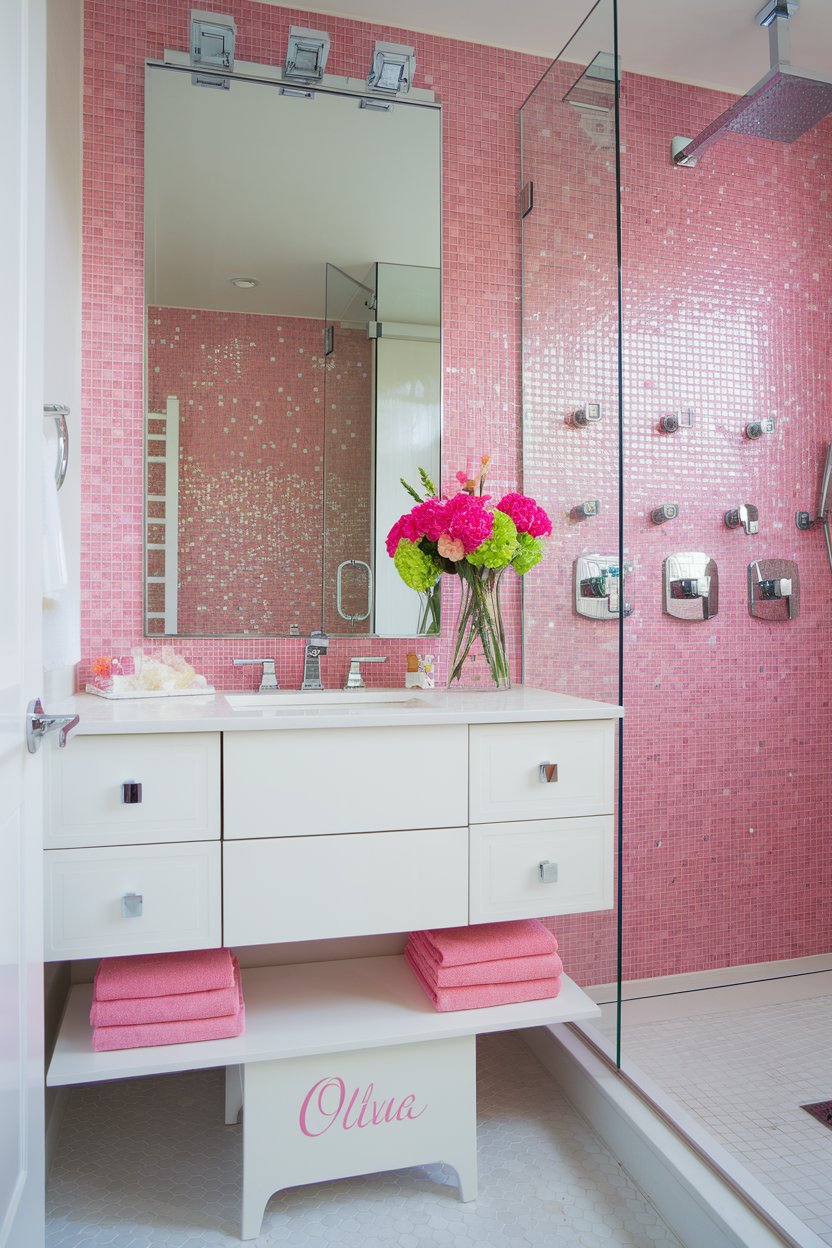 Photo: Credit
A wall of pink tiles serves as the feature wall in this bath. It's a lot of feminine color in a small space that works well. It's not too girly to work in a home that includes men. In fact, anyone would love this sleek and modern take on warm design.
Few accents and bold, chunky cabinetry combine in this bath that takes whimsy to the next level. Everyone in the house is going to love the roomy feel of this lovely bath.
9. Purple and Gold Bathroom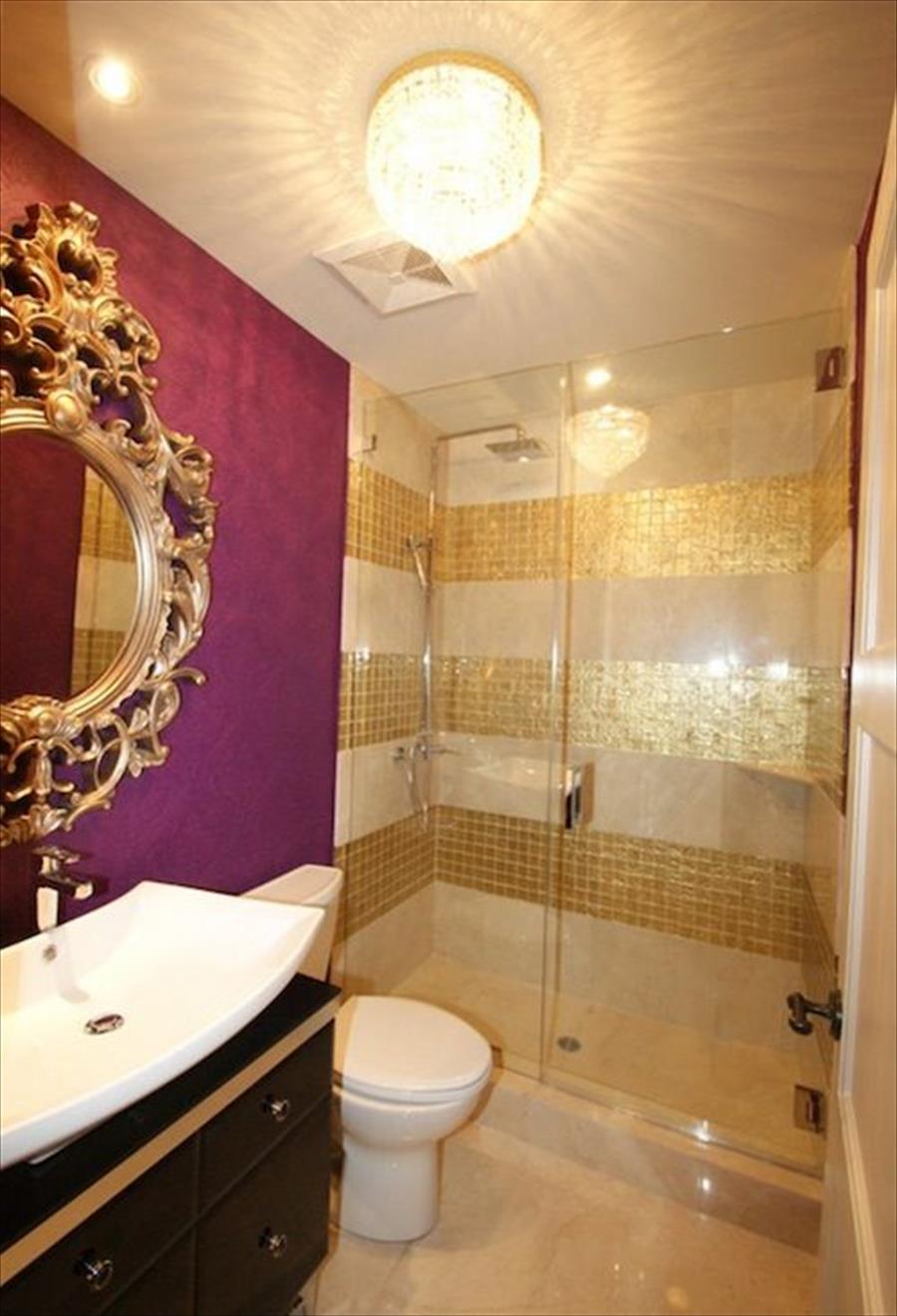 Photo: Credit
This bath is fit for royalty with its purple accent wall and gold shower tile. It's an elegant design that works well to dress up a blah space. It features modern cabinetry and a stylish sink.
A vintage mirror adds the cherry on top of this bath that any house guest will find comforting. Marbles floors and an unusual light fixture make this colorful bath the right addition to your home.
10. Copper and Tan Bathroom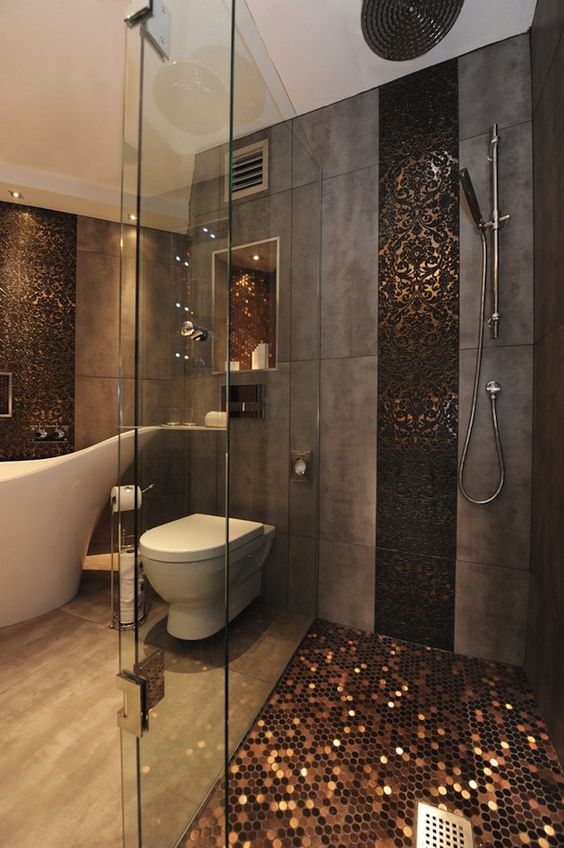 Photo: Credit
Dark colors can work well in a bathroom space too. This design proves that theory. The shower floor sets the tone in this bath that resembles a spa. Elegant and cozy are two words that top the list in this space that was created with comfort in mind.
A large tub for lounging and a shower with room enough for two are the envy of all the bathrooms on the block. All this room needs is candles and soft music to set the mood.
11. Brown and Tan Bathroom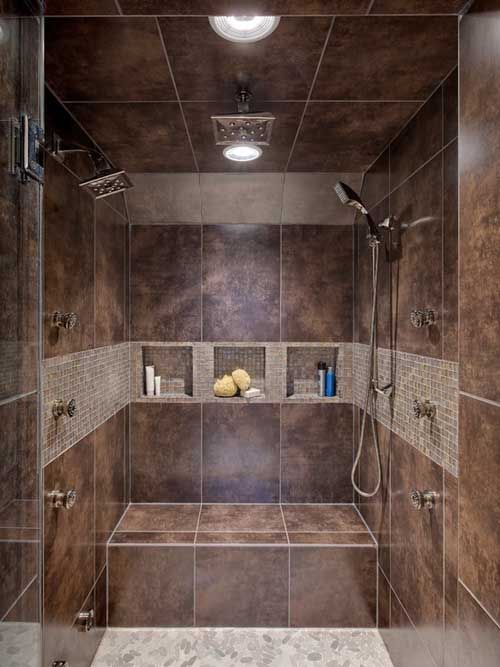 Photo: Credit
Earth tones are in. This lovely little gem proves it. This beautiful bath will be the envy of all who enter with its abundance of shower fixtures. cut-outs for soap and shampoo, and a roomy bench for relaxing.
Warm, dark colors are far from cave-like in this luxurious space that the family will fight to enter.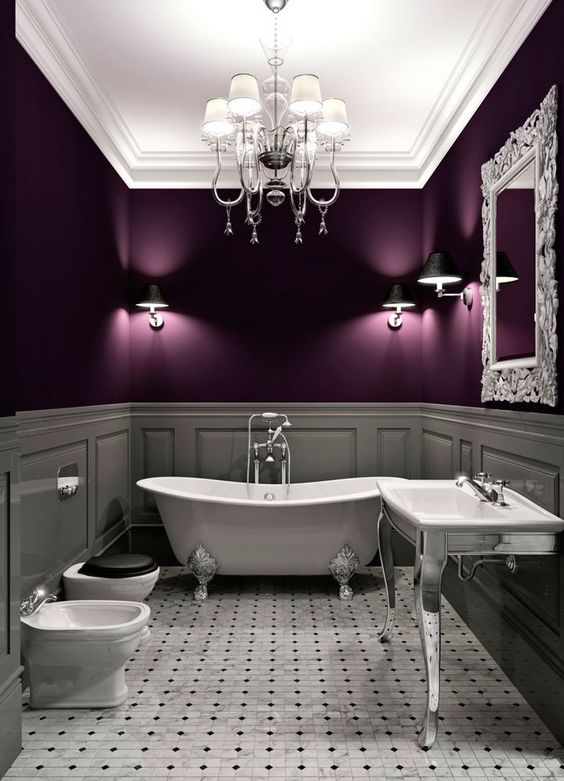 Photo: Credit
Bold color bathrooms are back with this stunning take on modern design. Dark purple walls back simple lighting fixtures. They provide a romantic feel. A sleek chrome sink and fixtures complete the elegant look.
Comfort and mood work together in this bath that even the most jaded among us will fall in love with.
13. White on White Bathroom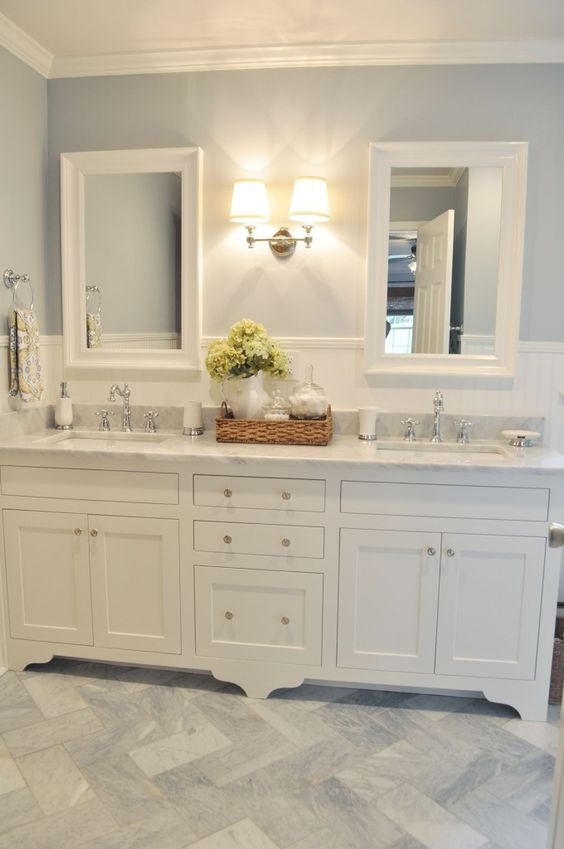 Photo: Credit
White doesn't have to feel stark. This bath combines various shades of white in a look that's anything but. A patterned floor adds interest. A darker wall color provides contrast.
Mostly, this room feels roomy and elegant. There's tons of storage tossed in for good measure.
14. Red, White and Black Bathroom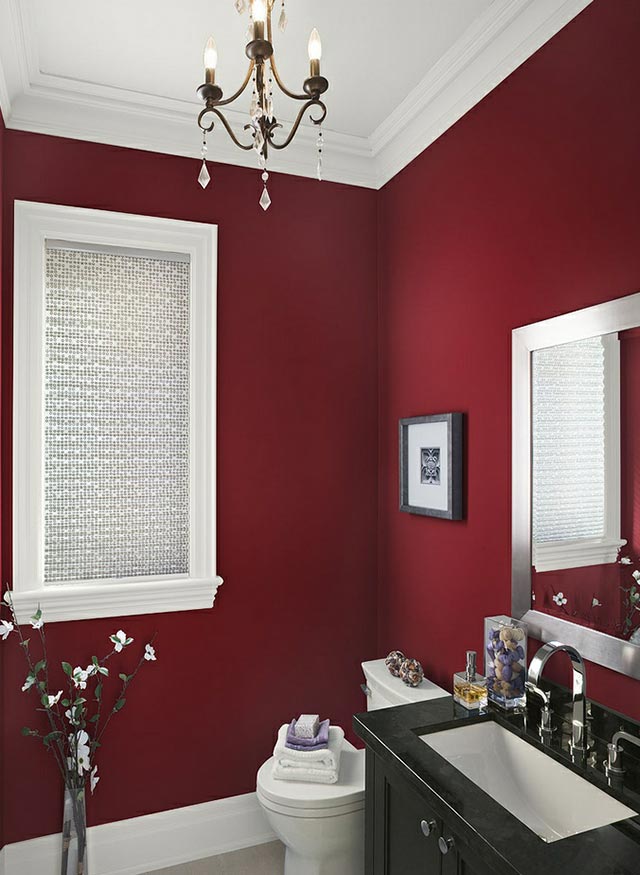 Photo: Credit
Red bathrooms are in right now. Black and white accents add contrast and interest. A dark wall color sets the mood.  And a dark sink look dramatic against white trim.
Modern fixtures and accents add a nice, finishing touch in this bold colored bathroom that everyone you know is going to envy. It's a room that welcomes you home after a tough day out in the real world.
15. Orange, White and Brown Bathroom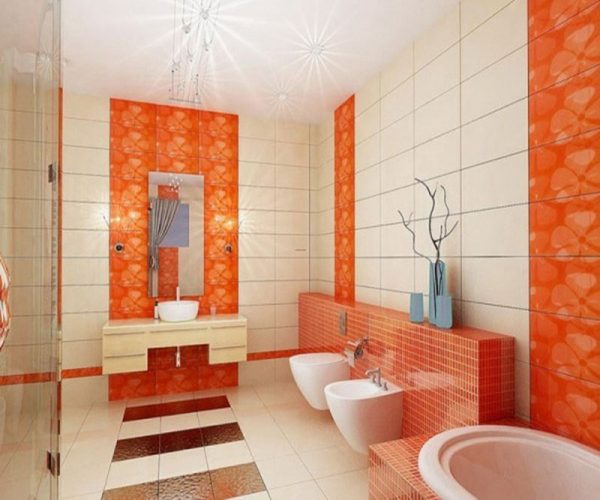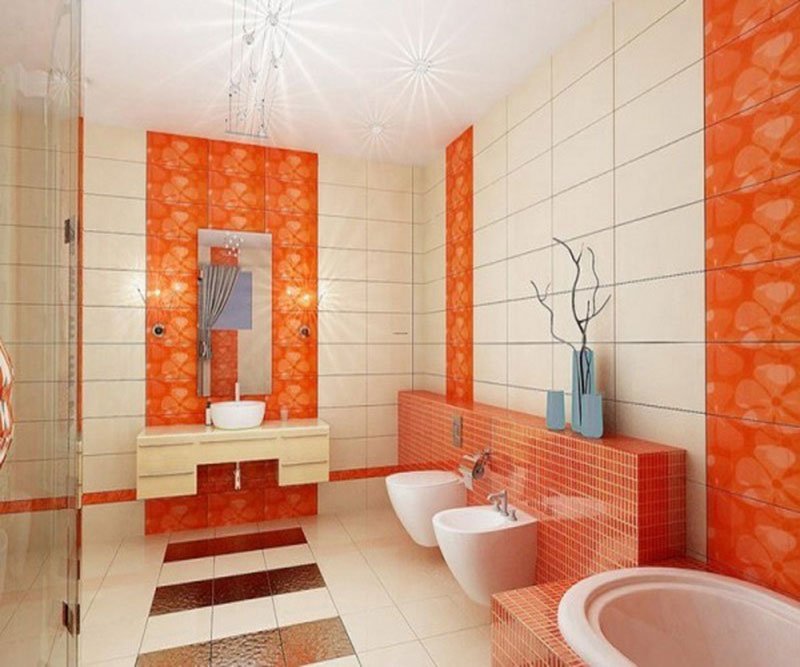 Photo: Credit
Colorful bathrooms are a good thing. So long as they're done with style. You might not consider orange to be a good choice of dominant color in a bath. This one works, however. Lots of pattern and large blocks of color give this bath it's unusual appeal.
It works to warm up this otherwise cold space nicely. This bath is unlike any other you're likely to find around the neighborhood and scores big points for originality.